Quirky Wedding Hashtags Created For Couples By The WeddingWire India Community
Are you a millennial couple looking for the cutest wedding hashtag? Explore the list of classy hashtags given by the experts at WeddingWire India community. Scroll up and pick your favourite!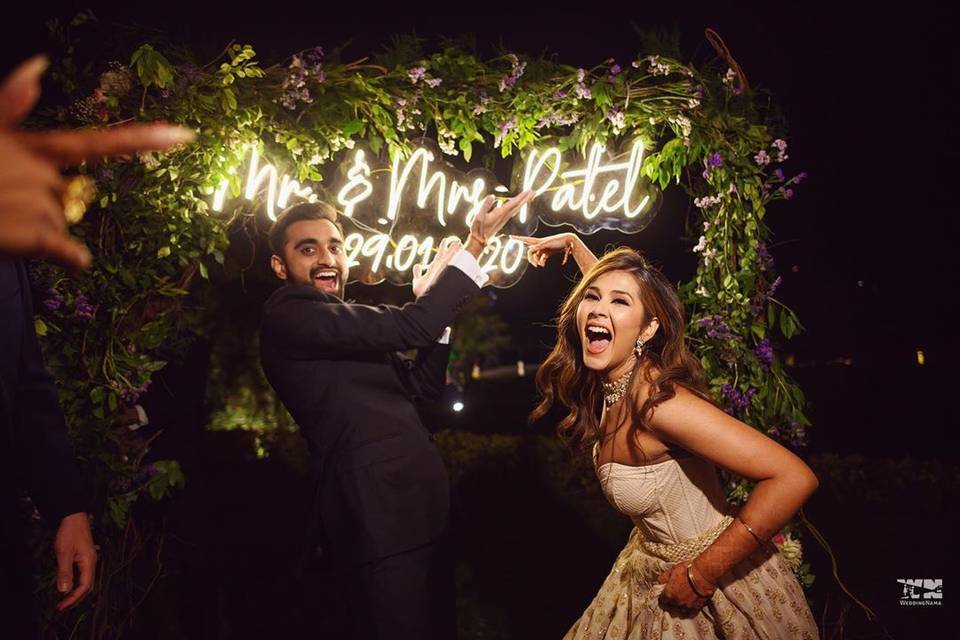 Do you routinely follow WeddingWire India Community? Then chances are that you have scrolled through the hashtag window under the 'Do It Yourself' category! Let's all accept that we love going gaga over new-fangled trends and when we talk about wedding hashtags, the craze of electing the quirkiest tag for your precious day tops it all!
Why worry when wedding experts at WeddingWire India community are always here with a bag full of quirky wedding hashtag ideas! At the WWI community, brides and grooms-to-be dig up their cherub love story and #Inhouse hashtag experts make sure to prick the bubble of voguish ideas and offer a classy D-day hashtag.
Millennials are going bonkers looking for a wedding hashtag that can set their wedding pictures apart from everyone else. Wish to tickle your wacky bones? Skim through these super witty wedding hashtags ideas given by WeddingWire India community and tell us which one do you like the most!
Harsha and Rakesh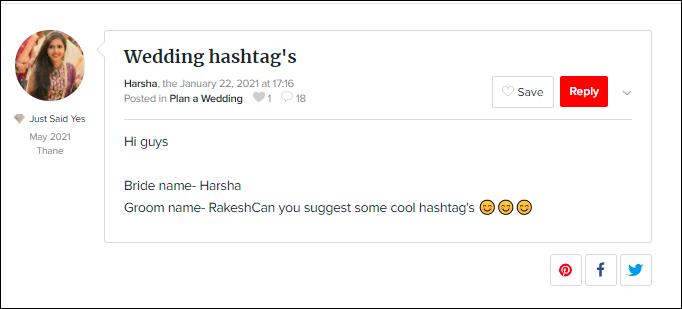 Availing a bunch of ideas for hashtagging the most precious moments of your life on social media not only creates a separate photo album but gives tonnes of merry memories. Showing up straight from Mumbai, Harsha posted a discussion asking for cool and adorable hashtags for her wedding. We are swooning over the #Awesomeness of the innovative hashtags!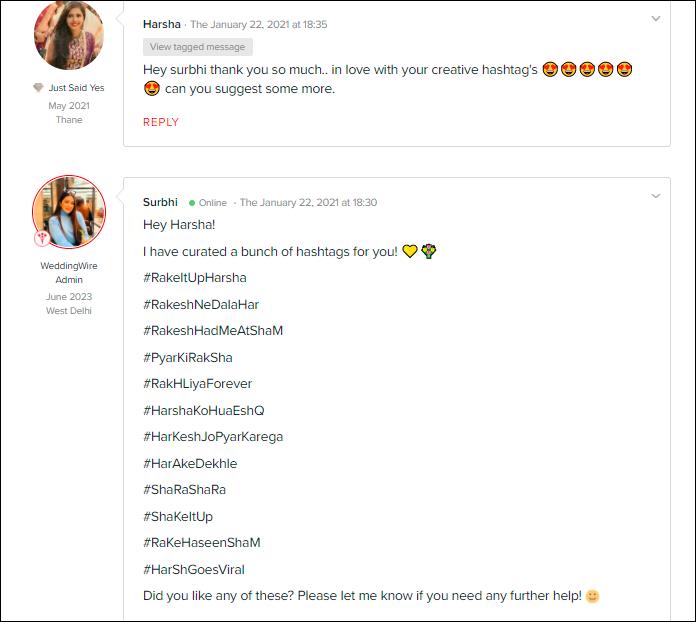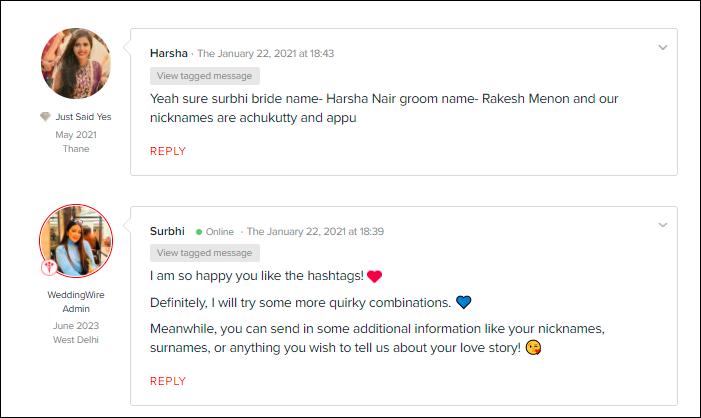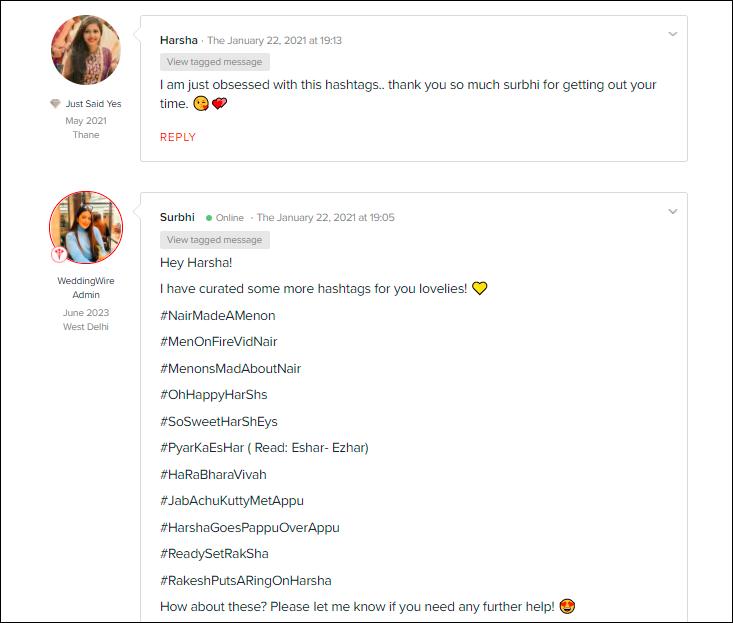 What's better than seeing a community user satisfied with the wedding hashtags? This lovely bride-to-be admired all the hashtags and the community managers left no stone unturned in making her #ShaadiKiTayaari is creative and alluring. We loved #RakeItUpHarsha and #MenOnFireVidNair. Which hashtag did you like the most?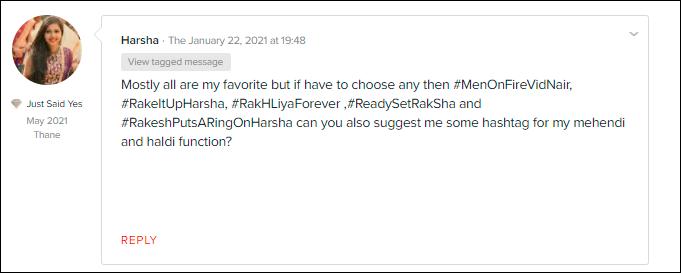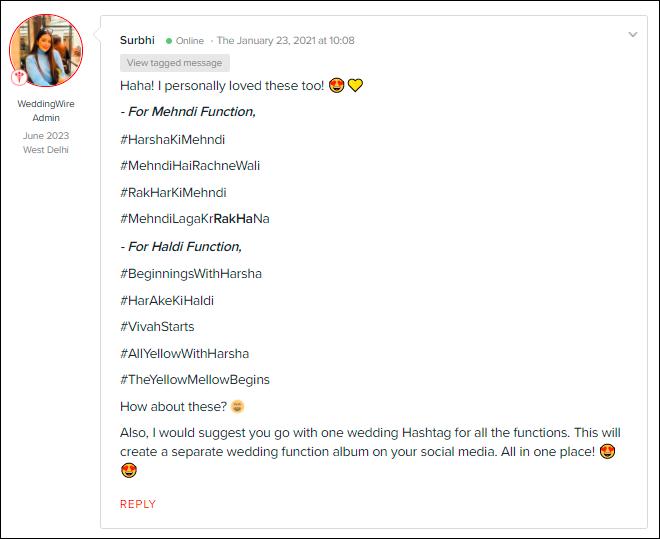 Did you know hashtags for Mehndi and Haldi ceremony are trending? Well, this user made it all clear! Are you all set to start the pre-wedding functions with a #Shamazing Hashtag? Turn up on WeddingWire India community and shoot a post asking for creative hashtags.
Madhulika Khanna and Gautam Mehta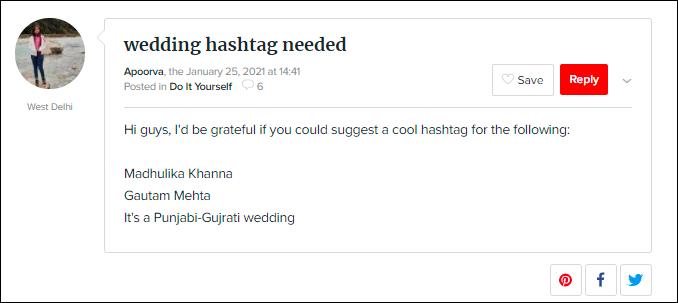 The happiness of a #2States wedding is just out of the world. Full of belonging, Apoorva turned up on WeddingWire India community and asked for wedding hashtags for one of her known. The community managers topped the level of pun intended hashtags!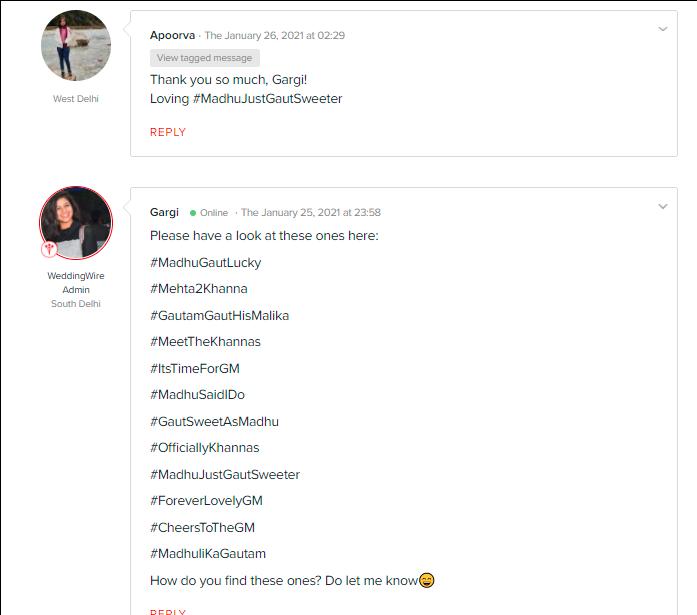 Aren't these astounding hashtags making you want to marry #ASAP? The response of the user always tops the value of hashtag discussions. Have you selected #1 hashtag for your D-day? If not then community managers are here to add a pinch of a quirk in your wedding hashtags.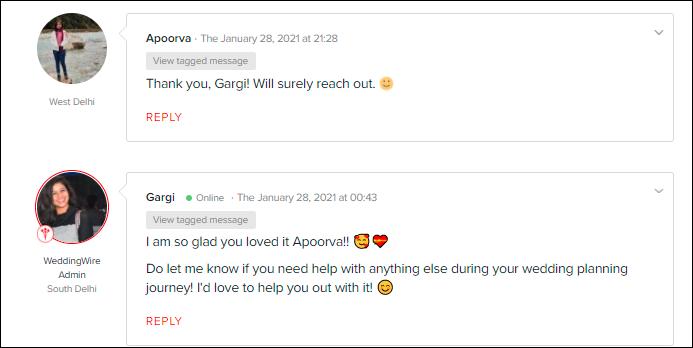 We love how community managers keep up with the conversation and make sure to help the community users with a full heart!
Aishwarya and Biswajit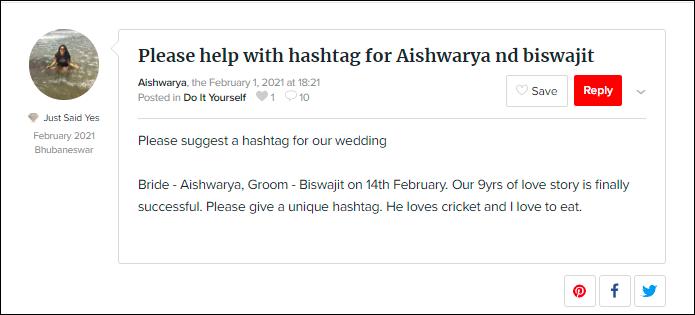 The best relationships are the ones where you can be weird with each other and never give up on your partner. Being in a relationship of nine years, Aishwarya a community user posted a query for her #ValentinesWedding and got a bunch of ideas from the community experts.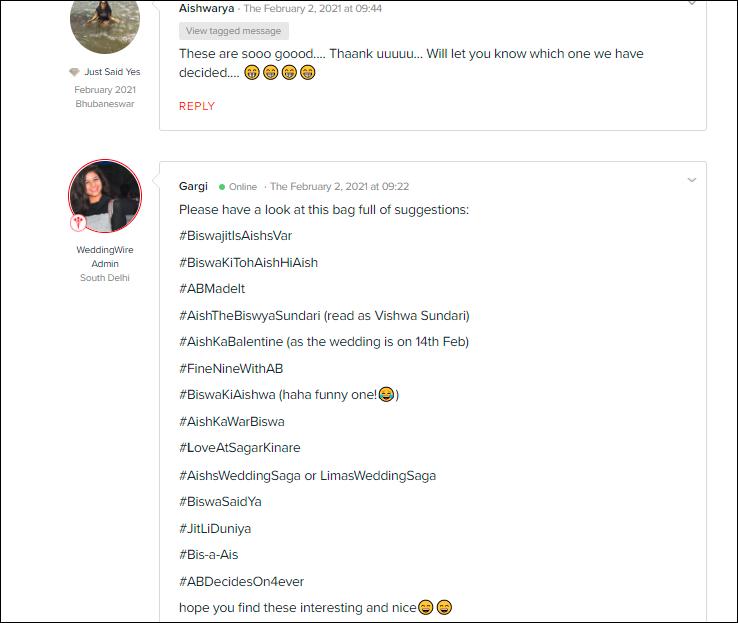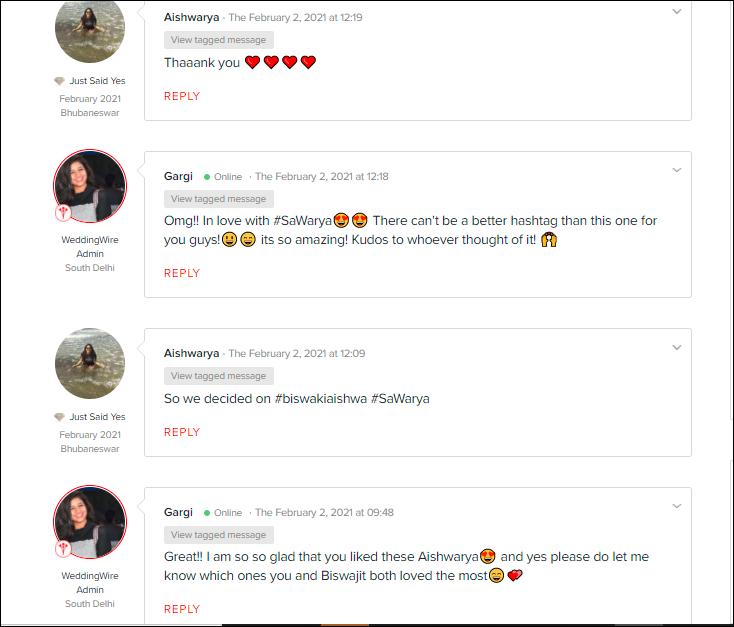 This bride-to-be loved #BiswaKiAishwa and curated a beautiful hashtag for her wedding functions. We are drooling over the suggestions given by the community experts. How about you?
Ojaswini and Kavan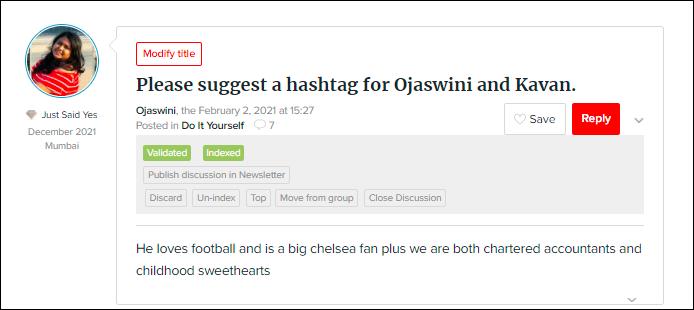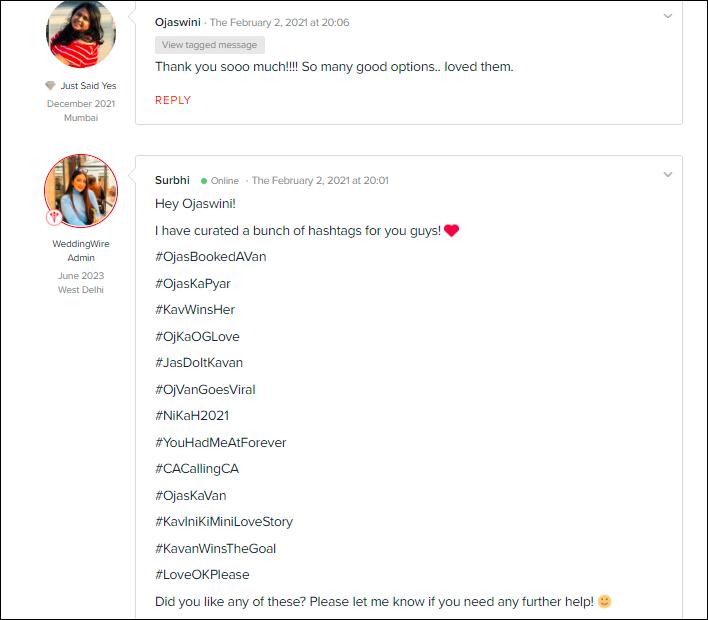 When Chartered accountants met a Chelsa fan!! What a better way to start the new beginnings of togetherness? A little information about the love story can turn any wedding hashtag into a quirky one. A cute love story topped with a dash of romance can level up the hashtags. Ojaswini, a community user, availed a bunch of hashtags from the experts.
Arpit and Sonal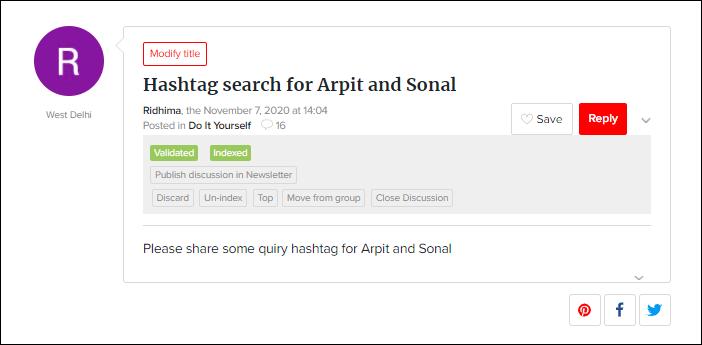 The feeling of a brother's wedding is ethereal and it happiness elevates when sisters get to be a part of wedding planning. Full of enthusiasm, Ridhima turned up and asked for quirky wedding hashtags for her brother's wedding and that's how the community managers at WeddingWire India helped with a bag full of catchy #ShaadiTags.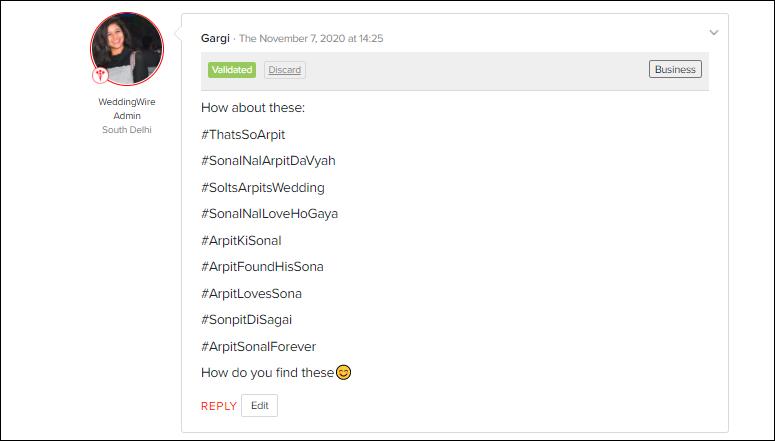 By adding a pinch of quirk and creativity, the community managers at WWI community managed to give a list of wedding hashtags.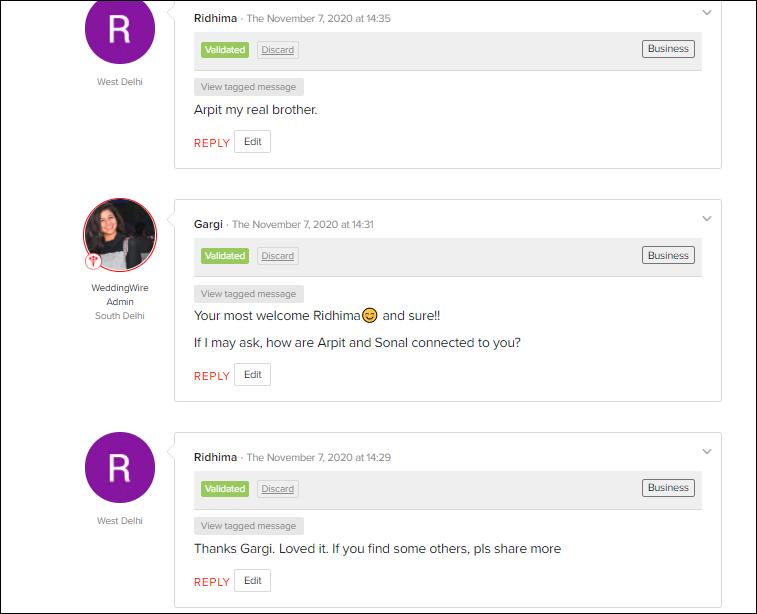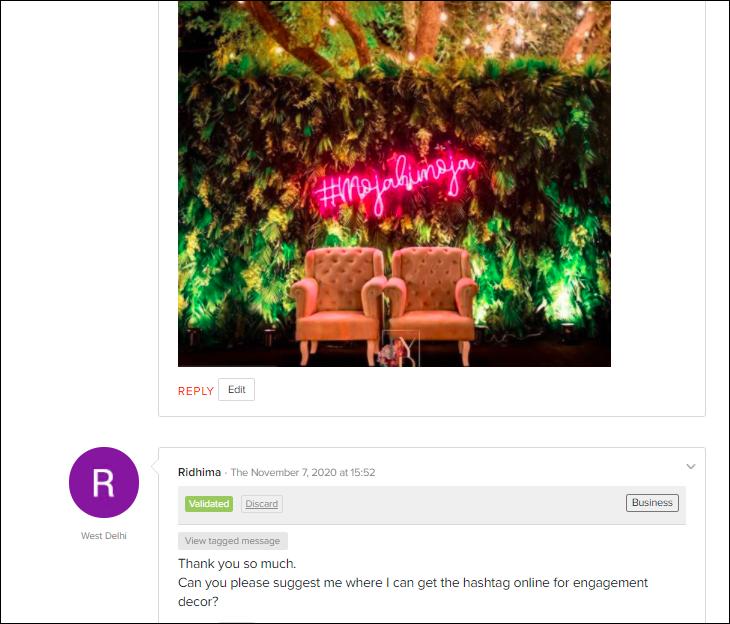 The overwhelming response of the community member levelled the discussion to the fullest. Well, not only wedding hashtags but decor also plays a major role in setting up the frame of the hashtag. Ridhima grabbed a list of decorator near her city and we love how she topped the bar of satisfaction!
Thejaswini and Vidyadhar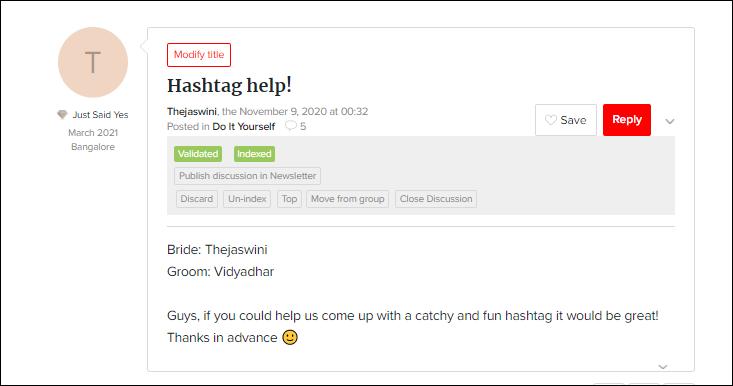 The essence of availing the funniest and pun-intended wedding hashtag is out of the world. Showing up straight from Bangalore, Thejaswini posted a discussion asking for funny and catchy hashtags and we are drooling over the awesome list of #Hashtags.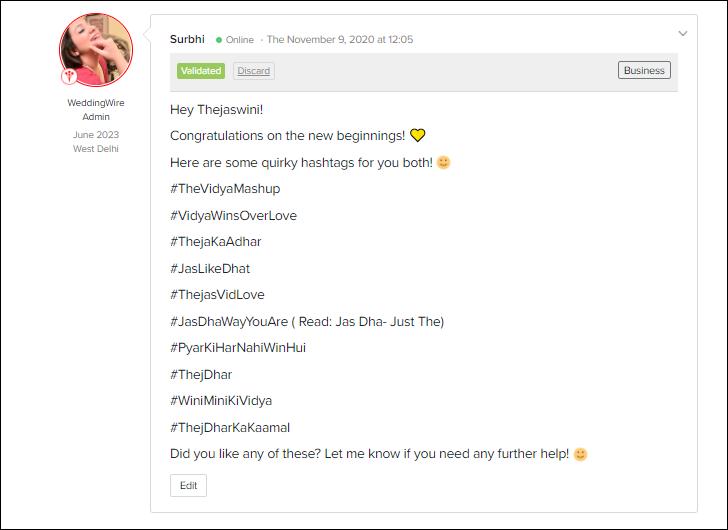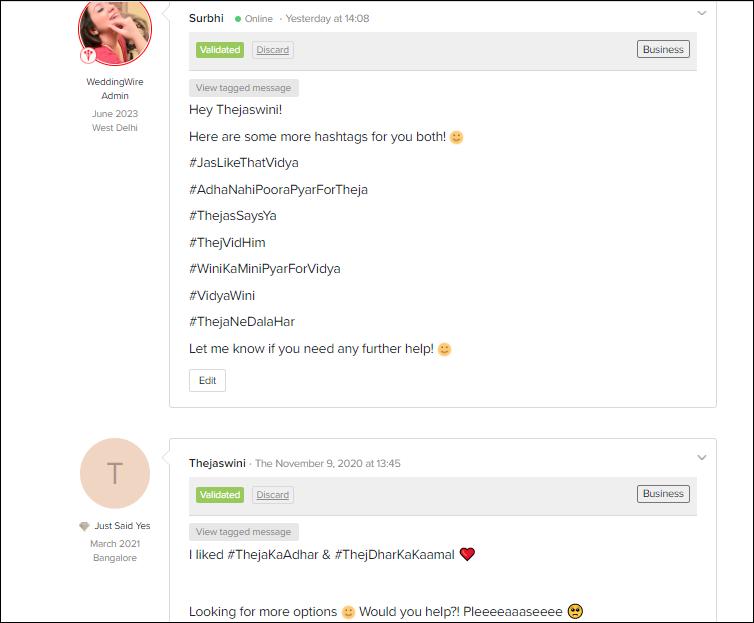 This lovely bride-to-be loved #ThejaKaAdhar & #ThejDharKaKaamal and was happy much with the quick response of community managers! Which one did you like the most?
Chahat Bhatia and Ashima Upadhyay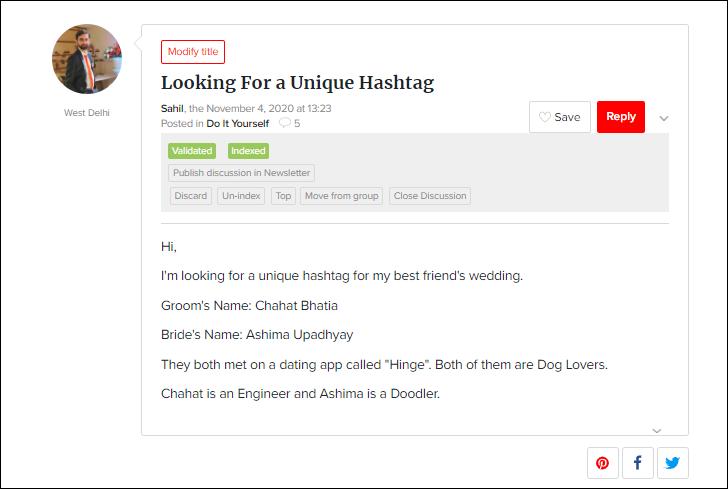 When it's your #VeereDiWedding and you can't keep calm! Sahil, one of the lovely community members, showed up and asked for hashtags for his best friend's wedding.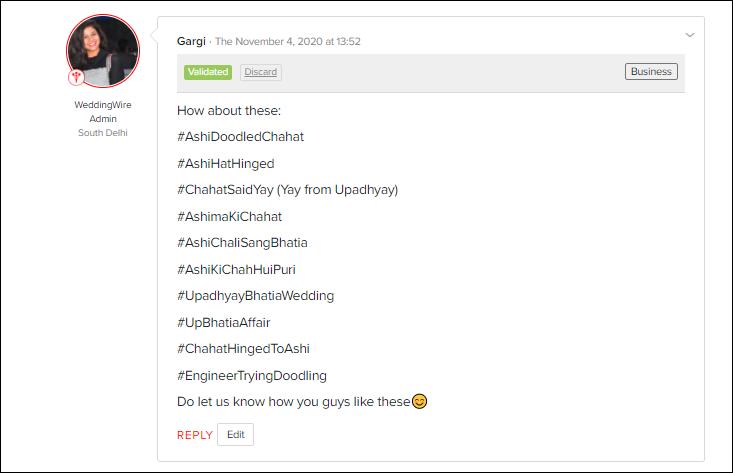 The feeling of meeting someone on a dating app is surreal, and the community managers made sure to add a vibe of togetherness in the wedding hashtag.
Shreshtha Gupta and Kaveen Loungani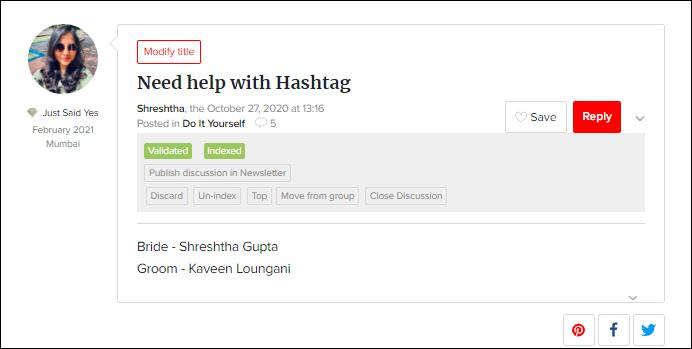 Every love story begins with something special and the best happens when that special thing turns into a forever bond. The bond between Shreshtha and Kaveen elevated their love story and that's how this lovely community member showed up and asked for a #WeddingHashtag.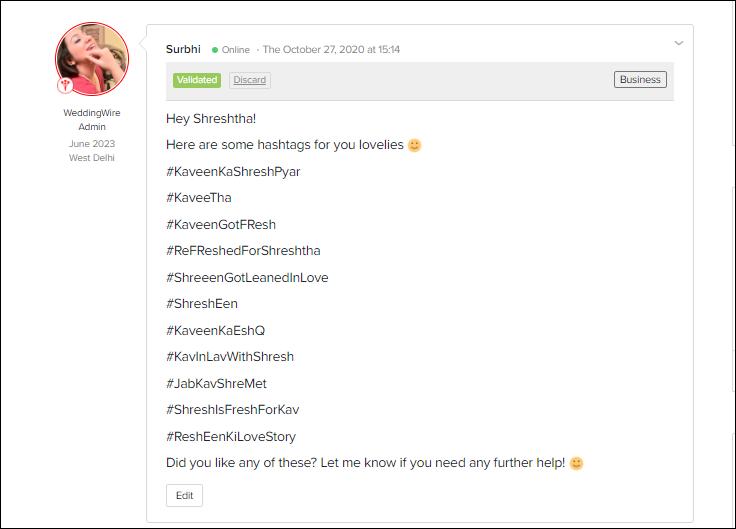 The community managers left no stone unturned in giving the most beautiful hashtags to this lovely member!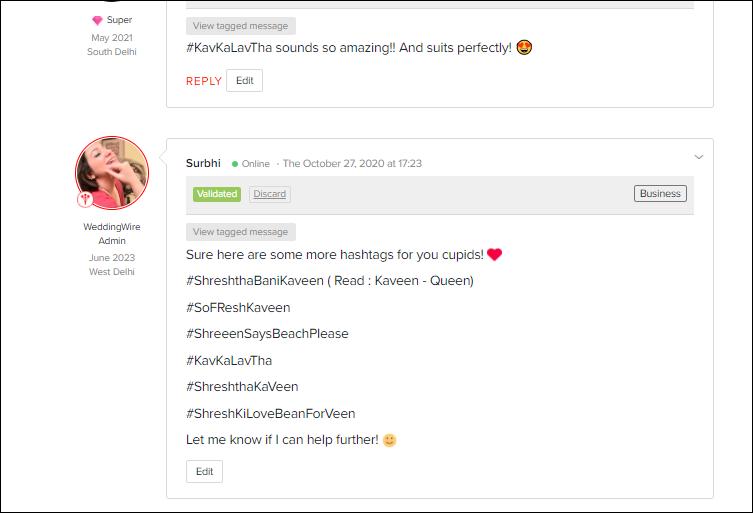 The response from a user is the best part as the satisfaction level increases to the fullest! We love #KaveenkaShreshPyar, which hashtag did you like the most?
Asmita Sawant and Jay Ambaji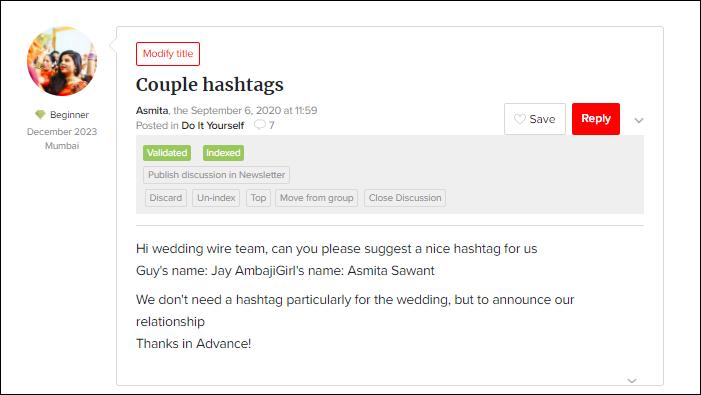 What's better than announcing your relationship to friends and family members with an adorable couple hashtag? Starting the list with a lovely one! Full of excitement, Asmita showed up and asked for a lovable hashtag and that's how the WeddingWire India community supported her with a list of lovely hashtags for the adorable couple.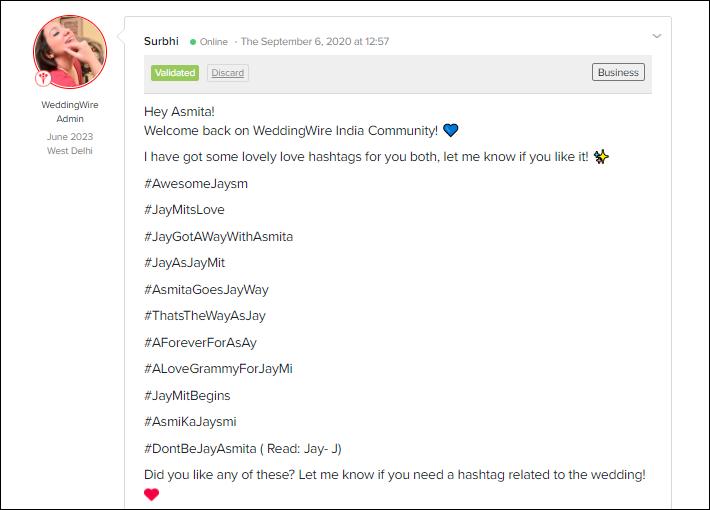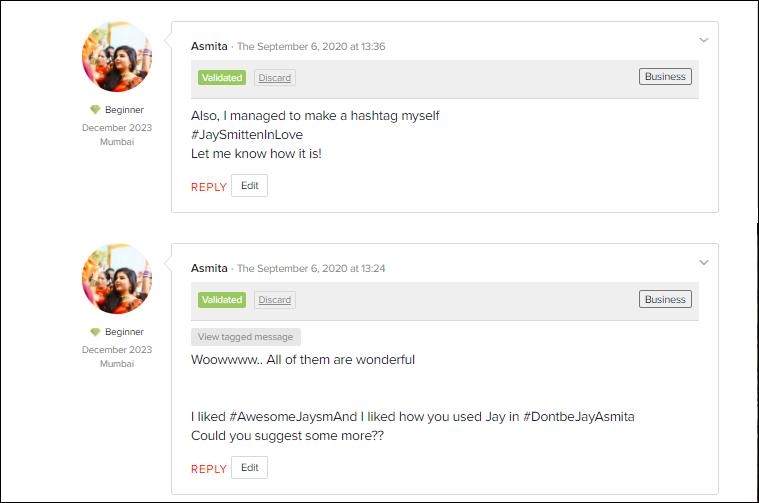 With a blend of love and quirk, that's how our community expert helped her with a list of #Relationship hashtag. Well, the satisfaction of the community members is the key focus at WeddingWire India community. We are drooling over the response of this lovely user!
Aachal Jain and Yash Sakariya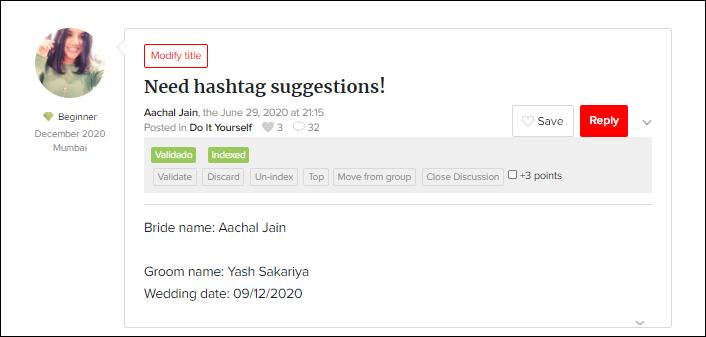 A little information about the couple fills the bar of ideas with innovation and creativity! From sharing zodiac signs to scraping the details of romances, a wedding hashtag levels up!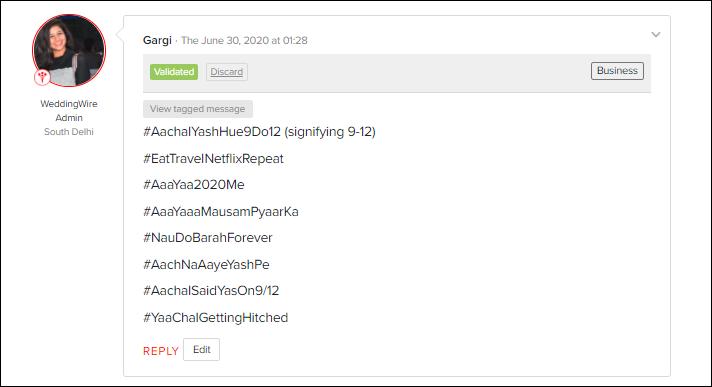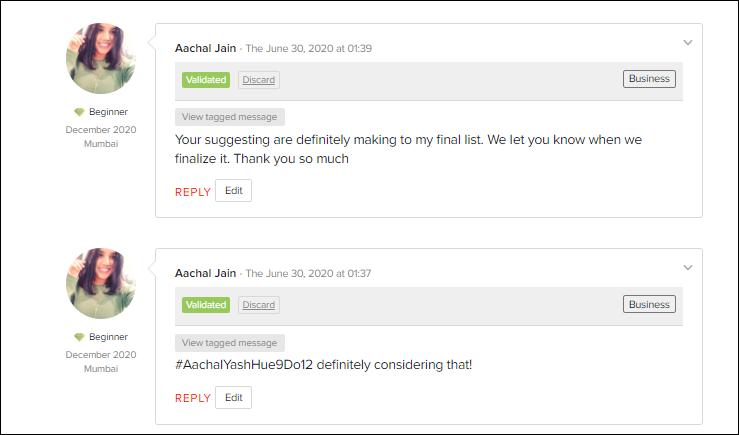 A tad bit of quirk with a dash of romance, these wedding hashtags can slay couple goals and how! Are we right or are we right? #AachalYashHue9Do12, sounds striking! The response from the lovely bride-to-be lights up the glow of the conversation!
Aakriti and Sarat

The wedding fun begins when a couple connects from different poles!

#SaratKiRiti, #SarItGetHitched, and #KritiGotSarat, this pretty bride-to-be shortlisted these three hashtags for her #DreamyWedding. Which one did you like the most?
Elina and Arnab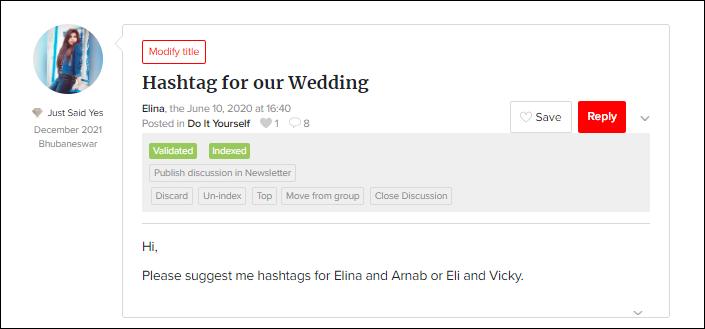 The pleasure of calling your cupid with nicknames hits differently. And, wedding experts at the community assured to level up the hashtags with excellence!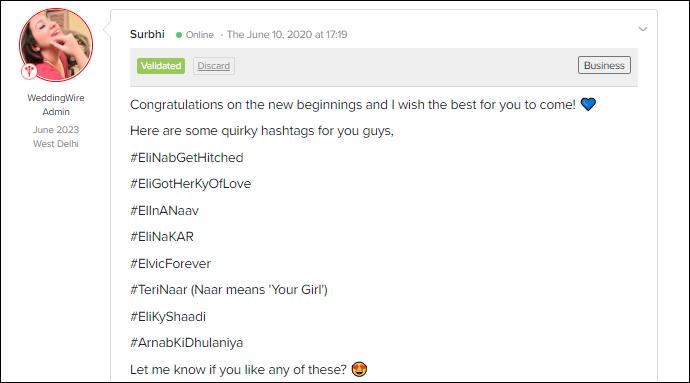 This pretty bride-to-be got #WeddingReady by electing the top three hashtags for her wedding functions. After all, the charm of #Dhulhaniya enlightens when her name binds with her better half!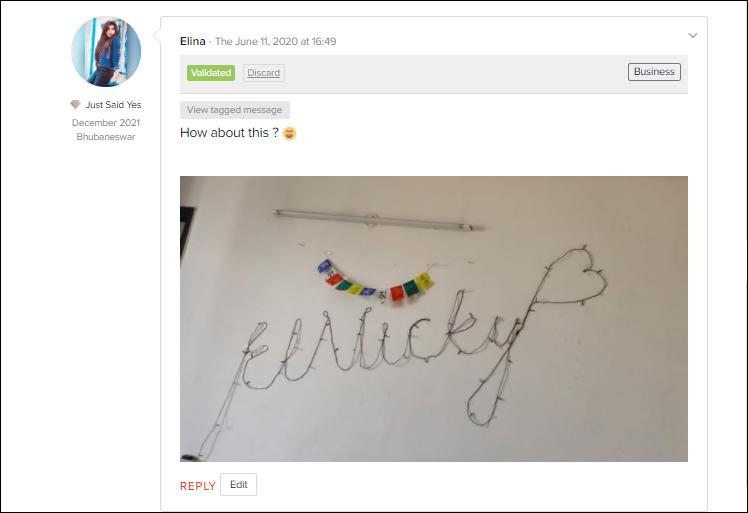 The feeling of bond brightens when we get to feel the presence of our beloved twenty-four-seven. We are swooning over this lovely fairy light setup done by one of the community members!
Did you decide on your wedding hashtag yet? Create your own Wedding hashtag with WeddingWire India community and grab the ball of merriment while you use the tag for your #ShaadiKiPictures.