Trending Wedding Invitation Ideas of This Year's Shaadi Season
This read is your ultimate guide to finalising on one of the trendiest wedding invitation ideas of the year 2020. The designs are classy, unique & worth a read!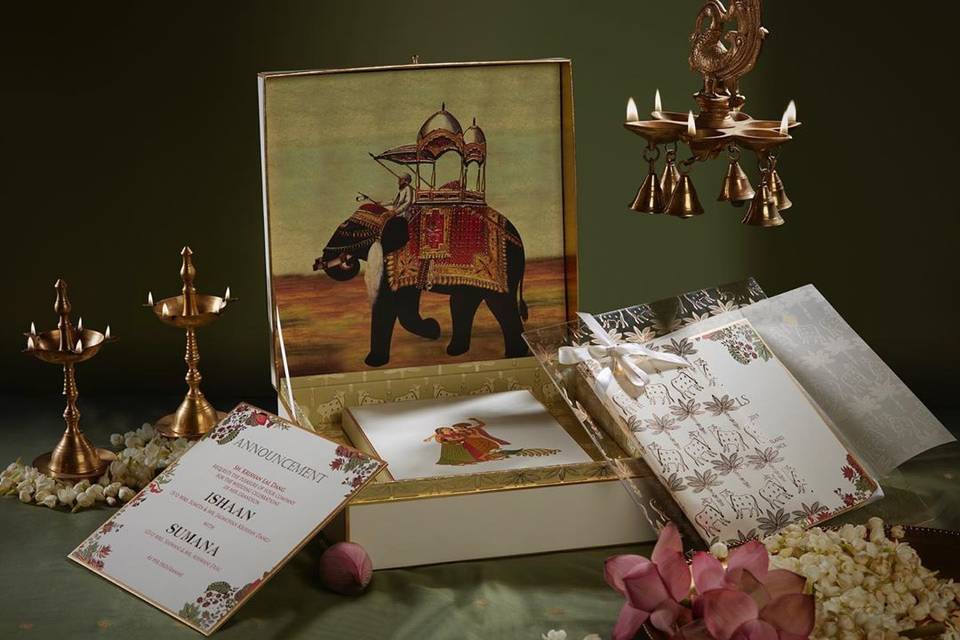 Wedding invitation ideas is one of the first big decisions, as far as wedding preparations are concerned, that the bride and the groom need to take. Since first impressions are very important, it is only ideal to sit and browse through an array of wedding invitation ideas to find the one that matches the preference of the couple best. Nowadays, wedding invitation ideas are not just about sharing information about the wedding and merely extending an invitation to the guests.
The invitation card has now become a style symbol, something that trends and something that is being thought upon by expert artists, every wedding season. So what kind of wedding invitation ideas are hot sellers right now? Find out!
Hinglish Wedding Invitation Idea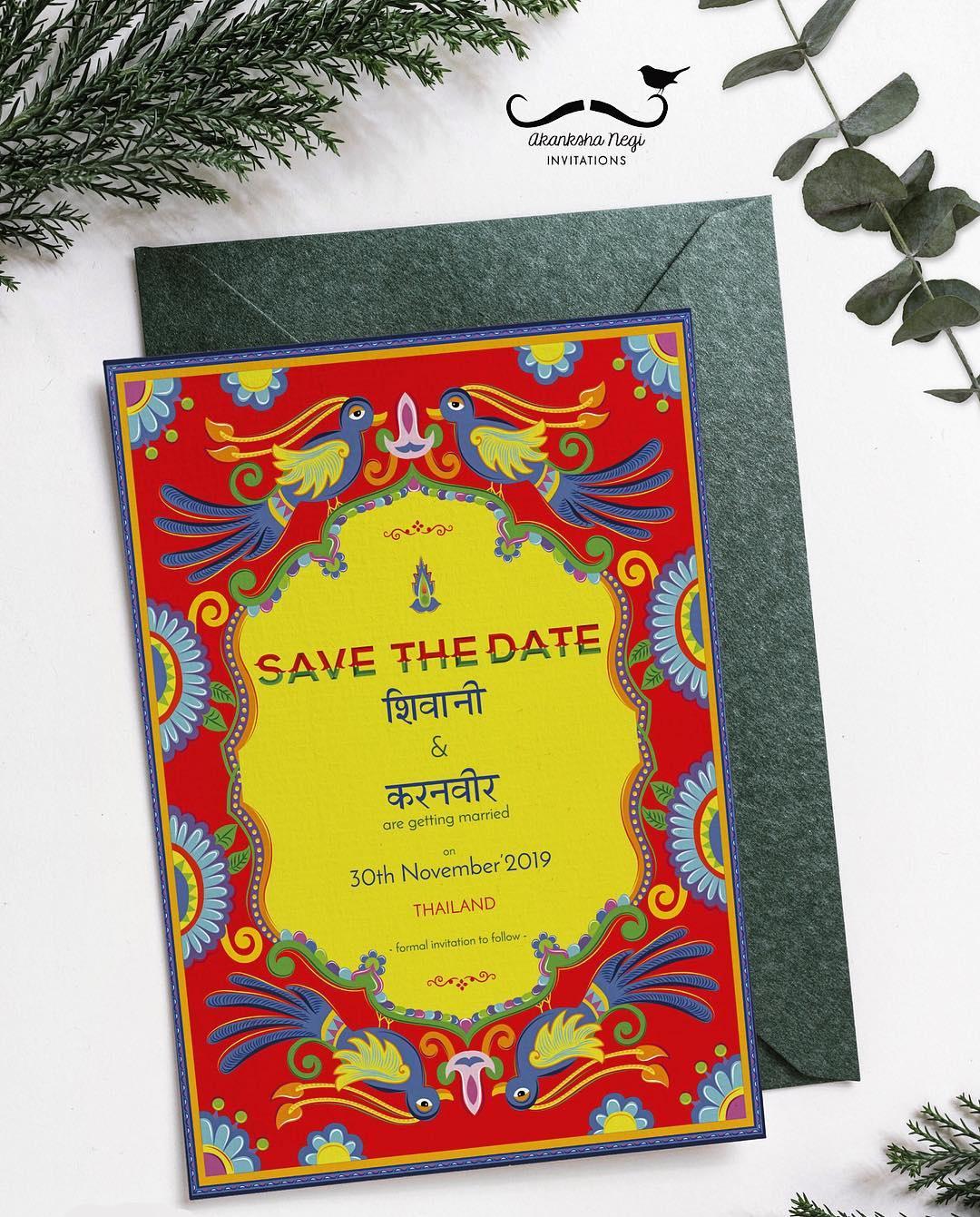 Hinglish, which means a mix of English and Hindi, has become a trend of the moment among millennials nowadays. So much so, that couples are now liking the idea of incorporating both the languages in their wedding invitation ideas and offering their guests a hint of Desi Tadka to begin with the celebrations. For such designs, not just Hindi, but English can also be amalgamated with any other regional language, making the card feel more personalised and unique to extend.
Acrylic Crystal Clear Invite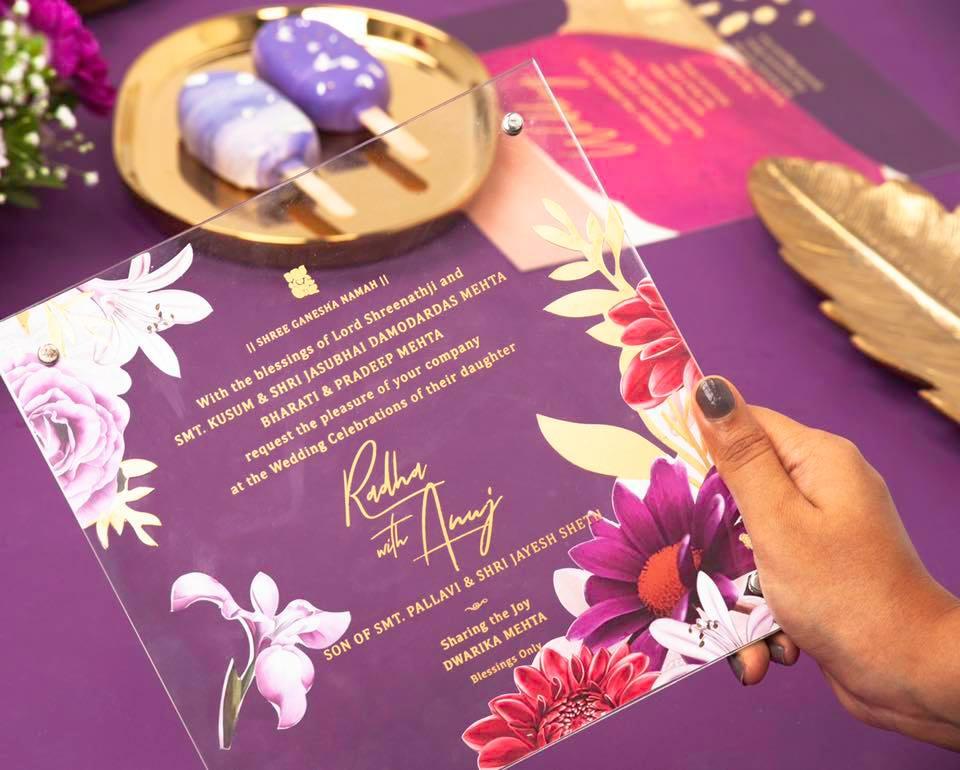 If getting wedding invitation ideas printed on paper seems tad boring or too monotonous, then getting the invite inked on a piece of crystal clear glass will be a great idea to consider. Ditching plastic invites and opting for glass will be a great way of being more eco-friendly and sending across an invite that is a class apart at the same time. To add on to the decoration of the wedding invitation ideas, one can opt to frame it in retro style wooden or metallic photo frames too!
Fragrant Monochrome Structures Invite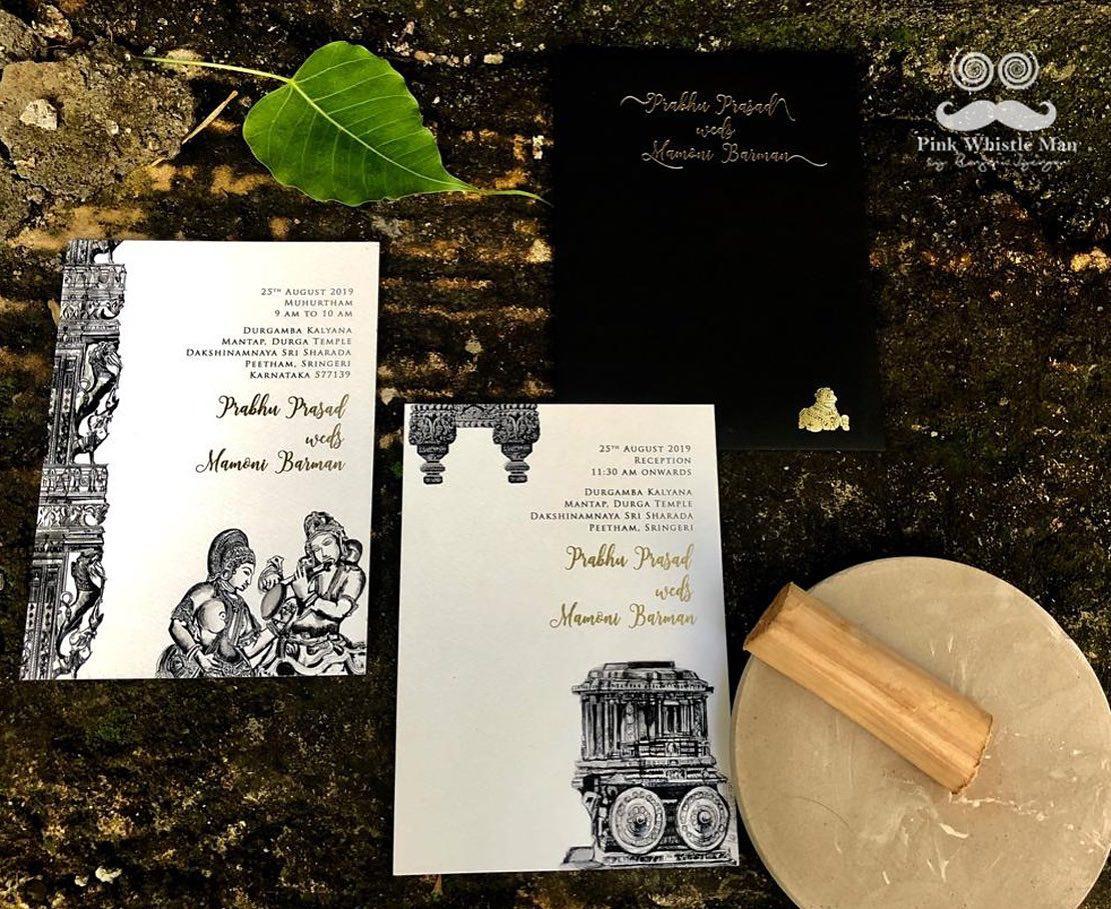 Let's talk about the monochrome structures first. Instead of using the regular wedding motifs and basic geometric or floral patterns, get monochrome temple structures imprinted on the card to give uniqueness to the design. Now speaking of the main element, or the star attraction of this wedding invitation ideas, the fragrant nature of it, we can say that your guests are going to love opening your wedding invitation and getting warmed up by the scent of Sandalwood emitting from the sleeves of the card. If not Sandalwood, then one can opt for rose, Khus, Marigold or even Jasmine fragrance to add to the wedding card.
Hand Embroidered Wedding Invitation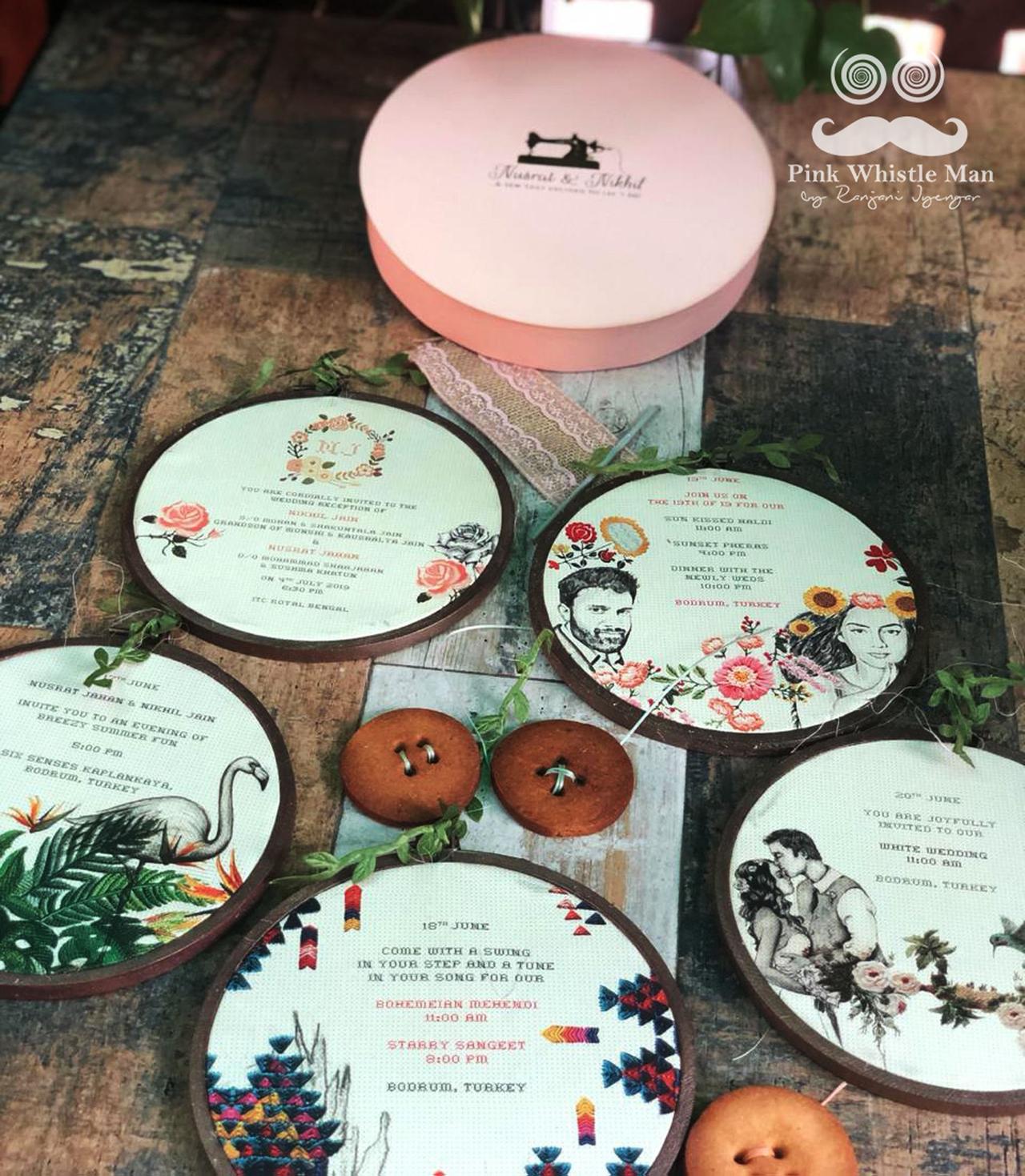 This one-of-its-kind wedding invitation ideas comes with a heavy dose of wow factor with it! Ditching paper or even glass, this invitation style is quirkier and more artistic in nature. Disks of hand-embroidered invitation design, with beautiful artworks, floral patterns and portraits of the bride and the groom is what graces this wedding design style in complete harmony. To add on to the invitation, big button design scrumptious cookies are what will turn out to be a fun treat for all the guests to munch on, while they'll take their own sweet time to go through all the invitation disks in detail.
Eco-Friendly Wedding Card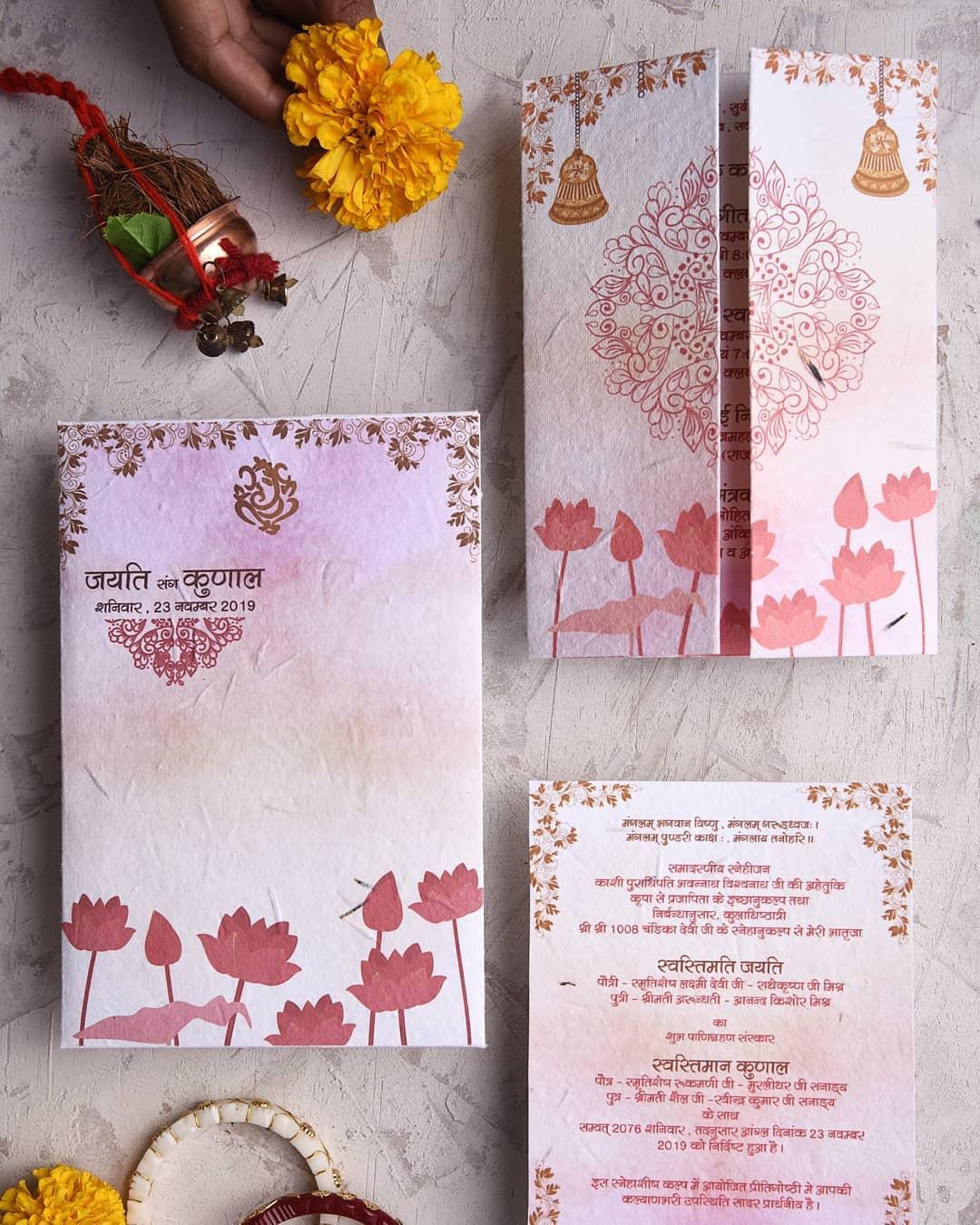 The card might appear just like any other regular invitation card, but this one actually comes with a pocket full of surprises and with a special purpose. Once the wedding is over and all the guests are back home wondering what to do with the beautiful invitation card, there are a set of instructions to follow and have some fun! These wedding cards are embedded with seeds of different plants, which once soaked in water and then transferred to soil, will turn into a beautiful sapling which all the guests can nurture and help grow into a full plant or tree later. Brilliant, isn't it?
3D Cut-Out Invitation Card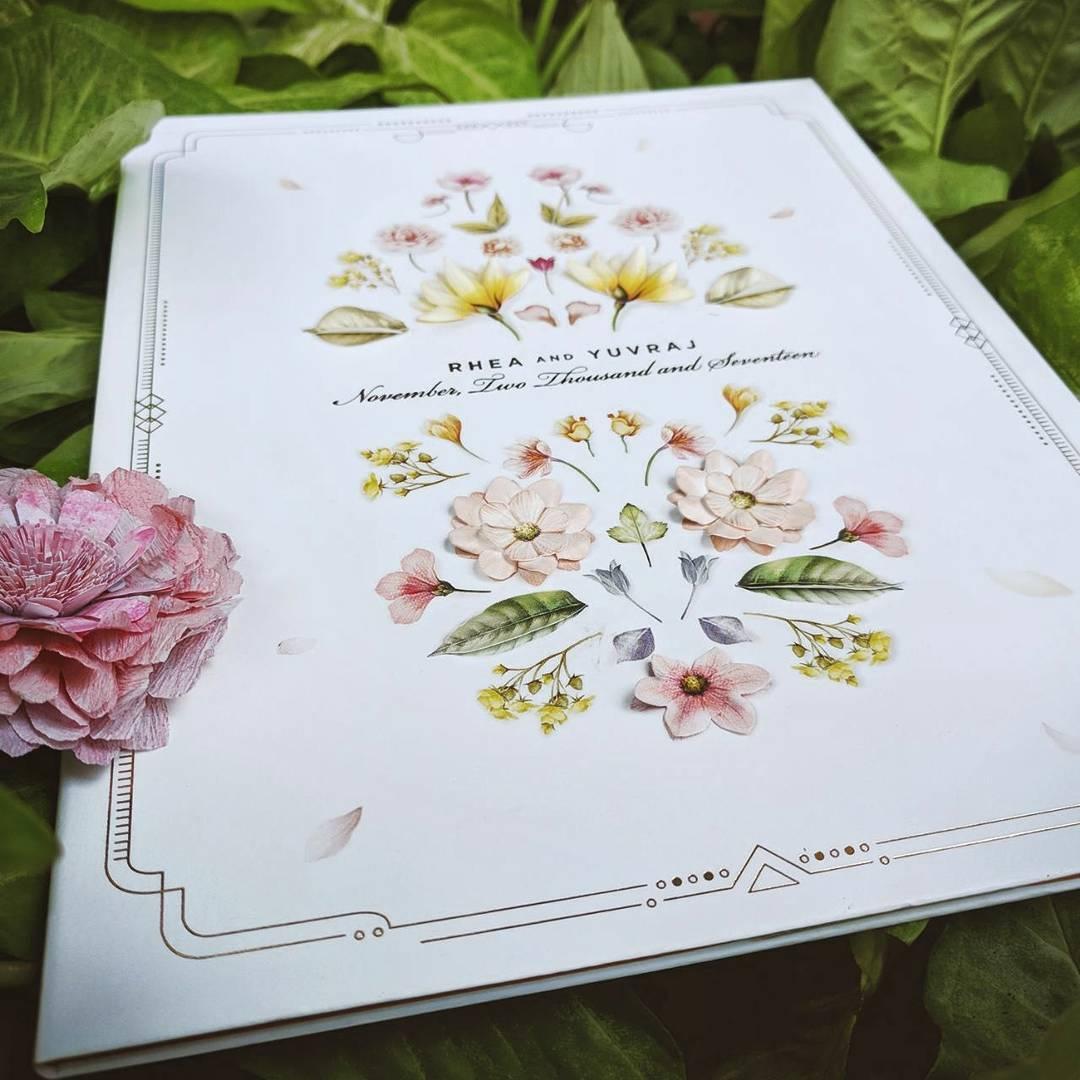 With laser technology now so readily available, creating 3D art on paper has become an easy practice. Many designers nowadays can be seen presenting 3D cards with varying depths to create realistic looking art on wedding invitation ideas styles. This realistic looking technique will ante up any regular 2D wedding invitation ideas, bringing it to life and giving all the guests a moment of ooh and aah to admire the card right.
These invitation cards can be best accompanied by wedding survival kits, stationery, a box of chocolates, assorted Indian sweets, a box of jewellery or even bags of dry fruits to go with. Remember, these wedding invitation ideas styles are a vision that can very easily be customised to cater to you every couple's personal vision board and budgets easily.
You can also browse through our list of invitation designers who ace the art of delivering trendiest wedding invitation ideas styles to find the design that you've been looking for.