All The Funny Wedding Invitations Inspiration You Need To See
With e-invites taking over, there has been a great shift in the mind-sets of people. They can now accept funny wedding invitations as a great idea to break the monotony.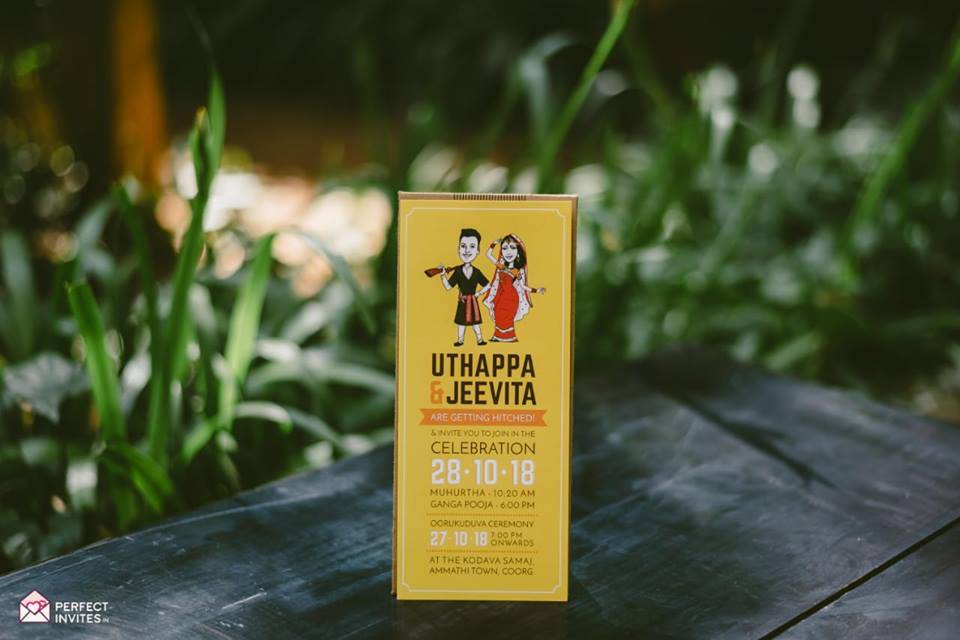 While funny quotes and funny pictures make for a good choice in e-invites, they can be on the physical wedding invitations as well and still not look odd. The catch here is to know how much humour to add for which medium.
For online wedding invitations, there are way too many fun themes and designs available that do not look over-the-top at all. However, when you choose a physical wedding invitation that will be dropped in by mail to your guests' house, you need to make sure that it doesn't go overboard and still match everybody's sensibilities.
The key here is to keep it moderate while you finalise the exact wording of your funny marriage invitation. While your friends and family love you too much to get your humour, the trick is to keep in mind the business contacts and the elderly.
A lot of millennial couples wanting to crazy with funny wedding invitations, however, are choosing to get two sets of cards designed to take care of everyone vis-à-vis the equation they share. Choosing to opt for a formal wedding invitation letter to colleagues Let's look at some ideas that will help you choose funny wedding invitations for yourself.
A. Funny Wedding Invitations with Funny Quotes
If funny quotes are what you want to put on your personal wedding invitation messages for friends then make sure that they are quirky, enjoyable and takes care of everybody's sensibilities.
Funny wedding invitations are a current trend that we are loving and therefore have put together some of our favourite quotes for you to choose from. You can always mix them up or combine two ideas to make sure yours is one of the best funny wedding invitations.
1. If Subtle Humour Is Your Style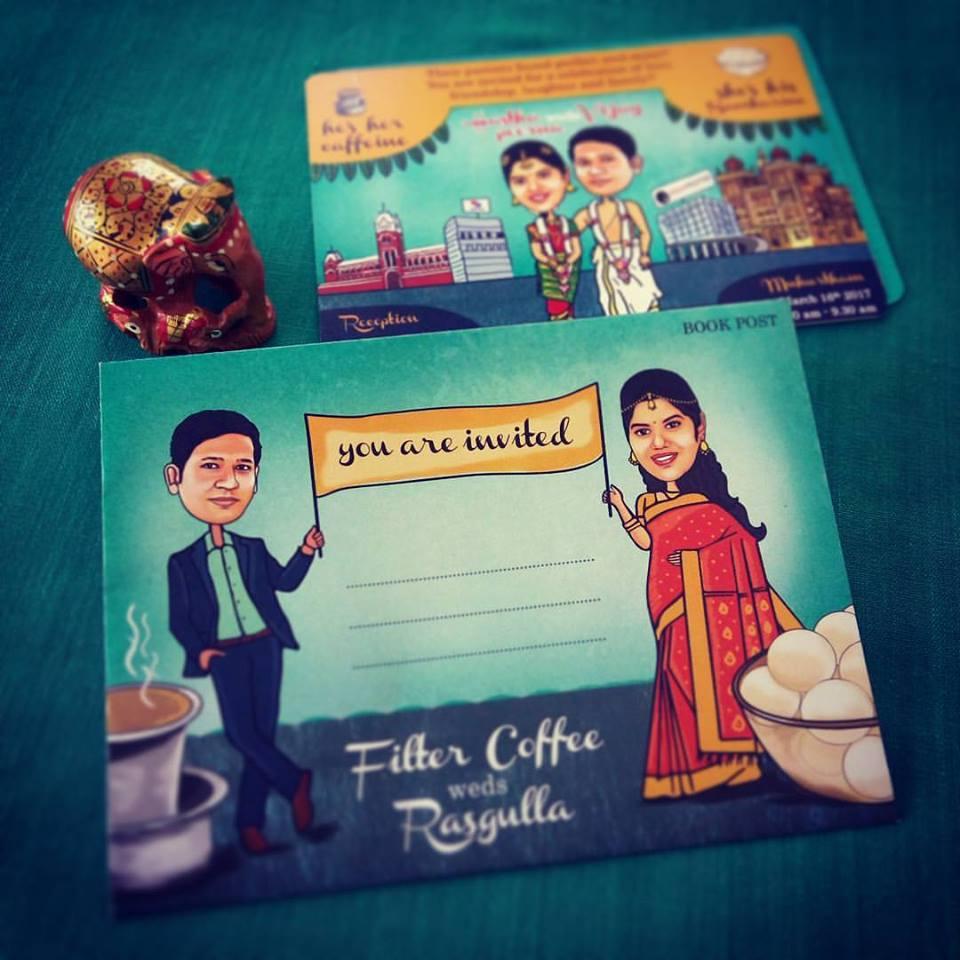 "The groom always smiles proudly because he's convinced he's accomplished something quite wonderful. The bride smiles because she's been able to convince him of it."
Our smiles will only get wider, and our laughs bigger, with our friends and family by our sides as we take the plunge!
Join us to celebrate our big day with us!
2. If Rhetorical Humour Makes You Laugh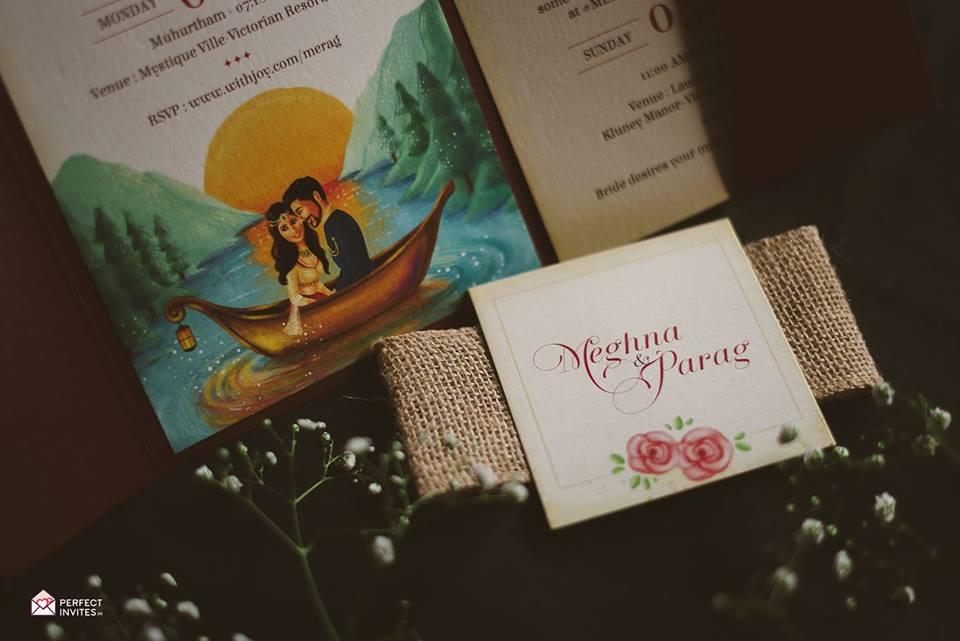 "Is there a Happily Ever After?
We thought let's try and find out.
Join us in our celebrations as we vow to begin this new journey together!"
3. Your Moment of Truth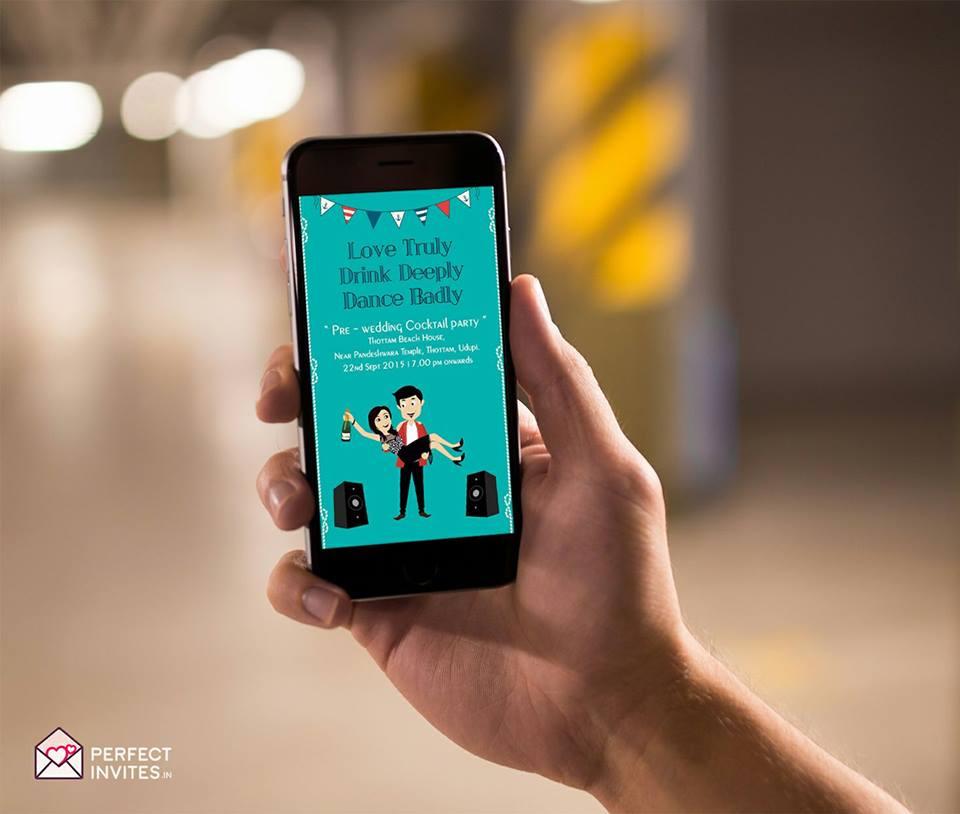 "Love Truly, Drink Deeply, Dance Badly as we get hitched!
We joyfully invite you to our wedding to make the mess even bigger, the chaos even grander, and the moments even happier."
4. The Over The Top Bollywood Influence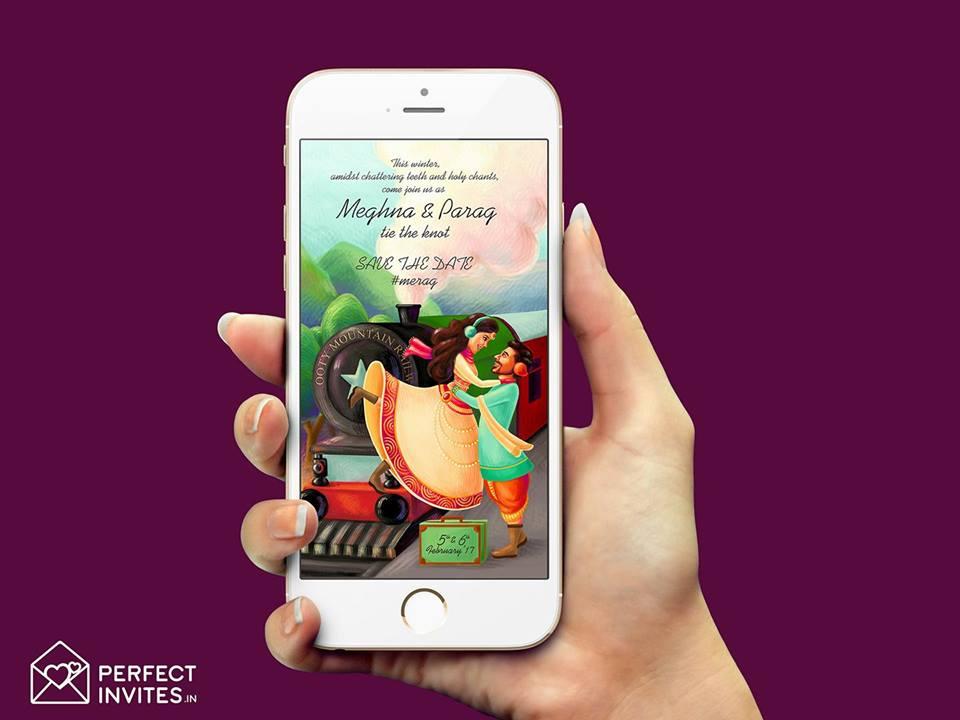 "Aakhir Hero ko Heroine Milni Hi Thi!
You're cordially invited to the most Masala Packed Wedding of the Year.
Yahaan gaana bhi hoga,
Aur band baaja bhi hoga.
Yahaan har thumke pe
seetiyan bhi bajengi,
Aur har maa ki aanhken
Khushi se bheegey gi."
5. Short but Snarky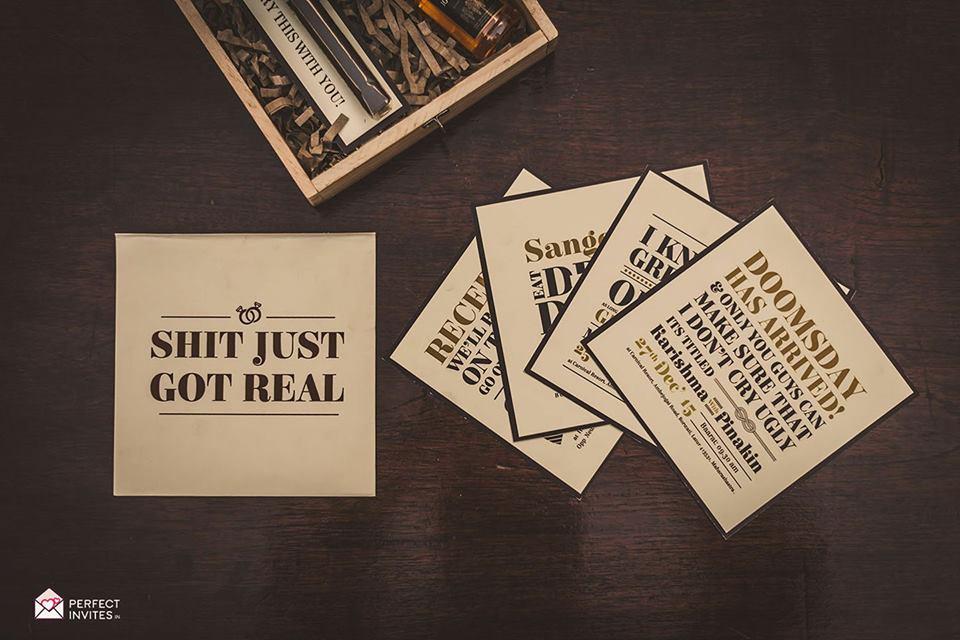 Well, we agree they are a little too over the top, but some other small phrases that we read and loved in funny wedding invitations include-
"Shit Just Got Real"
"Doomsday has arrived"
"Two less fish in the sea."
"That moment when you realise it's too late to run"
"Wedding – the socially acceptable excuse for day drinking",
"Dress Code is very simple; just keep your clothes on!"
"Sangeet – now get out there and shake what your mama gave you!"
B. Funny Wedding Invitations with Funny Pictures
If funny quotes and phrases weren't enough, couples these days are also going in for funny pictures that make the wedding invitations quirky and laughable. While the traditional motifs and materials will never be out of trend, the truth is that these days everybody is on the lookout for something new and funny.
Amidst a 1000 options of pictures for funny wedding invitations, it is important for couples to choose something rationally or with a theme in mind. That's because anything done without purpose or theme of the wedding can look out of place rather easily. We've listed our favourite ideas that we'd love for you to copy for your funny wedding invitations.
1. Draw Your Own Caricatures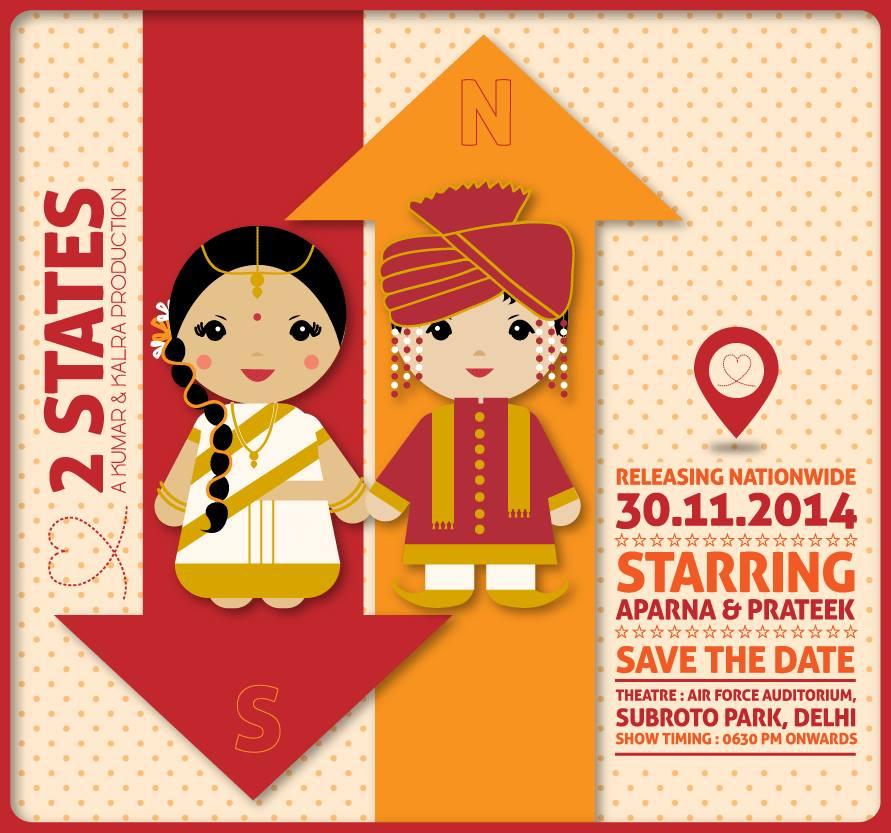 Anything turned into caricatures are said to become less serious. But in this case, caricatures aren't just going to be less serious but will be rather funny. Wedding invitations with caricatures of the bride and groom and a hilarious quote is what the perfect ingredient to design funny wedding invitations is.
All you have to do is catch hold of the theme you want your caricatures to represent. Like many millennial couples like the idea of dressing their caricatures In traditional clothes to reflect that it's a wedding card. However, you could even go for animations like that of Marvel heroes and it will still be a super hit and super funny wedding invitation card.
2. Pop Art to the Rescue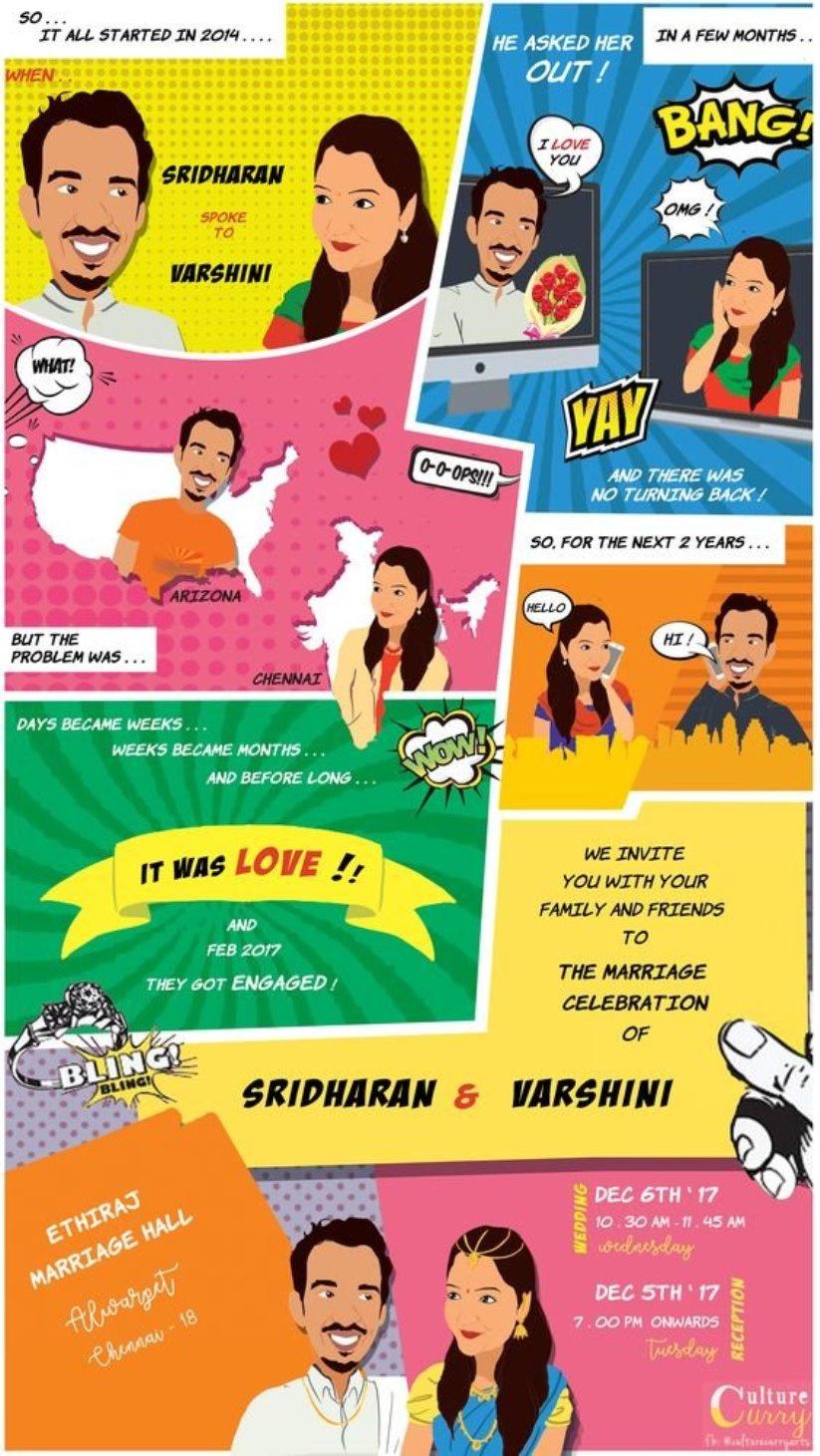 Image Courtesy: Culture Curry
While we are not sure how many millennial couples have grown reading comic books, but we are 100% sure that using pop art in your wedding invitations can make them funny and unique.
Look for a hilarious dialogue exchange between the bride and groom and use pop art to put them on your invite. This is sure to make people laugh and will also prove to be one of the best funny wedding invitations that your guests come across.
Just make sure you use the right background theme for your pop art to look like a comic book, or else it can kill the humour completely.
3. Iconic Bollywood Andaaz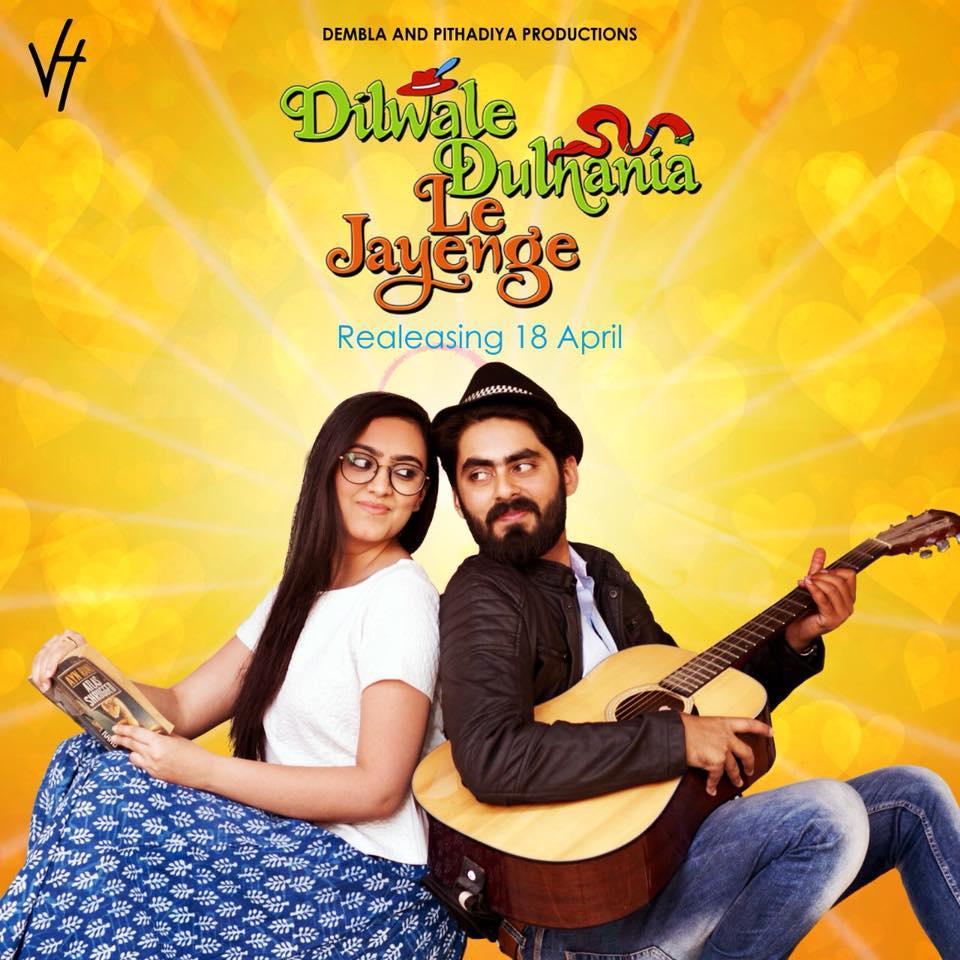 Image Courtesy: Girish Alawa Photography
While the love for Hindi films and actors in our country is extremely normal, but when couples choose to take their love to another level by creating iconic moments from Bollywood for their wedding invitation cards it becomes rather funny.
This eccentric idea is one you should definitely give a try if you are not camera shy as this will become a two-in-one experience for you and cover your pre-wedding shoot as well.
4. Hilarious Pre-Wedding Photos for Quirky Ideas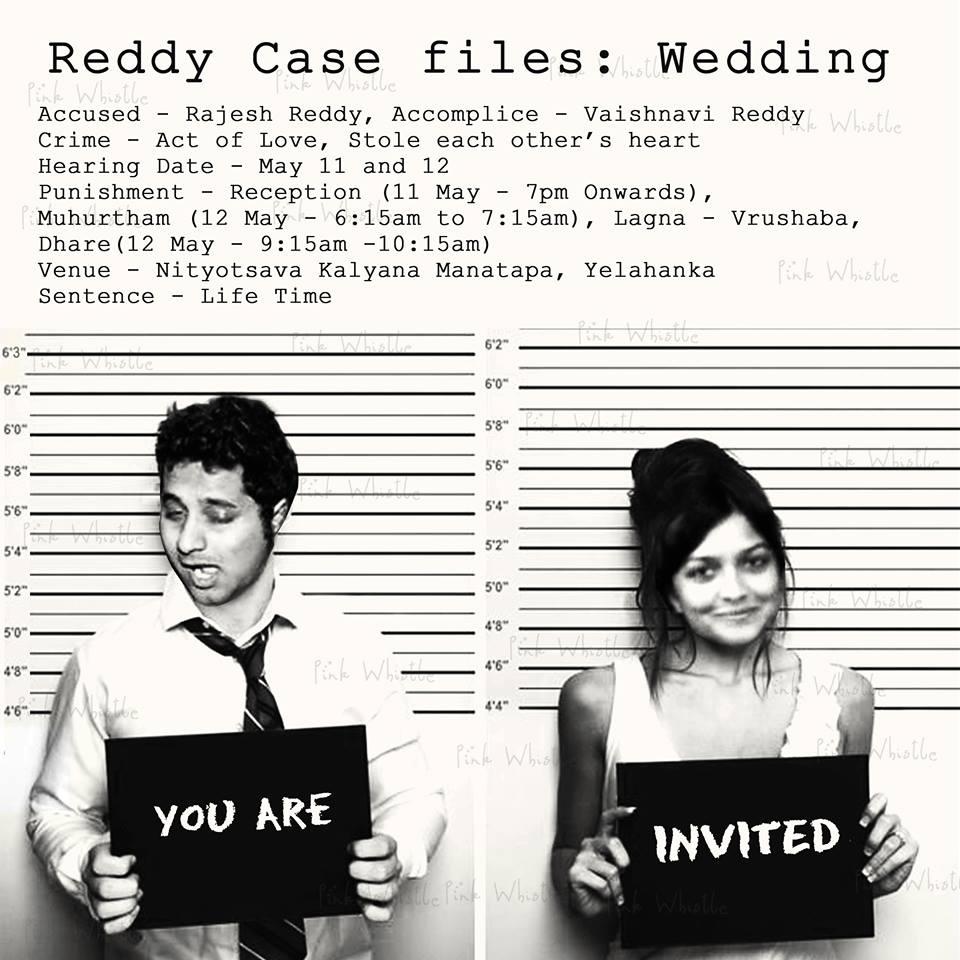 If copying Bollywood posters were not enough, millennial couples can also go for a photo shoot to be able to use their hilarious pictures with quotes on their funny wedding invitations.
One of the ideas that we liked the most was that of making the e-invite as a crime report with the bride and groom called guilty. Using funny photos of the bride and groom don't just make the invite more personalised but also make it that much funnier and relatable for the guests.
While funny wedding invitations are a by-product of every couple's personal taste and sense of humour, in the present times it has become the cool thing that everyone wants to do. Therefore, with this list of funny quotes and pictures that you can use, we hope we've made the choice much easier for you.
Our pro tip for all the millennial couples out there is to stick to something that they organically relate with. Also, do not forget to get it passed with a few important people in your family as humour and funny wedding invitations are something that can most often get misconstrued or just go flat in some cases. We do not want anything of this sort to happen with your invites for sure.
Did you like any of the above ideas for funny wedding invitations? Comment below and tell us your idea.