Choose from 8 Magnificent Wedding Themes To Get A Truly Grand Day
Planning a wedding theme to be on-point for your decor, dining and dreamy looks, but low on ideas? Here are some outstanding ideas from this wedding season!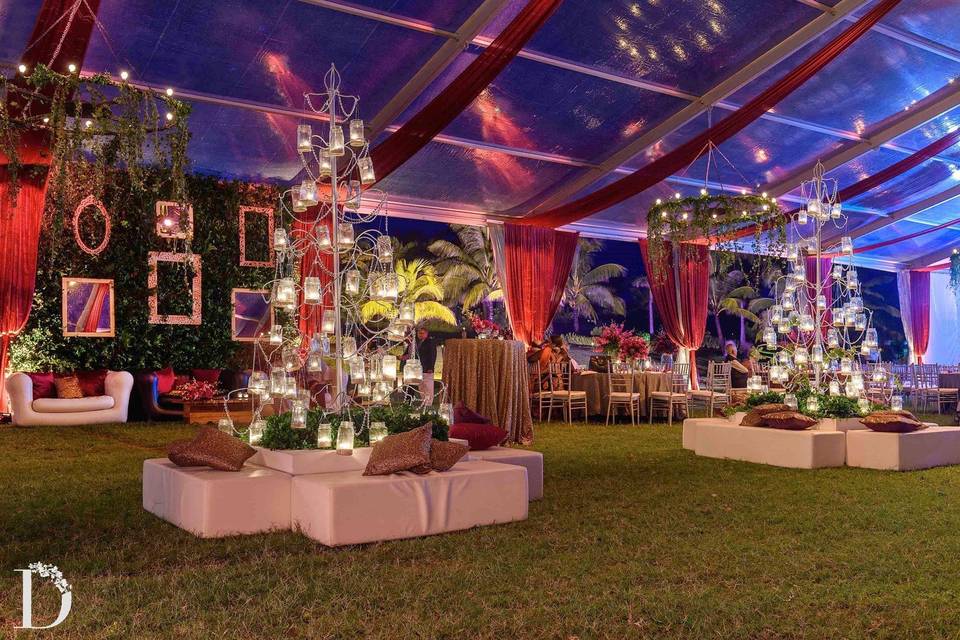 A wedding theme speaks volumes about the couple and that's the main reason why so many brides and grooms today are opting for one. To have a truly personalised wedding with a gorgeous theme, sit down with your wedding planner and decorator both, for one will conceptualise your idea and the other will execute it.
It's important that everyone has clarity on how you envision your wedding theme so that any confusion on a later date can be avoided. The installations, flower arrangements, decor items, seating, each and every detail needs to reflect your wedding theme. If you're looking for some inspiration, here are the most popular weddings themes of the season that stood out from the crowd.
1. Colour-based wedding theme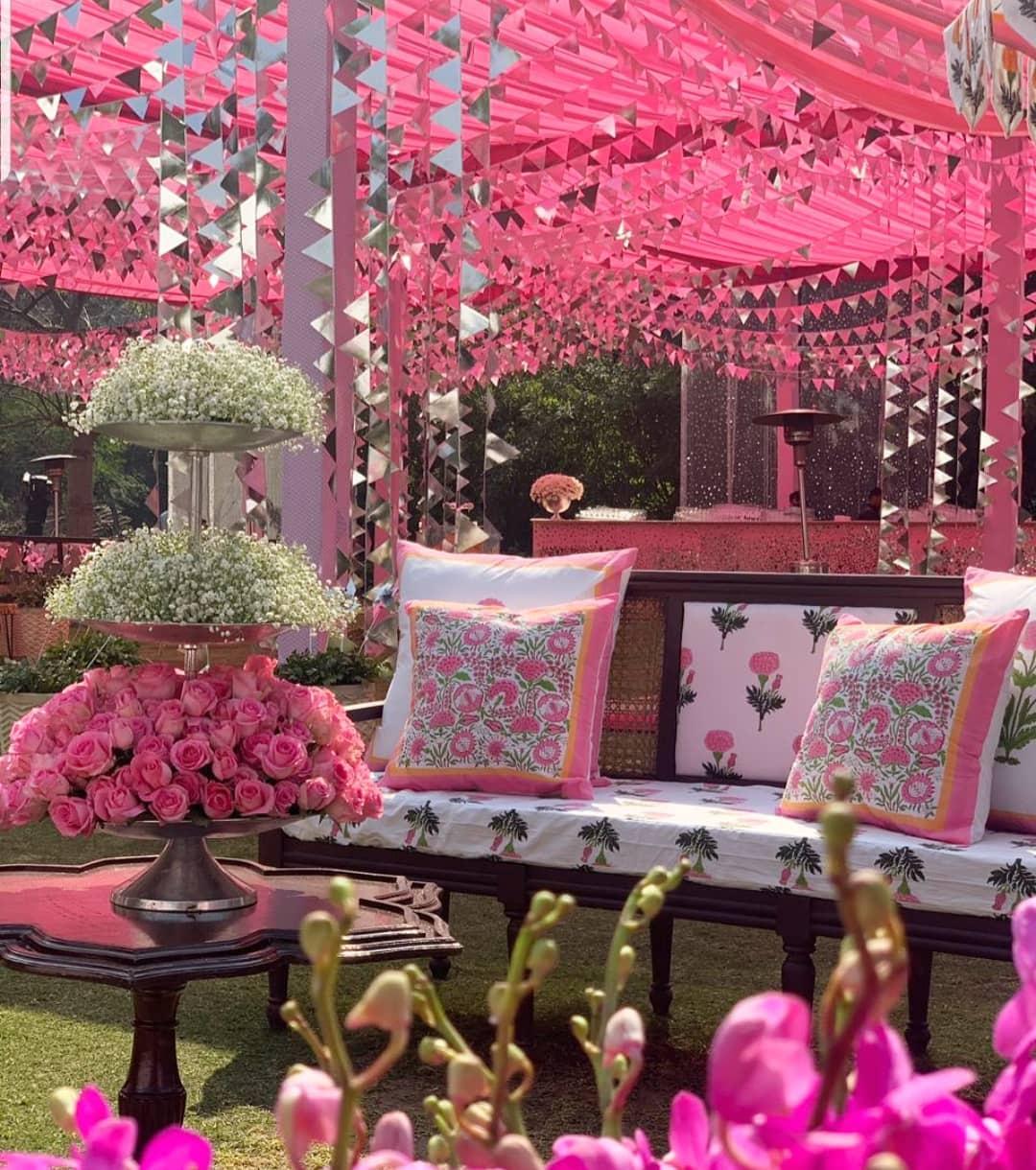 Image courtesy: Rani Pink Love
One of the hottest wedding theme trends, this is the easiest to create and speaks the most in terms of a clear. understandable approach. Just pick a mood colour and go to town with it. And to make it absolutely perfect, make sure that everything's on point with your chosen shade. For example: The wedding is an ode to Rani Pink, by the wedding planner Rani Pink Love.
Bonus points if you're able to match decor, outfits and even your guests' attire to the given shade or a wider palette. However, be sure to do this without becoming like a Bridezilla for them.
2. Botanical Greens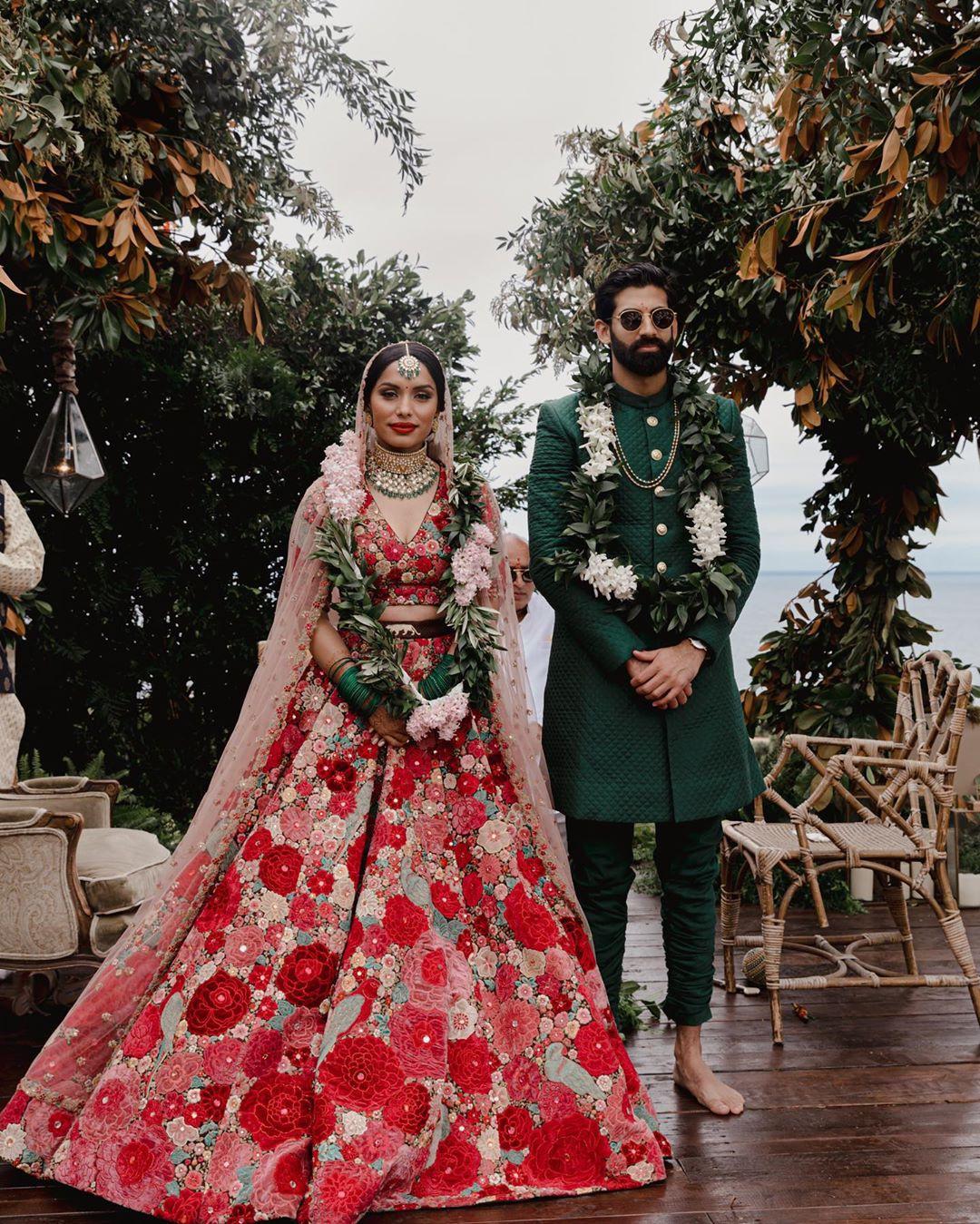 Image courtesy: Mili Ghosh Diaries from Los Angeles
Quite often mistaken with common floral themes, the botanical, green or organic is a distinct palette for a wedding theme, placing more value on the supportive leaves, branches and evergreen, ever strong plants than blooms for your theme.
Get shades of matching greens for your outfits (or stand distinct amid the leaves with yourself as the bloom), add wedding garlands made from leaves and stems and even food stalls. Trust us, the refreshing green would stand out amid every other #bridesofInstagram's floral photos.
3. Framed to perfection

Image courtesy: Floral Emporium
Love the idea of a focus on you, the bride. Let's take it a step forward with a wedding theme that frames you, over all else. Think bridal seats, hanging frames (not just for the photobooth), an archway or a pedestal for your bridal entry and a similar focal point for your Varmalas. Be considerate and give these up, often for your friends' photo-ops.
However, by combining all of these elements together (possibly with a song/dance performance from your bride squad or beloved) will make sure everyone knows how you're the wedding theme for this affair.
4. Floral theme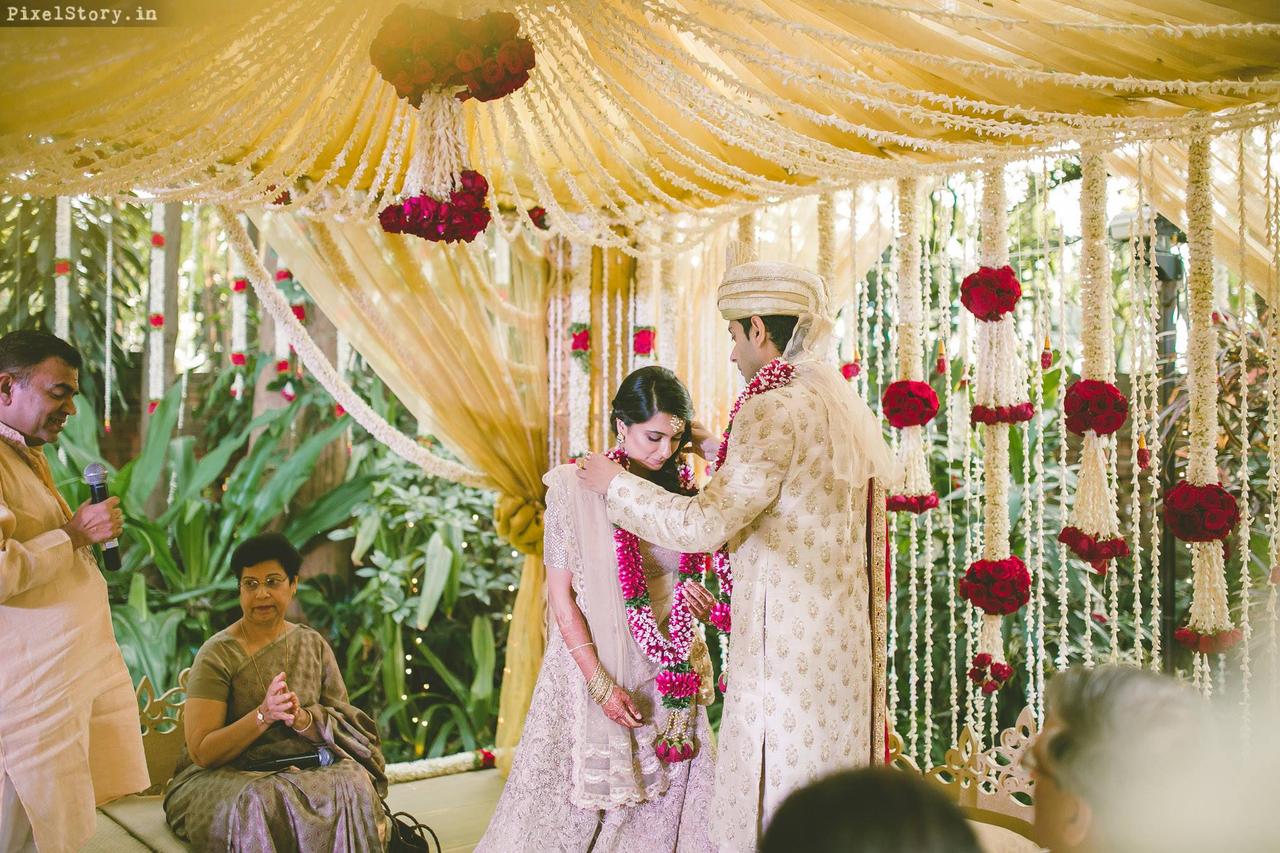 A floral wedding theme can bring vintage feels to your wedding or simply add a classic touch to it. You can see the two contrasting executions here, one for the minimalists and the other for an extravagant style. The minimalist approach has made the rustic style wedding quite popular among the couples these days.
The final look will also depend a lot on the kind of flowers you pick as they will define the colour scheme of the wedding. Here's a guide to picking the right flowers for your wedding after you finalise your wedding theme.
Floral chandeliers bring in a massive pop of colour to this room. Mimicked below by the centrepiece with the same theme, this central element attracts everyone's attention. Going for floral chair covers emphasises on the wedding theme even more. The turquoise carpet is a welcome contrast that blends everything well.
Would you opt for such decor for your Haldi or Sangeet party? Make smart choices in flower selection that will help you stay within your budget and still look gorgeous. Avoid using flowers that start to wear off pretty soon as your wedding is going to be a long saga.
5. Exotic location-based theme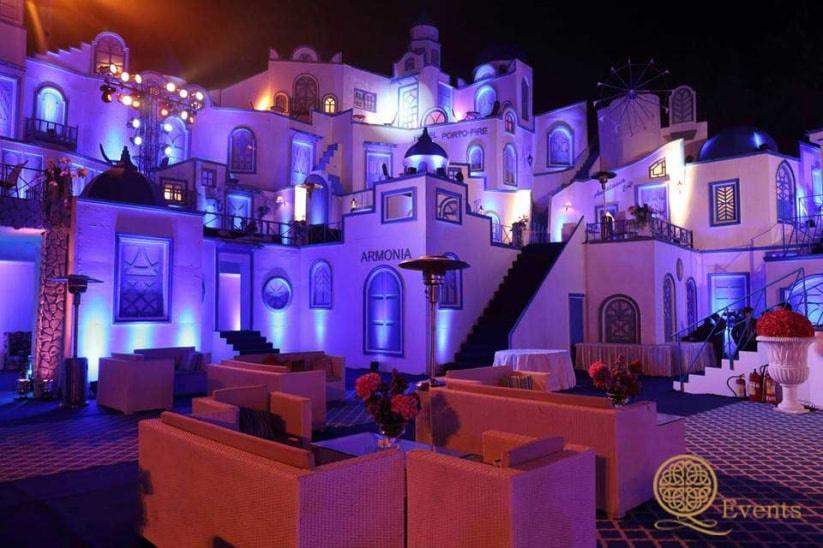 Imagine your wedding theme to be based on your favourite location. Here is a theme that is inspired by Greece. Yours could be set up around Paris or other famous destinations around the world. You can even tone down some other décor aspects, like flowers, to ensure that the theme really stands out.
Your guests will surely be in for an impressive surprise upon seeing this theme. Such an installation might require some architectural pre-requisites so get in touch with your venue before you finalise this theme.
6. Religious temple theme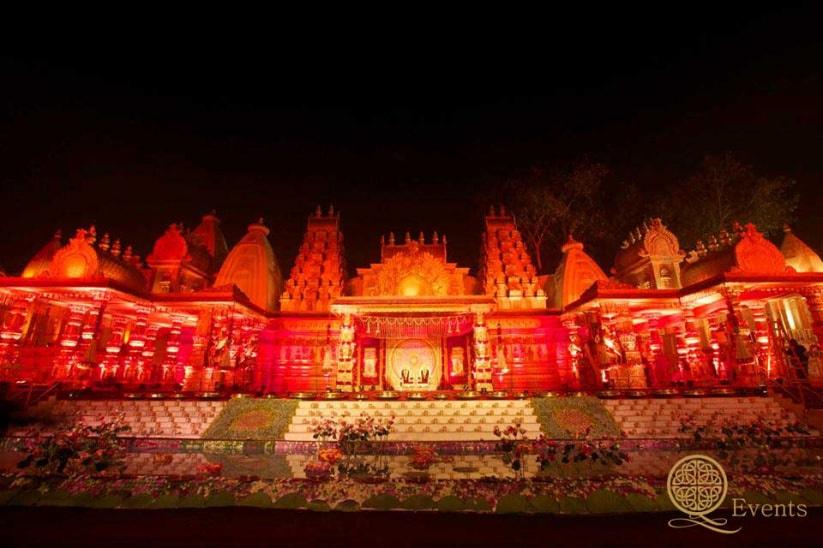 If keeping things traditional is important to you but you still want to bring some newness to the table, opt for this temple wedding theme. As you can see in the picture below, the stage is created in the form of a temple and all of the décor is filled with related items like temple bells, the symbol of om, garlands and more.
Flowers like marigolds and jasmine would fit perfectly into this theme as they are traditionally used in all weddings. This wedding theme will establish how as a couple you want to stay true to your roots.
7. Over the top glamour theme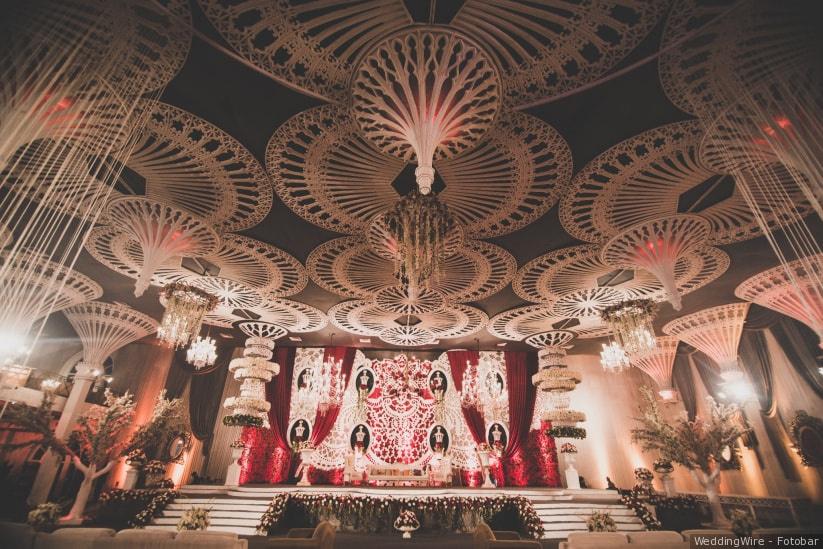 Looking to leave your guests in awe of your wedding theme? Opt for a contemporary theme which is as glamorous as this one. Ask your planner to come up with ingenious décor items with lots of lighting and modern art pieces involved, and you're sure to end up with something as exciting as this. They would already have some reusable decor items and creating something new out of those will be easy for them. Even your stage decor would look futuristic and stunning in this theme.
8. Neon pop wedding theme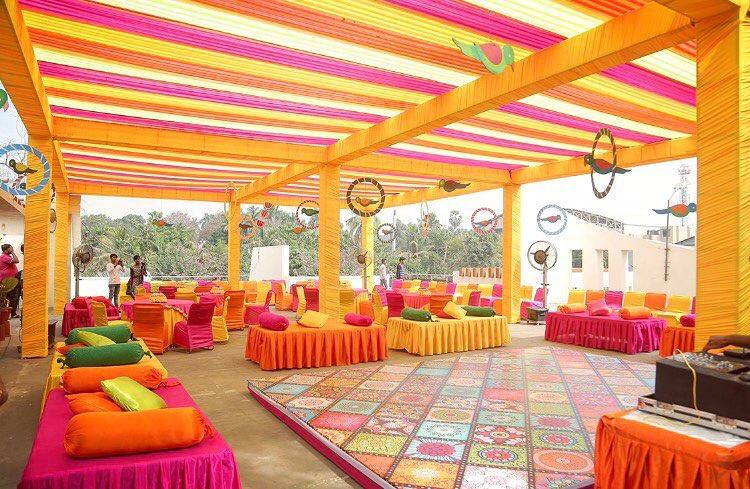 We've seen some really bright colours being used at the Mehndi functions that make the environment bright and colourful. Why shy away from bringing that energy to your wedding? Choose a wedding theme that is inspired by Mehndi colours with a pop of parrot green, rani pink, mustard along with a dash of some pastels to balance them.
With fabrics as the main decor item to display the theme, you get a lot of room to experiment with other elements of the décor. So, discuss with your planners and come up with your own unique ways to spruce up your big day. This is the perfect option for any day wedding. The freshness of the morning will be reflected in your colours and form a soothing ambience of celebration.
Before you finalise your wedding theme, ensure that there's enough time for your wedding planners and wedding décor vendors to actually bring it to life. Discuss in advance all the hidden costs that might be involved to ensure that you don't go overboard with the budget. Now that you've kept in mind all the tips and haven't made any of the common decor mistakes, by all means, go ahead and finalise your wedding theme to see the most beautiful day of your life light up the exact way you imagined it to be!
Do share the stories of your wedding theme experience with us in the comments below.