Top White Wedding Decoration Inspirations
Planning a dreamy white wedding? Find our top image inspirations for your beautiful white wedding decoration.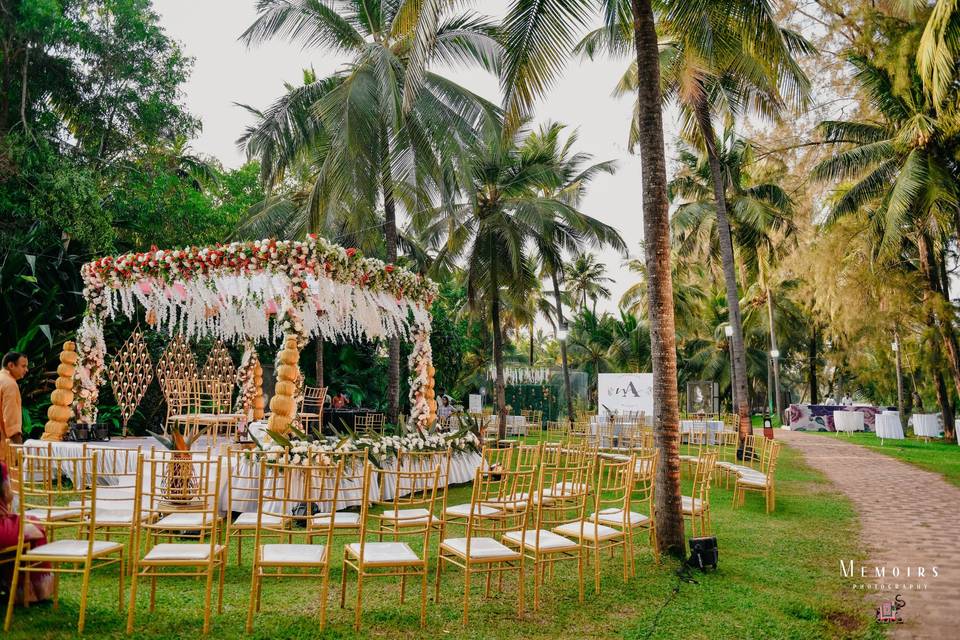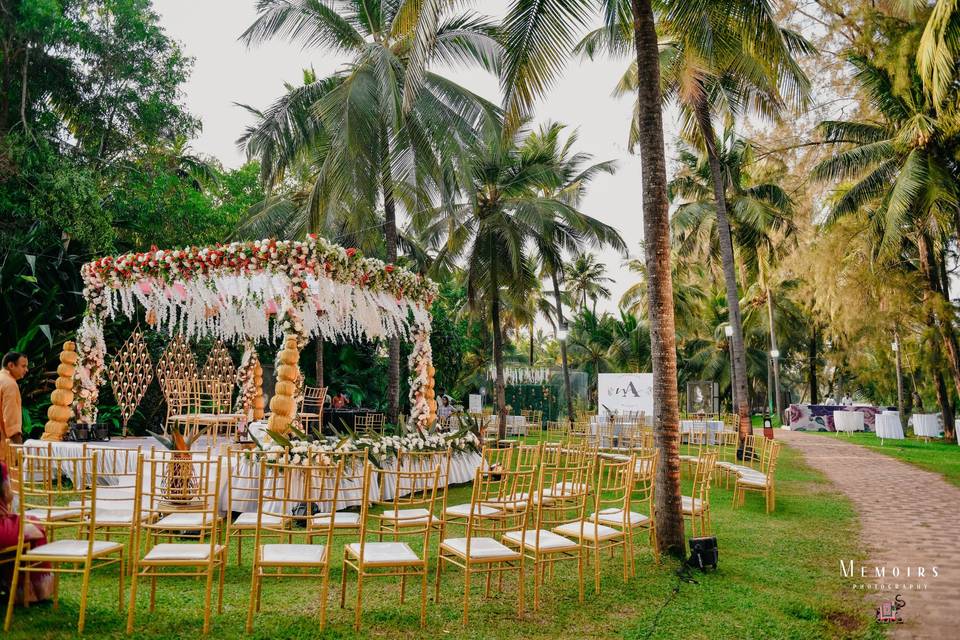 Image Courtesy - Castles and Coasters
If you often find your mind gravitating to a pristine white setup when you discuss a dream wedding decor - then these wedding decoration inspirations for a White Wedding Soiree are here to turn your daydreaming into reality.
When planning a White Wedding - begin by picking a theme that narrates your couple's personality. What inspires your partner and your lifestyle? Would you call yourselves a maximalist or a minimalist? Contrary to popular belief - a white wedding in India can be all kinds of opulent with larger-than-life centerpieces, expensive flower decor, a celebration of ornate in various corners of the wedding venue, a riot of white roses, and carnations decorated as canopy in your mandap and more. Or you could swing to the minimal side, with elegant but less in number - centerpieces, more eco-friendly wedding decoration, use of white umbrellas, and simple but dreamy tent setups as seating ideas in an outdoor wedding.
Regardless of what you choose, the pristine hue - white, is here to wash your wedding venue in an ethereal decor. Take notes as we take you through our favorite white wedding decoration inspiration images.
Seating Arrangements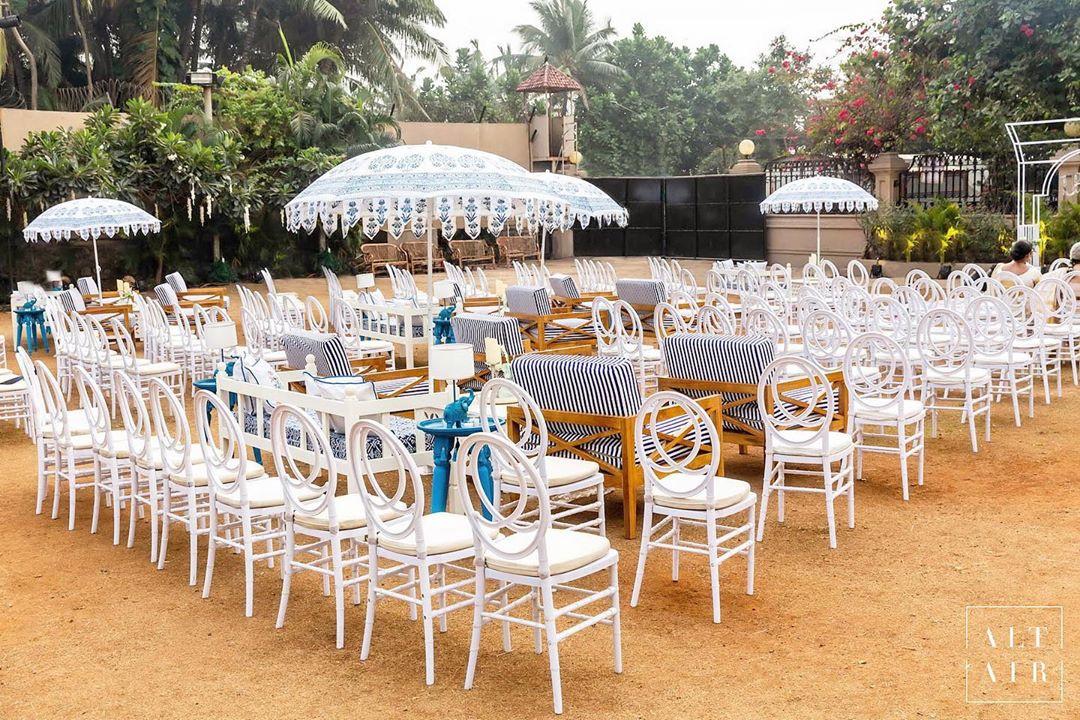 Image Courtesy - Altair Decor
Surround your ceremony area or the space around your mandap with white seats. The seating here has been put in a semi-circular arrangement of chairs along with lounges in between them. The touch of blue is perfect if you would like to add a fun contrast to your wedding decoration.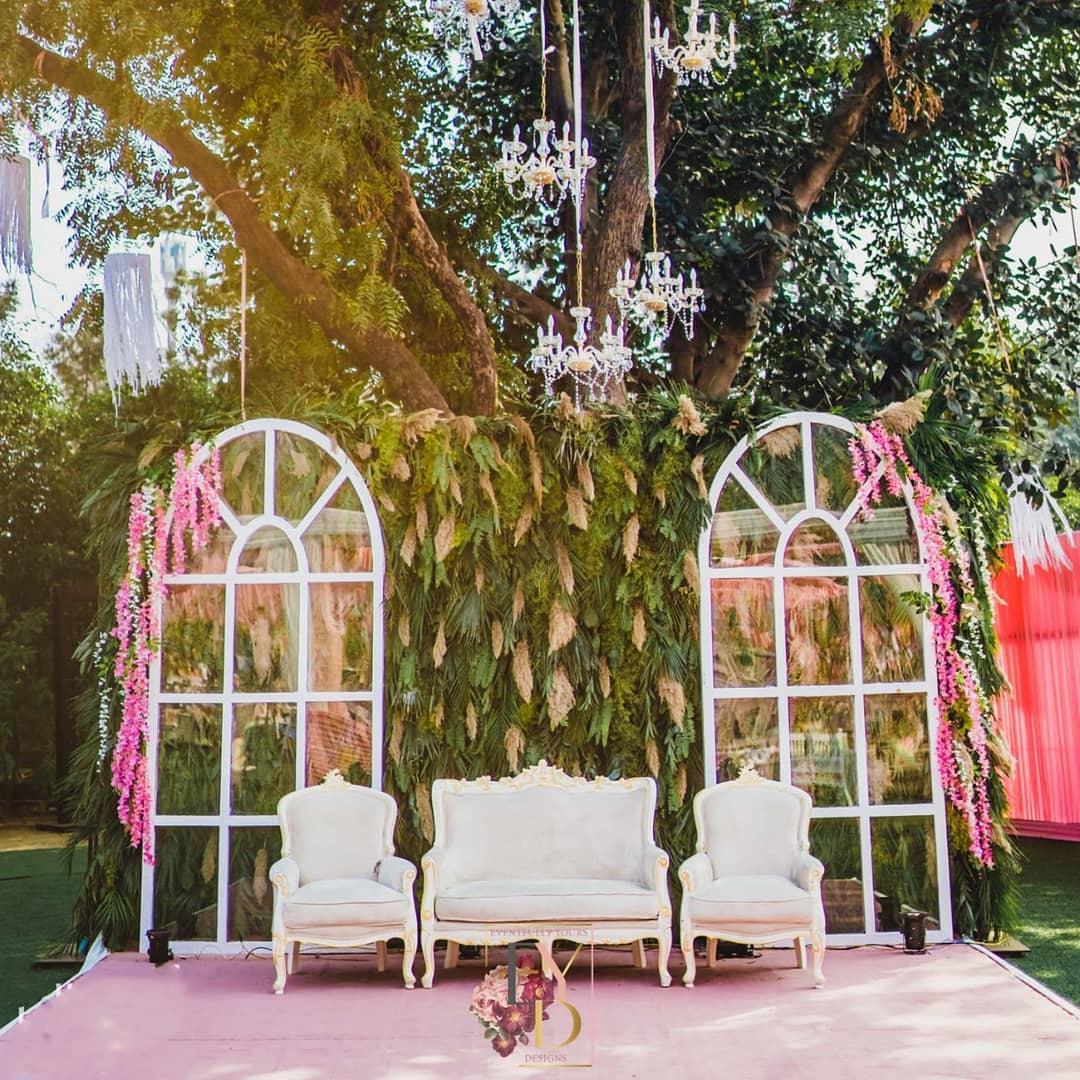 Wish to evoke the old-world charm with your white wedding decoration? A romantic backdrop of French windows can complement white seats in the couple's seating area. Some floral decoration around the setup with beautiful white lights, dreamcatchers, jute decorations hanging on the top will only add more elements of serenity to your wedding decoration.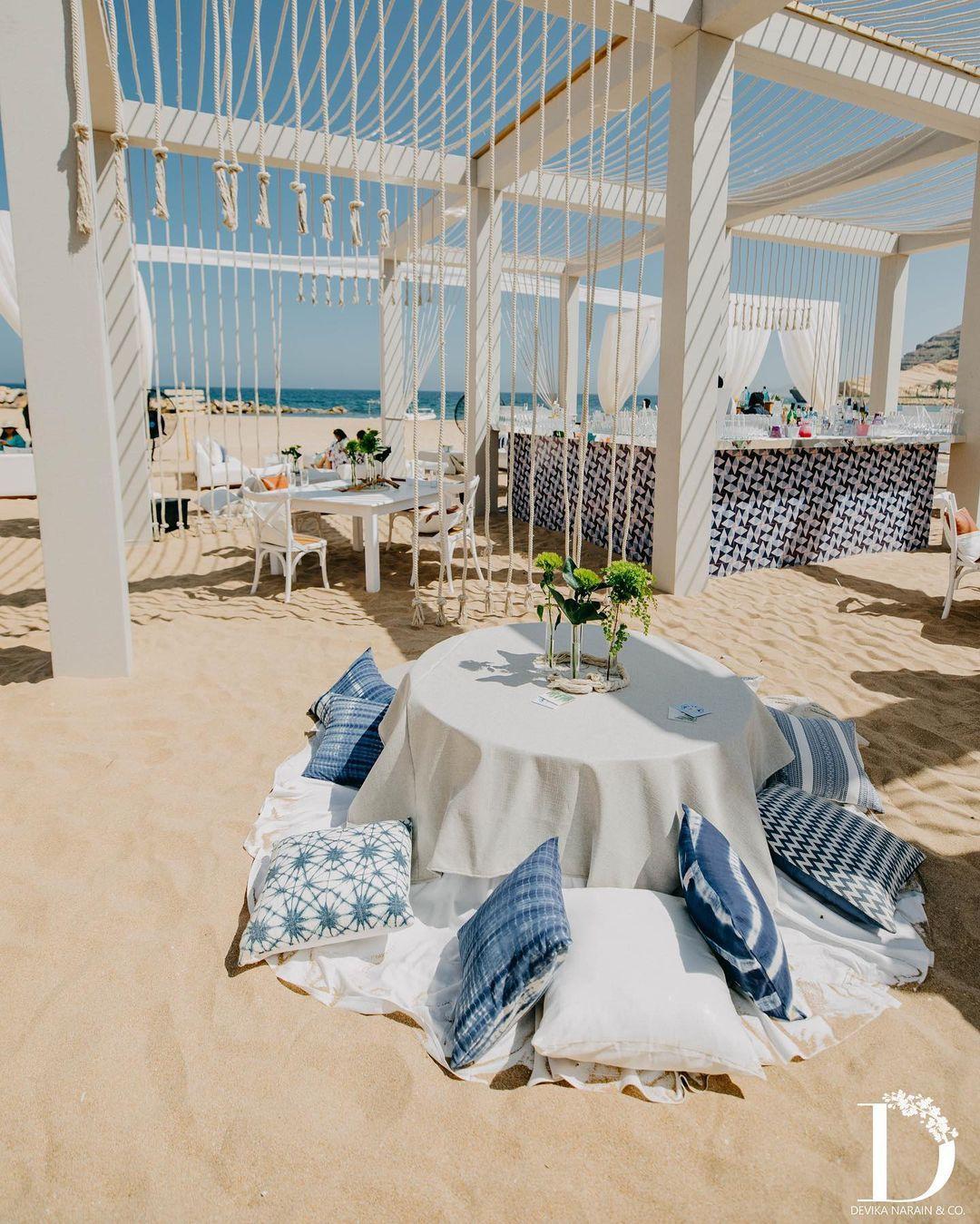 While the decoration featured here was inspired by the beautiful shores of Greece, we love how the nautical ropes and use of white fabrics bring a light-hearted vibe to the overall decoration. If the aim is to create a dreamy white beach wedding setup, you know this inspiration tops our chart!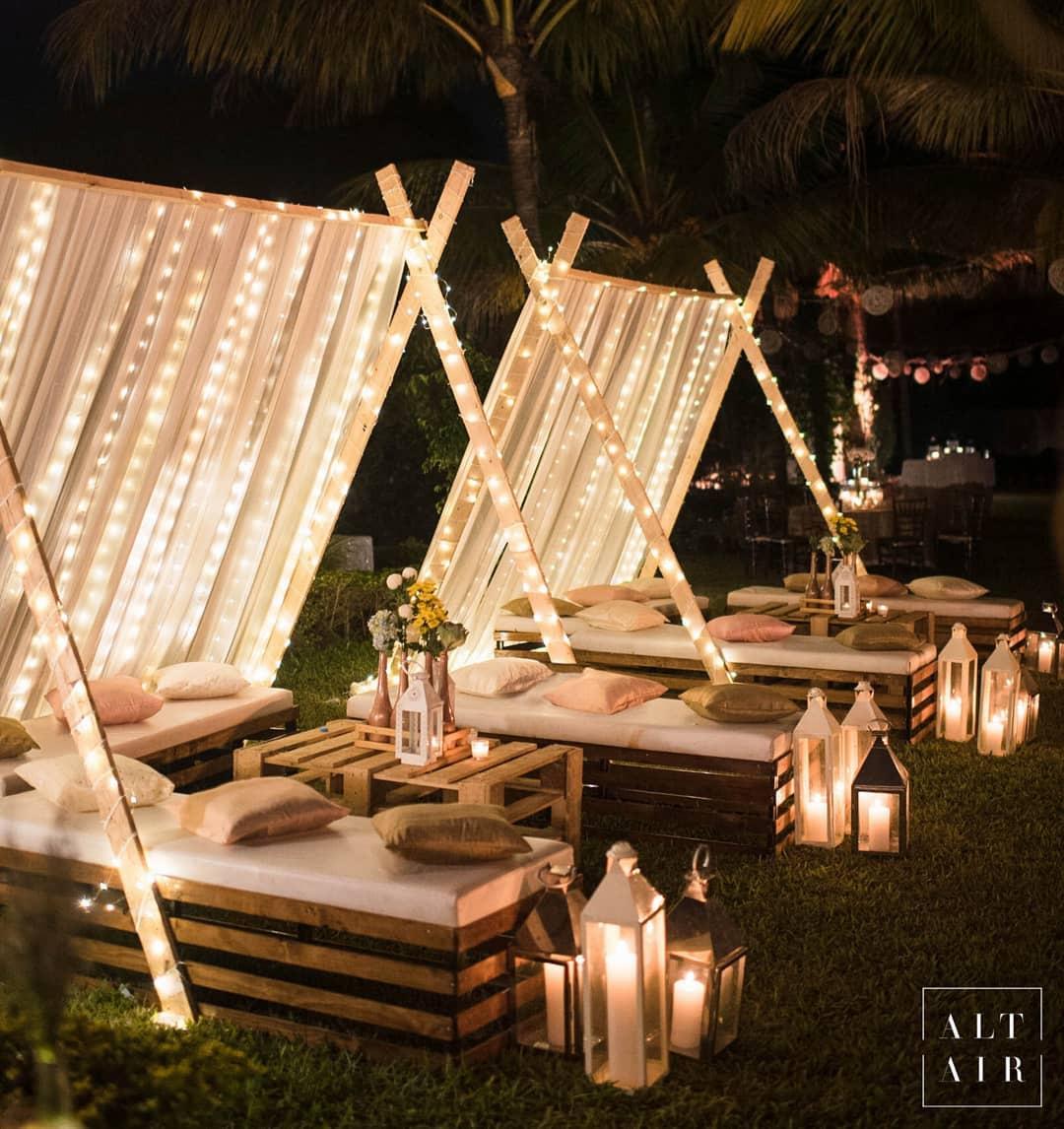 Image Courtesy - Altair Decor
Planning an evening soiree? Make a magical seating space for your guests with white as the dominant color of the decoration. You can also complement the decoration with cushions, flowers, and lanterns drenched in a muted color palette. Candles and fairy lights will add more dreams to your dreamy!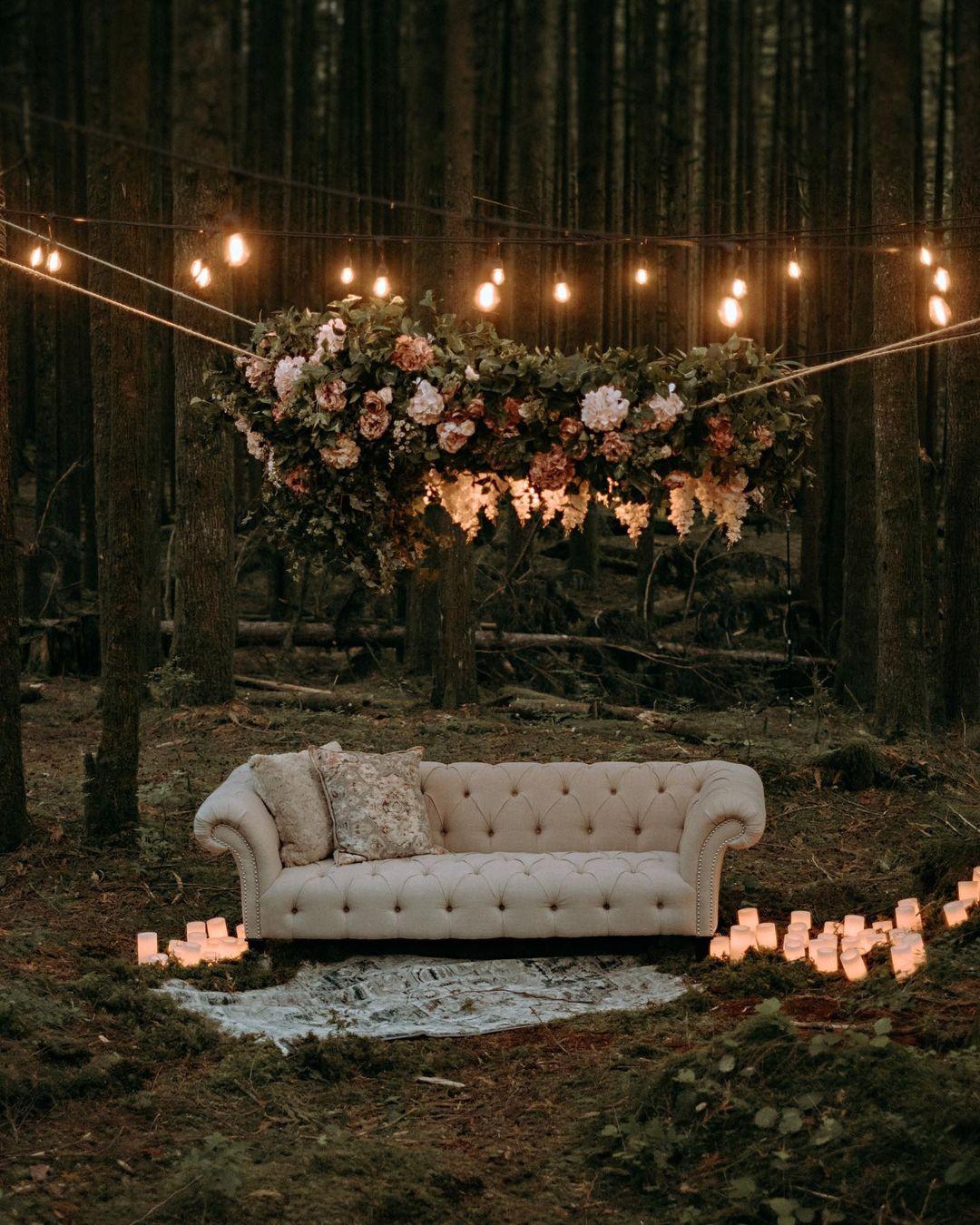 Image Courtesy - Finesse Decor Company
We have heard all your queries about planning the perfect backyard or home garden wedding in 2020. With intimate weddings tip-toeing into our lives as a more acceptable trend in Indian society, intimate setups have now become the talk of the hour. If you are planning a rustic wedding with white accents, candles and statement sofas are the ultimate 'go-to' seating decoration ideas. You can spread them across the backyard for your small wedding ceremony or position one in the center of the venue as a couple of seater with beautiful floral decorations and lights surrounding it.
Table Settings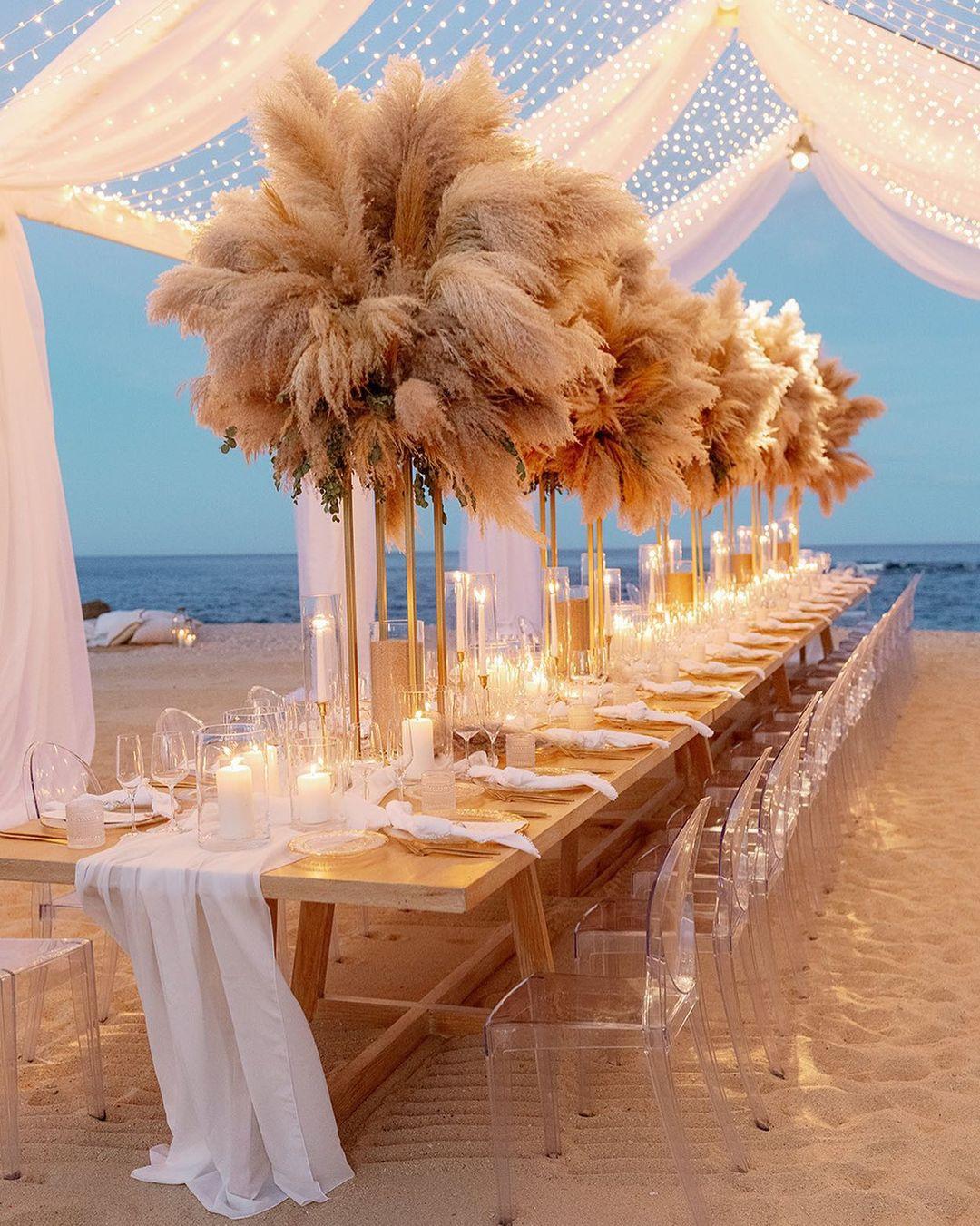 Image Courtesy - Chard Photo
Take one good look at this image and you will know why this white wedding decoration tugs at our heartstrings. A canopy of white lights adorning the white tent set up, with candles illuminating the beauty of the table setting - this is what bohemian wedding dreams are made up of!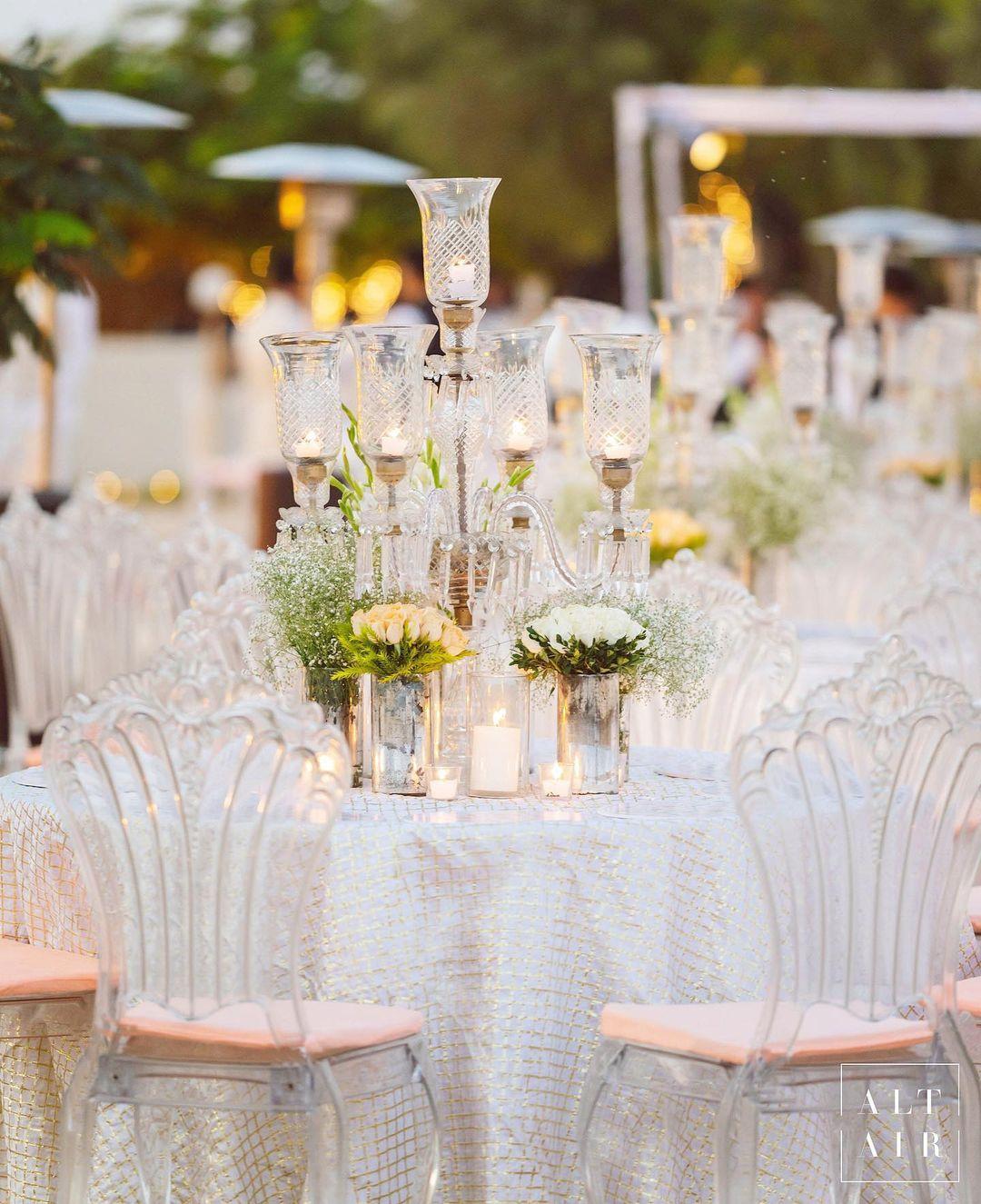 Image Courtesy - Altair Decor
Imbibe the spirit of royalty in your table setting with a sheesh mahal dinner table setup. Use cut glass shamadaans, mercury silver vases, gota Patti fabric on tables, and old school crystal chairs to add the royal edge!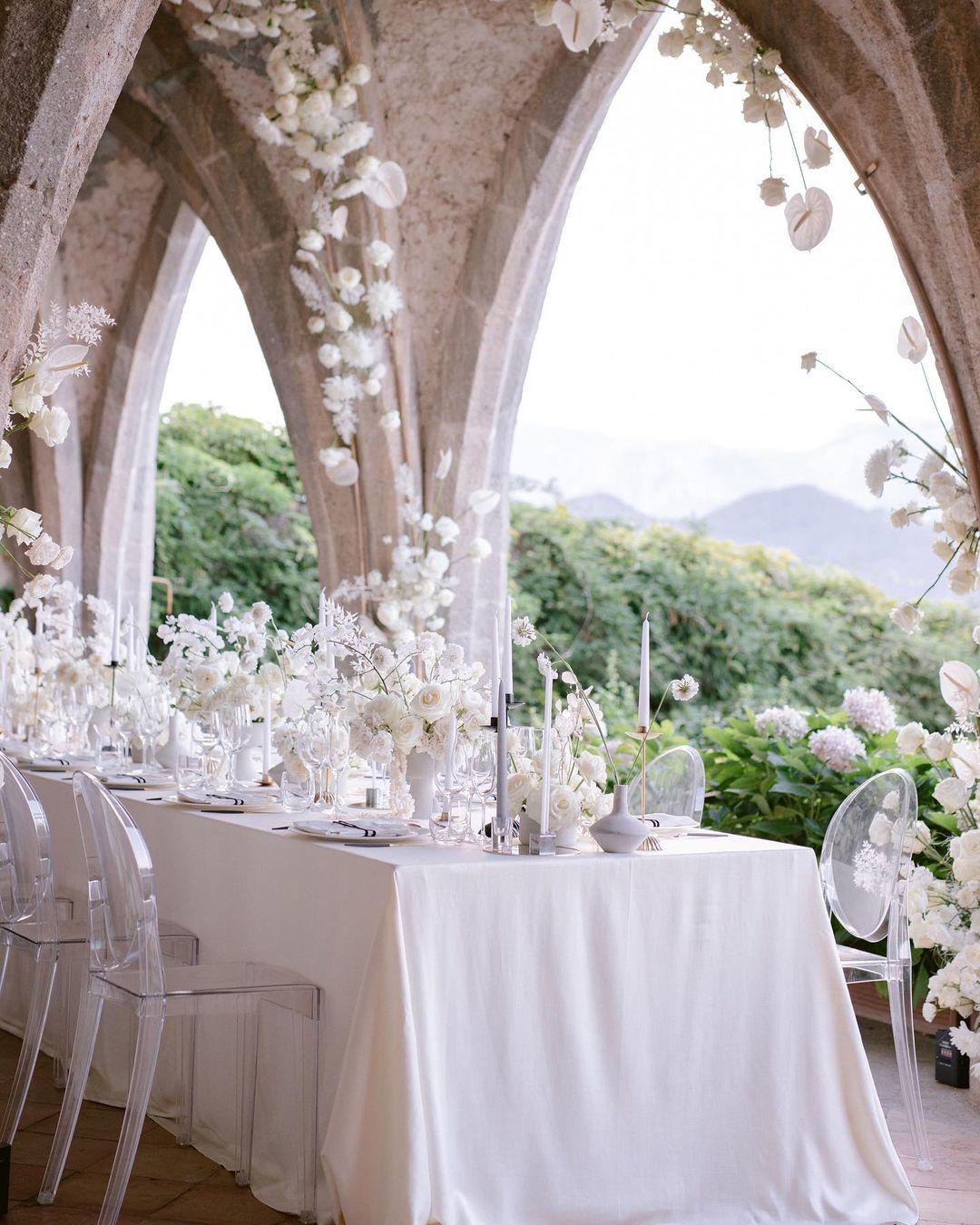 Image Courtesy - ExclusiveItalyWeddings
All we are thinking about is white flowers in full bloom! Make it a floral affair that gently swings in a classic soiree and brings the vibe of a vintage garden to life at your table setting.
Candles and Floral Arrangements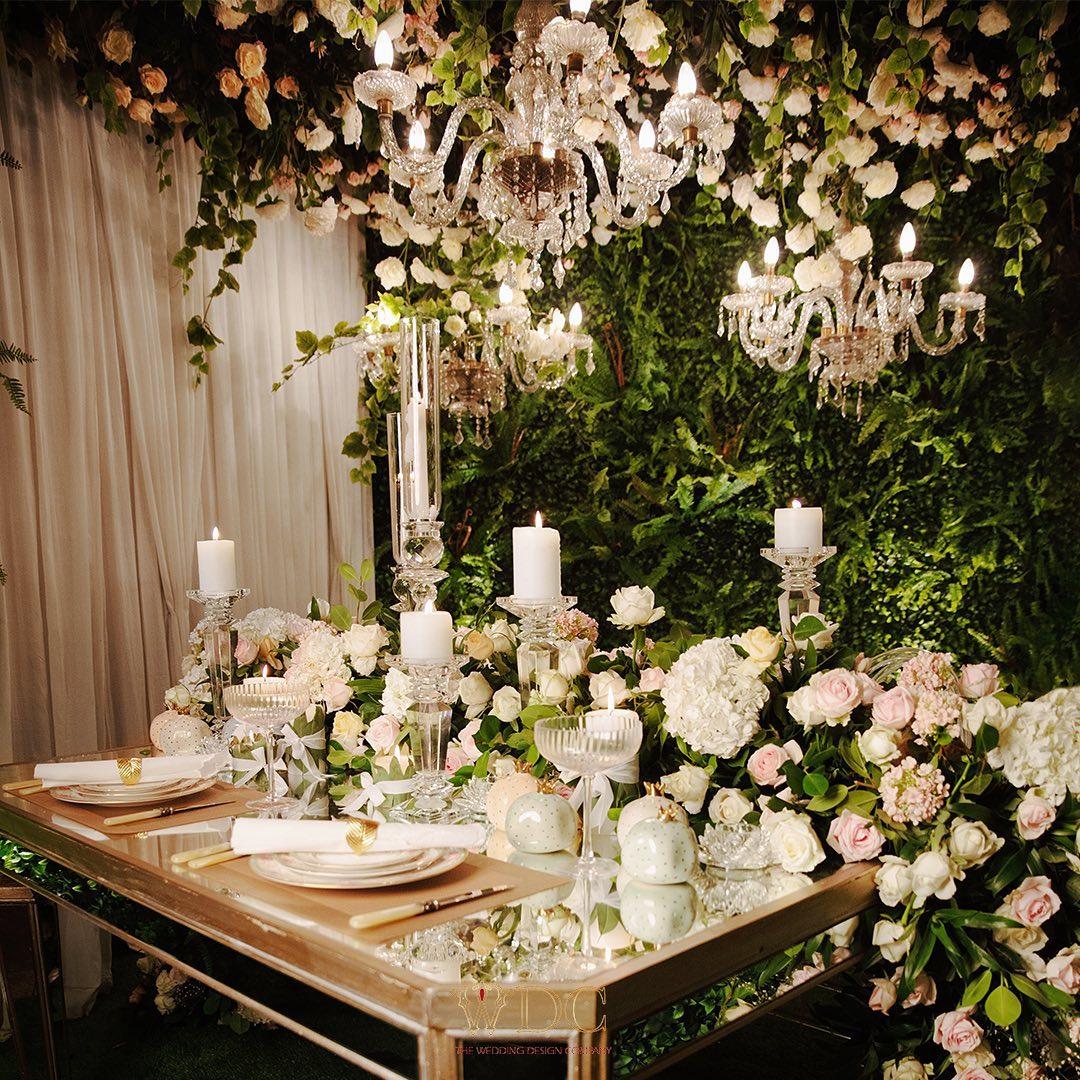 Chandeliers, florals in full bloom, and white candles! Isn't the breathtakingly beautiful setup here the perfect definition of refined elegance? If a classic, one-of-a-kind classic wedding setup is what you have in mind, this decoration is the goal!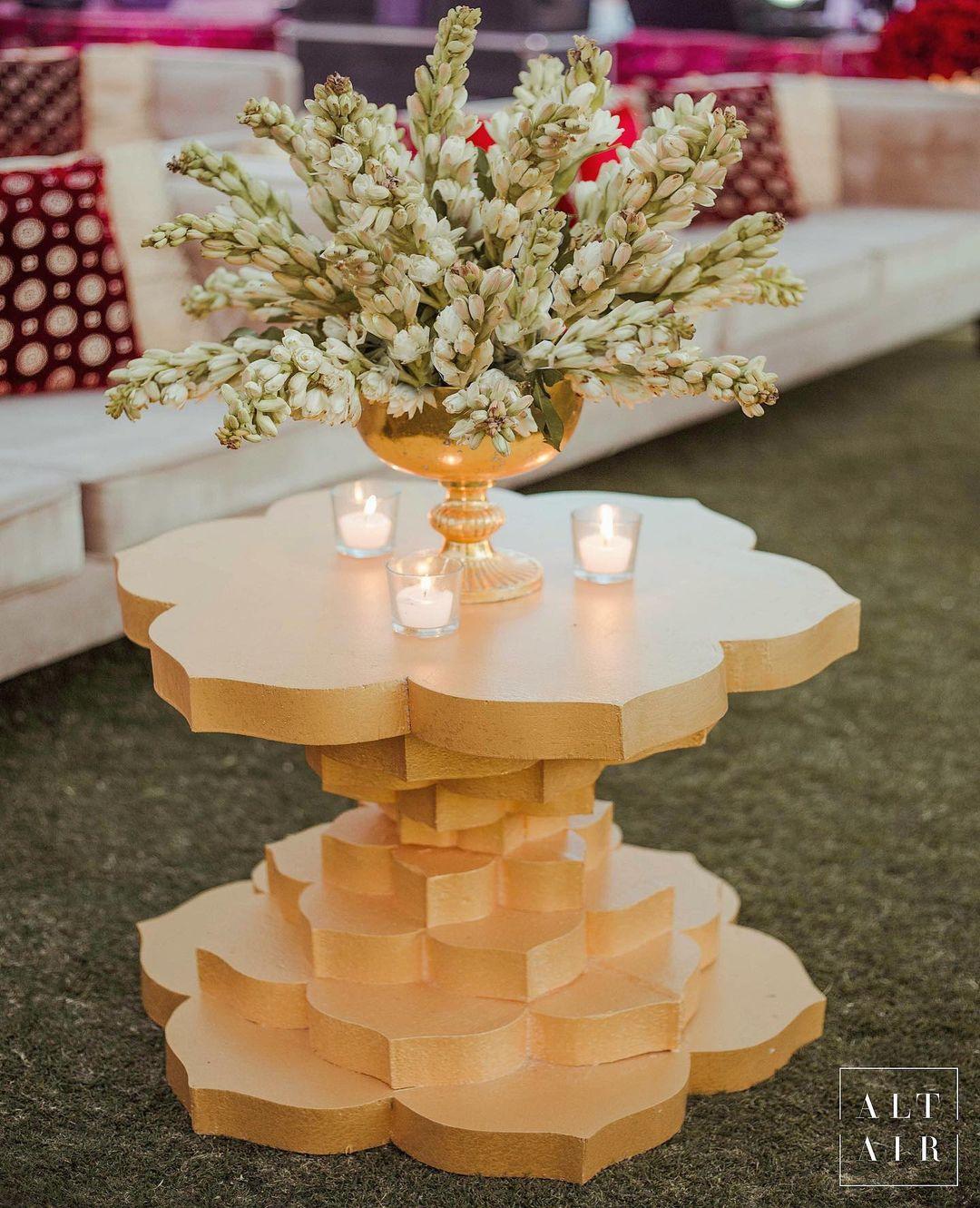 Image Courtesy - Altair Decor
A blooming lotus table as a center table, paired with tuberose is a perfect traditional addition to your white wedding soiree. Pair it up with a set of candles and add a beautiful scent and alluring lights to your celebrations.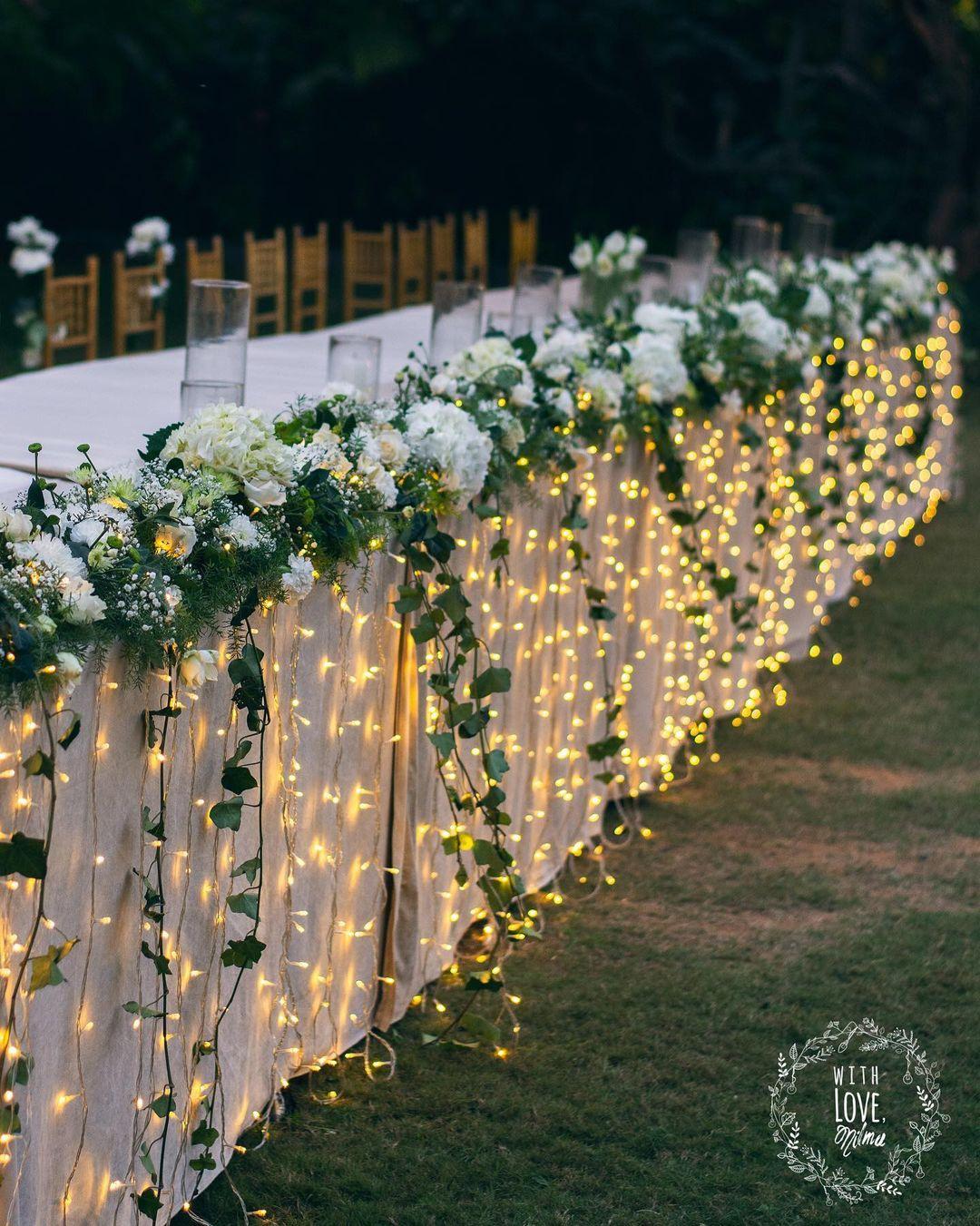 Festoon your wedding party table with fairy lights and foliage. A white wedding soiree basked in pristine lights adds another level of elegance and class to the celebrations. Let your guests bask in the beauty and divinity of white weddings.
Venue Decoration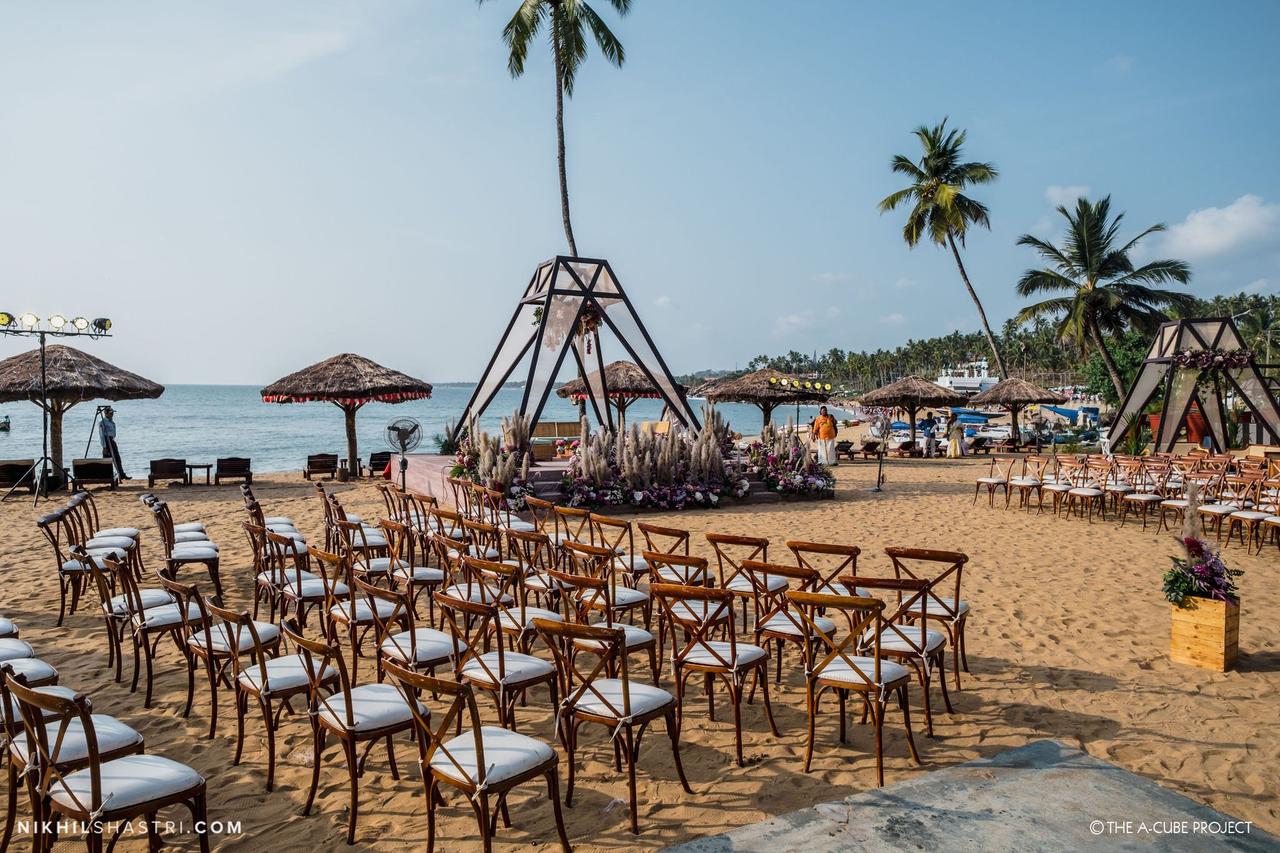 Beach weddings, contemporary setups, and a white theme to bask your weddings in serenity, what more can you ask for to waves of elegance to wash your wedding venue?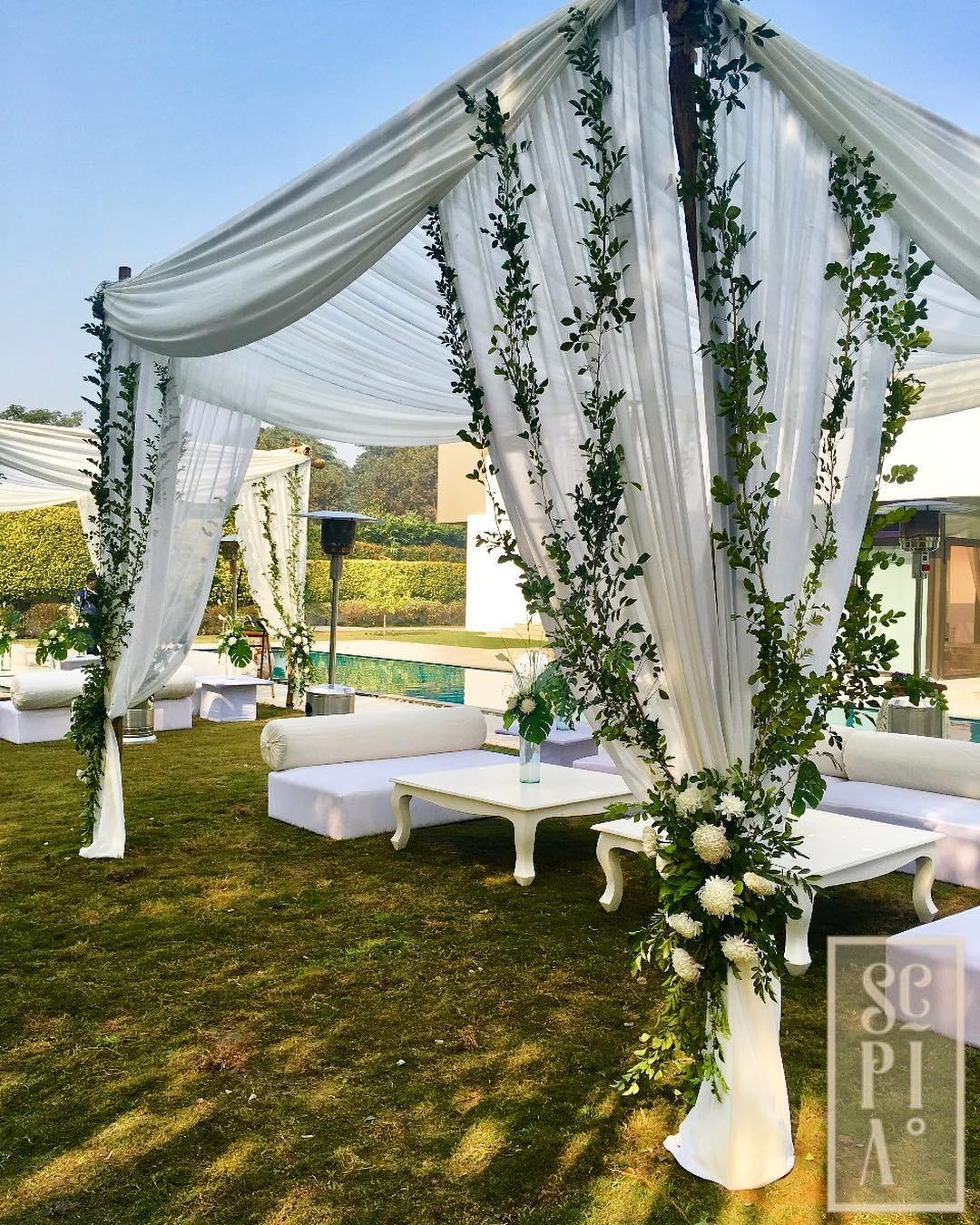 White tents wrapping seating areas in their ethereal charm need the right touch of florals to add more fun and play to the overall look. Drench your seating areas in the beauty of white to complement the theme of your wedding.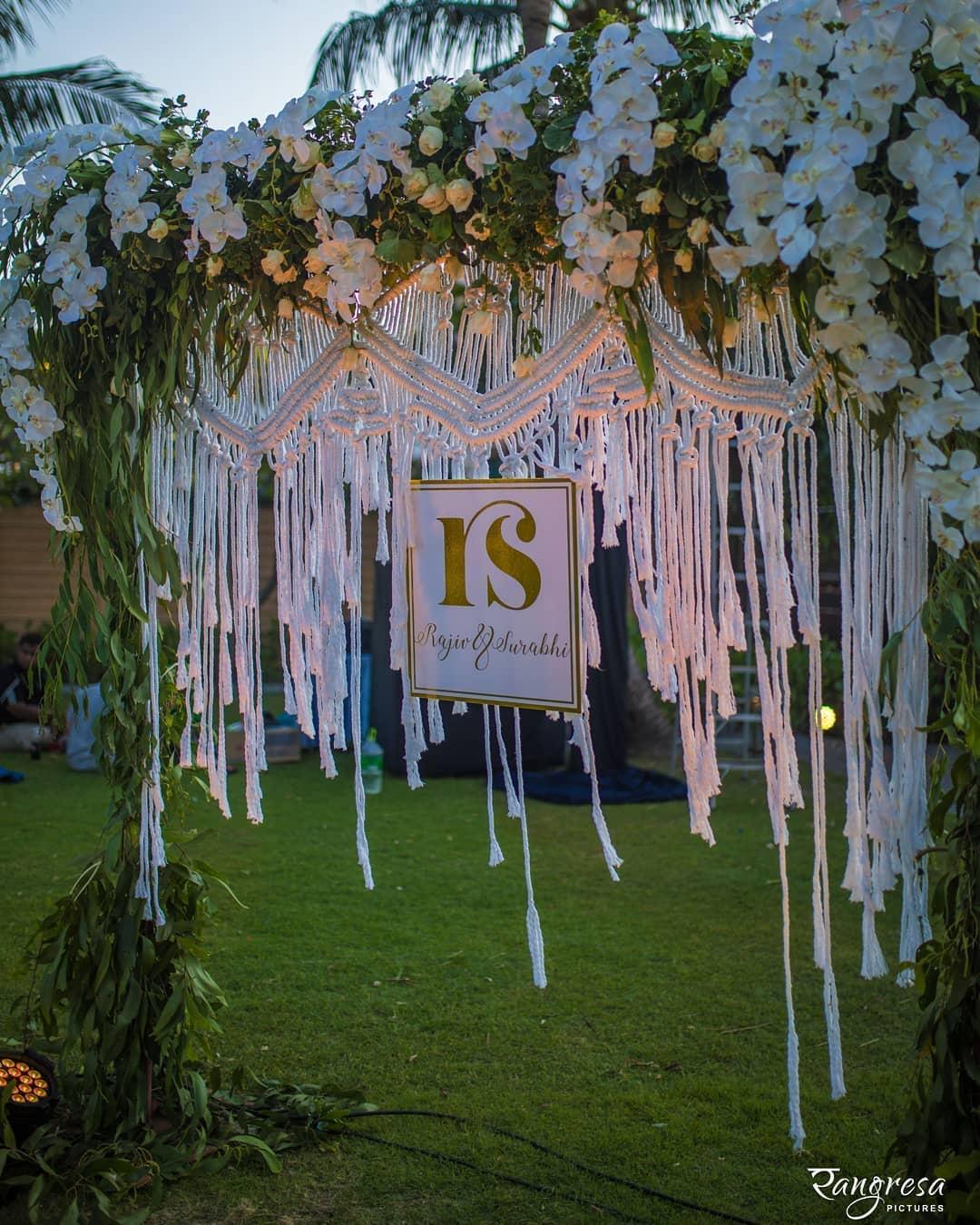 Image Courtesy - Keeran The Wedding Planner
White weddings with a personalized photo booth add to the entertainment of guests at your wedding, which is why it is a must! If you are planning an intimate wedding this season, and you are running out of ways to make it more happening, make sure you plan a pretty and creative photo booth that adds to the experience of your friends and family. A handmade Macrame Photo booth fits perfectly with the Bohemian vibe of your wedding.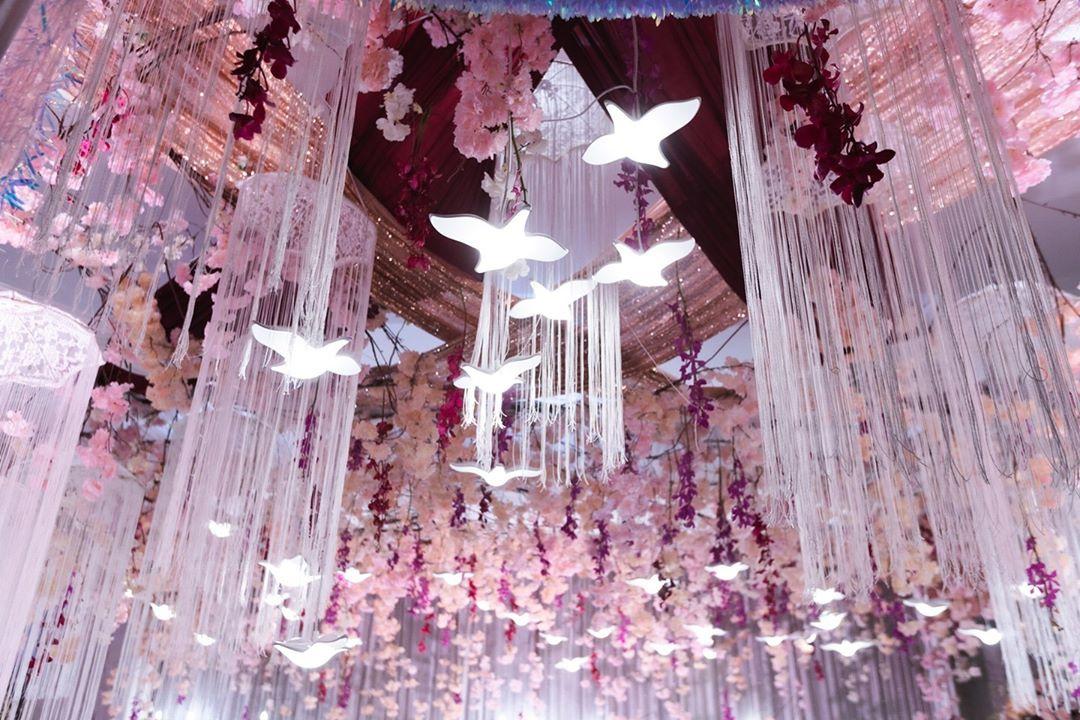 Image Courtesy - Keeran The Wedding Planner
A white wedding theme demands a dreamy ceiling - a canopy above the couple's head that is as dreamy as the wedding set upsets the mood of the wedding apart! Amalgamate florals in pastel shades with a bunch of white lights in creative cuts, shapes, and patterns to add a fairy tale vibe to your wedding decoration.
Sign Boards & Seating Charts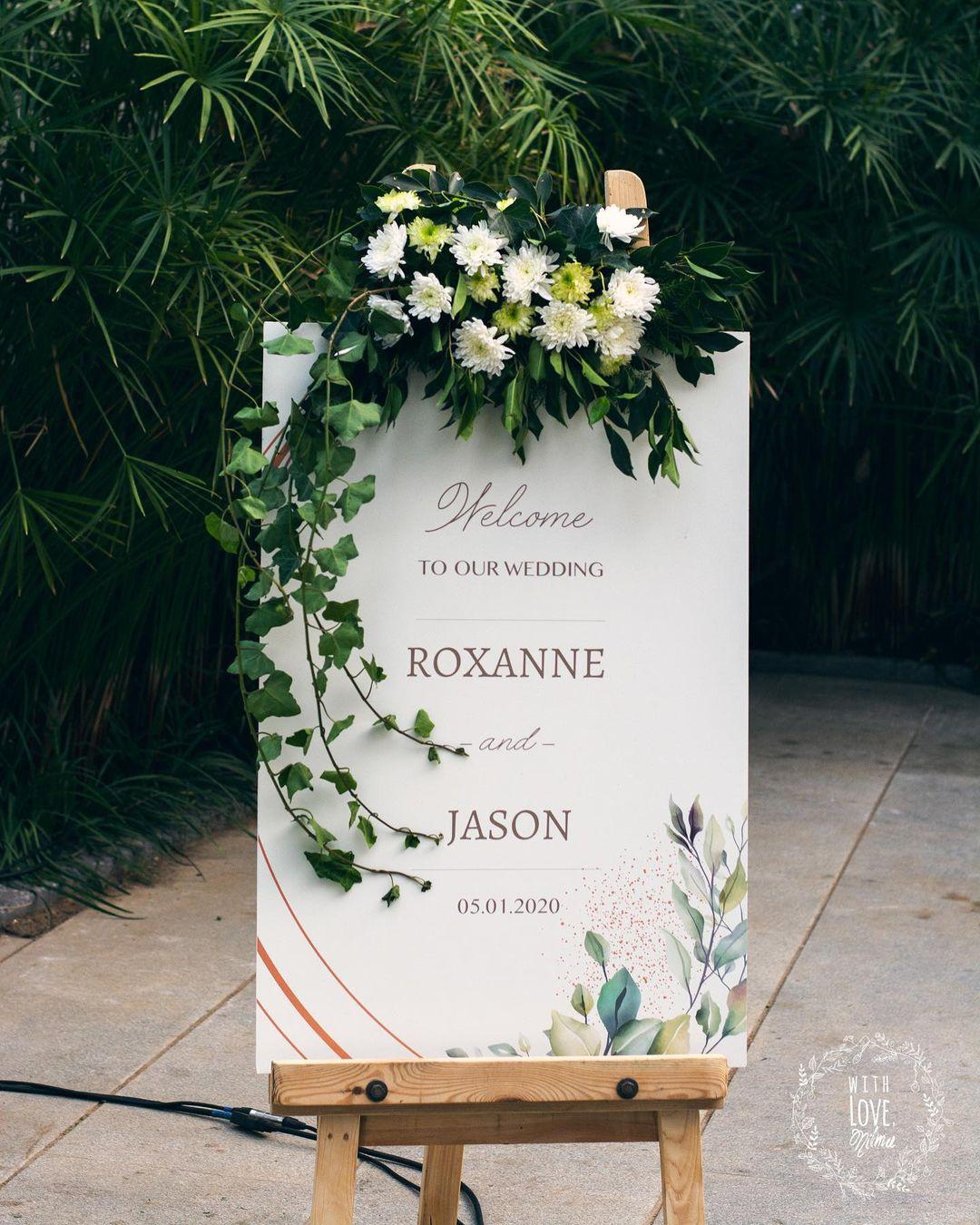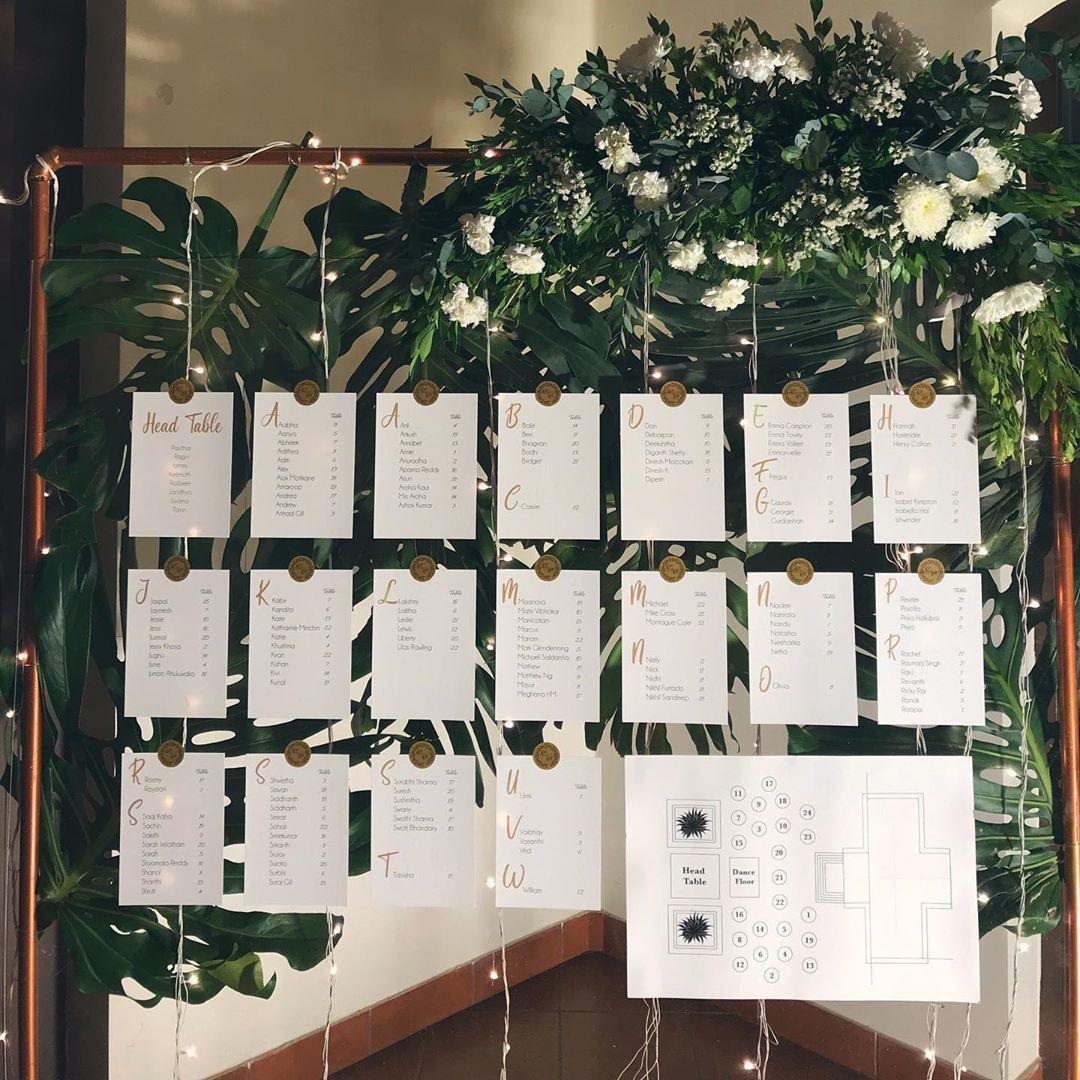 Wedding stationery and signage is the first thing that describes the theme of your wedding. If you are planning a white wedding theme, your overall wedding stationery should communicate the wedding theme. Make sure your signboards, escort cards, and seating charts at your venue play the part!
Planning a wedding outfit for your white wedding theme? Check out white lehengas and white sherwanis for your wedding celebrations!