Up the Wedding Decor Game With These Unique Dreamcatcher Decor Ideas
Love experimenting with DIY decoration? Try these unique & fun dreamcatcher decor ideas on wedding & pre-wedding events to add a dose of boho chicness to it.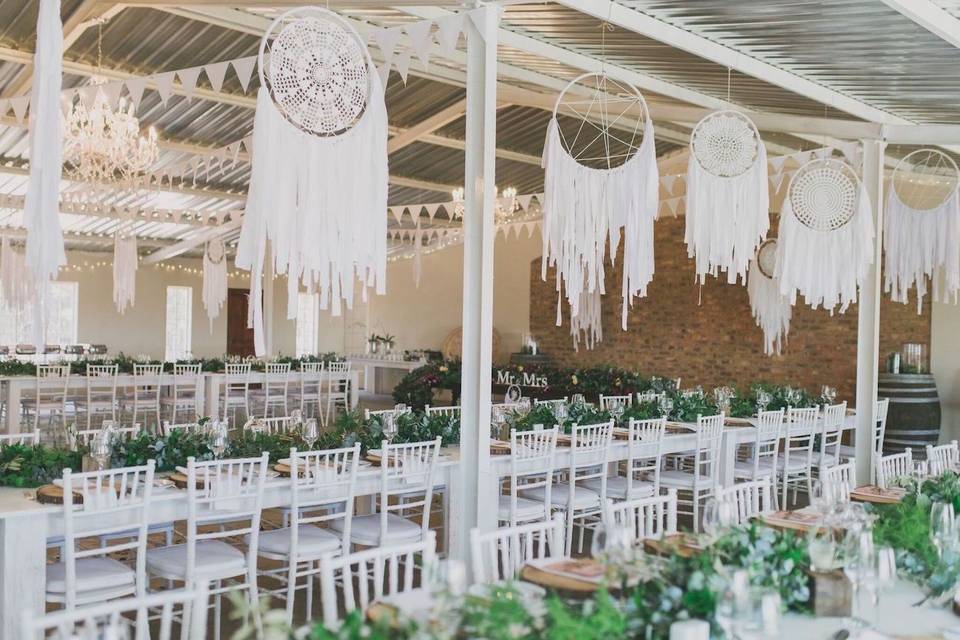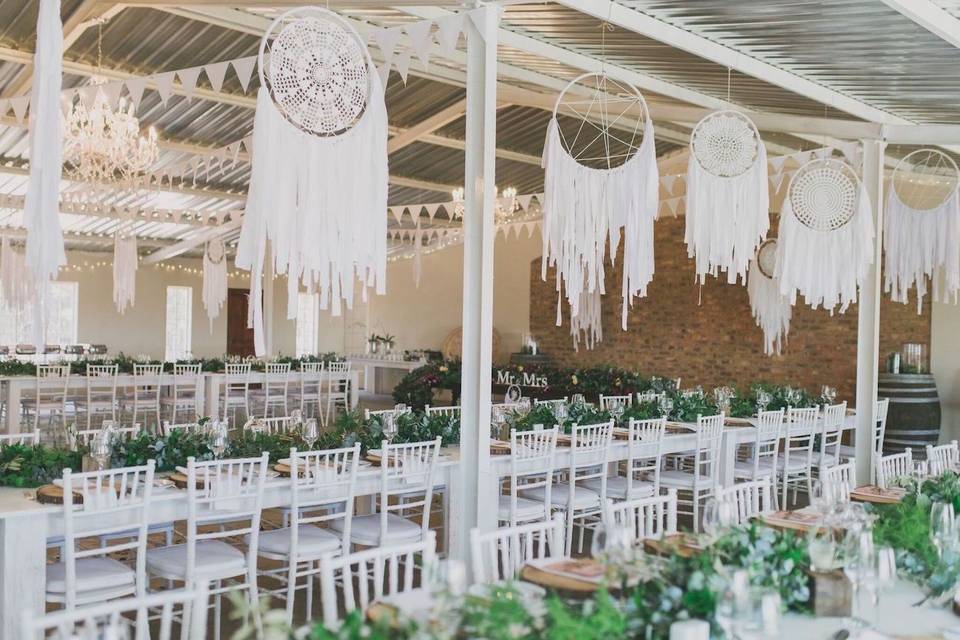 Image Courtesy: Tumblr
A wedding is an opportunity to showcase some brilliant art in the form of wedding decor. Whether you hire a famous wedding planner or you decide to go with DIY decor using old bangles or dupattas, the whole wedding venue becomes an exhibit of colours and art. Decorators today are getting more and more creative in terms of using decor items and props to beautify your event venue.
One such decoration item is a dreamcatcher! A dreamcatcher decor can never go wrong as the very presence of it depicts happiness and cheer. So take a look at some images and draw inspiration for the next wedding event!
Dreamcatchers for Haldi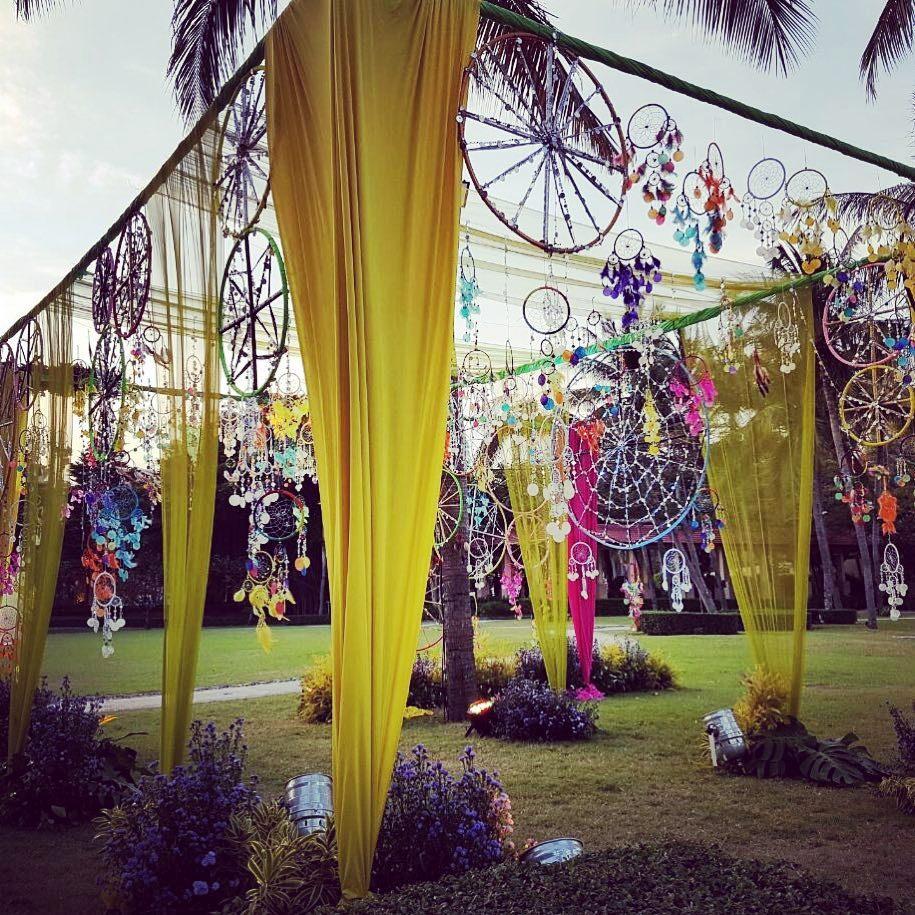 Image Courtesy: Pink Palki
Planning to organise a grand Haldi ceremony in an open garden? Using oversize rings as a part of your dreamcatcher decor would be just apt to go with the theme. Pick an unusual colour like silver and combine the huge dreamcatchers with little ones attached to them for a fuller look. Add a few colourful feathers at the bottom of the small dreamcatchers to bring a little fun element.
Whom to call: Nuptials by Priyanka Pandey (NCR), Lalwani Events (Bangalore), Shagun Party Planners, Gomti Nagar (Lucknow).
Dreamcatchers for table decor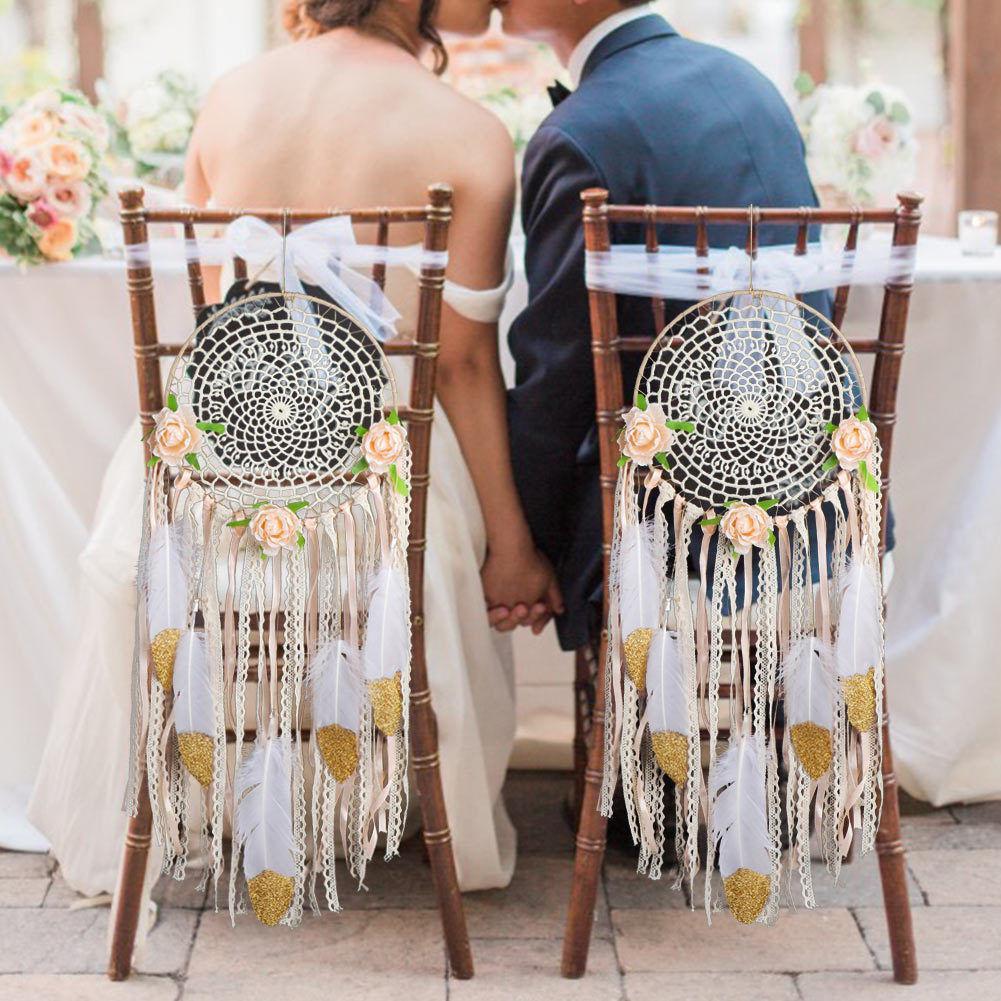 Image Courtesy: Tumblr
Decorating wedding tables with chic items and props is quite a trend that's raging among millennial couples. So why not use a bit of dreamcatcher decor perfectly in sync with the graceful white table decor? Hang up designer dreamcatchers with lacework and silk cloths to attain a premium look. This kind of decoration would especially go really well with a "White Christian wedding" or a Parsi wedding.
Whom to call: Knotty Kettle (NCR), Marigold Pages- The Wedding Company (Mumbai), Sampradaya Events (Hyderabad).
Dreamcatchers for a mystic ambience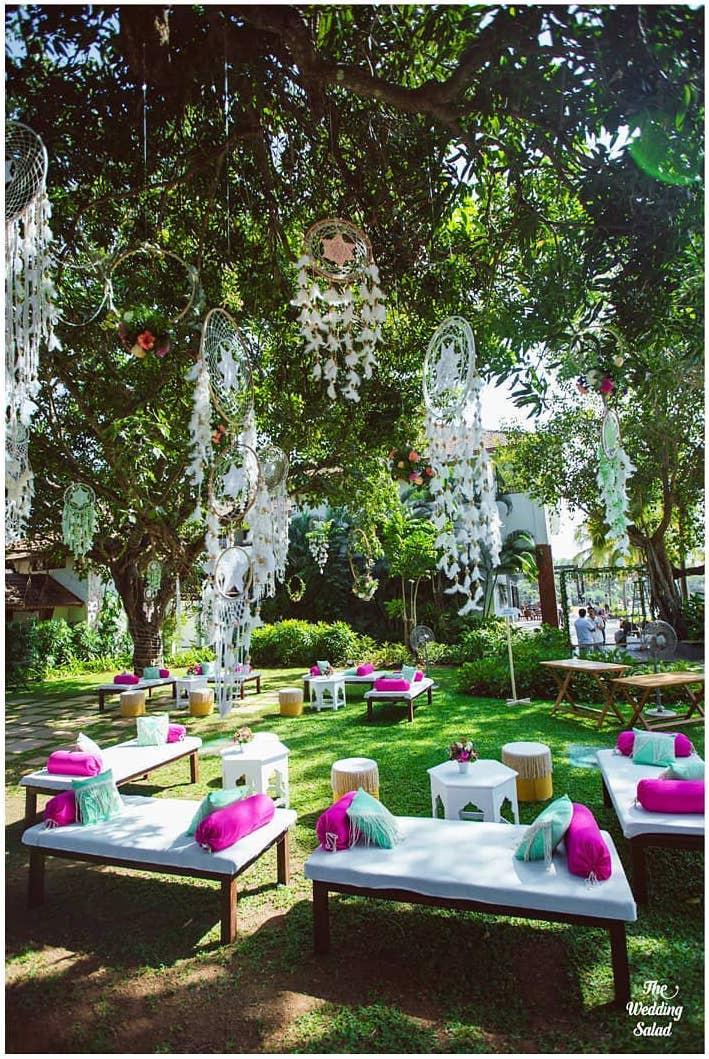 Imagine an all-white dreamcatcher decor with a lush green background! How can that go wrong? Raise up the elegance factor of your garden party decor with these graceful dreamcatchers. Add paper flowers in a waterfall shape at the bottom. These would look exactly like giant earrings decking up your whole venue. If you want, you can go with colourful cushions or floor seating for a contrast, or follow an all-white decorum!
Whom to call: Zoomin Events (NCR), Shobha Creations (Bangalore), Shanvi's Event (Jaipur).
Dreamcatcher decor for vibrancy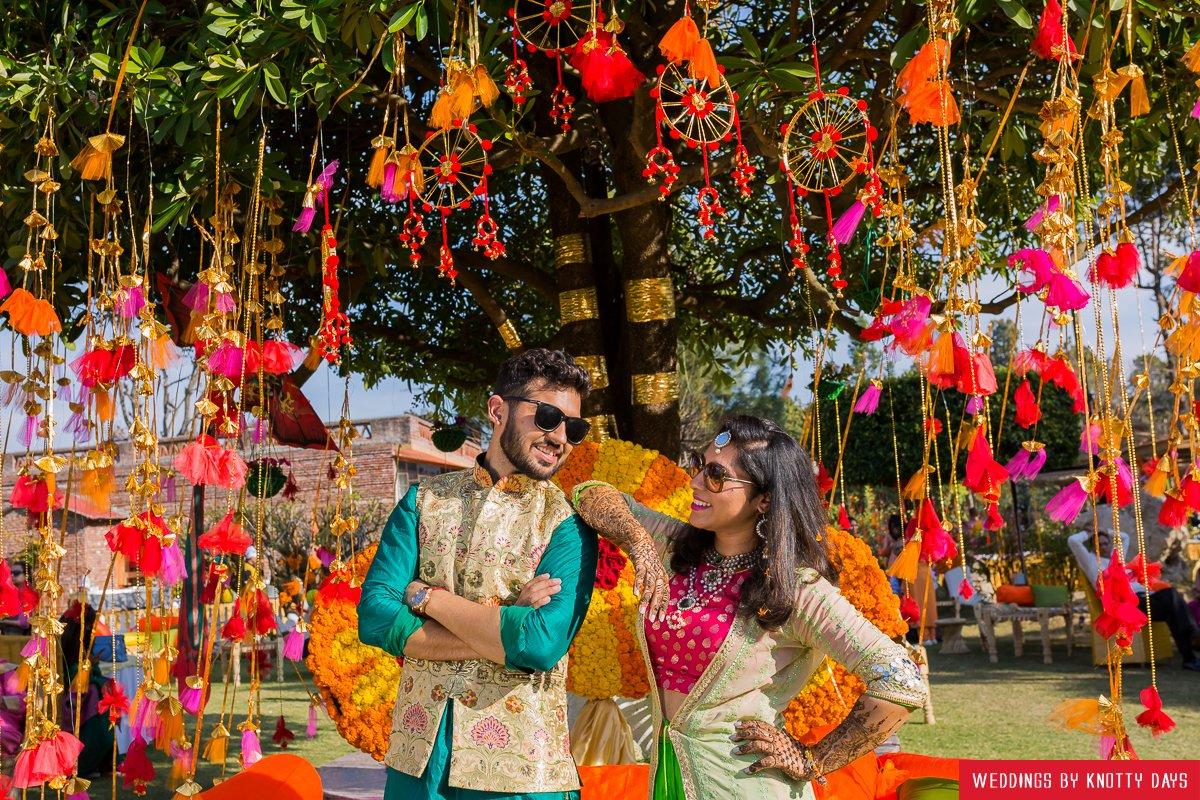 Use the quintessential dreamcatcher decor for your Haldi or Mehndi function with nothing but the colour of love itself! Red and orange dreamcatchers are always a popular choice for open-air garden decor. Use a variety of shapes and lots of dangling bells, paper flowers, beads and feathers to make your event venue look like a dream! And if you can coordinate your Haldi outfits with the decor, that would be just another feather in the hat!
Whom to call: Your Dream Decor (NCR), SSK Decoration (Mumbai), We Plan For You (Bangalore).
Jute Dreamcatchers for rustic vibes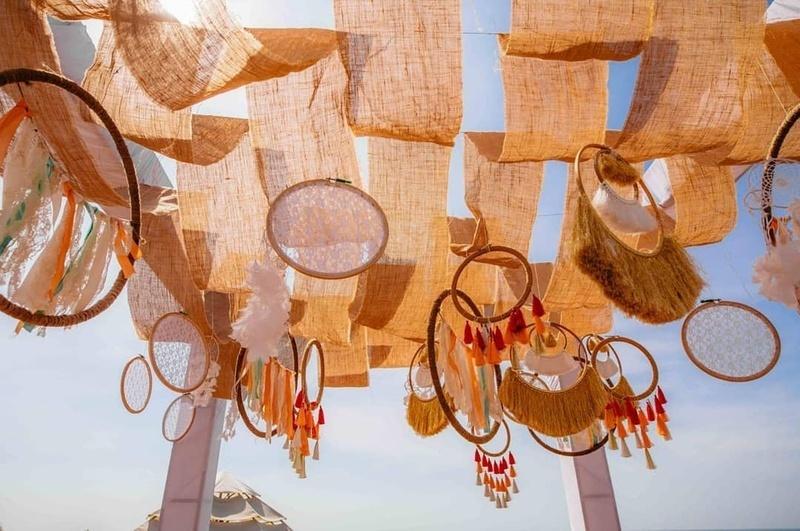 Here's one dreamcatcher decor idea especially for a couple who's thinking of a green wedding theme! Jute dreamcatchers are not only eco-friendly but look extremely exquisite. The rings covered in jute ropes, the jute feathers and the connecting broad jute strips swaying in the air- all these bring out some really cool rustic vibes to your Mehndi function. Wear some terracotta jewellery, wooden jewellery sets or creative concept jewellery to go with this theme!
Whom to call: Royal Weddings & Events (Goa), Luxurito Events & Destination Weddings (Surat), Amantran Weddings (Chandigarh city).
Dreamcatcher decor for wedding lunch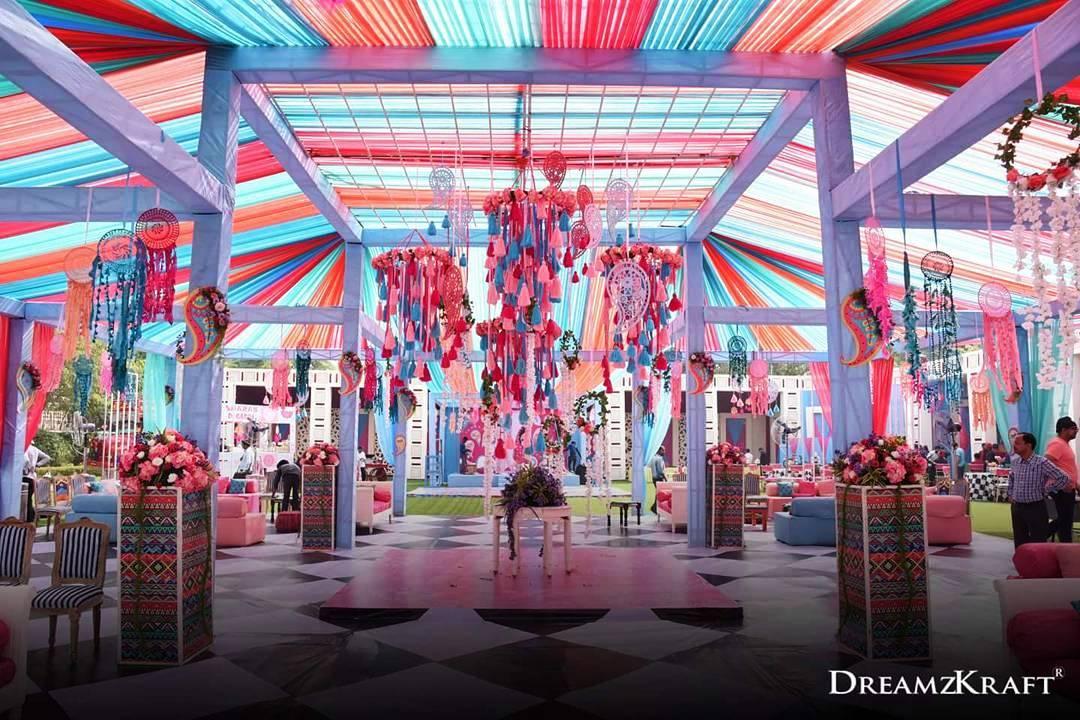 Coordinating your dreamcatcher decor using just two colours is an absolutely gorgeous idea if you maintain that coordination with all the other decor items too! Make your intimate Haldi lunch also a fun one! Go for dupatta decoration and seating arrangements with the exact two colours used in the dreamcatchers. Decorate the dreamcatchers with paisley shaped danglers and feathers too.
Whom to call: Vision Vivaah (NCR), INIK Events (Bangalore), Awegust Affairs (Dehradun).
Dreamcatcher decor & umbrellas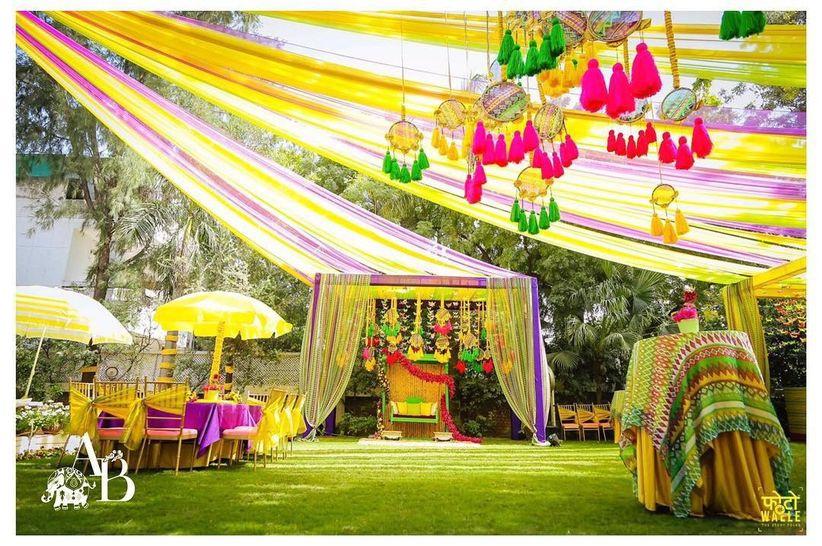 Add some extra colours to your vibrant Haldi ceremony by using multi-colour dreamcatcher decor. The yellow, red, pink, blue and green colours will simply light up your whole venue. To further the cheerful vibes, accompany the dreamcatchers with bright coloured umbrellas. The combination of these two elements is the right ingredients for a fun outdoor wedding event!
Whom to call: Kaleerein by Kanika Kumria (NCR), Ambera Events (Bangalore), Blitz Event & Exhibition Pvt. Ltd. (Hyderabad).
Dreamcatcher Decor & Feathers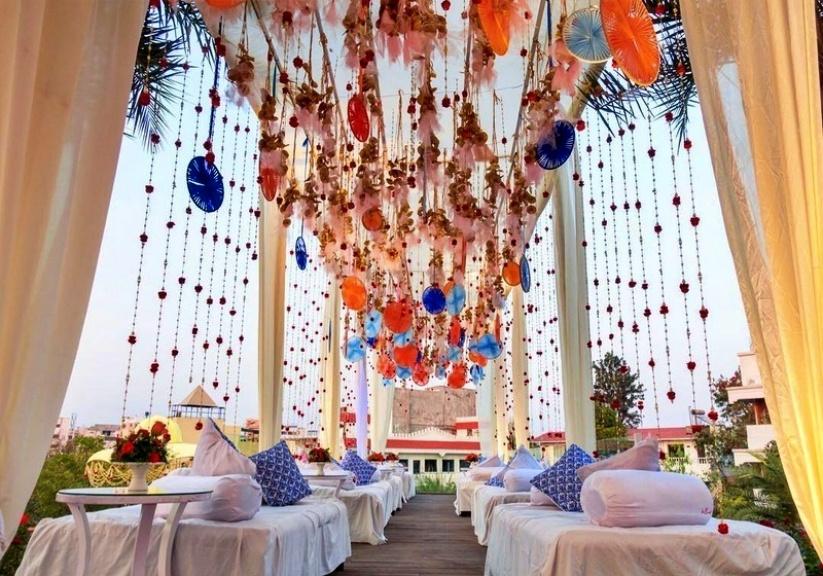 Image Courtesy: Kant Photography
You can accessorise or extend your dreamcatcher decor with feathers, bells, floral hangings, cloths, drapes, beads or artificial flowers. And if you're interested to go DIY, try some of your own ideas for Haldi decoration. Recycle old sarees, dupattas to wrap around the dreamcatcher rings. Make paper flowers and paste them on strings. There are endless possibilities once you're determined to try new creative avenues. And in case you get stuck, just take help from the pros. Make your event venue look alive with some spectacular decor concepts!
If you'd like to incorporate flowers in your decoration, take a look at our wedding florists and give them a call!