Why Terracotta Jewellery Is 'In' For The Modern Indian Bride
Check out this amazing trend - terracotta jewellery - and understand how you can glam up your bridal look with it! We break down the trend and how to work it like a boss bride.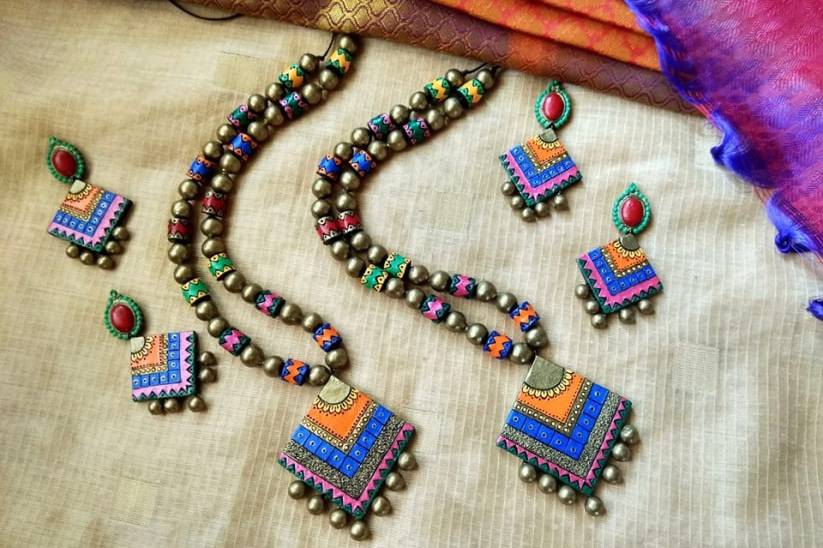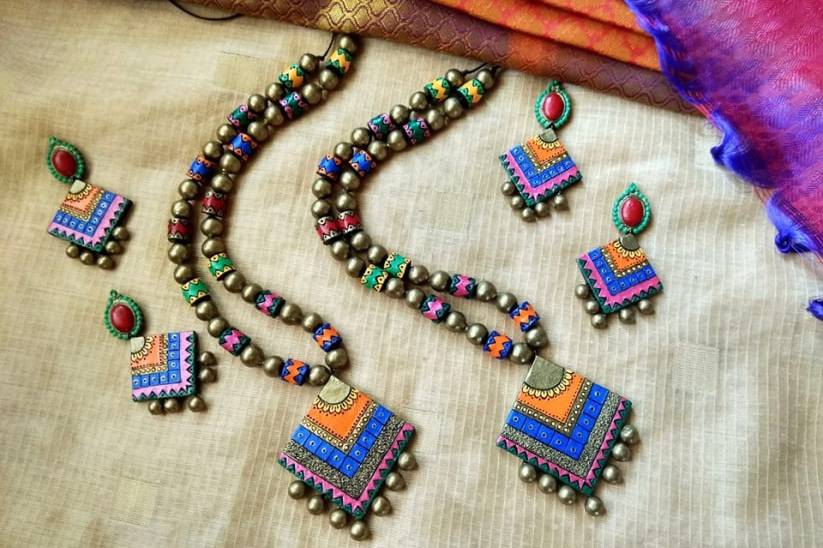 Image Courtesy: Varnika Terracotta Collections
So, if you are a soon-to-be bride who is looking for some cool new inspiration to chic up your wedding look, then we have you covered. Who said that a bride can only wear gold and diamond and Kundan jewellery? Hell, no! You can go the oxidized metal way or even the floral way… but do you know what is the coolest new jewellery trend in town these days? Terracotta jewellery.
It's colourful, unique and very boho. Before we go into details about terracotta jewellery, let's first tell you what it is and how it's made.
What is Terracotta jewellery?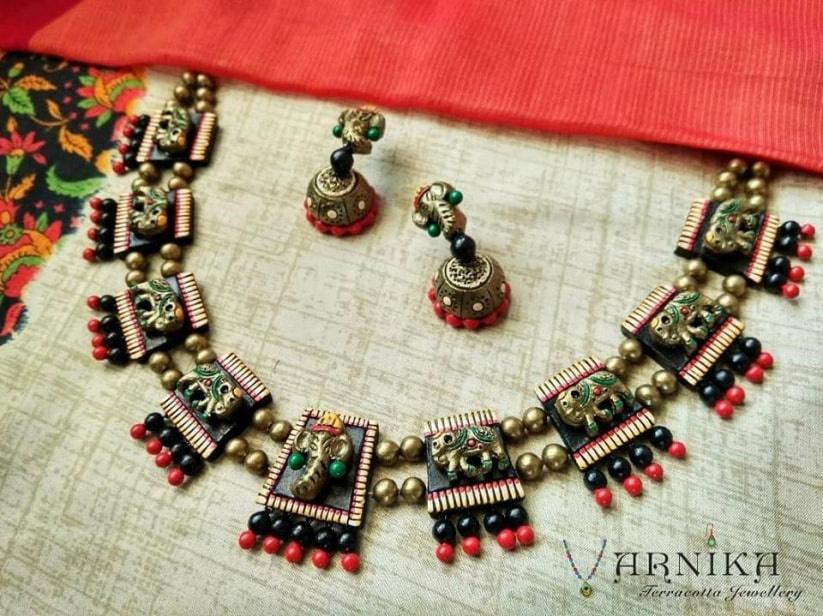 Image Courtesy: Varnika Terracotta Collections
Terracotta is an Italian word which means 'baked earth' and is made of natural clay. It is used to make deities and decor items. Terracotta jewellery is interestingly one of the oldest forms of jewellery. But lately, the beauty that is terracotta jewellery has also caught the eyes of fashionistas and people have started loving it. Terracotta jewellery has a very chic and boho feel about it.
The jewellery is completely natural and handmade, which is one of its main selling points.
It is modelled out of clay, baked to perfection and then painted in various hues and shades, and embellished. Because of the fact that is made by hand from scratch, it is very easy to personalise terracotta jewellery according to your tastes and preferences.
Benefits of Terracotta jewellery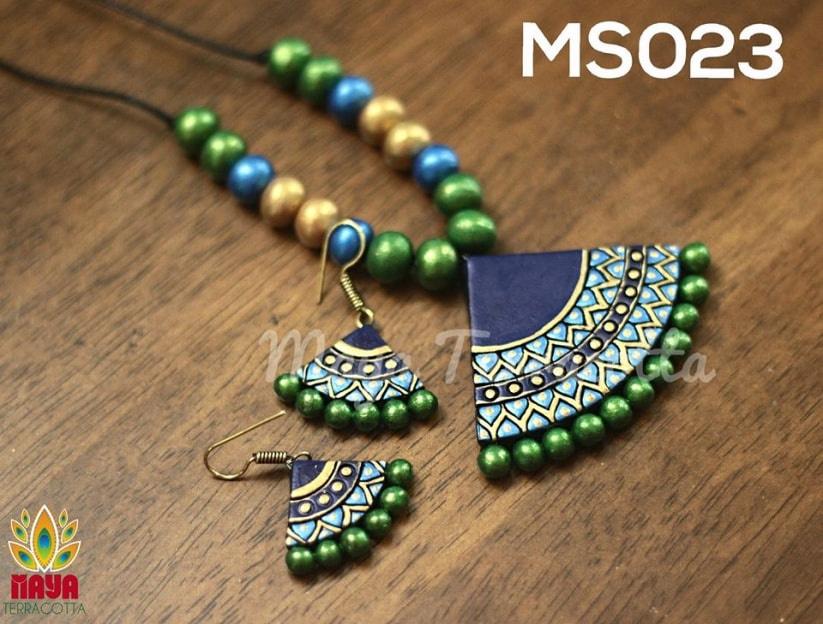 Image Courtesy: Maya Terracotta
Like we just said, terracotta jewellery is made with natural clay and is very easily personalised according to the wearer's personal preferences. You want something perfectly matching with your outfit? Well, terracotta jewellery has you covered.
1. Boho chic vibes
This kind of vibrant jewellery has a very boho chic feel to it, thus making it just the right choice for all those brides out there who are always up for trying out something new and cool. If you think that this jewellery is too cool for your wedding day outfit, then well, you can always pair it up with your Mehndi or Haldi outfits. It will add a fun element to your look and make you a bride everyone remembers for her uniqueness.
2. Skin friendly and natural
Since this jewellery is made out of natural clay, it is very skin friendly and doesn't cause any rashes or skin irritation, of any sort. It is also completely eco-friendly, which is a huge plus point!
3. Affordably so
Terracotta jewellery is also very affordable and easy on the pocket unlike most other forms of jewellery. The prices vary depending upon on the design, but you can get a very decent jewellery set consisting of a neck-piece and pair of earrings anywhere between ₹700 to ₹2000.
4. Go DIY
Another amazing thing about terracotta jewellery is that you can make it yourself also. Although it requires a certain set of skills and some equipment, you can give it a try if you are a craft person. It could be fun.
5. Turn it into a fun activity
In fact, it could also be a fun activity which all your guests could enjoy at your Mehendi function - make your own jewellery. In fact, if we come to think of it, terracotta jewellery also makes for some great wedding favours for your female guests. It is something new and exciting and all your guests will love it.
How to take care of your terracotta jewellery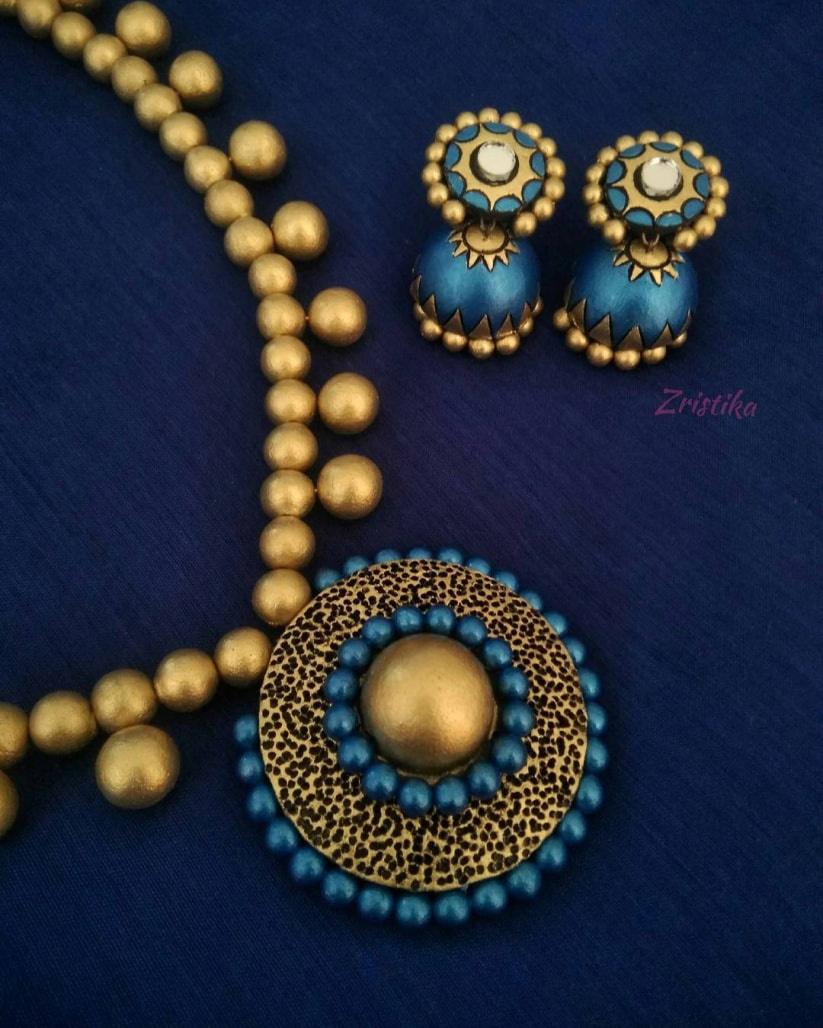 Image Courtesy: Zristika Terracotta
Since terracotta jewellery is made of clay, it is prone to breakage. If not taken care of properly, it can be ruined within seconds. Here are some things to keep in mind:
Always keep your terracotta jewellery in a separate box, covered with a soft cloth. Line the box with cotton before you store the jewellery in it.
Clean the jewellery every once in a while to keep it dust free and shiny.
Do not pair terracotta jewellery with any other metal jewellery as that might cause scratches to the paint and ruin the look.
Do not let it come in direct contact with perfumes or deodorants so as to keep the paint intact and stain-free.
5 online stores where you can get some amazing terracotta jewellery
Now that you know almost all that is there to know about terracotta jewellery and you have seen how pretty it looks, all you need is a place where you can buy it from. And since we are here to help in every way we can, here is a list of 5 amazing online stores which have some of the prettiest terracotta jewellery designs available. Check them out:
1. Varnika Terracotta Collections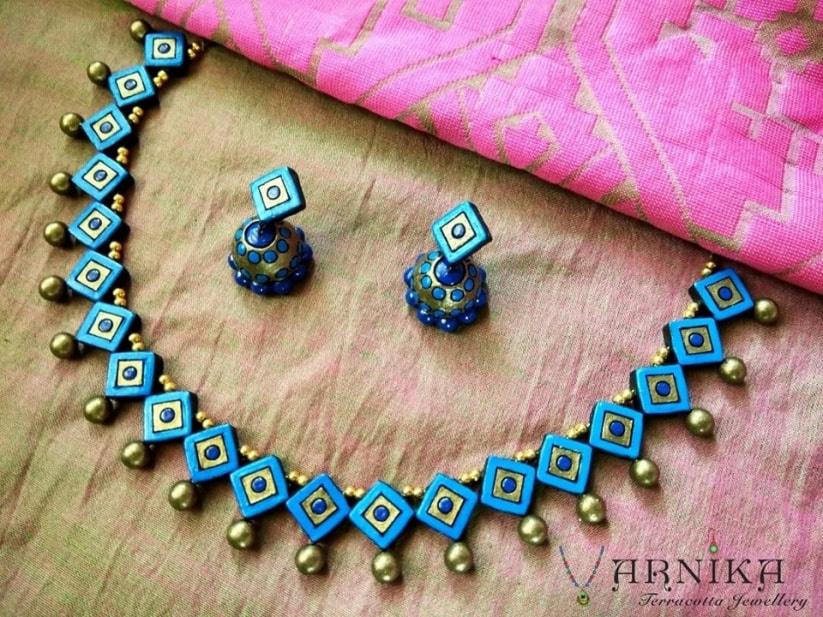 Image Courtesy: Varnika Terracotta Collections
This store has some of the most vibrant and prettiest collections of terracotta jewellery in their kitty. Right from their dainty earrings to chunky necklaces, all the designs are to die for.
2. Maya Terracotta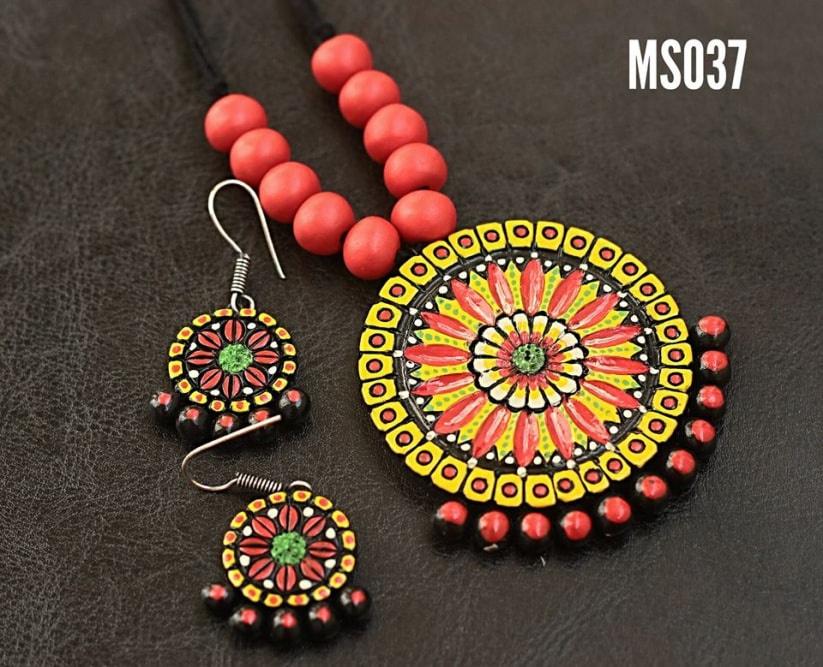 Image Courtesy: Maya Terracotta
Another terracotta jewellery store we totally dig. Apart from jewellery, they also sell some gorgeous decor items which you can buy either as wedding favours or just as something pretty to decorate to a new home with.
3. Zristika Terracotta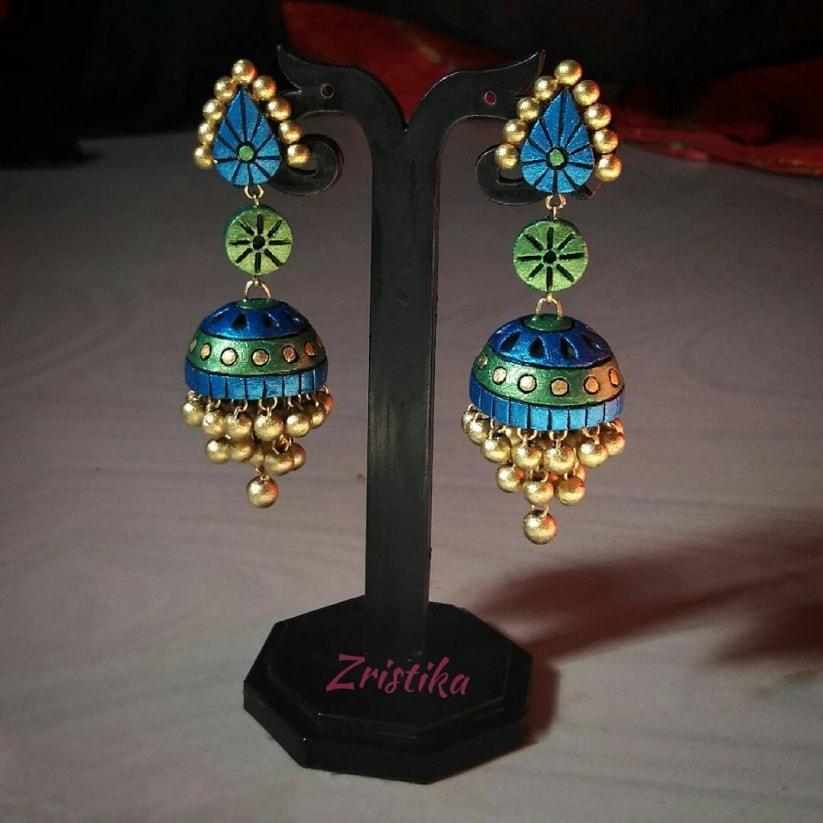 Image Courtesy: Zristika Terracotta
Zristika's designs had us at hello with their delicacy and intricate patterns. Surely one of our favourites.
4. Saheli Enterprise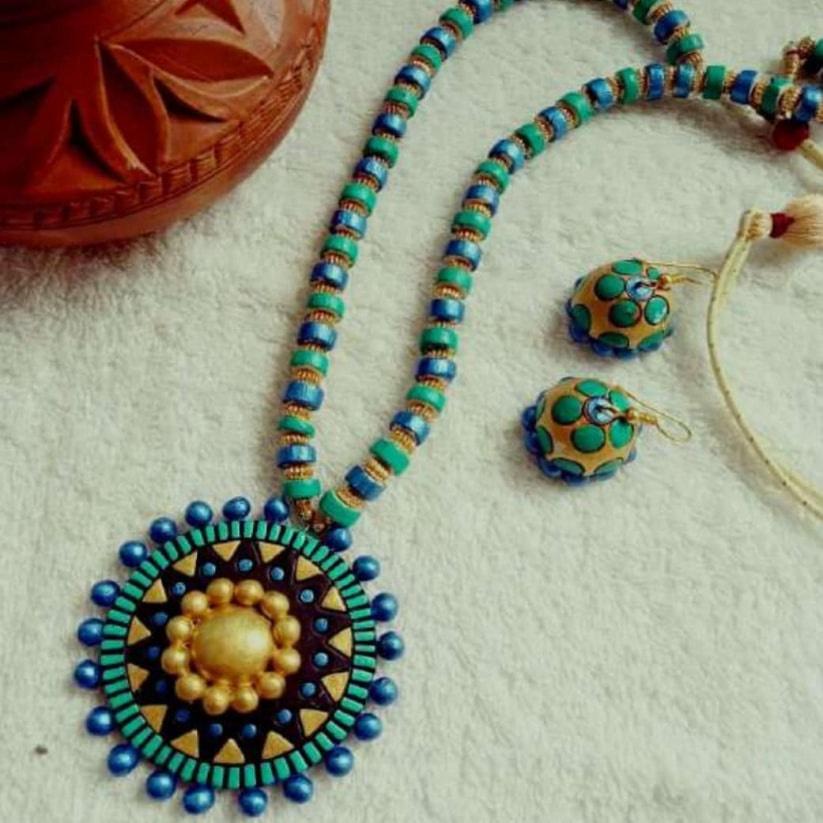 Image Courtesy: Saheli Enterprise
Looking for something chunky and out there? Well then, you will totally love this store. Apart from terracotta jewellery, they also have a great collection of artificial jewellery and kurtas.
5. Anjos Fashions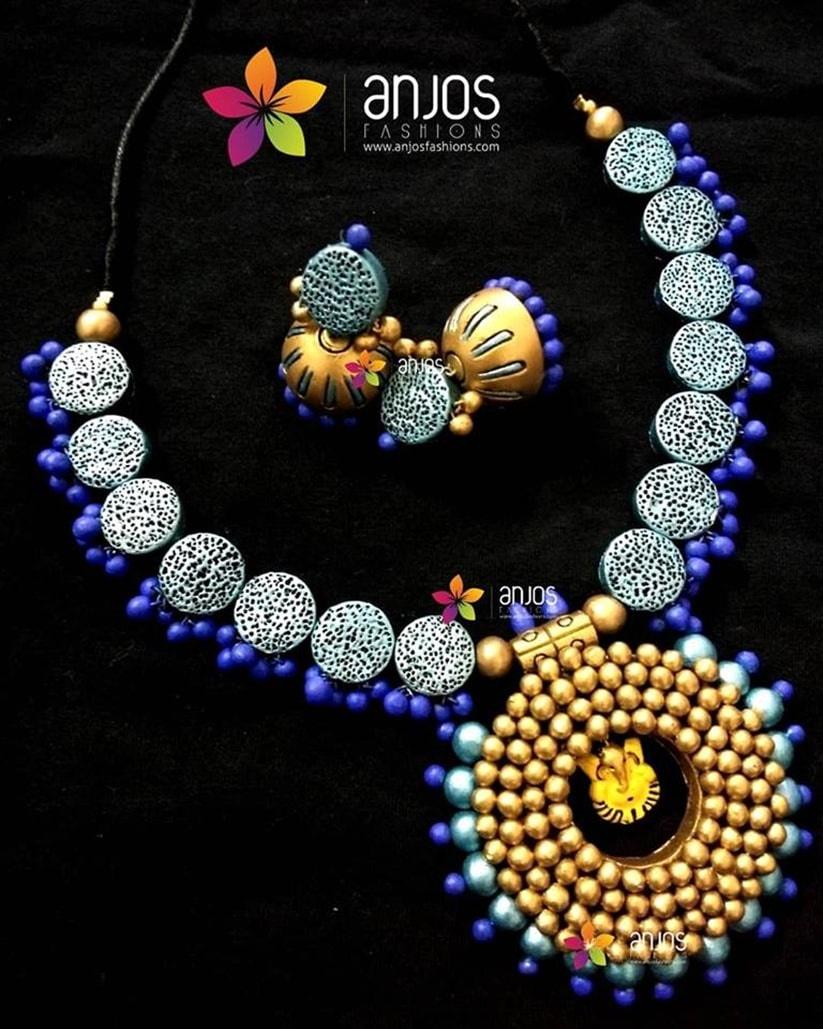 Image Courtesy: AnjosFashions
Last but not the least, Anjos Fashions had some of the most intricately designed pieces which we fell in love with instantly and we are sure you will too!
Well, what are you still waiting for? Check out all these stores and get your hands on some awesome pieces of the beauty called terracotta jewellery. Happy shopping!
If you know of any other amazing places or stores that offer terracotta jewellery, do let us know in the comments section below.