These Fresh Photo Decoration Ideas Will Light up Your D-Day
Want to try some out of the box ideas for your wedding decoration? We've come up with some unique and fresh concepts using photo decoration as a part of your wedding decor.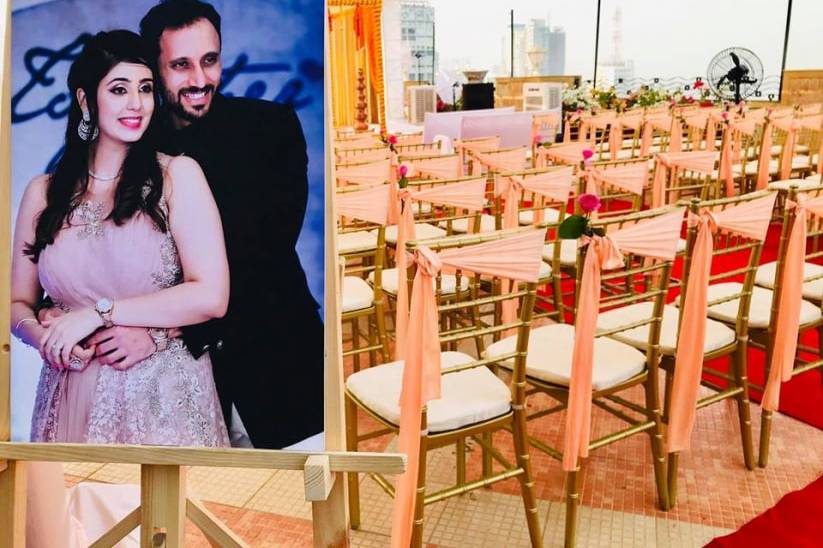 Exotic floral arrangements, chandeliers, earthen lamps, drapes...you've by far seen and known about quite a decent number of themes and styles used in wedding decoration. And you are also open for some DIY decor on some of the wedding ceremonies. So how can you make your wedding hip and unique? We say, try using photo decoration as a part of your wedding design.
Think photo cushions, photo streamers, photo coasters and photo table mats! Wouldn't it be exciting to watch your guests' reactions when they find their own photos on their dinner table seating? Let's give you more such innovative tips to up your decor game!
1. Photos on the dinner table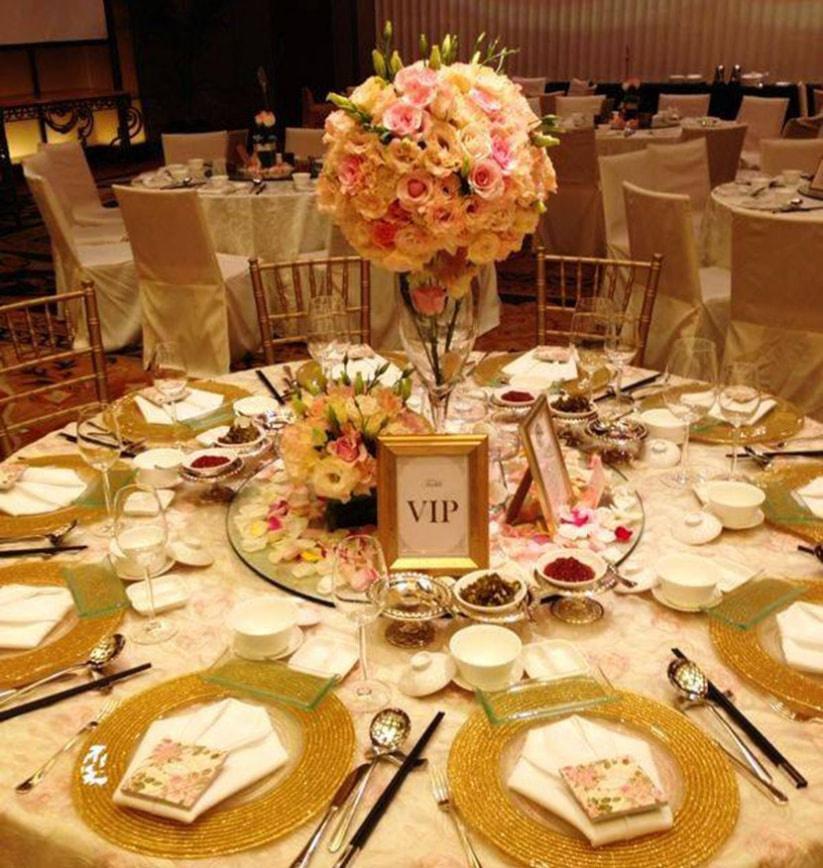 Apart from colour coordinated flower arrangements and centrepieces, how about placing a photo frame with your respective guest's photo on the particular table? This kind of photo decoration would add a personal touch to your decor and is definitely going to be a huge hit! This would be easier in case of close relatives and friends event.
If it is an event involving only your close, loved ones, then consider adding personal moments with your relatives for this form of photo decoration. Apart from being excellent seat markers, these will show how much you value there being here, at your special event.
Otherwise, just take help from your wedding planner to arrange personal photographs and set them up on the tables!
2. Printed beer bottles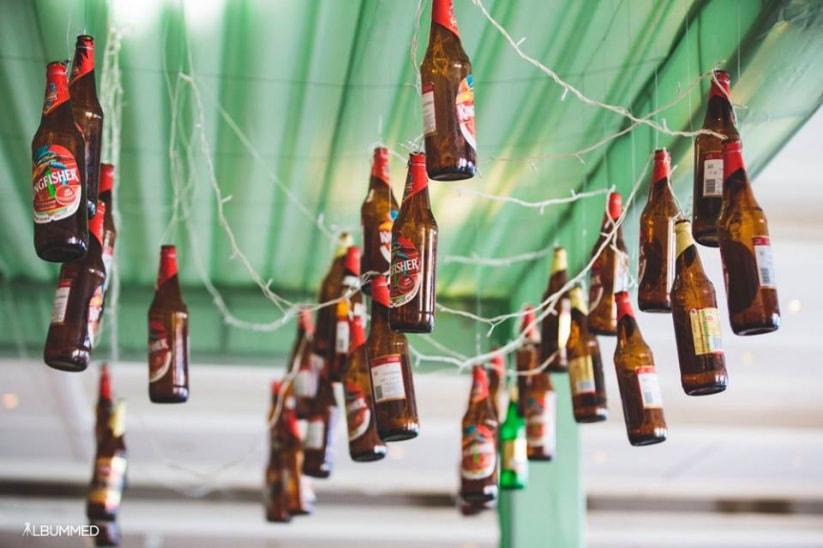 Jazz up your Mehndi, Sangeet or poolside cocktail party with this funky photo decoration idea. Stick the bride/groom's photo on the beer bottles and hang them up as decorative. You could also use these specialised printed beer bottle hangings as a route-marker to the venue.
Serve these for shots and as a welcome drink for your guests. You can also ask them to raise these mug shots toasts while the photographer captures them as candid clicks from the occasion.
This would guide the guests to the fun area with laughter on their faces! Ask your photographer to get some quirky shots on your pre-wedding shoot and you can use them on your bottle hangings.
3. Popcorn Cones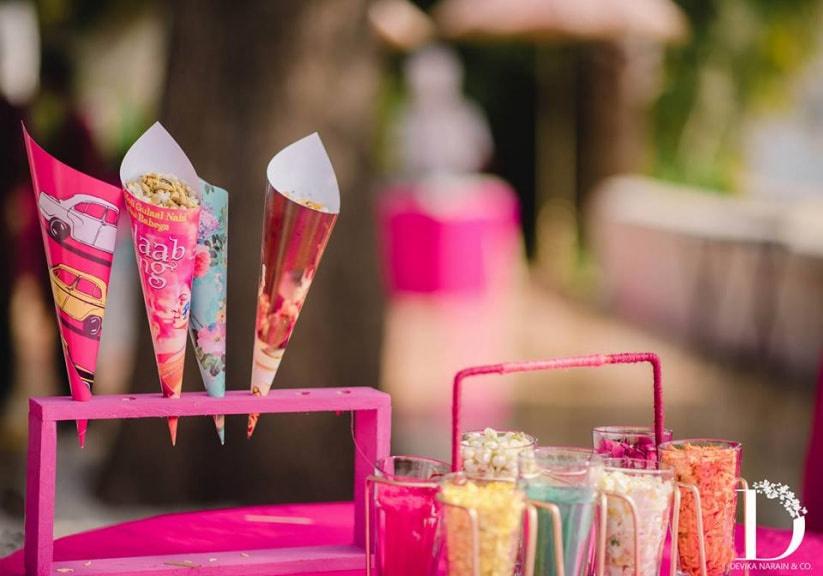 Let the fun continue! We need some fun snacks on Haldi or Sangeet parties to keep up with the vibe. So how about getting popcorn cones printed with your own photos? You can also your friends, cousins or siblings' photos printed on attractive colourful cones.
These cones can be unfurled to be a party message for your friends, or even highlights for the program for the days ahead. You could also print details for your favourite charity on them - in case you'd rather have your guests contribute to a worthy cause for wedding guests.
Add a dash of quirk, a little bit of madness to your photo decoration for extra fun!
4. Photo-printed cushions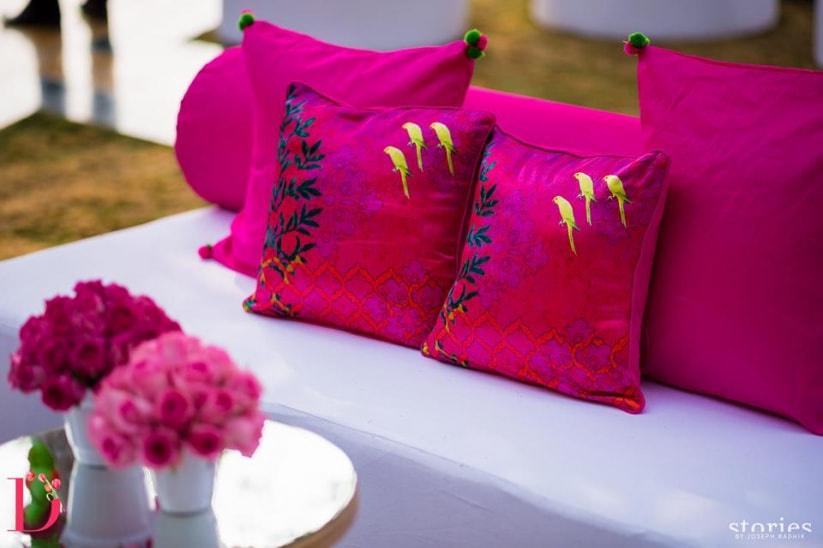 Gorgeous vibrant looking cushions with your picture printed on it...how divine that would be? If you're going for a low-floor seating for a particular wedding theme, throw in some customised photo printed cushions of the bride and groom. This kind of photo decoration would look absolutely stunning in Rajasthani, Gujarati or a Marathi wedding ceremony with a vivacious play of colours!
Use these photo decoration accents for a fun Sangeet night or for a lighter function.
Otherwise, you can also get the cushions printed with any the bride's favourite actor's photo to give her a sweet surprise on her bachelorette.
5. Movie-Posters on Mehfil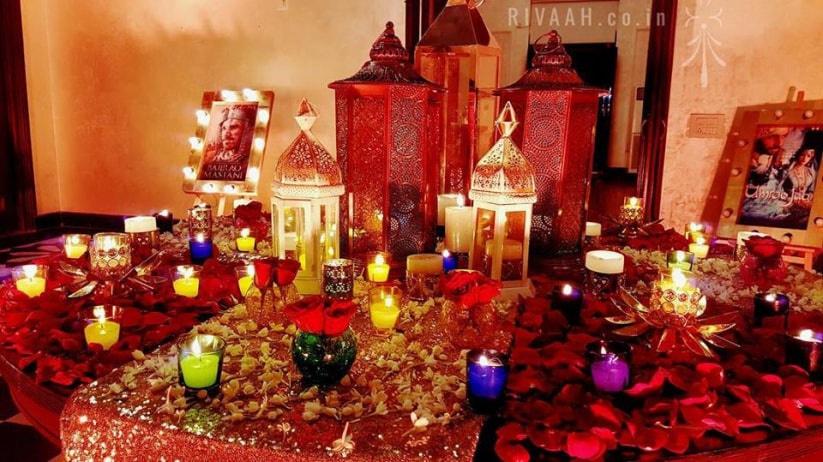 So you're having an "Umrao Jaan" themed Sangeet. The perfect occasion for some Mehfil vibes, for your Sangeet decor too! Set up posters of iconic Bollywood films like "Mughal-e-Azam", "Umrao Jaan" and "Bajirao Mastaani" to go with the theme. Let your photo decoration speak volumes about the ambience.
Use these Bollywood accents as framed posters, hangings and placeholders. You can also mark areas around your Sangeet venue with pre-wedding shoot photos highlighting the two of you in famed Bollywood wedding poses.
Ask your DJ to prepare the Sangeet playlist accordingly, with Ghazals and popular Mujra numbers.
6. Use as photo props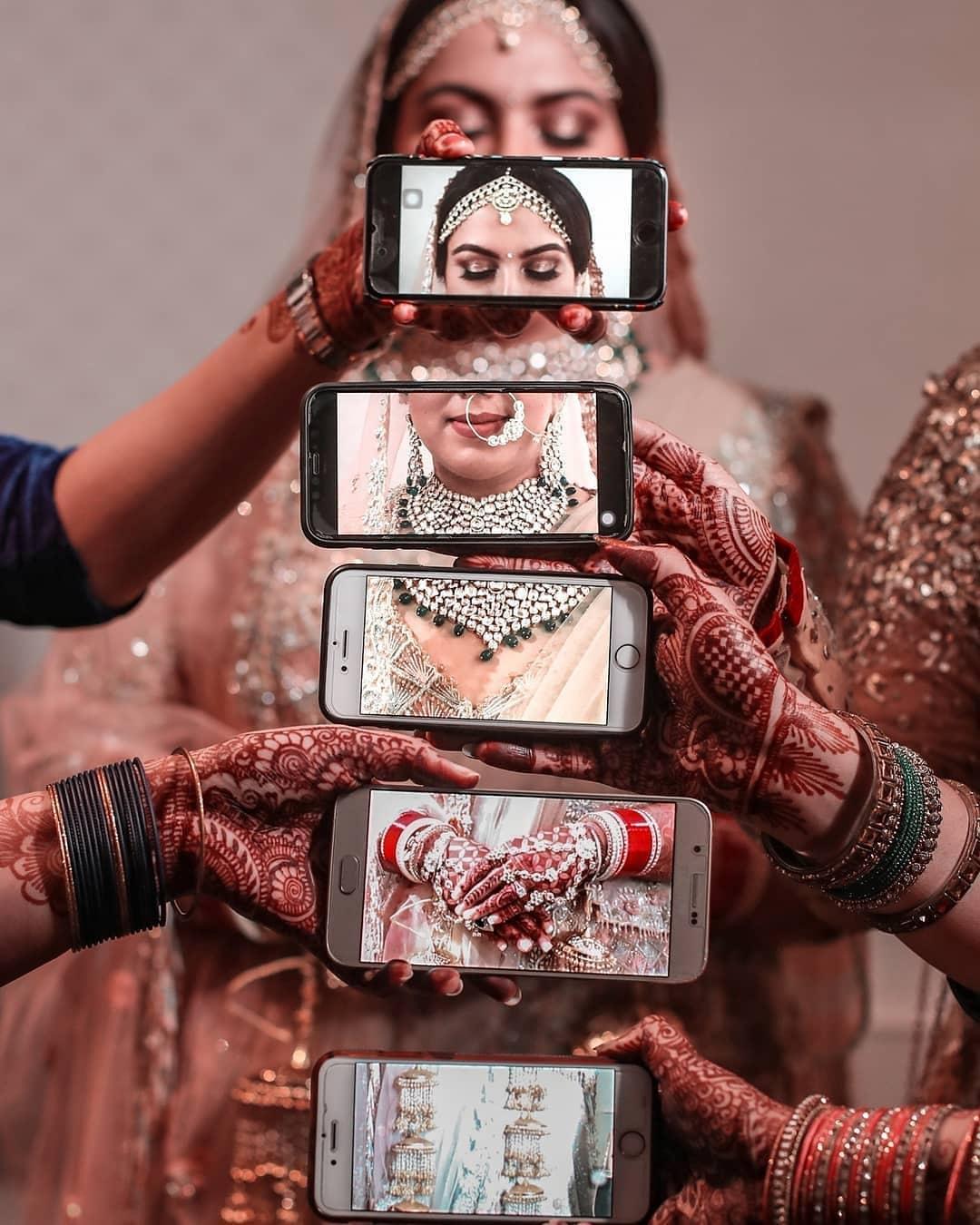 Can you imagine your shots of yourself as your photo decoration and as props for more bridal shots? Well, then this unique idea is one that would do just this for you.
Take shots of yourself in all bridal finery, which zero in on the details. Then, as a prelude to your spectacular bridal entry, use these shots as a showreel to announce your imminent arrival. Just like your own breathtaking entry, these shots will provide guests with a close-up to your special day's look and all that has carefully gone into building it just right.
7. Love Message Board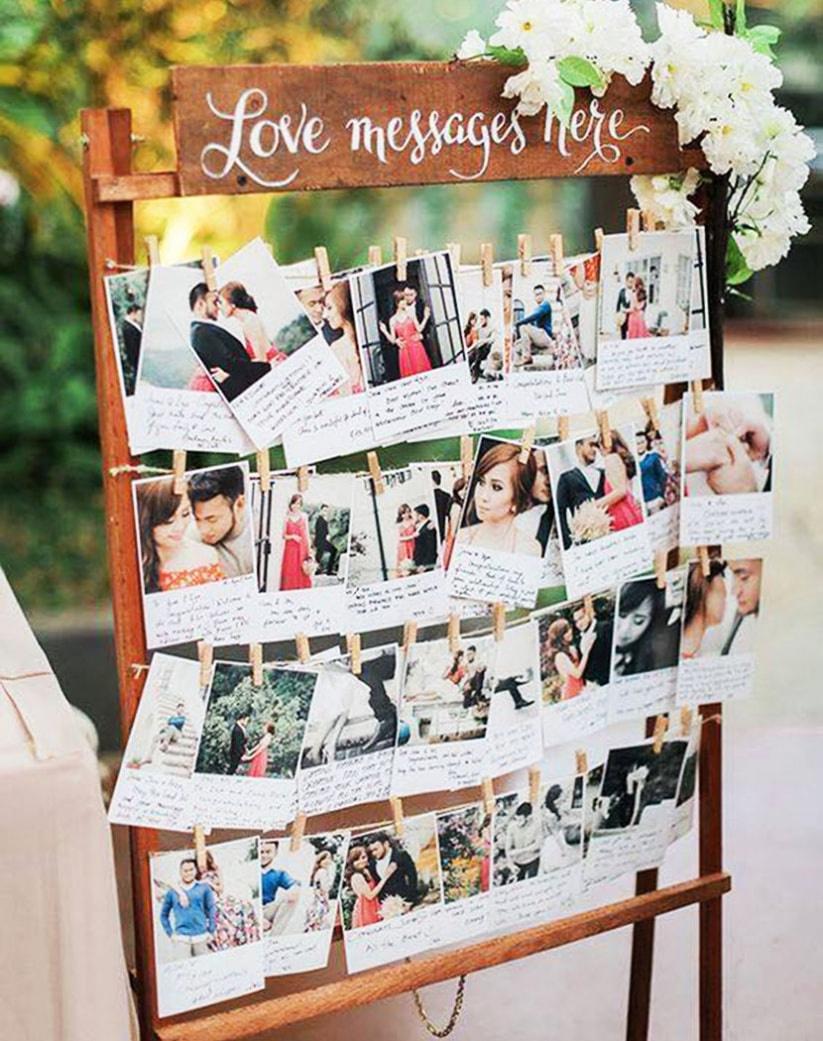 Get a love message board put up at the wedding venue and ask your guests to leave their blessings, good wishes or any kind of message they want to leave for the couple. You can use photos of the bride and the groom or take instant Polaroid prints from the wedding photobooth and write your message on your own photo.
The huge message board with all these photographs signed by each guest would look gorgeous as a photo decoration idea.
You can, for good measure, take all of the pictures from your wedding day and get them framed as a collective wall of good wishes to add good vibes to your new home.
Other than personal photos, you can opt for posters of your favourite stars for a Bollywood themed wedding ceremony. Photo runners for the tables, the good old collages of friends and siblings, pre-wedding shots and your childhood moments with parents- these are some classic ideas for photo decoration. Have a clear conversation with your photographer on which photographs you want to use for decoration and hence their time of availability. Take help of your friends, cousins and sisters to decorate with photo hangings and photo streamers if you're taking the DIY route. It's more fun to involve your loved ones in such wedding activities.
And if you have more such photo decoration ideas, share them with us in the comment section.