Oh so Filmy! 10 Ways to Have A Bollywood-Inspired Wedding Experience
If you are a huge fan of Bollywood films, why not include some elements of Bollywood into your big day? Yes, you can totally throw a Bollywood wedding and totally rock it too. Here's how.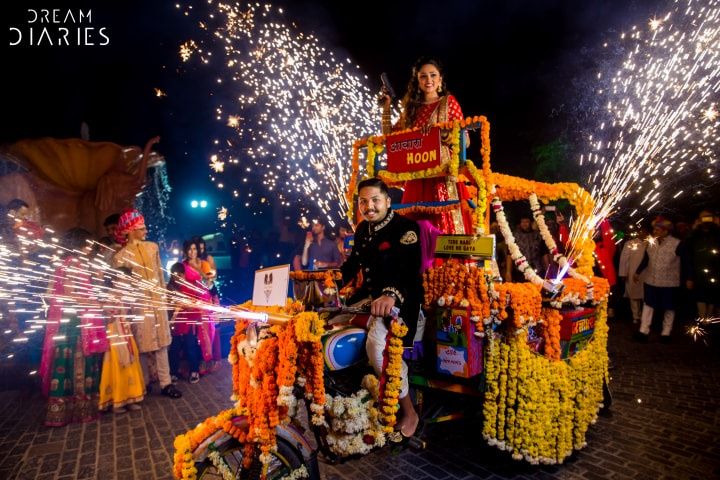 If you imagine an orchestra playing as you float down the circular grand staircase towards your beau with a nine-yard drape sweeping the steps behind you, then this is for you. You're bitten by Bollywood mania and it would take no less than a Bollywood-themed wedding for your big day. It's your wedding and it should play exactly as you want. It could be with a standalone Sangeet with Bollywood songs, a dress-up, smaller decor elements or even a full-scale outfit inspiration from the stars.
Here are all the ways in which you can add the tinsel town magic to your wedding:
Preparing for the Bollywood-style wedding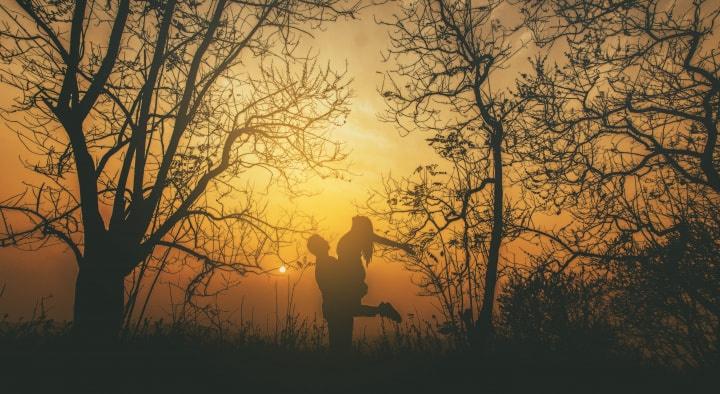 We first begin with the preparations for your wedding. These are all of the things you may do to show your true, filmy style:
1. Come up with a movie poster: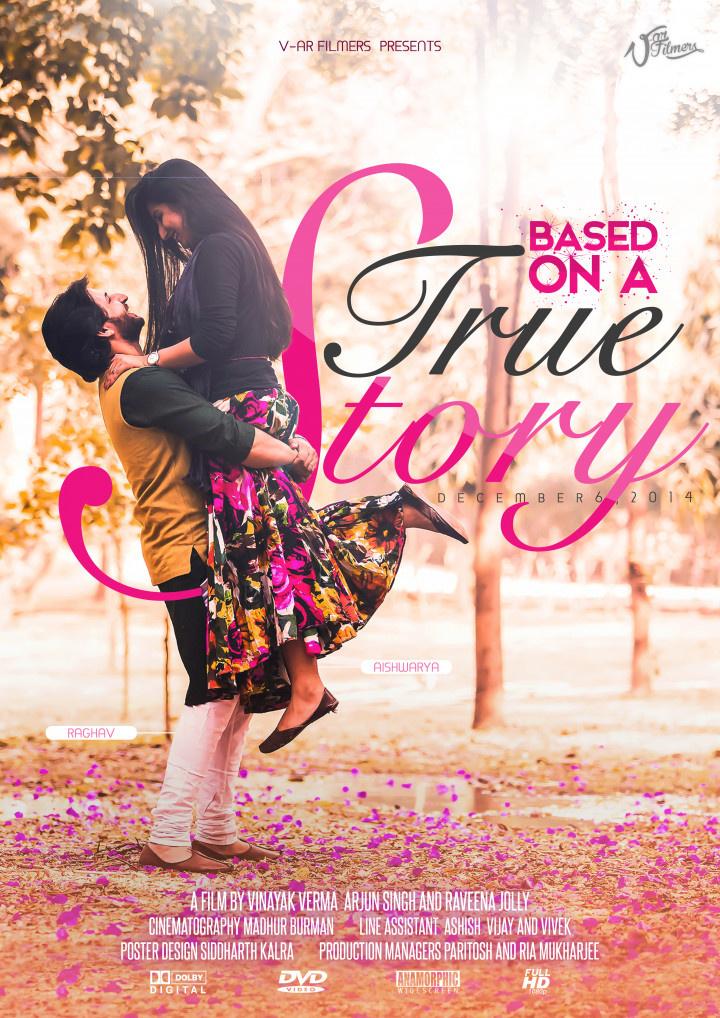 Choose an iconic movie poster and replace the cool actors with the bride and groom (that's you!) How cool is that! You can upload this wedding poster to your wedding website and get it printed and framed at your wedding party!
Here is another inspiration: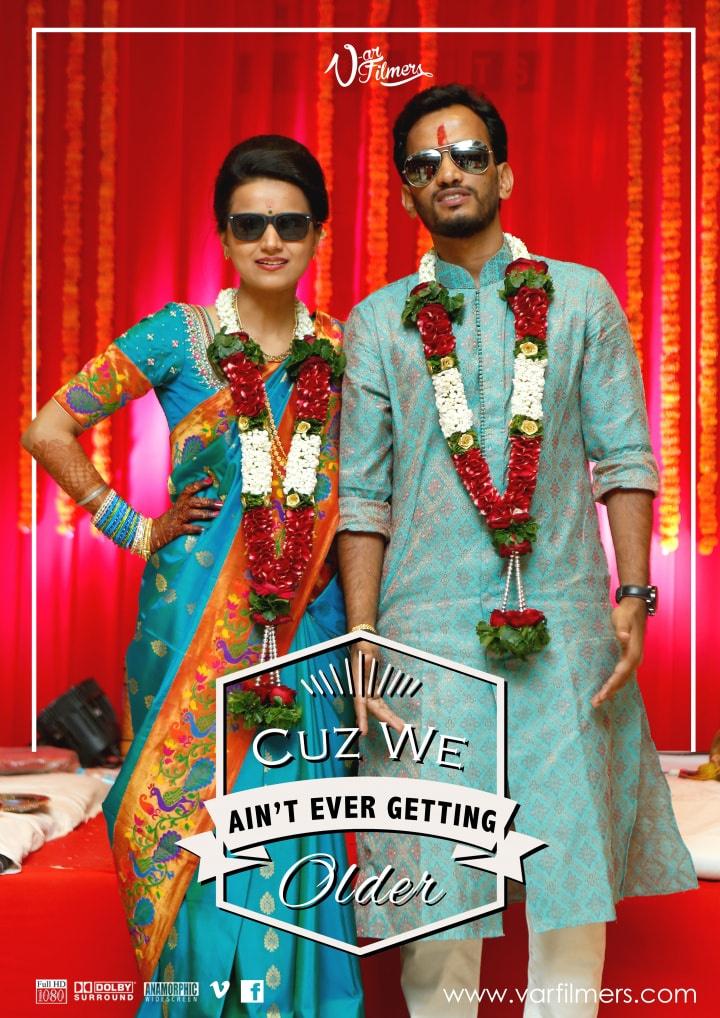 2. Create themed wedding invitations: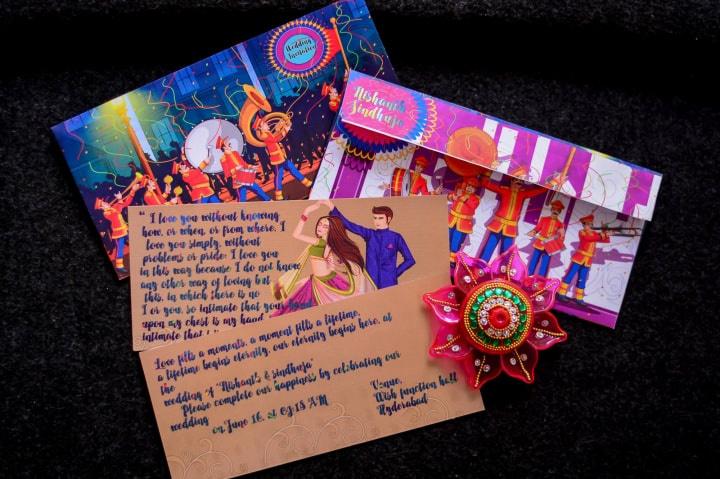 Are you a mushy romance, an eternal love story or a comic caper? Or would you be a team of superheroes against all of the villains? Choose your wedding invitations according to your theme. You can even go a step further and base them off your favourite film or character.
We liked how Nishanth and Sindhuja (in the image above), chose elements from the film 'Band Bajaa Baarat' for their wedding invitation.
Here are some more inspirations: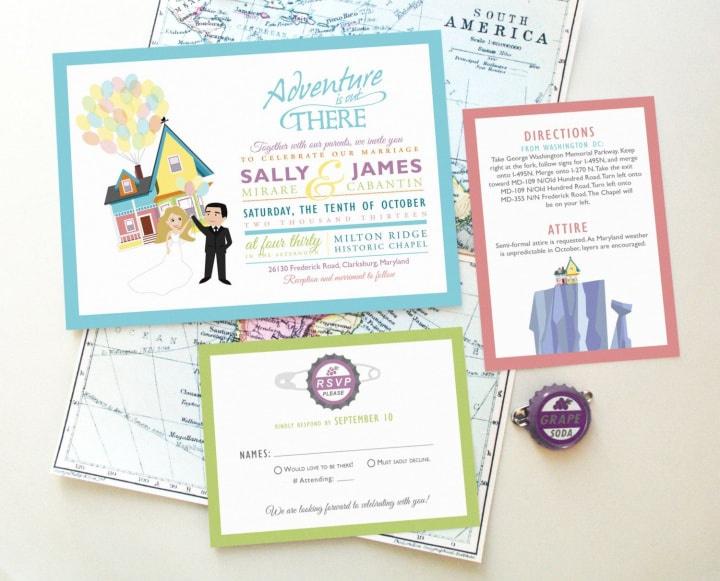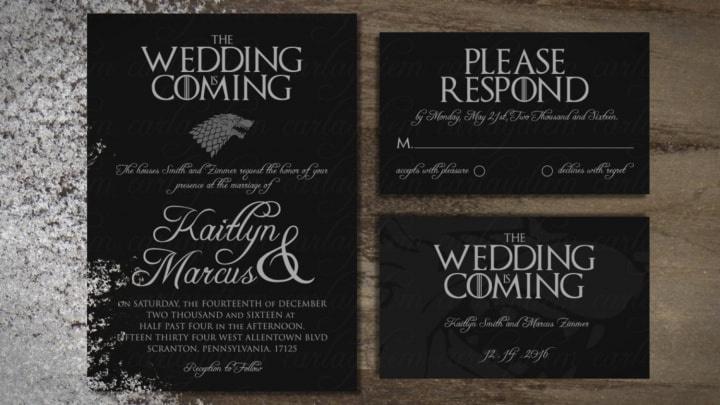 Images courtesy: Pinterest
3. Put together a DJ Playlist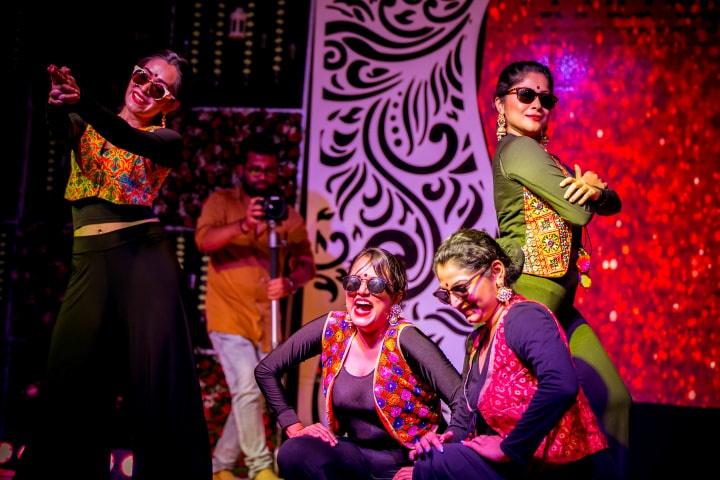 No wedding is complete without a stint of song and dance. There are Shadi songs, songs for all of your pre-wedding functions - Mehndi songs, songs for Sangeet; songs that work for solo dance performances, couple songs, songs for groomsmen and bridesmaids.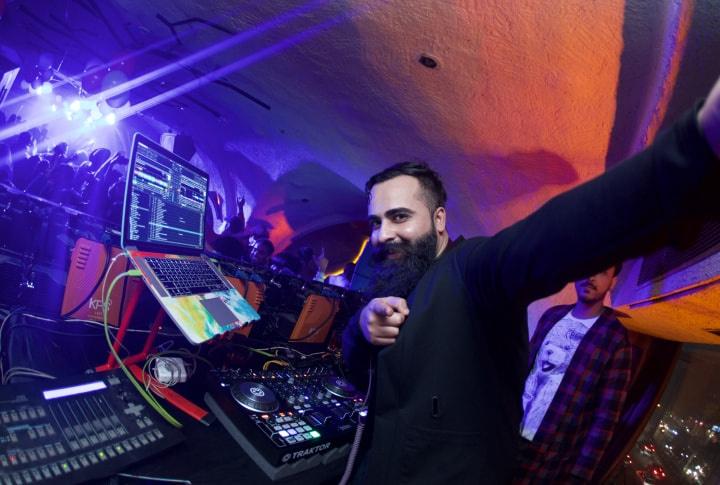 Make your lists for the wedding DJ beforehand and be sure that every spicy Bollywood number is played.
4. Get ready to dance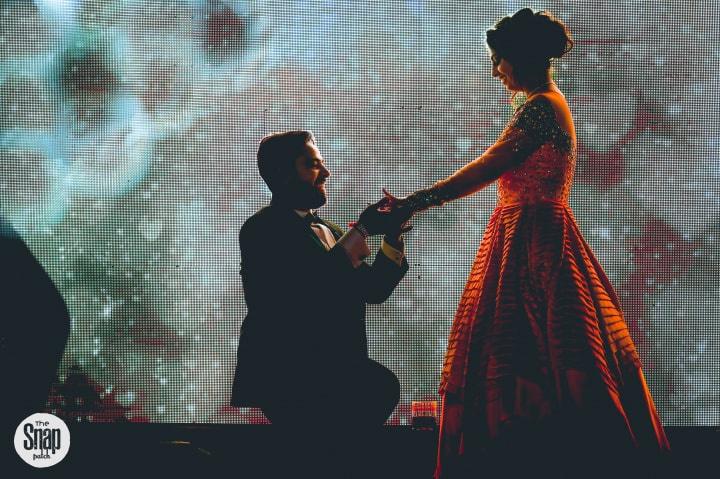 A song and dance routine for your Indian wedding is not just the Nagin dance or the two-step dance. It's now a practised, choreographed Bollywood dance performance, set to a track, under the arclights and on an elaborate dance floor.
Prepare some songs with your friends or family and perform at the wedding. Your family and friends too can prepare a surprise dance number for your guests! It will be great and cute and adorable if you perform with your partner on some romantic Bollywood numbers.
Get the setting correct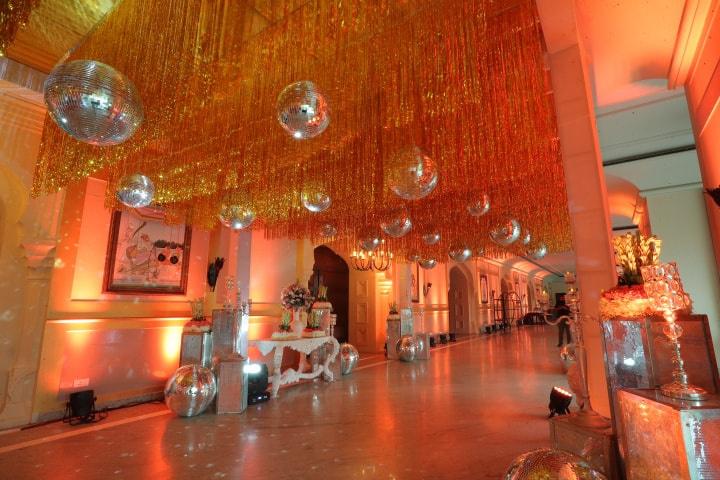 Getting a perfect wedding theme is all about getting your decor and setting just right. Let's see how you may do that:
5. Bollywood-themed decor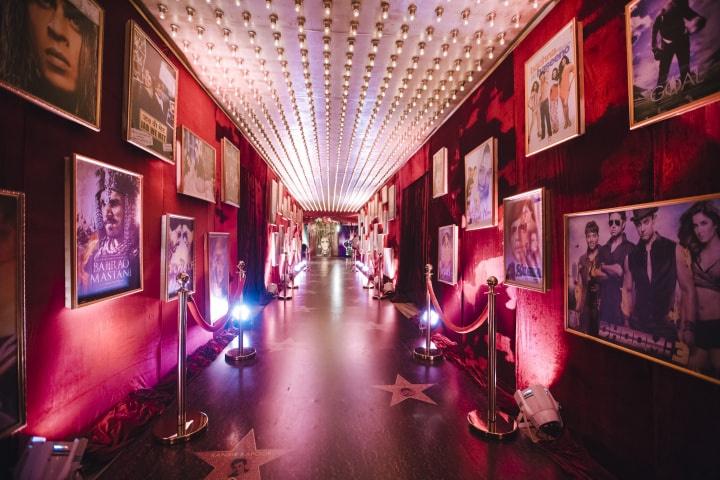 Even your wedding can have a Bollywood wedding decor. Keep the colours playful and add some Bollywood signboards here and there. You can get the menus personalised and rename them in a quirky, filmy way. Make sure your guest feel that they're about to enter a movie set rather than a plain wedding.
You could extend this thought to the place settings with dramatic flower arrangements, personalised crockery, celebrity images and famous dialogues on glasses and plates.
And then, there's the dance floor. Go for an over-the-top style that reflects your Bollywood leanings.
6. Getting Bollywood entertainers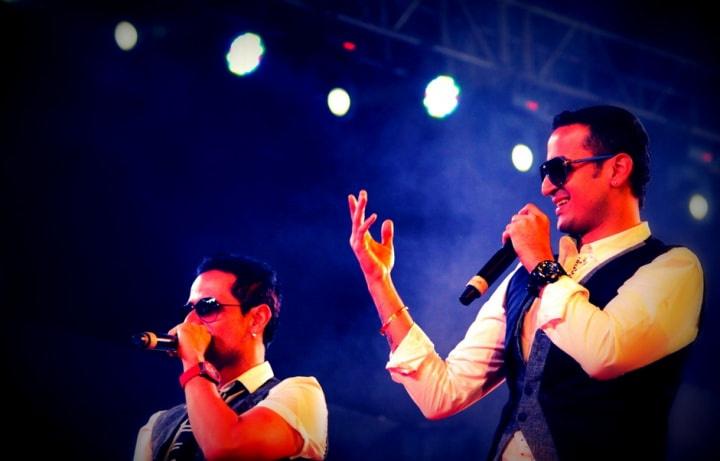 You can get a dance troupe or a set of performers to serenade your wedding guests, during your Sangeet, engagement, Mehndi, wedding or wedding reception. And if your wedding budget allows it, get famous performers and celebrities to dot your date. Hell, you can even get Shahrukh Khan or Ranveer Singh!
7. Bollywood Photobooth
Instead of random signs and props, give your wedding photobooth a Bollywood feel. Get a filmy backdrop, some quirky wedding props and Bollywood-based signboards and you are good to go.
Things to do for a Bollywood wedding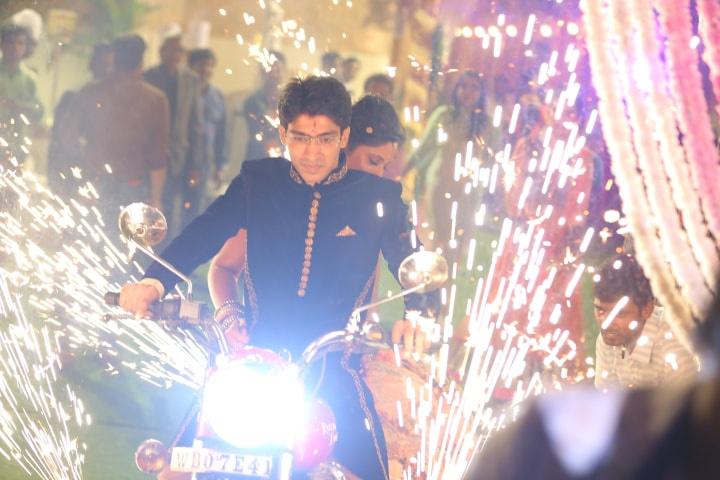 Are preparations done, setting in place? Now comes the next step - you, your friends and all of your wedding guests.
8. Throw a Bollywood-based theme party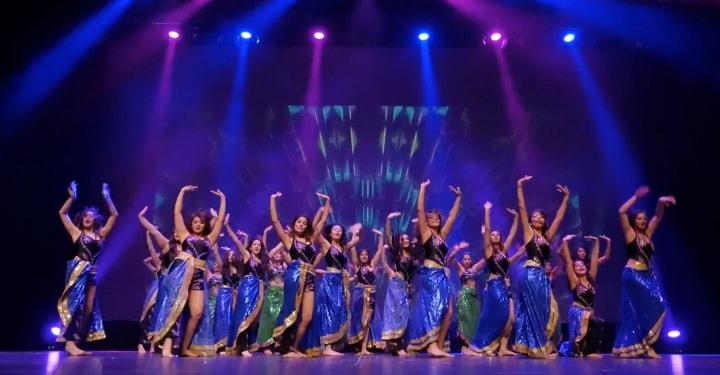 Why not throw a Bollywood theme party for your friends and relatives? Take this party a step ahead with Bollywood themed party dresses and inspirations. You could ask your wedding guests to come dressed as their favourite actor and have a bash. You can turn your cocktail into this crazy party or throw an entirely different party for this event.
9. Bollywood Photoshoot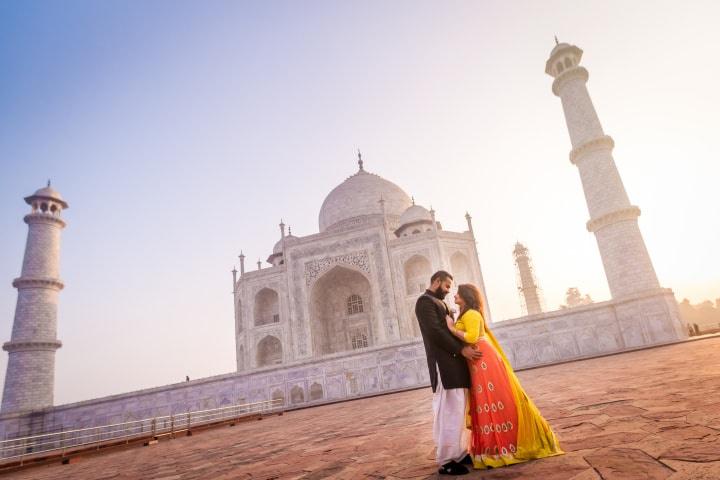 Pre-wedding photo shoots can be arranged with some Bollywood themes! Get dressed as your favourite actors and re-enact that romantic scene on your shoot.
10. Outfit yourself for the big day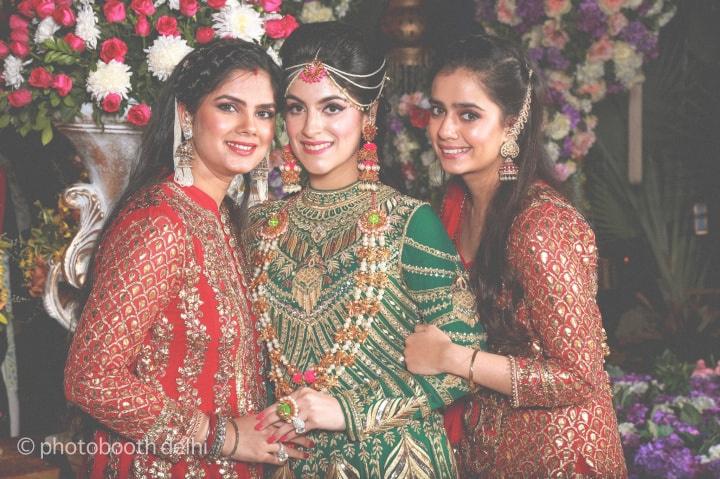 Yes, if you and your girlies are crazy and all fun, get them ready in a total Bollywood attire. Dress them as some iconic actress from a totally iconic movie and there you have your own group of Bollywood bridesmaids.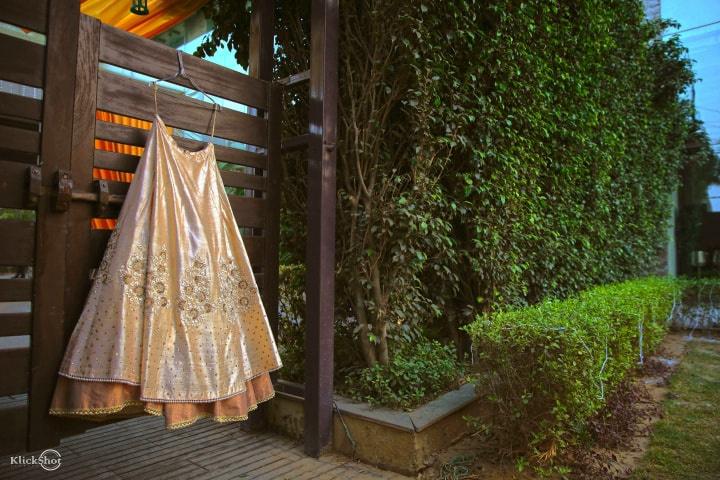 You may take inspiration from actress wedding photos and Bollywood brides for your own outfits. They do dictate bridal fashion trends in large waves. For example, Anushka's wedding saw many brides choose blush pinks, pastels and embroidered lehengas for their big day, rather than opt for the conventional blood red lehengas.
We expect that the bright red wedding lehengas for Sonam Kapoor and Deepika Padukone would cause a similar resurgence for the colour red.
Think these Bollywood swathes are enough for your big day? Think again. Let your imagination rule the roost and have a blast in unleashing your inner nerd for your big day.