16 Couple Songs You Need to Check the List for Before You Step onto the Stage for Your Epic Performance
Want to set the dance floor on fire with your rocking couple dance performance? Here's a list of essential couple songs for your playlist this wedding season.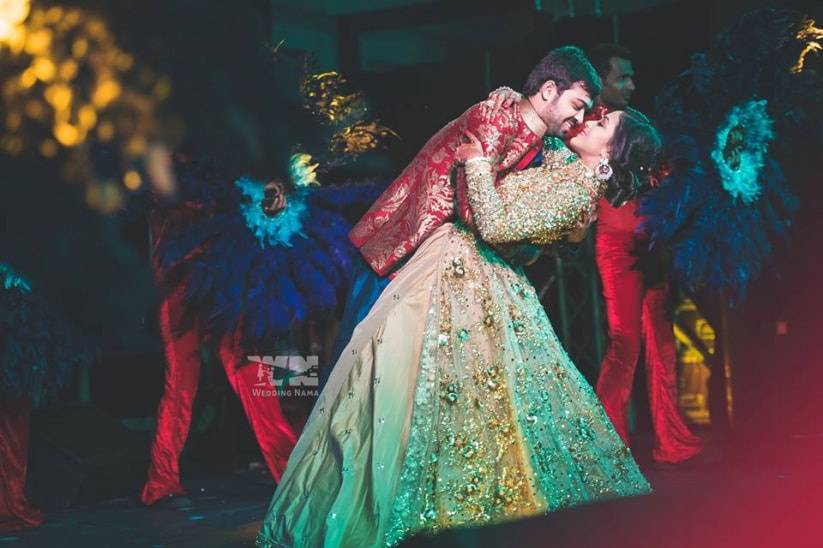 Dancing is believed to be the most romantic way of expressing love. When you sway to music holding hands, your expressions, the moves and steps convey your love for each other. It is also one of the most fun parts of the celebrations where your cousins and relatives are out on the stage dancing their hearts out and the whole crowd waits for the most special moment when the bride-to-be and her groom-to-be come on stage and the lights go dim to have the focus on the couple who are ready to burn the stage with an eternal feeling of romance and love.
It can be a slow song where you sway in each other's arms or it can also be a fun Bollywood number that will help you live the jive and happiness of the moments you have been together for. The stage is set to burn with the thumkas and the romance is seen budding at its peak. This is what the couple songs are meant for and the playlist is one to look out for. You can add all your evergreen favourites or tap to the recent trending hits.
So what are you waiting for? Make your couple songs playlist for every wedding ceremony already! Let your couple performance at Sangeet night be an inspiration to everyone. Research, browse and hire a wedding choreographer who understands your requirements and gives you the chance to be a star couple in every event! Here are a few suggestions on couple songs for every wedding ceremony which can never go wrong:
Engagement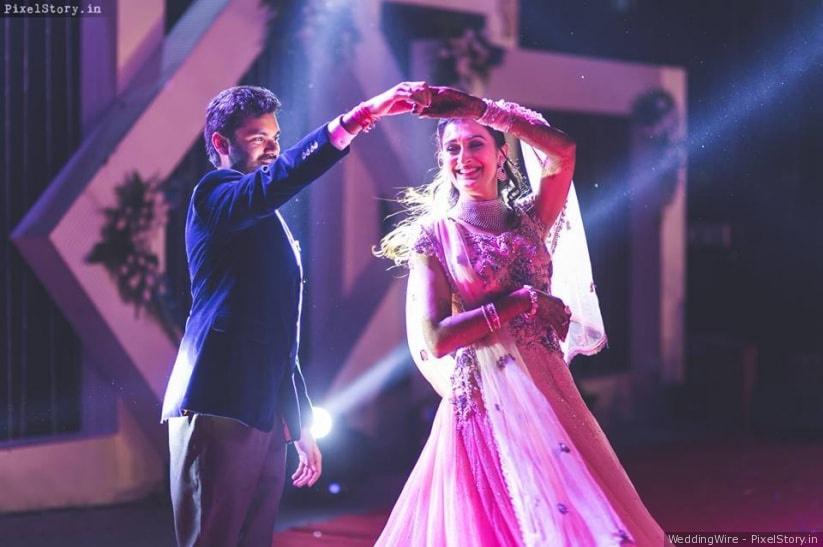 An Engagement ceremony is usually the first time you dance with your fiance. Got the moves ready to shower the grace and romance on the audience? The first dance should be extra special. Here is a list of couple songs in Hindi for a romantic engagement first dance:
1. Moh Moh ke Dhaage
Ask your choreographer to go creative with steps. Slow dance to this beautiful couple song to feel the spell! You can also go for the male version of the same song.
2. Man Mast Magan
What's better than this Arijit Singh-Chinmaya Sripada song from one of our favourite love stories, to depict your first step to your 'Happily ever after'? Make sure your wedding photographer is ready to capture these loving moments as you sway from one corner to the other.
3. Khuda Jaane
Steal Ranbir-Deepika's sensuous steps and moves for your first couple dance on the engagement night.
Mehndi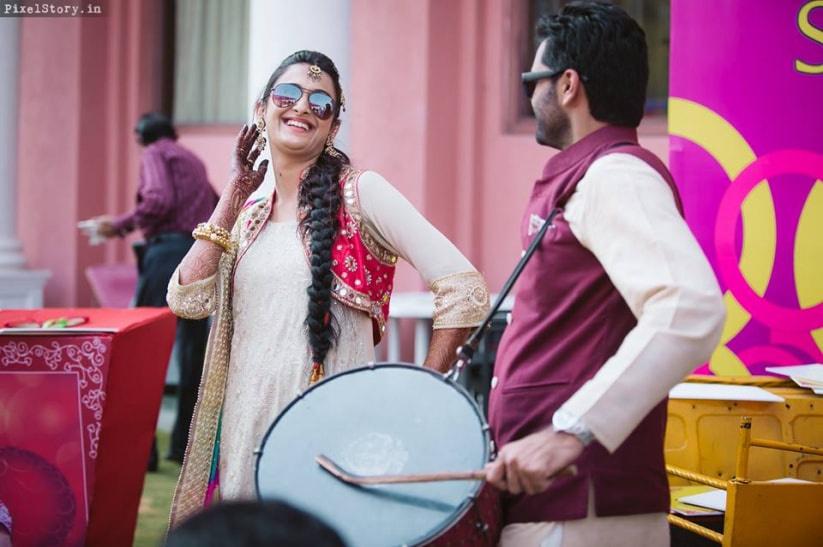 Mehndi is the colour of love. The couple songs used for dance numbers for the mehendi function can be the trending ones from the list of top songs of the times or it can be one of those wedding songs from the 70s and 80s where you get to go retro. So why stop yourself from some foot tapping on your Mehndi night? Take cues from our list of couple songs:
4. Mehndi Lagaake Rakhna
SRK, Kajol, DDLJ...need we say more? Recreate the magic of Raj and Simran with this evergreen Mehndi number. Make sure your wedding videographer is following you around as you sway from one corner to the other.
5. Mehndi Hai Rachne Wali + Navrai Majhi
Love what they did with those two peppy Mehndi songs? Call your wedding choreographer right now for a stunning couple song and dance performance for your Mehndi.
6. Bole Choodiyan
How about a little Karan Johar's dash of romance on your Mehndi night? Make your couple dance the talk of the town with this super-hit song.
Haldi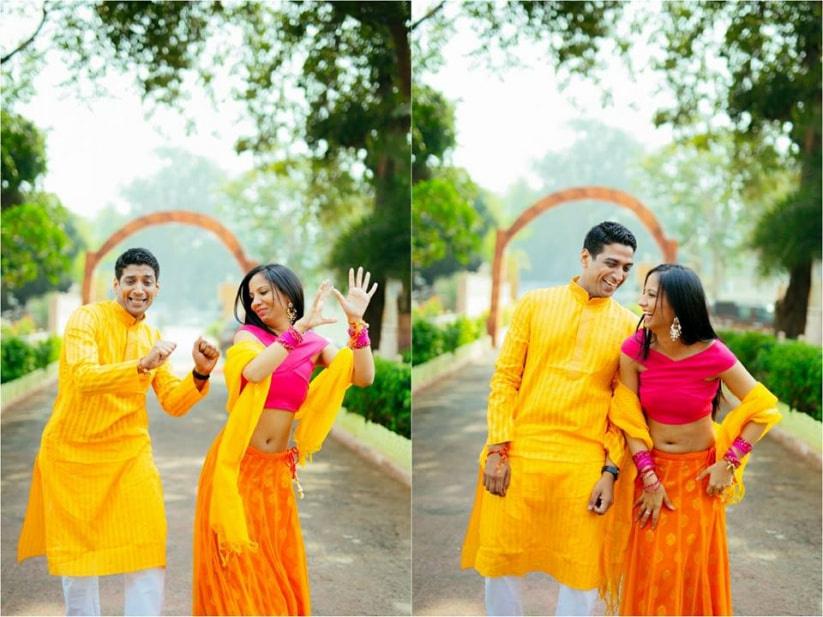 Paint the town yellow, splash, play around, have endless fun on your Haldi. And guess what? There is a whole lot of dancing too! So get ready for some delight with these couple dance songs for Haldi:
7. Chhalka Chhalka
Tease a little, dance a little, love a little...make your Haldi a crazy fun affair! Because sometimes it's best just to dance from the heart.
8. Badri Ki Dulhaniya
Watch this stunning choreography by Dancamaze for the Mehta and Bansal family wedding. You can ask the choreographer for customised moves on your Haldi. Make this jazzy couple song the highlight of your Haldi ceremony.
9. Balam Pichkaari
Why wait for Holi to dance on this super perky song? Just go wild on your Haldi or Bachelor's Pool party and dance with your partner till you drop!
Sangeet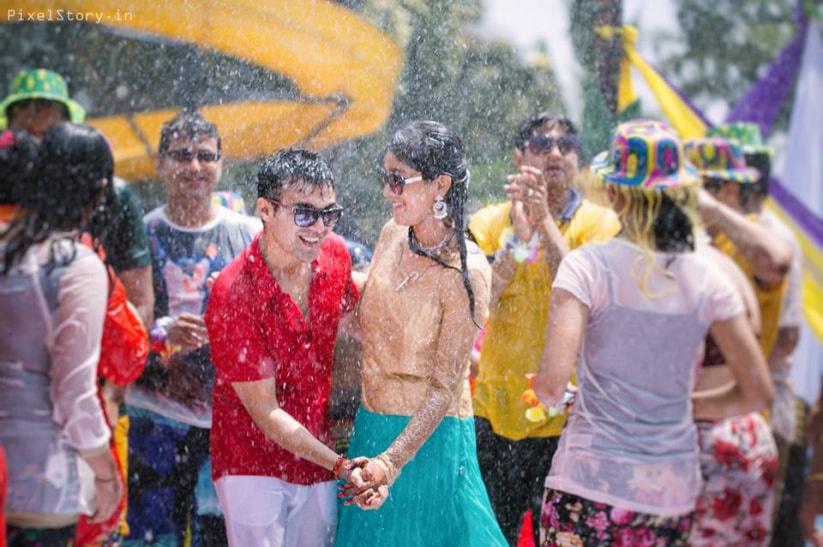 Here comes the Sangeet and you just can't keep calm! Indian weddings celebrations can't be complete without music and dancing. So don't wait...put on your dancing shoes and awe everyone by dancing to these couple songs in Hindi for your Sangeet gala night:
10. Tukur Tukur
Ideal couple song for your Sangeet, that will be an instant hit among every audience. Watch Dancamaze's choreography of this song especially for Sangeet
11. Nazm Nazm
Sweep your partner off her feet with your surprise moves on this charming Bareily ki Barfi song choreographed by Bolly Garage.
12. Baari Barsi
Well, what's an Indian wedding without a little leg pulling and fun dancing among relatives? Shake your leg a little on this Desi song.
13. Sab Tera
Get lost in your beloved's arms dancing to this magical song by Armaan Malik and Shraddha Kapoor. Take cues from choreographer Bolly Garage for a mind-blowing performance.
Reception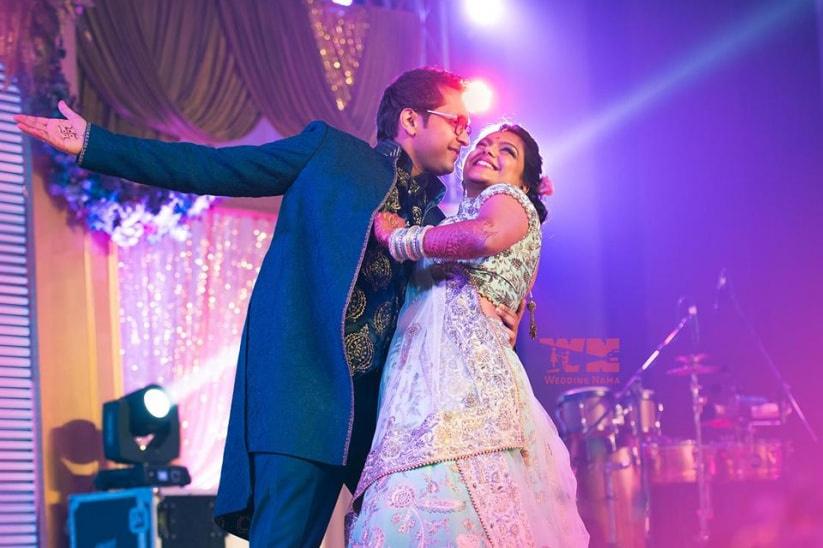 The final event where the pressure is off, all the stressful planning is almost over...and it's just time to chill a little. And what can be a better stress buster than dancing with the love of your life? Take note of some of the couple songs that you must be ready with for your reception dance:
14. Tamma Tamma
This couple just owned the stage with this one. Choreographed by Bolly Garage, this Alia-Varun number is a favourite couple song for every party.
15. Main Hoon Hero Tera
When you dance to this breathtaking couple song, looking into each other's eyes, you don't need to say any words to express your emotions. Watch Dansync's spot-on choreography for tips.
16. Raabta
Dance to the tunes of this melodious Arijit Singh number on your reception and see the magic work! Watch Heta Gosalia video for reference Make your wedding playlist of couple dance songs a mix bag of peppy, romantic, melodious and rusty songs.
Be it Mehndi, Sangeet or Reception, you must always dance to express. Surrender completely yourselves to the music, feel the rhythm in your hearts and you are sure to set the dance floor ablaze. Groove to couple songs that define you, your story and your personality as a couple. And most importantly, when you dance with your partner, feel the love and dance like nobody is watching! That's the secret hack for an extraordinary performance.
So do you have any wedding song suggestions for a couple? Write in the comments section below and share your couple songs list.