25 Tamil Wedding Songs That Are Crazy Popular
The only playlist you'll need for your Tamil wedding. It has songs to turn each ceremony into a fun-filled musical celebration.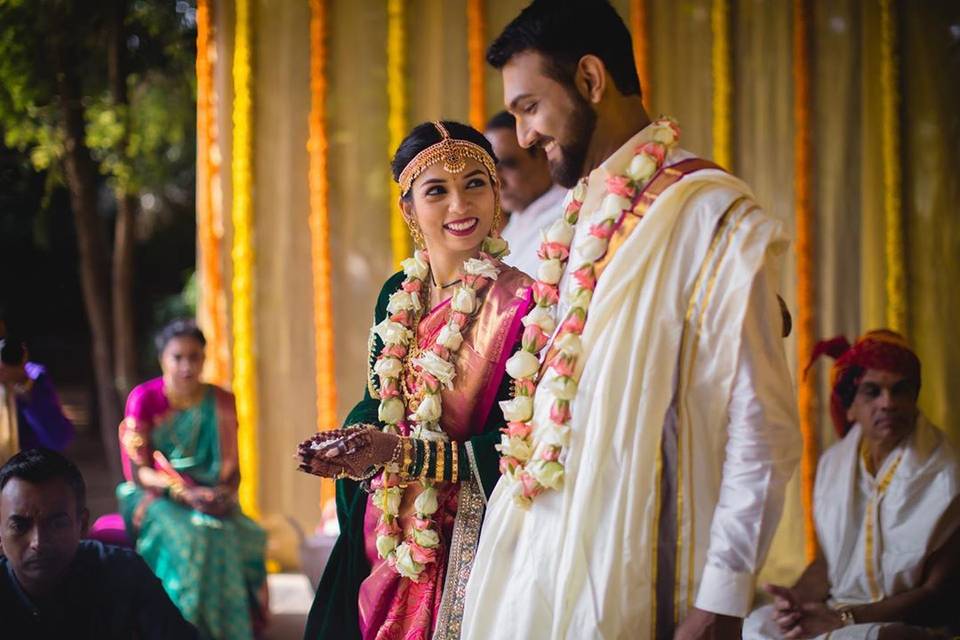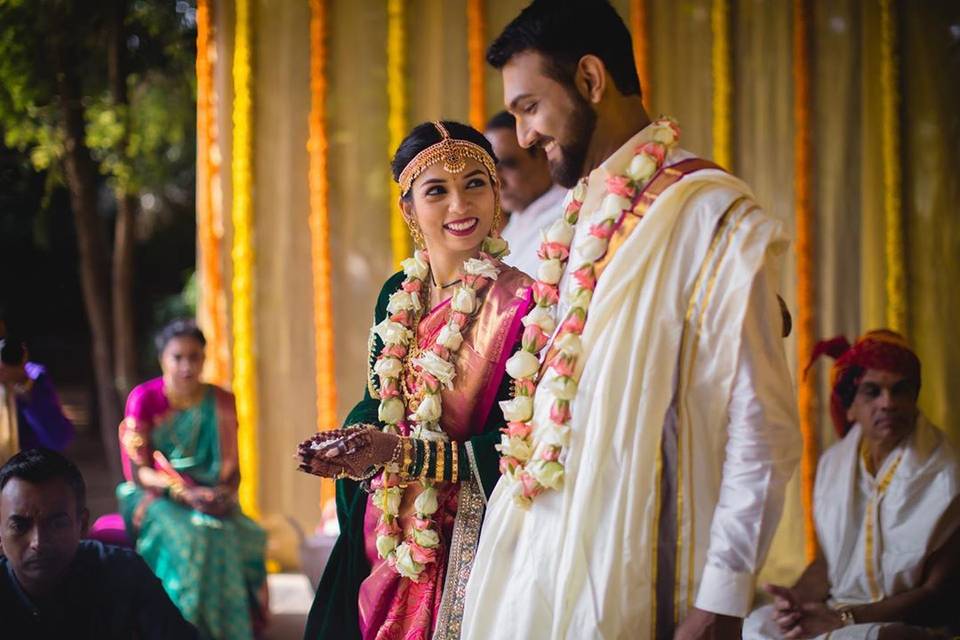 Tamil weddings are known to be intimate and traditional, but they don't compromise on the fun factor. Films like Santhosh Subramaniam (2008) and Kaatru Veliyidai (2017) have fabulously showcased the festivity these weddings are.
In fact, catchy Tamil wedding songs are not restricted only to south India, but are popular even in the north Indian weddings, just as the song Kolaveri Di had gone viral a few years ago. You can even prepare a dance choreography which would look graceful in the traditional silk sarees. For songs to go with each event, refer to this song list and choose the ones you want for your wedding.
1. Nalangu and Mehndi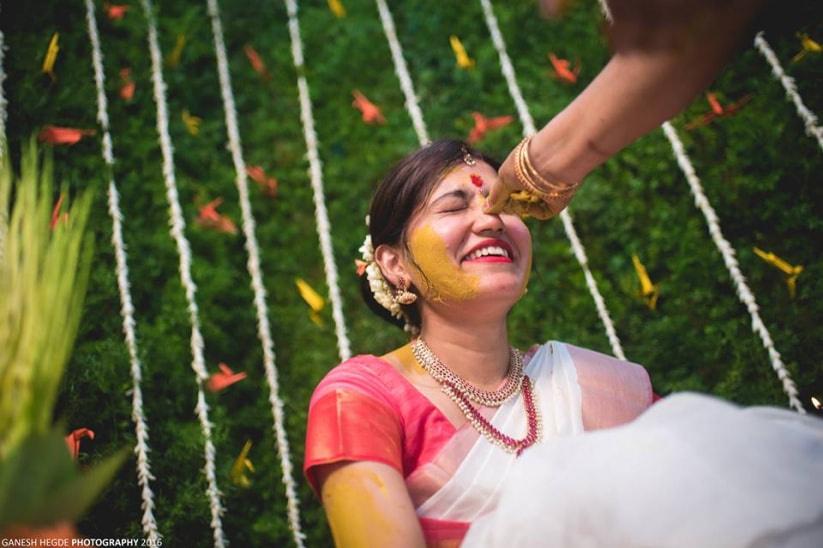 Nalangu is the south Indian counterpart of the north Indian Haldi ceremony. The cleansing ceremony is performed on the night before the wedding day. Kumkum, turmeric paste, betel leaf, rose water and oils are the essentials for performing the ceremony. Simple Indian wedding dresses for this event will give you the ease to move around freely.
Since the mood of this event is light, these songs will fit in perfectly.
How to work these songs in -
Create a mood for your Nalangu, which would define your choices in Tamil wedding songs. It could be fun, festive, playful on one end or emotional, yet happy on the other. Then, break down your songs down amid your family and close friends, in case you're open to song performances for your Nalangu (or a highlights video).
2. Mappillai Azhaippu - groom's entry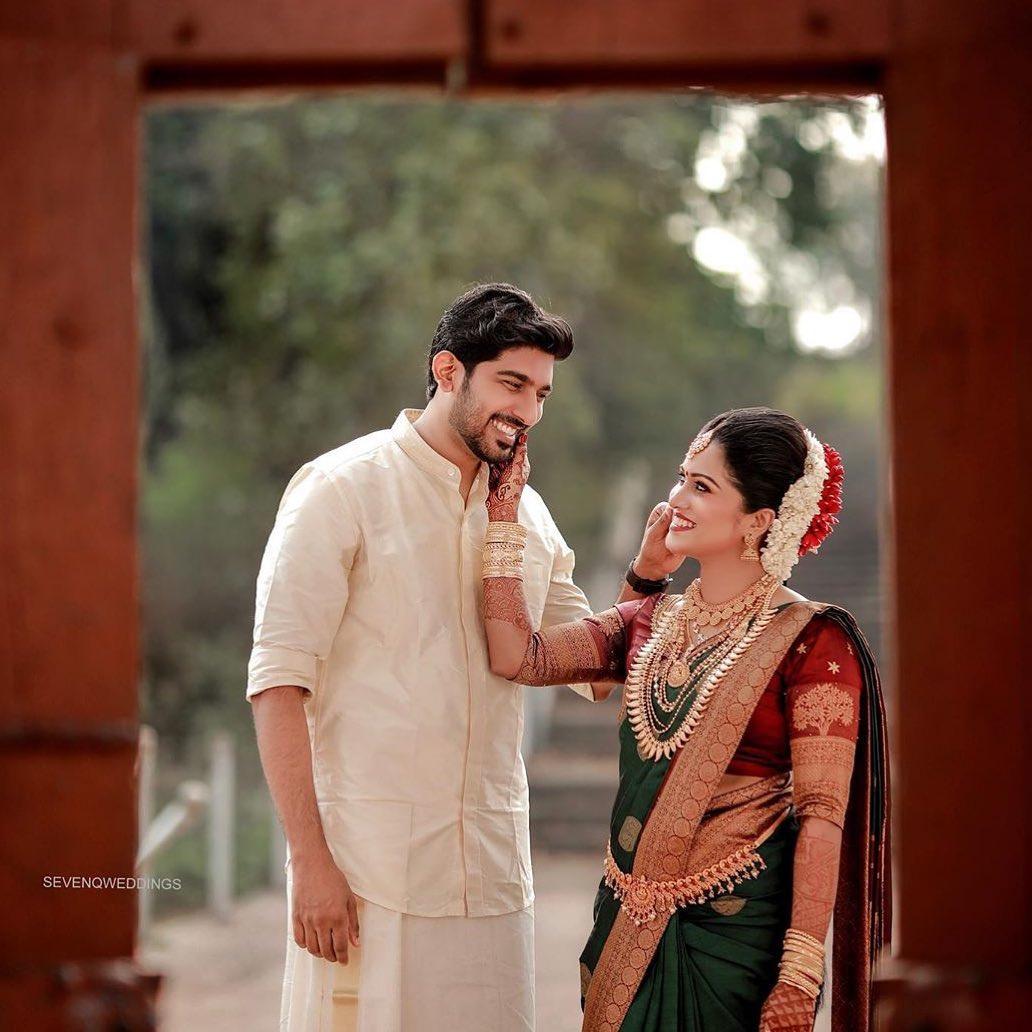 Image courtesy: Seven Q Weddings
It is the Tamil ceremony of welcoming the Bridegroom on the wedding day. The groom's side does not enter the bride's village and waits at a Ganesh temple or a community centre. The bride's father then goes with a band to invite them inside. This is called Mappillai Azhaippu. Bookmark these wedding songs that you can play in the background for this ceremony.
Choose a few songs that can pep up the groom entry for your occasion. Try for an entry track or intro-sequences that work for stars from Rajinikanth to Dhanush whenever they work on their dramatic Kollywood entry sequences. If needed, convince your man to practice his swagger for the camera and reward him for Tamil wedding songs that fit his choices.
3. Reception - for bride and groom
After a series of religious ceremonies, reception is an event where the environment is informal. Even the bride and groom are relaxed on this day. The bride can be seen wearing a lighter wedding lehenga or a bridal gown for the event instead of the traditional attire. Why not have the couple dance to these romantic and playful tunes?
For a pro version, practice your performance on a few chosen Tamil wedding songs, before you break into a number on the stage. Your wedding video will thank you for it.
4. Reception - dance numbers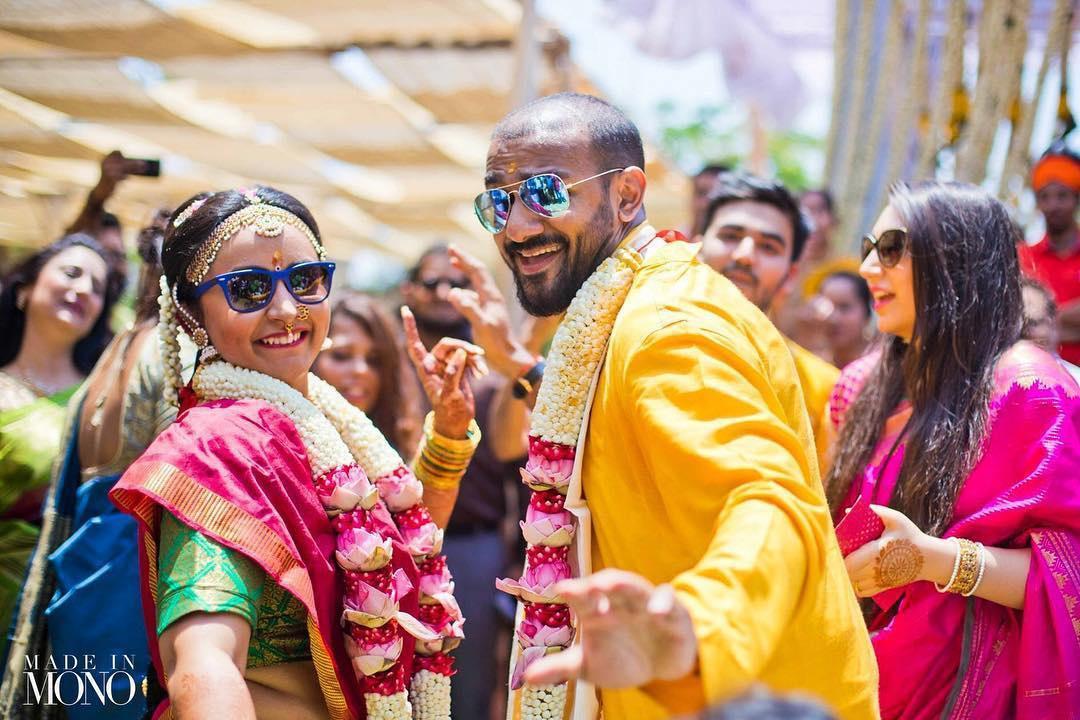 Image courtesy: Made in Mono
Reception is incomplete without groovy dance numbers that bring the guests to the dance floor. Watching your friends and family dance to the beat of the music makes for some amusing memories. Tell your photographer to not miss those amazing wedding poses. Include these wedding dance songs in your reception playlist to amplify the fun factor.
A wedding reception is a time for a little footloose, after the formality of the previous days. Ensure you're ready to do so to the latest Tamil songs on your list - be it a Nenjamundu Nermaiyundu Odu Raja, Marana Mass or Rasaathi Nenja. You do not need to be performance perfect here.
5. For wedding videos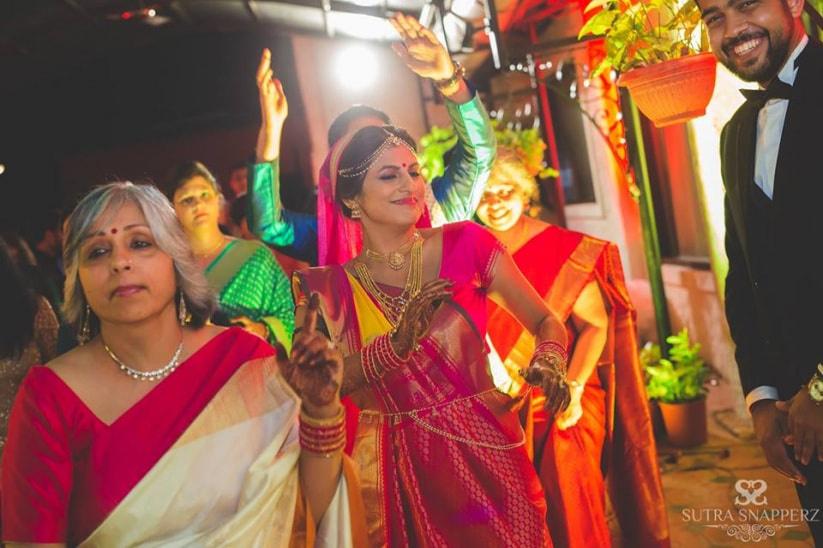 The wedding videos should be done to your liking more than anyone else's. But sometimes the music that you like can fall flat in the wedding videos. Here are a few fail-safe Tamil wedding songs that you should suggest your wedding videographer to use as background score for the videos.
Sit down with your videographer and work on the kind of Tamil wedding songs you'd like to include on the video, script and playlist. Then, talk about how they make you feel, as this would define what really happens in your wedding video. The videographer would then choose to capture similar emotions (or even ask you to match your steps along).
6. Christian wedding songs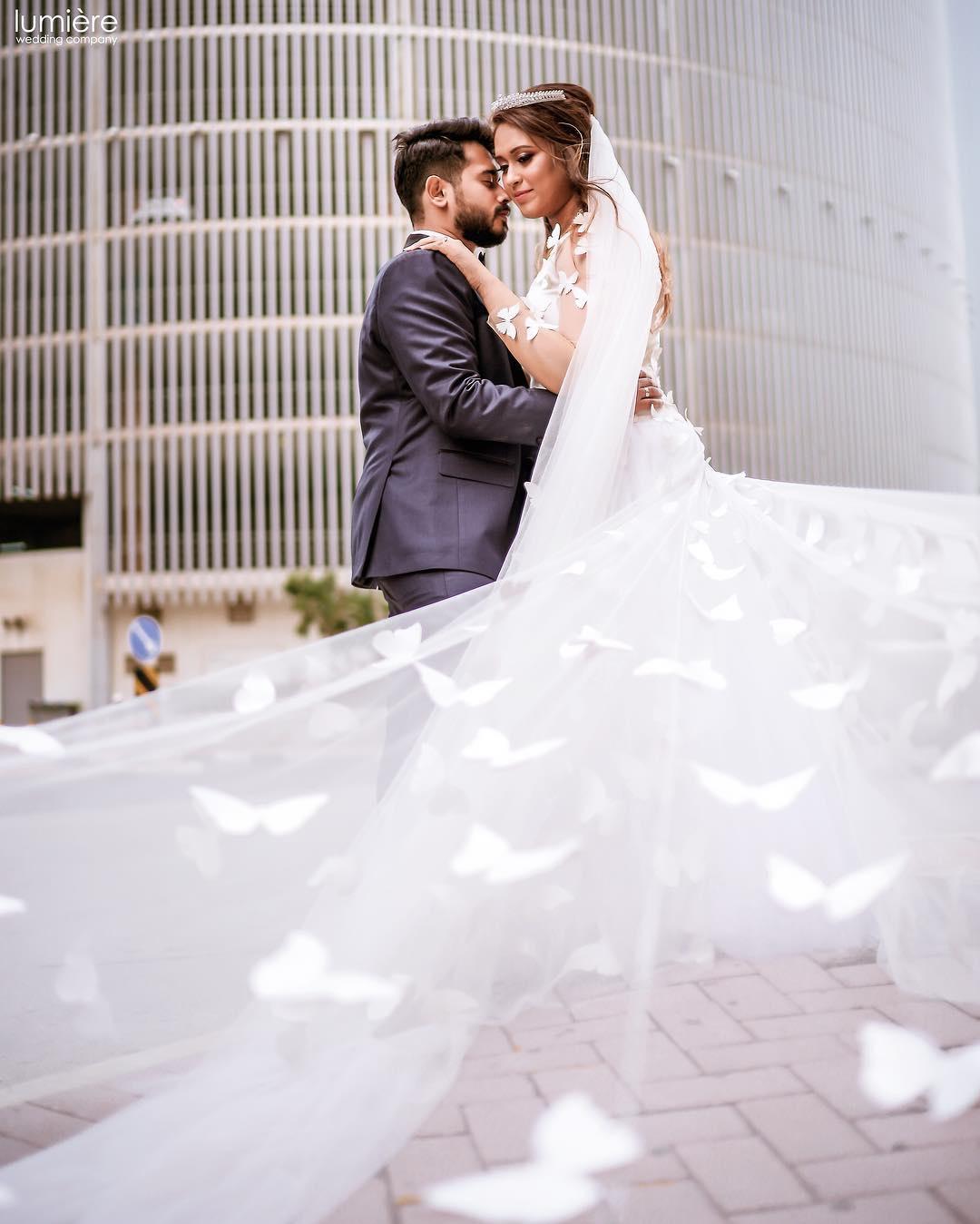 The Southern states witness a significant number of Christian weddings as well. And of course, there are songs for each occasion here as well. For that purpose, we have listed some Tamil Christian wedding songs including a couple of Telugu wedding songs as well.
Here is how you can make the perfect playlist of Tamil wedding songs for your Christian wedding -
A. Break your list by function - from the Nalangu, bridal shower, bachelor/bachelorette party, wedding and reception.
B. Choose a mood for each of these occasions - you can do a slow set of romantic numbers for the walk down the aisle or the first dance at the wedding reception and more happy, upbeat numbers later.
C. Ask your friends and family if they have certain preferences.
The list of great Tamil wedding songs is endless as the industry has produced so many phenomenal tracks. Depending on your chosen mood and music, form a list that speaks significantly to you.
Dance to these tunes in your wedding sarees and give your wedding photographer some gorgeous shots to capture.