Deepika Ranveer Marriage: The Wedding We All Held Our Breath For
The most eligible bachelors of B-town are finally married! Amidst a few broken hearts and sad tears, we cannot contain our happiness and stop gushing about the union of these two lovebirds. Take inspiration from #Deepveer and their tale of romance.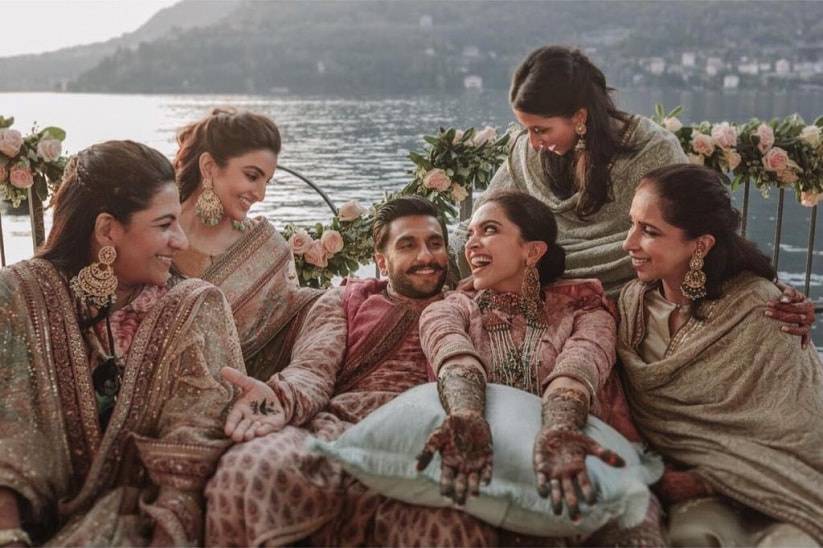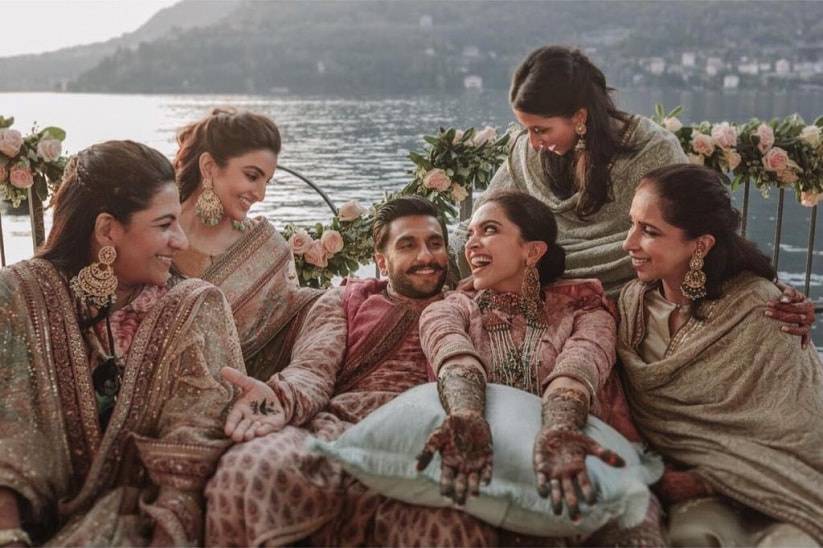 Image Courtesy: Ranveer Singh's Instagram Account
Mastani Ban Gayi Bhavnani!!!
We were still trying to get over the buzz and excitement that revered our hearts when we saw the #Virushka marriage. Now, we have #DeepVeer who kept us all waiting and wailing to have that one glimpse of their bridal outfit, their gleaming faces as a couple and their palatial wedding venue. Ever since 6 PM yesterday, the social media has been raging about their wedding photos which we all were anxiously waiting for since the duo left for Lake Como, Italy. But, all the waiting is now justified as we cannot stop gushing over their happy faces. Two of the biggest Bollywood stars tied the knot, and we cannot keep calm!
We are a celeb-obsessed nation and reading about #DeepVeer is like the icing on the cake. We know you are just as hungry for details like us. So here's giving you a 101 of their destination wedding and the 'how' 'when' and 'why' of their dreamy wedding ceremony. Feast your eyes with their first official photos as a couple. And yes, as expected, they were head-to-toe in their favourite designer label (ours too) - the ace designer Sabyasachi!
1. The Ace Designer Sabyasachi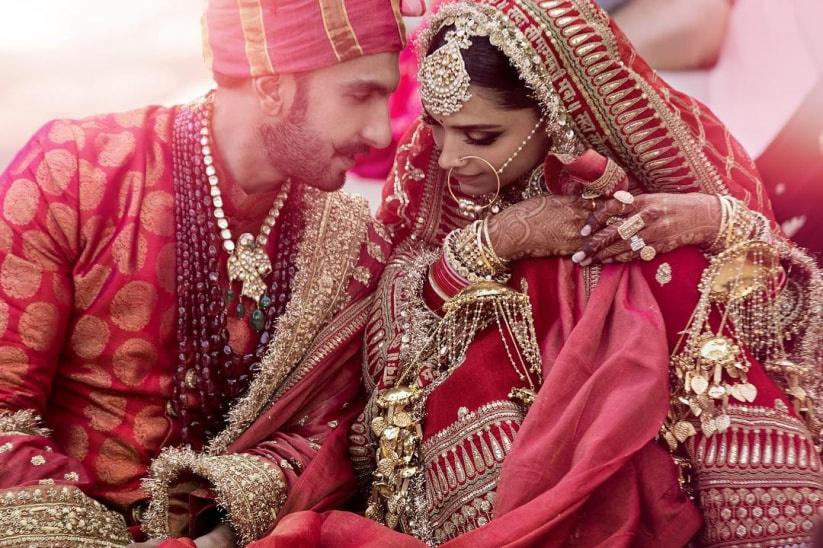 Image Courtesy: Ranveer Singh's Instagram Account
Deepika Ranveer: A Sabyasachi Bride & Groom from India
Deepika, during the rapid fire round on Koffee With Karan, spoke about how she fell in love with Ranveer for "his emotional capabilities." It's one thing to hear about it from her but it's a totally different experience when you can see it on her face. Their official photo, where you can see how passionately Ram is looking at his Leela, is all the couple goals we need for this lifetime.
It's no shocker to see how they both chose Sabyasachi outfits for their big day. Turns out, both their families too wore specifically curated outfits by the ace designer himself. One thing that really stood out for us and made us zoom into this image, was the border for Deepika's dupatta. Who would've thought to get Sada Saubhagyavati Bhava embellished as a border for your attire? "May you always be the one whose husband is alive, may you remain safe from the curse of widowhood." Isn't this the most thoughtful blessing for your daughter, as she takes the new leap forward?
And yes, let's not forget their wedding jewellery which made our eyes gawk out! Again, designed by none other than the man of the hour, Sabyasachi! Both wore especially curated jewels and gold ornaments which truly would become an heirloom the couple would pass down to their future generations.
2. How The Families Revered In Their Happiness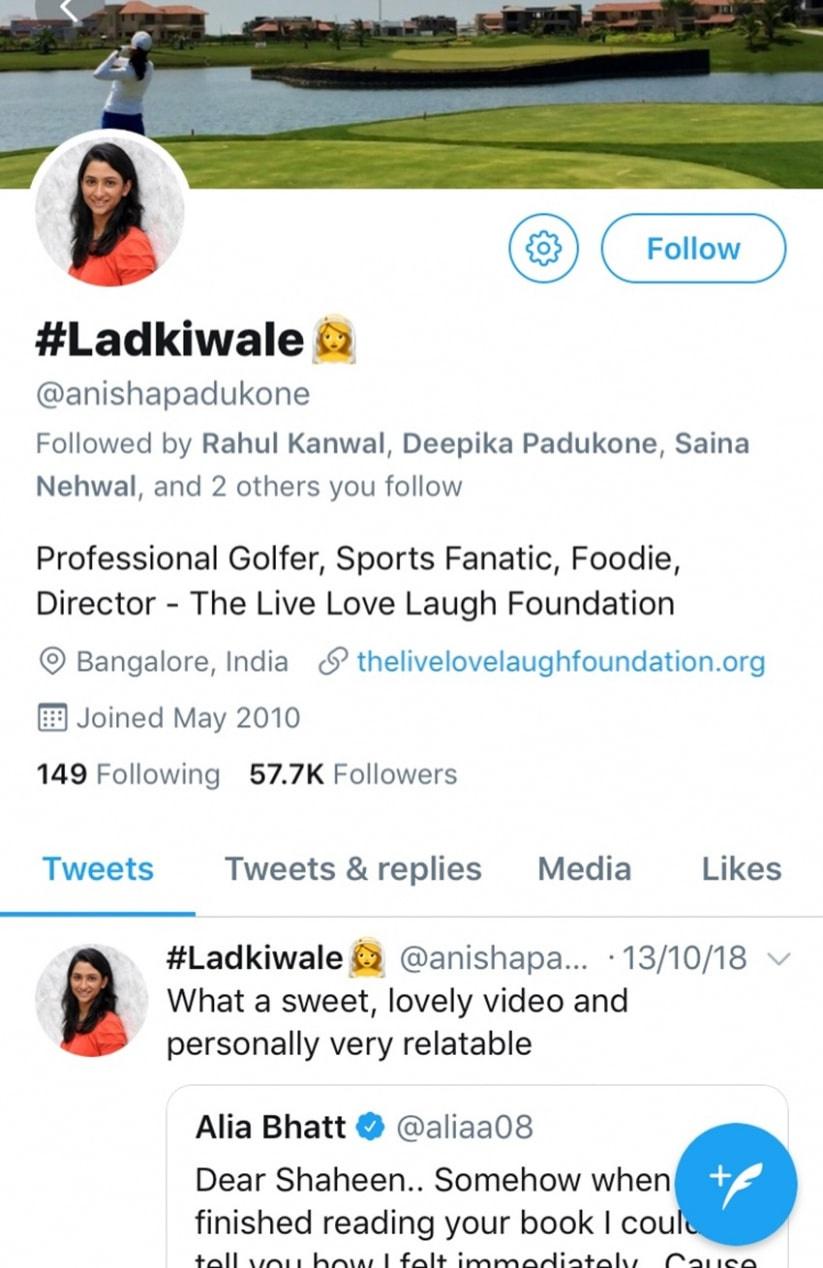 Image Courtesy: Anisha Padukone's Twitter Account
What's a wedding without some family hoohaa! We saw the Kapoor family raging about #SonamKiShaadi and parents of #DeepVeer were no less in proclaiming their excitement and happiness too. Anisha Padukone, Deepika's sister changed her Twitter and Instagram handle name to #Ladkiwale. Isn't that the cutest thing you've seen so far? We know, we have!
Back in Mumbai too, Ranveer's house is all lit up with lights, their humble abode eagerly waiting to welcome the newlyweds into their new phase of life. Isn't this what every boy or girl dreams of? To have their families enjoy their big moment just as much? We certainly do!
3. Why Just One Ceremony When You Can Have Two?
'Goliyon Ki Raasleela...Ramleela' having released on November 15. And with it, began their love story. So, it was only poetic for the couple to tie the knot on the same date. But, why just have one set of traditional wedding functions when you can have two? Yes, you heard us right. This heart throbbing duo had two ceremonies, one of them on the day where it all began and one on the next. What a memorable way to celebrate their union and forever after.
The Konkani style wedding ceremony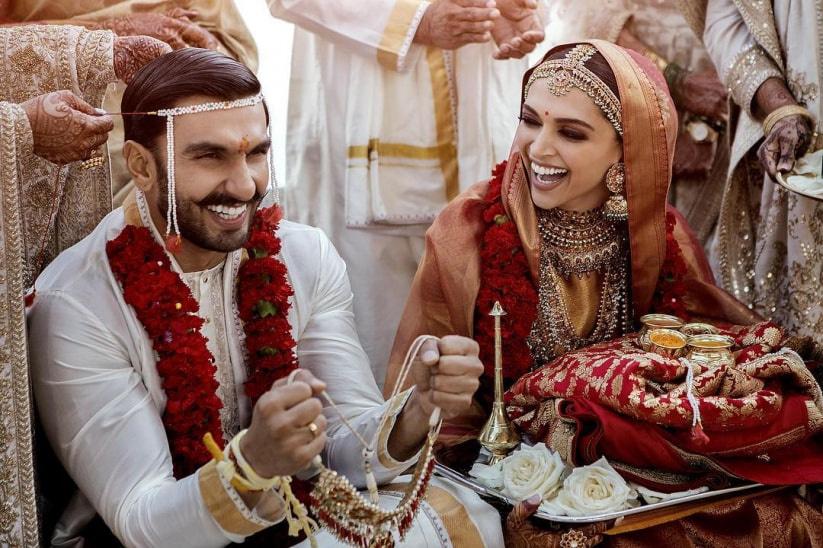 Image Courtesy: Ranveer Singh's Instagram Account
It seemed like the theme of their Konkani wedding was ivory and gold. And let us tell you this, it wasn't just the couple dresses in this desired colour combination, but so were the guests. In fact, paparazzi clicked their wedding guests in the same colour theme, cruising their way to the venue in white yacht through Lake Como. We practically live for weddings like this one!
What they wore:
Ranveer wore a cream coloured kurta with golden embroidery and Deepika slew it in a gold Kanjivaram with a copper tone border. This picture is making our knees go weak. Look at the groom's smiling face and his beautiful bride who surely cannot get enough of his face.
At the wedding:
There is also some buzz that Ranveer, being his true self, took to the dance floor singing 'Tune Maari Entriyaan' from his film Gunday, to proclaim his love for the lady of the hour. If there is one man who could do this and still look cool, it's Legit Ranveer Singh. And, who wouldn't want some typical Bollywood drama to brighten the atmosphere?
The Sindhi style wedding ceremony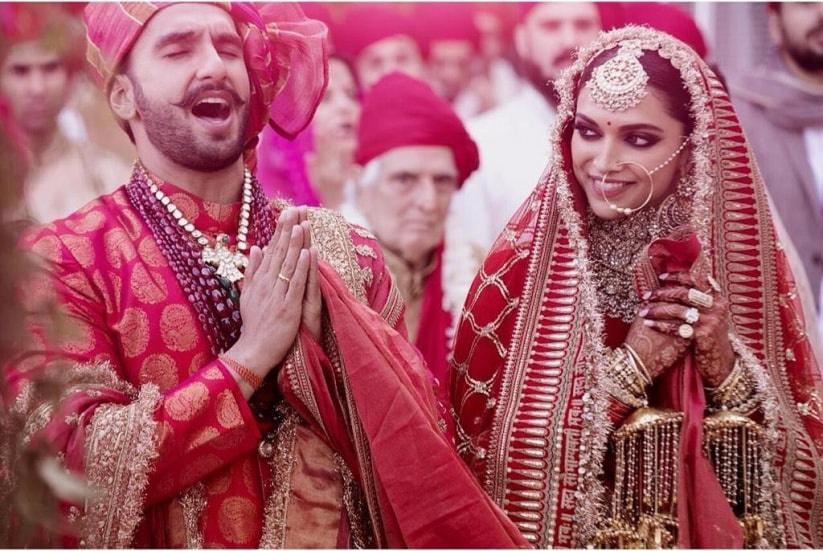 Image Courtesy: Ranveer Singh's Instagram Account
Day two unfolded ceremony number 2. Like a dream, their wedding ceremony held at the Villa Del Balbianello in Italy sure created some spectacular memories.
As for their Sindhi wedding ceremony, Sabyasachi was the designer of choice on this day too. Not a real shocker at all! ErrikosAndreouPhoto, the photographer who witnessed this epic wedding was all but praises for this epic power couple. For him "This was a wedding made of a dream" and we couldn't agree more.
The beautiful bride was stylised by none other than Shaleena Nathani, and her bridal makeup and hairstyling were taken care of by Sandhya Shekhar and Georgiou Gabriel respectively.
4. They Let Their Wedding Be Their Own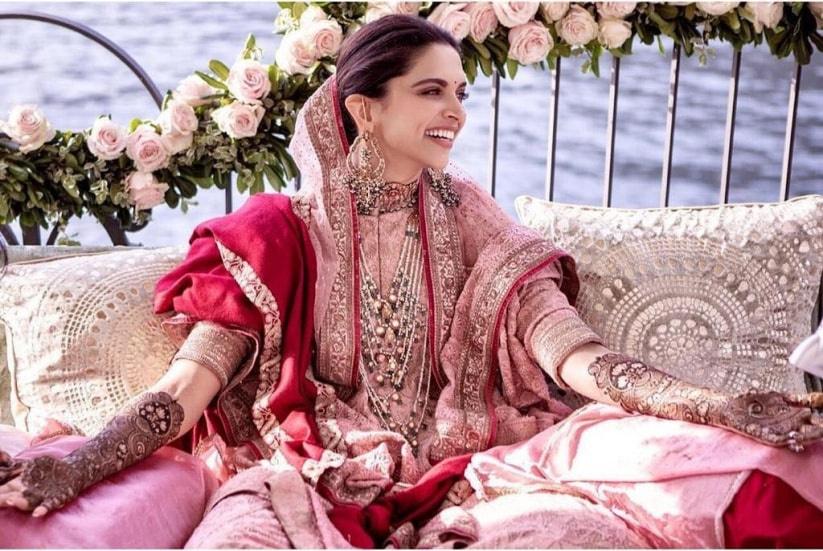 Image Courtesy: Ranveer Singh's Instagram Account
What we loved most about their hush-hush wedding the most is the fact that they kept it exclusively for themselves. With the paparazzi trying to feed into the details and prying on their much-deserved privacy, it was a breath of freshness to see how the couple and their respective families chose to honour this gala event and enjoy it to the fullest as a family. The duo kept their wedding an intimate affair with not more than a handful of wedding guests. Having chosen to release information about their ceremonies on their own terms, they really made their fans and the media anxious to take even a single peep.
Their wedding, too, seemed in sync with their policy of making their romance more about them than the world. No doubt #DeepVeer made us sit with our cell phones in our hand for hours and hours for one glimpse of their bridal avatar. But boy, it was totally worth it!
What started as a romance has now turned into an epic love story which will give all other power couples a run for their money. Here's hoping we too find love in a hopeless place like #DeepVeer. And, that our groom-to-be also sings 'Tune Maari Entriyaan' and make our hearts skip a beat or two.
We are eagerly waiting for more photos to pop up. Do you have a picture that we don't? Share with us through comments and snapshots.