Planning a Bollywood Theme Party for the D-Day? Take a Look at How You Can Make It Exceptional
Believe that you're the Sridevi and Shahrukh Khan of your own story? Here's how you can make this love for Bollywood public during your big-ticket celebration. Enter a Bollywood theme party and how it can be a part of any of your ceremonies.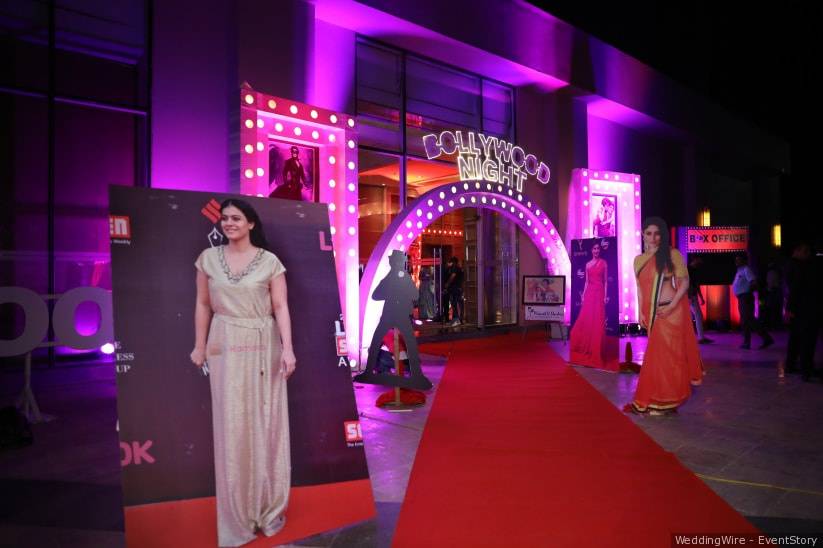 Lights, camera, action! Or red-carpet glitz, with your guests preening to shutterbugs like high-profile celebrities. Heavy dialogues, songs and thumkas. These are some of our favourite things when we think of our relationship with Bollywood. We believe (or dream) that we're the Sridevi's and Shahrukh Khans of our own stories, so when it comes to our big-ticket celebration, we don't leave this love behind. Enter a Bollywood theme party.
In this article, we explore the different ways in which we can do a Bollywood theme party for all our wedding ceremonies – planning it, organising it, holding Bollywood-themed events, costumes, parties and much, much more. With these, your wedding celebration would be the talk of the town and lead your guests to say, 'Mogambo, Khush Hua!'
The Bollywood Theme Party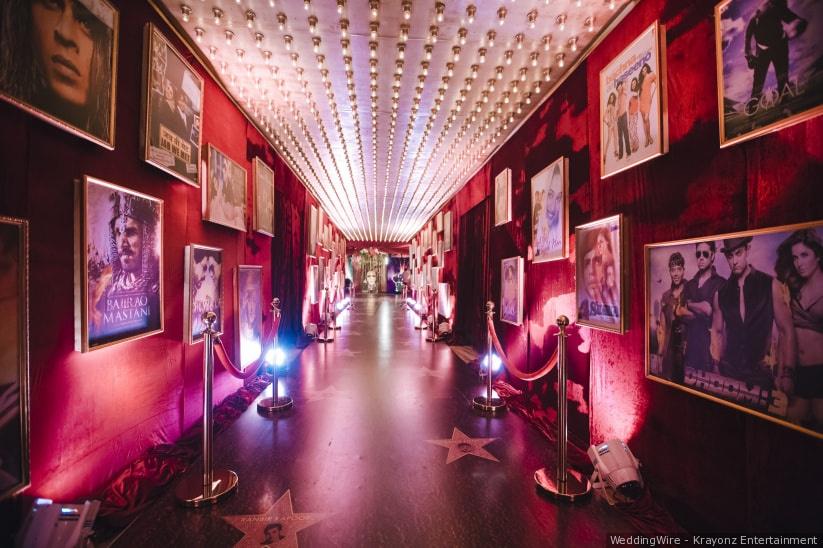 If we ponder about evergreen wedding themes, there are a few which will always hold sway – a royal Rajasthani theme, a beach wedding, a traditional wedding, a fairytale theme and a Bollywood theme. The 'Naanch Gaana' mix works wonders for any music-based function – be it the Sangeet ceremony, a Mehndi or even your wedding reception. Similarly, the red carpet is a great way to welcome your guests to your festivities – apart from showering them with a 'Star treatment'.
A Bollywood theme party isn't just about the wedding décor and can be expanded to fit all of your ideas and festivities. You could have a photo booth or props with Bollywood themes, name your menu and favourite beverages according to your favourite characters and stars, play Indian wedding games like dumb charades, mime, dance-offs and Antaksthari or ask your guests to dress up in costume. The cherry on top? Dressing up yourself as your favourite star amongst a plethora of other things!
Planning A Bollywood Theme party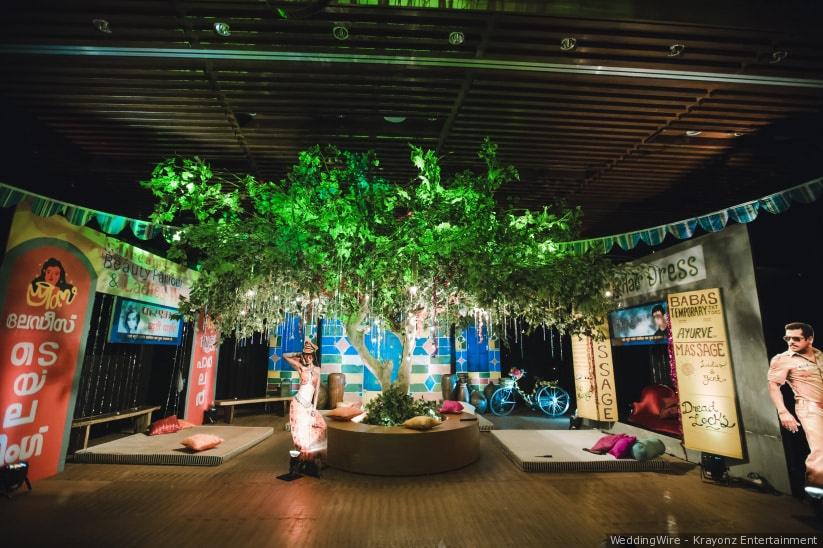 Like any other aspects of wedding planning, preparing for a Bollywood theme party involves coming up with your core idea, coordinating with your vendors and budgeting it accordingly. Though largely held as an indoor event or a night-based event, this can contrast spectacularly with a pool party or a day Mehndi decoration theme – if you're holding both of them.
Planning the Bollywood theme party depends on:
Time of Day
The scale of the event (Number of guests involved)
Choice of venue
Giveaways and favours
Though hiring a wedding planner to organise it for you would be ideal, here is how you can incorporate the theme into any (or all) of your functions.
A Bollywood Themed Engagement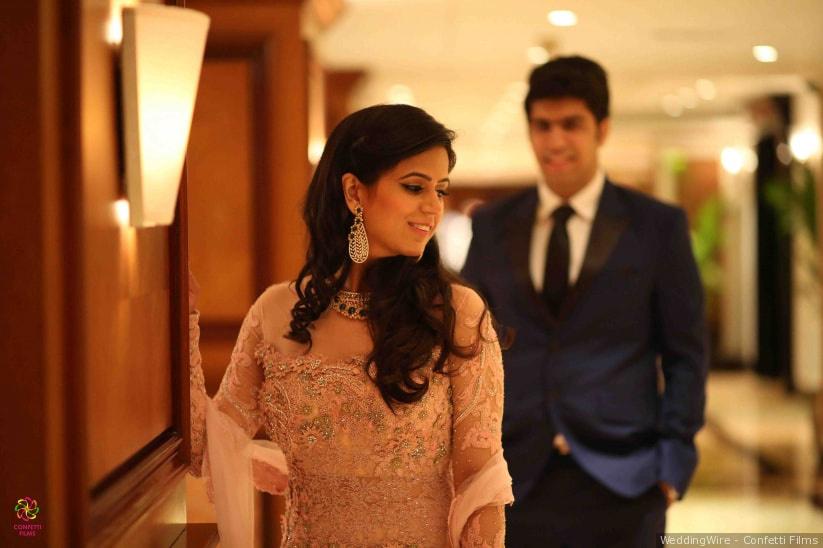 The engagement ceremony often marks the tone for all of your wedding celebrations. It's a formal declaration that you're hitched and ready to go. It also requires careful planning and preparations in terms of venue, décor and food – in accordance with the number of guests you've invited to grace the day.
You can incorporate a Bollywood theme here in:
Engagement outfits (taking inspirations from your favourite stars
Engagement décor – think posters, wall art, throws, props, backdrops and accessories
Engagement menu – Bollywood themed-names for your dishes
Engagement dance performances (though few people opt for this)
Engagement photography – Capture memories in your favourite film poses.
Here are a few inspirations for your Bollywood themed engagement: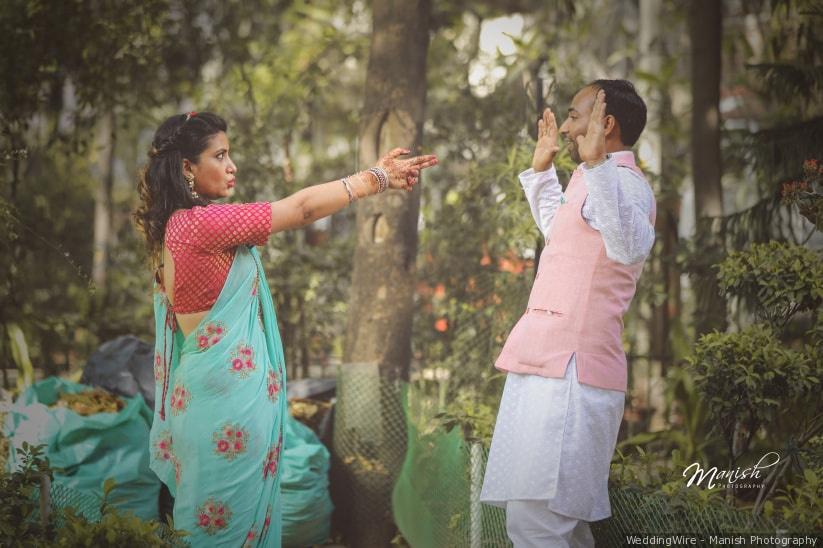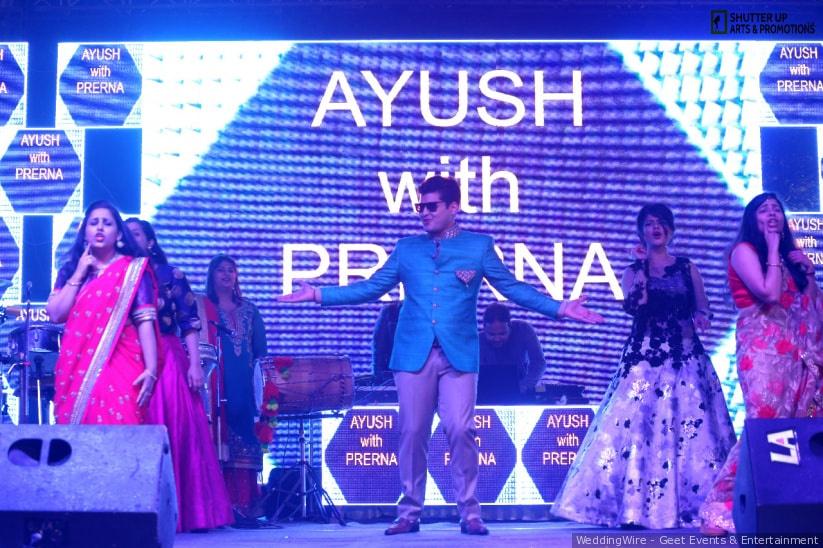 A Bollywood Themed Mehndi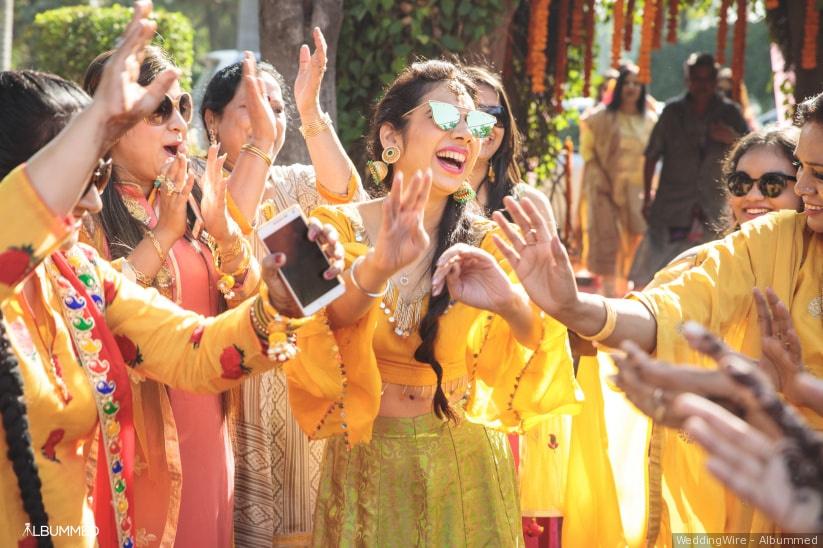 Now, this is a place where you can go really, really wild with a Bollywood theme party. While we have already talked at length about a Mehndi wedding theme and a pool party alongside a Mehndi, here is what you can do to work your magic here:
Mehndi decoration ideas (Bright colours, Filmy setups and Props)
Mehndi day candid photography (Filmy poses, photobooths, Bollywood cut-outs
Recreate your favourite Bollywood Mehndi scenes (DDLJ anyone?)
Bollywood-inspired Mehndi styles
Bollywood-inspired snacks, drinks and menu
Bollywood-inspired games
Peppy, Mehndi outfits
Here are a few ideas for inspiration: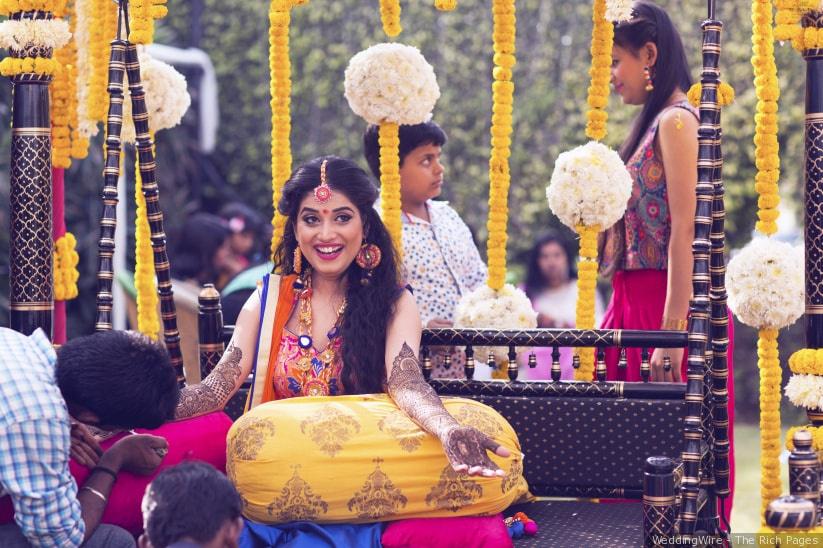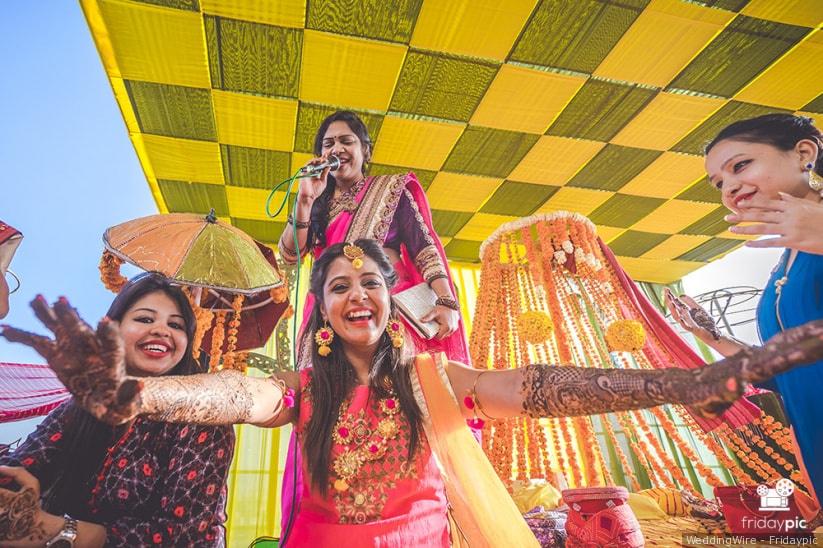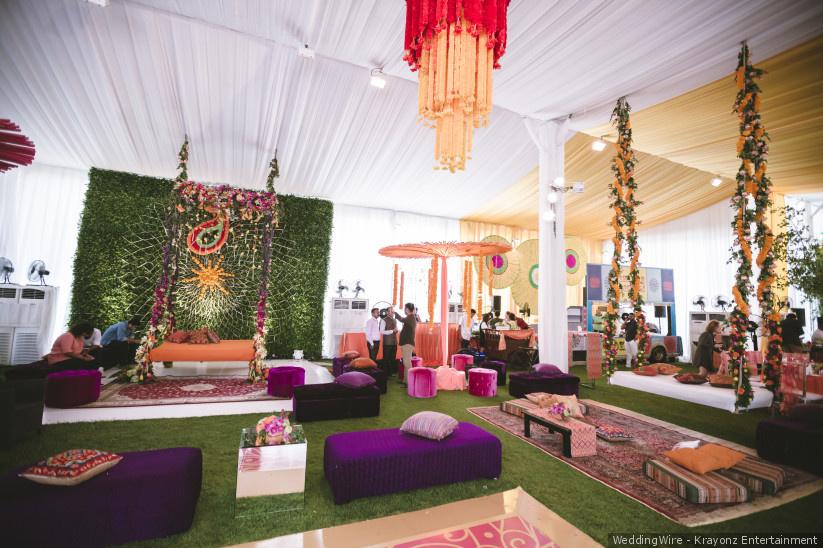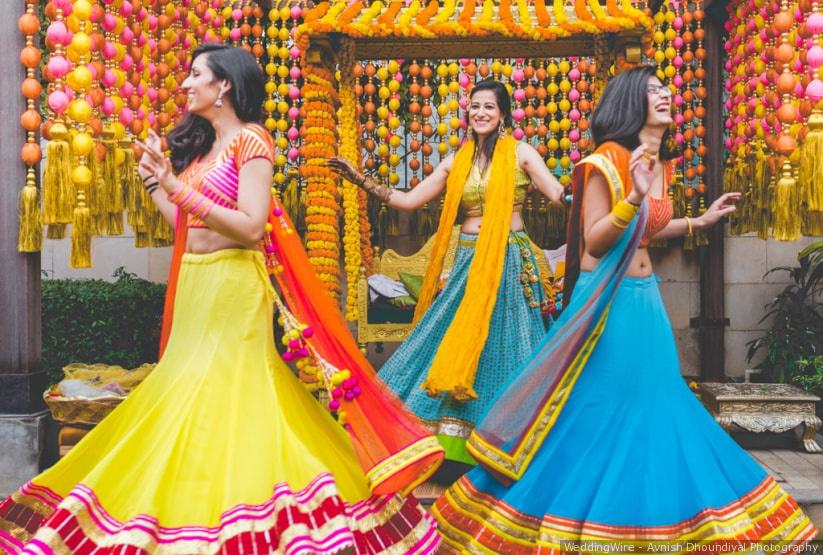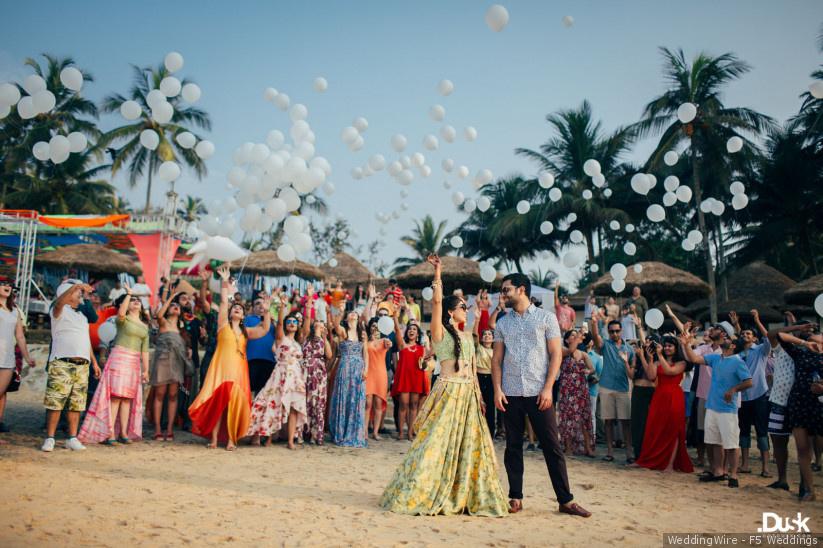 A Bollywood themed Sangeet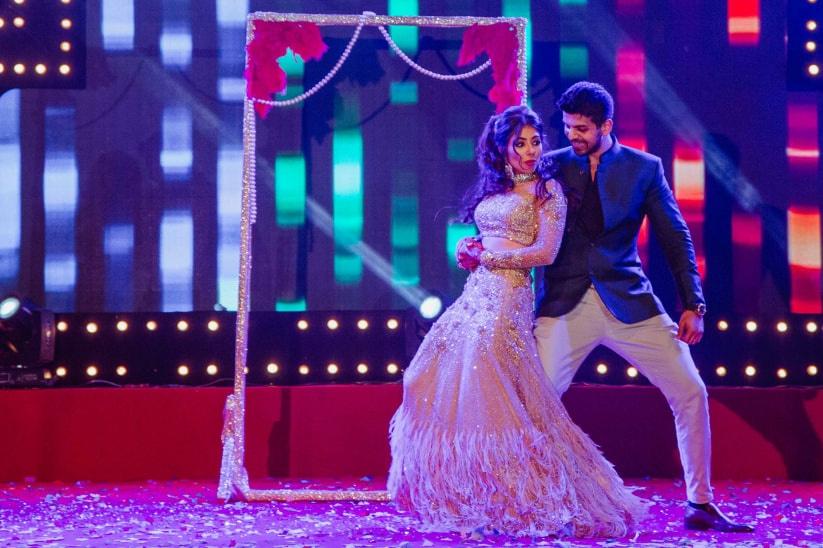 Talk about a match made in heaven – a Bollywood theme party for your Sangeet ceremony is a fantastic idea! There is a complete Sangeet playlist for your guests, the couple and the family to groove to the beat. And then there are the dance performances – by the bride, her cousins, the entire family, the groom and his men. Literally, everyone! That is legit the best part about hosting an Indian wedding. It ends up becoming a week-long myriad of festivities which brings together one and all.
Here is how you can turn it up in full flow
Dress up in costume
Hold dance performances for everyone
Incorporate games like Antakshri, Dumb Charades, Guess the film/actor or enact scenes
Announce winners, provide giveaways for all of your guests
Incorporate either the red carpet or a similar photo booth in your décor
Sangeet Décor – Have film-inspired elements
Here are a few inspirations: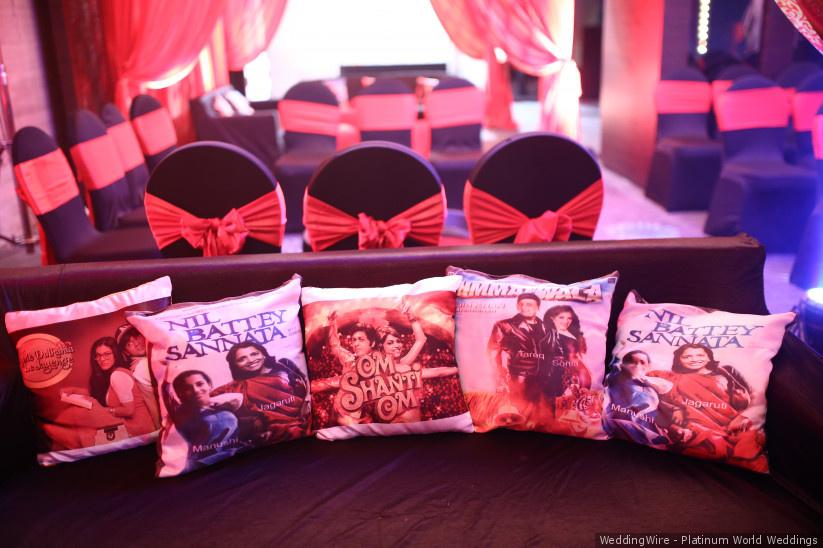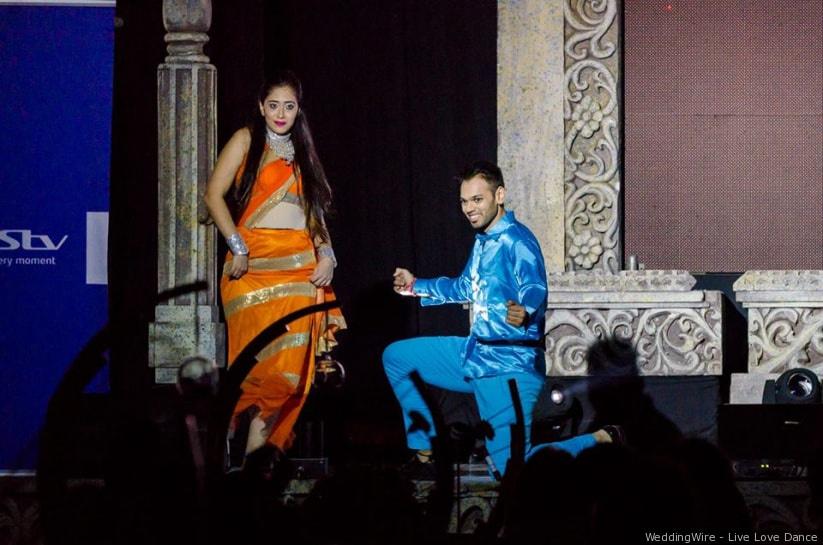 A Bollywood themed Haldi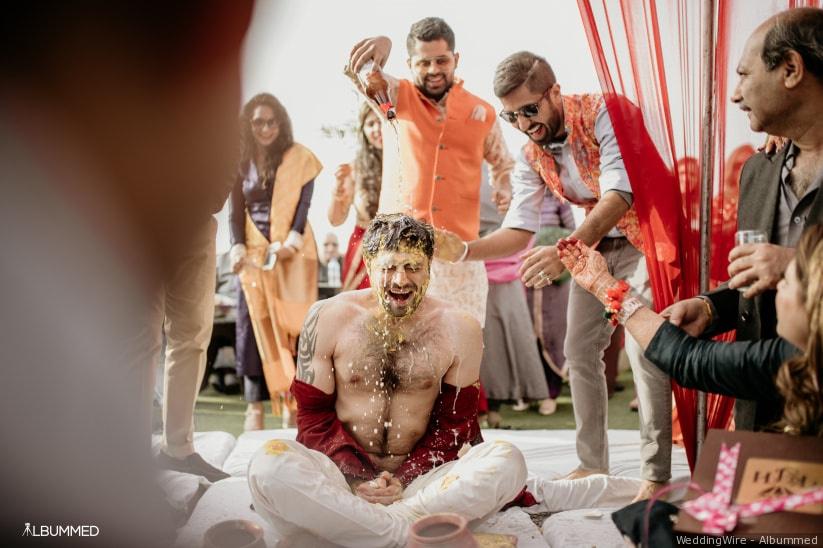 An extension of your themed Mehndi celebrations, you can arrange for a Holi-like water and colour fest with Bollywood music as part of your Haldi celebrations. The concept now involves a lot of fun, after the traditional segments (Haldi ceremony and Chura ceremony) are done and dusted.
Here is how you can have a Bollywood themed Haldi:
Haldi décor – Incorporate Bollywood-style elements or recreate scenes of popular Haldi scenes (Yeh Jawani Hai Deewani)
Incorporate a pool party (Amisha Patel's sizzling number 'Lazy Lamhe')
A wet and wild Haldi after party
A colourful, Holi-style Haldi celebration
A Haldi playlist
Dance performances for Haldi
Here are a few ideas and inspirations: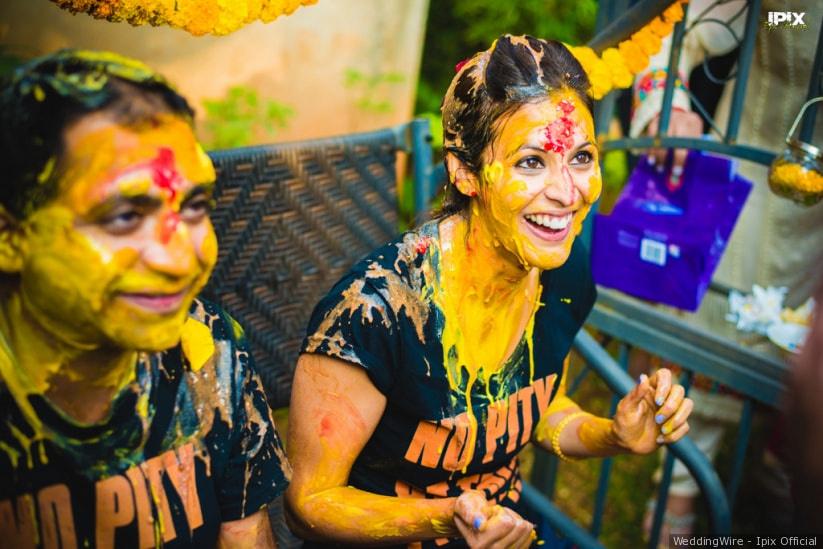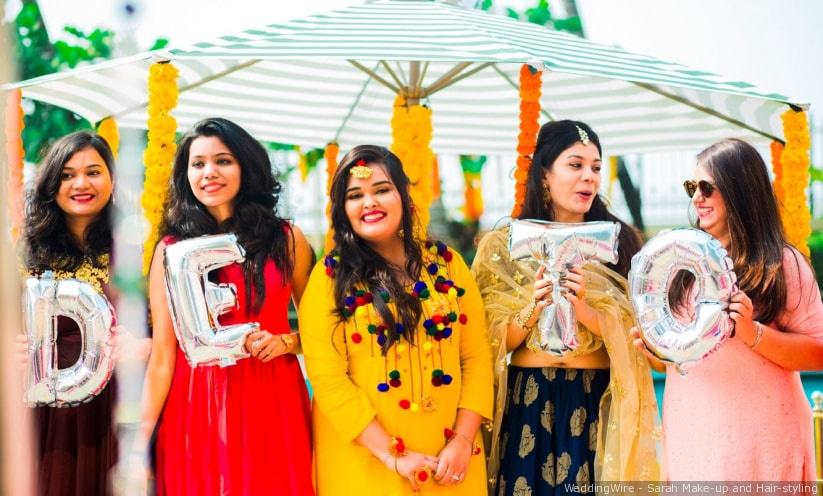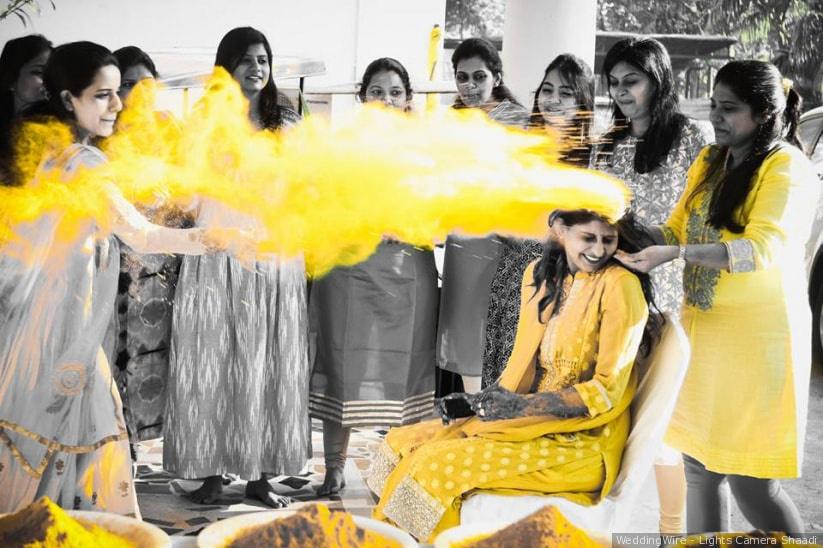 A Bollywood themed wedding: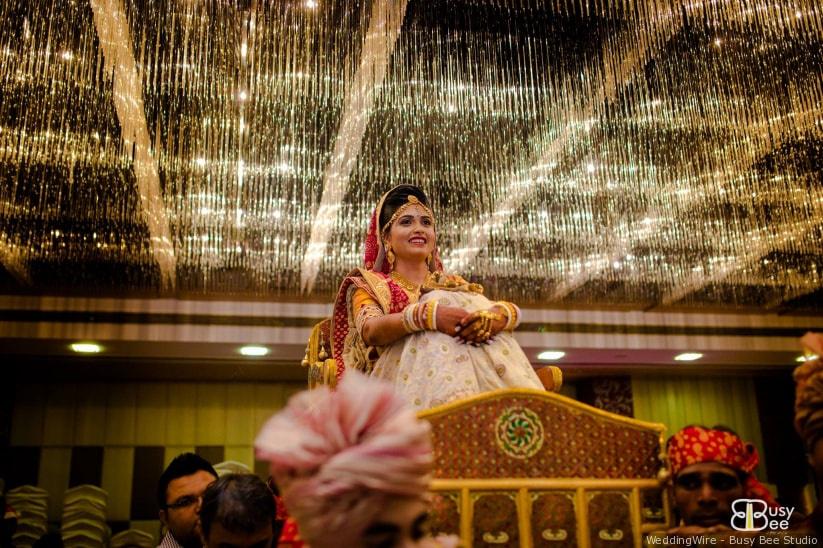 The idea of dressing up like a Bollywood bride lies at the heart of every bride-to-be, aspiring for a designer bridal lehenga, queen-like bridal makeup, large scale sets (Revolving and Two-Tier Jaimala stages) or the larger-than-life wedding photography.
In fact, we can connect bridal trends to Bollywood films and fashion more often than not! The Mughal-style jewellery from Jodha Akbar to the heavy, kundan designs from 'Padmavat' and the 'Passa' that Anushka Sharma wore in 'Ae Dil Hai Mushkil' – all inspired bridal jewellery.
Here is how you can have a Bollywood themed wedding:
Your choice in bridal lehenga and bridal jewellery (and your groom's choice in his wedding outfit)
Wedding Décor
Wedding venue
Wedding catering
Wedding dance performances
Wedding playlists
Here are a few ideas and inspirations: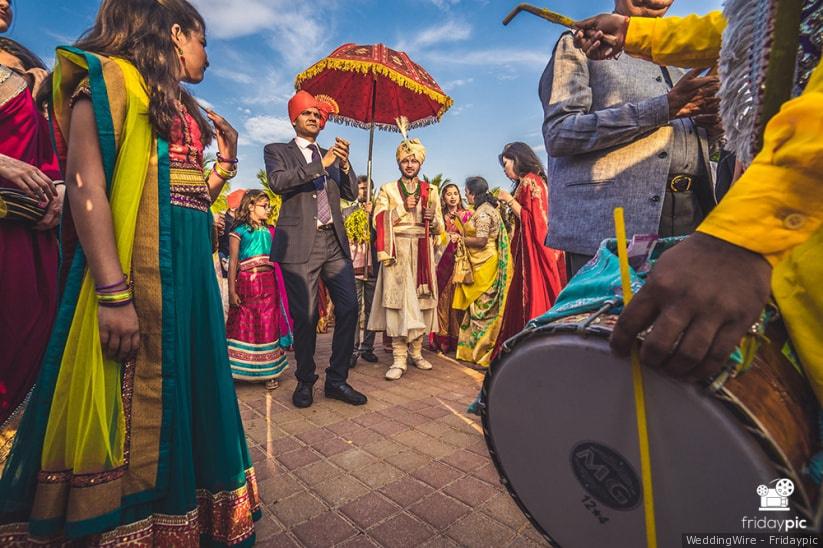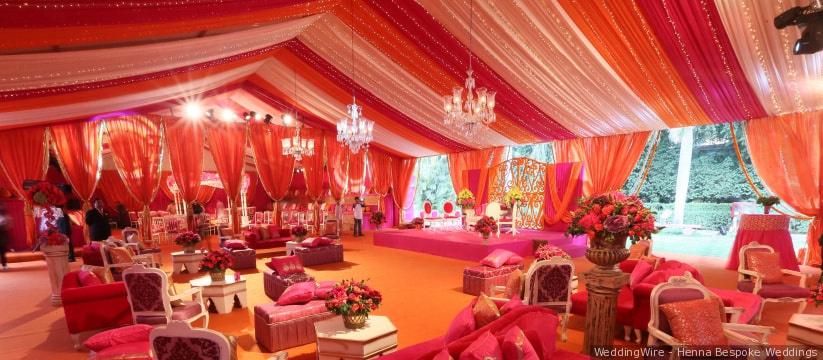 A Bollywood themed reception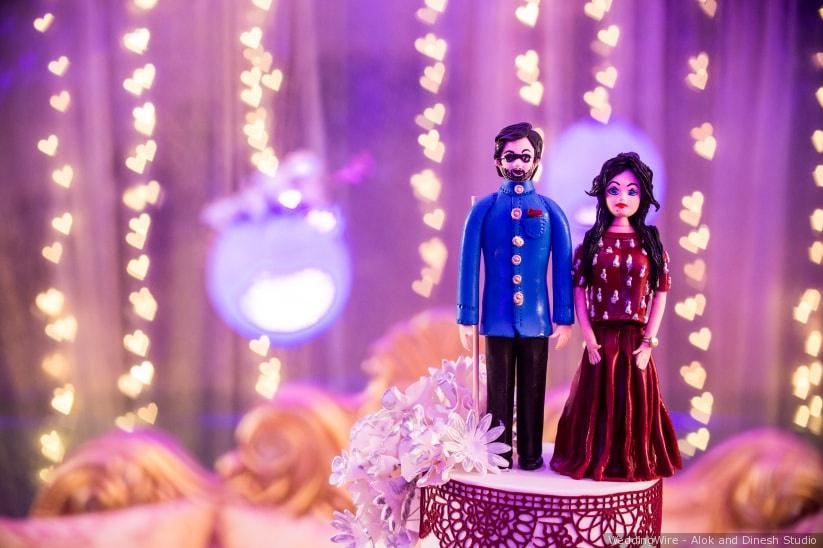 A Bollywood themed reception can work as a themed party, going down to the wedding decor, venue, dresses and even the post-wedding cake. Here is how you can work wonders with this theme:
Wedding reception dress
Wedding Décor
Wedding venue
Wedding catering
Wedding dance performances
Wedding playlists
Post-wedding cake
Here are a few ideas and inspirations: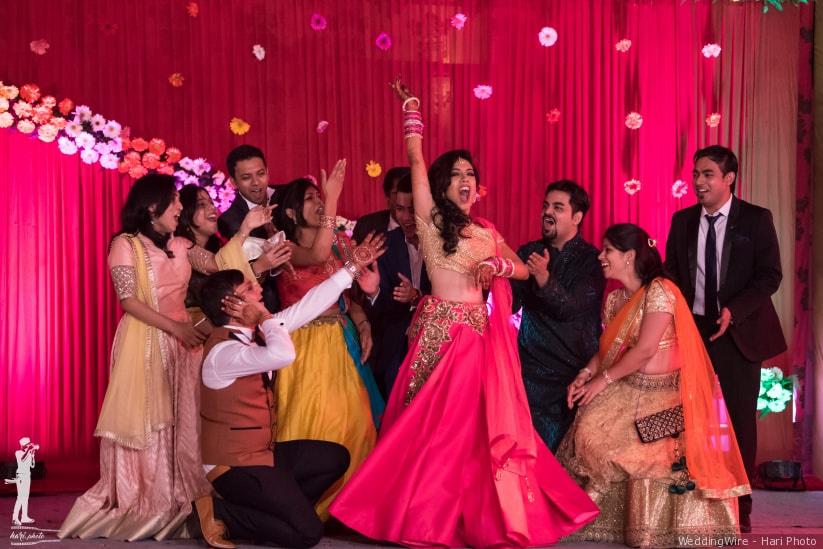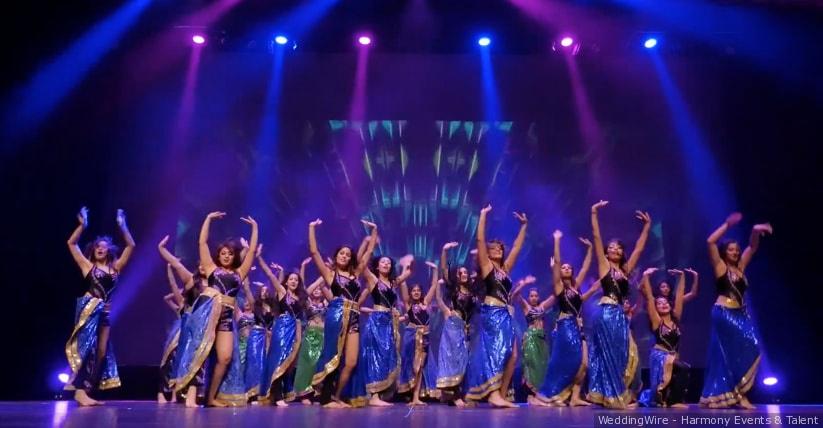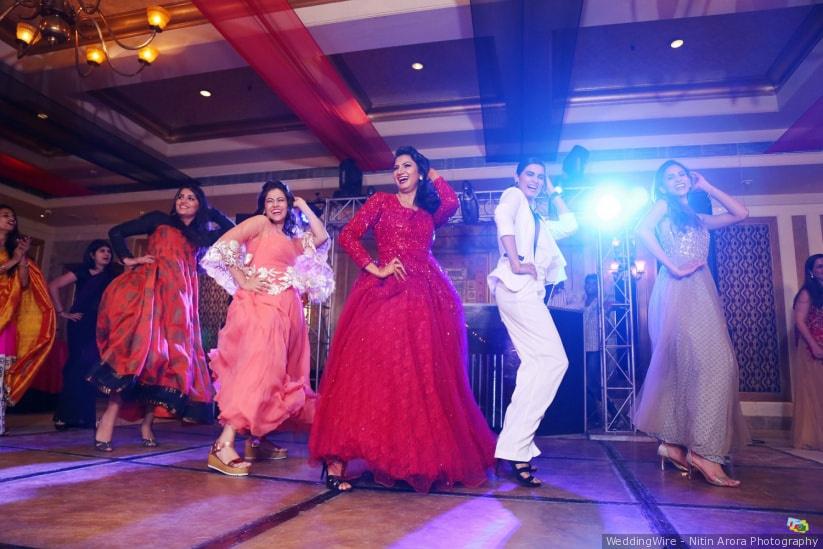 We love all things Bollywood. We hope you were able to conjure the Bollywood of your dreams through this epic Bollywood theme party. Dress fancy, choreograph a few head turning dance routines and get this party started.
We hope that our cues on having a Bollywood theme party have helped you in ideating your own set of parties. Remember, all you need is a good imagination, a decent set of wedding decorators, a series of playlists and possibly, a wedding planner.