Breathtaking Beautiful Engagement Decoration Ideas You Need to See
Since engagement marks the beginning of your wedding ceremonies, create mesmerising decor. Check out our list of engagement decoration ideas to do so.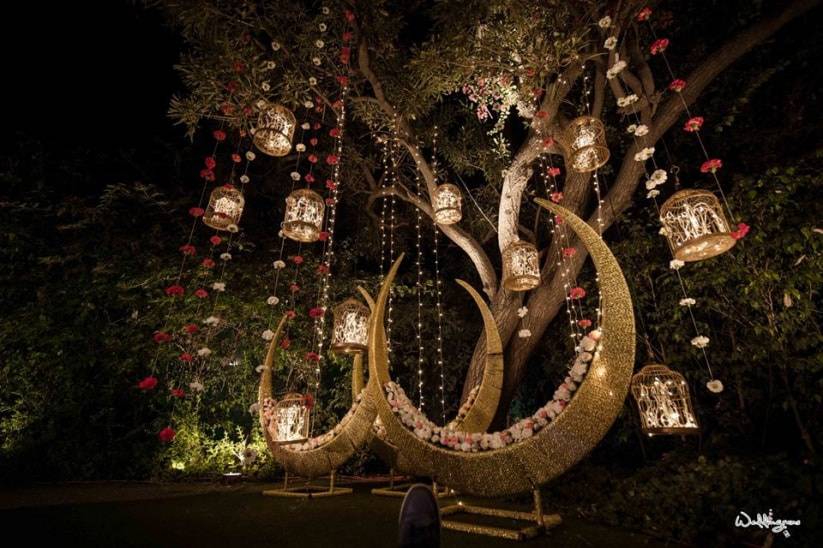 Make your engagement look divine by using stunning décor elements. After all, your engagement will officially seal the deal for you and your soon-to-be spouse, so why not make it grand! A unique addition to the trending engagement decoration ideas is the whimsical hanging décor. From floating light bulbs to handicraft items like umbrellas and puppets, anything can be used to leave your guests in awe of your engagement décor.
And they'll surely be talking about it long after your engagement is over. Want to know more? Read on…
1. Use Pretty Chandeliers Around the Venue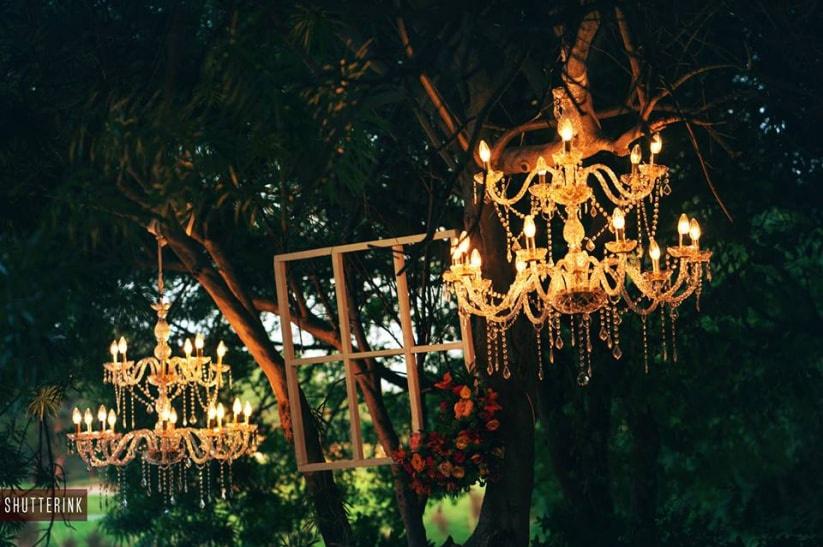 You can't go wrong with chandeliers as part of your engagement decoration. They're beautiful and look amazing on their own. You can even make things more interesting by lighting candles around them or choosing chandeliers in different shapes and sizes for a little variety. If you're having the engagement at an open venue, put them up on trees and light them with lovely, soft yellow lights in the evening.
Classic white chandeliers are a great idea for implementing this option!
2. Don't Forget Your Cute Trinkets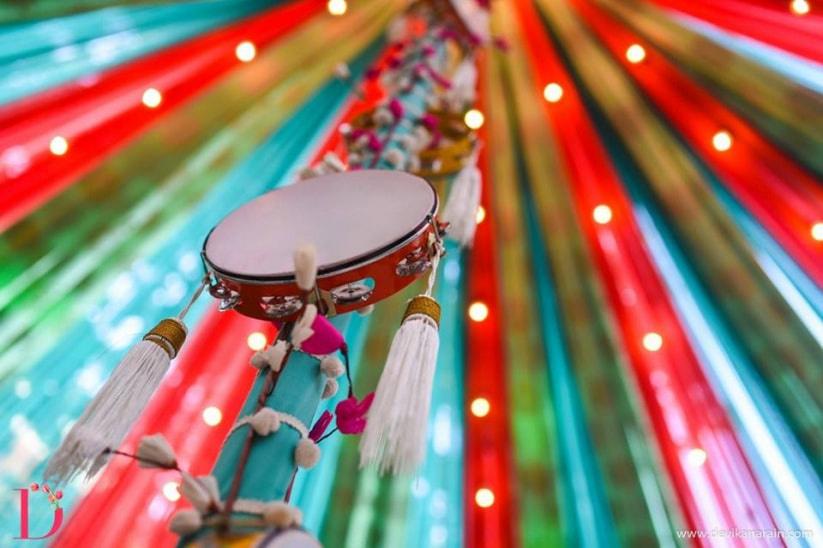 Fun accessories and cute additions like trinkets are a must for your engagement decor. You can consider overhead decoration styles and set up stunning lights, beads full of tiny mirrors and more from the ceiling for that oomph factor. You'll definitely grab eyeballs for a unique engagement decoration idea like this one and get brownie points for paying close attention to the ambience and its endless decoration possibilities!
The tassels and trinkets are not a big deal in itself, but when used the right way in the right place it acts as an aesthetic enhancer to make the ambience a perfect one especially for the day ceremonies that occur before the wedding.
3. Turn to Traditional Umbrellas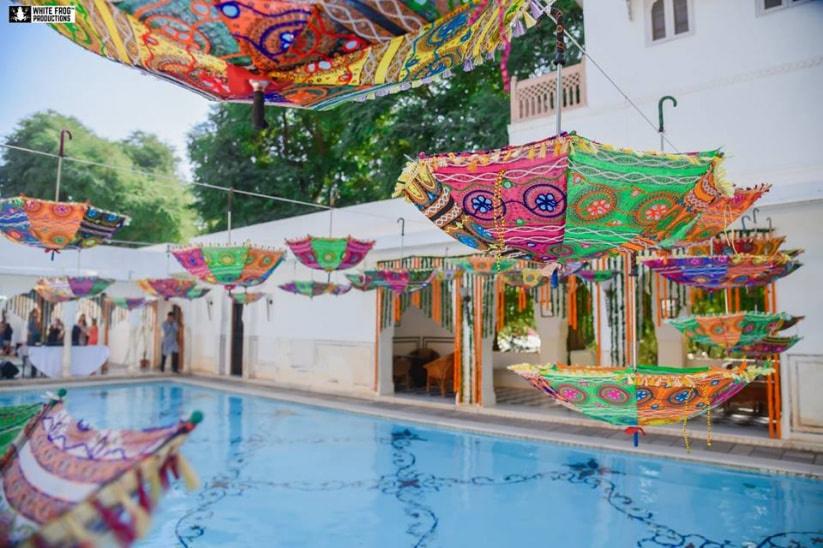 Want something extremely memorable for your engagement decor? Get plenty of royal, beautiful umbrellas and put them up high up all around the venue. Your guests will be stunned at the gorgeous views and the overall effect will be amazing. You can also combine other elements with the umbrellas such as ornate lamps or handicraft puppets for a regal experience.
The handcrafted wall hangings and door hangings that the city of Jaipur flaunts in the street markets are not an extravagant investment for the engagement decoration ideas. The colours of the umbrellas and the colourful decor are perfect for a poolside occasion.
Pay close attention to the colours while finalising the designs for the umbrellas as well as the lamps as they should blend in with the overall theme. A classic white option for your lamps will work wonders!
4. Use Bulbs for Bedazzling Magic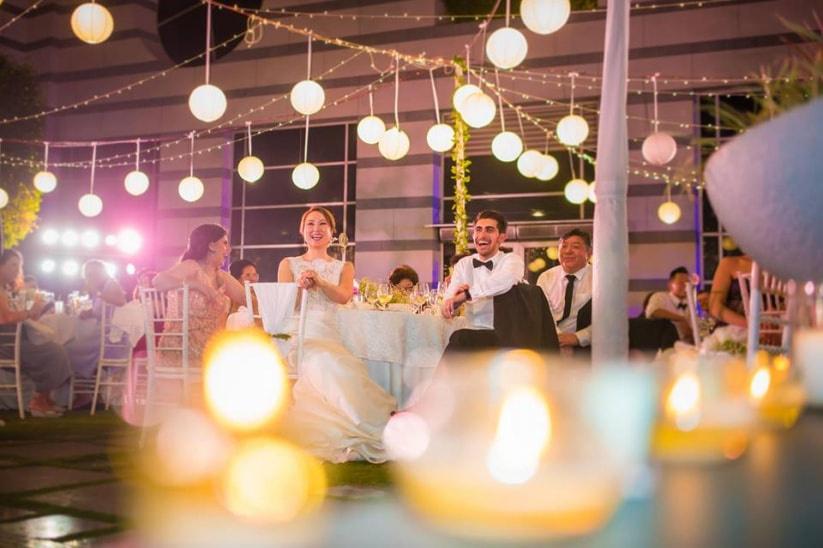 Sprinkle the magic of fairy lights and bulbs in your modern fairytale. Throw some light bulbs around the venue to give your photos a pretty bokeh-like effect. You can also highlight the key elements of your theme by attaching stringed light bulbs around them. Play mix and match with fabric decor elements to create a unique effect.
These lights go in hand with the white fabric especially if they are pastel coloured satin fabrics especially the ones that are seen in Christian wedding decors. The canopy of aesthetic lights that you can see above in this picture too is an example of the same. Some live music, and you're set for the show.
5. Balloons and Messages to the Rescue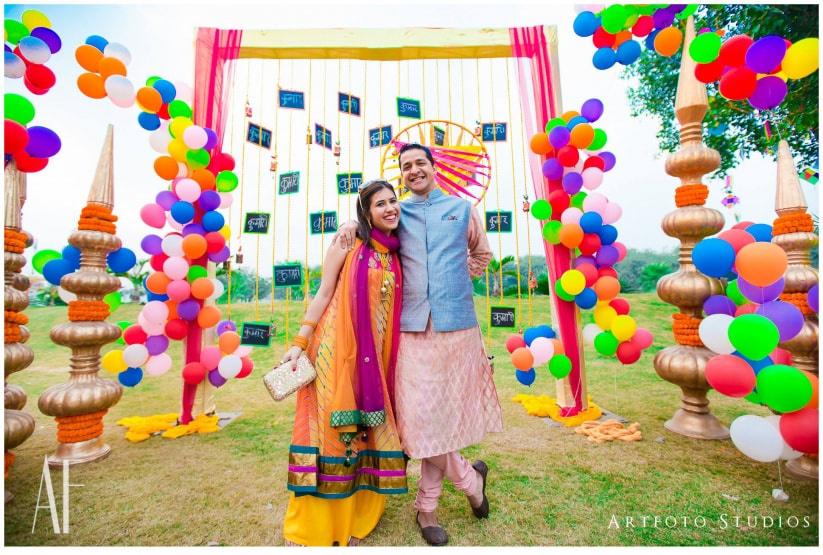 Make full use of fun engagement decoration ideas for a crazy party full of unexpected surprises. Add boards with short messages or captions around the location and make it even more quirky by putting up balloons everywhere. The key is to make sure you use hanging decorations that are truly beautiful and impossible to look away from.
Use lots of different colours but remember to introduce common elements every now and then to maintain the flow. You can also add polaroids to the hanging decorations at one spot for nostalgia and lots of lovely memories.
6. Origami Artwork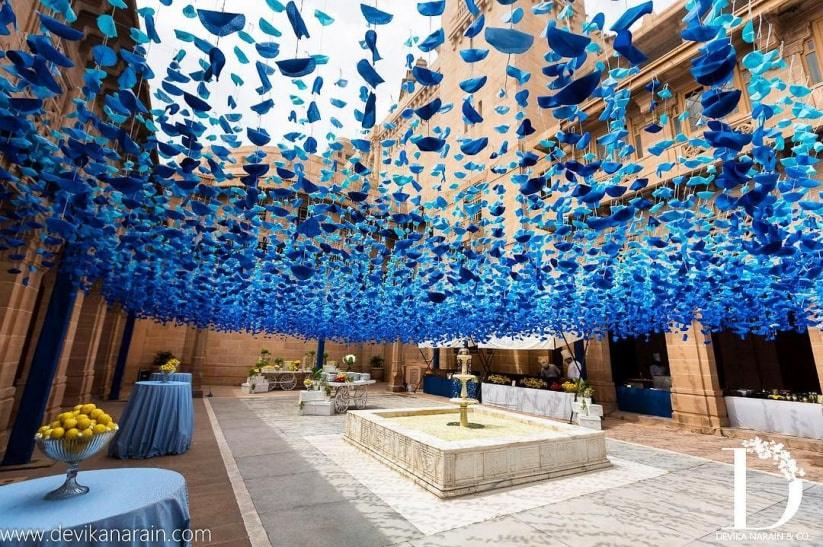 How about you invest in creating a ceiling as stunning and dreamy as this one. If you think it will burn a hole in your pocket then you are wrong. If you look closely you will observe that these are merely origami craftwork. If you wish to follow the path of DIY then all you need to do is create a handful of origami artwork, suspend them from the ceiling of your function space using a transparent thread and you are done!
Use ombre shades of colours in the origami for the engagement decoration ideas, this will make the ceiling look absolutely beuatiful.
7. Light It Up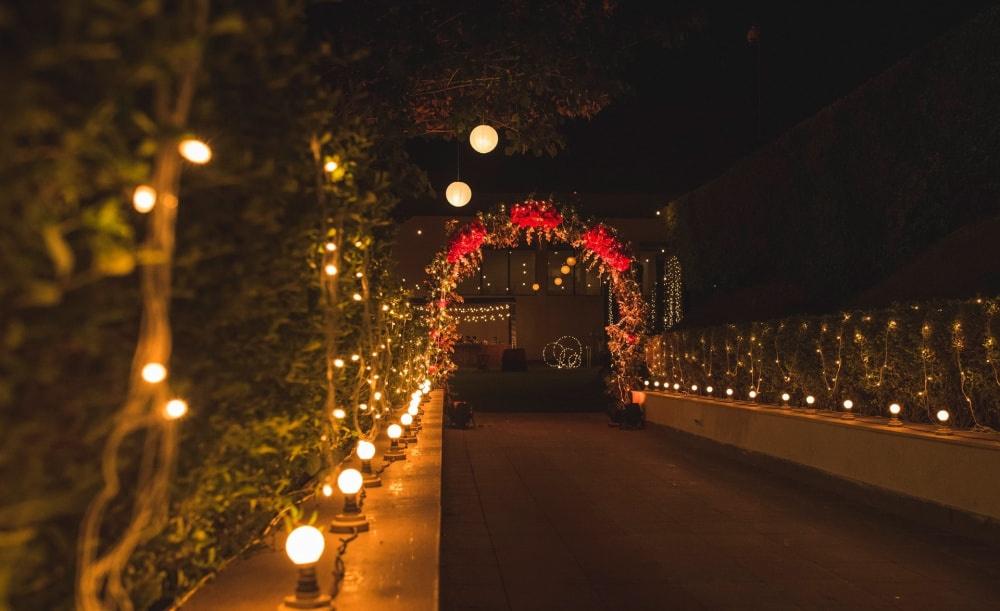 Imagine the path that leads you to the love of your life is lit up with brilliant fairy lights that match the level of your happiness and excitement? Every bit of it is dreamy. You can incorporate this setting almost anywhere, be it a venue or your home while being assured that it would surely win some hearts in the stunning decor ideas. You can always rely on the gold colour lights yo do the trick but avoid the dark ones like blue and pink.
8. Close to the Mother Nature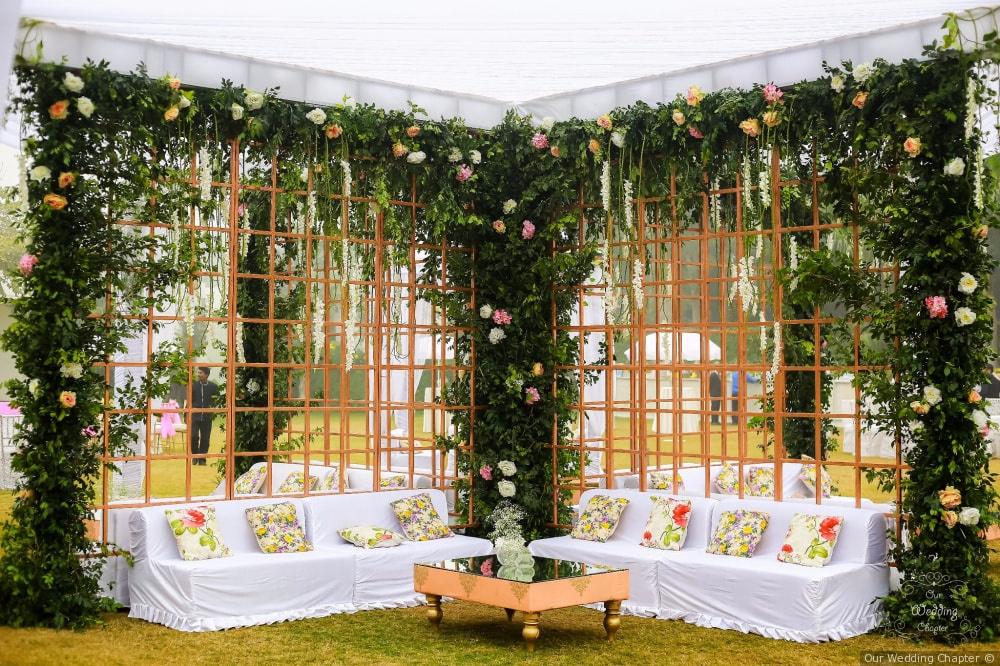 Organic, fresh and unique, this decor would surely make your engagement decor the highlight of your event. It is made with fresh flowers and leaves that will imbibe its sweet smell to the aura of your festivities and make it much more memorable. A garden themed decor can also be the perfect photo booth for those stunning pictures that you would cherish for the years to come.
9. Steel Structures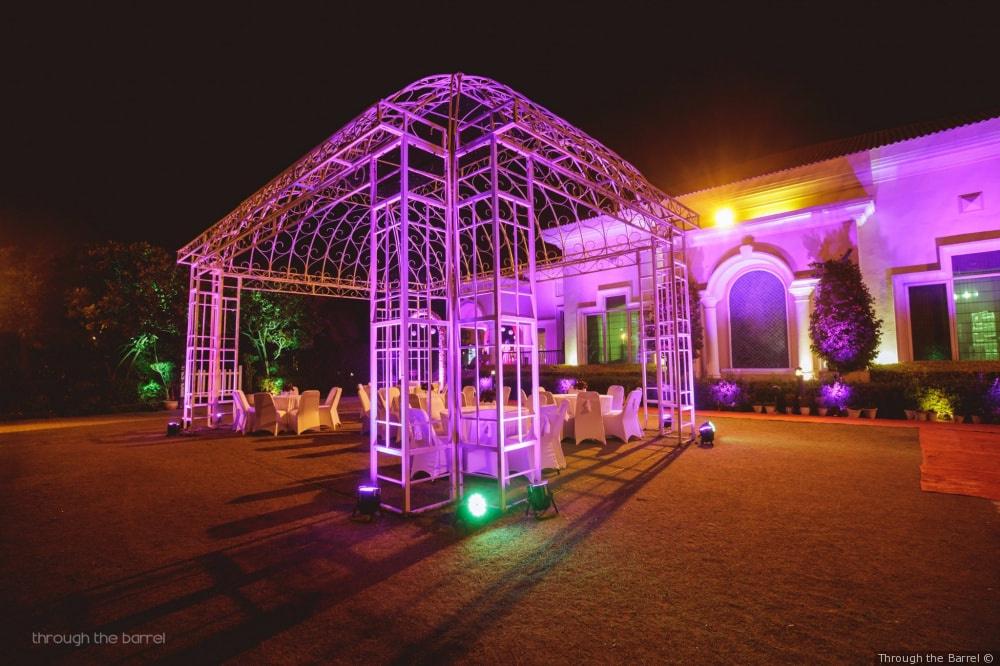 For the sitting area at your engagement, you can choose to incorporate a steel structure which would give your whole ceremony a rustic feel. It can be a fancy prop and even look futuristic with its symmetrical aesthetics. You can choose to arrange beautiful flowers and vibrant drapes to create a unique decoration theme for your ceremonies and festivities
10. Going Big with the Floral Chandelier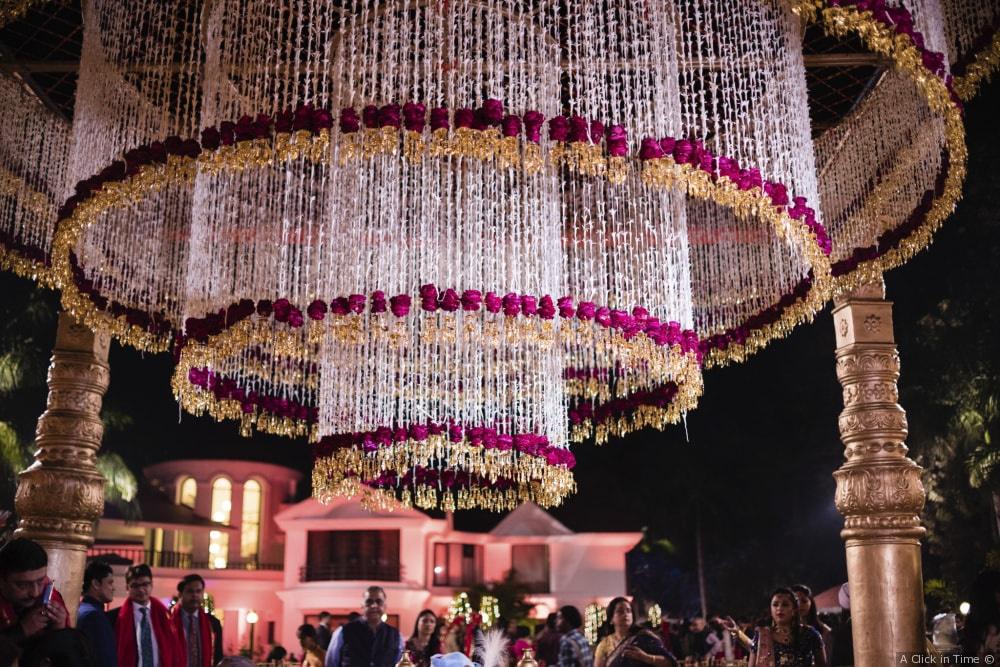 This is a perfect decor theme for any grand celebration that you are planning and would provide a royal feel to your engagement ceremony. Perfect for an outdoor setting, you can incorporate fresh flowers and even artificial ones to create such a stunning ceiling for your event. You can even choose to replace the floral setting with hanging trinkets and charms and create your own personalised decor DIY.
It will be interesting to experiment with a combination of engagement decoration ideas. Discuss with your wedding planner and they might come up with multiple personalised options other than what your wedding decorator already has. Engagement decoration ideas is a territory which has a sea of never-ending possibilities. From lights to drapes to paperwork to flowers - you can pick an idea that sits best with your liking and also gels well with your budget.
No matter which you pick, we know your engagement decor will look nothing short of a dreamy spectacle straight out of a fairytale. So, browse through a couple of photographs for the much-needed inspiration create a mood board with elements you love the most and show it to your planner and wedding decorator to have the decor you truly deserve.
If you come across any other interesting engagement decoration ideas, do drop a comment below!