5 Gorgeous Engagement Decorations That Left Us Gasping for Air
Plan a personalised engagement party with a wedding decor scheme that reflects both your personalities in the best way possible. Take inspiration from these trending engagement decoration images and get going!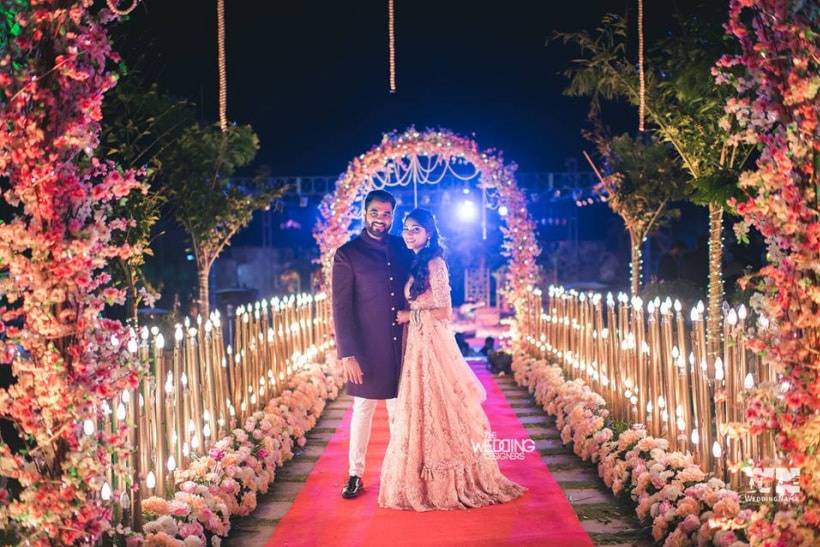 Planning an engagement is just as special as planning your wedding but without the same amount of stress. Ideally, the engagement and the wedding should be a few months apart, leaving you with time to create separate decoration ideas for both events. The engagement ceremony usually comes with little to no formalities, which gives you a free hand to plan a fun, personalised party for your near and dear ones. You can theme it as you wish to and attire is not restricted either. Share our curated list of simple engagement decorations with your wedding decorators to celebrate your #JustSaidYes day in style!
Use these engagement decorations as the inspiration that will drive you forward to come up with a unique and completely over the top wedding decor that will leave all of the attendees gasping for air - all thanks to the sheer beauty of execution and design! Form floral to canopies to using a lot of shindig in terms of lights, draping, murals, rangoli patterns - the choice is yours! So, get going and bookmark these engagement decorations for reference and visit a wedding decorator right away!
1. Experiment with your colour palette - you for a theme that resonates with you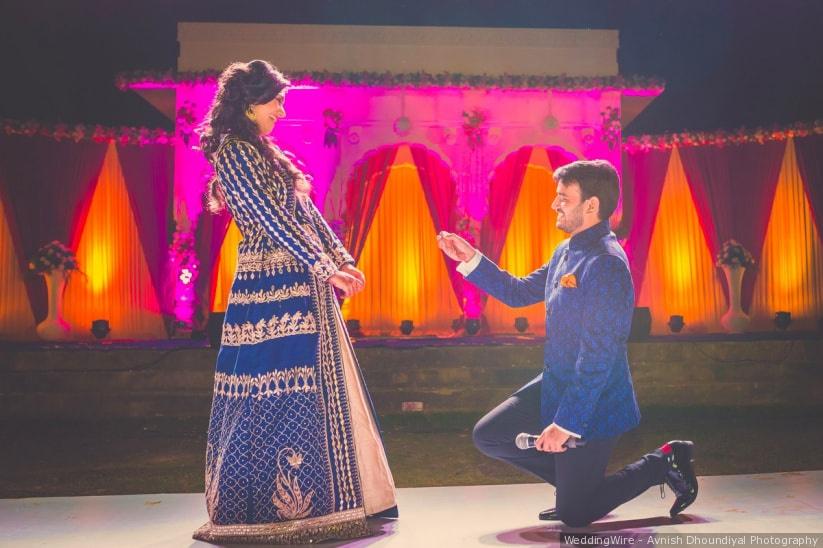 Unlike the wedding functions, no colour is off the table when it comes to engagement decorations. Add offbeat colours like blue, lilac, purple, and marsala to your engagement decorations to create an event that is in complete contrast to your wedding. The freshest example is the Virushka wedding where the pastel colour palate worked wonders. Remember to coordinate your bridal lehenga with your decor so that it stands out during the ceremony. You wouldn't want to blend in with the decor, now, would you?
2. Share your story in words - hashtags or personalised quotes!!!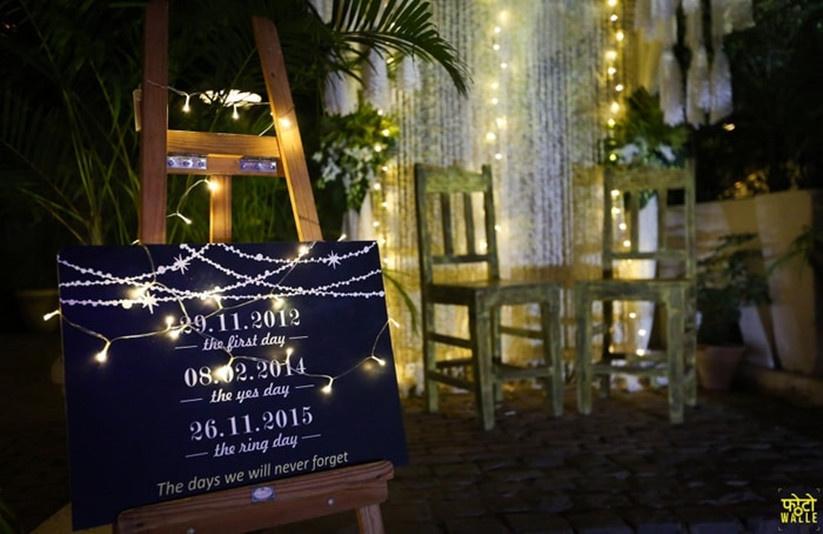 The engagement is usually the first function of all wedding celebrations. Use this opportunity to share your couple story with your family and friends using innovative signages around the setup. You can design these online or get your wedding invitation card makers to design these for you. You can even take the DIY route and get your talented friends to make these for you using chalkboards. Even many unconventional invitation card artists will materialise this concept for you. You can even do that with a caricature setup around the venue displaying your love story. Make sure that all of it follows your wedding fonts.
3. Don't restrict yourself to the stage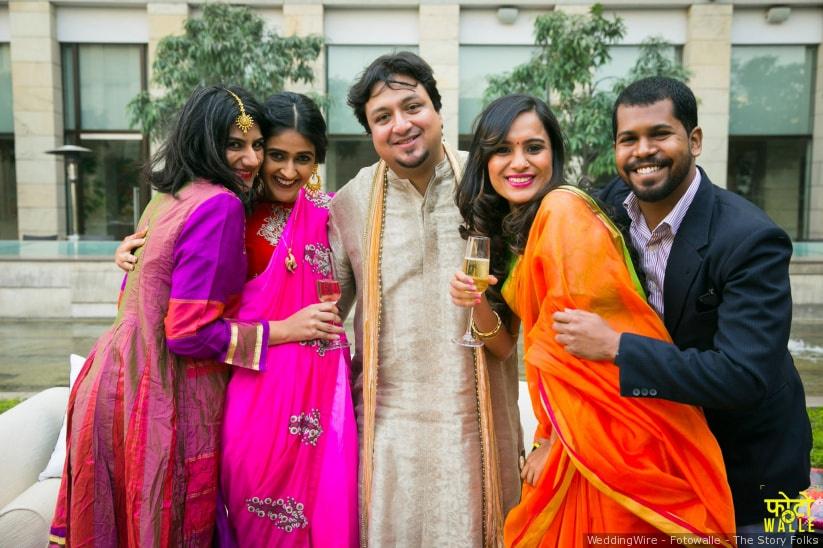 We suggest keeping the vibe of the engagement event a bit on the informal side and a great way of achieving that is by not restricting yourself to a wedding stage. Get your wedding decorator to create picture worthy spots around the wedding venue instead of focusing on the stage. You can even create a photobooth for the event. That way you can walk around interacting with your guests and get great pictures with everyone.
Including a botanical wreath as a backdrop for your seating would also do if you're having a day-celebration in the winters. You can also have a swing to serve the same purpose. Think as out of the box as possible. We're sure that your wedding decorator can come up with ways to incorporate these ideas into your engagement decorations. There is more to engagement decorations than just amplifying the stage!
4. Recreate your ring as a decor element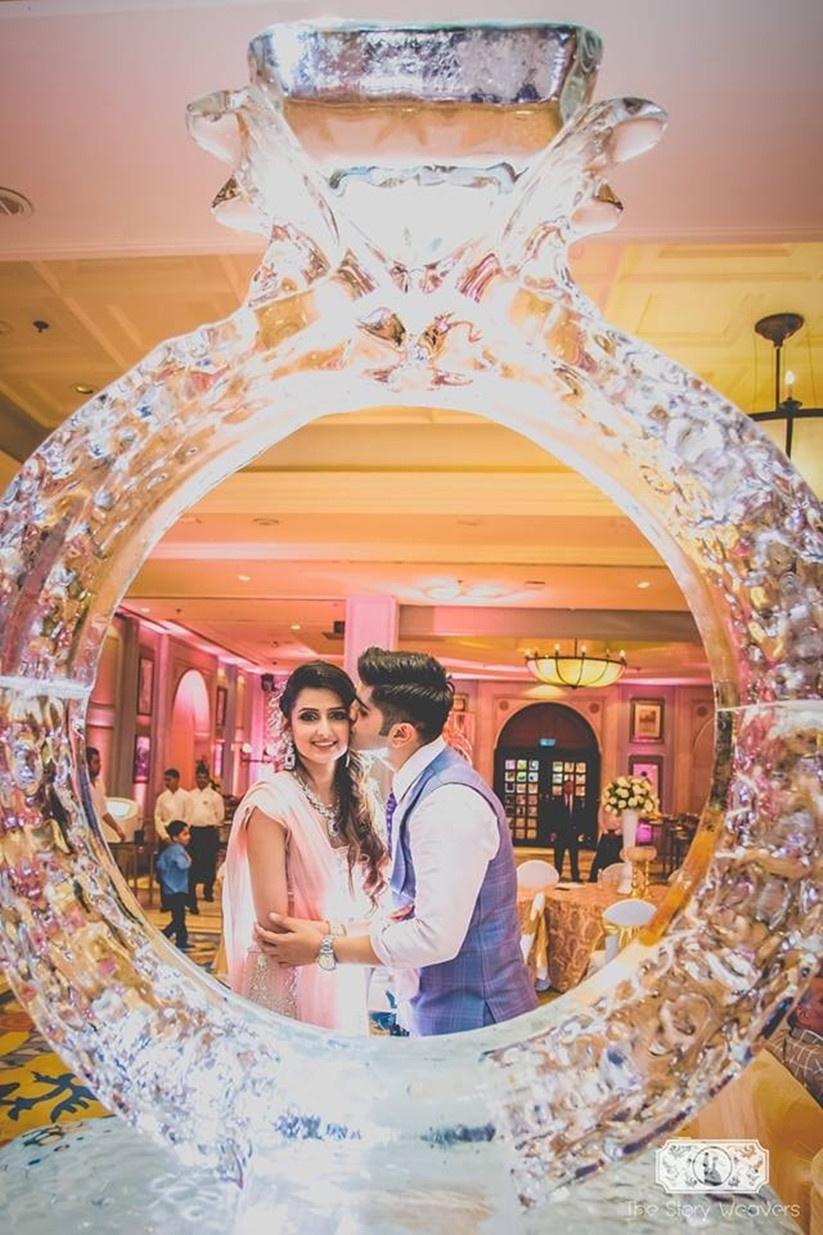 This may look difficult to achieve but it really isn't. Get your decorator to recreate your engagement rings as an element of design and watch it become the most popular photo prop in the entire party. Weddings rings on the invitation cards are heard of but creating the décor around them will make yours stand out from the crowd.
The base material can range from this fancy ice sculptor to wedding flowers and more. You could even use this theme for your car decorations for the wedding day or put it as a cake topper for your engagement cake. How about a floral wreath shaped like a ring as the backdrop for your ceremony seating? We think it is perfect and that you should not waste a single minute in calling your decorator to hatch something as stunning as this.
5. Don't forget the engagement cake - it is a must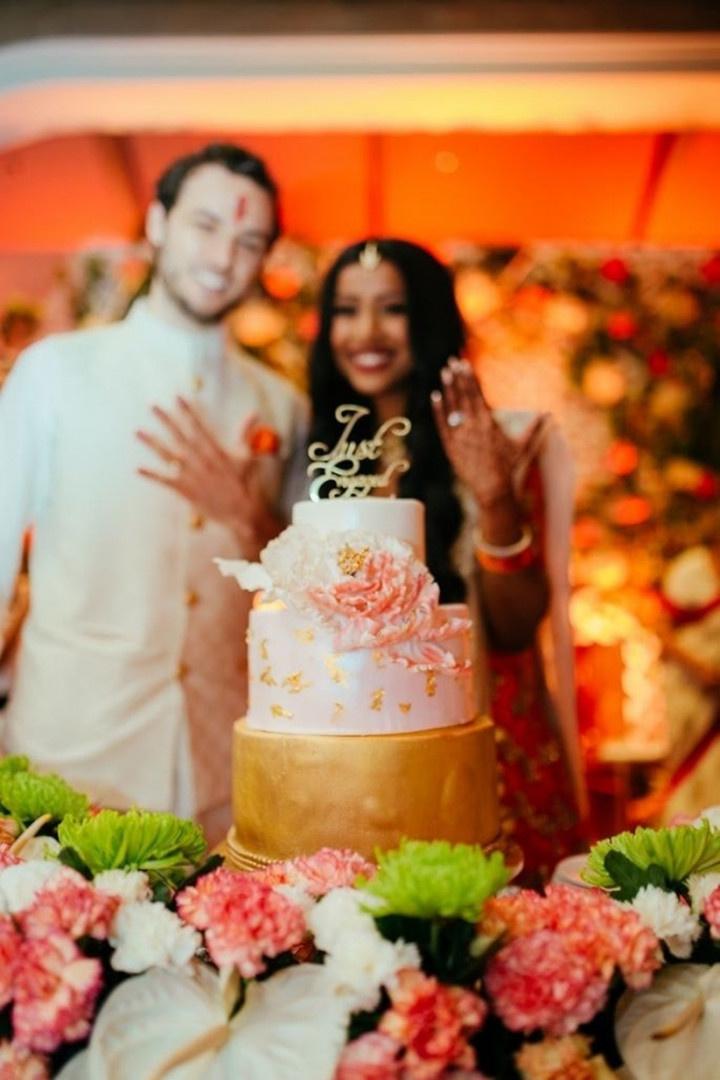 Trust us when we say that the engagement cake is a must-have! Get your bakers to add innovative cake toppers and you're all set for the engagement pictures you'll share across all social media platforms. Remember to get a cake table designed by your decorator, which will add to the overall appeal of the event. It is increasingly becoming a popular wedding ritual that we have adopted from the west. Also, who doesn't like cake for celebrations!
Get it personalised by sharing your ideas with the baker. Ask them to create a showcase of your journey to this point on the cake. Experiment with flavours and types of cakes to make your stand out. Or you can completely ditch a cake for your engagement ceremony and opt for a set of cupcakes instead, neatly arranged to mimic the tiers of a cake.
Start your wedding celebrations on the right note with a gorgeous, well-planned engagement ceremony. Involve all your wedding vendors – your wedding decorator, makeup artist and photographer in the execution of this ceremony to make sure that you're comfortable working with them for all your future events also. Have an open conversation with them ensuring that they understand and work towards meeting your expectations and vision. Make your engagement decorations more about yourself and try and incorporate ways in which you can express your story as a couple. You can use customised settings, wall decoratives and hangings, probably a floral-inspired wedding decor to add bespoke and timeless beauty to your wedding venue. the options are endless.
These engagement decorations are some of the finest and the freshest ideas that we witnessed countless millennial couples follow when planning their own engagement ceremony.
Making use of these engagement decorations won't even burn a hole in your pocket and you can amp up your decoration however much you please by whipping some classy and bespoke design inspiration. From floral baskets forging the way of your guests to the venue to a false ceiling that reverberates the Parisian life - the choices are endless and up for grabs. You can choose just one or you can have em all. So, keep in mind these engagement decorations and have the wedding you truly deserve. Go all out and remember to have lots of fun!
Tell us what you thought of some of these engagement decorations through comments.