Add These 8 Yummy Indian Cake Toppers to Your D-day Memories
A statement wedding cake has become the cherry on top of your special day. And the cherry on top for this dessert is your choice in Indian cake toppers. Explore these inspirations and add notes on how to bring a bite of your personality to the table.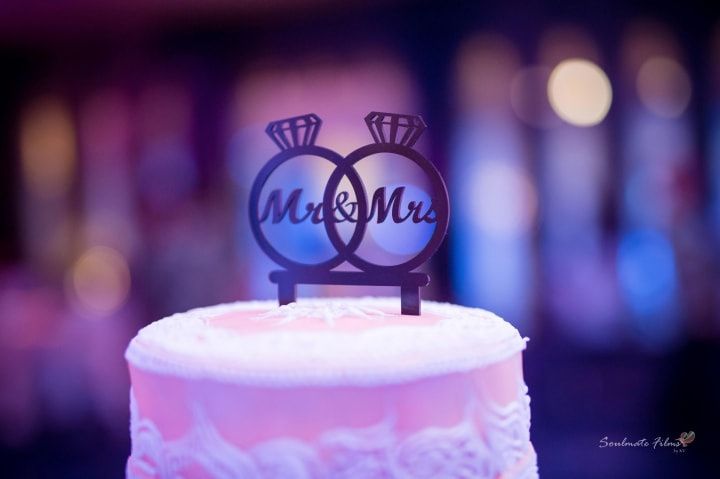 Indian Cake toppers are a fairly new but extremely popular wedding trend. With cakes replacing ladoos at reception or cocktail wedding events, the demand for creative, beautiful and tasty wedding cakes is on a rise.
The tradition of having a wedding cake may have been inspired by the western wedding culture, but it's definitely not foreign anymore. Indian cake toppers can range from simple to extremely intricate ones. Just like Indian weddings, these Indian cake toppers can also be personalised to suit different likes, tastes, themes and more. Adding these sumptuous and delectable sugary treats to your wedding ceremonies is the correct way of starting this new life os love, laughter and sheer happiness! From quirky cake toppers to some sugary delights that will not only make for a visual treat but will also melt in your mouth like a serene effect of a tantalising taste - check out these Indian wedding cake toppers right away!
From romantic to artistic, humorous to elegant; these Indian cake toppers are here to take over Indian weddings. Here are some ideas to inspire you and trust us at least one of these stunning ideas will make a way into your heart and will add a delectable charm to your wedding cake!
1. Floral showers for the win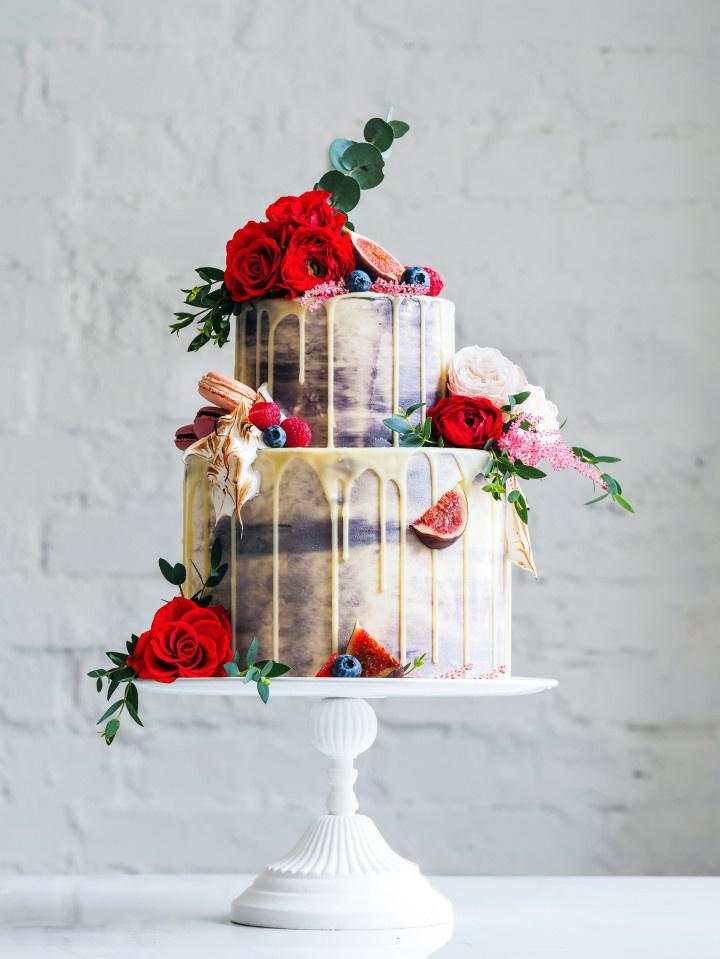 Astound your wedding guests by choosing floral Indian cake toppers for your wedding cake. Let this floral shower inspire thoughts of a rosier time together for the two of you. This seasonal aspect also works wonders with a garden-themed wedding or your own floral highlights in the decor and on your bridal outfit.
Add a whiff of seasonal fruits to complete this summer inspiration completely and add this one especially to your wedding album. If you happen to be a fan of florals then this is the idea you must consider!
2. Too cute in love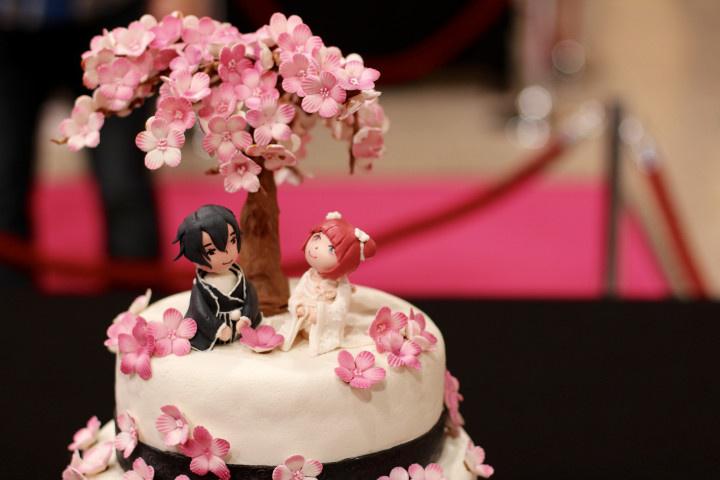 Think the two of you are as cute as the most romantic ideas of a couple together. Let your feelings for each other speak volumes with your couple caricatures or cartoon takes as your Indian cake toppers. Try a couple of ideas that suits your personality - be it Donald-Daisy, Mickey Minnie, Nobita Shizuka or even superheroes sitting together for eternity.
3. The Ring Bearer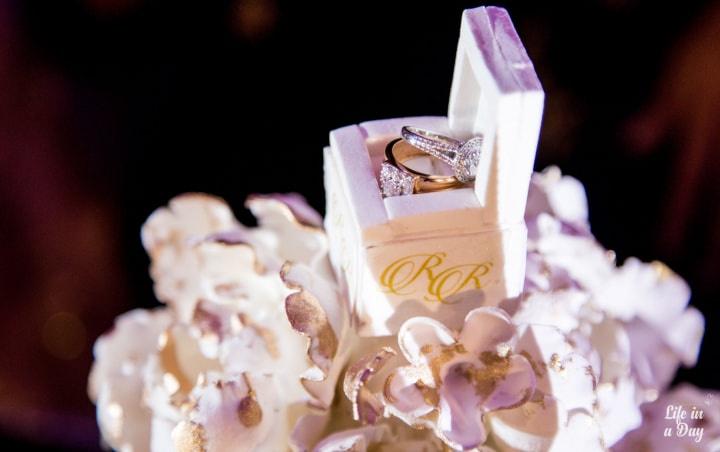 Indian cake toppers can be customised for the engagement day to mark the beginning of a sweet journey. A cake topper fashioned in the shape of a ring box could be the perfect ring bearer. If you don't want your real rings to get 'caked', you could replace it with rings made with fondant, as a representation of the essence of the occasion too.
4. Initialled in with your initials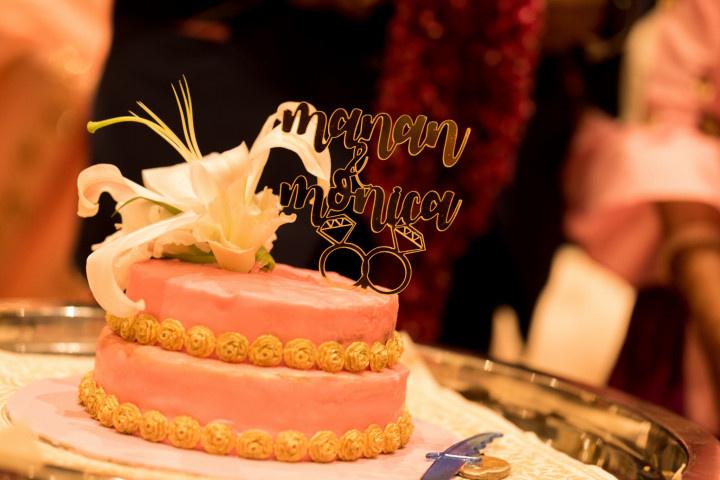 Worried if your glam idea for Indian cake toppers are not going to edible. That should be the least of your concerns. Get a cutout you like, even if it's your initials or your names stuck together and let this custom take speak volumes on your wedding cake. This unique idea would also give your dessert a classy look and feel.
5. Madly in Love!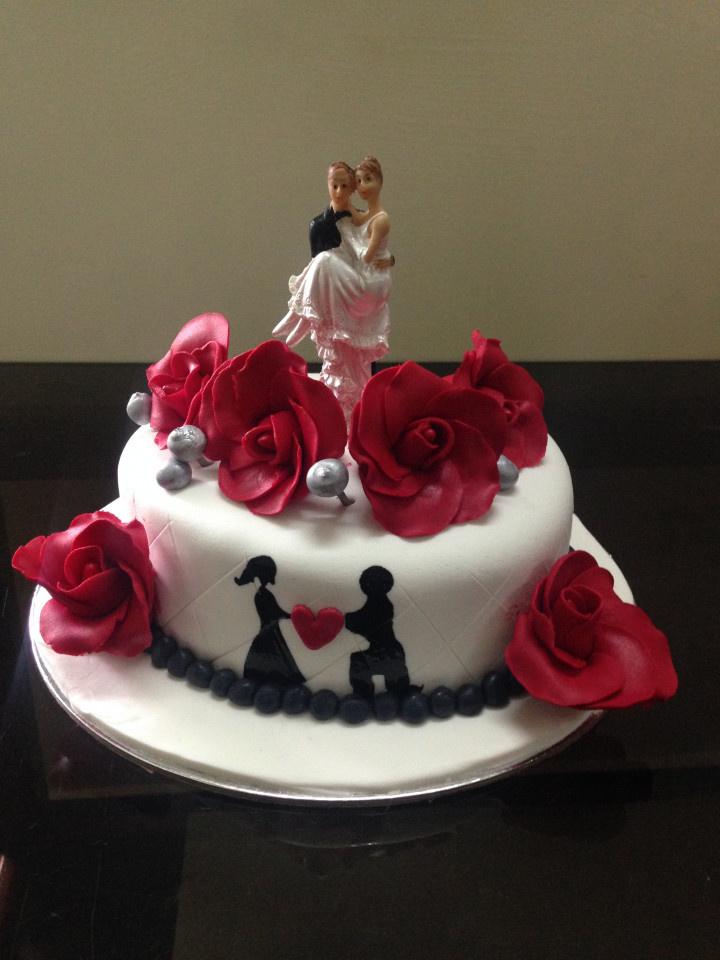 An Indian cake topper can be a twist to the classic groom and bride design, with the couple showcased in different poses. This picture below is definitely one of the most beautiful cake toppers for all those 'madly in love' couples. You could also choose a dancing pose, a kissing couple, a couple standing under an umbrella... the choices are endless.
6. The one that says Game Over!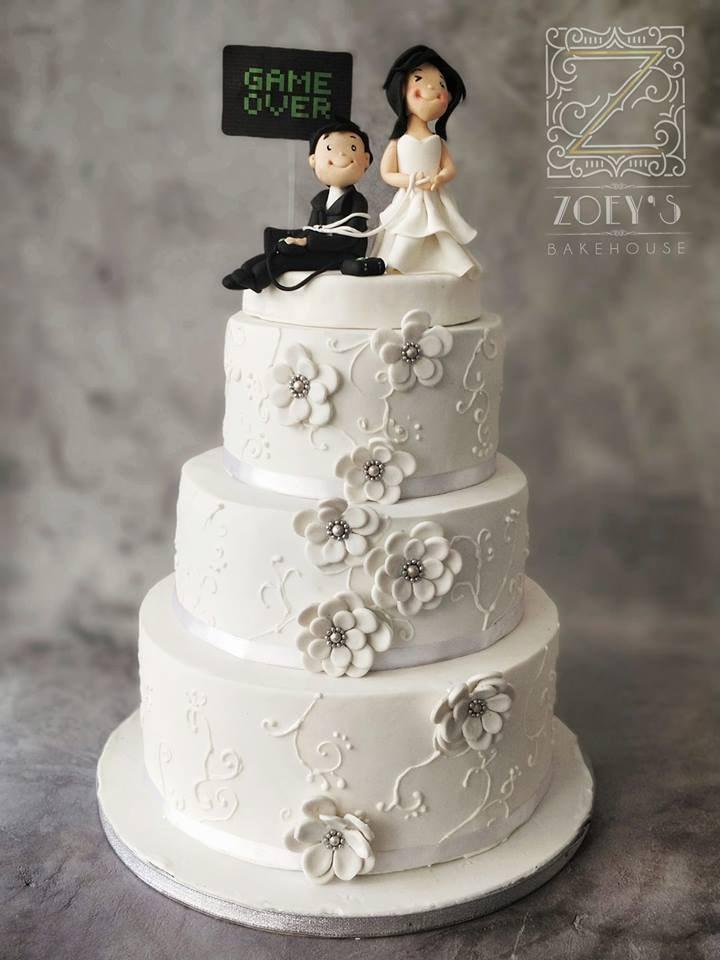 Indian cake toppers are not just pretty and beautiful, but can also be a great way to add that element of fun to your wedding. Ever since you may have announced your wedding, your friends would have been teasing you with the 'game over' jibes, well why not embrace it? This 'Game Over' cake topper is funny, cool, creative and definitely memorable.
7. The South Indian Cake Topper
Cake toppers can be customized to suit your wedding style, and if you are having a traditional South Indian wedding, let your cake do the talking. This cake showcases a couple under a coconut tree wearing traditional clothes. You could choose South Indian cake Toppers with the bride and groom in traditional white and gold attires, bright silk-like sarees for the brides and white dhotis for the groom, or anything else that compliments your Southern wedding style.
8. It's too Too Late to go back!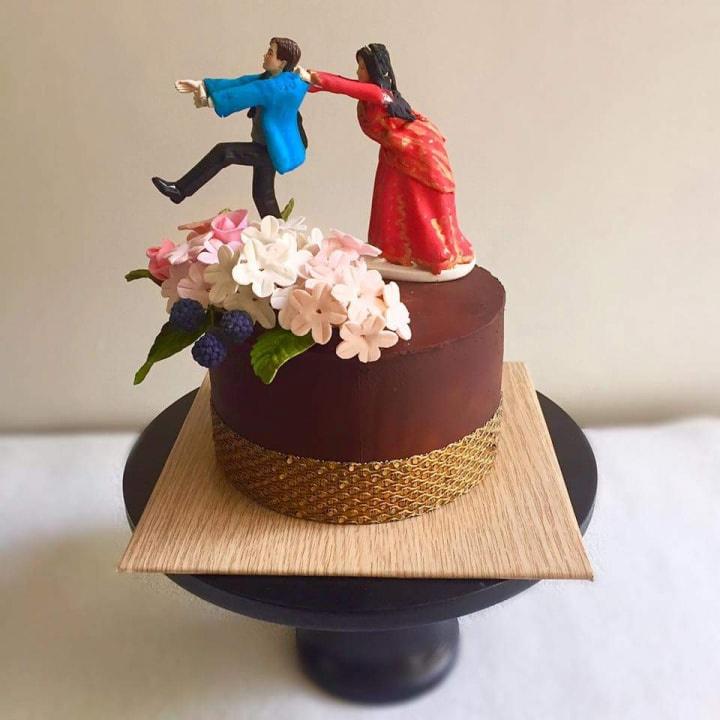 The picture below shows probably the funniest yet the cutest Indian cake topper. Not only is the 'Too late to run away' pose very funny but the traditional red bridal wear and a bright blue groom give it a very cute and very Indian look. Most cake toppers usually show the western groom in a black tux and a bride in a white gown; we are absolutely loving the Indian twist on these cake toppers.
Indian cake toppers are highly customisable and can be made using edible or non-edible materials or ingredients. Whether you are looking for a tall three-tier cake or even a smaller one, these cake toppers are perfect for all. With so many amazing bakers across India offering delectable and tasty treats, these cake toppers are not just great to look at, but these cakes are super yum too. So go ahead and get in touch with some amazing bakers now!
What's your Indian cake topper going to say - the funny couple, the mushy one or the super elegant pair?