10 Delicious Engagement Cakes That Will Not Only Take You for a Gastronomical Ride but Will Be a Treat to Your Eyes
Celebrating engagement with a dessert is a must. So, if you're looking for some inspiration for your engagement cakes then you've come to the right. Read on to discover one of the most creative cake galleries to get inspired.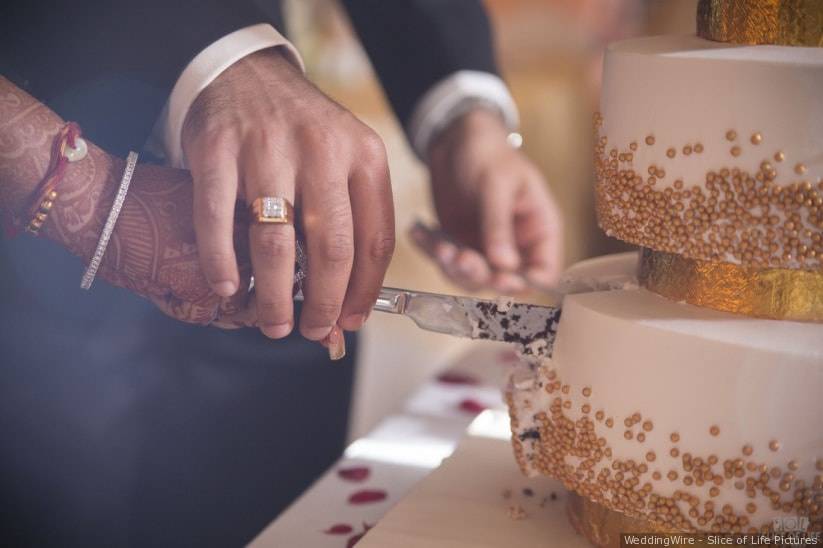 A sweet bite is often the best way to celebrate moments of 'he said yes!' or 'she said yes!', ahead of your cheerful wedding days. This universal truth applies not just to your big days but even your engagement ceremony. These items are called everyone's soul food and deserve some thought too. The wedding is a regal occasion and to add to the royalty the cake is the one mood enhancer, because who doesn't like a tad bit of sweet tooth and a lot more sugar buzz where your taste buds are dancing with joy with the first bite.
Wedding cakes are no ordinary sweet treats, but it marks the beginning of something beautiful and a happily ever after story for you with the love of your life, this is every reason why the wedding cake should be a treat to the eyes while being a treat to our taste buds. Ready to roll with the right amount of sugar and fondant on the tables?
With a hundred different flavours and a thousand more designs on the list and merging it with your idea of a perfect wedding cake, it gets tough to select the right one that fits your taste as well as fits the occasion with the right beauty to flaunt. So, to get you started on your whole decision-making process for engagement cakes, here we present to you a gallery of 10 cakes you can take inspiration from.
1. White base with contrasting florals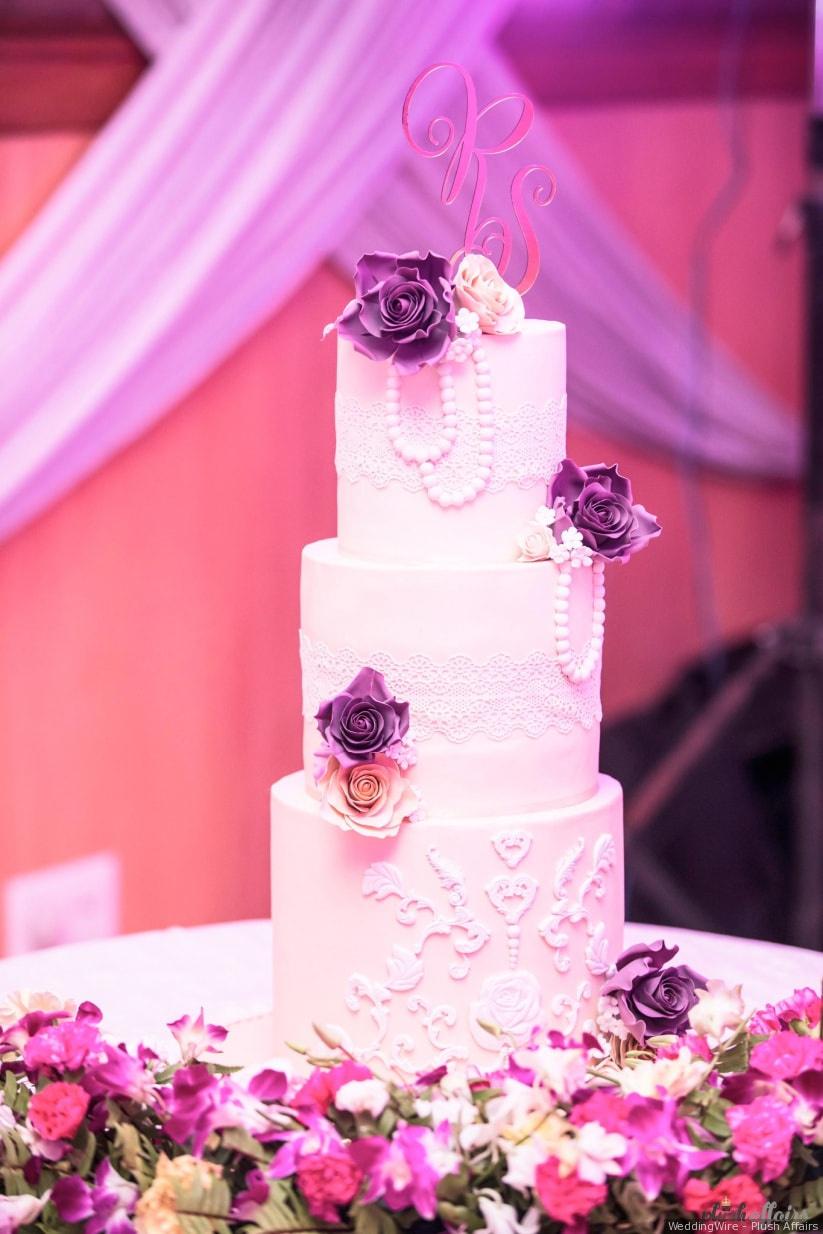 The white base colour cake is never a mismatch for an occasion like an engagement party. However, to add a little bit of colour to the serene tasty engagement cakes, you can add little frosting flowers on the edge of the tiers. The flowers, if made of bright colours like red or orange, would do wonders. You can always mix and match with fondant designs in lace, motifs or some other designs. Most cakes have real flowers these days for the decoration but you can also try for flowers made out of frozen fondant that is edible.
2. Romantic roses with simple engagement note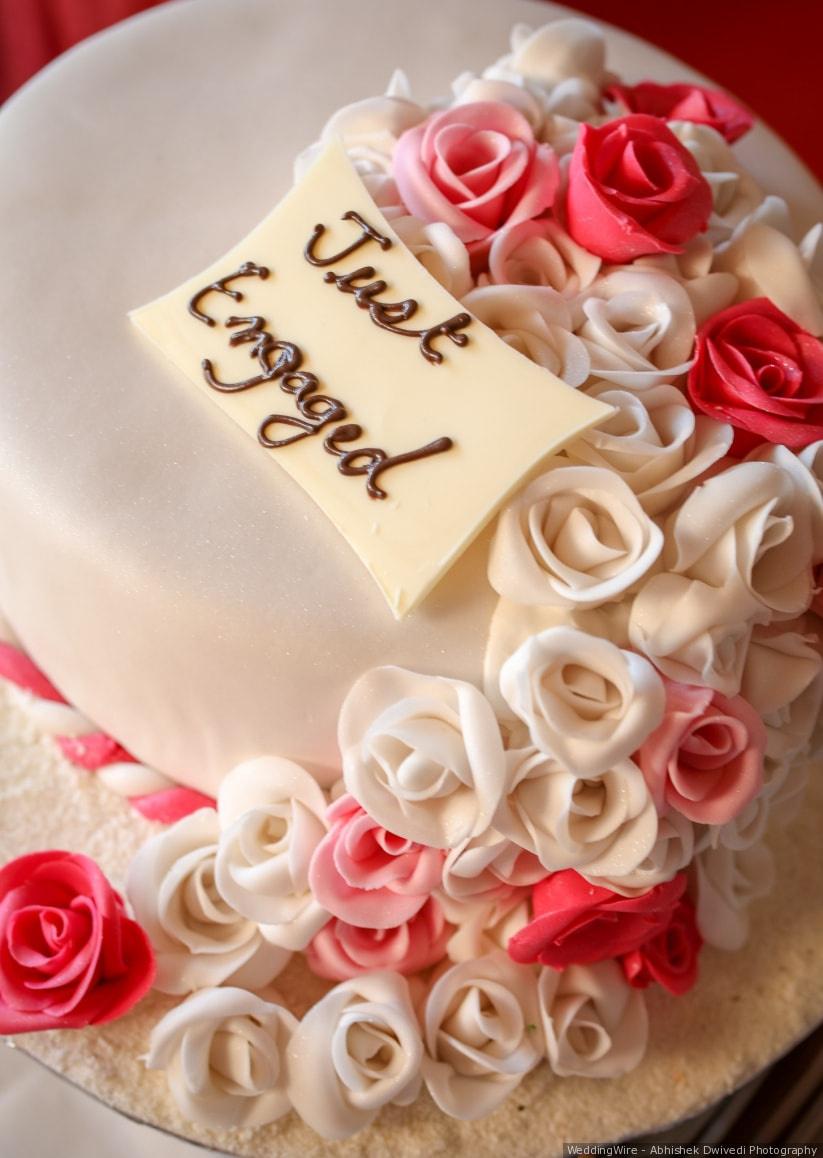 Engagement cakes like these can be single tiered or multiple, the result would be stunning no matter what. Adding a heavy rose frosting on the side of the cake gives a romantic touch and a simple 'just engaged' note on top adds a cute feel to engagement cakes. It looks simple yet elegant and not to forget delicious!
3. Classic all-white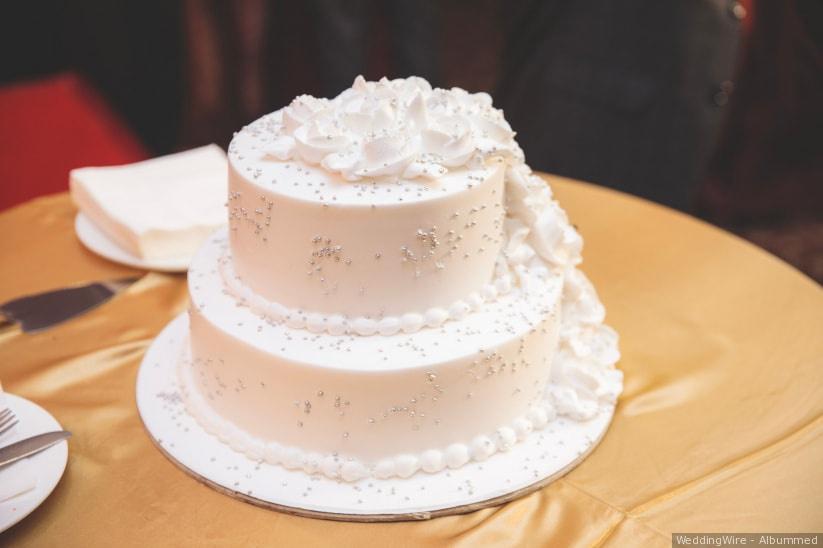 Nothing can beat the classy look of an all-white cake. Engagement cakes like these symbolise the pure love that the two of you share. To accentuate the classiness of the cake, you can decorate the cake with beautiful silver cachous.
4. Creamy beaded tiers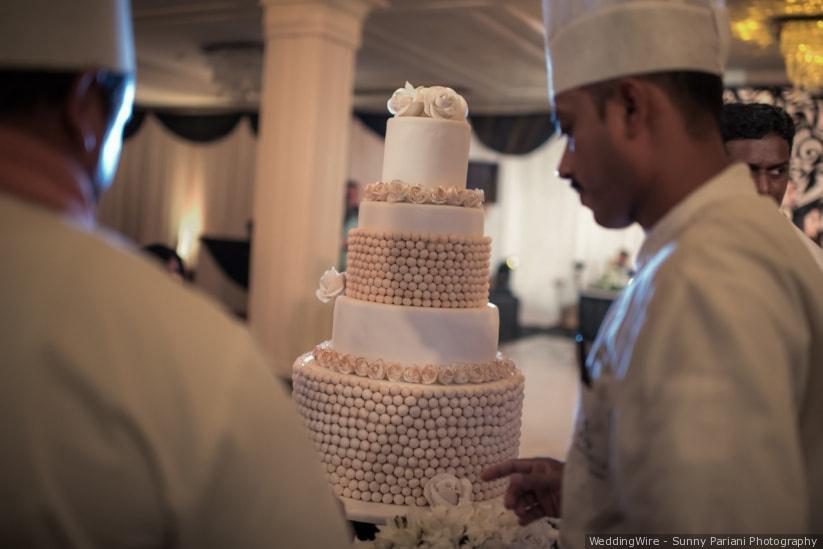 One of the simple yet elegant engagement cakes for you could be this one. You can layer a multiple tier cake with medium sized frosting beads. If you don't want to make your cake look all filled up, you can add the beads just piped along the edges. It will give a very tasteful look to the cake. This design would look amazing as a wedding cake too.
5. Royal cake with ring box on top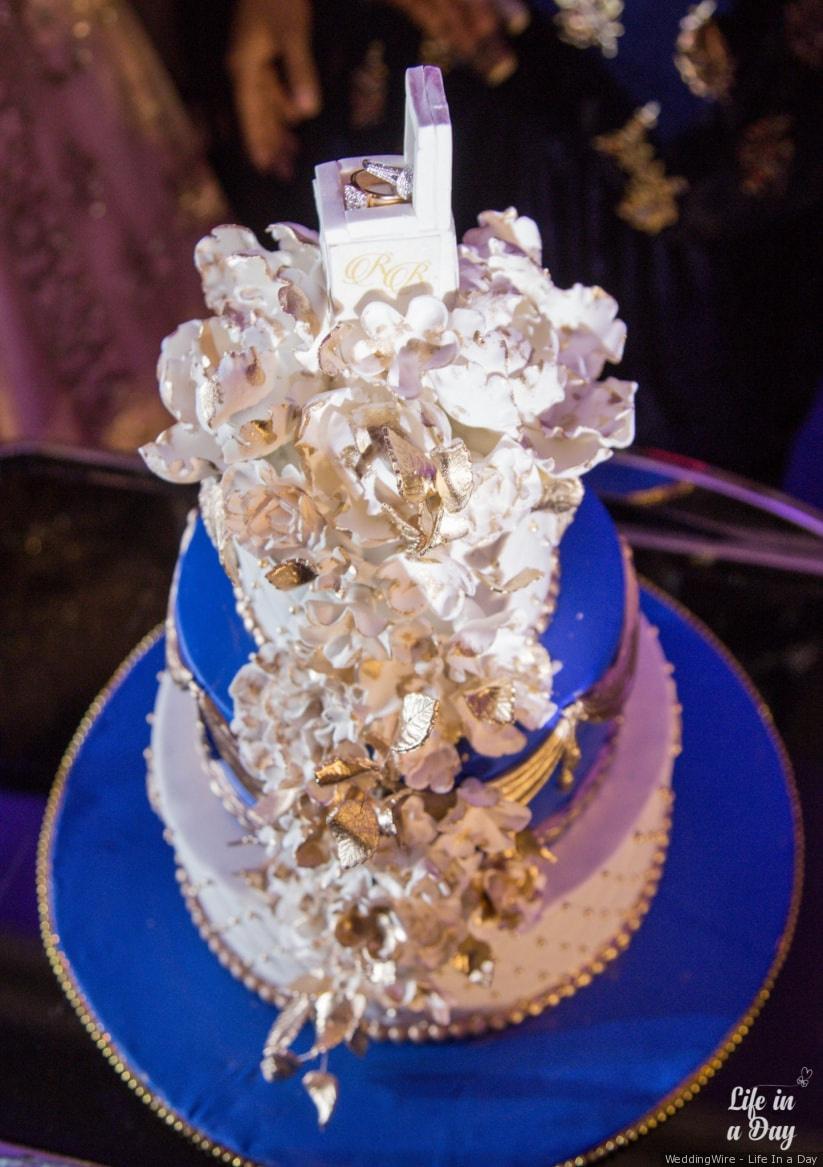 A blue and white combination engagement cake is as royal as it can get. Adding frosting flowers with a tinge of golden colour to them would give it a jewel look to the whole dessert. The cherry on top, quite literally, could be a box containing your engagement rings. This will be a creative design for your engagement cakes
6. White cake with subtle floral boundaries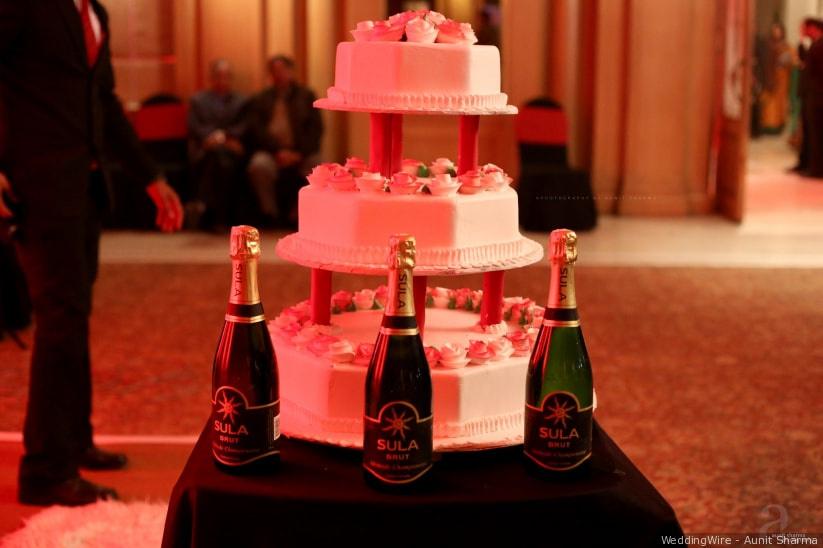 Image courtesy: Aunit Sharma
We have already discussed how white cakes are a winner for all joyous occasions however, there are often instances where people like adding colours. Adding subtle flower boundaries would help you fill up the absence of colours if you feel any. You can also decorate the engagement cake table with fancy wine bottles to make it look even more appealing.
7. Pastillage couple cake toppers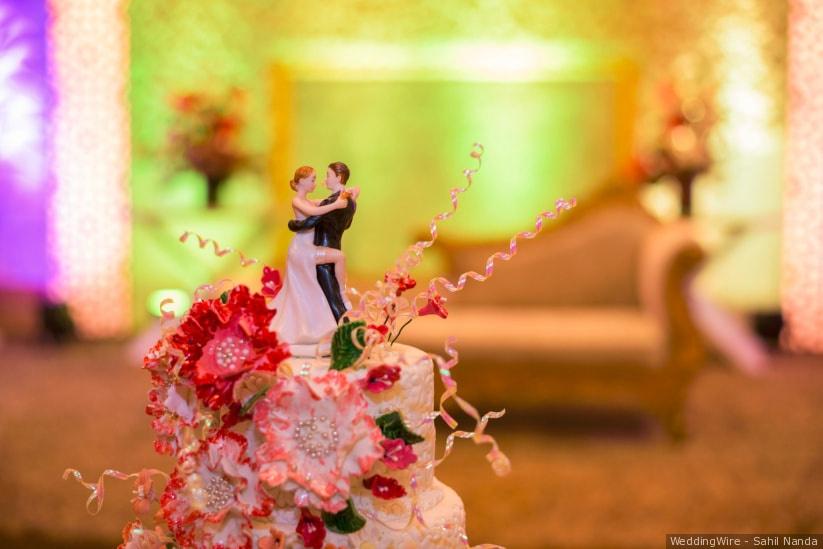 Using a couple shaped pastillage as a cake topper is one of the most used ideas as it never disappoints. You can add floral decoration to give a fancy gift-like look to your cake.
8. Basic white with congratulation notes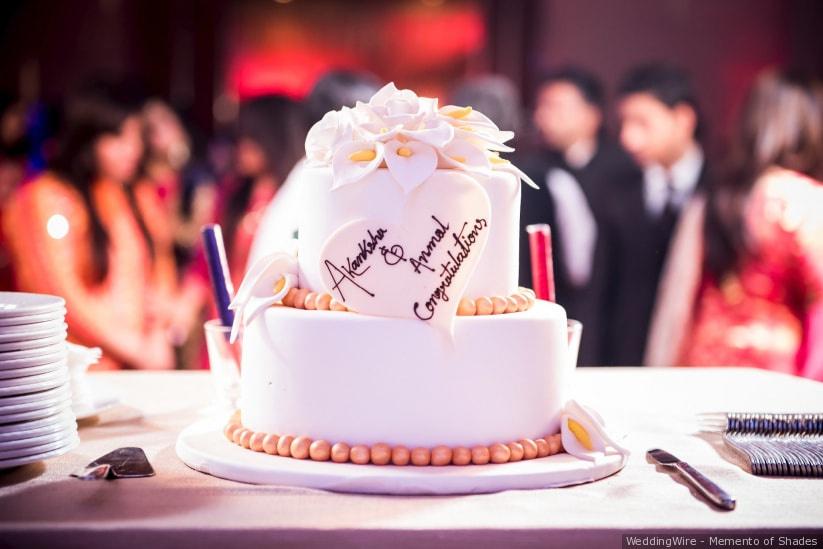 Engagements are all about having fun and wishing the couple well for beginning their new journey. You can take up a white cake and add a cute little note for the couple. You can use fondant to shape your not carrier. It can be of some geometrical shape or a beautiful simple heart.
9. The Mr and Mrs Cake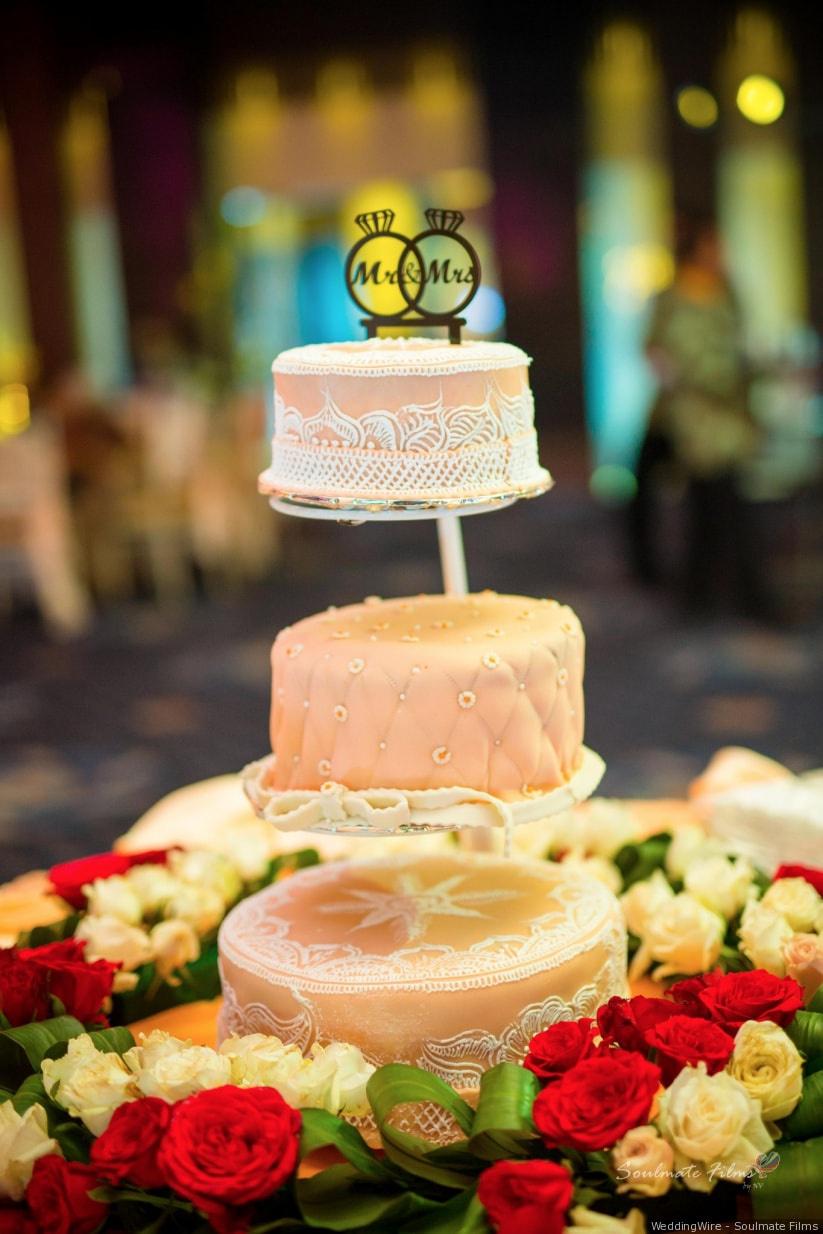 A peach coloured cake with white lace designs on the edge gives a vintage look to the dessert. It keeps up with the elegance level of an engagement party. Adding a ring-shaped cake topper would announce, loud and clear, the love that the couple share and which they decide to turn into a lifelong commitment.
10. Metallic look with pictures of favourite moments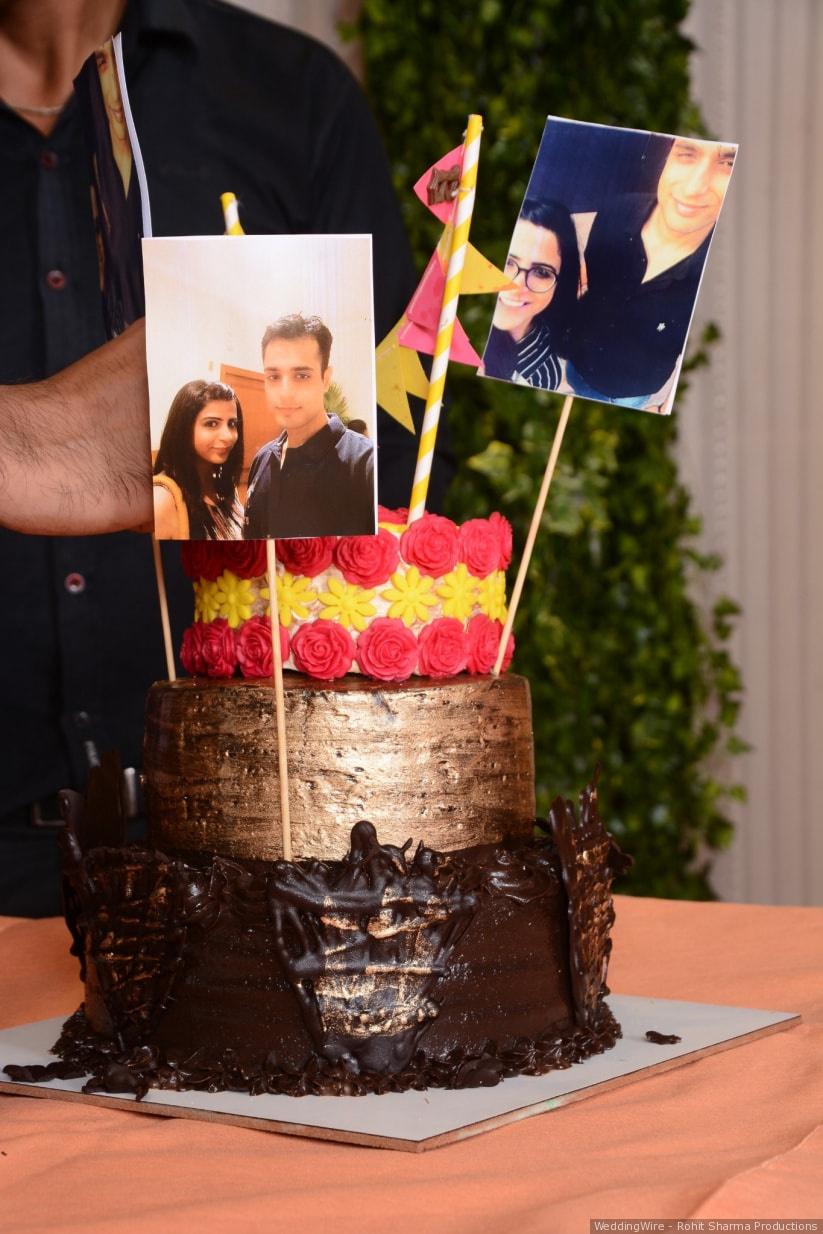 Chocolate engagement cakes with metallic colour touch are definitely as tasty as they look. Adding different coloured tiers while keeping the top one white is the perfect example of mix and match. You can fix photos on a stick on the cake, celebrating the special moments you've spent together. The look of almost semi-naked cake for the bottom two tiers is what makes it a millennial engagement cake.
Some Additional Tips to Ensure That Your Engagement Cake Looks as Spectacular as It Tastes
Going through a pool of engagement cakes is tricky but we will enlist some useful tips that will help you finalise the engagement cake the town will keep raving about.
1. Do not finalise the baker in one go. Visit a handful of bakeries before you finalise on one
2. Go for tastings as much as you can, just because it looks great does not mean it tastes splendid as well. And you might want to take a friend or
your better half to decide on the flavours
3. Keep in mind the size of your gathering. Ensure there is enough engagement cake to feed all the mouths present in your function
4. If you really wish to step it up a notch then go for a theme based cake. Keep the colours of your cake in sync with the decor of your wedding venue
We hope now you are feeling more pumped than ever to find that one spectacular looking engagement cake from the pool of engagement cakes that you saw. Also, browse through our expert list of bakers who will wow you with their cake design and flavour both.
Planning to get one for your own engagement? Tell us your ideas in the comment section below.