A 'Hatke' Dessert Menu to Add to the Wedding Food List
Check out these 10 out-of-the-box desserts to add to your wedding dessert menu. Sweet tooth or not, these are sure to make it an unforgettable platter!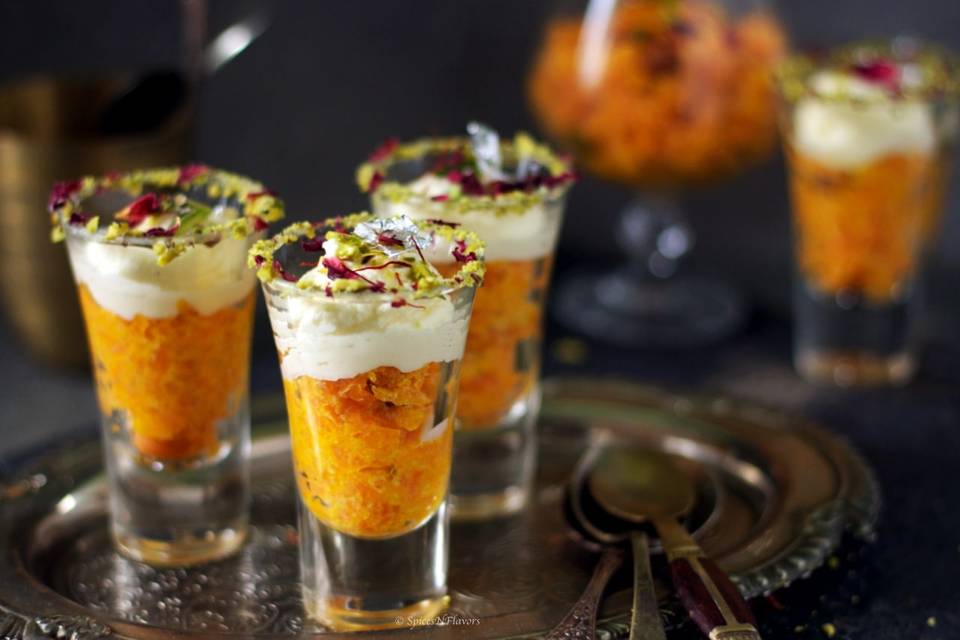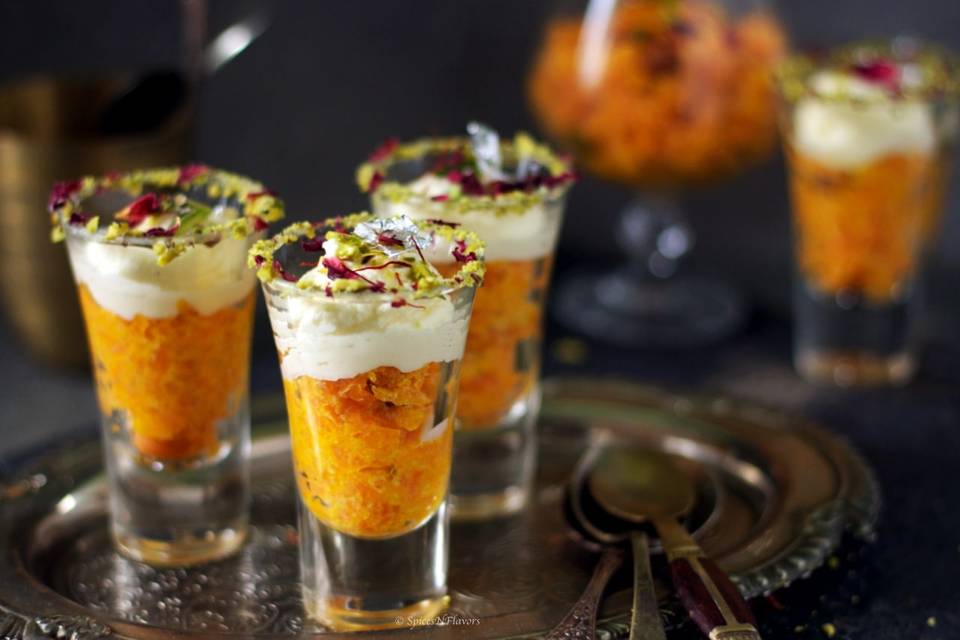 Image Courtesy: Spice n Flavors
'Kuch Meetha Ho Jaye' is the first gesture that signifies the commencement of celebrations for any Indian wedding. One will always find an array of desserts in every Indian wedding menu. But sometimes, the same old Jalebi, Kulfi, Halwa and Gulab Jamun might sound a tad too boring or repetitive to have at every wedding.
For couples who wish to woo their guests by doing something special, it is always a great idea to introduce a dessert menu which is Hatke and recipes that are complete show stoppers! Check out this unique dessert menu to add something unique to your wedding party food menu.
Motichoor Laddoo Parfait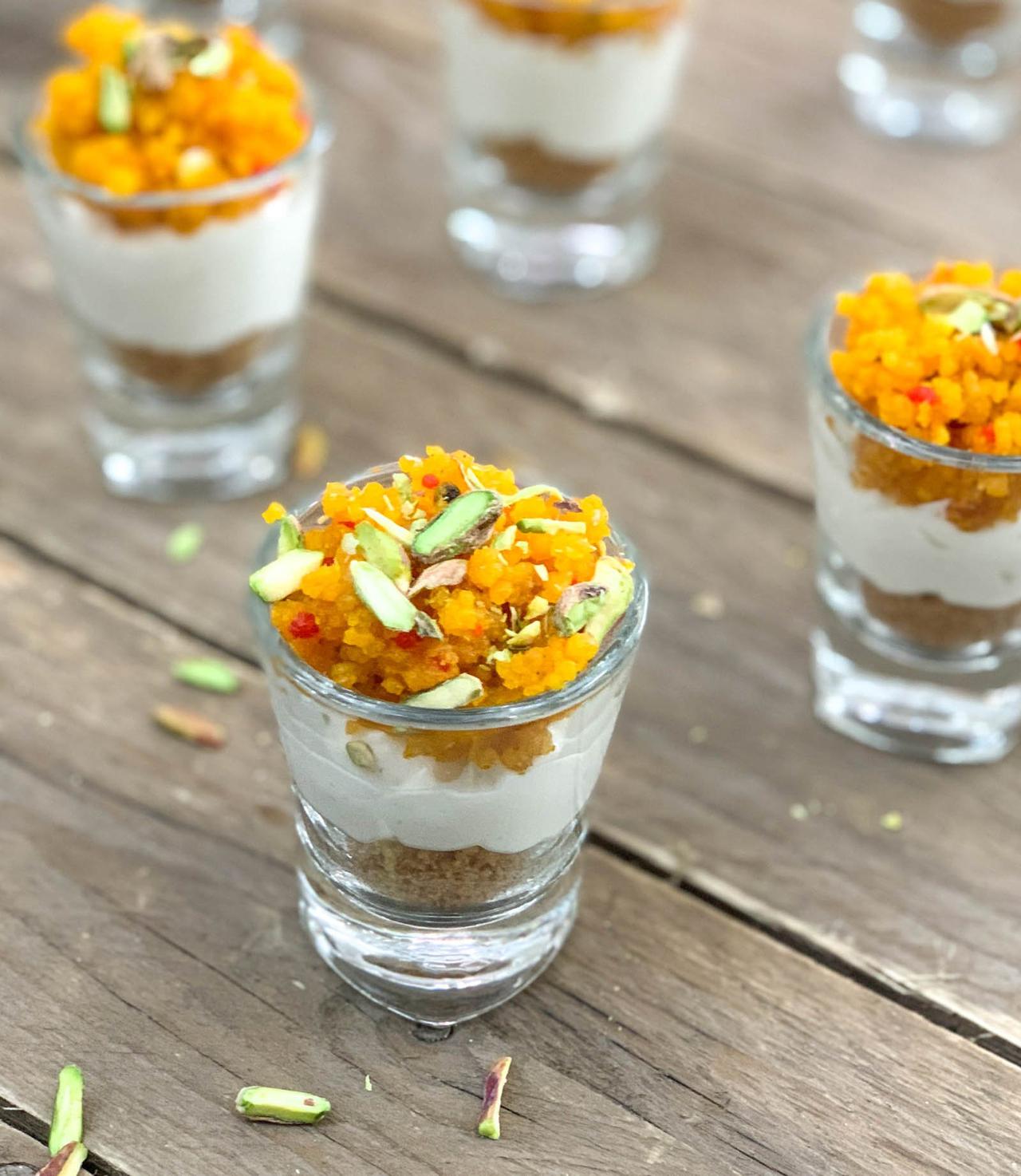 Image Courtesy: Archana's Kitchen
Giving this traditional sweet of India a twist, French style, can be a great way to include them to an Indian dessert menu. Motichoor Laddoo Parfait on the dessert menu will be a perfect add-on to bring tradition and Parisian elements together. Introducing layers of creamy greek yoghurt will further tone-down the sweetness of a Motichoor Laddoo, making it more palatable by the guests.
Shahi Tukda Gajar Halwa Shots With Rabri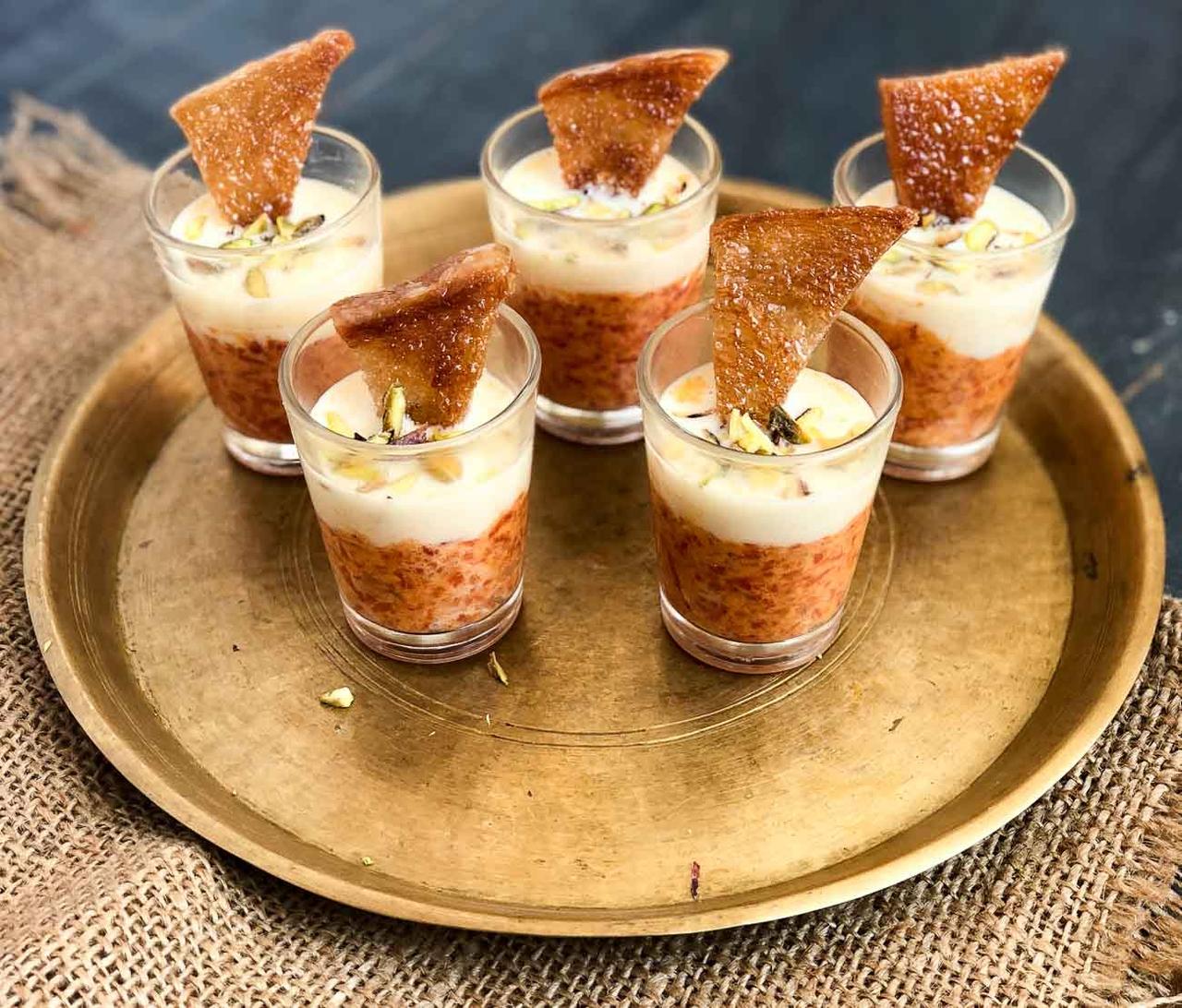 Image Courtesy: Archana's Kitchen
Three brilliant Indian sweets come together to get on the dessert menu as one whole dish - Shahi Tukda Gajar Halwa Shots with Rabri. What's fascinating about all these three significant Indian desserts is that they complement each other very well and the whole idea of serving them in shot-glasses makes the savouring experience more fun and unique.
Assorted Chocolate Modak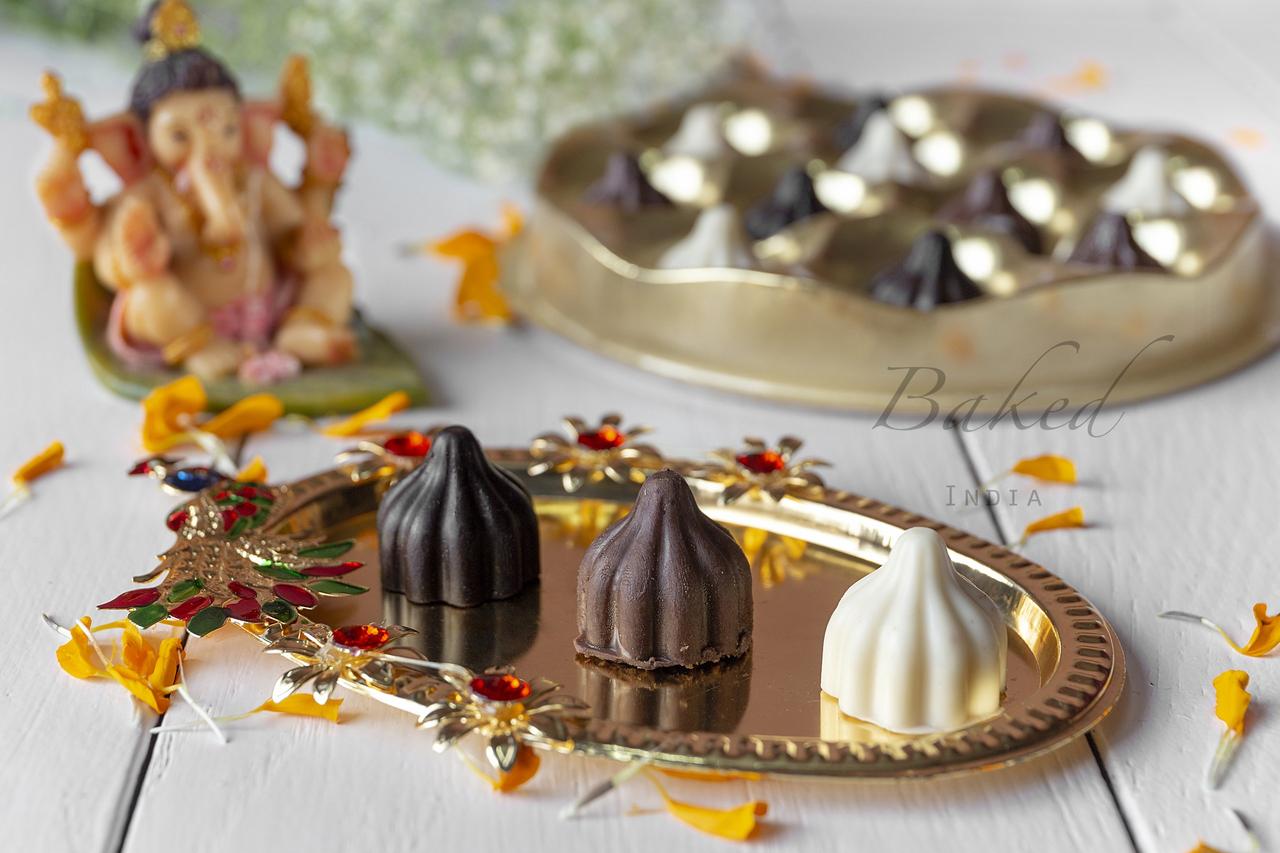 Image Courtesy: Baked India
Modak is a famous Maharashtrian sweet that is known for its beautiful formation. Taking that as an inspiration, chocolate experts are currently promoting assorted chocolate Modak for weddings. These Modaks come with a variation of milky to dark chocolate and a variety of fillings that come as a surprise element upon every bite.
Gulkand Macaroons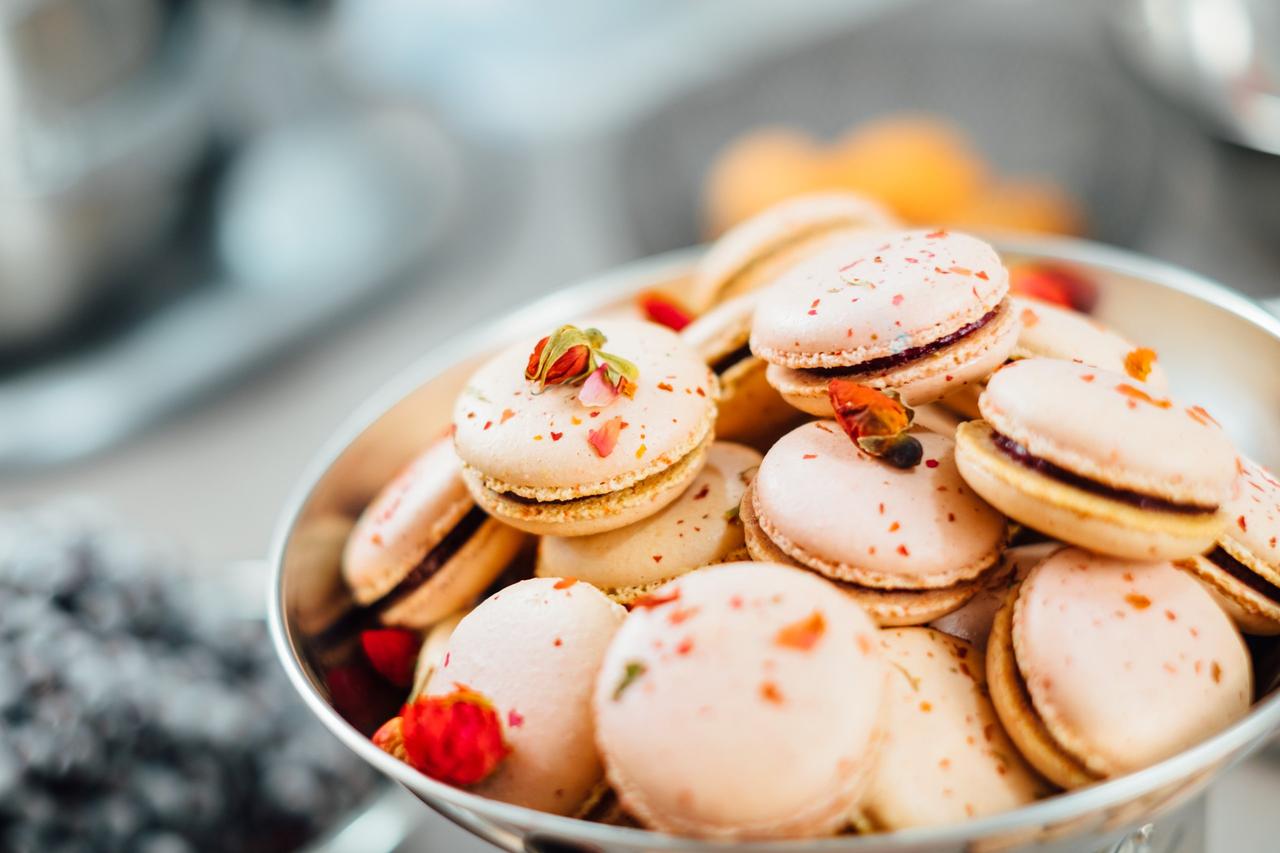 Another famous French dessert that is known across the globe and is considered gourmet on a wedding dessert menu is the Macaroon. Amalgamating a regular Macaroon with the Indian flavours will be a brilliant idea to consider. Gulkand Macaroons decorated with dried rose petals and gold Vark will be an assorted addition to the wedding dessert menu!
Doughnut Wall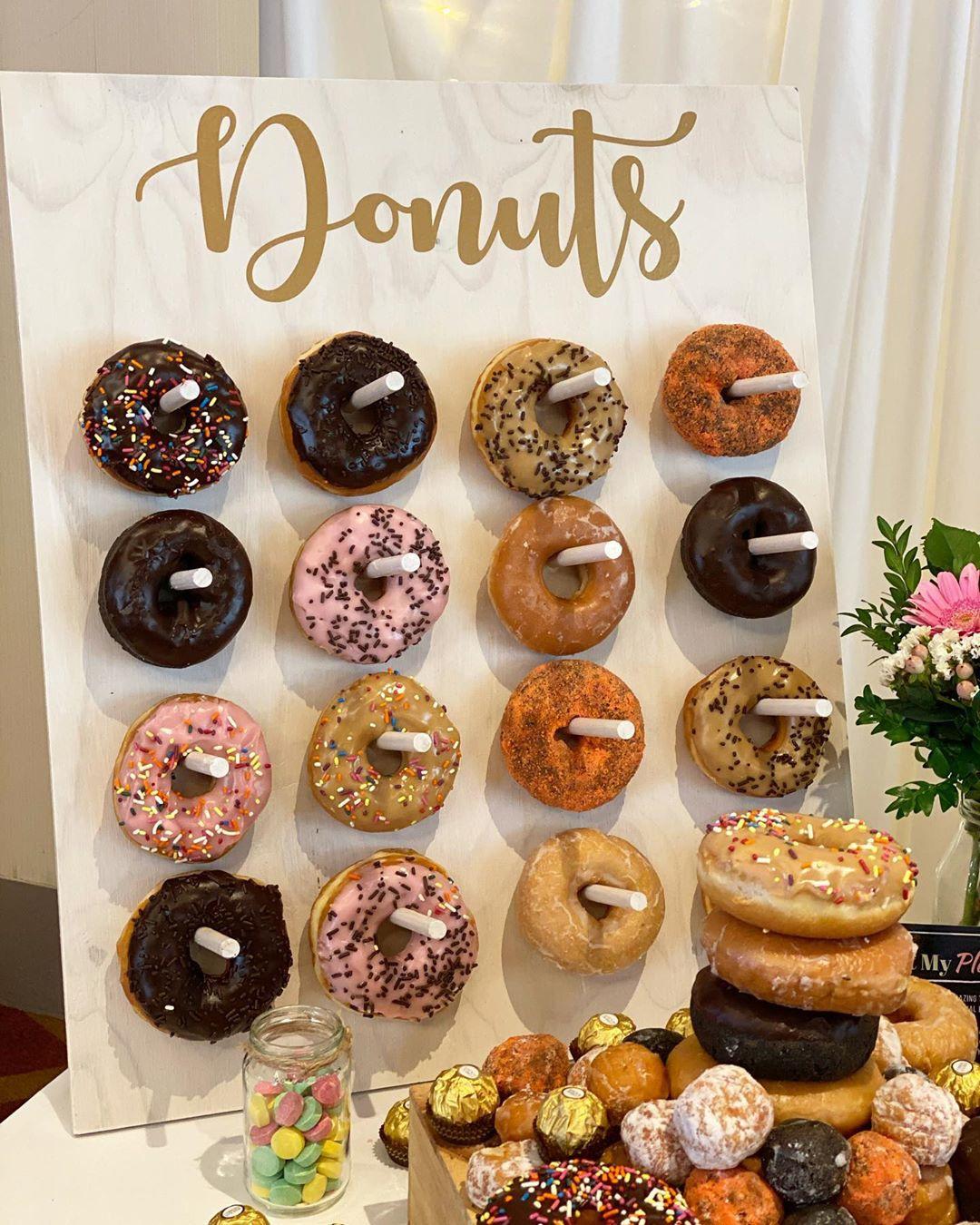 Image Courtesy: Eat My Platter
Something borrowed from the west but what makes every adult feel like a child all over again, a Doughnut wall is that perfect item on the dessert menu that makes the entire dessert station look more appealing at the wedding. An assortment of Doughnut will be a great way of having continental bakes on the dessert menu.
Paan Ice Cream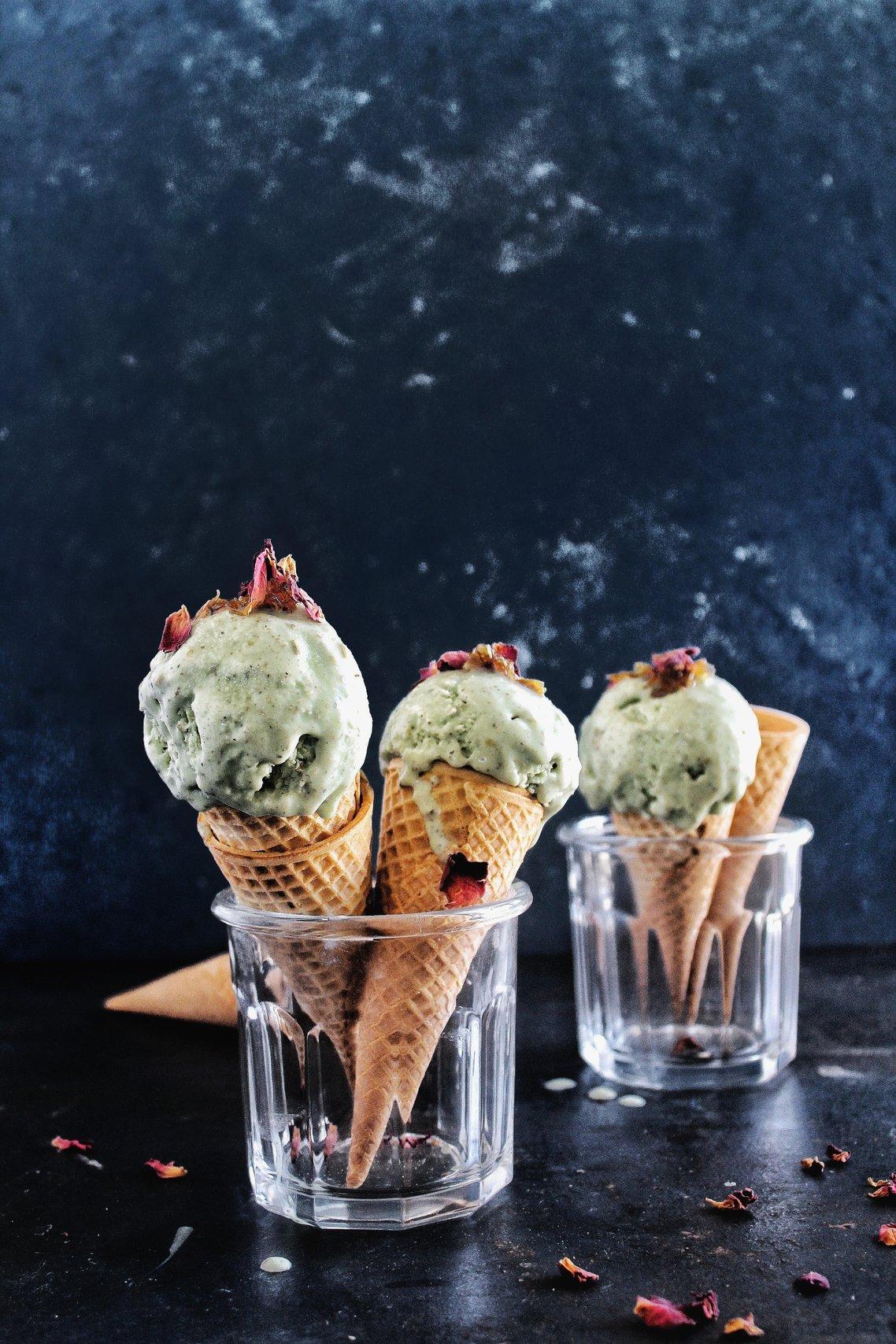 Image Courtesy: Fingers Are For Burning
Be it plain Paan, sweet Paan or chocolate Paan, everyone loves munching on the betel leaf post a heavy wedding party meal. The flavours are distinct and refreshing, which is why blending the flavours with dairy and converting the traditional Paan into an ice cream will be something that kids, as well as adults, will heartily enjoy at the party.
Rainbow Rasgulla Bowl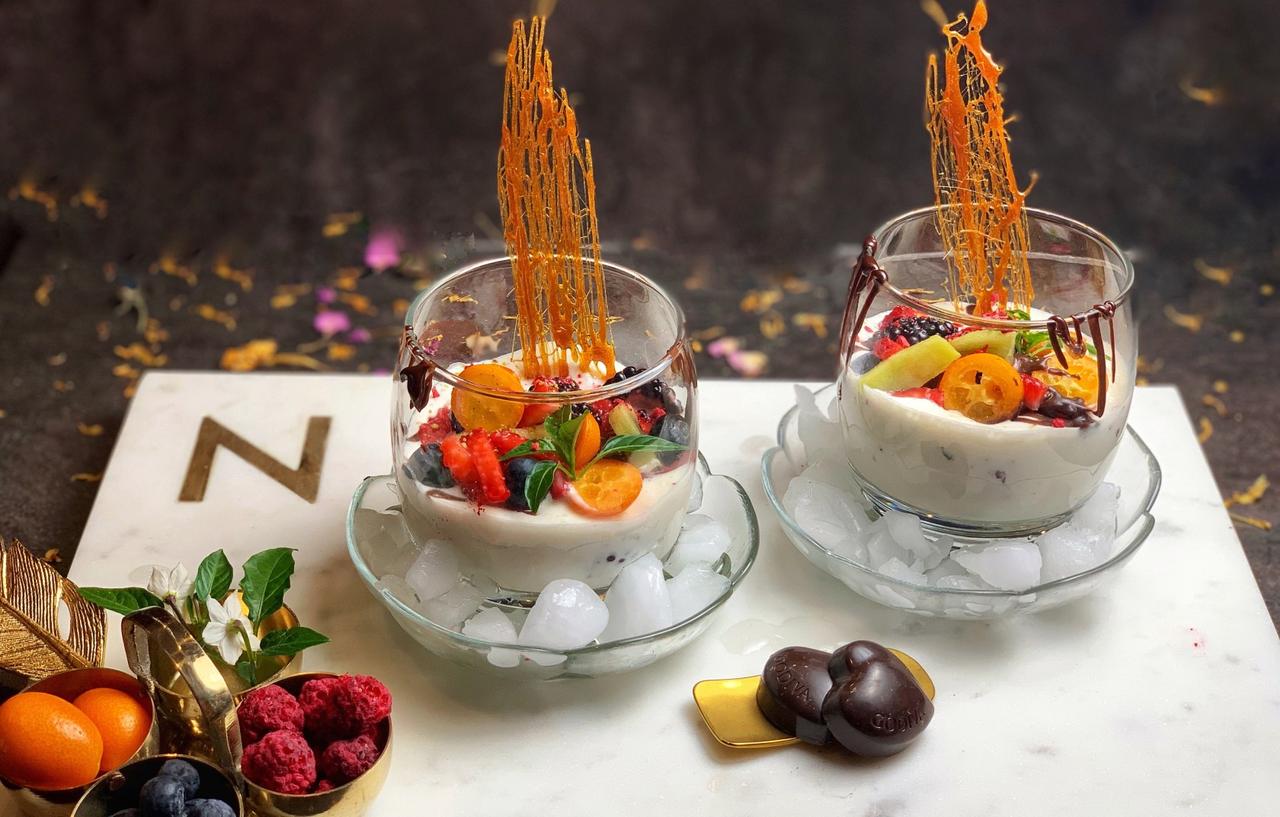 Image Courtesy: Naturally Nidhi
Introduce something contemporary and gourmet to the dessert menu by having rainbow Rasgulla bowls served to the guests in the most artistically plated manner. This bowl consists of the traditional fluffy Rasgulla balls tucked at the base of the bowl and topped with a thick layer of vanilla ice cream. An array of fruits and chocolate are the elements that make this bowl look colourful and tempting much to try.
Shrikhand In Turkish Kataifi Cones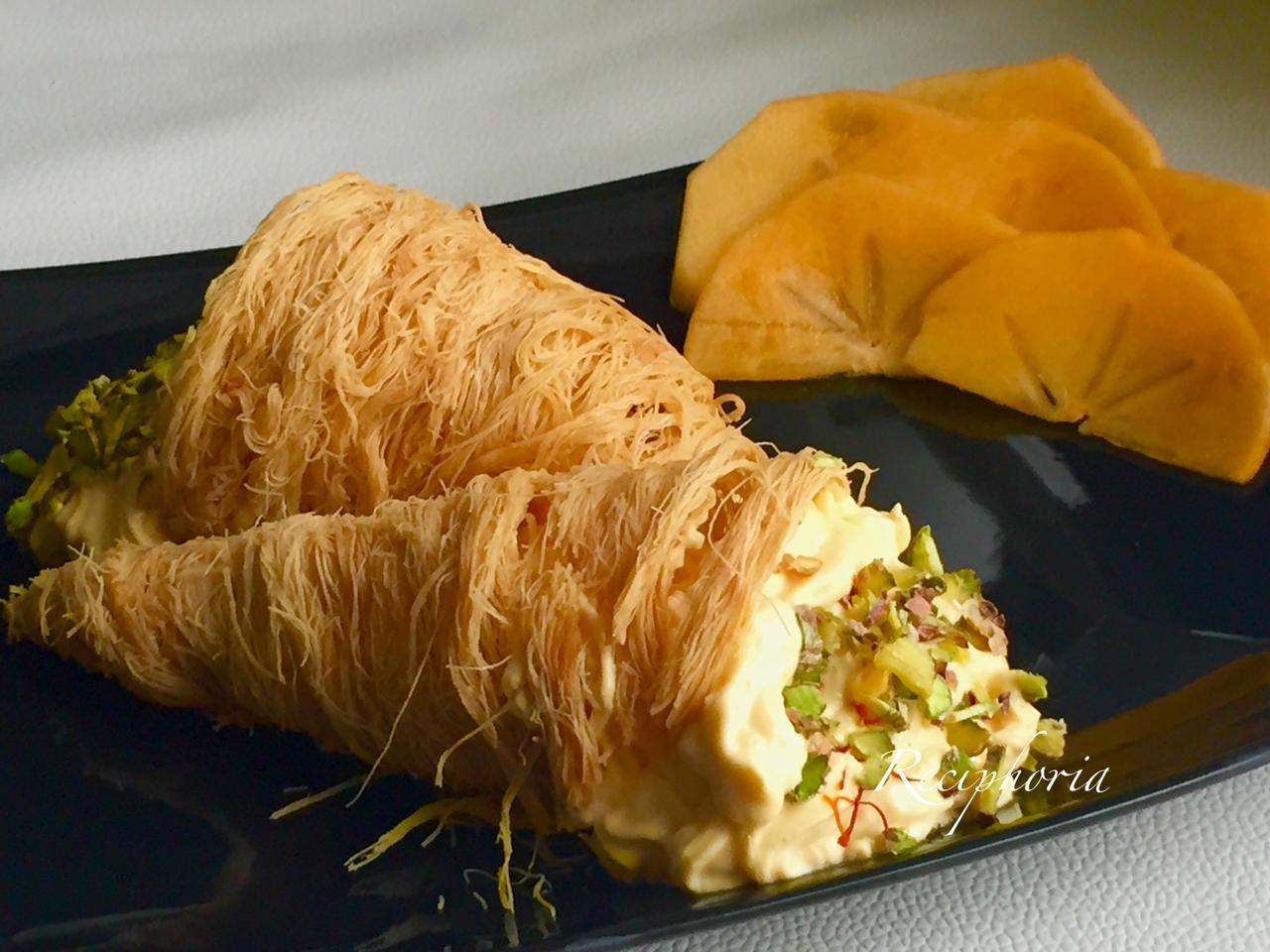 Image Courtesy: Reciphoria
Speaking of yoghurt then Maharashtra is also known as the state of Shrikhand. Shrikhand is a creamy and lightly whipped yoghurt made of hung curd and infused with flavours of Saffron and Cardomom. To give a unique texture to this soft dessert, marry it to the crunchy and delicate Kataifi cones that are a native of Turkey.
Ghewar Cheesecake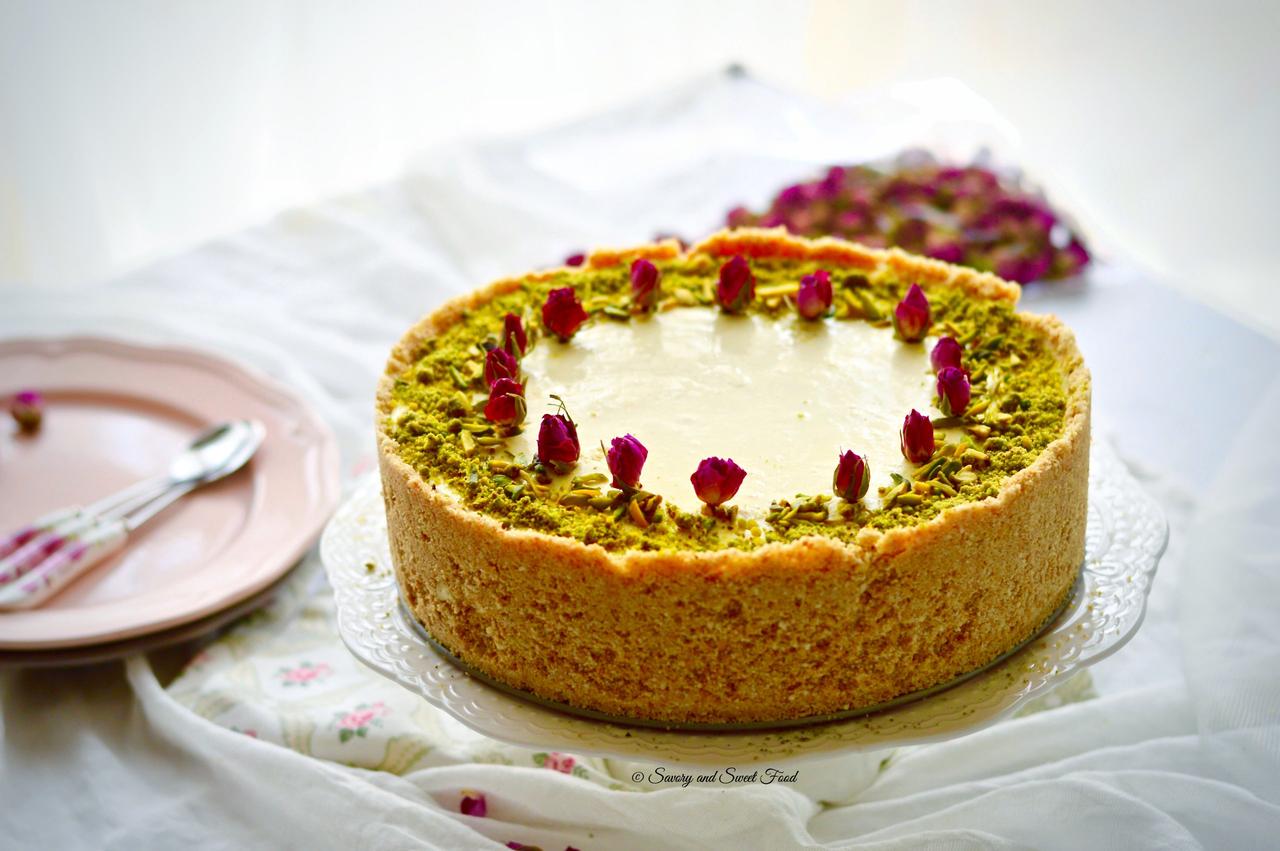 Image Courtesy: Savory and Sweet Food
Instead of a regular cheesecake, amalgamate traditional flavours of Rajasthan to the creaminess of a Cheesecake. Ghewar is a favourite dessert of Rajasthan and is much relished by the locals on special occasions. Instead of the regular Khoya added to the thick pie crust of Ghewar, get light cream cheese added to the centre with a garnishing of pistachio and sliced almond toppings for added flavours!
Jalebi Upside Down Cake With Rabri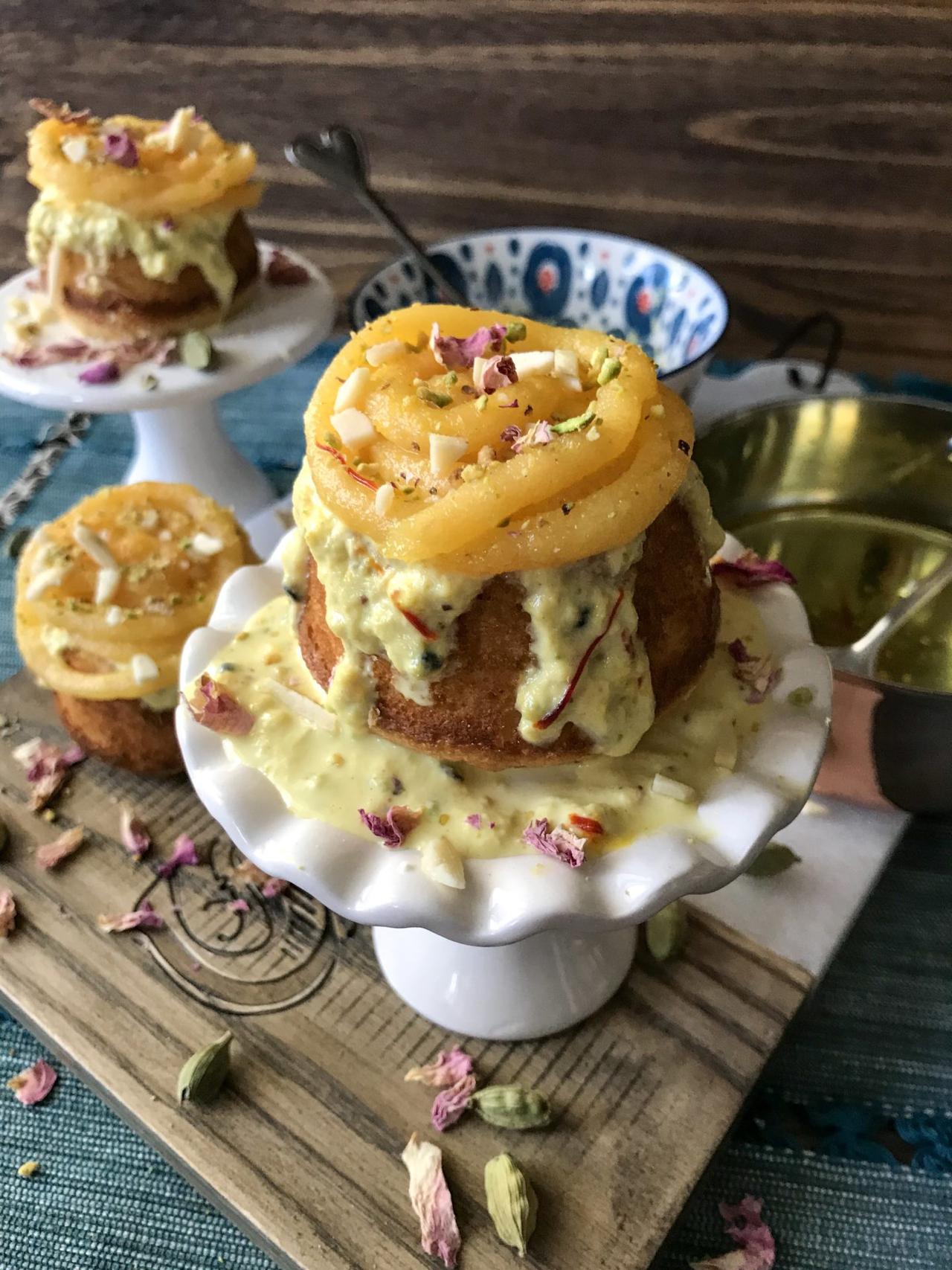 Image Courtesy: The Table of Spice
When dressed with a layer of thick creamy Rabri and decorated with a crunchy portion of Jalebi on top, a regular vanilla cupcake becomes gourmet and traditional for an Indian wedding. The presentation is unique and eye-catching, making it a sure shot star stopper of the party. Thinly sliced pistachios, dry rose petals and strands of Saffron ante up the flavours of this dessert manifolds!
We are sure that this entire dessert menu will make all your guests fall in love with your choices, praising the uniqueness and will remember it for years later. Don't forget to have a Kulhad Chai or coffee counter installed right next to the desserts so that all your guests can wash the sweetness down by sipping on some soothing Desi drinks later.
Tell us which among this dessert menu are your favourite dishes and which ones would you personally like to try or add to your wedding menu? Comment below.