10 Mouth-watering Indian Sweets You Must Have in Your Wedding Menu
Weddings & festivals aren't really complete without desserts. Check out these 10 Indian sweets you must include in your wedding menu for that extra dose of sweetness!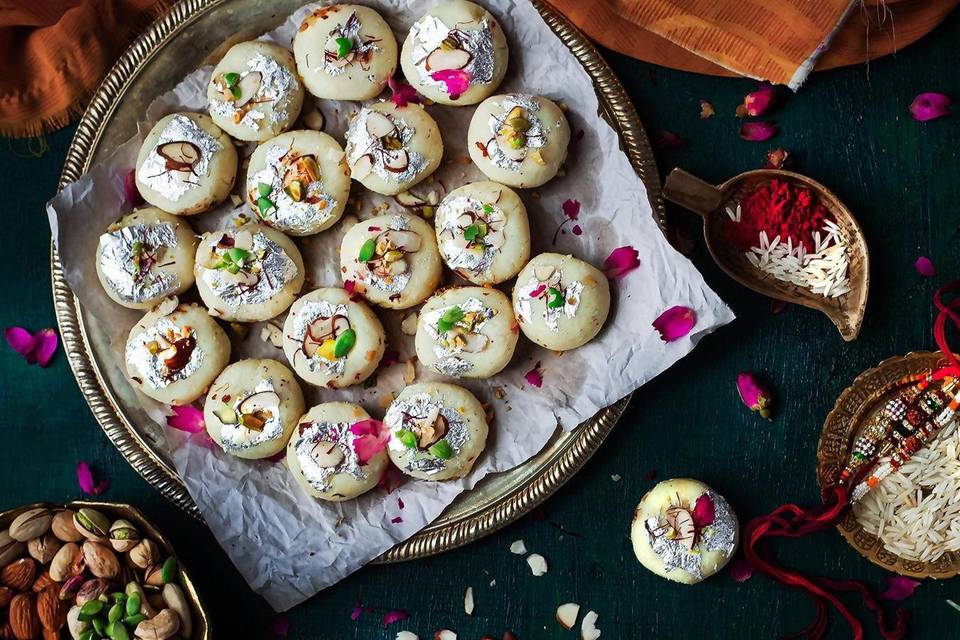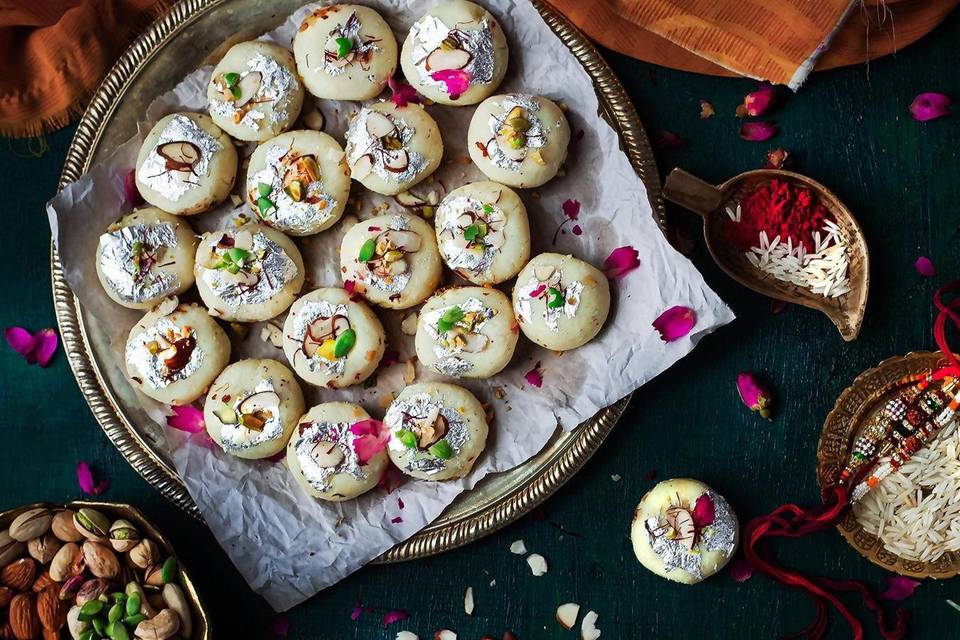 Image Courtesy: Binjal Pandya
World-known American chef Julia Child once said, "A party without a cake is just a meeting"! How true! We just can't imagine any celebration without having a table spread of the various Indian sweets in them. And especially at Indian weddings, from Sagai to welcoming the bride in her new family, every occasion, big or small, is initiated and concluded with the "Mooh meetha" tradition!
If you have an upcoming wedding to plan, choosing the right kind of sweets on your wedding menu is going to be an important task.
So here we are, with some sweet options to have on your wedding menu! Check out these most loved Indian sweets across the country, and pick the ones that catch your fancy the most!
The Universally-loved "Laddoo"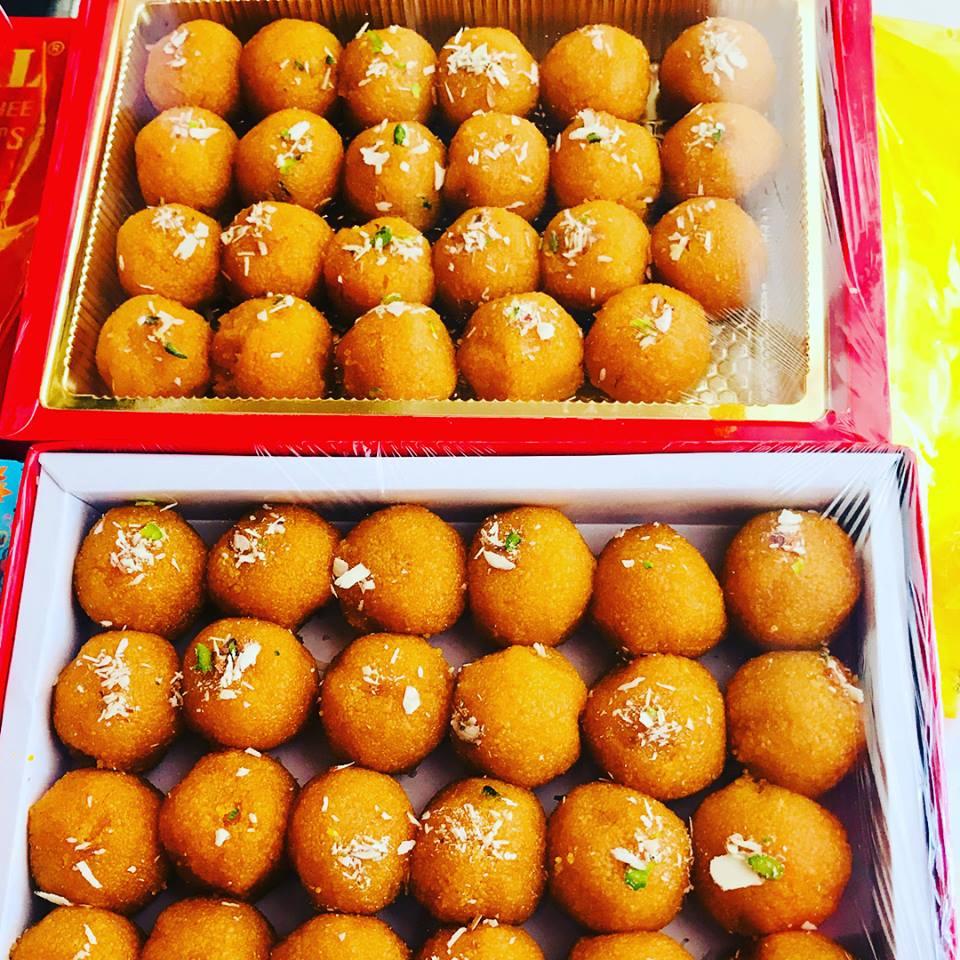 Image Courtesy: Bansal Sweets, Chandigarh
A Laddoo is an indispensable sweet dish at almost every Indian wedding. Serving Ladoo represents a happy occasion, and one can't have enough Laddoos! Especially a hit among the kids, there are different kinds of Laddoos popular as wedding sweets in India. Besan ke laddoo (the ones made with gram flour) and Boondi ke laddoo (made with fried chickpea flour) are the most popular Indian sweets exclusively for weddings. Generously smeared with ghee and sugar, these are nothing but happiness served in small portions!
The delicate "Malpua"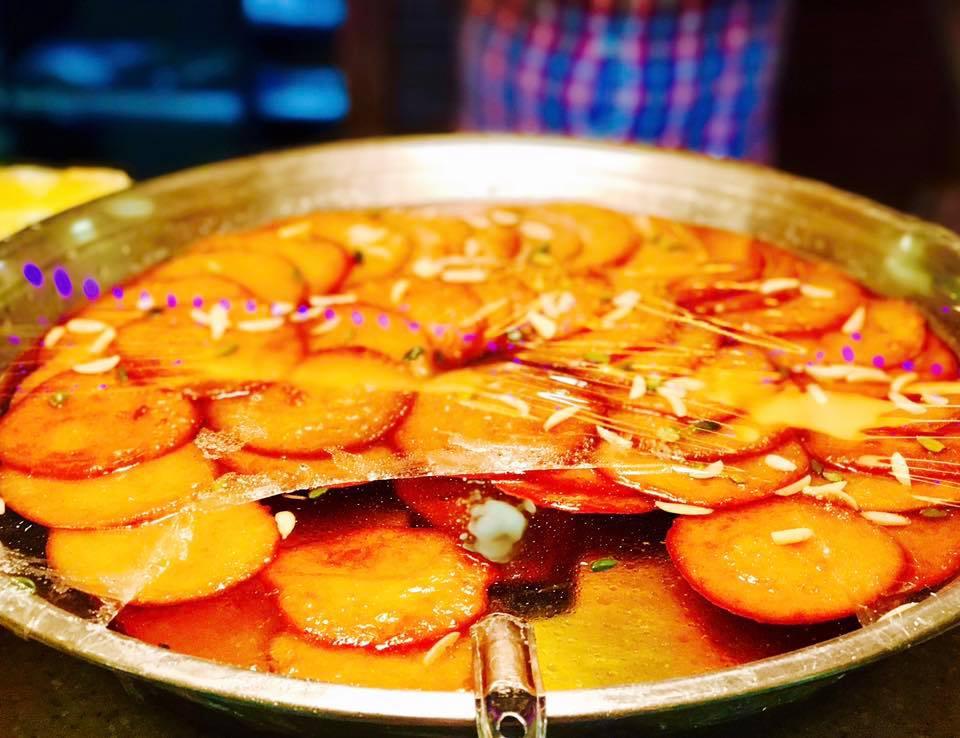 Image Courtesy: Bansal Sweets, Chandigarh
For those who have a little more than just a sweet tooth, a hearty portion of Malpua is just what they need! Another significant element in the Indian sweets menu, Malpuas are relished by sweet-lovers all over the nation with slight differences in the recipe. Basically Malpuas are fluffy pancakes made with milk, sugar, flour and spices and then dipped in a pool of sugar syrup.
The proportions of spices and sugar are the key to a perfect Malpua. This sweet is popular almost everywhere in India, especially in Maharashtrian weddings, Punjabi, Rajasthani, Odiya and Bengali weddings.
The creamy "Rasmalai"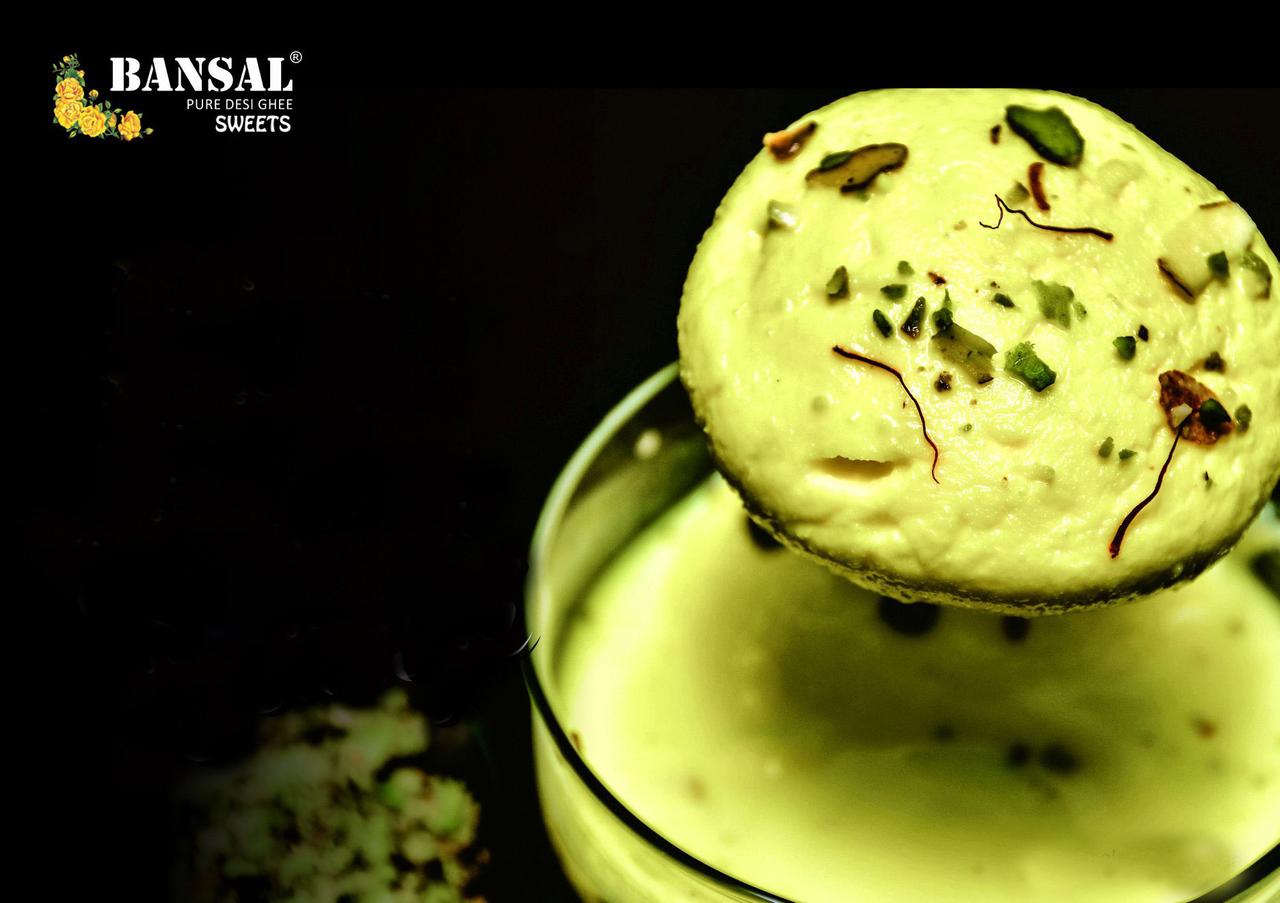 Image Courtesy: Bansal Sweets, Chandigarh
Particularly famous at weddings in the Northern and Western parts of India, like Punjabi wedding, Rajasthani or Marwari Weddings, a Rasmalai is a creamy delight that would be a perfect addition to your sweets menu for a summer wedding. The super-soft Chena (split milk) chunks immersed in chilled and creamy flavoured milk, garnished with saffron and almonds is one of the most popular Indian sweets, when it comes to weddings.
The rich "Ghevar"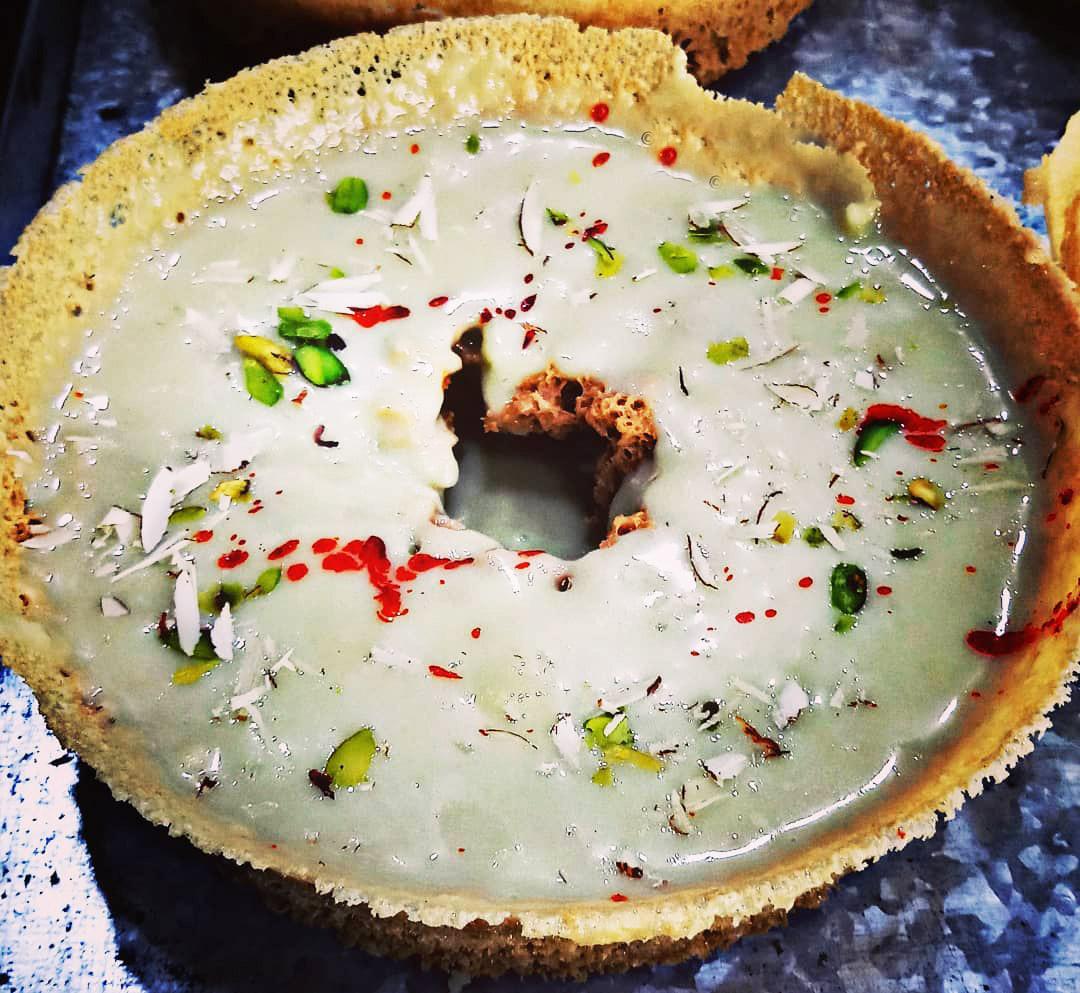 Originating from the land of Maharajas and Rajputs, Ghevar is an eminent item in every Rajasthani wedding menu. A rich, deep-fried, multiple-layered dessert complemented with sugar syrup nuts and dry fruits, definitely screams royalty! Traditionally fried in ghee and topped with roasted dry fruits, this sweet dish must make it to your list of Indian sweets on your wedding menu for some exotic vibes from the west!
The blissful "Gulabjamun"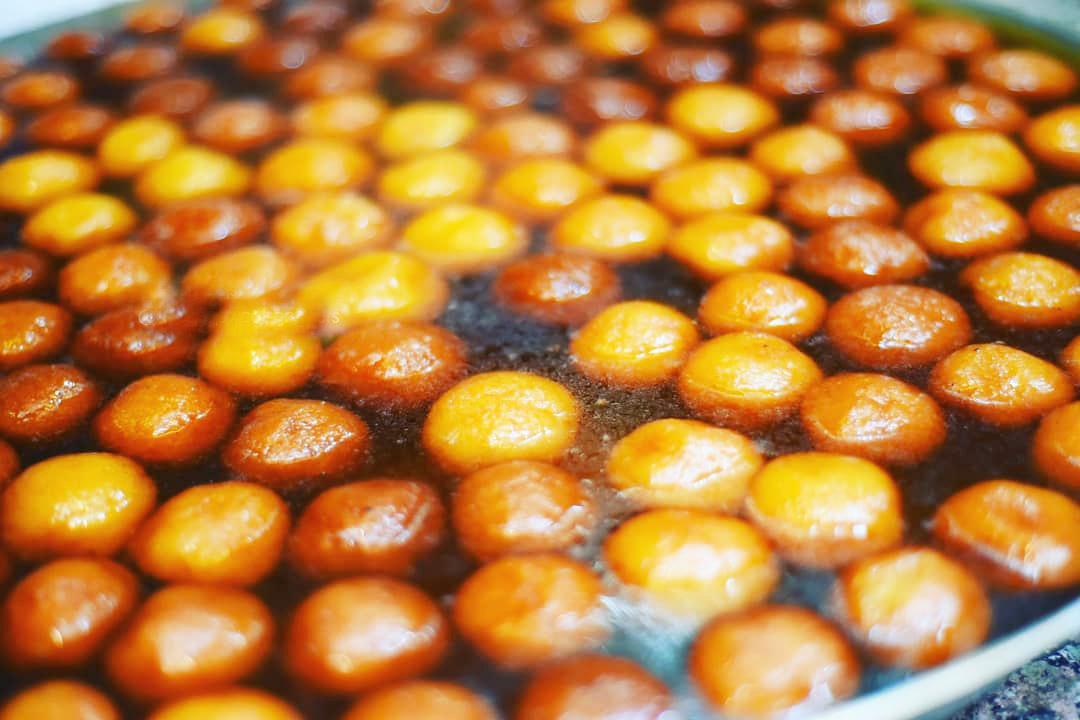 Have you ever attended an Indian wedding which did not have serve the most-famous Indian sweet—Gulabjamun? We have never! The Indian sweets list is just not complete unless we add these flavour-filled deep-fried Chena balls stuffed with khoya to it. A Gulabjamun is possibly the most savoured sweet item in Indian weddings menus. Also known as "Kalo Jaam" or "Pantua" as a Bengali sweet item, you just can't go wrong with a Gulabjamun!
The unresistible "Jalebi"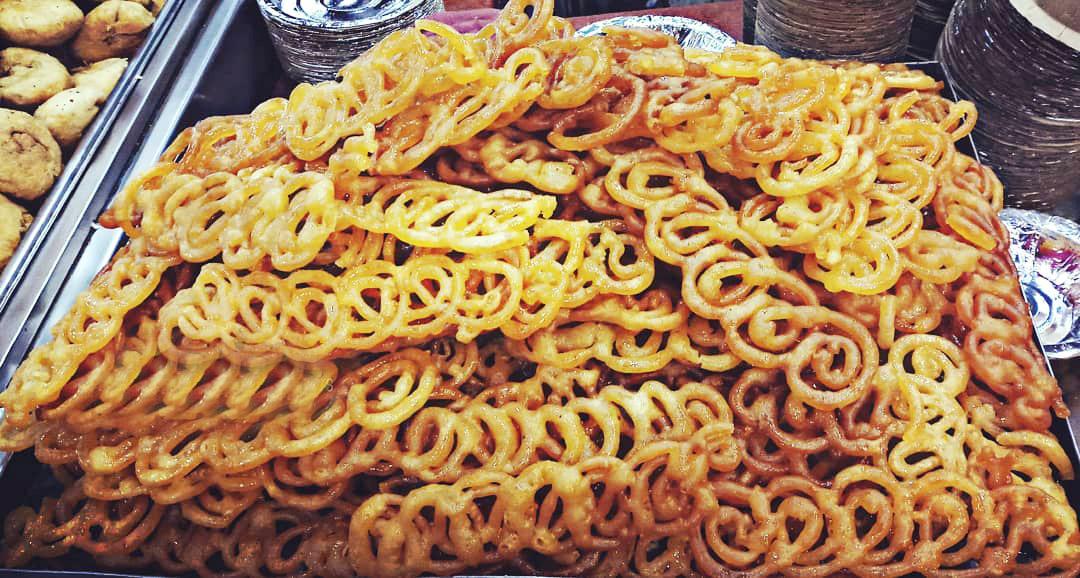 For those who don't think simply deep-fried desserts dipped in sugar syrup would be enough, here's a component to add to your Indian sweets menu just for them! Jalebi is the epitome of heaven for sweet-lovers because they're not just sweet from the outside, but filled with syrup from the inside as well! The crispy fried covers are just a step closer to the sweet insides of a Jalebi! Serve them o your engagement dinner or reception party for some sugar-overdose!
The scrumptious "Coconut laddoos"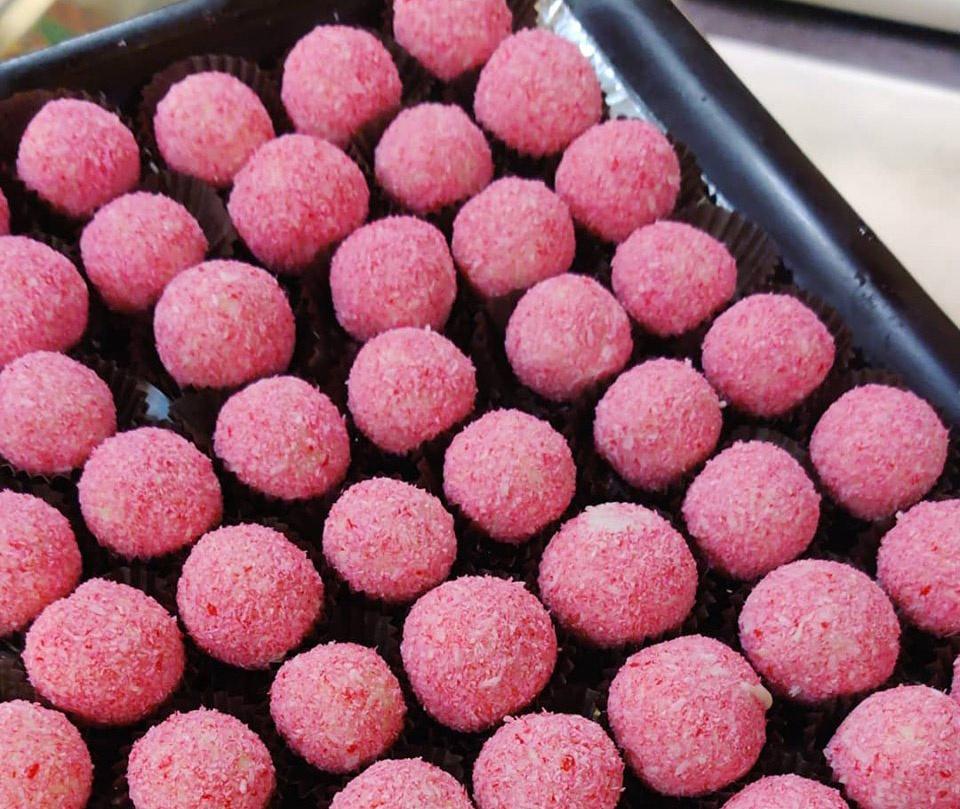 Quite a popular sweet dish in South Indian weddings and Bengali weddings, coconut laddoos are an explosion of flavours in your mouth. These delicacies made of grated coconut cooked with sugar or jaggery are modest in their sweetness and are so delectable, that you can't stop at one!
The sinful "Dark chocolate fudge"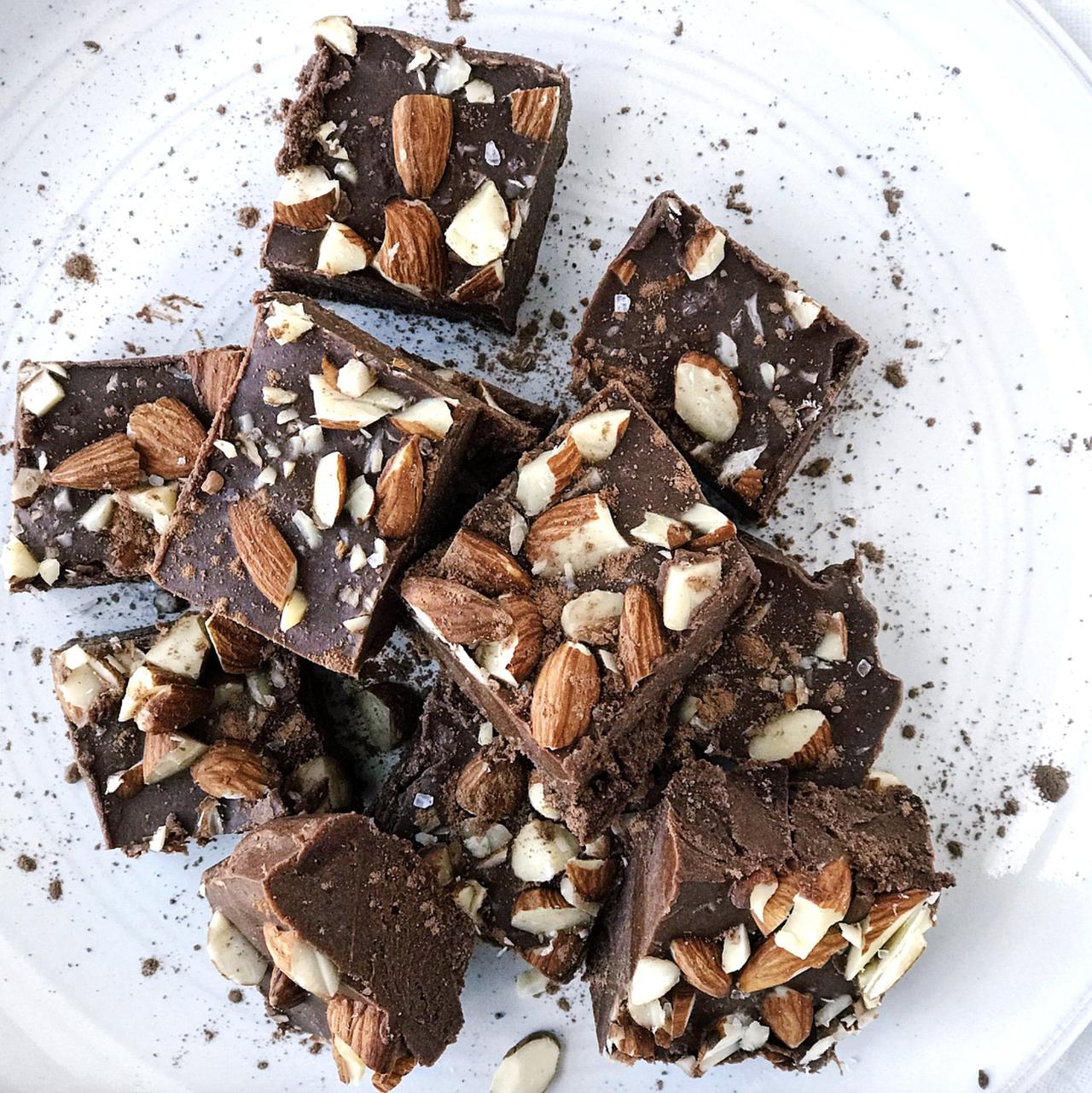 Image Courtesy: Wildly Wholesome
A rather fusion dessert item on your Indian sweets menu, dark chocolate fudge with chunky almonds is just sinfully euphoric! The richness of dark chocolate and the subtle crunch of almonds together make it such a desirable dessert item that your guests will just love to indulge in!
The heavenly "Sandesh"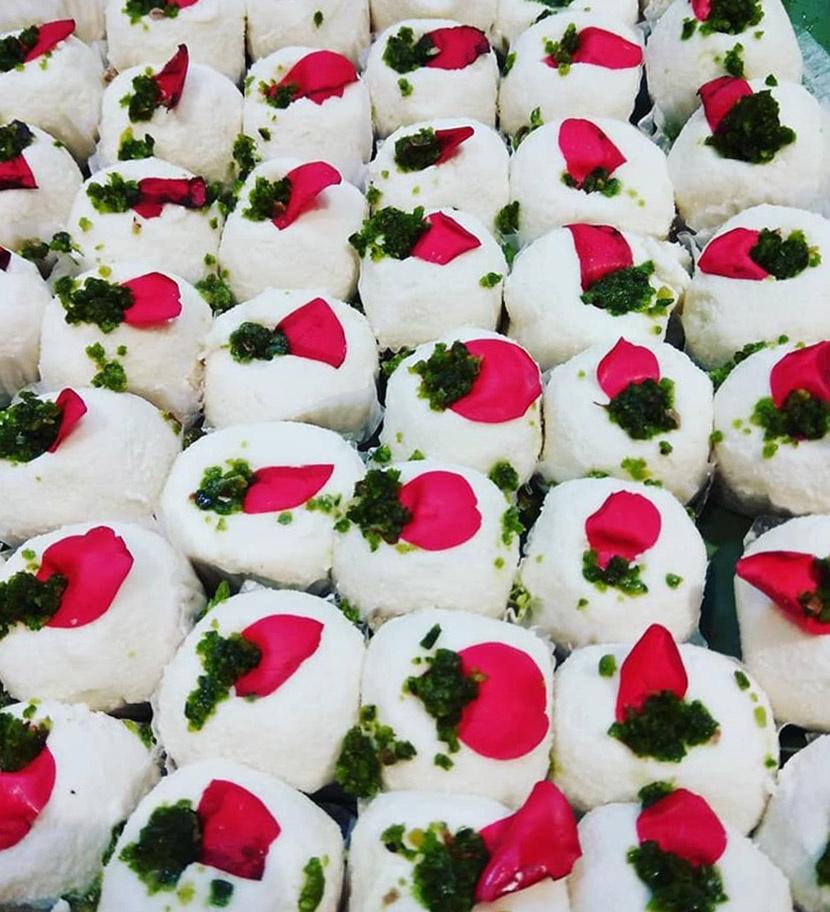 When you're talking about Indian sweets, and especially about designing a Bengali wedding food menu, a Sandesh is an absolute must. These little dumplings made with split milk, kneaded to perfection and then cooked with sugar or Nolen gur (date juice jaggery) will take you instantly to food heaven!
The foodgasmic "Gurer Payesh"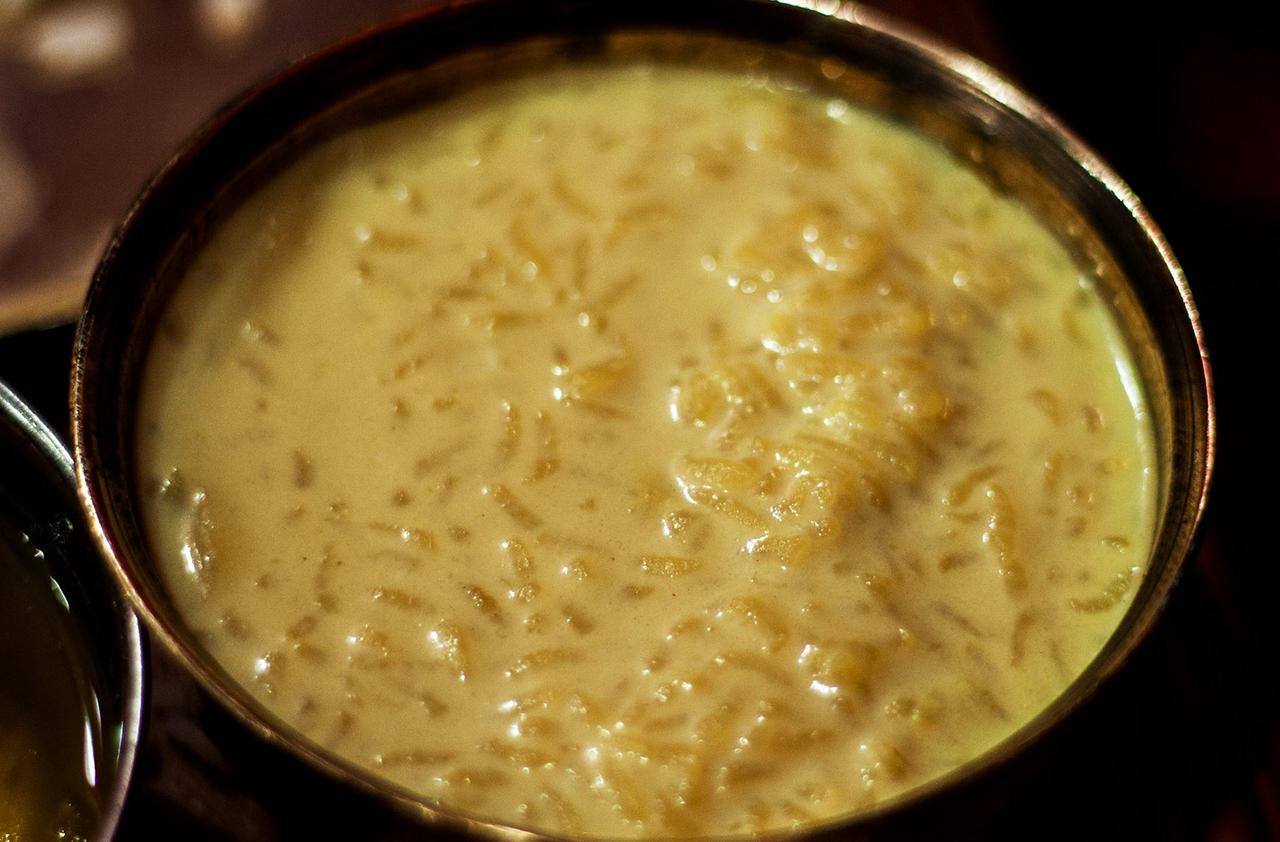 If you ever attend a typical Bengali wedding or any Bengali occasion for that matter, tasting a Gurer Payesh is something you don't want to miss. Full cream milk cooked with small-grained aromatic rice reduced to a thick creamy consistency, sweetened with date juice jaggery and garnished with raisins and cashew nuts—if this doesn't make your hearts melt, we don't know what will!
Whether it's a small, homely Roka ceremony amongst close family members or a grand wedding ceremony, the inclusion of Indian sweets only enhances the happiness factor of every event by a great deal. From Bengal's Roshogolla & Mishti Doi to Punjab's Gajar ka Halwa, from Maharashtra's Modak & Shrikhand to Rajasthan's Ghevar...every drop of syrup and every little crystal of sugar brings a truckload of happiness to the ceremonies. Try including a large variety of sweet dishes to your wedding menu to spread cheerfulness and festivity everywhere!
Do you prefer traditional sweets or contemporary and fusion desserts on your wedding menu? Share your 'sweet thoughts' with us in the comment section below!