South Indian Wedding Elements That Makes This Wedding Experience Totally One of a Kind
From finding an appropriate decor to catering a sumptuous food spread, executing a memorable wedding takes a lot of planning. Are you curious to dish out ways to make your South Indian wedding a splendid affair? Then read on!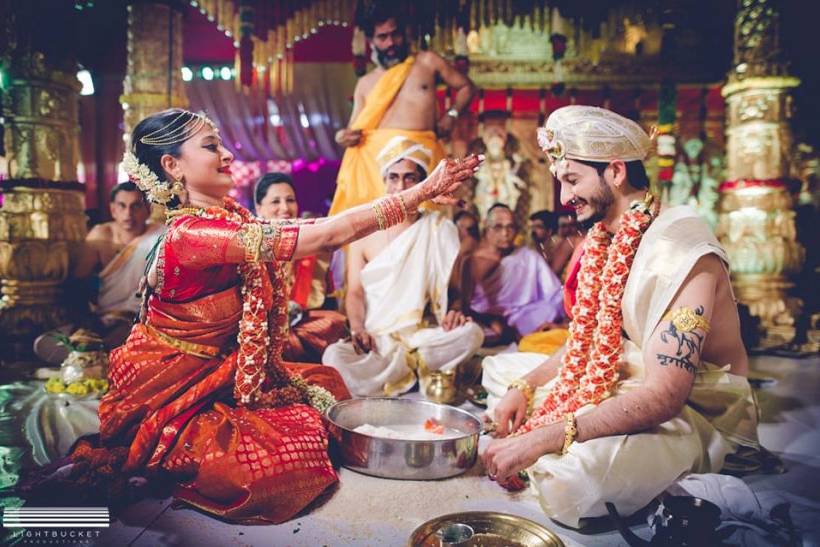 Have an idea about how you would like your South Indian wedding set up to look like but cannot turn your ideas into a reality? All your qualms about the ideation, design, and execution will come to halt as we have curated a list, especially for South Indian wedding planning.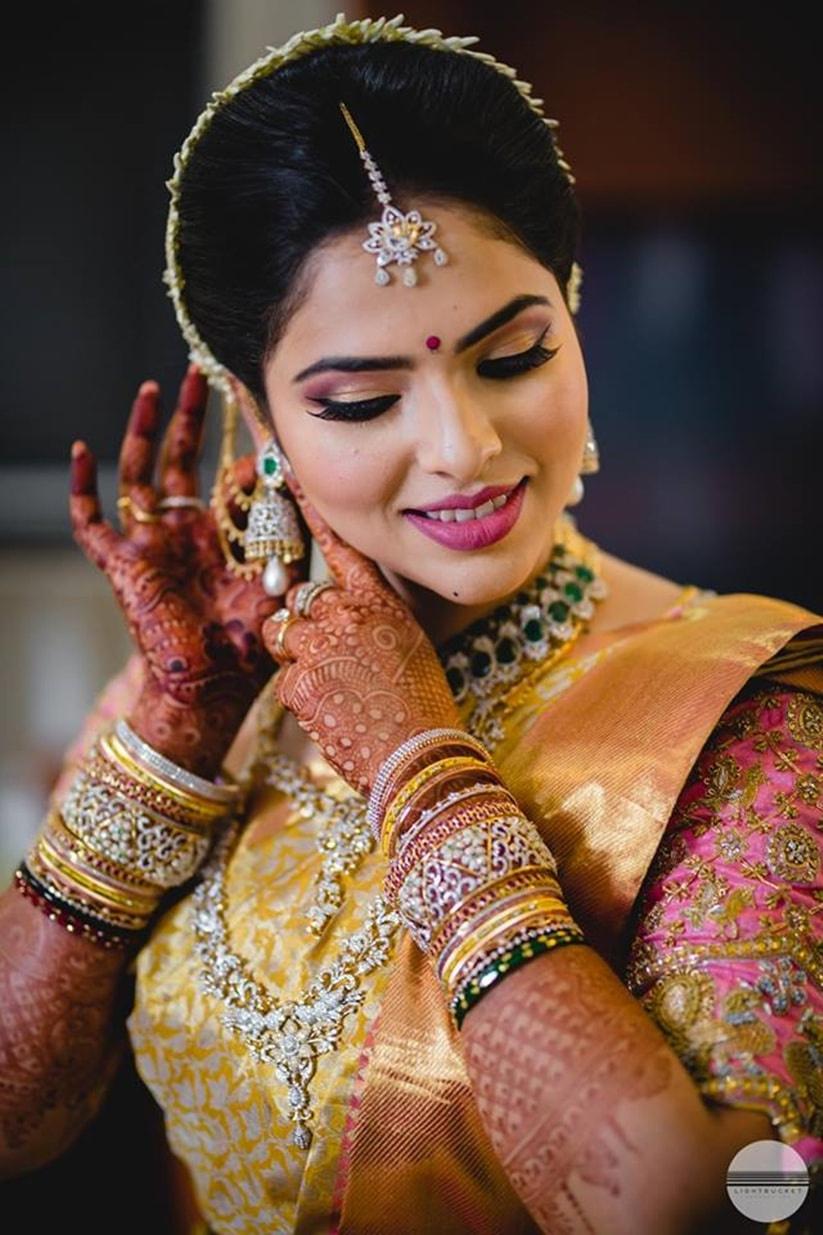 From Kashi Yatra or Kanyadaan to Kanchipuram silk saree to authentic South Indian wedding décor, there is 'n' number of things to consider before you begin with the wedding madness.
1. Kanjivaram Saree to Bring Your A-game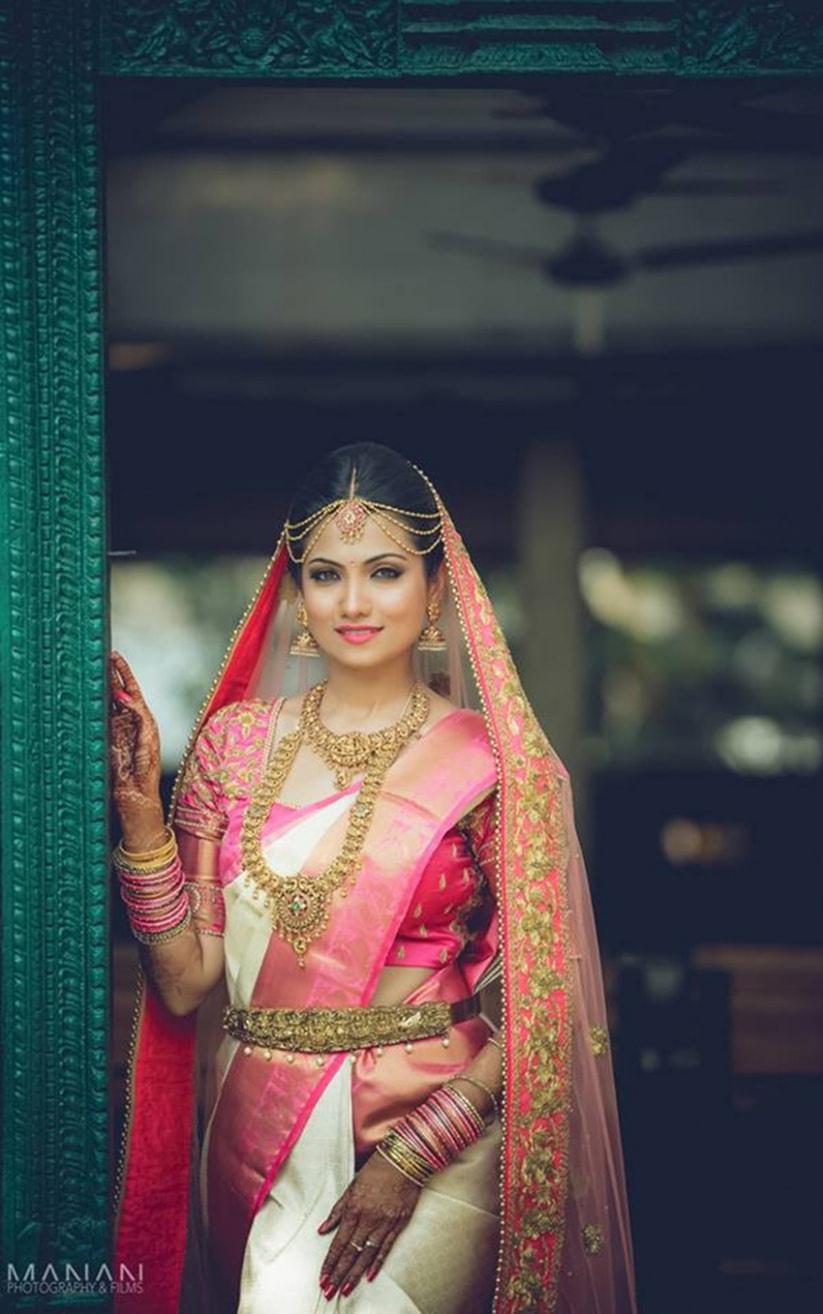 This one is a no-brainer. There isn't a bride who hasn't donned a saree on at least one of her wedding functions.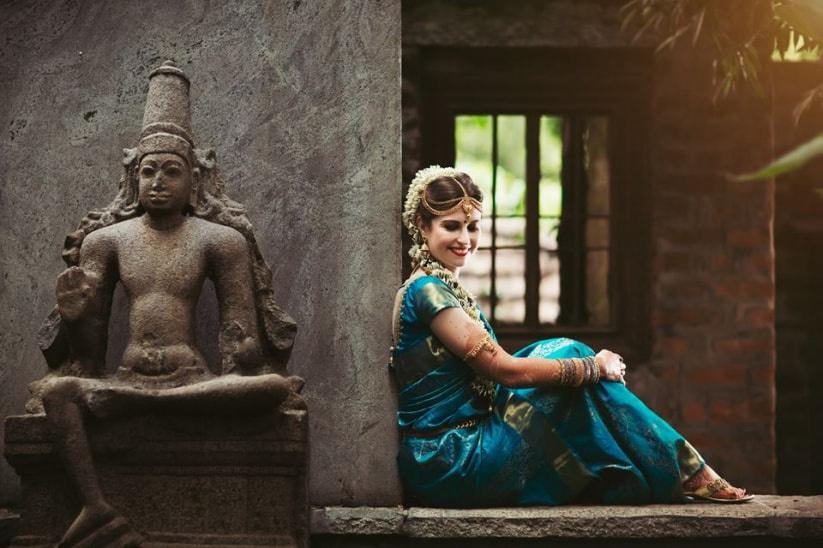 The quintessential South Indian bride, in her nine-yard silk silhouette, looks like a dream come true as she walks down the aisle. Known for their vibrant colours, exquisite embroidery and striking borderwork, Kanjivaram silk saree is a must in every South Indian bride's wardrobe.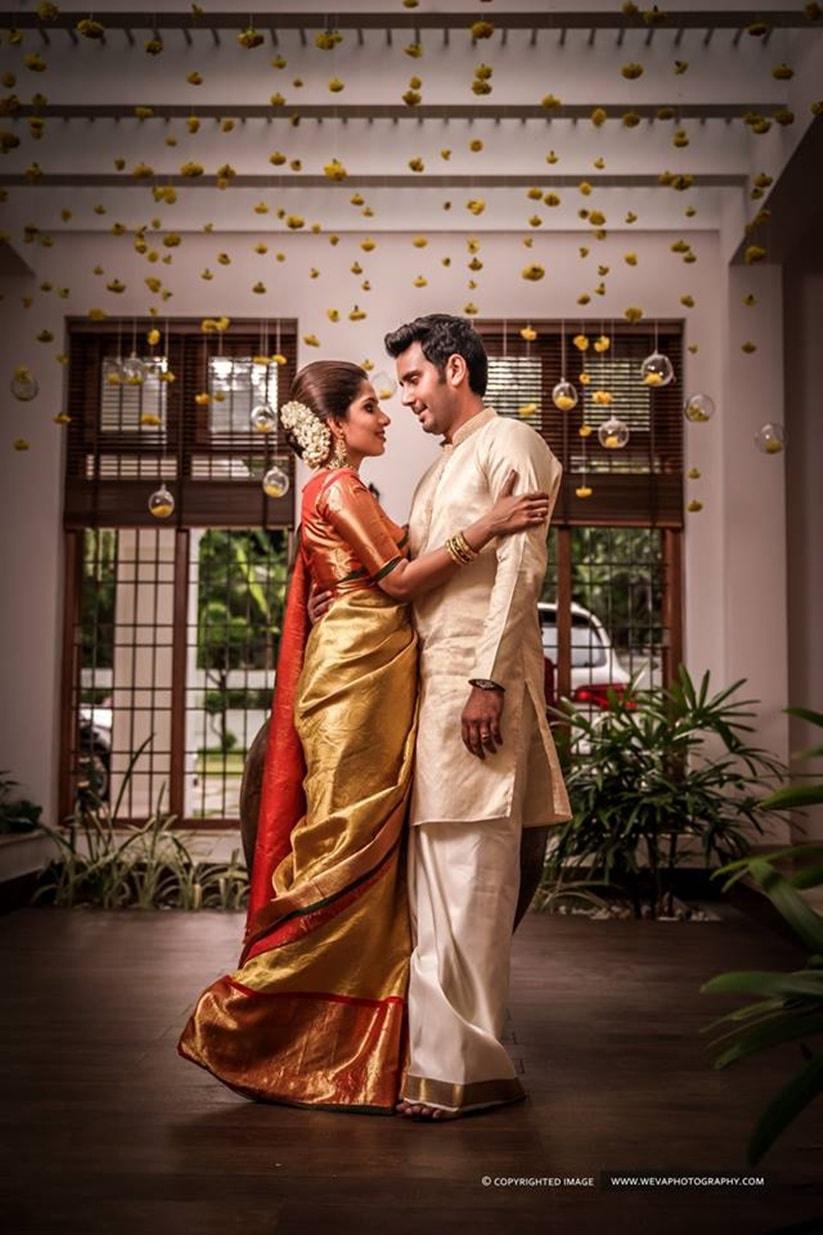 As a bride-to-be, hunt for a colour combination that goes best with your skin tone. Amp up your look by going for a mesh back bridal blouse design to give your overall look an edge. From cocktail parties to a wedding, Kanjivaram is a hit for all occasions. You can amp it up by sifting between fabrics and type of embellishment with Zardozi work.
2. Quintessential Gold Jewellery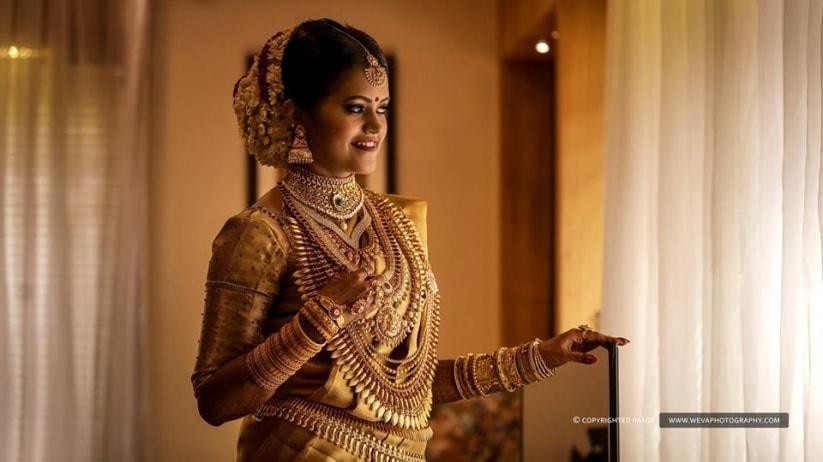 South Indian brides are dressed up as Goddesses with elaborate Indian bridal jewellery and floral assortments.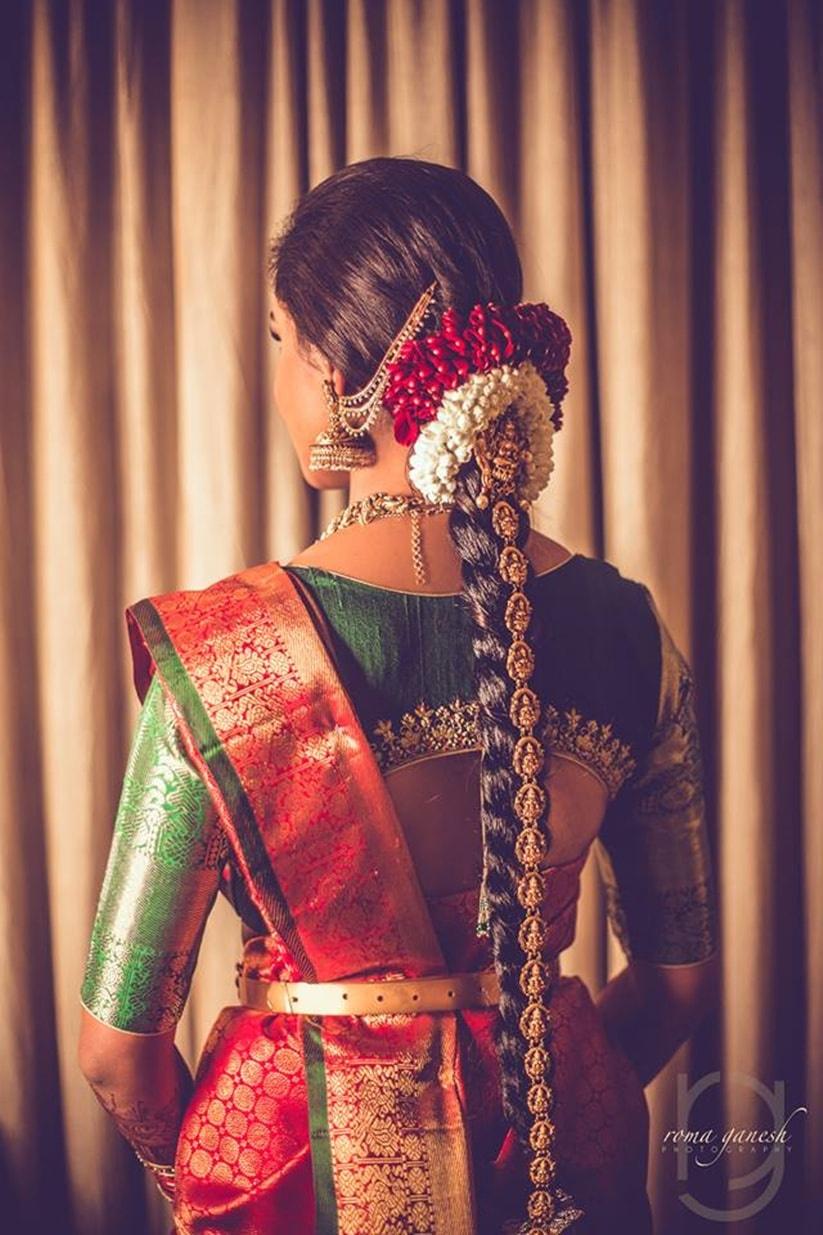 The highlight of any South Indian wedding is how detailed and intricate the jewellery adorned by the bride is. Neatly pleat the Pallu of your saree and hold it in place with a Kamarband.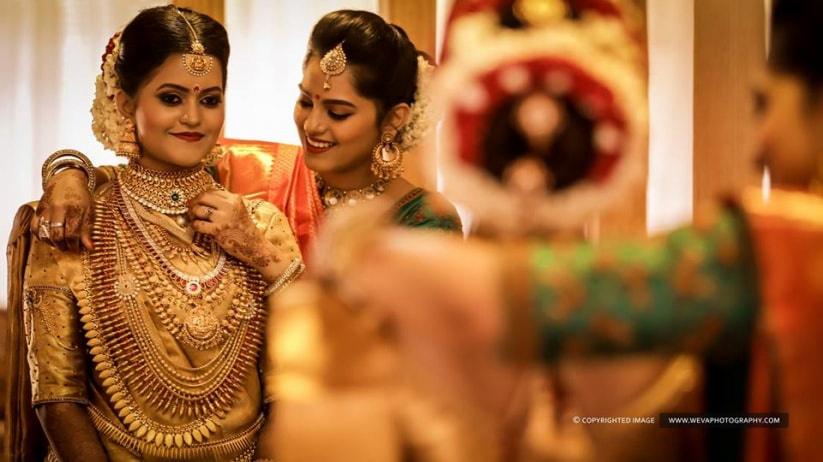 You can opt for an intricate gold choker necklace with a long Satlada which matches the colour of your saree.
3. Lip-smacking Food Spread

South Indian cuisine is famous for its lip-smacking flavours and lightness. No South Indian wedding will ever be successful in the absence of amazing food spread. Selecting the dishes and preparing the menu can be a taxing task. So, ensure that you carefully curate a list of cuisines you wish to add in your menu. From street food to Dosa, Sambar, Idli with a delectable curry, there is a lot of room for curating the tastiest of spreads.
4. Doli for the Boss Bride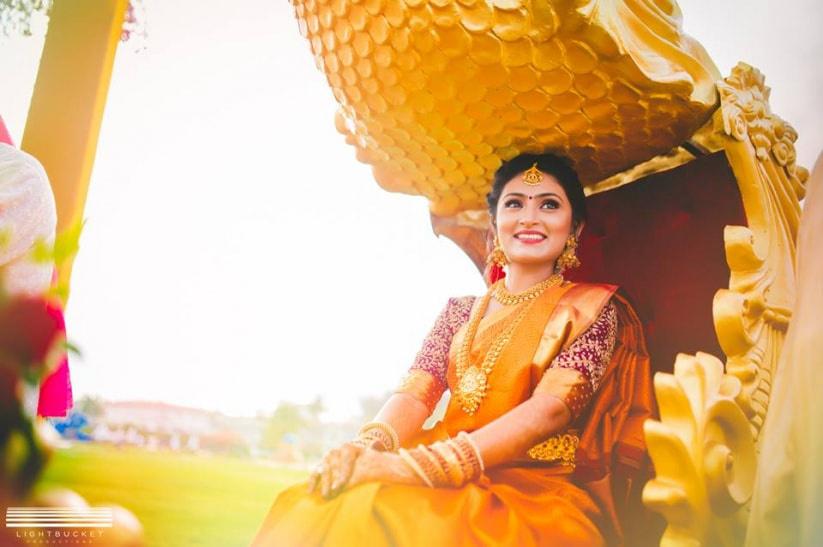 The South Indian bride now makes her grand entrance seated in a floral palanquin. Ornate the Doli with flowers that go well with the overall decor of your function or with your personal favourites. Turn some heads around in your direction with this grand entrance idea. This is a new trend that has picked up the pace in recent years in South Indian weddings.
5. Floral Canopy-Style Mandap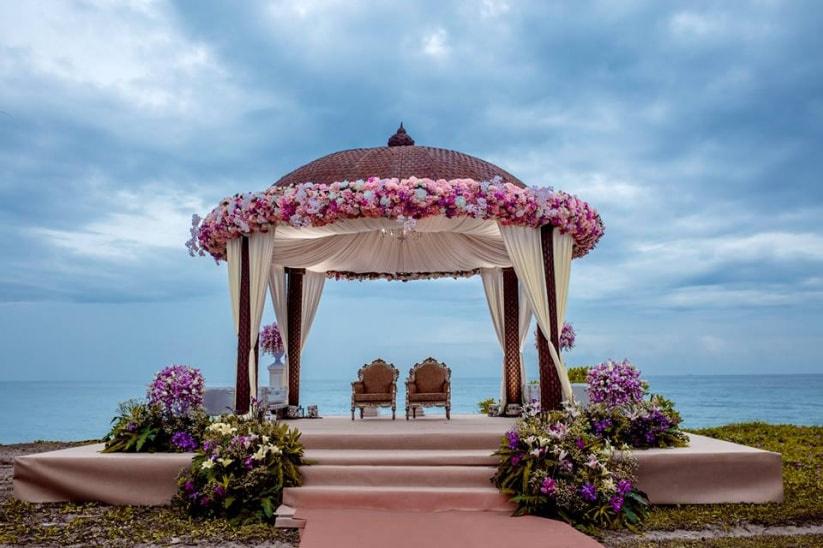 Considering most South Indian weddings are celebrated during the day, decorators now are ditching fairy lights and incorporating flower-oriented decor.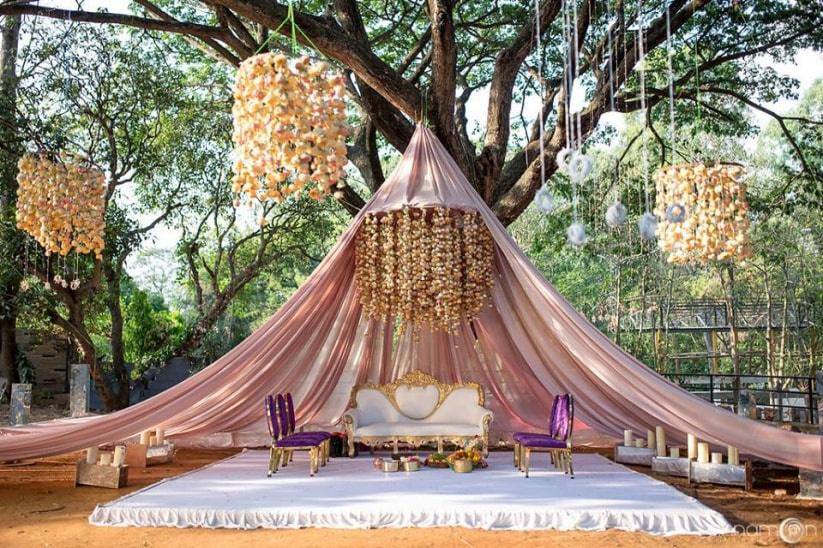 Jasmine tops the chart in this one. It is a beautiful flower which has an enticing aroma. It brings its beauty and adds fragrance to your most beautiful ceremony.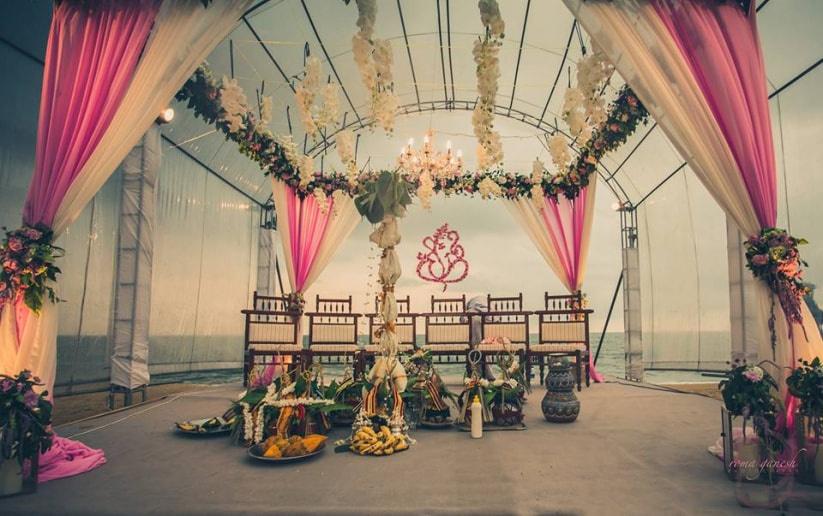 Go for a canopy style Mandap, add rustic feels to your wedding. Elevate wooden structures and decorate them circularly using flowers. Add small trinkets and bells. Every time the wind brushes over, the sweet harmony of bells will captivate your senses.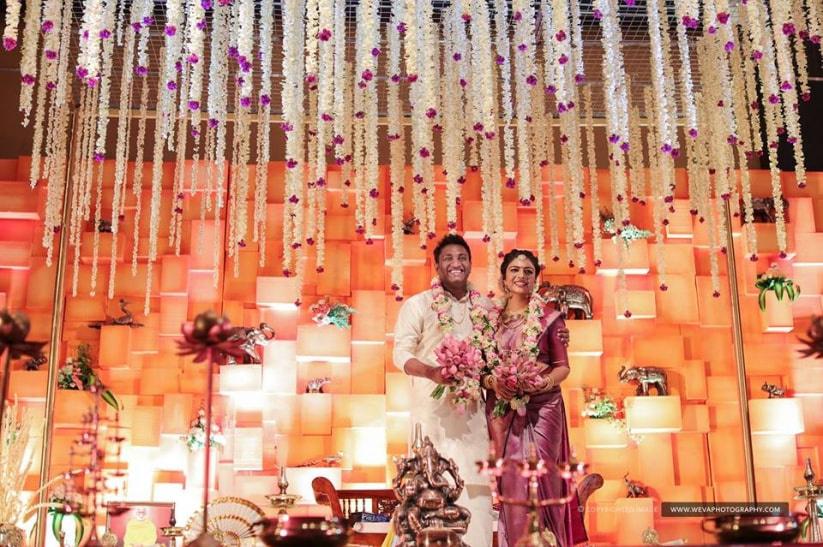 For a gorgeous Mandap decoration, you can float one on a water body. A floating Mandap would be something no guest will ever forget. Make your Mandap stand out with this out-of-the-box option.
6. Wedding Rituals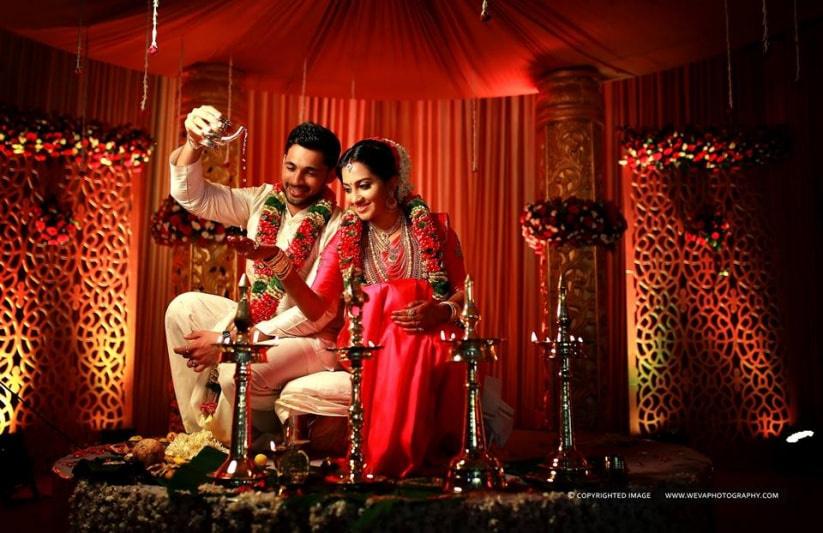 South Indian weddings are known for their rich traditions which are subsumed in our rich heritage. Their wedding festivities are like a breath of fresh air each different from another but spectacular nonetheless.
Kashi Yatra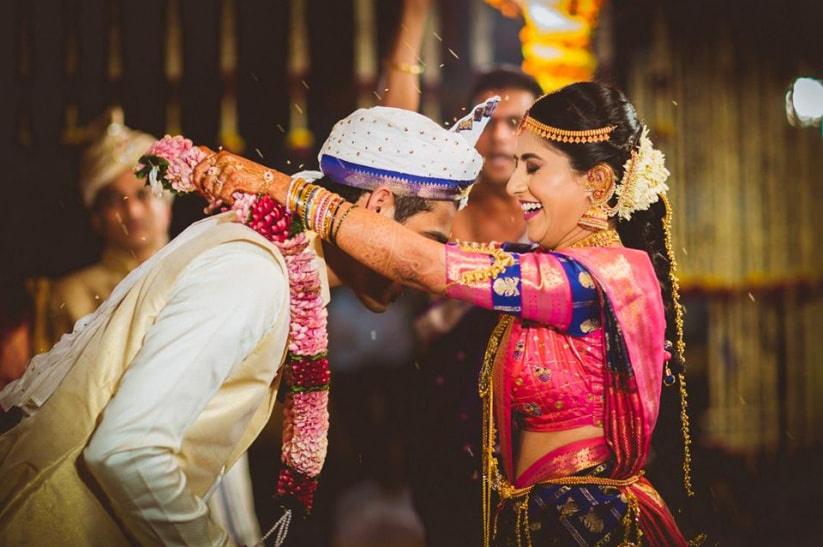 Kashi Yatra is a unique pre-wedding tradition in which the groom pretends to go on a holy journey to lead an ideal life. He is stopped midway by the father of the bride who offers the hand of her daughter instead. After which the groom is escorted to the marriage Mandap. It's a unique tradition, a little role play of sorts before you finally take your wedding vows. It is both fun, dramatic and adds the right amount of drama and edge to your wedding madness.
Oonjal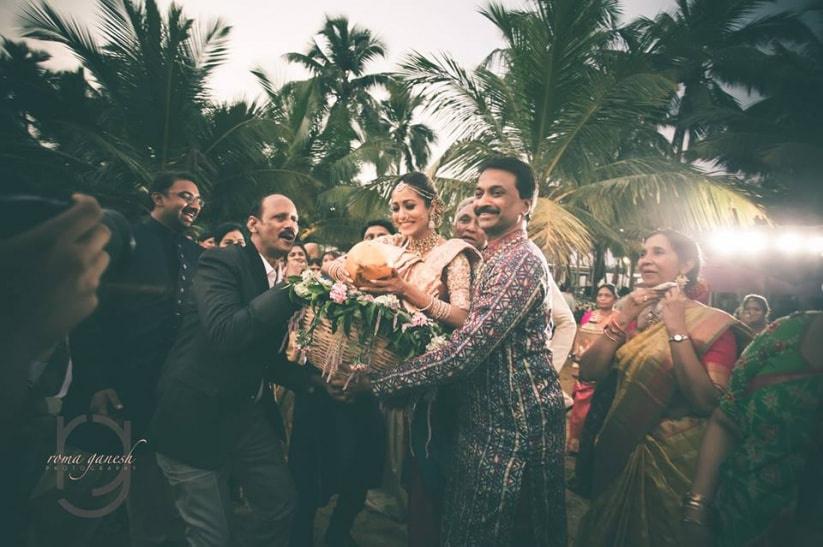 It is a post-wedding function. The bride and groom are seated on a swing which is heavily decorated using traditional flowers. They are offered bananas and milk as they swing. Which we think is totally unique and cute at the same time! How about you?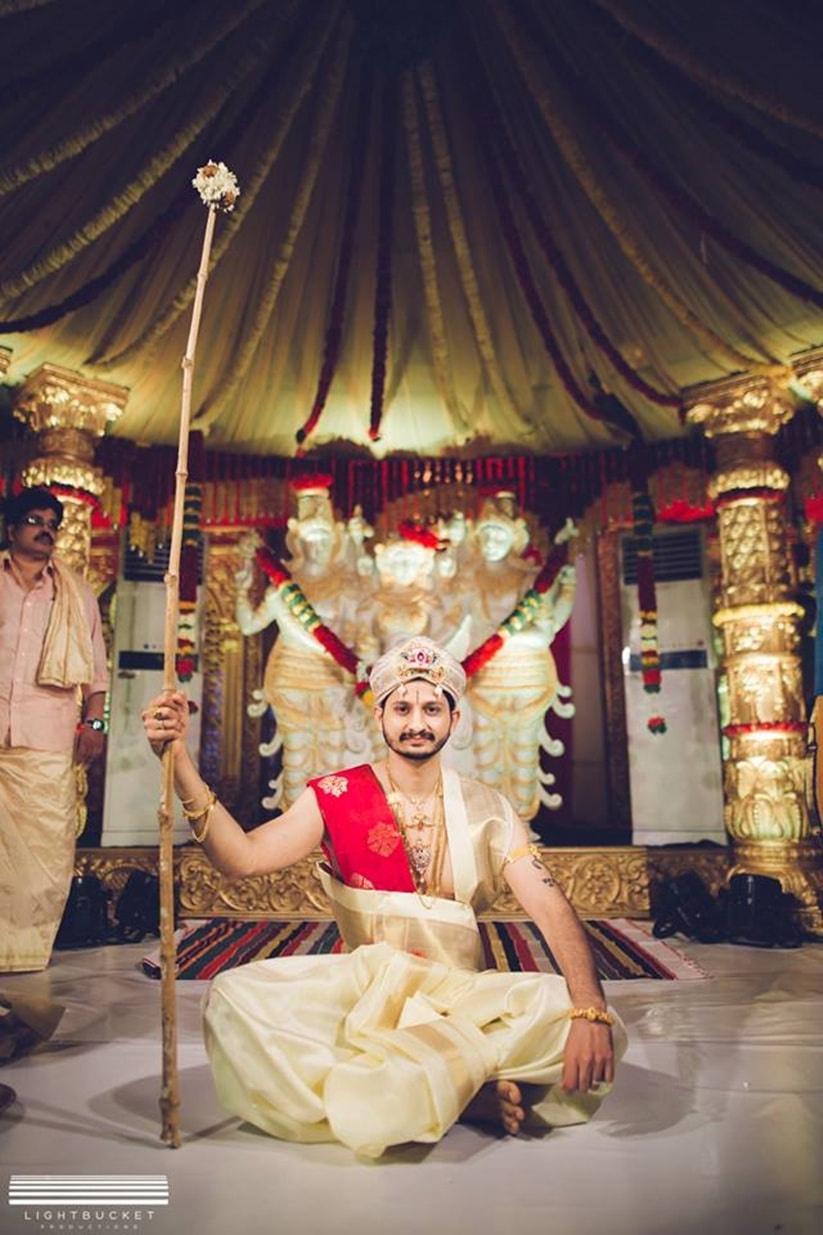 Rice balls are thrown at them as a means of warding off any evil that may be circling them. These rituals make South Indian weddings different in terms of how they celebrate the union of two people.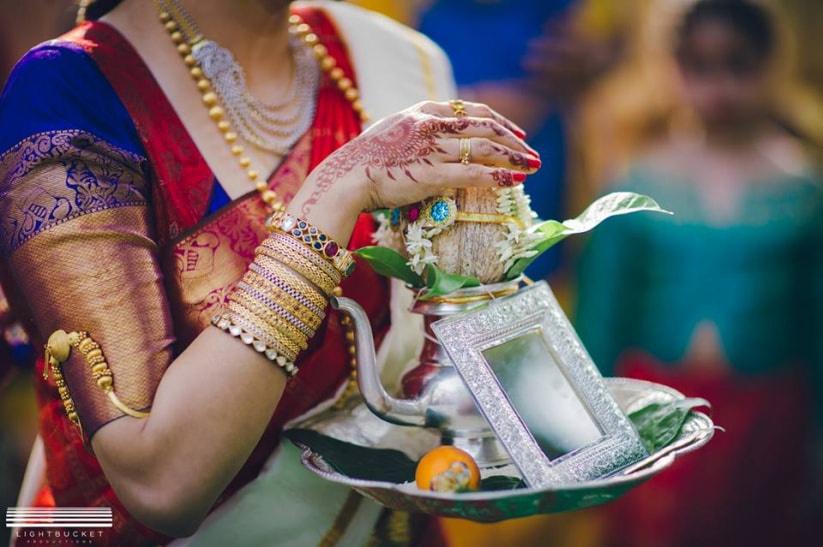 Unleash the wedding frenzy by incorporating one of these above-mentioned South Indian wedding inspirations which are a hit this wedding season. Now that you have gone through a set of essentials that are trending these days, you have a long list of options to choose from.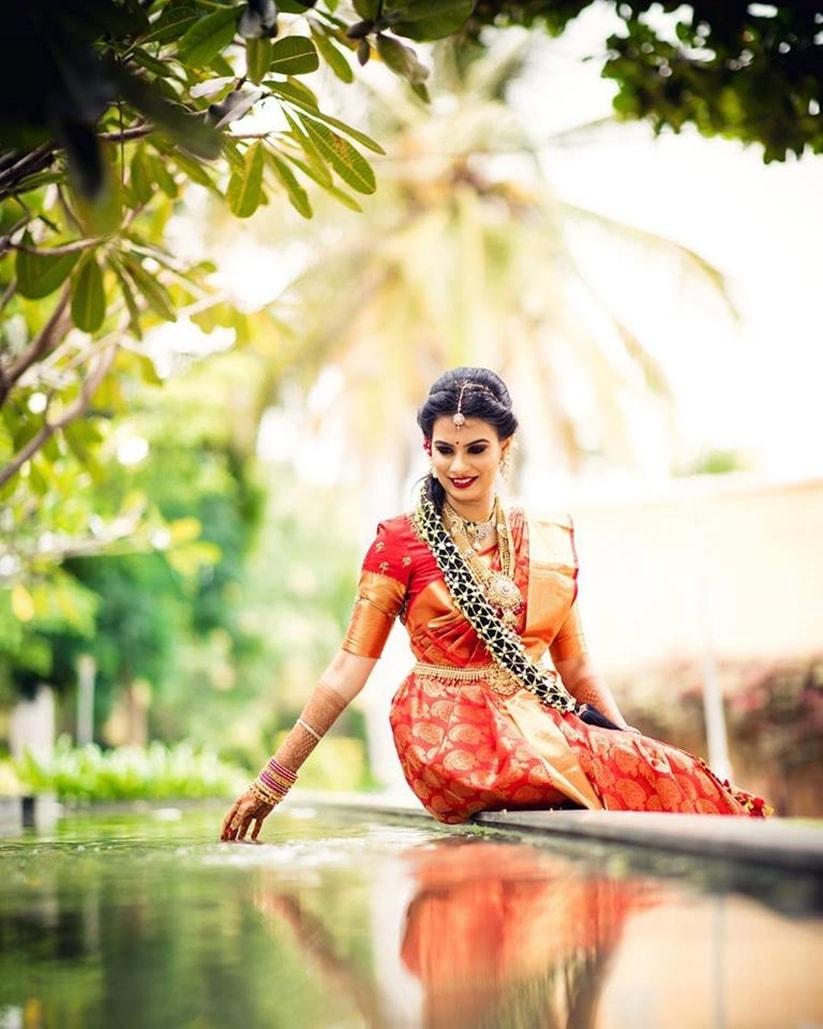 Things to know before attending South Indian Wedding revelries
The weddings in North-India and South-India are not only culturally different but has elements that might surprise you even. If you wish to gather all the knowledge before attending a South Indian wedding so that you do not end up on a wrong foot, we have gathered all that you need to know about. So, read on and see what are some of the distinctive things that you will be introduced to a whole new world now that you will attend your very first South Indian wedding!
Early risers - Most of the South Indian wedding ceremonies begin before the sunrise. So you would need to wake up early to attend the wedding or you might miss out on the main ceremony. Besides, isn't that the real beauty of a back river wedding? You will get to enjoy nature and its bounties afresh!
A long affair - If you have attended your fair share of North-Indian weddings, you would know that including all the pre-wedding event and post-wedding festivities lasts about for a week. But in South-India, wedding ceremonies can last for more than sixteen days, so pack your bags accordingly.
Dress right - If you always associate weddings by wearing a sherwani, you would definitely stand out in a South Indian wedding, where the traditional attire is a crisp white shirt worn with a silk dhoti. Wearing it is similar to draping a saree in terms of layers, so you would need professional assistance.
Foody trail - As traditions go, food is always served on a banana leaf and has to be consumed by hand. There is also a right order of eating as almost all the food items are simultaneously placed on the leaf and should not be eaten unless everything is served. Also, the folding of the banana leaf in the right way after eating is also an important custom.
You might get suited - Marriages in South India are often arranged. So if you are an eligible bachelor or bachelorette, you might receive probing questions so do not get surprised.
Watch out for the post-wedding festivities - If you have ever had the chance to attend a South Indian wedding, then you probably know about this part of the wedding. The wedding usually ends up on the note of introducing a multitude of post-wedding traditions which are unique and absolutely fun. These traditions are sacred to their unique traditions and trust us, you will not find them elsewhere. So, do stay longer than you had planned for and experience this whimsical ride firsthand.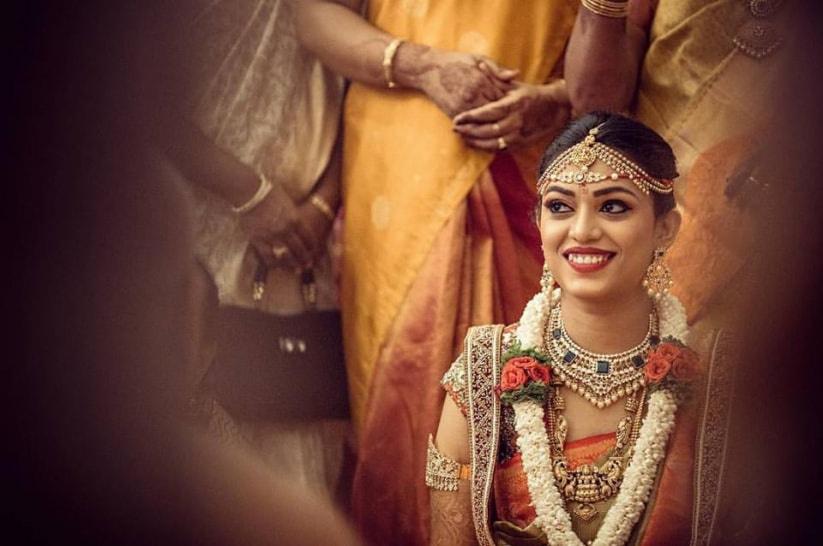 These are but some ideas that will surely add that extra dash of awesomeness to your function. We hope that you found this post-inspiration-worthy. Remember to take a chance and ensure to enjoy your moment while it lasts. These are the various elements that make any South Indian wedding truly traditional and bespoke. You will be introduced to a culture so deep that it overwhelms you and fills your heart with gratitude! Don't believe us? Try for yourself the next time you attend a South Indian wedding!
Keep us in the loop with your story and how you incorporated these trending South Indian wedding inspiration to slay all your wedding functions.