When we hear someone talk about a South Indian wedding, we can't help but think about the colourful sarees, traditional music, and of course, the opulent South Indian bridal jewellery. Right from earrings and necklace to Kamarband and Bajuband. Since they have a lot of ceremonies, and each one of them requires the bride to wear different jewellery, make out the amount of gold the bride gets to buy (we're jealous too!).
And you know what's the most intriguing part? There is a large variation among the different cultures in the five southern states, leading to a sea difference in the bridal looks here. This means a difference in dressing styles, different ceremonies and different kinds of bridal jewellery. Even though the Gajra is a common hair accessory among all of them, it is the real jewellery that makes the distinction. This is our guide to the rich, heritage pieces found among ornaments here, decoded by community and state.
The South Indian Bridal Jewellery Guide
We hope this guide helps you understand our beautiful southern brides and provides you with some wedding inspiration!
1. ANDHRA PRADESH
The weddings in Andhra Pradesh have a lot of ceremonies, including 'graduation' and auspicious baths like Snaatakam and Mangalasnaanam, different Aartis (prayers) and Ganesha/Gauri Pooja. The brides from different communities - Nizam, Reddy and Vyasa - in Andhra Pradesh are also seen adorning completely different kinds of jewellery. Let us share the distinctive factors with you. Here's a lowdown:
The Nizam bride
The Nizam bride look sees the demure (or daring) bride in a Salwar Suit (with a Khada Dupatta), a Sharara or a Lancha style lehenga, a conventional lehenga and bridal jewellery with a distinct throwback to the Nizams who ruled over Hyderabad years ago. The jewellery looks heavy and ornate giving the NIzam bride a royal look. Pearls are must-have in the Nizam bride's jewellery collection.
Bridal jewellery breakdown -
The Passa, the Maang Tikka and a large Nath (nose ring) studded with pearls are the most common pieces of jewellery worn by a Nizami bride. Oozing elegance and style, the bride will also be seen wearing rings and a Kundan choker necklace. You can go for the Satlada necklace, which is a seven-tier chain made of gold and pearls and the heavy bangles called Kundanmanekchura if you're planning to add a Nizami hint to your wedding attire. And a Kamarband emanating the same elegance is a must.
The Reddy bride
In contrast to the Nizam bride, the Reddy bride wears a heavy silk saree and ornate temple jewellery. Her confident look is accentuated by the sheer amount of jewellery that she carries with effortless ease.
Bridal jewellery breakdown -
The Reddy bride will be decked in heavy gold jewellery studded with rubies, diamonds and sapphires. She will be seen wearing a headgear called Papidibilla, heavy Jhumkas, a choker necklace with layered chains, a nose ring, an armband and gold bangles. Talk about all the lehenga weight brides keep complaining about! It would be nothing in comparison to what the Reddy bride is bearing.
The Vysya bride
The Telugu Arya Vysya is a business community, which has a traditional seven-day marriage. Their brides may seem more austere in comparison with the Reddy brides as they don simpler sarees and subtle south Indian bridal jewellery designs. The difference can be seen in the choice of bridal saree colours and patterns.
Bridal jewellery breakdown -
The bride from this community is far from going OTT with jewellery. You'd see her wearing very subtle designs like a gold choker studded with gemstones and a heavy gold chain with uncut diamonds to complement it. Aren't you absolutely in love with the concept? We surely are!
2. KARNATAKA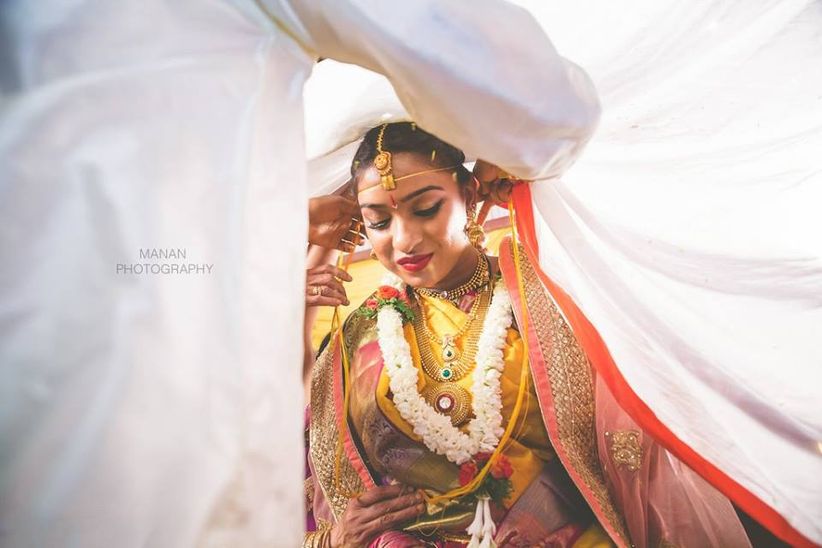 Karnataka, the land of forests, temples, picturesque hill stations and waterfalls, is also known for its simple and culturally diverse people. Be it the Bunts, Coorgis or Kannadigas - all provide their own distinct, blends to this cultural potpourri. Find it out for yourself down below.
The Mangalore Bunt bride
Like all South Indian weddings, the Mangalore Bunt wedding is also a concoction of various ceremonies and beautifully crafted jewellery to go with every occasion. The bridal outfit here is more often than not, a Navari saree, though patterns and prints may vary, alongside the draping style.
Bridal jewellery breakdown -
You'd see the bride wearing the Havalakki Sara, which is a long, studded gold chain. Added on top of it is the Lakshmi Balai, a gold bangle with a design of Goddess Lakshmi, the Ungilais, which are traditional plain rings worn in different fingers, and an armband with precious stones and pearls. Inspired, much?
The Coorgi bride
The Coorgi bride carries a unique look, owing to her distinct saree draping style and the sleek way in which she ties a segment of the drape over the head. It is one of the most unique styles of draping a saree found in India and you can instantly recognise a Coorgi bride because of it. Though newer Coorgi brides are now opting for a Dupatta on saree style, you would still be able to pinpoint one on the basis of these elements. And her distinct south Indian bridal jewellery.
The bridal jewellery breakdown -
The most important part of a Coorgi wedding is the Netti Bottu, which is a Matha Patti embellished with jewels. Apart from that, the bride wears gold earrings known as Muthina Vole Jhimiki made of rubies, gold and pearls. Her hands are adorned with their own variety of Haath Phool (called Kaippelli) and an assortment of Kadas and bridal bangles.
Her neck is bedecked in layers of necklaces, beginning from the disc-like Pathak on a black string, to the crescent-shaped Kokkethathi, the black and gold beaded Jomala and two sets of gold Saras.
The Kannadiga bride
A rich, royal look is one that we expect from the Kannadiga bride, complete with a large amount of bridal jewellery. It is ornate in every sense of the word.
The bridal jewellery breakdown -
Kannadiga brides are covered in gold from head to toe! No, we're not kidding. Right from the necklace, to the Mangalsutra, the multiple gold chains, bangles, earrings, toe rings and Maang Tikka, the jewellery of this bride symbolises various Gods and Goddesses. A perfect example if you're considering to wear temple jewellery on any of your functions. If you want to take a look at some of the pieces, visit Navrathan Jewellers for heavier jewellery, or Tressor for some contemporary designs.
3. TAMIL NADU
Although the Tamil weddings as seen on the big screen do give a fair idea of the real South Indian bridal jewellery sets (to give us an idea), the actual amount of gold worn by a Tamilian bride is more than that. Take a bow for carrying all that jewellery weight, ladies!
The Chettiar bride
The Chettiar bride is no less than a representation of the Goddess herself, draped in immaculately pinned Kanjeevaram silks, long strings of necklaces, heavy gold bangles and several pieces of gold. Think our description is a little too far-fetched. Find out what all they don for the big day, below.
The bridal jewellery breakdown
The jewellery in a Chettiar wedding is inspired from the different Gods and Goddesses and is worn with a traditional Kanjeevaram saree. You can choose from a host of options including the Kempu Kal Mothiram, which are rings studded with different gemstones, and the Kempu Kal Valai, the heavy gold bangles. Or take your pick from the Netti Chutti, which is a long gold chain and the Mulla Muttu Maalai, a long gold necklace.
The Gounder bride
The Gounder bride is pinned to perfection again, this time in a Kanjivaram silk saree. This is overlaid with a host of gold ornaments.
The bridal jewellery breakdown -
The number of ornaments worn by a Gounder bride is so high that the bride is actually covered in gold. With different kinds of arm jewellery, bangles and necklaces in different sizes, the designs will just make your heart skip a beat! Don't believe us? Head to KCR jewellers or Zilvr to take your pick!
The Brahmin bride
Known as Iyers, Tamil Brahmins take pride in the opulence of their weddings. From the ceremonies to the decor, attire and the jewellery, everything in a Tamil Brahmin wedding is lavish.
Which is why the jewellery worn by the bride is something every guest waits to have a look at. The various gold waistbands, necklaces and armbands studded with precious stones that are worn by the brides are the centre of everyone's attention. Now that's a whole lot of investment, but you can give the waistbands a thought, right? And it is another accessory too that is a part of a bride's trousseau, the Poola Jada which adorns the bride's plait to its whole length.
4. KERALA
Believe us when we say that bling is the king in Malayali weddings! There are the traditional South Indian bridal jewellery sets that every bride dons and then there's diamond jewellery too. Read on to get more clarity if you're confused on what kind of jewellery to go for.
Kerala Christian brides
The Kerala Christian brides are adorned in white and cream sarees, instead of Christian wedding gowns or Christian wedding dresses. These sarees are accompanied by bridal bouquets, gold, diamond and white-gold based jewellery, though items like a tiara are rarely seen here unless the bride has chosen a different attire style.
Bridal jewellery breakdown -
Unlike the Christian brides you've seen in films, the Kerala Christian brides wear jewellery with designs inspired from nature and various Gods and Goddesses. The South Indian bridal jewellery sets here are mostly contemporary and include bangles, armbands, waistbands, Jhumkis, chokers and payals as well. The designs are different, so you can check out and choose as per your discretion.
Kerala Muslim brides
The Kerala Muslim bride may be seen in a saree or lehenga with a dupatta on her head. However, her look is incomplete without a sheer overlay of gold on top. We break down her assortment of south Indian bridal jewellery for you.
Bridal jewellery breakdown -
Take a look at a Kerala Muslim bride and you'll get to know about the amount of jewellery is decked with. Almost the whole of her torso is hidden behind precious jewellery, each carrying a different meaning. With three different kinds of necklaces called the Padi Mala, Aalochana Mala and the Chakrakanni Mala, made from gold and precious stones, earrings called Alicathu, Pachakallu, Mekkath and Jhimiki, headgear like Nettipattam, Mudipoo, Matti and Mudichakram, a waist belt called Arappatta and different kinds of bangles and rings, we tell you, being a bride is no mean feat!
Kerala Nair brides
The Kerala Nair bride wears a bright silk saree and loads of jewellery, which basically includes a lot of gold necklaces on her wedding day. The bridegroom and wed in a simple ceremony amid grand arrangements. If you're also intrigued, you can check out the pieces at Ultra Jewels or Mahalaxmi Jewels.
5. GOA
Although Goan Catholics mostly have white Goan weddings where the bride wears a white gown with embellishments and the groom wears a suit or tuxedo, many of the traditions are also Indian.
Bridal jewellery breakdown -
For the white wedding, the bridal jewellery is often a mix of diamonds, pearls, white gold and imitation jewellery (if an ornate set is required). Apart from these, the bride also shops for a few pieces of traditional gold jewellery, to wear for specific ceremonies. For example: In a ceremony on a day prior to the wedding called the Saddo, the Goan bride is expected to wear a silk sari. There's also a ceremony named Chuddo, in which the bride is made to wear gold bangles.
So did any of these South Indian bridal jewellery sets inspire you? If you're getting married this year and are inspired to add an element from any of these southern states, wait no more! By the way, Kamarbands on lehengas are in vogue these days, why not give your wedding attire a twist?
If you have also incorporated elements from South Indian bridal jewellery sets to your attire, you can share your instances on how you paired it up.