Jaw-Dropping Kamarband On Lehenga Images For Your Big Day
Want to add something extra to your bridal look? Kamarband on lehenga trend has been raging among brides for a long time. Check out some stellar images.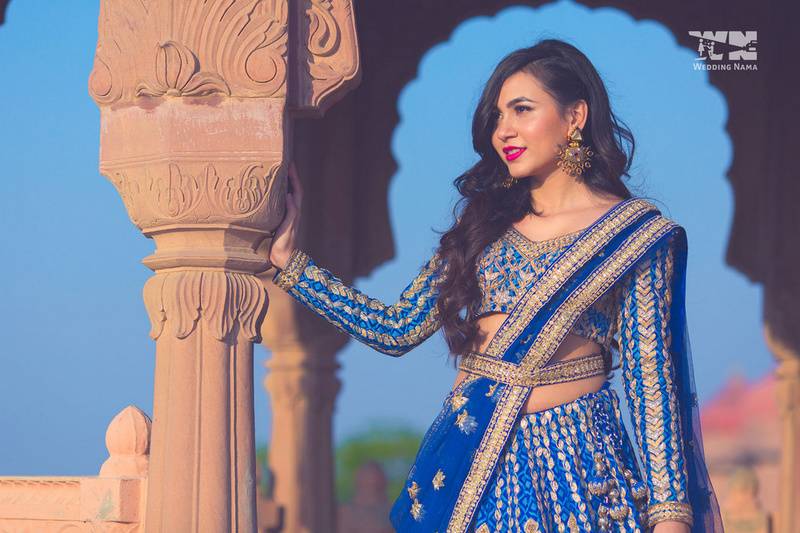 Gorgeous designer lehenga-check! Matching jewellery-check! Hiring hair and makeup expert-check! Now all that's left is the finishing touch. A Kamarband on lehenga is that magical final touch that would totally enhance your whole bridal outlook. Whether you choose a minimalist belt to go with a simple lehenga or an OTT Kamarbandh with a heavily embroidered lehenga - it is a great addition to your trousseau.
The moment you wear that belt, the glam factor dials up a notch. So why hold back? We have a beautiful collection of some spectacular Kamarband designs to cinch your waist perfectly to flaunt with your lehenga. So read on and pick your waist jewellery for special effects!
Fabric Kamarband with Link Chain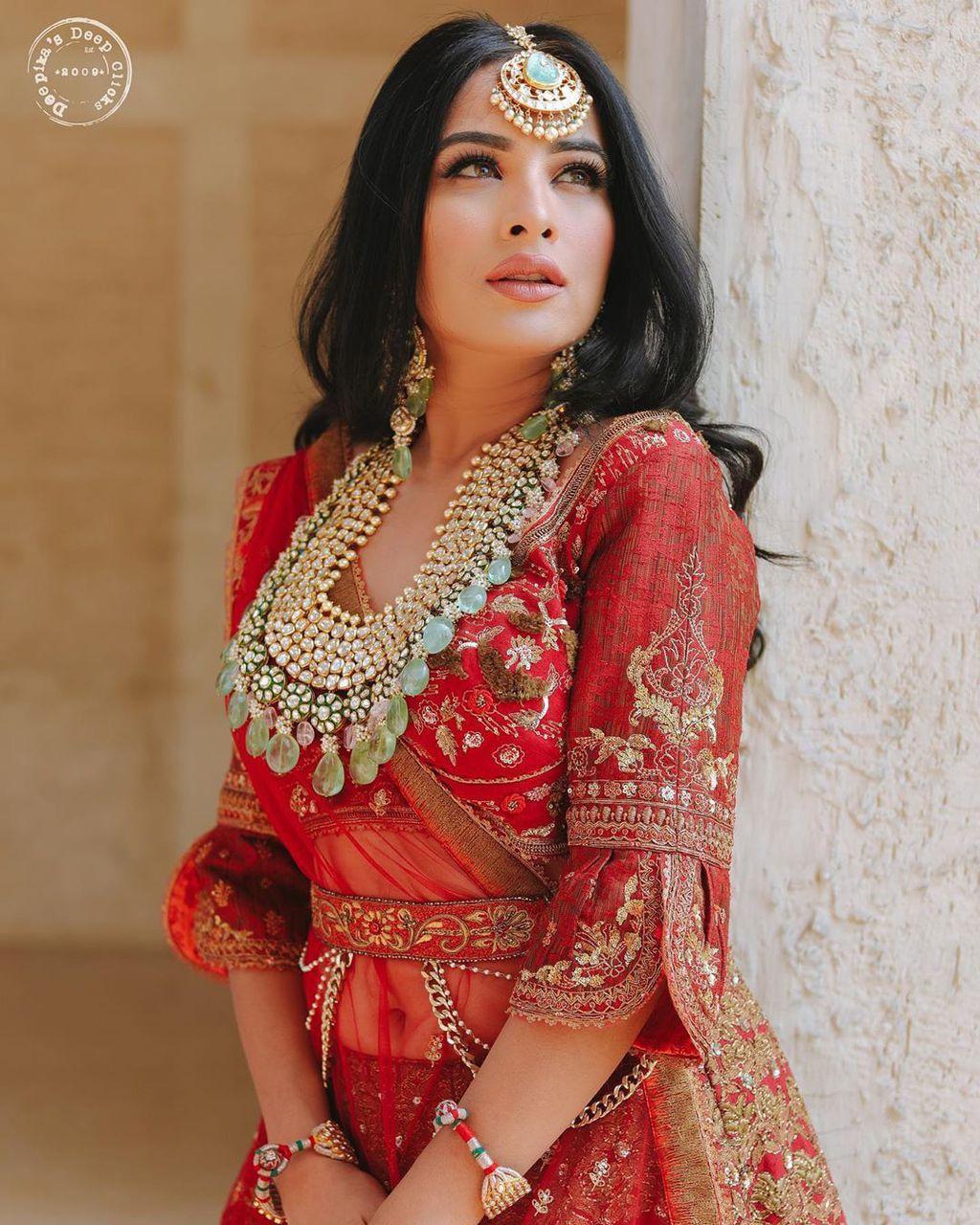 A fabric-based Kamarband on lehenga is a very elegant fashion choice for women who like to keep it simple yet classy. Wrap a fabric belt around your waist that matches perfectly with your lehenga. If you're choosing a red lehenga along with apt jewellery to wear at your wedding, pick a red Kamarband in silk with golden embroidery that exactly matches with your dress. to add some drama, you can attach link chains or beads too.
Sleek Kamarband With Pearls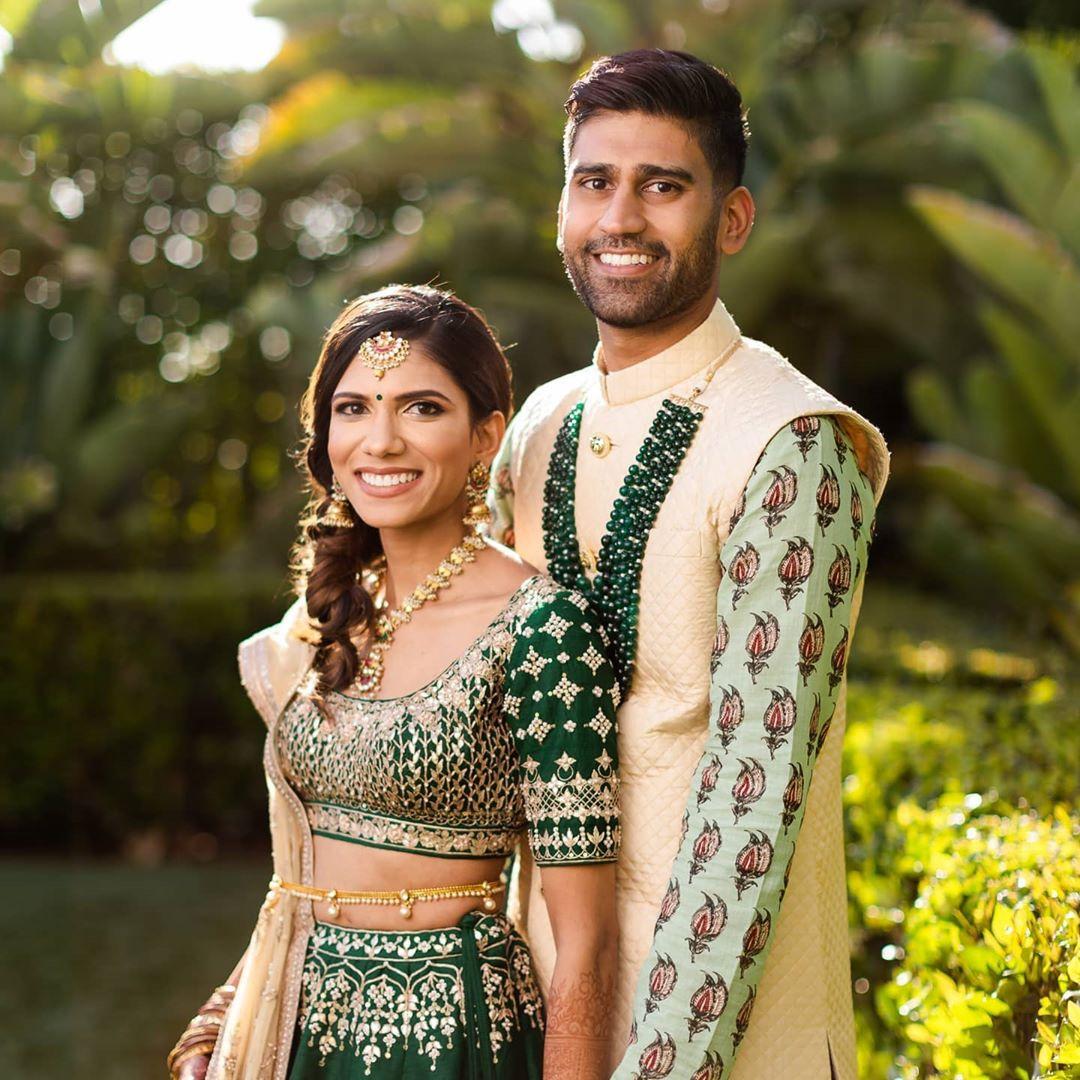 Image Courtesy: Lin & Jirsa
Kamarband Courtesy: Mortantra
Are you a fan of minimalist styles? Then this Kamarband on lehenga would be your ideal choice. Try this sleek golden Kamarband with a string of pearls around it. You can wear it with a green lehenga with white embroidery design. The tiny pearl beads are the perfect addition to the golden belt as they add a little depth to the jewellery.
Light Temple Kamarband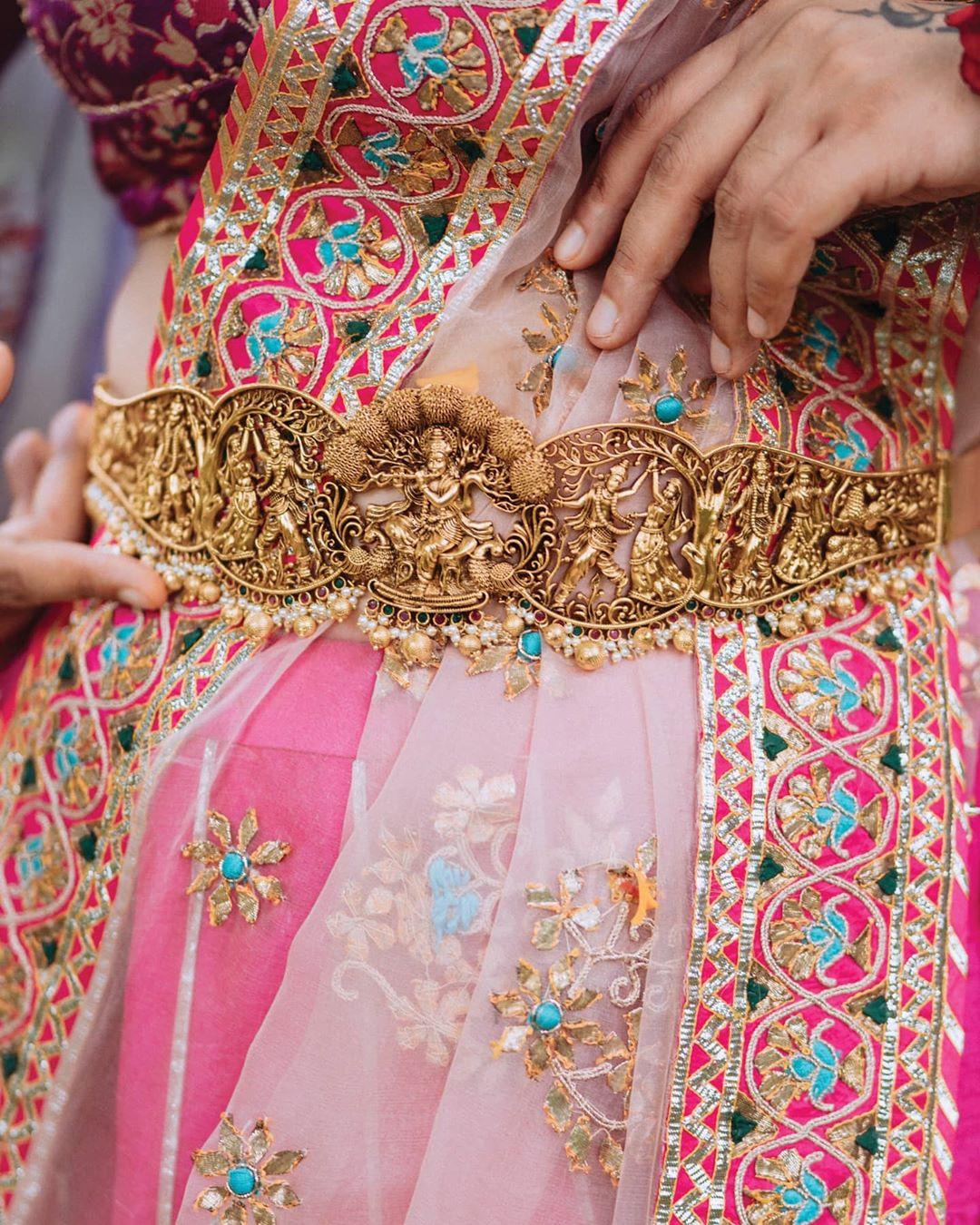 If you love temple jewellery and would like to incorporate the style in your Kamarband on lehenga too, we suggest trying this one. The not-so-heavy design would look extremely graceful on a light pink lehenga with a white net dupatta. The sculptures crafted with finesse at the front of the gold belt makes this piece absolutely spectacular. Mix and match this gem from the south with north Indian outfits to set your own fashion trends.
Heavy Temple Kamarband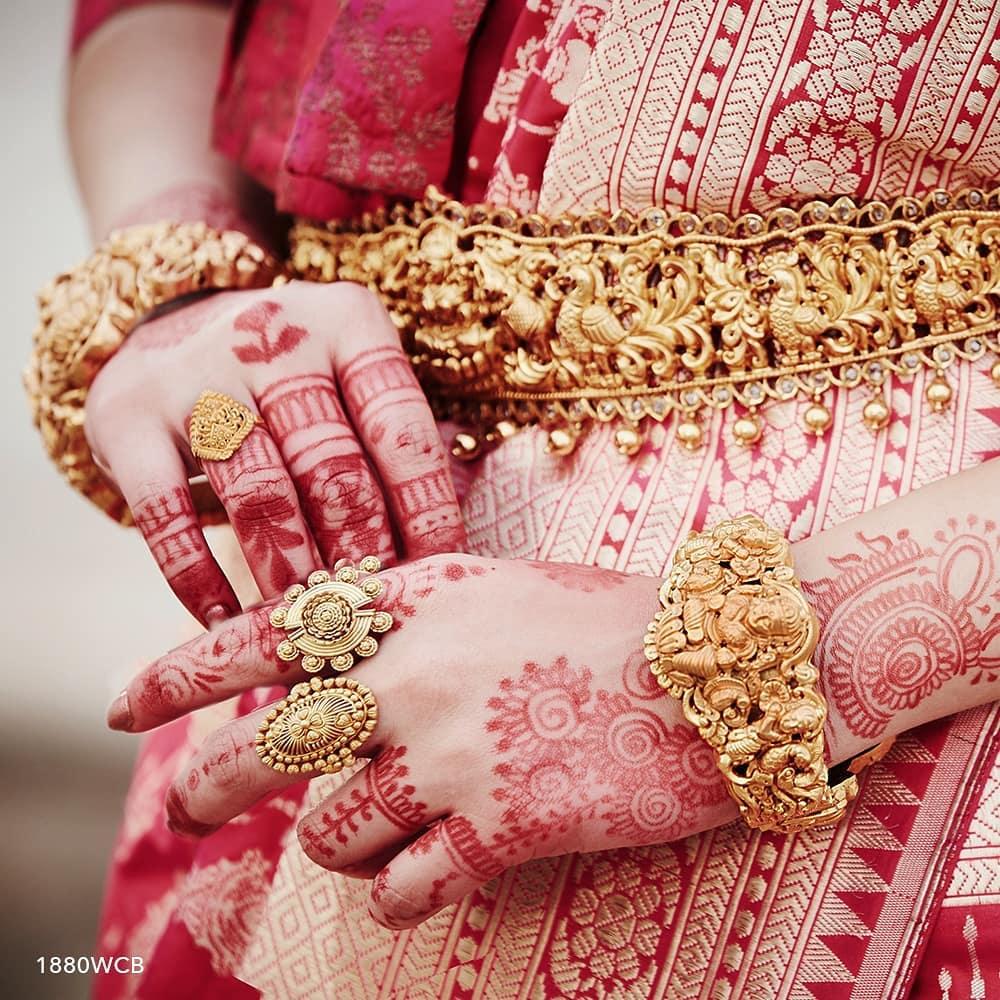 Planning to sport heavy temple jewellery set on your wedding? Then your Kamarband on lehenga must also be true to your "jewellery theme"! A Kamarband made of heavy temple jewellery also known as the Vadiyanam is truly a work of art. The baroque designs sculpted on thick solid gold would make you look like a Goddess. Wear a Banarasi silk lehenga in bright colours with a Maggam work on Pattu blouse for a complete south Indian bridal look!
Thin Kamarband In Gold & Ruby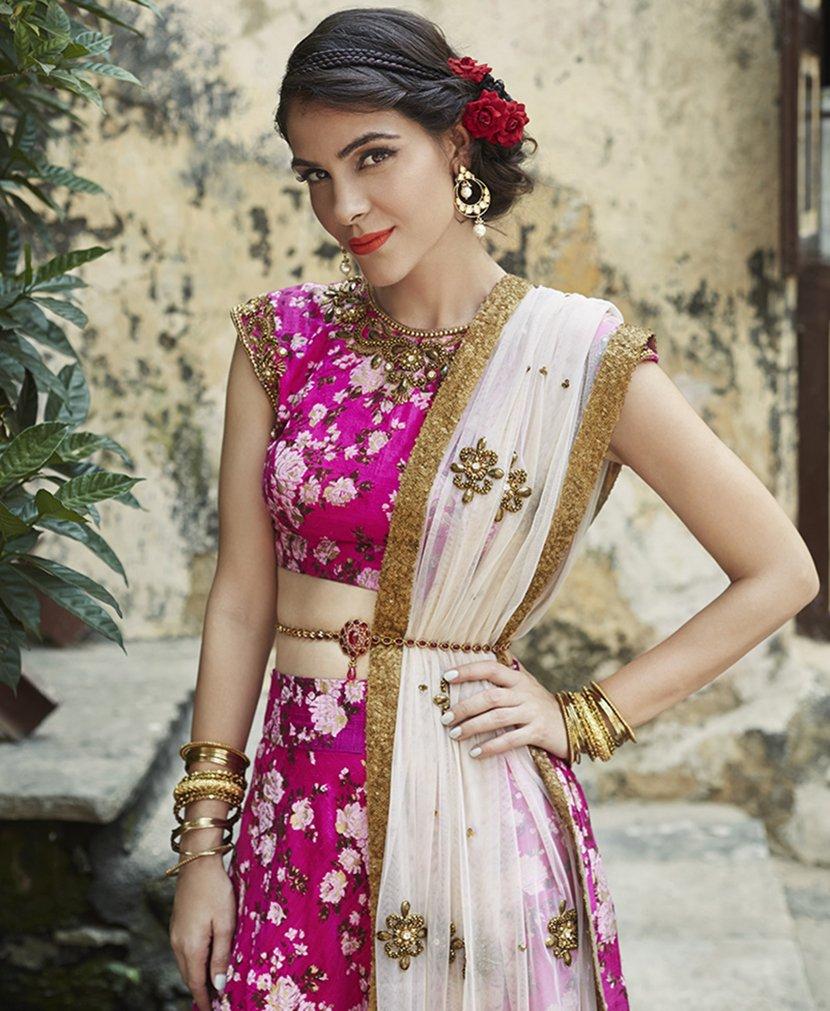 Image Courtesy: Sapana Amin Label
Sport a thin golden Kamarband on lehenga with rubies on it for your Mehndi or Sangeet function. The combination of rustic gold shade and the red rubies would be a great choice if you're planning to go for a Rani pink theme wedding. You could keep all your other jewellery to rustic golden shade, wear a ruby necklace and add ruby stones to your earrings. In case you don't want to spend too much on the real ones, go for faux rubies instead. They'd look just as brilliant!
Diamond Studded Kamarband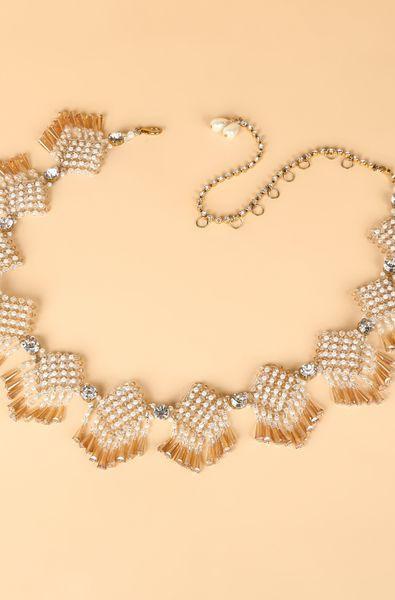 Now let's take a look at the creation of one of our ace designers Tarun Tahiliani. This diamond-studded Kamarbandh clustered inside diamond shapes would totally redefine your bridal fashion. The sparkling rocks would dazzle even better if you pair them up with a beige or pale golden lehenga with white stonework all over it. You could also opt for ivory or white lehenga if you're looking for subtlety in your look.
Broad Pearl Kamarband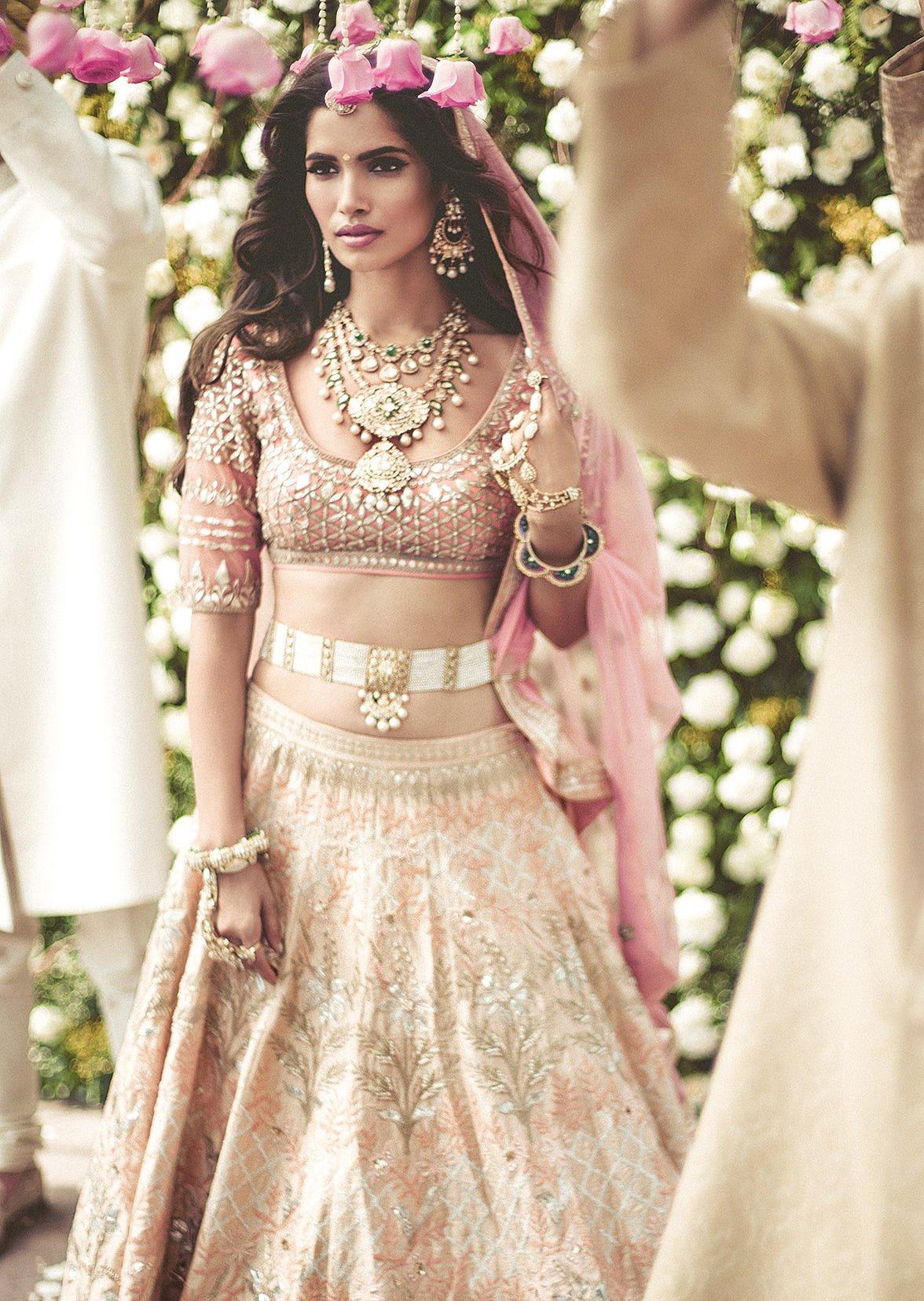 Image Courtesy: Prasad Naik
Image Courtesy: Let that bold Kamarband on lehenga in pearl become the star of the show! Choosing this broad pearl Kamarbandh with a central locket would be a perfect pick to go with a peach or pastel lehenga. Wear your dupatta over the head to flaunt your waist jewellery better without any distractions. Large pearl earrings, pearl necklace and pearl-studded bangles would only add icing on the cake!
Contemporary Rustic Gold Kamarband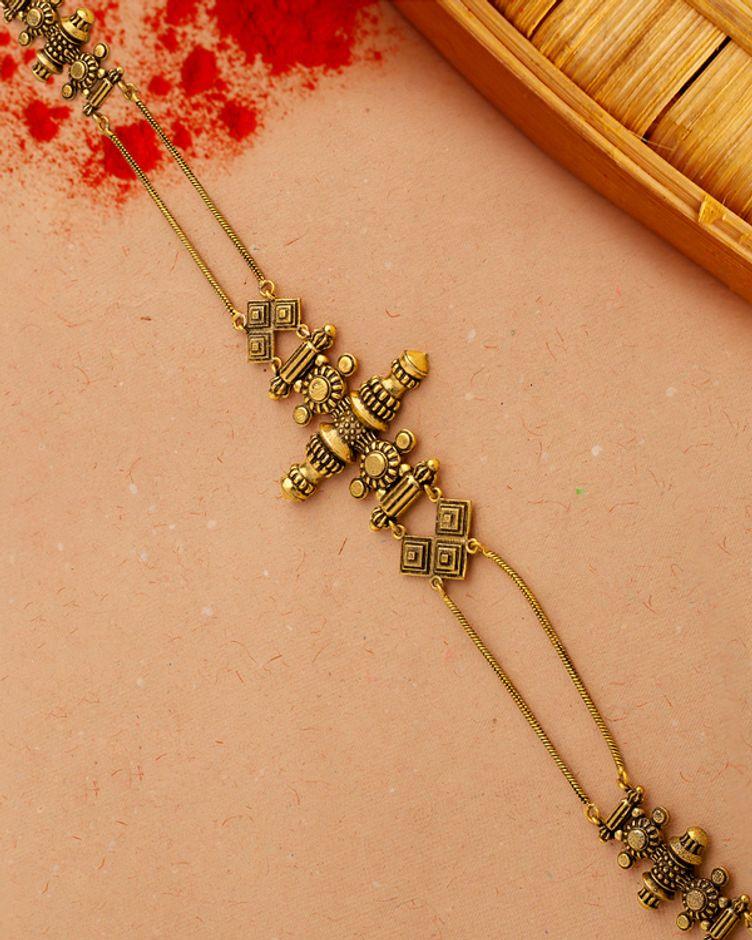 Check out this contemporary design for your Kamarband in rustic gold for a minimalist classy look. The sleek chains and the unique structures make this piece of jewellery perfect for an Engagement, Mehndi, or a Cocktail party. Sport it with a black and gold lehenga for an edgy look.
Sleek Gold Belt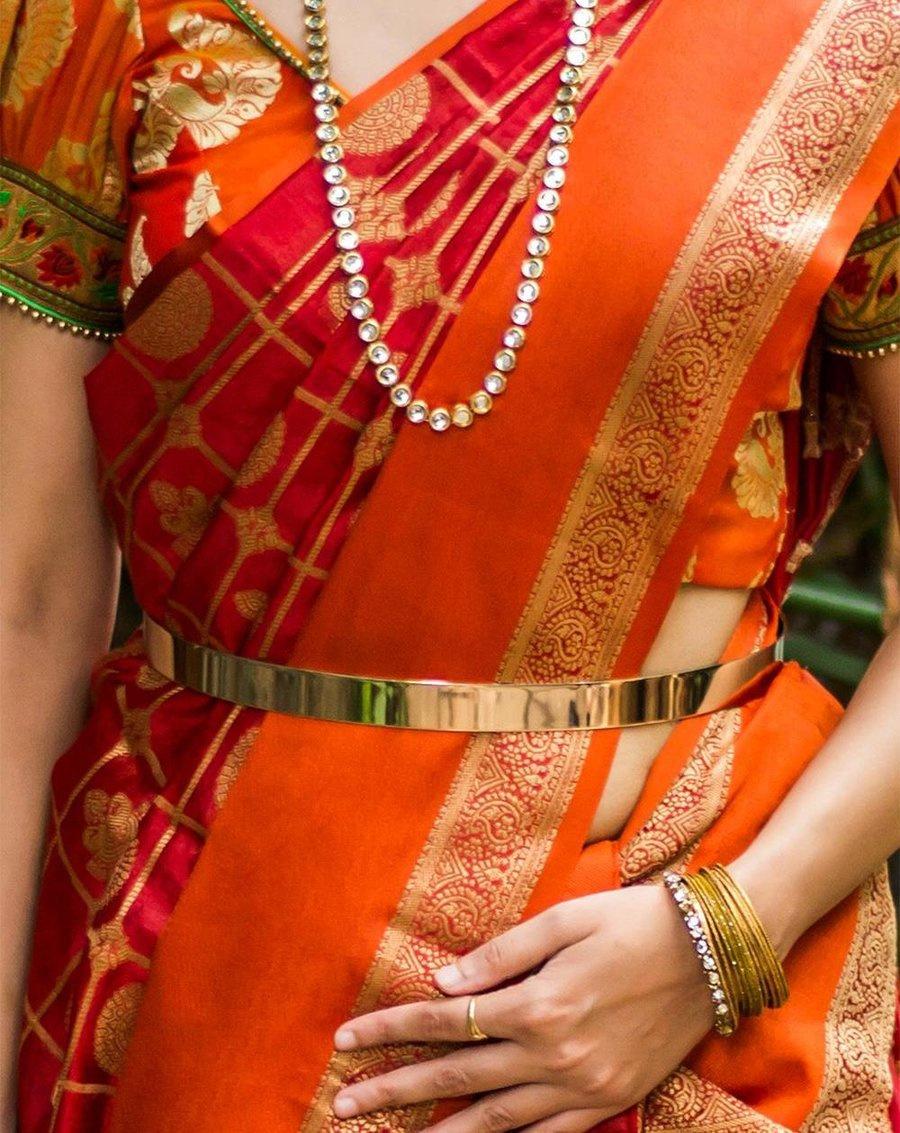 Image Courtesy: Pinterest
If you choose to dress up the traditional way, you are sure to wear gold jewellery, which includes a gold belt as well. A lot of brides from South India wear gold belts for their wedding functions as Kamarband on lehenga. Gold is evergreen and it looks great with all kinds of colours. It gives you that classy look and well, you will definitely look stunning in it. It'll be a prized possession in your wardrobe all life long.
Kundan Kamarband Design
Image Courtesy: Traditsiya
Kundan jewellery has been around since ages but it's now that it's gaining a lot of popularity. Almost every bride-to-be buys at least one set of Kundan jewellery because it pretty much goes with every ethnic outfit. So if you are planning on wearing Kundan jewellery on your wedding day, make sure you buy a Kundan belt along with it to complete your overall look.
Zardosi Kamarband for Lehenga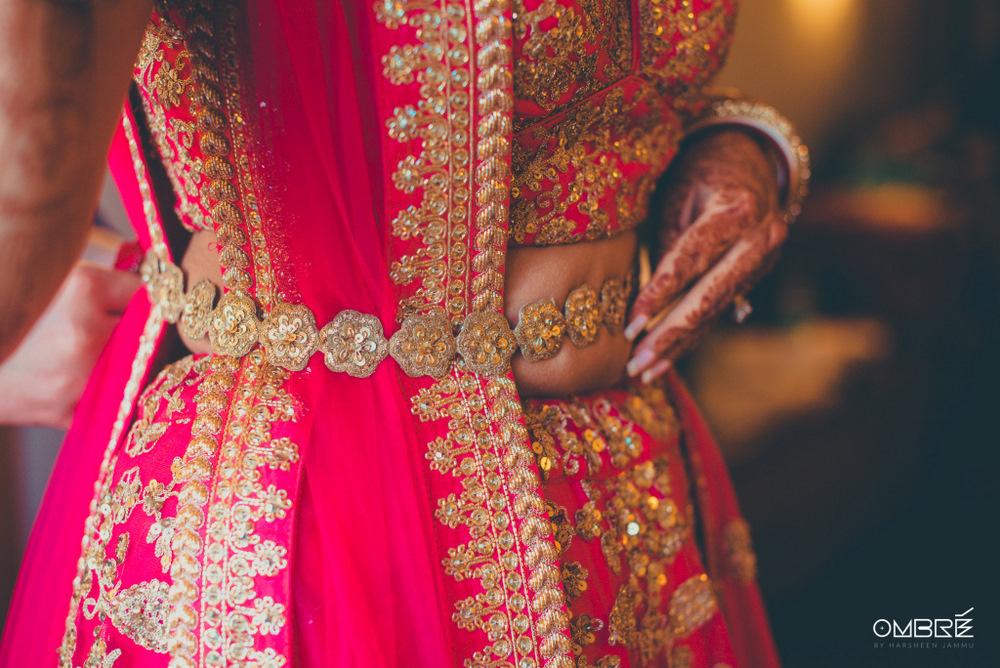 Zardozi is a delicate metal embroidery which is used to make your lehengas look royal. You can get a custom-made Zardozi belt as they are not easily available in the market. It works great as a Kamarband on lehenga and if you love all things regal, an addition of zardozi belt to your ensemble is a great decision.
Choose your Kamarband on lehenga keeping the colour, fabric and designs of your lehenga. Traditional lehengas would call for a heavier Kamarband and you could choose simplistic waist jewellery for the more contemporary outfits. However, don't be afraid to experiment and mix and match your jewellery with outfits. Try and explore new fashion options to create new trends.
Which one of these Kamarband styles did catch your fancy? Share your thoughts with us in the comment section below!