Here Are Our Top Bridal Jewellery Picks for Red Lehenga
Picked your red lehenga but still scouting for bridal jewellery for your red lehenga? Worry no more because we have listed our favourite picks here for your inspiration.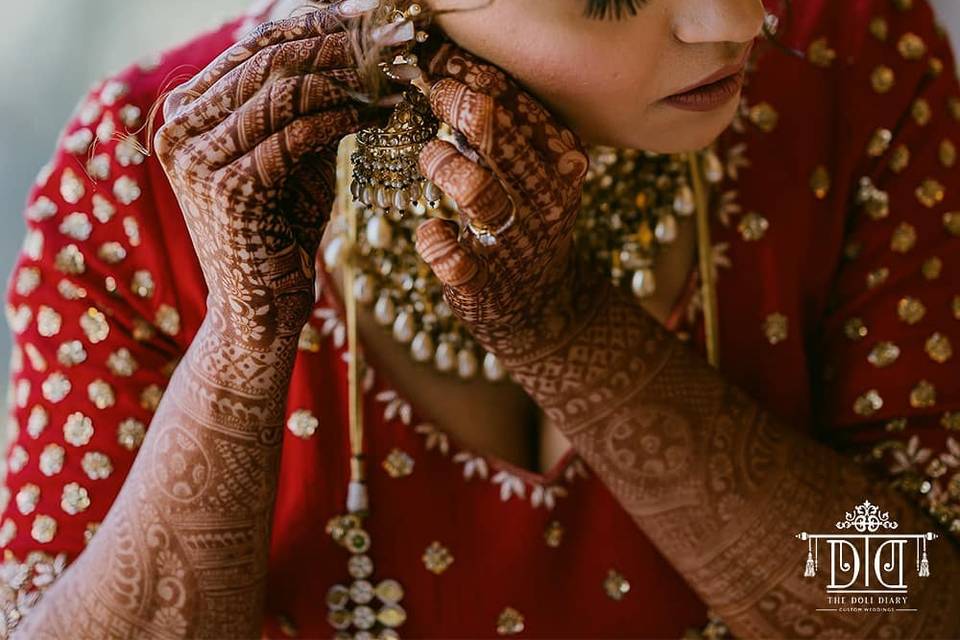 What is the first thing that comes to your mind when the wedding date is fixed? Without any formalities and second thoughts, it has got to be "what to wear" and we understand. If you are planning to don a gorgeous red lehenga at your wedding with the invisible crown because you are nothing less than a queen, you must be wondering what jewellery would suit you best.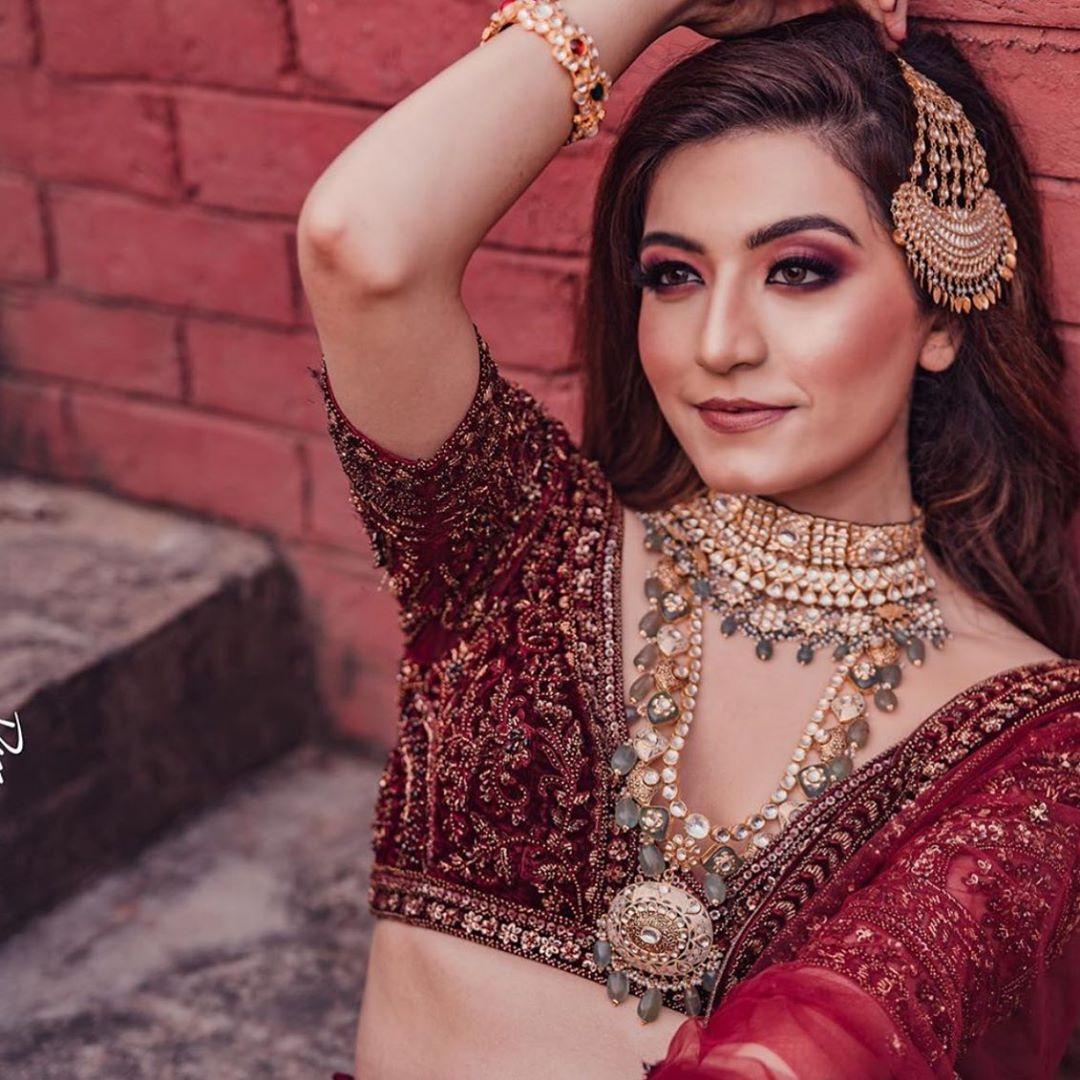 Jewellery Courtesy: Jaipur Diamonds
Rummaging through a million possibilities on the internet that include both relevant as well as irrelevant options does not sound all that fun because accessories gone wrong can be a deal-breaker. So to save you from all the hassle, we have listed some stunning bridal jewellery for red lehenga to help you ace the look on your D-Day and turn some heads. Don't forget to bookmark or pin your favourites.
The Emerald Jewellery Set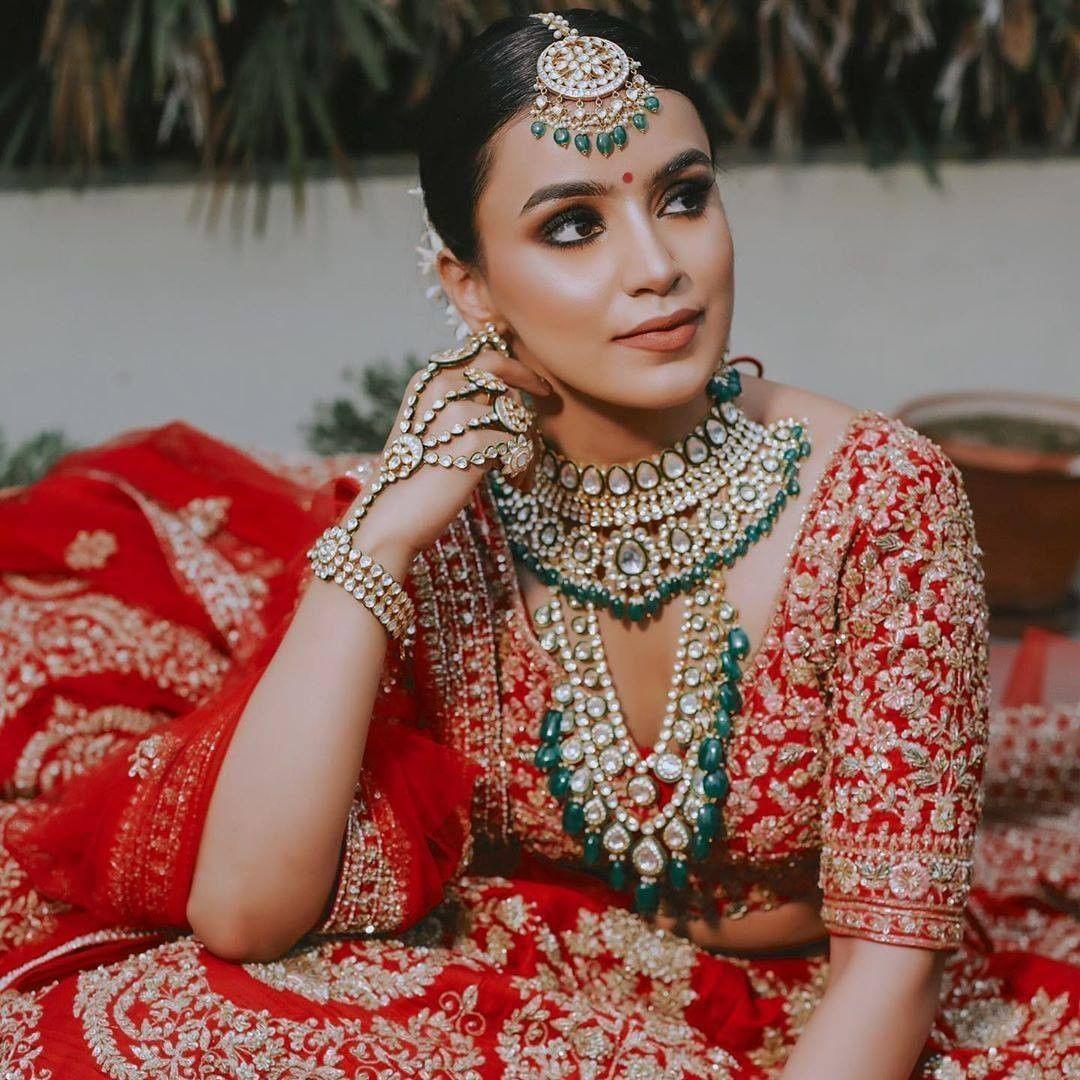 Jewellery Courtesy: Aren Jewellers Jaipurwale
This Kundan set with emerald stone detailing is a magnificent piece. The shorter necklace complements the neckline perfectly with longer haar underneath. The Hathphool adds to the regal look of the jewellery set and green always complements a red lehenga. This bridal jewellery set will be a perfect pick to wear with your red bridal lehenga. Kundan jewellery, when paired with a bridal red lehenga, is a timeless match.
The Ruby Studded Set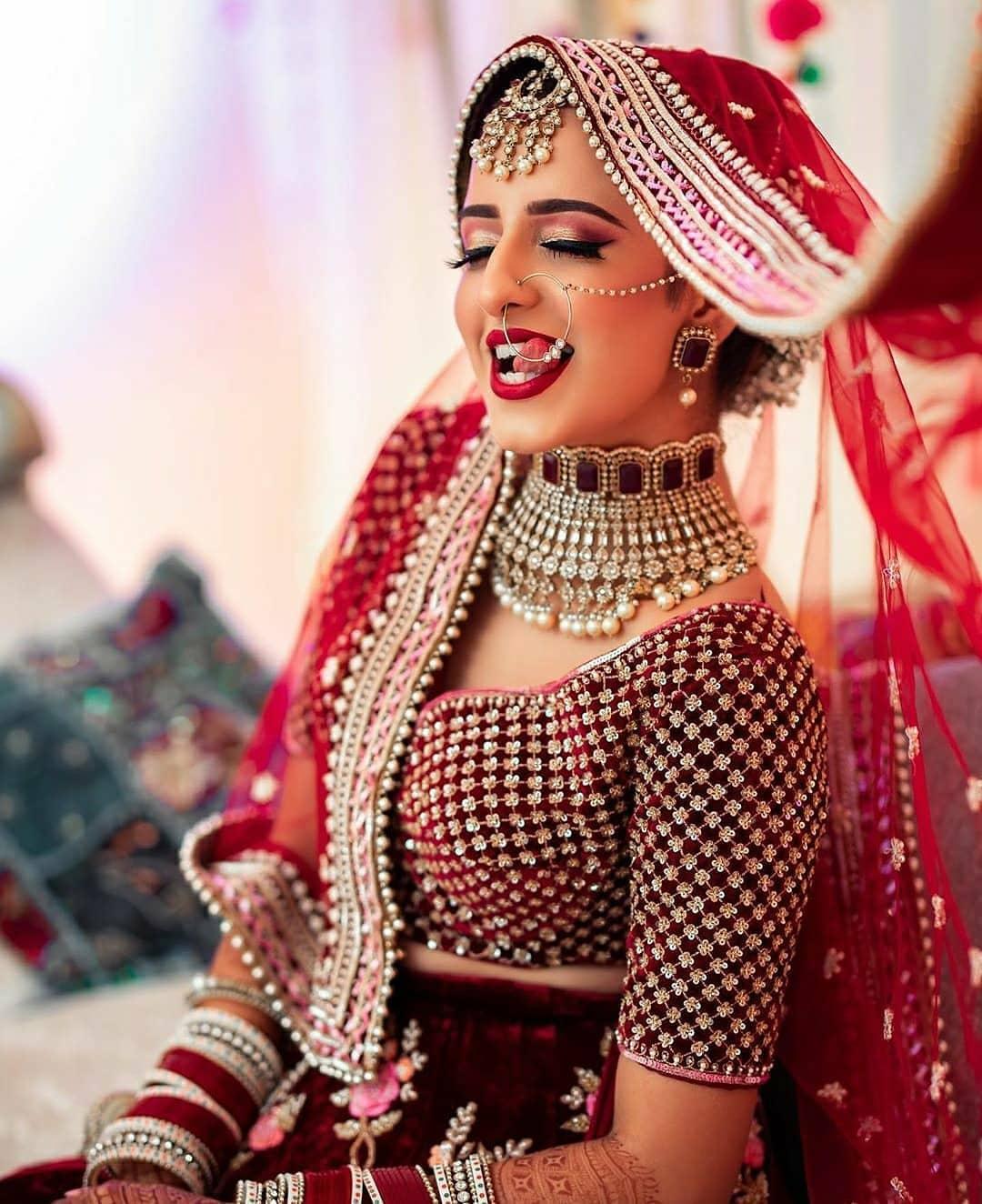 Image Courtesy: JD Arts Photography
Red is the colour of power and traditional integrity. If you want to try the tone-on-tone combination to add glamour to your red lehenga, this ruby jewellery set is everything you need. The elaborate stones on this necklace and the ruby studs with uncut diamond make the bride in red lehenga look ethereal. The choker necklace beautifies your neck and enhances the traditional look for the day.
The Polki Set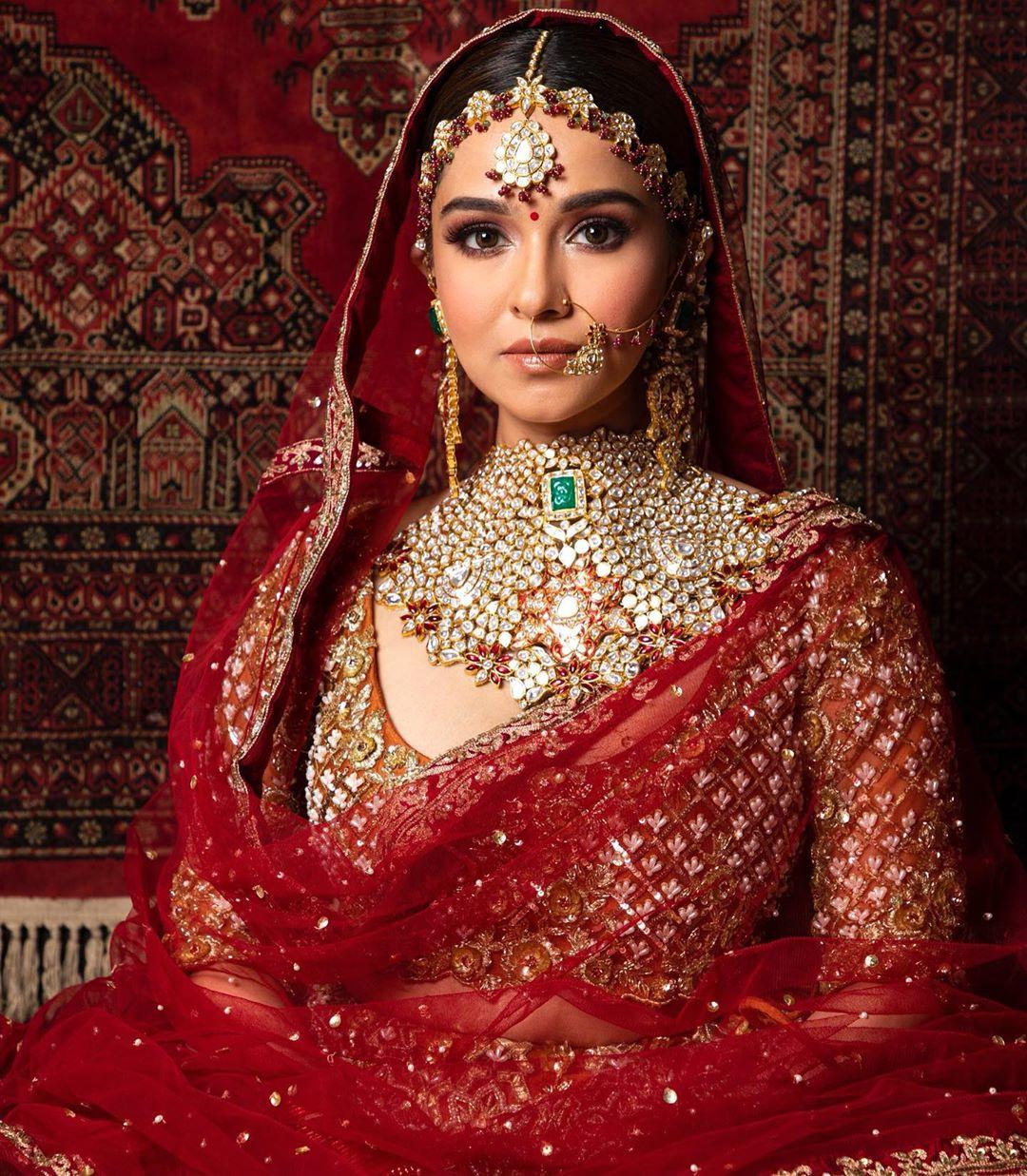 Image Courtesy: Ejaaz Couture
Jewellery Courtesy: Champa Lal Jewellers by Rajesh Modi
Polki is evergreen jewellery that can never go wrong. The Polki diamond jewellery set with a golden base including the Maang Tikka is a beaut. The little pearls add to the breathtaking detailing of this simple jewellery set to make you look mesmerising in your red lehenga for your D-day.
The Gold Jewellery Set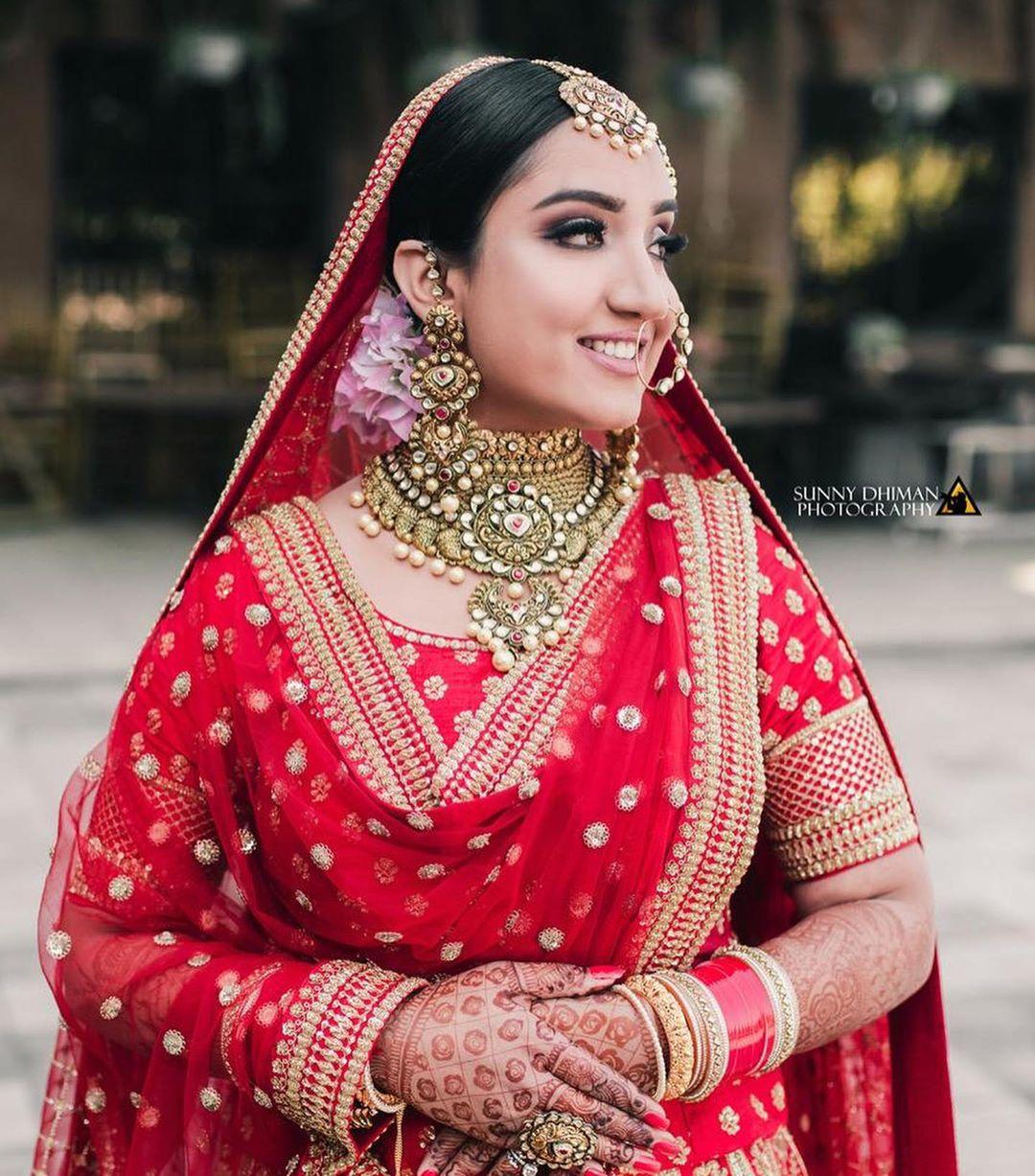 Jewellery Courtesy: Jaipur Diamonds
Gold jewellery sets are one of the most conventional accessories picks that the brides prefer. Red lehengas and gold jewellery have come hand in hand for ages now and this classic combination can be a head-turner.
Also Read: Here is a List of Groom Outfit Ideas That Complement a Bridal Red Lehenga
The Diamond Jewellery Set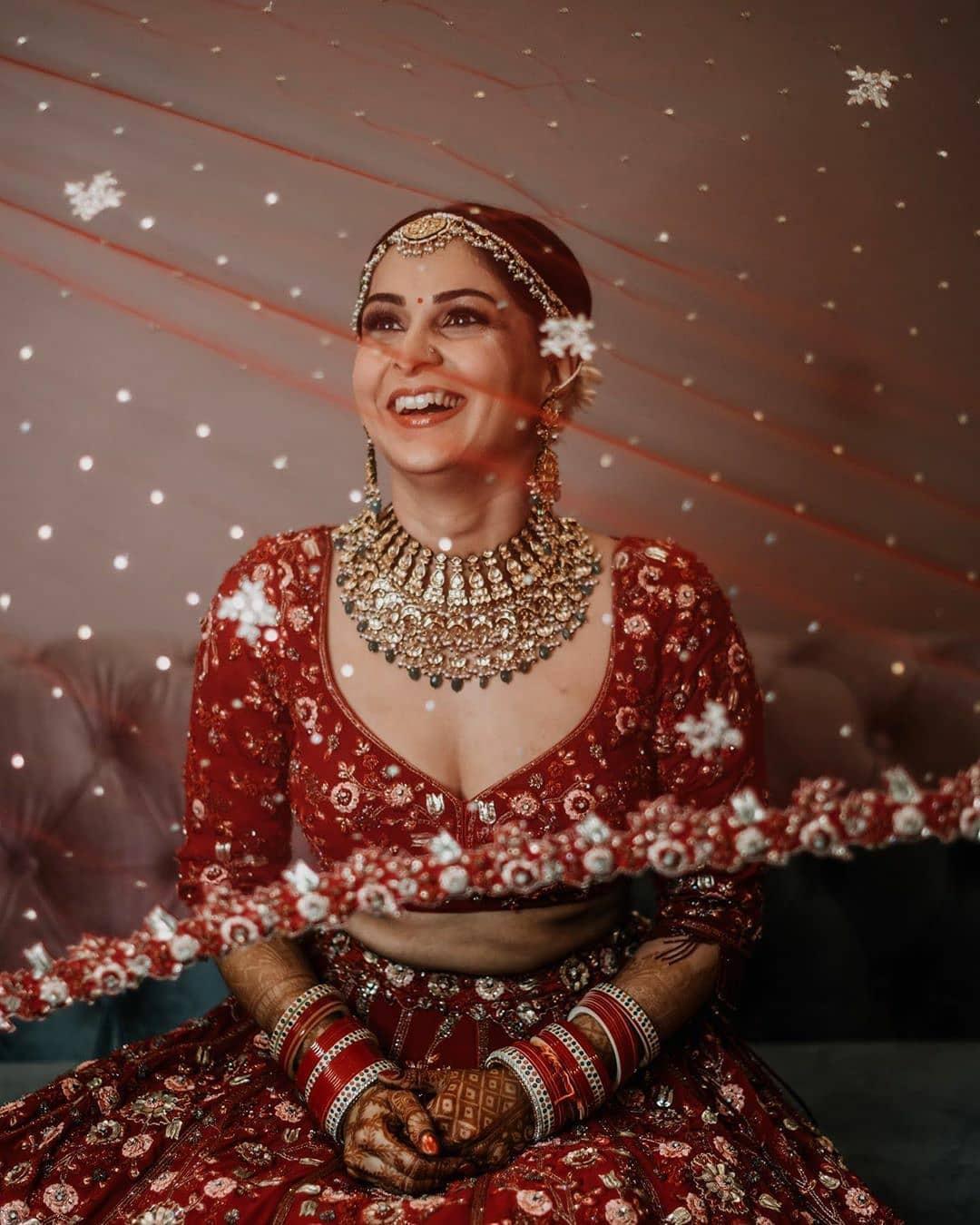 Diamond jewellery is a versatile pick that will complement your red lehenga to the T and this intricate set is a hoot.
The Pearl Chhapka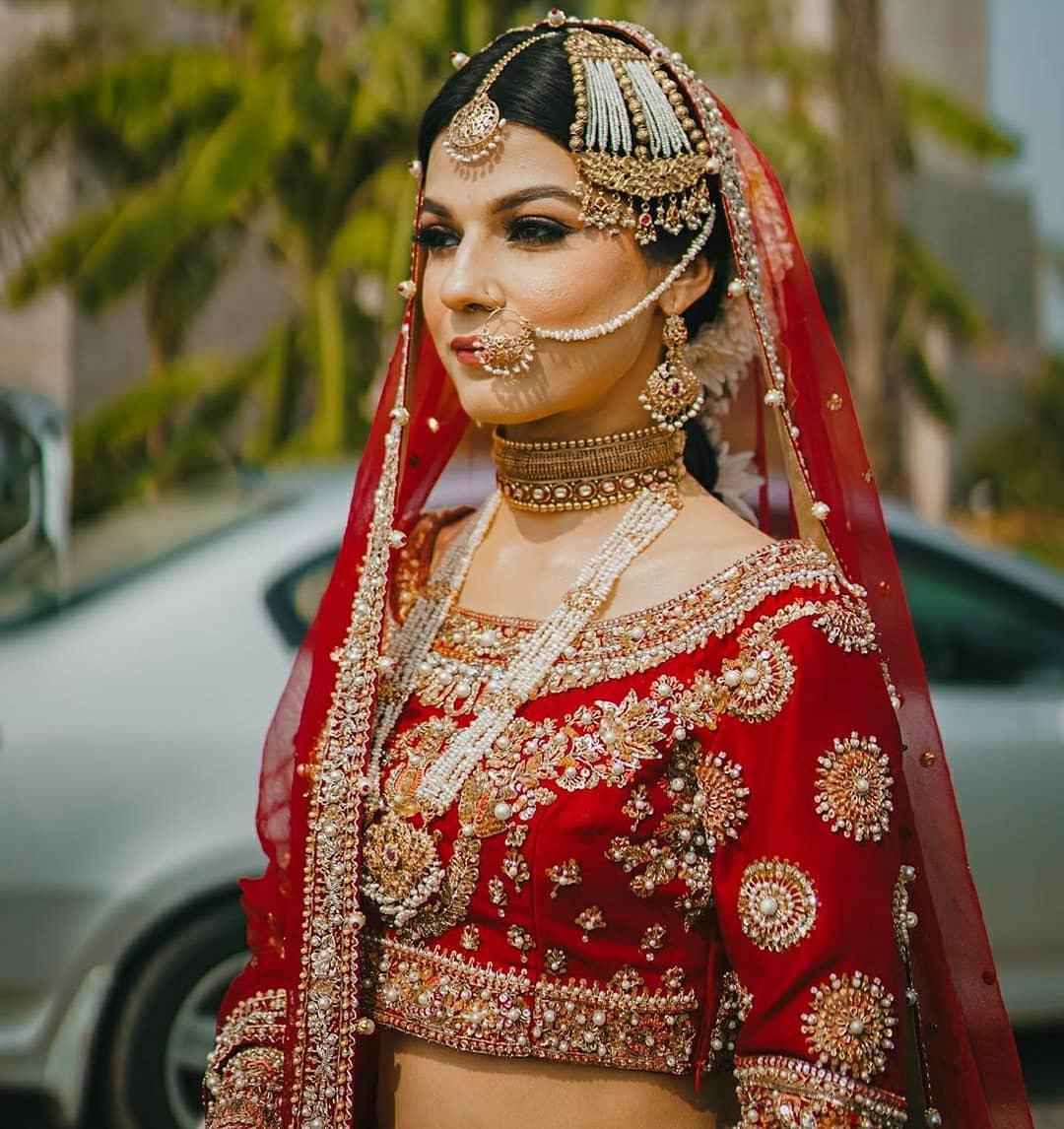 Image Courtesy: Pictorizzah
Chhapka or Passa is also known as Jhoomar and it makes for an integral part of a Muslim bride's look for her Nikkah ceremony. This gold Chhapka with pearl detailing is a breathtaking bauble to accessories your red lehenga.
The Golden Meenakari Set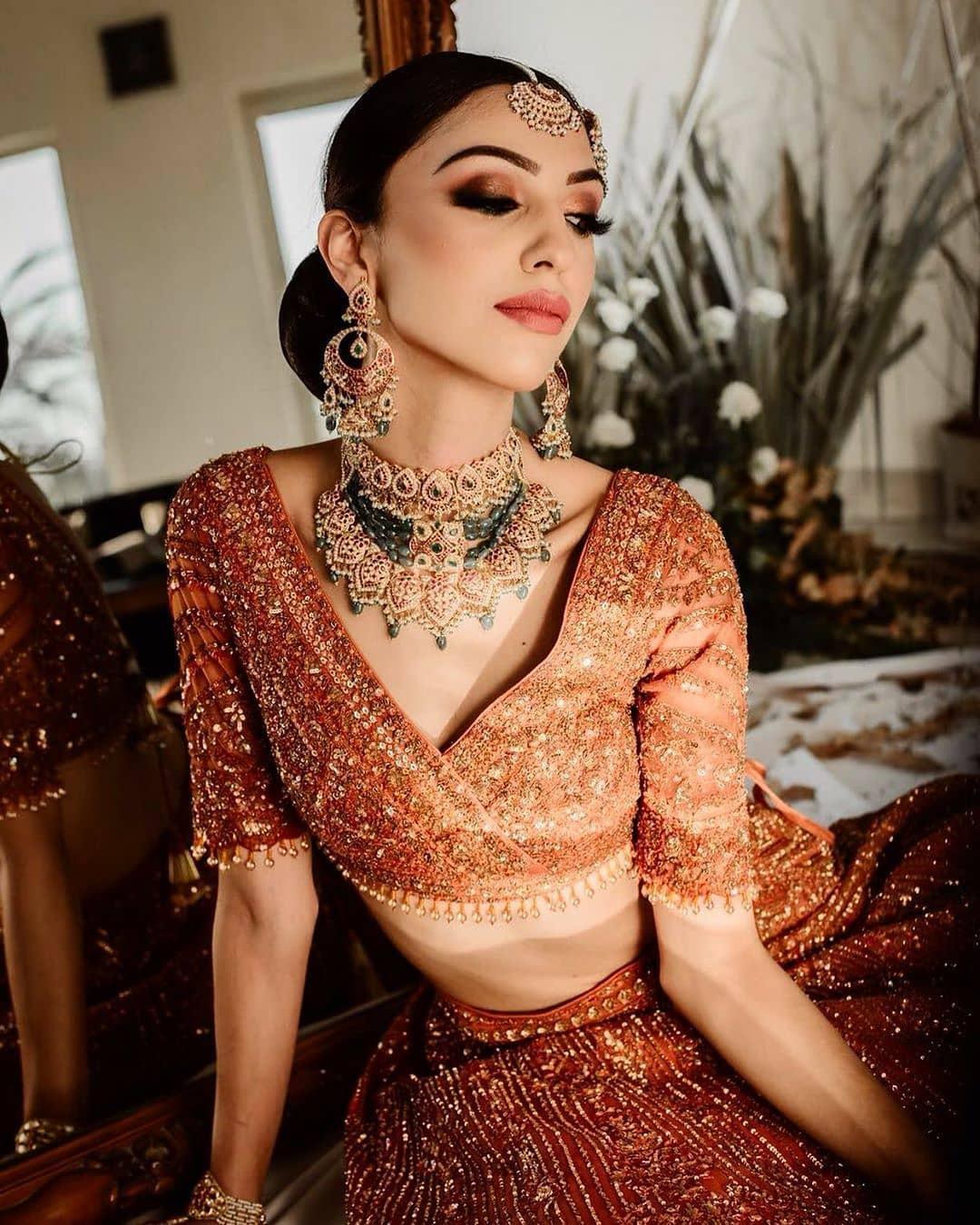 Jewellery Courtesy: Khurana Jewellery House
Meenakari is an elegant and delicate jewellery design that adds charm to any traditional outfit. This golden necklace with precise Meenakari work and matching Meenakari earrings and Maang Tikka will be a stunning pick to accessories your red lehenga.
The Statement Necklace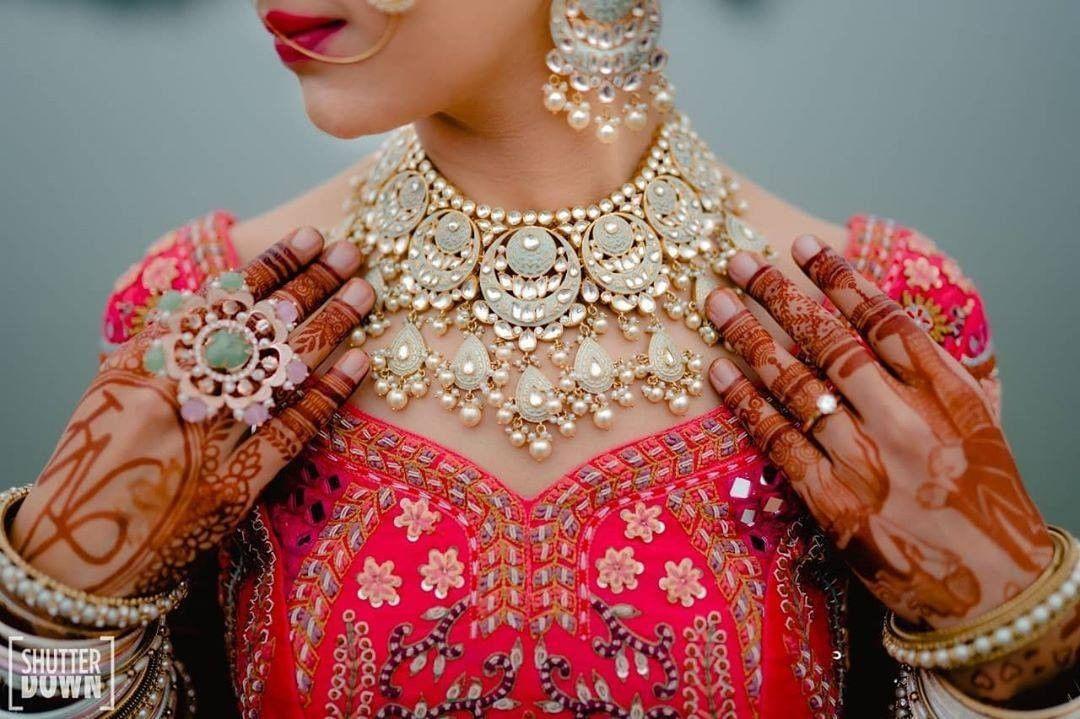 This statement necklace with matching earrings from the house of Purab Paschim is an out of the box accessory to complete the red lehenga look. Brides can opt for this subtle coloured piece to balance the exquisite look of a red lehenga.
The Simple Polki Maang Tikka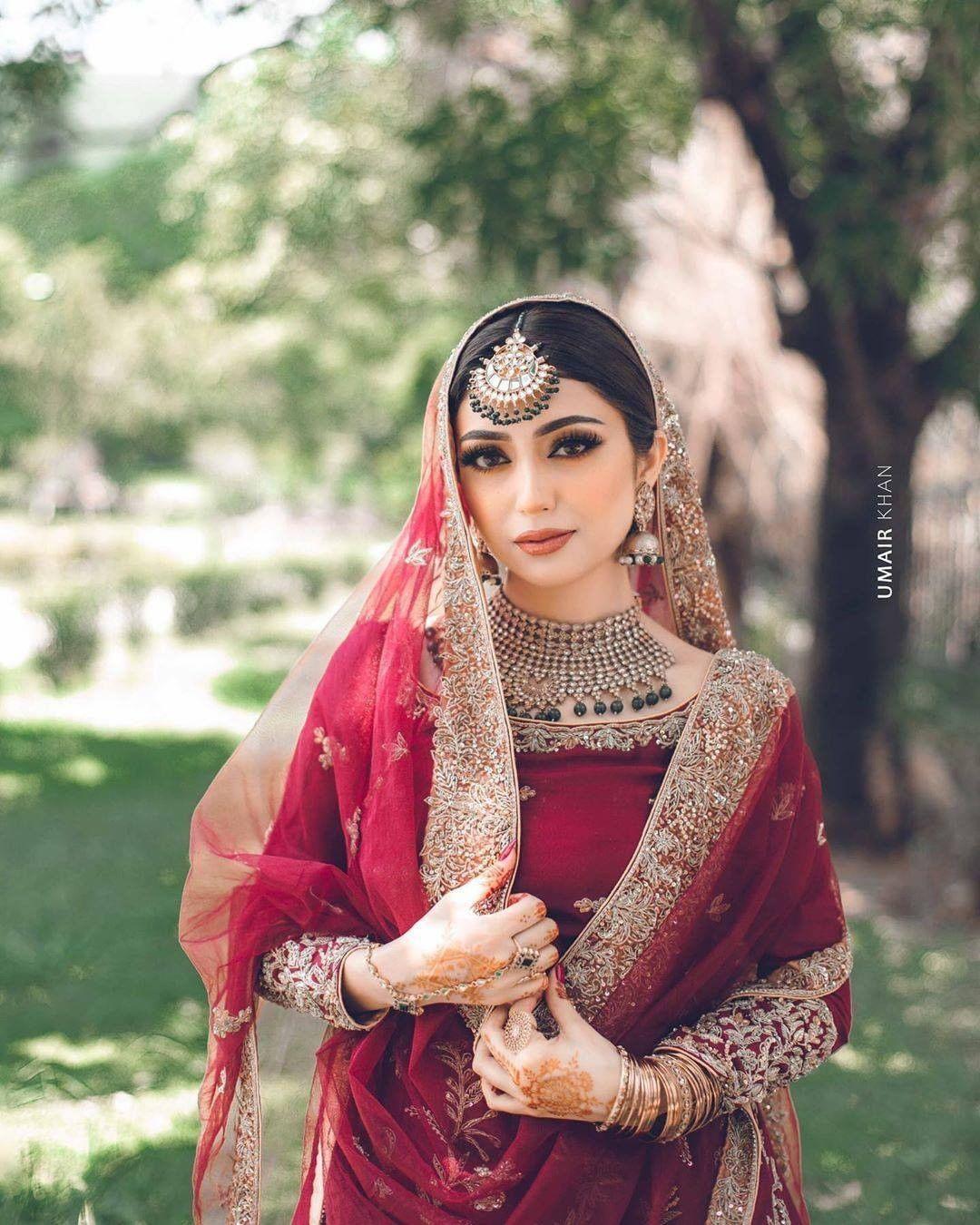 Image Courtesy: Studio Umair Khan
Jewellery Courtesy: Moonz Jewellers
While Maang Tikkas are all things bridal, you can keep your Maang Tikka design minimal and since round Tikkas are the most conventional pick, they are sure to add to the charm of the red lehenga.
The Regal Diamond Neckpiece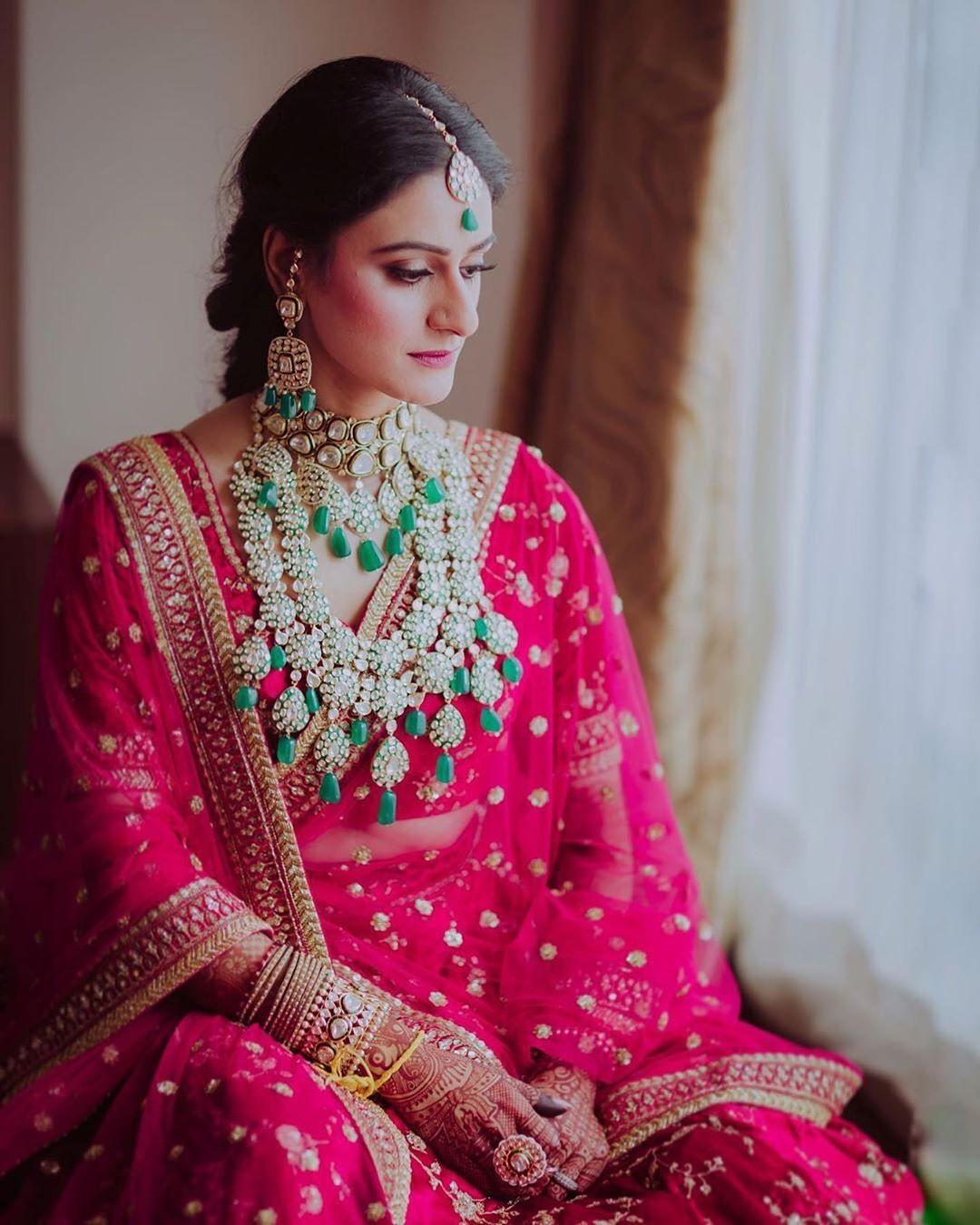 Speaking of OTT this diamond haar is a magnificent pick and the green stones add to its beauty making it just perfect for a bridal bauble.
The Traditional Matha Patti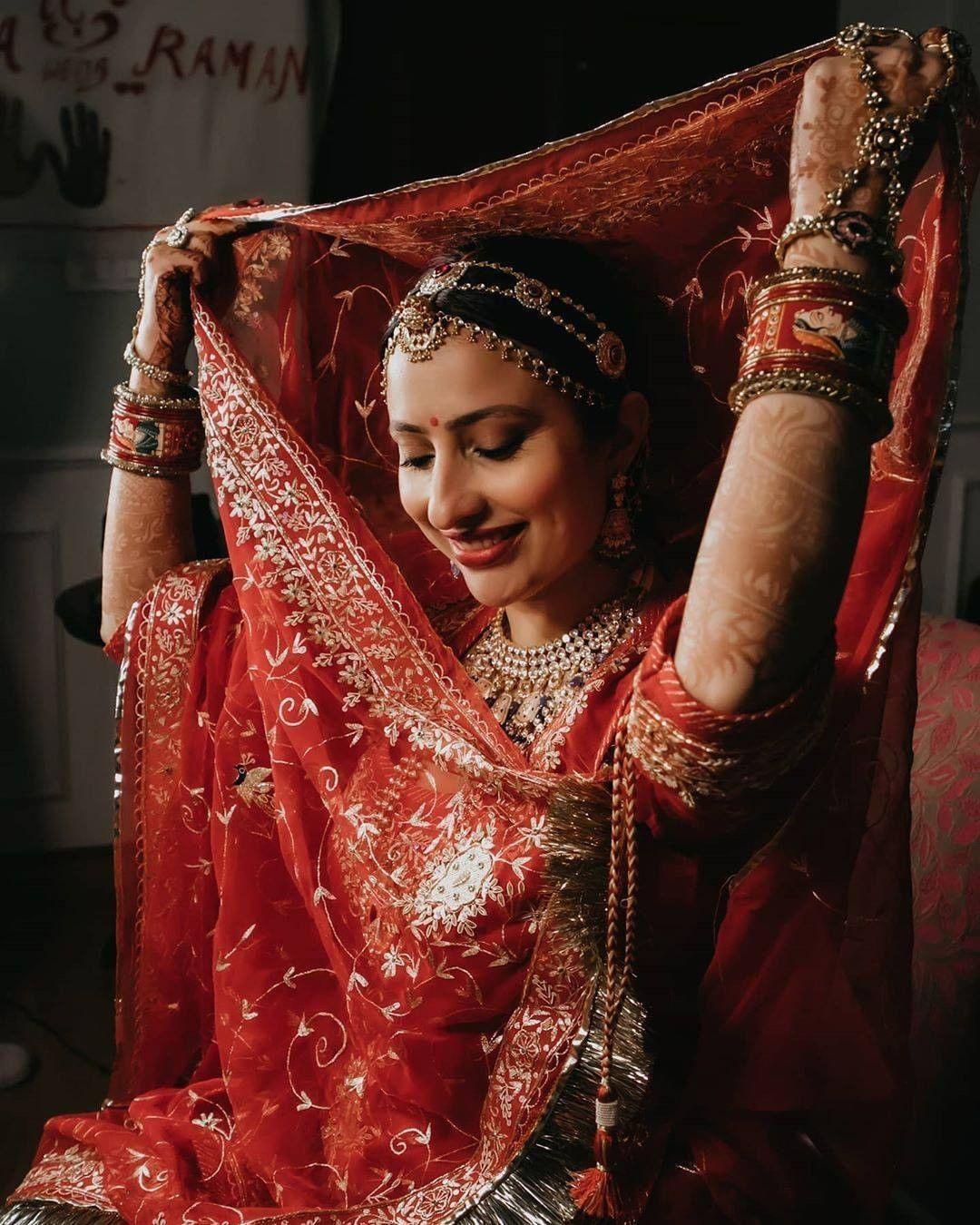 Image Courtesy: The Wedding Files
Jewellery Courtesy: Tanishq, Kishan Lal Jewellers & Sons
Traditional jewellery has its own old-world charm to flaunt. This traditional Matha Patti is one such pick for the brides who want to keep it conventional to the T for their wedding.
The Elaborate Bangle Designs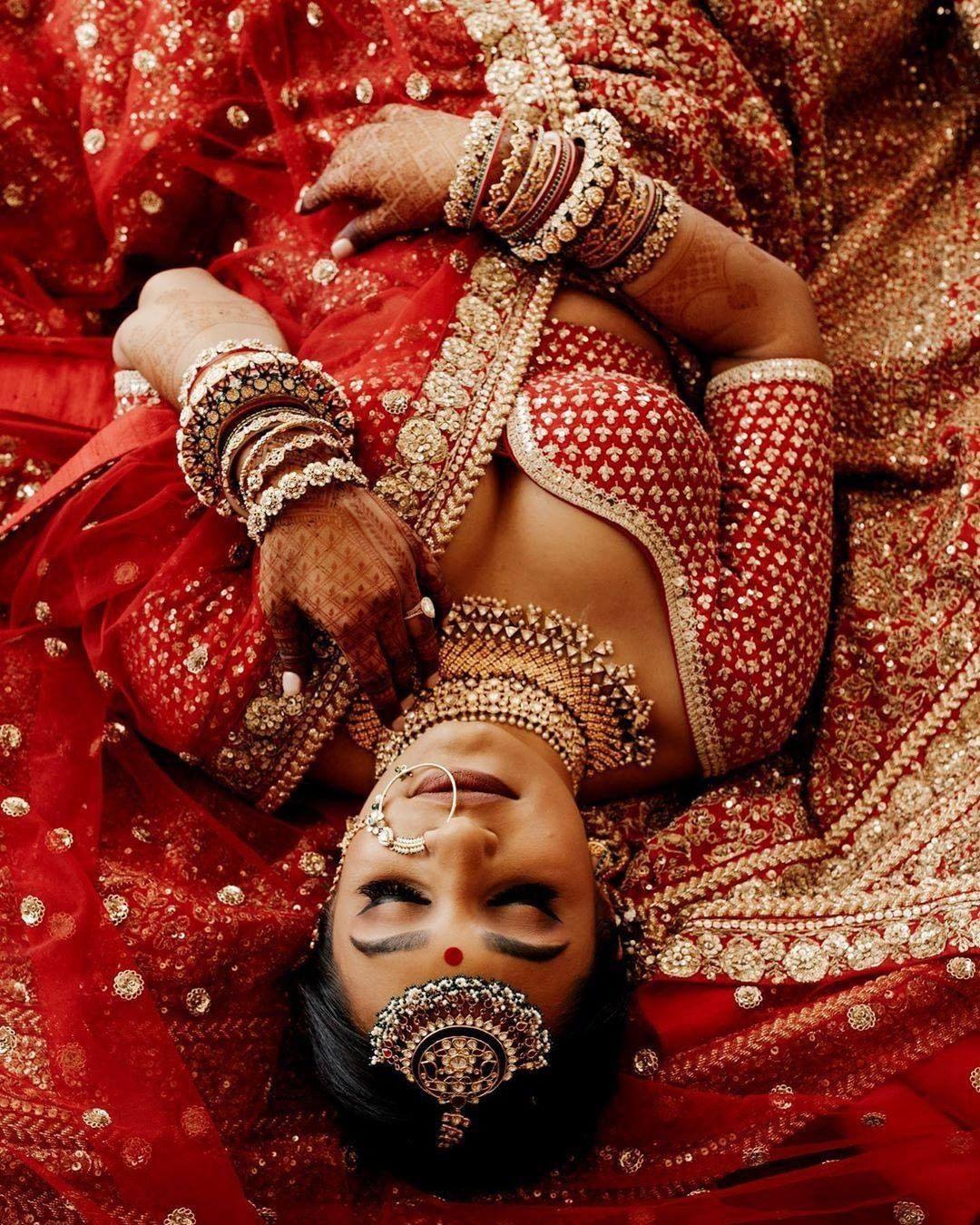 Image Courtesy: Madi Robison
Jewellery Courtesy: Sabyasachi Jewellery
This jewellery set from the house of Sabyasachi is sure to grab eyeballs but what stands out is the elaborate bangles design. The set of fancy bangles with intricate designs in floral shapes with a big fancy Kada in the centre adds to the magnificence of the red lehenga.
The Antique Gold Chura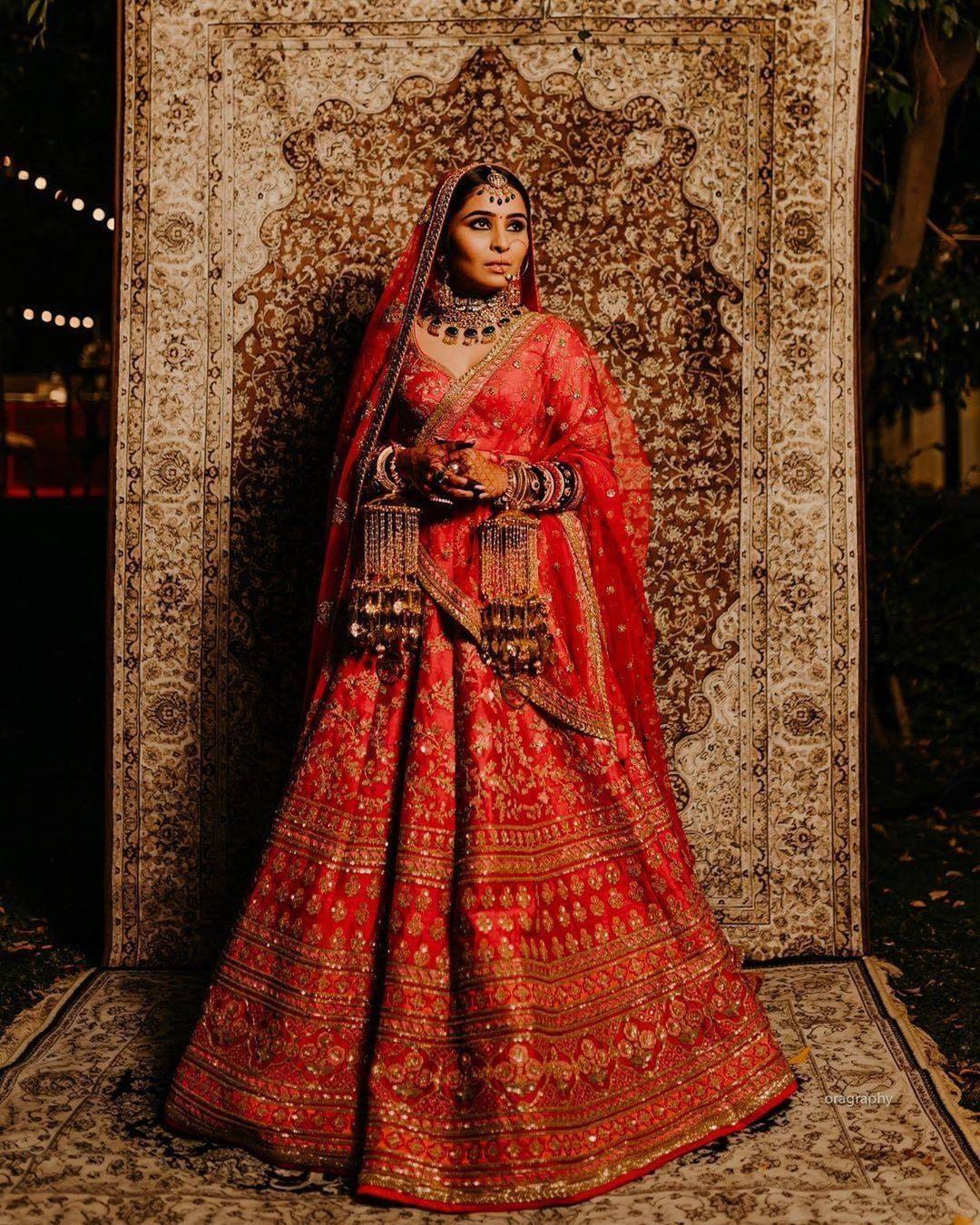 Jewellery Courtesy: Mortantra Jewellery
Bangles sure make your arms look all things bridal, but these gold Kaleere are stunning. This gold jewellery set with Tahitian pearl or Black Opal studded in the neckpiece is nothing short of royalty.
The Gold & Diamond Choker Set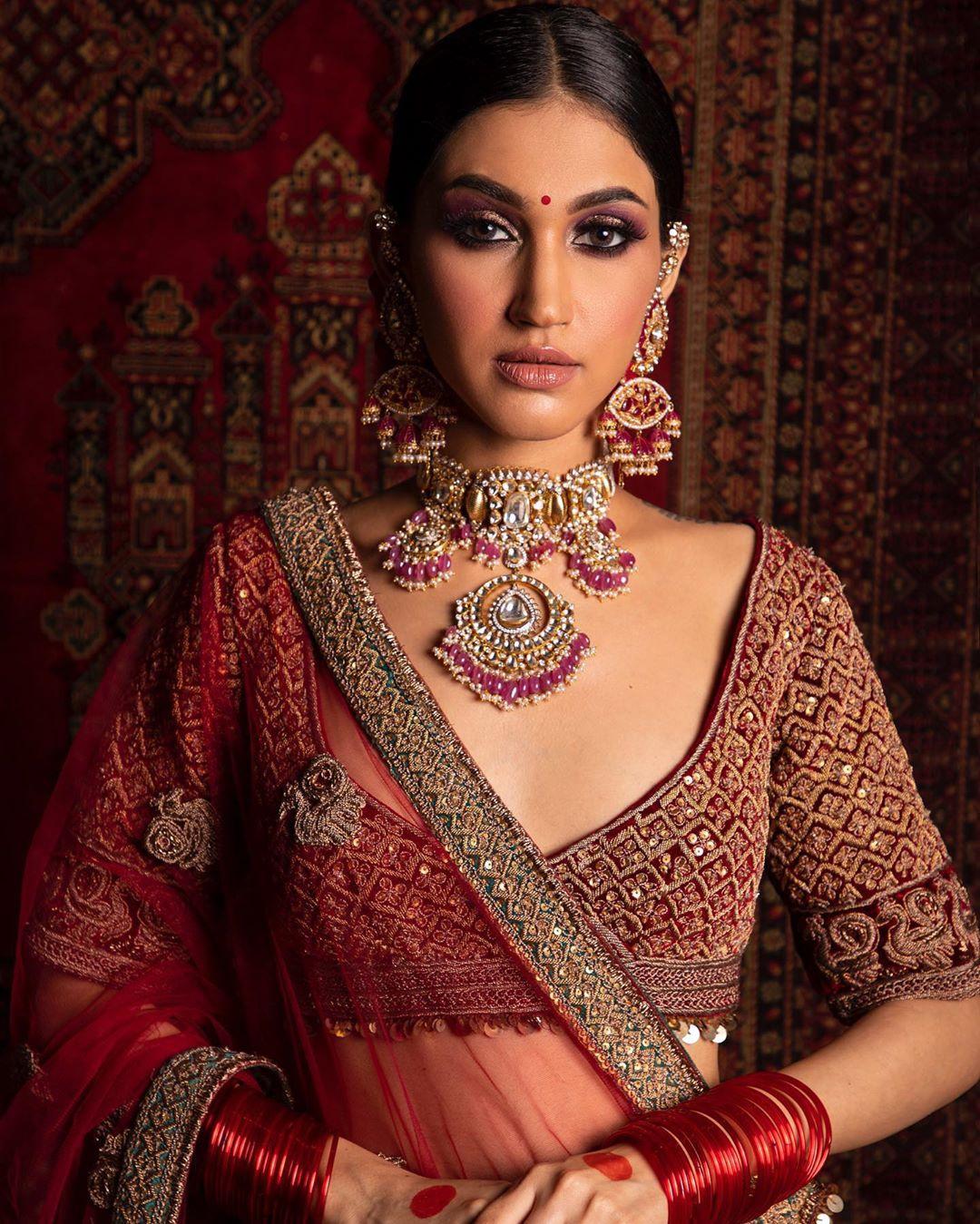 Diamond jewellery is a versatile pick that is sure to enhance your look in the red lehenga. but what makes this piece by Amaris even more special are the pink opal or garnet beads that run from the choker to make you look breathtaking. The Chandbaali pendant is a cherry on top.
Heavy Jadau Jewellery Set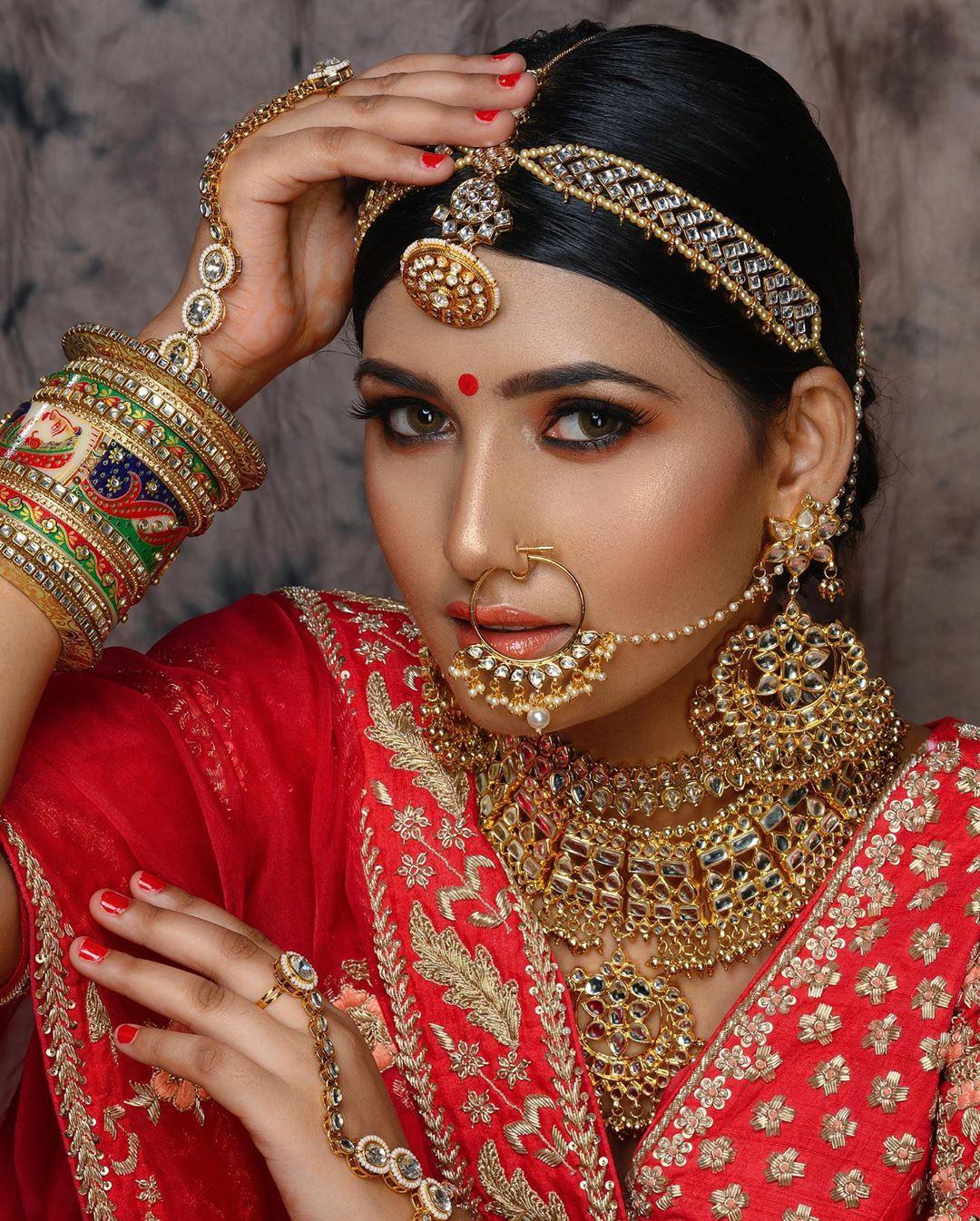 Diamonds never run out of fashion - be it cut or uncut. The finesse of the Polki stones is embedded into the dazzling gold base creating a heavy Jadau jewellery set that will make the bride in red lehenga look enchanting.
Antique Gold Polki Set with Pearl Detailing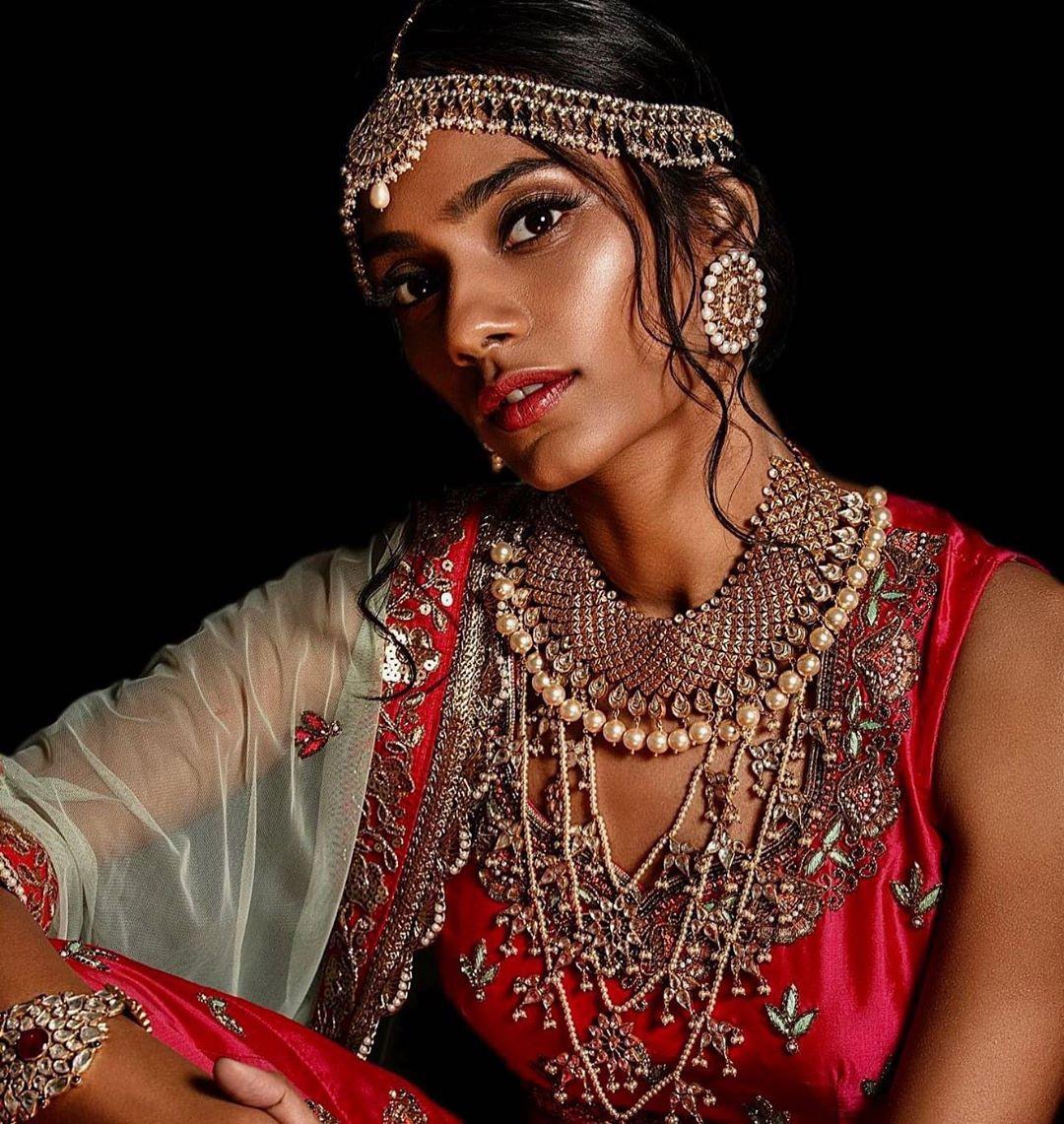 What is better than one Polki necklace? Two Polki necklaces perfectly layered - one a heavy haar and the other a lada. The lada has fine pearls running through the string to make add to the WOW factor of your red lehenga. The big studs with pearl detailing will accentuate your jawline if you have your hair up in a bun.
Customised Diamond Jewellery for Brides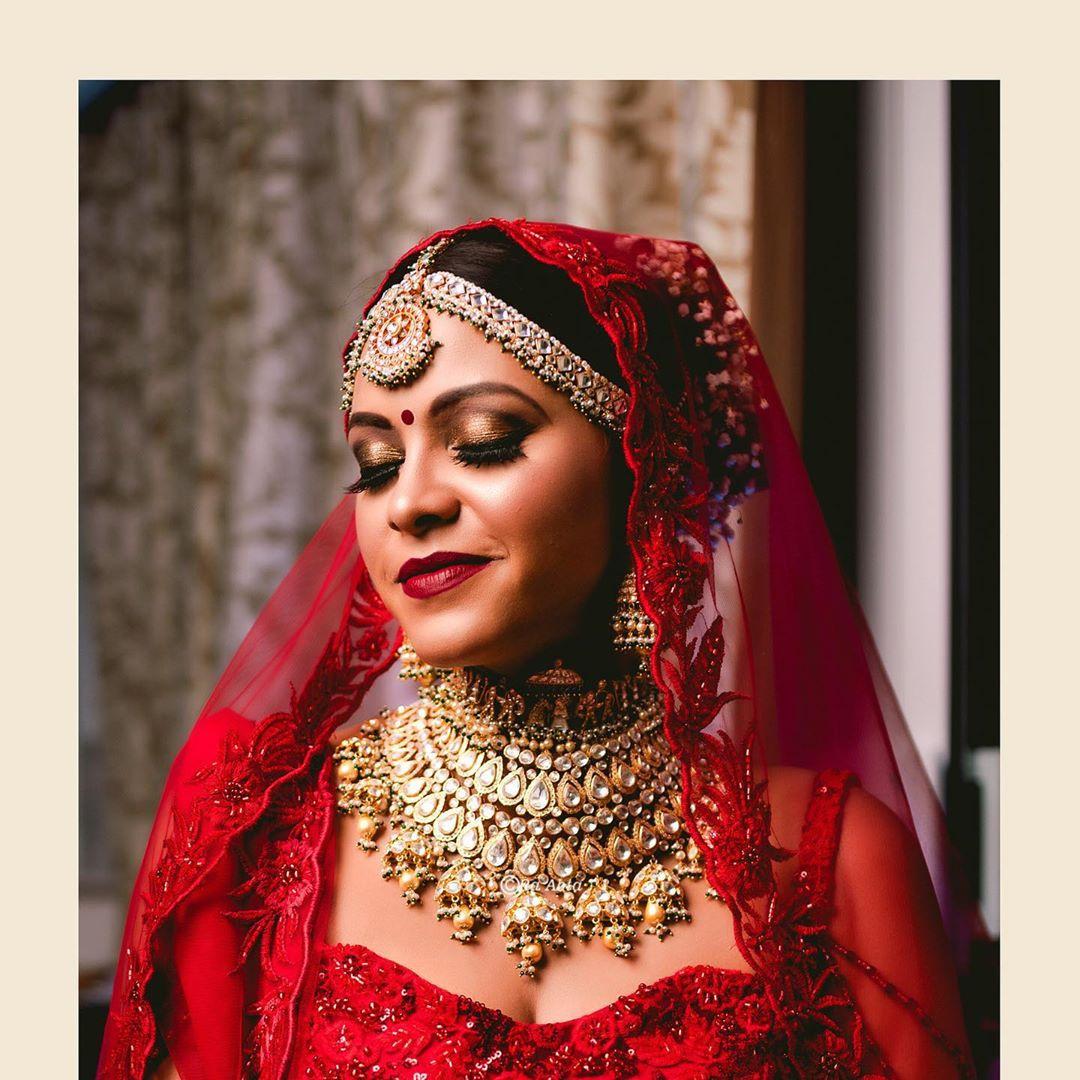 Jewellery Courtesy: Raabta by Rahul
A classic customised bridal jewellery set designed by Raabta by Rahul Luthra with gold accents will complement your red lehenga for the big day beautifully. The Matha Patti and Jhumka earrings are the baubles that make this bridal jewellery set a prized possession.
Handcrafted Polki Sets With Colourful Precious Stones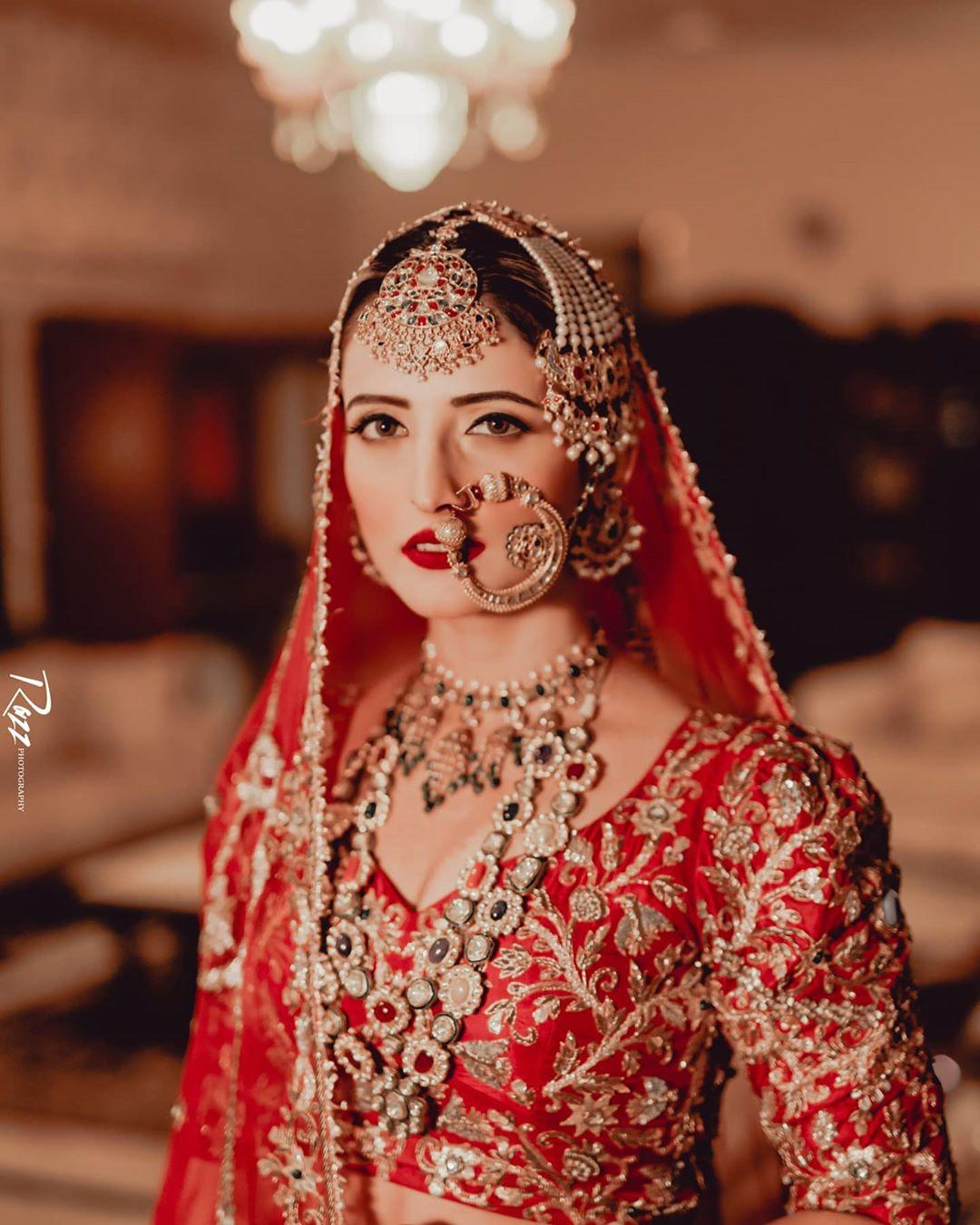 Jewellery Courtesy: Jagdish Jewellers Chandigarh
Meticulously handcrafted regal Polkis become a part of your heritage. Not only are they versatile and can be worn with traditional outfits even after you have styled them with your red lehenga, but the legacy and fine craft of Jadau can also be passed on to your future generations.
Artificial Polki Bridal Set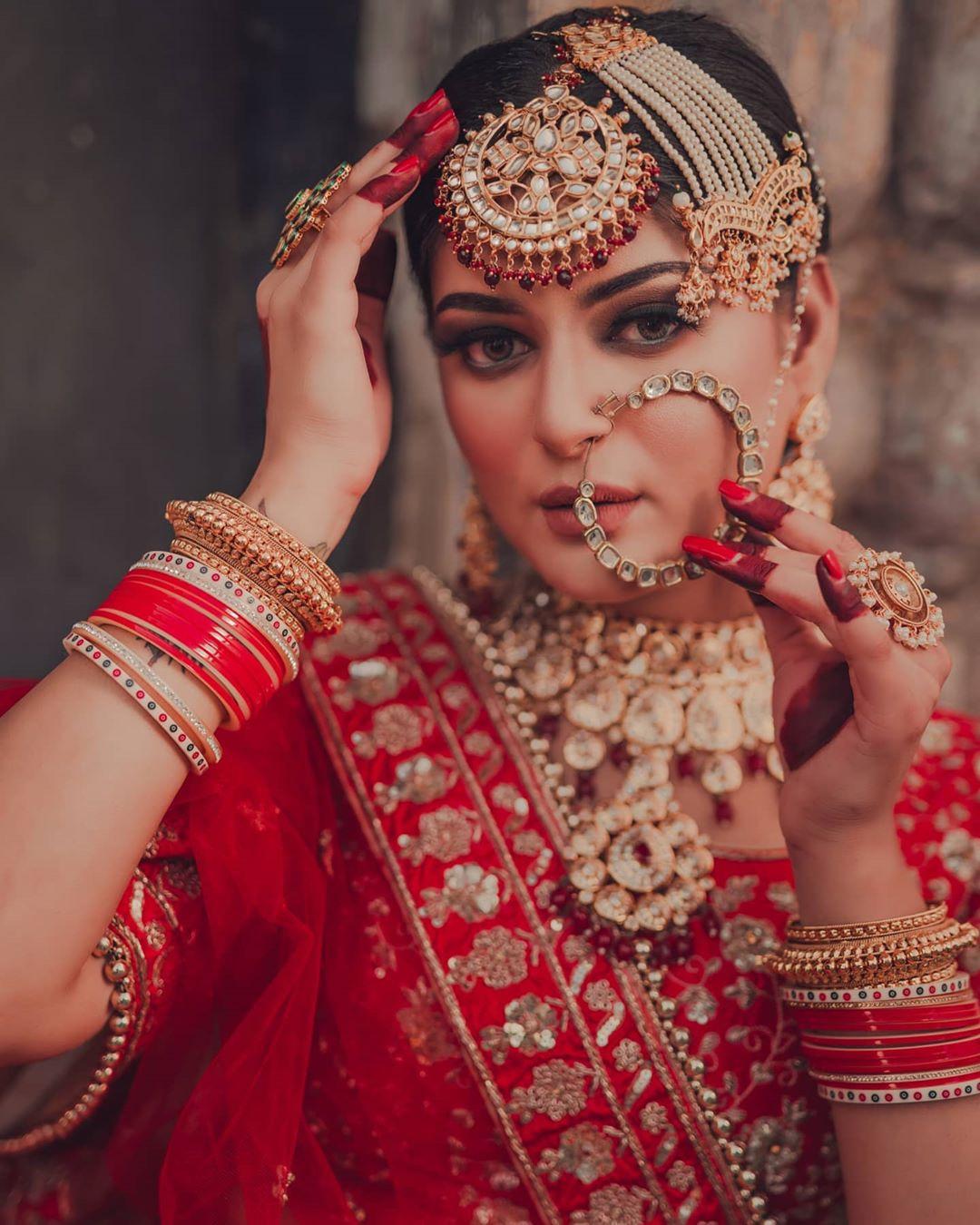 Image Courtesy: Kamna Sharma Official
Jewellery Courtesy: Ganpati Fashion Jewellery
Many brides have opted for artificial jewellery sets and some have even picked junk jewellery instead of real or precious stones. This fashion jewellery is one such artificial set of fine Kundan and Polki stone settings that will make the heads turn. We are in love with the oversized Maang Tikka and the red beads make it just perfect to accessorise the red lehenga.
Pearl Panchlada Haar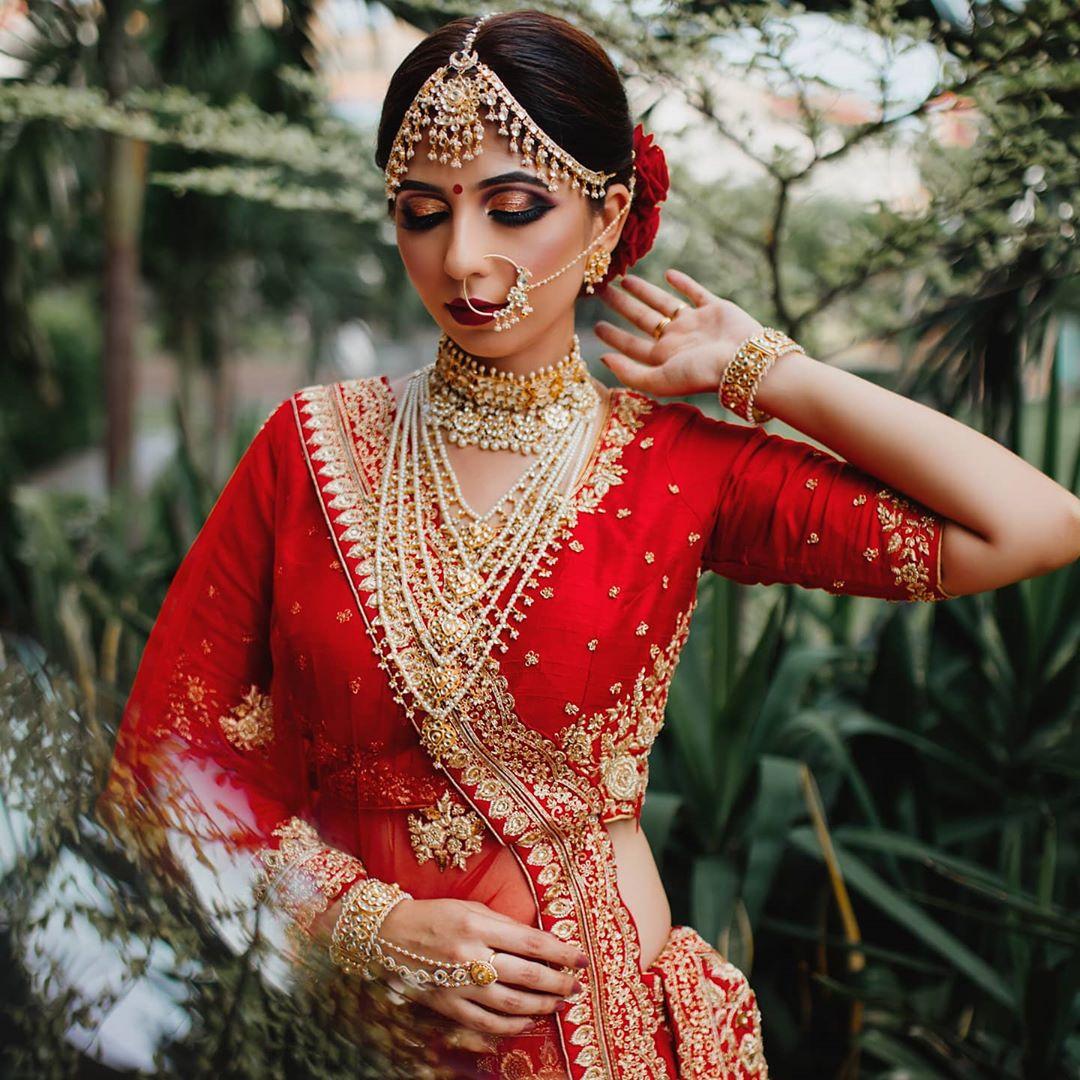 With the melange of red and pearls, a beautiful grandeur gets created. This subtle yet classy combination makes even layering of jewellery look mellow. Try your hands on pearl jewellery especially a Satlada or Panchlada to add to the beauty of your red lehenga look.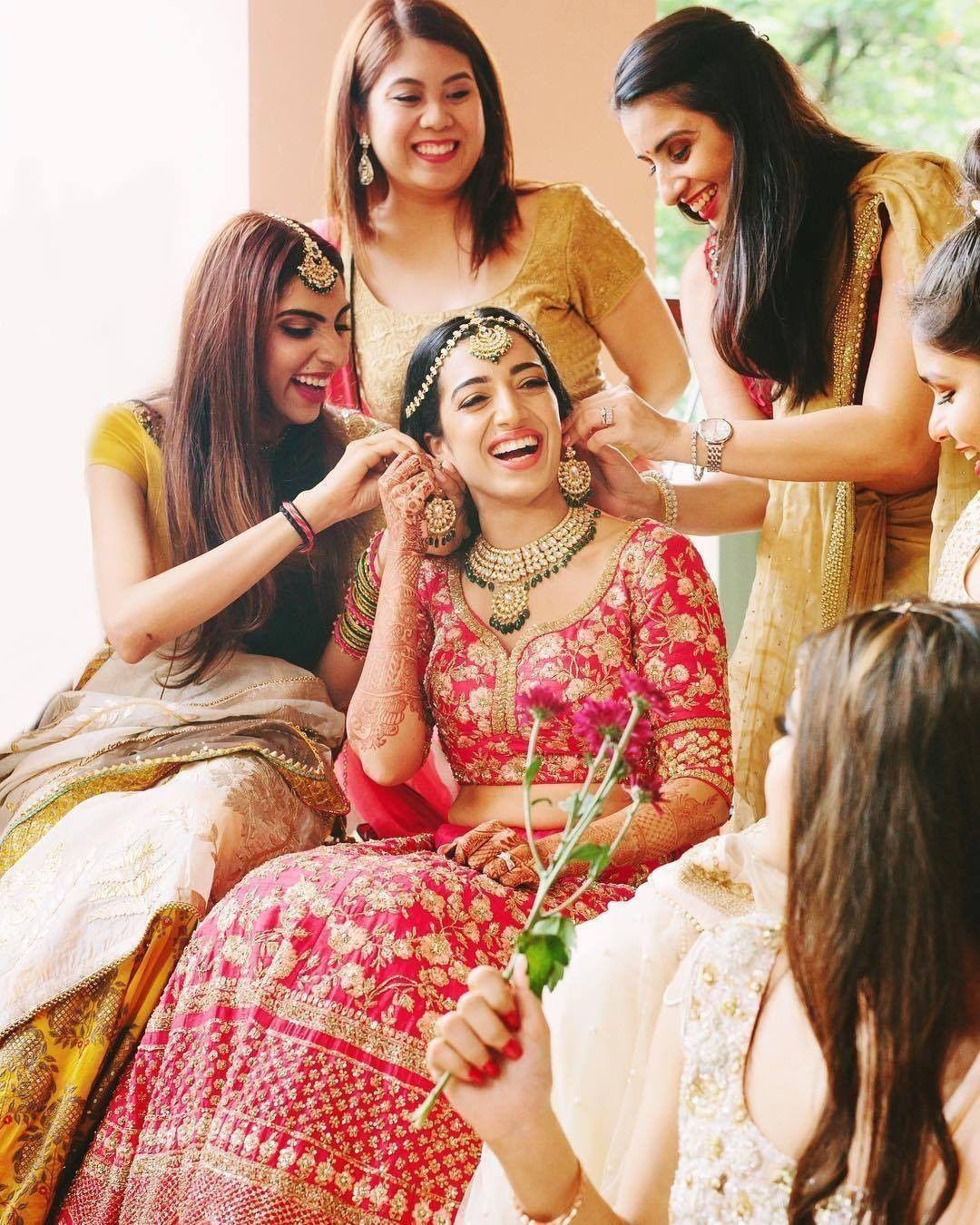 Image Courtesy: House On The Clouds
Red lehengas are no doubt one of the best selling bridal lehengas ever. While the popularity of red lehengas makes brides pick them more and more along with them being an abode of traditions and rituals, the millennial brides are on the hunt for the perfect jewellery that complements their red lehenga.
To end this very pursuit, we have handpicked some of the best designer bridal jewellery picks that will go perfectly with your red lehengas.
Bookmark your favourite and get in touch with the ace jewellers on board with us to make your dream wedding look come true.