Breathtaking Artificial Jewellery Set for All Your Wedding Events
Gold & diamonds are great. But if you want more varieties in designs, artificial jewellery  set is your go-to thing. Check out some stunning images for inspo.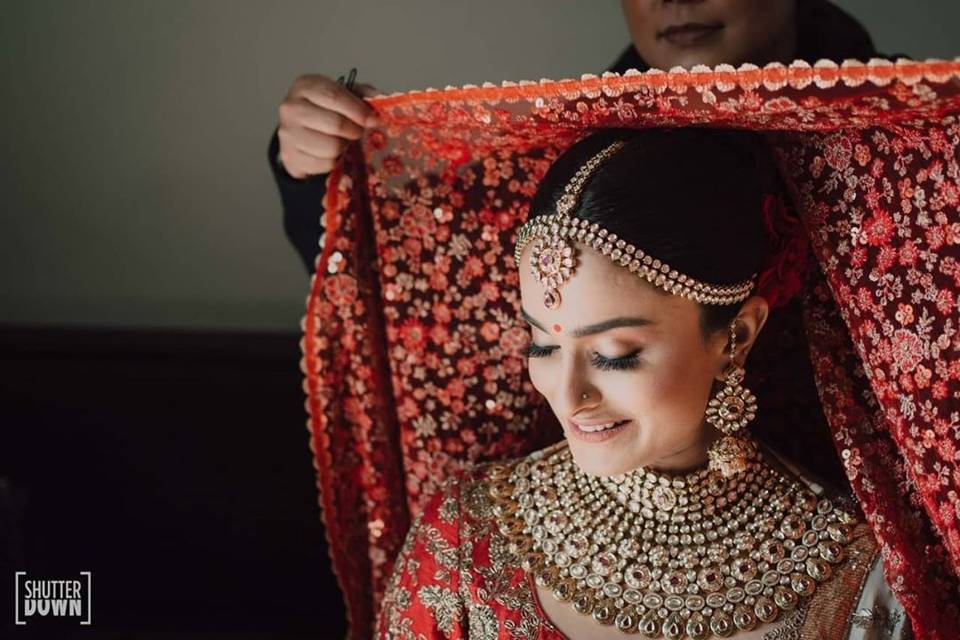 As far as bridal jewellery is concerned, artificial jewellery is no more looked down upon. The simple reason is, the range of variety and style spectrum for imitation jewellery is just huge! Whether it's a simple yet elegant terracotta set, contemporary designer concept jewellery or exquisite antique jewellery, brides prefer unique designs and one-of-a-kind patterns over traditional sets when it comes to different ornaments for different functions. Hence the raging trend. So, if you are one of the brides-to-be and looking for some fascinating artificial jewellery set designs that are both awe-inspiring and affordable, check out these images we've picked for you!
Heavy Meenakari jewellery set with pearl beads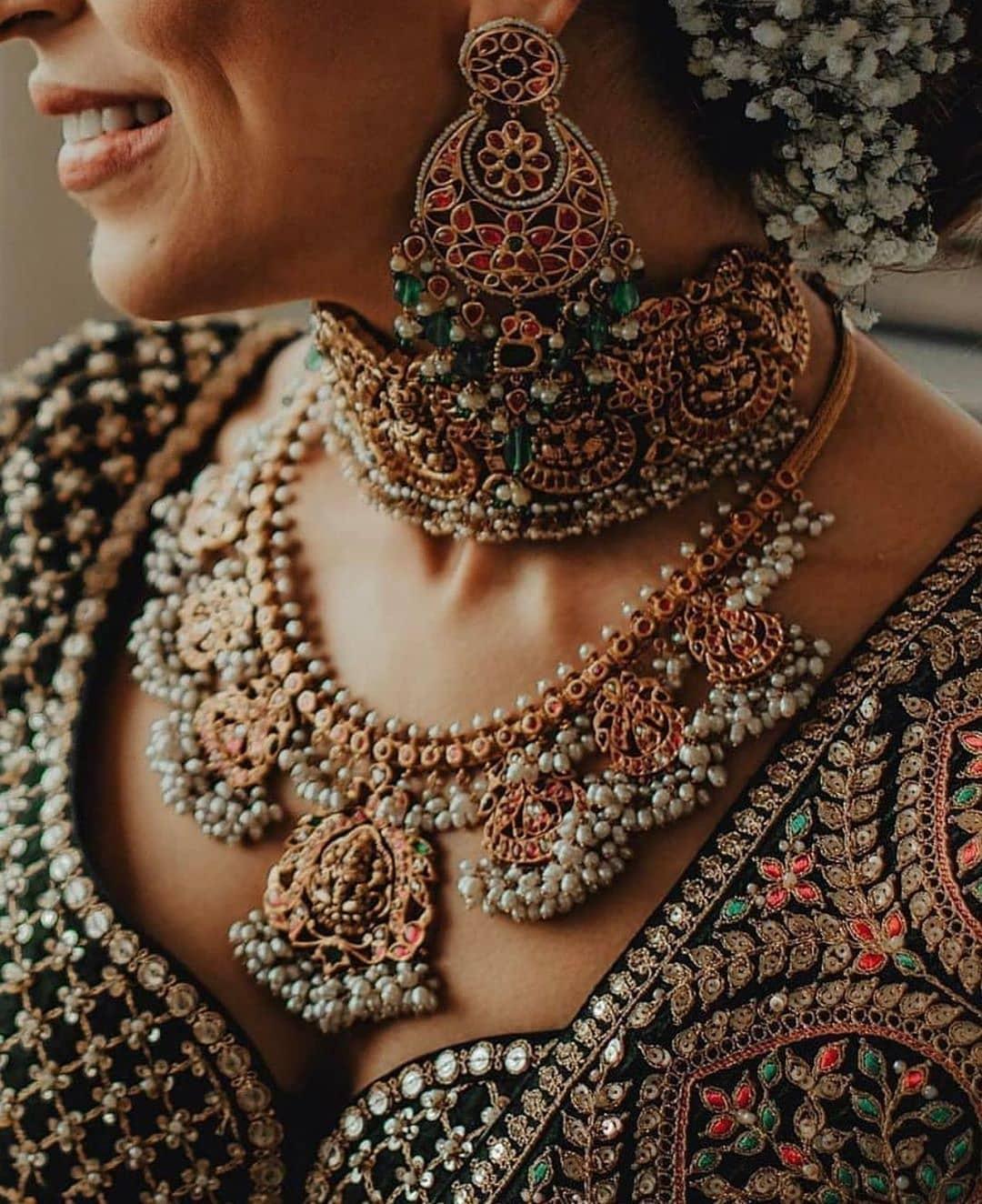 Image Courtesy: Raabta by Rahul
Flaunt this spectacular artificial jewellery set on your big day and watch all heads turn your way. The intricate Meenakari work with red stones on the bronze colour metallic base gives this heavy necklace the perfect royal touch. If you're planning to have a royal theme wedding, this is the kind of jewellery you'd love to go for. The tiny pearl beads dangling from the bottom of the necklace only accentuate the grandeur of the ornament. The beautiful Chandbali earrings with red stonework are just the icing on the cake!
Ideal occasion: Wedding or Reception.
Heavy choker set with stones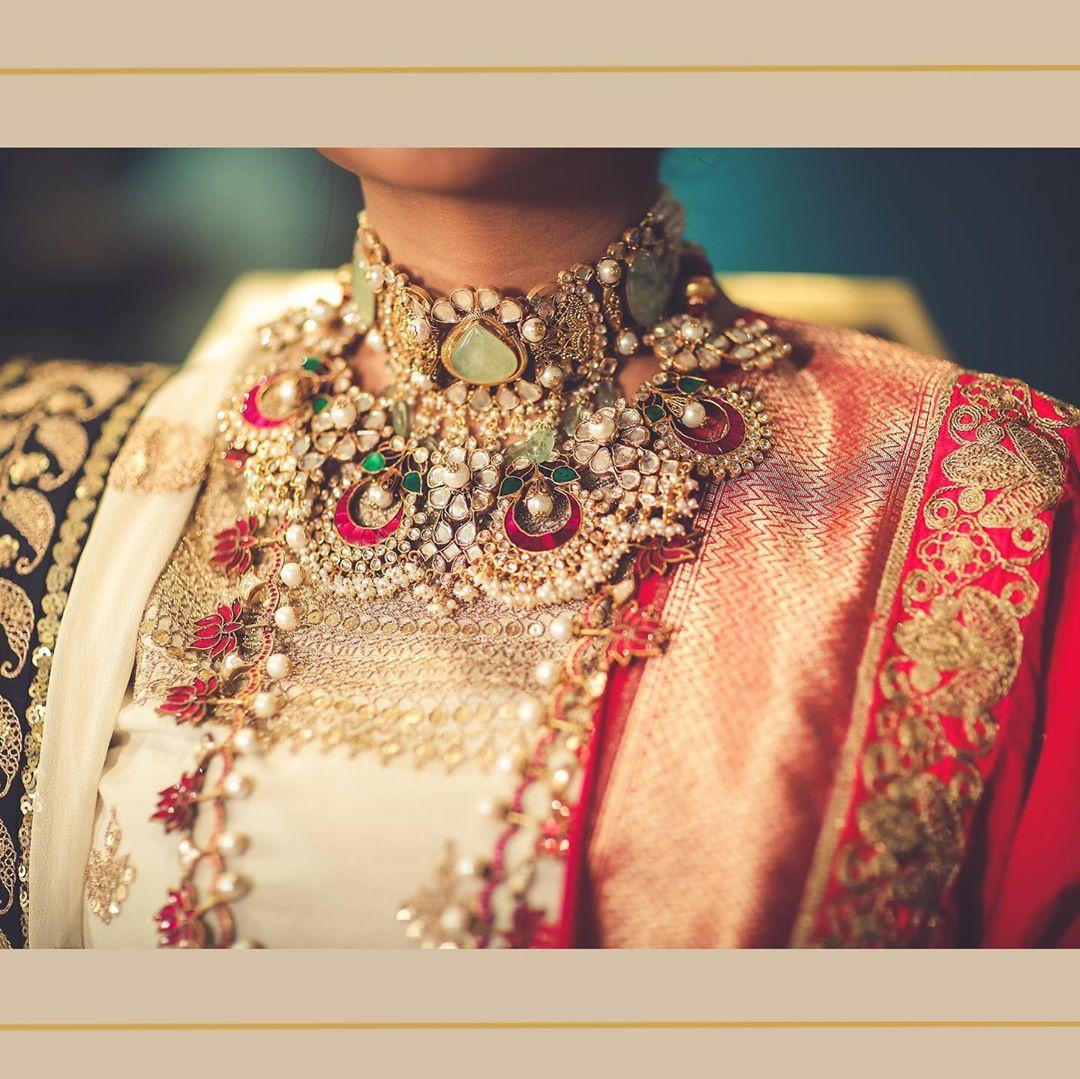 Have you always had a soft corner for choker necklaces? This artificial jewellery set is a display of delicate stonework on a broad heavy choker necklace with perfectly matching long necklace. The combination of golden and red with occasional Polki stones works as a magical ingredient for this grand jewellery set. The extended large arches at the bottom of the necklace give it a fuller look. You can pair this up with matching Jhumka earrings or teardrop-shaped big earrings. For a lighter look on pre-wedding occasion, maybe go with smaller earrings and ditch the long necklace.
Ideal occasion: Sangeet, Wedding or Reception.
Gold-based contemporary jewellery set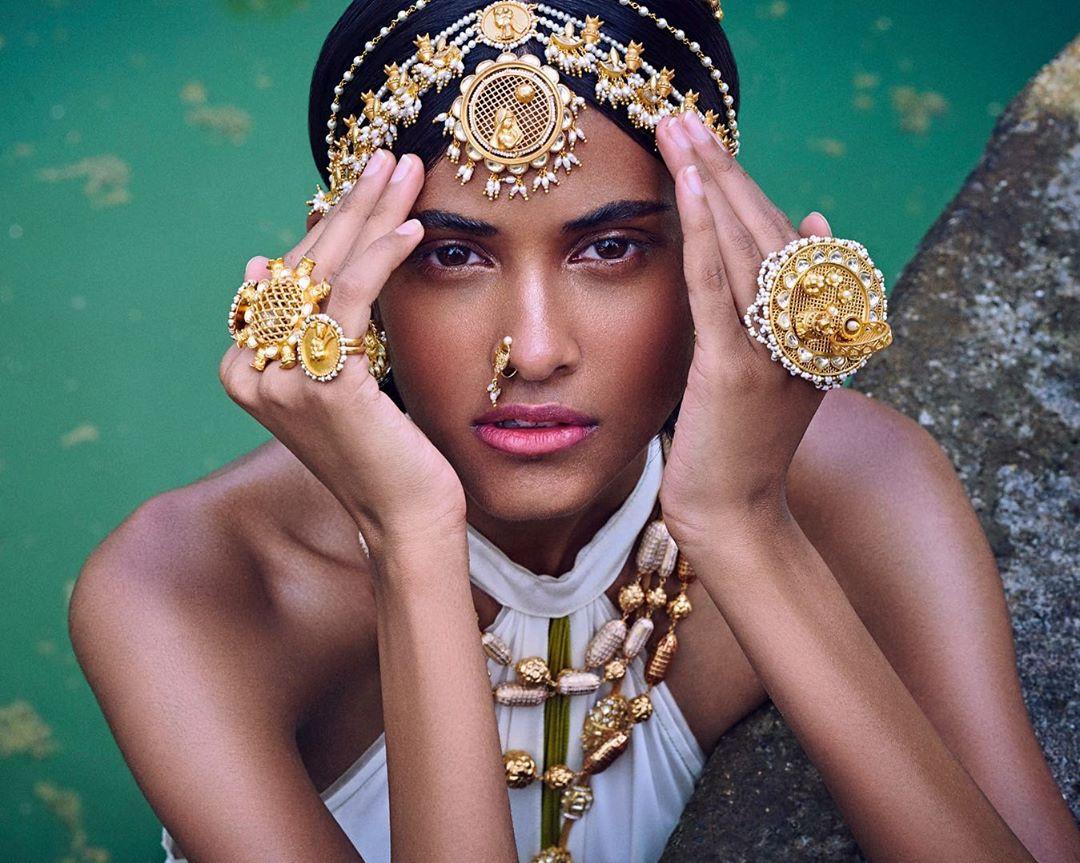 Image Courtesy: Raabta by Rahul
Looking for something contemporary and unique? Try this gold-based artificial jewellery set with a brilliantly creative design. The oversize rings and the Matha Patti make quite a statement with their very unconventional patterns. The matching golden Nath with tiny pearl beads is the perfect addition to the concept jewellery set. Wear an Indo-western outfit or experimental dress like dhoti saree, jumpsuit saree, saree with a crop top or a gown style pre-stitched saree to accompany this fabulous jewellery.
Ideal occasion: Sangeet, Engagement or Cocktail party.
Gold-based Rajasthani style jewellery set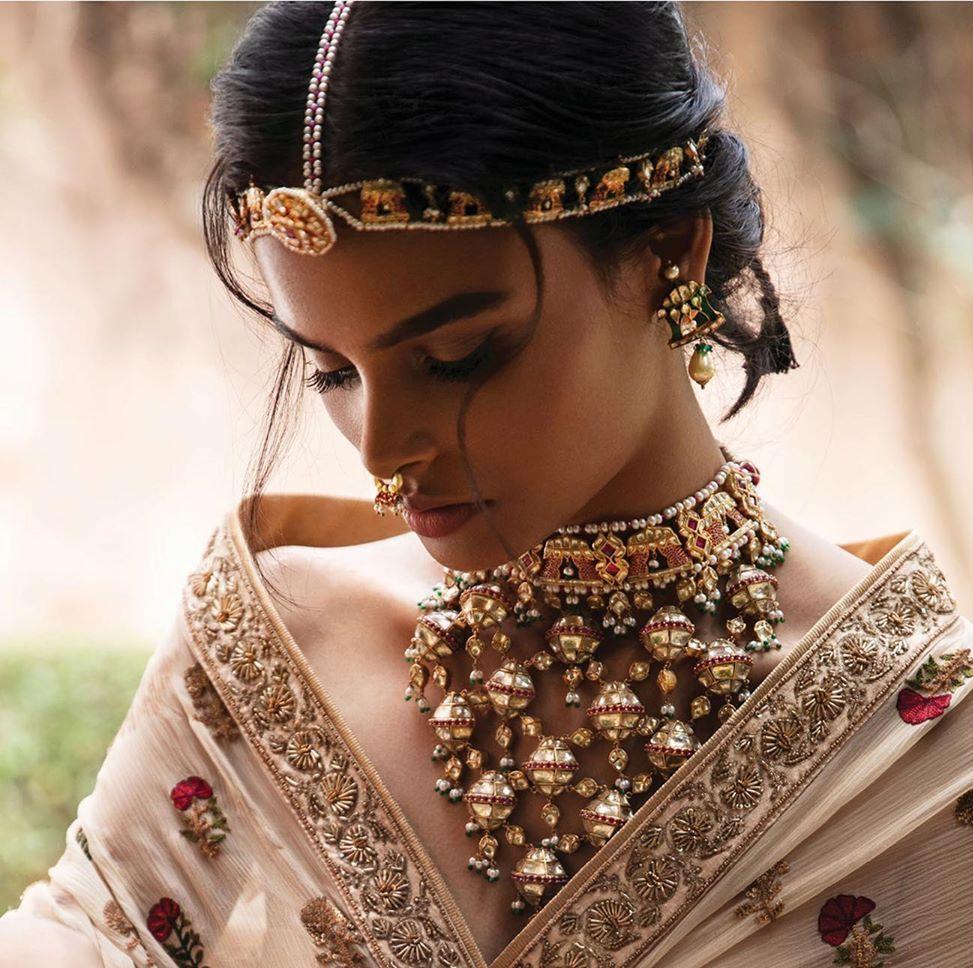 Image Courtesy: Raabta by Rahul
If you're planning to have a Rajasthani or Rajput wedding, you must consider this particular style of artificial jewellery set. The broad waterfall necklace with multiple bell-shaped danglers gives this set a perfect Maharani look. The gold-based Rajasthani Mang tikka with broadside strips and the small Nathni completes the whole queen vibe. Wear a deep neck blouse or choli to showcase your necklace well. Matching golden and Jadau earrings and lots of colourful bangles are a must!
Ideal occasion: Rajasthani Sangeet or Wedding.
Stone based jewellery set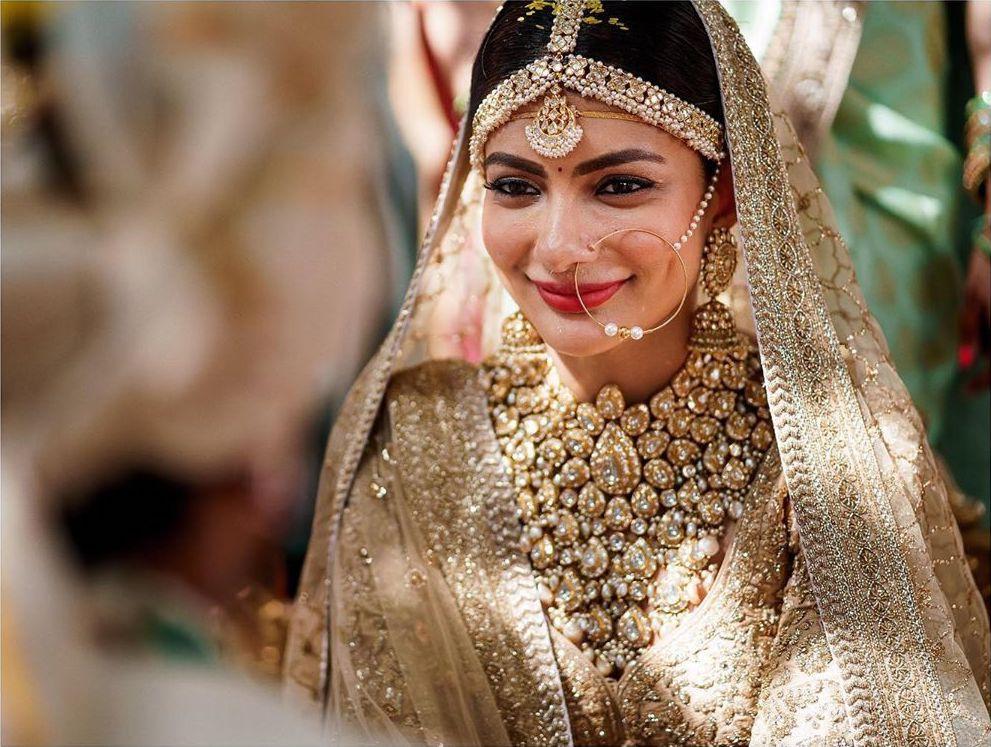 Image Courtesy: Sabyasachi Jewellery
Polki, diamonds, Kundan, pearls, rubies....if stones are your thing but you don't plan on spending a fortune on your bridal jewellery, we say go for artificial jewellery set with as many stones as you want! This stone-based set created on a golden base looks exquisite especially because of all the glitter! The large teardrop-shaped stones covering the front of your bib necklace, the tiny diamond style stones on the Matha Patti and pearl beads on the golden Jhumka earrings- if you love stones, why not go all the way? Don't forget to sport some matching stone bangles too!
Ideal occasion: Wedding.
Temple style jewellery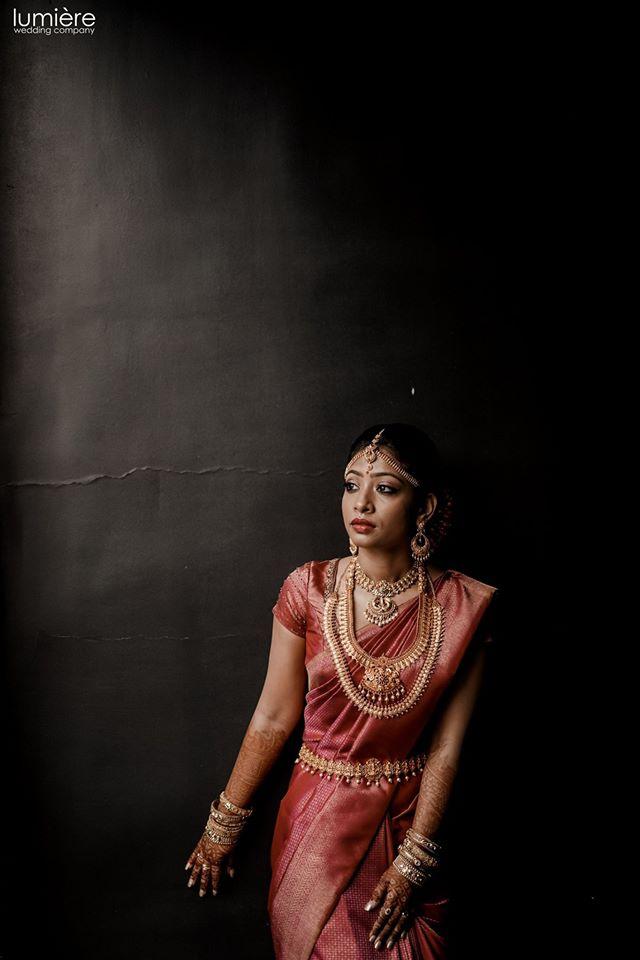 Nothing can replace the grace of authentic south Indian temple jewellery designs. Even if you choose not to go with real gold and opt for an artificial jewellery set, the fascinating patterns on the jewellery is a work of art. When you drape a vibrant Kanjeevaram saree and wear a Kasuamala/ Manga Mala with Lord Krishna motifs (or any of your preferred Gods & Goddesses) along with matching earrings, Vaidayanam and Vanki, all eyes will be just on your divine beauty!
Ideal occasion: Engagement, Wedding or Reception.
Choosing an artificial jewellery set not only opens up a whole new world of jewellery options for you but also saves your money to a great extent. You can also look for online artificial jewellery options and get endless choices. It's your wedding and you get to decide what and how much you want to spend on your bridal needs. Moreover, obsessing about traditional gold jewellery just for the sake of societal pressure is just not fair. Make your choices smartly without compromising on your dreams!
If you haven't yet done your jewellery shopping, take a look at our vendor's list for some amazing deals!