From Classic to Modern: 10 Long Gold Necklace Designs for Brides
Is your wedding day approaching? Have you zeroed down on your gold jewellery? Here are some long gold necklace designs that are sure to make your choice easier.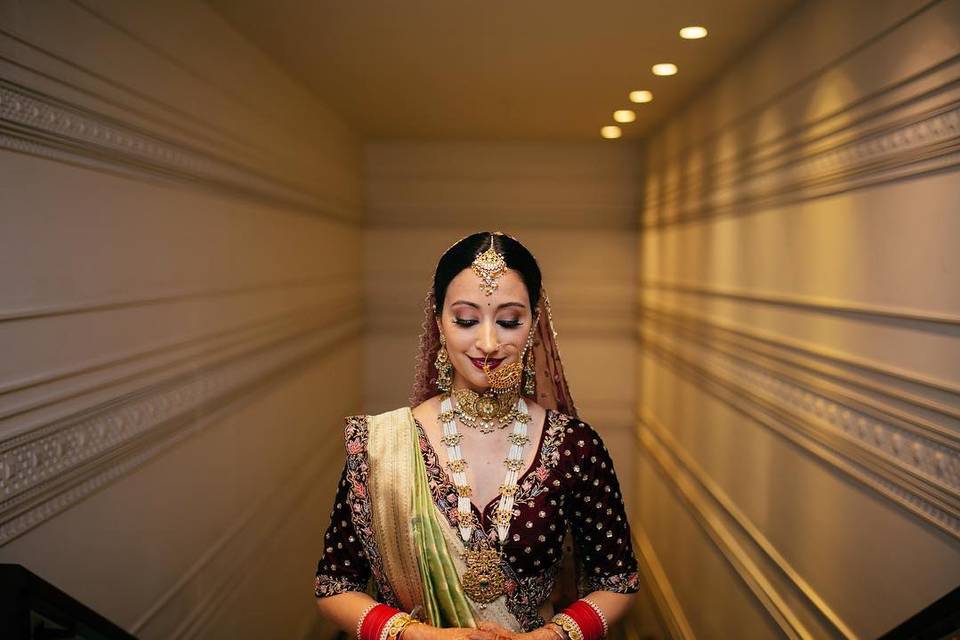 Bridal jewellery is that aspect of a bride's outfit that doesn't change trends every season. While there is always something that becomes the new thing for brides every now and then, there is no doubt that the classic choices never go out of style.
While short jewellery designs have a charm of their own, the long gold necklace is what we root for when it comes to over the top bridal choices. With outfits as dramatic as the millennial brides like it, there is always room to make it even more dramatic with a long gold necklace to complete the look. So here are some of our top choices that are sure to help you pick yours.
Kundan & polki layered necklace

This two-layer heavy gold necklace seems ideal for the millennial brides that love something unique and eye-catching. The rubies, emeralds, polkis embedded in geometrical shapes make this long gold necklace one of a kind. Last but not the least, the pearls hanging at the bottom completes the look like nothing else.
Long pearl necklace with a huge centrepiece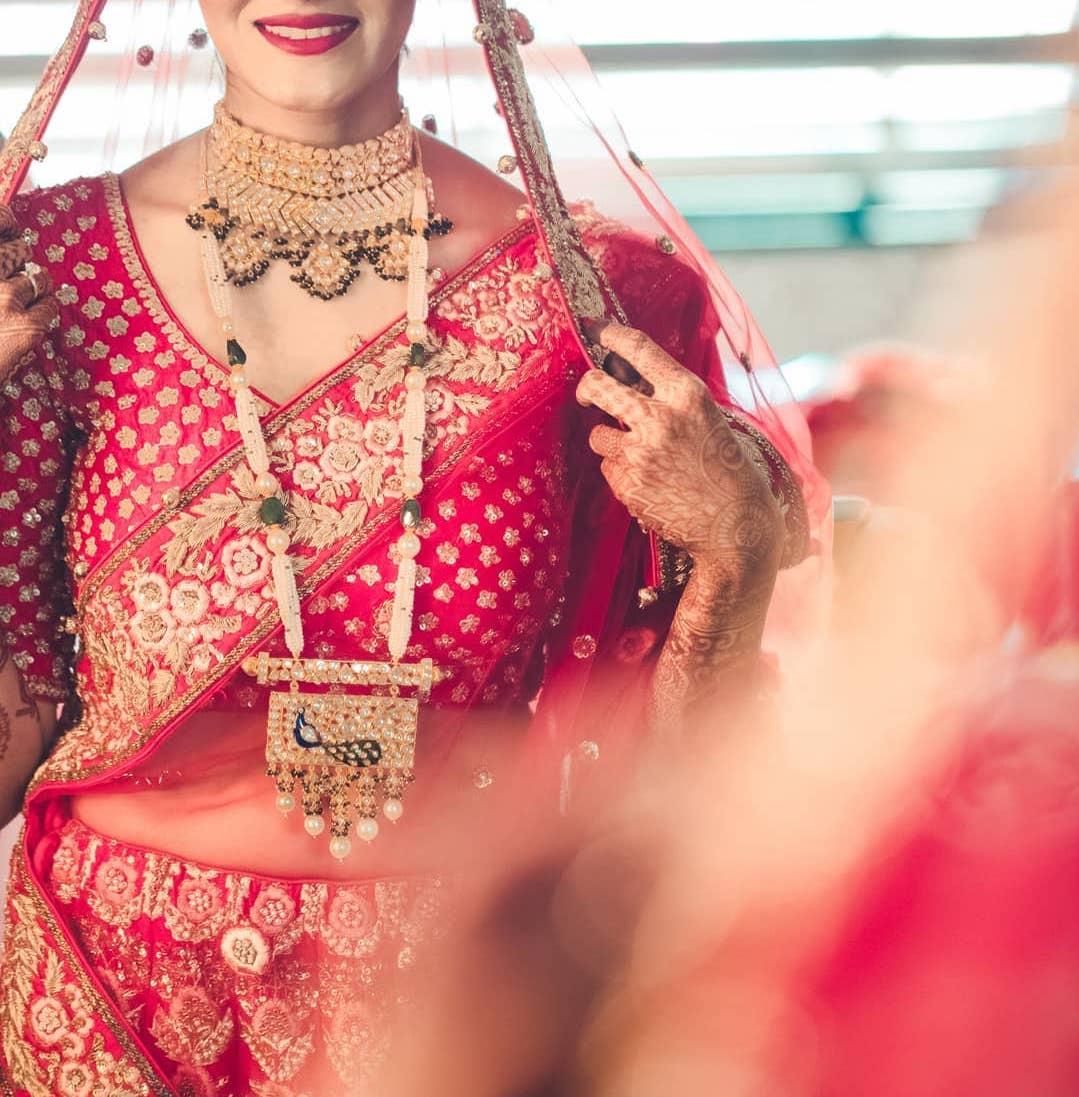 This one is for the brides that love their gold necklaces to be heavy as well as big. The centrepiece of this long gold necklace isn't just big but also unique and eye-catching. For bride's that do not wish to pair two necklaces together, this one is the perfect fit as it is just as grand as a bride's necklace must be.
Jadau necklace with pearl & rubies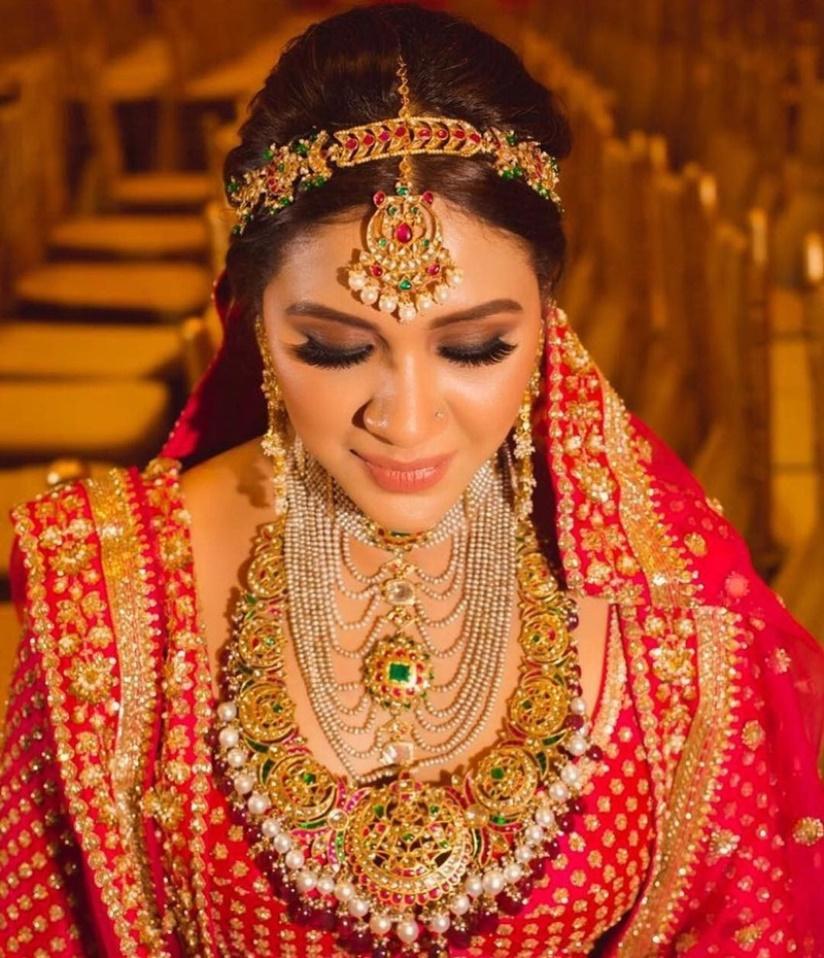 While jadau is a hot favourite amidst most millennial brides, this unique long gold necklace has an even longer-lasting effect because of the unique design using crescent motif and pearl and ruby hangings at the bottom. This one is full of colour just like a bride's attire must be.
Long & delicate temple jewellery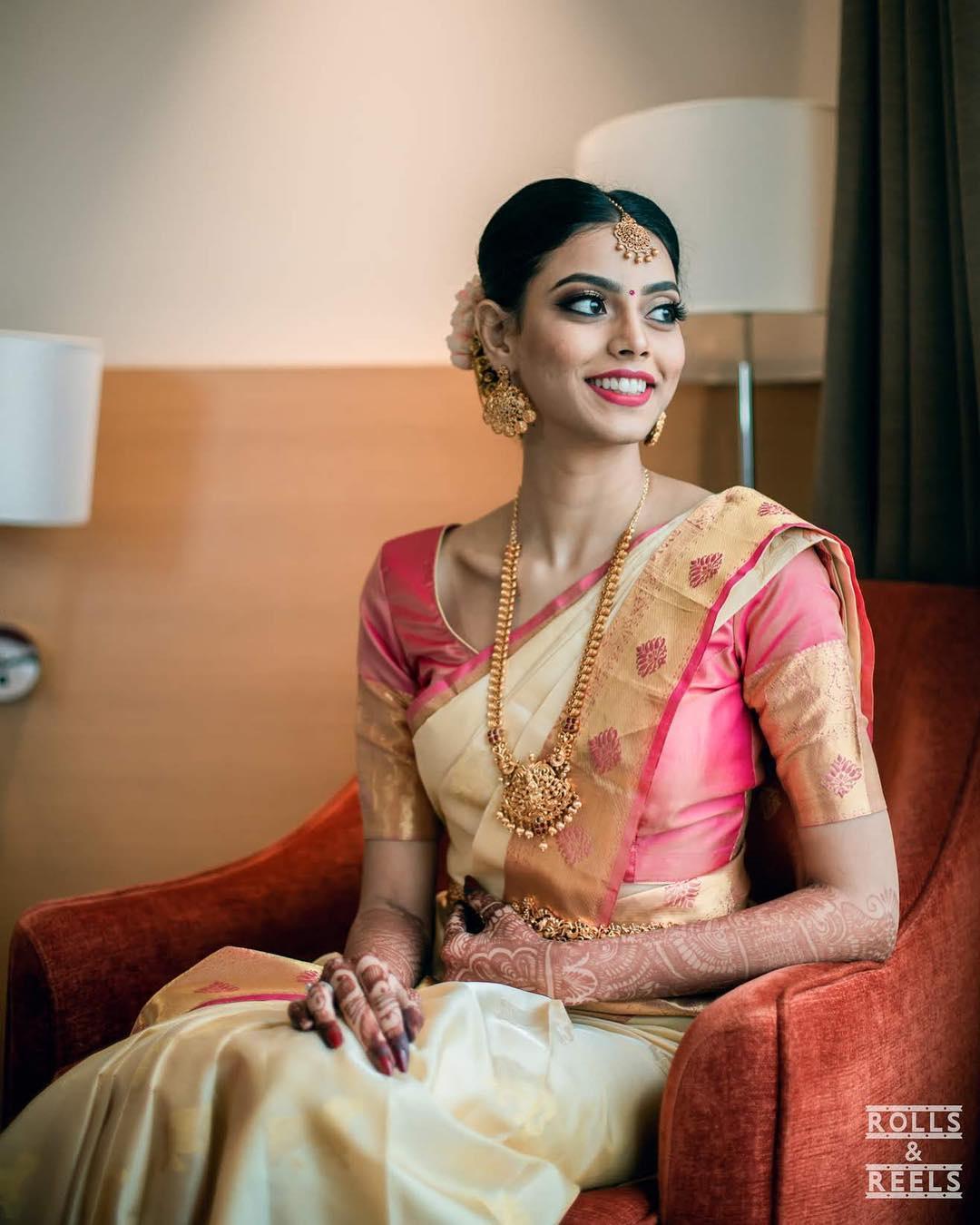 Now here's every south Indian bride's favourite jewellery which is the perfect blend of traditional as well as intricate designs. The temple gold long necklace makes for the perfect choice to be worn over silk kanjeevaram sarees on your big day.
Gold Rani haar with pearls mala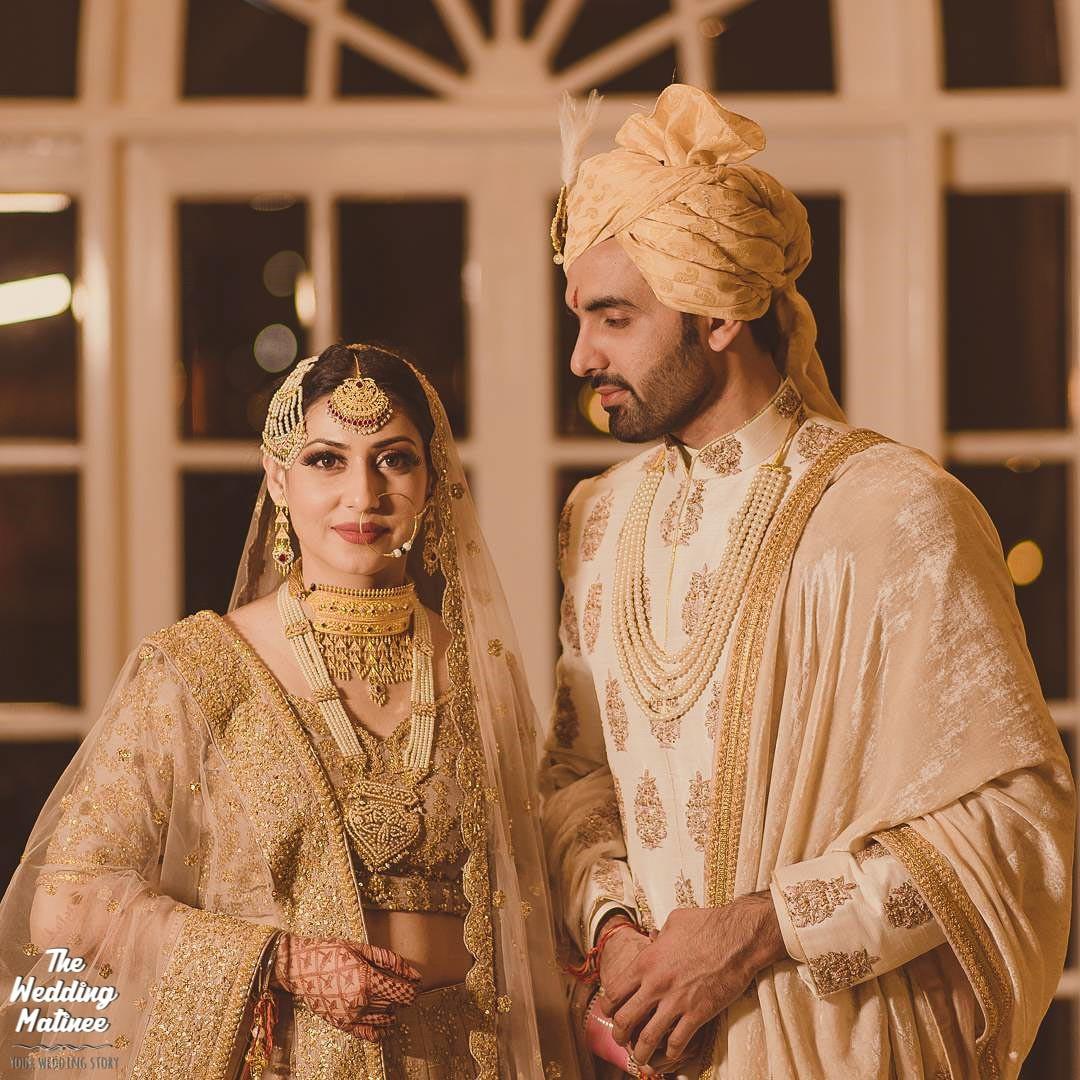 Next on our list of gorgeous long gold necklaces is this multi-strand pearl rani haar with a traditional yet eye-catching gold centrepiece. This one just as the name suggests looks extremely regal and royal and one that will go with a maharani like attire for brides on their wedding day.
Chunky gold necklace with green & ruby precious stones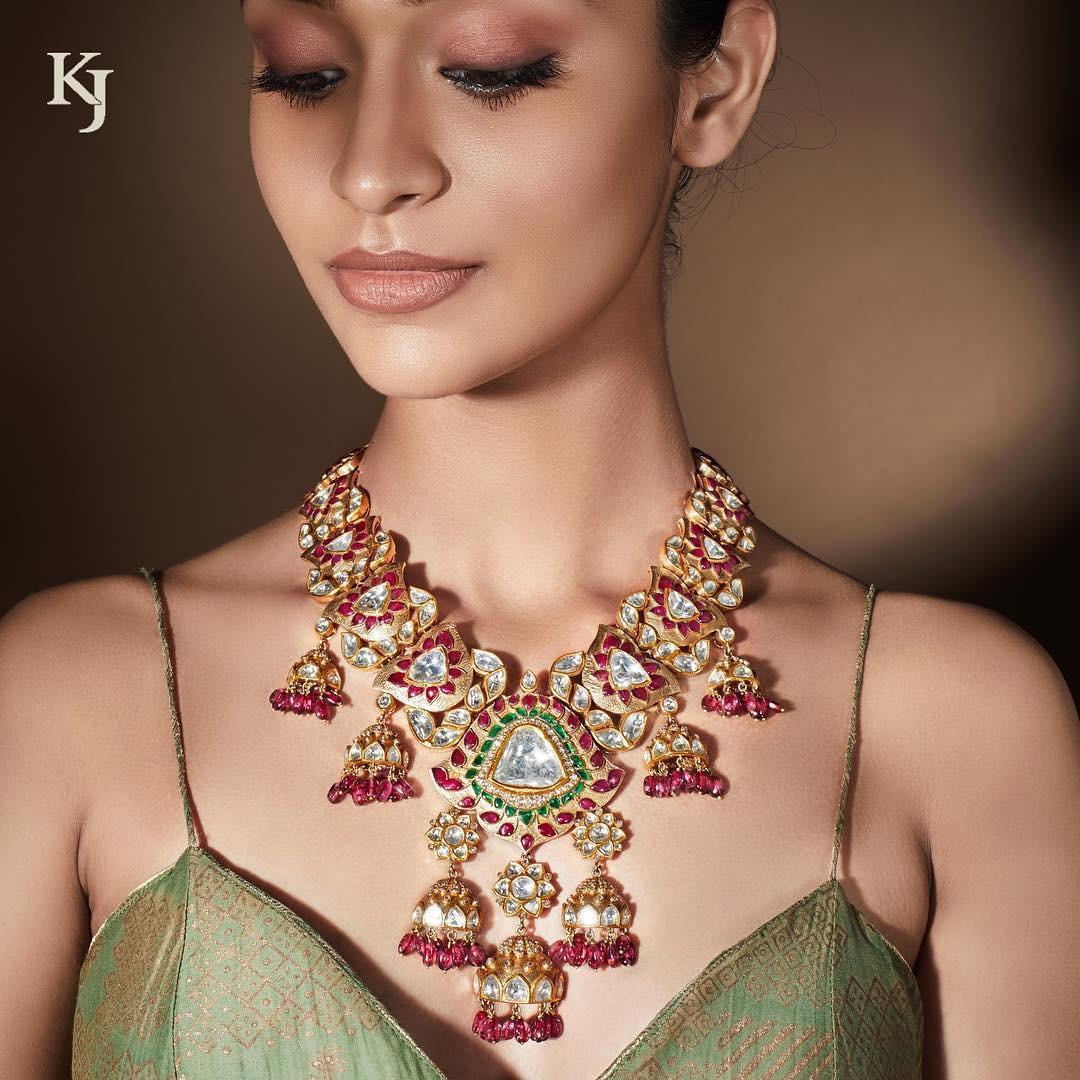 Image Courtesy: Khanna Jewellers
Now here's an out and out stunner on our list long gold necklaces. This designer jewellery is for the millennial brides that wish to wear something that makes a statement and catches all the attention. This beautiful Kundan necklace with rubies and Polkis and a hint of emeralds are one of a kind and is sure to go well with any bridal outfit, traditional or otherwise.
Antique multi-layered gold necklace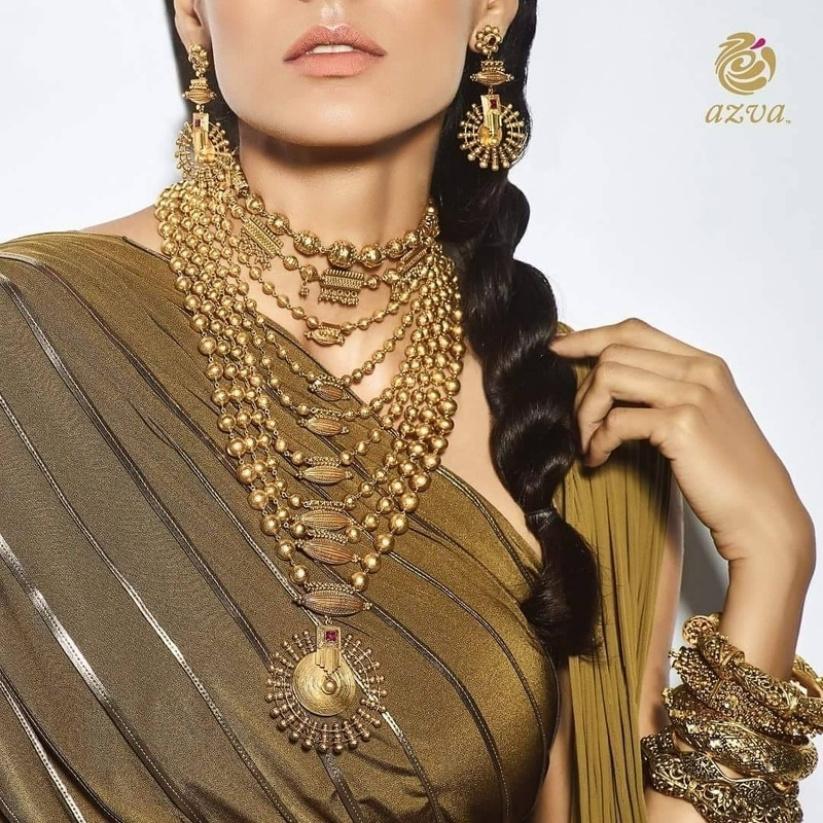 Image Courtesy: Azva
While our list has enough heavy gold necklaces, we cannot miss out on the fact that some brides might also be looking for something dainty and light. The multi-layered gold chain with delicate hangings is one of the simplest designs on our list that is sure to look ravishing when paired with any saree or suit for any of the smaller functions.
Peacock manga mala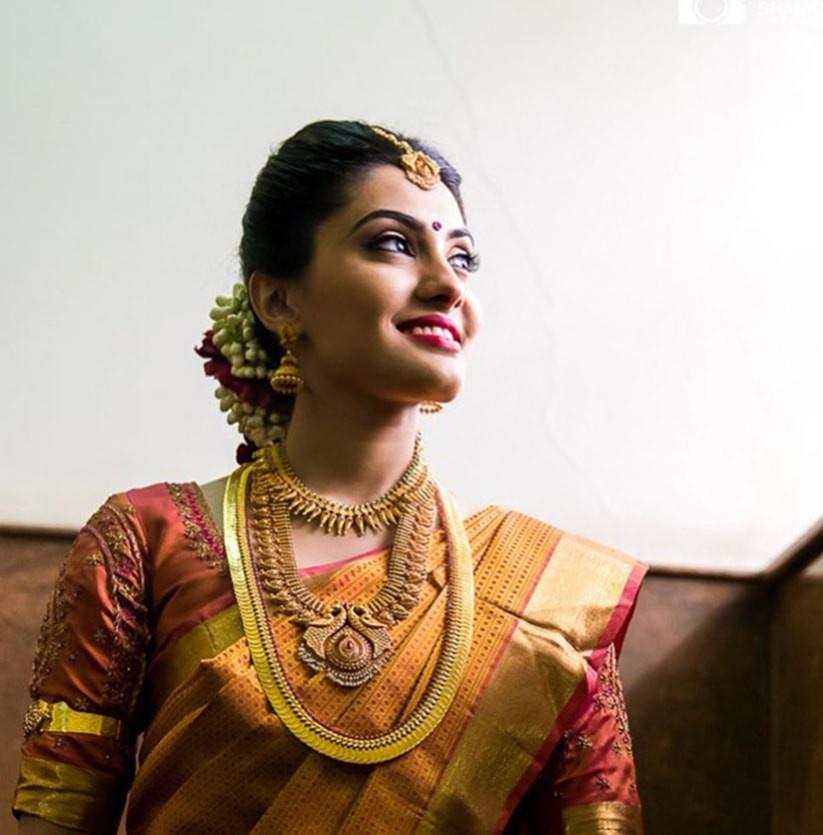 Another fascinating choice for the brides that love traditional south Indian jewellery is this unique manga mala with a peacock centrepiece. While manga mala refers to an authentic south Indian jewellery that has paisley motifs going all around the necklace, the peacock in the centre makes it slightly unusual and unique for the millennial brides to choose it for their big day.
Double-layered gold necklace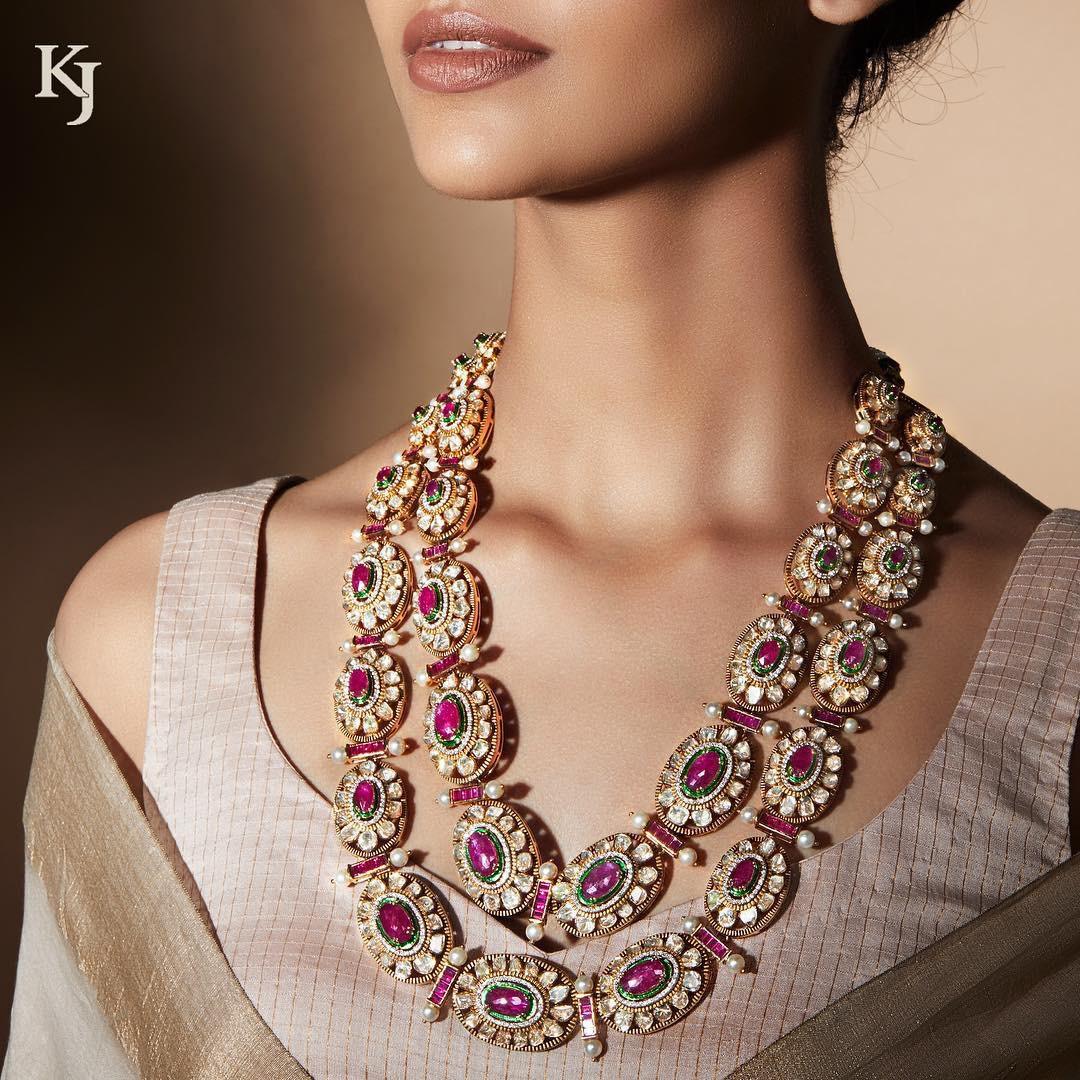 Image Courtesy: Khanna Jewellers
While talking about unusual designs, this one is our favourite on the list. The double-layered gold necklace with rubies emeralds and Polki put together in floral patterns all around makes for one of the cool designs for the millennial brides. It is young and ethereal and one that is sure to blend seamlessly with the classic as well as traditional outfits.
Multi-stand necklace with precious stones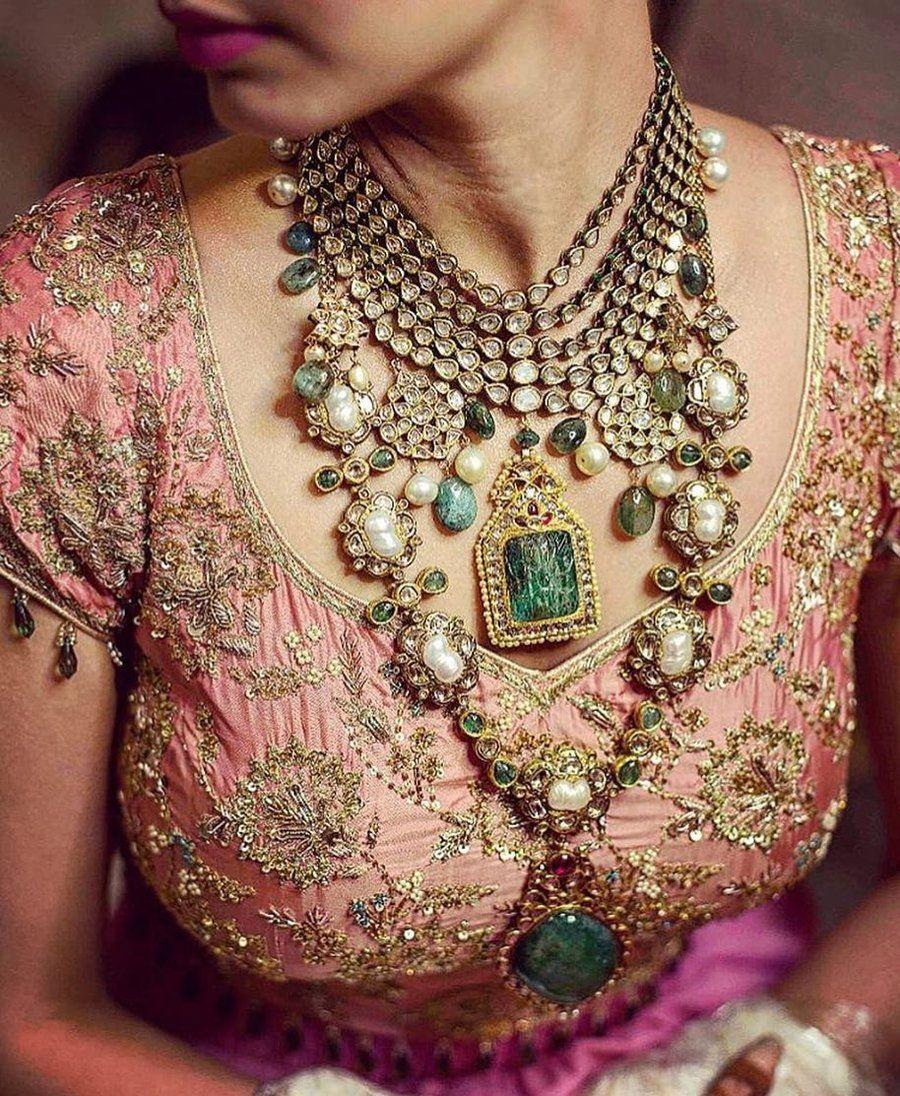 Lastly on our list is this beautifully layered rani haar that uses precious stones to bring a unique touch to bridal jewellery. While this is sure to be something you've never seen before, the grace of this long gold necklace lies in how and what you pair it with. Hence, millennial brides must choose wisely to make this one of a kind gold necklace look even more precious.
Do you think our list of long gold necklaces has given you a wider variety of choices for your big day? If yes, then go ahead and choose your pick. All that millennial brides need to keep in mind is that the long gold necklace they choose must complement their outfit and also complete their look in a way that stands out from the usual.
Which long gold necklace from this list are you crushing on? Tell us in comments.