8 Short Necklace Designs in Gold for All the Minimalistic Brides
Wondering what kind of short necklace designs in gold would suit your wedding day attire? Let us help you figure it out!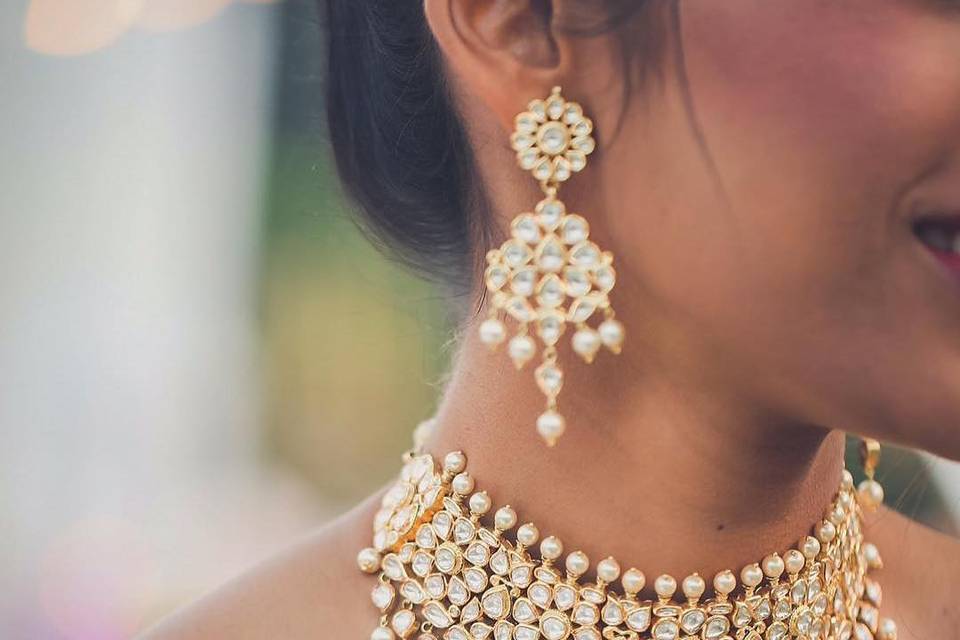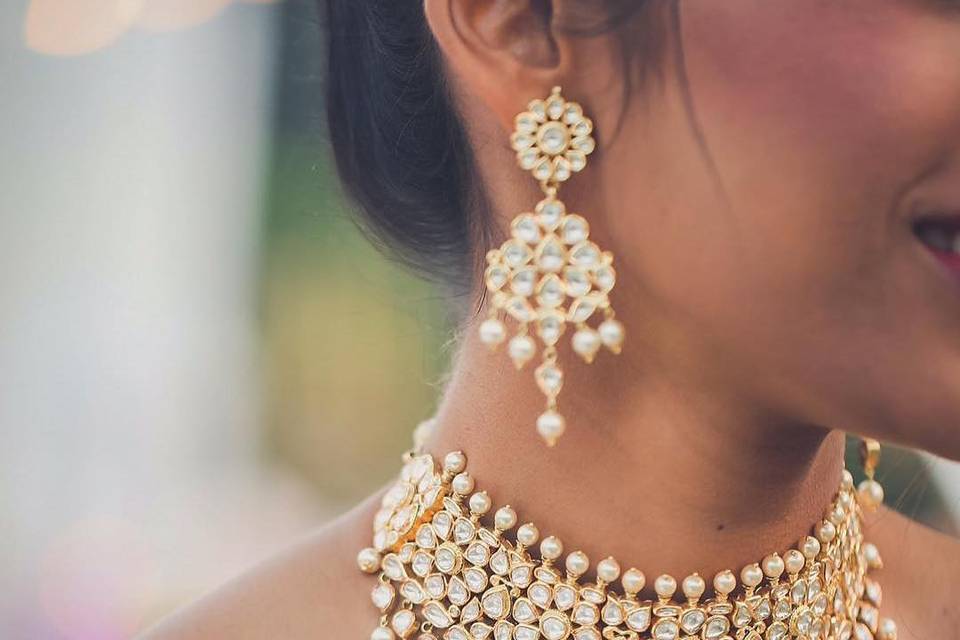 Image Courtesy: Morvi Images
While rani haar and satladas are undeniably the most perfect bridal pieces of jewellery, short necklace designs in gold have a charm of its own. In fact, they are becoming increasingly famous as they look beautiful when paired with the classic rani haar and satladas to compliment the bridal outfit. The short necklace designs in gold are no more only traditional or only modern, they are a blend of modern styles with a traditional touch and they must be matched with your outfit rather well to make it look seamless and breathtaking.
Amongst gazillion choices and a lot of inspirations, it can be rather tough to pick short necklace designs in gold that work best for your big day and with your bridal outfit.
Let us help you make the right choice with our list of favourites. So, scroll through and see some of the best short necklace designs in gold that will melt your heart and make you want it immediately.
Jadau Choker with Pearls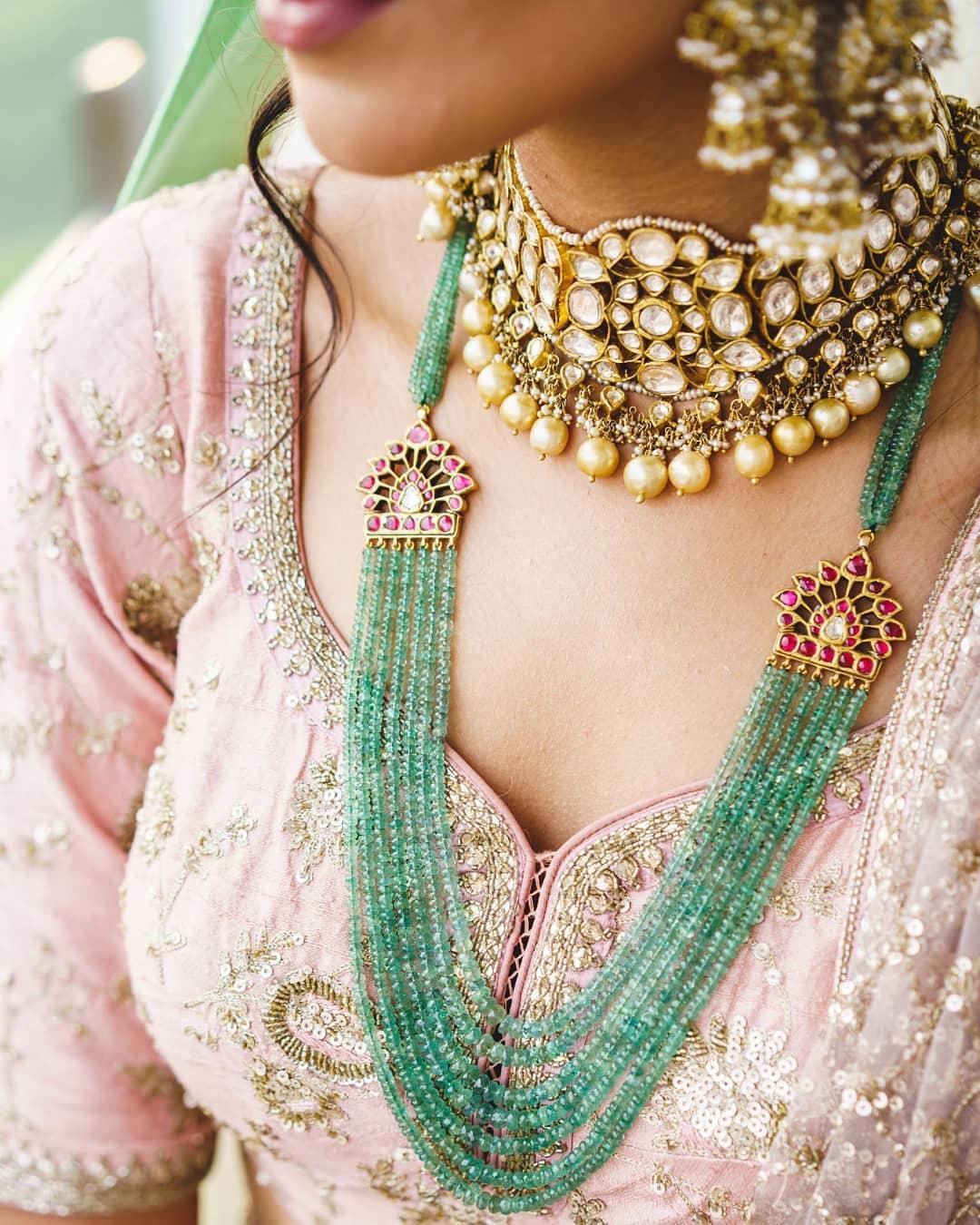 Now here's a statement choker necklace that every millennial bride would drool over immediately. The trendy flower-shaped Jadau necklace with pearl hangings add the much-needed grace to your outfit while making it go well with almost any coloured bridal attire.
All that you need to make sure before putting this on your bucket list is whether or not it complements the neckline of your blouse. Choker necklaces like these look best when paired with a deep round, V, or leaf neck blouse that have hints of golden work on them.
Temple Necklace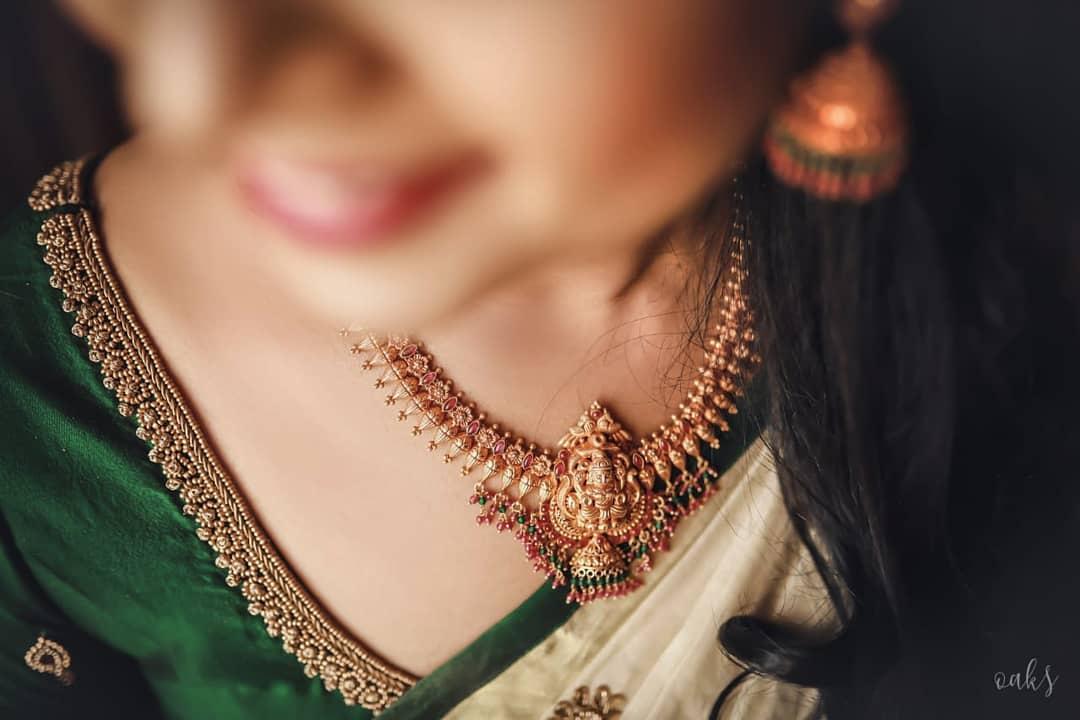 While we are all fans of temple jewellery, there is something really special about this choker necklace that makes us want to buy it right away.
The bold gold idols or motifs on this one do not just make the jewellery look ethereal but also very graceful and elegant for your wedding day. Unlike any other temple necklace, this one is sure to go well with outfits other than sarees as well.
Short Manga Mala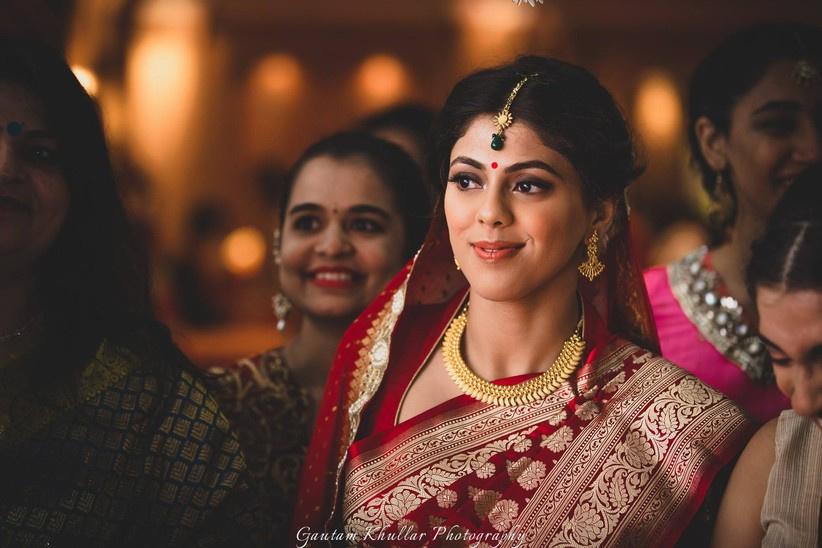 The famous South Indian jewellery more commonly known as the mango necklace, because of the paisley shaped (or mango shaped) design around the neck, is one of the most classic choices on our list. Apart from being traditional and short, this one is also elegant and trendy for a millennial bride to choose for her wedding day.
The most amazing thing about short necklace designs in gold like the manga mala necklaces is that they go with almost any traditional outfit and the brides that consider it not heavy enough can always pair it with another long necklace or mala of their choice.
Sleek Necklace with Intricate craftsmanship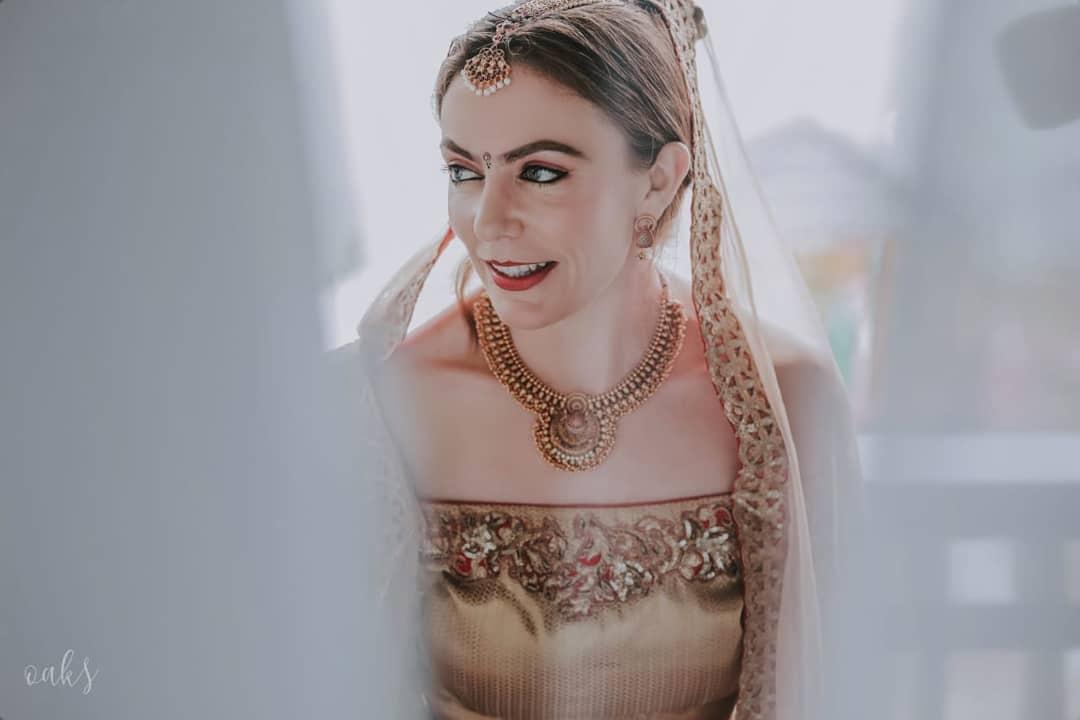 The intricate craftsmanship is what makes this short necklace designs in gold such a stunner piece.
It has a unique Borla-like centre to make it stand out from the rest of the designs. Pair this beauty with an off-shoulder blouse design and flaunt it like the queen that you are.
Antique Gold Choker with Emerald Drops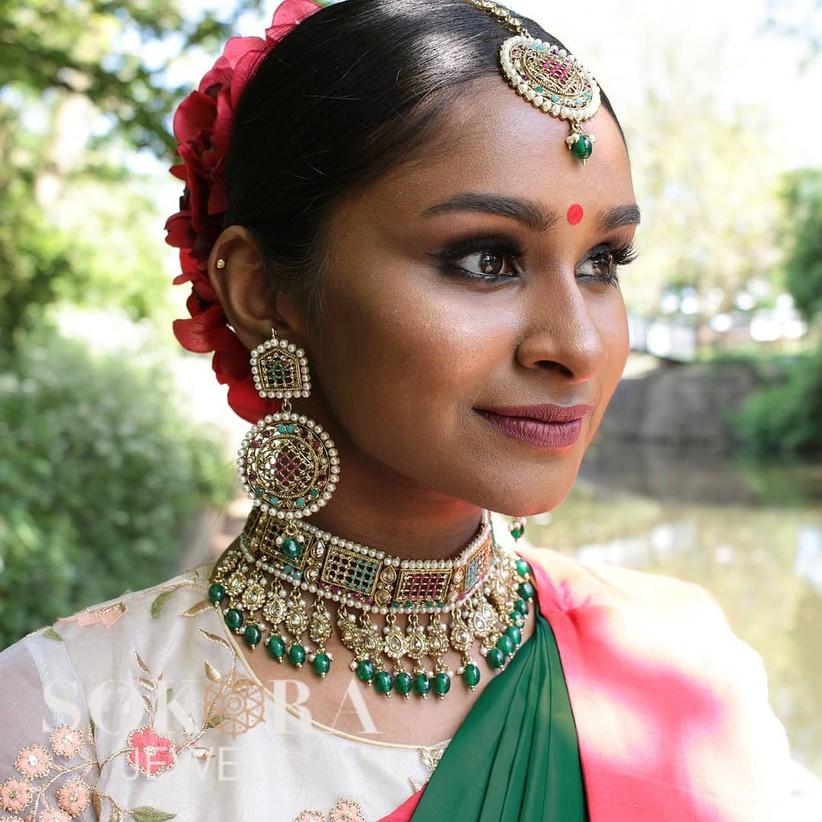 Image Courtesy: Sokora Jewels
Now here's what you can call as one of a kind short necklace designs in gold because of its unique amalgamation of antique design with a millennial checkered pattern, multicoloured gemstones and emerald drops. From its unique design to its eye-catching style, there is nothing about this necklace that a millennial bride can say no to.
However, they must pair this beautiful necklace with an outfit that compliments it enough to make it look dramatic for their big day. When it comes to choosing a neckline, this gorgeous piece of jewellery can go with any neckline including crew neck and boat necks as well unless it coincides with the emerald drops and makes it look clumsy.
Jadau Meenakari Collar Necklace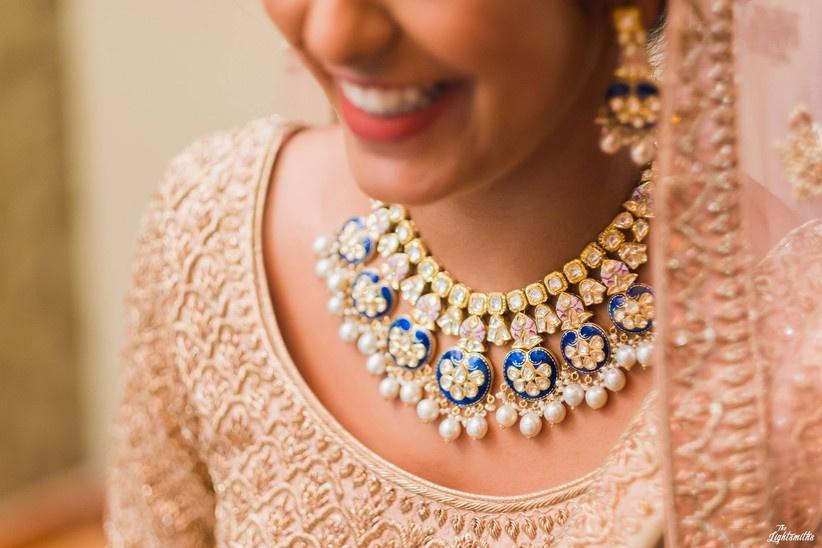 The charm of a Meenakari necklace lies completely in its design and colours. This blue and blush pink meenakari collar necklace is as refreshing as a breath of fresh air and also one that every millennial bride would wish to have in her trousseau.
With the bright blue touch, short necklace designs in gold like these look good when paired with a neutral base colour of outfits. So, brides that are planning to wear shades of peaches and light pink for their big day, this jewellery choice is just what you're looking for.
Temple Princess Necklace with Rubies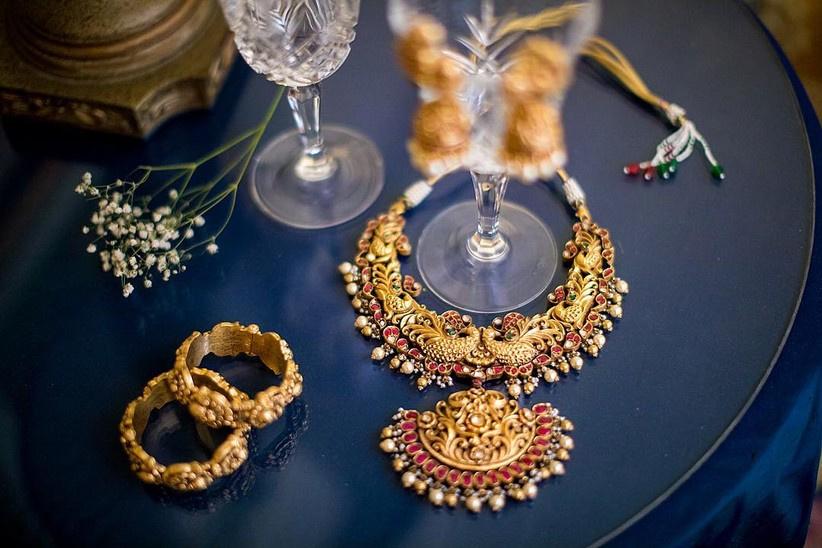 What we love about a princess necklace is that with a big focal piece they have the power to fall under short necklace designs in gold while also looking big enough for brides to not have it paired with another necklace. This traditional temple jewellery princess necklace is one that takes your heart away almost immediately.
For the brides planning to wear a kanjeevaram silk saree on their big day, it goes without saying that this is the necklace for you. While for the ones that are wearing a lehenga can also go in for this by making sure that their hair and makeup are traditional enough to match this necklace and not make it look odd. A traditional bridal bun or braid with Gajra and the simple bridal makeup is all that you need to make this look work.
Patterned Light Gold Necklace with Emerald Drop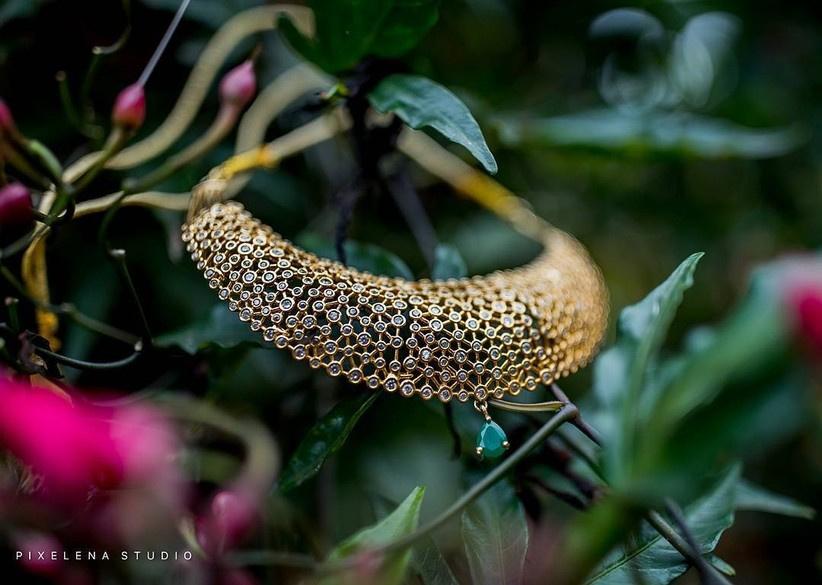 This surely is one of the short necklace designs in gold that is not similar to any other on the list. While it has gold diamonds as well as a touch of emerald, what totally takes our breath away is its beautiful pattern that is completed with a small emerald focal piece in the centre. Millennial brides looking to wear something light on their big day must consider this to be the perfect wedding day jewellery.
While these are some of our favourite short necklace designs in gold, there are way too many choices available to the millennial brides other than these.
With our list of choices, we have made sure to shortlist the ones that balance contemporary and traditional options in a way that every millennial bride finds something that goes with her bridal outfit from it. So did you find what you were looking for? Well, we are sure you did!
Which of the above short necklace designs in gold is your favourite? Tell us in comments if you'd pick it up immediately if you found it for your big day.