Pick a Necklace Design According to Your Blouse's Neckline
Scrolling through necklace design images & feeling more confused than ever? Consider choosing your necklace on the basis of the neckline & you'd make the best decision ever. Still, confused? We'll show you how!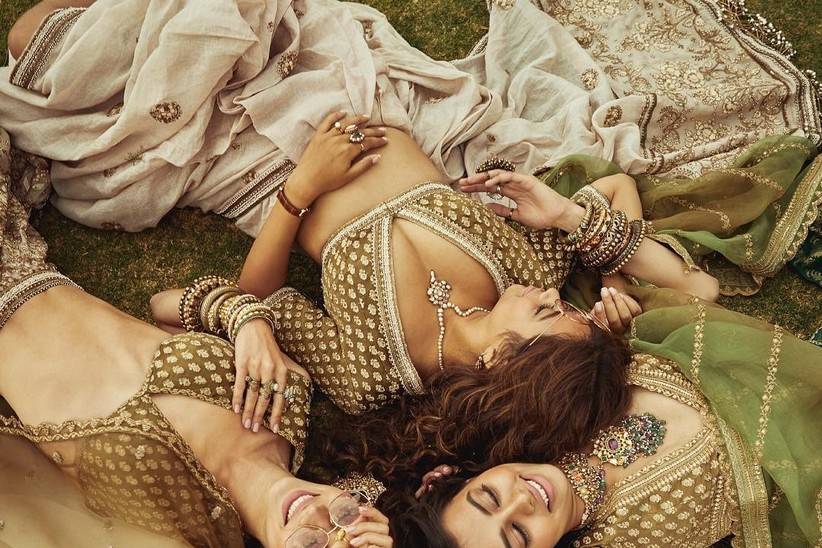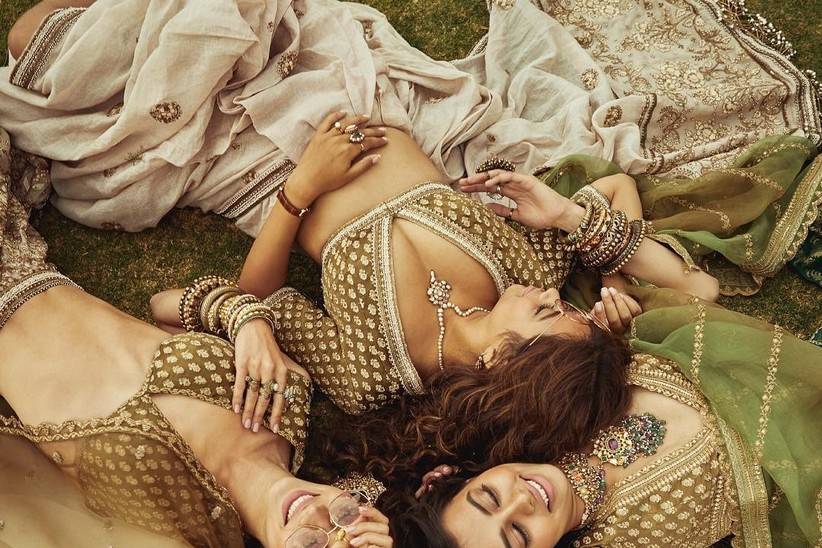 Image Courtesy: Sabyasachi's Collection
Most often we are told to place a necklace on ourselves to gage how it looks on us. However, the real way to choose a necklace is to see how it looks on the neckline that you're wearing. With gazillion necklace design images at our display, the choice is getting harder and harder for brides, but the only way to narrow down the options is to understand the concept of necklines and how they go hand-in-hand with necklaces.
Bridal wear requires you to choose heavy necklace designs over the simple ones; therefore the need to match them with the neckline of your blouse becomes much more stressful. Therefore we suggest brides to first get their blouse ready and then start looking for necklace design images as it will make their task much easier.
Matching the material and the stones on the necklace with the bridal lehenga is important too but not as technical as matching necklines. However, for the brides that wish to go for the fanciest necklines on their blouse, and are thinking to pair it with their mom's jewellery, we suggest you decide the neckline according to the jewellery you've selected.
If you're still confused about how to go about doing this, don't worry. We've put together a guide that'll teach you everything about necklines and necklace designs that go with it.
The Uncommon Collar Neck Blouses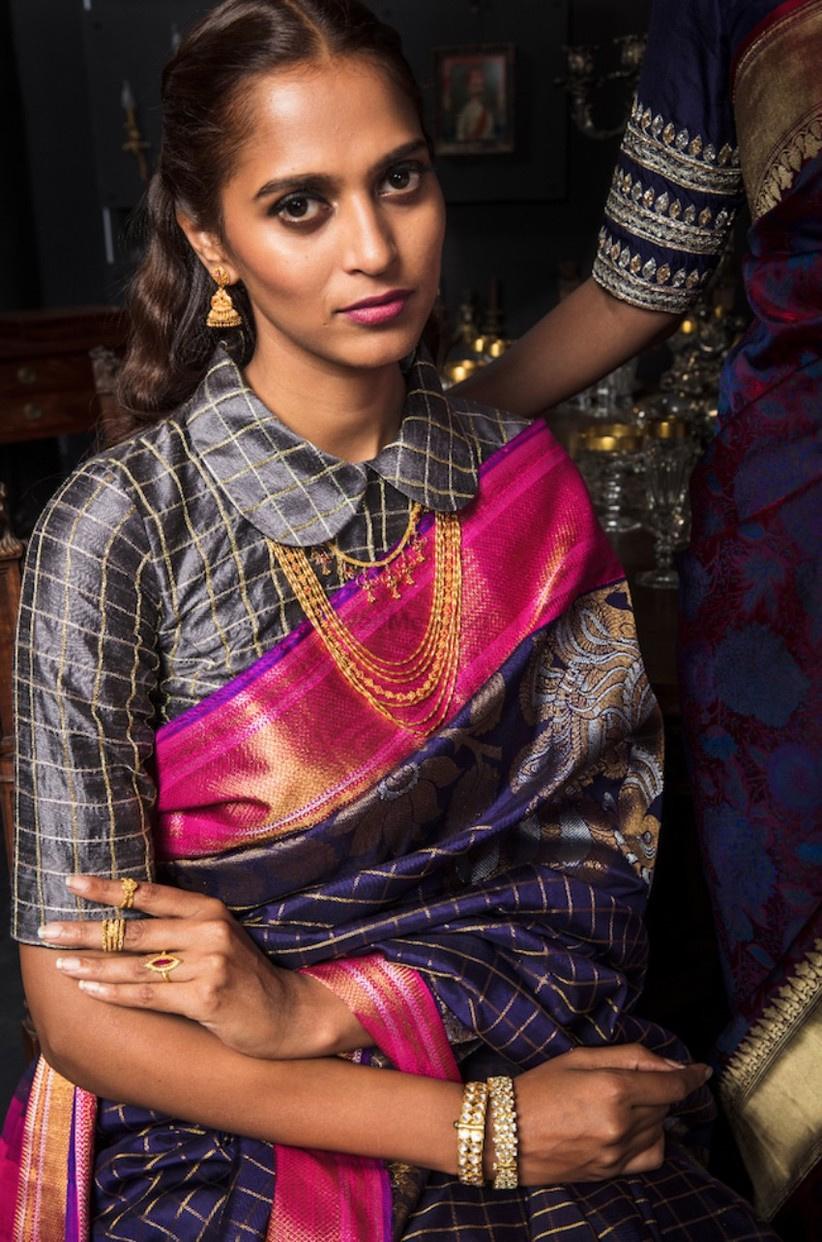 Being one of the most uncommon choices amongst brides, this one poses a serious question in their minds about which of the necklace design images will truly suit this neckline? Well, the truth is that any multiple strand light necklace design images are sure to look good with this one.
All that the brides need to take care of is that the double-strand or multiple strand necklaces have nothing around their neck so that it can be comfortably tucked behind the collar. This way the charm of the collar blouse would not get ruined while making sure that there is enough attention on your necklace as well.
The Uber-Cool Crew Neck Blouses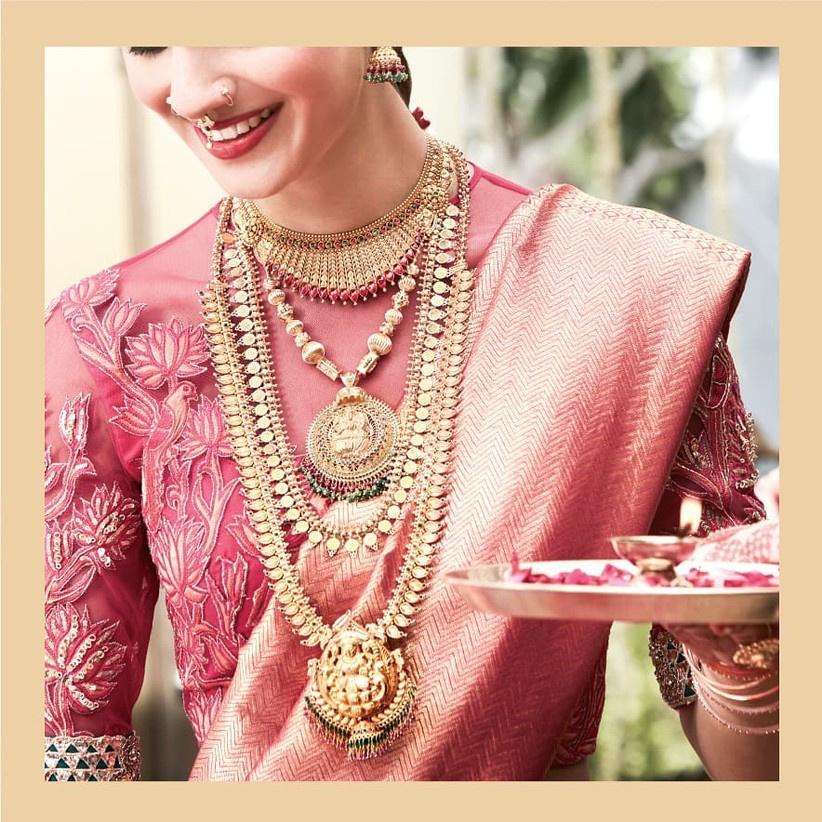 While this one is one of the most preferred choices of brides, we must agree that it becomes slightly difficult to match these with the perfect necklace design images. As you already know the crew neck blouses are the ones that come up till your collar bones and cover them completely.
So for your necklace design to look good on this neckline, it needs to be a perfect match in terms of the pattern of the necklace, its stones, as well as the material it is made from. According to us both bib necklaces, as well as the traditional Rani Haar, will look gorgeous on the crew neck blouse. For brides looking to go for a heavier look can actually wear the bib necklace and rani haar together to make for it a statement look.
The Traditional Scoop Neck Blouses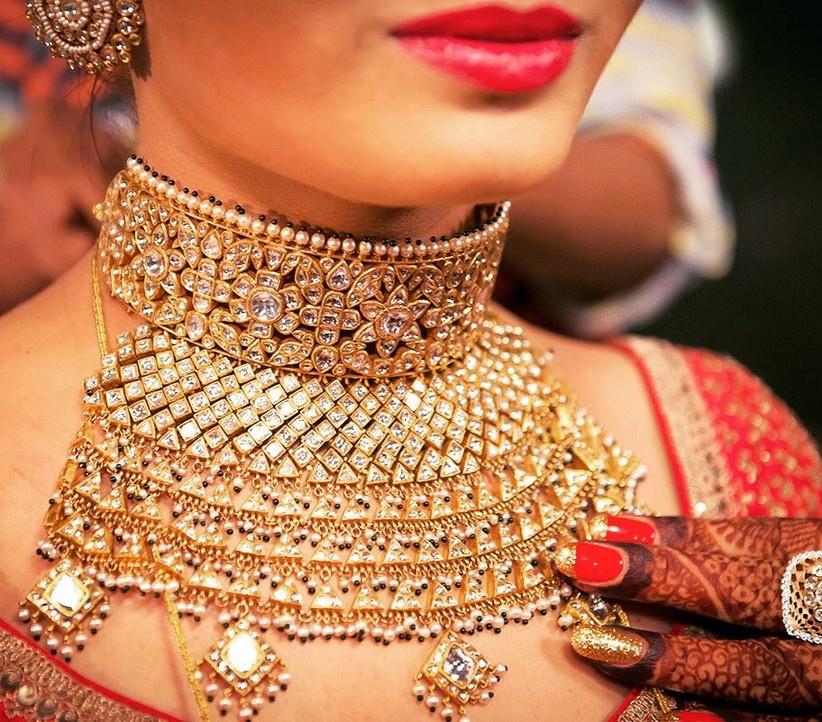 Scoop neck blouses have been one of the oldest blouse necklines that brides chose. With the millennial brides wanting to try something new, they end up avoiding the traditional scoop neckline completely in the current times. However, what they do not consider is how pairing it with gorgeous necklace design images can make their look unique and one of a kind.
Our top pick amongst necklace designs that look good with a scoop neckline would be a contemporary Aadh necklace that adds the oomph to a millennial bride's look. The Aadh necklace does not just fill in the empty space at the neck but its geometrical shape complements the round scoop neckline well and makes for a good combination.
The Sweetheart Neckline for Brides of Today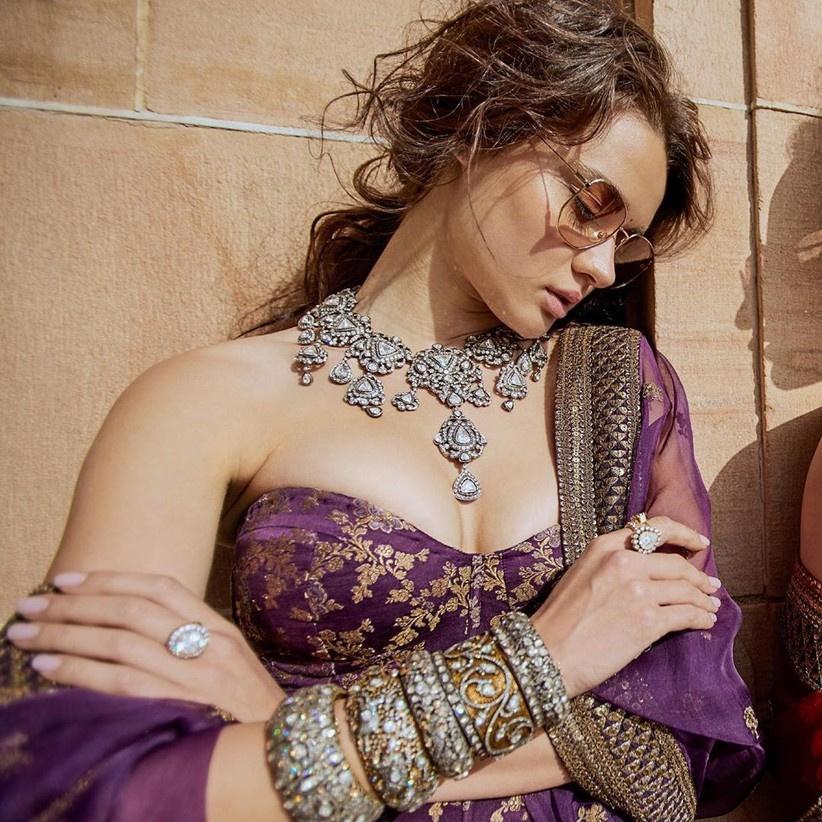 Image Courtesy: Sabyasachi's Collection
Gone are the times when brides preferred to go with a safer neckline for their blouses instead of experimenting with something new. Nowadays, from trying new necklines, to not being bothered with how deep the neck is, the brides of today are really changing the fashion game in many ways. The sweetheart neckline is one such game-changer of today's times.
They look stylish, they look eye-catching and they're most definitely the most feminine neckline that ever exits. But the question is which of the necklace design images go well with a sweetheart neckline blouse? According to us any asymmetrical necklace that has drops that do not overlap the blouse would look great on a sweetheart neckline.
The Hep Off-Shoulder Blouse with Side Straps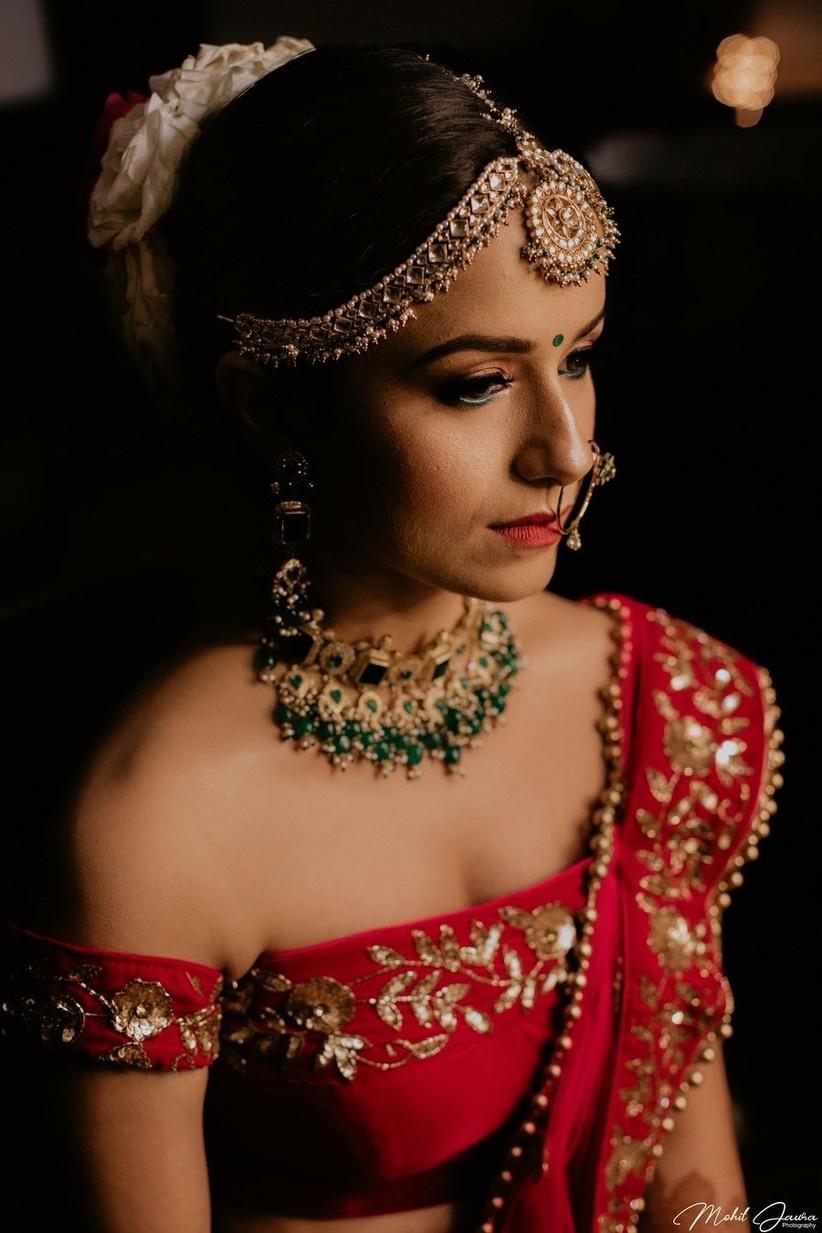 While off-shoulder blouses are the current fad, the millennials like it even more if it has a unique twist to it. Just like the side straps attached with this blouse makes it more endearing and also one that brides would love to carry on their big day with a beautiful saree. When it comes to choosing necklace design images, the off-shoulder symmetrical neckline is one of the easiest to pick the perfect option for.
While it goes with everything, they look the best when paired with traditional choker necklaces that has drops to add grace to the entire look. For the brides that are looking to create a contrasting look, choose the colour of the gemstones in your choker contrasting to the colour of your blouse and create a one of a kind look for your big day.
The Elegant Boat Neck Blouses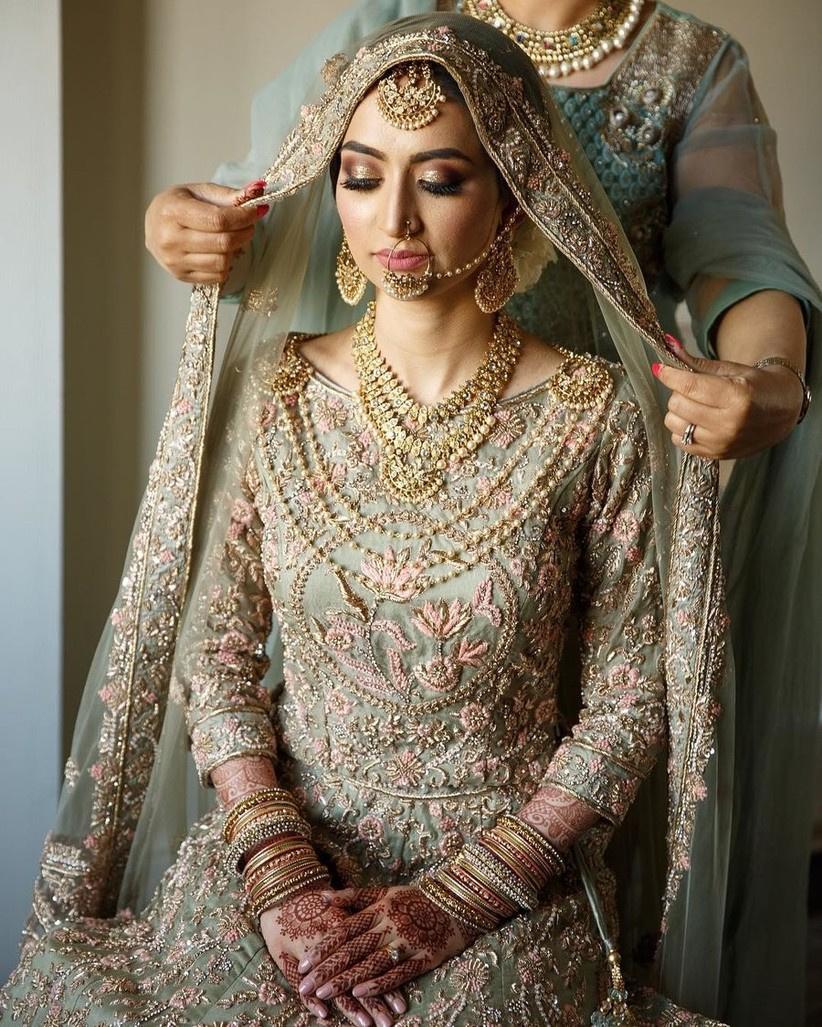 Image Courtesy: Memoirz
One of the most graceful necklines that go up till your collar bone, this one is a true winner for the brides of today. Apart from giving a unique look to the blouse, this one also leaves you with a lot of empty space. For those wondering what are the best necklace design images that'll go with the boat neck blouses, don't worry as this one is the easiest to crack.
While the boat neck blouse looks good without any jewellery too, it is difficult for brides to do without it completely. So for them, we'd suggest that any necklace design images with multiple strands work best with boat neck blouses, Our top pick would definitely be the Satlada Haar's as we know they are every bride's favourite when it comes to their wedding day jewellery.
The Geometrical Square Neck Blouses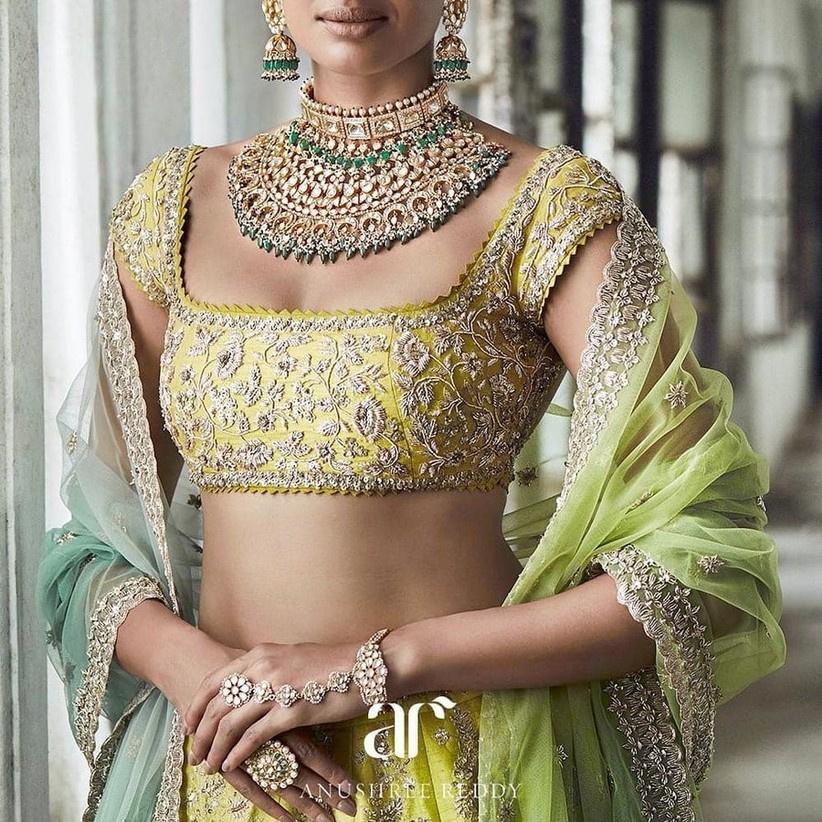 The square necklines are one of the oldest on our list, but that does not make it any less for our brides of today. Along with being the oldest most, they are also ones that have been around for the longest. The beauty of the square neckline lies in the fact that they can be paired with any necklace design images and would still hold its own and look gorgeous.
But if we still had to pick one of our favourites for you, we'd probably say that you should go with a beautiful and contemporary bib necklace if the neckline of your square blouse is deep. In case it's not deep enough to accommodate a bib necklace, we'd suggest you choose more elaborate rani haar and make it look completely traditional and authentic.
Don't you just love how the neckline of your blouse can make your choices amongst necklace design images so precise? While most brides figure their blouse out first and then match their jewellery with it. We'd suggest that since choosing from a gazillion necklace design images is a bigger task at hand, besides must do that first. Once you've finalised your necklace design, then do your research to figure out which neckline works best for your bridal blouse with your necklace design in mind. For the brides that are currently panicking, don't worry the decision isn't as difficult as you think it to be.
Which of the necklace design images are you most interested to opt for your big day? Tell us in comments if you've figured the perfect neckline of your bridal blouse to go with it.