30+ Stunning Choker Necklace Designs To Elevate Your Bridal Look
Whether you covet diamonds or prefer something more traditional like Polkis and pearls. We promise that all eyes will be on you with these choker necklace designs.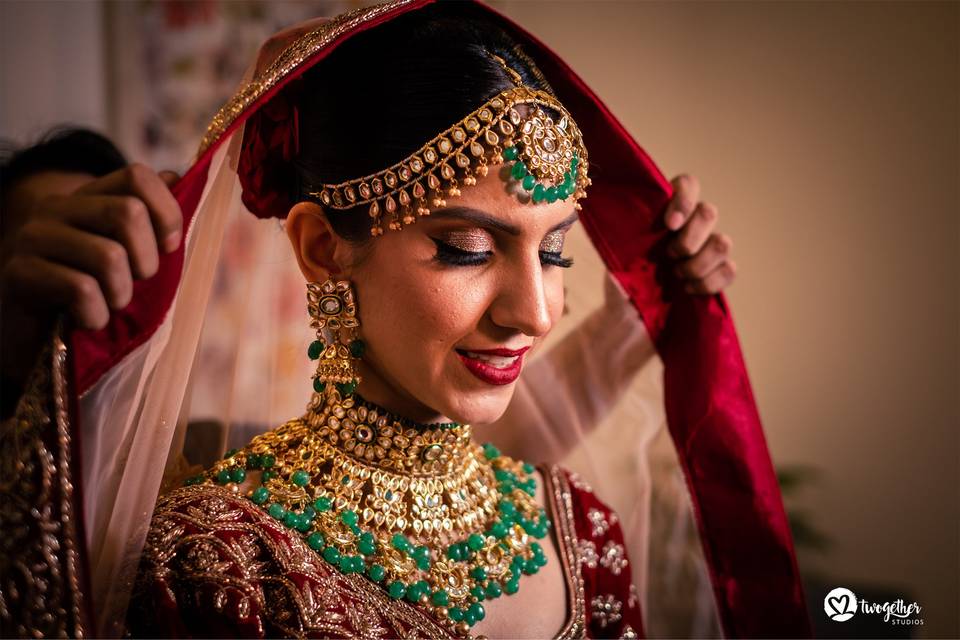 After months of sifting through various magazines and pinning your favourite looks on Pinterest, you've finally chanced upon the perfect wedding dress. Now comes the tricky part- finding the right accessories to enhance the beauty of your bridal look. While earrings and bangles can add that glam factor, the best way to make a statement is with a choker necklace.
Ubiquitous silhouettes define the modern bride and with a distinctive choker design as part of the equation, your bridal attire is taken to the next level. For a contemporary bridal look, mixed metals and unique shapes can provide a fresh aesthetic to your outfit. But if you prefer something a little more traditional, oxidised metals with conventional shapes will pair perfectly with your outfit. To help you pick the prettiest choker necklace, we bring you our top styles of the season.
Be it sparkling diamonds or a traditional gold choker necklace, we have curated the perfect list of necklace inspirations for you to choose from for your wedding and its related festivities.
Statement Emerald Choker Necklace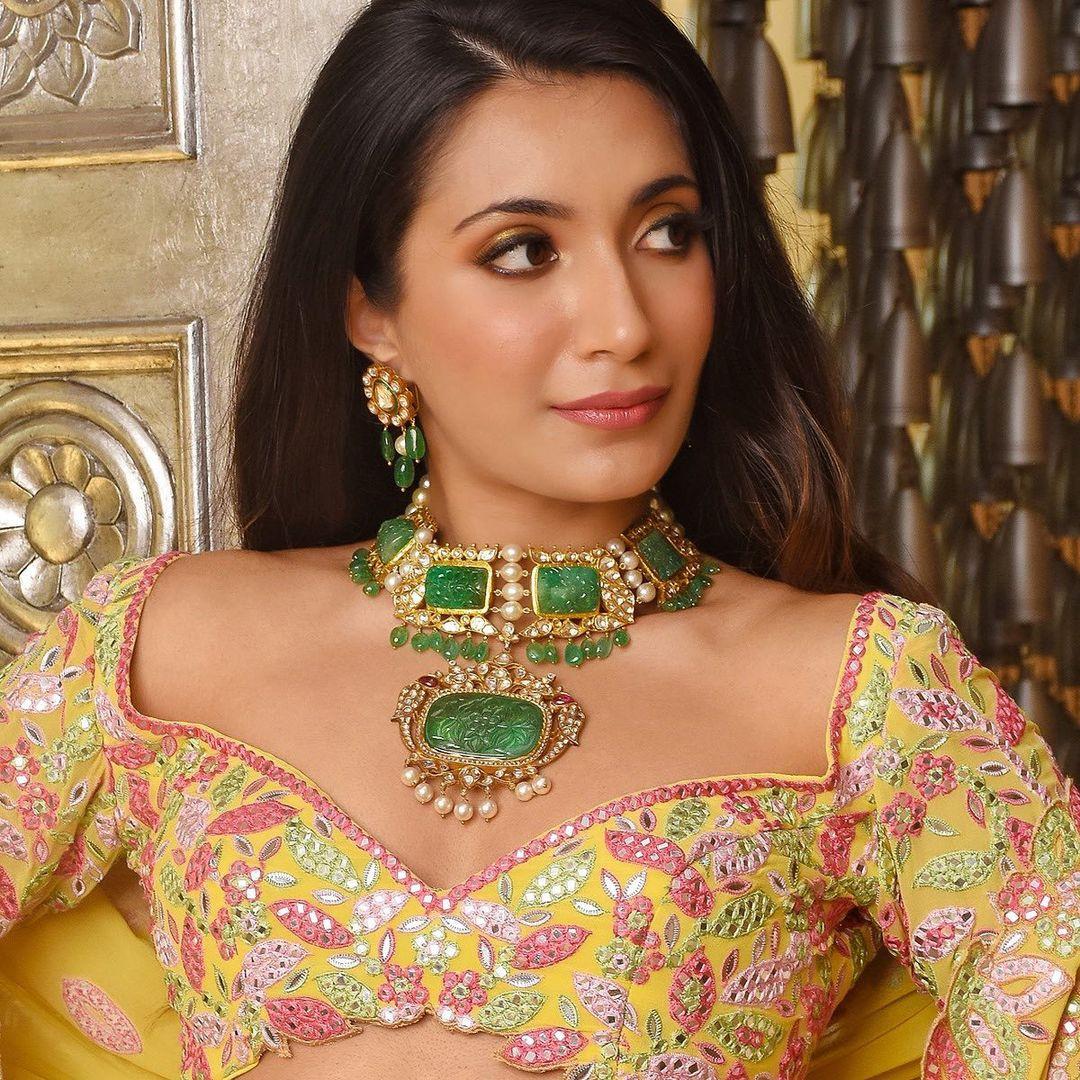 Slay your Haldi ceremony or mehndi function with this gorgeous emerald choker necklace set in gold and dazzled with beautiful pearls. Just like the bride wore it with bright yellow lehenga, it can be worn in contrast and will look absolutely stunning for your wedding festivities.
Kundan Choker Necklace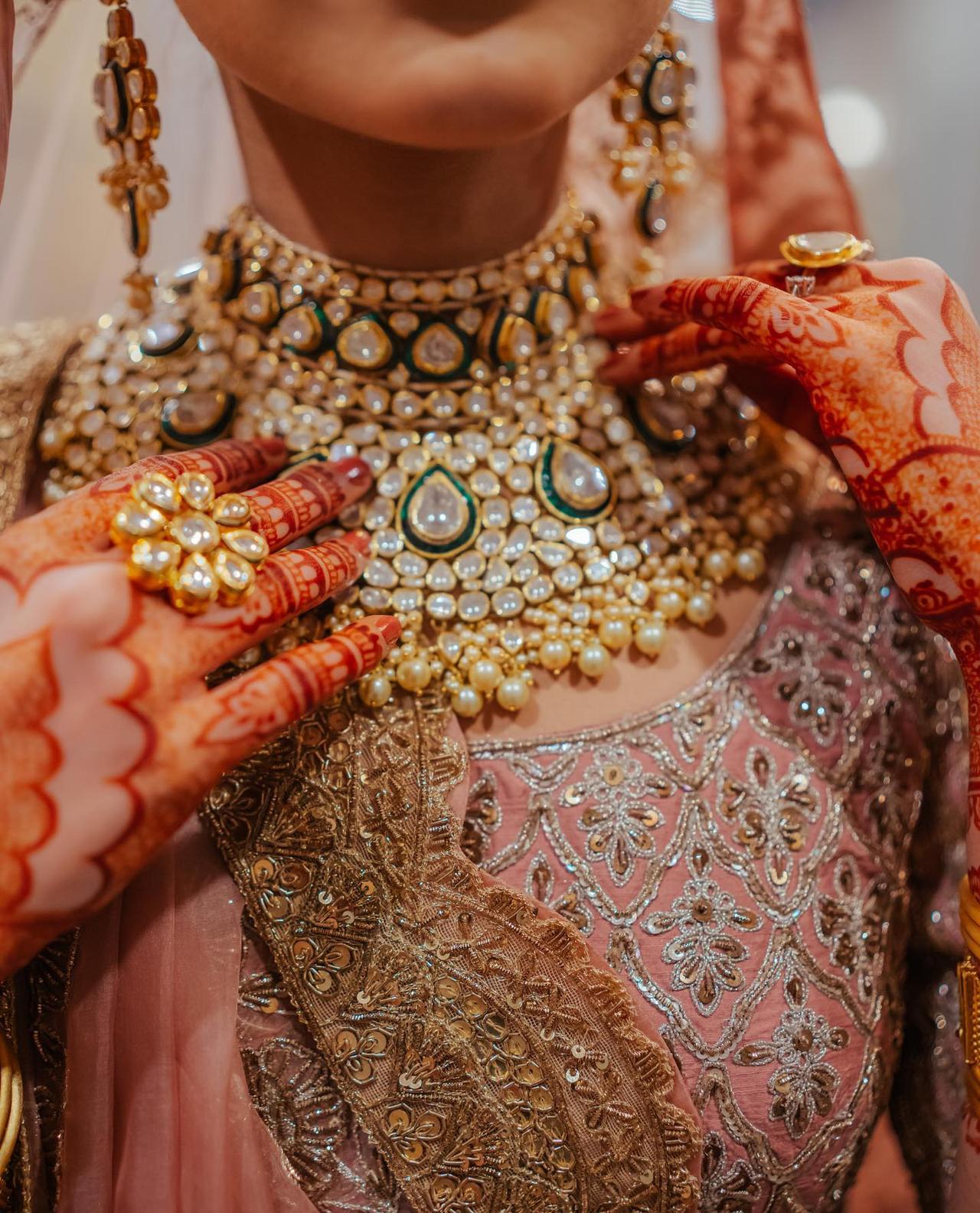 Image Courtesy - Izzah Shaheen Malik
Go traditional for your bridal avatar by choosing a stunning Kundan choker necklace with big stones and underlying colours and pearls. The glistening green and white stones will look spectacular on your gorgeous bridal lehenga.
Chunky Choker Necklace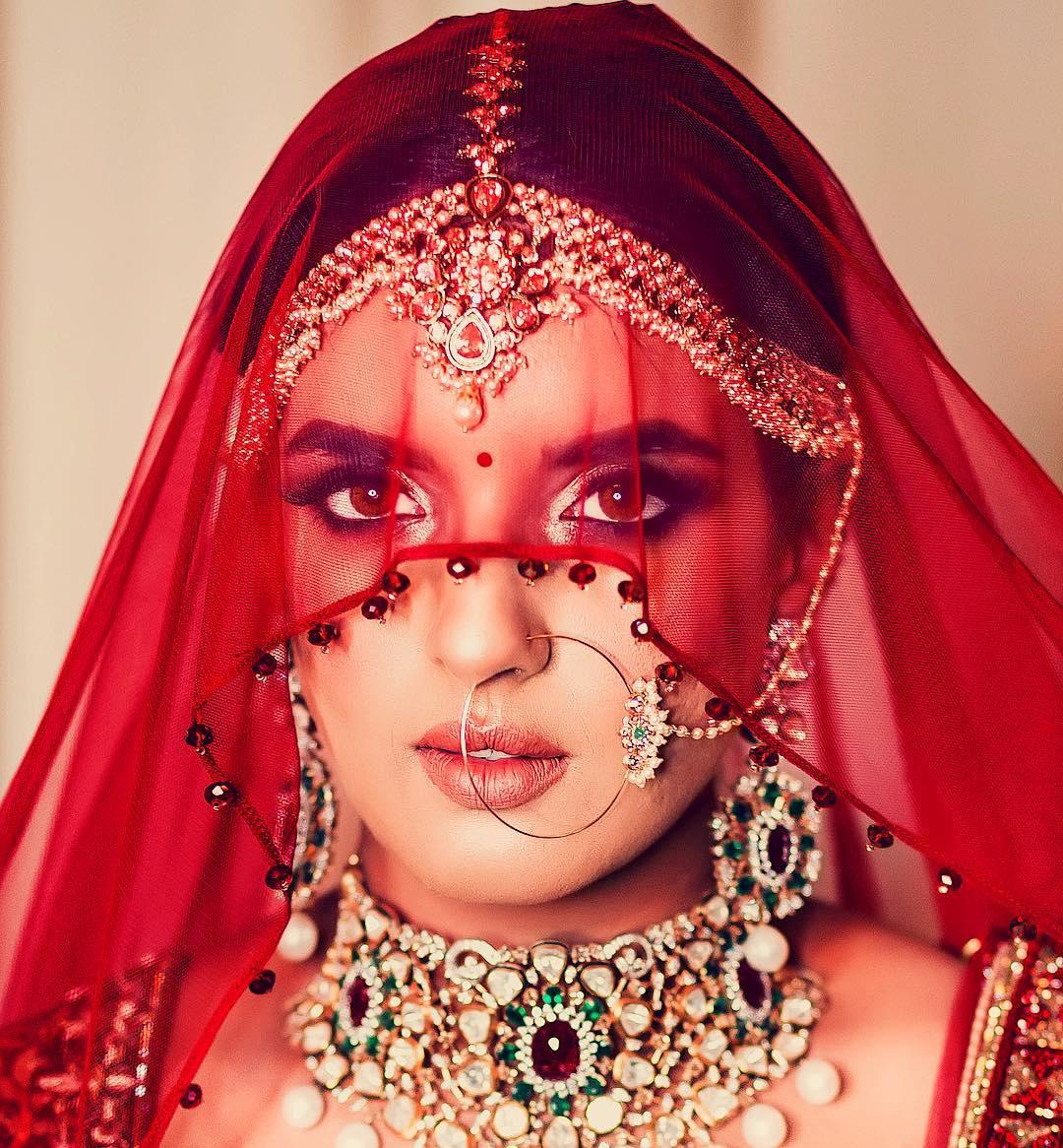 If you are not looking for intricate detailing in your choice of choker necklace, you can always opt for a bold and chunky one that will surely catch everyone's attention and definitely elevate your bridal look to the next level.
Tribal Jewellery Inspired Choker Necklace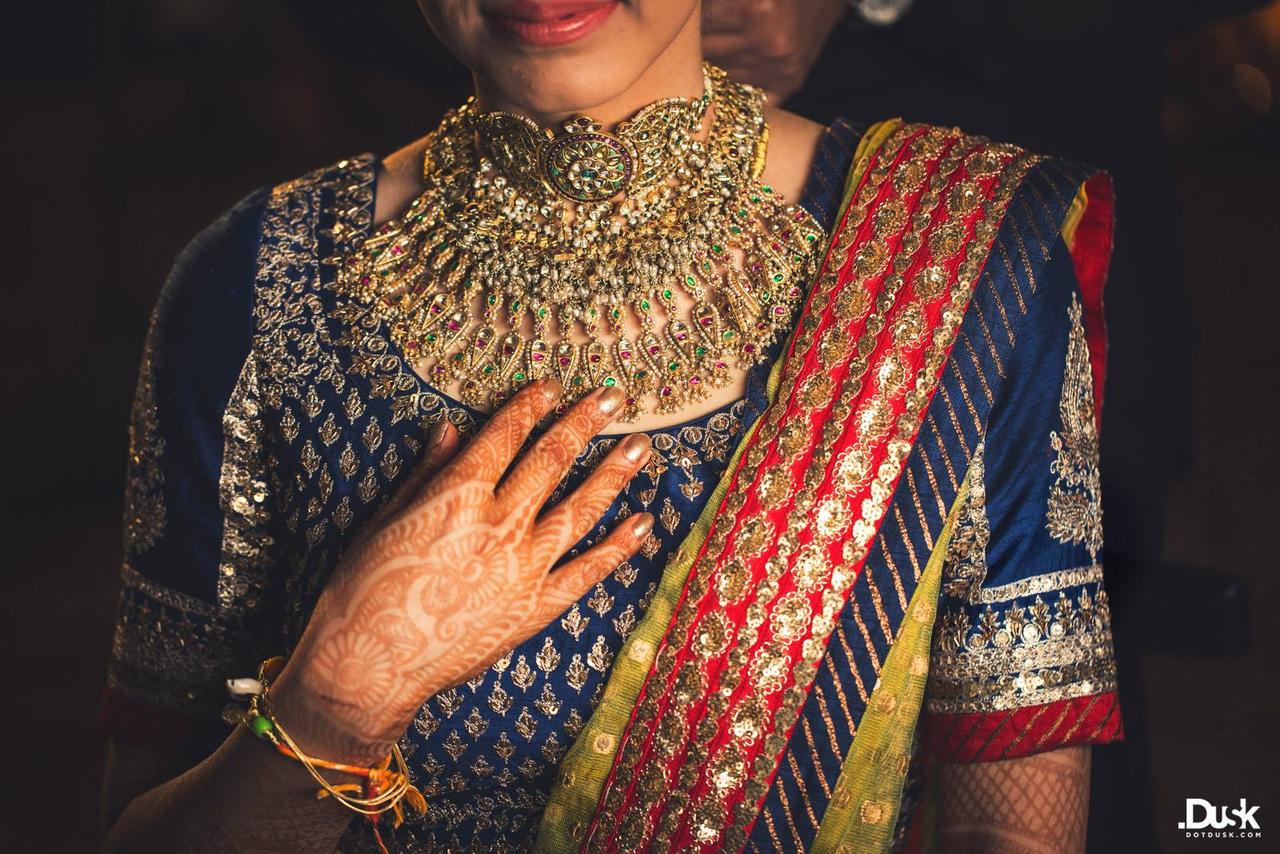 With oxidised jewellery and tribal-inspired neckpieces taking the fashion world by the storm, your bridal choker necklace can also be designed along the same lines. This gorgeous statement choker necklace will be the talk of the town and can transform your entire look.
Pastel Dreams Choker Necklace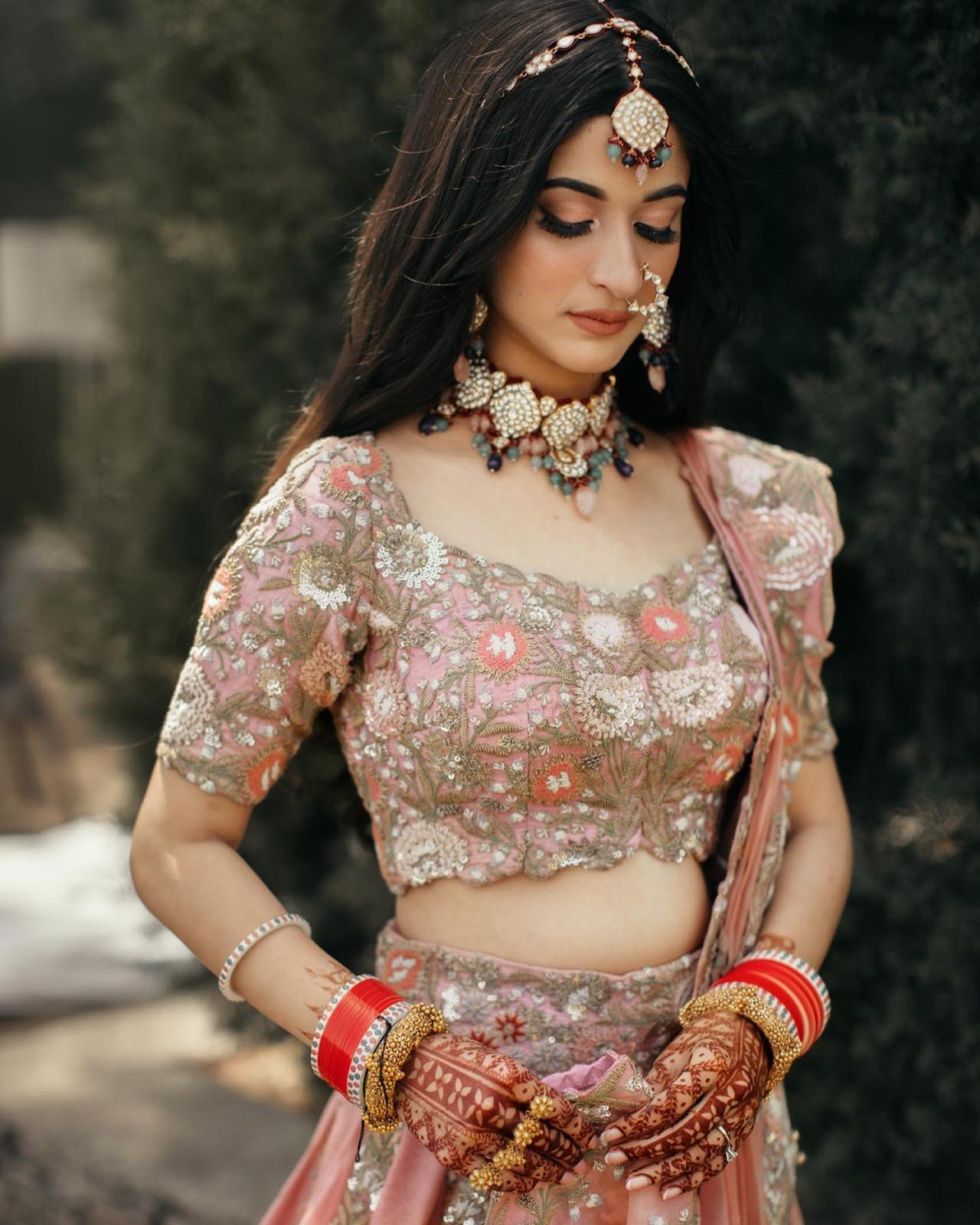 With millennial brides going gaga over the breathtaking pastel lehenga designs, why not add the same trend to your bridal jewellery? This gorgeous choker design in alluring pastel shades is definitely bound to take your breath away.
Minimalistic Floral Choker Necklace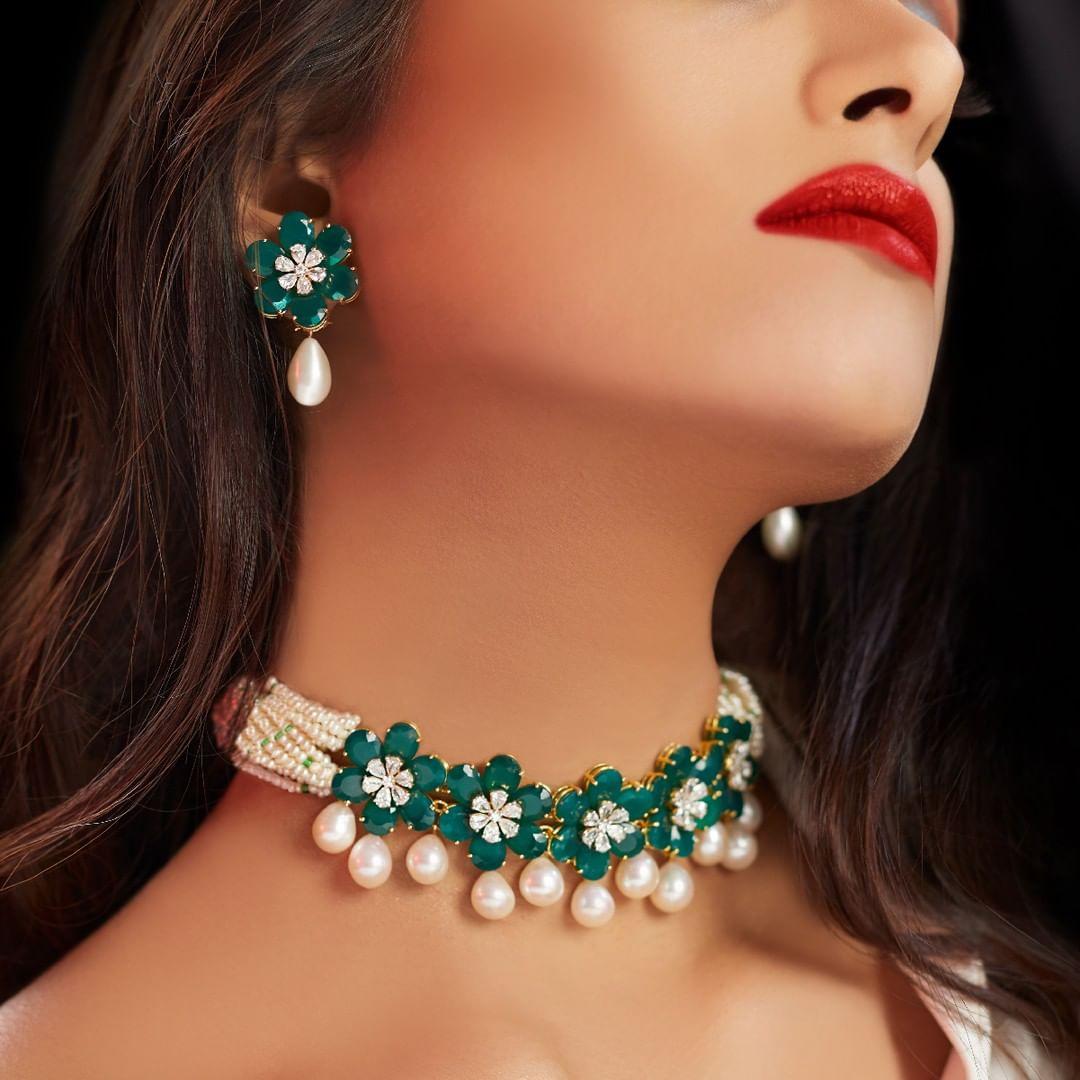 Looking for a choker necklace design that is not only subtle and minimalistic but looks ever so elegant for your cocktail party celebrations? How about a stunning amalgamation of emeralds and pearls to transform your entire look?
Pearls and Ruby Choker Necklace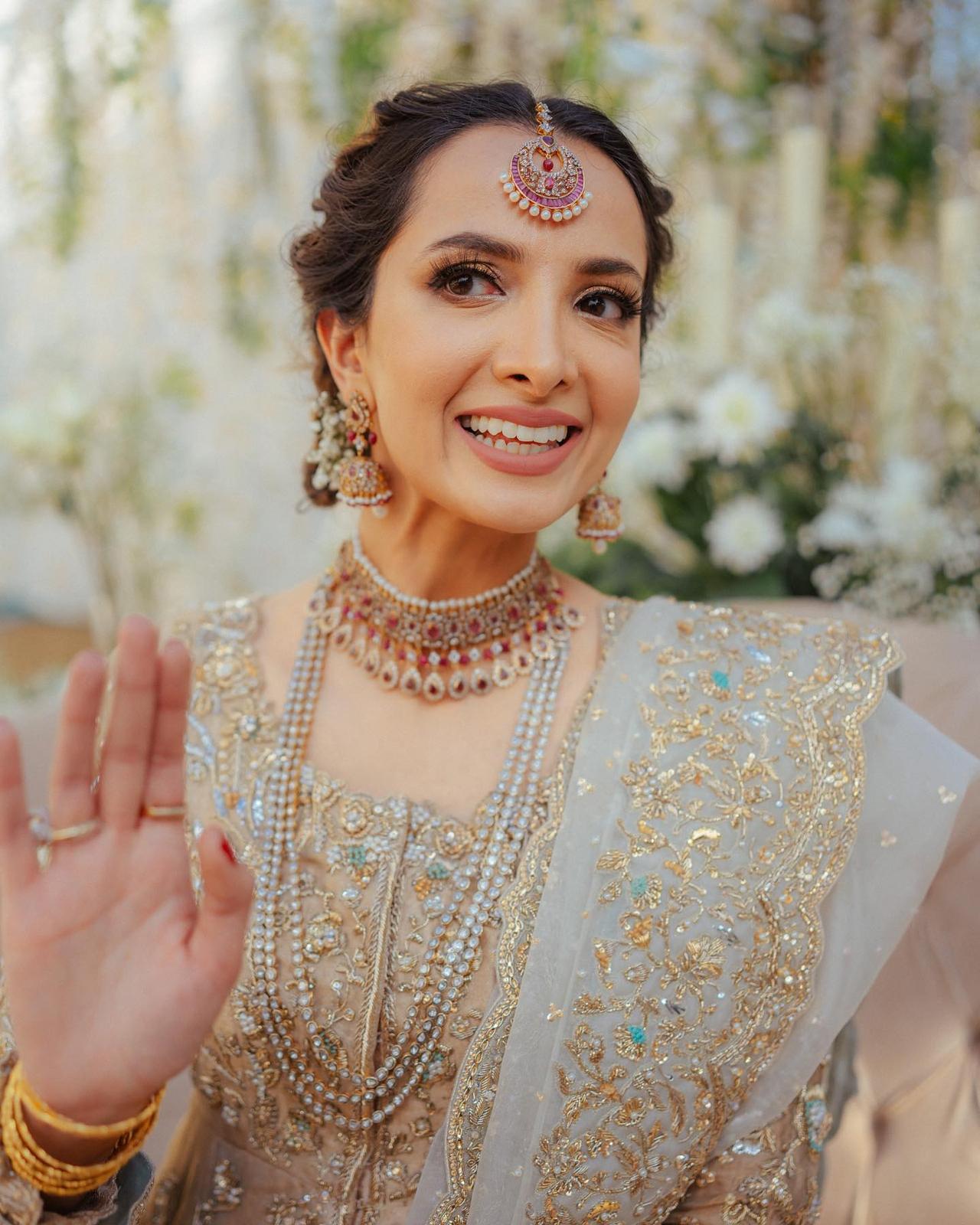 Image Courtesy - Izzah Shaheen Malik
A traditional choker necklace design that will look perfect for any of your wedding attires has to be one made with calming pearls and glistening rubies. This gorgeous necklace design will instantly elevate your bridal look.
Simple Gold Choker Necklace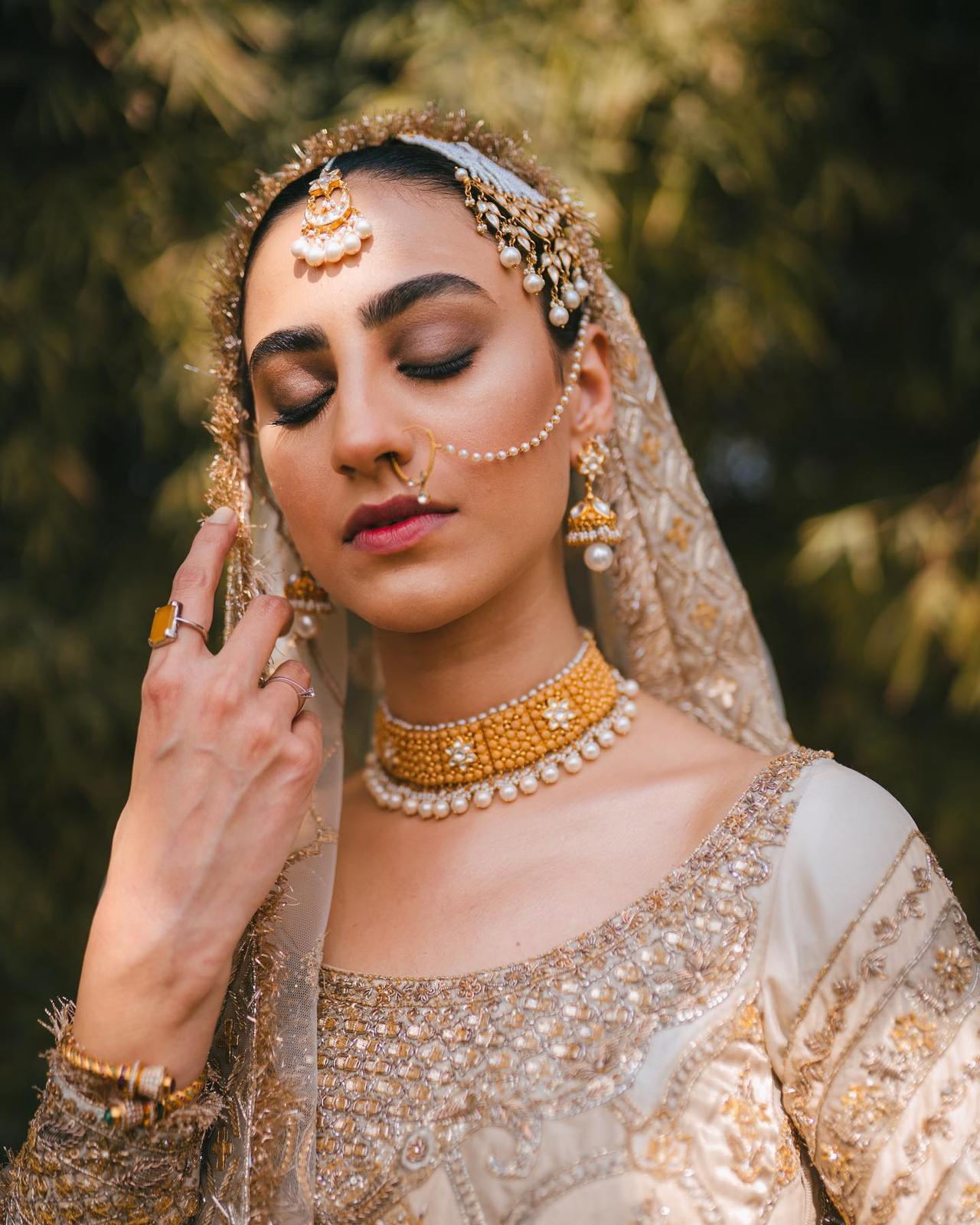 Image Courtesy - Izzah Shaheen Malik
Want your wedding jewellery to reflect your personality? How about a stunning solid gold choker necklace that speaks volumes of the elegance and beauty that you hold within?
Chic Choker Necklace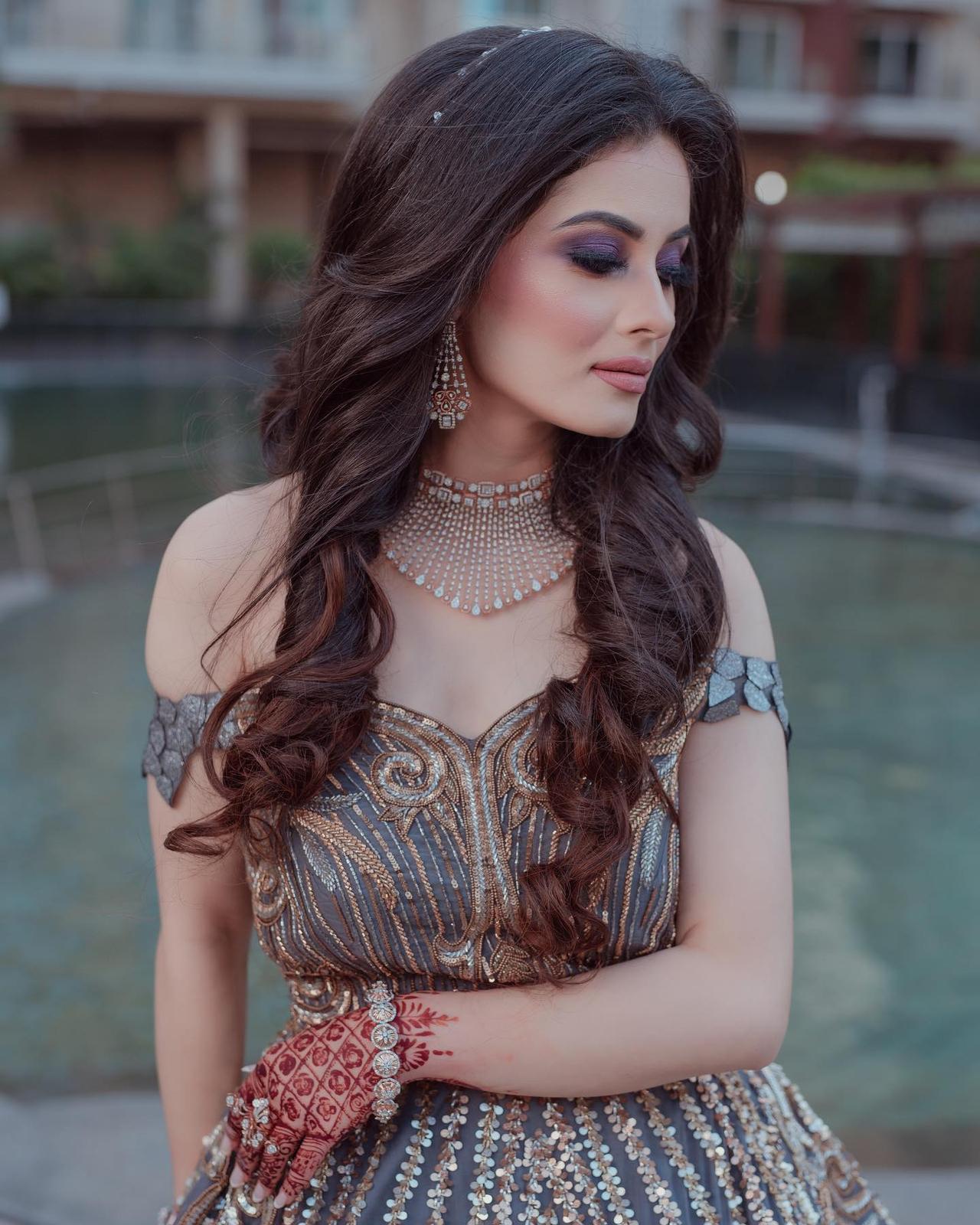 With so many different designs for bridal jewellery and specially choker necklaces available in the market today, you have a vast collection to choose from. If you are looking for a more modern design for your choker necklace that will slay that floor, how about a starry constellation design that will make you look stellar.
Peach and Gold Choker Necklace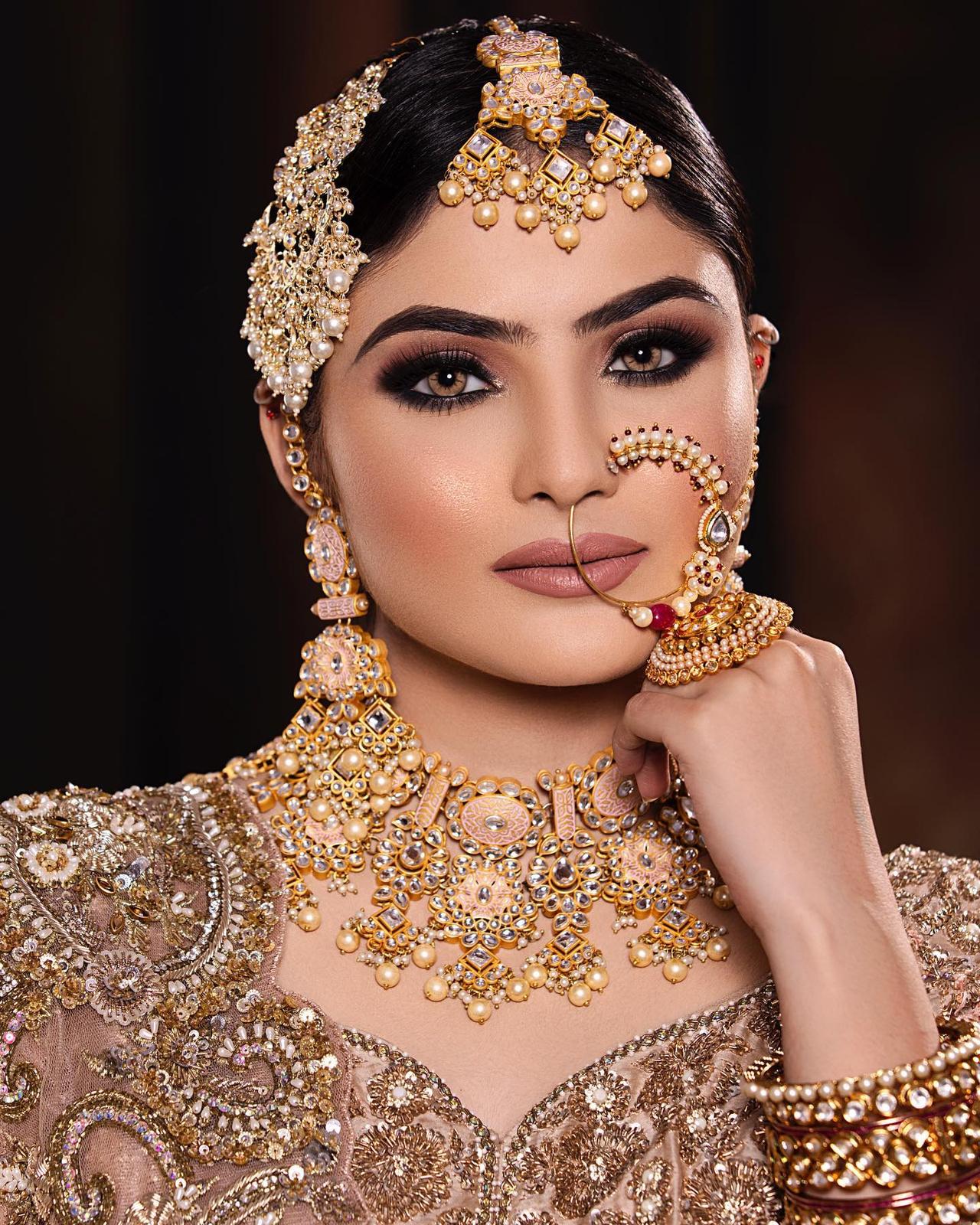 The stunning gold outfit of the bride is juxtaposed perfectly with this beautiful gold and peach choker necklace. With meticulous stonework and dangling pearls, this gorgeous necklace design will surely catch everyone's eyes.
Bold Kundan Choker Necklace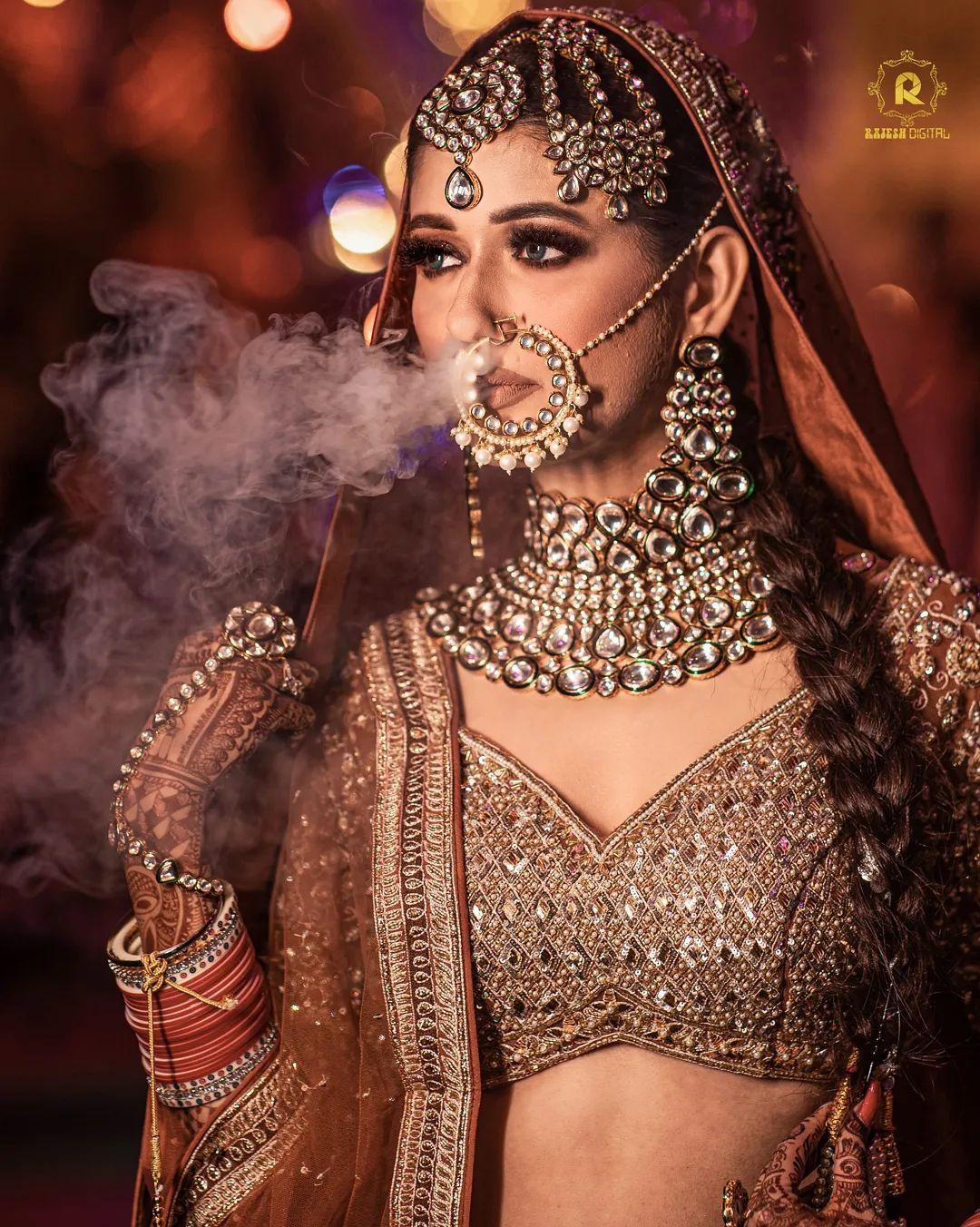 Want to make a bold statement with your bridal jewellery? Choose a chunky Kundan choker necklace and ensure everyone's attention stays on you only.
Navratana Choker Necklace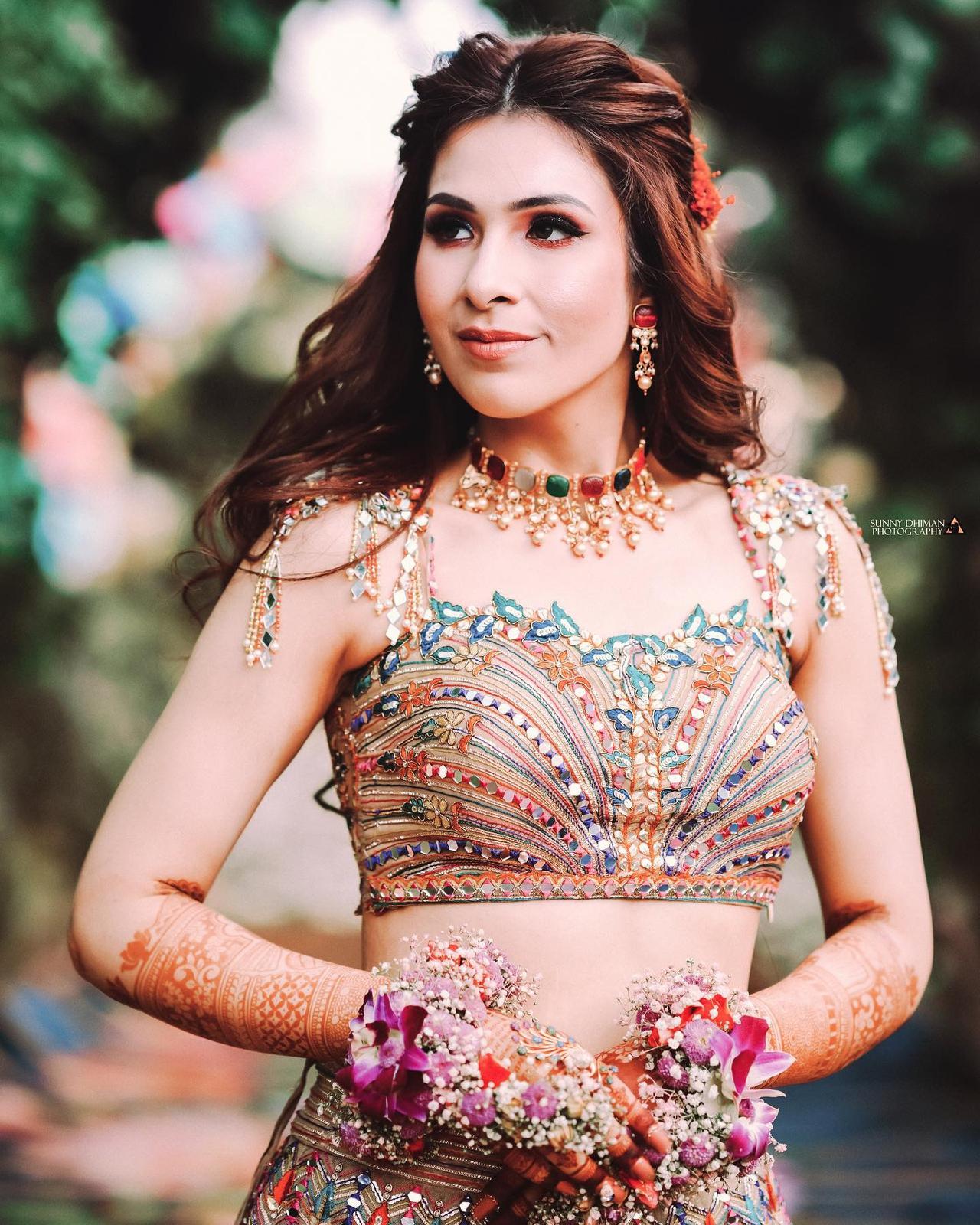 Bring all the elements together for your wedding day with this awe-inspiring Navratna choker necklace design. Giving modest vibes, it looks gives inspiring fashion goals when worn with a beautiful multicoloured lehenga.
Shimmering Polki Choker Necklace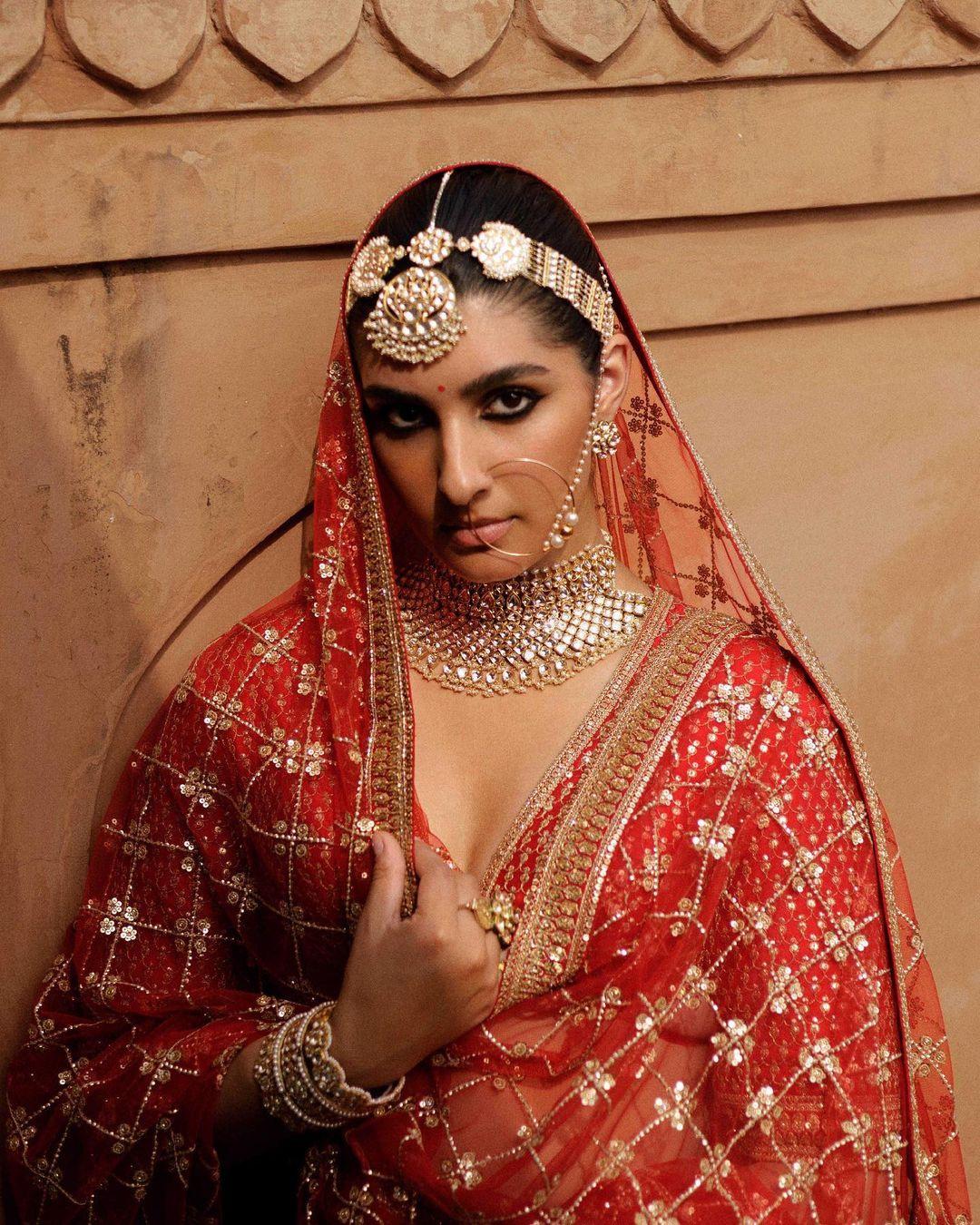 Image Courtesy - Sabyasachi Jewellery
Sabyasachi collection trends for lehengas and jewellery are a dream come true for every bride. This stunning choker necklace from Sabyasachi's heritage collection featuring brilliant-cut diamonds and pearls in 22k gold will surely be the talk of the town.
Statement Red Choker Necklace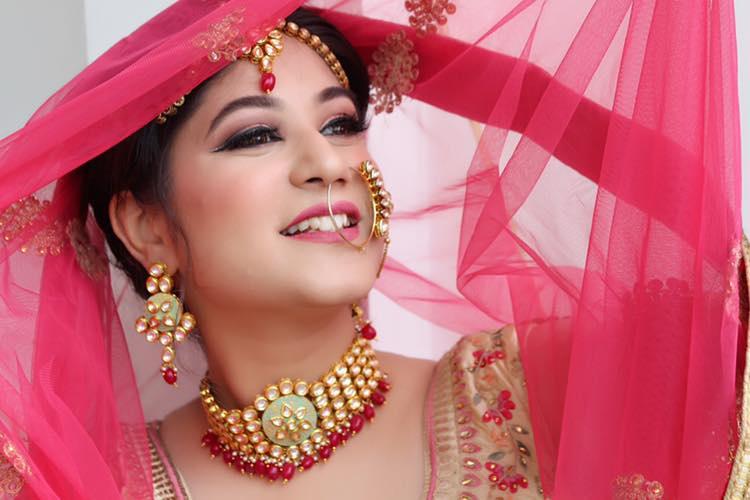 A choker necklace with mixed elements for Kundan and Meenakari designs will look absolutely spectacular for any of your wedding festivities. The beautiful red colours add to the overall elegance of the choker necklace.
All Diamond Choker Necklace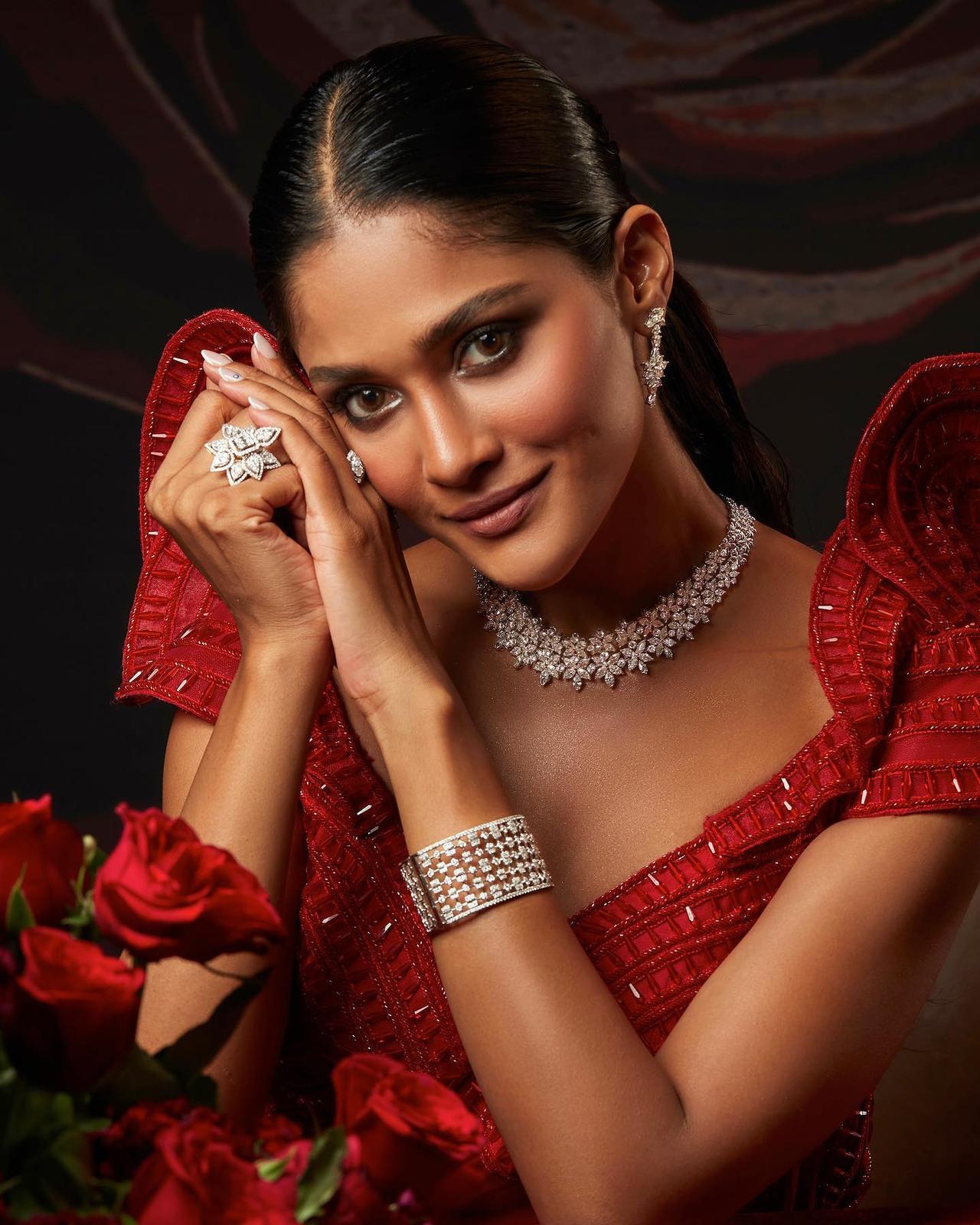 They are not wrong when they say 'diamonds are a girl's best friend'. Look effortlessly gorgeous with this stunning diamond choker necklace that will add beauty and elegance to any of your big day festivities.
Emerald and Pearls Choker Necklace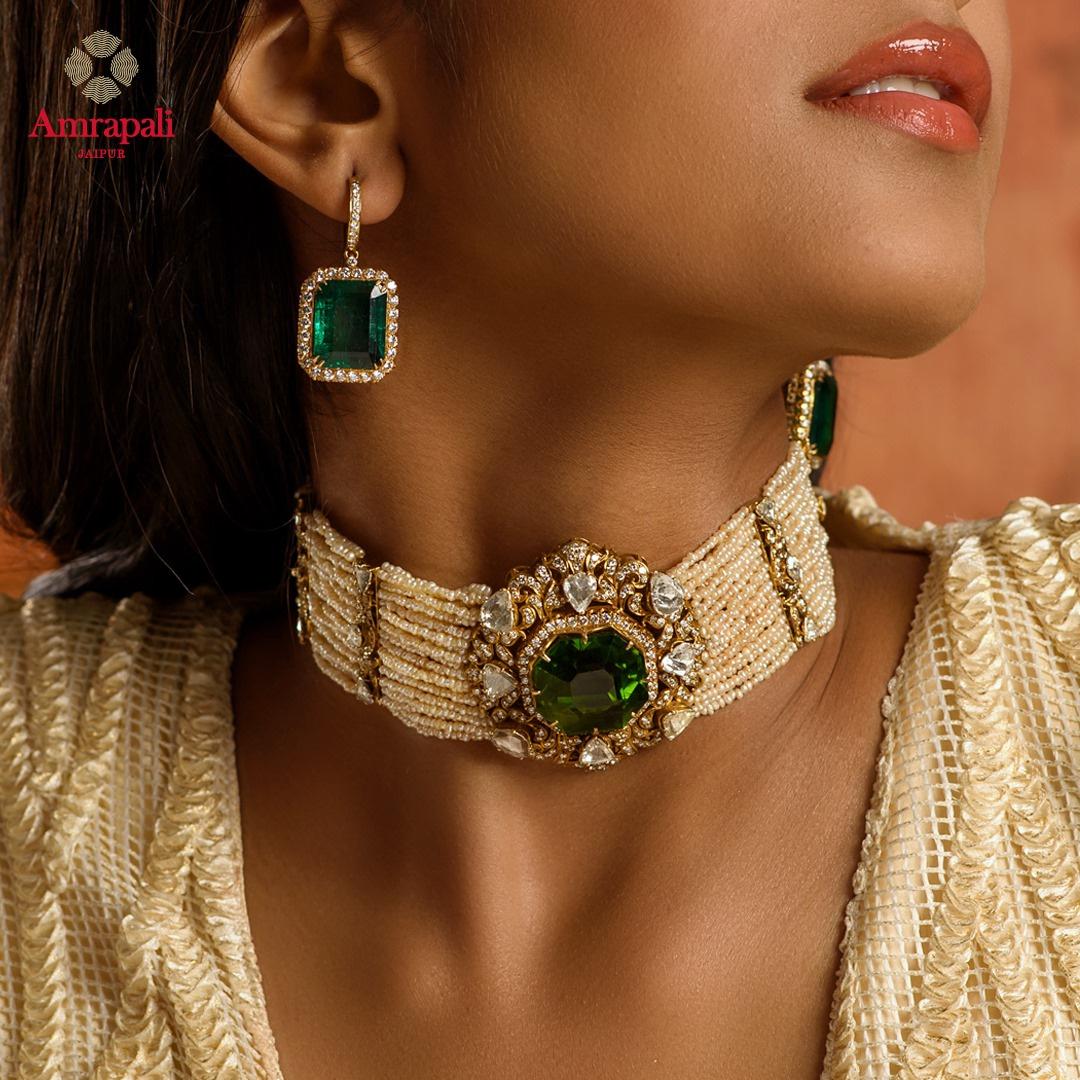 Strings of tiny pearls along with a statement emerald look gorgeous for a choker necklace. They make a resplendent pair in this dazzling choker necklace design that is bound to turn heads.
Pearl Strings Choker Necklace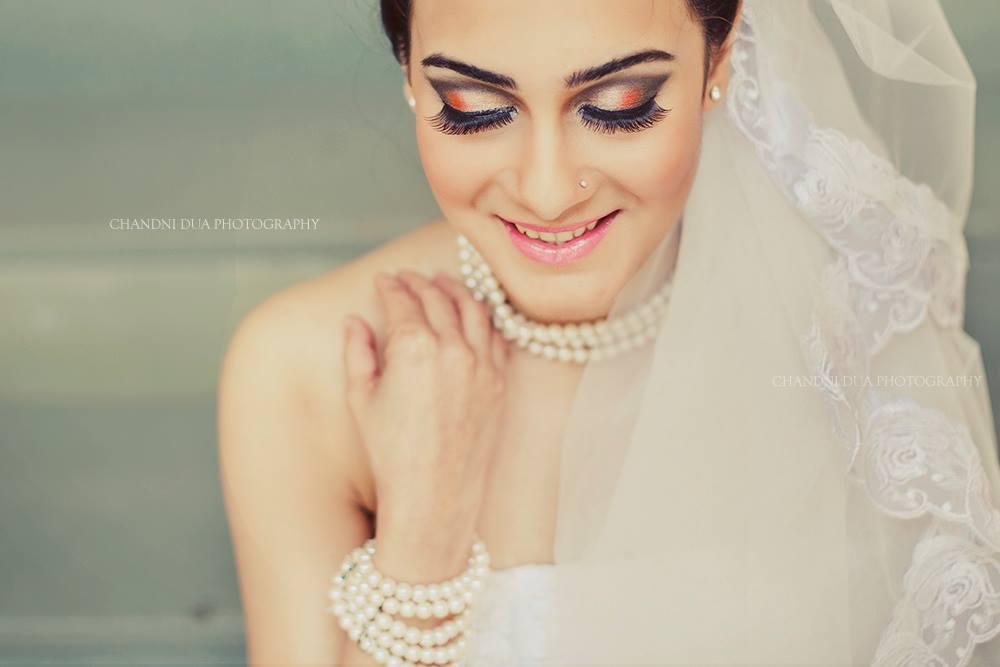 Image Courtesy - The Royal Affair
If you want a subtle yet minimalistic choker design, you can choose plain strings of pearls. They will look amazing for your white wedding or any of your pre-wedding festivities.
Sapphire Choker Necklace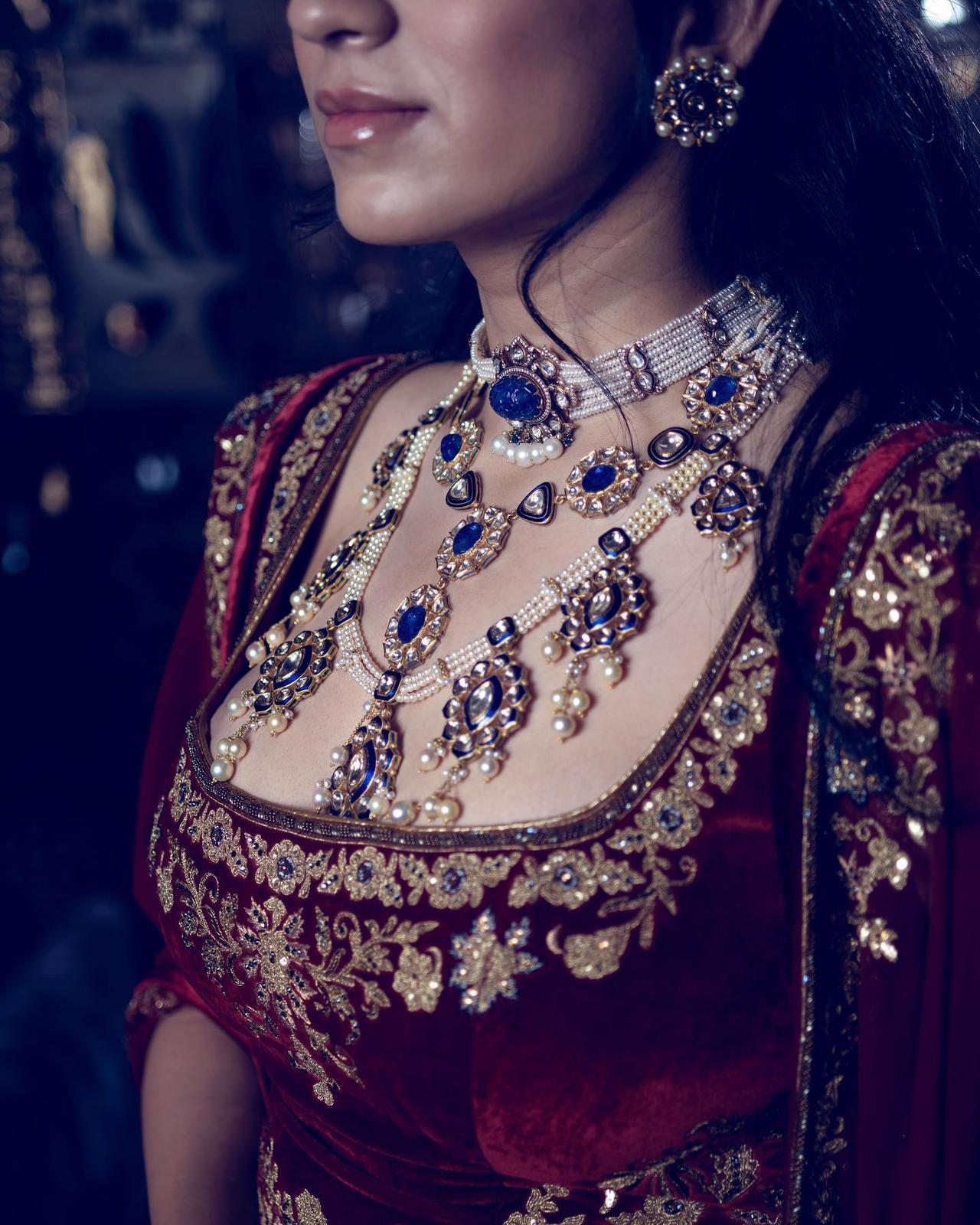 The bright blue colour of gorgeous sapphires adds to the beauty of this breathtaking choker necklace created in multiple strings and stones. The enamel and pearls in their design are definitely an OTT goal for your wedding celebrations.
Statement Diamond Choker Necklace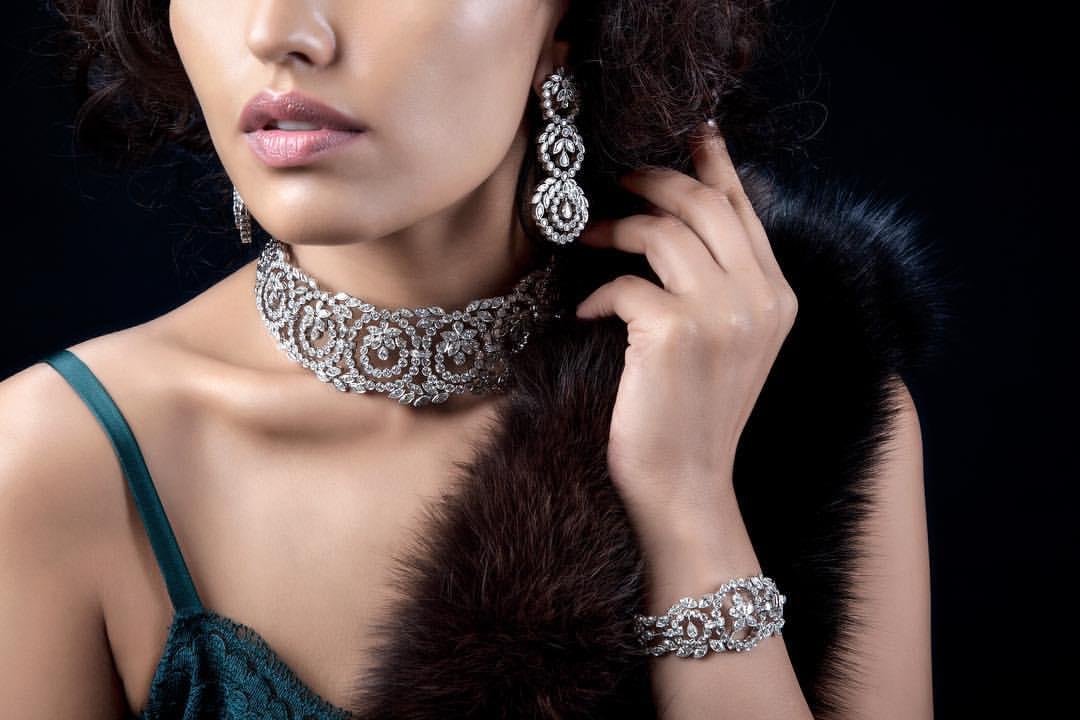 Perfect for your chic cocktail party or a dreamy sangeet night, this alluring statement diamond choker necklace will be the perfect addition to complete your overall bridal look.
Bold Polki Choker Necklace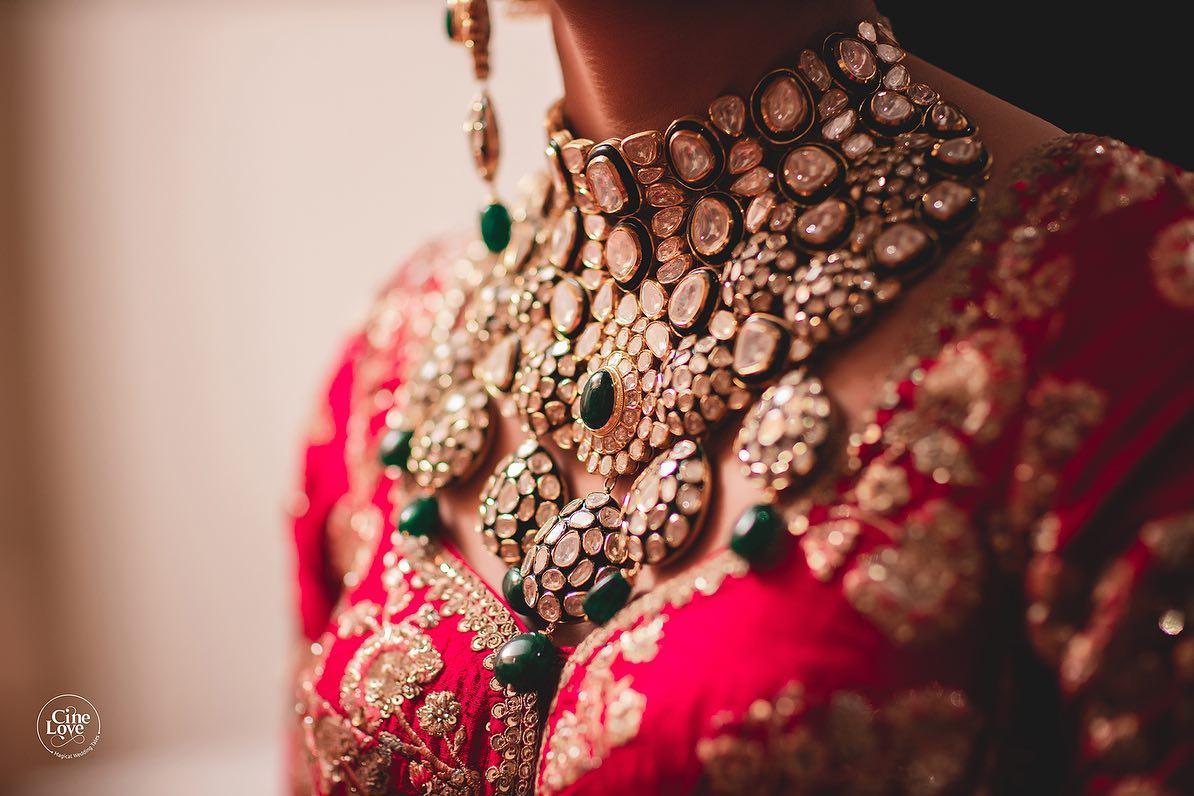 Looking for something absolutely unique and different for your bridal jewellery? The bold and intricate stonework with Polki with emeralds will be the top bridal jewellery picks for red lehengas.
Emerald Kundan Choker Necklace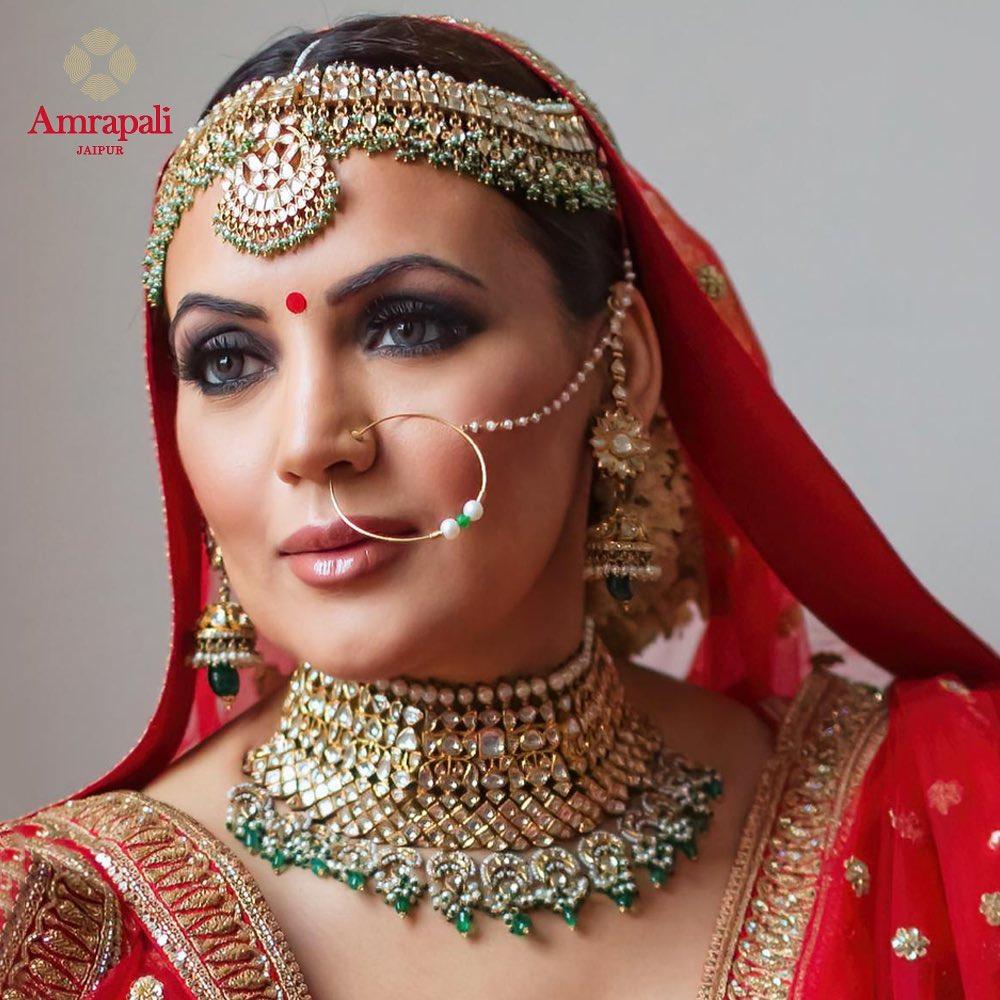 This bride's regal Jadau choker necklace is an epitome of grandiose and elegance. The beautiful Kundan design with emerald stone work looks breathtaking when worn with a contrasting red lehenga.
Polki With Beads and Pearls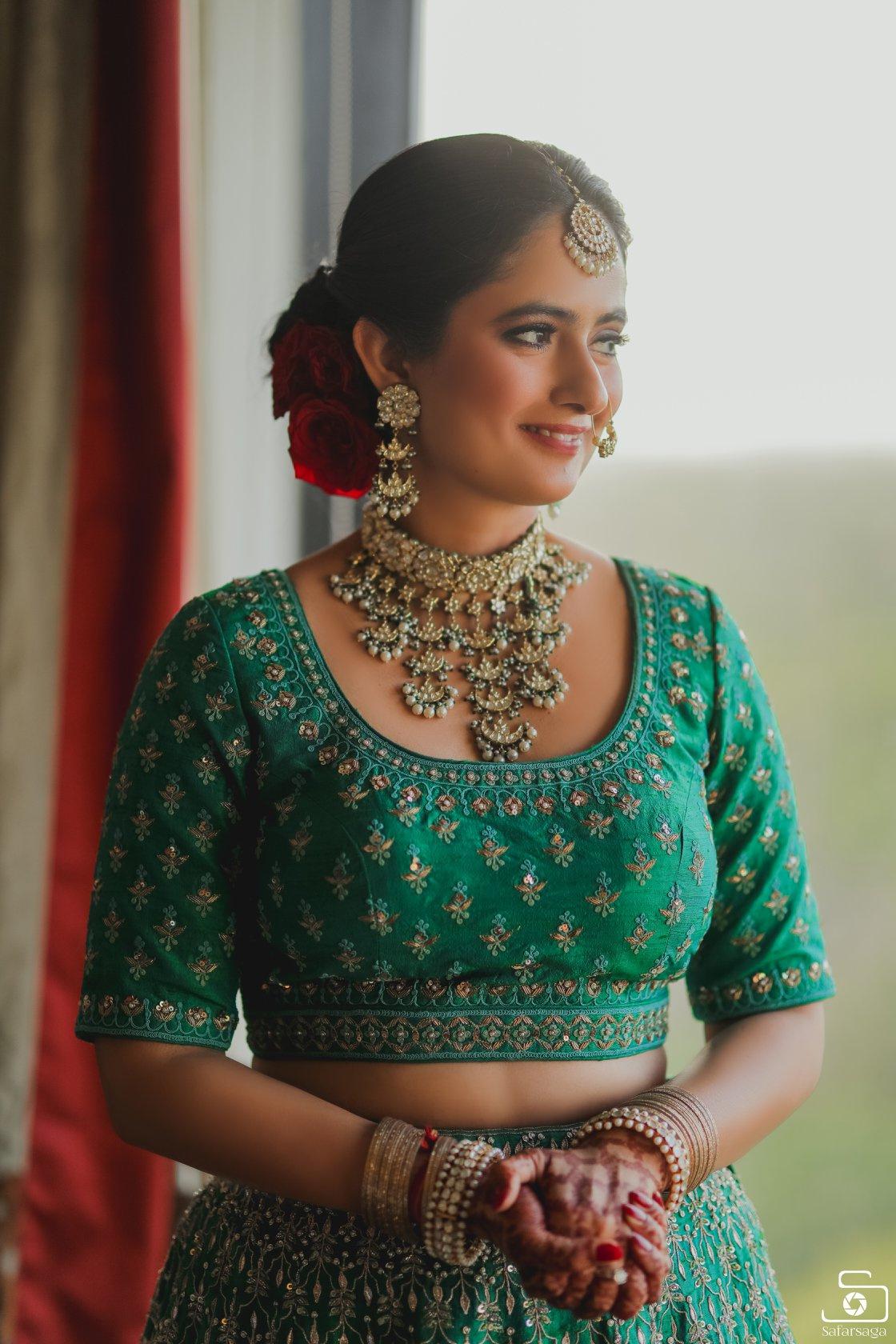 The choker necklace should be a reflection of the ethos and culture of the bride who wears them. Hence, brides who are toeing the line of traditional often incorporate Polki stones into their jewellery. This versatile stone can be strung together to form various designs and is often accented with beads to match the colour of the outfit.
This bride is adorned in a slim choker made of Polki stones. Layers of semi-circle motifs embellished with small pearls fall from the band to form a triangle. If you are looking to make a statement with your jewellery, this Polki jewellery necklace is a must-have!
Flower Choker Necklace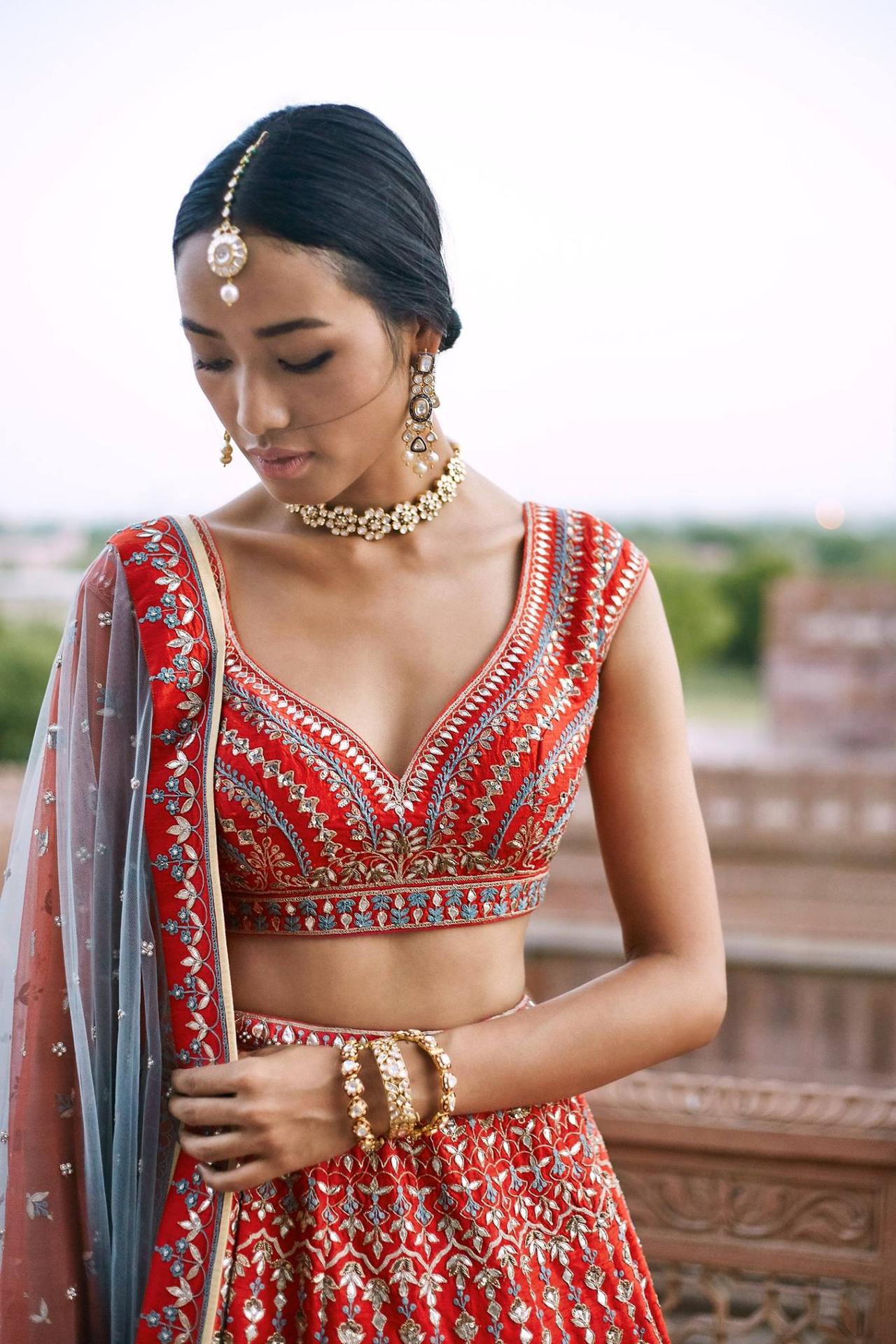 Slim choker necklaces are all the rage among brides this season. This slim band has the ability to master a modern aesthetic without looking too run-off-the-mill. The bride is adorned in a statement choker necklace that showcases a row of flowers made of white stones. Each motif is intricately strung together to enhance this transcending piece.
In addition to its eye-catching quality, this necklace can also be worn long after your wedding as an accessory to a formal dress. The bride has paired this choker necklace with some chandelier earrings.
Meenakari Choker Necklace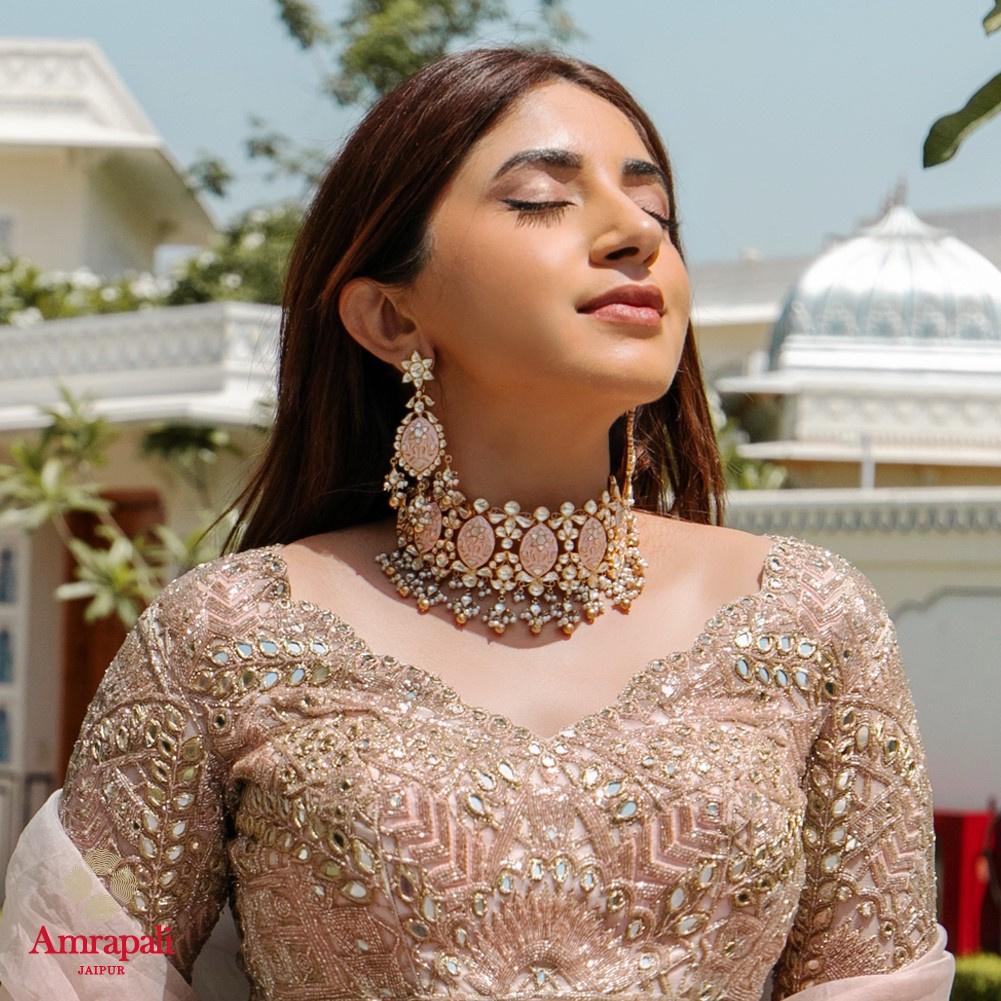 While pearls and Polkis define the traditional bride, you can take add a modern twist to this with some modern floral motifs. This jewellery exudes sheer elegance while resembling an antique piece.
This bride's statement choker necklace is patterned with modern floral diamond motifs on a single band and lined with a row of small pearls. What gives this necklace its vintage appeal is the stunning Polki pattern that makes this choker necklace look traditional and unique.
Gold Choker Necklace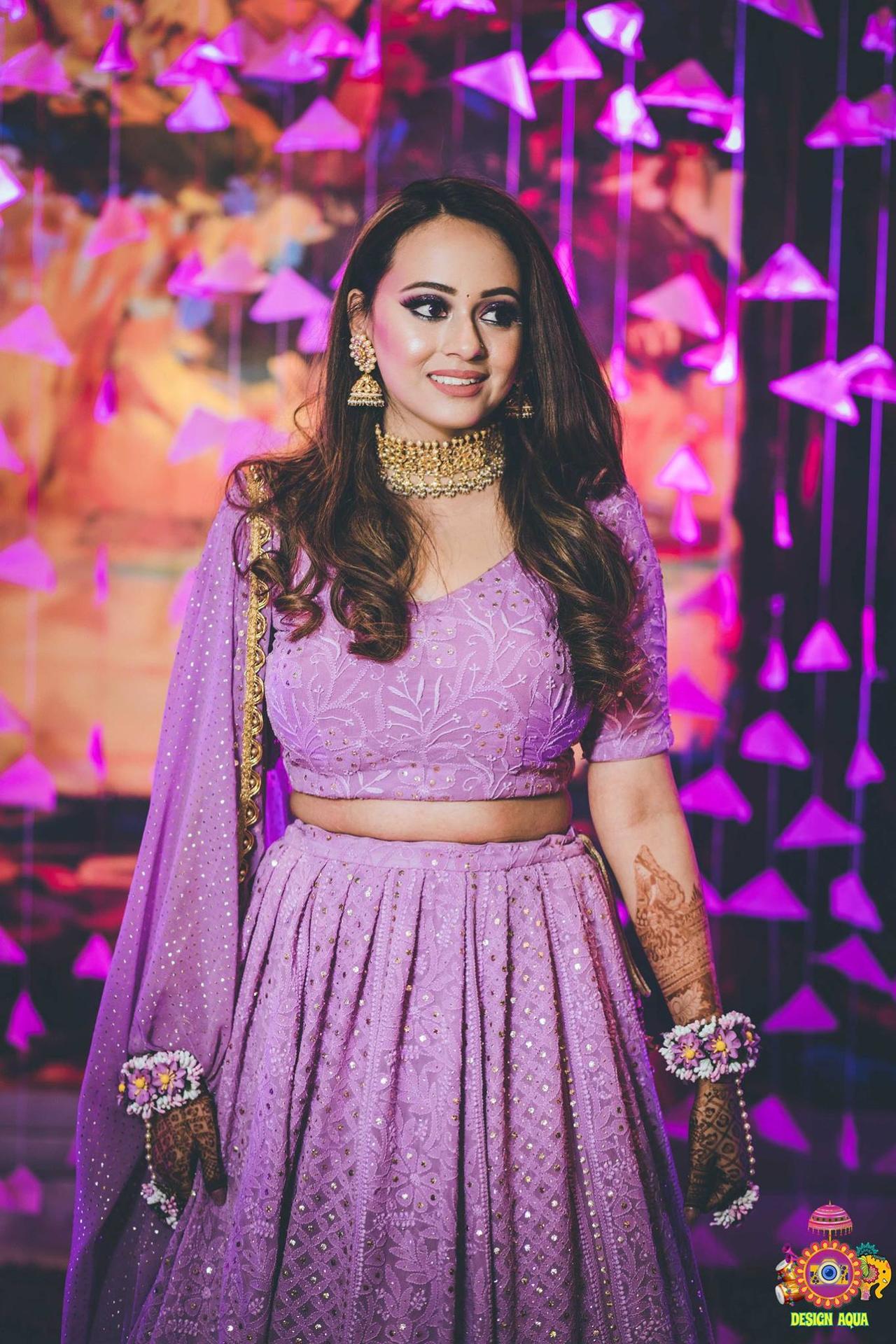 Your choker necklace can help you set the theme for your bridal attire while showcasing your unique style. For traditional brides, a gold choker can work wonders for your outfit. This gorgeous choker has a classic setting that defines the ethos of Indian weddings.
The statement choker has a layer of small pearls and is accented with small dangling motifs at the base of this choker necklace style. The simplicity of the piece makes it a winning choice for every type of bride and her bridal jewellery.
Diamonds and Pearls Choker Necklace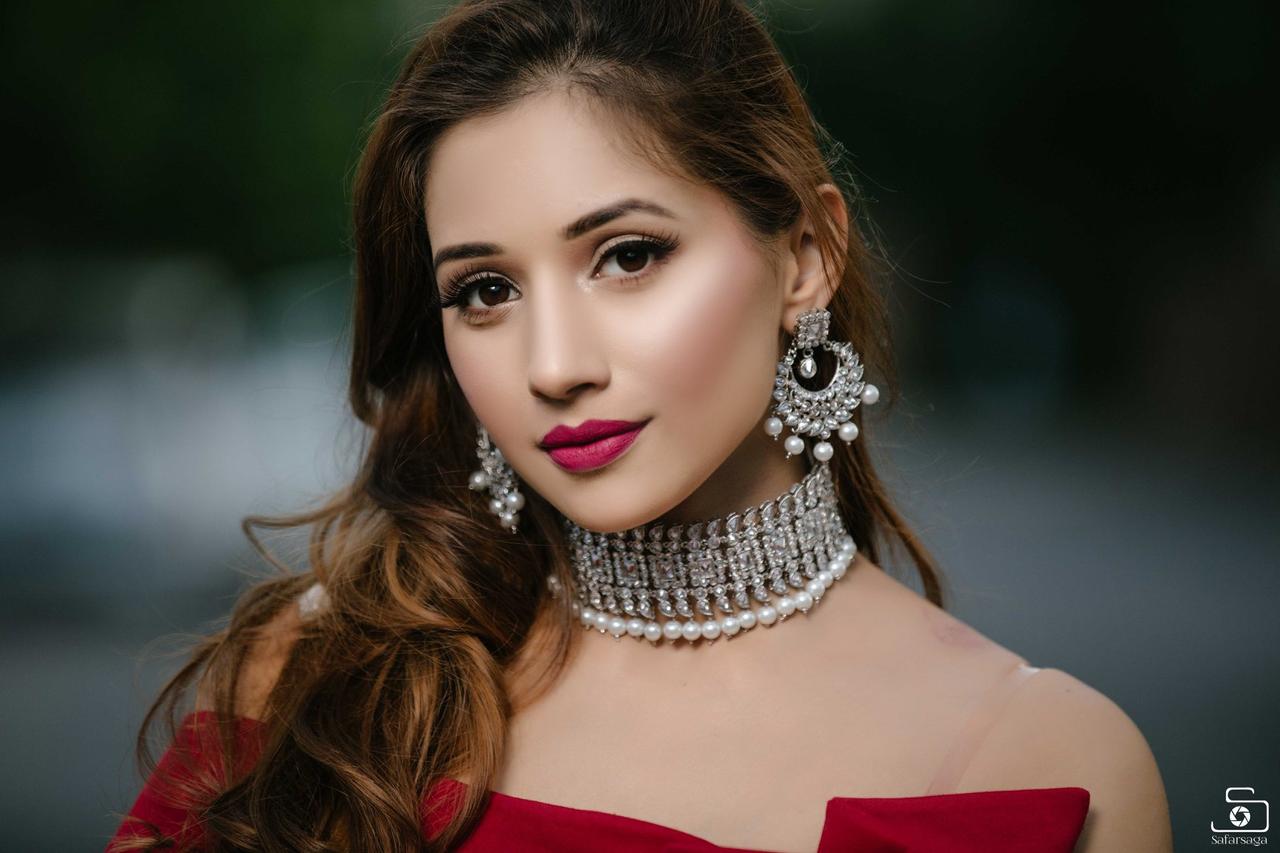 Diamonds are a girl's best friend and for the contemporary bride, they are the perfect way to make a style statement. When it comes to embodying the modern aesthetic, it's all about adding just the right amount of shine to your outfit without looking too tacky.
This simple diamond-encrusted choker is a combination of striking and dainty while the pearls add a touch of traditionalism to the piece. The square motif bordered with diamond leaves that adorn this choker necklace is both eye-catching and innovative.
Colourful Beads Choker Necklace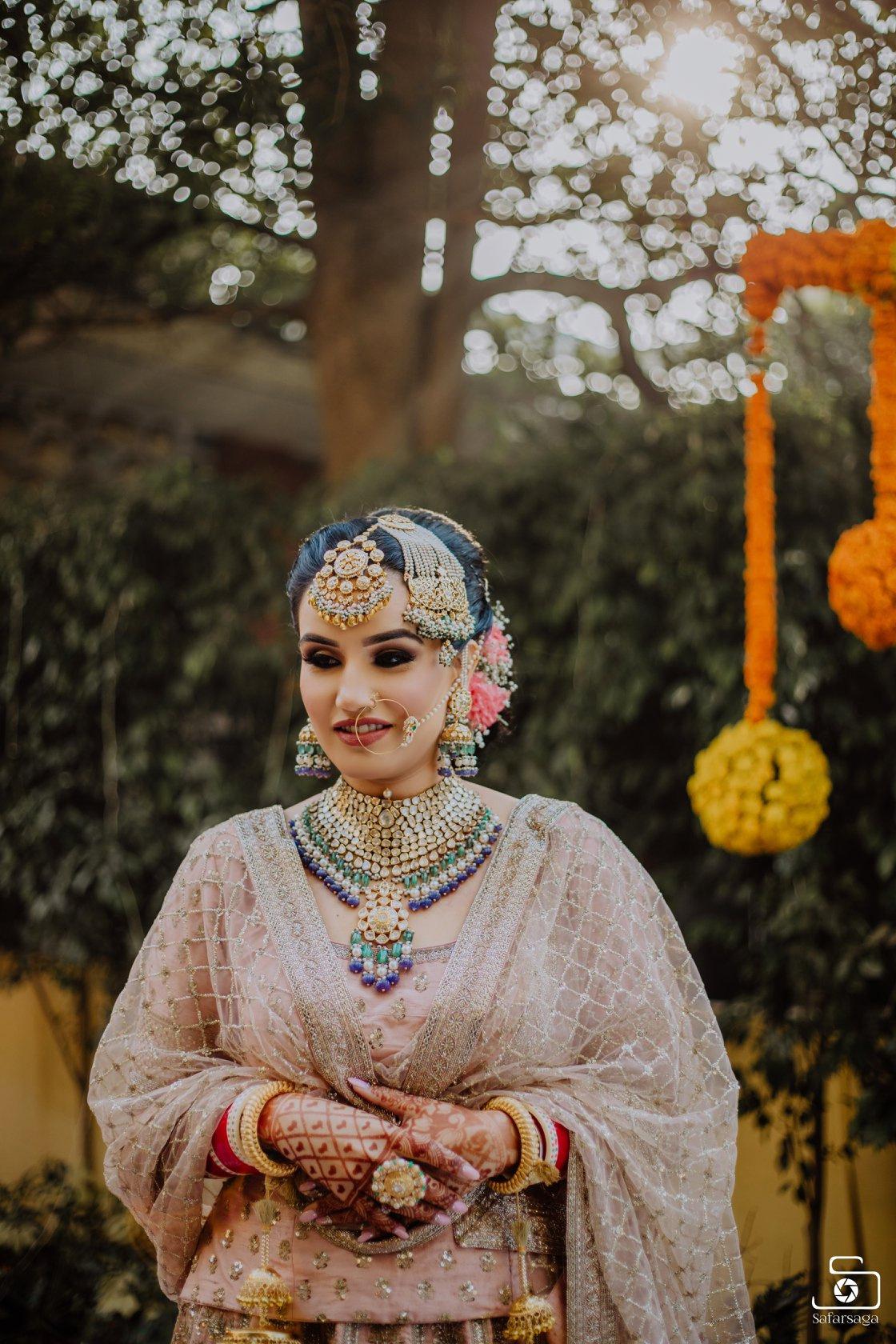 Your style is an expression of your personality and a stunning choker necklace can help you make that unique style statement. If you would like your jewellery to stay true to your roots, a necklace like this one can work beautifully with your wardrobe.
The piece features uncut diamonds set to form a broad choker necklace. To add some depth to the jewellery, green and purple beads hang from the choker to highlight the colours in the outfit. They are held together by a stunning diamond flower at the centre.
Gold and Diamonds Choker Necklace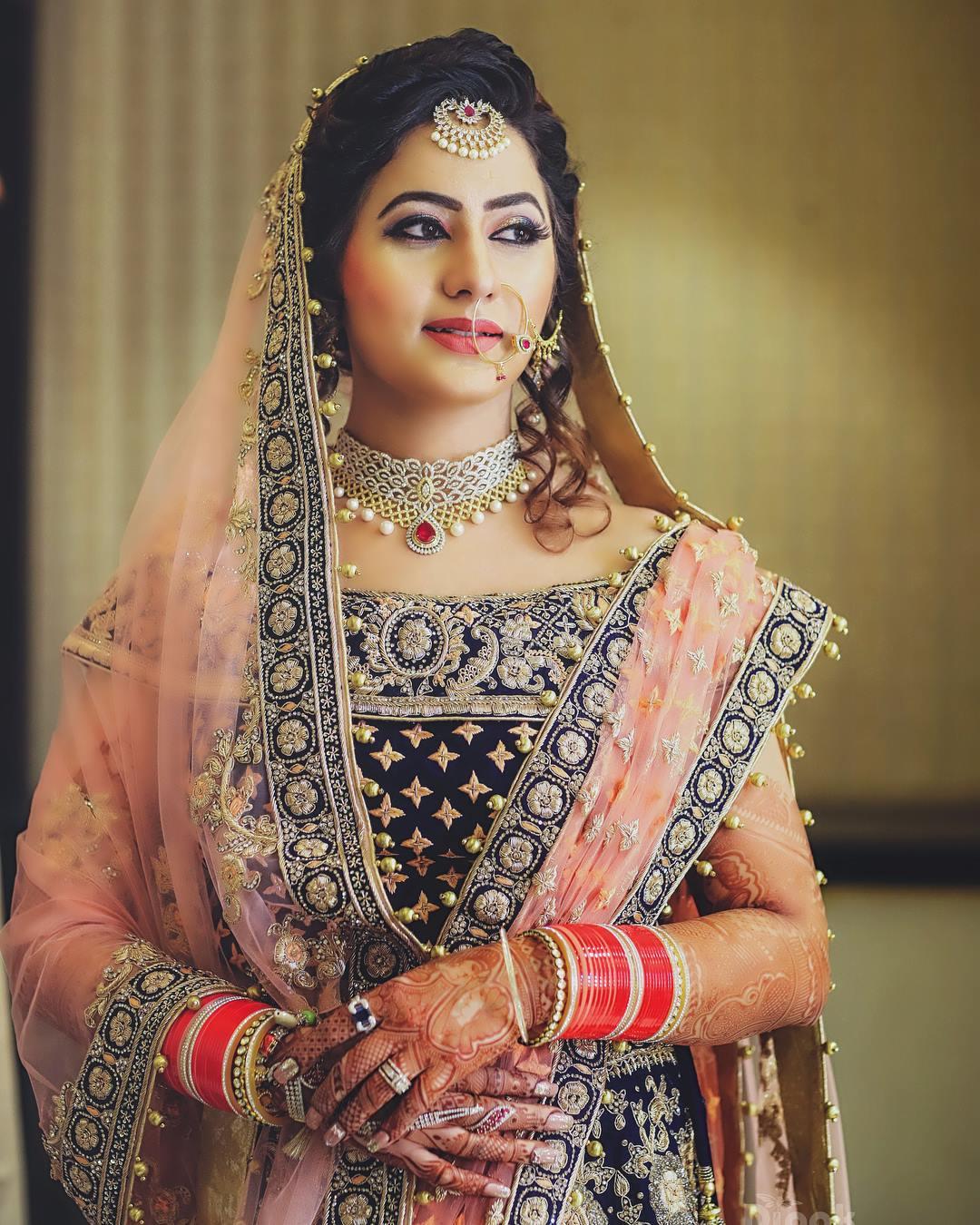 If your bridal attire is heavily embellished with zari embroidery and sequins, you can balance out the silhouette with a simple statement choker necklace. This statement piece of jewellery has become a lifetime investment and so many brides opt for designs that are both modern and versatile.
This piece features a diamond-encrusted choker that is weaved into a floral pattern and bordered with a gold zig-zag motif. An exquisite ruby pendant sits at the centre of this choker necklace.
Statement Motifs Choker Necklace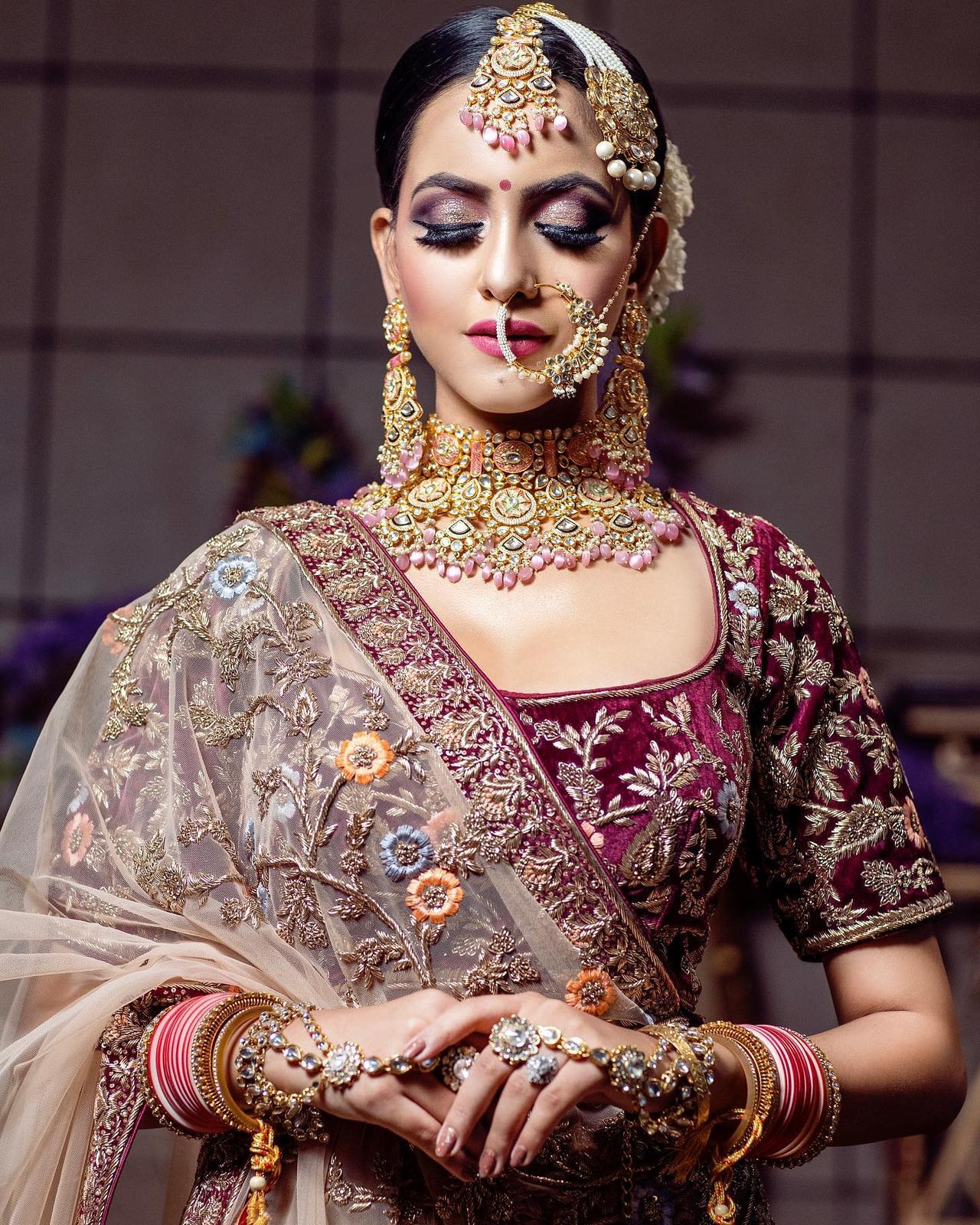 Effervescent motifs set in unique patterns can breathe new life into your bridal attire. Your wedding jewellery collection should have a combination of pieces that can see you through a variety of functions and some statement looks that you can pair with specific outfits.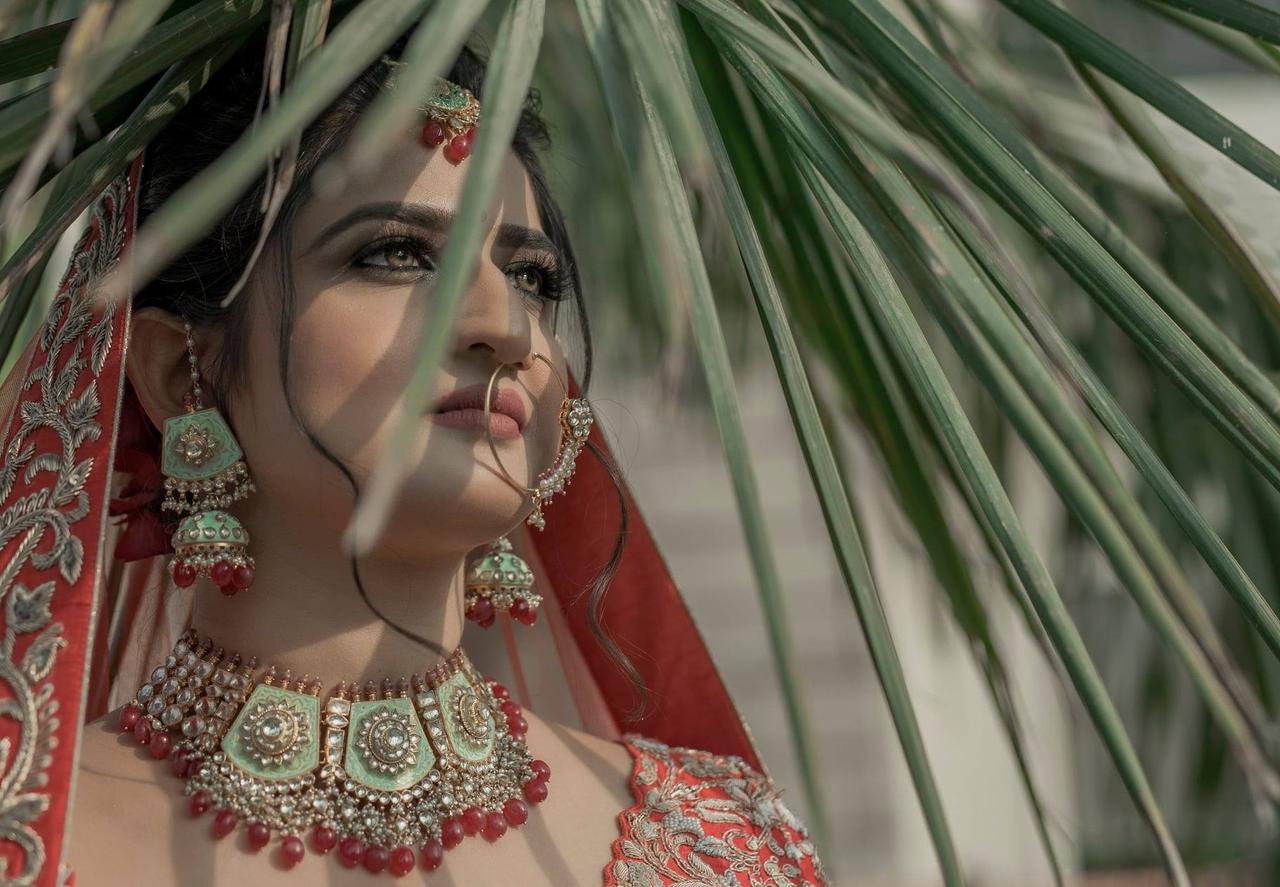 This bride is adorned in a Princess necklace which is a variant of the classic choker necklace. The jewellery is embedded with floral and circular motifs that are accented with tiny pink beads. Pair this choker with a low-neck blouse to keep all the focus on the stunning pattern. Exquisite jewellery holds a special place in a bridal trousseau because each piece speaks volumes about the rich history and culture of India while showcasing the bride's style. And one piece that stands out among the rest is the choker necklace.
This jewellery can define the theme of your wedding attire while instantly elevating your look. As seen above, Polkis, diamonds and coloured stones are just a few ways to get creative with the design of your necklace. We hope this carefully curated list of choker necklace styles guides you to the perfect piece!
Love these choker necklace designs? Let us know your favourites in the comments below!
Top Blogs on WeddingWire India