5 Latest Sabyasachi Collection Trends Which You Need To Pick
With whimsy, tradition and modernity, the 2019 Winter/Bridal collection has a lot to unpack. Here are 5 latest Sabyasachi collection details you need to pick from it right now.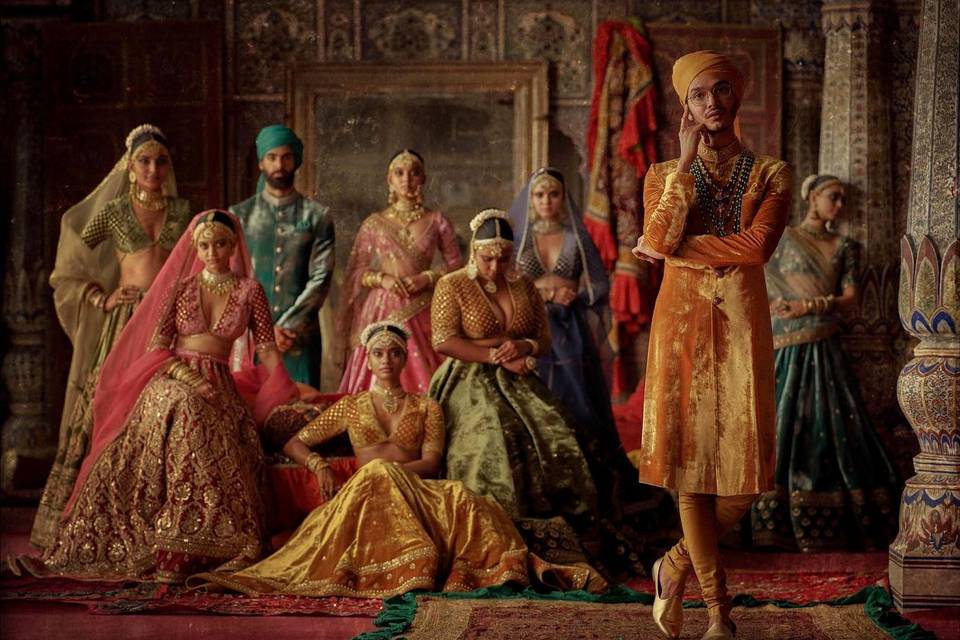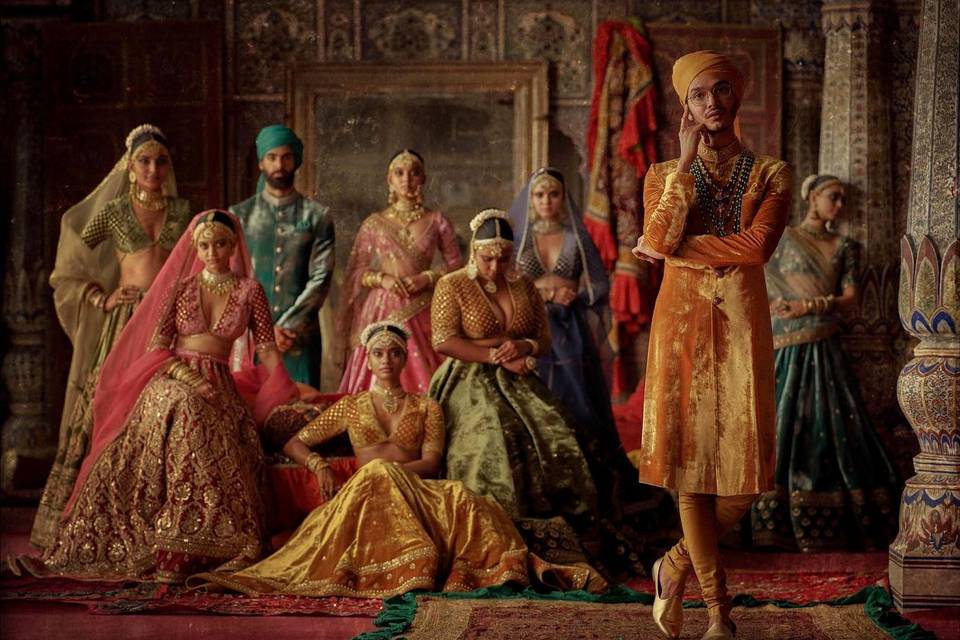 'Mainu Sabyasachi Dila De, O Saiyan Diwane!'
The recently launched latest Sabyasachi collection, Charbagh, has floored brides-to-be, design fiestas and the wider Indian bridal couture world, the way only the master designer can. Here we explore why this is the absolute best selection of his work and the unique style and appeal that the latest Sabyasachi collection has for an Indian bride.
Sabyasachi's latest collection - The Charbagh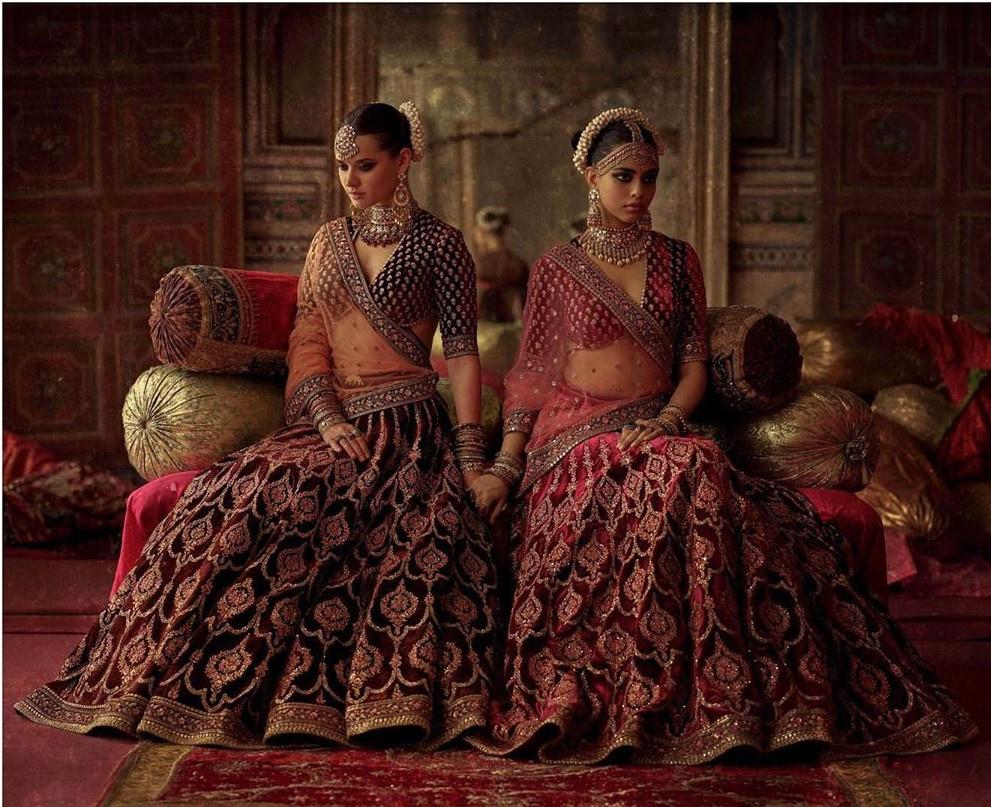 A winter bridal selection from any designer brand in India evokes a lot of curiosity and value. Ahead of the festive and upcoming Indian Shaadi season, it lays down the trends to watch for, palettes to take and styles that you can't afford to miss, especially if you're taking notes for your own wedding or that of a significant other (be it your sister, your best friend or even your daughter).
When it comes to the Indian bride, there are fewer names that appeal to all than the master designer Sabyasachi and his intrinsic set of bridal designs. With the panther print and quilted backdrop, the designer is known for bringing a touch of whimsy, fantasy and folklore with his modern usage of older textile prints.
And this time around, he's floored every bride who aspires to wear a Sabyasachi (or a first copy), with his approach and ideas that have delivered not just a single set of designs, but four. We explore the Charbagh and the latest Sabyasachi collection trends that you can pick up from it, for your own bridal shopping.
1. Range, appeal and splendour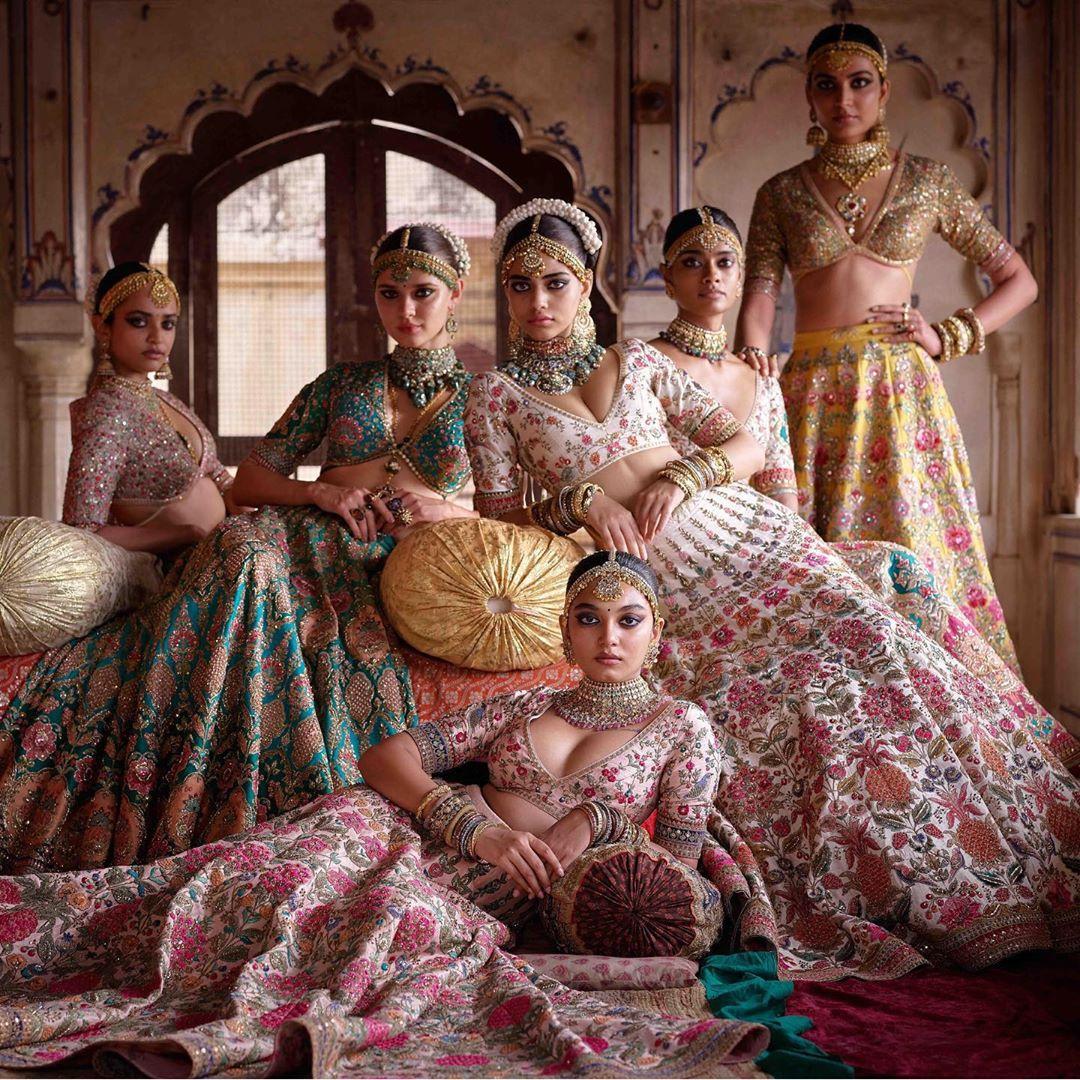 In terms of presentation - The latest Sabyasachi collection, Charbagh, is a palatial the edit like most of his body of work since 2015 - with flowing lehenga skirts, heavy to breezy textiles supported by cancan and underskirts. It's an ode to the modern bride - in four sets of extravagant shades.
The collection is subdivided into four ranges - Chowk (which is more boho-tribal in appeal), Ishfahan (think Mughal royal), Nargis (breezy, destination wedding style) and Devi (red, traditional fare).
TAKEAWAY - Choose your bridal lehenga queen-size, against the mega backdrop for your wedding.
2. There's something for everyone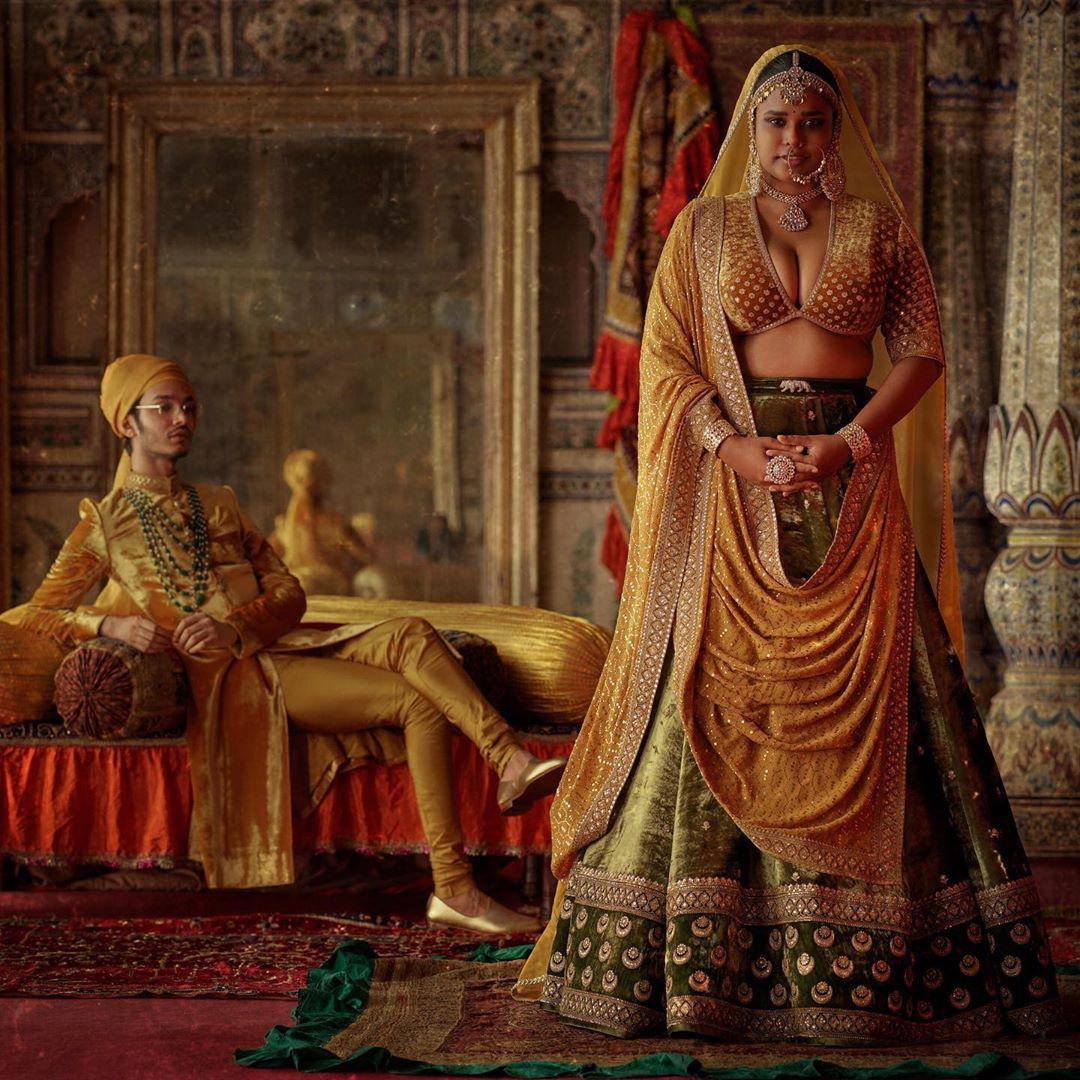 While most Indian bridal designers (well not just in India, but across the globe), would rather bedeck a queenly form, in understated or extravagant zest, the designer's selection of work for Charbagh, literally celebrates everyone.
In fact, in a note on the collection, Sabyasachi answered that his Sabyasachi bride was everyone. "We try to be as democratic in our offering as possible, at least in terms of our sensibilities. I do not think any sensibility is a wrong one, be it earthy, traditional, subdued, or embellished, as long as it's done with the right intent and a certain bit of finesse and refinement."
What's more, the latest Sabyasachi collection has broken down all Indian bridal beauty stereotypes - with dusky brides in black lehenga shades, plus size brides, flaunting a heavy blouse in Choli cut blouse and even the mix of dusky, plus size bride in a mustard velvet creation.
There is an ode to the Balima, rather than the Balam and a metrosexual groom with Andaaz and Nakhras which he holds with absolute ease and charm like we'd expect from any charismatic bride.
TAKEAWAY: Celebrate your form, your style and your choice - all the things that make you, you!
3. Squares, polar opposites and more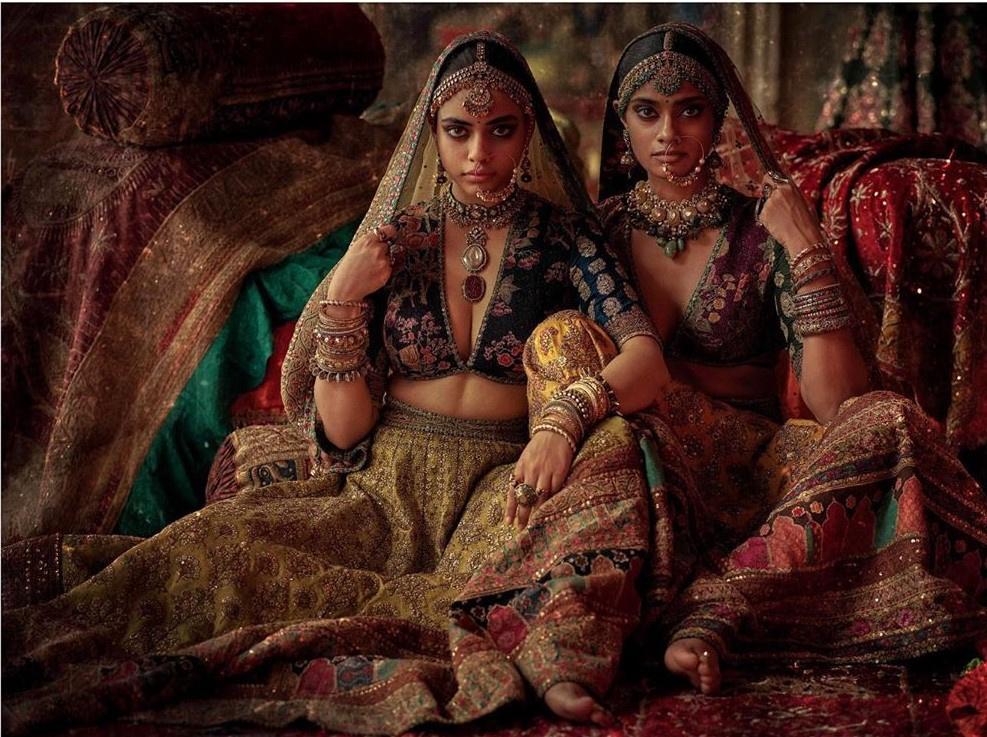 On the face of it, the latest Sabyasachi collection is a clear bifurcation on polar lines - there is a traditional and the modern, the desi chunk and the destination designs, as well as even summer and a winter palette. For any bride-to-be who is making notes on the basis of this bridal couture collection, here is an appropriate breakdown for it all.
i) Devi collection:
Devi, comes from the Sabyasachi domain for the brides steeped in tradition (and we're not just talking about sensibilities with a red lehenga here). The designs in this set showcase deep cleavages and broad V-necks, alongside Tilla work, Zardosi work and heavily embroidered lehenga skirts.
The red bridal lehenga and Beige sherwani mix harkens back to last year's summer designs - the contrast set of plain ivory Sherwanis against a minimal vine embroidery style from the 'Endless Summer' collection.
ii) Chowk collection
The Chowk collection from the latest Sabyasachi collection stands in absolute contrast to the Devi set of Sabyasachi lehengas with motifs, colours and textiles inspired from the rustic belt, catering to a 'Devil-May-Care' bride. In fact, it does bring in many notes from the previous couture collections, with darker, richer shades and Desi vibes.
In a note on the latest Sabyasachi collection, the designer was quoted as saying, "When I look at the way women in rural India dress, their naiveté and their authenticity in how they express themselves through their clothing make them almost arrogant and defiant in a positive way."
iii) Ishfahan collection
When it comes to the latest Sabyasachi collection, Ishfahan contrasts spectacularly from Devi, Chowk and Nargis on multiple counts. While Devi harkens to a traditional Hindu bride's drape in red, the Ishfahan collection is all about Nazakat and Mughal silhouettes.
While Chowk brings rustic India to the table, this aspect of the latest Sabyasachi collection is the old-world Mughal durbar, steeped in Anarkali jacket-styled blouses in richer, darker velvet. And while Nargis is more of a fresh, summer breeze, you know you can brave any of the harsher, colder climes with the use of thicker velvets.
iv) Nargis collection
As seen in the summer destination wedding-based collection, Fiza, Nargis is a breeze with lighter fabrics, floral prints and embroideries, embellished on top to give a feel of effortless grandeur.
This is summer for a wedding in optimal climes, with beige, teal, pink, yellow and cream canvases, see-through bridal dupattas and lighter (at least in comparison to the rest of his heritage jewellery offerings) accessories.
4. Match with zest - Choosing your bridal jewellery
No mentions for a Sabyasachi latest collection can be counted as complete without looking into the kind of heritage jewellery that he brings to the table. This time, there are four moods for it too.
Common to all is his devotion towards the Matha Patti, heavy Jhumka earrings and a choker necklace.
i) Devi collection -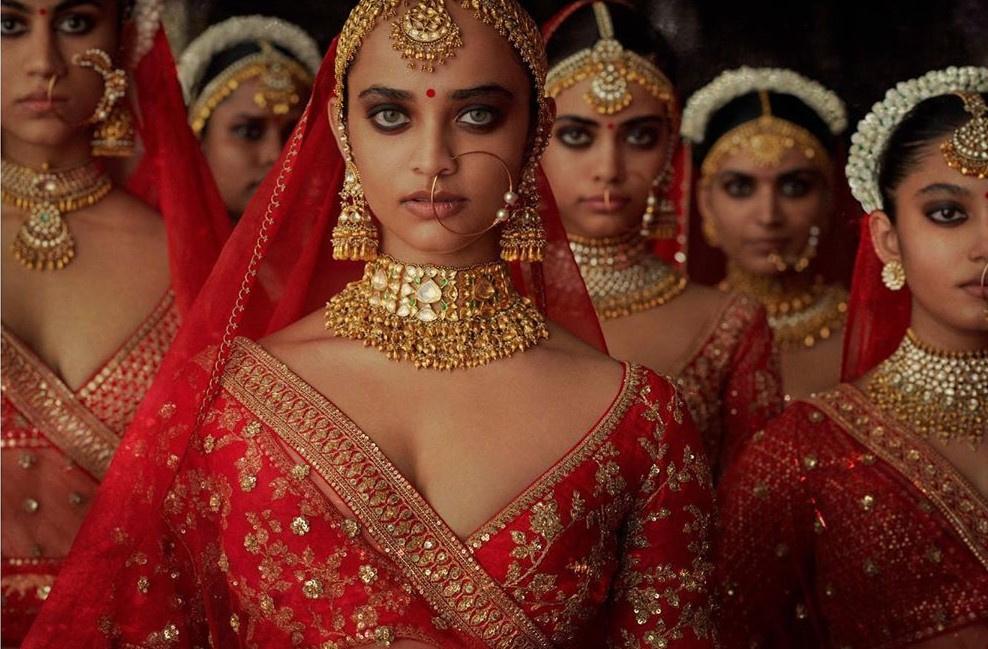 The Devi at heart deserves praise with Kundan chokers, matching Matha Pattis, prominent Maang Tikkas, Chaandbalis, Jhumkas and Haath Phools. The impact is centred around lighting up her face, while balancing against the crimson lehenga shades.
ii) Chowk collection -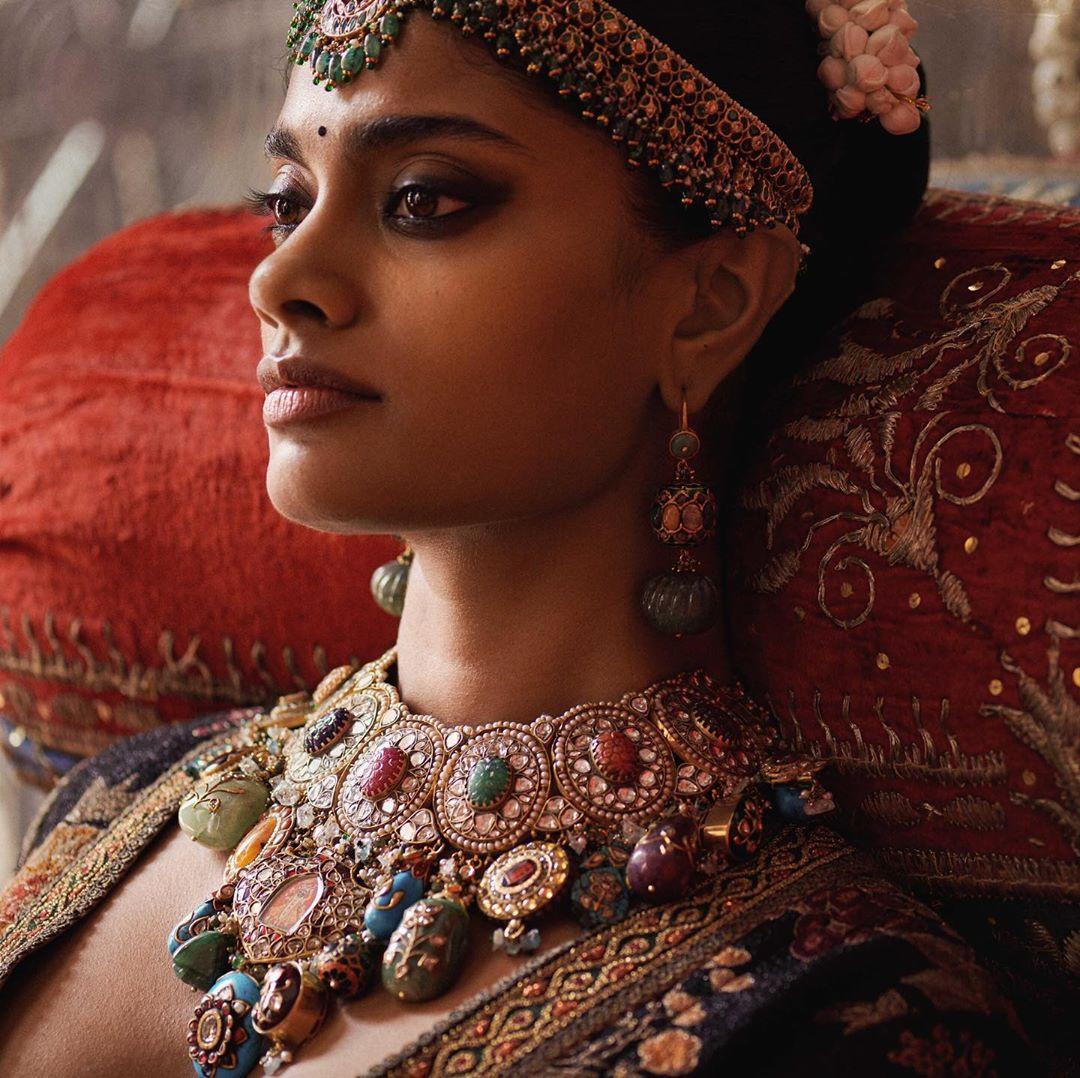 For Chowk, with its tribal tendencies, it is all about pieces which speak volume. So, there are oversized bridal Naths, Matha Pattis with stones and beadwork, chokers with heavy stones (both the precious and semi-precious variety).
A prominent takeaway here is that bigger is the way to go, with oversized Jhumkas, Kada-laden hands, big, oxdised rings and even toe rings.
iii) Ishfahan collection -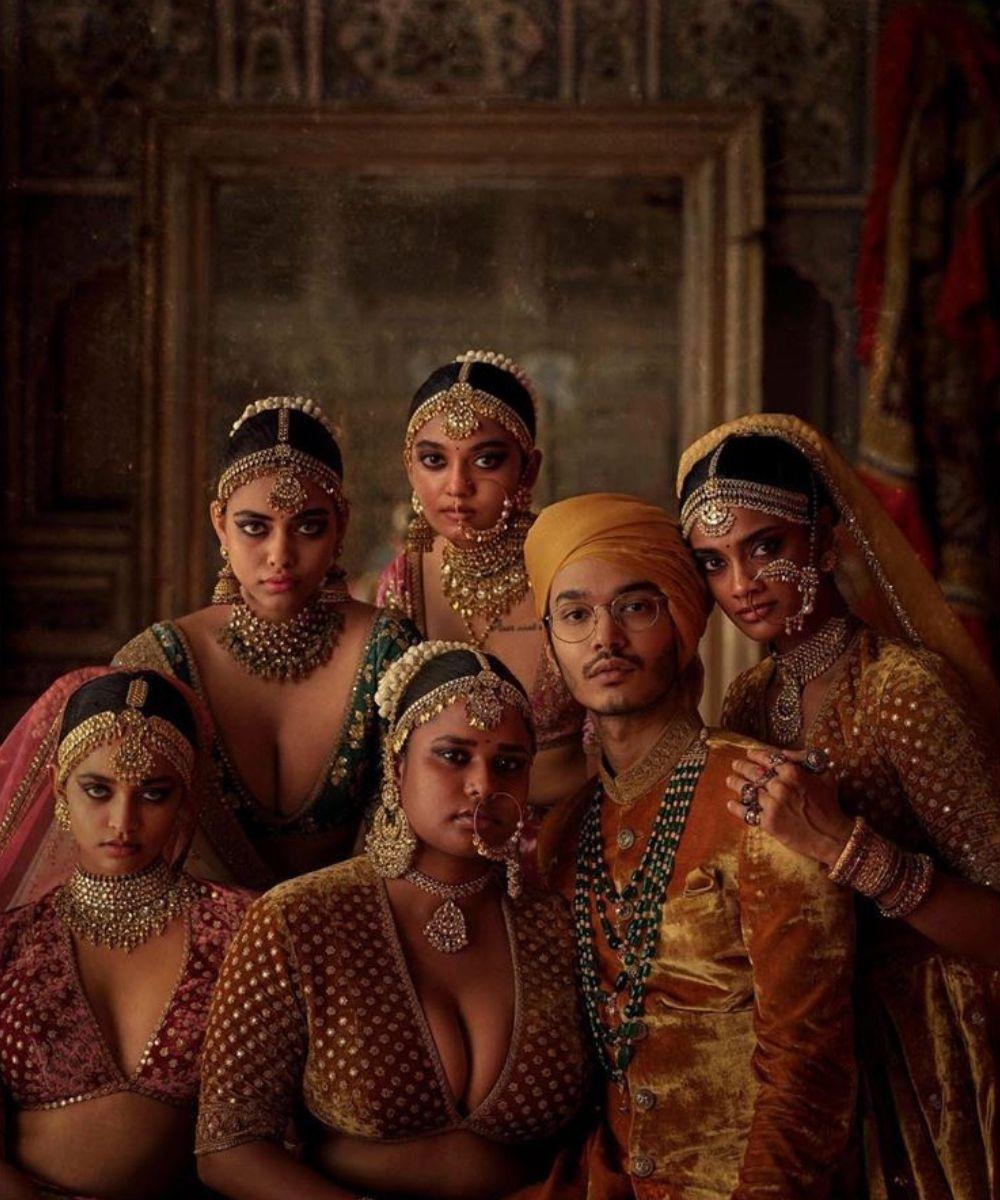 Bridal jewellery chosen to glorify a bride from the Ishfahan set of the latest Sabyasachi collection, is Jadau with matching colour accents - yellow coloured pearls for a mustard velvet lehenga, rubies on an oxblood velvet lehenga and emeralds on a similar piece.
For men, it is gem-encrusted Satlada haars and similar pieces which speak of volume, akin to last year's heritage jewellery collection.
iv) Nargis collection -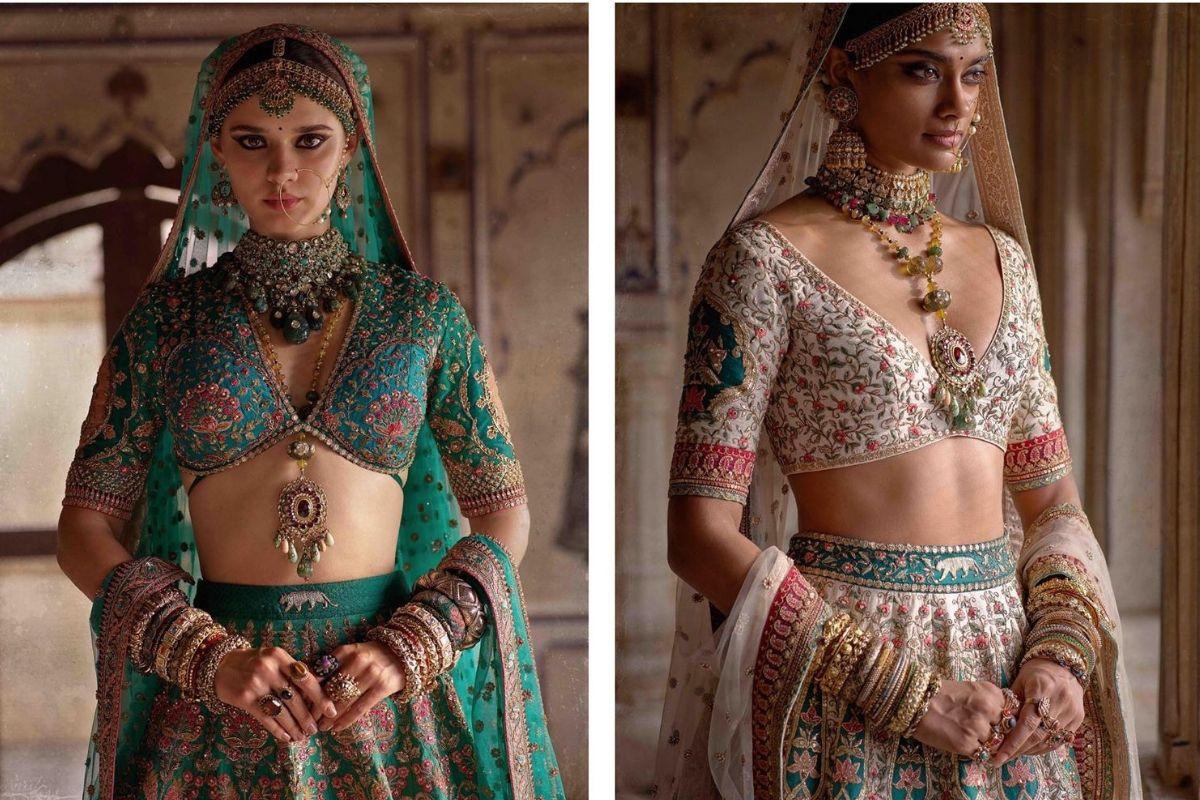 The Nargis collection is adorned with beaded jewellery (at least for this designer's standards) jewellery, with the focal area being the Matha Patti and the choker necklace and a single, long necklace.
This collection features heavy uncut stones and Jadau jewellery, alongside bangle-laden arms.
5. Choose your base wisely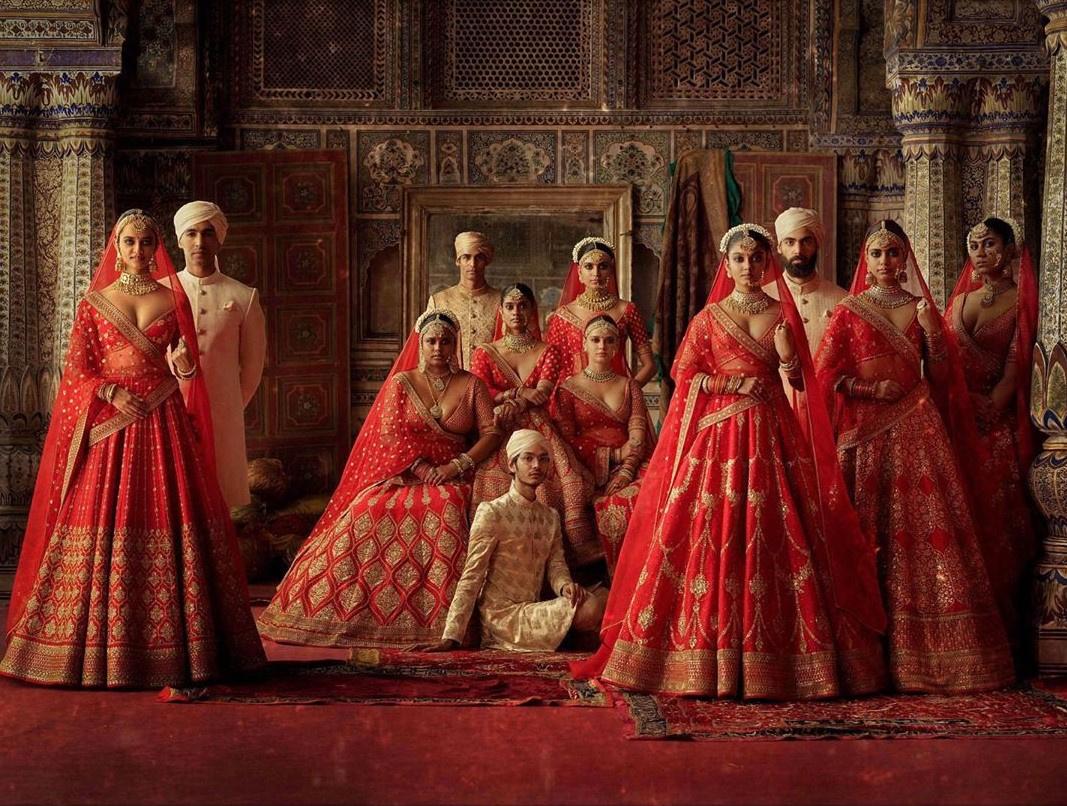 What makes a bride opt for a designer lehenga over others is the amount of attention that is given to details like embroidery, fabric, cut and design. That attention is something that you can also see with the latest Sabyasachi collection.
Here are the takeaways that a bride can take from a simple textile viewpoint of the latest Sabyasachi collection-
i) Devi collection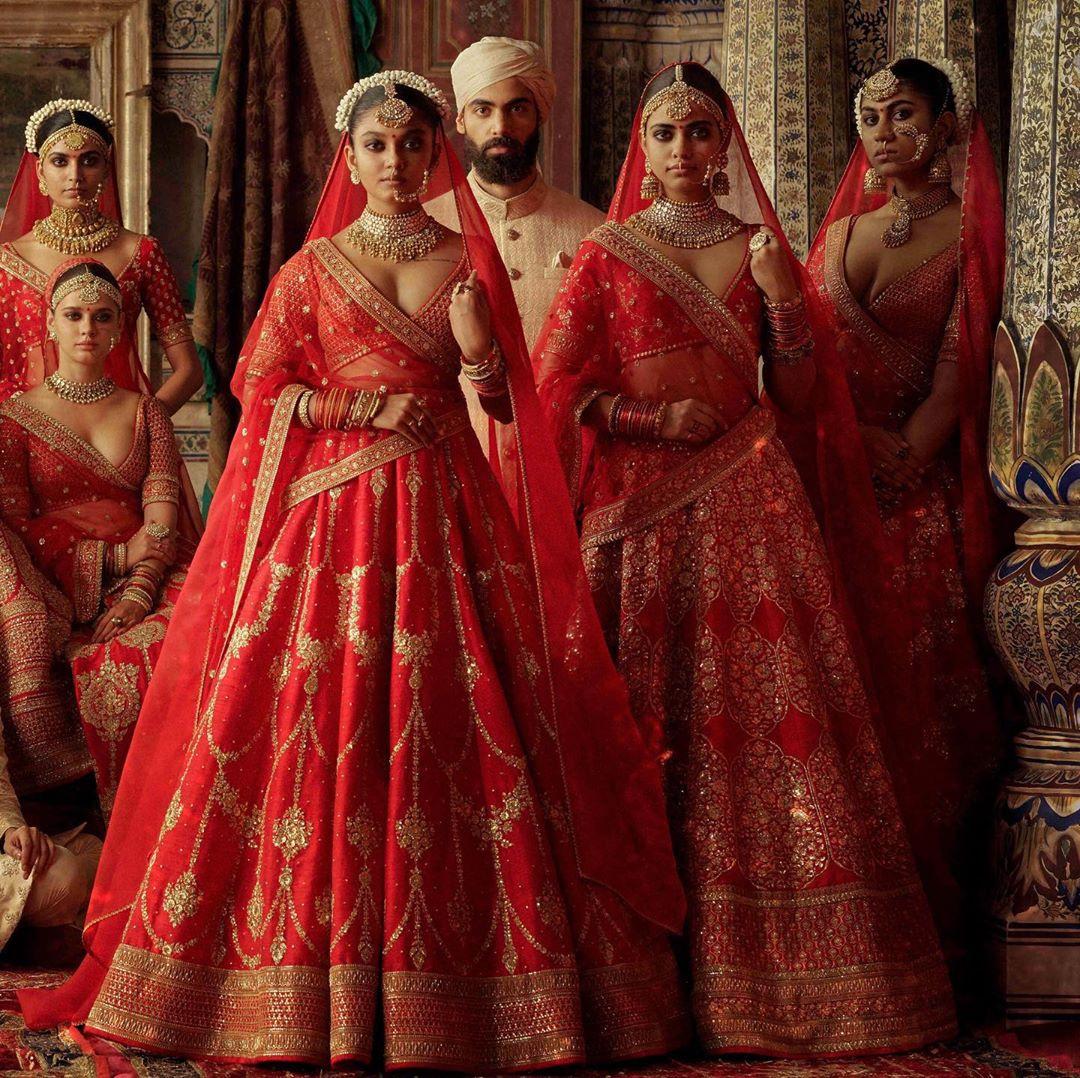 Organza and silk dominate this crimson palette, with Tilla work and Zardosi, prominently with gold thread. Pair these with bridal dupattas in net and sheer fabrics.
These lehengas from the latest Sabyasachi collection are more perennial in nature and would work in an indoor wedding location or a daytime occasion with equal ease.
ii) Chowk collection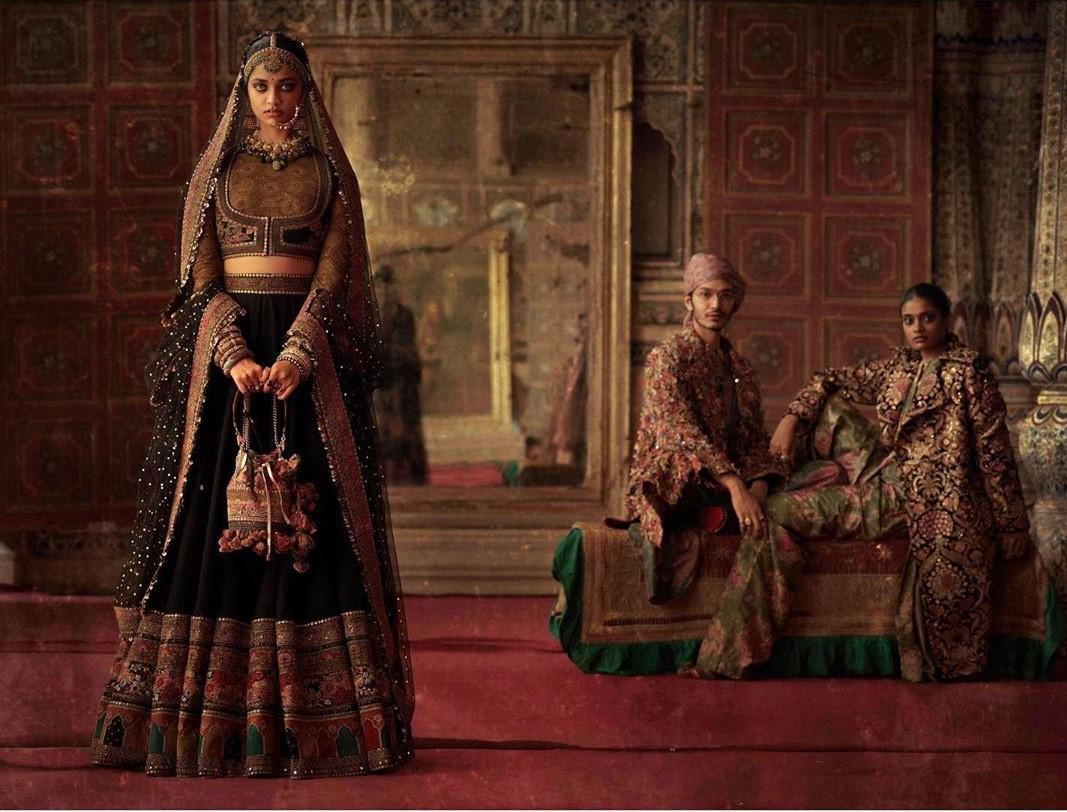 Chowk is a textile fantasy, with rustic fabrics, designs and embroidered patches. Pairing multiple colours and fabrics together makes it an eclectic match indeed, making it harder to ordain a single base fabric for this collection.
iii) Ishfahan collection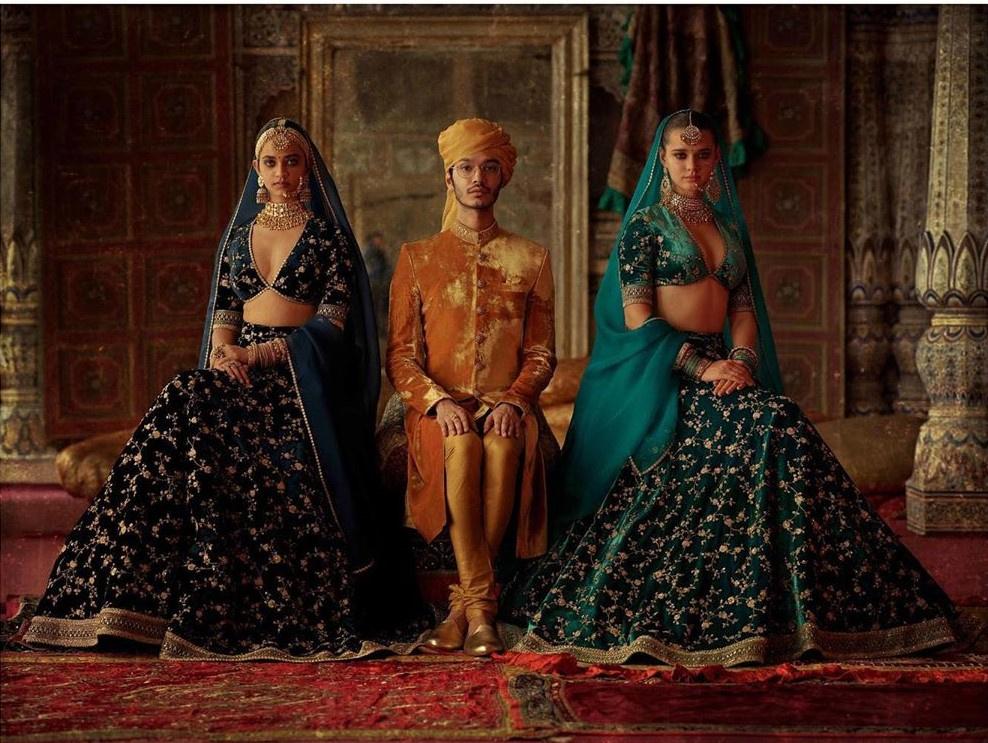 Velvet lehengas in richer shades - Mustard, emerald, Oxblood, Navy, Sage, Teal and Black. Remember that the fabric itself is heavy and would require lining and Cancan support to avoid discomfort and maintain the look.
This means that weddings which match it best are ones in a colder environment.
iv) Nargis collection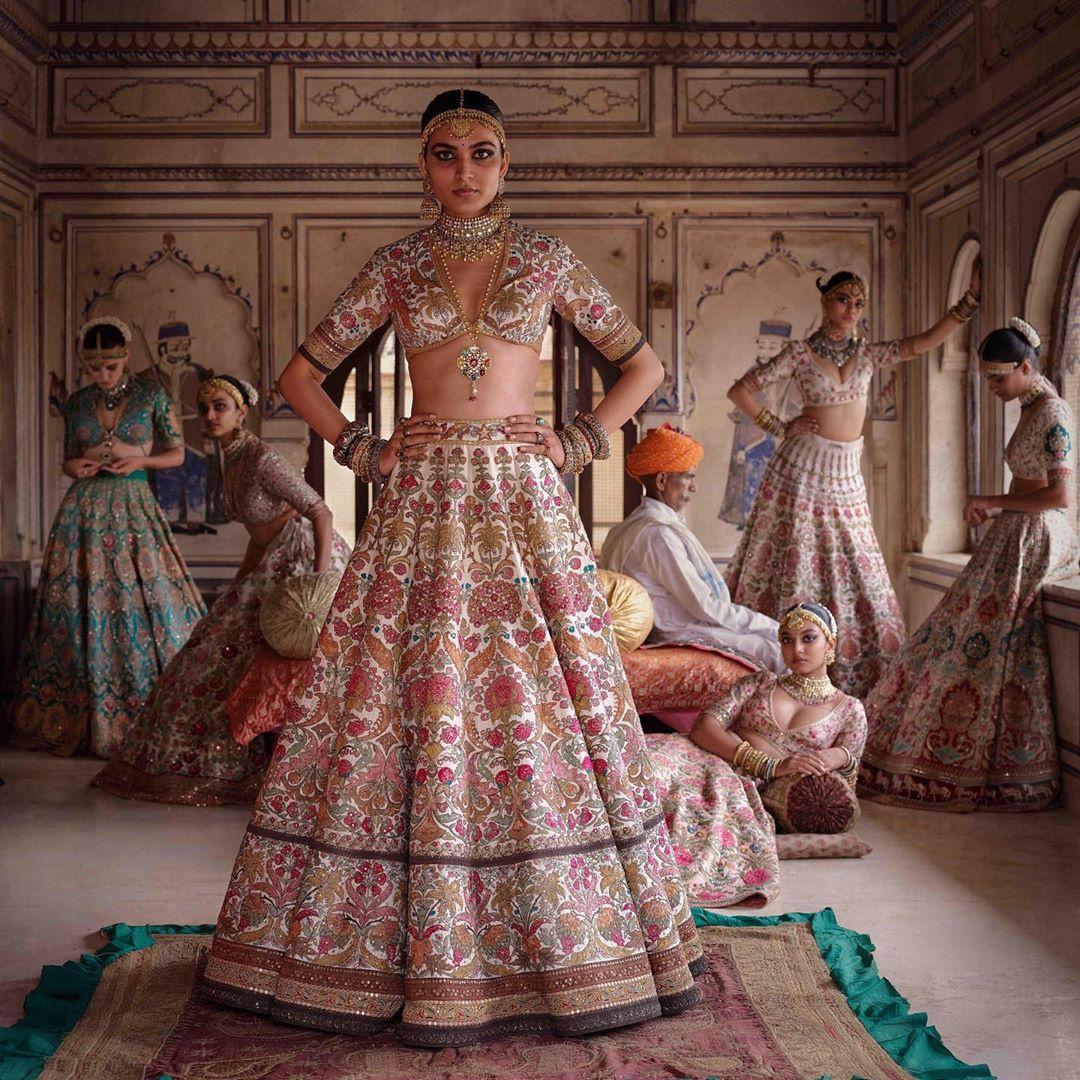 Nargis is blended fabrics, silks and lighter pieces for a breezy, summery delight. While embroidered florals (a la Sabysachi's last winter tryst) do make an appearance, the mood is uplifted by the choice of fabric and a lighter, pastel base.
Cream, ivory, pink, teal and yellow form the base for romantic vines, flowers and Bagh-esque designs, similar to Mughal inlaid work.
When it comes to getting the right kind of lehenga to suit the bridal fantasy from your dreams, there is a reason we still bow to this king of bridal couture in India. And with this latest Sabyasachi collection, all that we can say is - long may he reign!
Loved a number from the latest Sabyasachi collection? Let us know in the comments section below.
Note: All Images are from Sabyasachi's official page