Banno Re Banno Meri Chali Sasuraal Ko! The date is set, the invites are out, all is merry in your world. Out of so many pre-wedding functions, Haldi happens to top the charts in terms of popularity. It is a roller coaster ride of fun-filled moments for both, the bride and her family and friends, where a lot of merry-making takes places.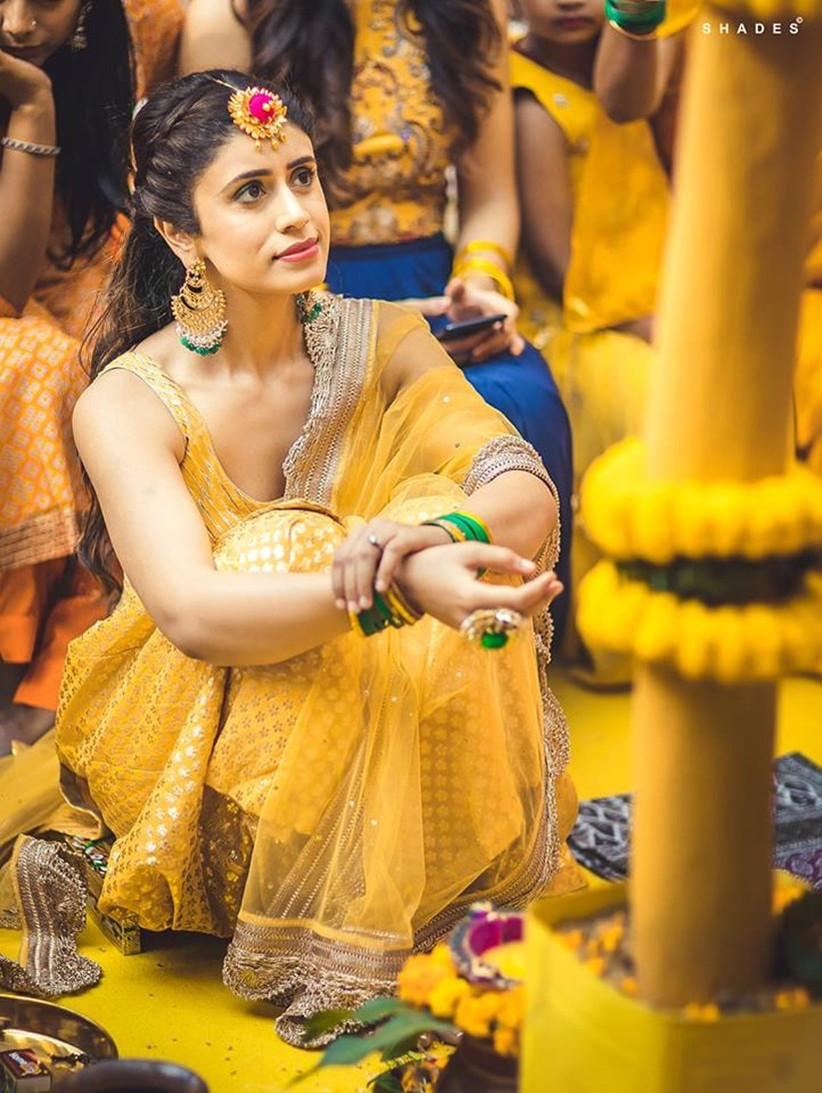 Image courtesy: Shades Photography by Ashwin M.
A bride seated on a silver chair amidst family and friends with soulful strokes of Haldi across her cheeks and arms, truly a sight for sore eyes! What's missing, you might add? The perfect silhouette, a stunning Haldi dress to make her look like a dream come true.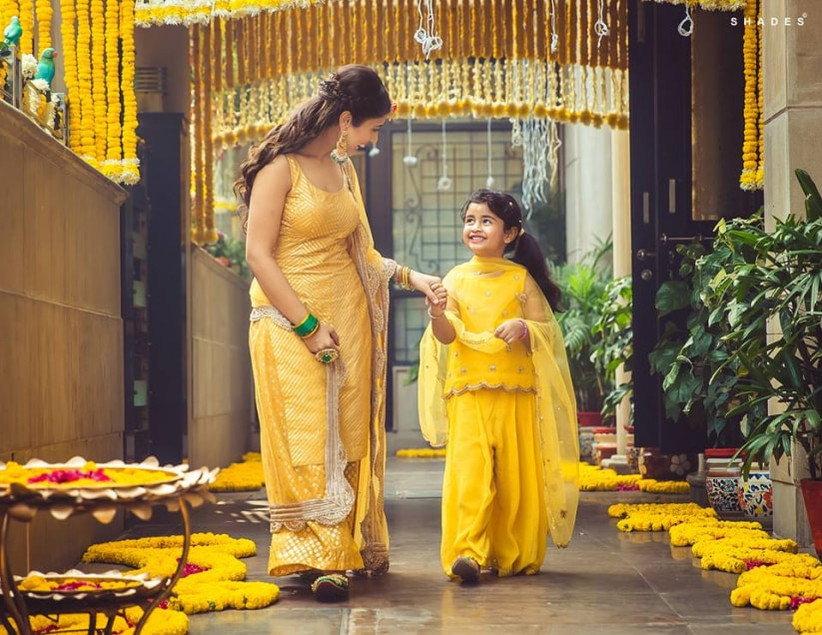 Image courtesy: Shades Photography by Ashwin M.
From preparing the itinerary, finalising a tantalising food spread to elevating the decor, everything is important. Believe it or not, most of these require last minute attention and touch-ups. So, we have thoughtfully curated for you a galore of Haldi dresses so that it is one thing less for you to stress about!
1. Modern Silhouette with Asymmetrical Skirt
Ho teri malmal ki kurti gulabi ho gayi! There is something enticing about this picture. Isn't it? A happy go, lucky bride, twirling in her mustard hue lehenga choli with plumes of colours. Masoom Minawala a.k.a. MissStyleFiesta chose to wear a lehenga with a modern silhouette with an asymmetric skirt and wrap-tie back blouse. With the right amount of skin show, this look tops the chart and fits the bill. It is a Haldi dress which fits the bill! Need we say more?
Accessories to pair with this outfit: Embellished dangler earrings with copper handcuffs and a Swarovski bracelet.
2. Lemon with a Dash of Aquamarine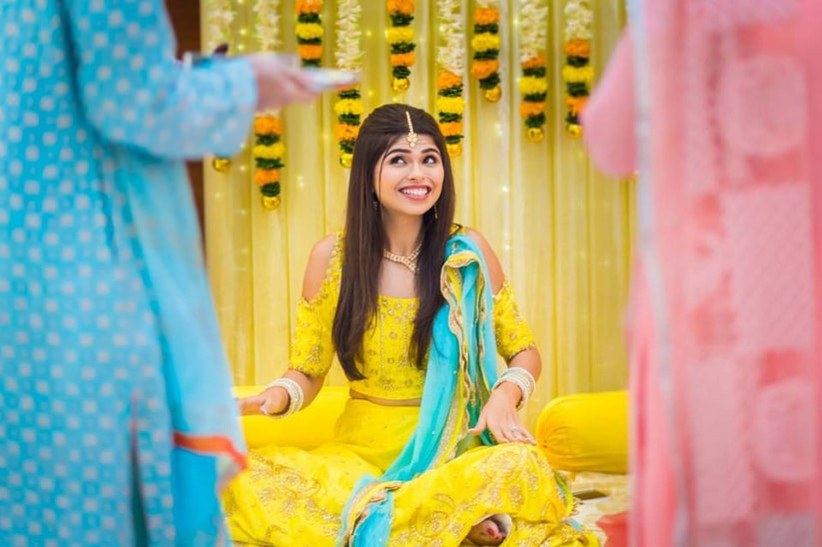 Chunri sambhaal gori udi chali jaaye re! Cold-shoulder blouse with Zardozi and embellishments at the hem of the lehenga and an aquamarine Dupatta is what binds this look together. Let this Haldi dress be the reason why some of your guests fight over to get a glance of you.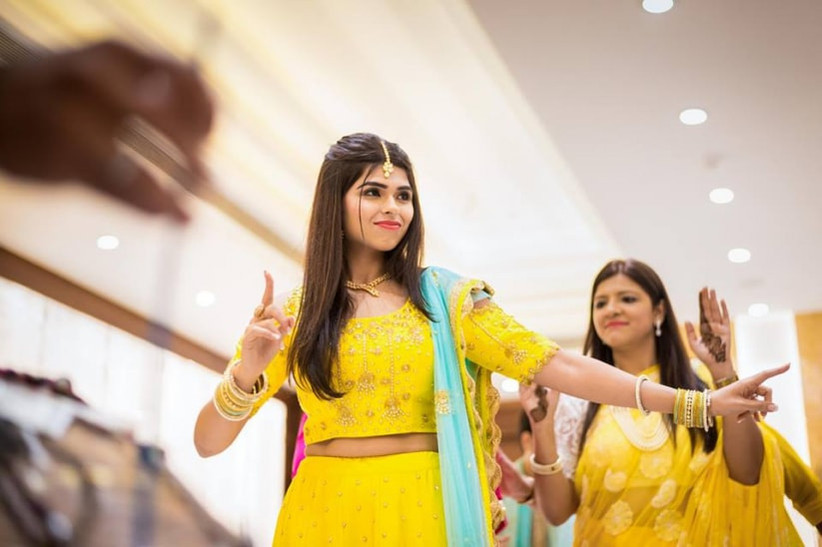 A concoction of traditional yet modern, this is perfect silhouette for Haldi ceremony as there is bare minimum skin show in all the right places for your well-wishers to smear some Haldi on.
Accessories to pair with this outfit: A choker necklace with drop earrings and Kundan bangles to go with.
3. Lemon Saree with a Gota-Patti Border
Pallu latke oh mharo pallu latke! You can never go wrong with a saree. With countless many styles of draping this outfit is a front-runner as a Haldi dress and for other pre-wedding functions as well. Key is to remember to not let your pallu down!
Neatly pleat it in folds and hold it over your shoulder with an elegant brooch. You can play around a little with the blouse though! Probably a backless or perhaps an off-shoulder? We love them both.
Accessories to pair with this outfit: Go for floral jewellery. A floral Maang Tikka, Baaju Band, Kamarband, Haath Phool, earrings and a necklace.
4. Banjaran Vibes Inspired Multi-Coloured Lehenga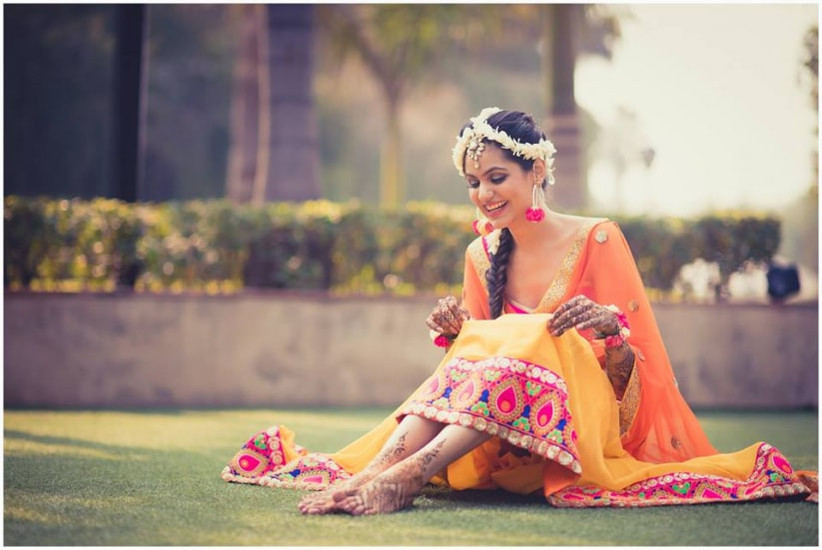 Tv pe breaking news haaye re mera ghagra! A dauntless beauty, in a yellow lehenga skirt with heavy banjara colours border. What a sight! Take inspiration from this real bride who chose not to play it safe. She experimented with bold colours and with Gota Patti embroidery and a heavy border. You too can sport a similar look by pairing your skirt with a contrasting blouse and a different colour dupatta. You will replicate a colourful dream, a beauty who is out for some serious fashion goals.
Accessories to pair with this outfit: Choker necklace with a Maang Tikka. Go for heavy or minimalistic earrings depending upon the embroidery of your blouse with bangles and Payal.
5. Should I Wear a Sharara or A Gharara!
Sharara main hoon ek sharara! A little inspiration from saat samundar paar! Add a Sufiyana Andaaz to your haldi dress donning a sharara. Go for a gold or yellow-based shade keeping in tune with the colour scheme of this pre-wedding function.
It can either be plain or with minimalistic embroidery since the colour itself will pop during the day. A gold outfit is a must! Period. You will look like a dauntless beauty in this golden hue ensemble.
Accessories to pair with this outfit: Go for floral jewellery. A floral Maang Tikka, Haath Phool, earrings and a choker.
6. Scallops and Ruffles in Hues of Yellow
Oh radha teri chunri! Oh radha tera chalna! Oh radha teri natkhat najariya! We're at a loss of words after looking at this silhouette. It is unique, it is classic and a sheer replica of mastery of design. Trust us, if you sport something like this real bride did, you'll surely be the talk of the town for some wedding seasons to come.
Pink flowers and embellishments with tassels effortlessly falling on her shoulder she has the kitty in her bag. She has our attention. How about you?
Accessories to pair with this outfit: Your boss woman attitude. With so much going around in this outfit, your attitude and confidence are all that's needed.
7. A little bit of Yellow a Little Bit of Pink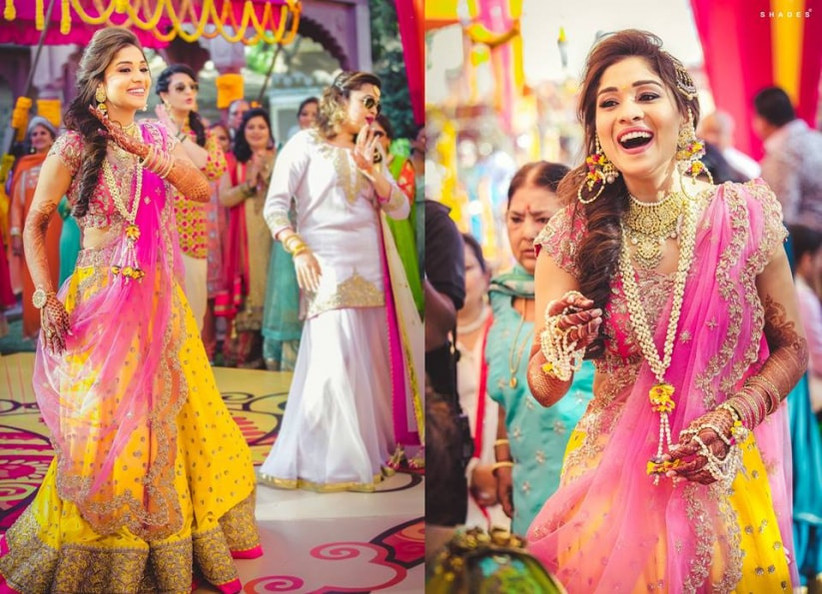 Image courtesy: Shades Photography by Ashwin M.
Aaja na chhoole meri chunari sanam! The two happiest colours from the colour palette, sunny yellow and vibrant pink, the happiest colour combination ever! Both these colours will reflect the joy you're feeling within and showcase it on the outside.
Your radiance in this Haldi dress will be unmatchable. A net dupatta with Swarovski border and a blouse with complementing embroidery will do the trick.
Accessories to pair with this outfit: Flower Earrings, flower bracelet, Haath Phool and a Paasa. Make a Loose Braid and put crystal pins and you're ready for some endless slayage.
8. Tassel Blouse and a Long Skirt
Who run the world? Girls! Hell yes, we do! Own your Haldi function with this head-turning and eye-popping look. Go for a crop top inspired tassel blouse. One good look and you will fall in love with how these sway as you move. You can re-wear this blouse as a stunning crop top as well to be paired up with jeans and skirt.
They will gorgeously fall on your skin and will add to your outfit the correct amount of glitz that your outfit was previously missing. All eyes will be on you as you sit in the middle with strokes of haldi on your skin.
Accessories to pair with this outfit: Hoop Earrings. Let your haldi dress be the star of the day.
Gudiya Ri Gudiya Tera Gudda Perdesiya! Jodi Aasmani Ho Gayi! Shagun Pe Dekho Shaad Maani Ho Gayi! Having gone through these Haldi dresses we are stoked to see what this wedding season unveils. You can use one of these styles and reinvent them however you please. Make them your own. Own them completely and then slay some more!
Team up your bridal outfit with your venue décor, trust us it makes all the difference. Book a hair stylist or an expert to curate a hairstyle that fits well with your outfit and a makeup artist for that dash of awesomeness. Get submerged in the happy colours of your Haldi ceremony.
What did you think of these Haldi dress inspirations? Tell us through comments!