30 Best Haldi Ceremony Quotes to Add Warmth and Love to Your Celebrations
Make your Haldi function much more special by wishing your loved ones with these super fun & heartfelt Haldi ceremony quotes!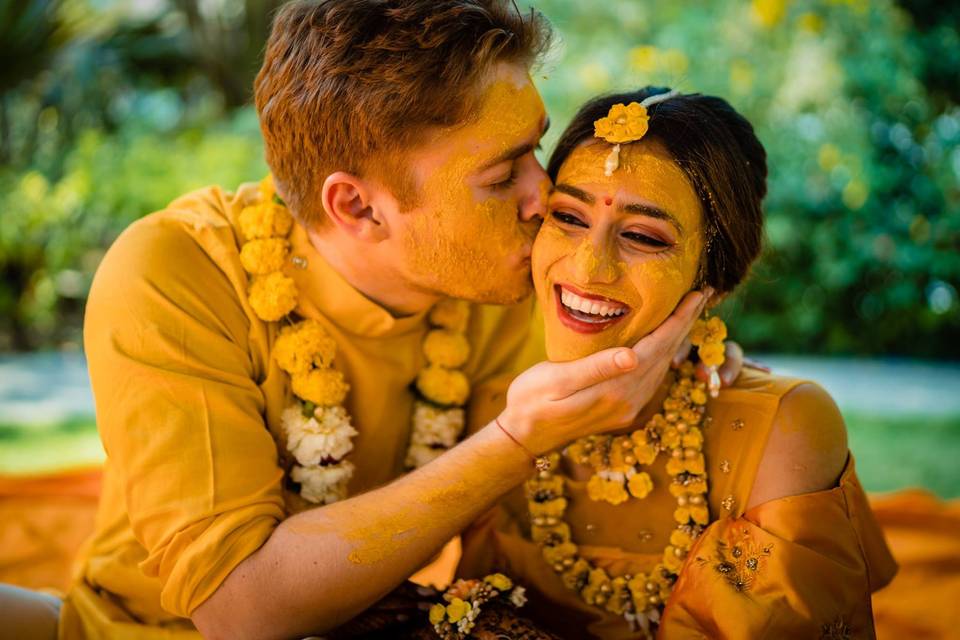 A whiff of turmeric in the air, yellow-painted faces and a festive vibe all around. This sums up a traditional and typical Haldi ceremony. An important ceremony for Indian weddings, brides and grooms go above and beyond to nail their perfect Haldi look. Whether you are looking for a gorgeous lehenga for Haldi or a perfect Haldi venue to host your ceremonies, Haldi is one of the best and most festive ceremonies in your entire wedding.
The Haldi ceremony marks the beginning of your wedding celebrations where a paste of turmeric and rose water is applied on the bride and groom by their dear ones, for an auspicious start. Apart from being a traditional way to bless the couple, a Haldi ceremony is also said to ward off any Buri Nazar - and let us not forget the golden glow that the Haldi leaves the to-be-wed couples with. From stunning flower wall decor to adding quirky elements to personalise the celebrations, this special day calls for unique Haldi ceremony quotes.
If you are a part of the bride tribe who solemnly swore to carry out your bridesmaid duties to make the bride feel special and pampered, these Haldi ceremony quotes are just for you! In fact, even if you are looking for creative ways to congratulate your favourite couple on their Haldi ceremony, our festive Haldi ceremony quotes are here to help you put your emotions into the right words. Read on to know more!
Happy Haldi Ceremony Wishes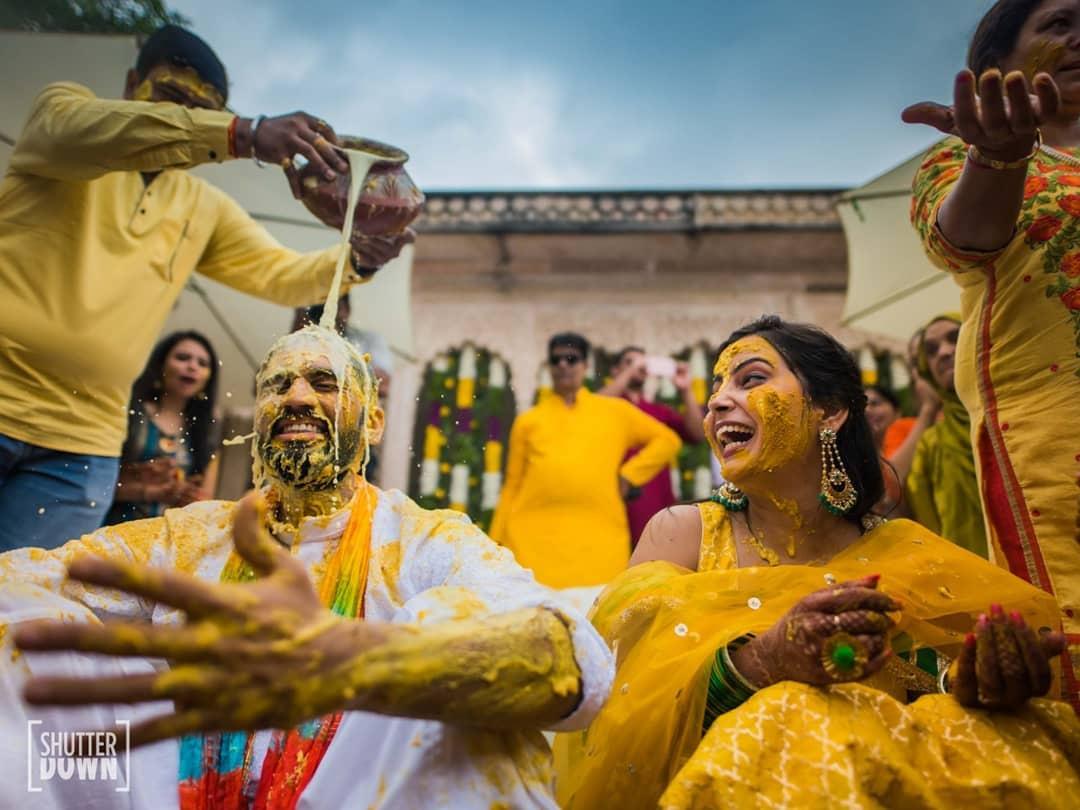 While being a wonderful celebration, the Haldi ceremony as a ritual has a huge significance for Indian Hindu weddings. Couples, guests and family members might get caught up in the planning, organising and living the celebrations to the fullest. But don't miss out on articulating your heartfelt feelings to the couple getting married. Check out these wonderful Haldi ceremony quotes that can give voice to your thought in the most perfect way.
Haldi Ceremony Quotes for Brides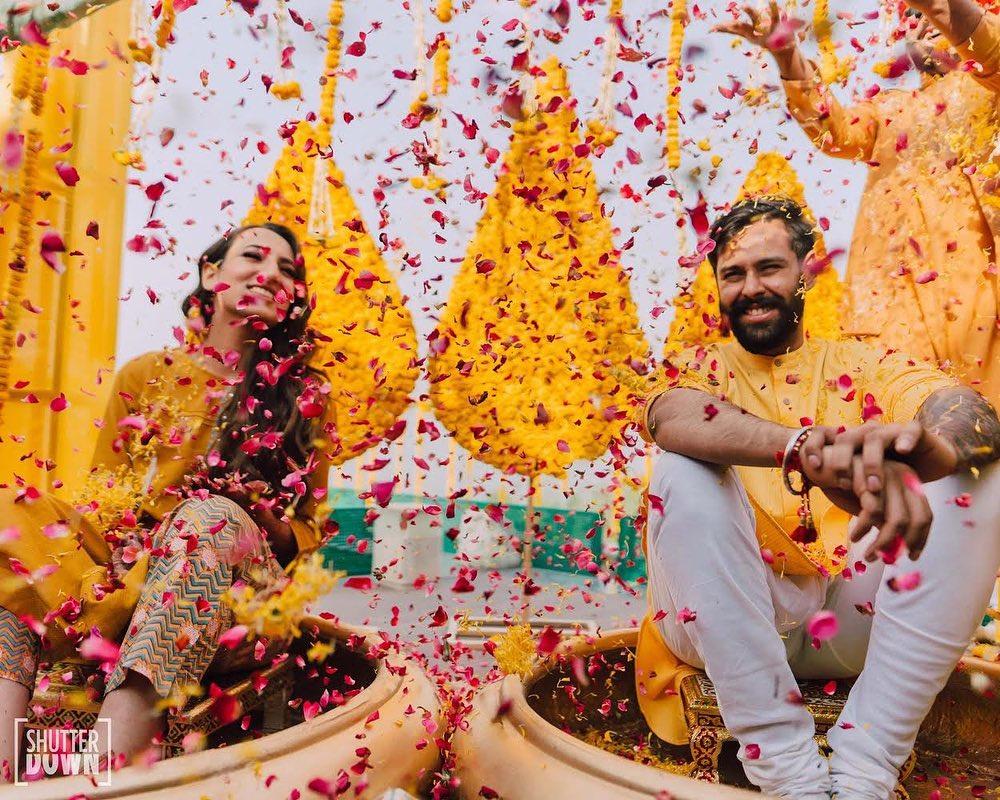 Brides are said to be the stars of their wedding. Whether it's flaunting and twirling in their designer Haldi Dresses, or balancing the emotions on a tight rope till the wedding day arrives - they have to play so many characters in their own wedding. Wish them luck for this new chapter in their lives with creatively written Haldi ceremony quotes.
1. "Congratulations on the most beautiful day in a lifetime! Wishing you and your wife endless love and happiness."
2. "Finding a soul mate to live together, now and always, is the best feeling in the world! Congratulations!"
3. "I can definitely tell that you have found your true love. Just by looking at you. I'm extremely happy that you are marrying someone you are deeply in love with. That will make your marriage the happiest marriage of all. Congratulations."
4. "I'm so excited for you to begin this adventure with someone who loves you unconditionally. There will be ups and downs, but you will be fine as long as you are together. Congratulations on your wedding."
5. "Love is patient. It is kind. Love grows stronger over time. Love is never jealous. It understands. I wish you a lifetime together full of everlasting love."
6. "Your wedding day is the start of your fairytale. Embrace the joy that rolls with it. Your wedding day will come and go, but may your love forever grow. Congratulations on your marriage, and welcome to the family!"
7. "Today, we add one more member to our family, and we couldn't be happier. Best wishes to you both. We love you both. Thanks for letting us share moments from your wedding with you."
8. "Wishing you a glorious ceremony with an abundance of wonderful memories to follow! Congratulations to you both for finding your life partners on this happy day."
9. "I can't think of two people who deserve true love, happiness, and a lifetime of both. Congrats to some of my dearest friends—a happy new beginning to you!"
10. "Love is always multiplied when shared by a loving couple. Love makes the lover and the beloved one a single entity. May you find love and hope in each other's hearts forever! Congratulations on the forming of your loving unit."
Haldi Ceremony Quotes for Sister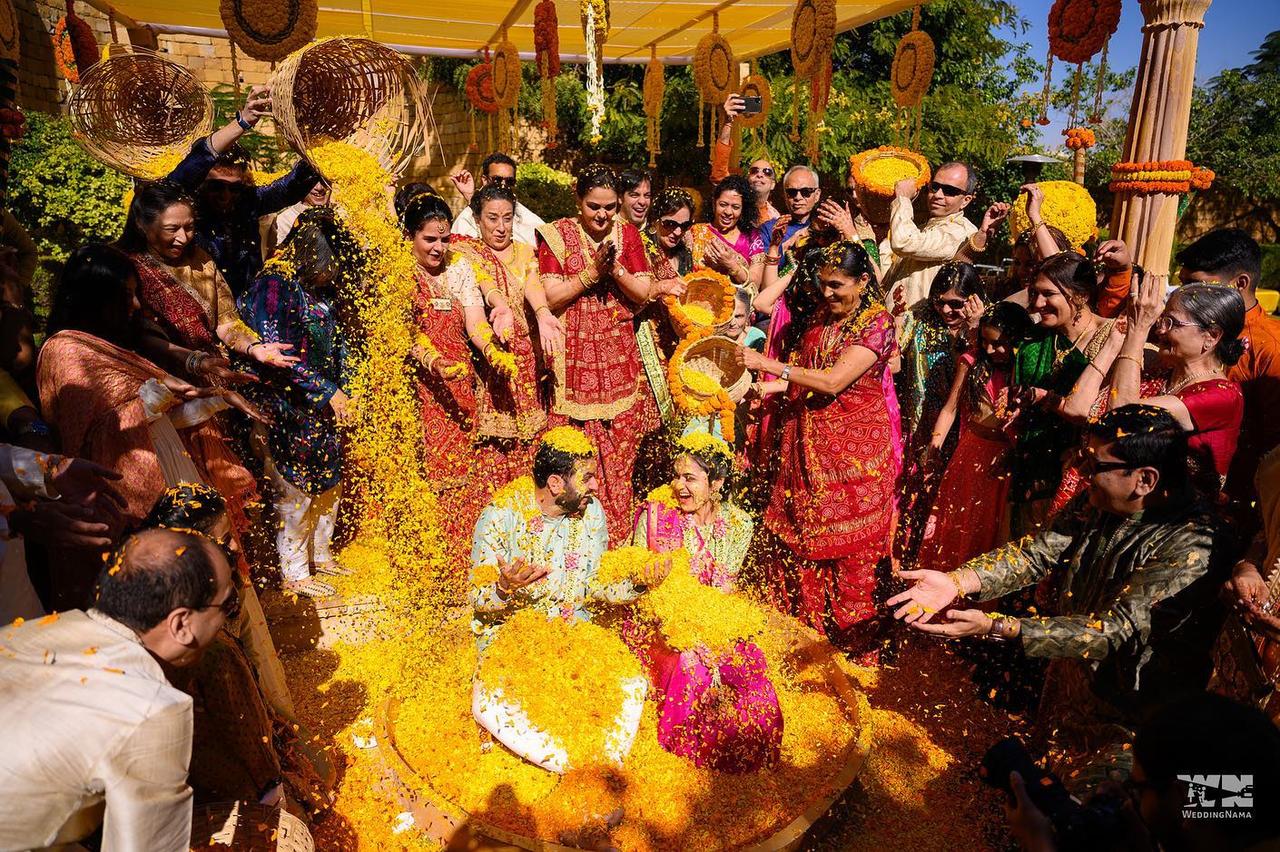 Whether you have an elder sister or a younger one, watching your sister get married is an overwhelming sight. While you experience waves of emotions, a flash of bittersweet memories that you both shared for years, come to a halt when you realise you won't see her around every day. While it's a happy as well as a sad occasion, write a heartfelt note and give a customised gift for her new life, while incorporating these wonderful Haldi ceremony quotes for your sister.
1. "On the day of your wedding, the photographer will take a lot of pictures. Your happy smiling faces, the moment of sacred oath, hugs and kisses. But I wish you to keep these wonderful moments not only in the photo album but also in your memory. Forever. May the beautiful day of your Wedding warm your heart for many long years and remind you of how strong your love is!."
2. "May your marriage be blessed with love, health, and little children, that will bring joy and laughter to your home… Be happy, sister!."
3. "Dear sister, we always were the closest persons to each other. And we still are. And I'm so happy that you found one more person you can trust just as you trust me, someone you can share your secrets with just as we do and someone you really love and get this love in return. I wish you happiness from the bottom of my heart."
4. "Family life is like an endless staircase. Even when you think you've reached the top, there are still many stairs to climb and many things to discover. It never gets boring. I wish you and your partner to climb this staircase together and never give up. I believe, there's the top somewhere beyond the clouds and you'll find real heaven there. Your personal family heaven."
5. "What a wonderful day to tell you how much I love you. I care about you more than you can imagine, and I'm beyond happy that you've found someone who treats you right. Have a wonderful wedding and an amazing life."
6. "I can't stop crying when I think about your wedding. I know that we don't understand each other from time to time and it's hard for me to accept your point of view sometimes, but I still love you more than anything in the world. Be happy. Always. Congratulations."
7. "This day will be forever remembered in your life, and I cannot be happier to witness this wondrous occasion with you two! Enjoy the moments of your wedding as much as you can. Enjoy the joy of being united with each other in the presence of the near and dear ones. Congratulations and love you, dear sister!"
8. "We are utmost delighted seeing you together on the day of your wedding. May you carry this serene bond from strength to strength with each passing day. I love you, baby sister!"
9. "I have never seen you this happy. That smile on your face tells it all. I hope that you will remember this day for the rest of your life. May it be full of love and understanding. Congratulations on this new chapter of your life!"
10. "I can't believe you've finally found someone who can stand you! Just kidding, sis. I love you so much, and I'm so scared to let you go, but I know you are loved and safe."
Haldi Mubarak Wishes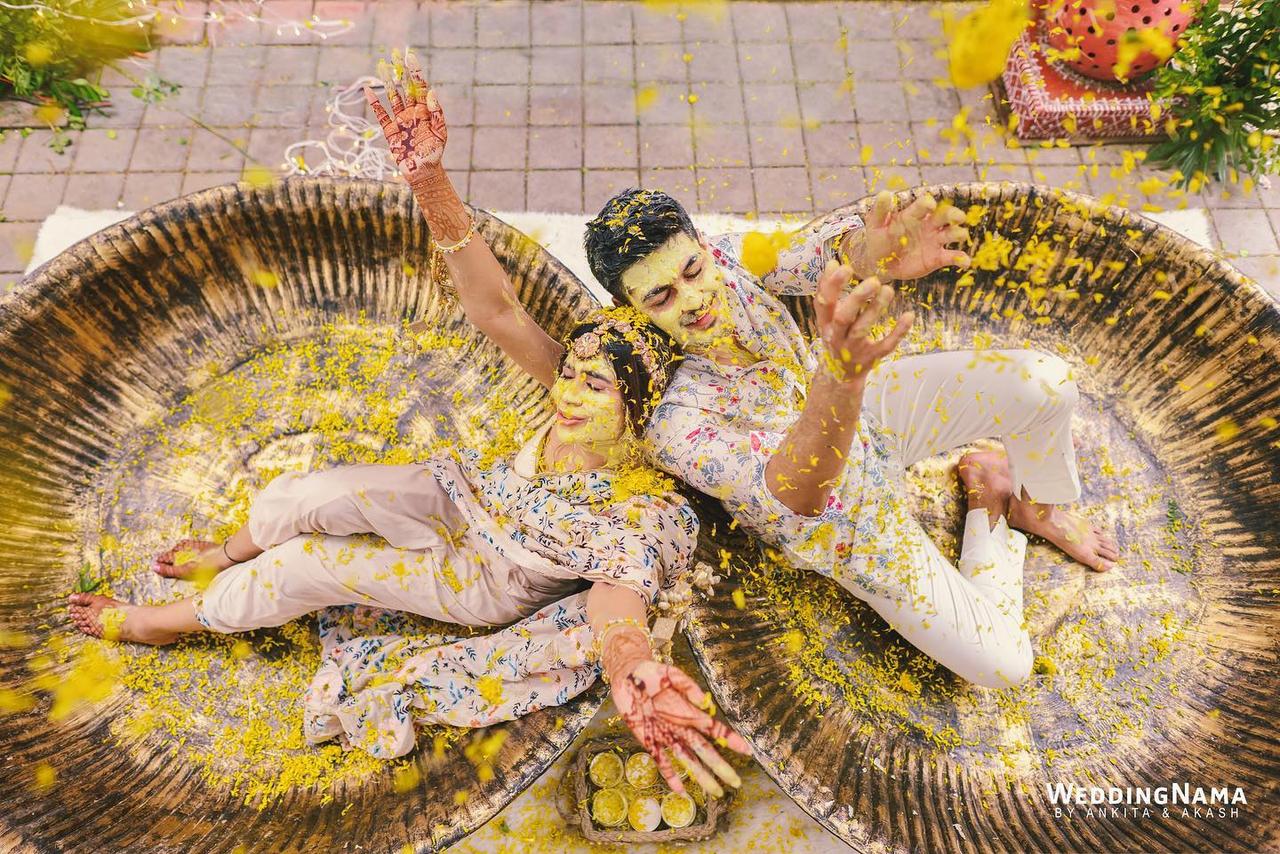 The gorgeous celebration of the Haldi ceremony is not exclusive to just Hindu weddings. It's known as the Manjha ceremony where the couple adorns yellow clothes and are smeared with turmeric paste and celebrate the same festive vibe. Set the tone right for your Nikaah ceremony with gorgeous pre-wedding celebrations and creative Haldi ceremony quotes and quotations to wish the couple as they embark upon this journey.
1. "You are the cutest couple. Enjoy this beautiful day and celebrate your Haldi. May you live happily!"
2. "My only wish for you is, May you always be like this smiling, enjoying and loving each other. I would like to raise a toast to your happy & successful Haldi."
3. "May the love of God shower you like rain and wipe every sadness and trouble of your life. May you both always be happy together! Happy Haldi!"
4. "My only wish for you is, May you always be like this smiling, enjoying and loving each other. I would like to raise a toast to your happy & fun Haldi."
5. "It is wonderful to see that the love and charm you shared on your Haldi is still the same or more. May your bond be as strong as a rock. Have a wonderful married life!"
6. "You are the world's best couple, may the love and special bond between you always prosper. I love you both. Happy Haldi!"
7. "I hope you know that we, all of your friends and well-wishers, have been impatiently and eagerly waiting for this special day to come. We hope that today (and the rest of your lives together) is nothing but a grand success. We hope that this special day will give you many fond memories to remember for years to come. Congrats!"
8. "Warm congrats to an exceptionally extraordinary pair. I hope you always discover the affection, love, and care that only true partners can share in one another."
9. "Blessings to the best couple ever! May your love stronger, your commitment deepen, and your joy increase from this day forward. Wishing you many more days of happiness and occasions for celebration, and a lifetime of love and laughter together. "
10. "To love and be loved is the biggest blessing one can have throughout their life. May you always have this precious treasure in all your days together. Best Wishes!!"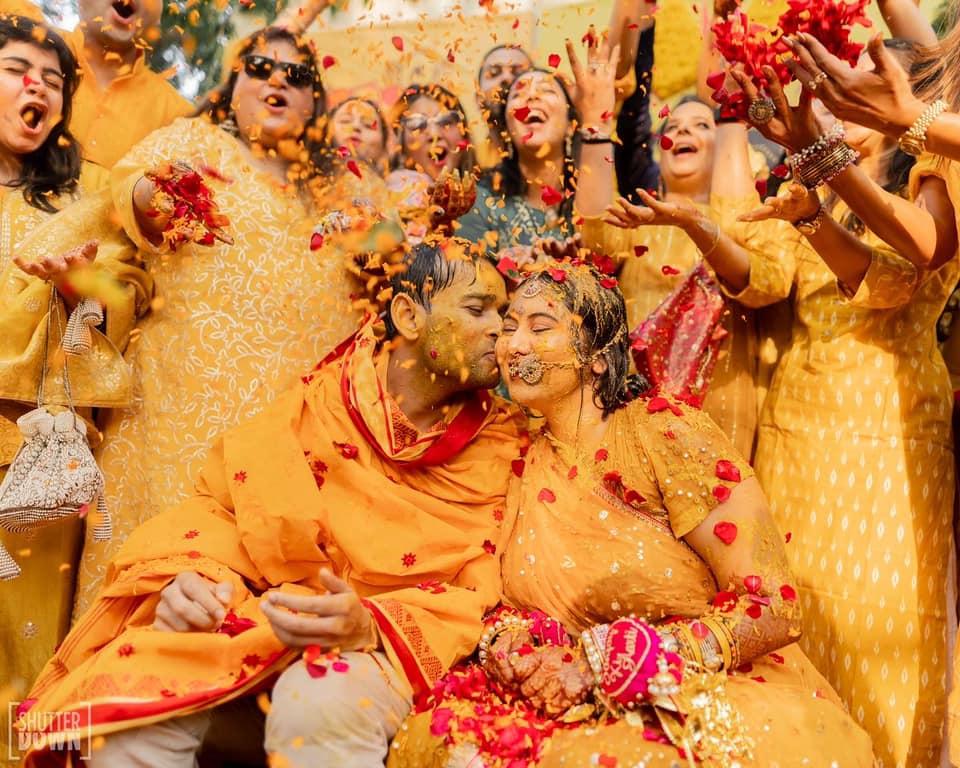 We have curated a list of popular Haldi ceremony quotes that can cover the whirlwind of emotions you are bound to feel with the onset of your D-day celebrations. Tapping your feet on the peppy Haldi songs to dance the night away to the happy smiles of all your loved ones, the Haldi ceremony is one of the most upbeat ceremonies that you will experience. Add charm to your festive vibes with your skilled penmanship by putting these creative Haldi ceremony quotes to good use.
Which one of these Haldi ceremony quotes would you choose to wish your loved ones their happy beginnings? Do let us know in the comments below!
Top Blogs on WeddingWire India