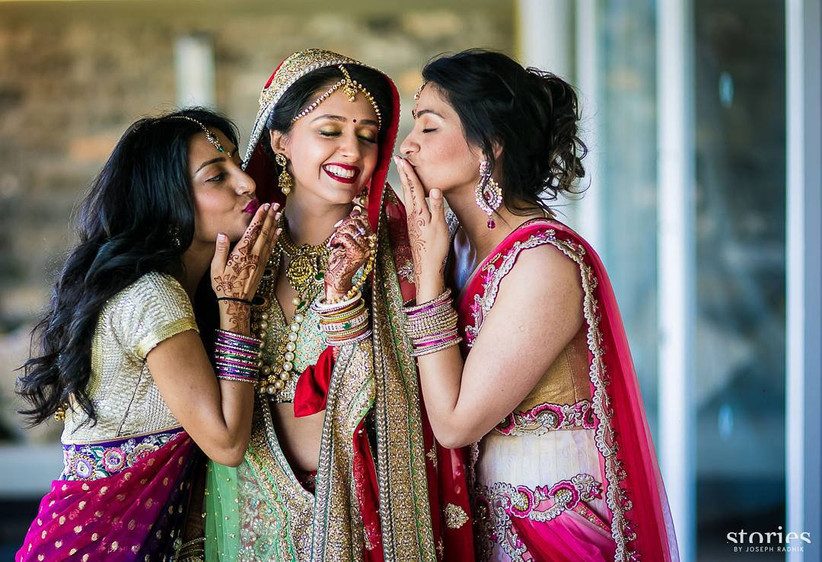 Image courtesy: Stories by Joseph Radhik
"And there she was - my beautiful sister, in her bridal attire, emotional yet beautiful walking down the aisle for the first time towards her new life."
Growing up with a sibling has its own share of highs and lows. From numerous fights to the bittersweet memories and having your big sister always have your back through the thick and thin of life - having a big sister is literally a blessing in disguise. But, as all good things must come to an end, there will come a time when she finds her knight in shining armour and bids adieu to the place she called home for all these years and take a leap of faith for the married phase that awaits her.
We understand the emotional whirlwind that you are likely to undergo on the days leading up to her wedding day and recommend that you pen down a sweet ode of love to your dearest Behna through the means of a letter with a personalised sister marriage quotes or a personalised gift with some sister marriage quotes for your dearest sister.
Apart from having the urge to pen down a letter to congratulate her, take some time to pen down your feelings, your desire to have her in your life irrespective of where she stays, use these sister marriage quotes to express your devotion to her.
Through the means of this letter or a personalised memento of times gone by, help her prep for the beautiful life which awaits her. Include these sister marriage quotes to convey what you are not able to express through mere words by drafting a letter, inscribing sister marriage quotes on photo frames or other personalised wedding gifts for your sister.
10 Emotional & Heart-Warming Sister Marriage Quotes You Must Include in the Letter Dedicated to Your Soon to Be Married Sister
1. "Dearest sister, I wished long and deep for you to find a love that consumes you and gives you a life that you truly deserve. With all my heart, I pray that you get the best of everything and my share of happiness because you are the closest thing I have known to magic!"
2. "Dearest Behna, you were my partner in crime, my shoulder in times of need, you are the closest thing I have had to a real friend. But, I always knew, as all good things come to an end, there will come a time, when you cease to be just mine and take a leap of faith to the magical married life that awaits you after the wedding. In this tumultuous time, what pacifies my inner storm is knowing that Jiju, is the only one who will shield you from the high blows of the world, now that I won't be with you at all times. And, therefore I can bid you adieu with a heavy heart fully knowing that you have found the person, I always prayed you found in life."
3. "My beautiful sister, the thought of you leaving this house in a couple of days fills my heart with deep sorrow. I always knew the day will come when this happens, but till date, I find myself unprepared for that final goodbye. But, amidst it all, my longing wish of you finding a man that will take care of you in the manner you truly deserve, has come true. Today I have no worries. Because you have chosen the best life partner for yourself who will be shielding you from all the negativity of this world. Congratulations and know that you will always be my beautiful sister, whom I love dearly."
4. "My sweet little princess(and sometimes a pain in the ass too) you have finally found the one person you can irritate for the rest of your life(finally, it's not going to be just me). You've enchanted us all with your smile(sometimes wicked too) and now it's time for you to spread your wings and fly away. From the bottom of my heart, I wish your fondest dreams come true and you continue to brighten all the lives you touch with your kind and sincere heart."
5. "From our midnight gossip sessions to the endless shopping spree, dearest sister you have finally grown up to become the incredible woman that you are today. Spread warmth and love in your new family exactly as you did in your own. Accept the love they shower on you and give back ten times more. Hold them together as you did us and know that I will always back you up - because we are a team now and forever!"
6. "I knew this day would come, as it always does but what I didn't know, was that you would turn into this power woman who can do it all. Know that I am proud of what you have achieved in life and feel blessed that you have found the partner who not only appreciates you but will stand by you through all walks of life... I can finally breathe will relief because you have found the person I always wished for you to have."
7. "Now that you have decided to get married and leave me alone, there is one thing I want you to promise me before you do. Promise me you will continue to be the amazing woman that you have grown up to be, continue to go on dates with your husband(no matter how many wedding anniversaries go by), remember that you are young, wild and free - to achieve anything that you put your mind and soul into. Do not succumb to life and always stay in it to win it. This is all I wish for you my dearest sister!"
8. "With your wedding day approaching, I have a whirlwind of mixed emotions. Sometimes I feel happy that you have found the one and sometimes sad, that you will cease to be just mine. Amidst it all, I have just one wish for you dear sis: complete happiness. Just knowing that you are happy in life, will make all of this longing of our next meeting fruitful."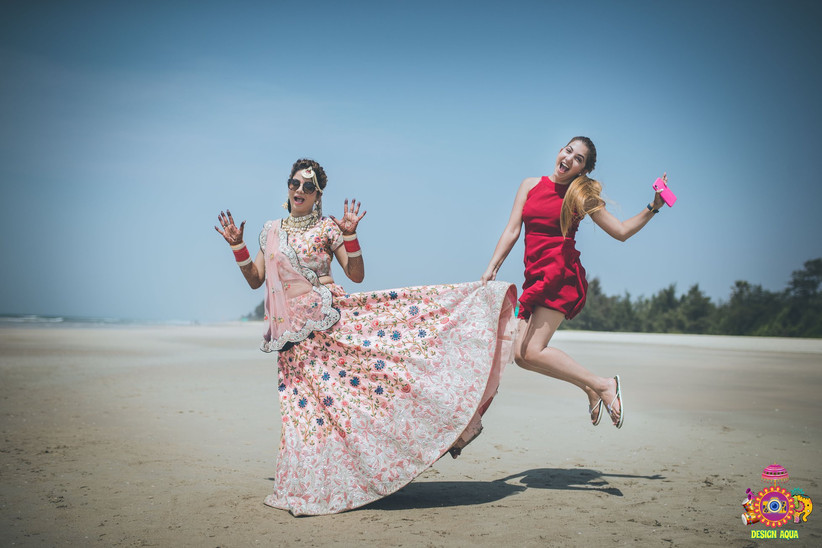 9. Now that you enter this new phase of life, your life will change and so will the roles. Now apart from being the perfect daughter and sister, you must also become an extraordinary daughter-in-law and wife and attract happiness and love to each of our lives as you have always done. If there is one person who can do it all, it's you!
10. I have been your first call since the beginning of time, in times of good and bad. So, more than you, my dear sister, this letter is for your husband to read. He better give you ten times the love, or he will have me to answer to. Wishing you both a lifetime of happiness and prosperity from mom, dad and your always annoying brother!
Sometimes finding a gift which is perfect as a parting message to our beloved sister is more difficult than it seems, therefore we all need the medium of sister marriage quotes to express what we really feel on the inside. Therefore, we thought it fit to enlist some sister marriage quotes that all brothers and sisters can take some inspiration from, while drafting what happens to be the most emotional letter of their life as their sister bids her final adieu, from this phase of life to the next. We hope these sister marriage quotes help you in conveying your true feelings better than you could otherwise.
We had the time of our life curating these original sister marriage quotes from the bottom of our heart. If they ring a string in your heart, just as they did to ours, use these to pen down your feelings as your sister gets married.
PS: All quotes have been penned in love, by the author!