29+ Stunning Flower Wall Decor Styles That Raise the Bar for Wedding Decoration
Do you want to make all your wedding stage pictures stand out? This list of flower wall decor is the answer you seek. Read on to know how it will be perfect for your wedding ceremonies.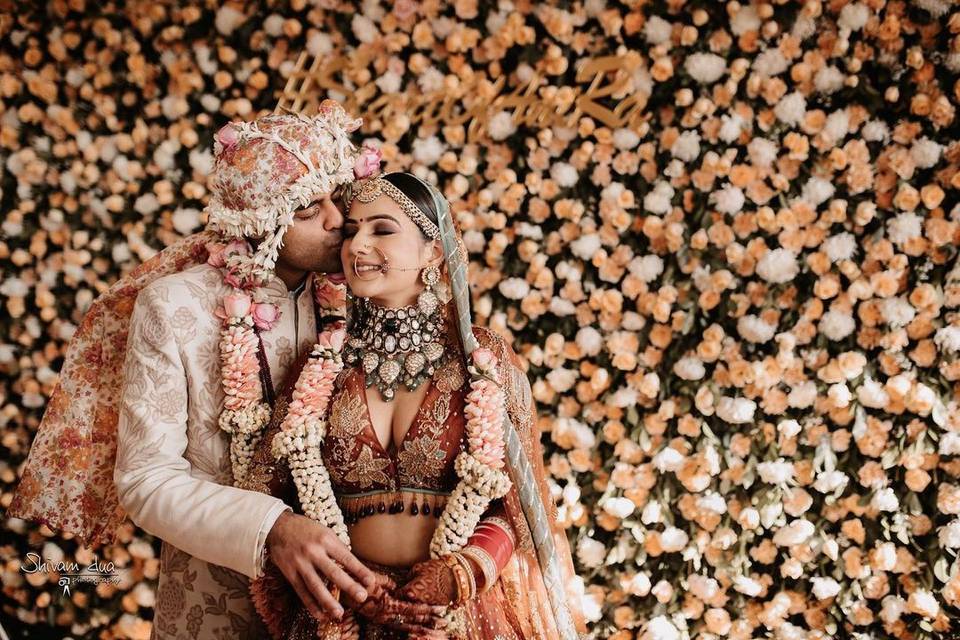 Do you want an installation at your wedding events that give a stunning, larger than life effect? Flower wall decor is your answer. The magnificence these simple creations of nature can bring to your wedding decoration is astonishing! Mainly used as a stage background decoration, different designs of flower wall decor are used as photobooths, at the entry doorway, for Mehndi decor for seating of the bride in an open venue and many other ways. Various combinations of flowers and other decor items can also be used smartly to enhance the effect. Let's dig in to show you how these additions can turn the vibe of your wedding function around.
Image Courtesy: Tulips Event
Full-coverage Flower Wall Decor
The biggest fad in flower wall decor is a full coverage backdrop for stage decoration. You will see a versatile set of flower wall decor images that use a variety of lighting setups, a colourful assortment of flowers and other items like neon signs and so on to create a gorgeous flower wall decor that is in vogue.
Scroll down to see what we are talking about.
Monochrome Flower Wall Decorations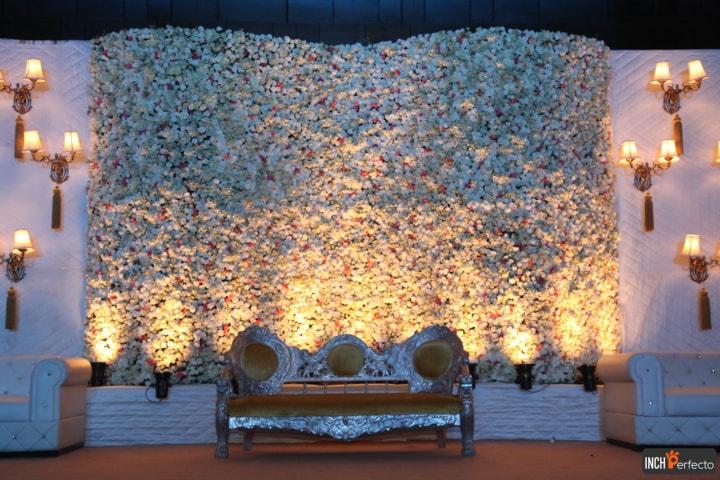 Here is a monochrome floral wall that makes for a beautiful flower wall decoration. It empanels a gorgeous assortment of white flowers, peonies, roses, gardenias and more with the slightest touch of pink flowers amidst them. The theatrical lighting surely brings it all to life. Imagine how your red bridal lehenga would shine brightly against this backdrop in all your wedding pictures. Even if you pick a pastel lehenga to go with the theme and decor, make sure your outfit does not blend in with the backdrop.
Also Read: 8 Paper Flower Wall Décor Ideas to Deck the D-day Venue Up for You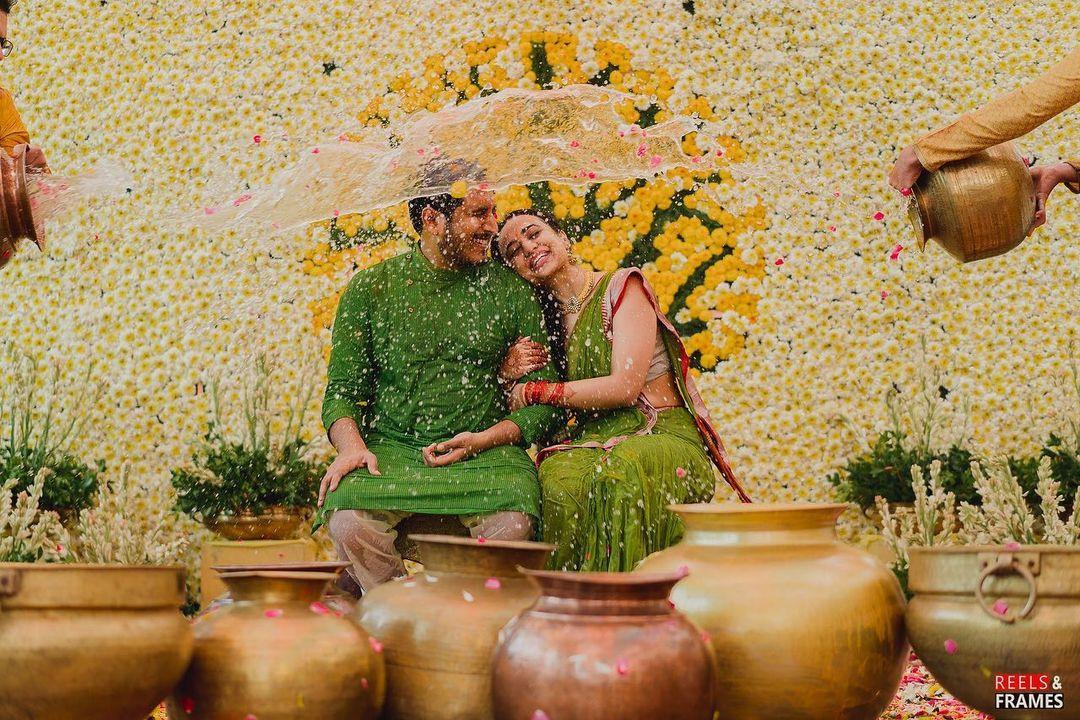 Yellow is without a doubt one of the most popular colours picked at a Haldi ceremony. Be it your yellow lehenga design or the yellow flower wall decor that makes for an excellent background for photographs - yellow for Haldi can never go wrong. This yellow and white monochrome floral wall decor with the marigold centrepiece makes the bride's green saree and the groom's green Kurta pyjama pop up and we love it!
Also Read: 47+ Breathtaking Haldi Dresses for Brides That Serve the Looks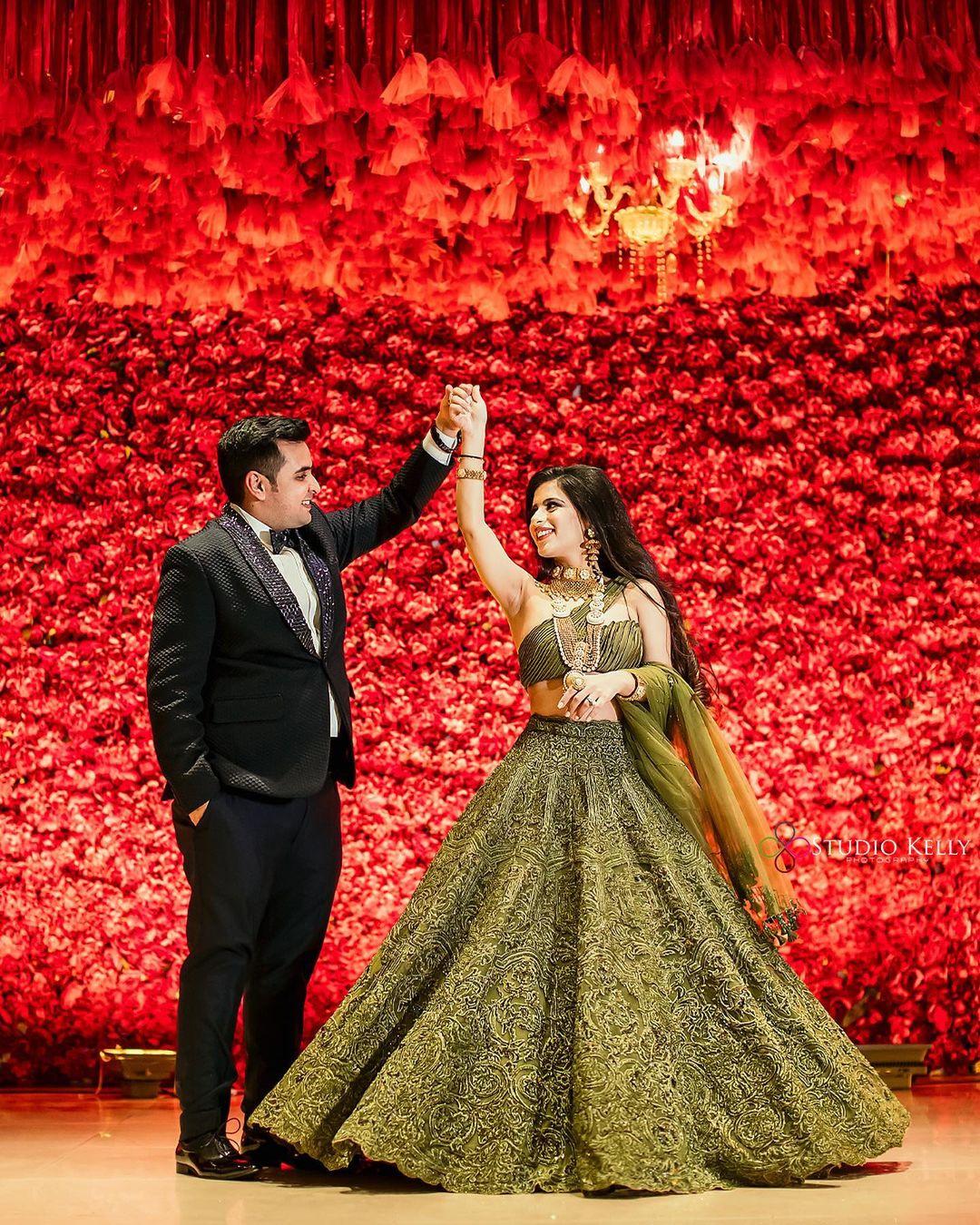 Weddings without roses are a seldom affair. To prove us right, here is an OTT red rose flower wall decor for the lovely couples to make their wedding venue decor dreamy and regal. The magnificence of a bunch of red roses with the perfect lights and a chandelier will leave the spectators spellbound. You can choose to wear a golden lehenga or a metallic gown to look dashing with this luxe flower wall decor to back you up in your photographs.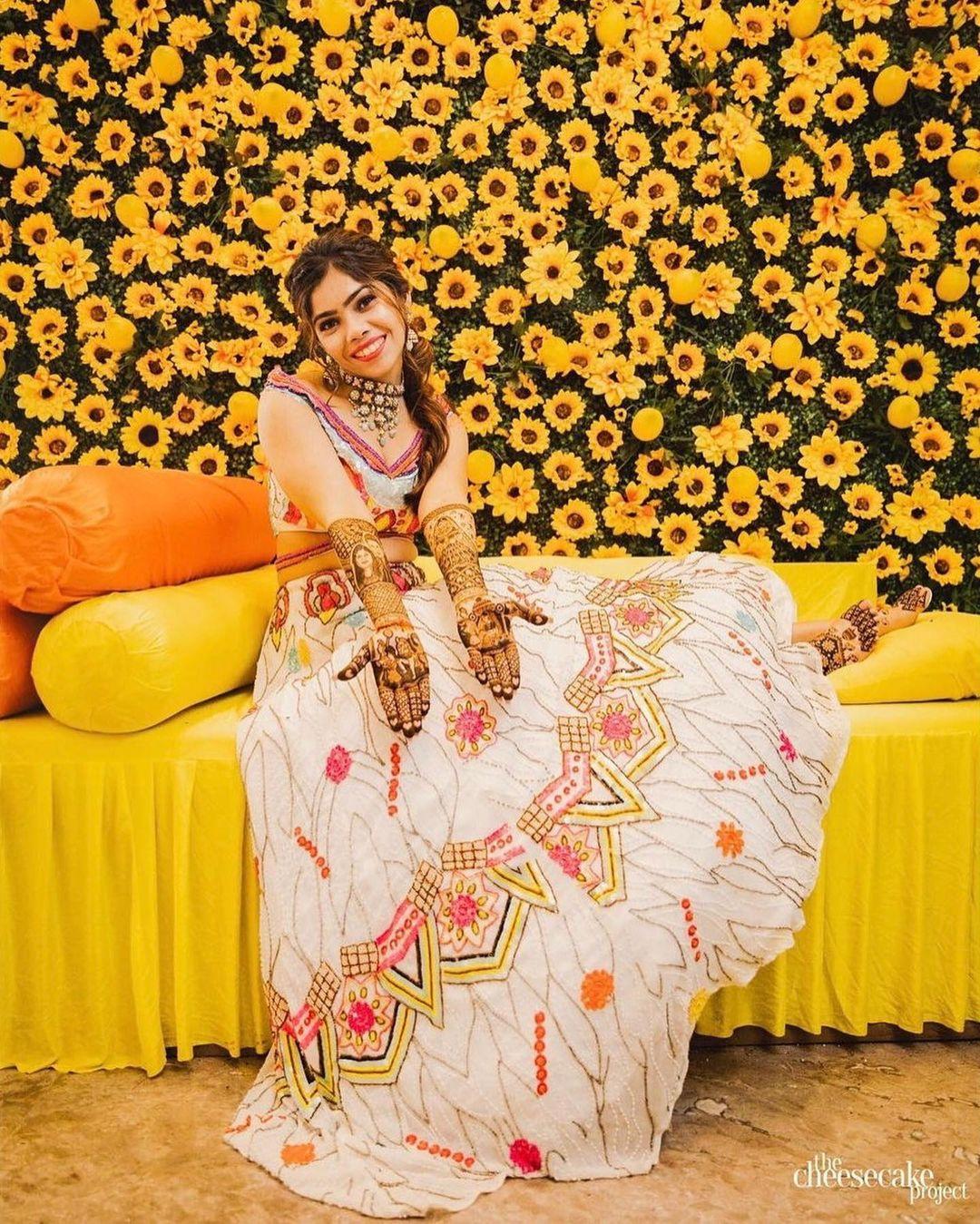 Decor Courtesy: Glitz Concept, Mumbai
Sunflower wall decor is a very millennial style of floral wall decor that you will find at weddings these days. Because of its defined size and bright colour, sunflowers are mostly used ofr Haldi flower wall decor or Mehndi flower wall decor. A little mix of foliage to tone it to your liking and voila!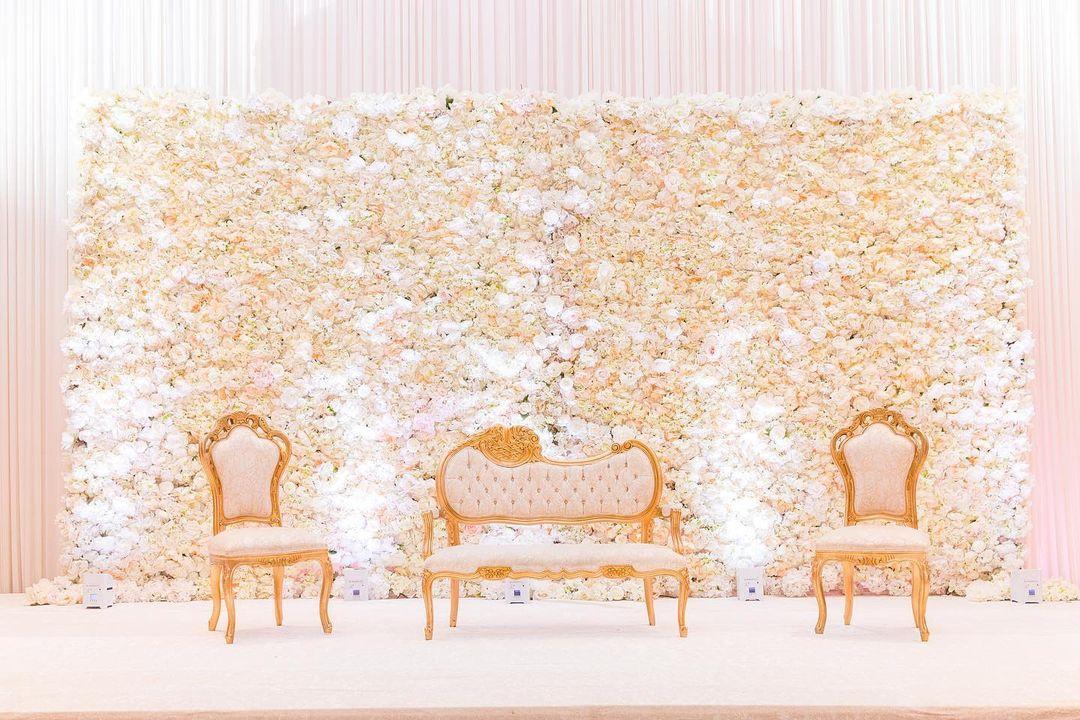 Image Courtesy: Siblana Event Design & Artistry
If you are a couple who is in love with white wedding decoration, then you will instantly fall in love with this simple yet elegant white rose flower wall decor. White themed weddings are very common in the Christian wedding receptions, however you can try this for your intimate day wedding ceremony as well.
Also Read: The Wedding Decoration Trends You Need to Know for an Intimate Wedding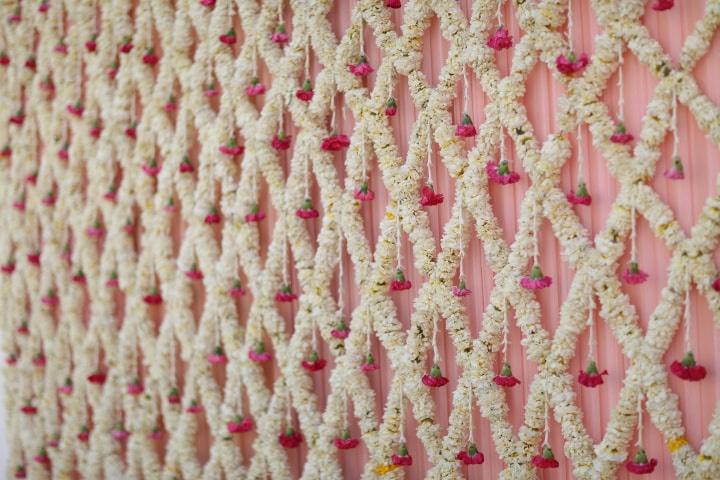 Mesh floral decor isn't new but how you use it sure has new twists to it. You can use elegant carnation mesh as a photo booth at your wedding ceremony. The simple addition of hanging a single pink flower in all the panels gives it a refreshed look. Choose the drapes in a favourable colour and in no time will your wedding guests crowd the corner. After all, that's how you will know that you've succeeded in creating an attention-grabbing decor item.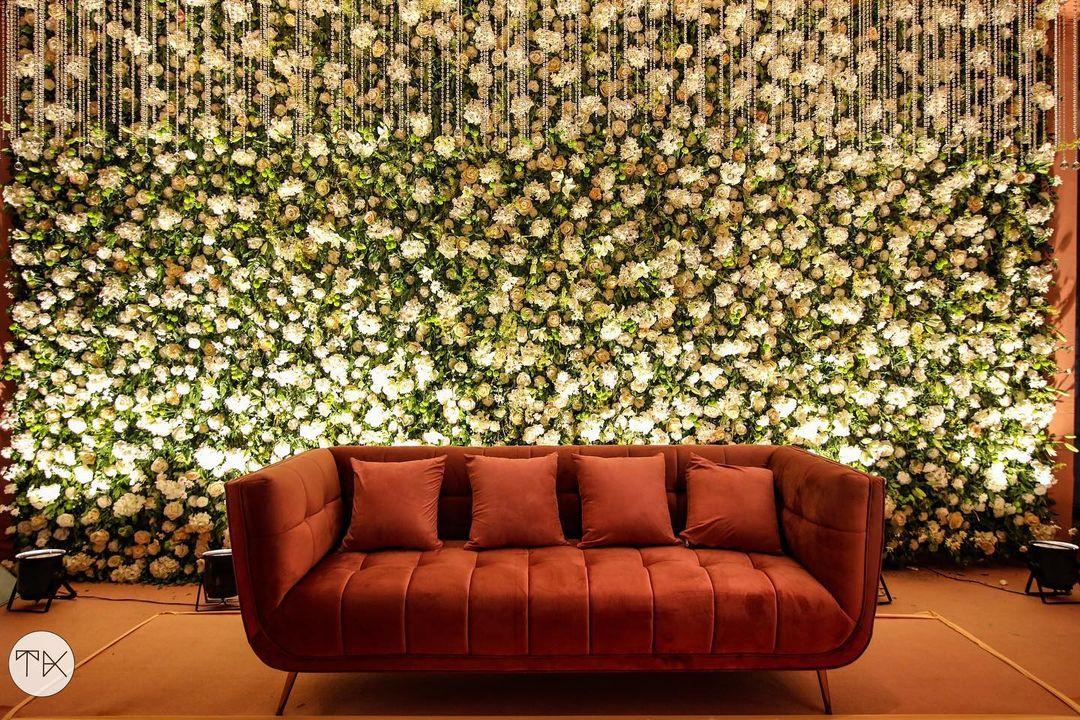 A little foliage could never disappoint you. The solid monochrome wall of white rose or gerberas with the foliage of green peeking is an enchanting flower wall decor. It looks alluring especially when the lights fall upon it.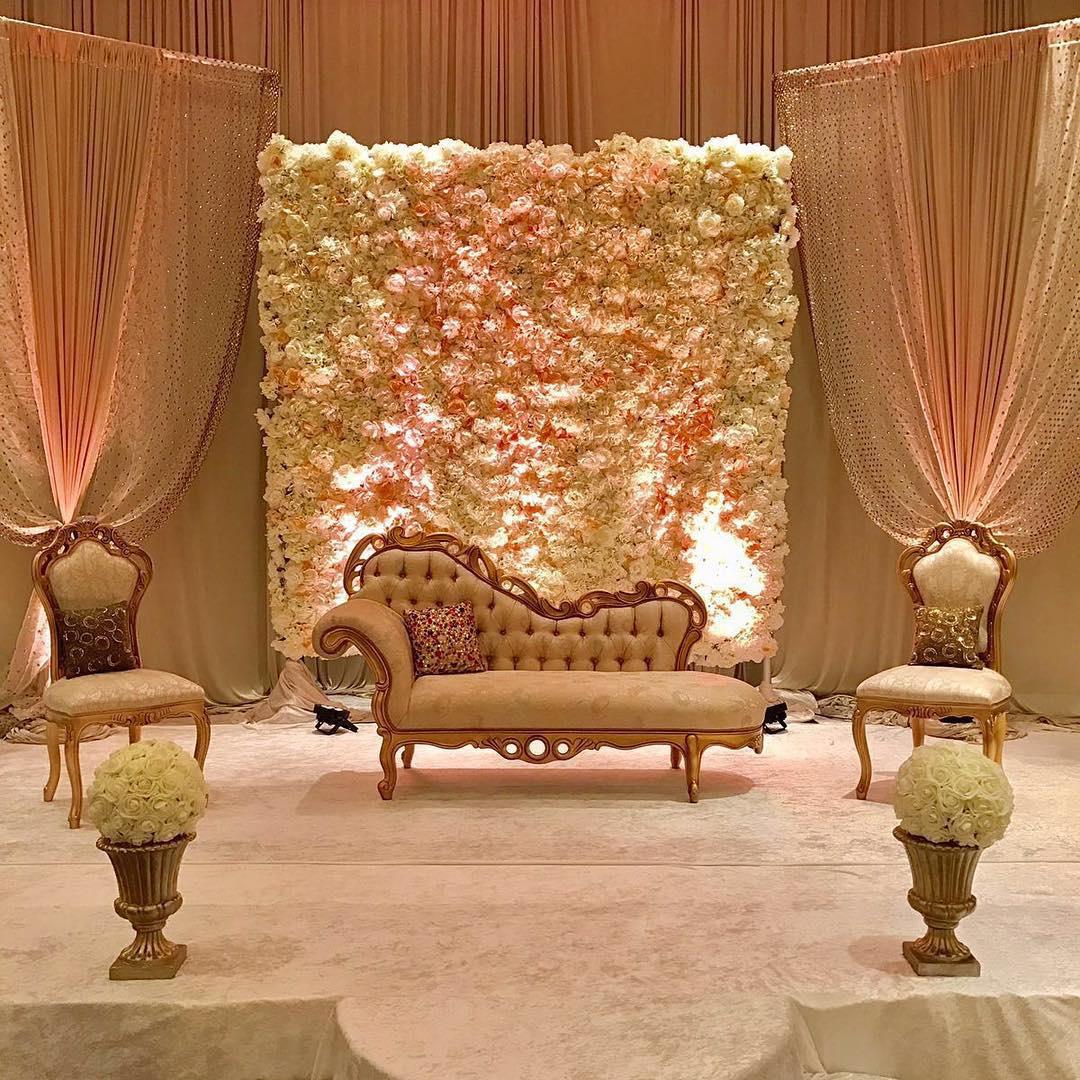 Image Courtesy: Siblana Event Design & Artistry
Monochrome flower wall decoration with roses is very mainstream and hard to miss. This oversized rose flower wall decoration with a hint of pink petals makes for an amazing pastel flower wall decor. If you are wearing a pastel lehenga or your wedding theme is pastel - then you have landed the perfect backdrop! In fact, you can even show off some shades of blue lehengas to add contrast and stand out.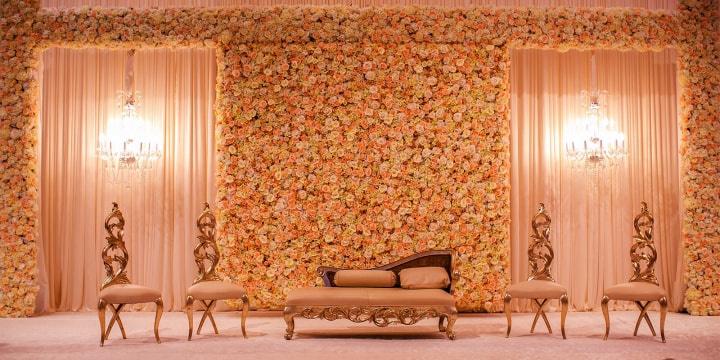 Tell us that looking at this image did not light up your face! This elegant setup of leaving window-like panels out of the flower wall decor and hanging chandeliers in them has a thumbs up from our side. You can't deny the sophistication it exudes owing to the colour tones of the flowers empanelled. The seating does not take the attention away from the backdrop or vice-versa. Rather it looks like a precious amalgamation of the two. If this flower wall decor fits into your wedding theme, by all means, go for it!
Ombre Flower Wall Decor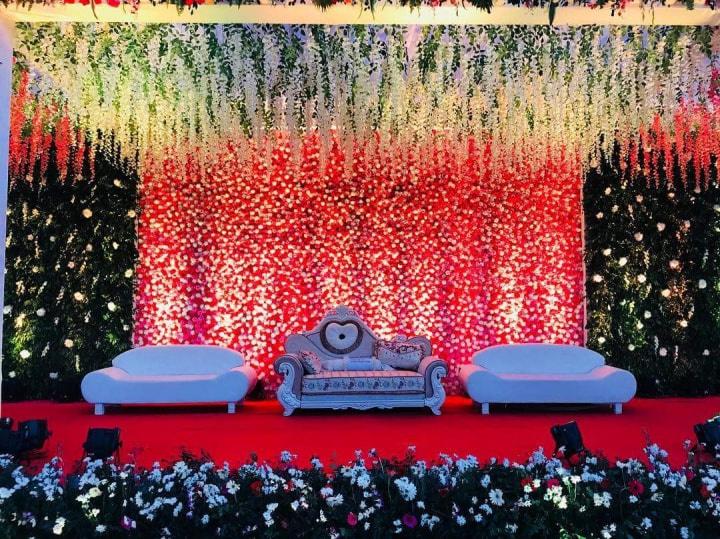 Best of both worlds - a combo of floral and botanical wall decor. A range of red, pink and white flowers give this background to enchant anyone who sets eyes upon it. The ombre effect in the flower wall decor is subtle but present and the floral hangings from the ceiling are just the icing on the cake. The botanical walls on the sides accentuate the effect of the floral one by making it the central piece. Would you choose this for your wedding functions?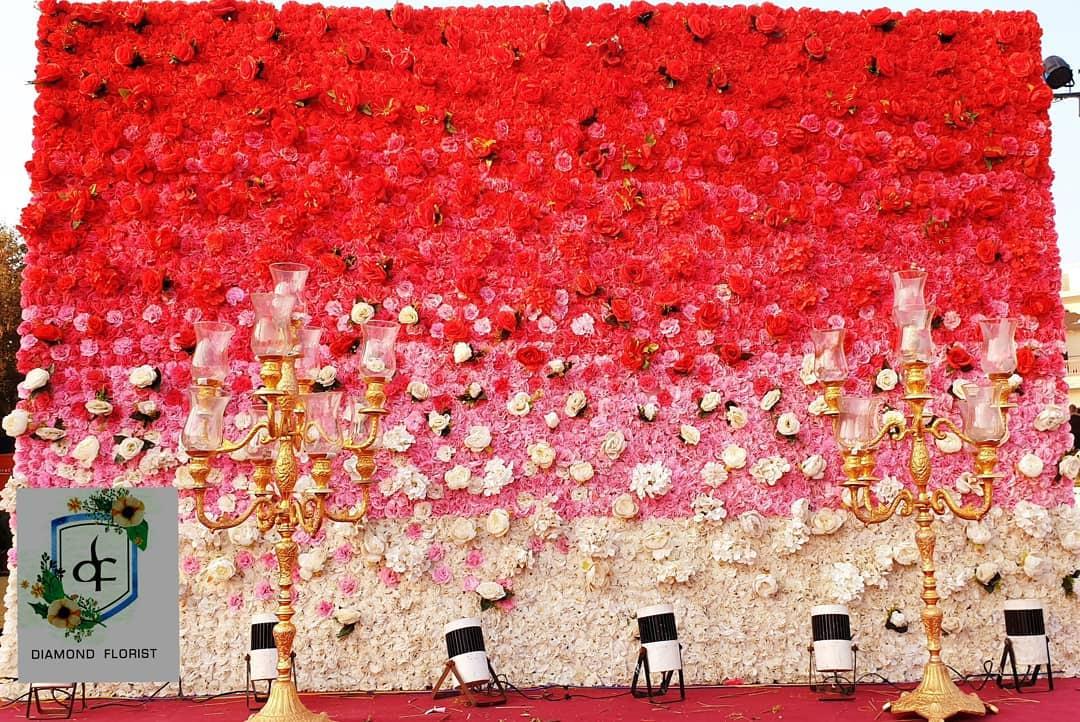 Image Courtesy: Diamond Florist Jaipur
Creating a distinct ombre, this flower wall decoration is one of the most sought after floral walls at weddings these days. Fulfilling your red whims and pastel fancies; this red, pink and off-white flower wall decor weaves a magical ombre that will make all your wedding photographs one in a million!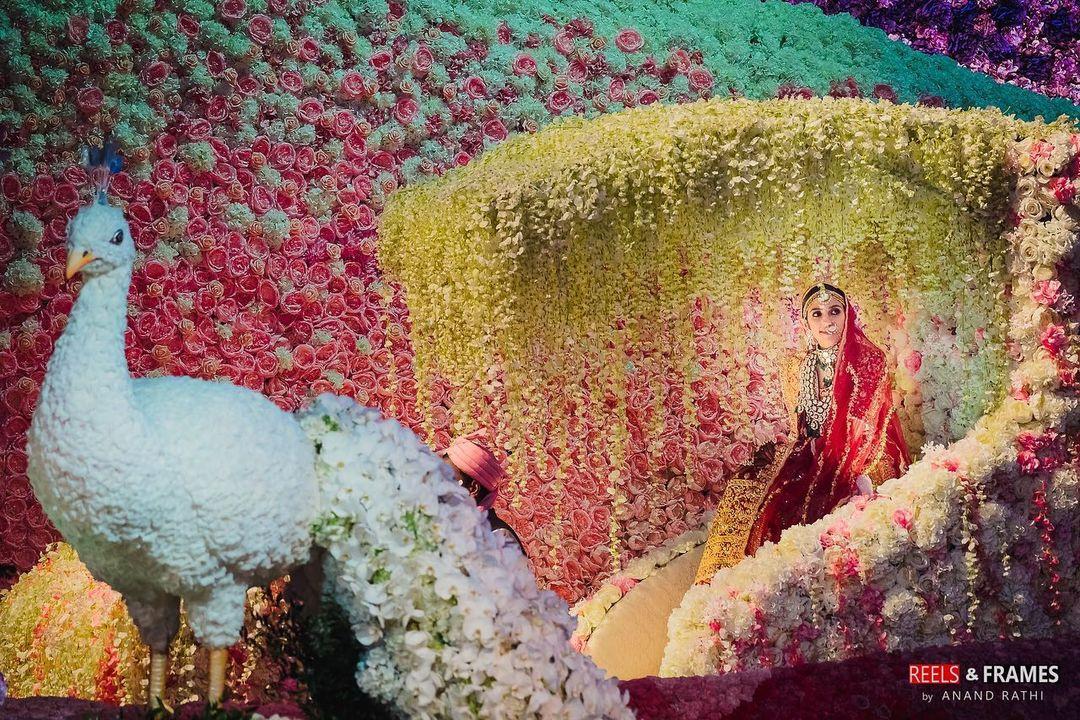 Flower showers at weddings are very common and so are floral installations these days. Another concept of magnificence is an ombre wall of roses. The white flowers followed by the pink roses make this wedding stage decoration a hoot that we cannot take our eyes off of!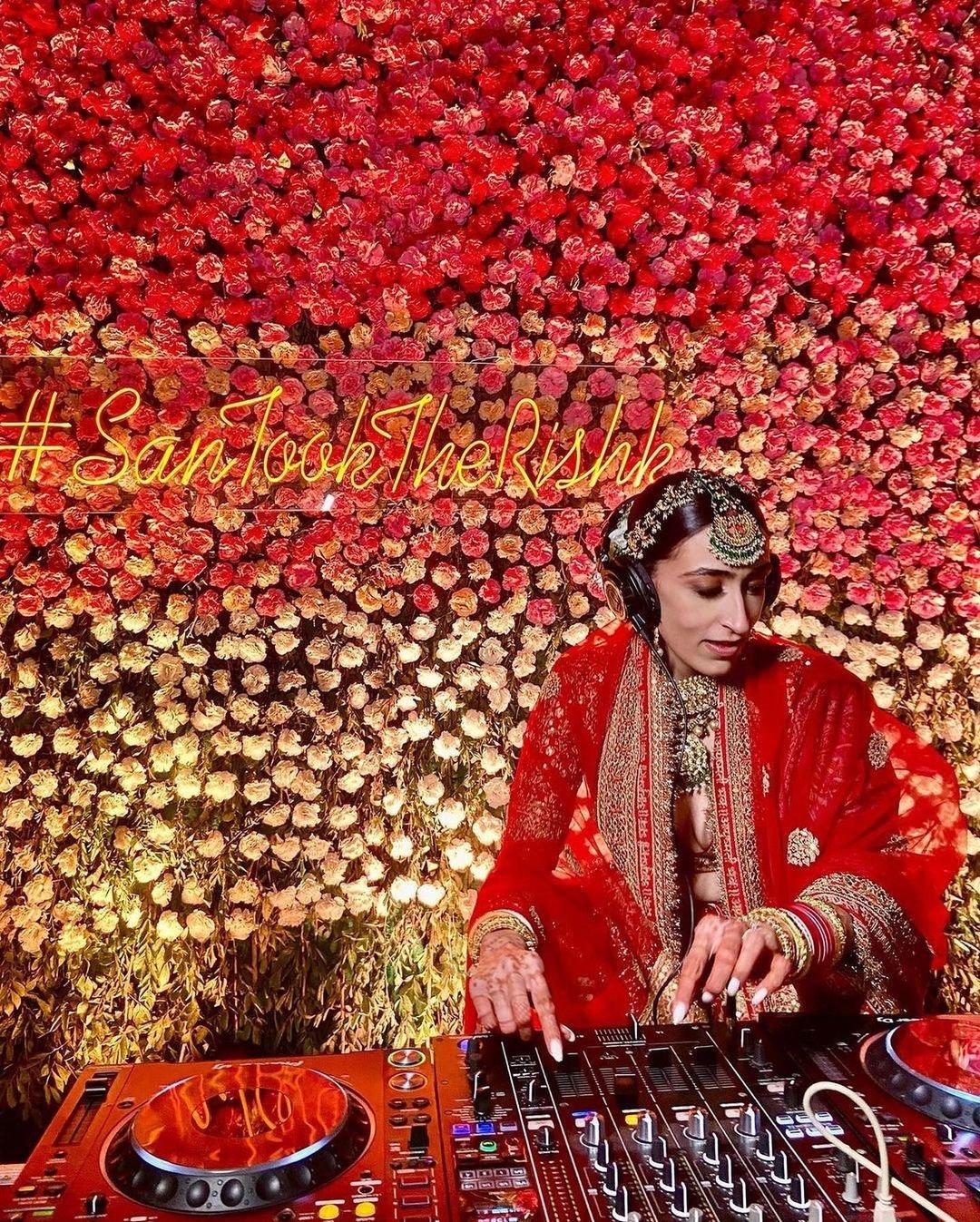 As the popular saying goes - more the merrier, here is a flower wall decor idea that has not one, not two...but three different flowers arranged parallel to create a mesmerising ombre effect! You can also see some leafy foliage at the bottom to give it a nice and aesthetic touch. A perfect floral wall for you to hang up your wedding hashtag.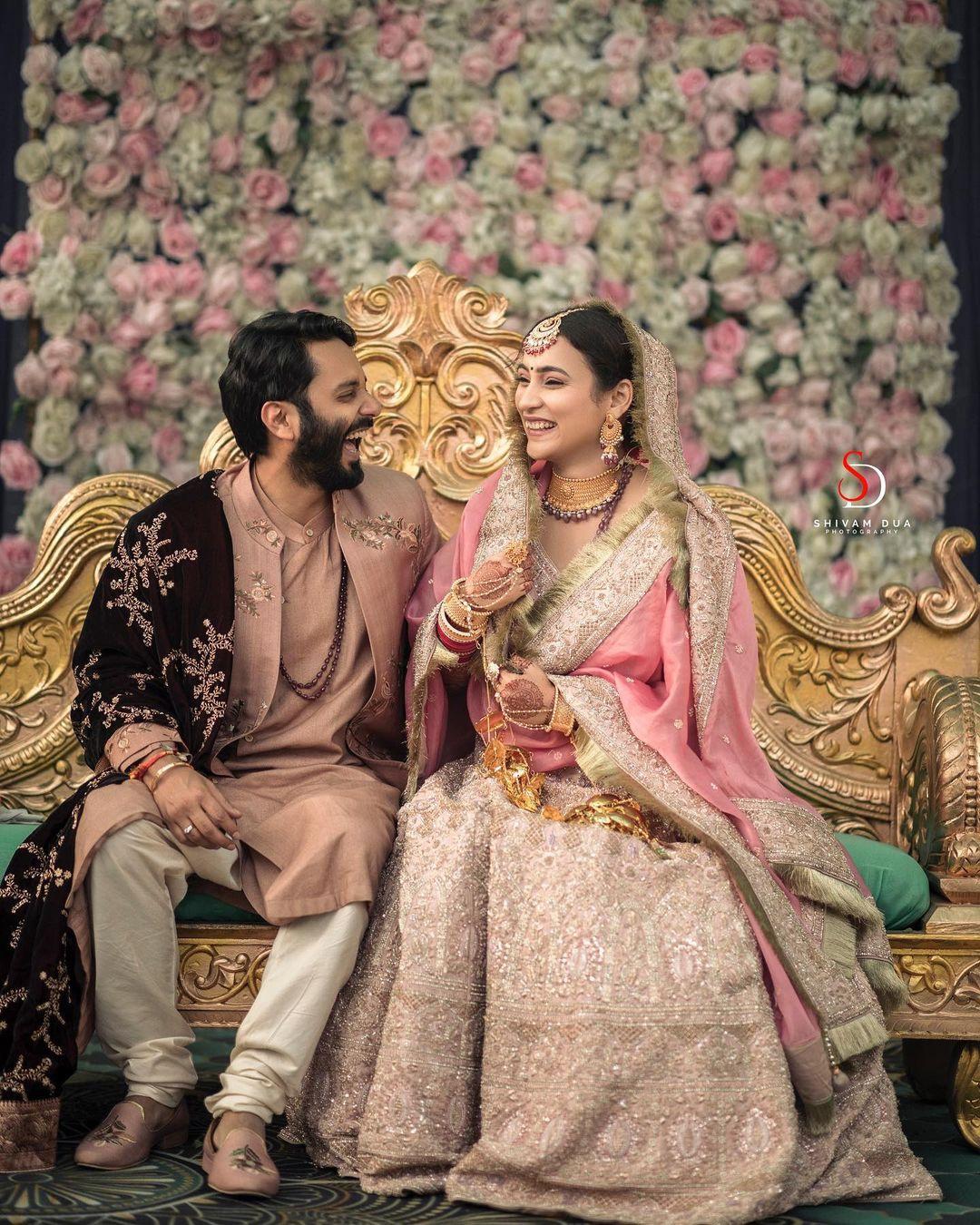 A pastel ombre flower wall decor is a treat to the eyes. The white and pink roses create a fairytale-like wedding flower wall decor that makes your wedding photographs all the more dreamy and surreal.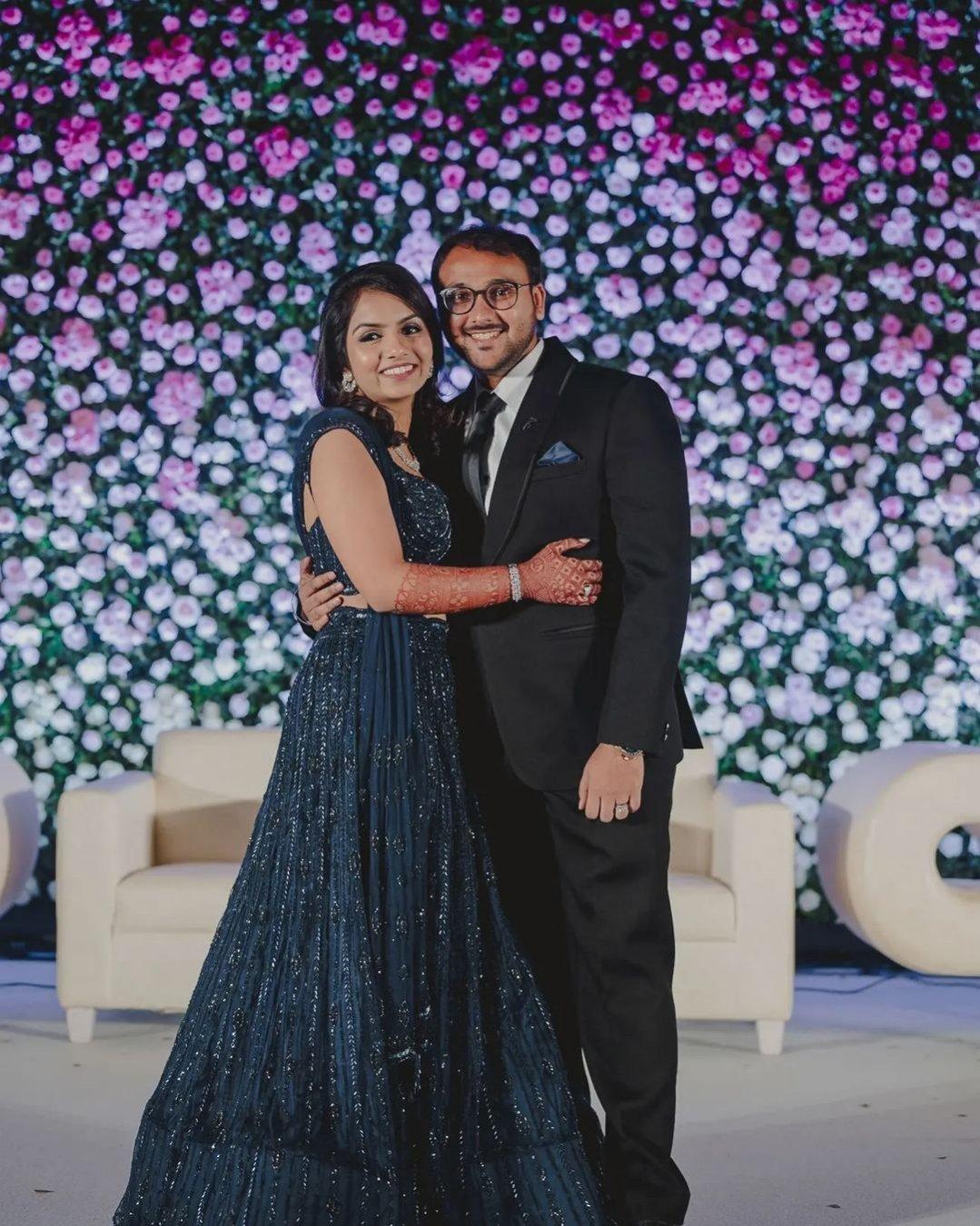 Our list of ombre walls cannot be complete if we do not include this fine purple haze wall flower decor. Floral wall decors for pastel themed weddings or a purple themed wedding can be a dream come true backdrop for your fabulous pictures and this purple ombre flower wall decoration is indeed a dreamy one.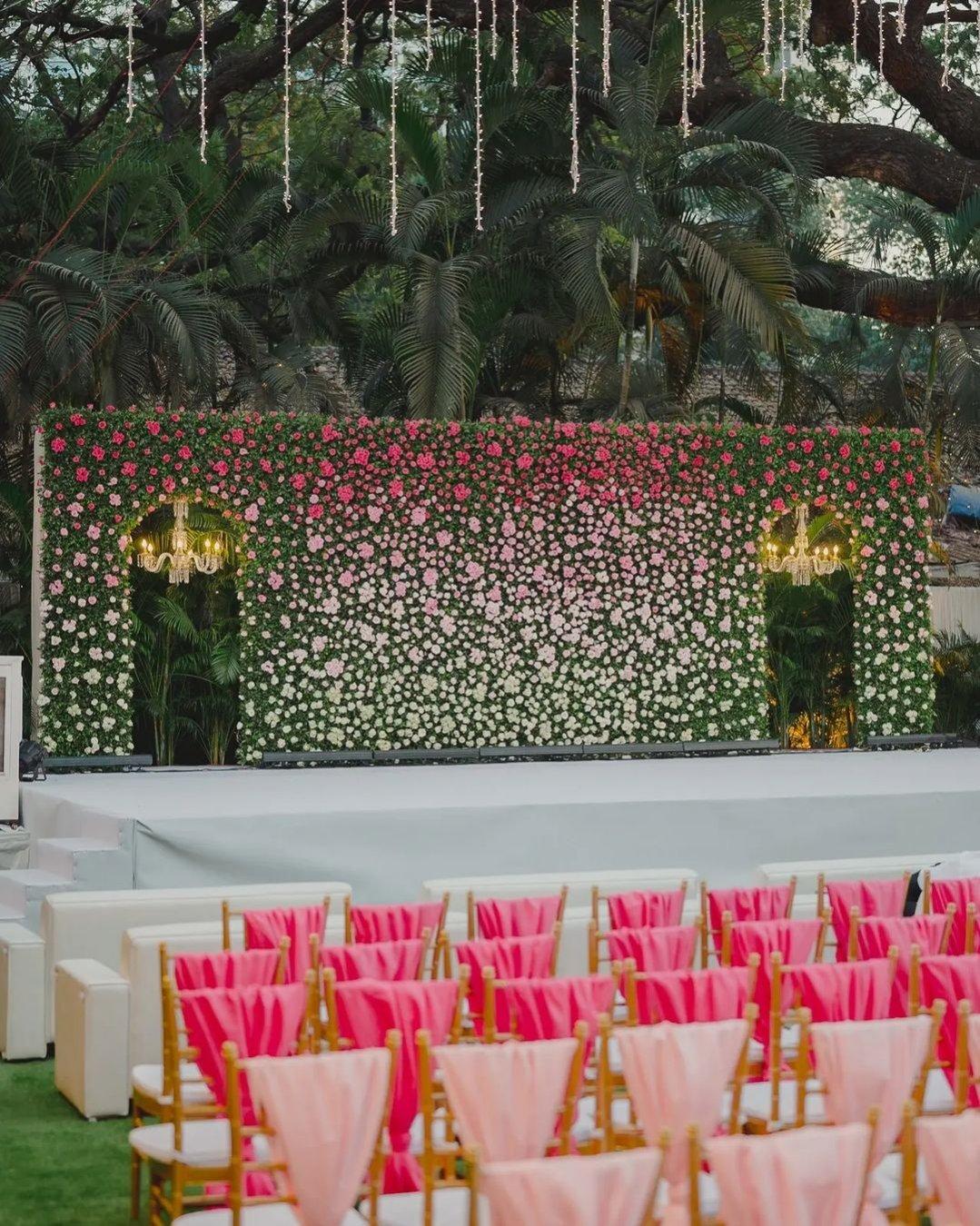 Image Courtesy: Fireflies Decor
Flowers & foliage together is a combination that you will fall in love with at first sight. To keep your day wedding setup subtle yet charming, make ways for dark pink, light pink and off-white roses with foliage wall decor. The chandeliers that deck up the arched doors look like a scene from your favourite romantic film, right?
Also Read: Out Is 'In'! Plan Your Outdoor Wedding like a Pro with These Tips and Ideas
Whimsical Flower Wall Decor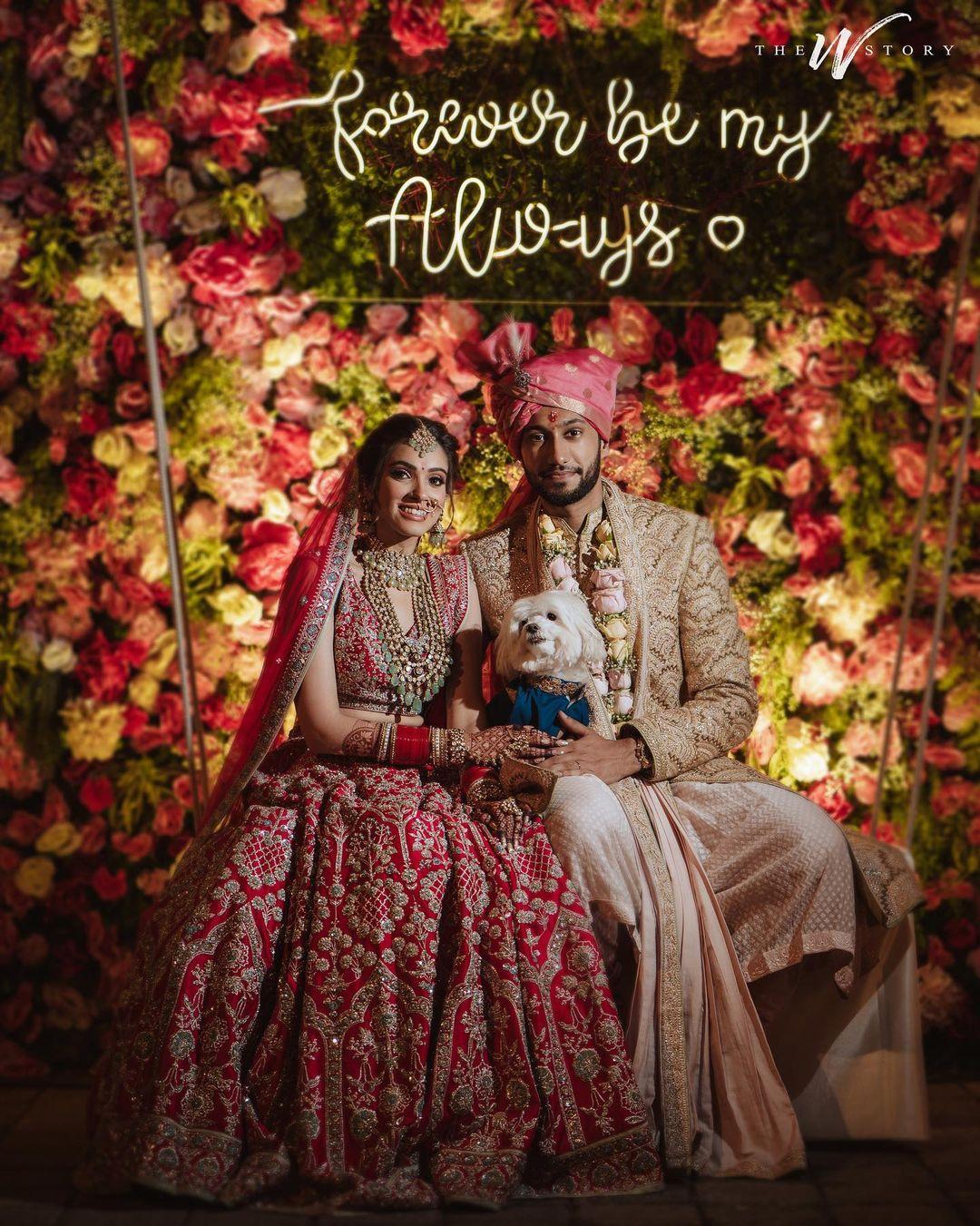 We cannot stop obsessing over the variety of flowers that are included in this whimsical flower wall decor and ofcourse the neon sign celebrates the overwhelming joys of the wedding!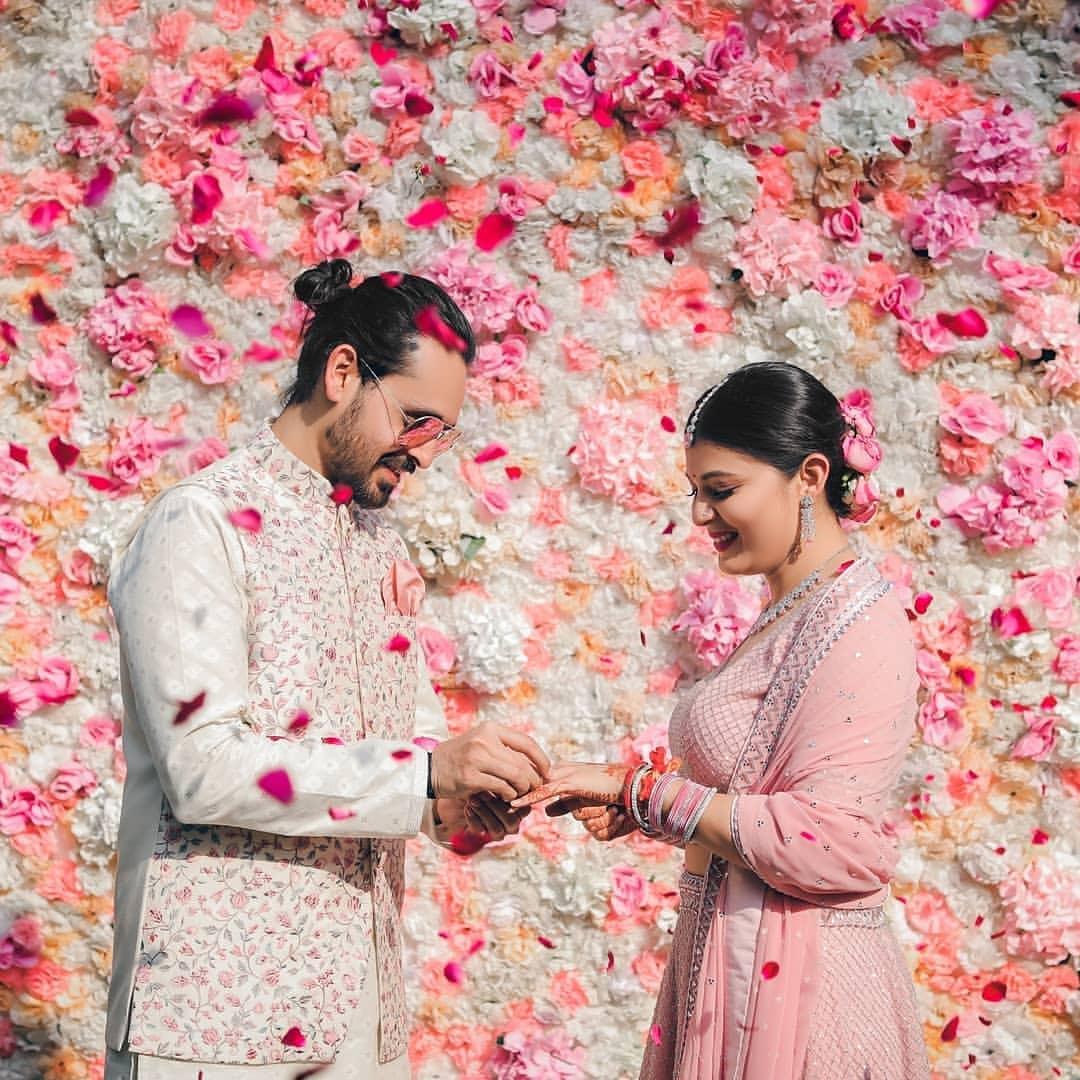 For a day wedding ceremony or even your intimate day wedding, you can swear by pastel floral decor including an only-floral arrangement on the wall to complement your theme and outfits too. This picture is a perfect testament that pastel walls can be smooth yet whimsical!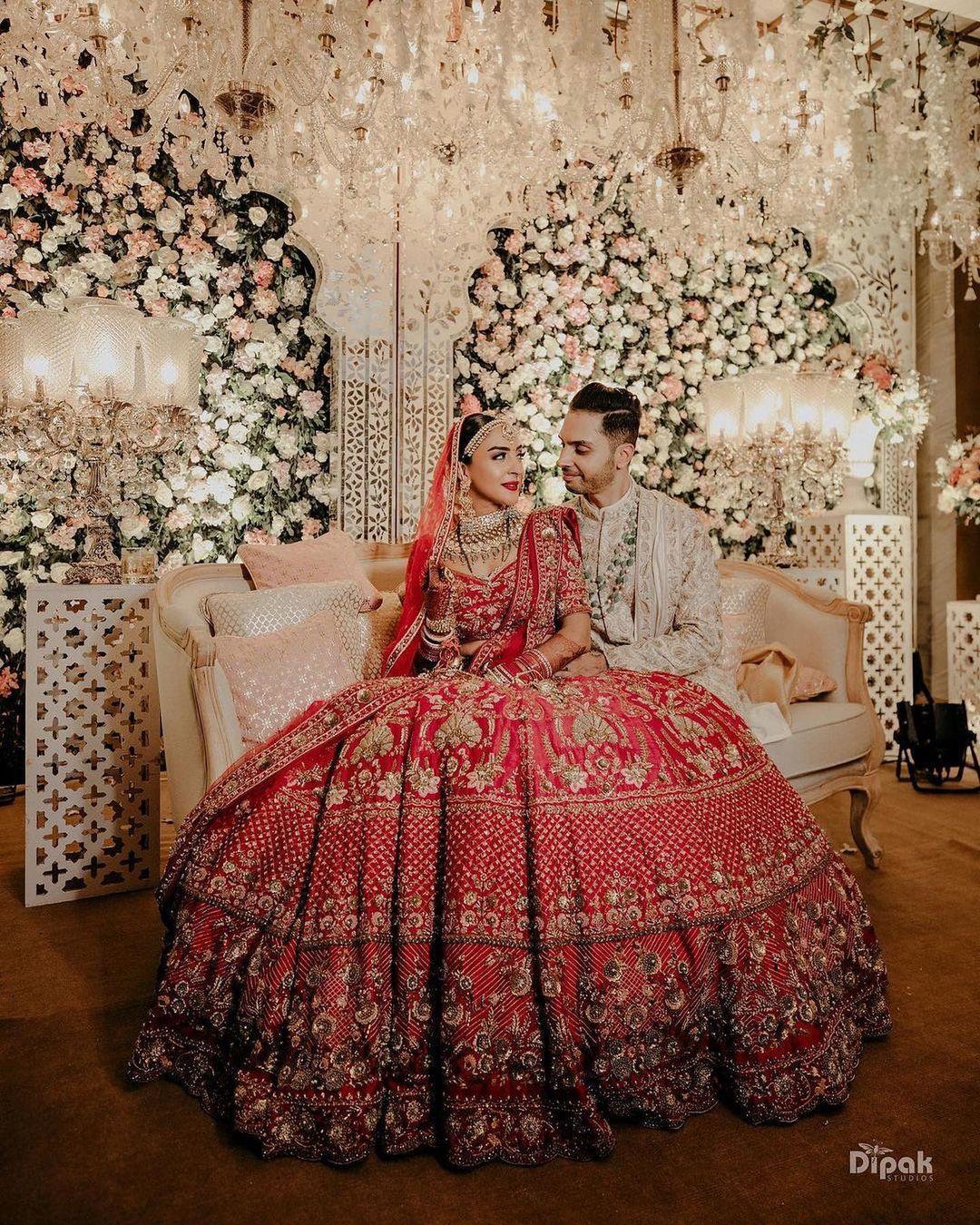 Continuing the magic of floral variety on pastel walls, this one takes it up by a notch with the foliage included. The regal arches in white with the stunning lights create a royal flower wall decor that heightens the look of your wedding stage.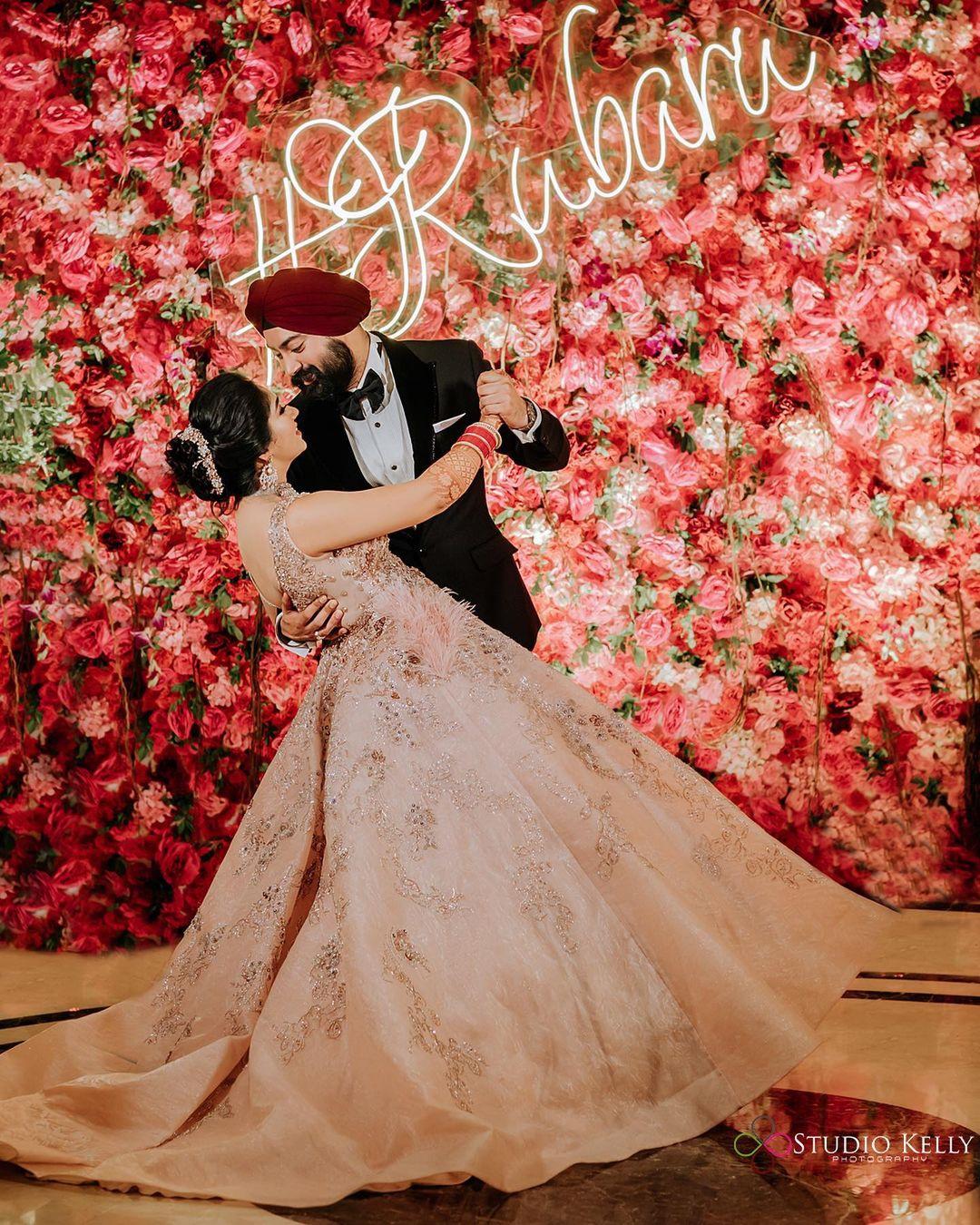 How much peach is too much peach? Well here is a peach wall full of different kinds of flowers like pink roses, white roses, gerberas, lillies and so on with a hint of green that makes it perfect for a stunning backdrop for your wedding reception.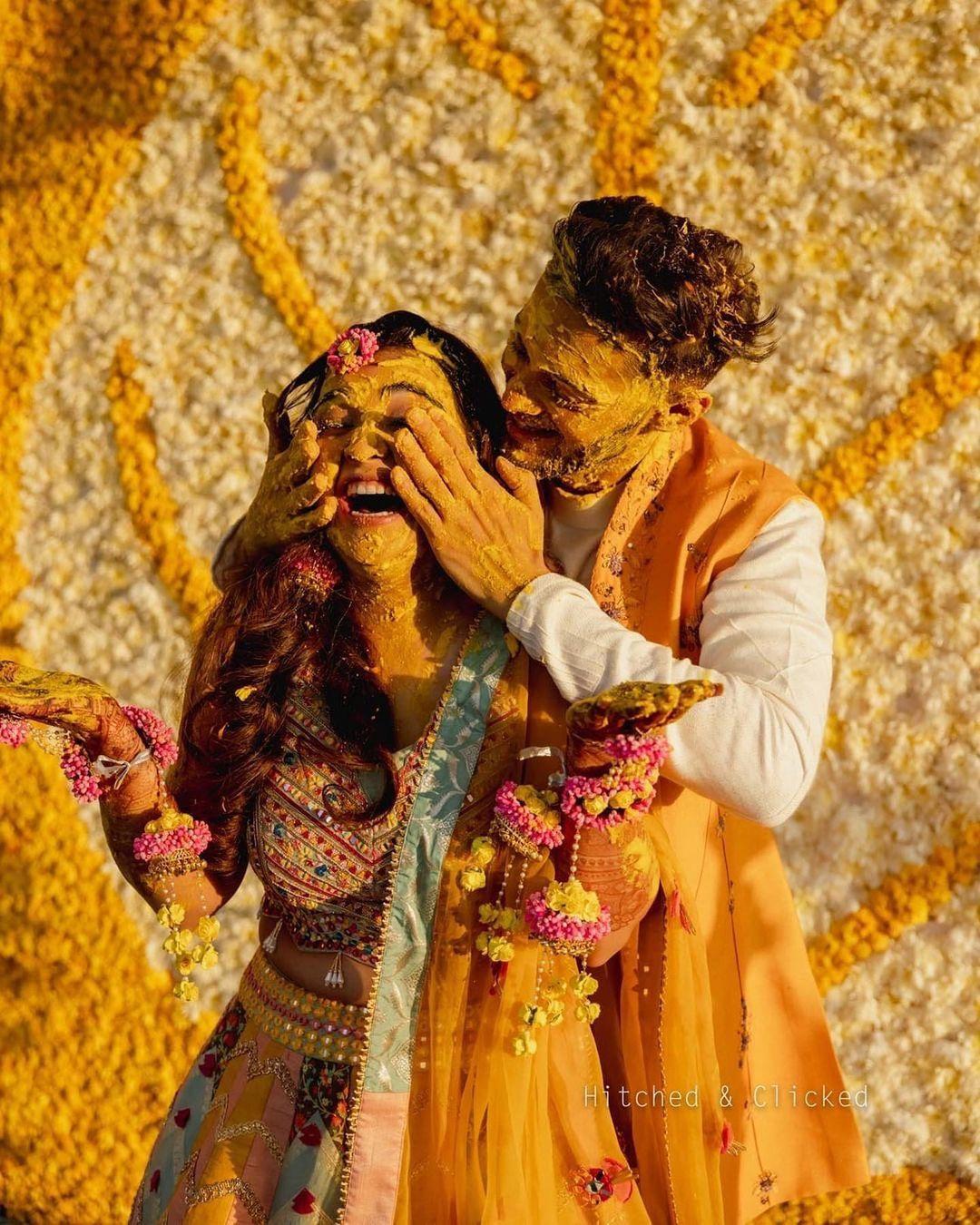 Fulfilling your Haldi whims, this white and yellow floral wall decor with marigolds and daisies or other white flowers is a hoot! You can use the darker marigolds to create or highlight a design on your floral wall and let the white flowers act as your canvas. This whimsical Haldi flowers wall decoration is quite in-vogue.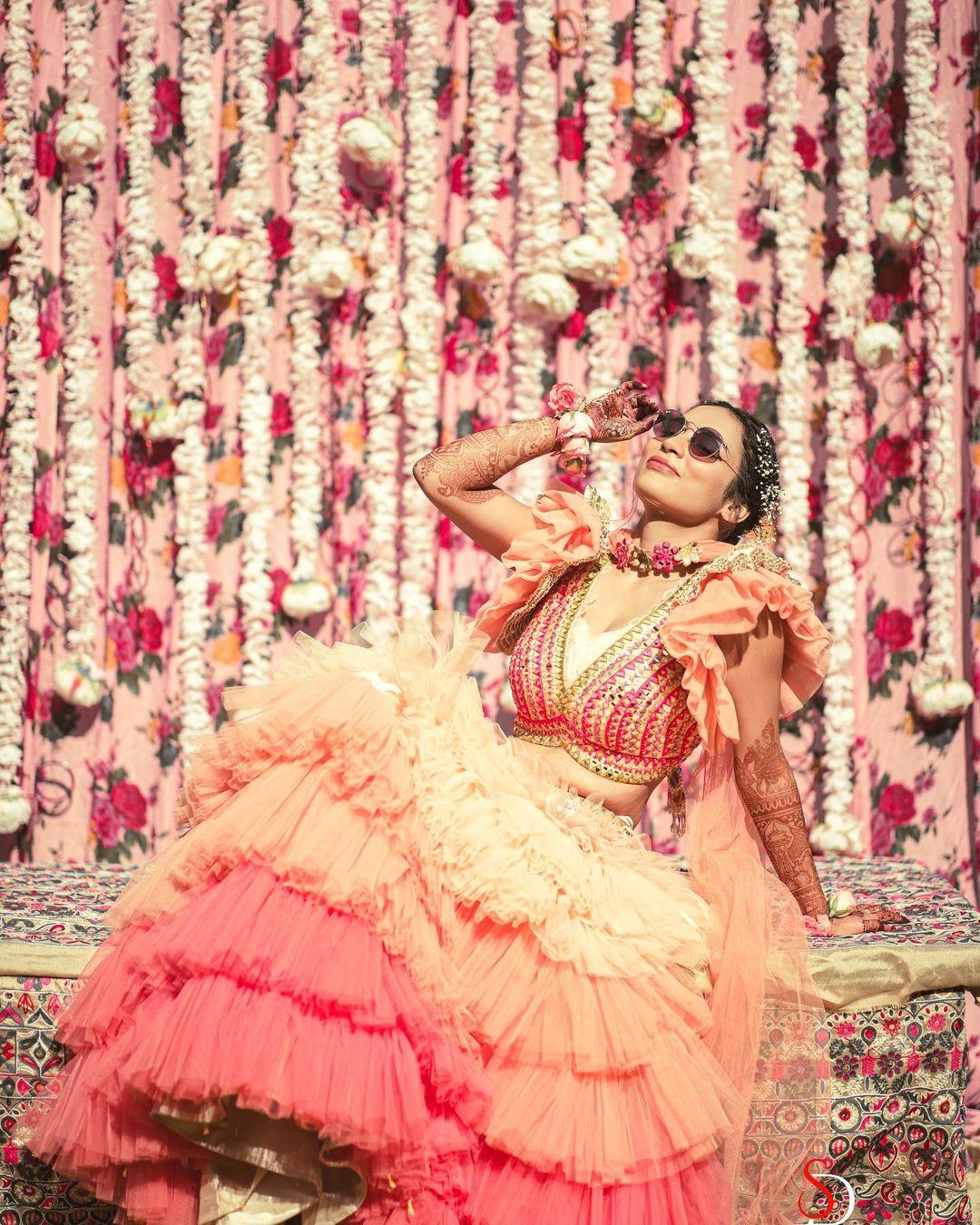 Flower chains are an evergreen concept. Keeping it simple for one of your pre-wedding ceremonies you can pick this flower wall decoration with white floral chains and make your venue look effortlessly ethereal.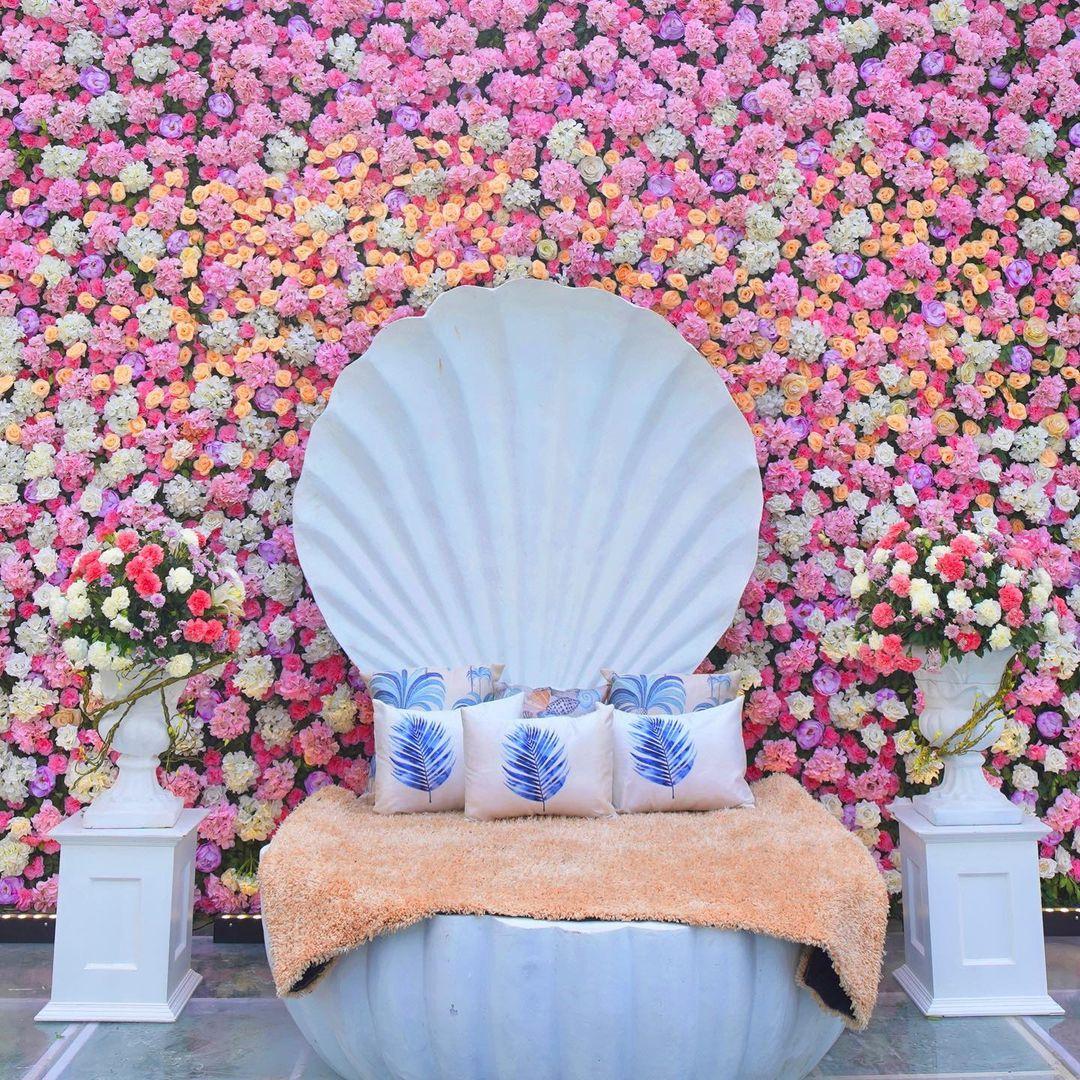 One of our favourite flower wall decorations, you will be thrilled to know that each of these shades complements and contributes to this colourful flower wall decoration so beautifully that it looks breathtaking. This whimsical multi-coloured flower wall decoration is a beauty!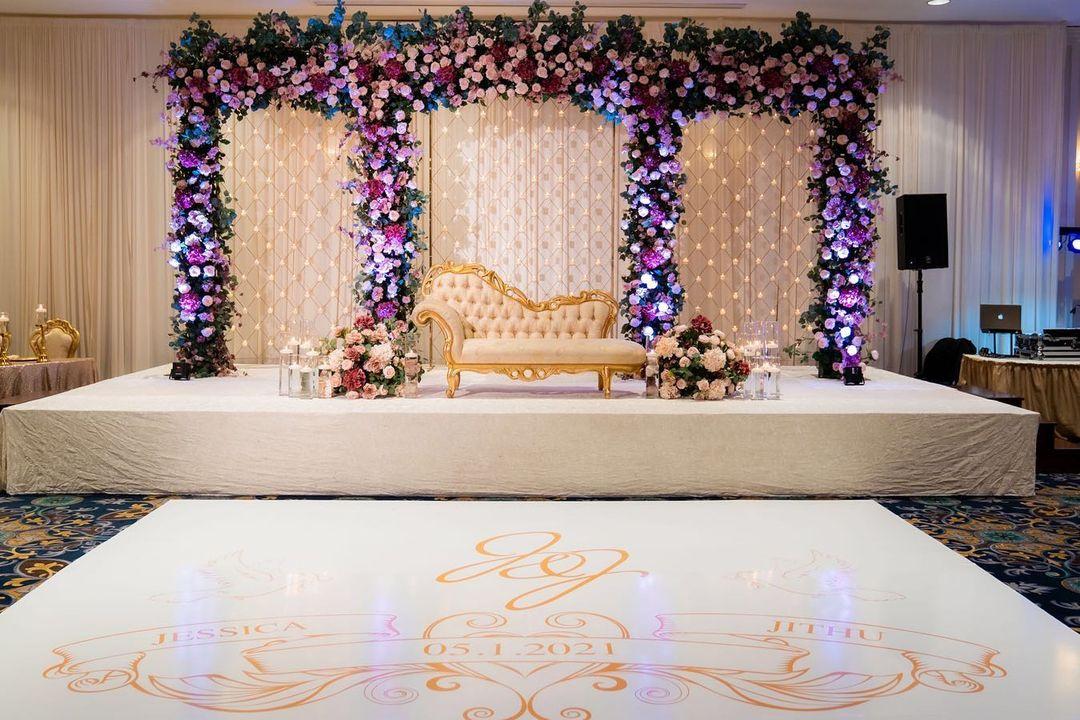 Image Courtesy: Siblana Event Design & Artistry
Flower and foliage arches as wall decor for your wedding? Absolutely and here is a photograph to back us up! Check out this minimal yet enchanting flower wall decoration that you can use for your engagement ceremony decoration or even for your reception. Pick flowers of your choice to make it more personal and tailored to your fit.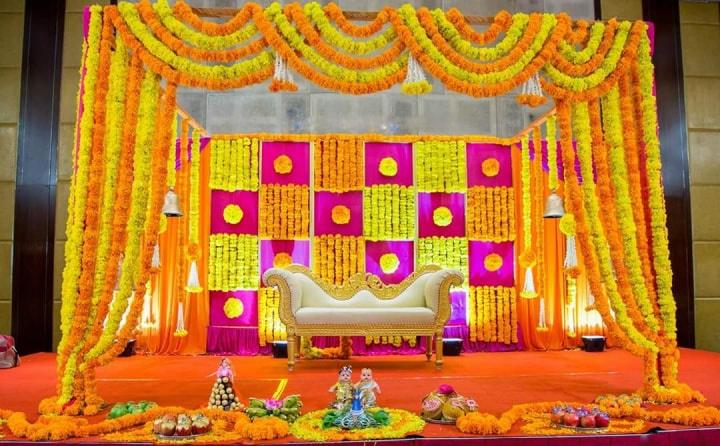 This bright and quite "lit" flower wall decor has our attention for all the right reasons. Marigold flowers and pink drapes checkered backdrop will be perfect for your Mehndi or Sangeet ceremony. Who would've thought that the traditional marigold flowers could be used in such an unconventional manner and be a dose of fresh air for wedding decoration! If your style is as funky and quirky as this stage decoration, this could be your cup of tea.
Also Read: Our Exclusive Take On How To Plan An Eco-friendly Wedding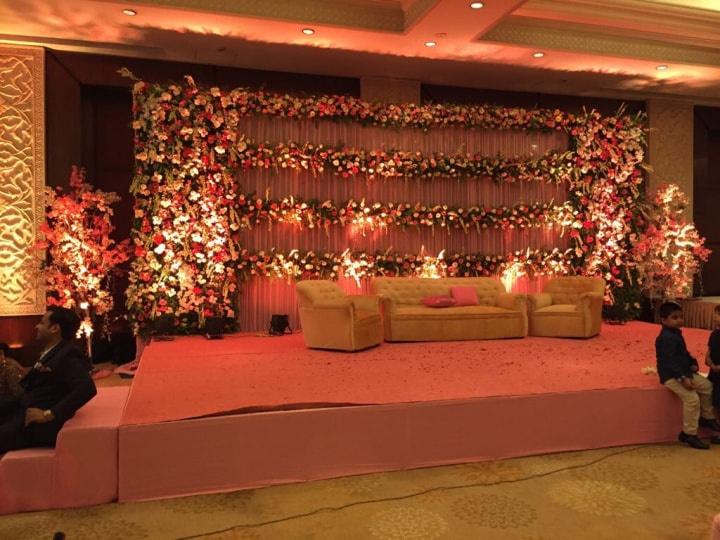 Bands of bouquets can look stunning as a wedding stage backdrop. You can choose the assortment of flowers to go in line with your wedding theme colours. In between the panels, drapes will act as the neutral factor putting the bouquets on the forefront. This arrangement is bound to look pretty even in an outdoor venue. The colours of the sunset will beautify its effect. If you're planning a destination wedding in Goa or Udaipur with the ceremony to proceed in the evening, you can totally go for this backdrop.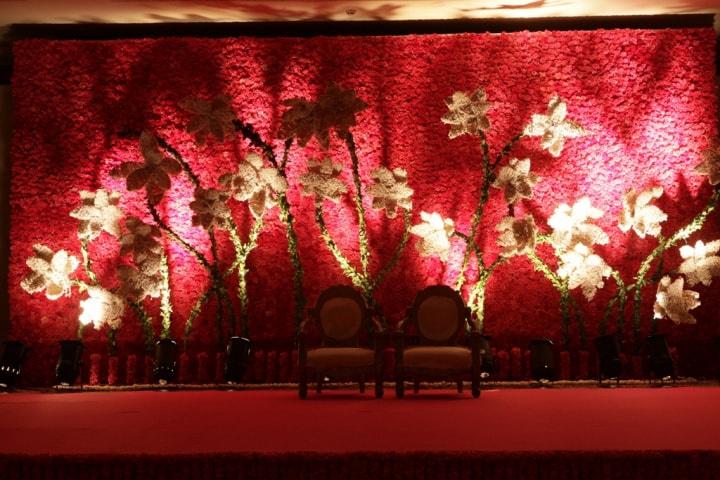 If you have planned your wedding to fall during Valentine's week, this would be the perfect decor to go with the theme of love. A red or pink flower wall decor will surely give you lovely wedding pictures for your album. The floral flower setups amplify the effect of the fully covered wall and the lighting highlights them well. When planning for an offbeat shade of bridal lehenga, keep your decor in mind. With such a backdrop, brides donning pastel shade lehengas will surely stand out.
With a myriad of flower wall decor come the unexpected bills from your florist. So choose the flowers for this purpose wisely. Locally available flowers will cost you lesser than others. But if you do want a particular flower to go for your colour theme, ensure that you create a balance between Indian and international flowers to keep it well within budget.
Which flower wall decor are you planning for your big day? Share with us in the comments below.
Read More -
Mehndi Design | Proposal Lines | Simple Finger Mehndi Design | Arabic Mehndi Design | Propose Day Quotes for Boyfriend | Wedding Anniversary Wishes for Sister | Tamil Wedding Calendar | Simple Mehndi Design | Pre Wedding Quotes | Engagement Anniversary Wishes | Funny Wedding Wishes for Bestfriend | Blouse Design | Rangoli Design | First Night Tips for Bride | Wedding Anniversary Wishes