Bloom at the Wedding Functions With These Yellow Lehenga Designs
Are you looking for a stunning yellow lehenga? Scroll up to see designs with some bubbly 'Genda Phool' vibes and pump up your excitement to bookmark the most fascinating yellow lehengas!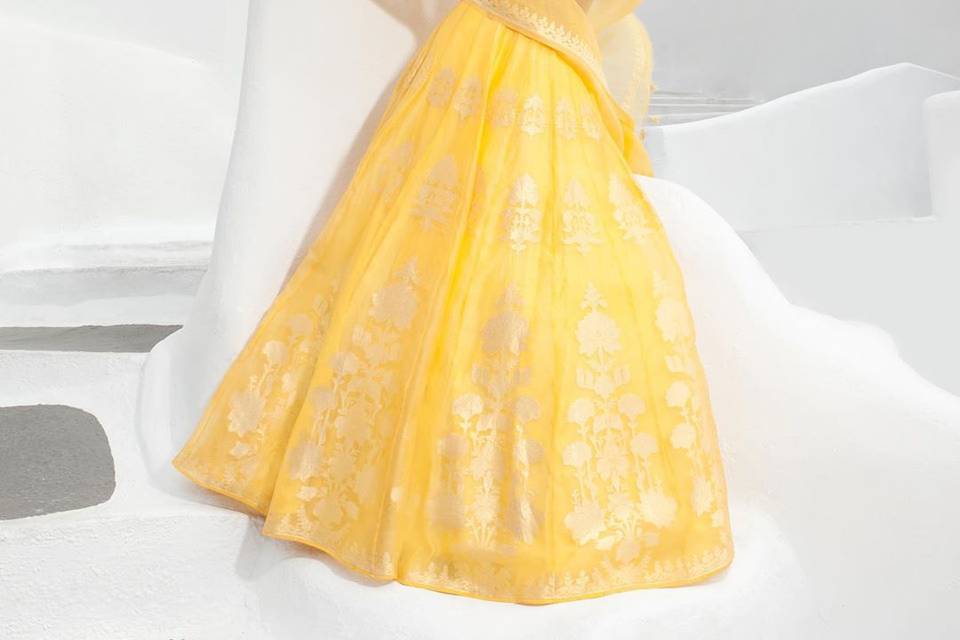 Indian weddings are all about amusement and vivid colours. The colour yellow represents a vibe of happiness and radiance. Why not imbibe this colour in your wedding outfits! Yellow highlights the glow of every bride with charm and grace. Somehow, the most bright and beautiful wedding photos come out when the bride herself is wearing yellow. Why miss a chance of being the ray of sunshine when you can flaunt your yellow lehenga with allure!
Gone are the days when yellow colour was only meant for your Haldi ceremony. Nowadays, brides are sassing their D-day with dazzling and captivating paps in yellow lehenga. From lemon yellow to mustard yellow, the limitless shades of yellow can make a bride stand out like a daffodil. It's your chance to become the ball of radiant sunshine and hit the wedding functions with glitz and glamour!
Here are a bunch of gleaming and lustrous yellow lehengas that we loved at first sight. The bright and shiny wedding lehenga tour begins. What are you waiting for? Start Exploring!
A Bright Bucket Full of Yellow Lehenga Designs For Brides
Dear brides-to-be, up your bridal fashion game with yellow lehengas that are far from OOTD bridal ensembles but can steal the show with their attractive shade! Wear dazzling designs that strike a perfect balance between dazzling and stunning.
Dainty Mustard Yellow Lehenga For Your Engagement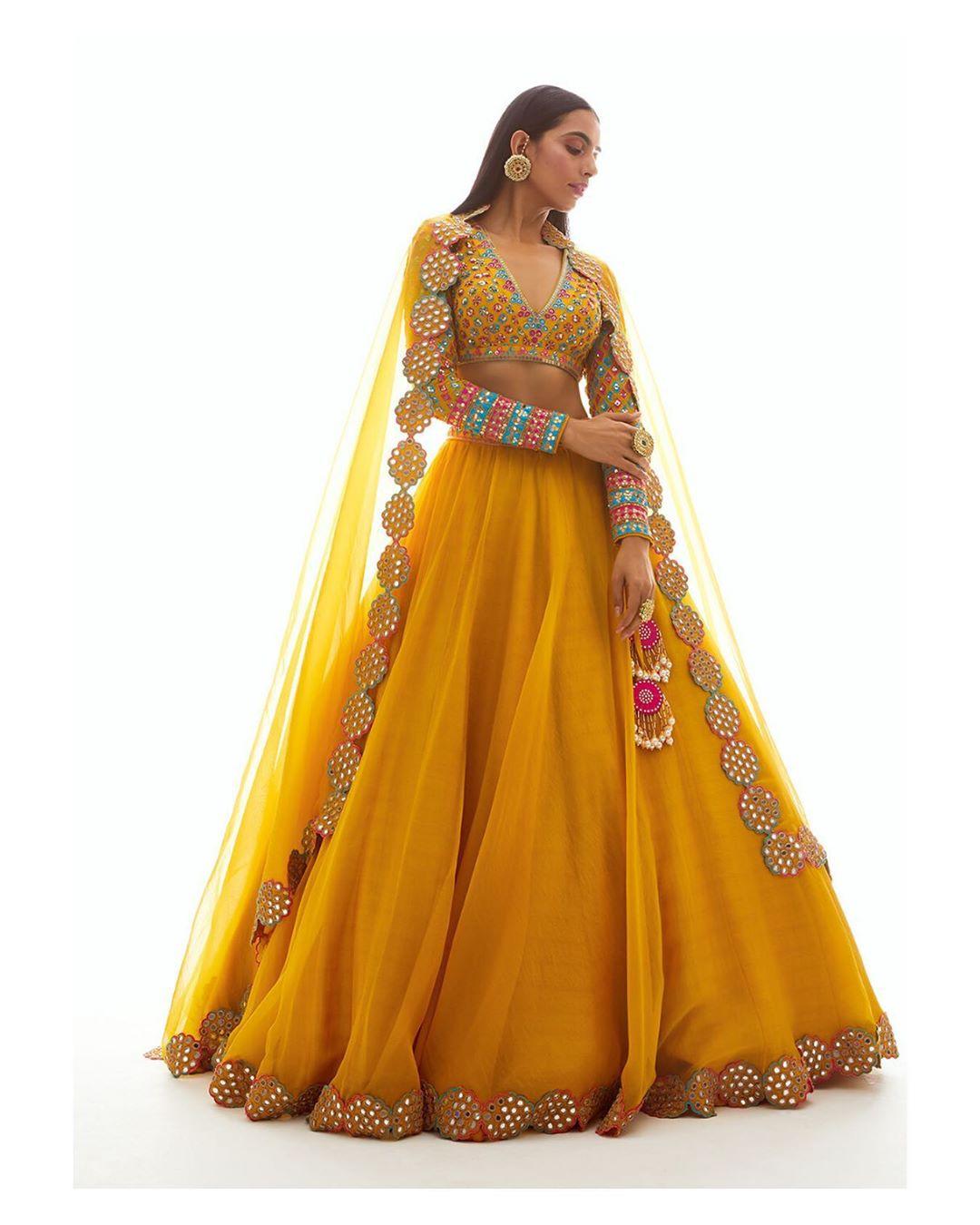 This mustard blouse with an applique embroidery of blue and magenta is blended well with georgette base from the stunning collection of Vvani By Vani Vats. This is best suited for your overwhelming engagement ceremony. It is paired with a matching organza base lehenga which is an ideal choice for making a luminous entry and making tonnes of memories with your lovelies!
Vibrant Yellow Lehenga With Vintage Vibe for your Mehndi Ceremony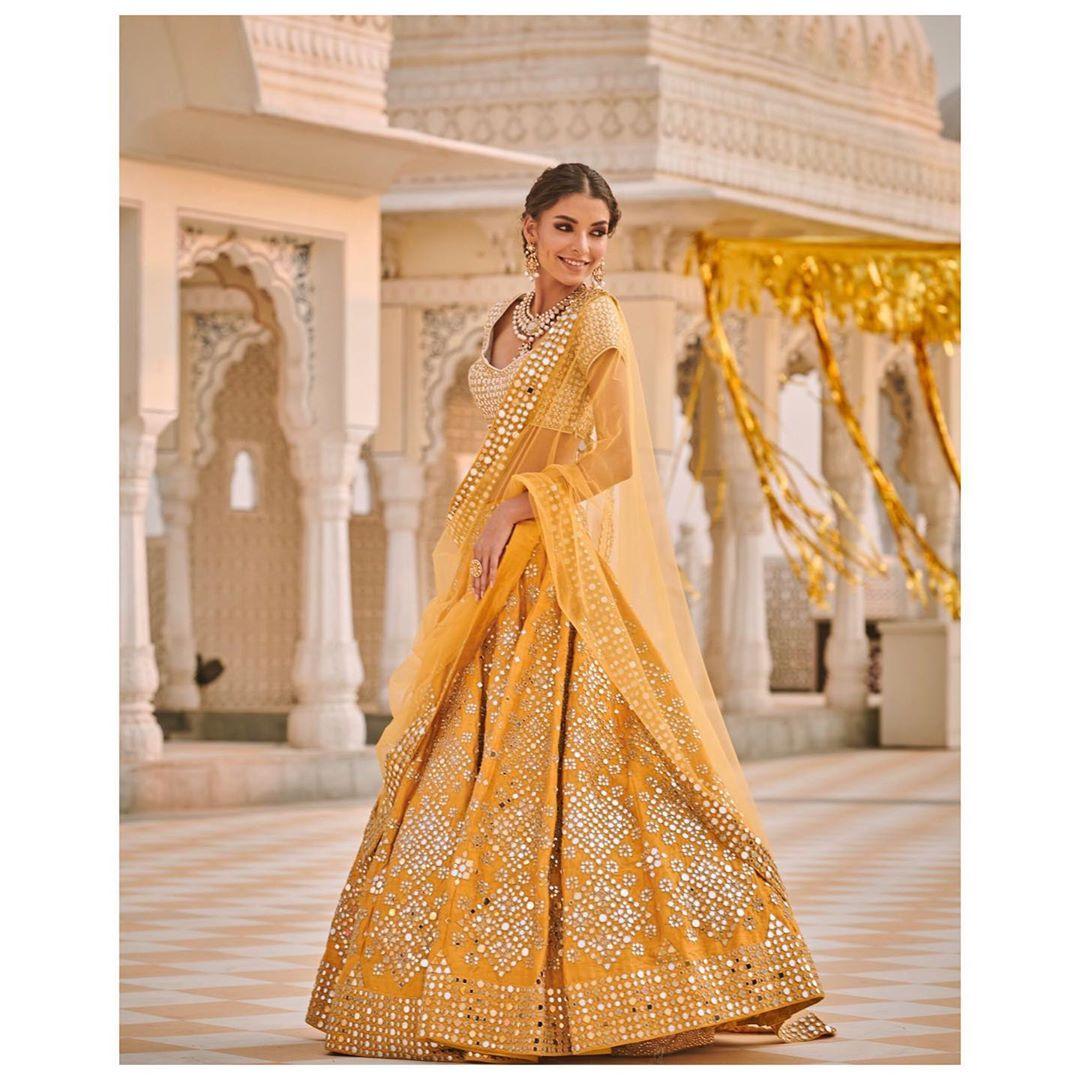 Once a happy bride, always a happy bride! We are in love with this gleaming yellow lehenga with magnificent and fine mirror work topped with heavily embellished borders. This classic collection from Abhinav Mishra is idyllic for your mehndi ceremony.
Sparkling Mirror Work Yellow Lehenga For Your Mehndi Ceremony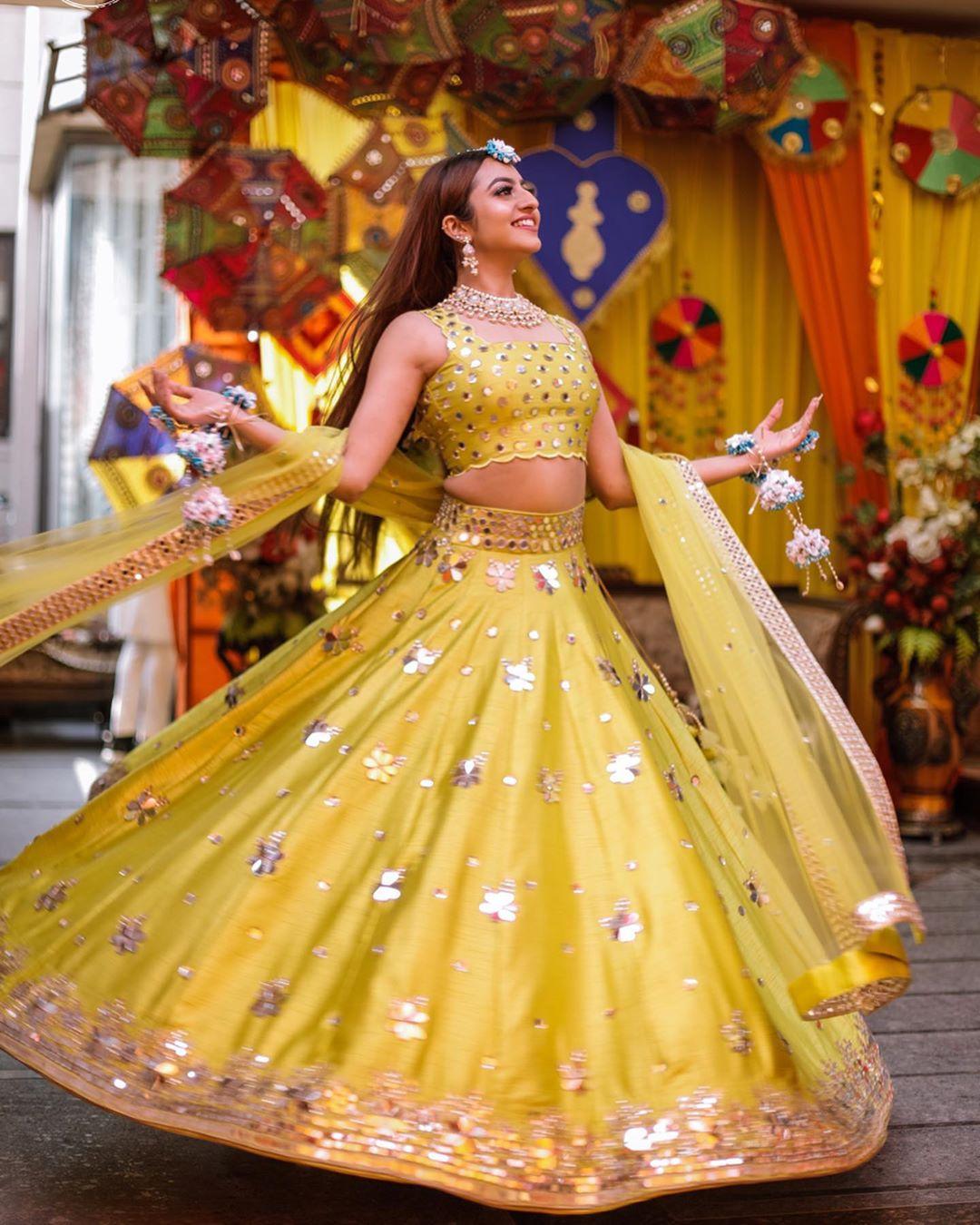 Why stress when you can twirl at your wedding day with a beautiful yellow mirror-work lehenga? This glittering lehenga from Youngberry's Chief Designer, Bhavdeep Kaur is well-embellished with high-end Gotta Patti. The handstitched blouse with flowery accents on the lehenga is perfect for your 'Mehndi Laga Ke Rakhna' moment.
Simple yet Sassy Sunflower Yellow Lehenga for Haldi Ceremony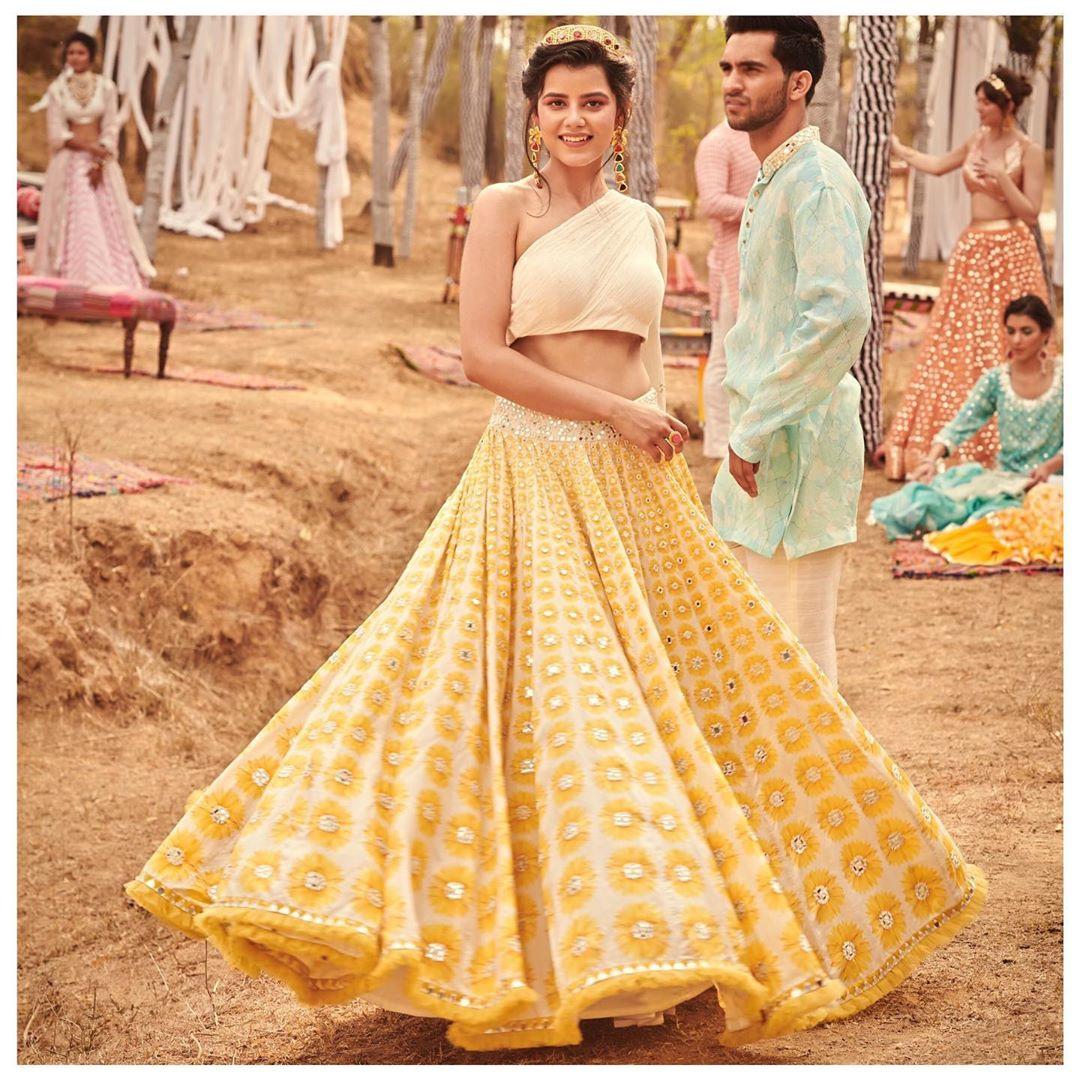 Did someone say Haldi ceremony and yellow lehenga? Hell Yes! This pretty and easy to handle outfit is another elegant option to choose from the Abhinav Mishra collection. Create your glare with this breezy, colourful and free mirror work lehenga topped with an off-shoulder modern blouse design. Don't forget to splash some haldi blessings on your cousins while you spread your bright smile!
Lemon Yellow Lehenga for A Princess Bride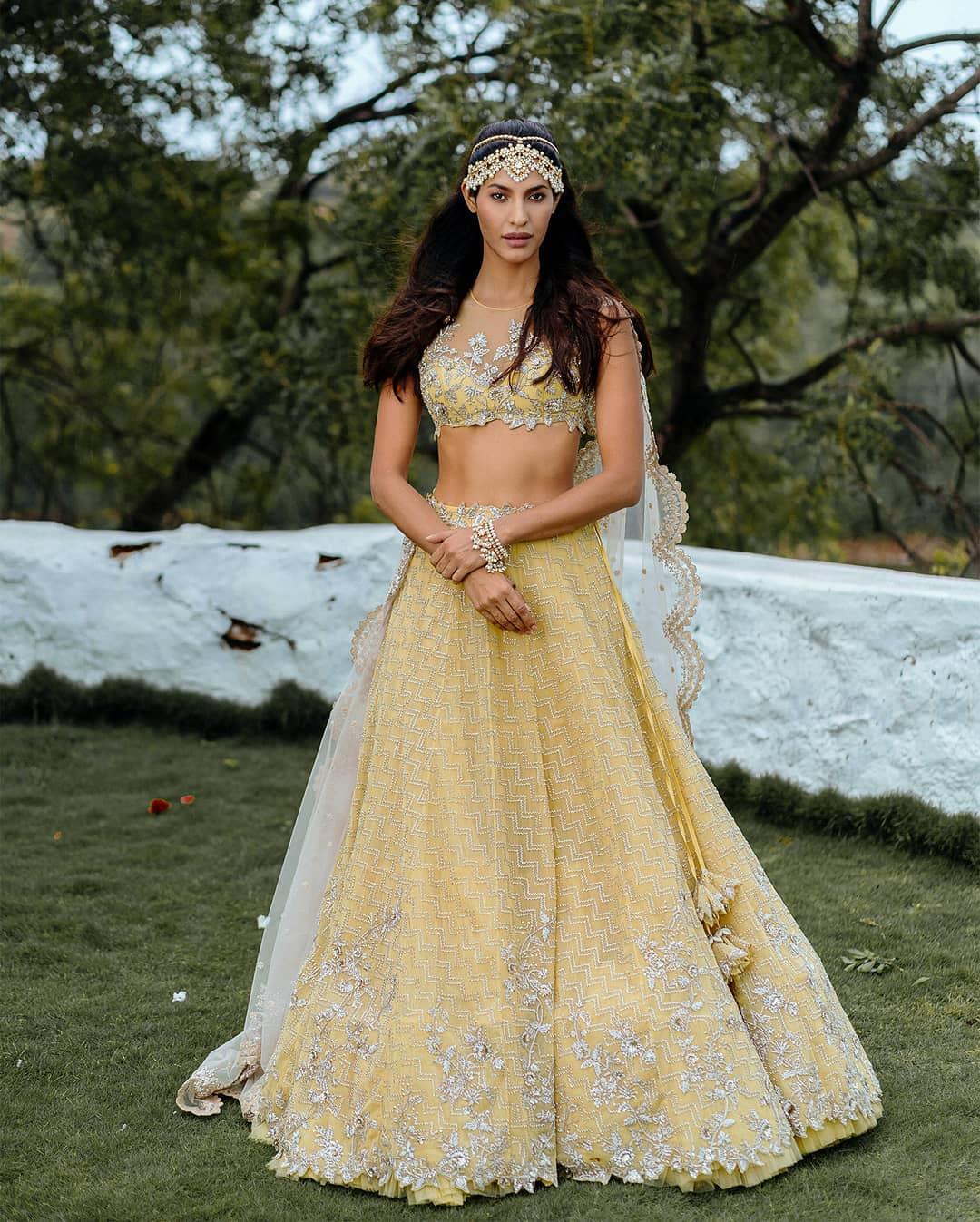 Ready to head to your big D-day with full enthu and charisma? This shimmering lemon yellow lehenga from Anushree Reddy will shower you with compliments like 'enna sona kyun rab ne banaya' feels! This shiny lehenga embellished with cut dana embroidery and paired with hand-embroidered ivory scallop dupatta is ideal for a sundowner wedding. If you are fanatic about silver and gold, then this outfit is an ideal pick for your oh-so-dreamy wedding!
A Radiant Yellow Lehenga for a Radiant Bride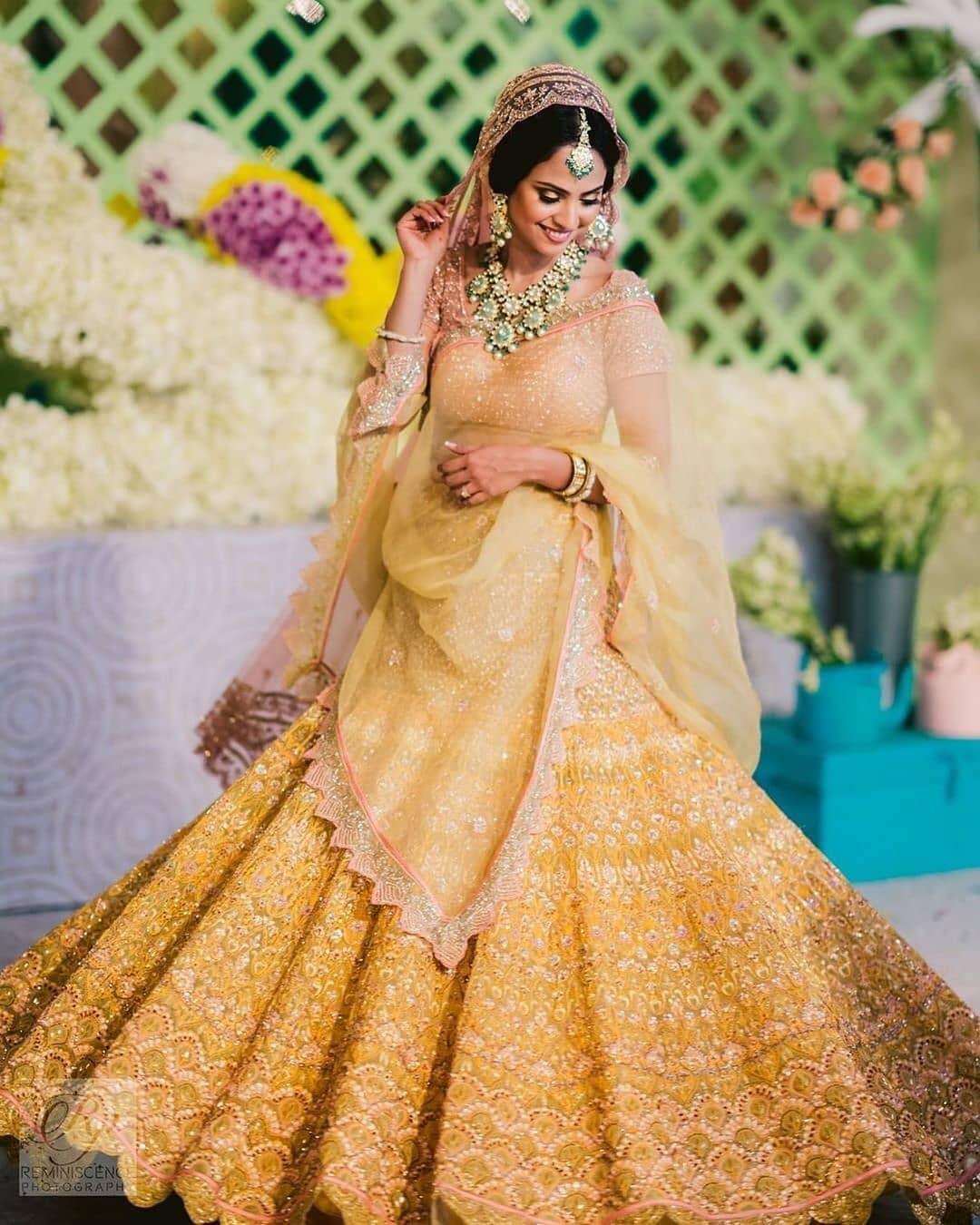 Who said a bride cannot wear yellow on her wedding day? This yellow lehenga is proof and breaks every wall of mayhem and chaos. The blend of handwoven embroidery and the voluminous silhouette is all about drama and will make your wedding day a memorable one. We know you all are swooning over this, right?
Make Way for Stunning Yellow Lehengas For Bridesmaids
What squeals more lustrously and sunnily than yellow? If you are planning to be that bombshell bridesmaid and intend to rock your BFF'S wedding, we are here to elevate your choices with a list of top-notch yellow lehengas. Yes, you heard it right pretty bridesmaids, we have got you covered!!
Yellow Lehenga with Floral Fiesta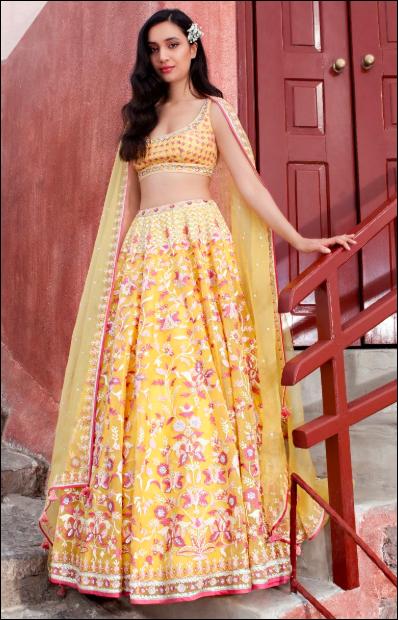 Oh my my! This astounding yellow and pink combination lehenga from Anita Dongre is accurate to hit your bestie's wedding with a hint of sunshine! A shade of bright yellow organza lehenga with pink-hued embroidery will uplift the vibe of the function. Don't forget to dart your eyes on the charming choli and dupatta.
Simple and Subtle Yellow and Pink Lehenga Design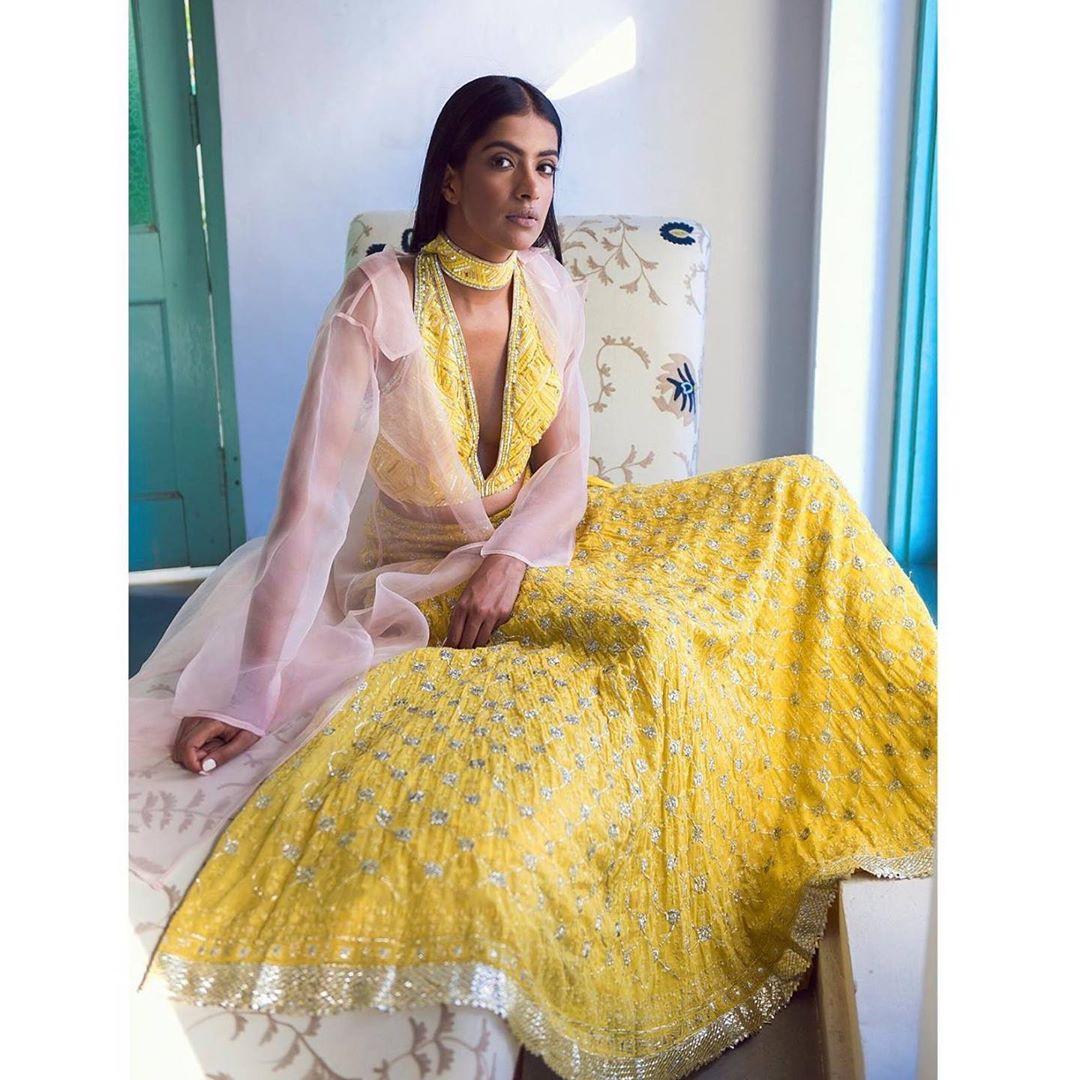 Picture Courtesy: Sukriti & Aakriti
If you are that one bridesmaid, who wishes to hold the grip of pepperiness and amour, then this outfit from the collection of Sukriti & Aakriti is the most appropriate for you. This yellow gotta detailed spicy blouse paired with embroidered lehenga, nails the shade of yellow!
Brocade Sells The Magic of Yellow Lehenga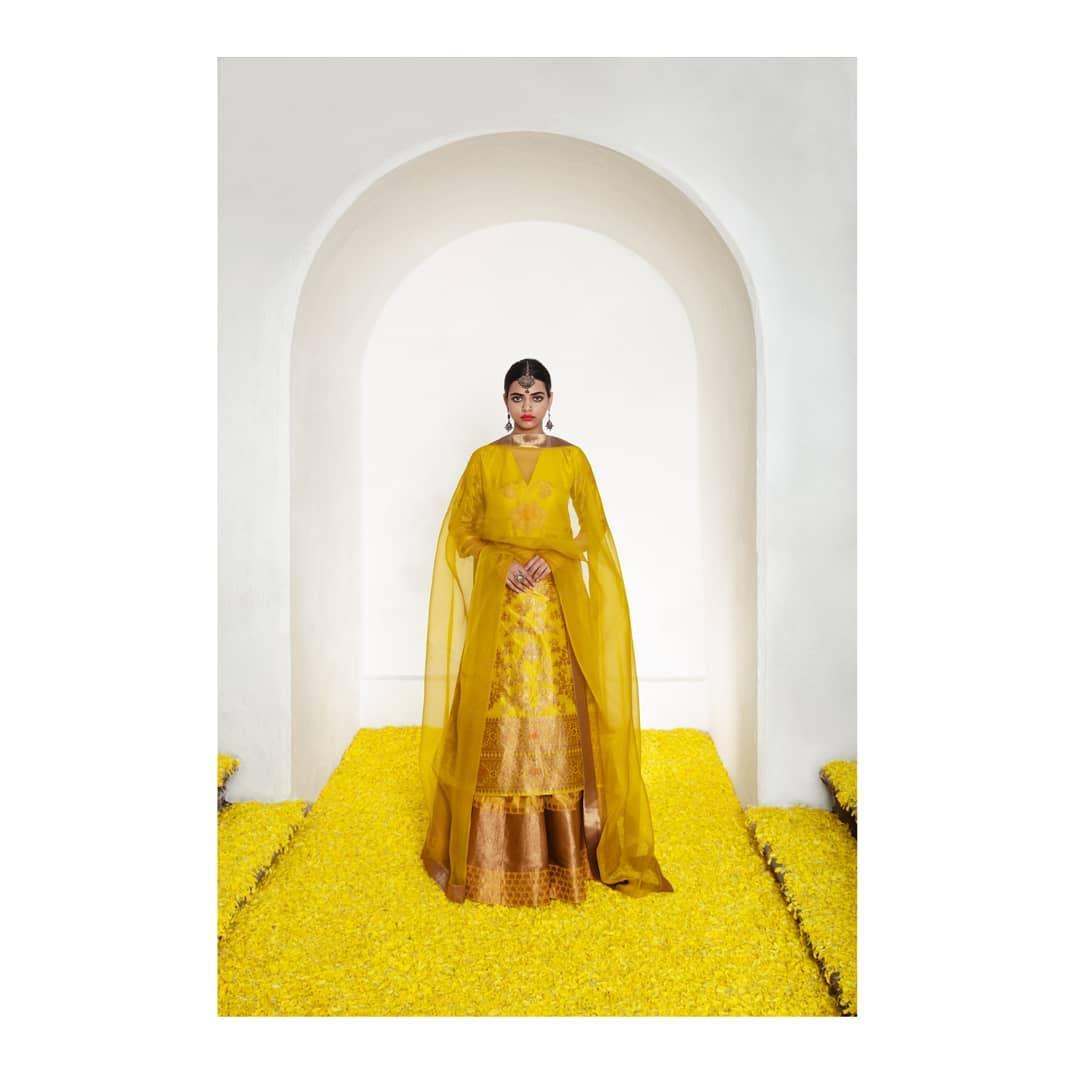 Picture Courtesy: Payal Khandwala
Want to rock the 'Shava Shava' moment at your best friend's wedding? No worries, as we are going to make this bright yellow lehenga your saviour for the day! This handwoven brocade lehenga capped with brocade kurta from Payal Khandwala is the right choice for you!
Fascinated by these yellow lehenga for your wedding functions? If yes, then let us know about your top-preferences in the comments section below!
- Words by Surbhi Sachdeva