6 Wedding Lehengas With Floral Accents for the Spirited Brides 
The undying trend of florals in lehengas have taken interesting new directions. Check out these designer lehengas with floral accents to make your hearts flutter.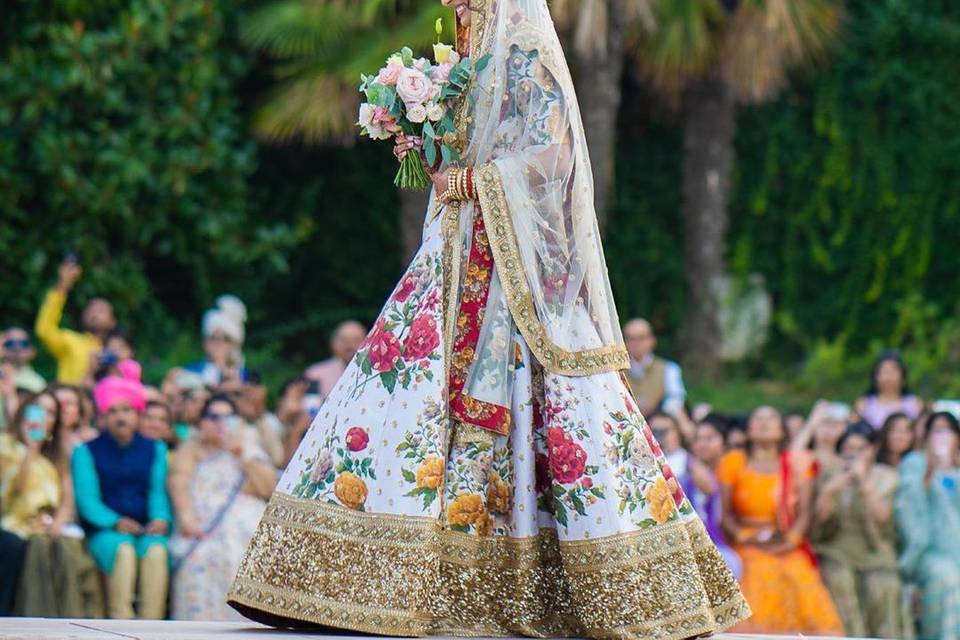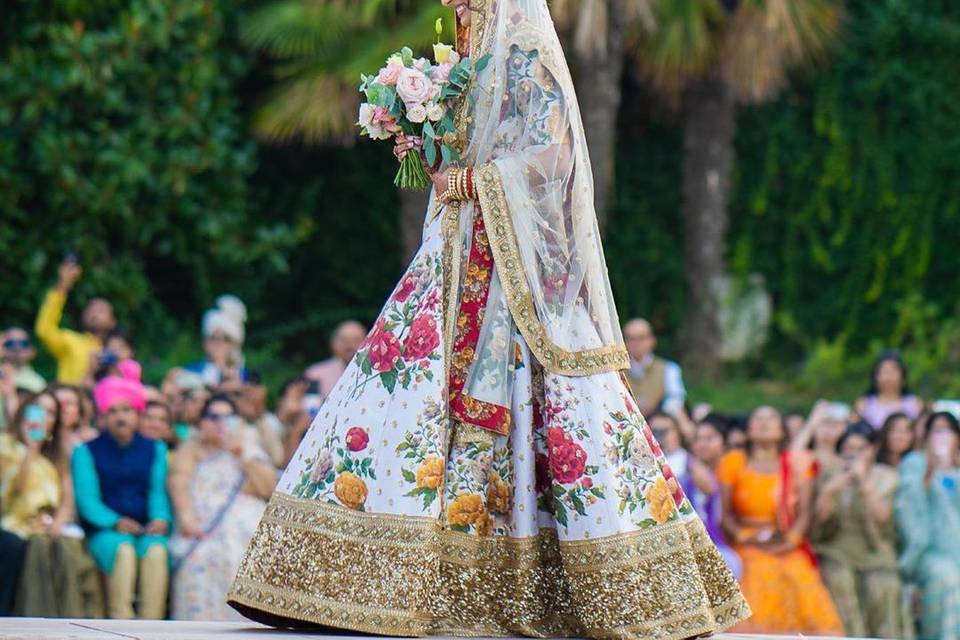 Image Courtesy: Brides of Sabyasachi
Are you a nature's child and crazy for blooms? Lehengas with floral accents are all you need to make your D-day extremely special and put through your vivacious charisma in the form of your outfit choices. It is true that florals can add oodles of grace and beauty to any ensemble they meet. However, they are tricky elements to play with, especially when considering them for your wedding outfits. Whether you decide to go for bold, blooming florals or plan to keep it subdued with lighter prints and thread work embroideries, it's important to pull off a floral garment with utmost confidence and an overall balance of other bridal elements like the jewellery, hair & makeup.
With the summer wedding season on a roll, there's nothing more that can be trusted better than floral accents when it comes to the details of your wedding lehenga. They add an instant boost of radiance to your overall wedding look. Be it on a pastel colour palette or on eye-catching hues, florals have always been a preferred choice for brides for their wedding trousseau because of the grace and beauty that they add to it. I mean, aren't they just perfect? So, whether you opt for delicate or bold, subtle or glamorous, florals are not here to disappoint you.
It is learnt over the years that the sartorial repertoire of any designer, renowned or budding, involves an unabashed use of florals to add delicacy and freshness to their line of garments because hey, florals are an inevitable element in the world of bridal fashion. This trend is here to see the light of success and mark its unavoidable presence in the hearts and minds of designers and brides alike.
Here are 6 designs of lehengas with attractive floral accents which will make you invest in the trend and you won't ever regret your decision.
Applique Lehenga with Big Multi-coloured Blooms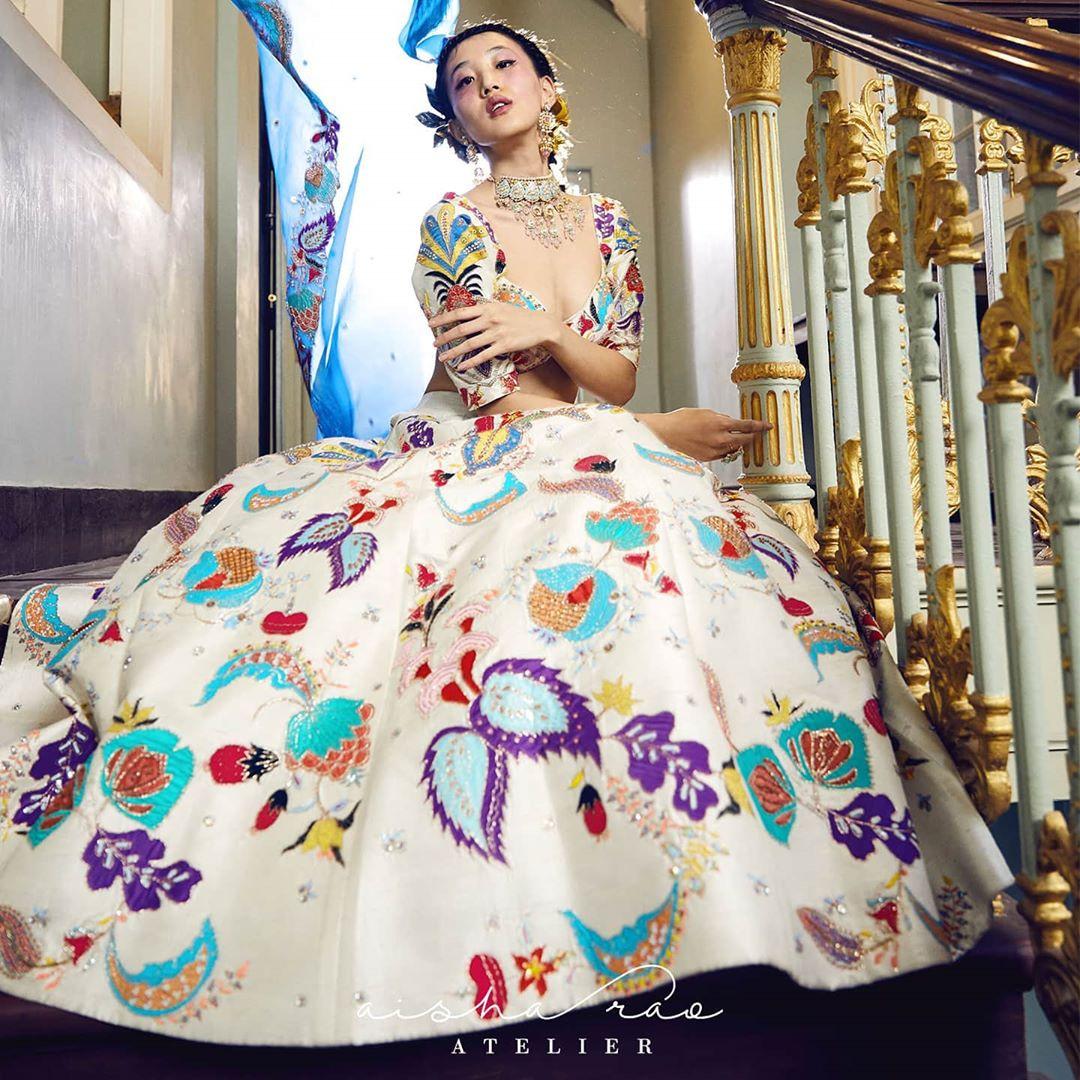 Image Courtesy: Aisha Rao
Adorned with noteworthy applique and patchwork details, this white kalidar lehenga by Aisha Rao is an absolute head-turner. Outlined with intricate zari work, this lehenga boasts of bold nature-inspired elements which are an exotic blend of blooms and ferns, spread along the lengths and breaths of the garment. The boisterous size and amount of craftsmanship on this ensemble defines the individualistic choices of a modern-day bride.
Threadwork & Beaded Kalidar Floral Lehenga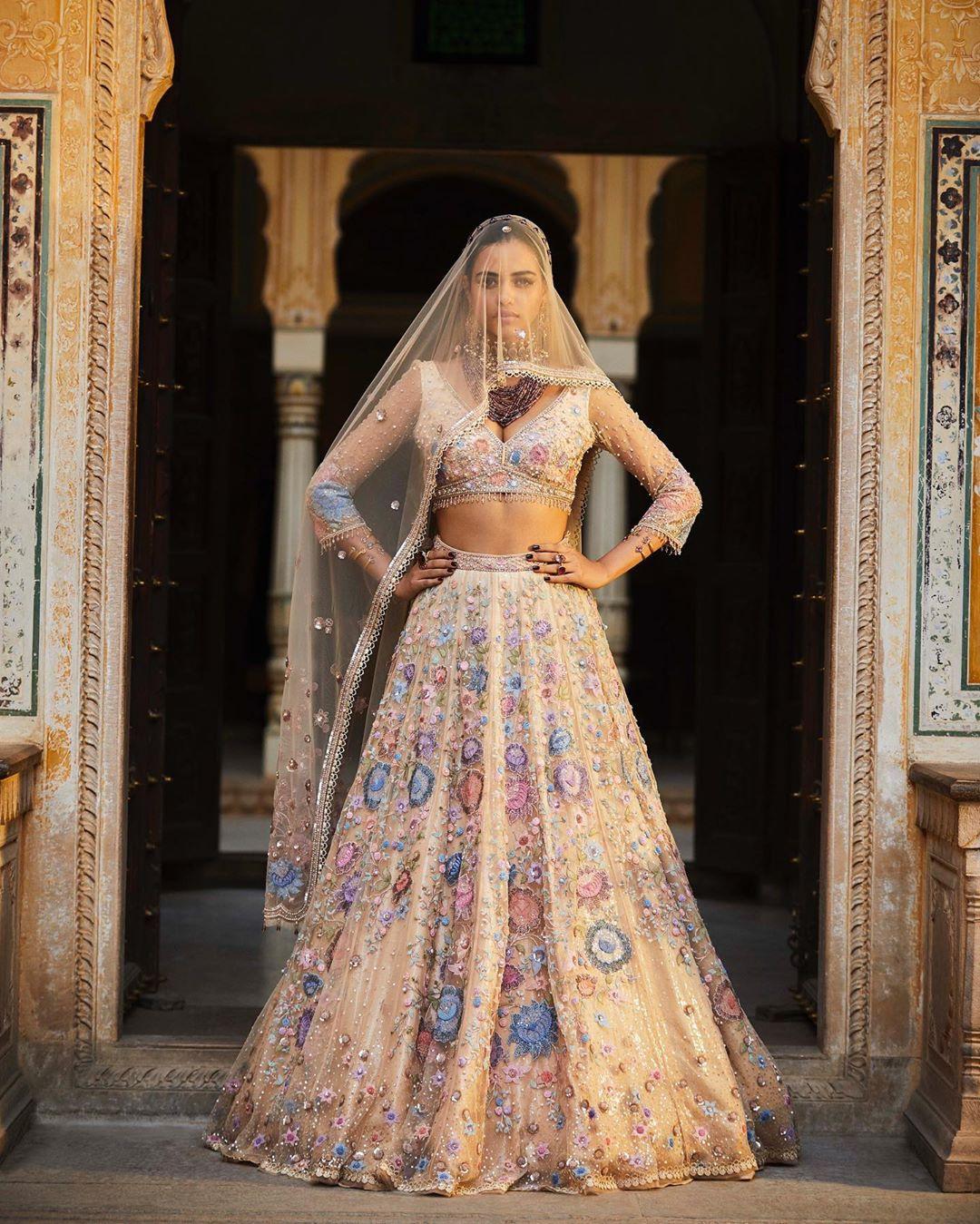 Tarun Tahiliani ensembles make us skip a heartbeat every time we lay our eyes at it and we feel the same gawping at this kalidar lehenga from his Cocktail Collection. The pleasant pastel lehenga is enhanced with the uneven placement of thread-work applique florals and embellished with beads and Swarovski stones, making it a breathtaking ensemble to walk down the aisle at your day wedding.
Tie-Dyed Lehenga with 3D Mirror work Flowers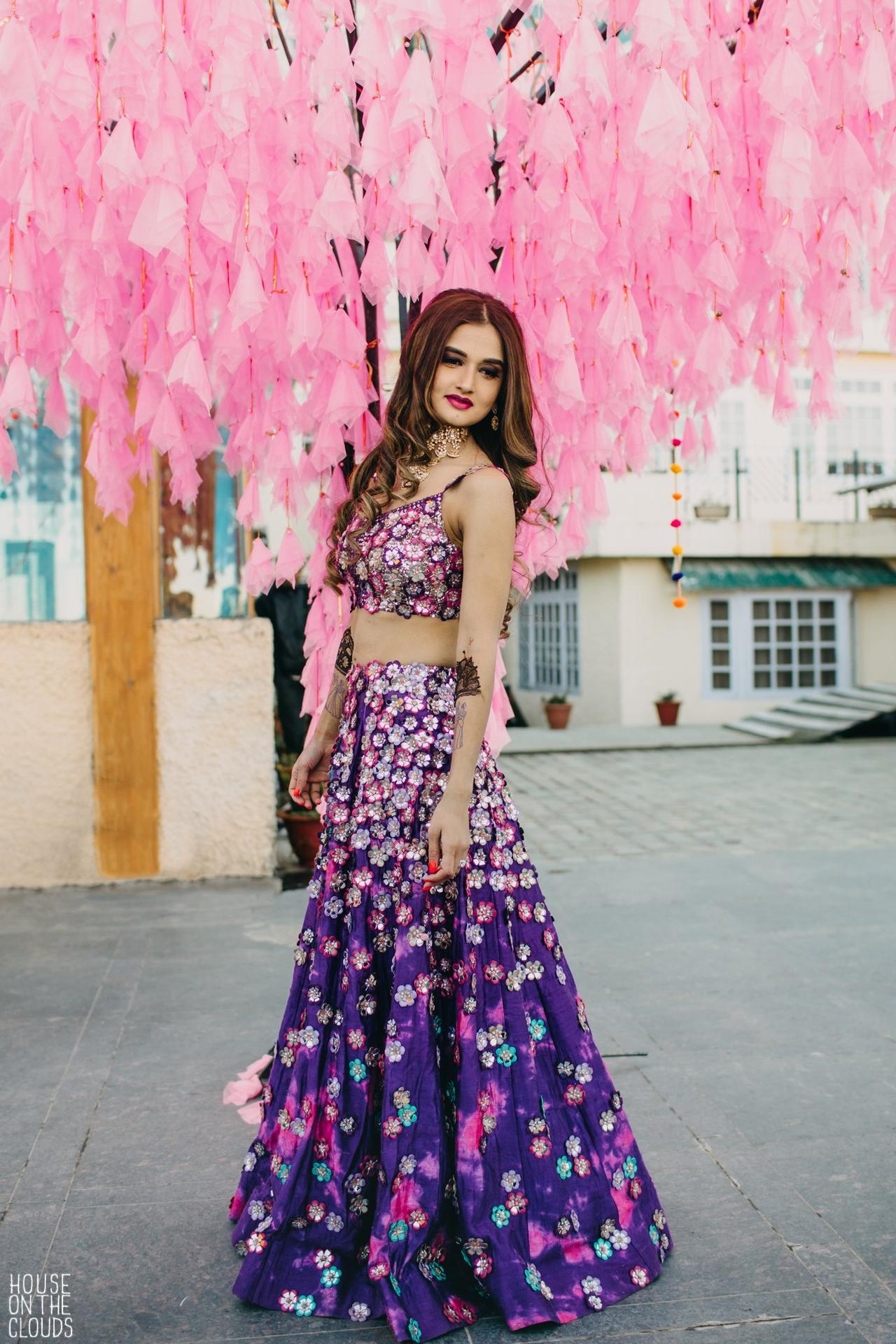 Image Courtesy: House On The Clouds
How stunning is this absolutely impressive tie-dye lehenga beautified with multicolour mirror embroidered 3D falling flowers by Akanksha Gajria! This vibrant number is playful and gives an easy-breezy vibe which makes it an ideal ensemble to slip in for a zesty mehndi ceremony. Ps. Pink and purple still make for a lethal colour combination! Don't you agree?
Thread Embroidered Floral Jaal Lehenga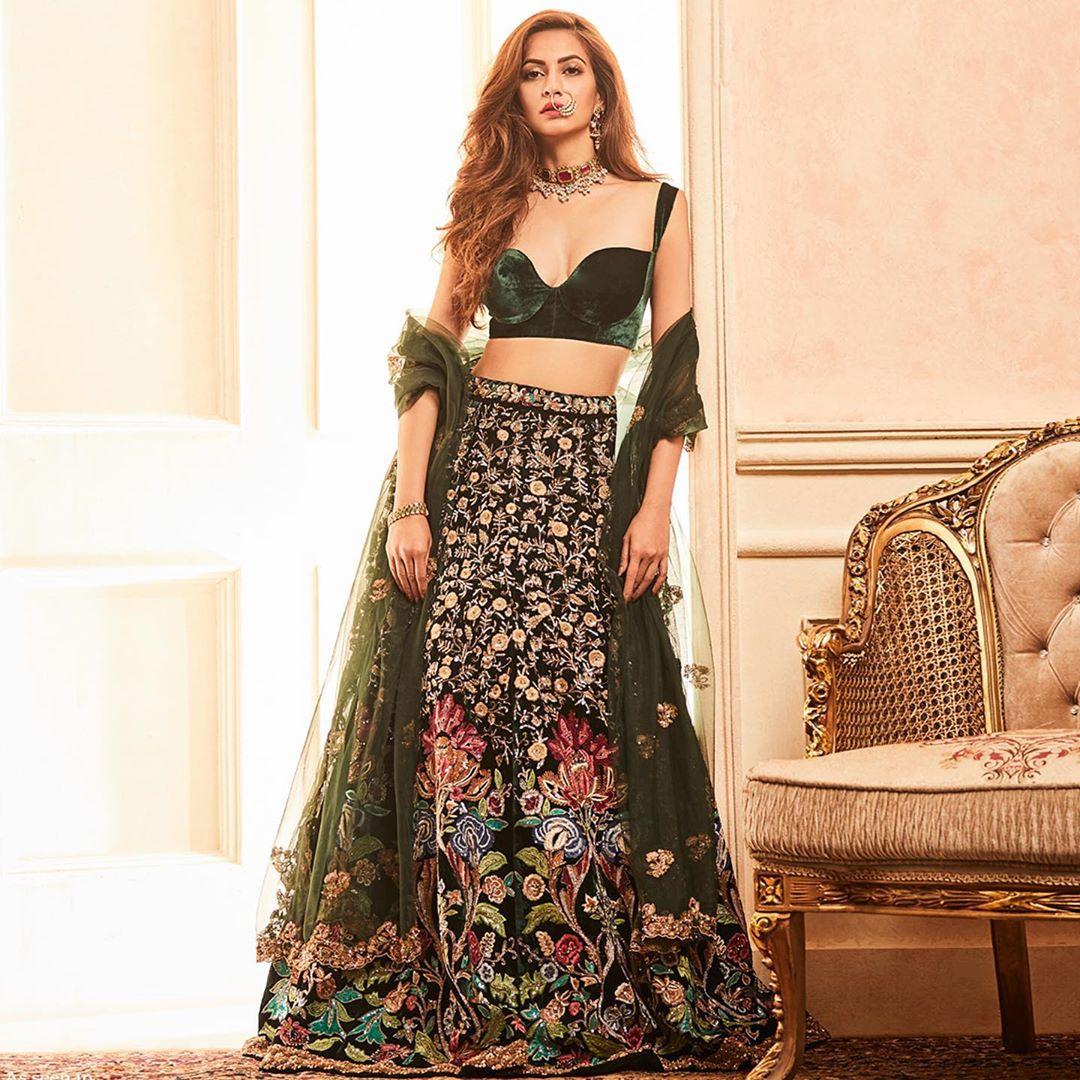 Exaggerated with stylised floral embroidery, this emerald ensemble by Shyamal & Bhumika is one of the most alluring ensembles from their Summer Bridal Edit. Crafted with floral Jal thread embroideries along with independent flower arrangements, this lehenga is just perfect for a reception ceremony at the altar, decorated with a thousand fairy lights.
Applique threadwork lehenga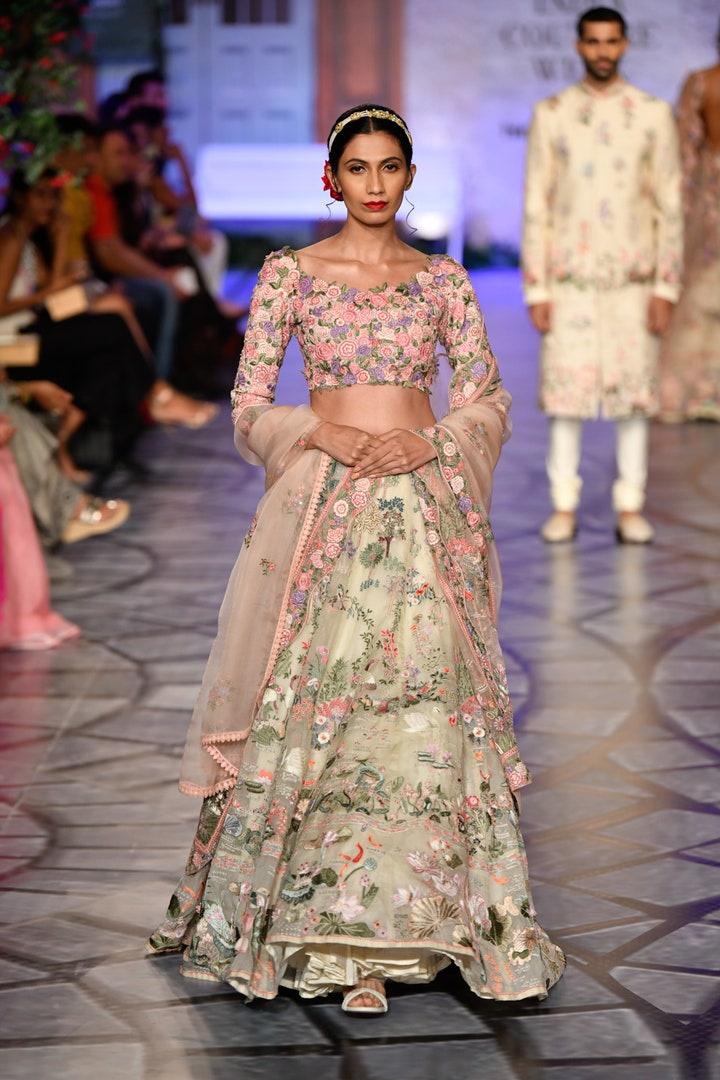 Image Courtesy: Sagar Ahuja/Vogue
Known for his relentless finesse of craftsmanship, Rahul Mishra's ensembles are materialized with intricate embroideries of flora and fauna and rendered into a painterly effect. This soft tulle organza lehenga flaunts a dreamy landscape which is an embodiment of his abilities to weave dimensional scenes in the most naturalistic way possible. One of the most dreamy pieces we've laid our eyes on!
Resham work floral Jaal lehenga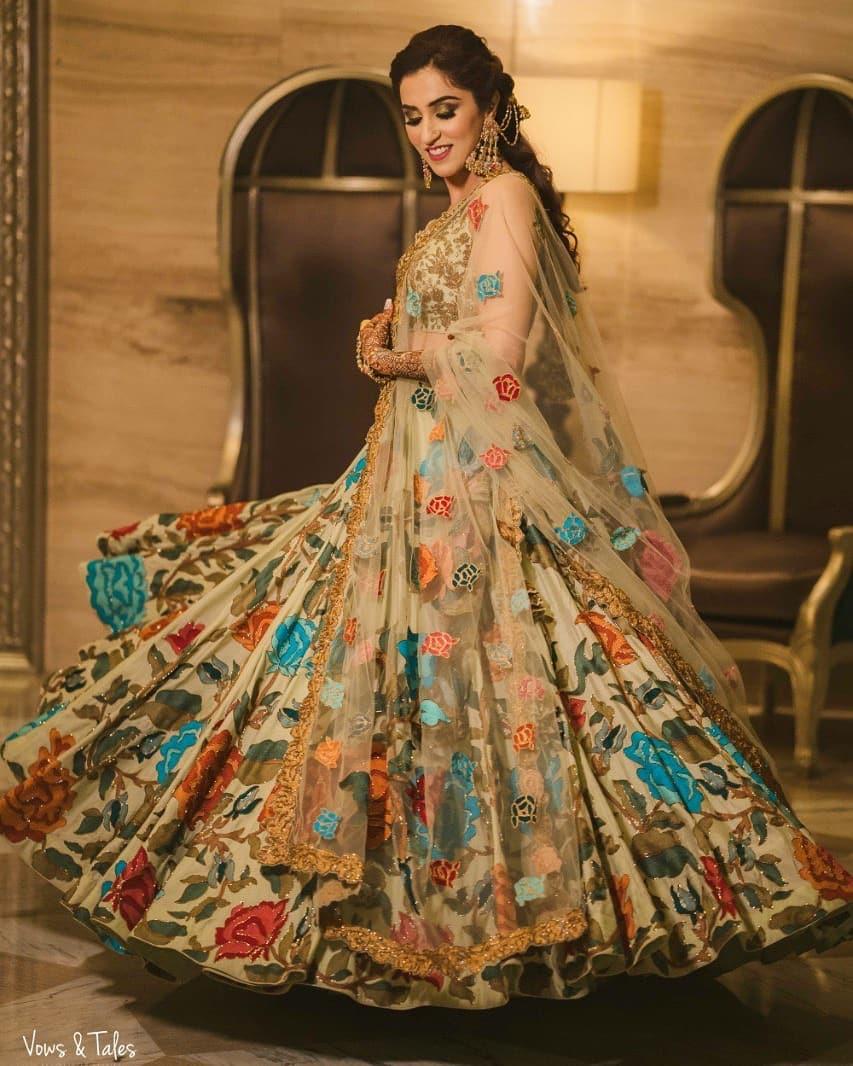 This unique lehenga by Mayyur Ghirotra is a breathtaking ensemble made using multicoloured Resham threads to create a vibrant yet classy bouquet of flowers. Paired with a stylish sleeveless blouse enhanced using crystals, stones and cutdana and a dupatta with gold zari border with scattered embroidered flowers make it a perfect piece for a Mehndi ceremony.
Now that you know about all the floral accents, go ahead and choose the one that matches your vibe and helps you put your best fashion foot forward because you're not just walking down the aisle, you're about to bloom in someone's life forever. Not just will a floral ensemble vindicate your pleasing allure but will help you get unbelievingly breathtaking photographs. Who wouldn't want that?
So, are you planning to strut down the aisle in a magnificent lehenga accentuated with the power of blooms? Share your dream bridal look with us in the comments below.