Leg Mehndi Design - 90+ Trending Mehndi Designs For Brides & Bridesmaids
Want to know what kind of leg mehndi design is best suited for you. Check out our list of amazing leg mehndi designs perfect for you and your bride tribe to find out!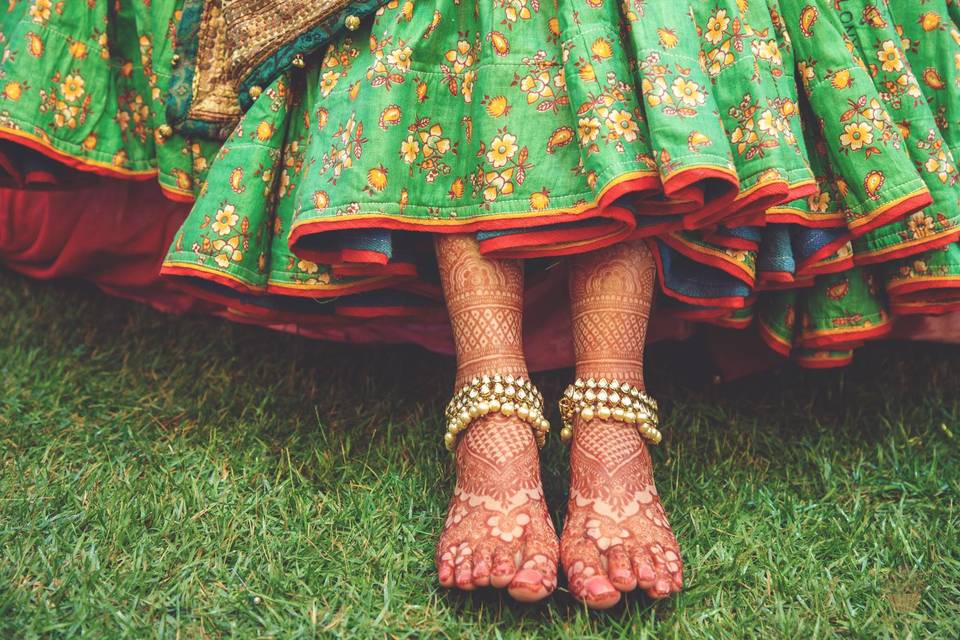 Scroll through these Mehandi design images and find all the mehndi design for legs that suits your style. We have brought together some of the prettiest henna designs that we have seen end number of times on brides now we don't mean to bombard you with conventional and common Mehandi design images but the elements taken from these mehndi designs for legs can inspire the henna design you prove to wrap your hand with. So, let the stars do the talking and choose a leg mehndi design that will suit your taste and style.
Scroll through our detailed guide of simple and easy mehndi designs that defines your personality the best and choose them for your wedding day. After all, a dainty bride would need a dainty mehndi design, a bold and beautiful bride would love to go all out, an experimental bride would try new trends and the list goes on!
Go ahead and give this piece a read and find out which leg mehndi design is the one for you! Bookmark the ones you feel represent your persona and taste the most and have your henna artist weave something as wondrous as these!
Checkered Outlines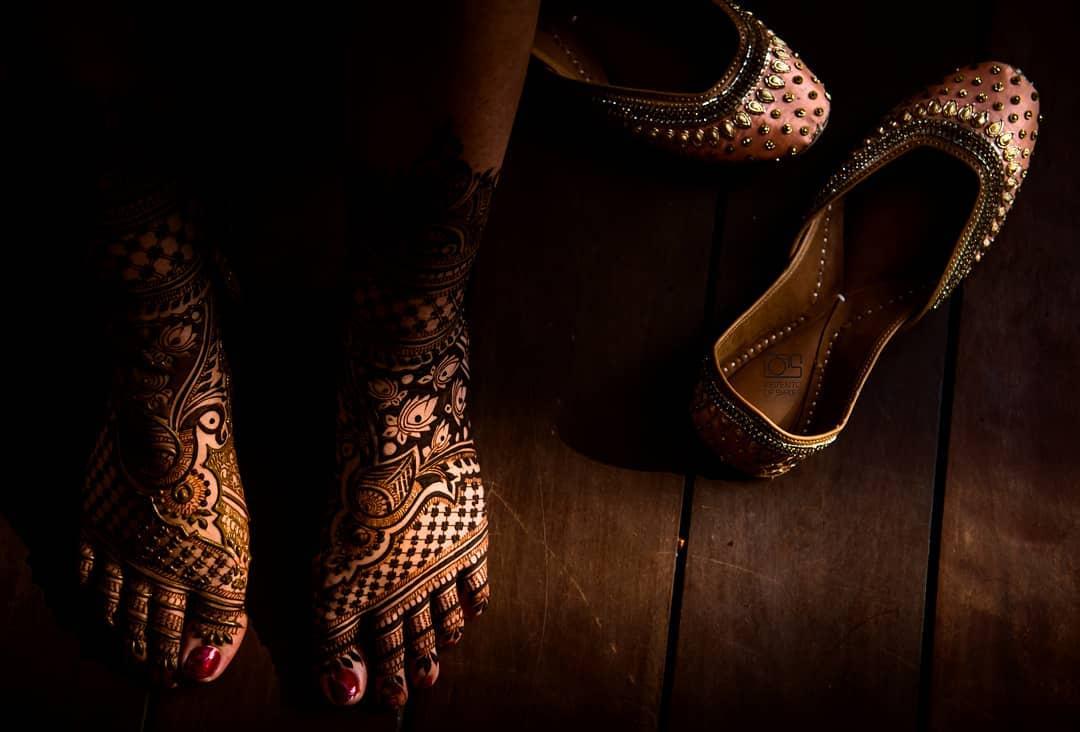 Image Courtesy - Moments of Shades Photography
A mix of checkered leg mehndi design along with floral detailing will look absolutely amazing for any of your special occasions
Floral Anklet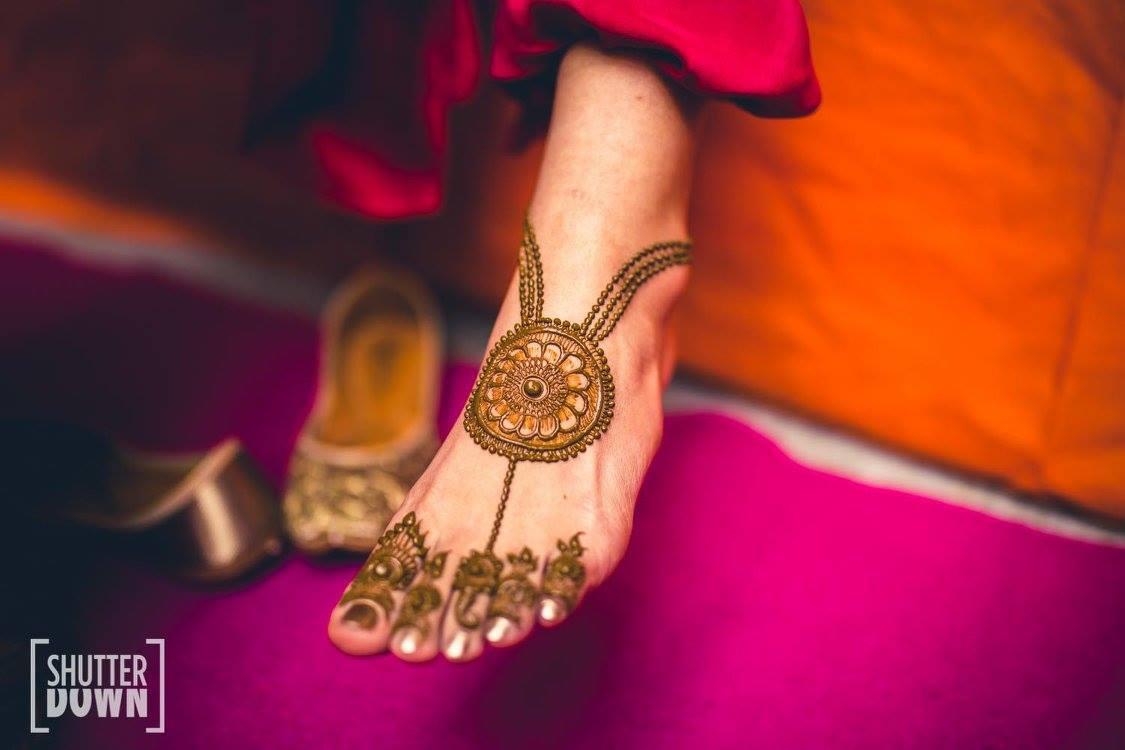 If you are looking for a unique leg mehndi design that will set the goals higher, how about a stunning anklet pattern with floral detailing for the win?
Flowers and Geometrical Patterns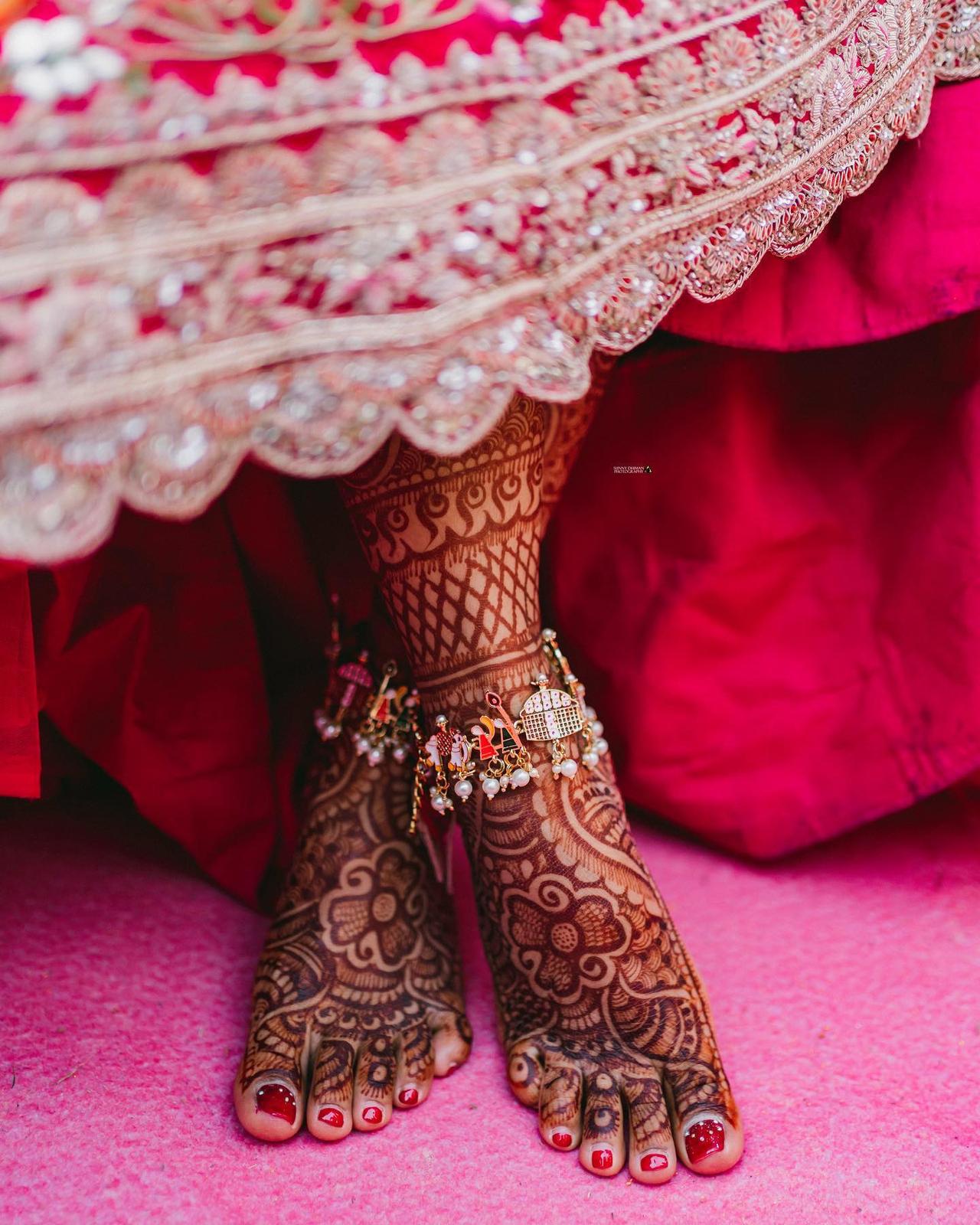 Geometric patterns and floral designs always go hand in hand with trendy leg mehndi designs. If you are looking for a mehndi design with full coverage, take inspiration from this beautiful leg mehndi design.
Minimalistic Leg Mehndi Design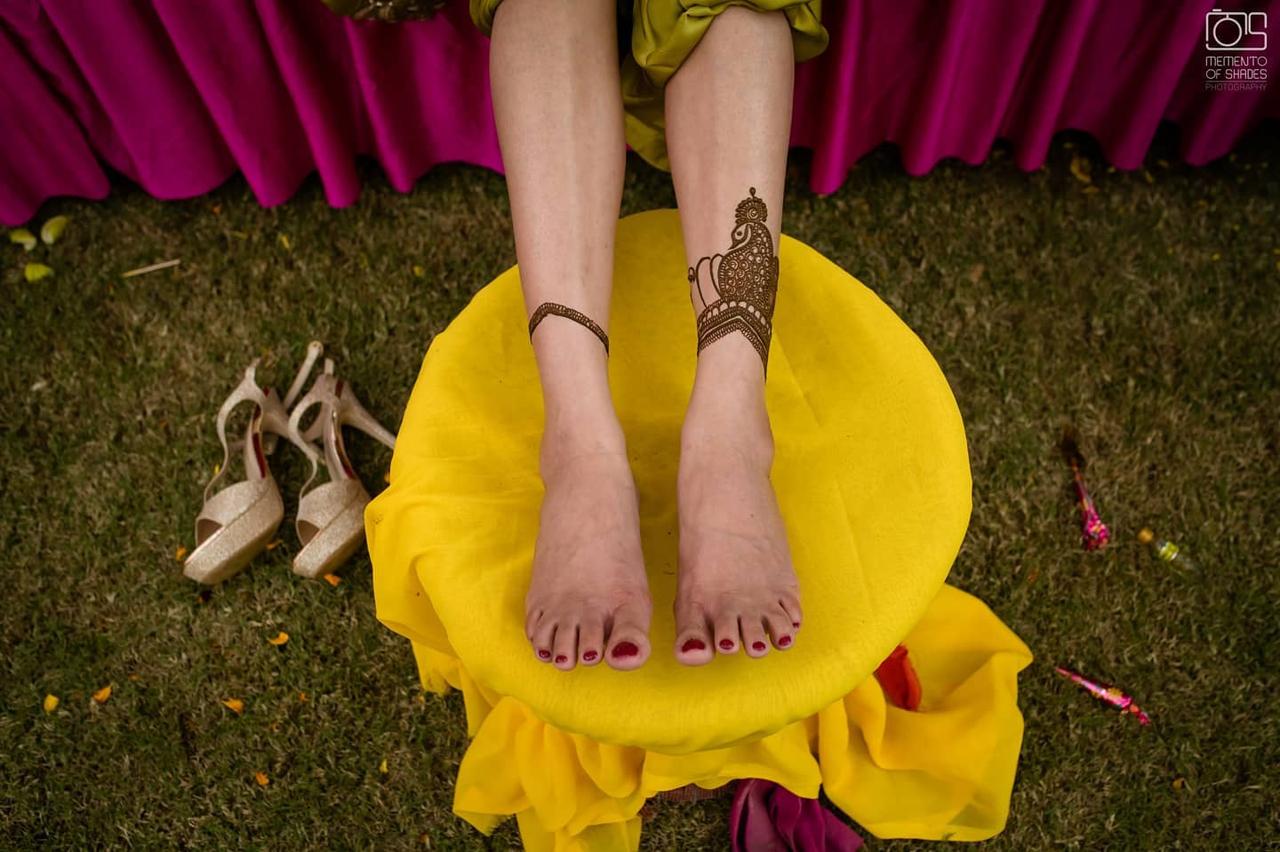 Image Courtesy - Moments of Shades Photography
Many millennial brides choose minimalistic leg mehndi patterns and if you are also one of them, then this small paisley pattern will be perfect for you.
Intricate Detailing for Leg Mehndi Design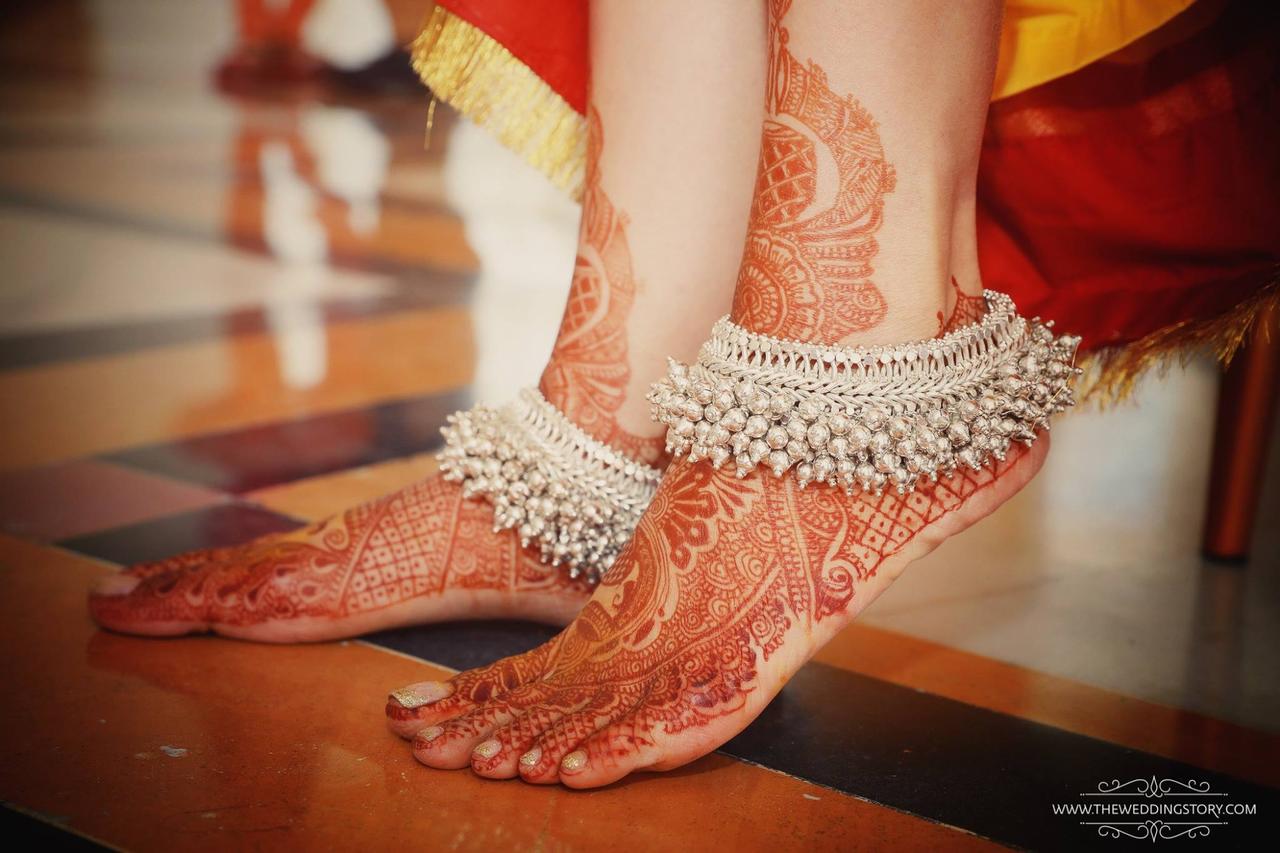 You can go all out for intricate detailing on your feet to get the perfect leg mehndi design that will leave everyone awestruck.
Enchanted Forest on your Feet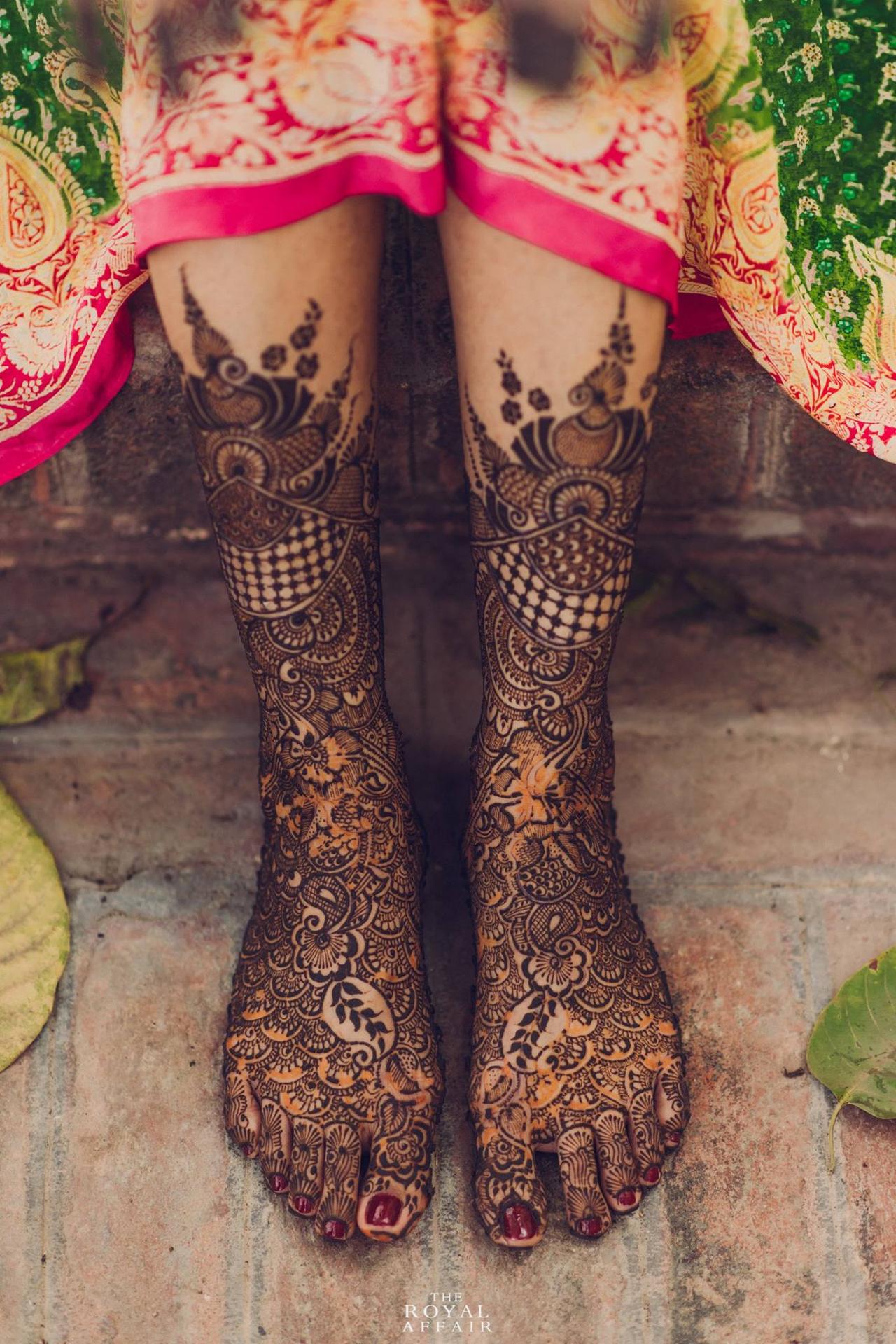 Image Courtesy - The Royal Affair
Add the vines and creepers patterns to your leg mehndi design and create an illusion of the magical enchanted forest on your feet.
Lotus Leg Mehndi Design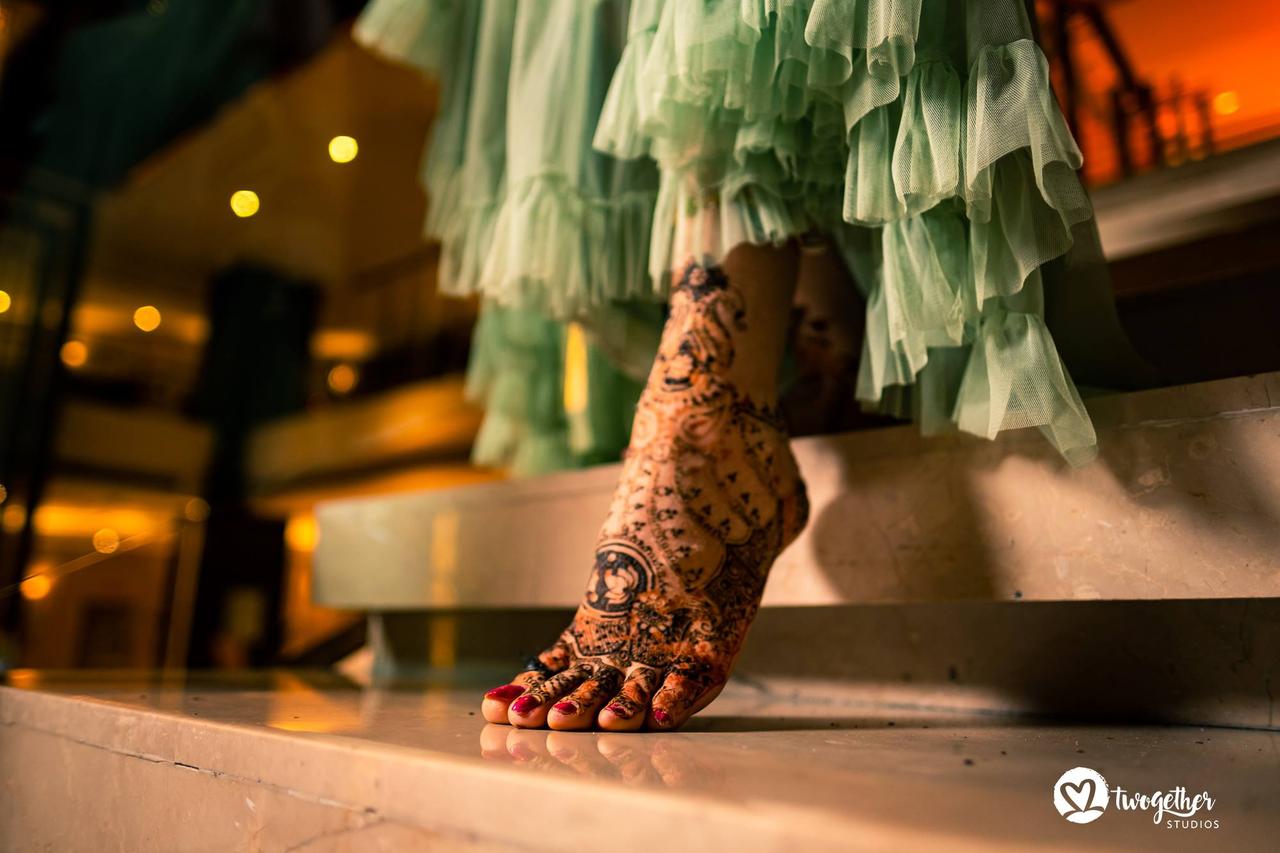 One of the trendiest patterns for leg mehndi design has to be the lotus motif that you can incorporate in your mehndi designs just the way you want.
Floral Chains on Your Feet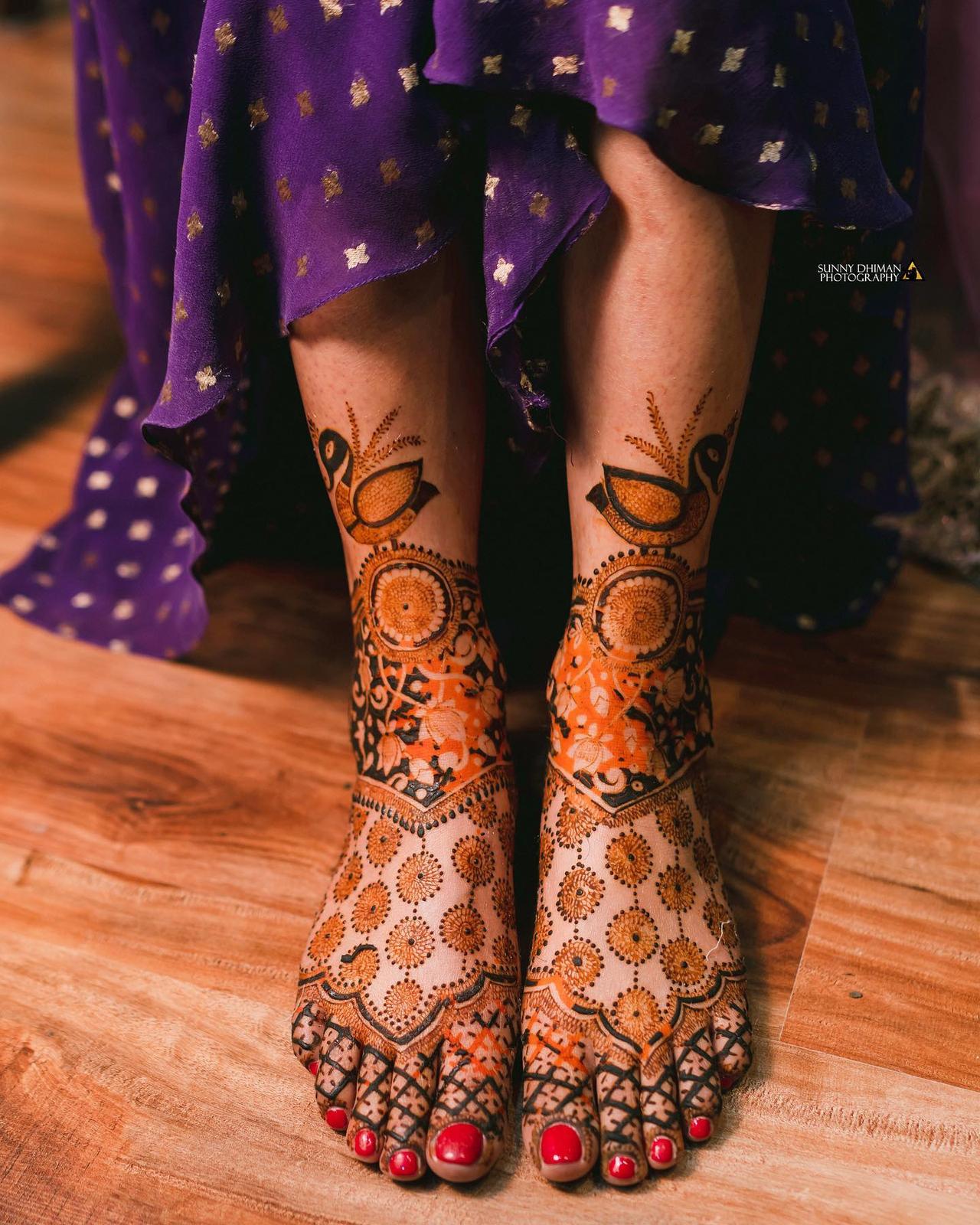 A mehndi pattern that looks absolutely breathtaking is a gorgeous chain design with floral detailing that you can personalise as per your style preferences.
Minimalistic Floral Leg Mehndi Design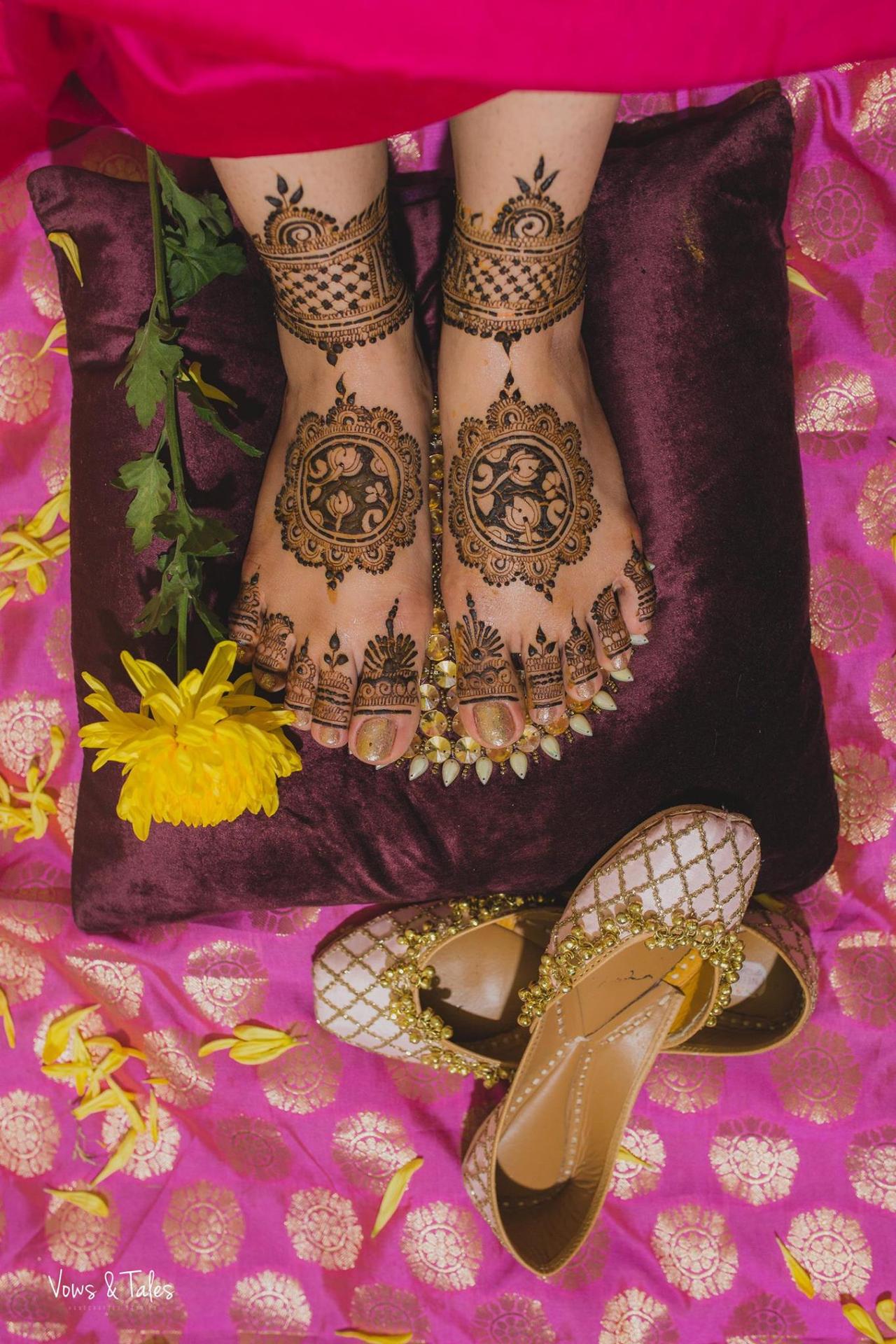 If you don't wish to go overboard with your mehndi designs, you can choose a leg mehndi design on your fingers, ankle and mid-foot. This leg mehndi design looks absolutely stunning.
Perfect for The Chic Bride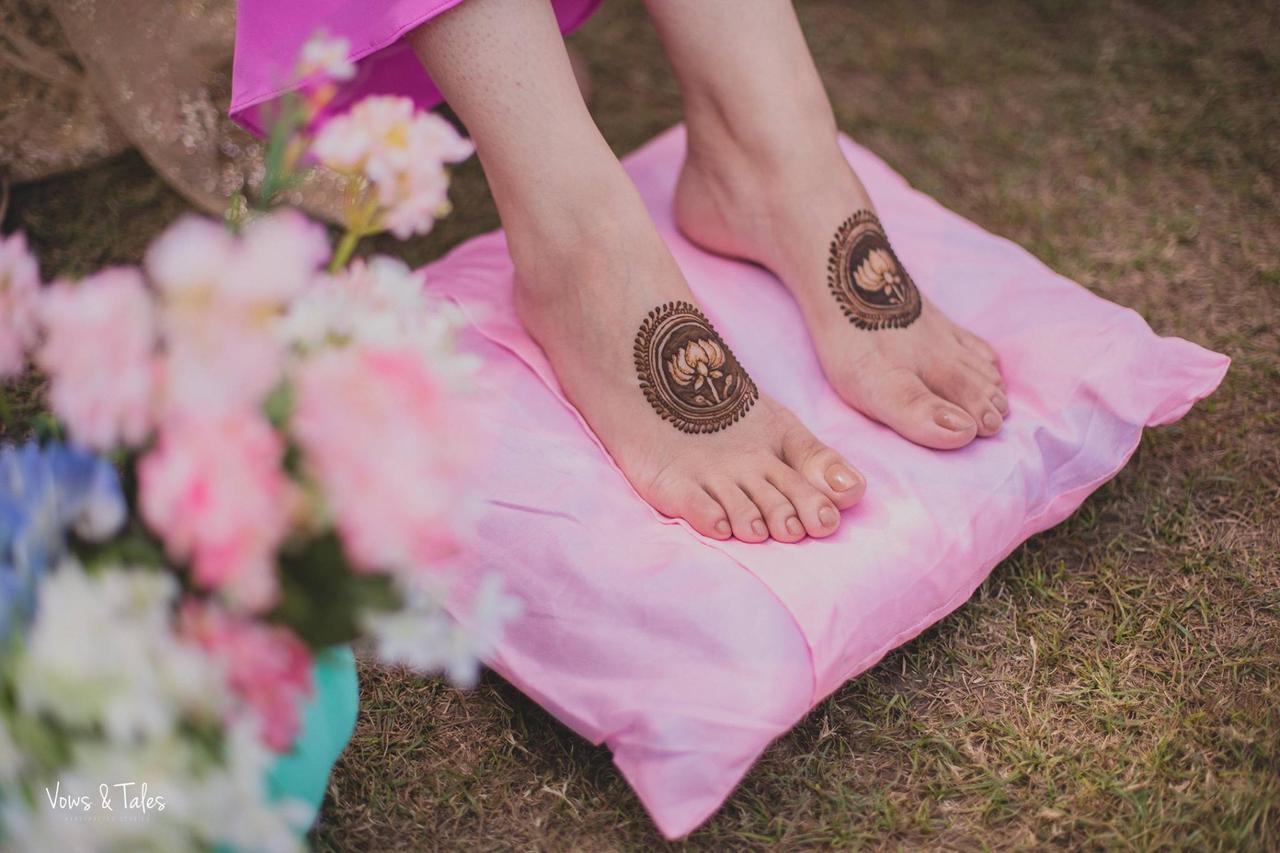 If you are one of the bridesmaids or a wedding guest and looking to try a simple leg mehndi design that will look gorgeous, you can take inspiration from this minimalistic circular leg mehndi design.
Checkered Detailing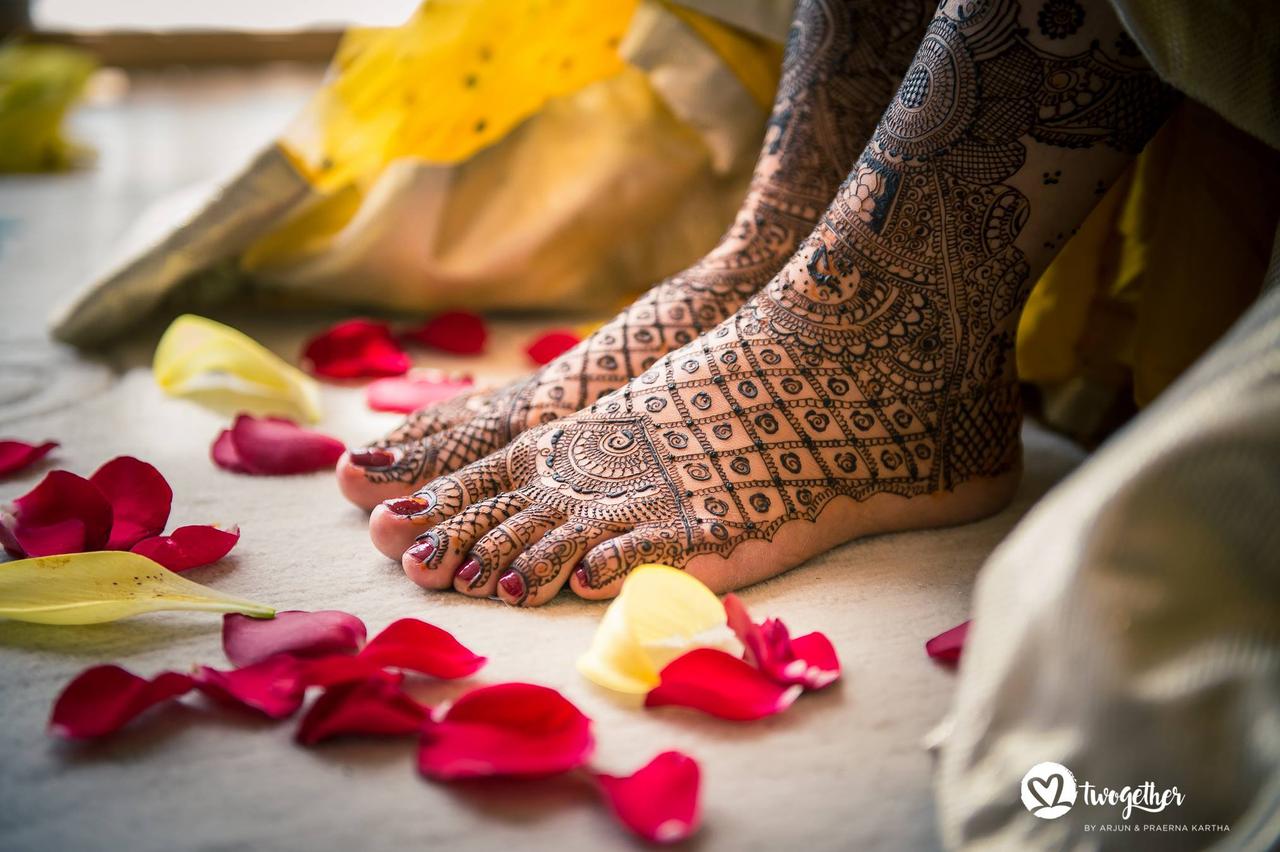 Want your leg mehndi design with a lot of intricate detailing, a full coverage leg mehndi design will be the perfect way to go.
Baraat Procession Leg Mehndi Design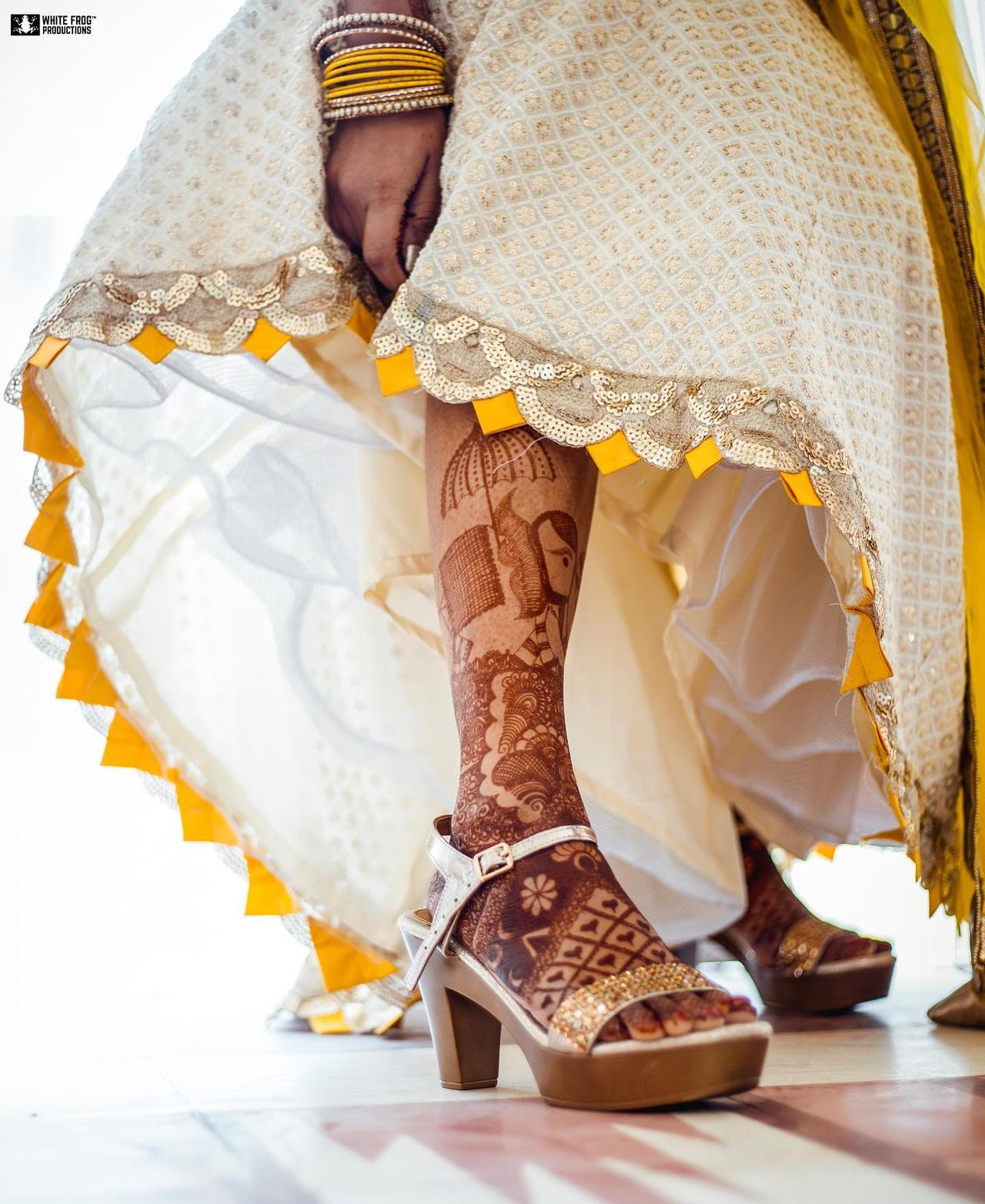 A beautiful leg mehndi design to try for your wedding has to be the elaborate pattern of baraat procession included in your mehndi designs.
Paisley Leg Mehndi Design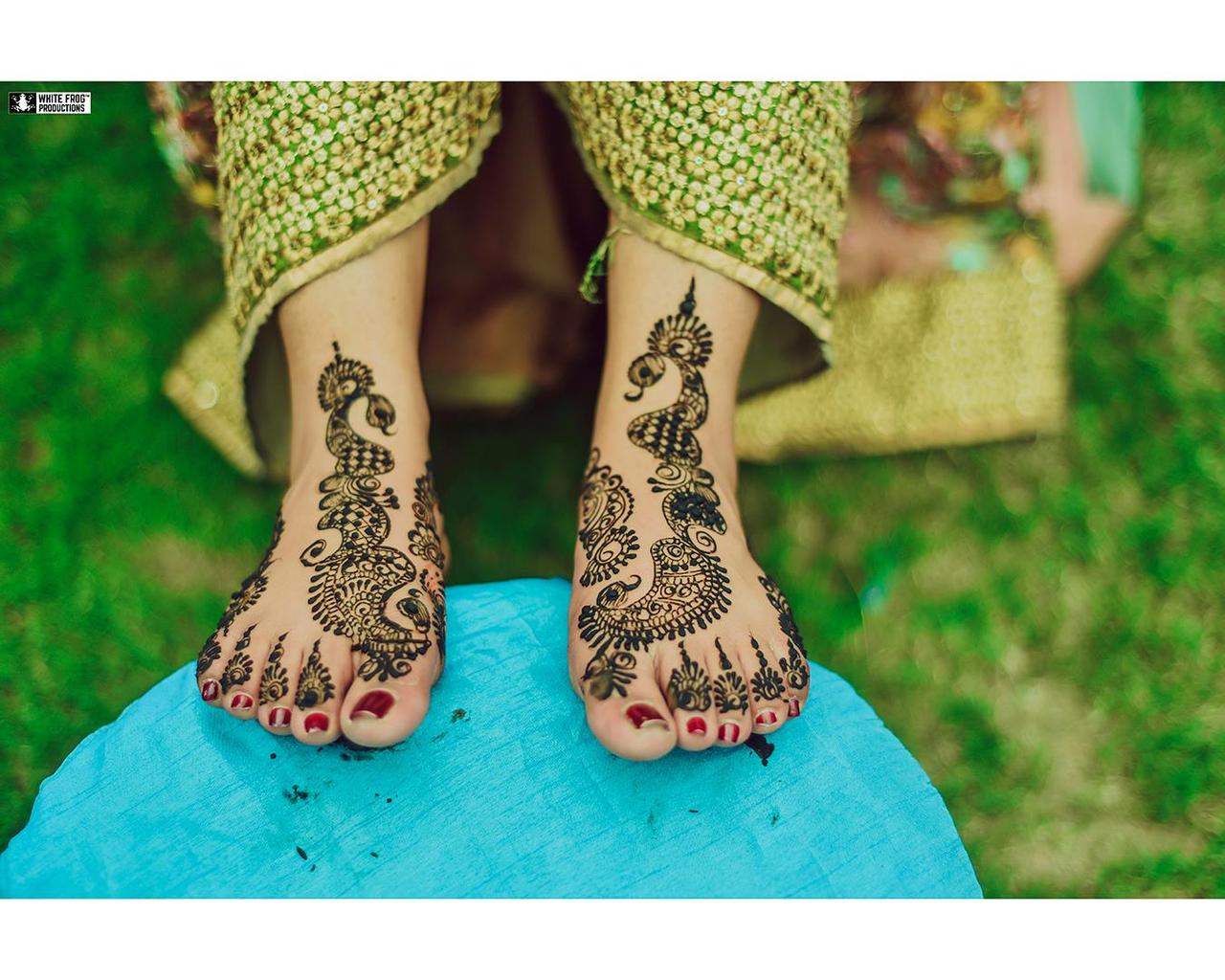 A paisley pattern is always a favourite pick for mehndi designs that can be added to your leg mehndi designs in any way.
Checkered Peacock Design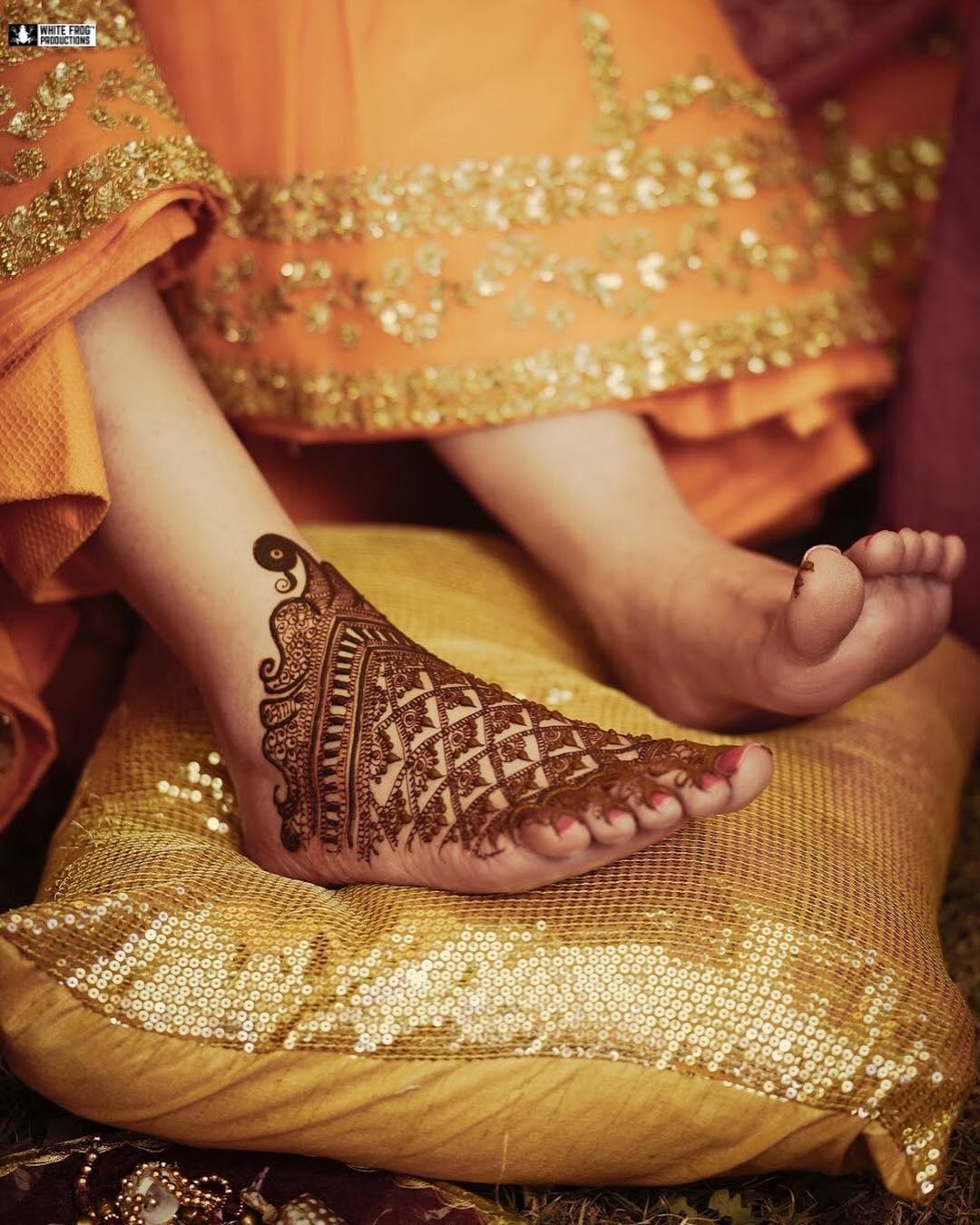 Give your mehndi pattern a royal twist by adding the peacock motif to your leg mehndi designs and be assured that it will be the talk of the town.
Leg Band Mehndi Design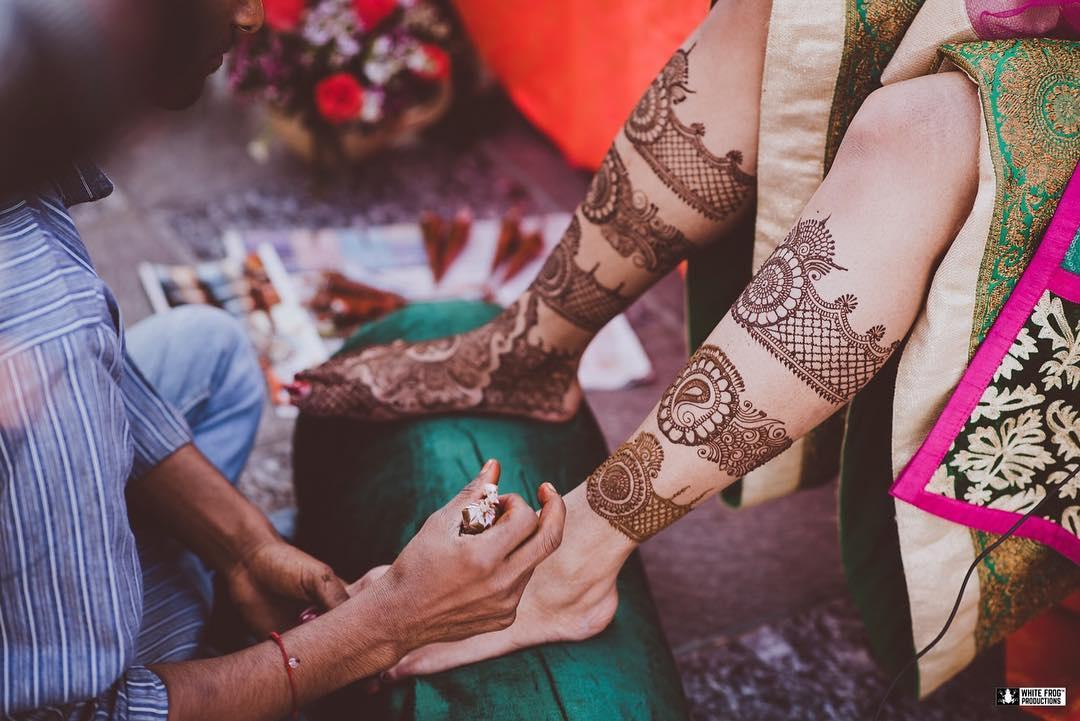 Want something out of the box and unique for your leg mehndi design? How about different leg bands created with flowy mehndi patterns?
Rose Leg Mehndi Design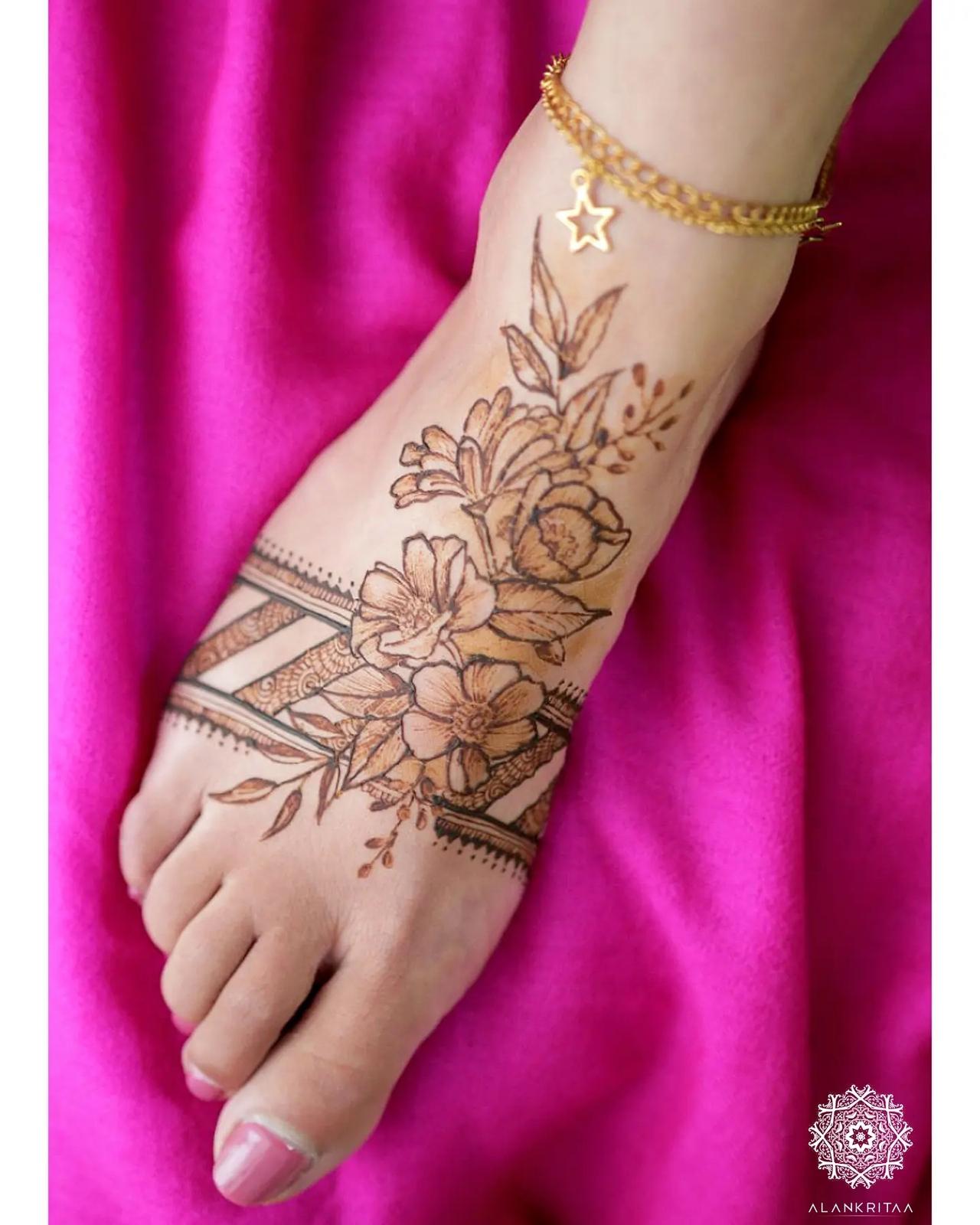 A minimal and creative mehndi design for your feet has to be a unique rose mehndi design that can be personalised as per your preferences.
Scattered Star Detailing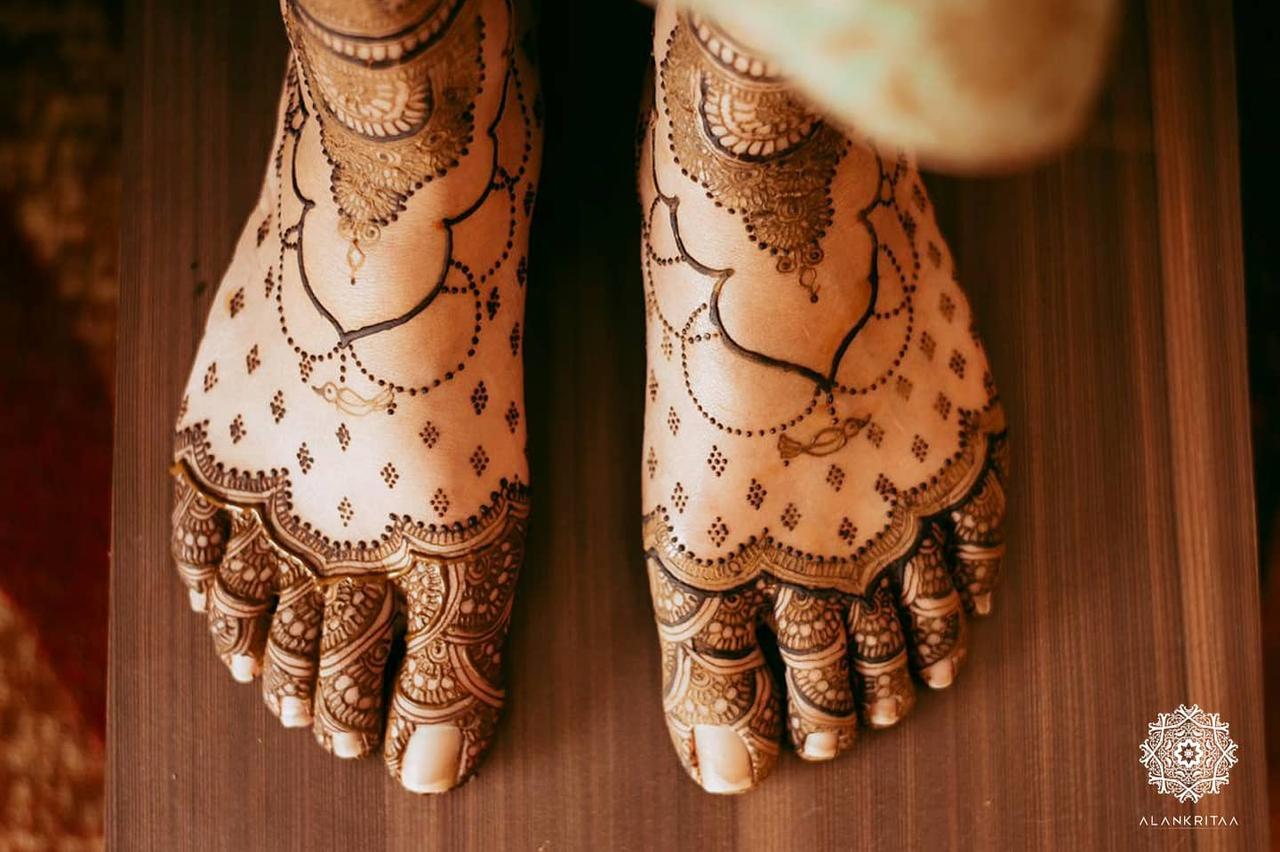 Bring the magic of the stars to your feet with this ethereal leg mehndi design. With a unique detailing of a flying bird, this gorgeous mehndi design will become everyone's favourite.
Floral Outlines for Your Leg Mehndi Design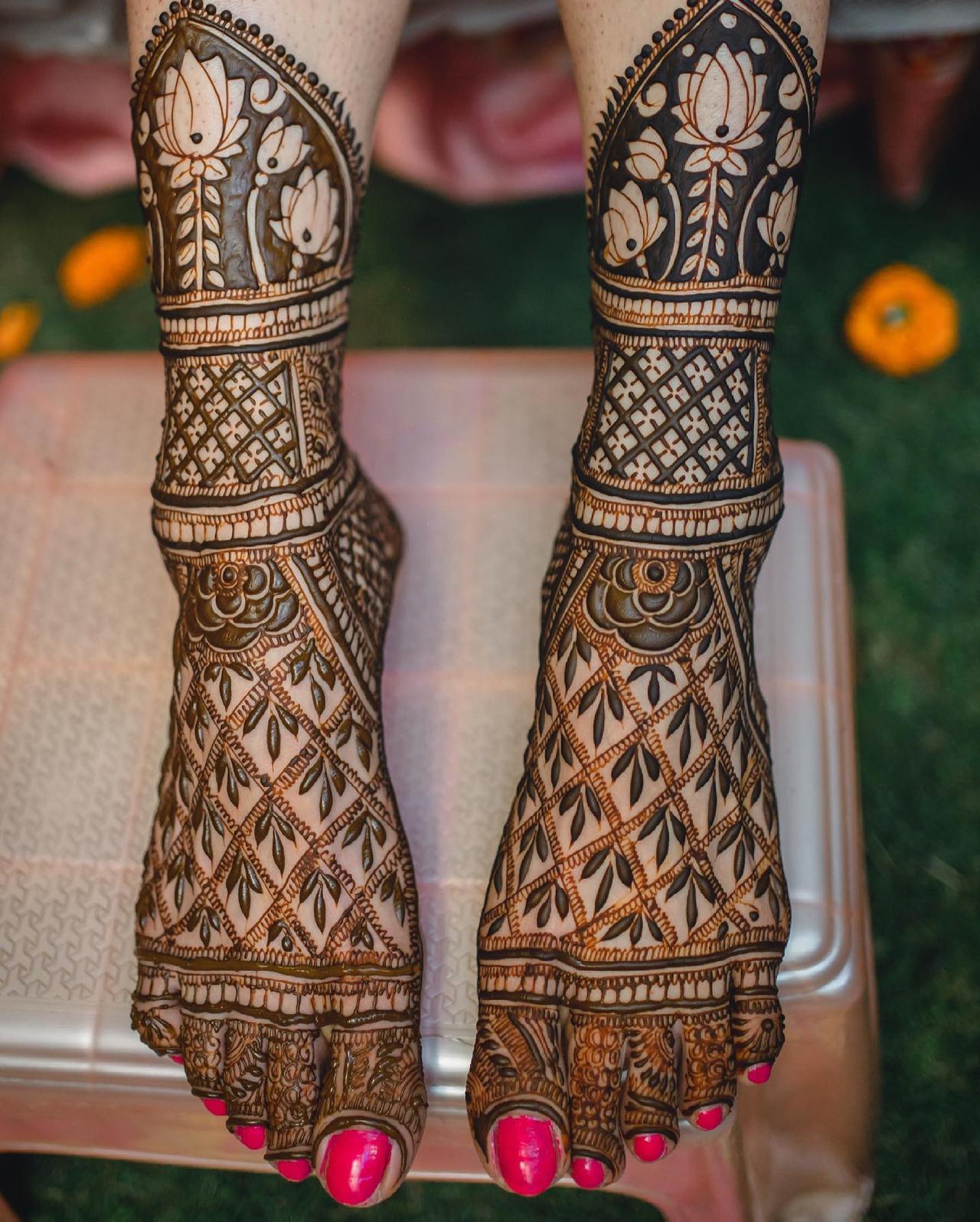 Make your leg mehndi design stand out with bold designs and outlines that will instantly grasp the attention of all your loved ones.
Dancing Peacocks on Your Feet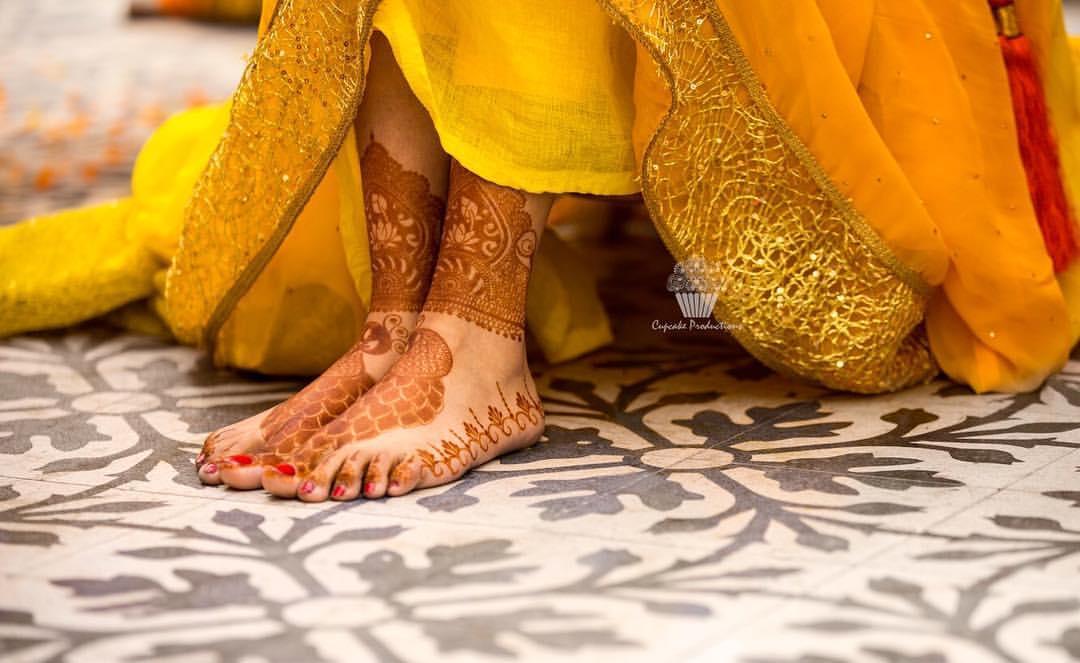 Add elegance to your stunning mehndi designs with gorgeous peacock motifs that will give your leg mehndi design a royal twist.
Butterfly Magic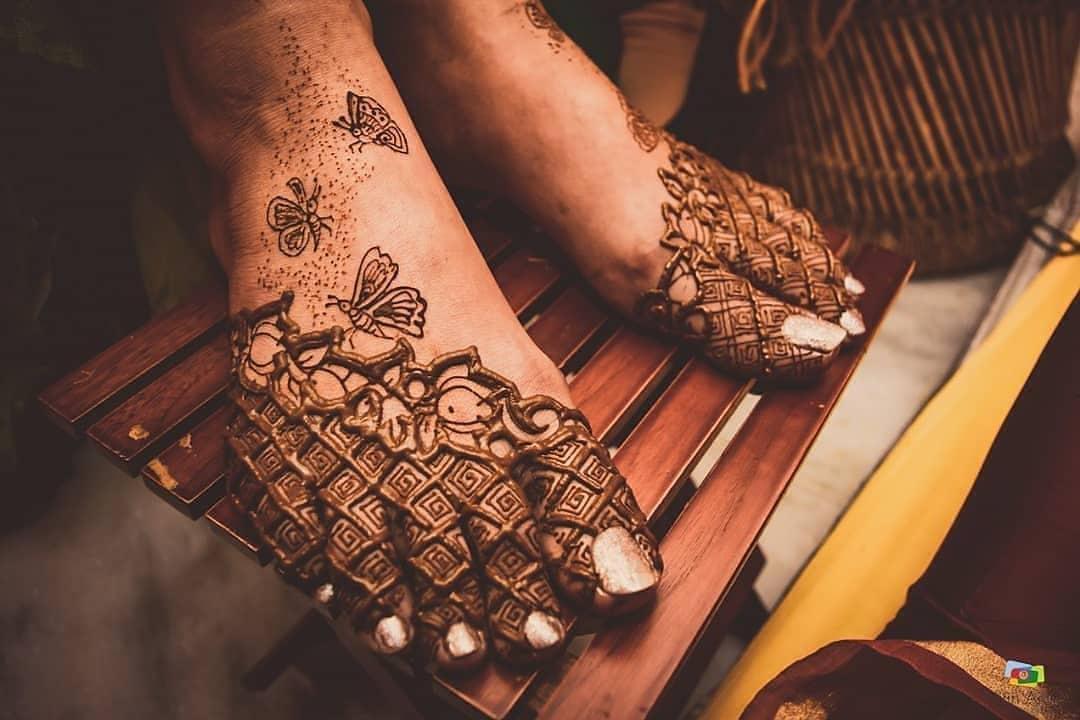 Who said your mehndi designs for your big day have to be traditional only? Add a spark of magic to your wedding day with these gorgeous little butterflies flying around in a gorgeous leg mehndi design.
Lacey Prints for Leg Mehndi Design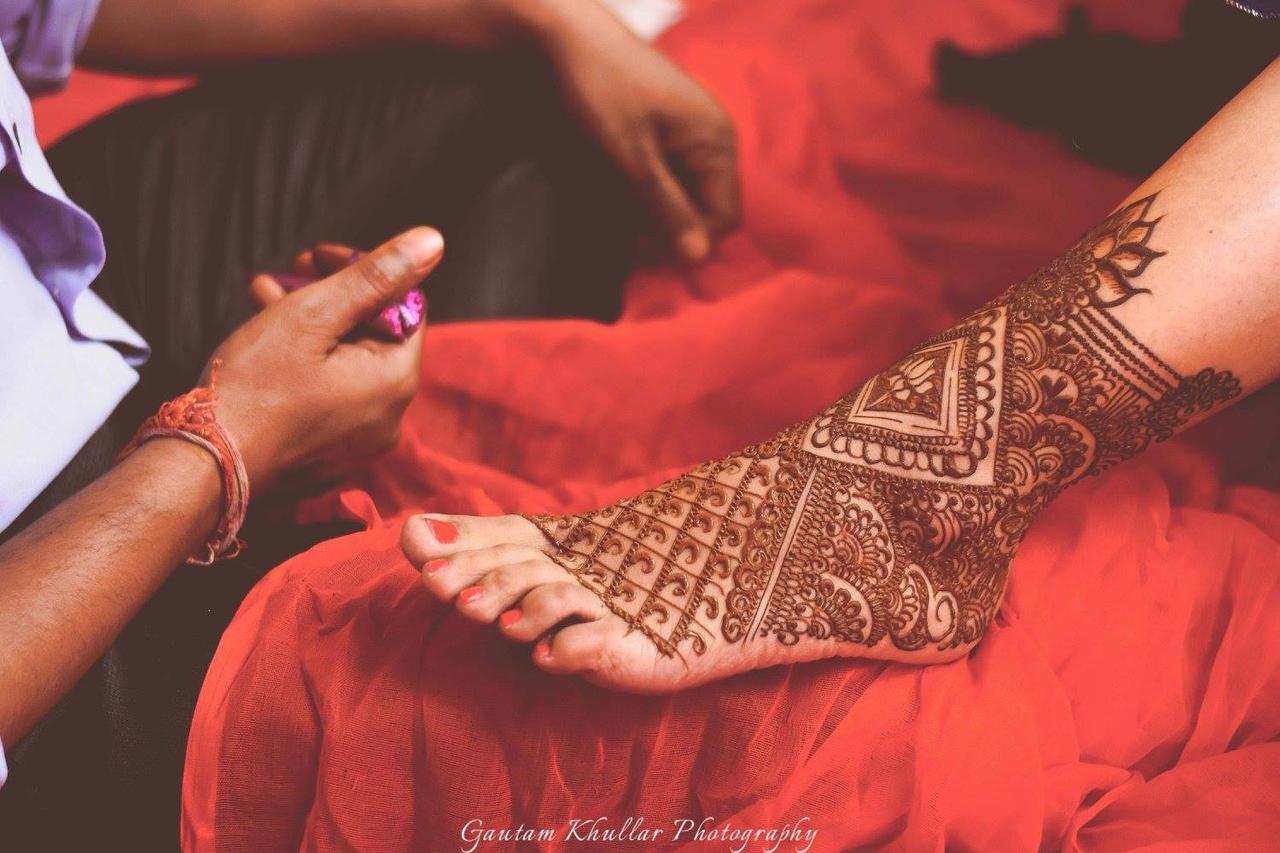 Lacey prints for leg mehndi designs are always an eye-catching inspiration. Expert mehndi artists can create gorgeous designs out of the thin air to ensure you look perfect for your big day.
Hexagon Leg Mehndi Design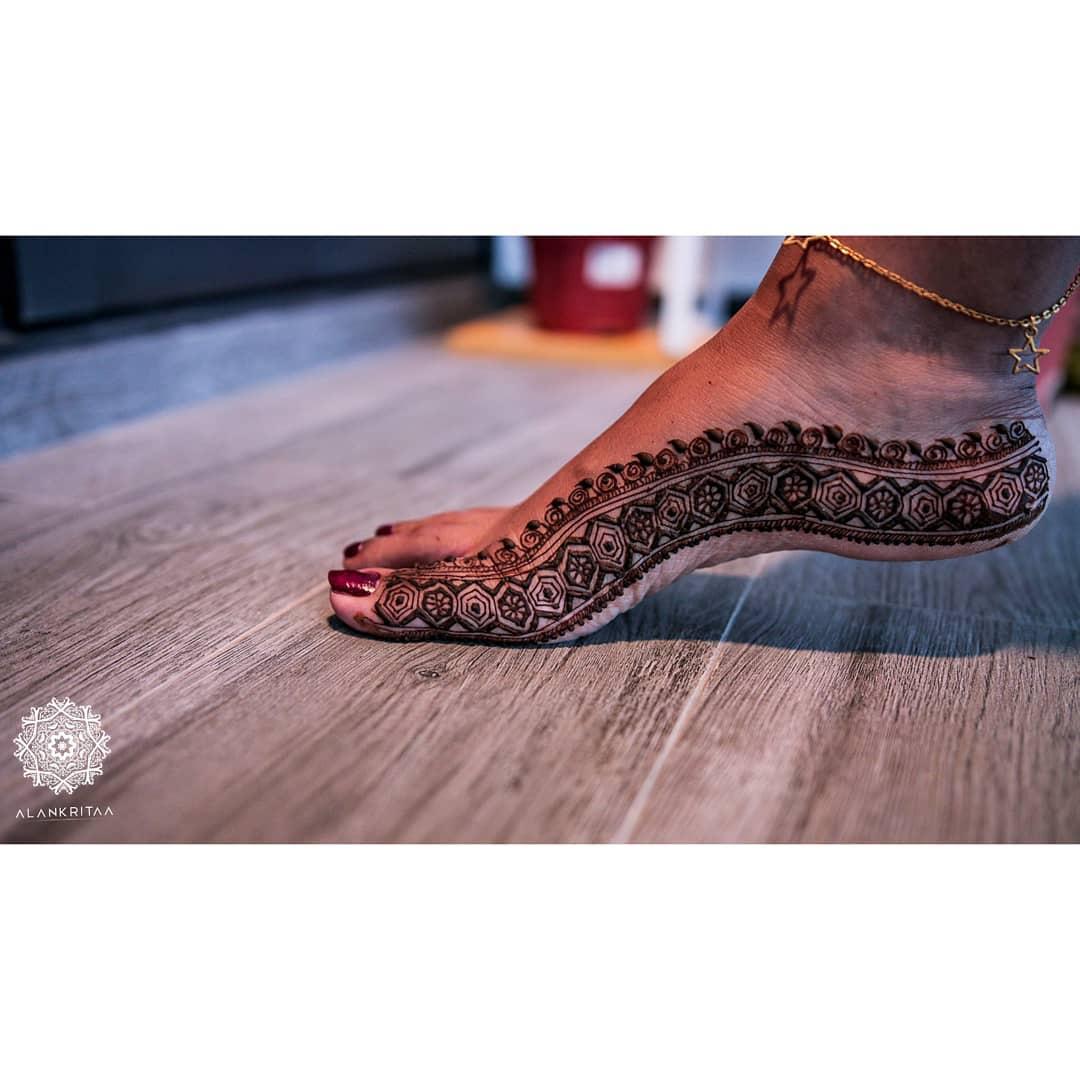 Are you into geometric patterns and wish to incorporate the same into your mehndi design? This gorgeous design made from multiple hexagons will be a perfectionist's dream.
Jewellery Inspired Leg Mehndi Design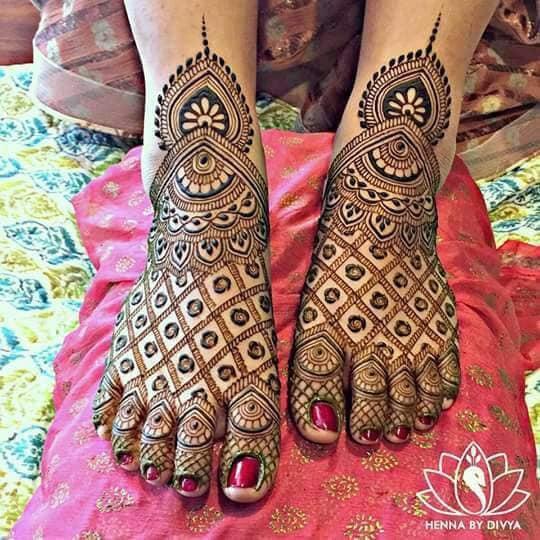 Image Courtesy - Henna by Divya
For brides who wish nothing less than everything ornate for their leg mehndi design, this gorgeous checkered detailing mehndi is the best choice to make.
Bold Checkers and Flowers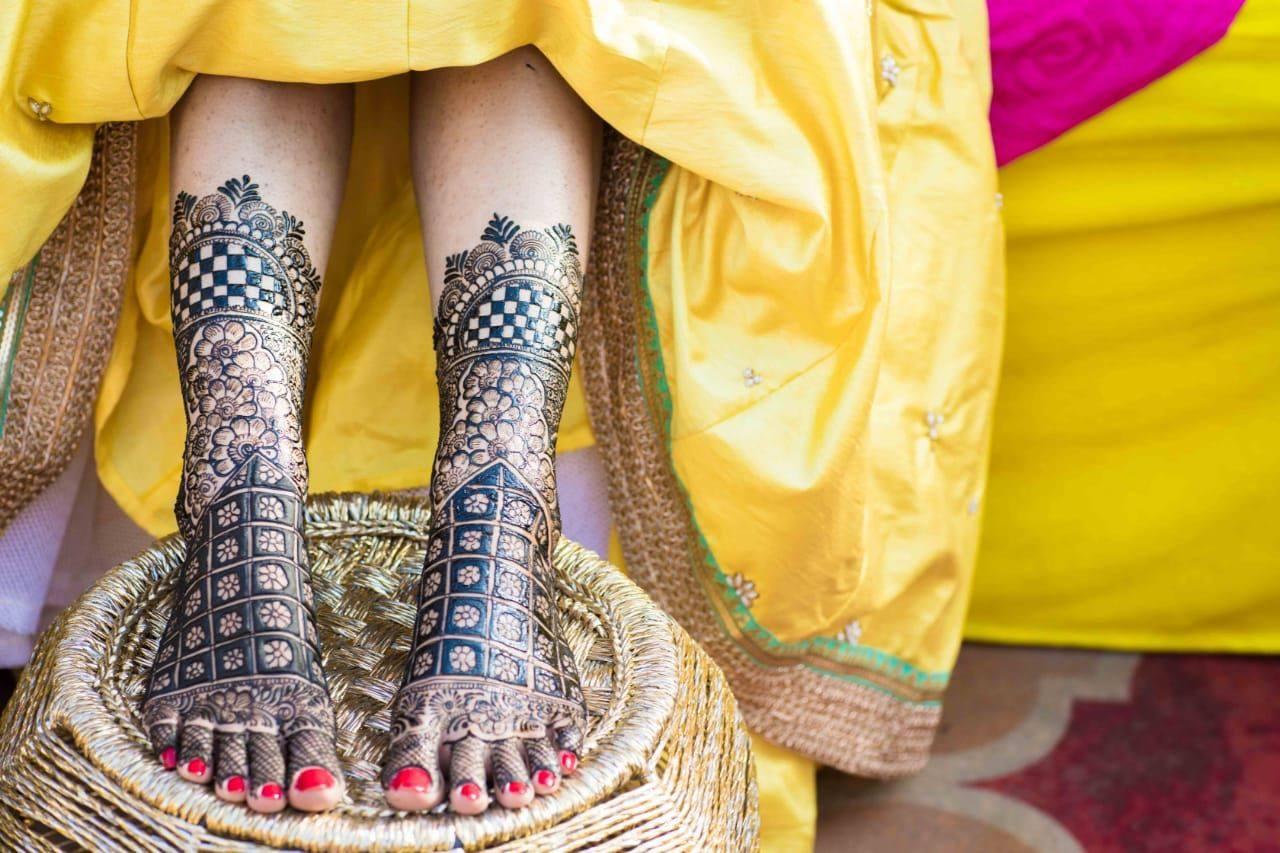 Allow the expert mehndi artist to weave magic on your hands and feet with this stunning leg mehndi design full of blooming flowers and checkered patterns.
Mandala Mehndi Design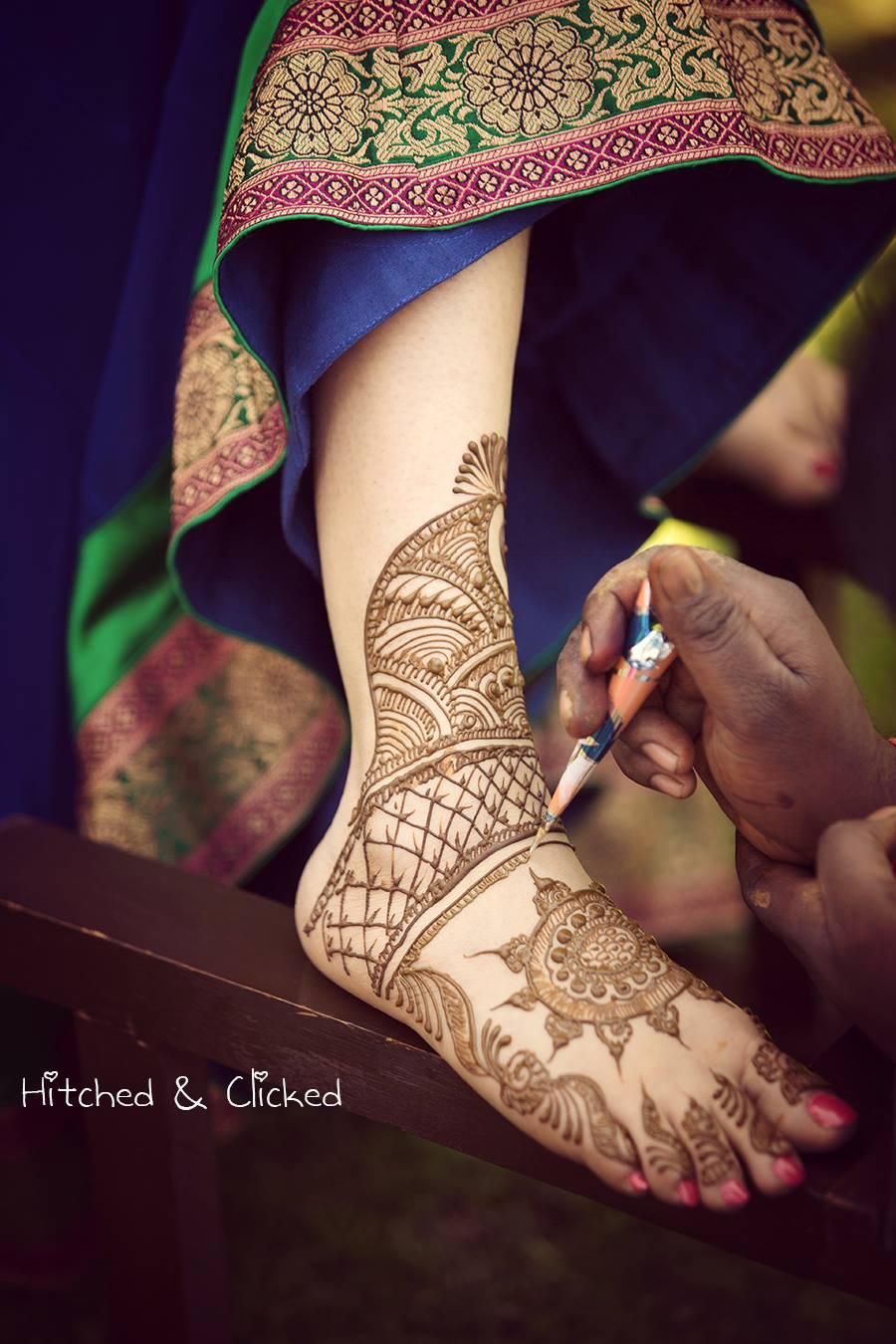 Imbibe the beautiful patterns of mandala in your leg mehndi design. You can be assured that it will look nothing less than magnificent.
Floral Mesh Leg Mehndi Design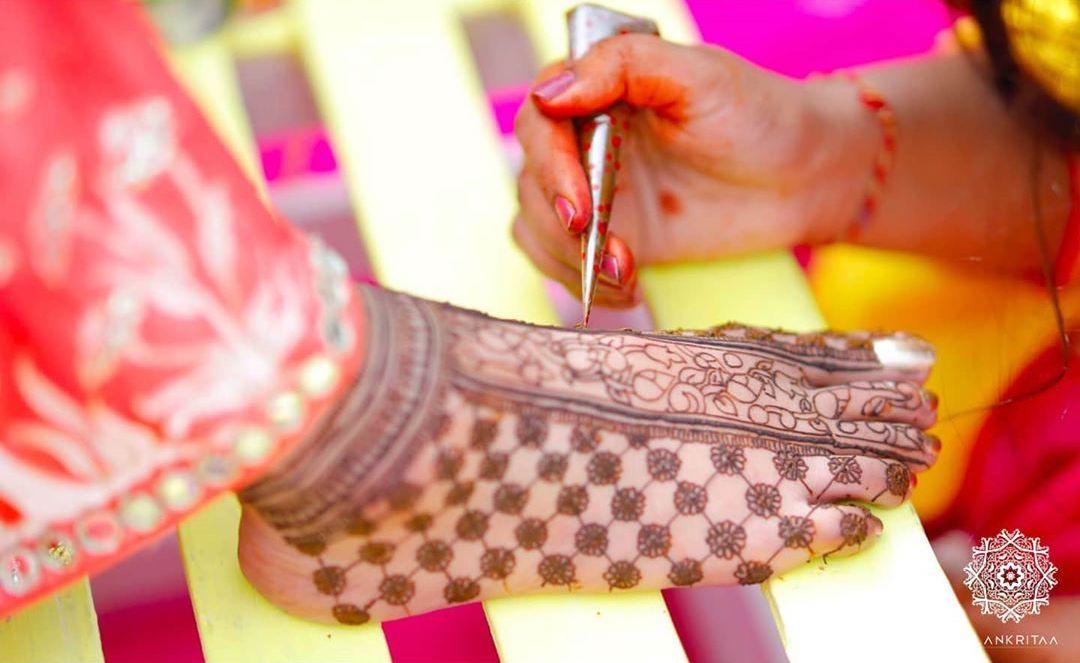 If you are looking for more intricate and detailed mehndi designs to cover up your whole feet, how about a beautiful mesh-inspired design juxtaposed with blooming flowers.
Royal Leg Mehndi Design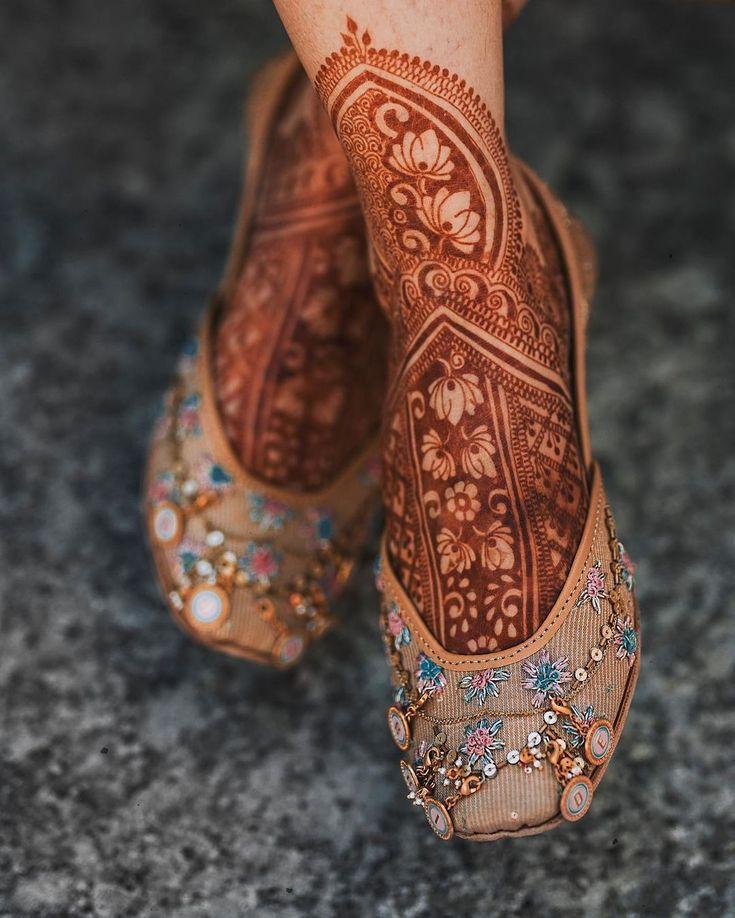 Image Courtesy - Pinterest
A bridal mehndi design that is simple yet perfectly elegant to ensure your bridal look is complete, is this stunning leg mehndi design.
The Checkered Leg Mehndi Design!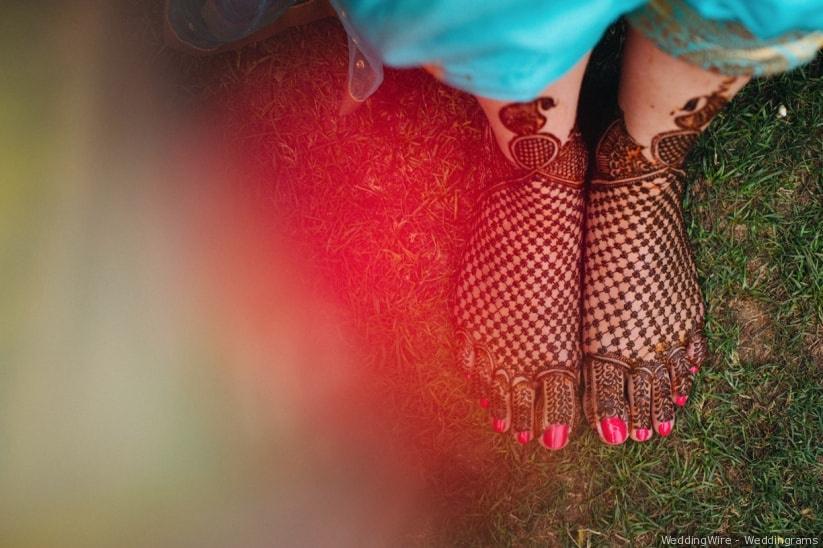 The millennial bride is sure to choose one of these new leg mehndi designs that are intricate and yet very young just like this jaali design that covers the entire feet and yet looks like a modern bridal mehndi design.
The Symmetrical Leg Mehndi Design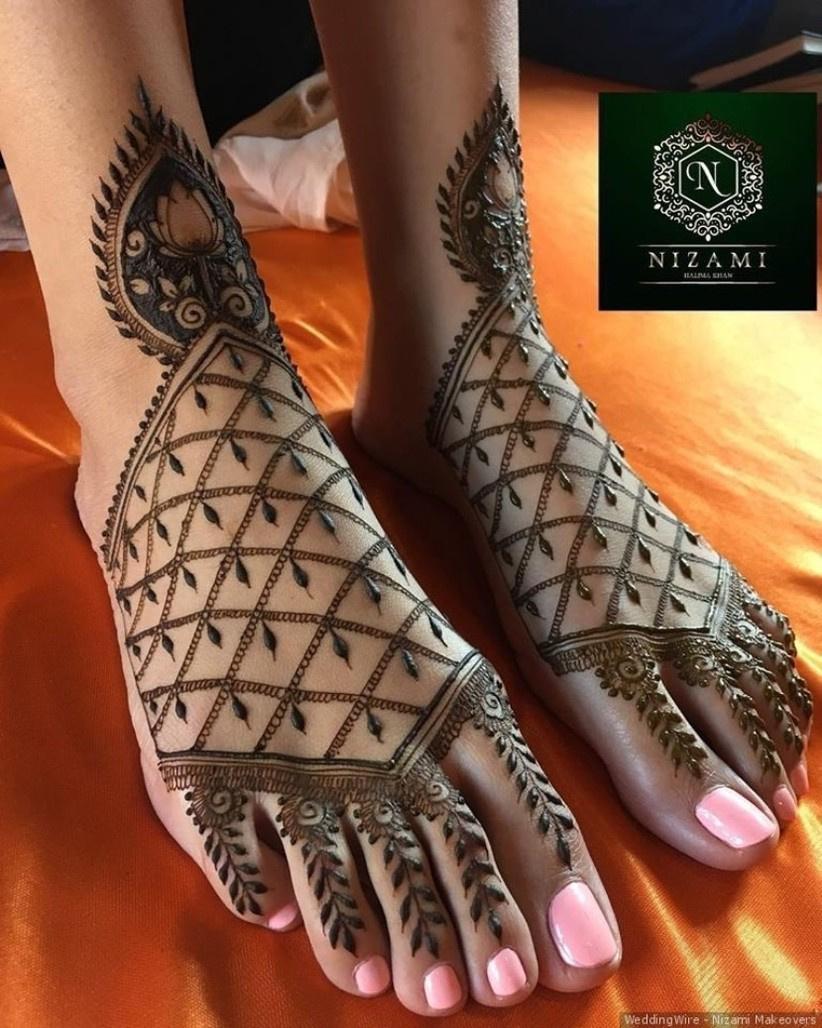 Another intricate and delicate jaali pattern with a bold lotus motif completing the look of this beautiful latest leg Mehandi design is surely something our trendy bride would pick. They are known to be bold by nature but subtle with their choices.
It's All In The Details Leg Mehndi Design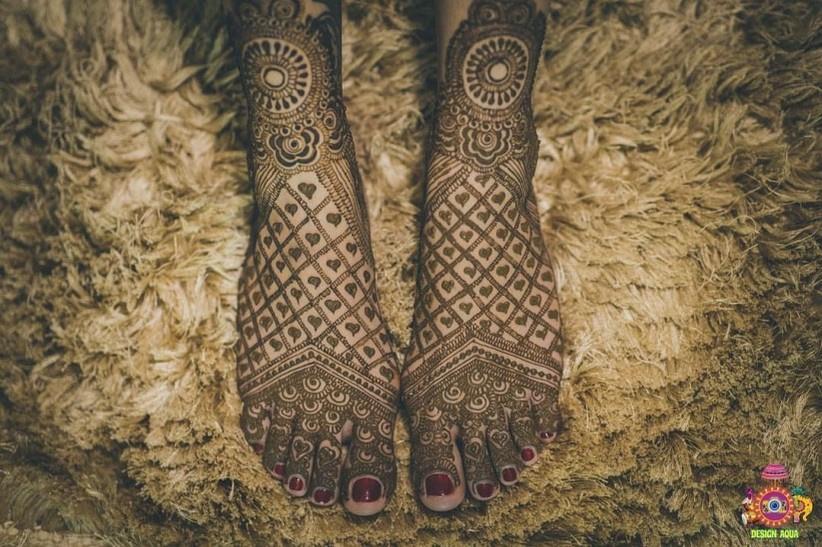 If it is something that interests them, be it mehndi or anything else, the bride will take it up passionately and inspire others with it.
Minimalism Rose Leg Mehndi Design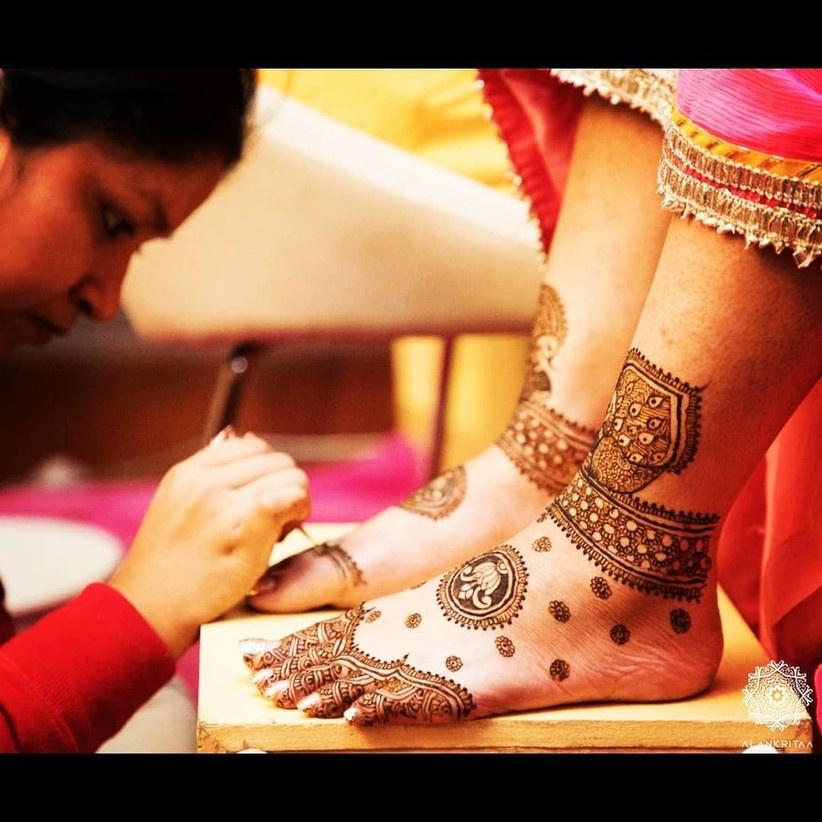 Neither bold nor subtle, this one is her choice for its simplicity. The lotus in the mandala on the centre with little delicate flowers around makes this leg mehndi design a perfect amalgamation of modern meets traditional.
Tip-Toe Leg Mehndi Design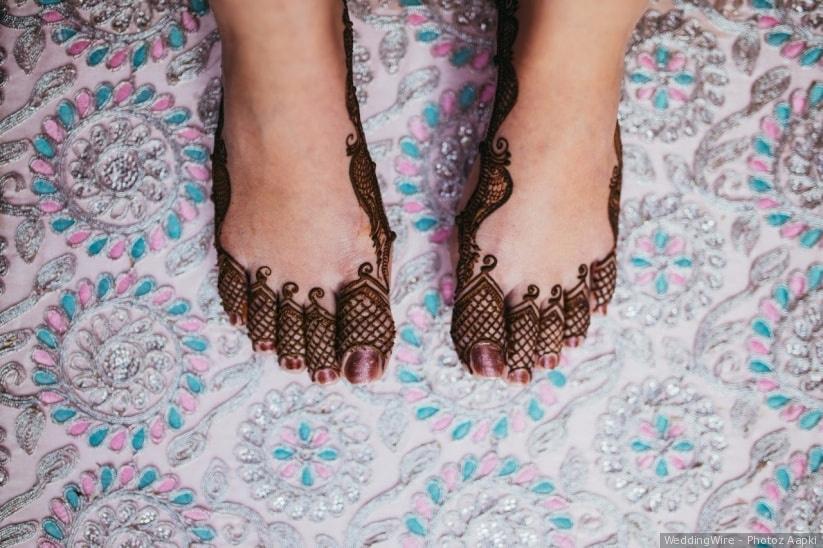 This leg mehndi design will be one of the freshest contemporary mehndi designs with a minimalistic coverage that is easy to be applied and dries out easily as well. A new-age bride will probably be the one who chooses to get a mehndi done on her feet only for effect.
Lotus Leg Mehndi Design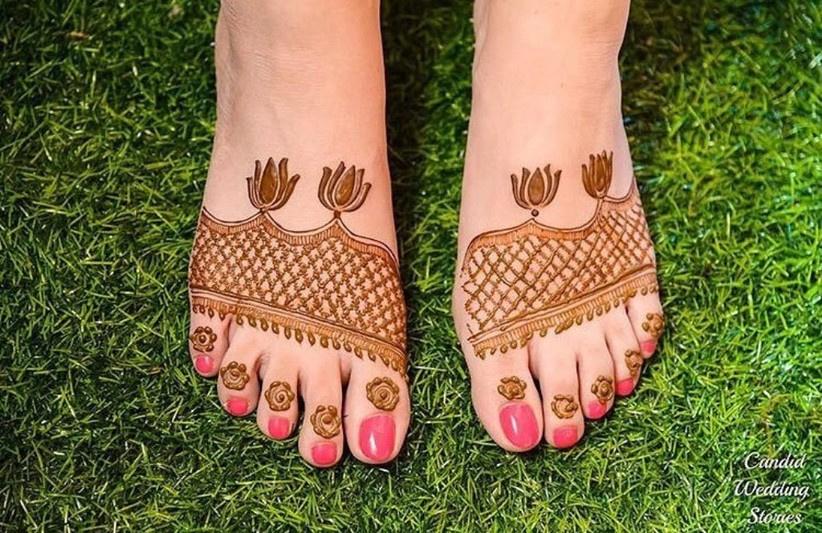 Nowadays brides are also ones that commit themselves 110 per cent to anything that they take up. Hence, they will choose a modern leg mehndi design that might have minimal coverage but will not be simple like this one with a jaali design and lotus motifs.
Jewels Leg Mehndi Design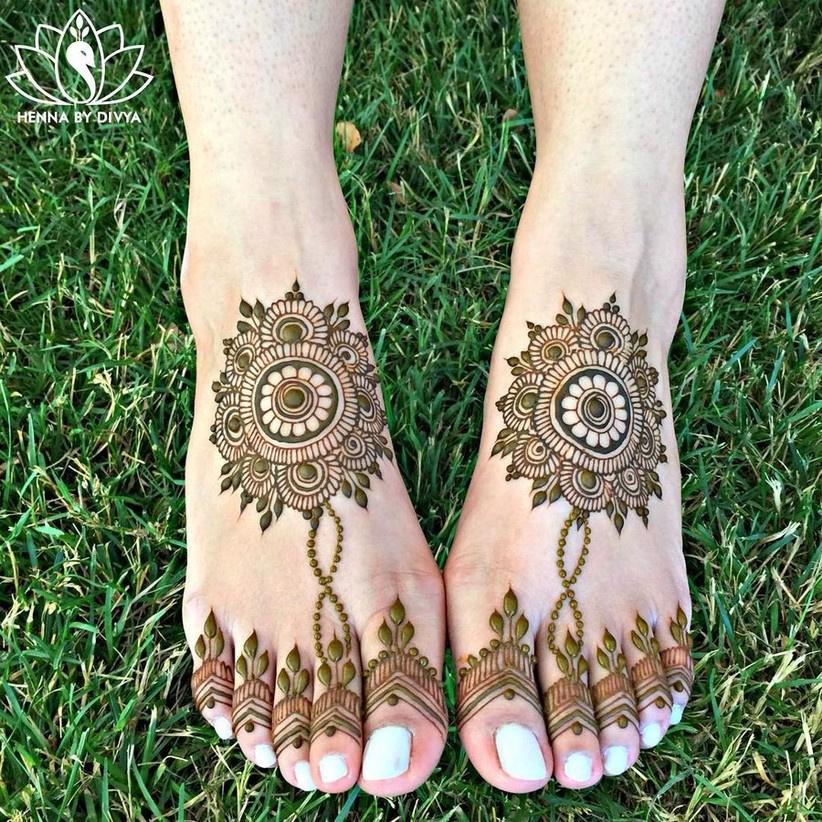 Image Courtesy: Henna by Divya
An uncomplicated design with a mandala motif at the centre is just what the brides will love. This one is a simple leg mehndi design that is minimal and yet very appealing.
Colour Of Perfection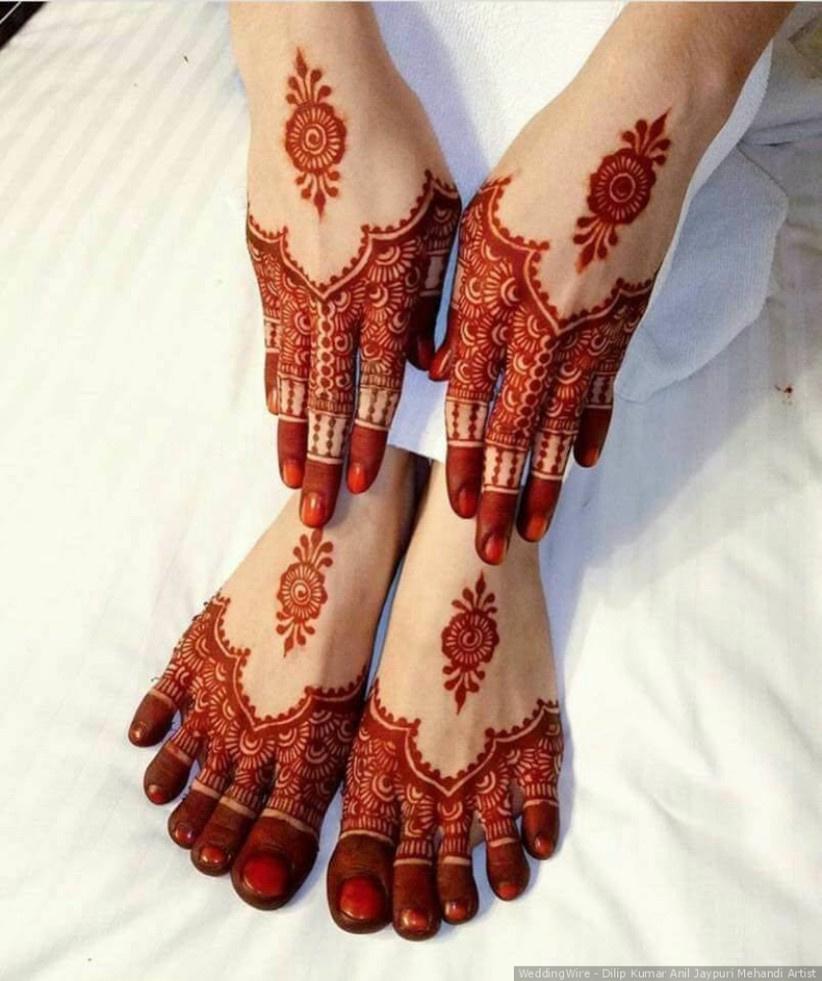 This royal architectural curve pattern on leg mehndi design is not just beautiful but also one that attracts your attention just immediately, exactly like our Taurus brides.
Elephant Motif Leg Mehndi Design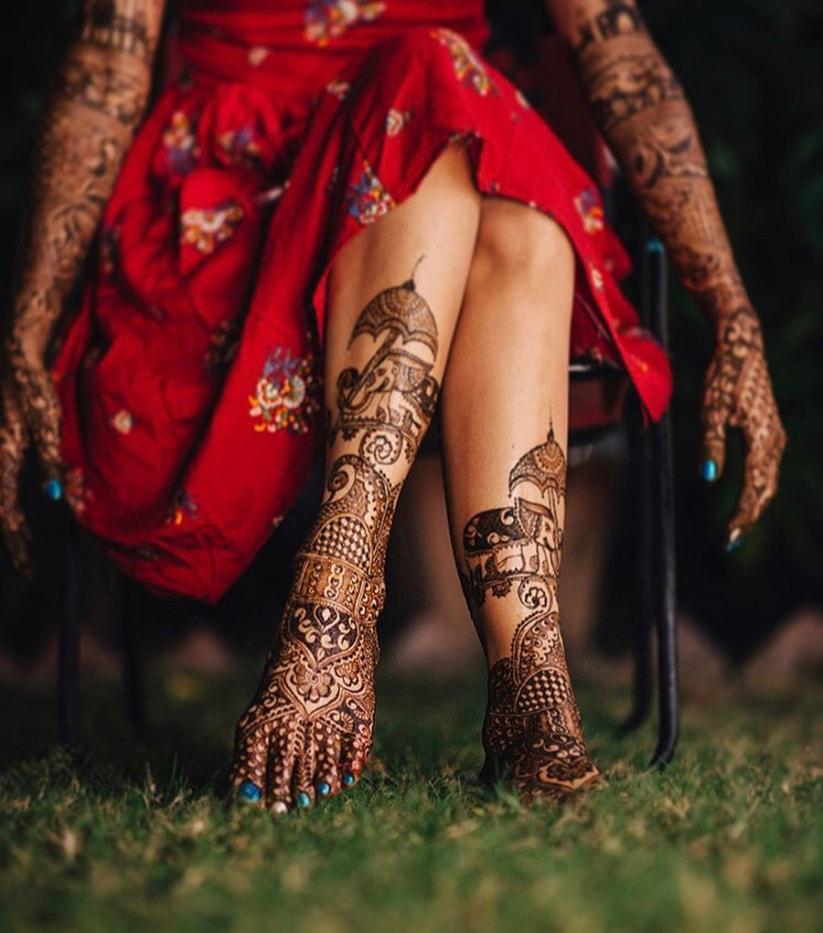 Image Courtesy: Ravi Mistry
You'd choose to go for a pair ki mehndi design that is a traditional one with an element of funk or creativity added to make it stand apart like this elephant motif design with a full coverage mehndi.
Funky Diva Look Leg Mehndi Design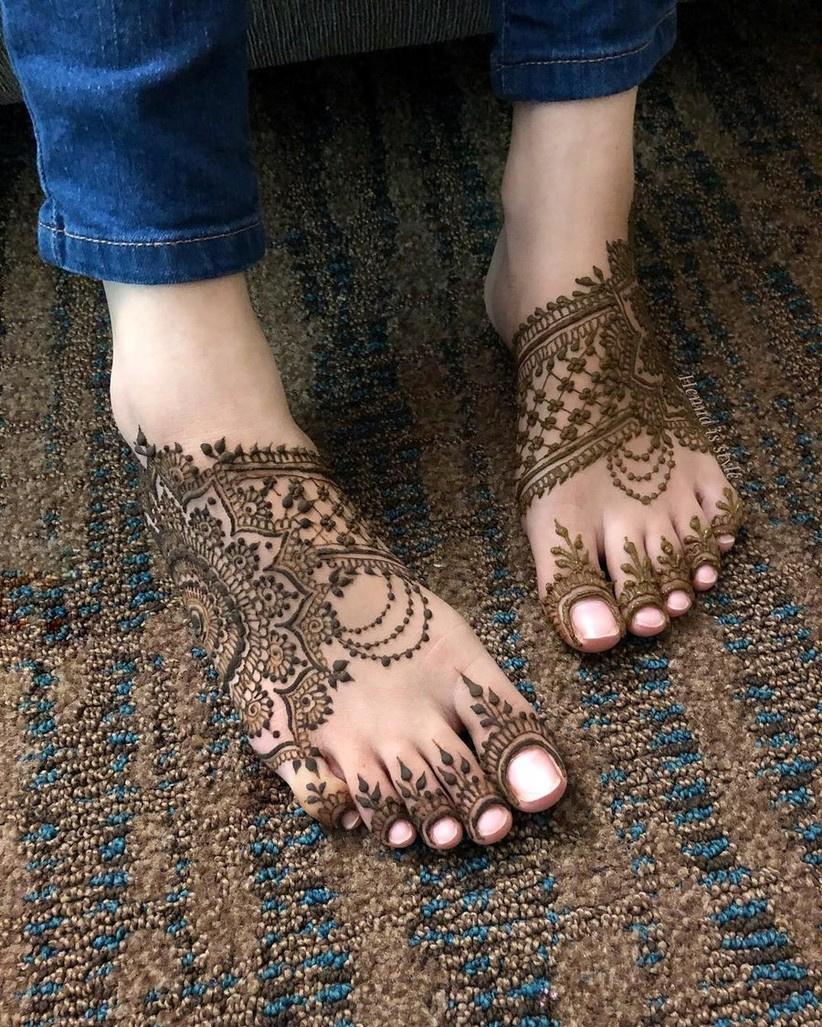 Image Courtesy: henna_is_style
If the element of funk is what defines the modern bride's taste, this stylish leg mehndi design is sure to call her out immediately. One of the most unique patterns that have half a flower on the sides mixed with the mesh design making it look a lace on the feet.
Reverse Mehndi Magic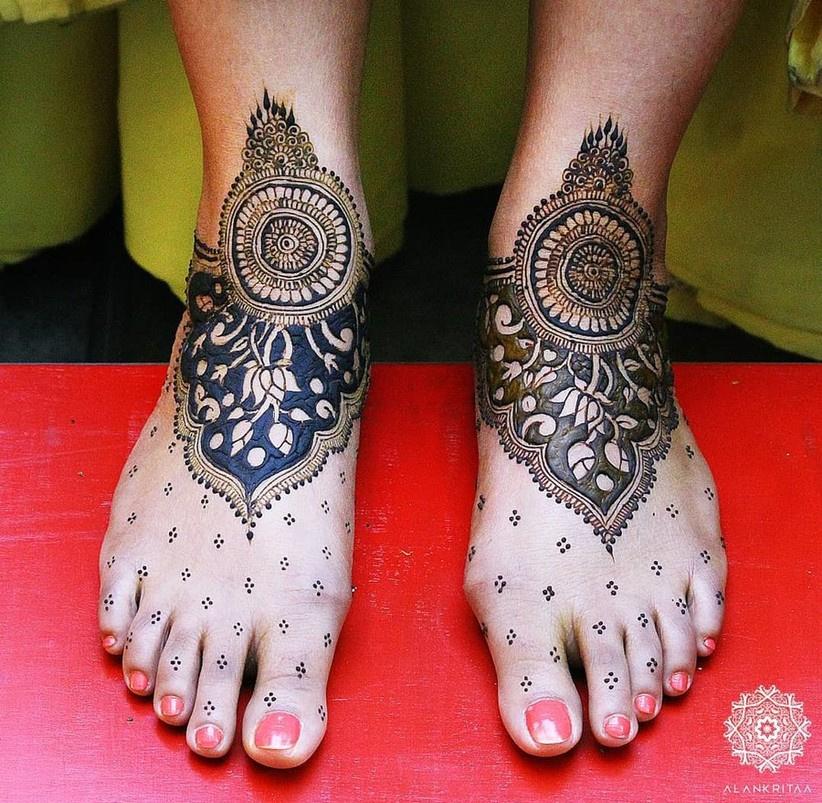 Her craving to accomplish new things makes her choose unique things, just like this leg mehndi design that is neither traditional nor modern. It has the classic Lotus and mandala motifs while it also has a dotted pattern in the front that is unusual and contemporary.
City Of Love Leg Mehndi Design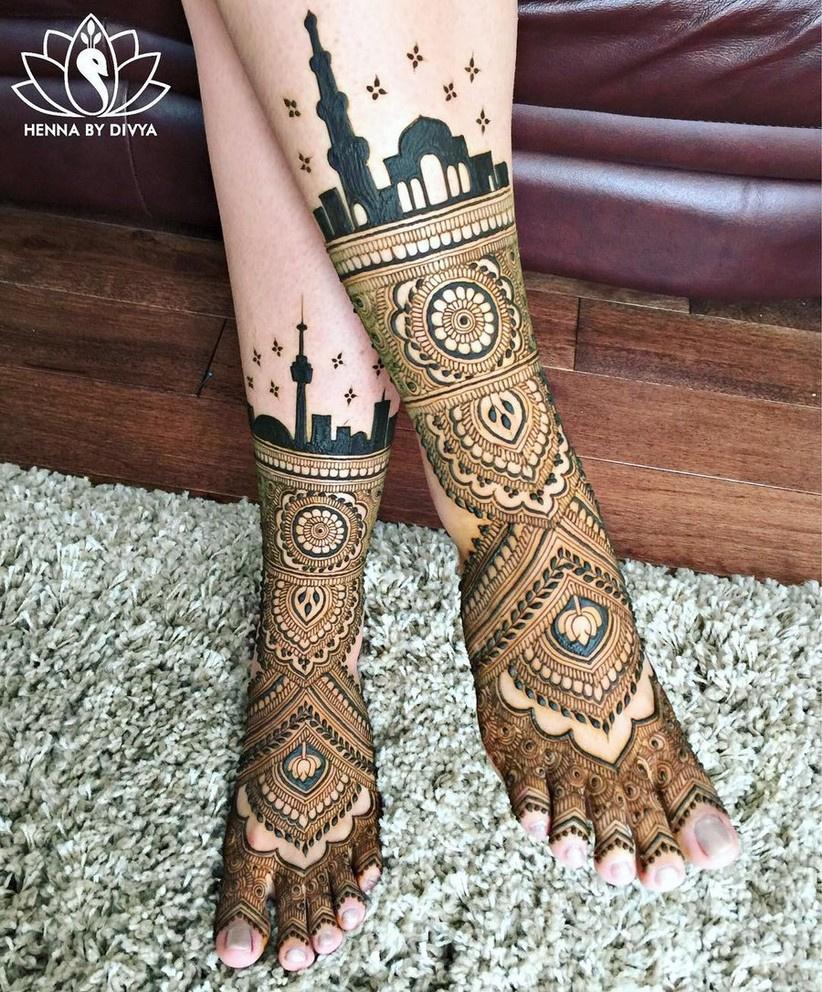 Image Courtesy: Henna by Divya
The architectural marvel in leg Mehandi design is for our brides who have a keen eye for creativity. As they dislike repetitiveness they are sure to bring something of their own to the table always. Just like the bold architectural patterns on this fully covered beautiful leg mehndi design.
Check & Mate Leg Mehndi Design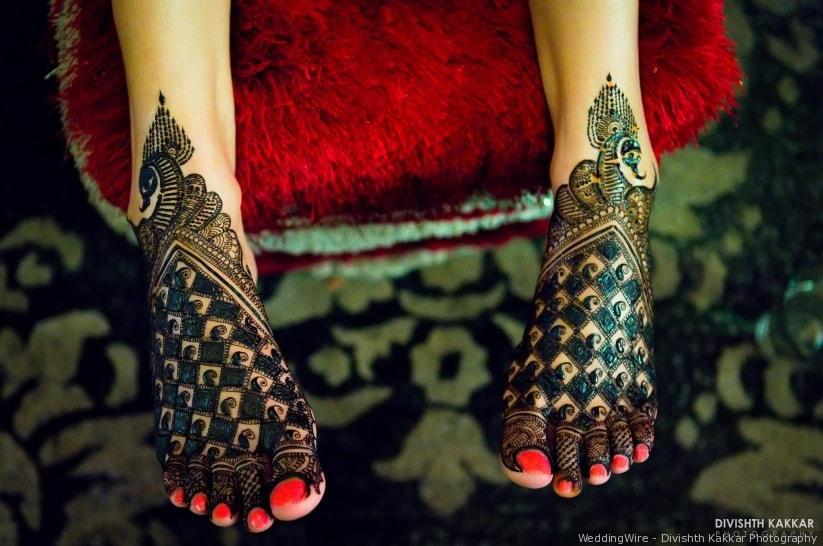 When it comes to a bridal leg mehndi design, a Cancer bride's imagination is sure to do wonders and her choice will be one that reflects her traditions.
Mandala Effect Leg Mehndi Design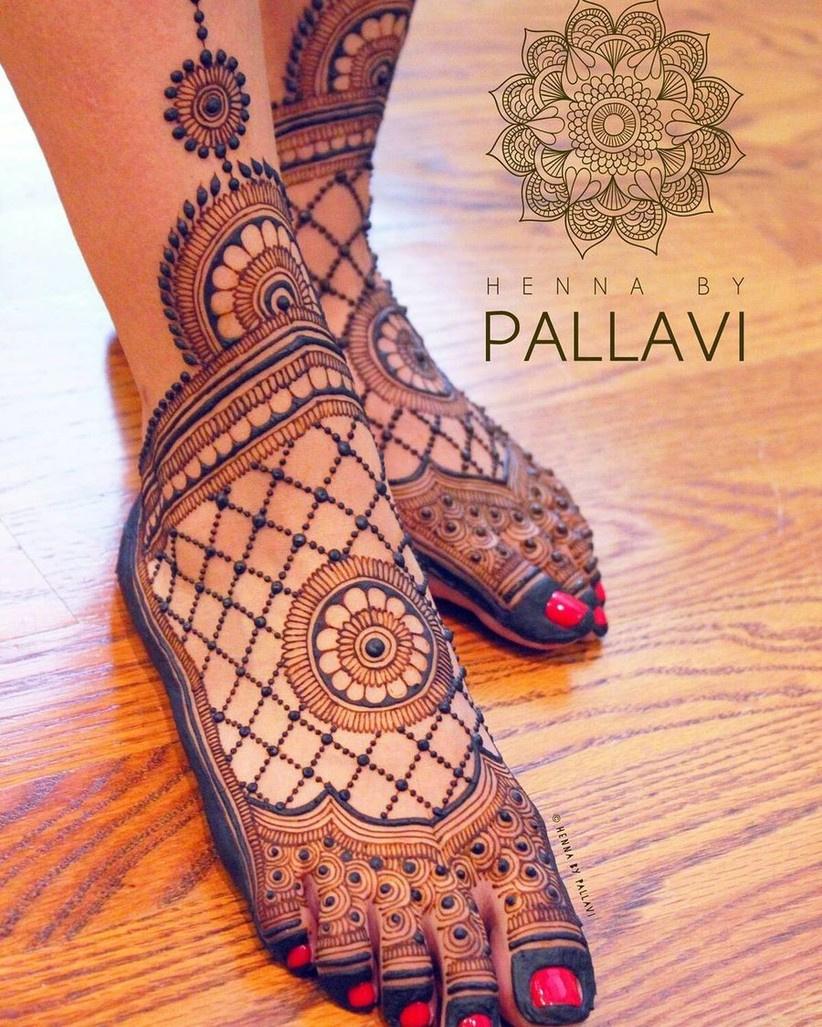 Image Courtesy: Henna By Pallavi
Creative and traditional, you know what this combination means for the leg mehndi designs. This gorgeous traditional mehndi pattern with jaali design and mandala motifs has been designed to look so uncomplicated; we wonder whose creative mind was behind this.
Crowning Beauty Leg Mehndi Design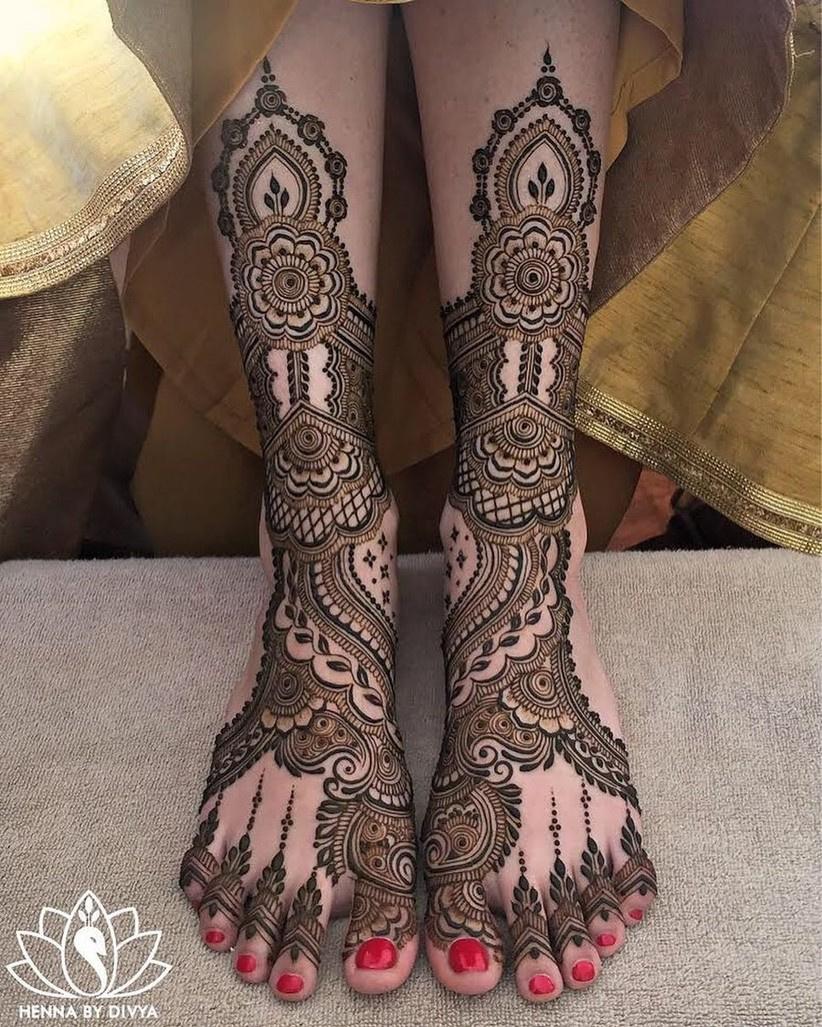 Image Courtesy: Henna by Divya
This traditional full coverage Mehandi design for legs with a combination of classic mehndi patterns just like this one. Isn't it a breathtaking leg mehndi design? We are just loving it. What about you?
Soulful Strokes Of Henna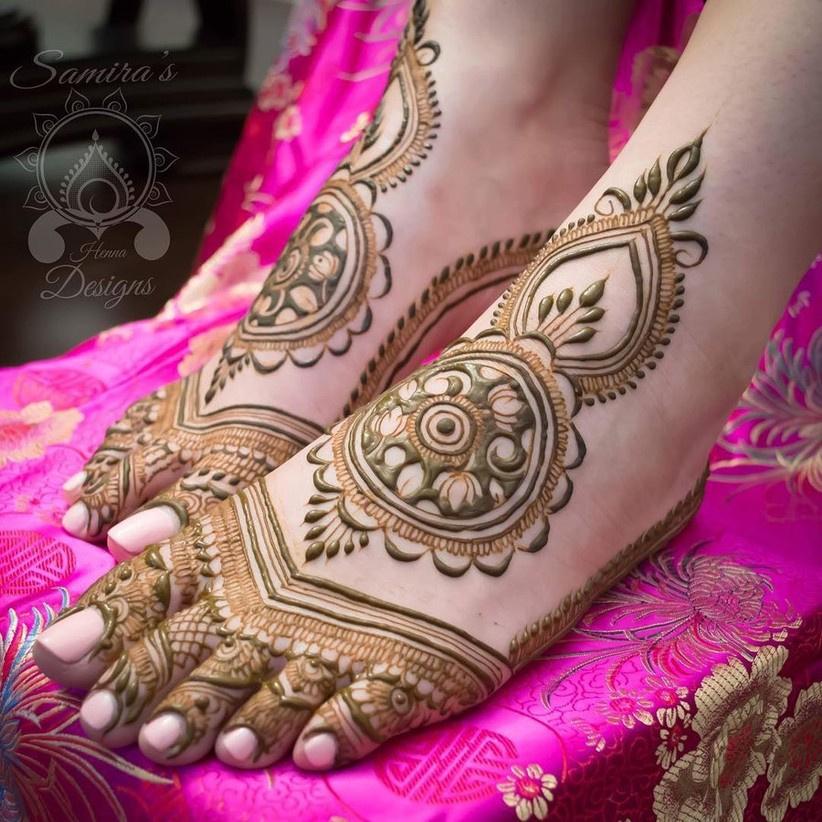 Image Courtesy: Samaira's Henna Designs
Simple and yet very impactful, this one seems like the choice of a bride that loves to keep it traditional and effortless. The brides who can't handle heaviness and blingy stuff.
Pretty Toes Leh Mehndi Design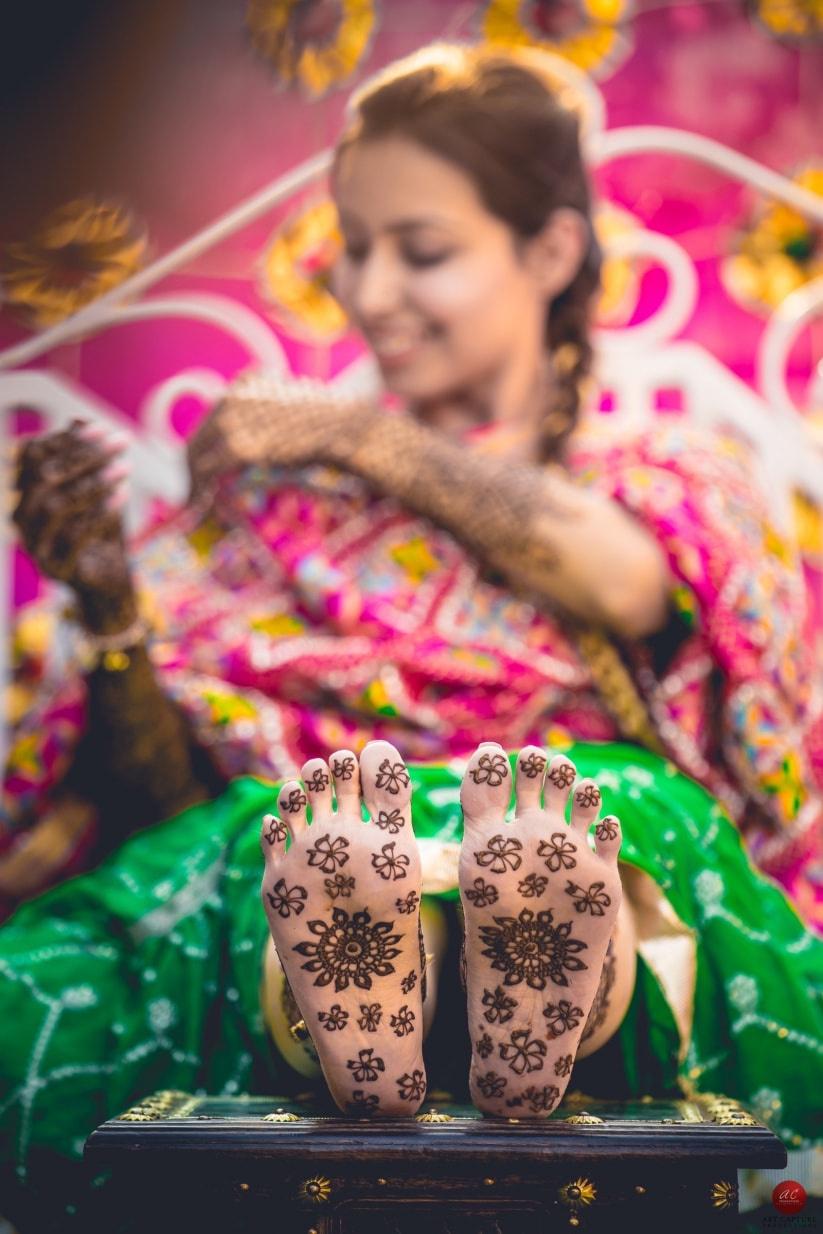 This leg mehndi design is sure to have a flair for drama. A millennial bride is the most capable of trying something that has never been done before like this mehndi design behind the feet.
Arabian Leg Mehndi Design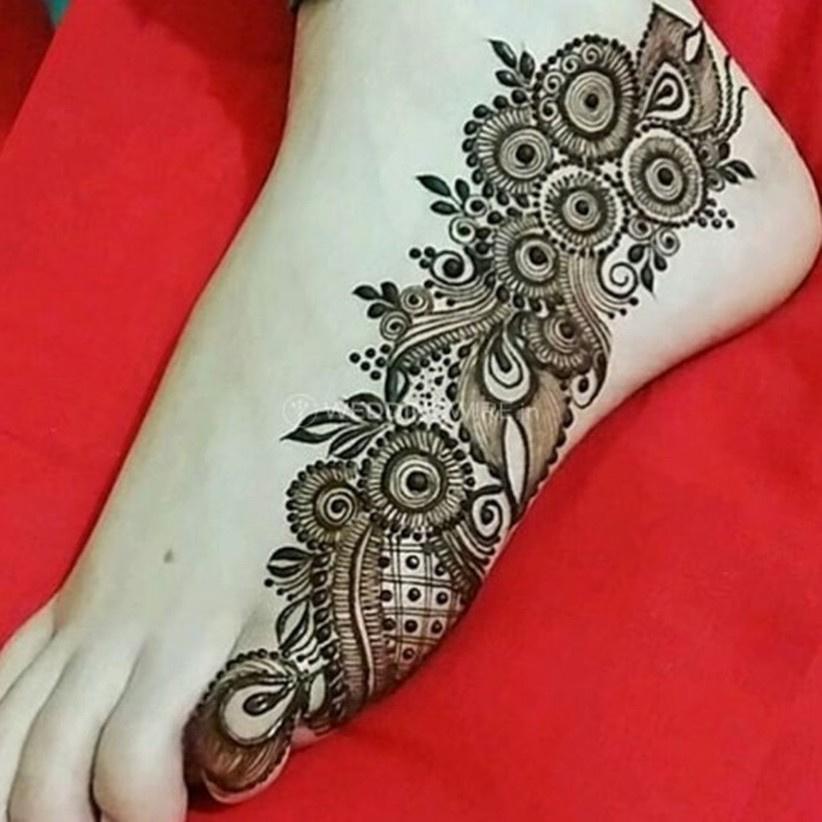 This floral mehndi design for legs is a love for chic and modern brides. It's pretty, it's unconventional, and it is one for the brides who don't want too much limelight and attention.
Mehndi Goals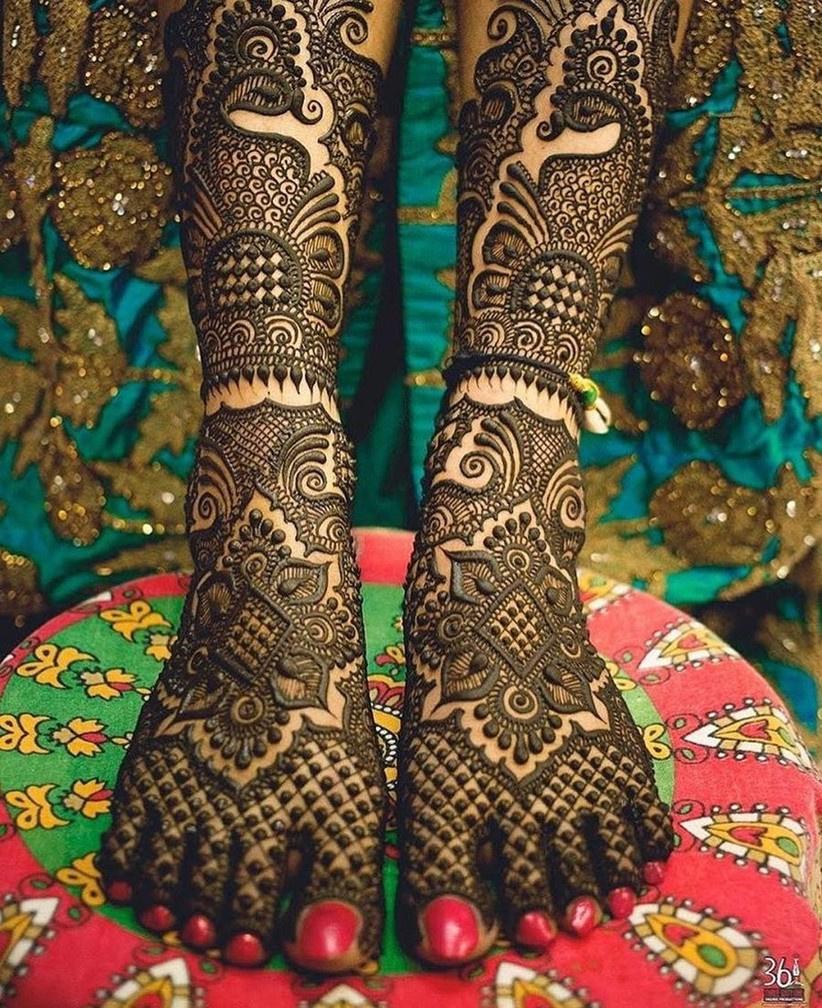 Some brides either go for the tiniest of the mehndi designs or one that is the most elaborate. Try this bold and elaborate one to smitten the groom and his family.
Trail Effect Leg Mehndi Design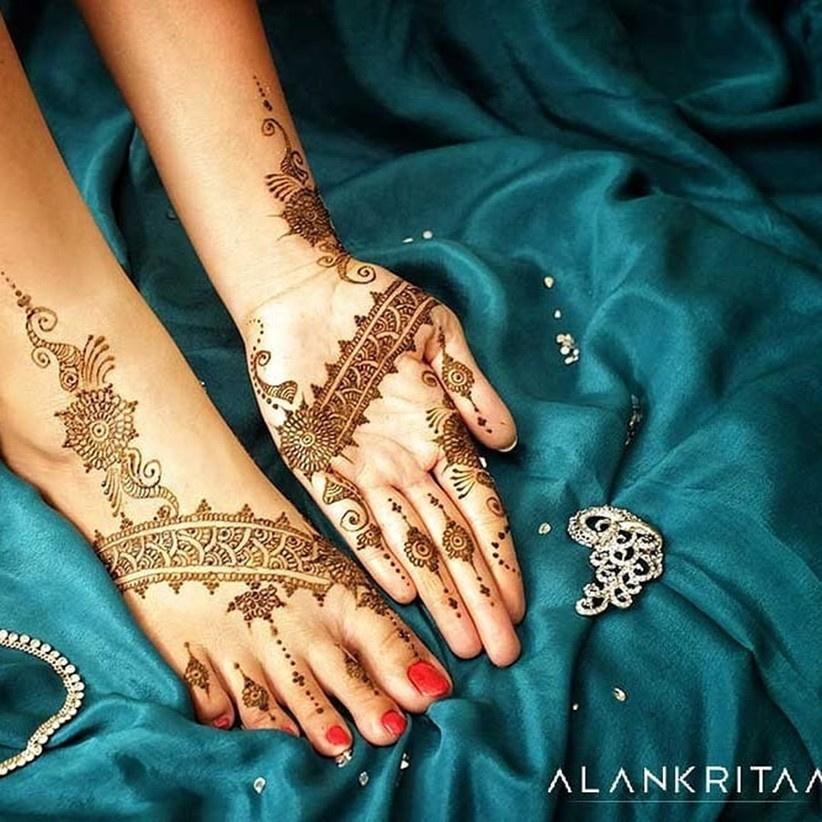 If you want the galaxies to become a part of your henna design then there is no better way of doing so other than following this henna design to the 'T' as each of the elements from the dotted lines to the trail effect along the shin and over the finger reminds us of the galactical realm and its wonders. Perfect for both the bride-to-be and the bridesmaid, this henna design is simplistic, minimalistic yet spectacular, and one-of-a-kind.
The Darker The Colour The More The Love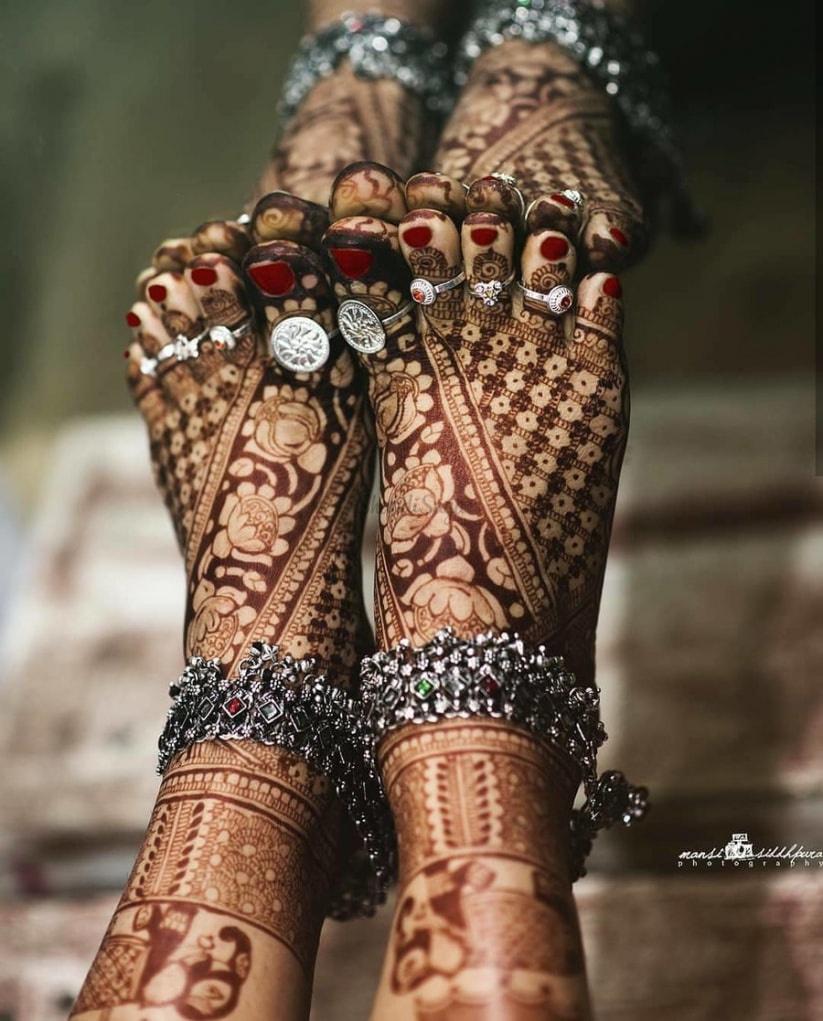 A creative bride is sure to plan other little details like the accessory and the nail paint color that will enhance the look of her leg mehndi design as well.
Soulful Strokes Of Henna in Leg Mehndi Design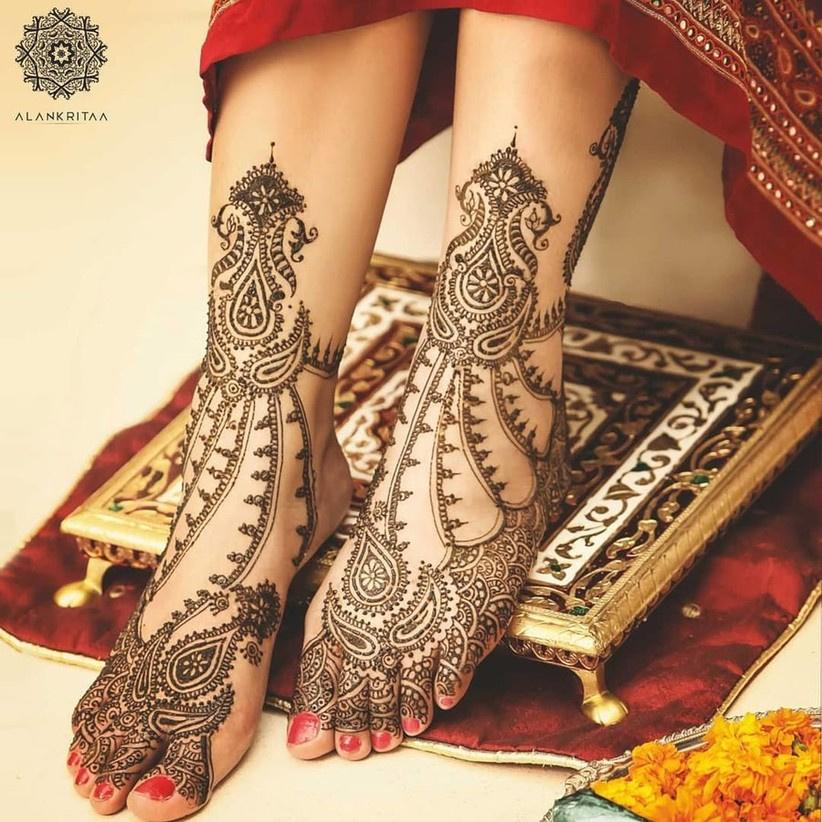 Will you not get mesmerised by such strings of delicate patterns that look like jewellery on the feet? Wouldn't you bookmark this first as this design goes with your persona? We are sure- yes! You will love this for sure.
Magic of Lotus Leg Mehndi Design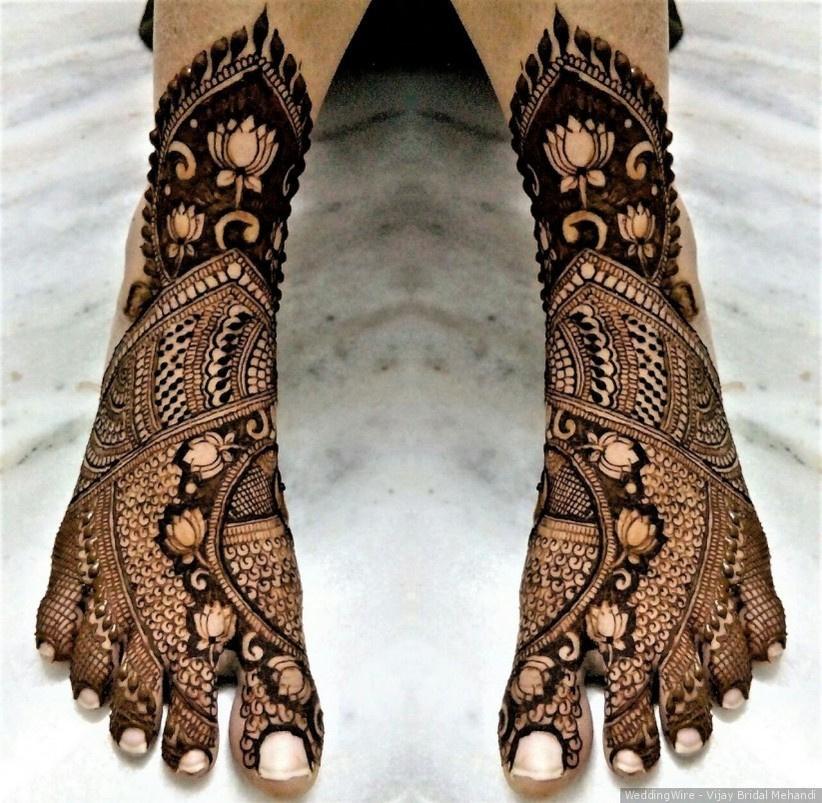 Lotus symbolises purity and therefore this beautiful leg Mehendi design with a focus on lotus motifs looks like something a bride would choose at the start of her new journey.
Sun Inspired Leg Mehndi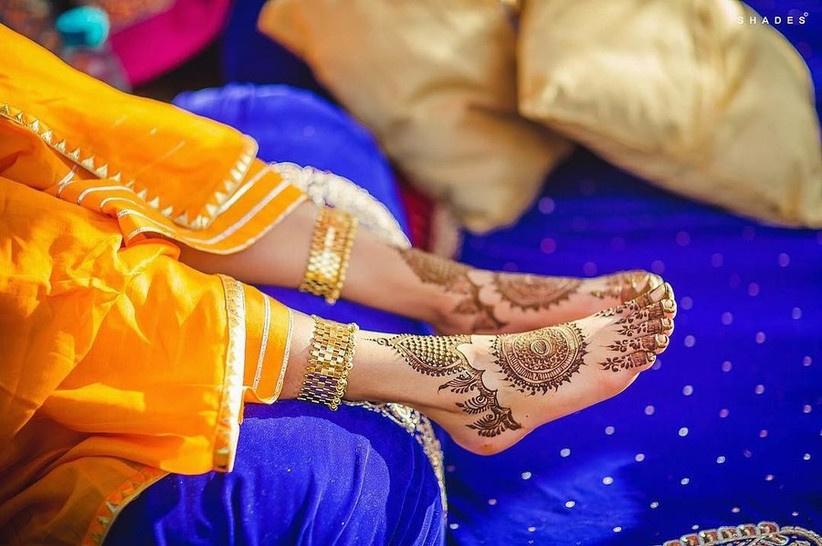 Image Courtesy: Shades Photography
This simple mehndi design image that is detailed in its design and yet very minimalistic in its coverage seems like a great choice for new-age brides out there.
Mirrored Beauty Leg Mehndi Design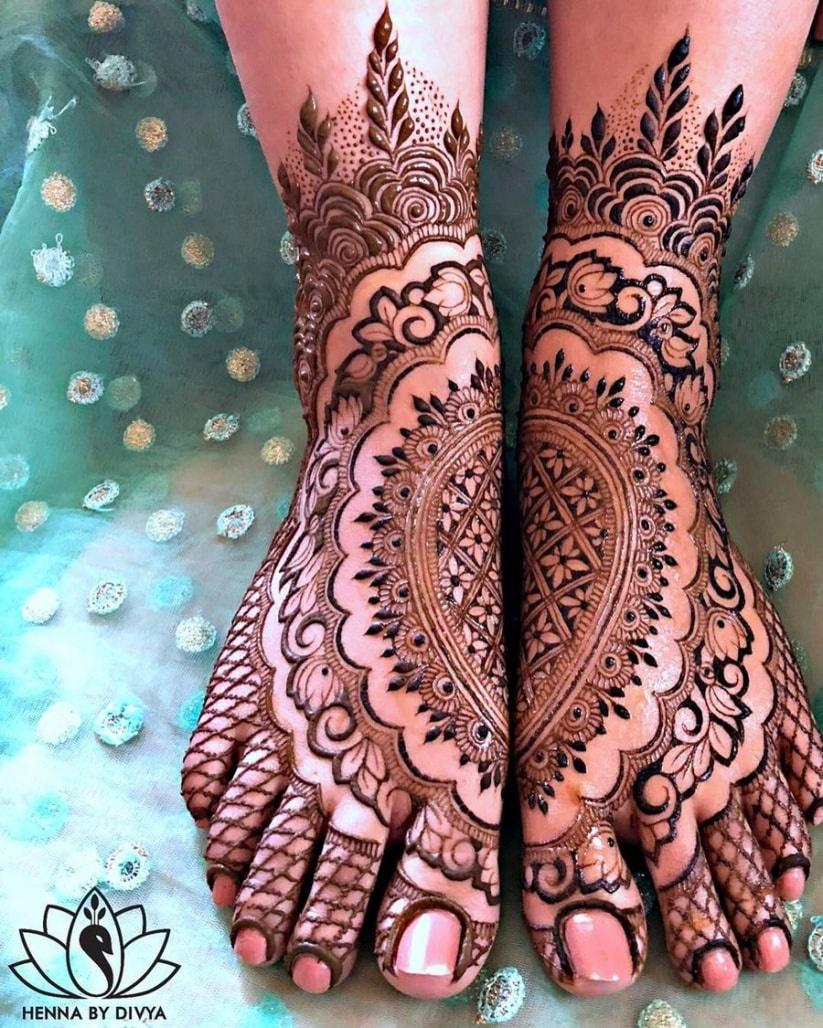 Image Courtesy: Henna by Divya
It is not very difficult to guess a millennial bride's leg mehndi design as she is sure to go for a half and half design as symmetry needs to be kept in mind. The designs on both her feet will be mirror images of each other.
Bold & Intricate Leg Mehndi Design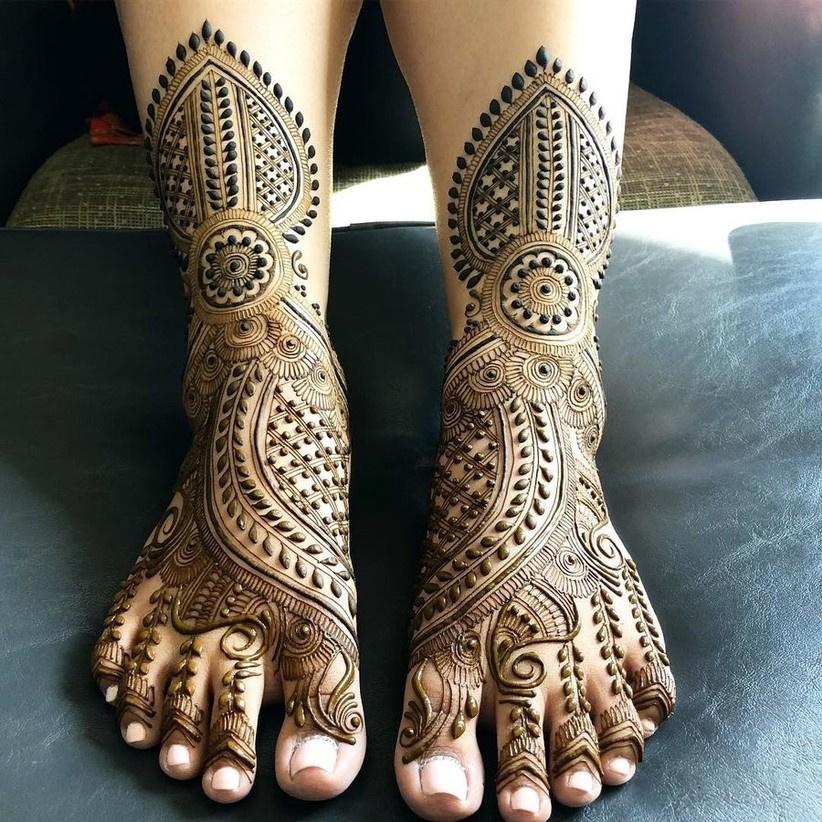 Image Courtesy: Minal Beauty
Fans of mirrored leg Mehendi designs, the brides are sure to love this one as well. Everything that balances the symmetry could be their choice, exactly like the jaali-like or mesh patterns on this beautiful design.
Leafy Leg Mehndi Design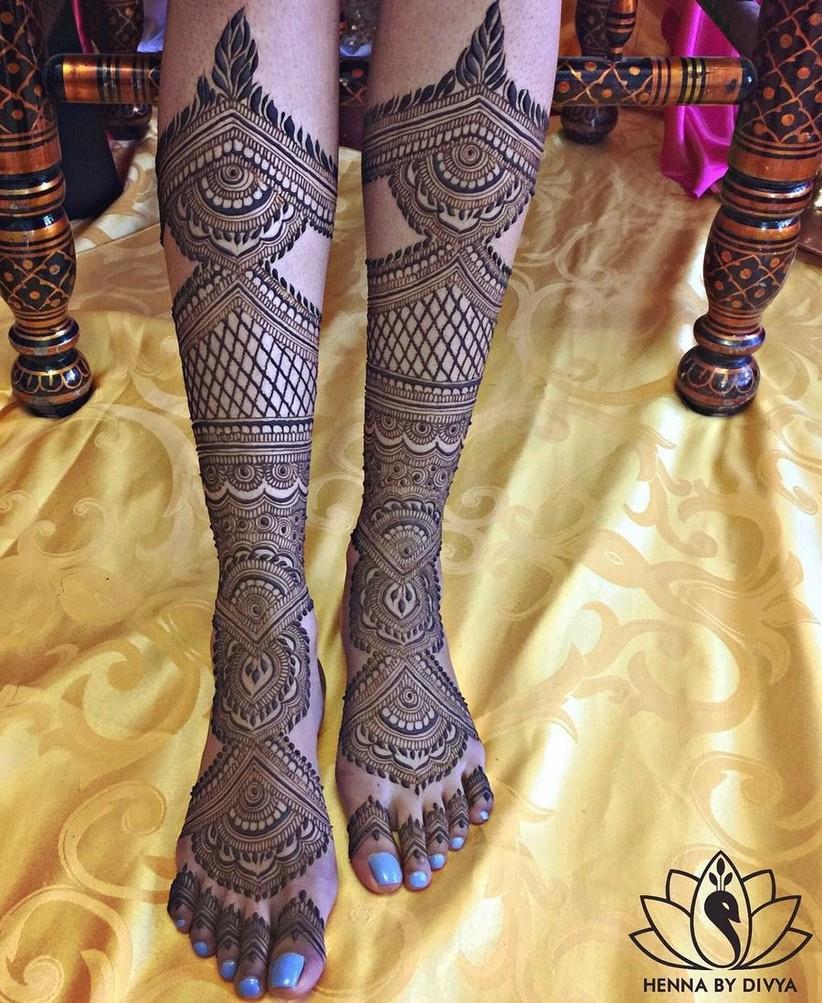 Image Courtesy: Henna by Divya
Known to be the aesthetes of the zodiac, they appreciate every form of art. Mehndi is one of them, they are sure to like anything that has been done soulfully. Just like this extremely detailed leg mehndi design that is intricate and yet very symmetrical. Your bridal mehndi couldn't get prettier than this.
Checkered Magic Leg Mehndi Design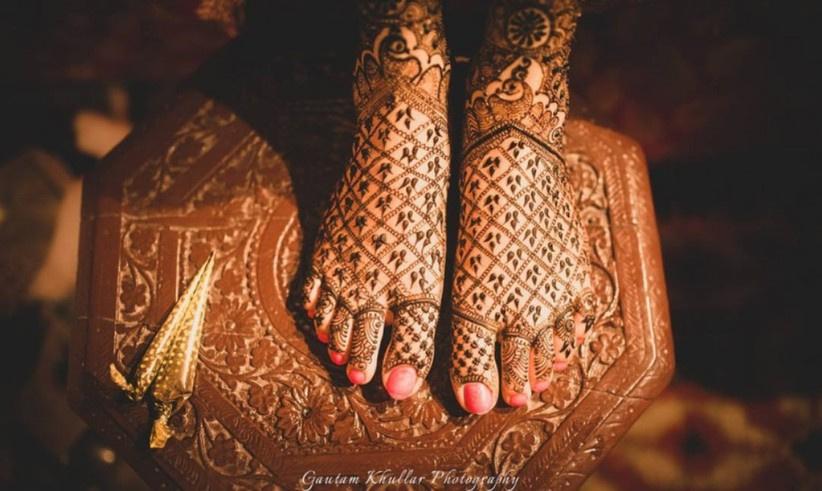 The jaali design is the most symmetrical mehndi pattern of all time, and it is almost impossible for a bride to look that over. This leg mehndi design with a beautiful mesh pattern at the focus is something that will catch their eye almost immediately.
All About Flowers Leg Mehndi Design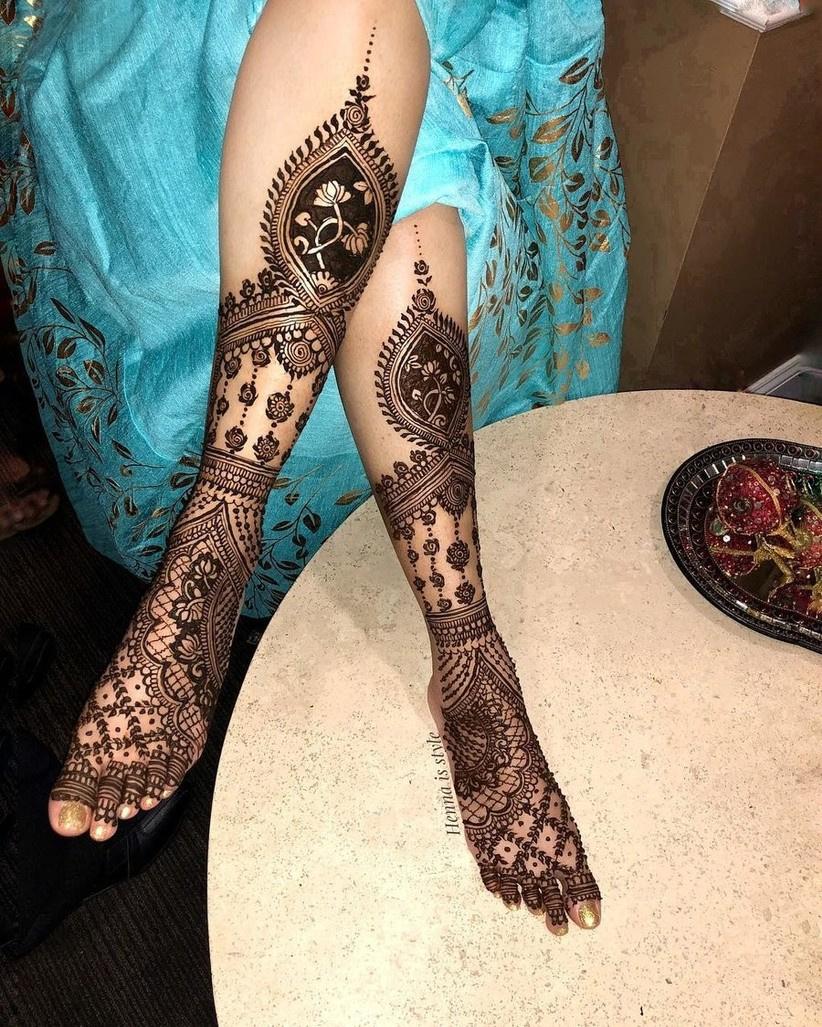 Image Courtesy: Henna Is Style
They have the poise and grace that matches no other sign, and therefore their choice of leg mehndi design would also be grateful. Just like this fully covered leg mehndi design that has various flower motifs connected elegantly with the famous mesh pattern.
Starry Mandala Leg Mehndi Design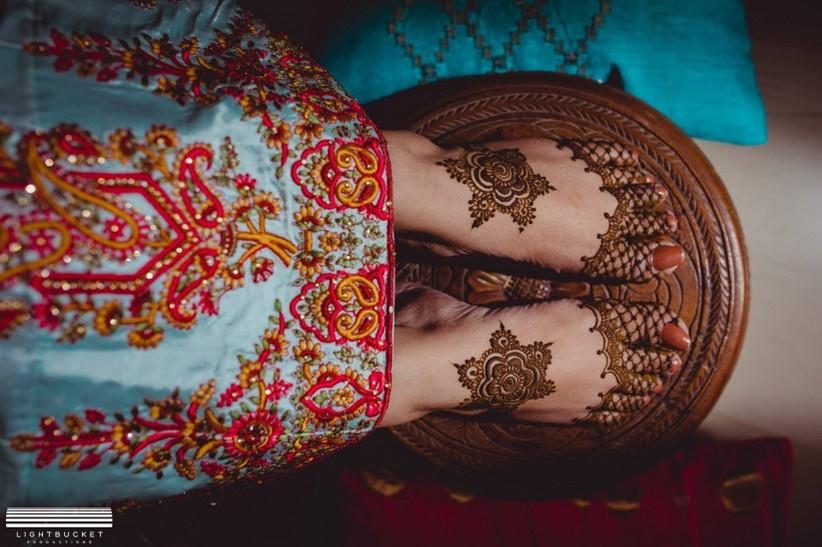 Another gorgeous leg mehndi design that is as simple as a jaali pattern on the toenails with a floral motif in the center, summing up the definition of poise and grace.
Chained Beauty Leg Mehndi Design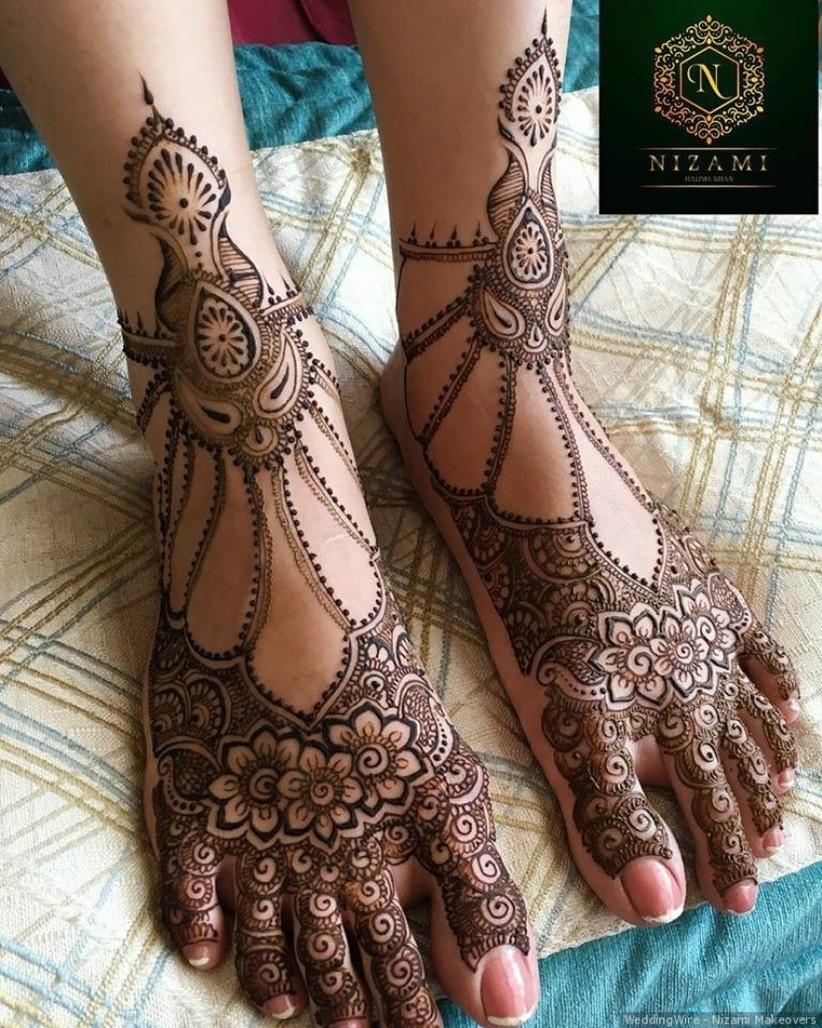 Unlike the other choices, this one is a contemporary design with beautiful little flower patterns as a filling that makes it look extremely artistic and modish.
World Map In Leg Mehndi Design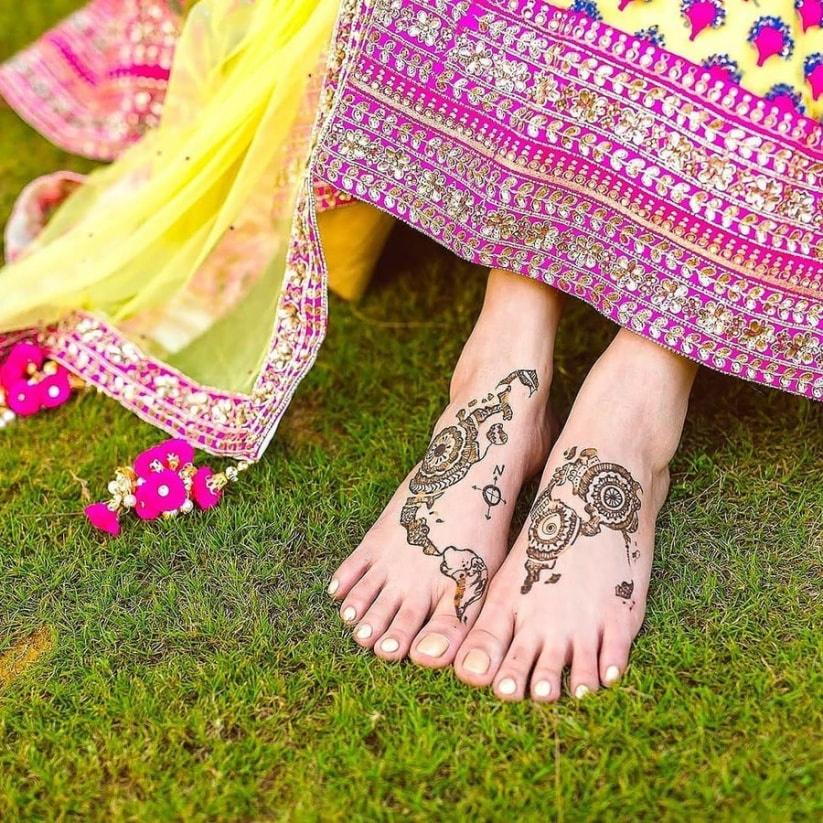 Based on what we've said above is the reason why we believe that her mehndi design will be something completely modern and one that holds some value in her life. There is no doubt that a Sagittarius can rock the world map leg mehndi design the best.
Tracing The Edges Of Perfection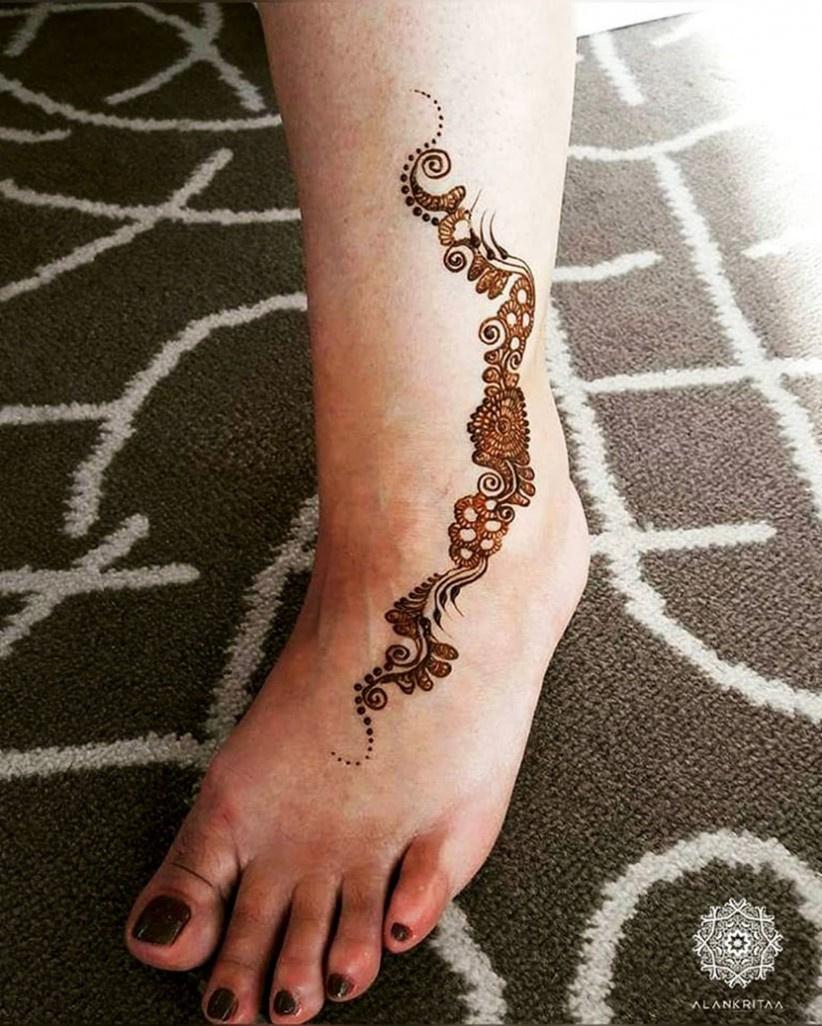 This tattoo-like leg mehndi design is so quirky and something today's bride would pull off with enough grace and charm.
Dulha Dulhan Motif For The Win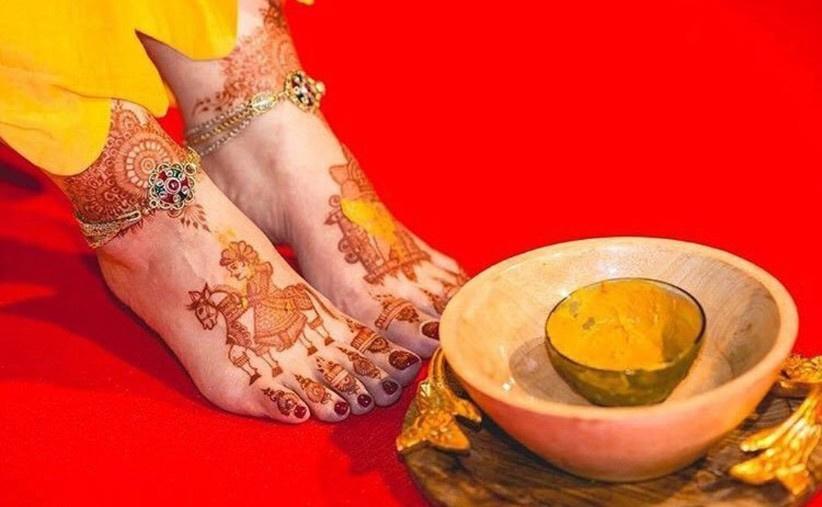 Image Courtesy: Capture Memories
This caricature mehndi with the groom on the horse and the bride in her palki suggests something similar to what conventional brides must be looking out for
Anklet Effect For The Win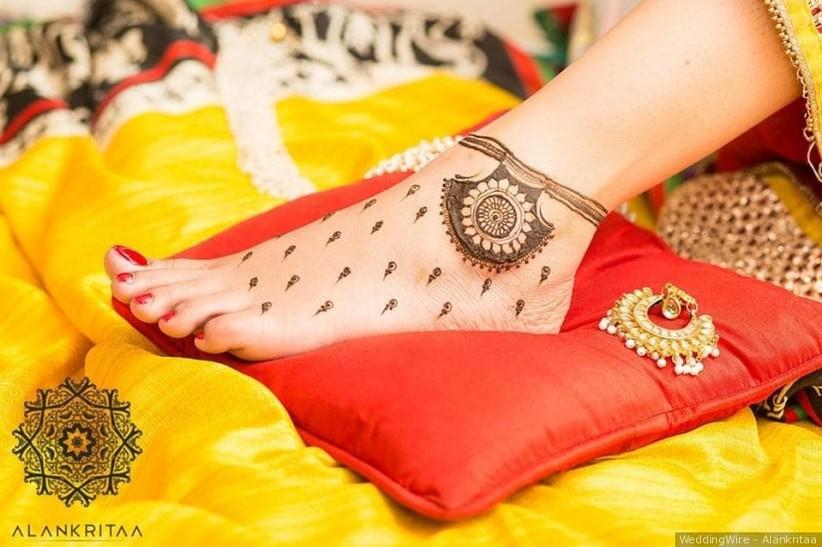 This unique anklet design with little patterns all around completes the look of this bridal mehndi.
Pretty Roses Are All We Need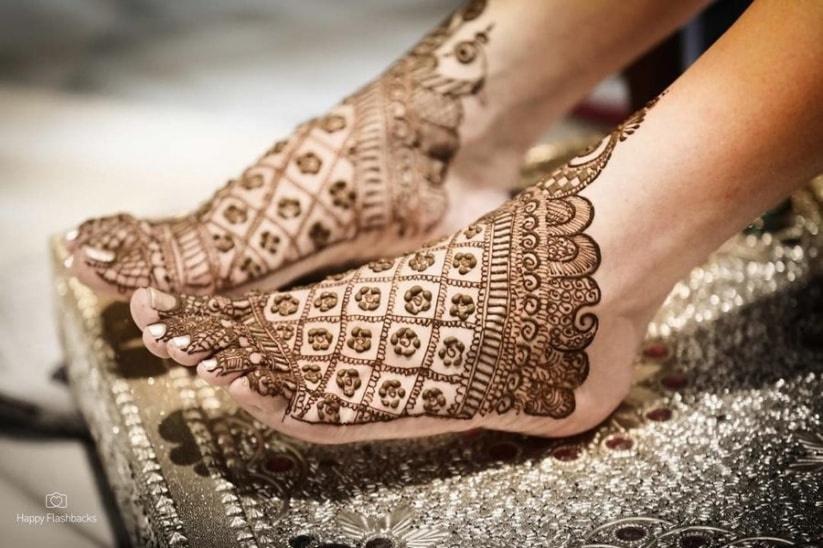 This leg mehndi design will have a dainty design like this mesmerising checkered pattern indicating formal tone and discipline in the beautiful mehndi patterns. We have bookmarked it. What about you?
Swirls Leg Mehndi Design For The Win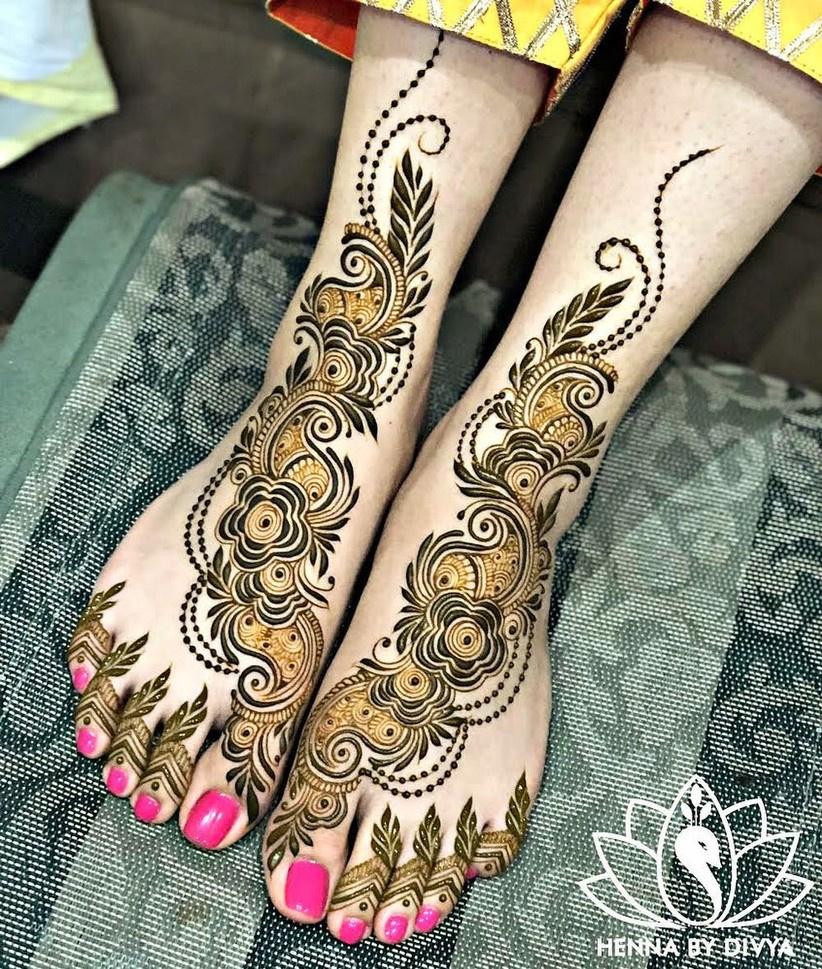 Image Courtesy: Henna by Divya
New age bride appreciates tradition and order and therefore is sure to choose something intricate, traditional, and yet very eye-catching. This full-coverage new mehndi design images have all the traditional motifs and yet the pattern in bands around the leg makes it unique and interesting.
Paisley Leg Mehndi Design For The Win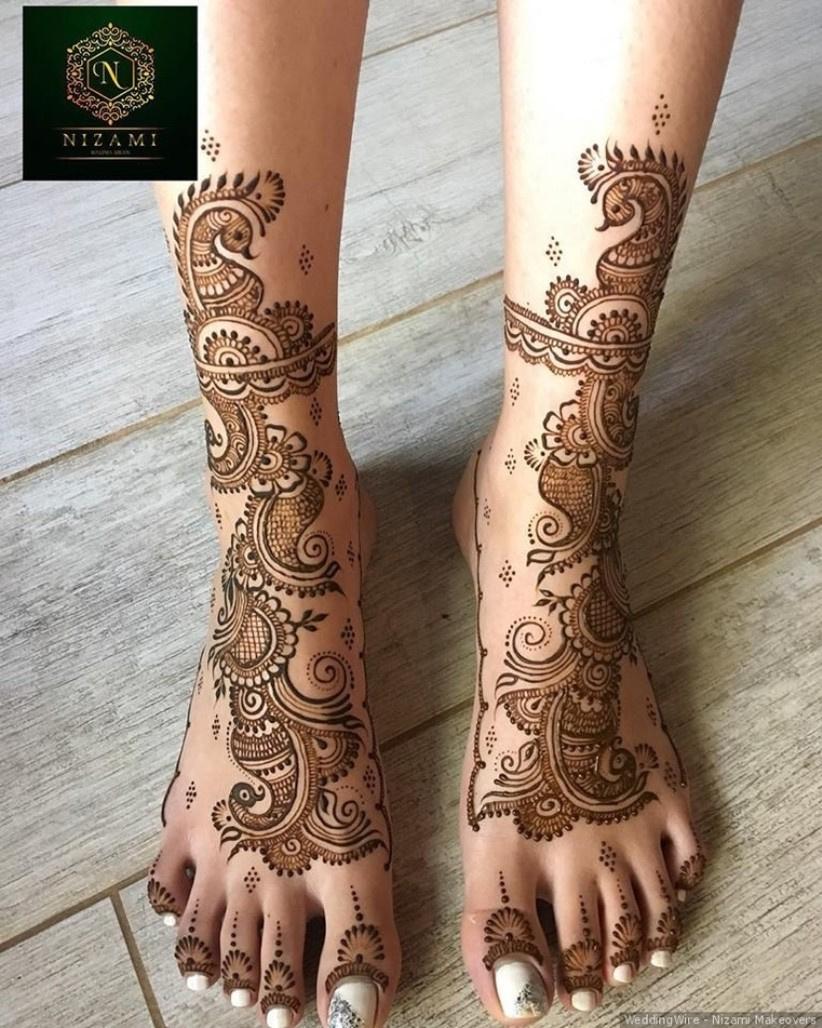 The taste of a modern bride as we know is dignified and formal, so how do you think the leg mehndi design would be? This dainty paisley pattern with peacock motifs is something they'd surely like.
Wedding Bliss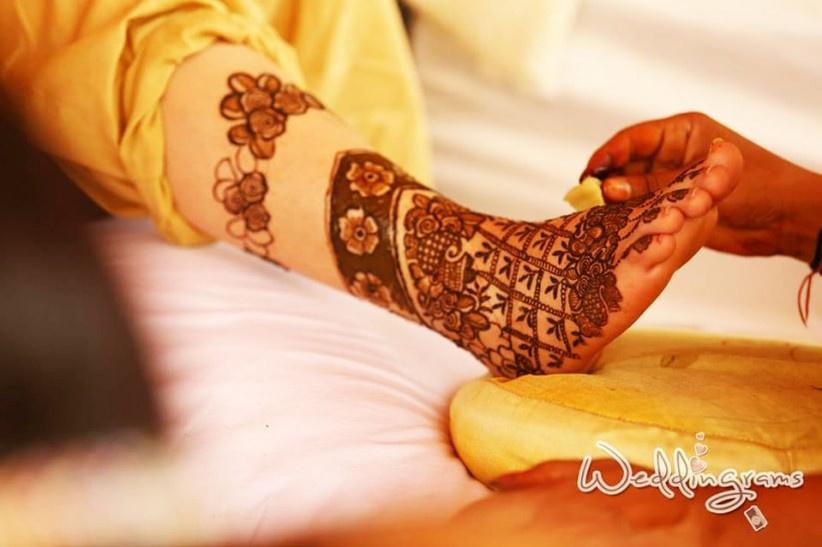 Another breathtakingly beautiful leg mehndi design with bold floral bands around the ankle and a beautiful chaadar design around the toe is completing the look is what the brides would choose.
Neat Leg Mehndi Design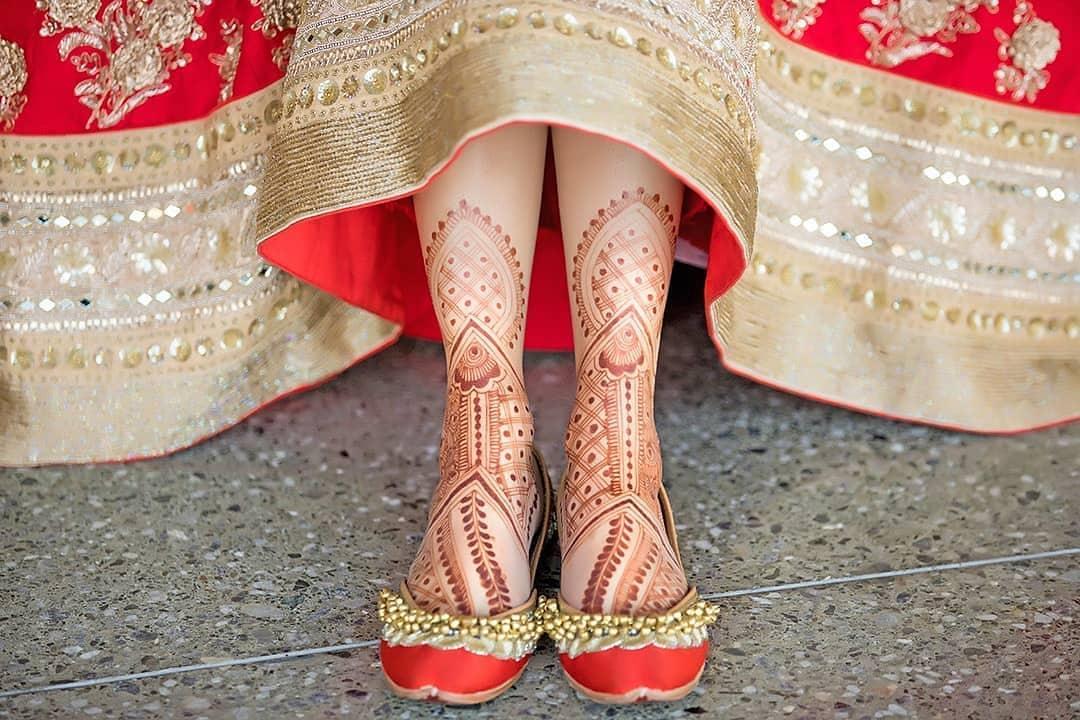 Image courtesy: Minal Beauty
When we talk about a simple bride's choice in leg mehndi design, we expect it to be steeped in form, tradition, and well-spaced lines. This set of mirrored Chaadar and arches is all of this and much, much more.
The Edges Are Perfect Henna Design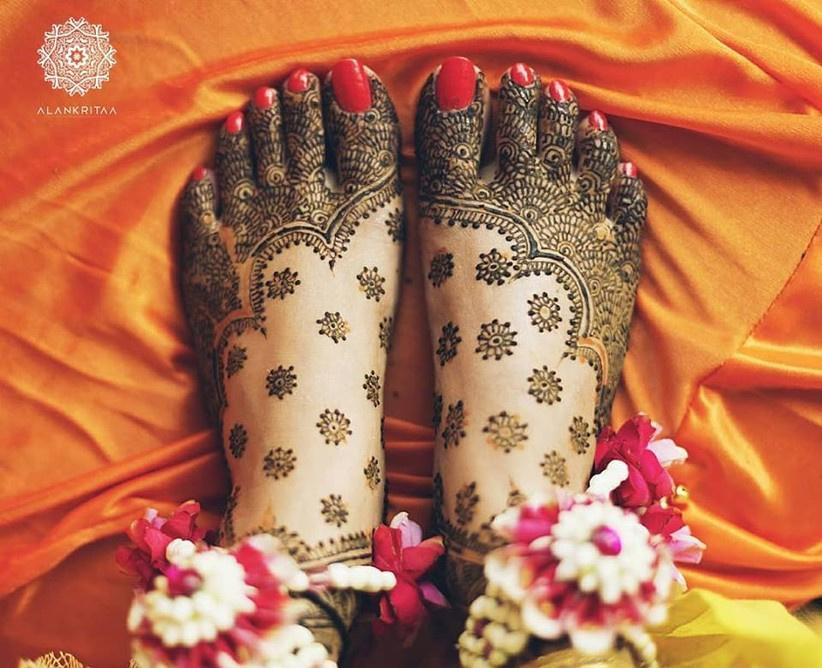 A bride is easily recognisable thanks to their love of eccentricity. Does this unique checkered lace pattern mehndi with a beautiful floral border around the feet look like something they'd love? Well, we are sure!
Dotted Beauty Leg Mehndi Design For The Win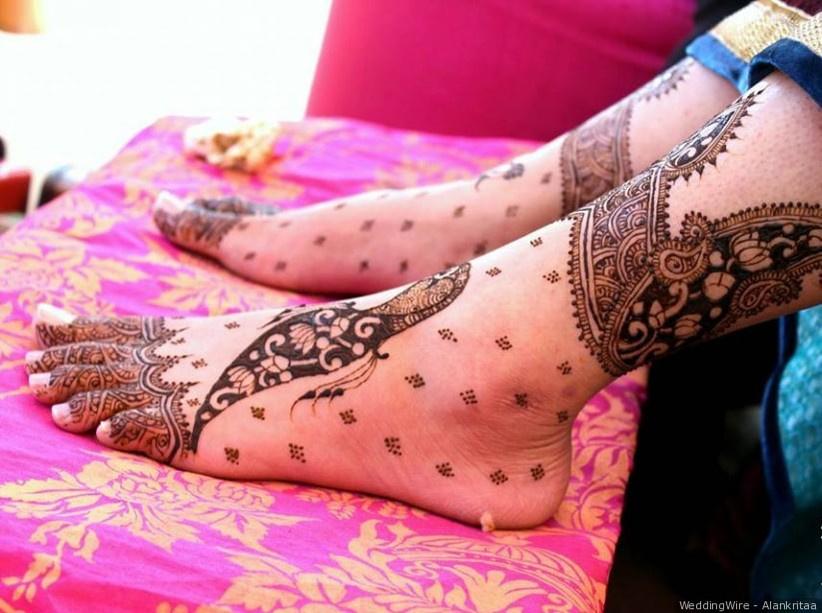 Another extremely quirky leg mehndi design that has peacock motifs filled with lotus designs as filler is what caught our eye immediately. This one will get brides the limelight they deserve. you can experiment as much as you please with this henna design but the idea is to have a design that has ample spaces in between. If you look at it, you will realise that the ample space is what makes this creative outburst so spectacular. So, it is about time that you bookmark this photograph and show it to your mehndi artist before your ceremony starts and have him/her recreate this beautiful design.
When Perfection Is Life - You Need A Stunning Henna Design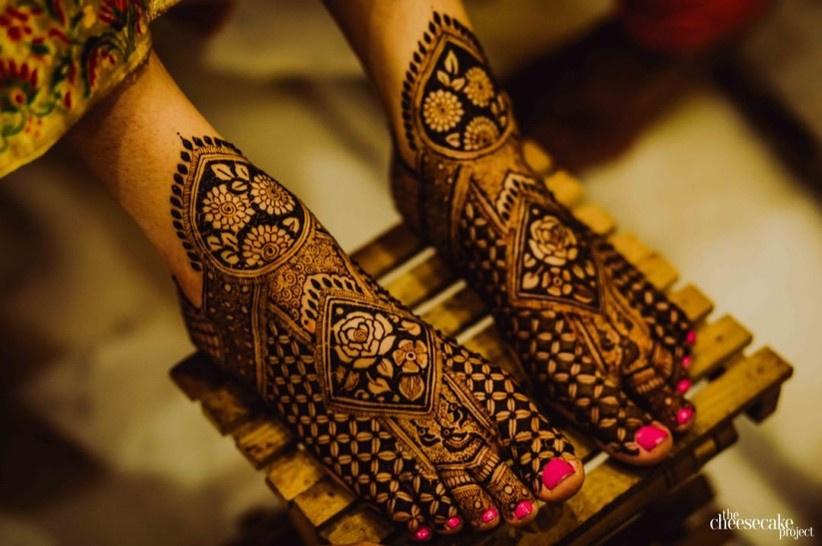 This beautiful leg mehndi design has everything that brides will love & appreciate. From floral to bird motifs, leaf patterns to the famous chaadar design, it is a combination of all things beautiful and all things eccentric. This real rose flower is the absolute goal and we cannot take our eyes off of it.
Big, bold hearts in Leg Mehndi Patterns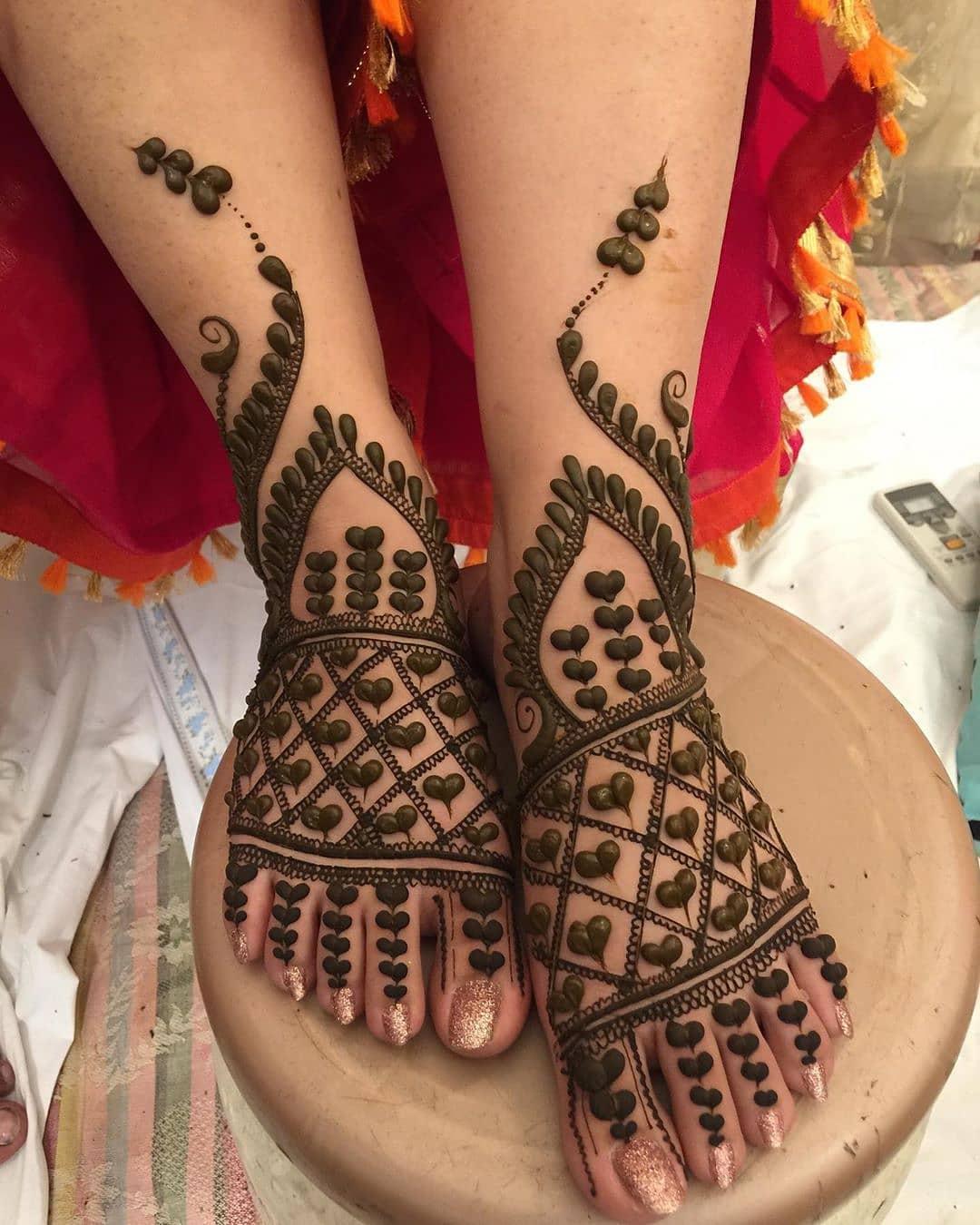 Image Courtesy: Aman Gupta Mehndi
If basking in the spotlight is your goal, then there can be no better leg mehndi design. We love the funky-pop hearts sectioned across the feet, as well as the slightly curved arches and the stems which sway as if moving with an invisible touch of the hands.
The Perfectionist Way Of Acing the Bridal Henna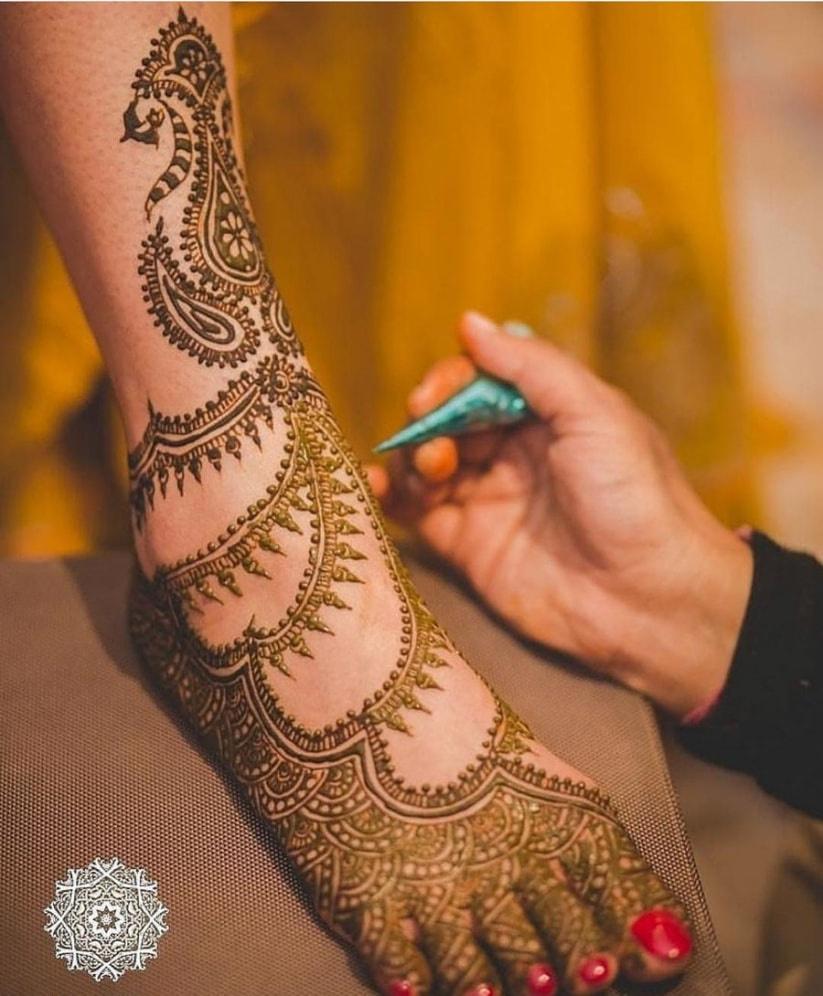 Her artistic qualities are sure to make her choose a leg mehndi design that has some aesthetic elements in it. The jewellery mehndi design that resembles a fancy multi-layered Payal is one such example that looks so damn pretty.
Convention Leg Mehndi Design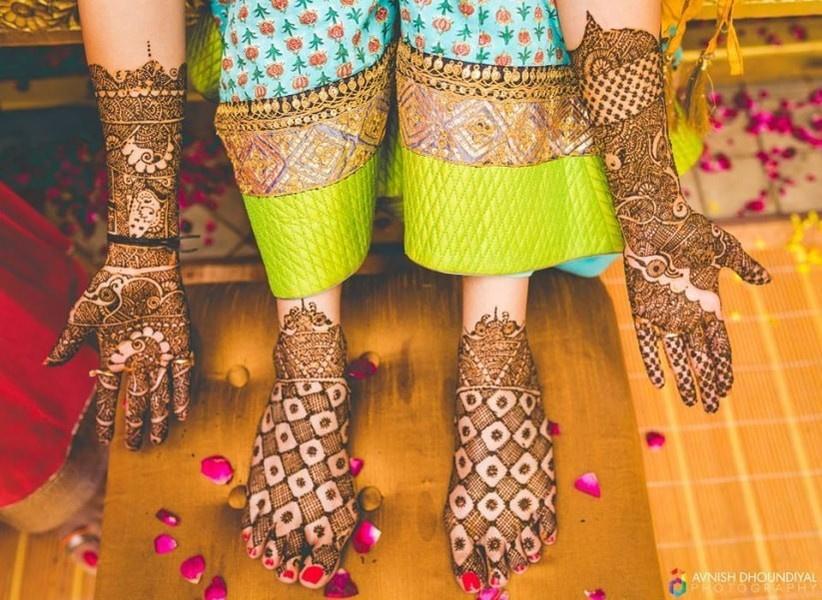 The brides love the idea of an aesthetically aligned leg mehndi design like this one with a gorgeous checkered pattern. With alternate boxes shaded, this one truly is something that an artist's eye will catch.
One With The Pooch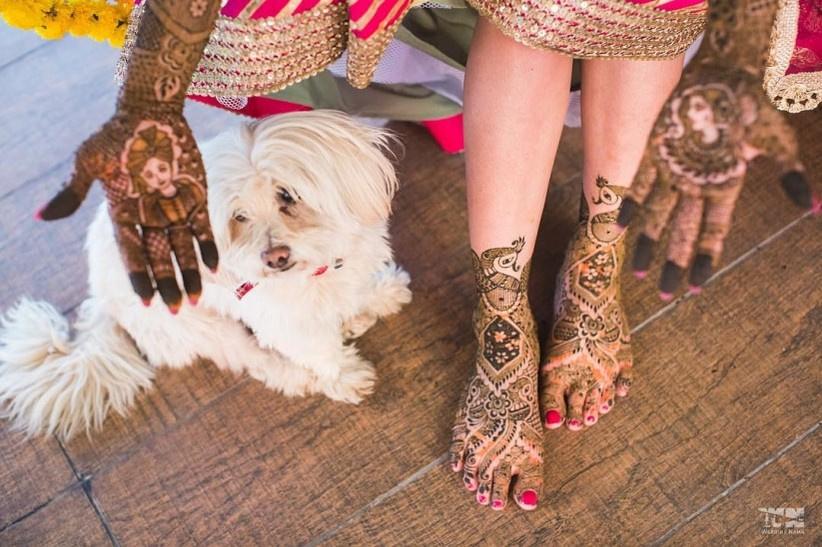 This leg-mehndi design has peacock and flower motifs at the focus and other traditional mehndi elements around it adorning the beautiful design. We are in love. What about you?
Plush Affair Leg Mehndi Design For The Win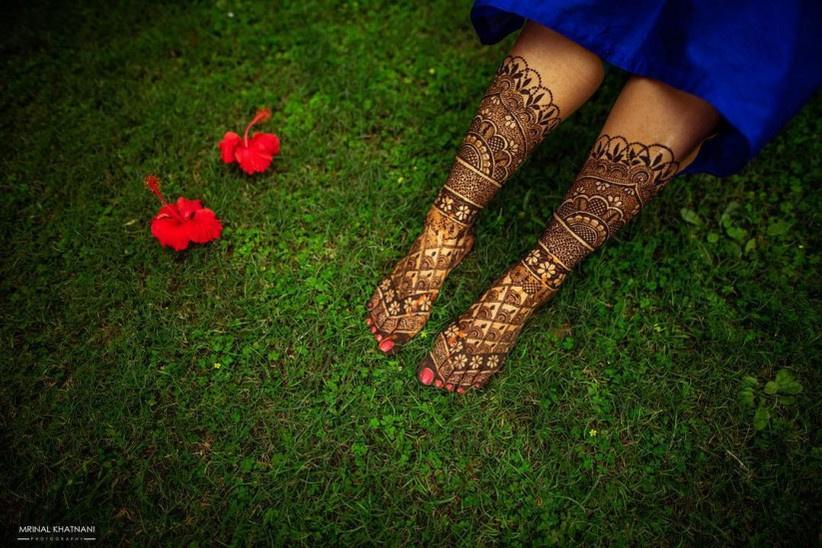 They not only have a captivating personality, but their belief in traditions and the need to wholeheartedly surrender to the beliefs is also what makes their personality captivating as well. Does this beautiful floral leg mehndi design with its traditional elements look like something they'd pick? We guess so.
A dazzling set of Peacocks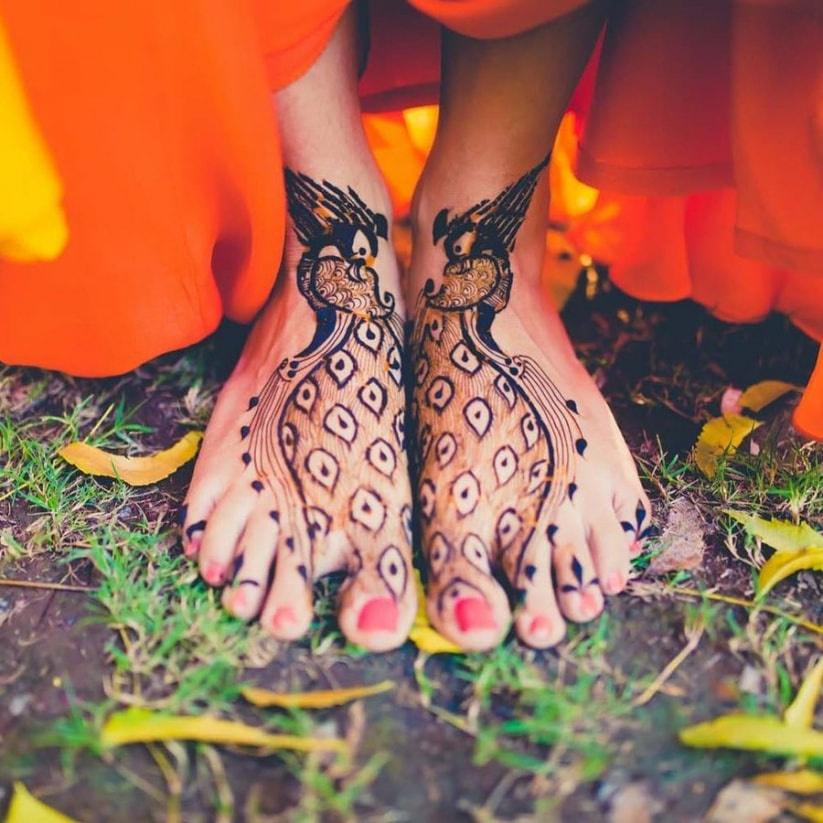 Nothing says art better than a design pattern that covers and dominates the complete canvas and this is especially true for the leg mehndi design that we see here. Observe the twin peacocks, mirroring each other to true form, and note how they still combine to form a single, seamless pattern.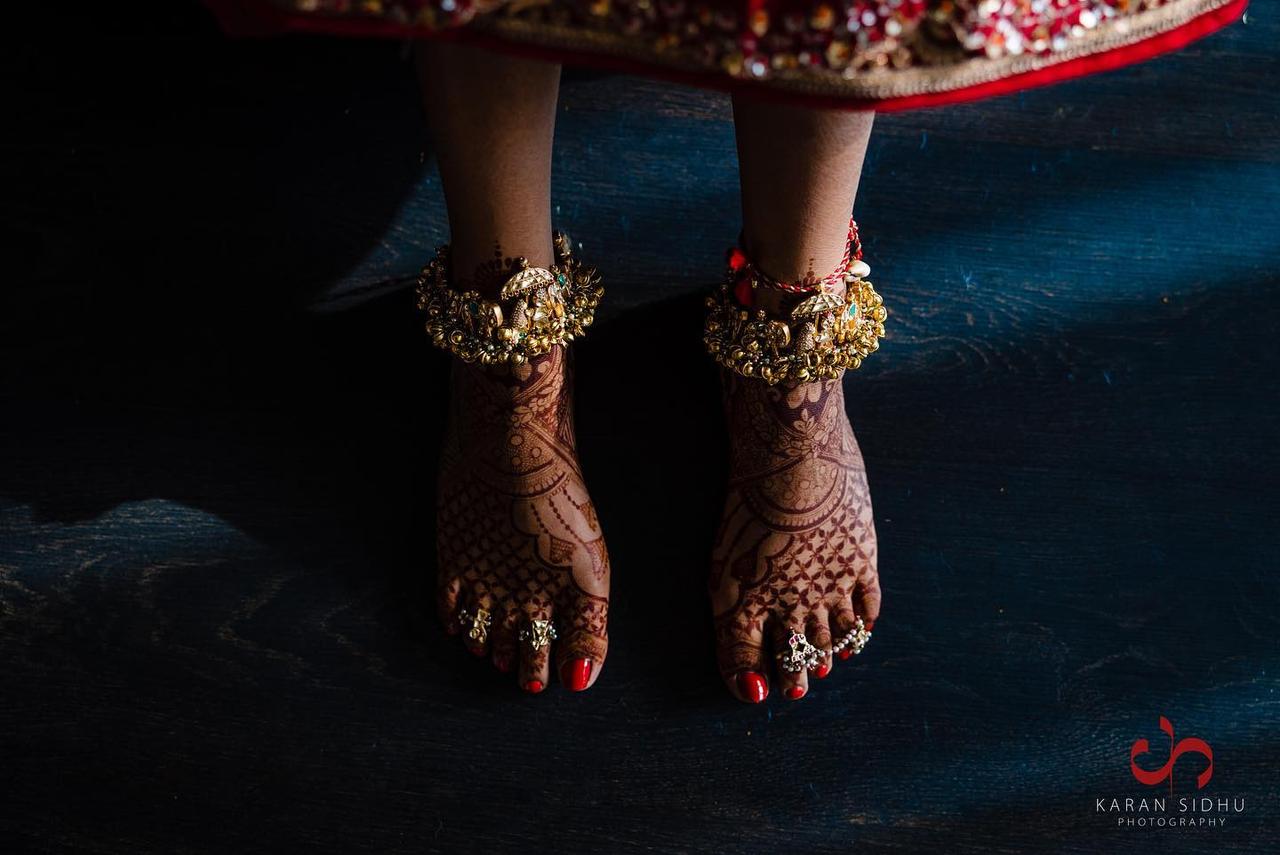 So, now that you have a stunning pool of leg mehndi designs from which you can pick whichever design that you love best and have a gist of those various other elements that must be perfect to the 'T' we feel you are ready to take the fashion industry and vogue by the storm. So, put your game face on and get ready to slay at your Mehndi ceremony! So, bridal diva shine on, get your groom on and tell the world know why you are the star and the maker of your own life and happiness.
Which one of these gorgeous leg mehndi designs will you be choosing for your wedding celebration? Do let us know in the comments below!
Top Blogs on WeddingWire India