Rose Mehndi Design : Romantic Modern Rose Flower Mehndi Design Pics
Romantic roses are perfect for your big day. Here are some rose Mehndi designs to inspire you to design your own.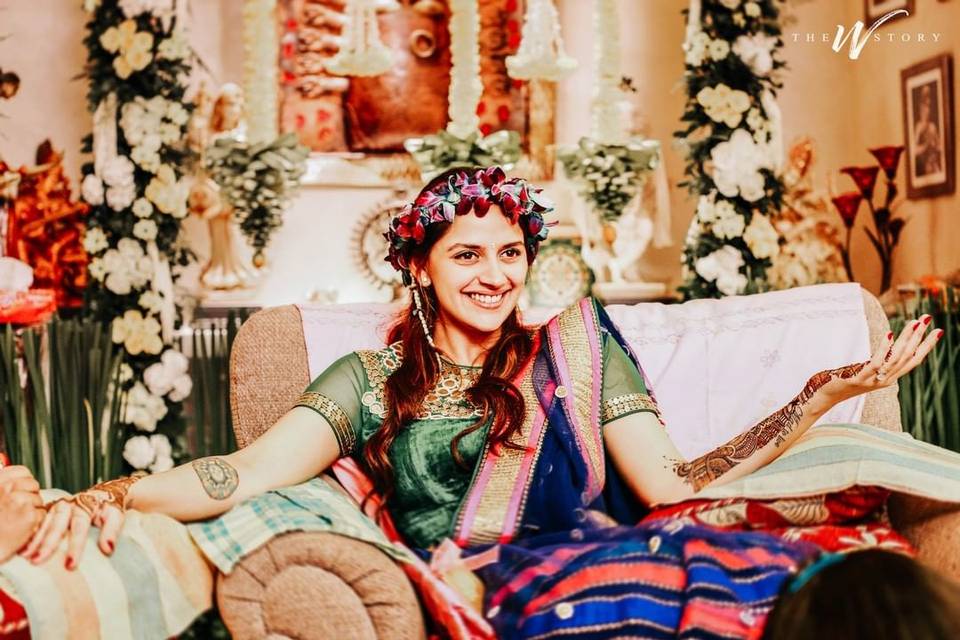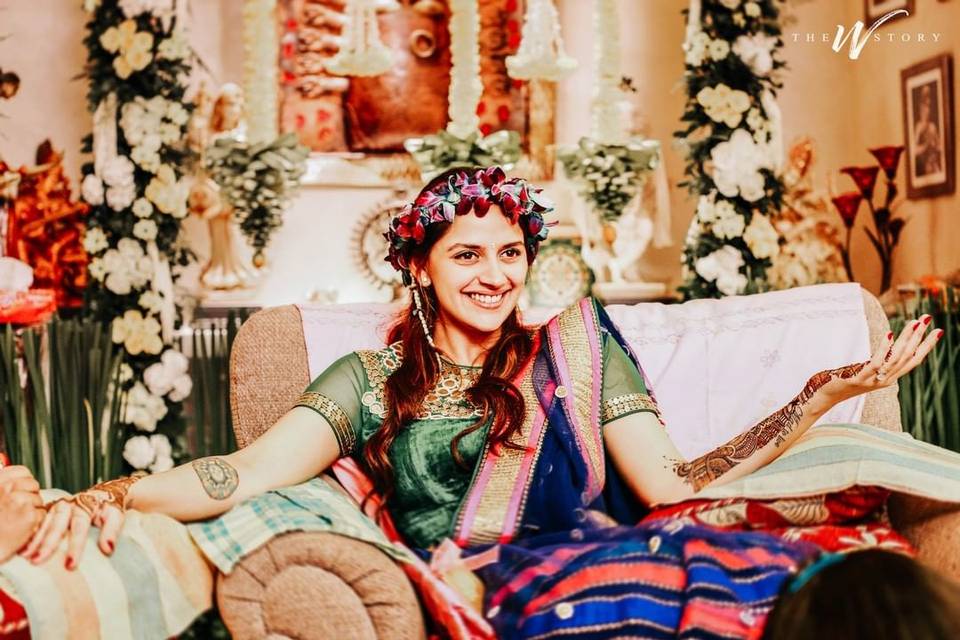 Image Credits - The Wedding Story
The epitome of romance and the iconic symbol of love, roses will never go out of style because of the poetic meaning they hold. Yes, add a dash of this rhythm to your henna and opt for rose Mehndi designs or love mehndi design for your wedding celebration. These love mehndi design has some connation of romance, love and passion. These mehndi designs exhibits the taste of refinement and beauty. Thereby, keeping this trend in perspective, we have curated a collection of some quirky, some classic and some completely out-of-the-box rose mehndi designs for you. Along with that we have given some rose mehndi designs for back hands too. After all, what better way to express love than with roses?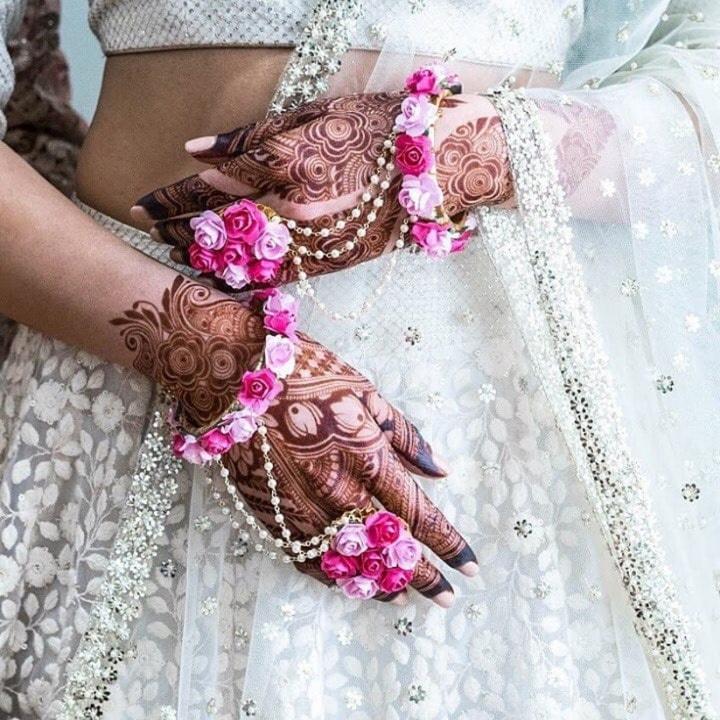 Rose Mehndi Design For Your Hands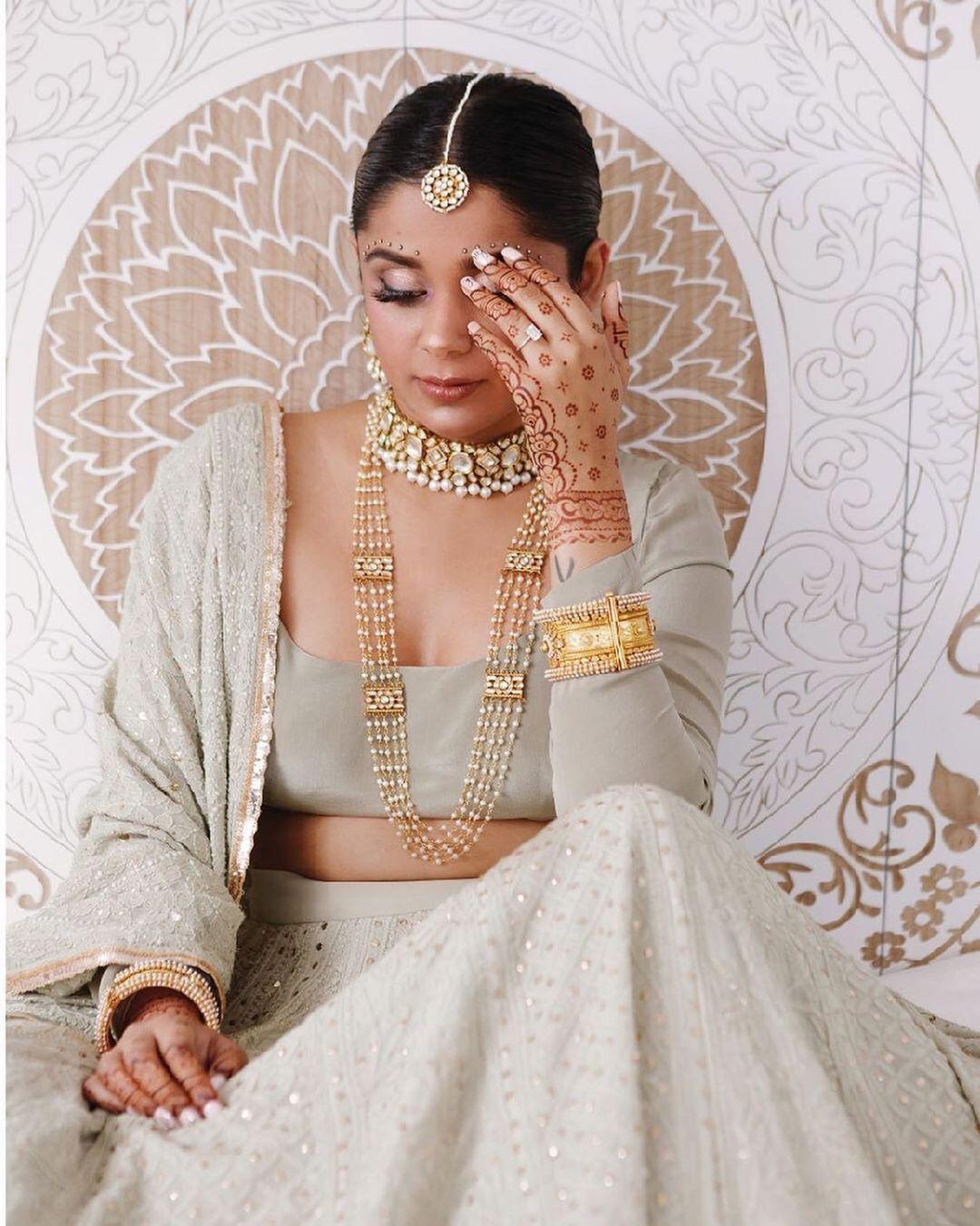 Image Credits - Henna By Divya
Rose Mehndi Designs Full Hand
The Jaal designs are not just for your feet. They look absolutely gorgeous on your hands as well. Take the rose mehndi design with Jaal up a notch by embellishing it with the sparkle of rhinestone body stickers. The fun spirit of the love mehndi design or jaal mehndi design will be a perfect match for the whimsical spirit of our Mehndi function, and out-of-the-box and completely unique photoshoot with this rose Mehndi design is an added bonus. Not to mention the memories that will come with this celebration will be with you through a lifetime. So gear up to flaunt your beautiful jaal mehndi design with intricate patterns of rose flower design.
Rose Mehndi Design with Hearts and Roses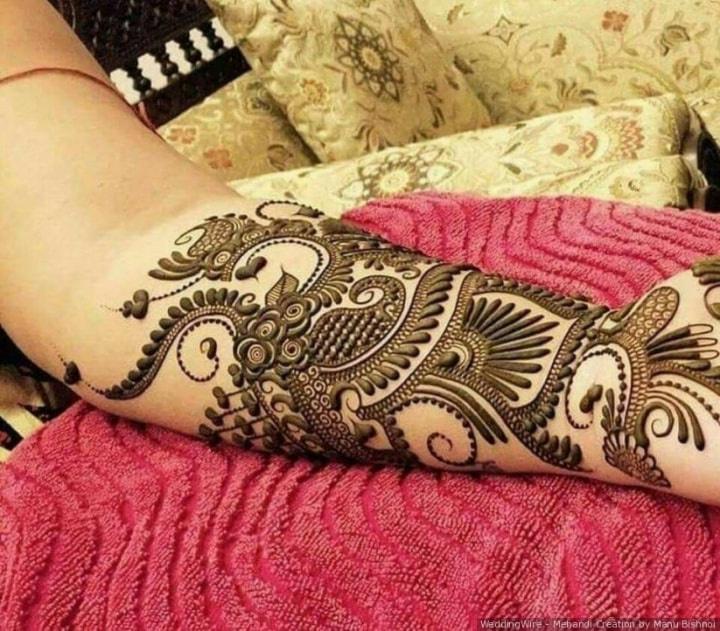 Give the interpretation of love a literal essence by using motifs of heart and roses in your Bridal Mehndi design. What better way of sharing the spirit of love in the air than a bold yet elegant display of the zeal of love on the biggest day of your life. Mix this gulab mehndi design with classic patterns of paisley, flowers, peacock and the iconic swirls to complete your Rose Mehndi design.
Rose Mehndi Design For the Love of Roses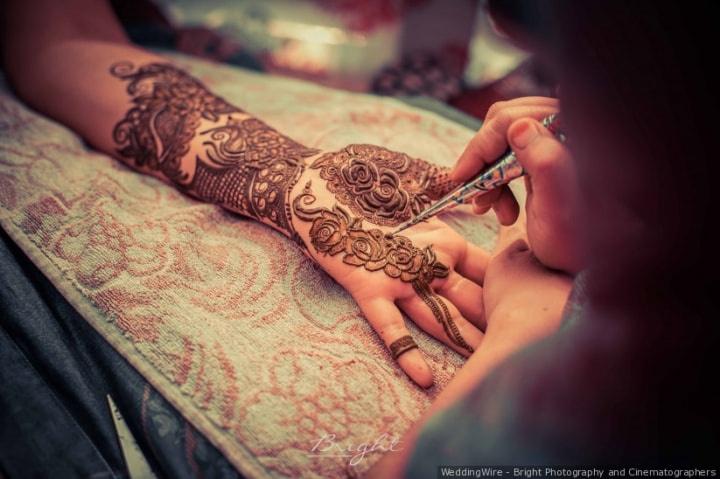 If roses are the first thing in your mind when you think about love and romance, then this rose Mehndi design is the one for you. With bold rose flowers being the highlight of this design, it is surely a showstopper in this category. Keeping the focus on the roses or gulab mehndi design, finishing touches to this design are added with motifs of leaves, paisleys, bails and swirls. This surely needs to be a part of your rose mehndi designs list for inspiration.
Rose Mehndi Design Back Hand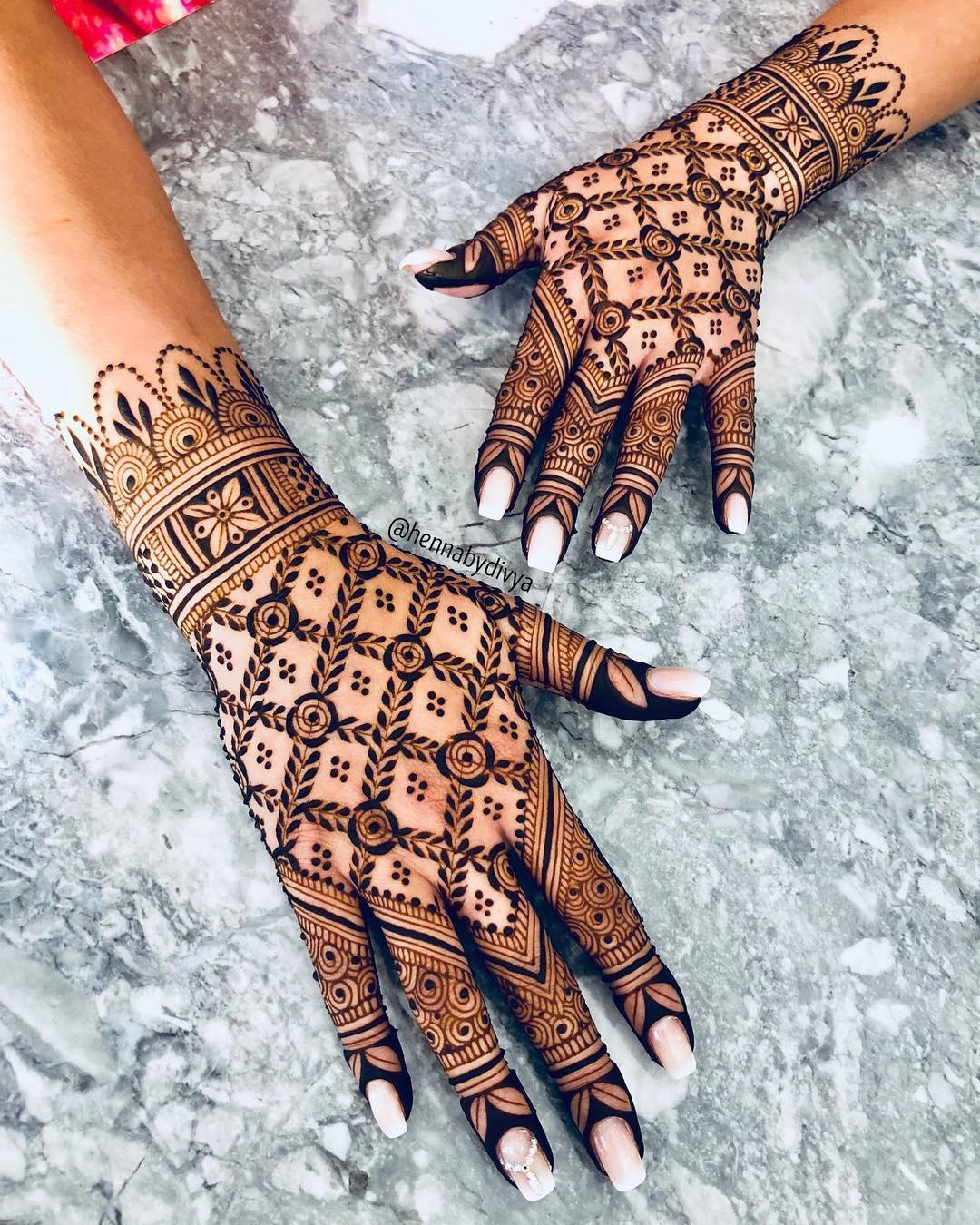 Image Credits - Henna by Divya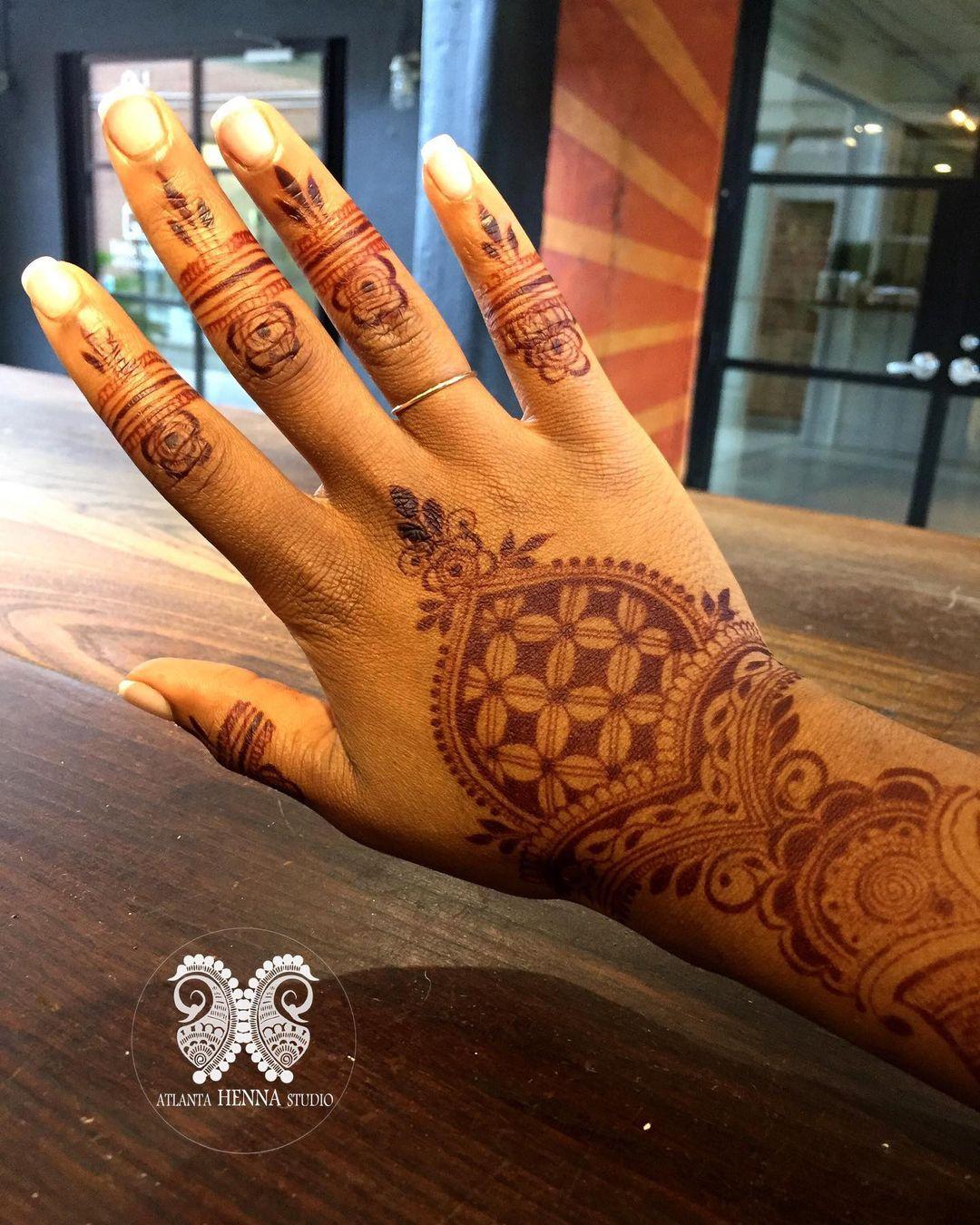 Image Credits - Atlanta Henna Studio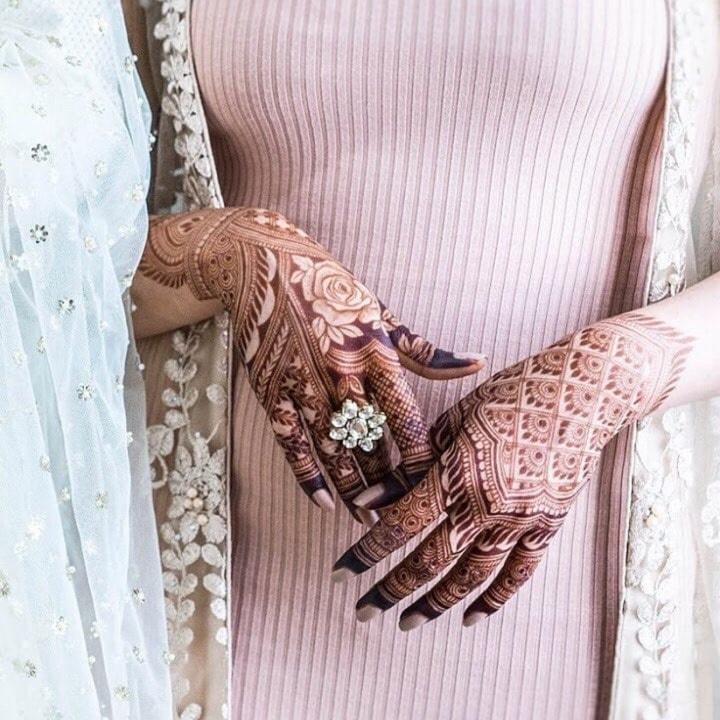 Saving one of the best for the last. This rose mehndi design or new rose mehndi design is perfect for the millennial minimal bride with a dash of quirky personality. A bold rose pattern towards one side of the hand is there to make a statement and call all the attention towards it. The intricacy of the design amalgamated with floral motifs makes this design truly one of its own kind. The ring adorned by the bride does absolute justice to the classy rose Mehndi designs she flaunts.
Black Rose Mehndi Design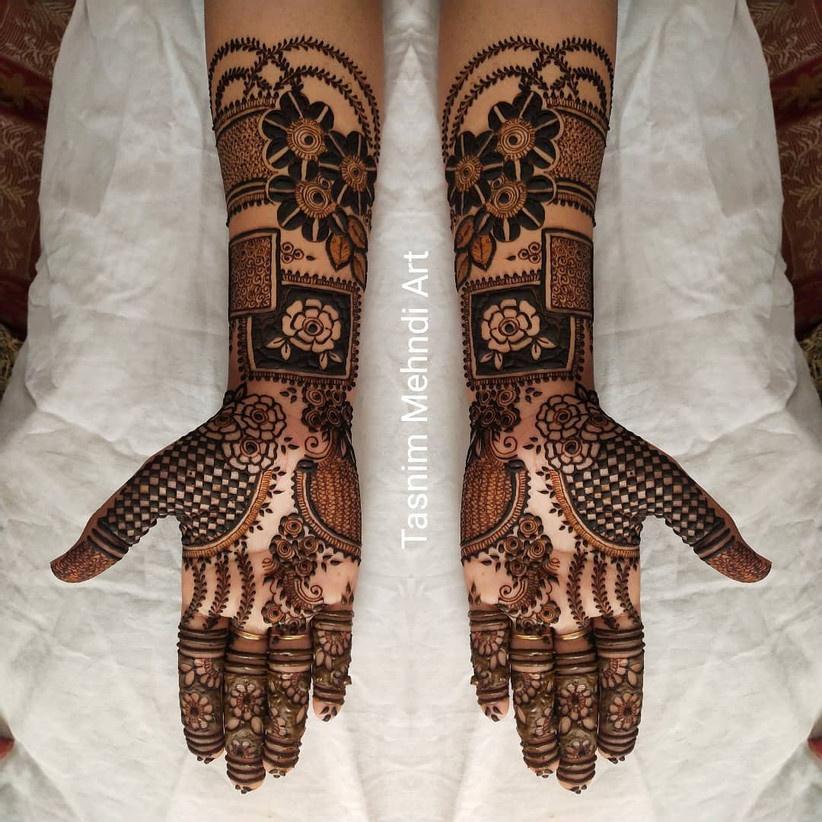 Image Credits - Tasnim Mehndi Art
Dark color in India culture resonate love of your better half and family. Thereby consider yourself lucky if you got dark colour after washing your henna-laden hands. Here is dark inspiration for you. Do check out this easy rose mehndi design.
Rose Finger Mehndi Design for Hands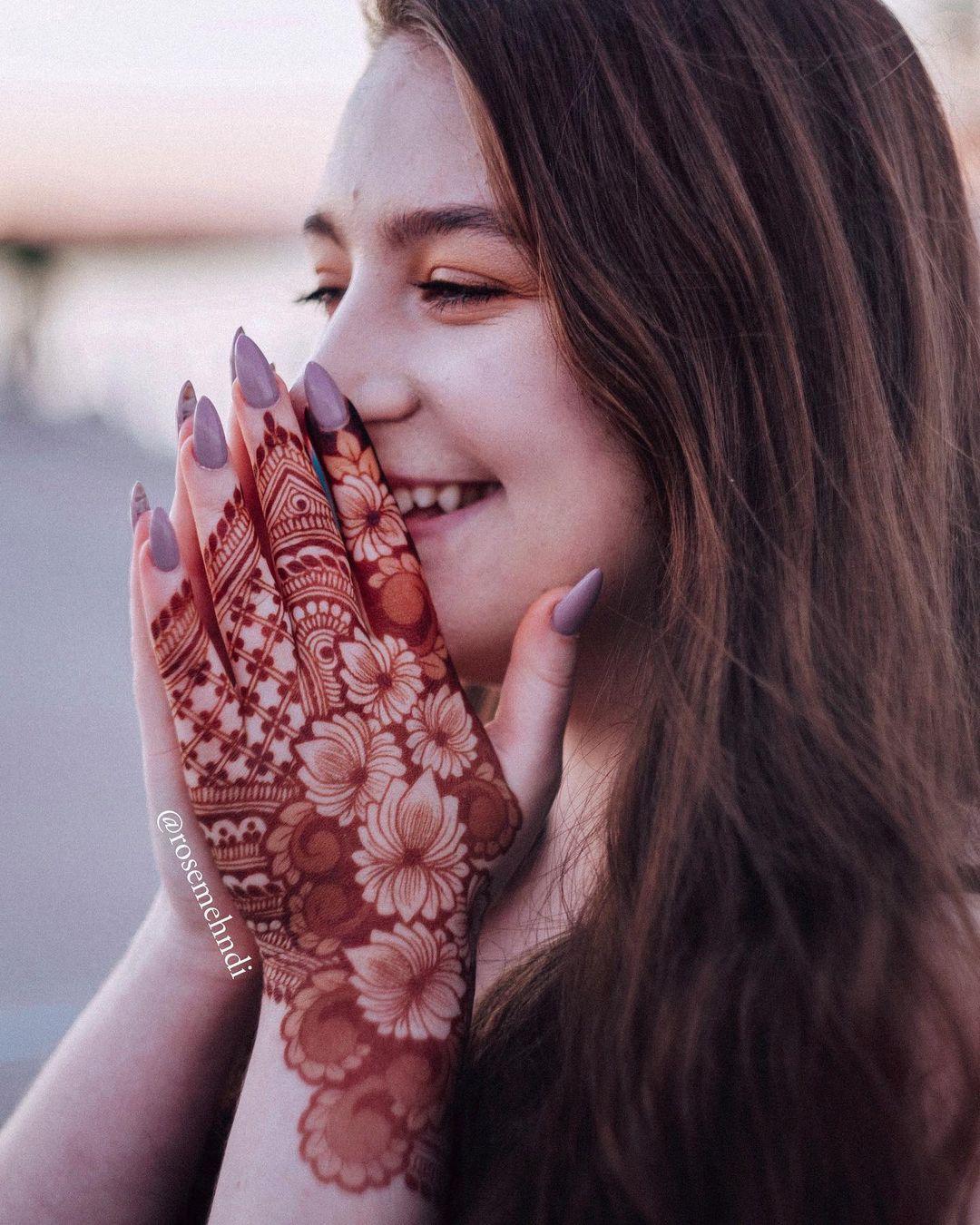 Image Credits - Pinterest
This Rose finger mehndi design for your hand will definitely get a beautiful smile on your face. Blended with some jaal and Arabic pattern this design has our heart! These Arabic rose mehndi design are perfect for pre-wedding soirees.
Rose Mehndi Design For Feet
Rose Mehndi Design with a Bed of Roses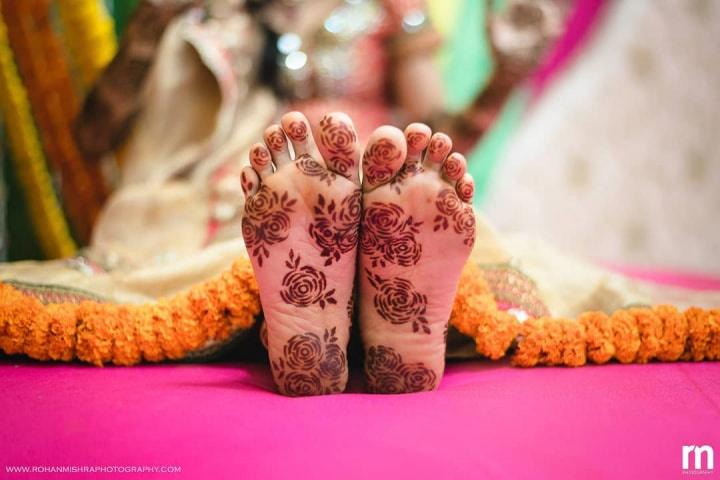 Who needs a bed of romantic roses laid down for you when you can carry your very own with your every step. This rose mehndi design at the bottom of your feet is a rare sight and we bet you have not seen anything like this before. Bold bunches of elegant romantic roses make up to be a classy design with a sprinkle of quirk. If you are a millennial bride of mystery, breaking the cliché norms of the society, then this inspiration is dedicated to you.
A Budding Jaal Rose Mehndi Design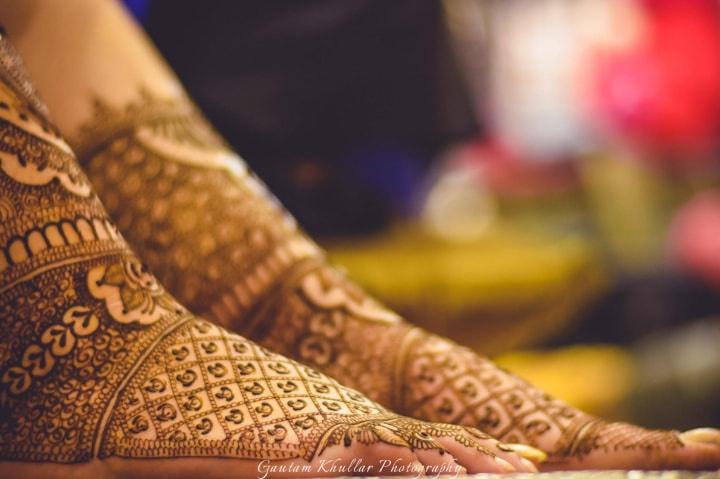 Jaal has always been a prominent part of Indian traditions. From ensemble to bridal jewellery and even decor, you see them everywhere, present in their most delicate and charming form. And Mehndi designs are no exception to this. Incorporate a lavish yet alluring Jaal design with a dash of rosebuds weaving through to create a design that is worthy of the divine bride.
Modern Rose Mehndi Design for Feet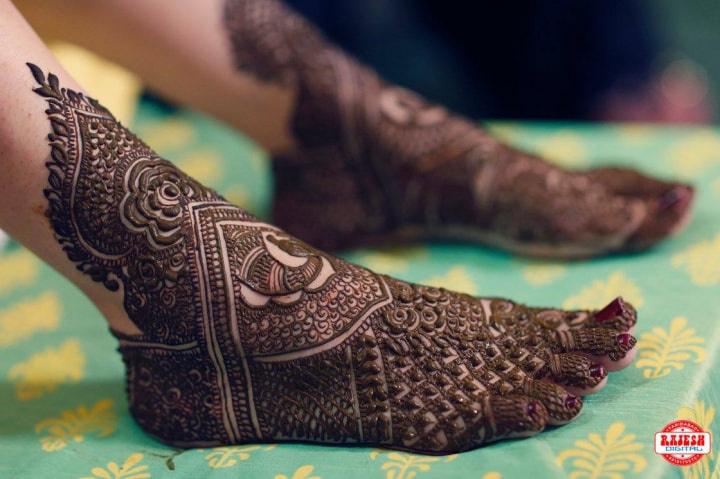 Add a dash of romance to any Mehndi design by adding a few rose flowers in the pattern. You do not need to go overboard, a small one here and a large one there will do the trick. Complete the pattern by adding the classic symbol of royalty – a peacock. And the whole design will come together with the help of a few rhythmic swirls.
Florals Rose Mehndi Design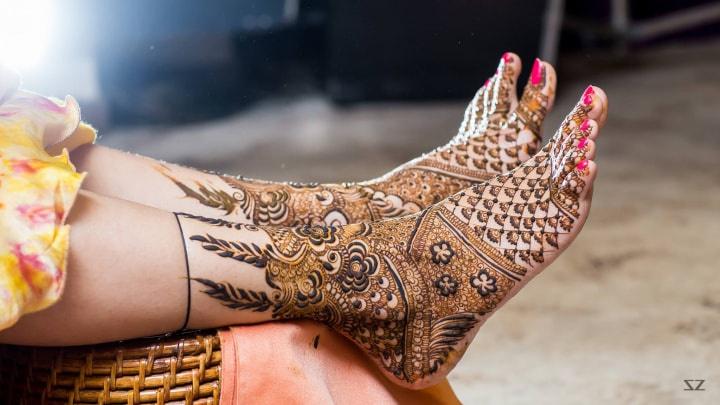 Combing all the stunning designs shared above to create the ultimate stunner. This gorgeous rose Mehndi design has a dash of swirls, a sprinkle of roses and a whole dollop of intricate Jaal pattern giving it a poetic floral look in line with the beautiful occasion. Your toes will look decked up all ready for your big day.
Black Rose Kali Mehndi for Feet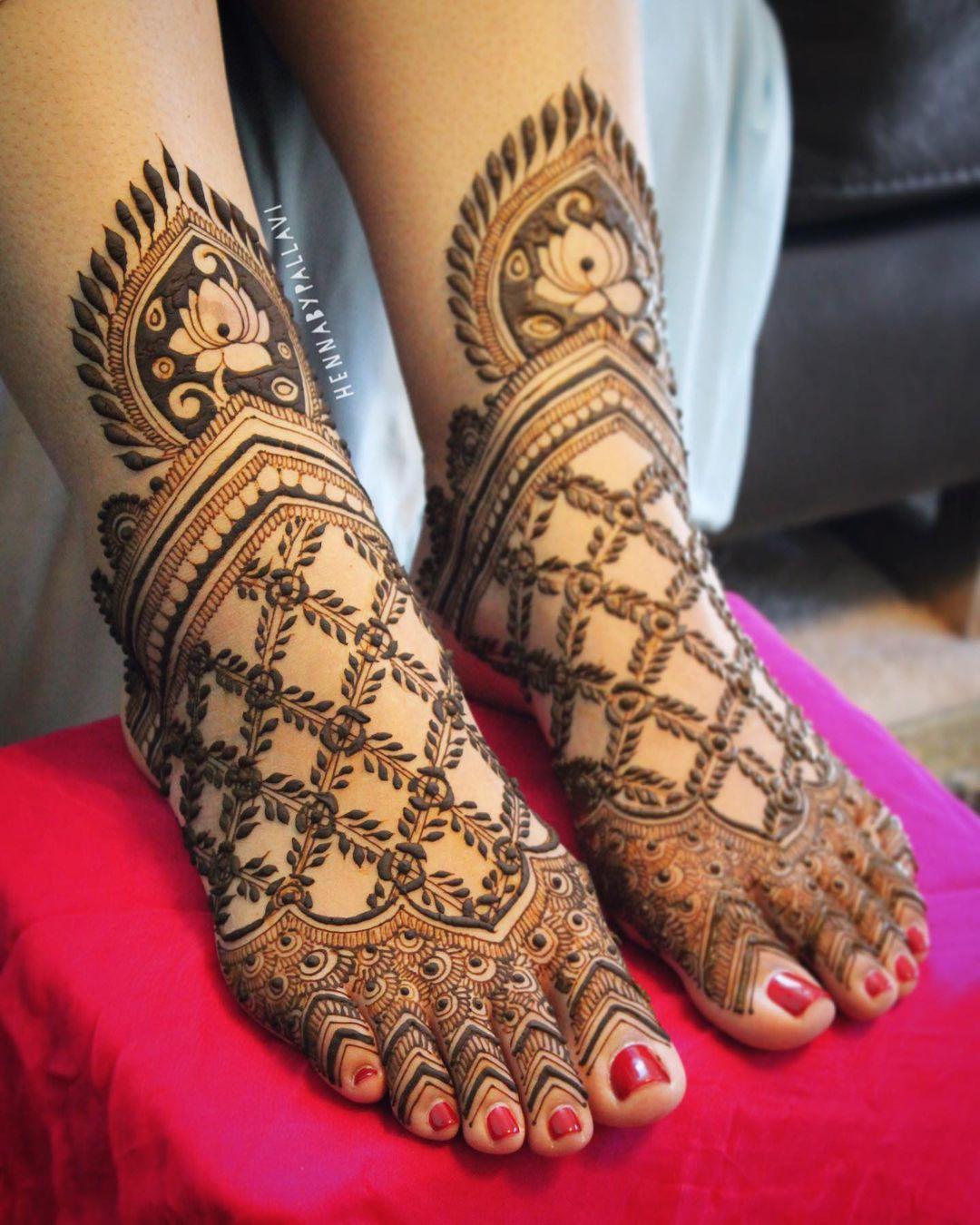 Image Credits - Henna by Pallavi
Now that we have ignited and inspired the creative fire in you, get down to picturing your own rose Mehndi design for your big day. Add personal touches, unique motifs and patterns that reflect your personality and style. Only then will you be able to create a truly unique rose mehndi design that is your own.
Rose Mehndi Simple Design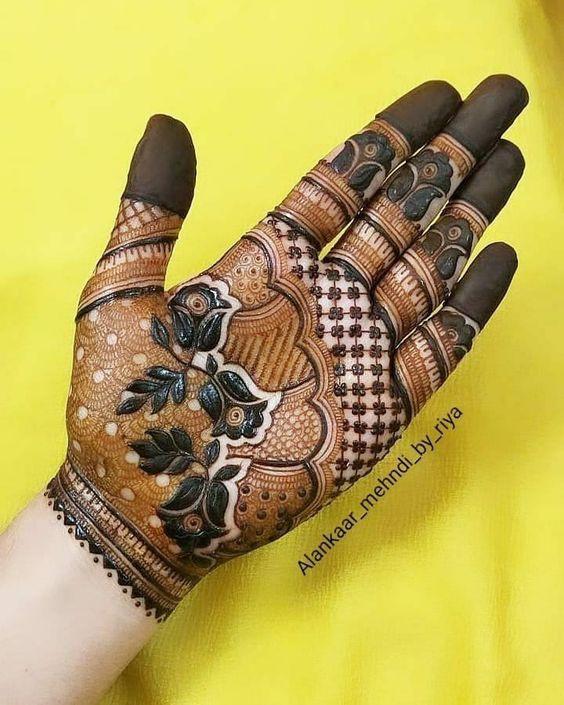 Image Credits -Mehndi by Riya
In contemporary era, simple design is considered classy and elegant! Try this simple rose mehndi design for your function and get that grace while you walk towards the aisle towards the love of your life.
Rose Mehndi Pattern Design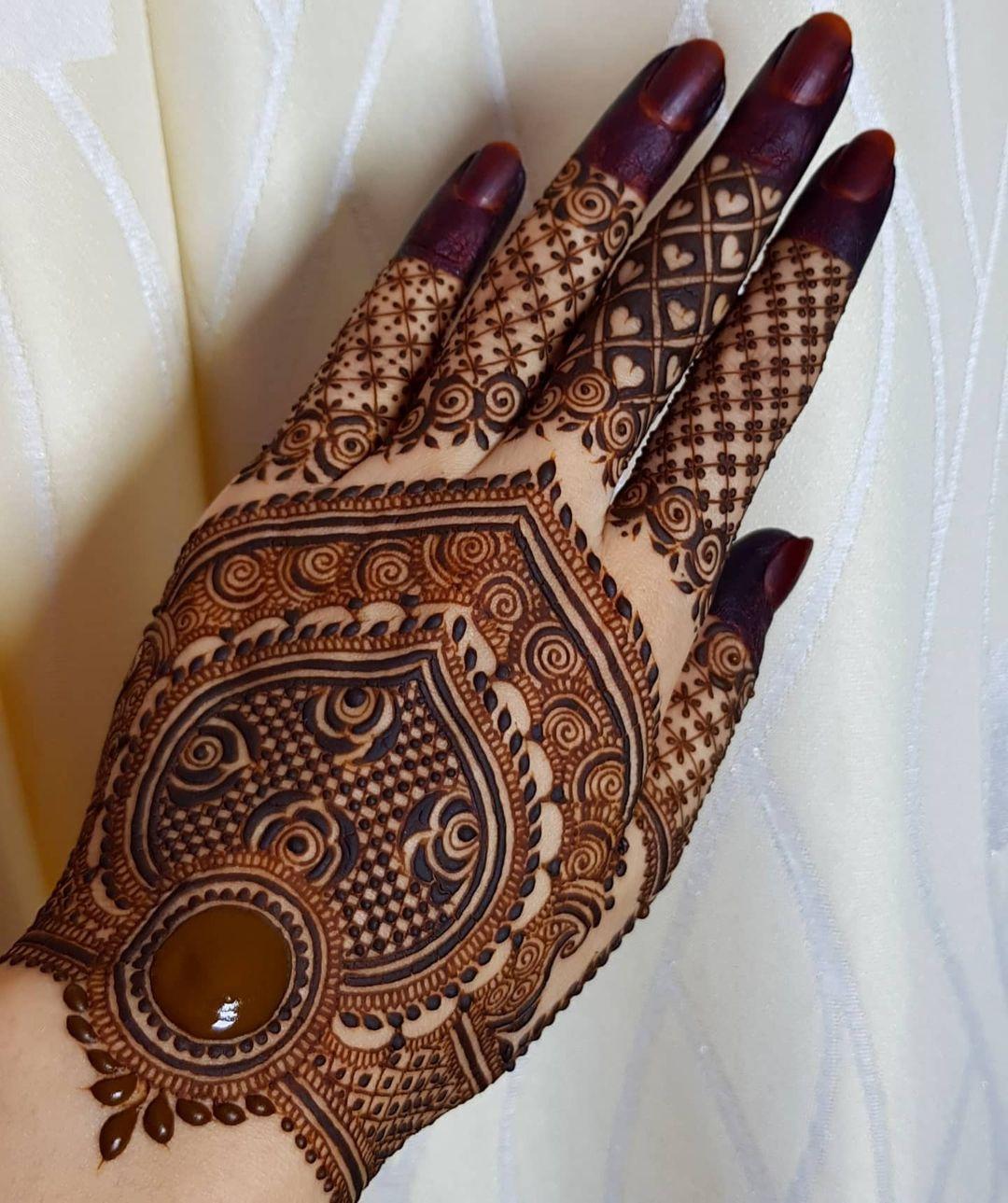 Image Credits - Rose Mehndi by Hayat
Rose Mehndi Pattern design is again trending and gorgeous for the brides who are looking for henna design that goes well with their heavy outfits. This rose mehndi design looks traditional and classy. Check this mehndi jaal design here!
Rose Mehndi Tattoo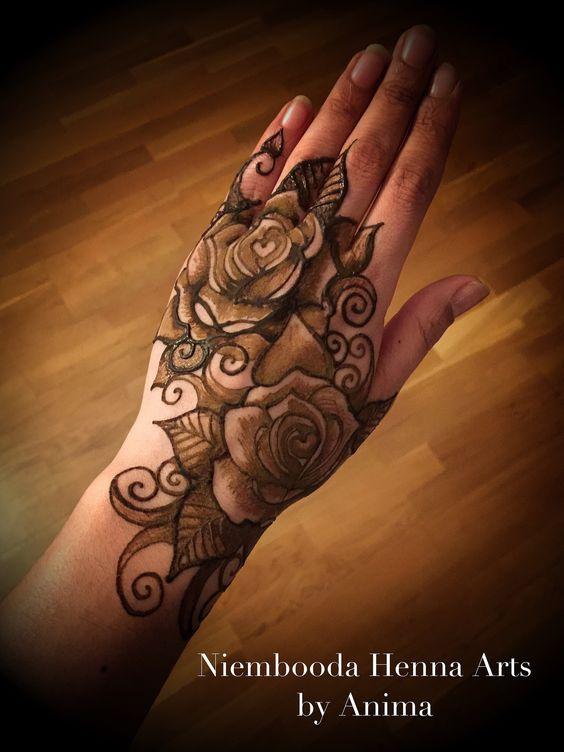 Image Credits - Anima
Rose Mehndi tattoo are perfect for the experimental brides who are always yearning to try something new. Edgy, classy and not flashy this rose mehndi tatoo is a strong inspiration!
Explore more stunning and inspiring rose Mehndi designs at our Mehndi design artist pages!
With words my Baani Sawhney