Put Your Best Foot Forward With These Latest Anklet Designs
Decking up the feet with gorgeous jewellery is quite a raging trend among brides. Check out some latest anklet designs for some inspiration on foot trinkets.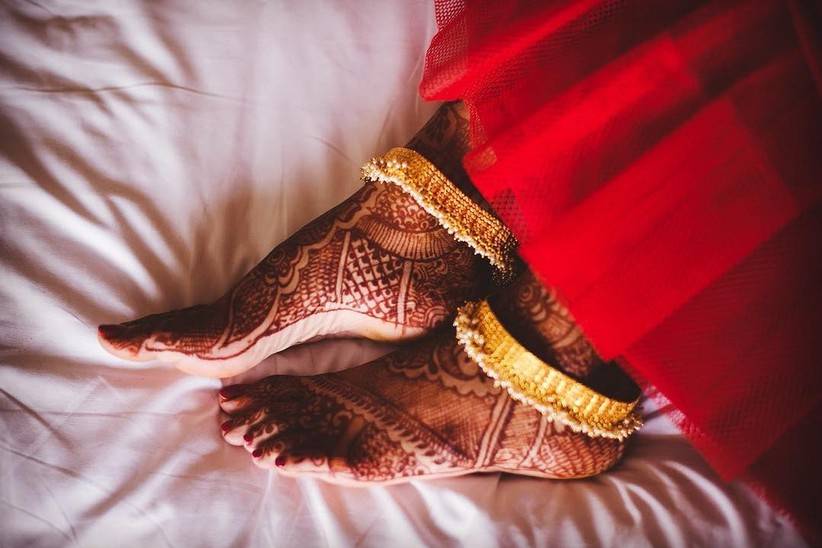 Feet embellishments have always been women's one of the favourite jewellery items. From traditional silver Payal to contemporary anklet designs, brides have taken special care to adorn their beautiful feet with a variety of ornaments. One of the reasons why anklets and Payals are so significant in an Indian wedding is, they represent the auspicious steps of the bride into her new family.
So, whether you love wearing gold Payal or you'd like to try something experimental, we have something for everyone. Take a look at some latest anklet designs in every style to go with your different wedding events.
Golden anklet design with emeralds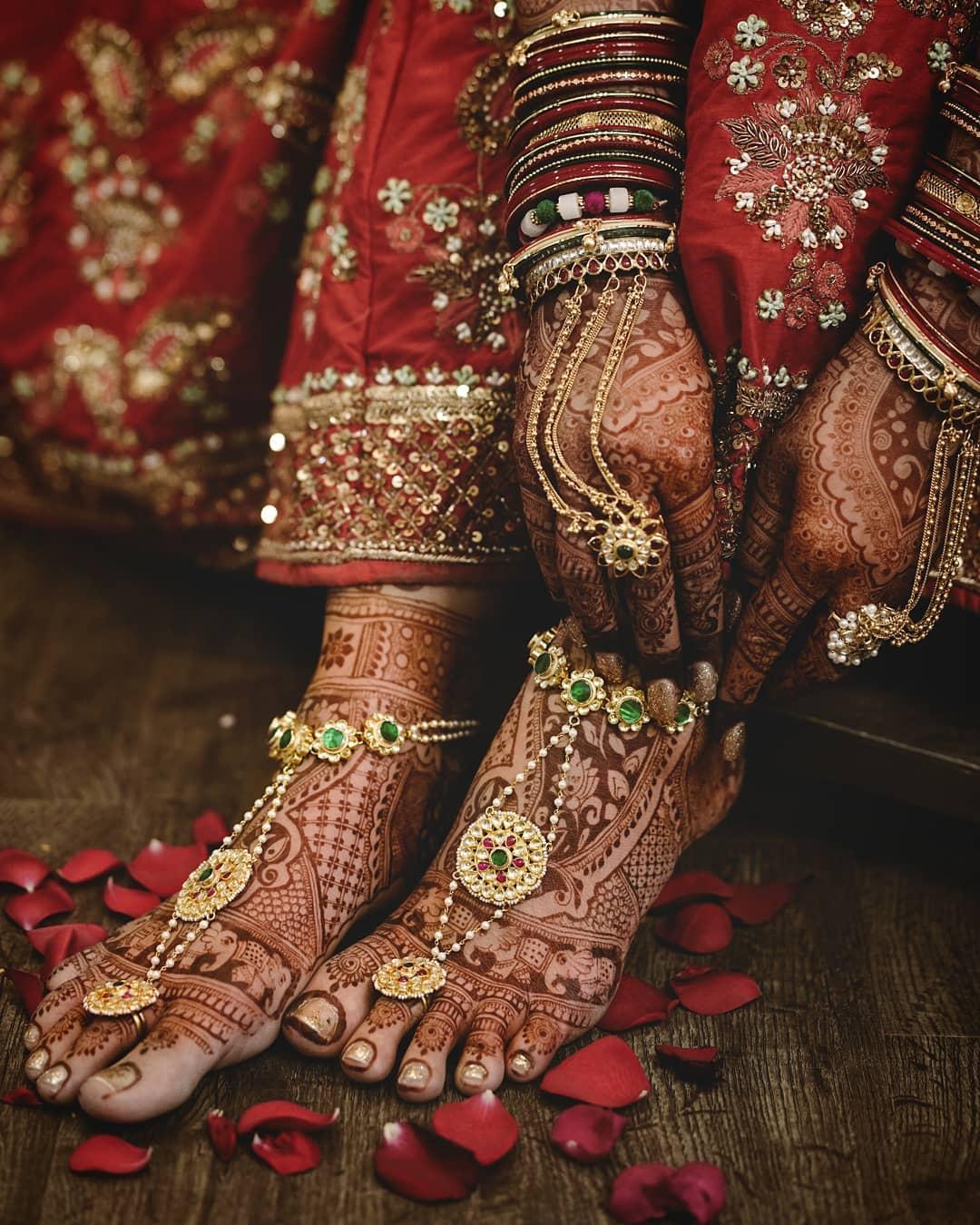 Image Courtesy: Pinterest
If you're looking for the latest anklet designs with a combination of golden and emeralds, this pair of Dulhan Payal would just steal the show! The golden studs all around your feet and the plates at the centre with emerald stones give the trinket a beautiful royal look. Ideal for a Rajput wedding where extravagance is a part of traditions! Don't forget to get some intricate Rajasthani foot mehndi done to match the regal style!
Ideal occasion: Wedding.
OTT Silver anklet design with Phool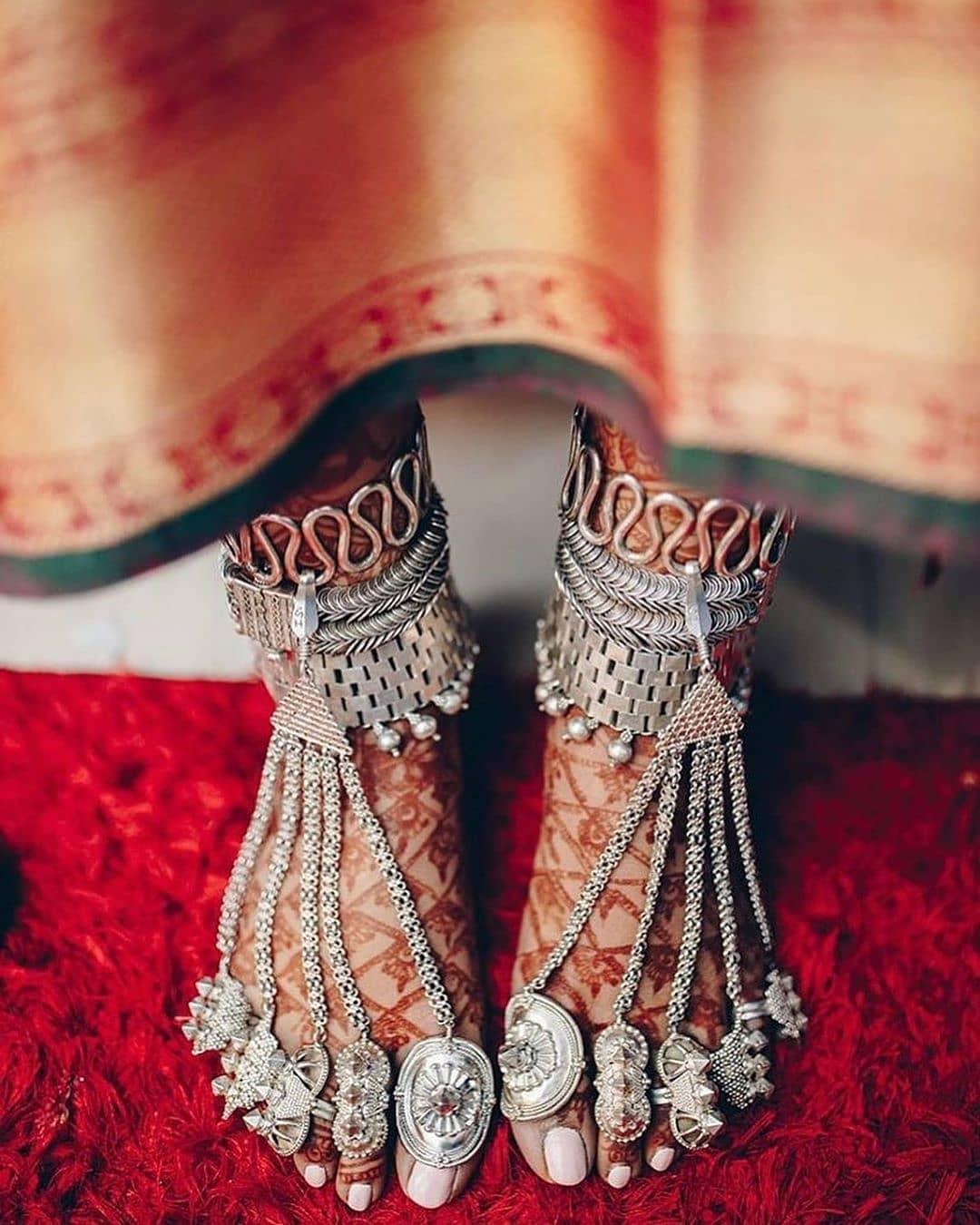 Image Courtesy: WeddingWire.in Instagram
Brides who believe in larger than life expressions in terms of jewellery would love this latest anklet design! The elaborate silver anklet with a thick band for the ankle and a broad Phool with five silver plates for each toe displays grandiose! Wear this exquisite piece of jewellery along with all the other traditional Rajasthani jewellery for an ethnic overdose!
Ideal occasion: Wedding.
Broad silver contemporary anklet design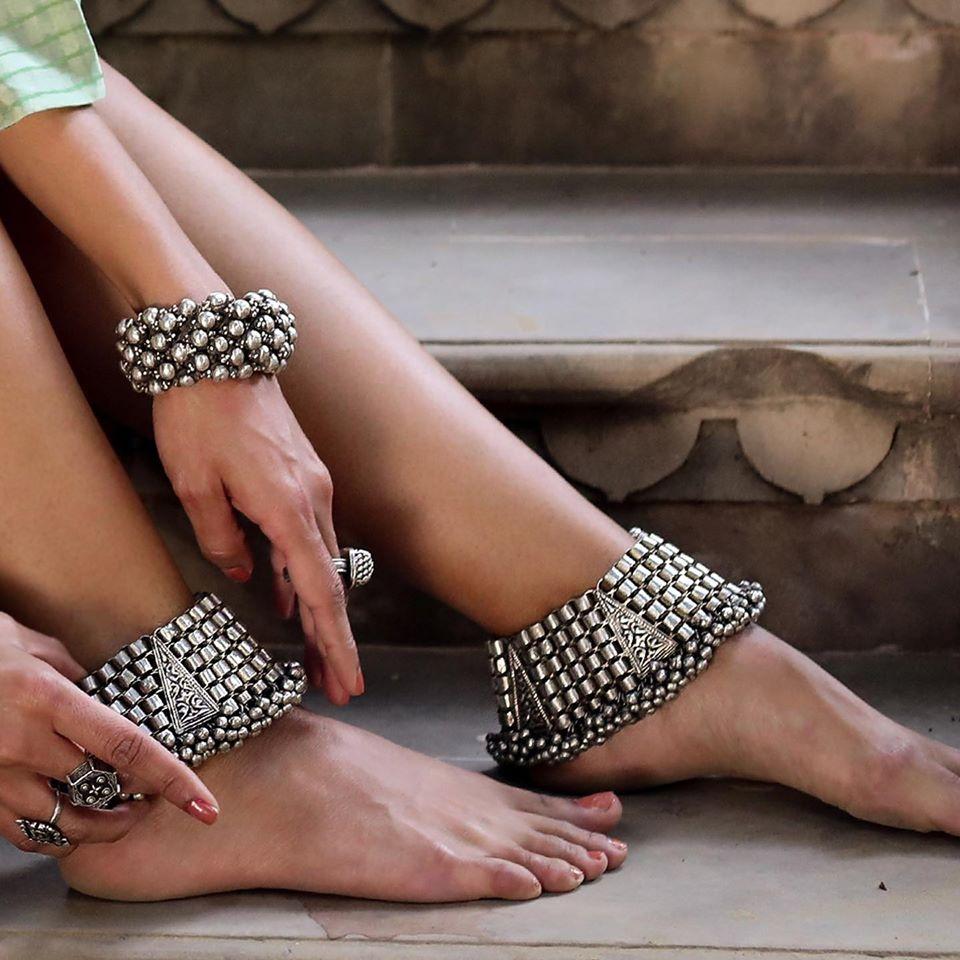 If you just can't look beyond silver, why not look for latest anklet designs exclusively in silver? This chic contemporary broad silver anklet designed by Silver Line is a perfect accessory to go with your fusion outfits. Wear dhoti saree or knee-length lehenga with top for some Boho vibes. The tiny bead clusters at the bottom of the beautiful Payal give the jewellery a fuller look.
Ideal occasion: Pre-Wedding shoot, Sangeet, Cocktail, Reception.
Gold anklet design with beads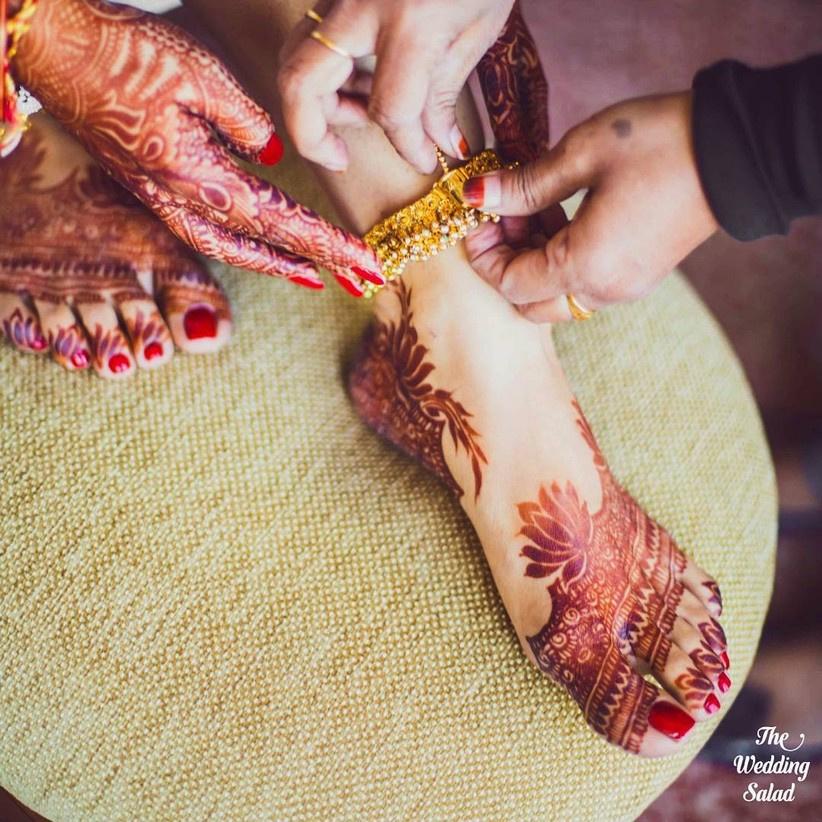 While some brides swear by silver anklets, some go weak in the knee with the mere sight of broad gold Payals! While you're looking for the latest anklet designs in gold, this design might just make your heart skip a beat! The broadband in pure gold with tiny pearl-like beads etched in and the tiny gold beads at the bottom; just pair it up with a blood-red lehenga or a Banarasi silk saree and you'll be the centre of every show!
Ideal occasion: Wedding, Sangeet.
Thin anklet design with beads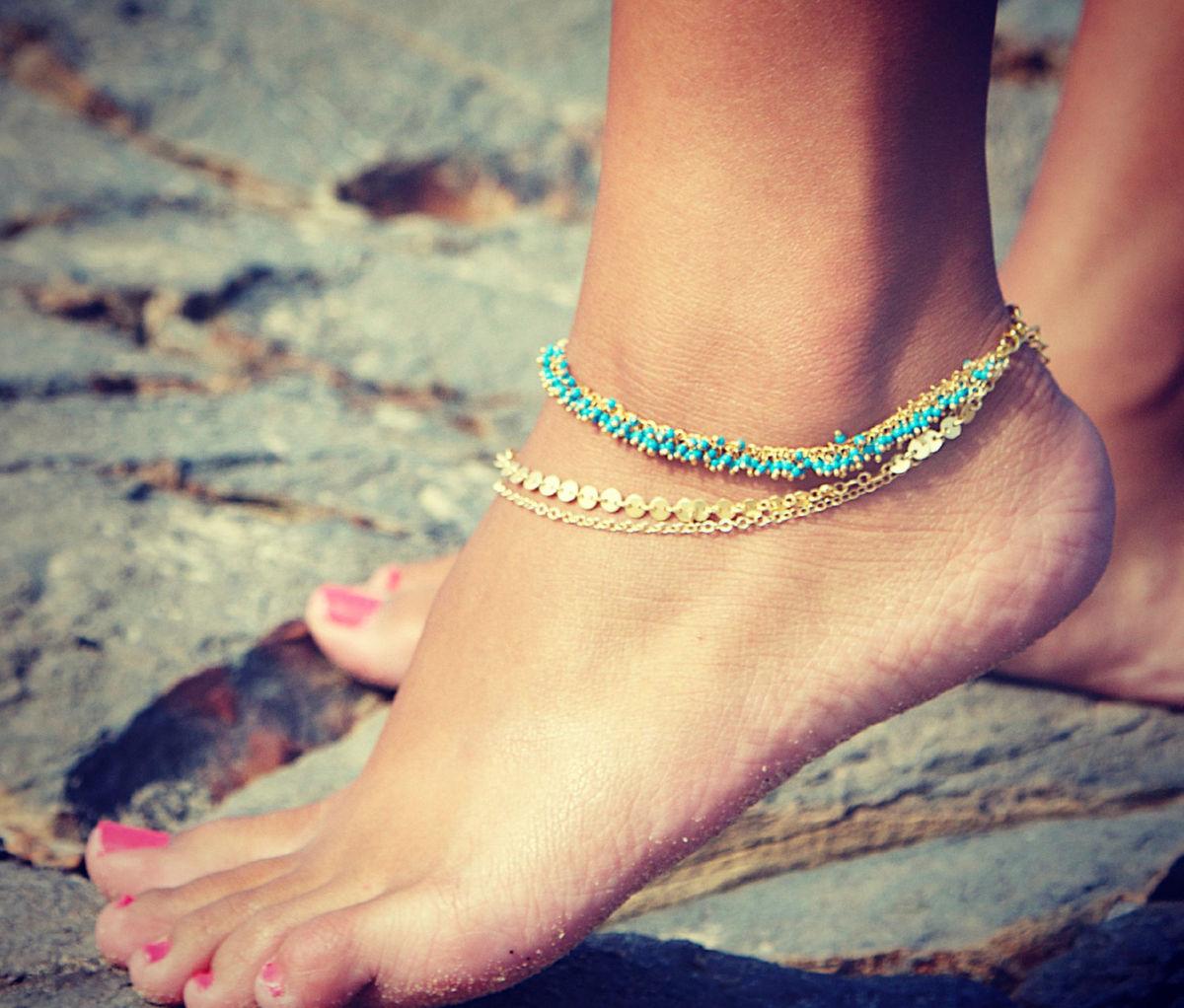 Image Courtesy: Utsavpedia
Women who love to make a statement without saying much must be searching for some latest anklet designs in minimalist fashion! Well, this is where your search ends! Check out this anklet made of sleek strands in dual colour- golden and turquoise. You can go with junk jewellery made of beads, copper or bronze for some rustic vibes. Wear some statement earrings to keep the vibe up!
Ideal occasion: Pre-wedding photoshoot, Cocktail, Sangeet, Engagement.
Gold-based anklet design with pearls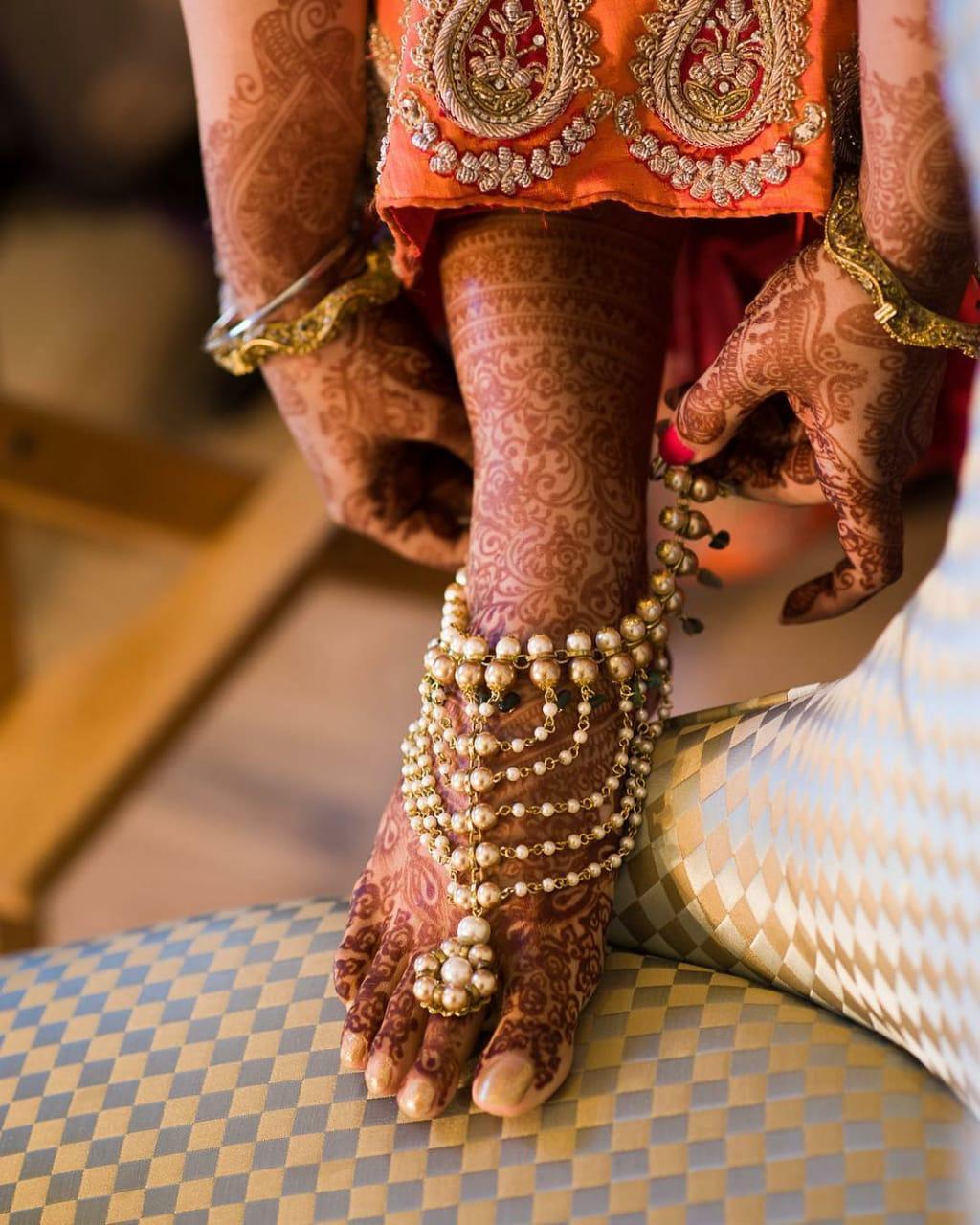 Image Courtesy: Pinterest
Love gold? Love pearls? How about both? These gold-based latest anklet designs with a generous amount of pearls entwined in them would make your feet look simply divine! The net-like pattern of the pearls with a large pendant at the front makes this bridal anklet a perfect bauble to go with majestic wedding attire. Think Kundan jewellery set and golden colour lehenga!
Ideal occasion: Wedding.
Thin gold anklet design with diamonds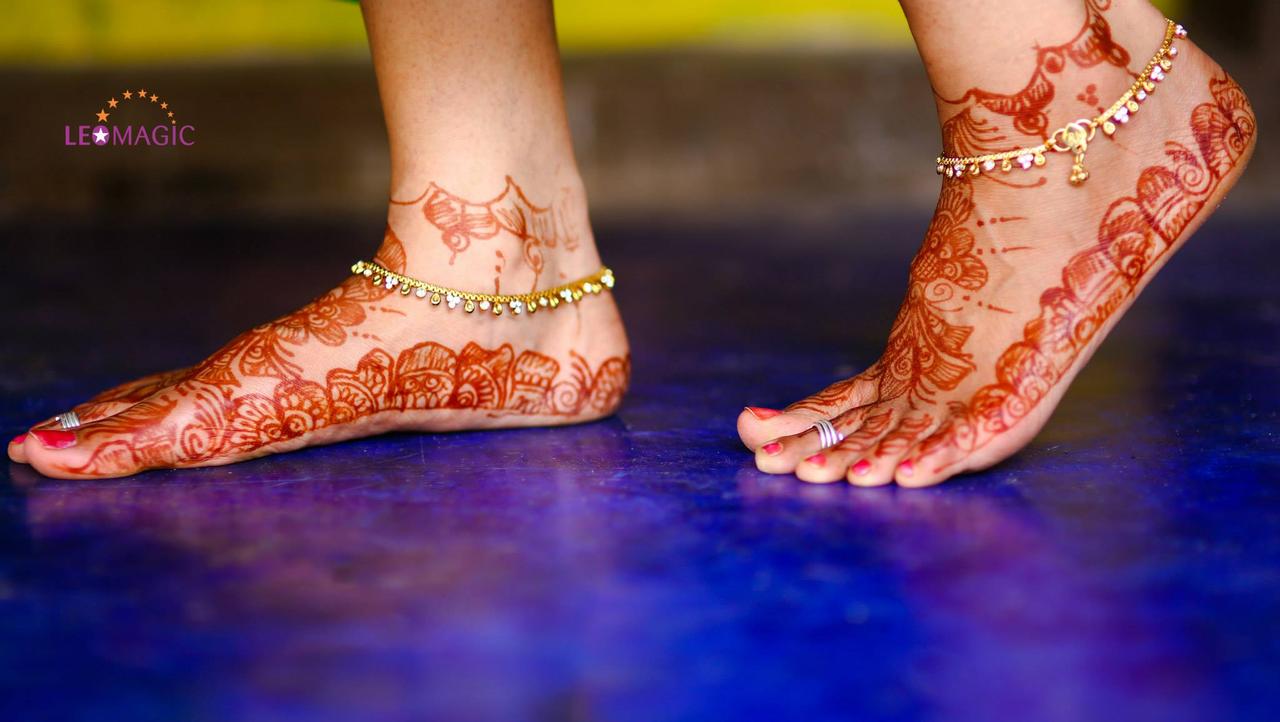 Image Courtesy: LeoMagic
Not all latest gold anklet designs are thick and multi-layered! Some brides prefer a thin strand of golden anklet studded with tiny diamonds. Simple yet super elegant. Wear a lightweight lehenga, pre-stitched saree or Patiala salwar suit along with light gold jewellery like a chain and pendant and golden Kada!
Ideal occasion: Pre-wedding shoot, Haldi, Mehndi, Sangeet or Reception.
Heavy junk silver anklet design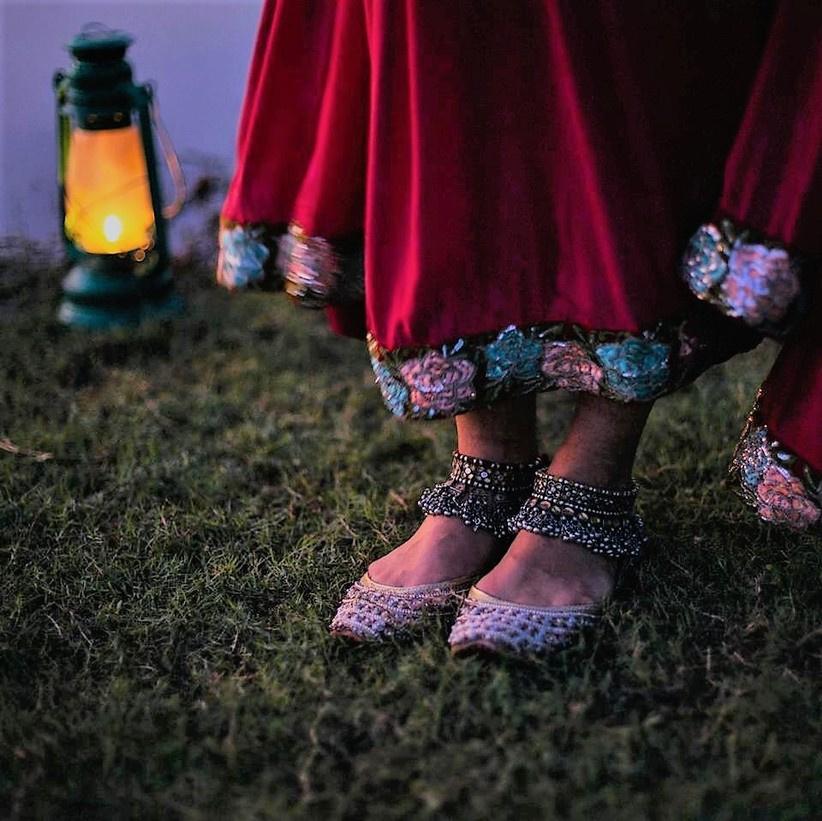 Another extremely chic design, is probably one of the most popular latest anklet designs among new-age brides, as they can be worn not only on wedding functions but even after that, regularly. Perfect for pre-wedding events, this silver anklets have an individualistic personality of its own! Sport a navy blue lehenga or a blue evening gown to go with it!
Ideal occasion: Pre-wedding shoot, Haldi, Mehndi, Sangeet or Reception.
For some variations in latest anklet designs, you can check for Kundan anklets, floral anklets or modern concept jewellery depending on your fashion choice and occasion. If you're opting for some contemporary styles, pair them up with statement necklace. Mix up your anklet materials. Experiment with gold and diamonds, junk with silver or terracotta jewellery for anklets. Feel free to go with your jewellery instincts. Make a choice that defines you and your personality!
Browse some artificial jewellery designs for all your wedding occasions.