Don't Forget to Adorn Your Feet With These Beautiful Silver Payal Designs on Your Wedding
Silver payal are culturally believed to be a symbol of purity & positivity and scientifically proven to be good for health. Whether you believe any of these two reasons or don't, you still won't be able to ignore these 8 pretty designs of silver paya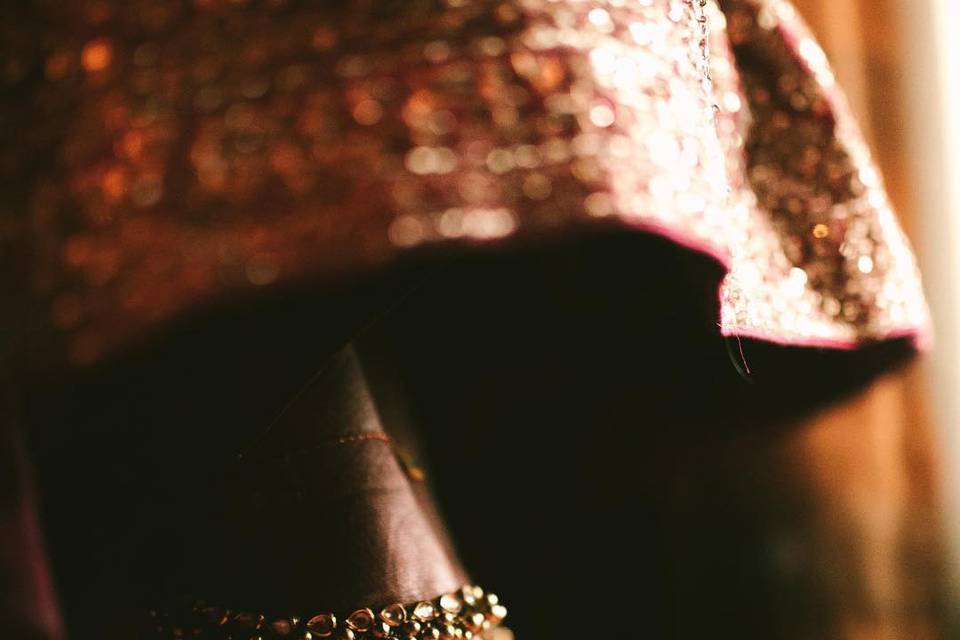 A bridal entry is something guests are excited to see at a wedding and that is why you should look your best to leave everyone around amazed. You will be walking gracefully while lifting your floor-length lehenga a bit, revealing your pretty feet. This is where your blingy sandals, your beautiful mehndi designs and your silver payal will be the focus of your wedding photographer. Brides of today leave no stones unturned to find the best pair of silver anklets for their wedding day. You can also get them made according to a particular design you like. Read further to see some attractive silver payal designs for Indian brides.
1. For Putting On A Traditional Pair Of Silver Anklets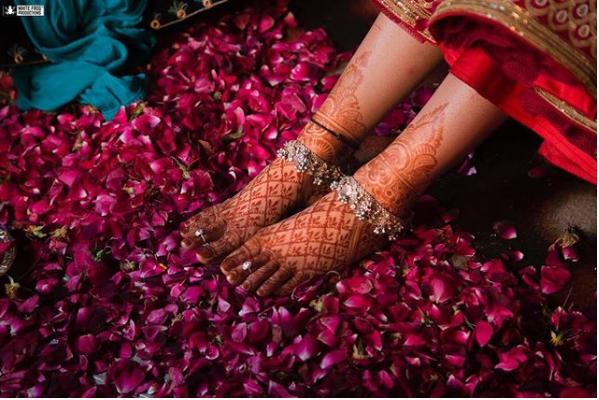 This broad striped silver payal gives a traditional and classic look. The dainty bells on this pair of anklets make it look all the more attractive. The sound of anklets' bells is pleasing to the ears and will suit a bride perfectly, marking her presence and movements. You can choose to wear toe rings having plain designs as they will complement the heavy design of this pair of anklets.
2. For A Modern Designer Pair Of Silver Anklets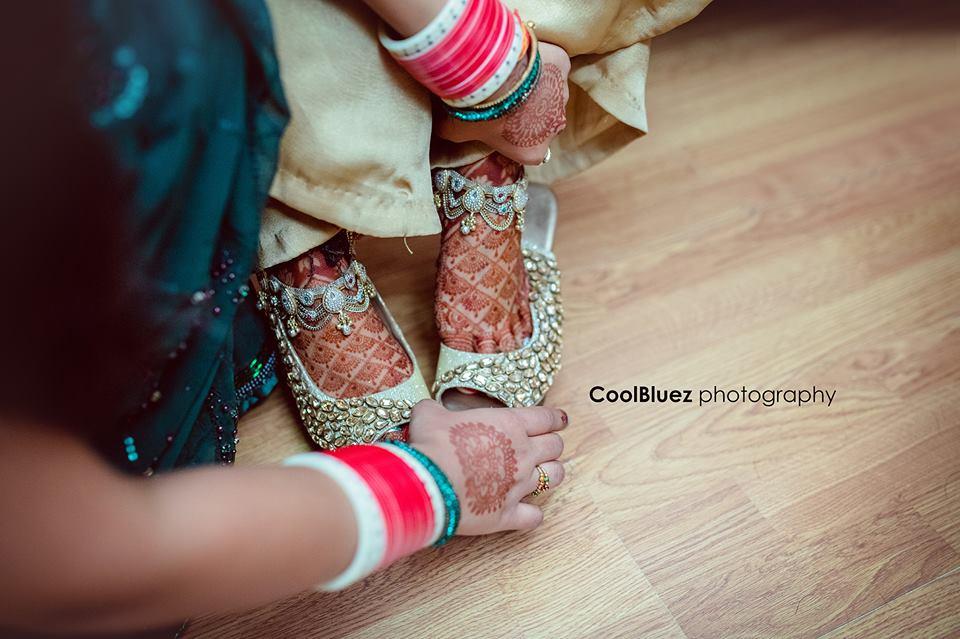 With such a beautiful looking pair of anklets, it would be hard to notice anything else! This pair of silver payal has a different design than the usual traditional designs which gives it a modern touch. It has beautiful big and small circular designs which contrast and complement each other. The falling silver lines, joining the circular design, adds charm to the overall design. It is also ornamented with the traditional bells of Indian anklets making it a perfect pick for the bride-to-be.
3. For Those Brides Who Prefer Silver Anklets With Bells (Some Extra Bells!)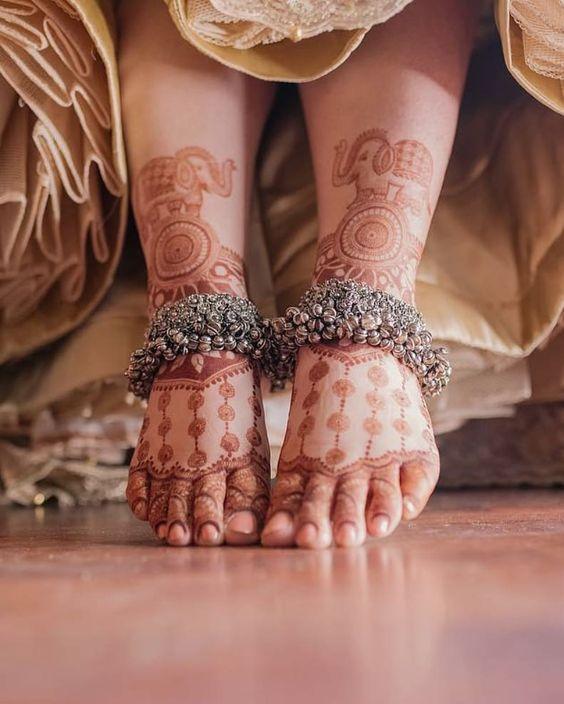 If you love bells on your silver payal then you are going to find this pair adorable. Even if you aren't an anklet bell fan, you cannot hate this heavily embellished pair which will make you feel like a queen. Apart from the beautiful design, these anklets will mark your graceful gait with a melodious sound. If you don't like the sound of the bells then you can choose the bells which don't make noise. Yes, it is possible! This way you can have this beautiful design with the bells while getting rid of the sound.
4. For The Desi Brides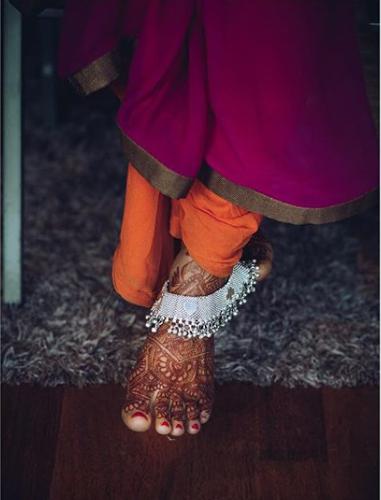 For those brides who want a sparkling and shining pair of silver payal, this is the ideal pair. It has an authentic traditional look with a broad design. Also, the border is lined up with bells as beautiful droppings at the end which looks so much pretty. The broad pattern of the anklet has a delicate and detailed design which looks charming and attractive. Make your bridal feet look more pretty with some shiny toe rings which match this pair.
5. For Dainty Detailed Designs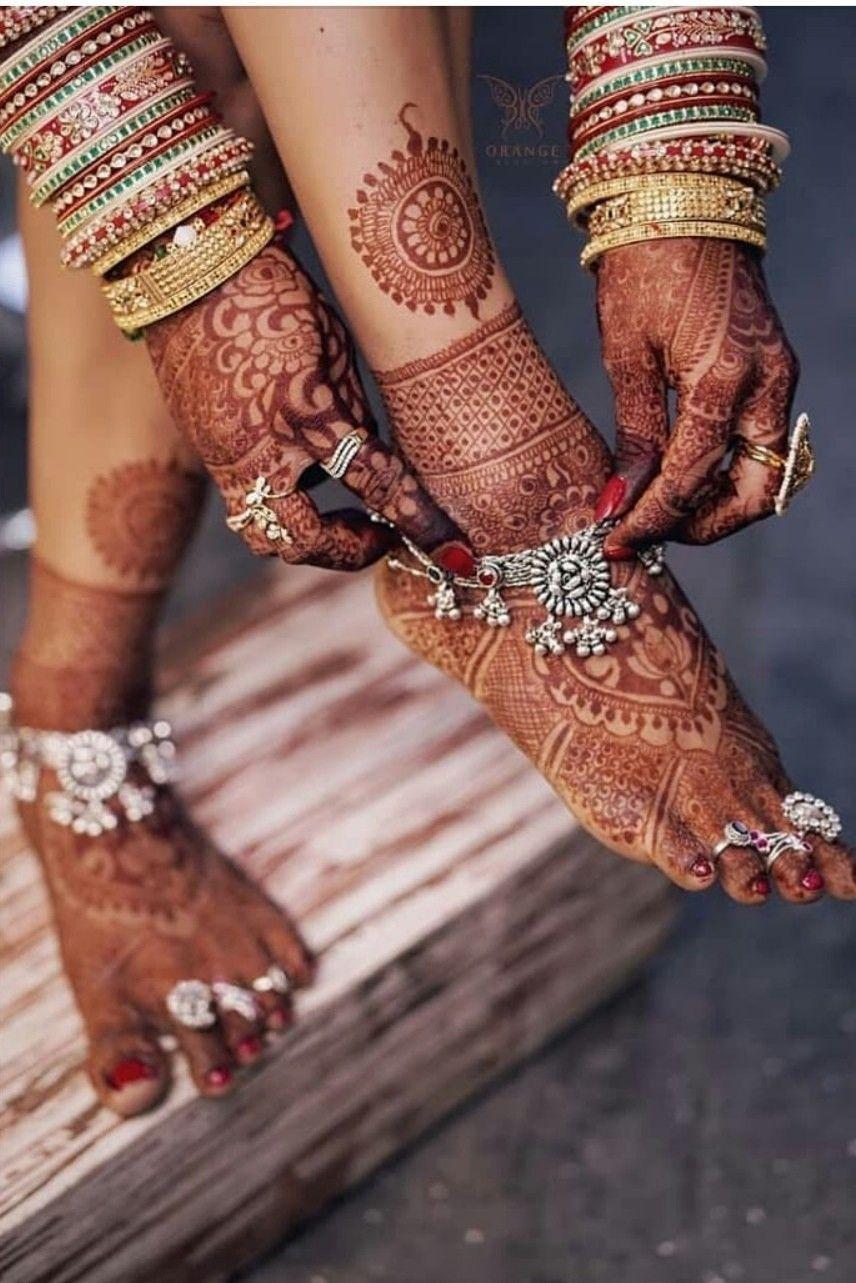 Image Courtesy: Aanal Savaliya
If you are one of those girls who fall in love with detailed designs then this is the ideal pick for you. This pair of silver payal will look absolutely fabulous on your bridal feet filled with beautiful mehndi designs. Beautiful toe rings with different designs will complement this pair of anklets just like it is shown in the picture. This pair of anklets gives an ethnic look which makes it more attractive and suitable for your wedding.
6. For Matching Your Ethnic Costume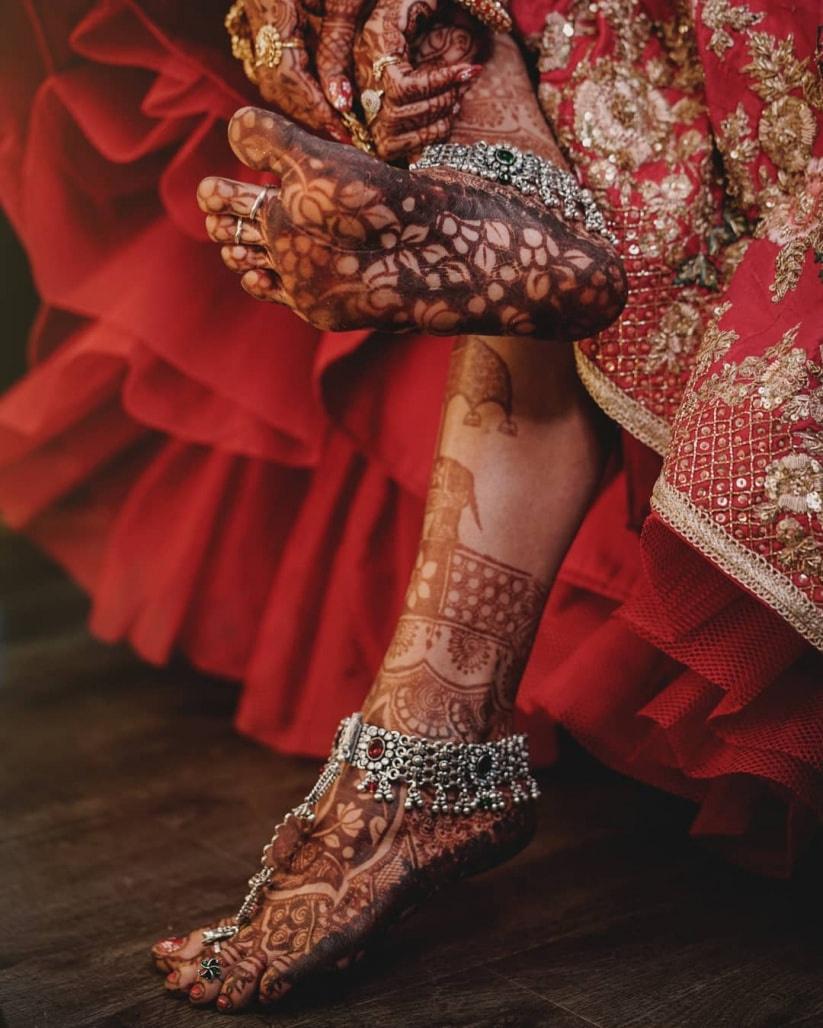 This is for the bride who has carefully chosen her dress, accessories, and jewellery to achieve an ethnic look which feels like a queen. This beautiful pair of silver payal has a royal design. It has a broad pattern with an adjoining toe ring design which makes it different from the rest of the designs. This will complement your bridal look in the most appropriate manner. The dropping bells just complete the ethnic look in the most fitting way. Just imagine how alluring your feet will look after being wrapped with this silver jewellery.
7. For A Simple & Sophisticated Look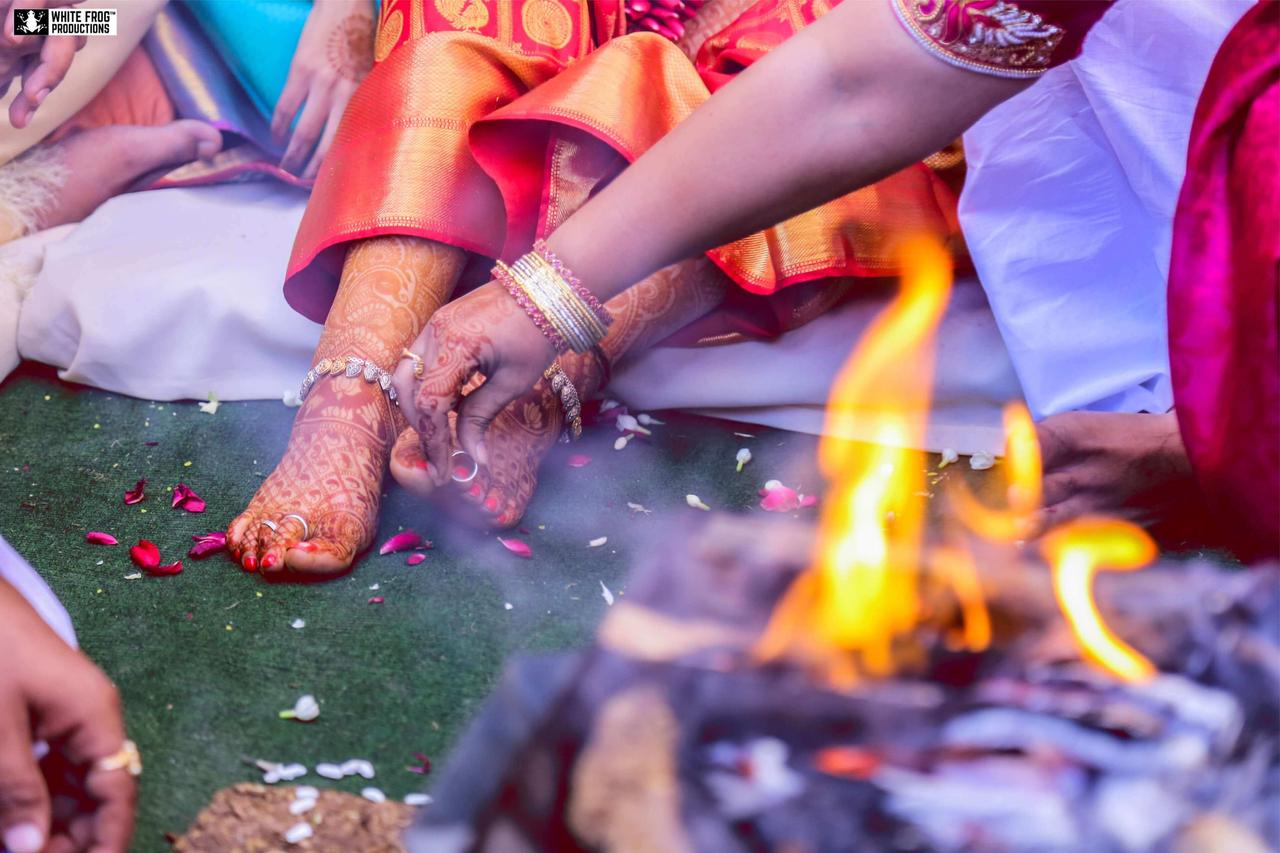 Those brides who want to wear a light and simple design, this one is a custom made design according to their taste. The anklet in the picture is actually a gold anklet worn by a south Indian bride but you can order the same design in silver from any good jeweller. This is a plain and pretty design which looks graceful on bridal feet which is evident enough from the given picture.
8. For The Classic Design & Barely Noticeable Look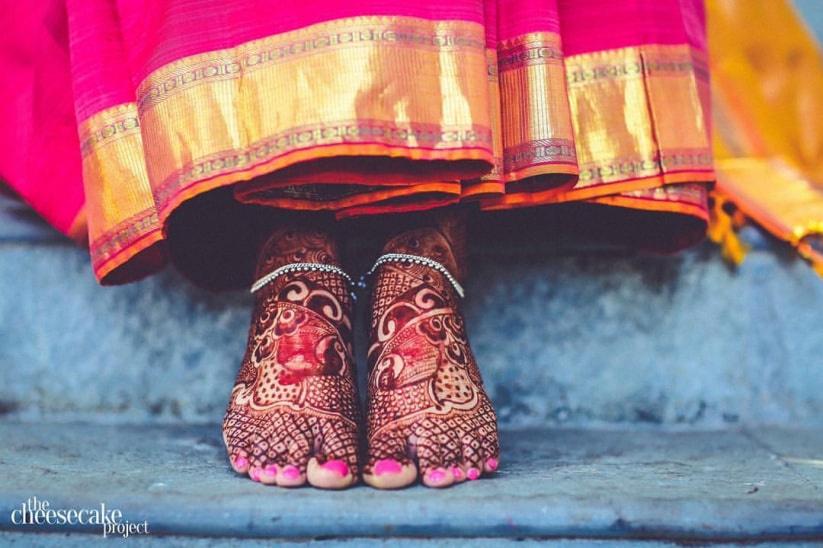 This classic silver payal design has been worn by many Indian brides on their wedding. It has a graceful look and attractive appeal even after being so simple with its design. It is a simple silver anklet which has a continuous line of dropping bells which renders it the classic look.
Brides that want to wear negligible silver payal for a barely noticeable look, this is what they are looking for. Such anklets also have the chance of being hidden under your sandal straps so be careful about that. These simple anklets will look cute on your bridal feet. Wear this pair with simple or designer toe rings to complement the look.
Conclusion: So these were 8 of the latest silver payal designs worn by Indian brides on their wedding day. These anklets are sure to adorn your feet and make you feel like a queen while you walk wearing them. Doesn't matter how traditional or modern your wedding costume is, these anklets will complement your dress while adding more grace to it.
How many of these designs have become your instant favourites?