10 Swoon-worthy Bridal Anklets to Win You Over
Bridal anklets are the finishing touch to your Solha Shringhaar. Achieve this finale for your confident ascent into matrimony with these drool-worthy bridal anklets.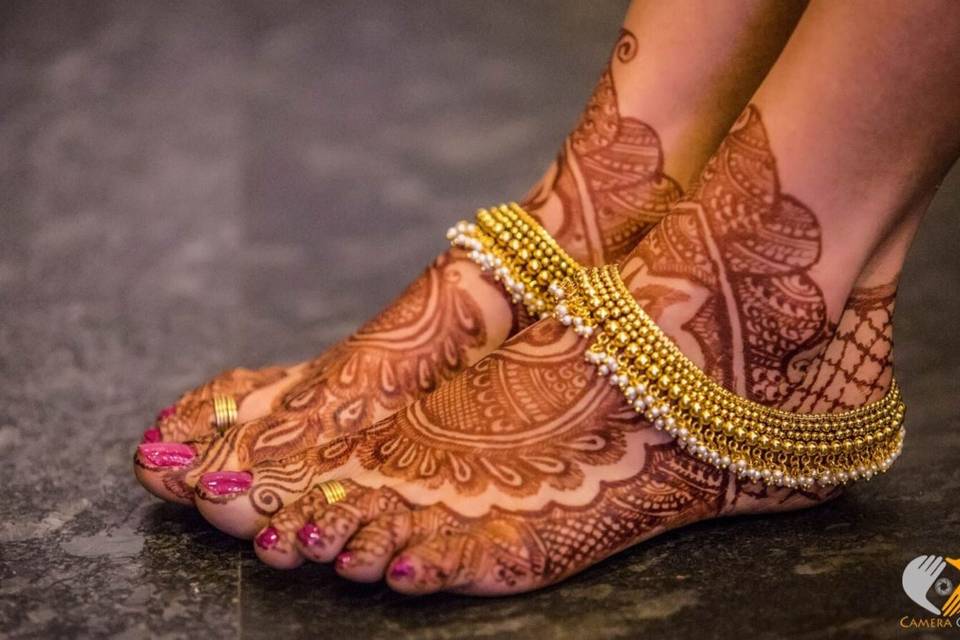 Bridal anklets announce the entry of the bride in her new house with their soft tinker as soon as she takes her first step and walks in. Traditionally, many brides wear silver anklets rather than gold. However, this belief is losing its old-world charm with the onset of new awe-inspiring designs of bridal anklets available for the millennial bride.
We recommend choosing a style that you like and adding it to your own set of bridal jewellery. Let's see how brides from different parts of the country wear traditionally and what's the millennial bride's take on them.
Indian bridal jewellery is a realm of unprecedented fantasies - form gorgeous earrings to mind-boggling necklaces, there is a sea of endless possibilities! Indian bridal jewellery in all its might grabs everyone's attention, thanks to the visual appeal that it imbibes and the grace that it brings to the bride's overall avatar! However; the real and unearthed beauty of the Indian jewellery pieces lies in something that is much deeper and is considered a blend of both the spiritual and cultural essences of the various cultures that they bring along.
So, we thought it is about time that we bring for you a nerve-wracking collection of bridal anklets which will be a treat for sore eyes!
A Glimpse Intro Traditional Bridal Anklets
We have gathered different styles of traditional and trendy bridal anklets to inspire you. From absolutely drop-dead gorgeous and completely over the top bridal anklets to some simpler designs which you can tiptoe your way to perfection in even days after the wedding, these anklets are a must buy for every girl out there!
1. Rajasthani bridal anklets for brides/bridesmaids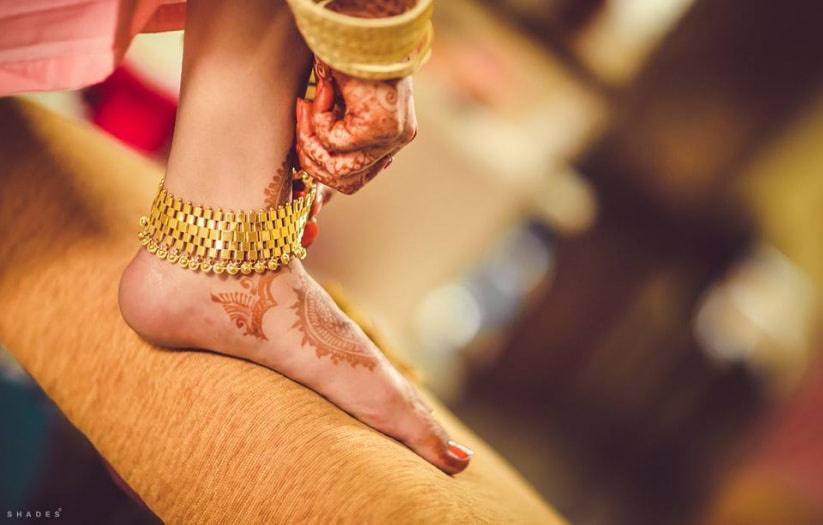 A chunky anklet woven in elements of gold, a Rajasthani bridal anklet spruces up the rich, royal look of the bride. These heavy Pajeb can be either a heavy metallic set or ones with intricate work. In fact, brides can match their outfit with Pajjeb studded with precious gemstones, Kundan work and even intricate Meenakari. Their heavy look makes it ideal for the OTT bride.
2. South Indian bridal anklets for brides/bridesmaids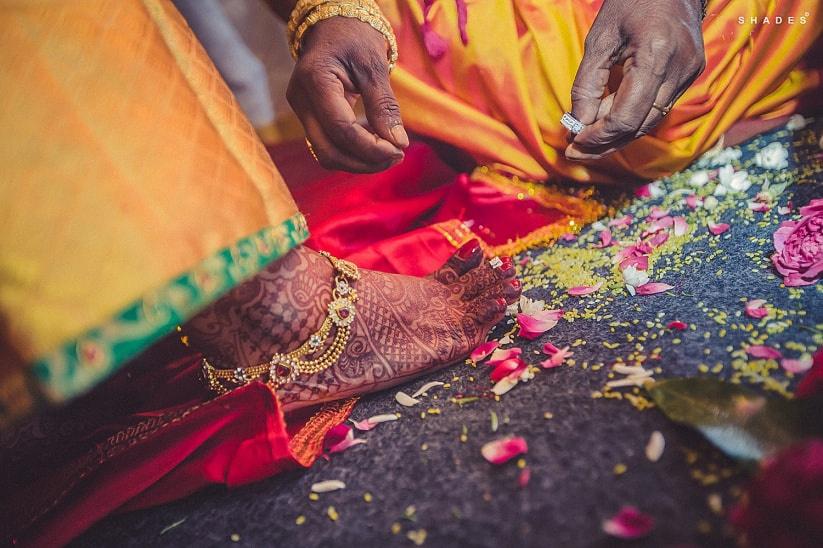 South Indian brides truly reflect divinity with heavy gold pieces of temple jewellery and their bridal anklets are no exception. Intricately made with delicate gold beads and elements, these anklets give a Jhallar effect which is supplemented by gemstone embellishments. These look stunning on a bride when she pairs it with a rich Kanjeevaram saree. You can always customise such designs with semi-precious gemstones like emeralds and rubies to match your bridal outfit.
3. Marathi bridal anklets for brides/bridesmaids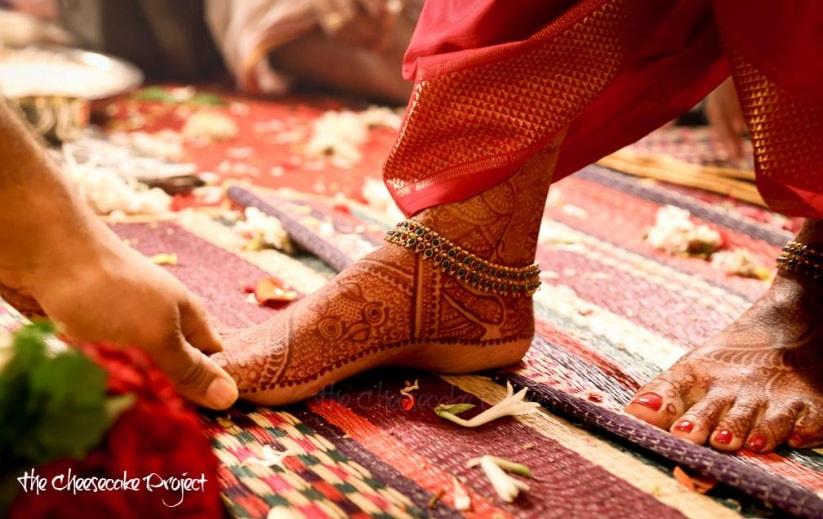 Contrary to the heavy Rajasthani bridal anklets and intricate Jhallar style of the south Indian bridal anklets, Marathi brides adorn a rather minimal style anklets made of gold and studded with alternating round rubies and emeralds. These embellished anklets might be in a single or a double strand of alternating gemstones. Their minimal style and elegant look make it a flawless fit for any minimal bride.
4. The classic, silver Payal for brides/bridesmaids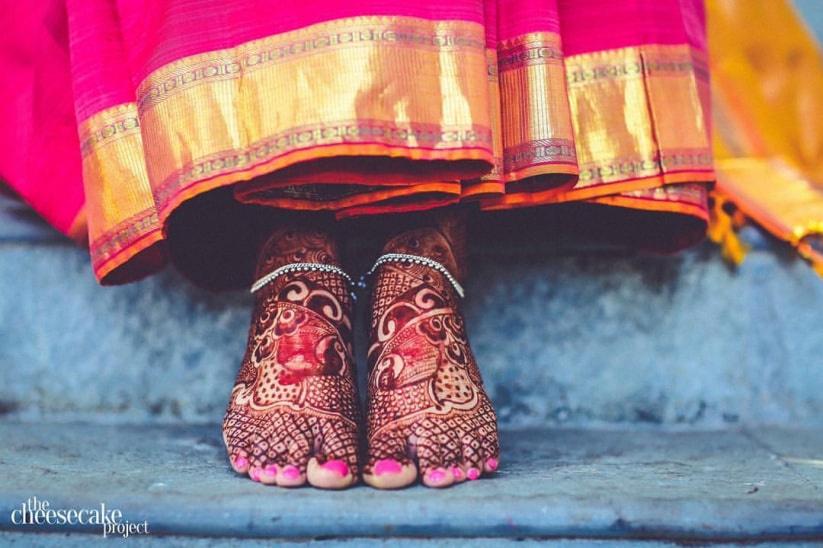 A classic silver Payal never goes out of style and looks elegant and dainty when adorned by the bride. It looks good when paired with pastel hues or vibrant colours. The best part of adorning this on your big day is that it's a minimal design which goes with almost any ethnic outfit. So, you can carry and cherish your wedding day memories, every time you adorn it after your wedding. The delicate and dainty looking anklet is the kind you can wear on a daily basis.
5. Polki anklet with pearl baubles for brides/bridesmaids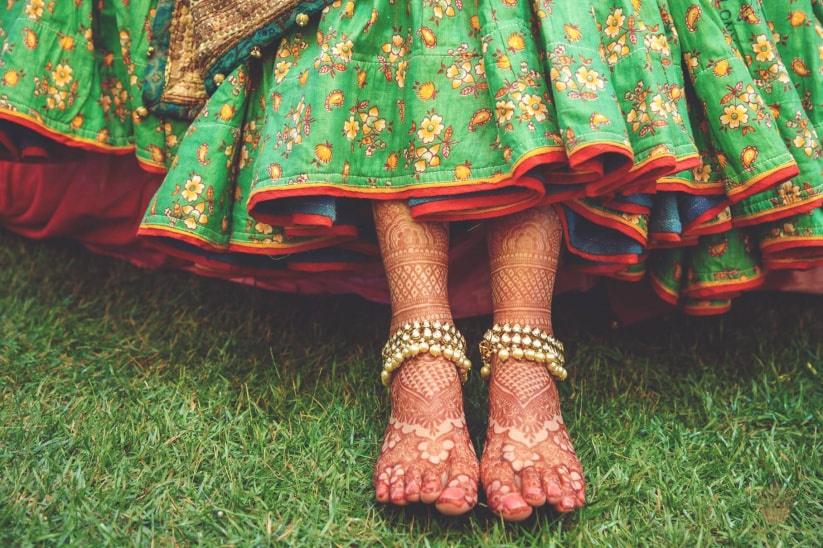 The opulence of the design will accentuate your bridal outfit on your big day. The neutral warm toned hue of the overall design makes it fit to be paired with any colour palette that you choose for your ensemble. The champagne pearls add a mesmerising touch to an already stunning Polki anklet. They mimic the Kathak Ghungroo sound effect which might we add is pretty pleasing to the ears.
6. Ghungroo bridal anklets for brides/bridesmaids

Tribalesque bridal anklets for the bohemian bride. Add a twist to your bridal attire by adorning a tribal themed silver anklet that is a perfect contrast to the hues of gold in your ensemble. Make your anklet reflect your quirky personality and make a statement on your behalf. This style will look adorable with a lehenga. Pairing it with a saree will add an extra dose of quirk to your overall personality. Announce yourself wherever you go with these bridal anklets.
7. Ginormous gems for brides/bridesmaids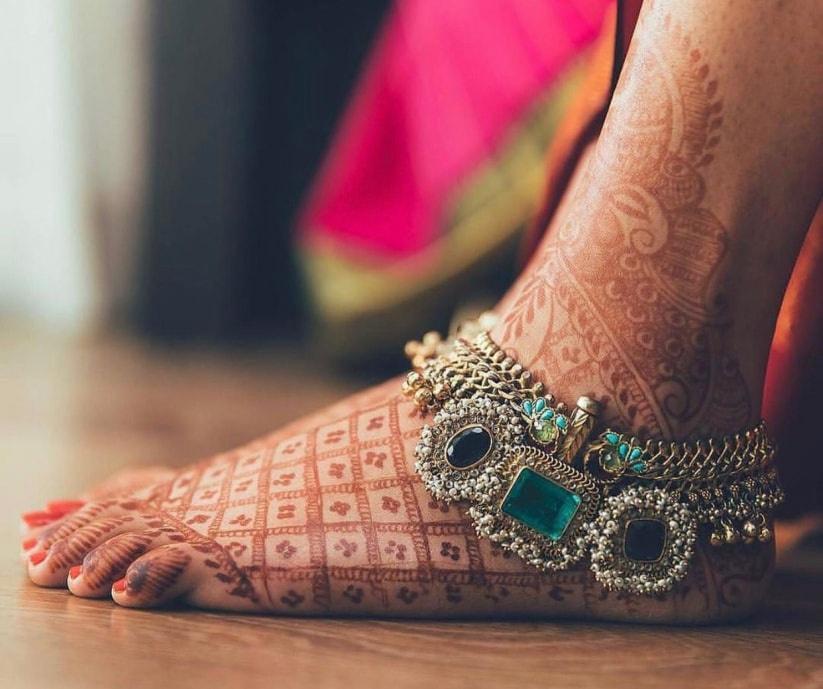 Image Courtesy: Vinay Goyal Photography
For the fun-loving bride, here is a style of bridal anklets that will draw all the attention to your pretty toes. A chunky metal chain accentuated with mesmerising majestic gemstones. The use of micro pearls and delicate gold beads around each element makes each of the gems to stand out. This piece will surely be the showstopper when adorned by the bride of her big day. The gemstone selection can be completely customised as per the hues of your bridal attire. We are totally in love with this gorgeous piece and the intricacy of design right at the stopper.
8. Jhallar bridal anklets for brides/bridesmaids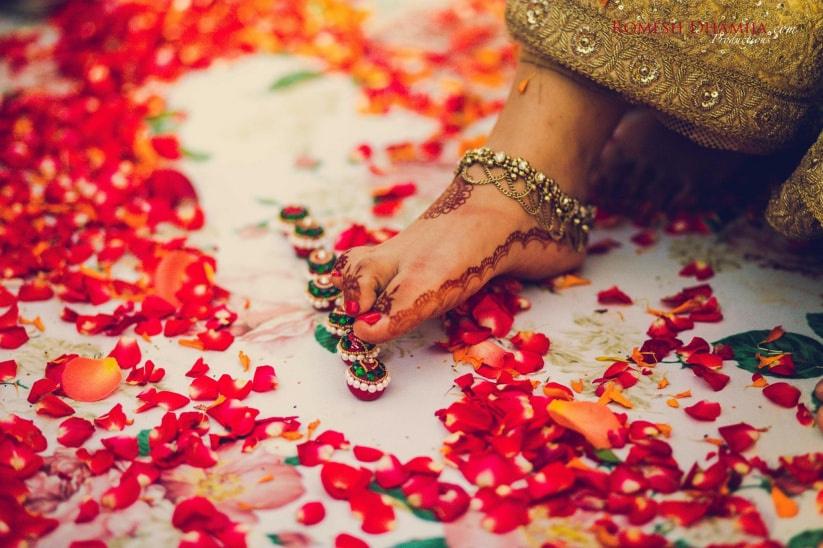 The chandelier-like effect created by the dangling chains of a Jhallar anklet makes it a great option for the bride who wants an elegant and regal look on her wedding day. The delicate detailing of this style is accentuated by the use of exquisite precious gemstones, making it an all-time favourite of the quintessential Indian bride. The design is not loud but still beautiful enough to suit a bride.
9. Anklet and toe ring set for brides/bridesmaids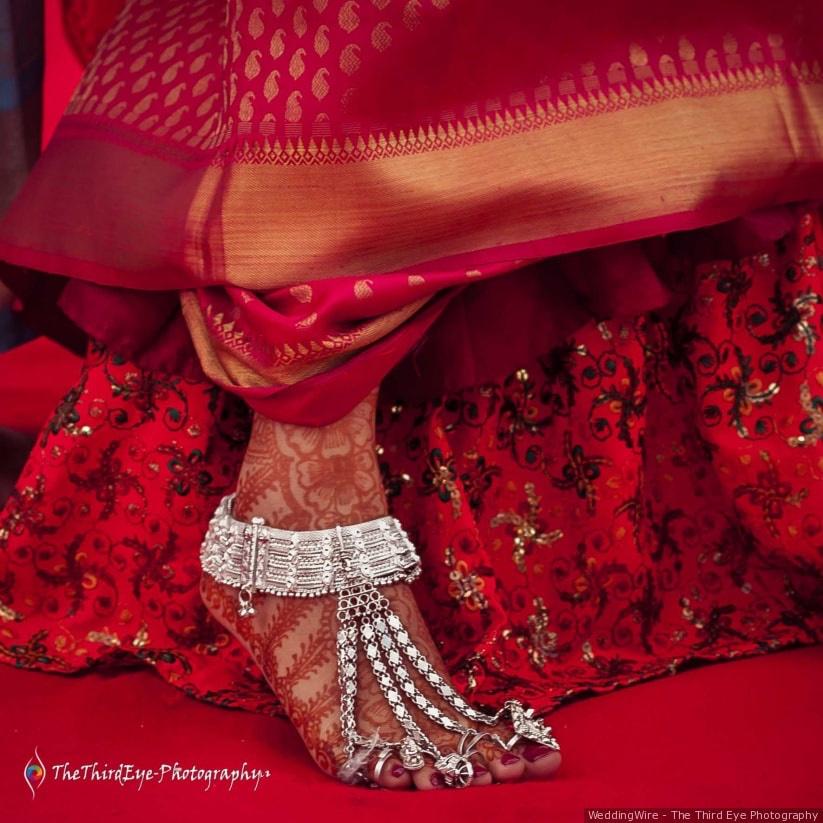 A heavy silver anklet with chains leading to toes rings for each toe - now what you call OTT. This regal style will suit the bride's royal look perfectly. If you're wearing a lehenga that can go in contrast with the silver of your anklet, you are sure to get some stunning pictures of your feet. One more pose to add to your list for the bridal photoshoot.
Bridal anklets are not just known for their gorgeous aesthetic. Little did you know, it adds a true balance to a bride's new life. The precious metals of gold and silver used to make these stunning anklets are a good conductor of energy. They mediate between the earth and the human body to send the negative charge to the earth. Now, wasn't that a fun fact you weren't expecting? Add a couple to your bridal trousseau to raise the bar for bridal fashion game this season.
Which one of these stunners inspired you the most? Let us know in the comments below!