13 Brands Whose Light Lehenga for Engagement Are LIT
Choosing a light lehenga for engagement is definitely the right choice a bride can make. Check out these brands across India for an engagement outfit that's absolutely you!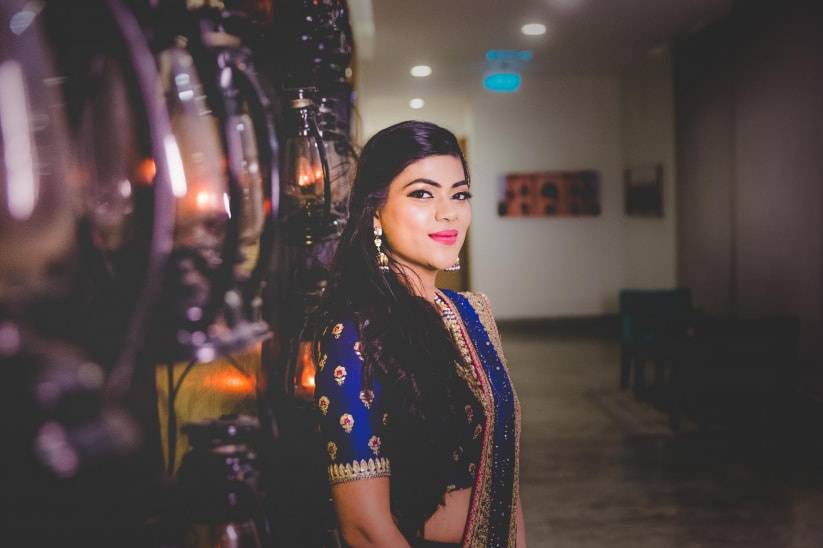 Every bride-to-be wants to look stunning on her engagement day. If you are someone who is about to put a ring on it and is still confused about what outfit to buy, you're just in the right place. These days the brides-to-be are looking for a light lehenga for engagement and guess what? We bring to you a selection of Indian couture brands and you need to check it out, now!
Why Go For Light Lehenga For Engagement?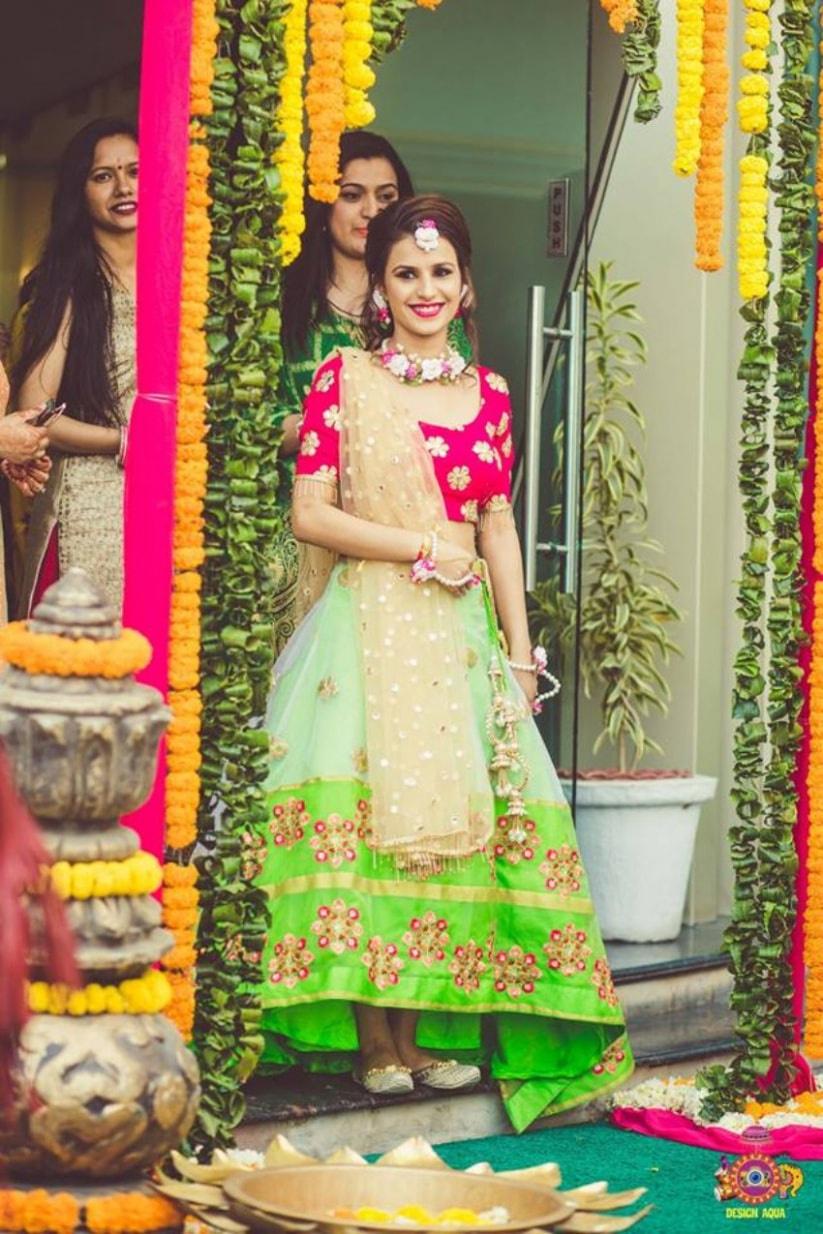 Even though the bridal trousseau traditionally comprises of heavy apparels and jewellery, a bride does not want to be weighed down by her dress through her wedding functions. Some want comfort and ease to move around and hop to the Gol-Gappa counter.
- Lehengas with light work are easy to carry.
- They are extremely comfortable.
- You can dance as much as you want while wearing a light lehenga for engagement.
- Light lehengas fall under the minimalist bridal look which is evergreen as well as classy.
Brands For Unconventional Lehengas in India: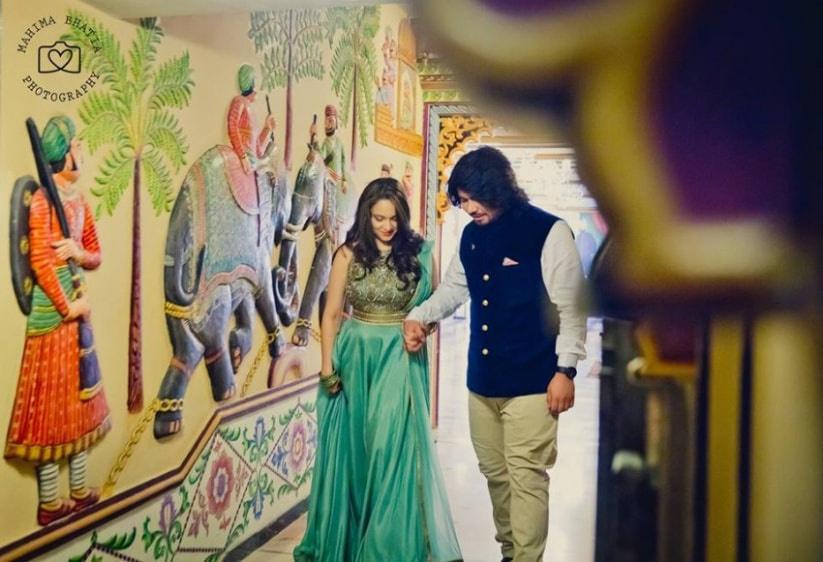 DELHI/NCR
1. Nakul Sen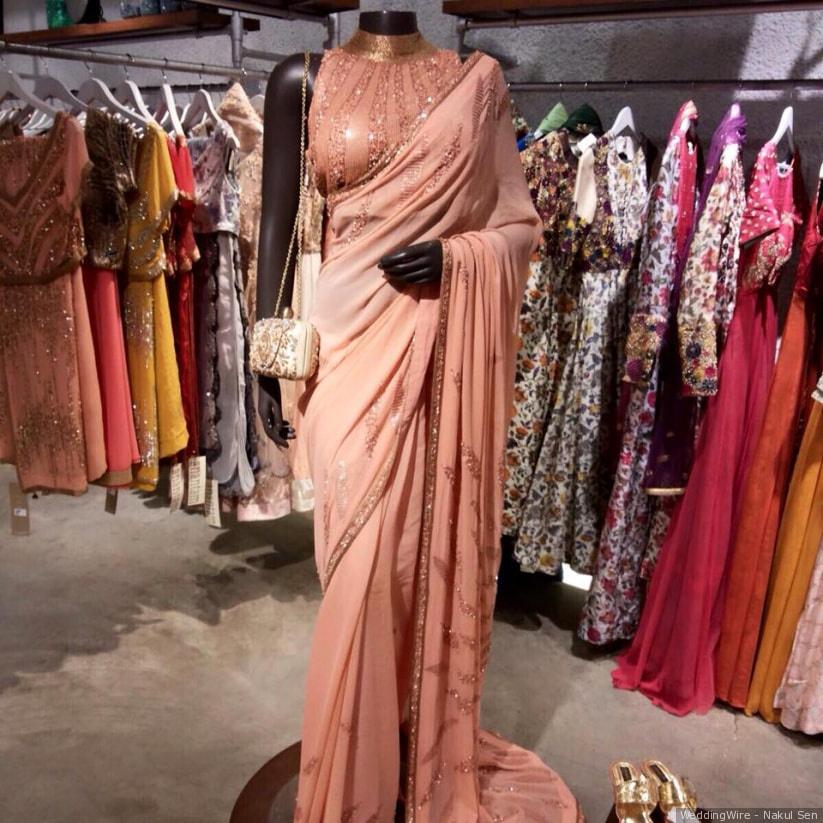 Delhi-based designer label Nakul Sen has grown to spread to 78 boutiques across the world with ethnic Indian appeal and an international aesthetic feels. The designer, who also specialises in cocktail sarees, gowns, heavy bridal lehengas to light lehengas for engagement. They also offer custom stitches and jewellery to complete your look too.
USP: Nakul Sen's designs are modern and bohemian. He plays around with basic colours and patterns and creates magic with his garments.
2. Liz Paul
A bridal lehenga shopping destination in Shahpur Jat, Liz Paul is known for lehengas in a multitude of fabrics and details so that each piece is a unique creation. Apart from lehengas, they also stock bridal accessories like earrings, necklaces and bracelets. This way you can shop for matching items while visting only one store.
USP: At Liz Paul, you can buy amazing floor length jacketed lehengas that are contemporary as well as classy.
3. Mad Sam Tin Zin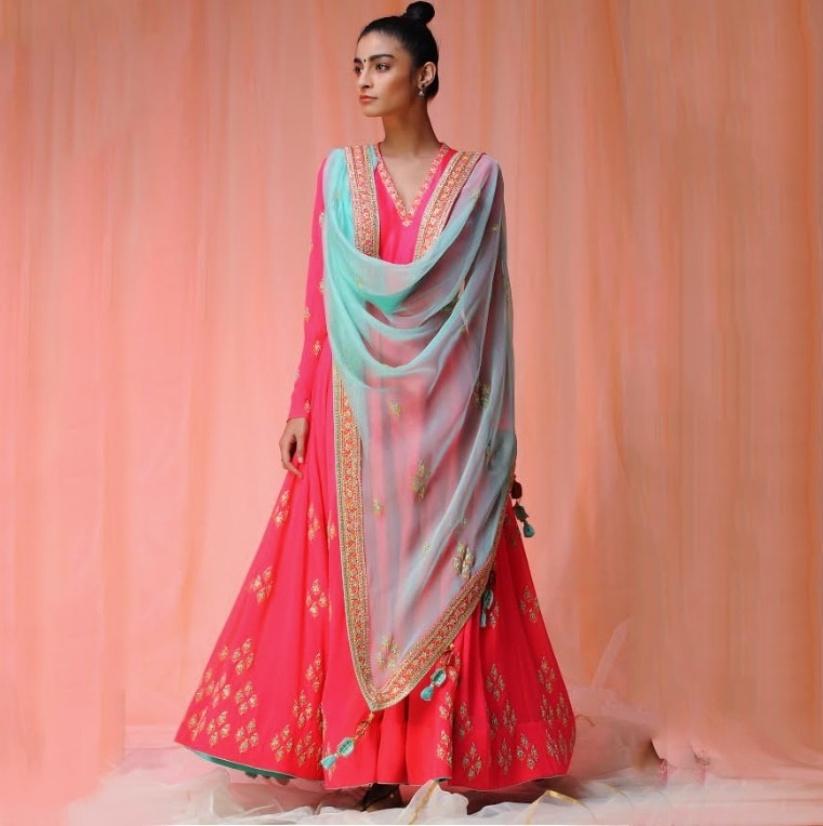 A designer quartet from NIFT, Mumbai, the minds behind Mad Sam Tin Zin work magic with outfits that have intricate embroidery from different, regional backgrounds. You can pick up lehengas, Shararas, Anarkalis, Indo-western outfits, sarees and other outfits off-the-rack, or order a custom fit.
USP: Mad Sam Tin Zin have one of the best contemporary ethnic outfits. As they like to put it, "They make Indian clothing with fresh designs and elegant drapes for the women of today."
4. Asiana Couture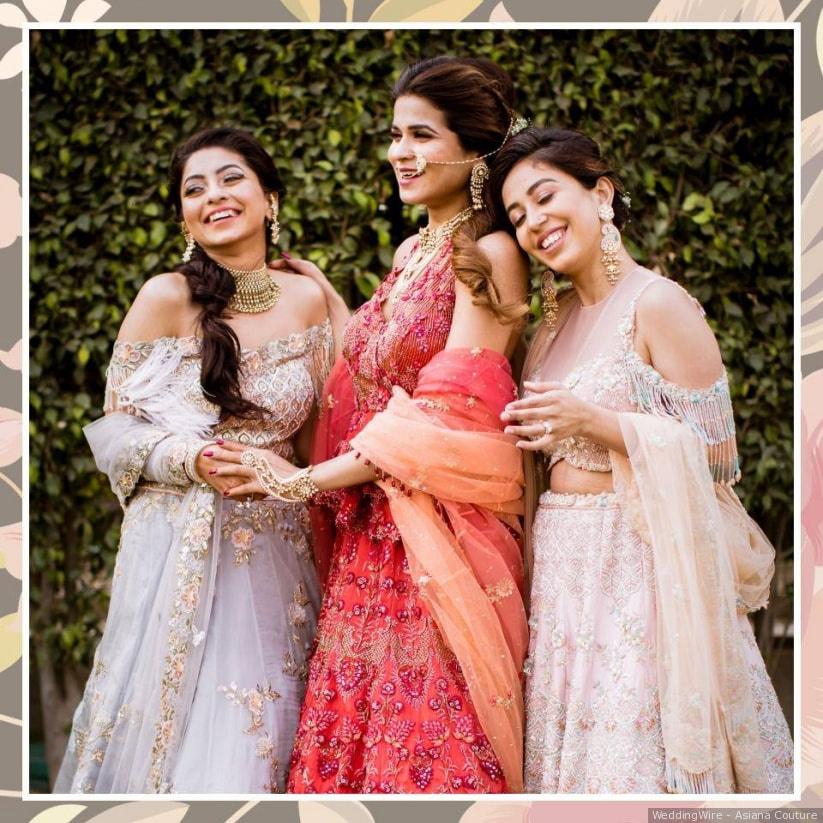 Asiana Couture is a boutique store with ethnic designs, in a refined sense of style to cover the vast universe of bridal outfits. They aim to highlight dresses which are in sync with each bride-to-be's style or personality. You will find many Bollywood-inspired dresses that give the designer labels a run for their money.
USP: They have a wide variety of light lehengas to choose from as well.
5. Ashima Leena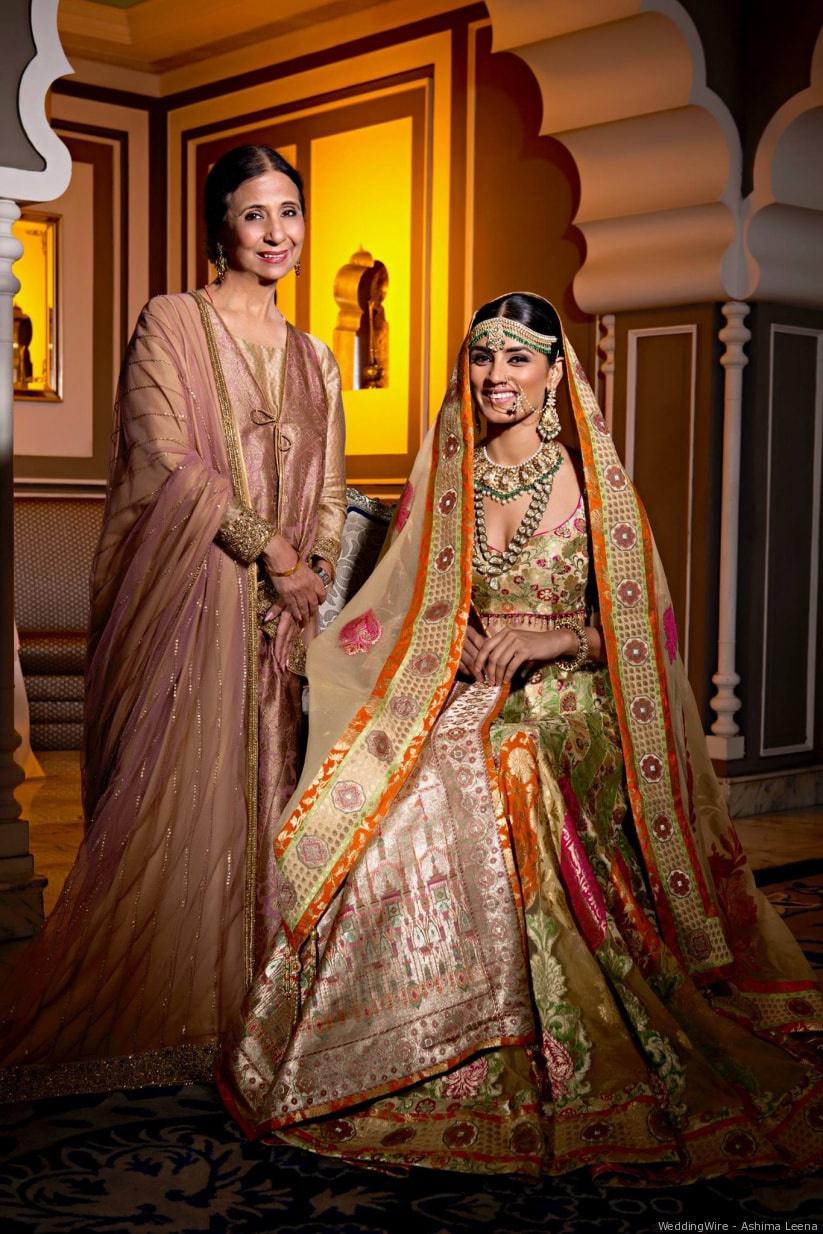 A well-known couture brand in India, Ashima Leena is known for different silhouettes and a vivid colour palette, when crafting custom-fit garments, like a light lehenga for engagement. Apart from consultation, you could also pick up off-the-rack lehengas, sarees, Indo-western outfits, Shararas and gowns.
USP: Ashima Leena's designs have traditional aesthetics with a modern twist. Her collection of light lehengas is stunning and you will definitely fall in love with her outfits.
MUMBAI
1. House Of Masaba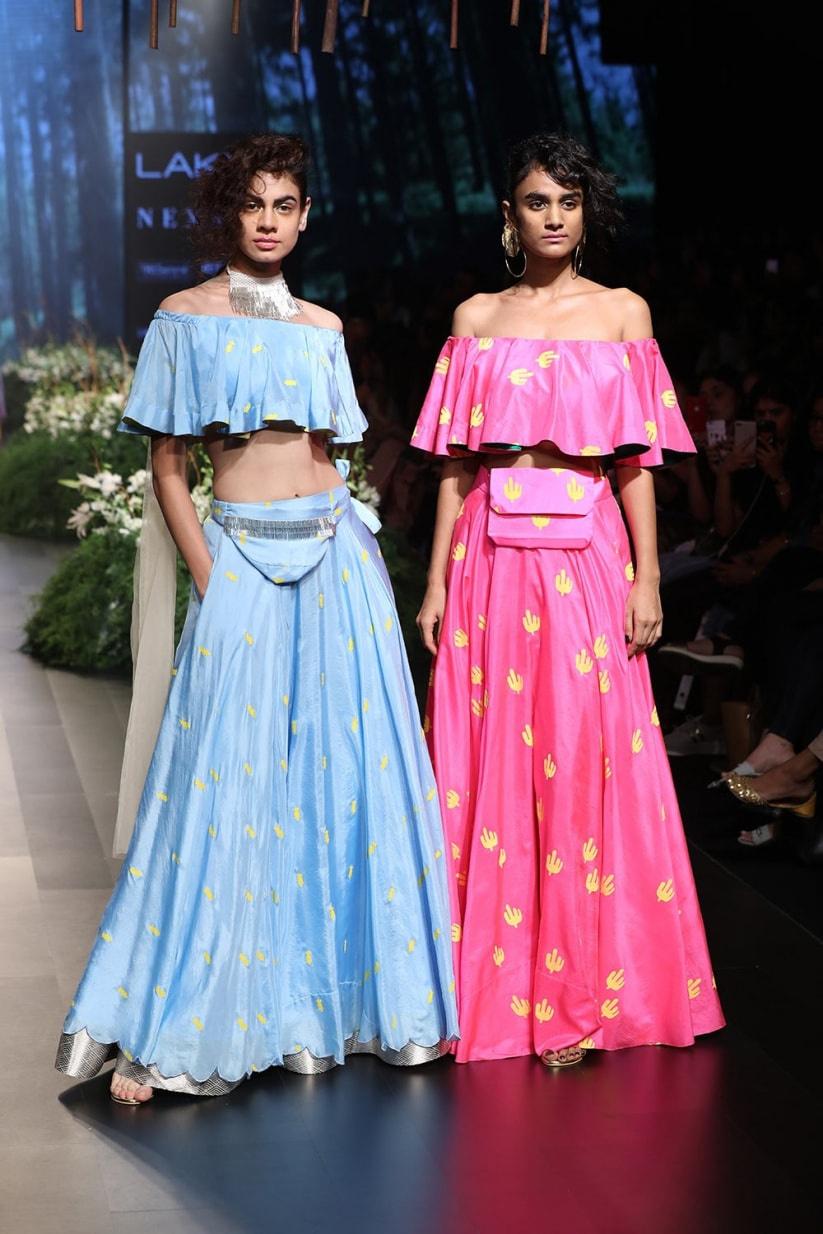 Image Courtesy: House of Masaba's Facebook Page
A decade-old couture brand, the House of Masaba is known for appropriating mundane, everyday objects into prints for traditional Indian outfits - be it lehengas, sarees, Indo-western fusion wear and other experimental outfits. Funk, vibrancy and a hint of individuality are embued in each of their outfits.
USP: If you want modern designs with pop, fluorescent colours, House Of Masaba is where you need to shop. It's perfect for light lehenga for engagement.
2. Benzer World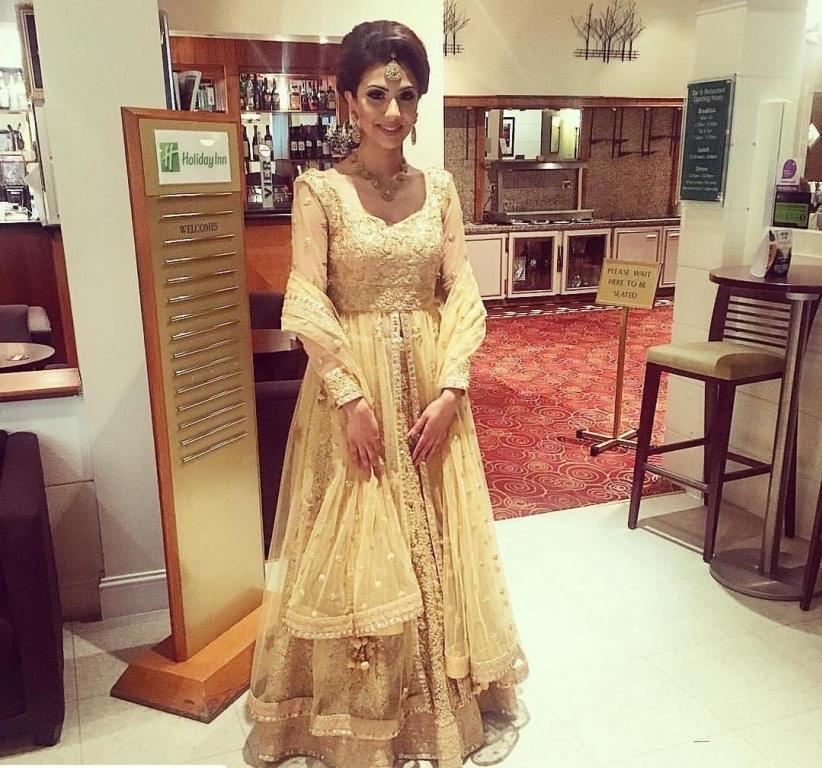 One of the oldest wholesale designer stores in India, Benzer has wide range of bridal and groom couture and can work as your shopping destination for each and every member of the family. They house Jodhpuris, Sherwanis and Suits for men, apart from sarees, crepe kurtas, Anarkalis, Ghagra Cholis, net lehengas and Swarovski Dupattas. They also offer jewellery, handbags, wedding purses, clutches and party bags.
USP: You can choose a lightweight lehenga from Benzer World as they offer a wide range of traditional lehengas to choose from.
3. Jade By Monica And Karishma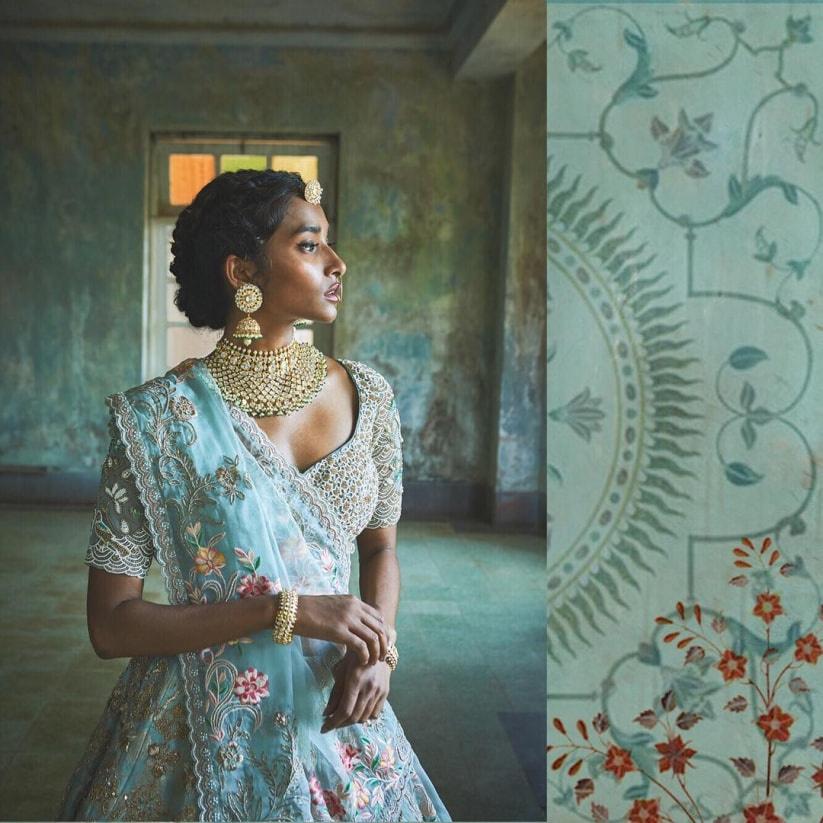 Inspired by the modern, well-travelled and inspirational Indian bride, Jade By Monica And Karishma imbue both modern and Indian sensibilities in their work. They offer a vast array of colours, motifs in their three distinct signature lines Vermillion, Kalash and Jewel. If you are looking for a light lehenga for engagement that has a pick of edginess to it, this is the place you head to.
USP: According to Monica and Karishma, Jade is a lovechild of heritage and modernity by creating bridal ensembles for the millennial Indian woman.
4. SVA By Sonam And Paras Modi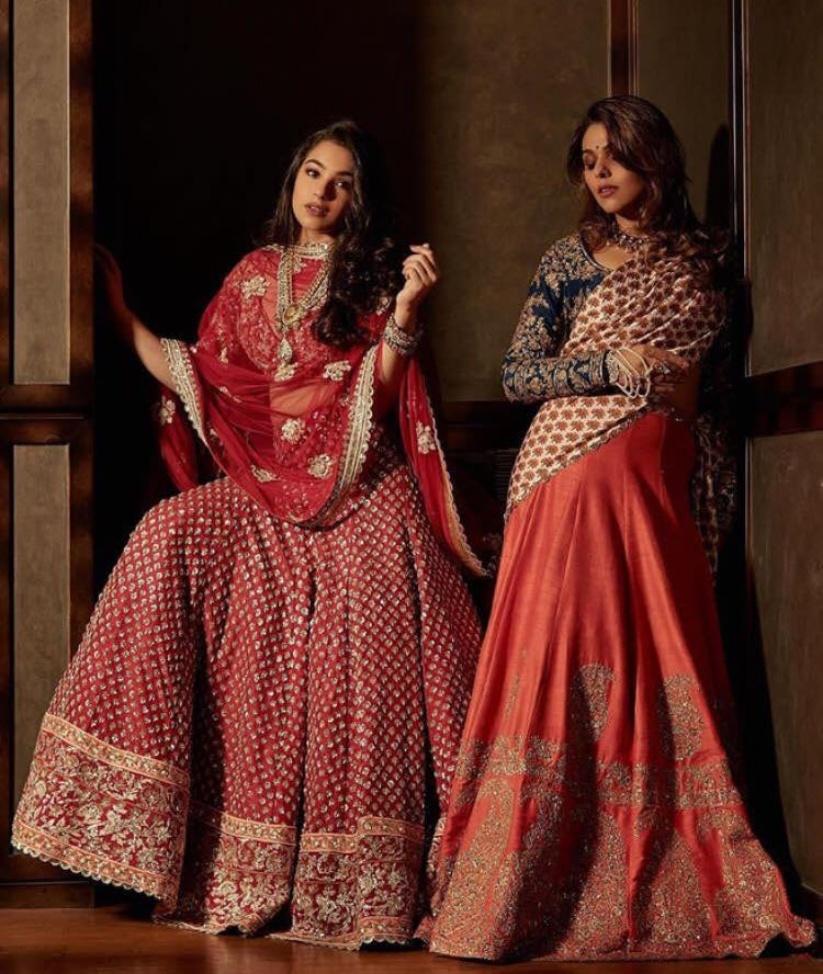 Run by the designer duo, the self-titled SVA By Sonam & Paras Modi create unique looks for the cosmopolitan bride. Their lehengas might not look like it but once you don one, you'd know that it is a light lehenga for engagement.
USP: Sonam and Paras create lehengas with intricate detailing, luxurious fabrics, and exceptional styling at SVA. Also, if you are a fan of handcrafted outfits, you will love their collection.
BENGALURU
1. Rainush Couture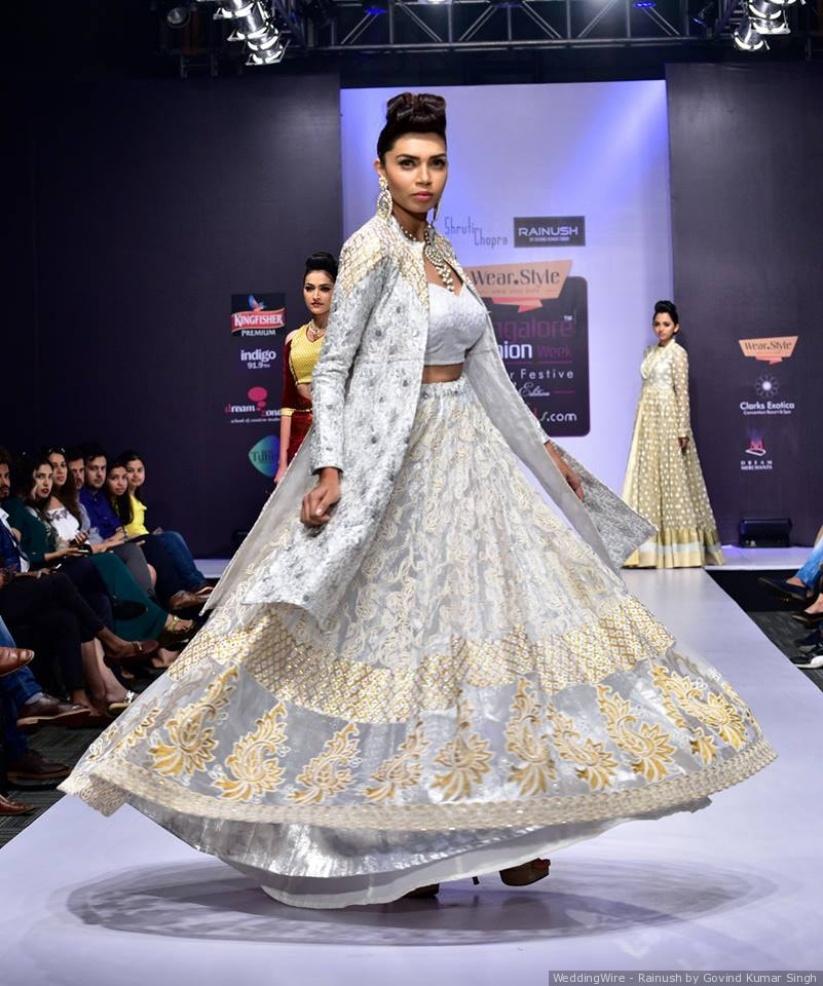 Leaving brides-to-be spoiled for choices, the Rainush Couture Boutique provides unique bridal wear in flowy fabrics and impeccable designs, alongside gowns and dresses for the bride squad. They also provide contemporary designs for weddings, engagements, private parties and other casual functions.
USP: They have contemporary as well as traditional designs that are perfect if you are looking for a light lehenga for engagement.
2. Koskii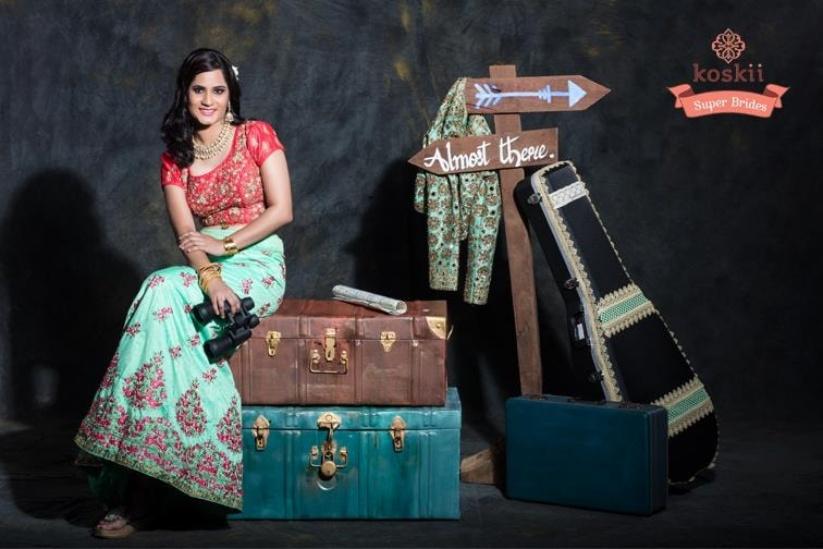 A stop-over for ethnic wear in Bangalore, Koskii caters to the limits of the imagination of each of the brides they service. They offer light lehengas, sarees, suits, gowns, Salwars and Indo-western creations.
USP: Light lehengas and bridal jewellery to go along with them.
3. Kara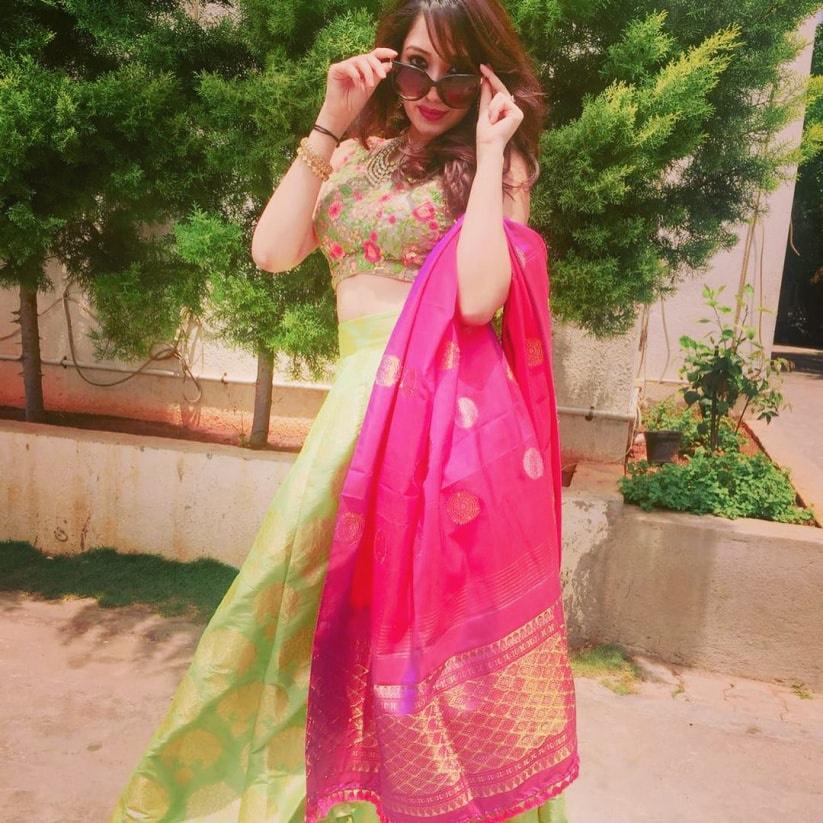 The Bengaluru based Kara store counts itself as the perfect place for a bride to get her best bridal look. Imagine being able to swap your Dupatta for a statement jacket once the ceremony is over and hit the dance floor as your comfortable self.
USP: All types of bridal wear including dresses with lace designs
4. Tamanna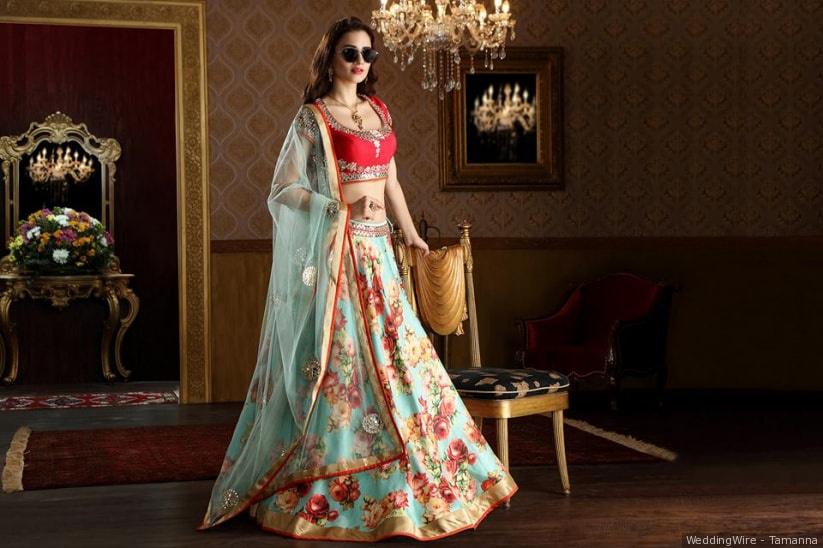 A bridal, multi-designer store, Tamanna De Boutique offers multiple options for wedding trousseau, semi-casual, casual, ethnic and occasion wear options. They also offer custom tailoring options in lehengas and Indo-western outfits.
USP: Sample pieces for a better idea, which can be custom-made to specifications
We hope you now know where you can shop the perfect light lehenga for engagement all around the country. A light lehenga for engagement has more scope reusability than your bridal lehenga. You can pair the skirt with a funky choli and jacket for a friend's Sangeet or flaunt that Choli with Dhoti Pants that gets everyone attention. So do you feel ready to make a light lehenga for engagement part of your bridal trousseau?
Which city are you planning to do your bridal shopping from? Let us know in the comments below.