If Shahpur Jat Wedding Shopping Is on the List of to-dos for You, Then Here's a Guide to Refer To
Shahpur Jat wedding shopping isn't complete without a trip to these bridal lehenga stores. We name them, alongside others that can help you complete your wedding trousseau and book a lot of other wedding vendors.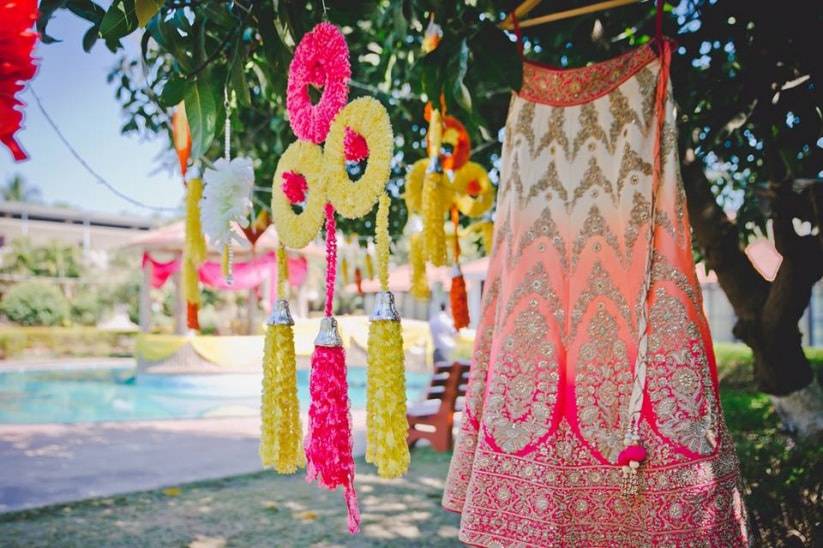 Crafting a unique, wow look for your D-day isn't an easy task. Bridal Lehenga shopping or putting together your wedding trousseau can mean hours and hours of hunting, at a high cost. However, there is an easier way to get Karan Johar's film-like wedding dresses in Delhi, at a reasonable price. How? Opt for the 'Shahpur Jat wedding shopping spree', near Jungi House and find the biggest names in the wedding business. From a wide variety of lehenga that is ready-to-wear, to the ones that you can yourself design using the fabric that they offer, Shahpur Jat is the right place to be to buy bridal lehenga. Not only that, even if you are the bride's sister or the friends who were chosen to be bridesmaids, being a part of the wedding celebrations calls for grandeur in style and to walk the trend, Shahpur Jat has a lot to offer to their customers.
They have in-house designers and tailors to stitch the perfect lehenga for you that will fit you like a glove and at the same time make you look drop-dead gorgeous. The fabric found here is known to be one of the best in town and they are sure to make a mark to remember. The cute cafes and food joints are inviting too if you need a sip of some cold coffee or a quick bite before you continue your escapade of exploring the stores and getting yourself "the lehenga" that will make your presence unforgettable.
We put together a list of must-visit and good-to-go stores in the area so that you don't miss out on either.
Shahpur Jat Wedding Shopping Guide: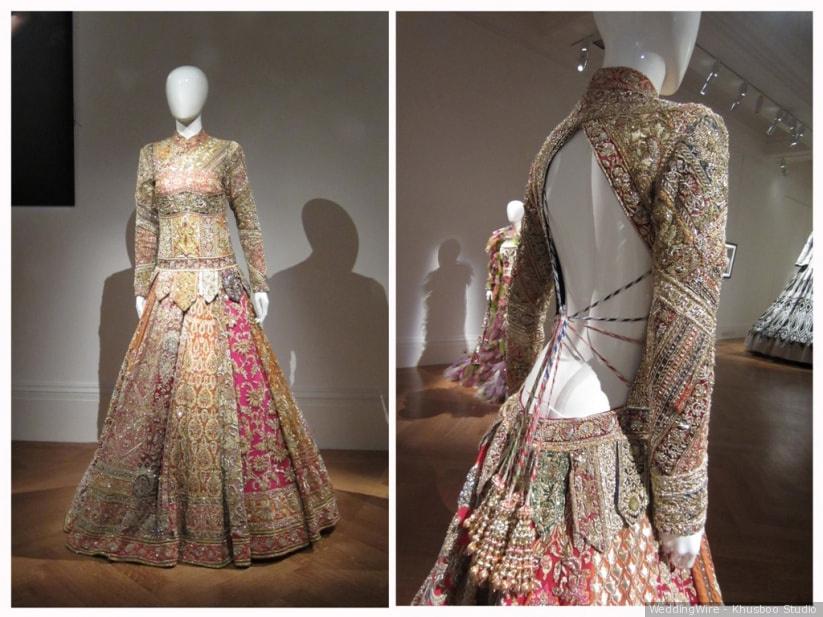 Located near Hauz Khas in South Delhi, Shahpur Jat is a strange mix of the hip urban belt of designer-wear and the rural Jatland. It's where you would find traditional, old-style havelis, dilapidated ruins, co-working spaces, vintage and boutique stores. Here are the top stores available in Jungi House (and beyond) for your wedding trousseau needs. Great finds guaranteed, within your Wedding Budget.
Connectivity: Near Hauz Khas metro station
Closed on: Sundays
Must-visit Shahpur Jat stores
These are some of the must-visit Shahpur Jat stores that you need to visit for your bridal shopping spree:
1. Devnaagri (Lehengas, Dresses For Engagement)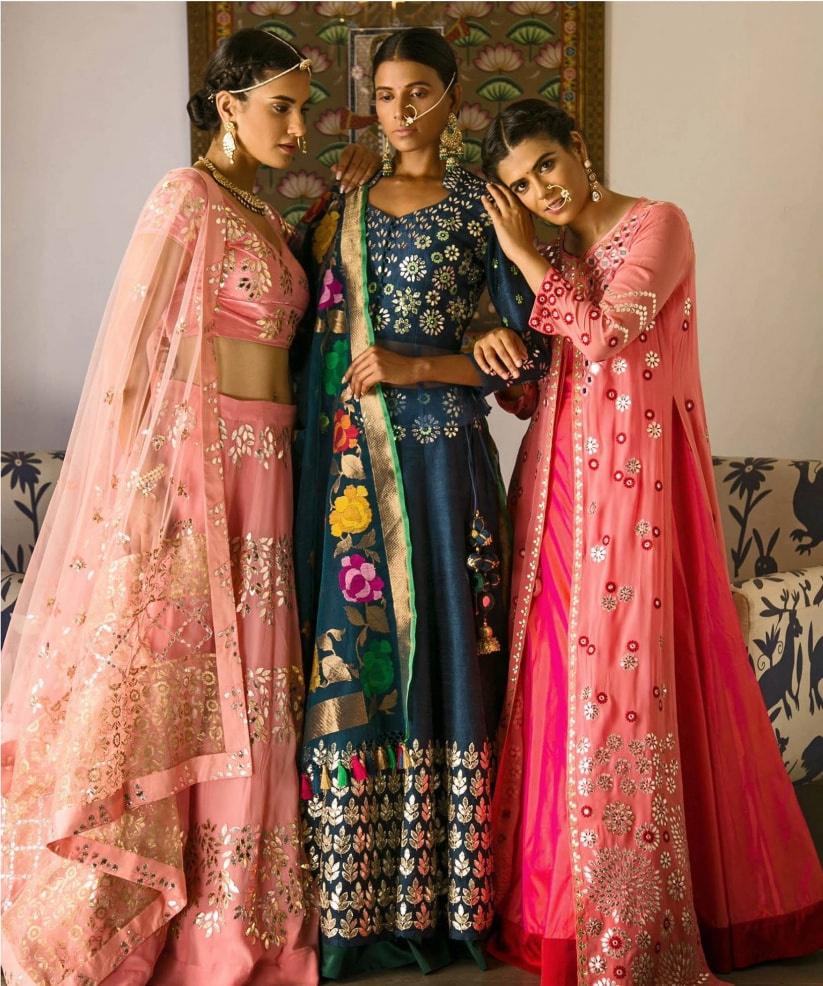 Devnaagri, a brand from the duo Priyanka Jain and Kavita Jain has some of the most stunning outfits that can you find on your Shahpur Jat wedding shopping binge. This label offers you chic lehengas that you can don for your engagement ceremony or Roka ceremony and look like a dream! The highlight for the Devnaagri brand – they even have an online store where you can check out all of their collection. In their creations and designs, you will find a concoction of bold prints and pastel shades which is a rare sight. You will easily find some stunning outfits in here for your pre-wedding ceremonies
Where: Block A, 6 Shahpur Jat, Siri Fort
What's available: Bridal Lehengas, Shararas, Saree Blouse combinations, Salwar suit combinations, Palazzo suit combinations, Skirt Top combinations
Price start from ₹12,500
2. 1600 A.D by Naisha Nagpal (Mehndi, Formal Occasions)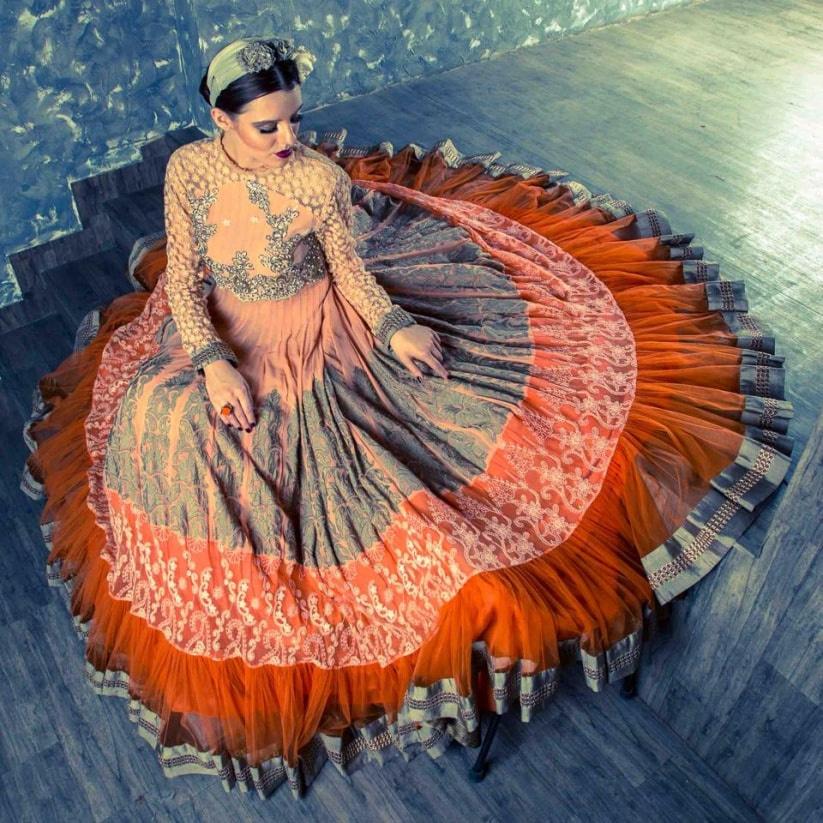 If you're the kind of bride who loves traditional clothing with a stylish western twist to it, then the Naisha Nagpal's 1600 AD is the place for you. Her concept sarees, gowns and indo-western dresses can easily jazz up your mehndi ceremony. Even your mom would love to drape one of their sarees for a wedding event. In her collection, you will observe some unique textiles in vibrant hues which are perfect for a Haldi or a Mehndi ceremony.
Where: 421, Ground Floor, Near Dada Jungi House, Shahpur Jat
What's available: Custom-made designs in lace and chiffon, brocade lehengas, Anarkalis (cotton, velvet and chiffon), evening gowns, sarees
Prices start from ₹24,000
3. Samant Chauhan (Gowns for Cocktail, Sangeet)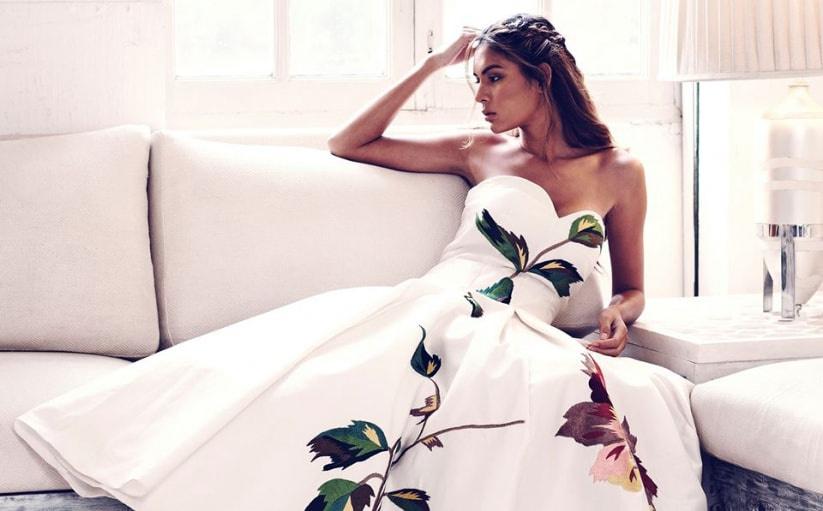 Delhi-based designer Samant Chauhan is known for creating contemporary outfits for the fashionista bride. A cocktail or sangeet ceremony is the perfect event to sport his light and elegant gowns or other western outfits. He is also a go-by name for Anarkalis, Lehengas, Kurtas and jackets (as seen in his Rajputana collection or in outfits sported by celebrities).
Where: 417, Ground Floor, Near Dada Jungi House Lane, Shahpur Jat
What's available: Indo-western outfits, gowns, Sarees, Lehengas, tunics, tops, Anarkalis, Salwar Kameez suits, blouses
Prices start from ₹37,000
4. Gazal Gupta Couture (Bridal Lehenga)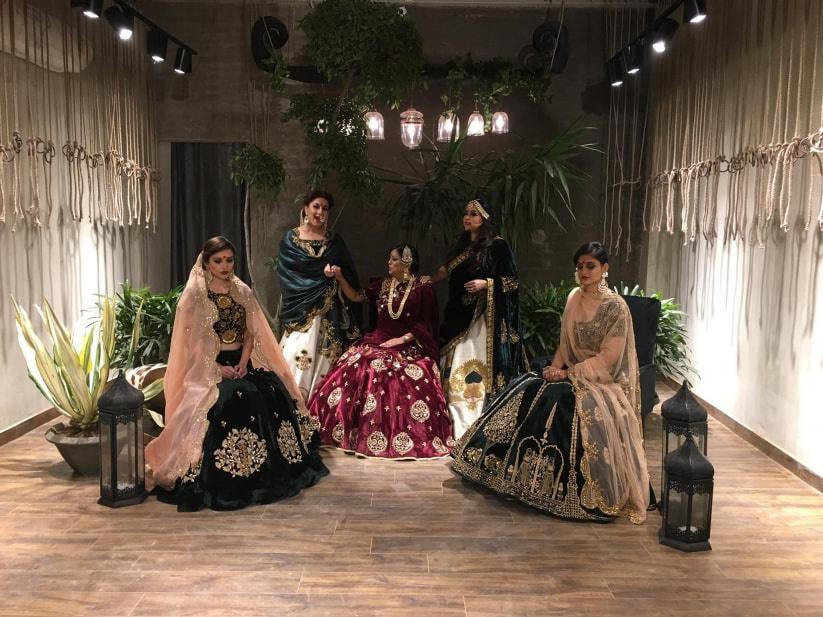 If you want a rich and heavy bridal outfit with lots of intricate work, then a trip to Gazal Gupta Couture during your Shahpur Jat wedding shopping binge will fulfil your dream. Bespoke artwork, heavy appliques on custom-made outfits are the USPs for this brand. If you're a fan of velvet silhouettes then this is the store you must pay a visit to.
Where: 5-K, Jungi House, Shahpur Jat, Siri Fort, New Delhi
What's available: Bridal Lehenga, Sarees, Anarkalis
Prices start from ₹50,000
5. Anubhav & Sneha (Wedding Reception)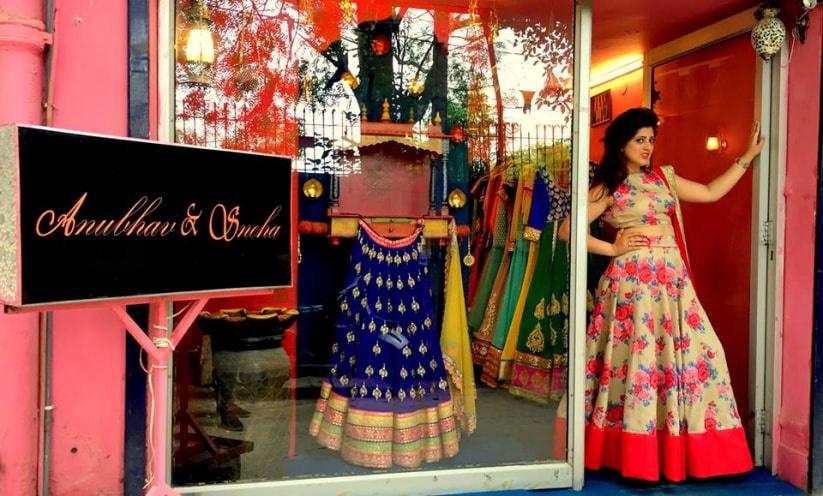 Designer duo Anubhav and Sneha can provide those signature pieces which would become the highlight for your bridal trousseau. In fact, their lehengas became a rage all over Pinterest last year. Their collection features a bolt of colours which are vibrant with enamouring embellishments to add that necessary amount of bling. Isn't that what we all want in our bridal outfits?
Where: 5L, Ground Floor, Jungi House, Shahpur Jat
What's available: Bridal Lehengas, Sarees, Indo-western outfits, Shararas, Gowns, Anarkalis
Prices from ₹20,000
Good-to-know Stores
1. Bageecha Benaras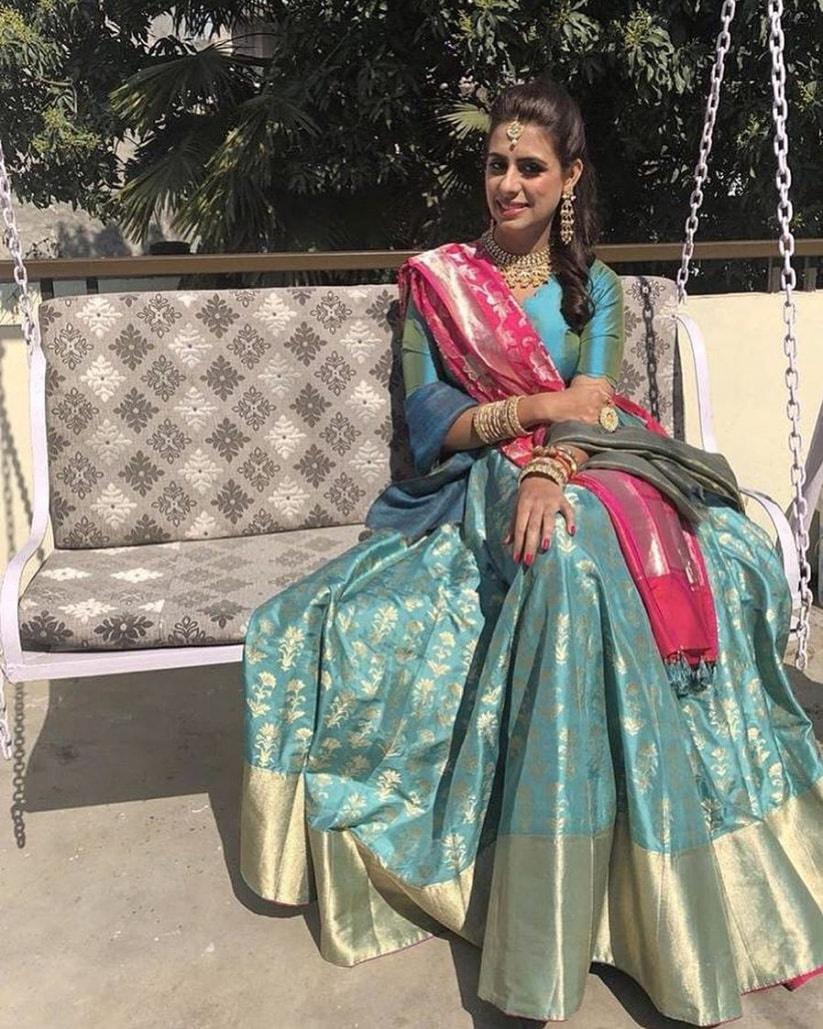 Revamping the rich and traditional Benarasi silk, Bageecha creates amazing Lehengas, suits and sarees in conventional and trending pastel shades. The motifs take centre stage in their designs and give you an opulent look. The Lehengas start from the range of ₹60,000 and above while the gorgeous heavy dupattas at ₹12,000.
2. Bhoomika Grover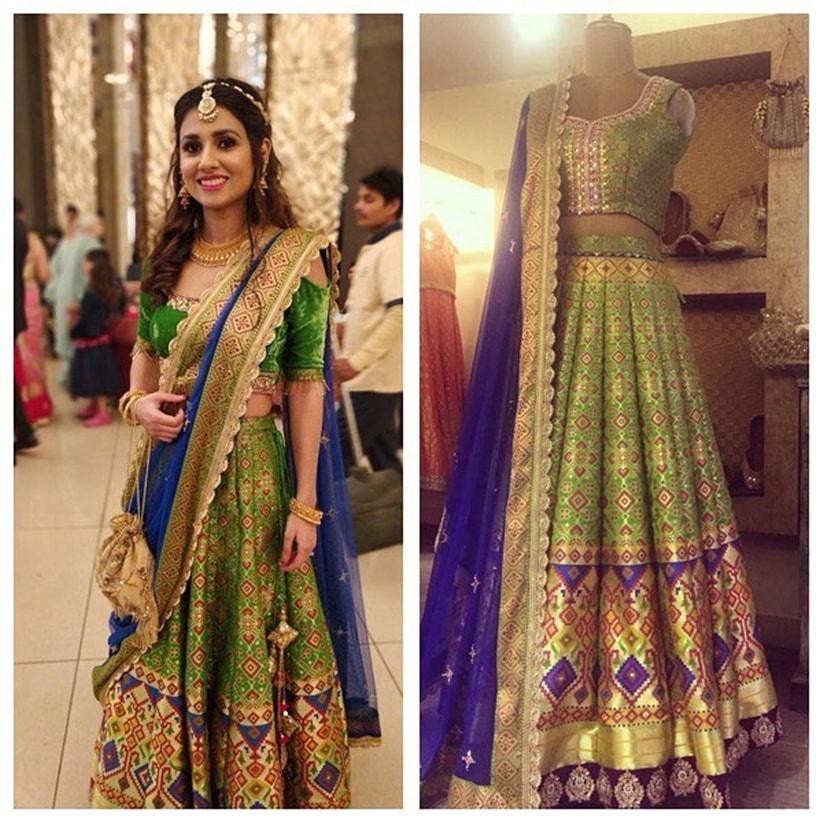 Image courtesy: Bhoomika Grover
Combining light fabrics with beautiful borders and handcrafted embroidery, Bhoomika Grover's creations say elegant bridal wear. Her Anarkali suits start from around ₹40,000 and the Lehengas can cost you up and above ₹50,000.
3. Qbik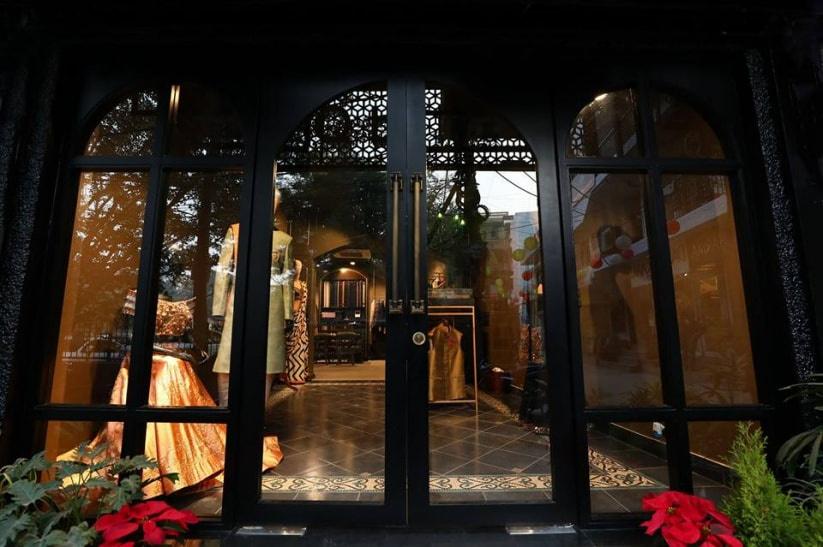 Image courtesy: Qbik
Qbik offers apparels for both men and women. Right from contemporary cuts and designs to the traditional fabrics and colours, they've got it all. Their Sherwanis start from Rs.30,000, Lehengas from ₹50,000 and dresses and suits from ₹10,000.
4. Be Jalebi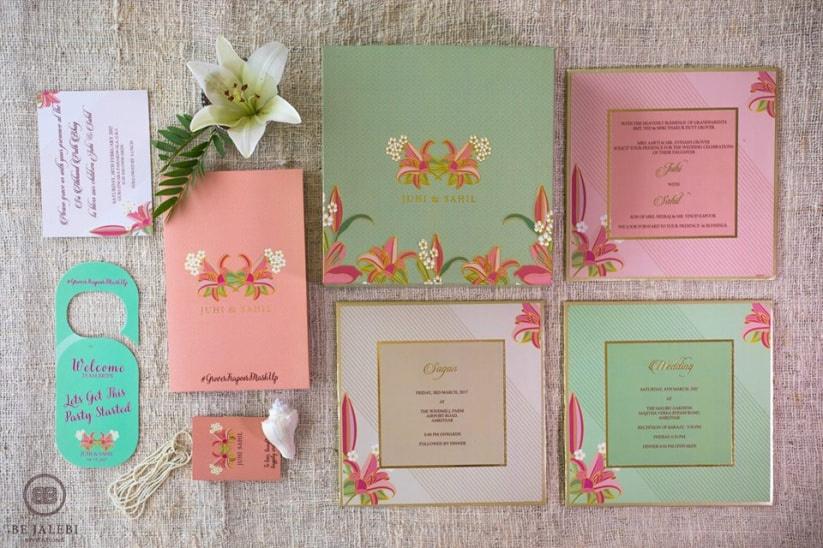 Get bespoke invitation cards while shopping for your bridal trousseau. Be Jalebi is your one-stop shop for all your wedding stationery. From vanity bags to customised gifting, they have it all. The prices for invitation cards start at ₹400 and can vary according to your selection of wedding favours to go with it. Their take on wedding invitations is unique and that is exactly how your new start should be as well.
5. Adaa by Sunanda Varma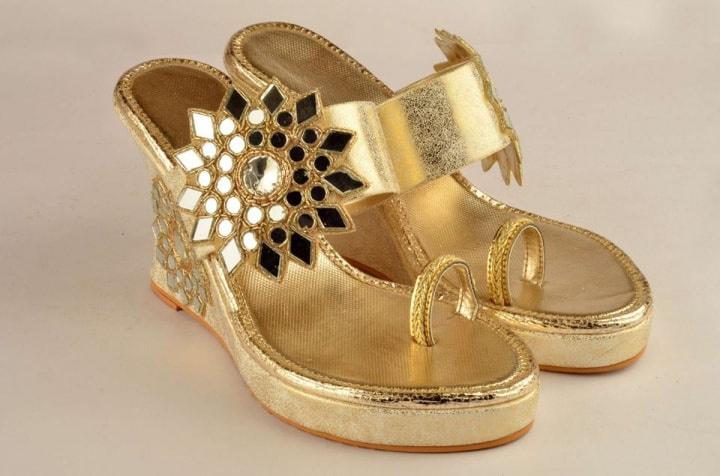 Image courtesy: ADAA by Sunanda Varma
If you're looking for comfortable heels to be wearing along with your Bridal Lehenga or at other ceremonies, head to Adaa. You will find gorgeous yet well-balanced wedges in shiny colours and mirror work to go with your dazzling outfits. They also create beautifully painted Juttis that you can easily carry for Haldi or Mehndi starting at ₹1000. Considering the odd length of wedding functions it is feasible for a bride-to-be to go for comfortable footwear. So, go for comfort over style and lucky for you this store has a beautiful concoction of both.
Not just Trousseau Shopping:
To those who visit the area with wedding shopping in mind, here are all of the vendors you can get in this area:
Bridal Lehenga (+Wedding Trousseau)
Bridal Accessories (Shoes and other items)
Bridal Jewellery
Wedding Invitations
Wedding Decorators
Florists
Wedding Planners
Wedding gifts
These were some of the handpicked labels that caught our attention from a pool of stores which are apt for bridal shopping. Make your Shahpur Jat wedding shopping experience worthwhile by visiting these stores and creating a Bollywood-style wedding trousseau for yourself. So, splurge your pockets and stock your bridal wardrobe now!
And if you happen to stumble upon some hidden gems while you're there, do share them and your experience, with us and our readers in the comments below!