Thinking Something out of the Box? This List of Indo-Western Dress for Bride Is Everything You Need
Looking to make waves with your wedding trousseau? Here is all the inspiration you need to add statement Indo-western dresses to it.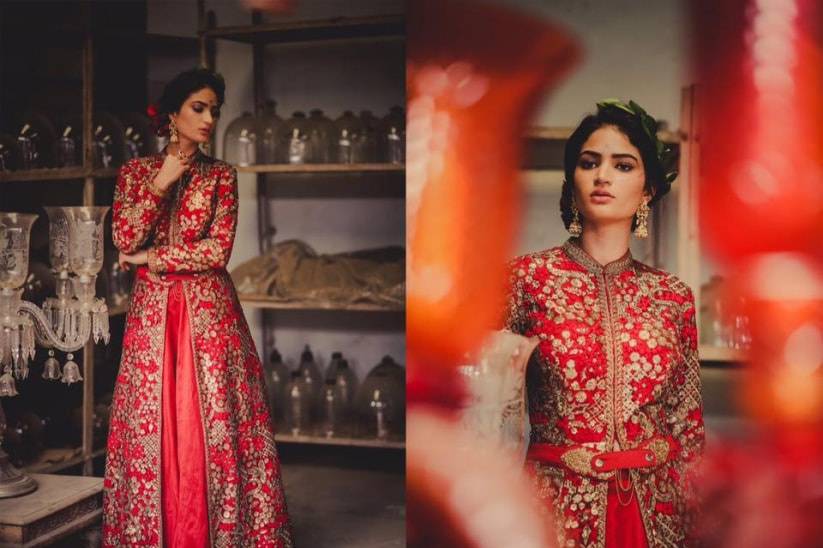 As a bride-to-be, you imagine your wedding trousseau to be filled with gorgeously embellished traditional Indian dresses. But why not give it a twist by adding some of the stylish Indo-western dress for bride? While selecting an Indo-western dress for bride, the variety you will find online and offline is enormous. From a hundred possible colour combinations to a plethora of designs, cuts and shapes the variety is just overwhelming. You are sure to get confused with the incredible designs of Indo-western choli, Indo-western saree, Indo-western gown and other fusion outfits. Let's take a look through our galore and see what each of these outfits has to offer that is different from the rest.
1. Indo-western choli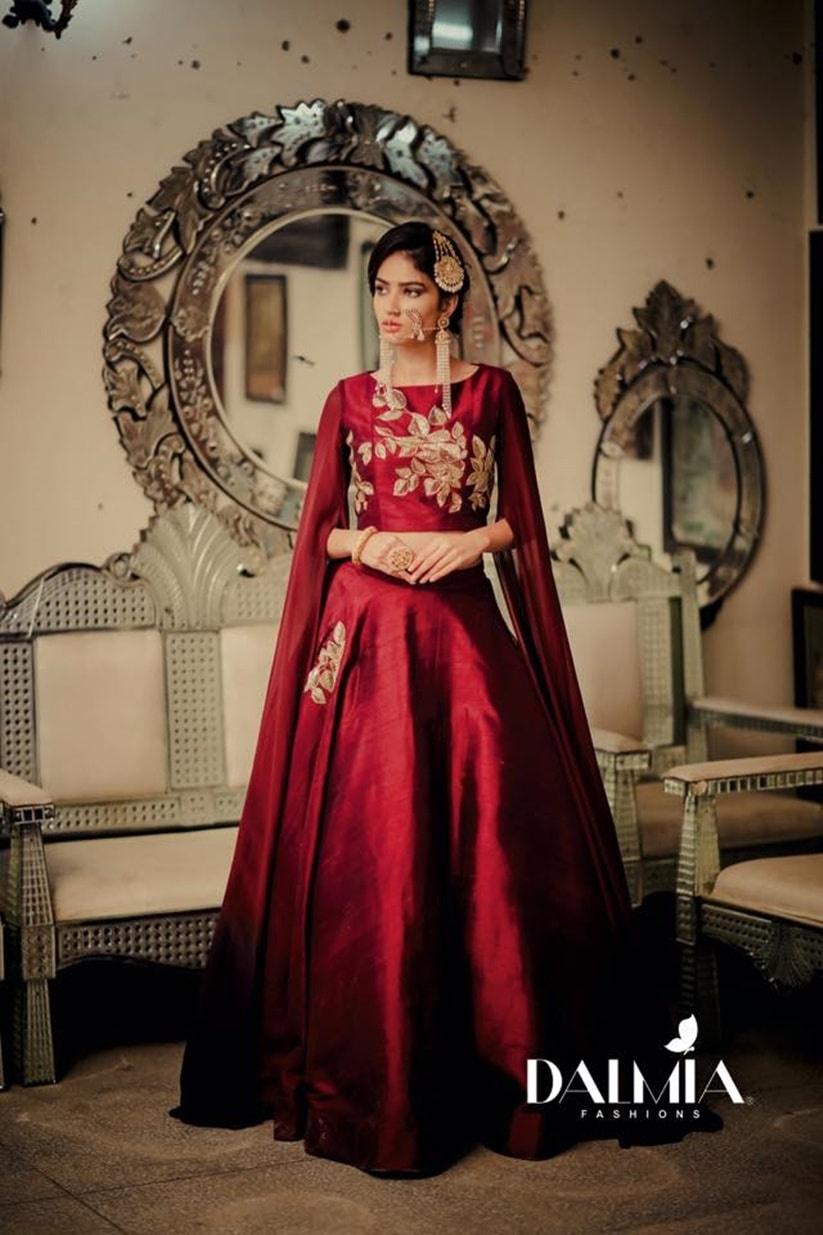 Indo-western co-ord sets, such as this, are raging for the past couple of years. With statement sleeves that double as a dupatta, the maroon Indo-western choli stands out from the crowd. If you are the kind of bride who appreciates chic fusions like this and can carry them off with confidence, go ahead and buy one for your wedding trousseau. The beauty of wearing a suave piece such as this one is that it is contemporary yet traditional, classy yet simple. It is a little bit of everything. The slit on the bell sleeves gives it a long flowy look like that of a queen and the minimal embroidery of gold on the red sheen raw silk fabric makes you ready for your engagement night.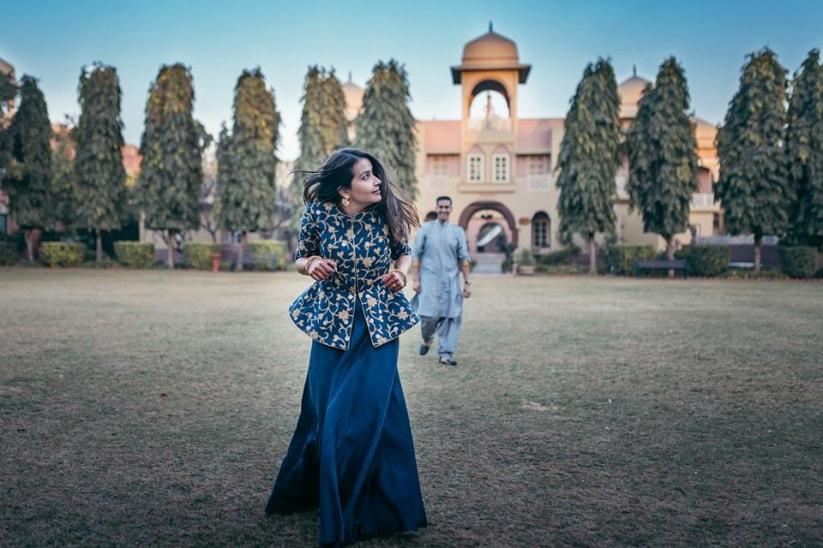 Here, the bride is flaunting a peplum jacket with a Lehenga skirt that balances her overall figure and fits her bodytype perfectly and gives her an elegant appearance. The fine work of threads on the teal highlights the jacket in a gorgeous way, even if the overall colour is uniform. The peplum gives more shape to your waist and enhances the curves. As an Indo-western dress for bride, this works perfectly well for a Mehndi, Sangeet or even reception. Who would've thought that a peplum jacket could be worn over a lehenga! But, you sure can and rest assured that it would make a stunning fashion statement.
2. Indo-western gown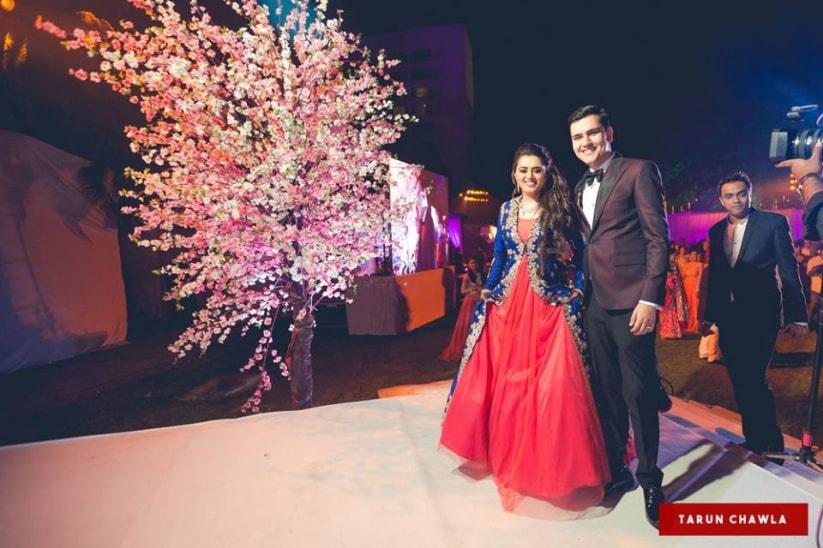 This embroidered jacket and gown combination makes the bride look bright and beautiful. Contrasting colours are what bring life to the ensemble. This Indo-western dress for bride has achieved the perfect balance by adding layers to the gown. If you want to sport a similar look and add various layers to your outfit then going for this above Indo-western dress for bride combination is a smart choice you can consider. You can try on various colour combinations and see which one looks best. Also, keep into consideration the time of your function as well. The long shrug-like jacket is the one with stone embellishments and the layer beneath is a simple one with a sheen so it fits perfect for the night time ceremonies.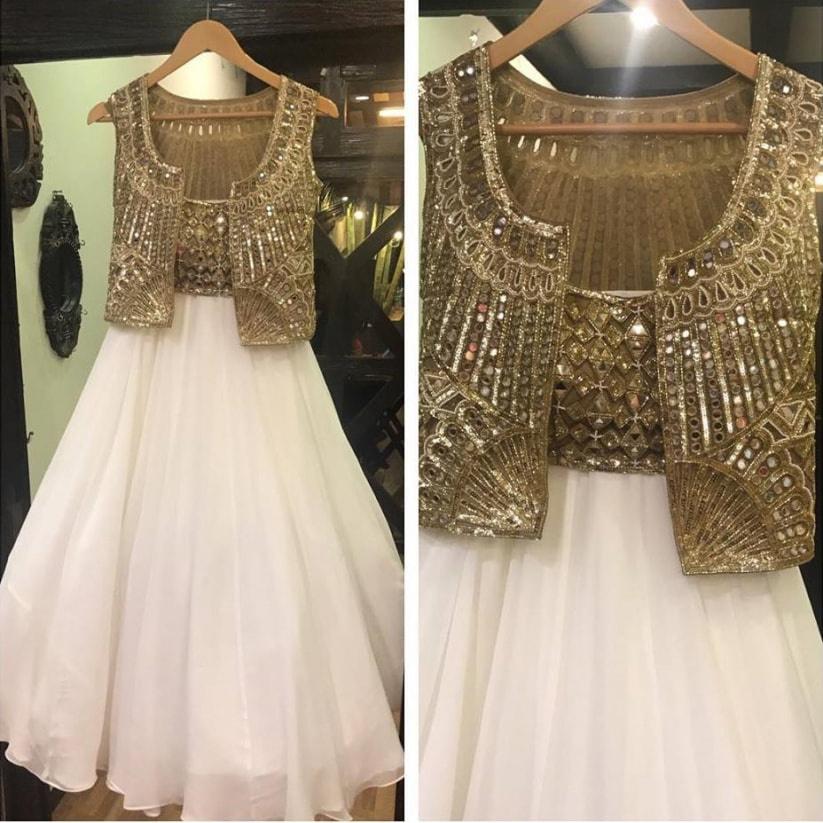 This Indo-western dress for bride features the traditional mirror work in the jacket and top of the gown. It is a fun yet elegant outfit. You can easily wear it to your cocktail or reception by paring it with bridal jewellery from your trousseau itself. For design inspiration, you can look at Indo-western gowns by Manish Malhotra. Mirror work has been a raging trend all year long and alot of ace designers were seen incorporating this design into styling their signatures looks and outfits. Mirror work pattern adds the necessary amount of bling to an outfit and when in contact with the light it gives out a beautiful sheen. So, for a night-day function, an outfit with some mirror work patches would look great and make for some great pictures.
3. Indo-western saree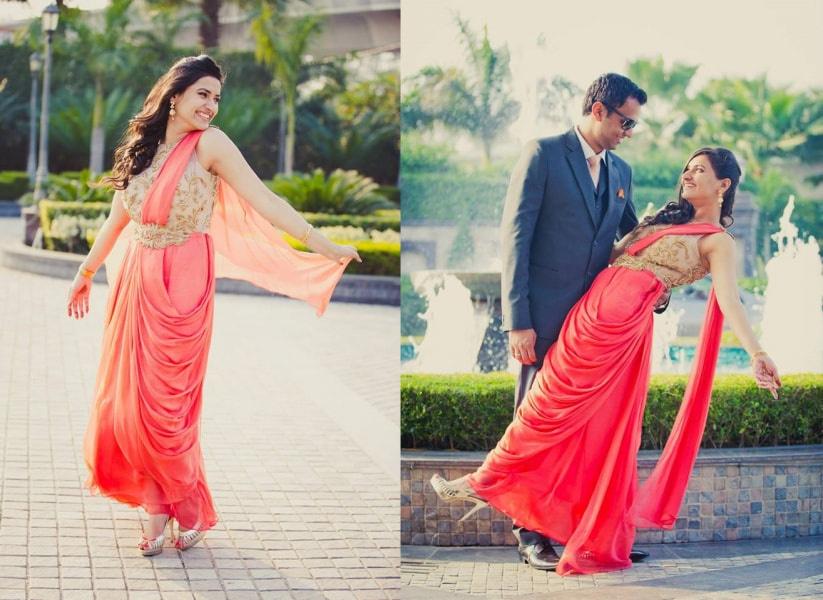 Pre-draped sarees are the perfect example of Indo-western dress for bride. These are hassle-free, look gorgeous and are easy to carry. What more can you want from an attire that makes you look like a diva! Pre-stitched sarees are easy to flaunt and go around in because they have no possibility to fall apart or give you a faux pas while you are standing on stage with your better half. Besides, pre-stitched sarees hug your bodice like it was curated just for you. So, if you want to accentuate your curves from all the right places then opting for a pre-stitches saree would be a wise thing to do.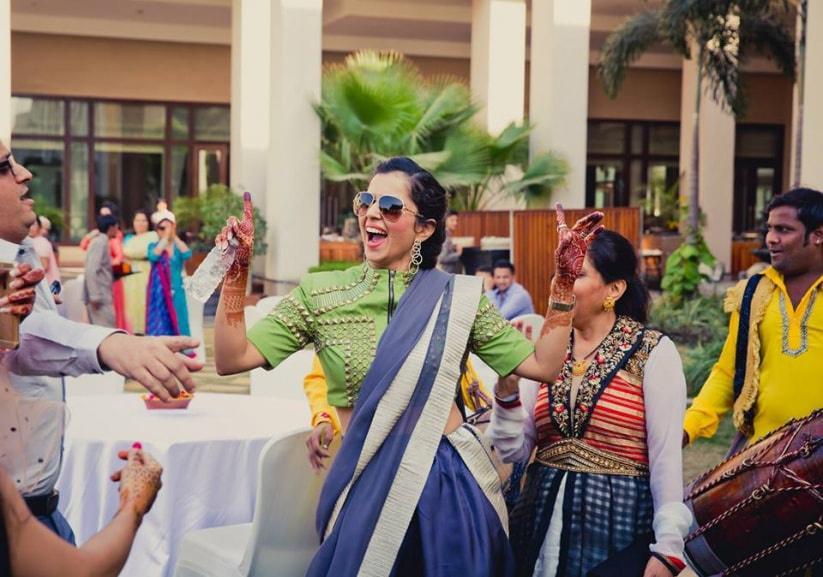 Or, maybe this? How about a jacket blouse with saree? This cool bride is flaunting the combo in full swing. You can also opt for something offbeat for your Mehndi or Sangeet ceremony. Make your style statement known. The cropped jackets with the metallic studs are everything pop about the pop culture and she is flaunting it while the ravishing saree hugs her perfectly. Cool bride on the roll?
4. Indo-western fusion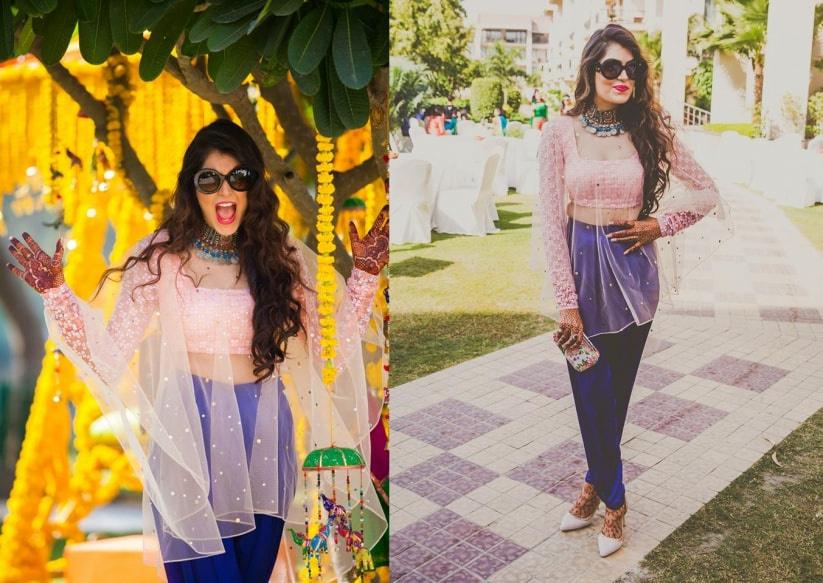 Thinking of a fusion outfit that rises above all the bars ever set for Indo-western dresses? Look no more, Dhoti pants with the caped blouse are one of the options you carry with your snazzy style. Ever since the caped blouse has come in fashion, people are experimenting with them bring in different variants. You can go one step ahead by combining two Indo-western pieces and create a new outfit for yourself. Show it off on your Mehndi or cocktail and turn some heads around. Capes have been in fashion this year and the cape blouses are a trend you need to watch out for especially with the lehenga and dhoti pants.
Earthy colours to bright colours, pants to lehengas and exemplary choice of jewellery are everything that will complement your Indo-western dress for bride and you will carry the baton of the trend that is in vogue.
Now that you are acquainted with the kind of designs you can pull off for an Indo-western dress for bride, the next step is to complete the look. Think about the makeup, bridal hairstyle and accessories that will accentuate the whole ensemble. After you have an idea of it all, only then go ahead and buy that outfit. Don't be afraid to try out new things, open your mind to newer designs and silhouettes and rock your look.
So, are you ready to buy an Indo-western outfit? Which one did you like the most? Tell us through a comment!