3 Hacks to Plan Your Sangeet Ceremony! Use These to Minimise the Stress & Maximise the Fun
Indian weddings bring together family and friends. We have curated a list of some creative and fun ways to amp up your Sangeet ceremony and make it a roller-coaster ride for yourself and your guests.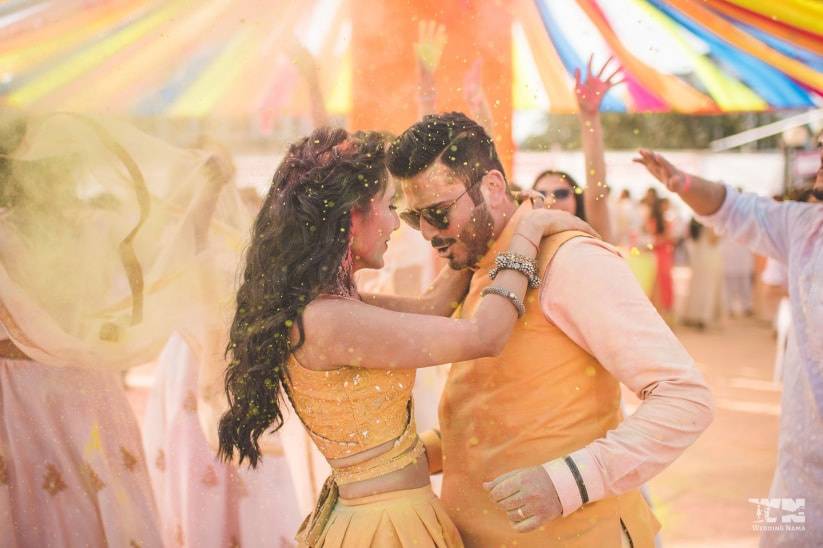 Indian weddings are known for their extravagant ways of celebrating the union of two people. We dance to peppy tunes under the large umbrella of friends and family to enjoy and make some everlasting memories. While Indian wedding celebration lasts for days, one can witness many functions and ceremonies, each rooted with different rituals and traditions.
For this reason, the Sangeet ceremony happens to be one of the most cherished pre-wedding functions. While offering a respite from all the serious wedding planning, it is the ceremony where all the vibrant traditions come to the forefront with a fun and festive vibe. It is an event where you can dance your heart out, enjoy the trendy songs and forge memories that would last a lifetime.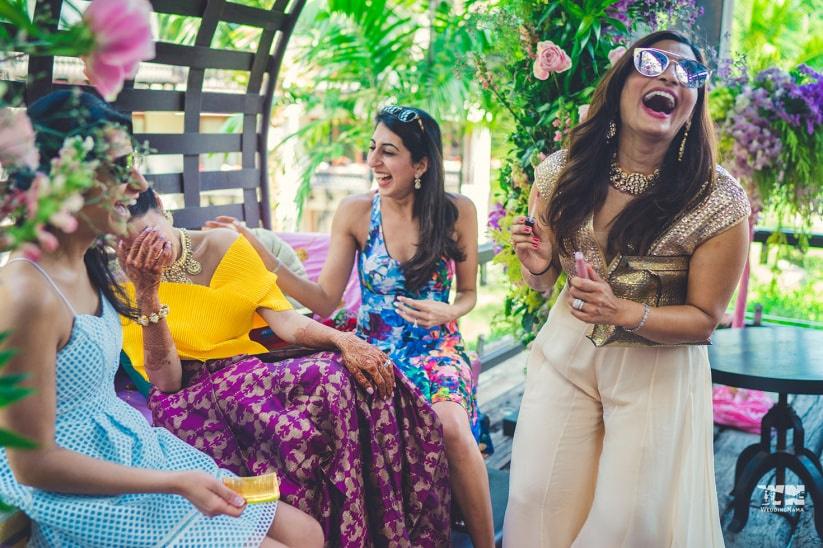 Music! Laughter! Dancing! Pictures! If you're getting married soon then you will find some fantastic ideas to take your function to the next level right below. You can choose to go with the classic and traditional themes but to make your sangeet ceremony one of a kind event, you can always incorporate fun ways like:
1. Quirky Photobooth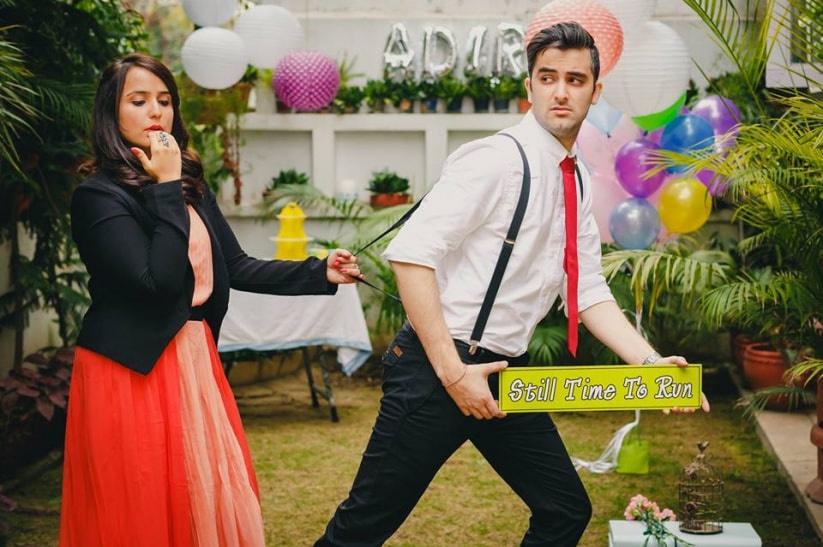 Today, we bring you some uber cool ideas to amp up your Sangeet ceremony. Photobooths are both fun and have a lot of room for improvisation. So, use one of these to make your Sangeet ceremony a wholesome event. In a lot of ceremonies today we see a separate area where you can click photos which would be distinctive and yet personalised.
Photobooth with Couple Hashtags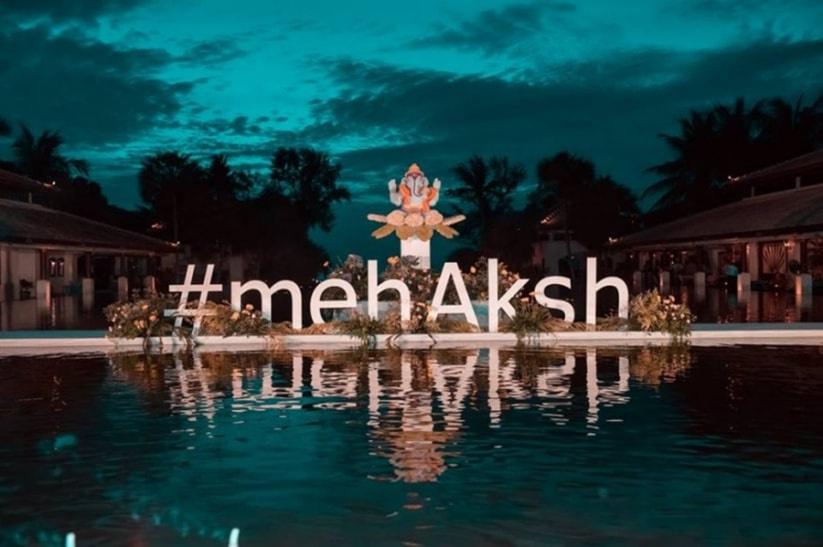 Couple wedding hashtags sound cool, don't they? So, it is ideal for a couple to invest in a photobooth which will do justice to the event in a spectacular manner. This couple hashtags can also be used while posting these pictures on your social media handle and would be a personalised title for your love story.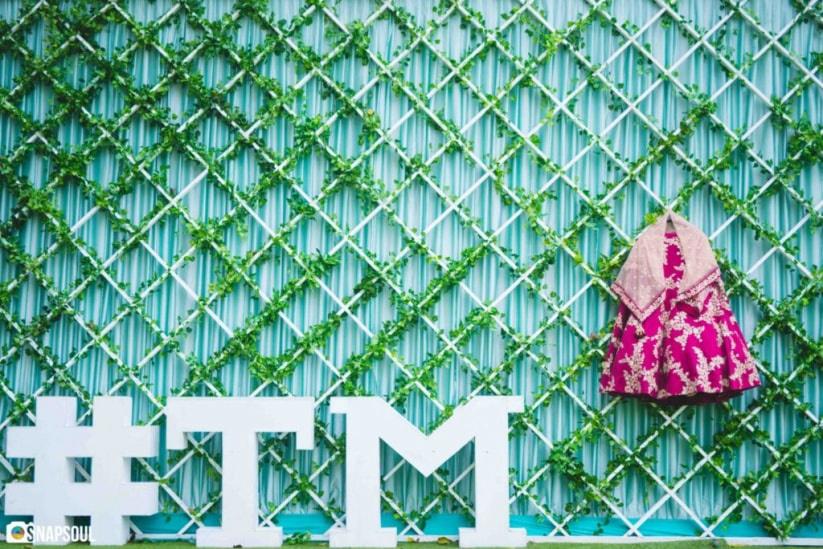 Come up with funky hashtags. Combine the initials of your name or surnames with that of your spouse. Just like this couple chose to go with #TM or #mehAkash. The millennial couples totally embrace the digital age through their wedding hashtags with which they can upload all of their happy and wonderful photographs, which surely can be an awe-inspiring element to incorporate in your festivties.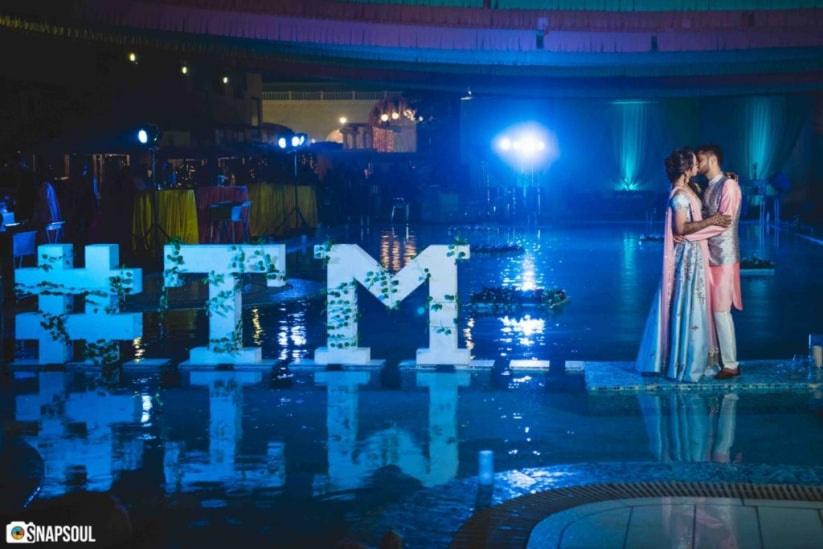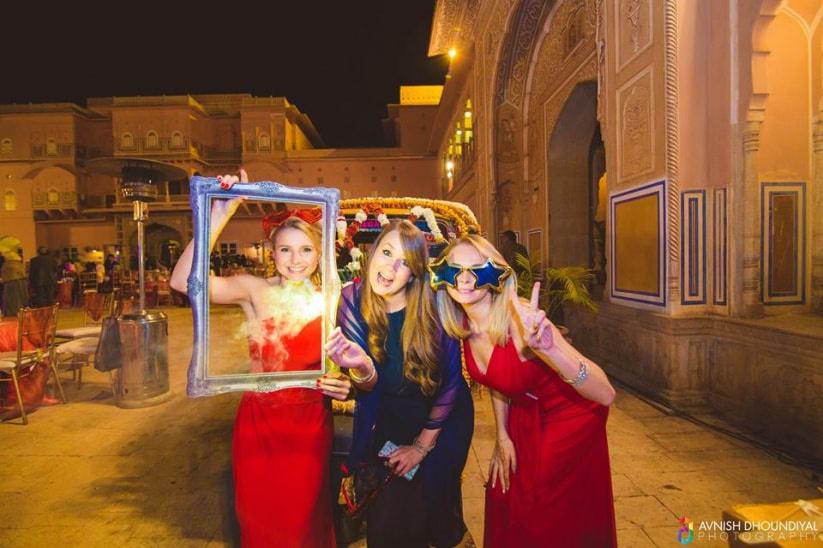 Go for a quirky photobooth. It'll add bespoke decor to your function and act as a backdrop to click some stunning snapshots. It is a great way to make sure of your wedding decor to create a bespoke backdrop for all of your wedding images. It surely would lead to fun and unique moments that you and all of your wedding guests would appreciate.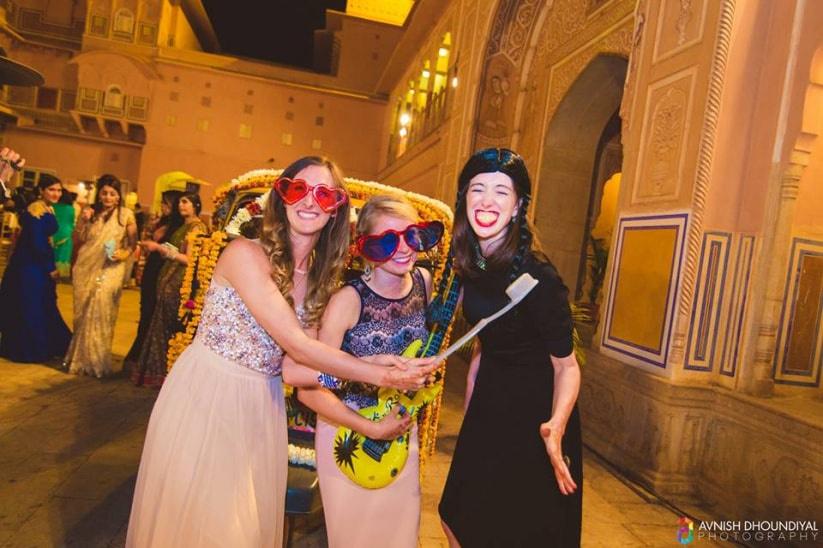 Use props to make your pictures more fun and creative like funky glasses or a toothbrush these guests chose to pose with. Props are a great way to incorporate speech into still photographs, where you can hold funky props to make your wedding pictures more fun.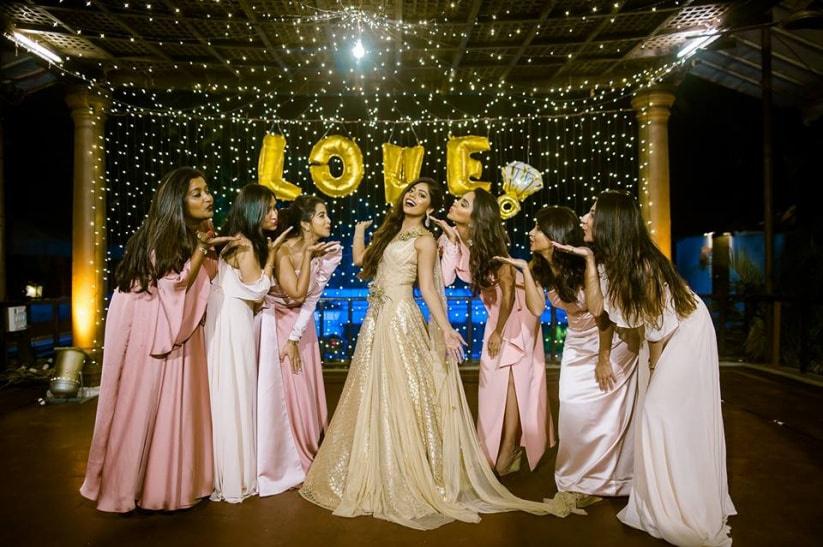 'I love you', 'Maa Ki Laadli' or 'Maa Ka Laadla' - incorporate some fun phrases to add drama to your pictures. They will surely lead to lasting memories and even more memorable photographs which you can look back on, relive the moments and cherish the beautiful time spent.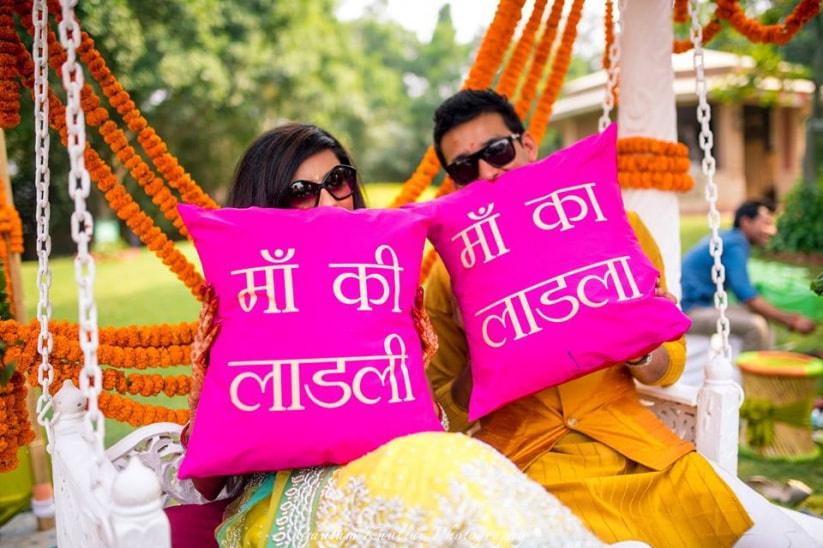 Make your Sangeet ceremony more dramatic by following suit with these stunning ideas. You can hold a speech bubble, placards or even printed customised cushions just like these to make your sangeet ceremony a wonderful one.
2. Yesteryear's Evergreen Songs to Groove On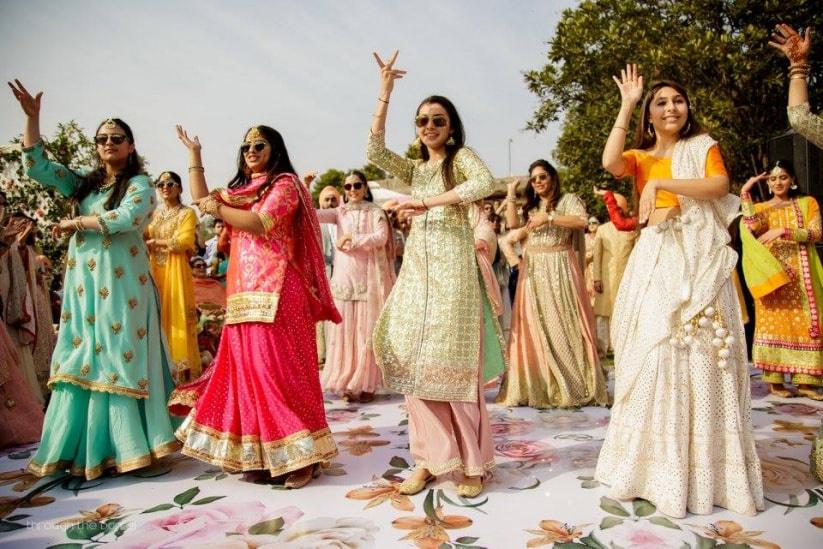 What's a wedding without some dancing? Prepare a playlist of Ladies Sangeet songs with some evergreen numbers such as 'Lathey Di Chaadar' or 'Kaala Chashma.' Classic and traditional sangeet ceremony songs never go out of style and playing them at your function will create a perfect balance of traditions and modernity.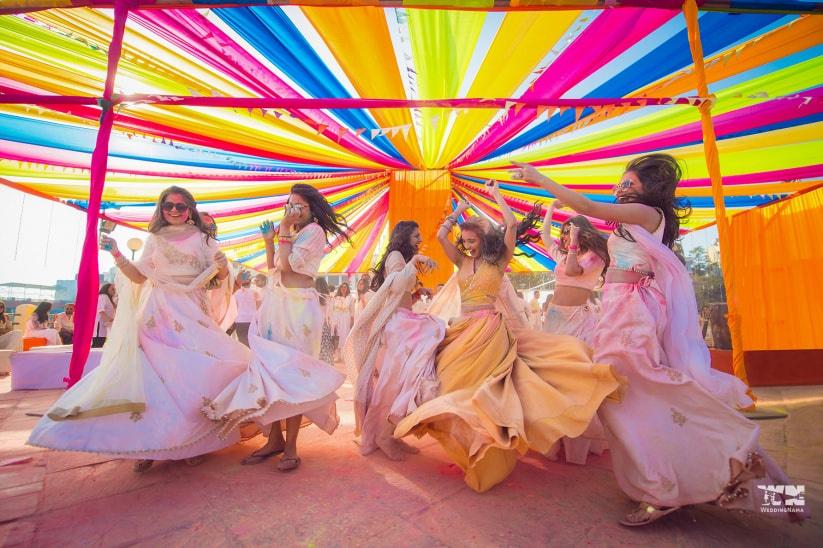 Go for a competition-based ceremony wherein the groom's side prepares for a dance battle as one team and the bride's side from the other. So much fun isn't it? You can choose from the trendy and popular Bollywood tracks to create your own persoanlised mashup with different songs to give the best performance of your life.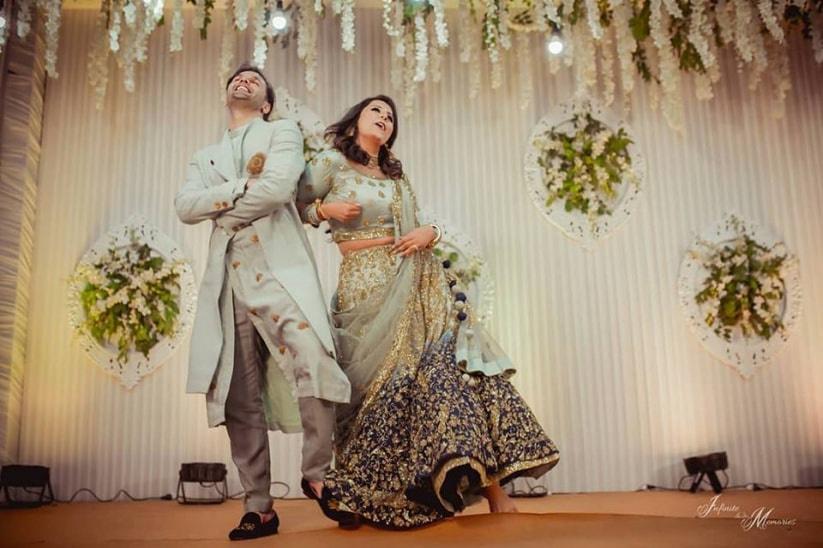 From last-minute practices to some candid poses while you shake a leg, couple performances are the highlight of any Sangeet ceremony. You can live your love story through a romantic Bollywood song or perform in a fun way by going out of your comfort zones.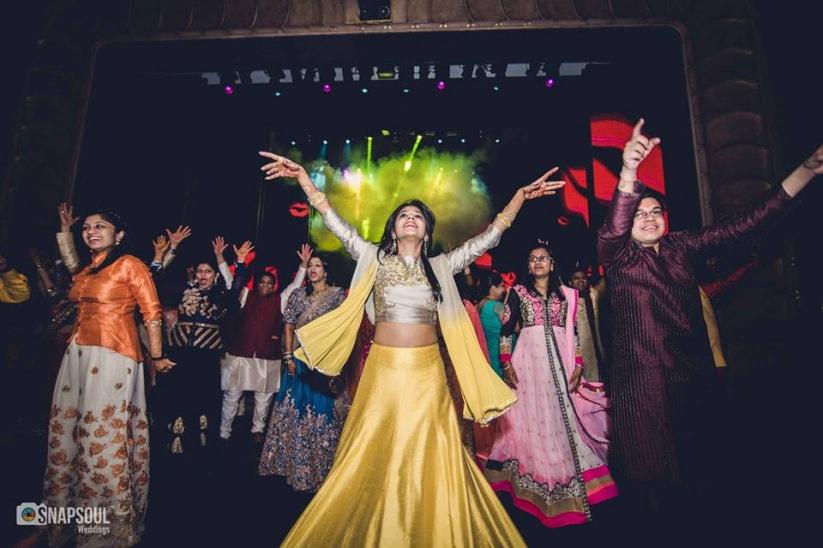 For a hatke performance create a playlist with peppy and romantic numbers both. It should be full of romance but also some latka-jhatkas. You would surely have the most fun and memorable experience which would be the talk of the town.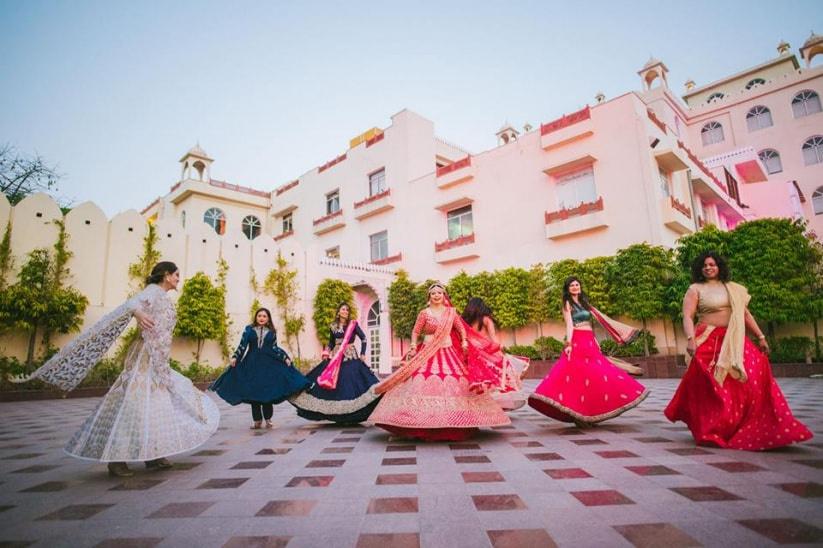 Since it your Sangeet ceremony and you're still the bride-to-be, show off your singlehood with your girlfriends on the dance floor.
Plan and choreograph a dance performance teasing the groom. We're sure he will love it and friendly banter is a perfect recipe for keeping your wedding guests engaged.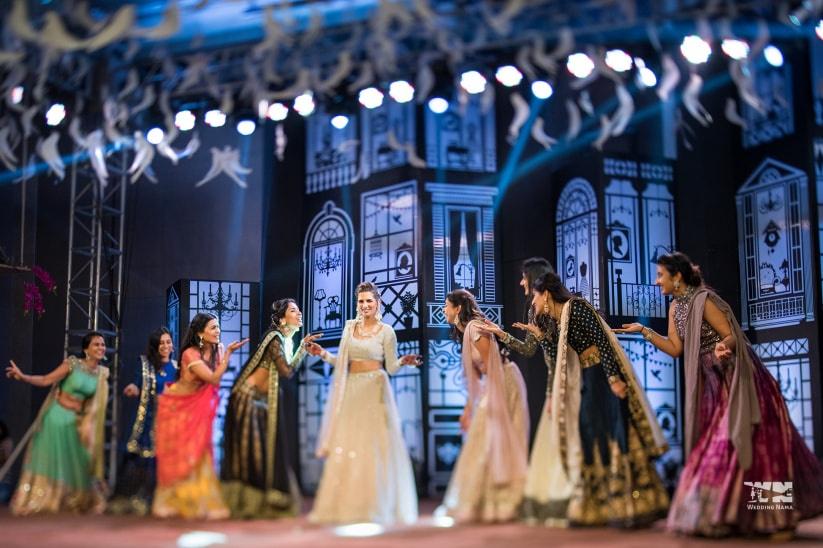 So, you will serve multiple purposes with one performance.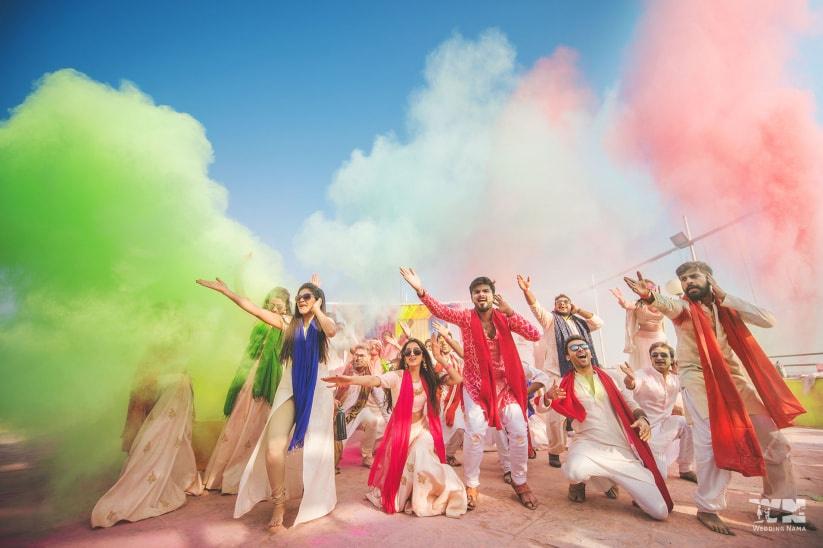 We're sure your taujis and mausis will want to join in the dance by now. So have a couple of songs where everyone can come together for the final blockbuster performance. How about a team of trained choreographers to help you put together the best performance while also a perfectly organised Naagin dance which each one of us has seen at one function or the other?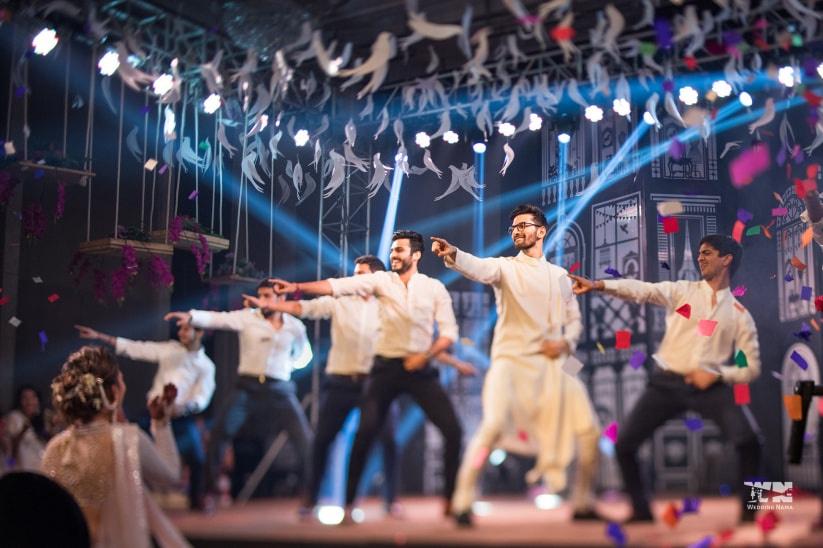 How about performing a dance that makes the bride fall in love with you even more? Ask your best buds to help you do that and the result would mean an enthralling love story with a kickass transition to the next phase.
3. How to Make Your Sangeet Ceremony Grand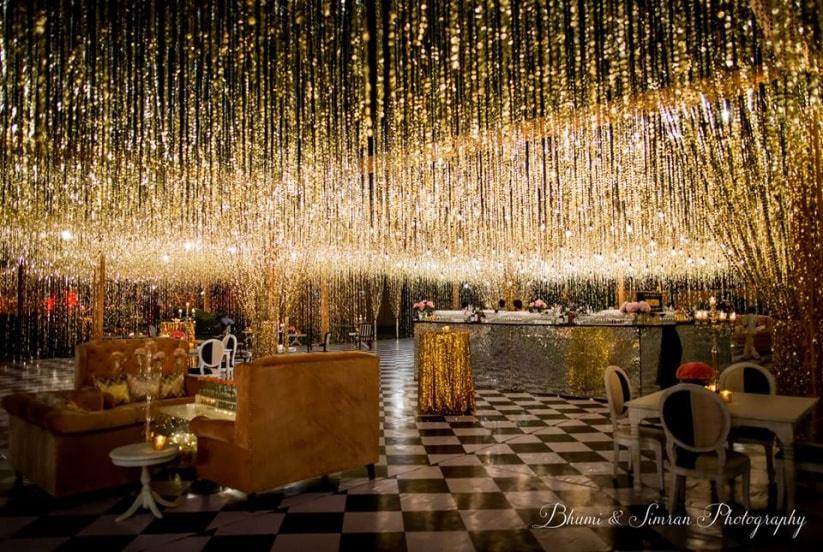 Choose a theme because theme-based celebrations are both fun and dramatic. Deciding upon a theme will give a reason to your guests to prepare for your function in advance. They'll be even more excited to become a part of your celebration. Let's say retro, traditional or masquerade. You will be able to create some budding memories with your loved ones in a dramatic way. And your function will become both exciting and memorable. Trust us with this one.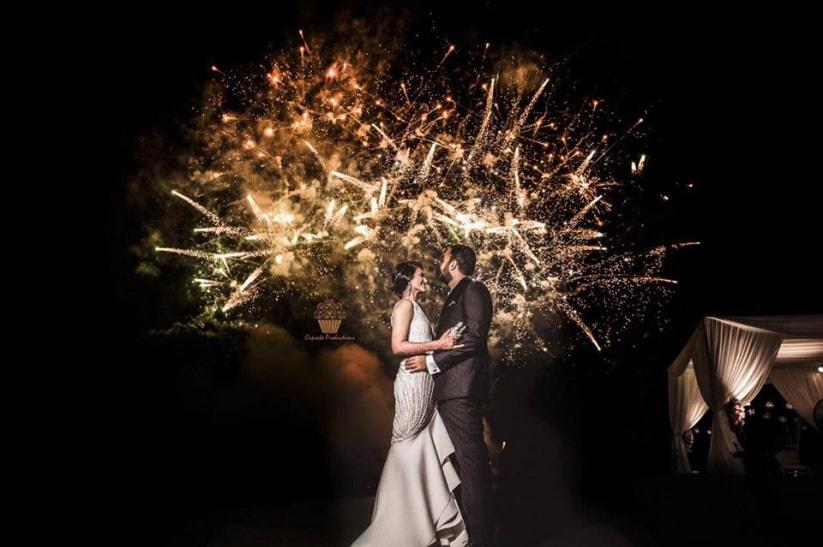 Who doesn't love fireworks? They're one of the closest things we have to magic. They're big, elaborate, beautiful and majestic. Use them to illuminate your Sangeet ceremony. Don't forget to use their light as a backdrop for clicking some iridescent snapshots.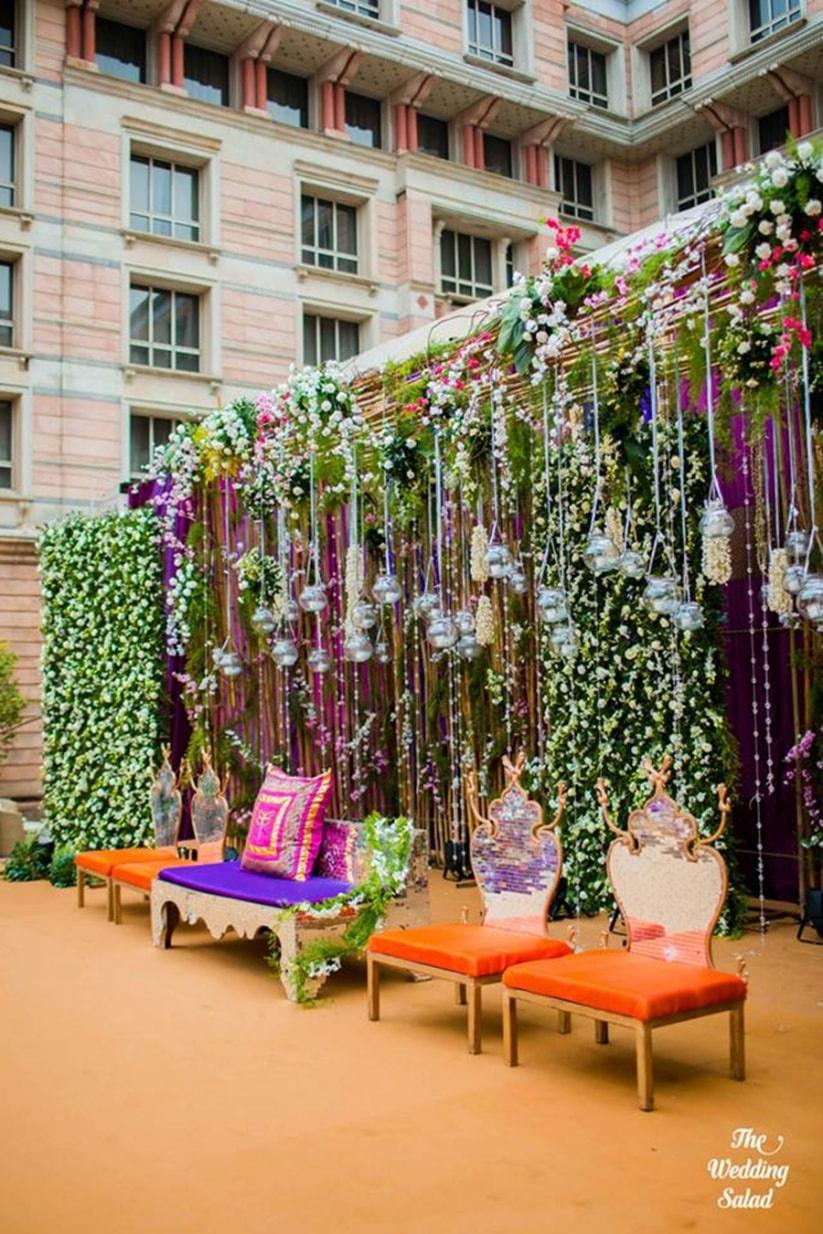 Go for drapes or fairy lights if your Sangeet is scheduled for a night-time celebration.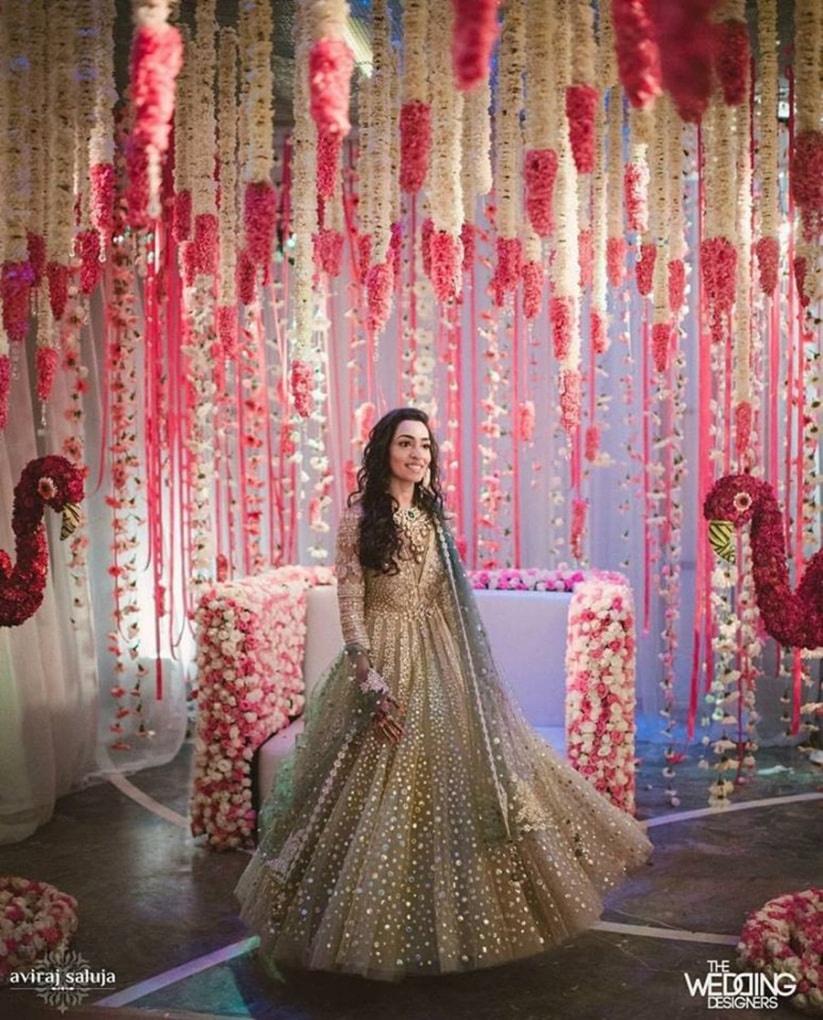 Add floral assortments to add a sweet fragrance to your star-studded ceremony.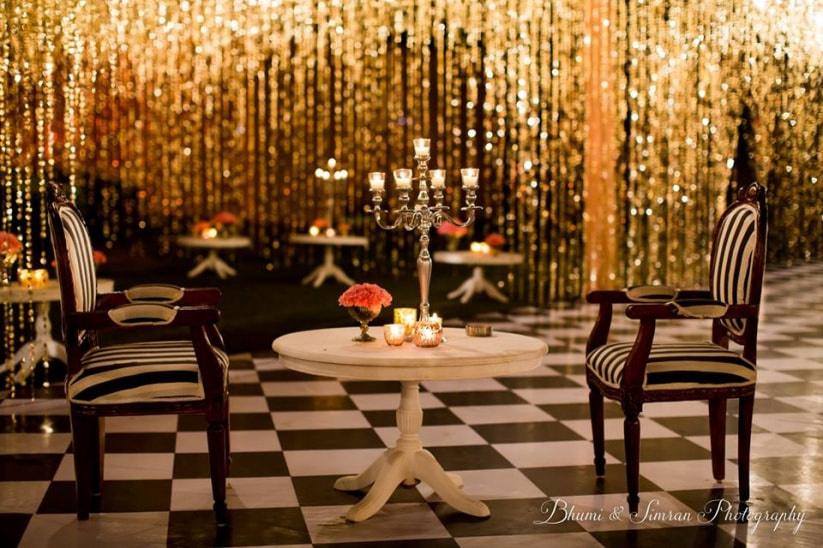 Let's say a false ceiling with flowers, trinkets and lampshades. What a picaresque sight your Sangeet ceremony would be!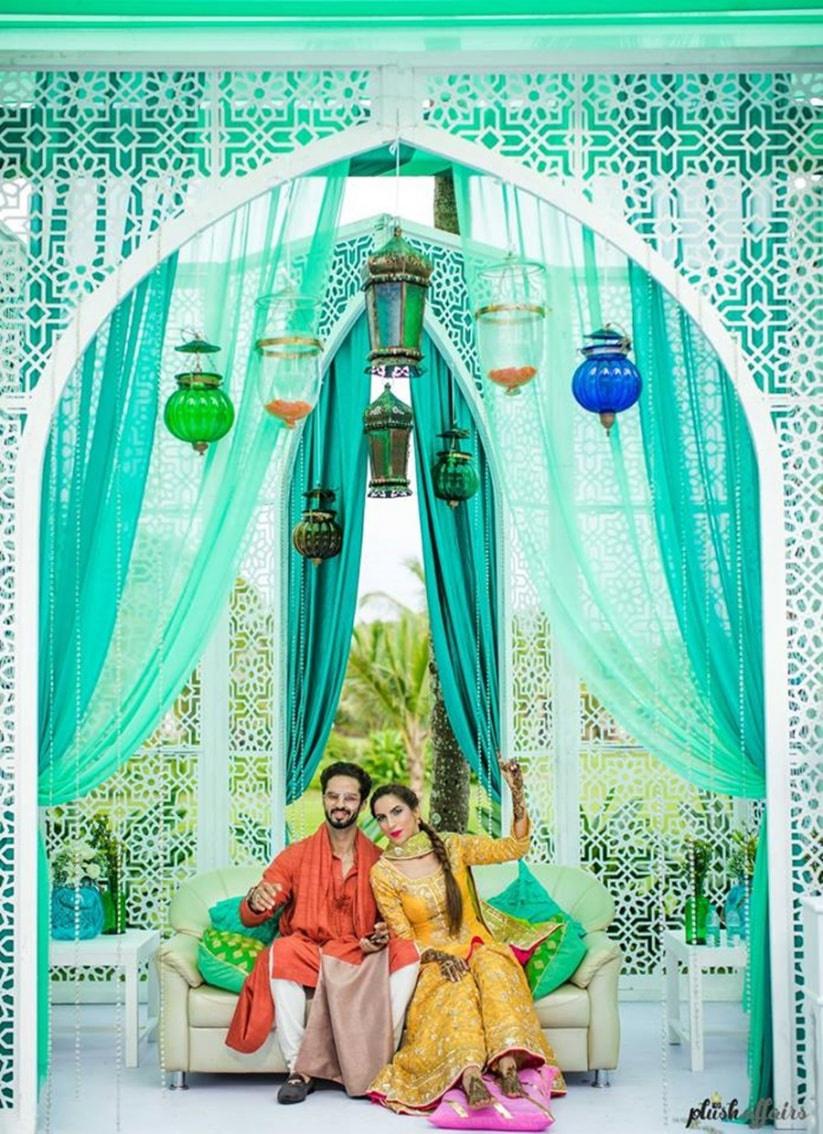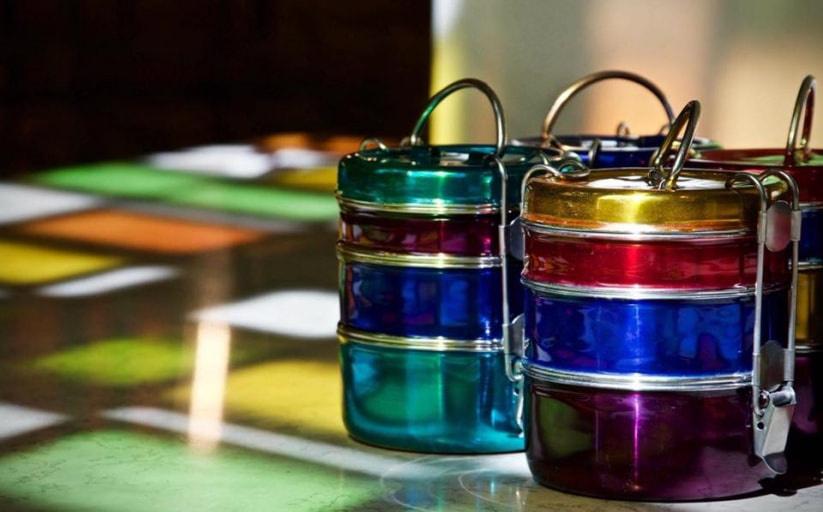 Get some personalised keepsakes to be given as a wedding favour to your guests. Go for customised chocolates, body butter or even icons and give them away as pre-wedding favours. Your guests will see your sentimental stride as you thoughtfully thank them for them dear presence.
These are but only some trending ideas and inspirations that all the millennial couples have been rooting for this wedding season. But, nobody said that these are it.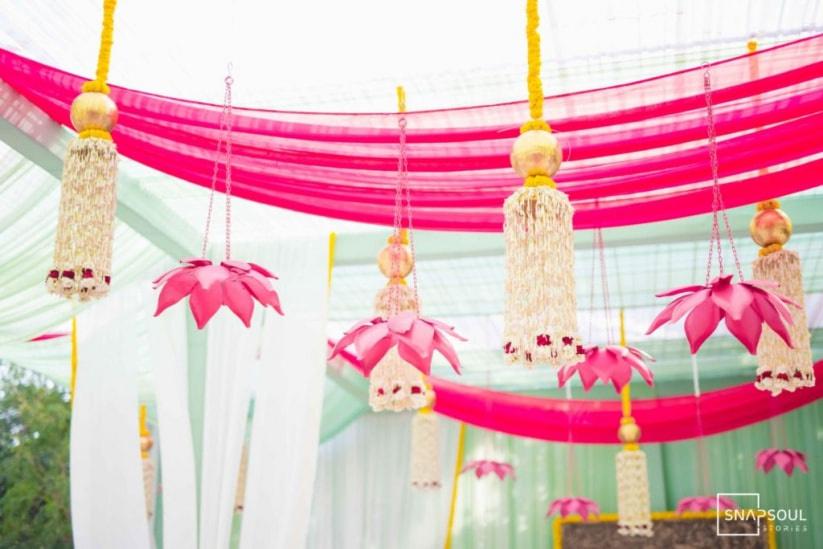 Use these ideas to make your Sangeet ceremony peppy and kickass.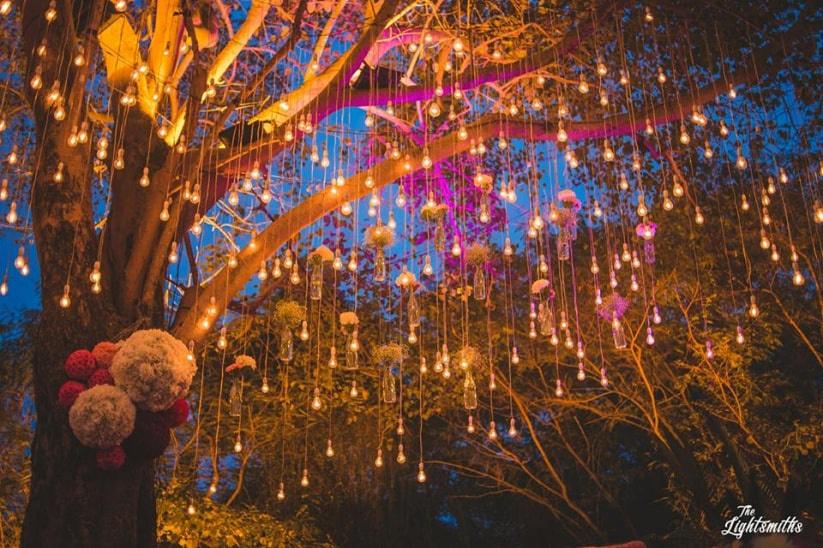 It's your big day, after all, so your preferences matter the most. Spend some time to understand the latest trends that are surfing the market and then curate an outlay that'll do justice to your event.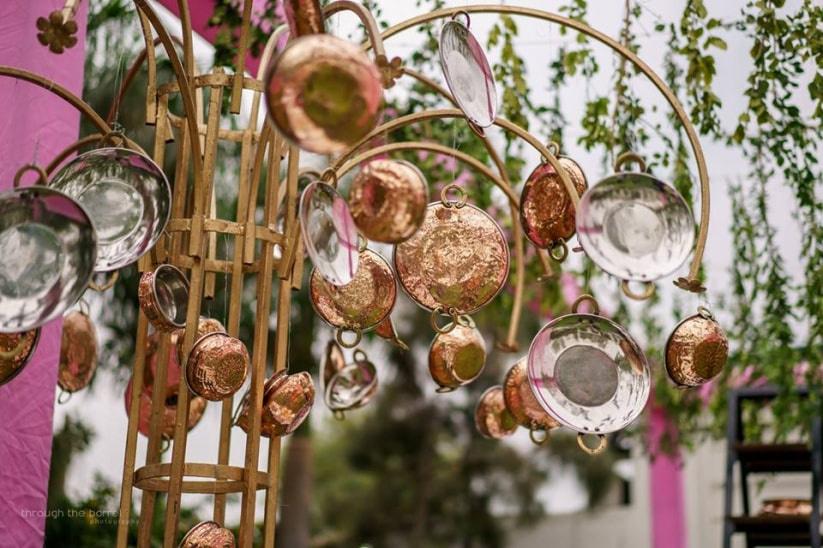 Did we skip an interesting idea or two? If so, leave a comment to let us know about your personal favourites or share your experience with us through comments and snapshots.