New Indian Dresses Images of White Lehengas for Sangeet
Apparently, white lehenga styles as a Sangeet/cocktail wear are getting much attention at the moment. That's why you need to check this list out right away!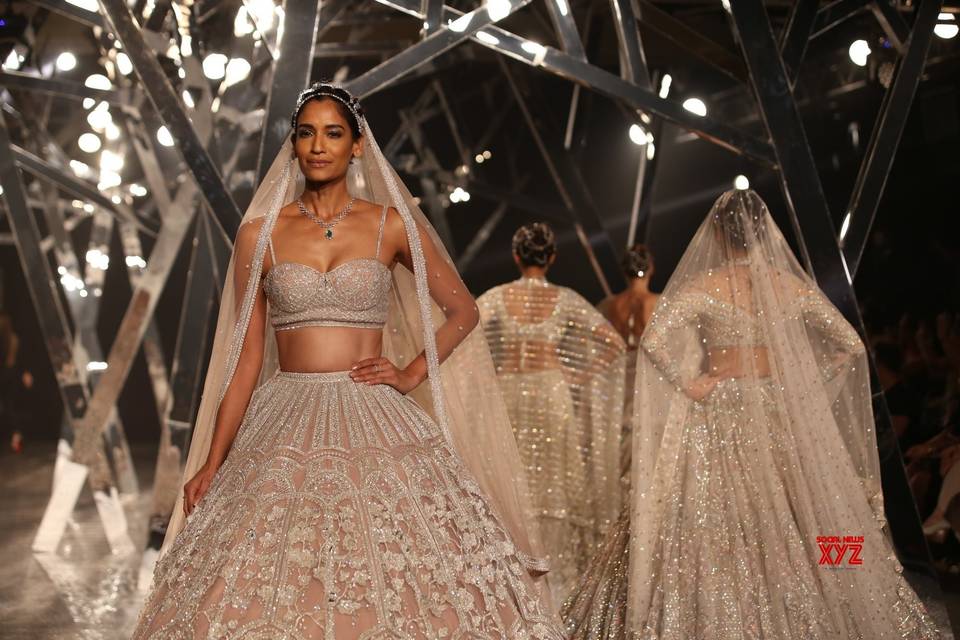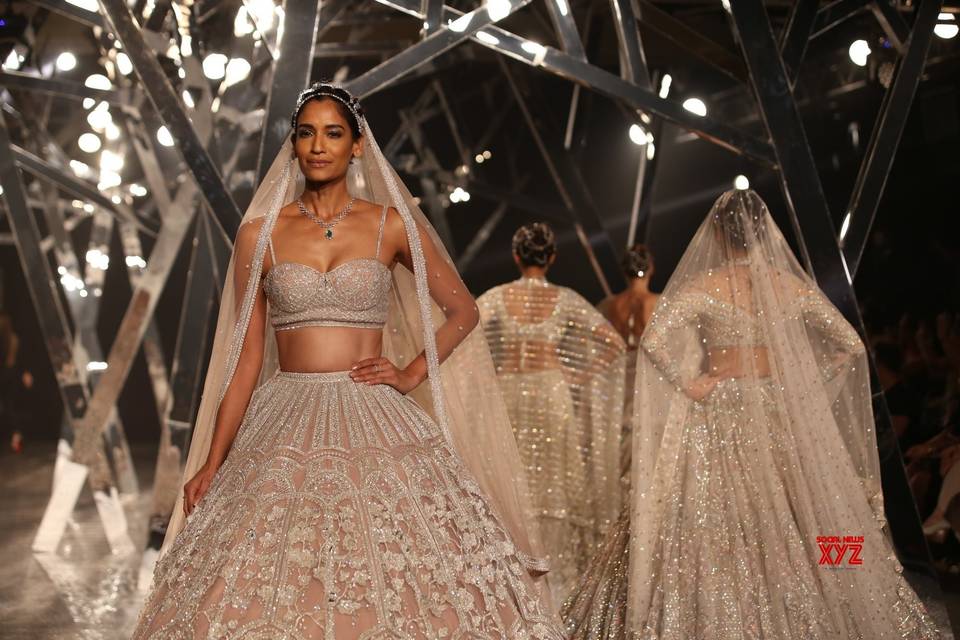 Image Courtesy: Social Hub XYZ
Our phones have been buzzing non-stop ever since the India Couture Week 2019 took place recently, with designers showcasing an array of white lehenga styles on the runway. These new Indian dresses images have become the talk of the town, with brides-to-be picking these designs off the apparel-rack left, right and centre.
A rapidly emerging wedding trend, we only feel that brides-to-be need to consider joining this bandwagon early. White lehenga gown is, without doubt, a perfect ensemble style that can be worn for a Sangeet and even a cocktail party of the wedding. Making sure that you get to see the best of these new Indian dresses images of white lehengas, we have kept our list designers exclusive.
Which means you get an automatic upgrade on being the first to learn about this fast-growing trend, then the rest. Let's check out the new Indian dresses images now. Shall we?
Gota Patti Appliqued Lehenga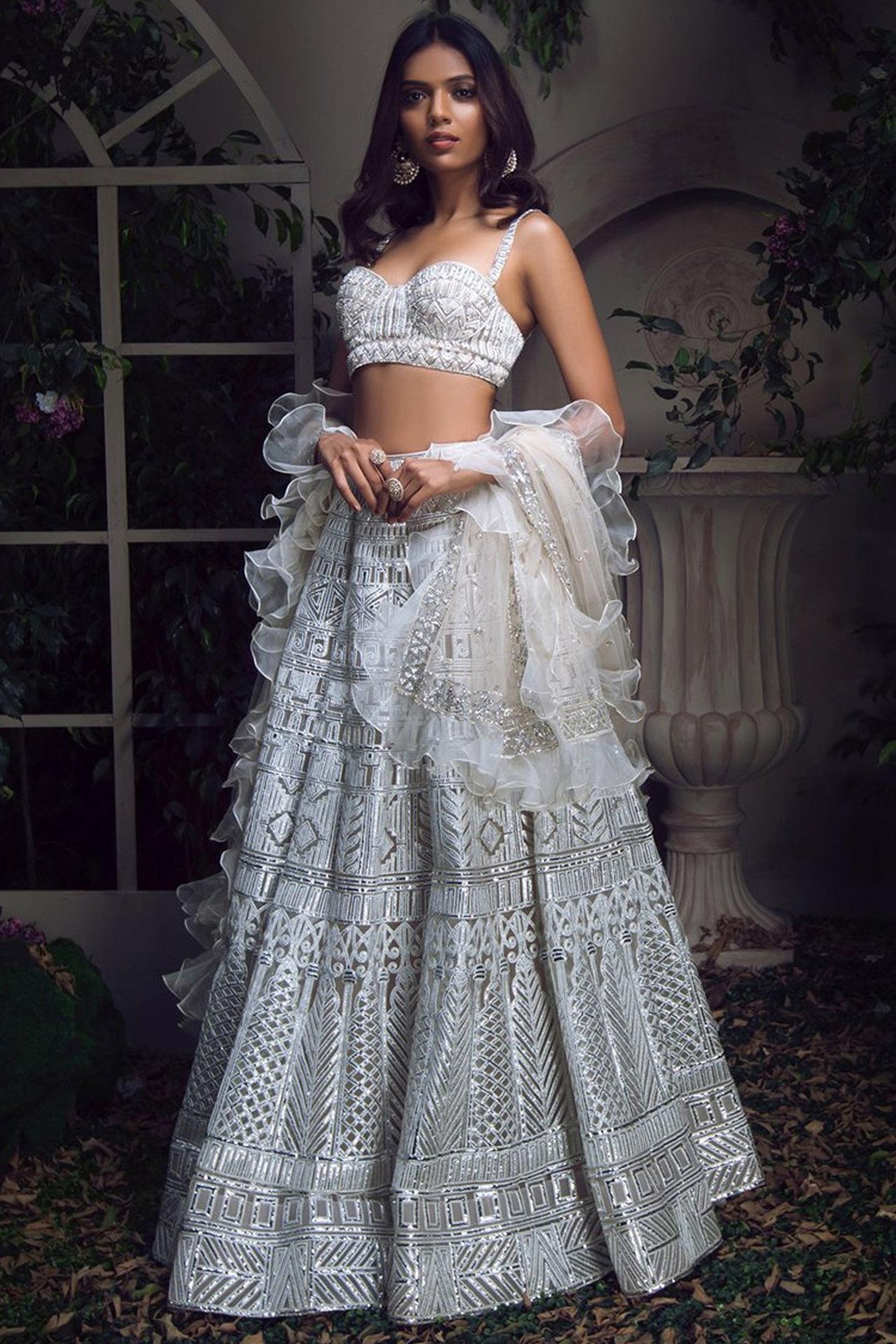 Image Courtesy: Falguni and Shane Peacock
We can call this white lehenga as being heavily embellished. But with the delicately done embellishment style, the entire look still appears elegant and not overly done at all. This creation of Falguni and Shane Peacock's is one of those new Indian dresses images that once you see, cannot let go of.
This look consists of an appliqued lehenga skirt decorated with silver Gota Patti, complemented with a bustier style completely embellished strappy blouse and a delicate ruffled dupatta that can be styled to rest on the forearms of the bride-to-be.
Jacket Lehenga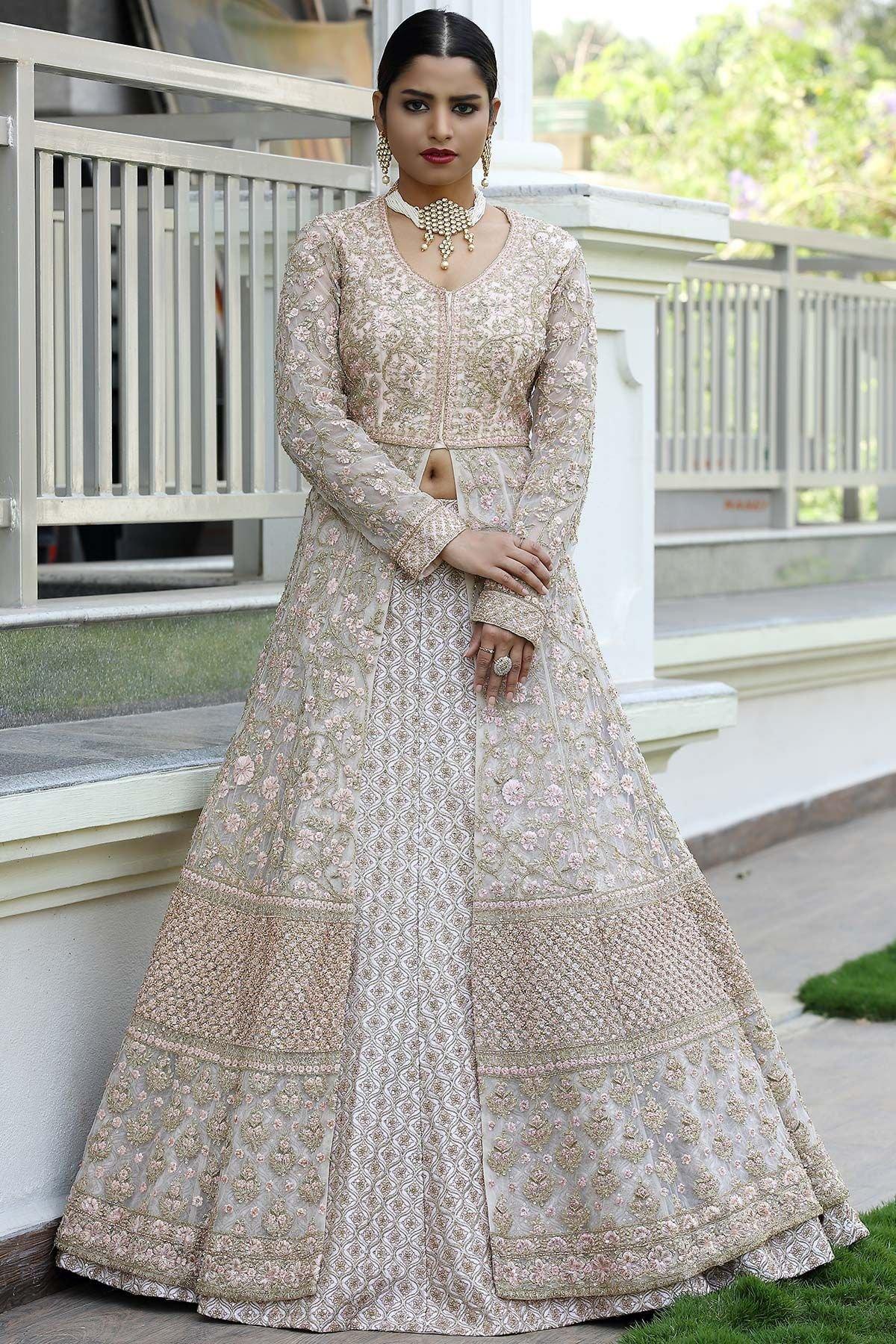 Another look that appeared above the rest of the new Indian dresses images was this jacket lehenga style from the house of Samyakk. Brides-to-be can opt to adorn this white jacket lehenga for their Sangeet, keeping the look traditional yet comfortable. Many new Indian dresses images can be seen showcasing designs inspired by the Mughal's apparel styles.
On the similar lines is this intricately embroidered white lehenga style that will make a statement every time you will walk animatedly around your Sangeet wedding venue. Full points for such beautifully done Zari work on pure silk fabric to achieve this elegant look.
Cape And Wrapped Blouse White Lehenga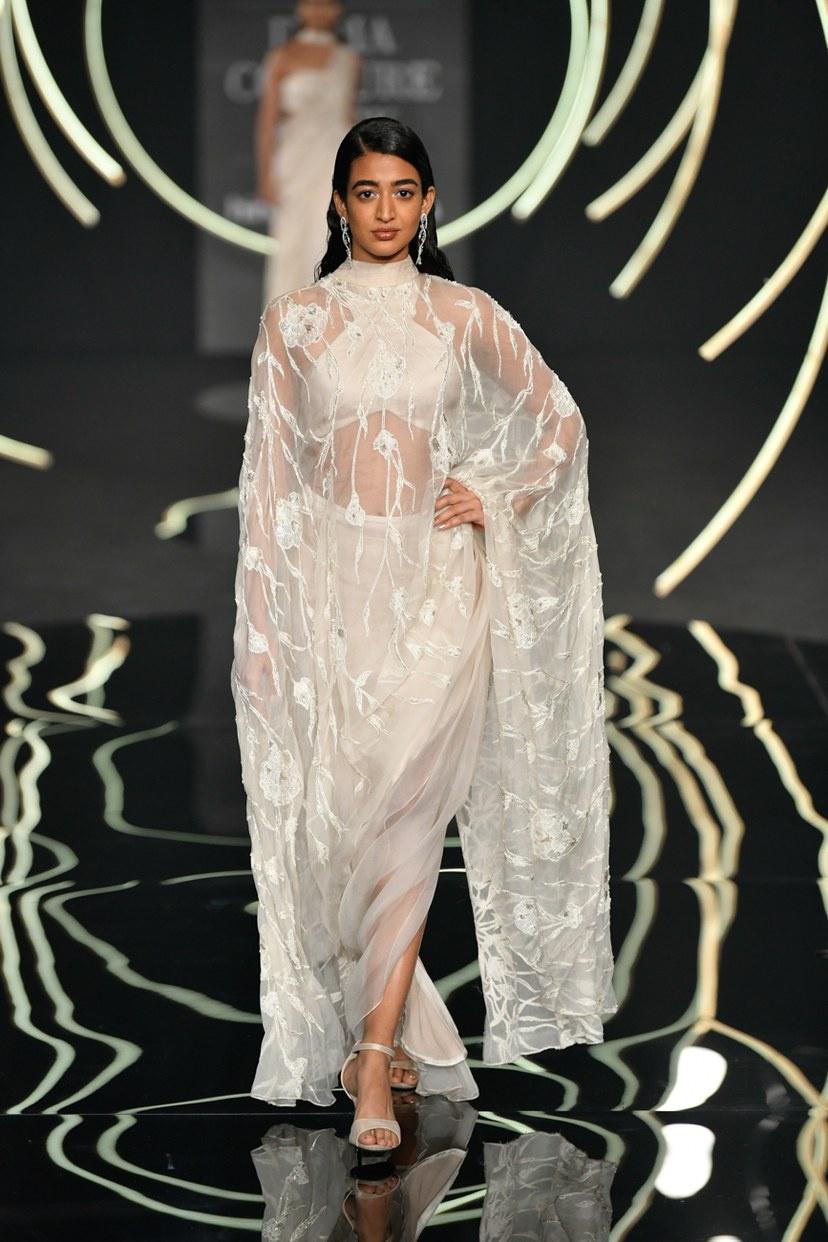 Image Courtesy: Vogue India
New Indian dresses images of white lehenga in contemporary styles have also emerged everywhere lately. One such stunning white lehenga style that we recently spotted was this beautiful number by Gaurav Gupta for India Couture Week 2019. The three-piece white lehenga can be considered as an Indo-western style that every bride-to-be would love to adorn for her Sangeet appearance.
If you wish to hold a glass of champagne, as you strut your way around the venue meeting guests, you can easily accommodate this hassle-free lehenga style for your wedding's cocktail party as well.
Holographic White Lehenga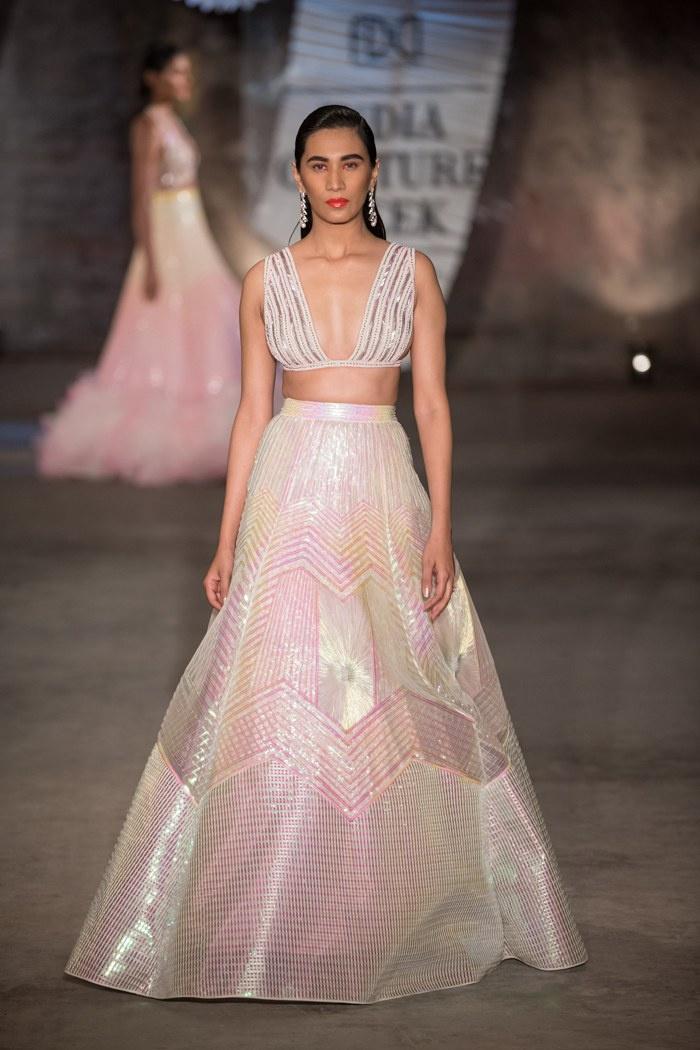 Image Courtesy: Vogue India
Currently, the brides have been looking out for holographic white lehenga styles among the collection of new Indian dresses images. Amit Aggarwal's recent white lehenga, consisting of a holographic lightweight lehenga skirt with geometric embroidery and a metallic deep-neck blouse, has become a talk of the town with many brides-to-be booking appointments with the designer.
Such new Indian dresses images are fashion goals which every bride-to-be dreams of adorning for her wedding functions. The entire concept of creating a white lehenga with holographic features is a unique concept that when adorned by a bride-to-be for her Sangeet/cocktail party, will attract her many compliments from friends and family.
Floral Embroidered White Lehenga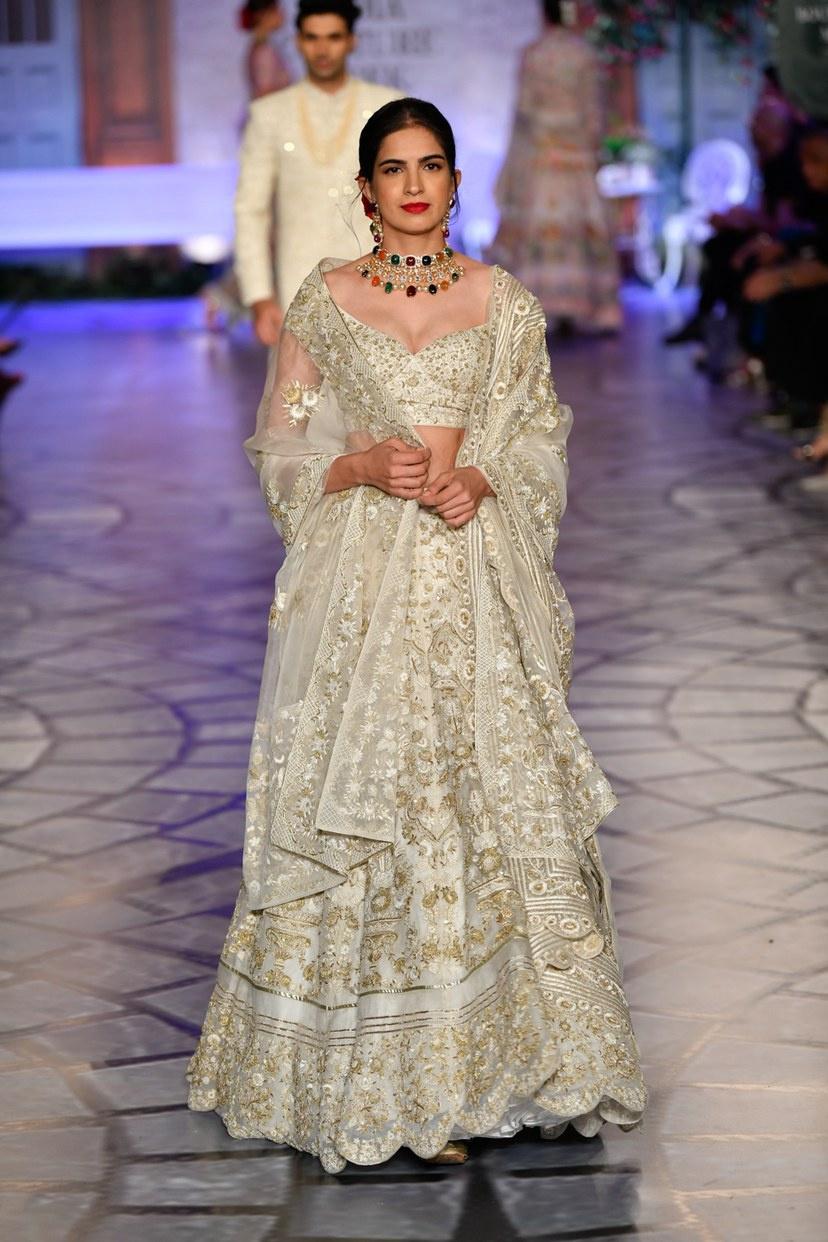 Image Courtesy: Vogue India
Rahul Mishra's new Indian dresses images are trending on the internet, as he showcased his latest couture collection at the India Couture Week 2019. This floral threadwork embroidered white lehenga is traditional, super feminine and gracefully perfect for any occasion.
If the theme of your Sangeet party is being completely ethnic, then you are surely going to win the first prize of matching the theme with the ensemble perfectly.
This white lehenga is comfortable enough for the bride to consider dancing at the Sangeet function freely, without feeling weighed down by the weight of an otherwise heavy wedding lehenga.
There is no one way to adorn a white lehenga. Depending on the theme of your Sangeet or cocktail ceremony, you can bookmark the new Indian dresses images that you feel will match the theme best.
Your choice of picking among these new Indian dresses images also depends on how contemporary you wish to become with a white lehenga for your wedding function. Accessorising a white lehenga is crucial and at the same time challenging as well.
You might get tempted to add on a hint of colour or two to your look, but it is only ideal to keep your look white from head-to-toe to let the ensemble shine naturally, to its full glory.
Will you wear any of these white lehengas styles at one of your wedding functions? Tell us in the comments below.