Go-to List of Cocktail Songs for the Upbeat Millennial Couples
Meaningful lyrics or upbeat music, which one would you prefer playing at your wedding? Have you considered cocktail songs that have a mix of both?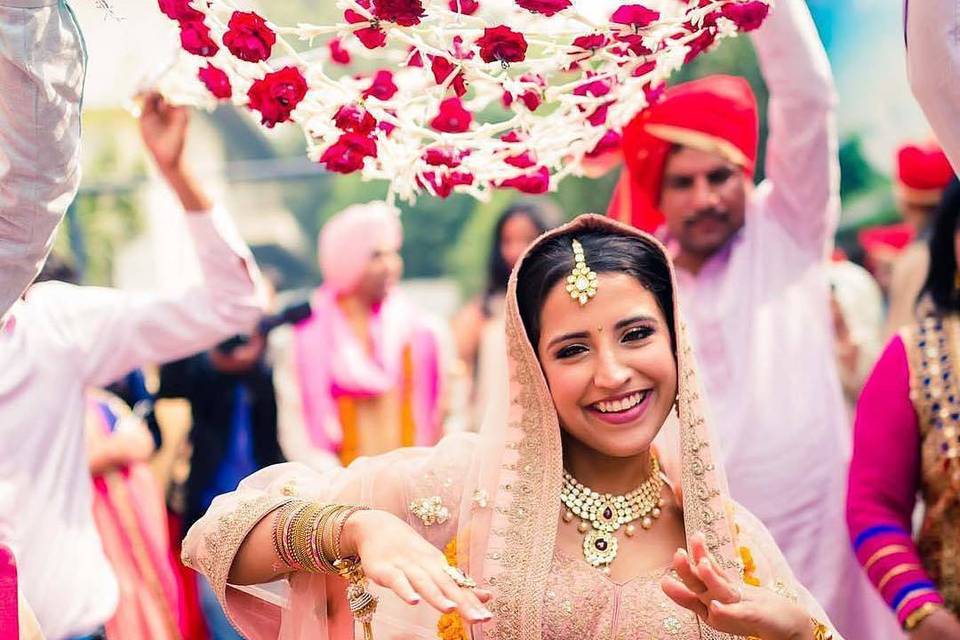 A wedding needs music all the time, of different kinds, different genres, and sometimes different worlds. But how do you make sure that the right music plays at the right time? Well, it is rather simple. What you can do is choose cocktail songs in your playlist that have meaningful lyrics appropriate for the wedding backdrop and upbeat music that gets all your guests grooving and sets the party mood on.
Isn't this a much simpler idea that figuring our different playlists for different moods and times. Well, we believe in smart work and so should you, because a wedding demands a lot of work and music is one area where you can play smart.
But the key is to still be musically inclined to understand which cocktail songs match perfectly to more than one situation at a wedding.
While the term cocktail song is very widespread, we'd like to break it down in a much simpler concept for you to understand how it is what you need to play at your wedding. People have different moods at different times at a wedding and your playlist can't always match that.
That's where cocktail songs play an integral role to make sure all your guests are happy.
So do you know which cocktail songs do you wish to play at your wedding? Check our list of ace cocktail songs out and we're sure it'll help you make your pick too.
O Humdum Soniyo Re, Sathiya
Do you remember this love anthem from the early 2000's? Well, we bet you do as this is one of the peppiest love songs that went beyond getting viral and set new records. But why we feel this is one of the perfect cocktail songs for your wedding playlist is not because of how popular it was and still is.
O Humdum Soniyo Re is a rare combination of peppy beats that make you want to dance and heart touching lyrics that fit perfectly as the background score for a couple that is officially sealing the deal with marriage.
Mahi Ve, Kal Ho Na Ho
The millennial couples that grew up in the 90's know that this song is gold, especially at a wedding. It requires absolutely no justification as to why this song must make it to every wedding playlist, but why we call it one of the ace cocktail songs is because of its quality to excite both the younger as well as the older generations.
In fact, if you are looking for cocktail songs for your Sangeet playlist and do not know where to fit in the entire family of different age groups, then this is your song. From your dadis and nanis, to your bhuas and masis, everybody can groove to this one and make for a super-duper hit family saga.
Sooraj ki Baahon Mein, Zindagi na Milegi Dobaara
What's a wedding without your friends dancing on the stage with you? But what's tough to crack is the perfect song that does justice to your camaraderie with them. One of the cocktail songs that we love for a moment like this on stage is Sooraj ki Baahon Mein from Zindagi Na Milegi Dobara.
It's a song that does not just reminisce the old times but also celebrates the onset of a new life as you get married. From upbeat music to relatable lyrics, this song has everything to make your dance performance with friends a memorable one.
The Humma Song, Ok Jaanu
Gone are the times when couples chose an out in out slow romantic number for their Sangeet night. Now is the time of cocktail songs that have the romance but also the beats to get the audience grooving along with you.
Our top favourite choice for the couples amongst cocktail numbers would be the remake of the Humma Humma song from Ok Jaanu. Apart from having a bang on lyrics, this one has a bang on millennial Sangeet feel too.
So couples that are dying to show their dancing skills off, this is the song for you to shine.
London Thumakda, Queen
This song requires special attention when it comes to preparing a wedding playlist, as it is one song that is sure to set the dance floor on fire. From the younger lot grooving to its beats, to the older lot doing the thumkas, this song has all that it takes to get all your guests on the dance floor.
It is peppy and has an infectious energy that translates into the perfect party mood when played at a wedding. Not a fan of the desi thumkas? Well, this song will change it for you with its refreshing beats and high spirited energy.
Tenu Leke Main Jaawan, Salaam-e-Ishq
There exist enough cocktail songs for the Sangeet and dance night, but what about the baarat? There are few songs that just fit perfectly with the situation, one of which is Salman Khan's Tenu Leke Main Jaawan which has the most relatable lyrics with fancy tunes making it a perfect choice for the millennial groom and groomsmen to dance on.
The baarat of an Indian wedding does not allow you to go for the subtle tracks but if you really wish to make yours unlike anyone else's, make sure your baarat playlist is hep and happening just like your swag.
Oh Oh Jaane Jaana, Pyaar Kiya to Darna Kya
Are you surprised to have found this song here? Well, when we said a list of cocktail songs, we didn't necessarily mean the recent peppy songs. What we meant was songs that have an old should but a brand new vibe, just like this crazy hit by Salman Khan again.
From lyrics that can melt the bride's heart in seconds, to beats that give it a feeling of never getting old; this one is for the grooms and groomsmen to perform on stage. So all the millennial grooms get your stage swag on because we have just the perfect Sangeet cocktail number for you.
Tareefan Reprise by Lisa Mishra
Wondering why we chose the reprised version over the original for our ultimate list of cocktail songs? Well, because the reprised version emphasises on the lyrics much more making it a perfect choice for bridal entry. While Din Shagana Da still exists as the top choice of bridal entry song, we feel the millennial brides can do better.
It is not about choosing a slow song or a fast one, it is about picking a song that you resonate with and the one that would make your entry more special for you than it already is.
Swag Se Swagat, Tiger Zinda Hai
Did you really think we forgot about this one? Well, it's not possible to erase this song from the wedding playlist for the next 10-15 years at least. While we may sound like a Salman Khan fan right now, the truth is that all these cocktail songs blend so well with the wedding vibe and traditions.
Just like Swag se Swagat seems like the perfect song for the ladkiwale to welcome the grooms' side. Maybe a flash mob on Swag Se Swagat at the baarat entry is what's going to make your wedding a grand hit and also make the baaratis feel pampered.
Afreen Afreen by Coke Studio
While every cocktail song on our list has a category of its own, this one is extremely different from all that we have put on the list. It is obviously the one that stands out but not just for its lyrics but also its unplugged music that adds to the soulful lyrics.
While brides love to dance on the peppy numbers, if you're looking for a cocktail song that is a blend of deep meaningful lyrics with impacting music then this one should be your ideal choice for your Sangeet performance. So not forget that the guests most await the dulhan's dance and your choice of cocktail songs can really make the world of a difference to it.
Our ultimate list of cocktail songs does not necessarily mean upbeat music but means a lot more than that. What is key for your wedding is that your choice of songs connects with you and your guests while also having a twist to it be it with beats or music. While the above list has cocktail songs perfect for every time and phase at your wedding, it is important for you to like it as much.
So put those speakers on and zero down on the best songs for your wedding playlist that is sure to get all your guests grooving while also making sure that you and your partner find your moments through it.
If you were to finalise your wedding playlist now, which of these cocktail songs would you most definitely have in it? Tell us in comments.