The Ultimate Fusion Songs Playlist For Your D-day
The perfect Mahaul for Nach Gaana is created by the fusion songs played during the wedding celebrations. If you are not sure which tunes to add to your playlist, we have curated a list of all such songs that you need to set the stage on fire!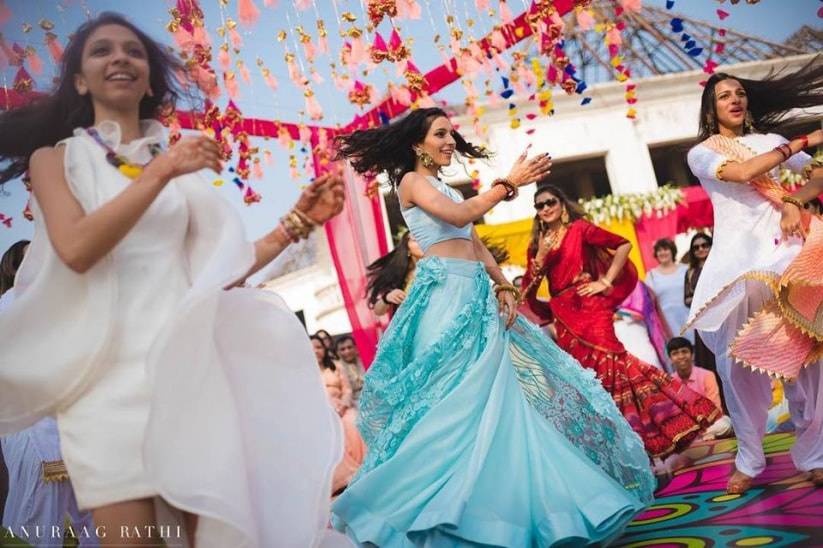 Whether it's pulling your shy relatives on to the stage or performing a choreographed sequence, you need fusion songs that involuntarily make everybody's shoulders bounce! The beats fill the air with a roar of enthusiasm and that's the key to a memorable night. In the era of Bollywood, there are fusion songs for each function, each ritual, and each member. Here is a list of some songs that have made their way to our all-time-favourite list. Just dive right in and follow the beat!
A. Fusion bridal entry songs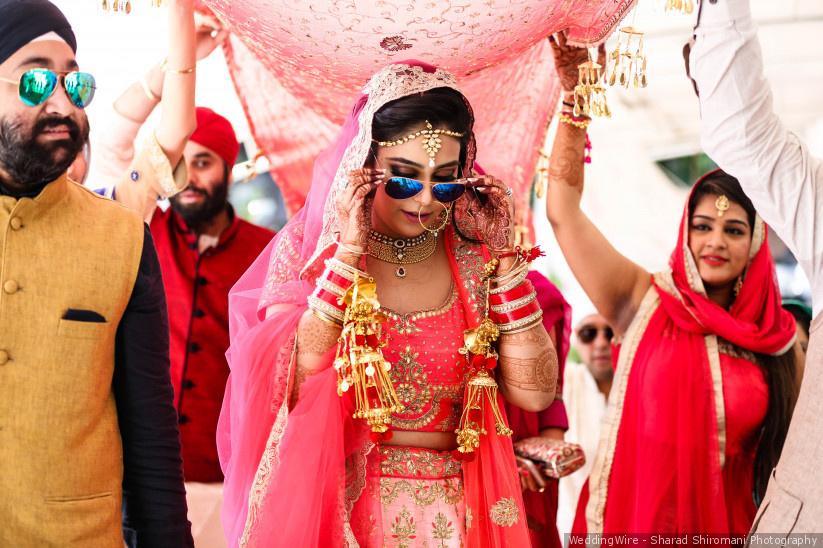 As the bride walks down the aisle, taking her first step into the next phase of life, a song plays in the background. It expresses her emotions and creates an expression between her and the relationship she shares with everyone around. It's that time of your life that you've imagined over and over again as a little girl growing up. Your prince charming is here, to sway you away. Here are a few fusion songs for the perfect modern-day bridal entrance announcing her happily ever after.
1. Din Shagna Da – Jasleen Royal
Jasleen royal's take on the evergreen folk song is definitely one for the ages. No matter how many times you might have heard this one being played, it would be enough to make your eyes moist.
2. Karunesh – Punjab
This song is for the father of the bride, apprehensive on the thought of letting the apple of his eyes out of his sight. Considering the unique bond that fathers and daughters share, this is a heart-wrenching number of love, hope and faith. After all, isn't it only hope that the father of the bride holds on to as he sends her off to her new life.
3. Mangalayam – Saathiya
This is one song that perfectly describes the big fat Indian wedding deconstructed to its purest and simplest form - about the love that the two souls share and the life they are about to build together.
4. Shubharambh – Koi Po Che
One of the most heartfelt songs and an all-time favourite when it comes to any family gatherings. Feel good in 3-2-1.
B. Fusion songs for the bride squad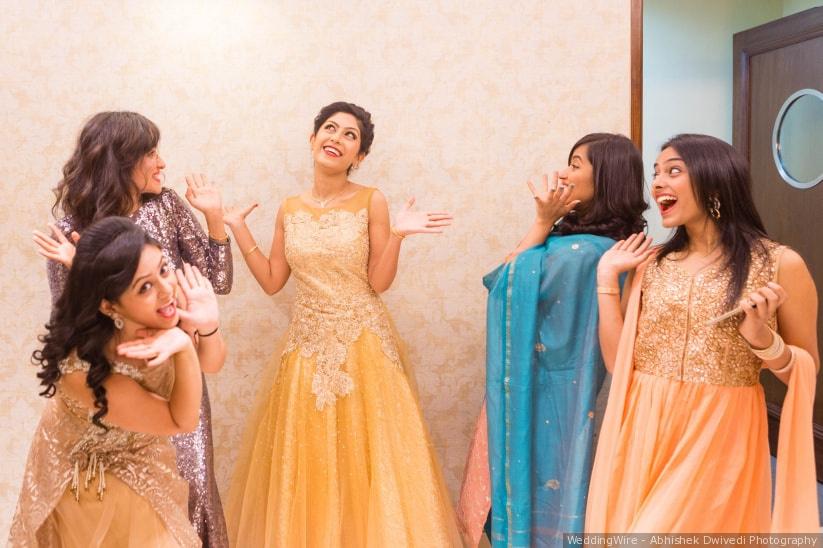 Here's to all the bridesmaids! The time is finally here to flaunt all the preparations that you have been doing since the day you got the big news. You know it's got to be the most glamorous and the most loved performance of the night which will end with elders giving you blessings and the guy gang finding a way to buzz around you. Keep your head and heels high, with your matching bridesmaids dresses as we have the list of the best fusion songs for you. Let's roll!
5. Sarural Gendha Phool – Delhi 6
If there is one song that describes a bride-to-be's feelings and apprehensions about joining a new family - this would be it. One of the best fusion songs for the Bride's tribe to shake a leg to.
6. Aaya Laariye – Coke Studio
7. Laung Gawacha - Nucleya
8. Nai Jaana – Neha Bhasin
C. Fusion songs for the groom and his Gang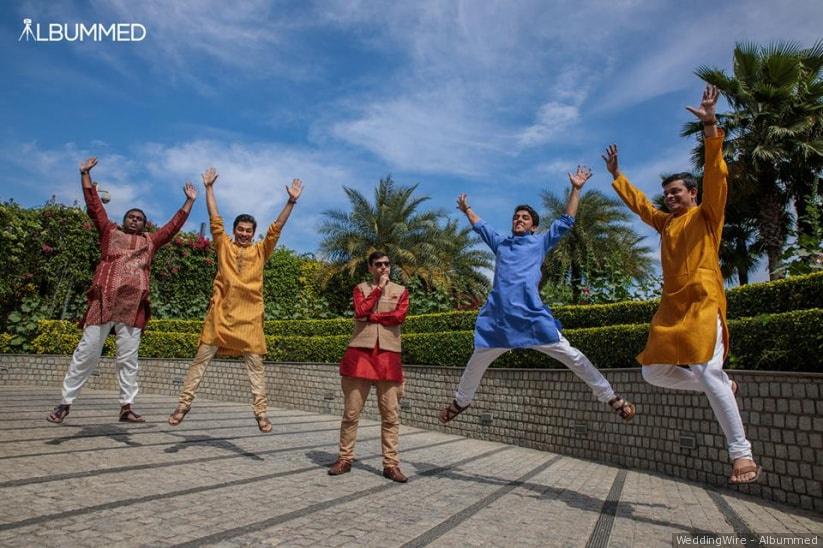 Alright groom's gang, it's your turn to add swag to the night. Get together for a playful and fun performance to celebrate all the years you have lived together. Select your favourite one from this list of a little less 'senti' and a lot more 'crazy' fusion songs below and dance away to celebrate your mate's big day!
9. Veerji Viyohn Chaliya – Speedy Singh
10. Rum & Whisky - Vicky Donor
D. Fusion songs for the couple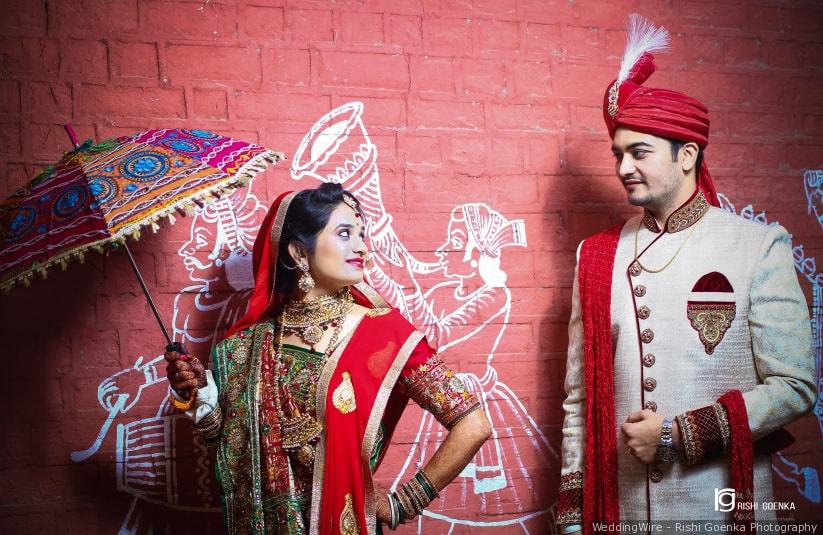 To the ones everyone is here for, the bride and the groom, take the centre stage as you celebrate the beginning of your new life. We have a selection of the most romantic couple songs below for your first dance. Be sure to select the one that perfectly defines your relationship and feelings, as this will be a memory you will cherish forever.
11. Latthay Di Chaadar – Coke Studio
12. Enna Sona – OK Jaanu
E. Family celebration fusion songs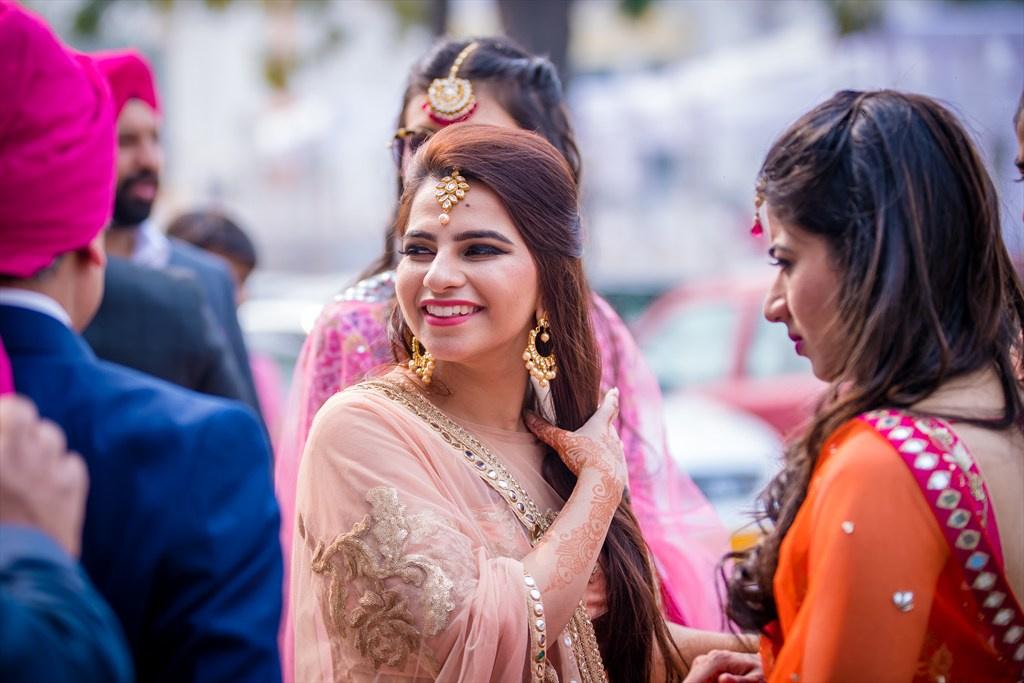 Celebrating the gala and going gaga, come together all the family and friends. Twist, turn, tap, and do some Bhangra on these fusion songs for it's the day you've all been waiting for. Bust some moves, show some love and rejoice! Here is a list of some evergreen Bollywood songs that the entire family can enjoy together with a bit of Ched-Chad and a lot of Masti!
No Big fat Indian wedding is complete without the family members from both the sides coming together and battling it out on the dance floor. Thodi si nok-jhok, aur bhut saara maza isn't that what defines a desi wedding.
So without any further ado, browse on to know the best songs for your families to groove to as the two of you celebrate the biggest, most special day of your life.
13. Bhangra Ta Sajda – Veere Di Wedding
14. Gal Ban Gaye – Meet Bros
15. Oh Ho Ho Ho – Hindi Medium
16. Nachde Ne Saare – Baar Baar Dekho
17. Dil Chori – Sonu Ke Titu Ki Sweety
18. Rail Gaddi Aye – Tutak Tutak Tutiya
19. Baari Barsi – Band Baaja Baaraat
No wedding is complete without an overdose of Bollywood fusion songs. Now that we have you sorted for your playlist of such songs for any possible performance, go ahead and start prepping. Select one or two, or better yet, mix them up and make your own medley for the most unique performance. Hop, skip, jump, and dance the night away. Keep them playing in the background while your squad is celebrating Mehndi listening to them or blast them on full volume for the Sangeet.
Fusion songs for a wedding are the perfect balance of emotional and peppy, sombre and rocking and everything else in between. Just the thing you'd need for the biggest day of your life.
Which one of these fusion songs gets you to the dance floor? Let us know in the comments below!