6 Ideas for Stunning Bridesmaids' Dresses That Your Squad Will Thank You For!
Every girl needs her girlfriends, and bridesmaids dresses are the perfect way to show the world who your go-to girls are.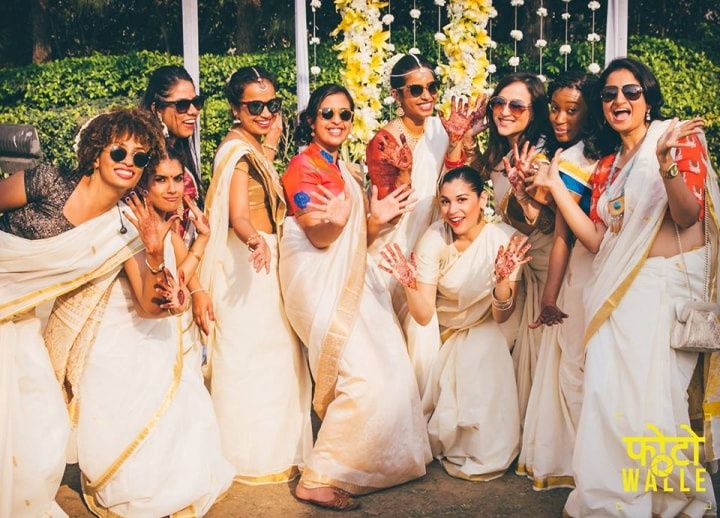 Bridesmaids dresses may be another trend inspired from the west, but it has very much become a part of the grand Indian weddings. Bridesmaids dresses are coordinated attires for the brides most precious girlfriends, sisters, cousins or anyone who is a part of 'Team Bride'. This wedding idea is not just a great way to make your best friends feel special but also allows for great wedding pictures.
There are many options when choosing the bridesmaids' dresses, like colour coordinated dresses, the exact same dresses, same colour but different styles and a lot more. So let's check out some bridesmaids' dresses that have given us #BFFGoals:
1. Colour Coordinated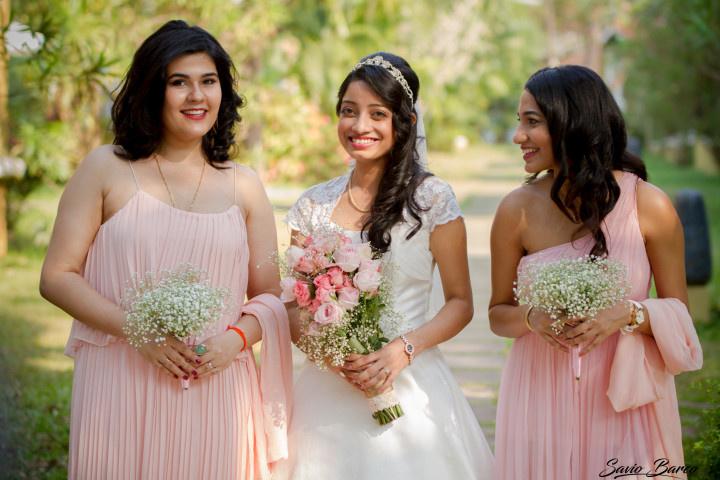 If your bridesmaids are living in another town or country, making the exact same dresses may not be possible. But does that mean no bridesmaids dresses? No!
Just pick a colour – a specific shade, or keep it open and allow your bridesmaids to pick their own attire. This will also leave room for individual creativity and choices, yet make a stunning visual. Pick a colour that compliments your bridal lehenga colour, and keep away from traditional reds and maroons. You may also go for brighter and contemporary colours like peach, blue, pink, white, beige, coral, sea green or teal.
Here are a few examples: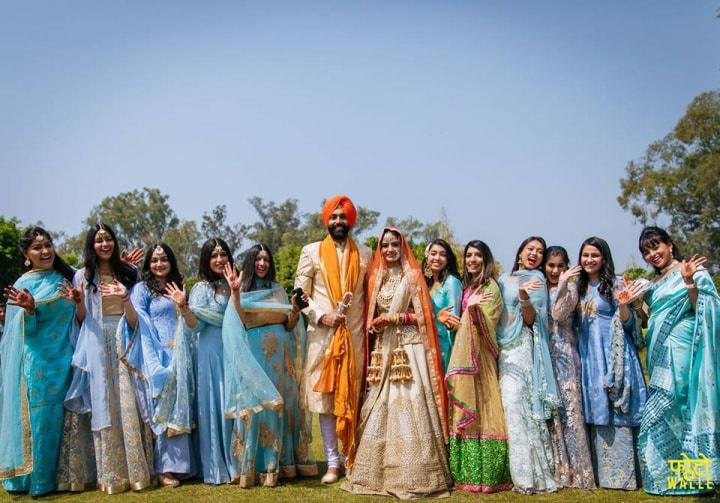 The bride in question set the entire Dulhan paltan to a pastel blue with gold accents, contrasting spectacularly with her own beige gold lehenga.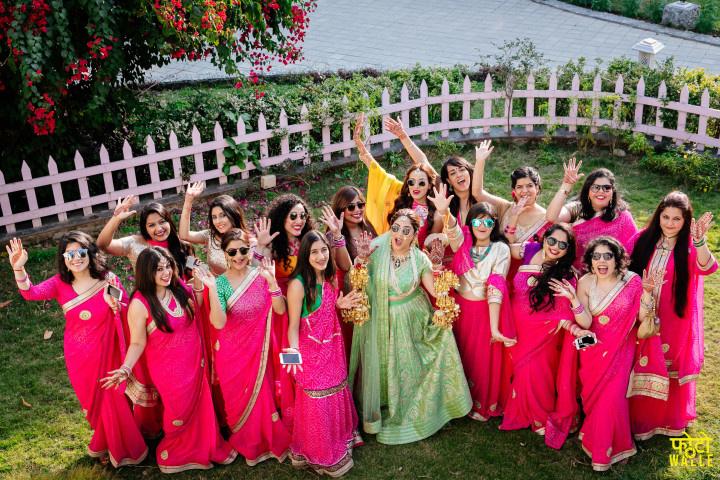 2. A Colour Palette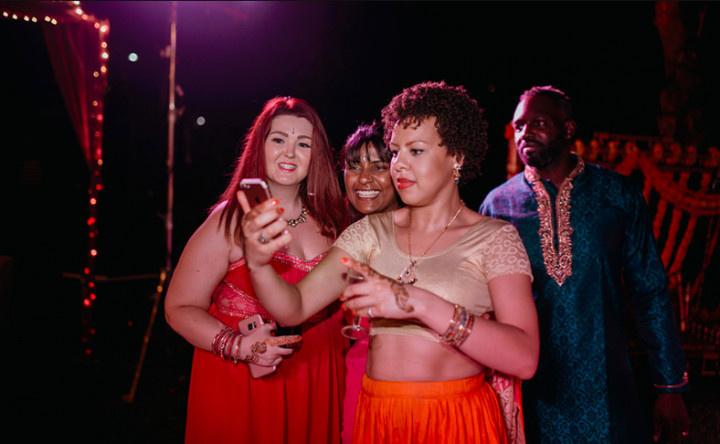 If a single colour is not your pick and you want to bring in more vibrancy, consider choosing a colour palette. This could range from summery yellow to tangerine and fuchsia, or begin from the shade of lilac to purple and black. You might not expect but, plain sarees or lehengas spread across a colour palette that will add a bright and bold colour statement, enhancing the bride and her exquisite attire. Take a cue from these pictures.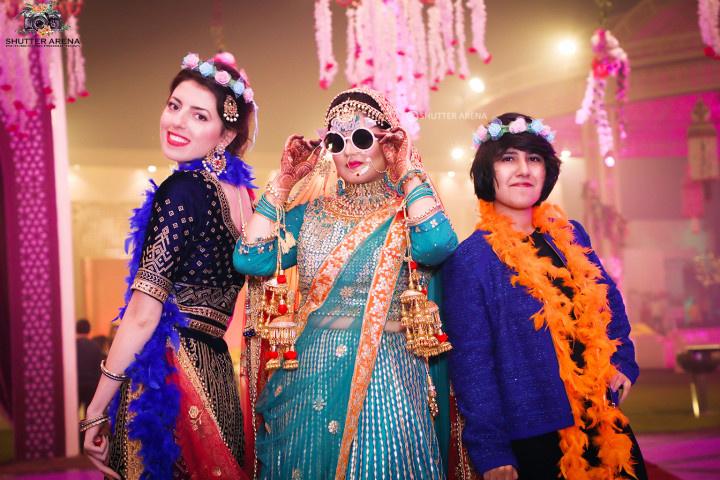 Set a distinct colour palette for everyone, including yourself. For inspiration, look at the something blue note for this b-queen and her friends.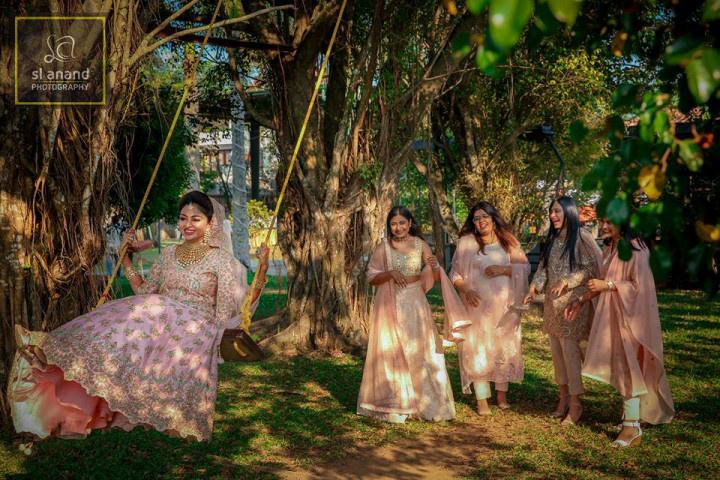 3. Dual Colour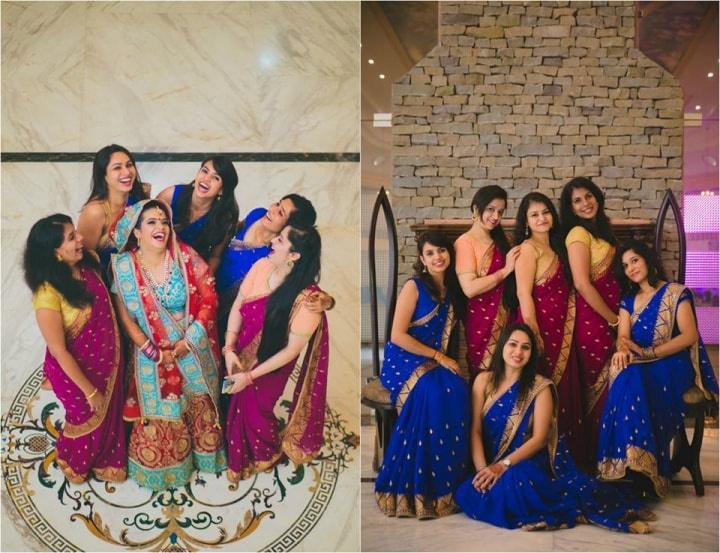 Sometimes, two colours are better than one! If you want to add a little variety, choose the same attire in two different colours. Like a saree or a lehenga in two tones, divide it into equal numbers, which allows a little more colour and creativity. The contrast in colours adds a funk and edge to the photoshoot with your bridesmaids making it look unique and fun-filled.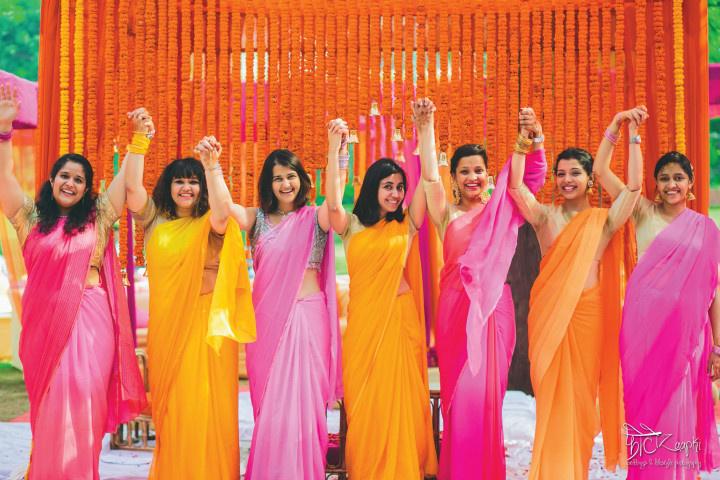 Or try these pastel pink and marigold hints from this set of bridesmaids dresses.
4. Colour Contrast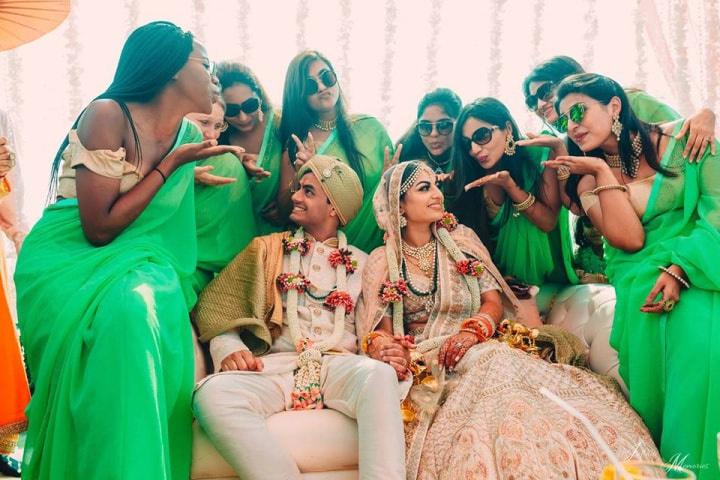 Another great way to enhance the bridal attire, is to make your gorgeous girlfriends stand out by selecting a bright and contrasting colour to your bridal lehenga. Think of bold hues in plain fabrics that can allow personalisation. Opt for flowy chiffon sarees in a vibrant shade and let your bridesmaids choose their own blouses.
Here is another idea: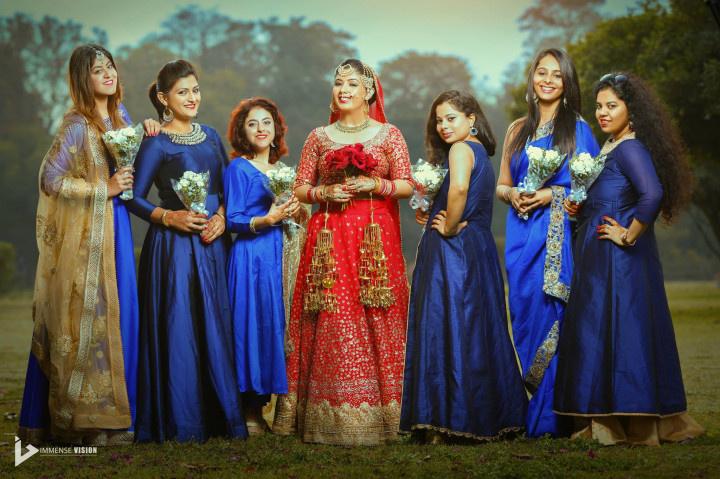 And another: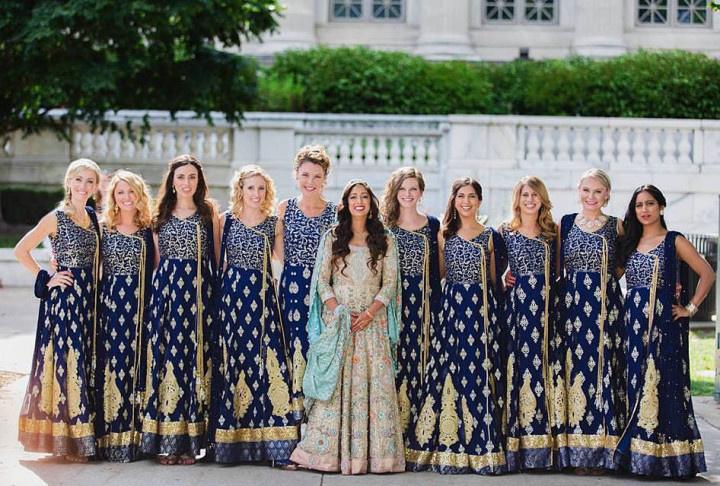 5. Pastel Tones With a Hint of Gold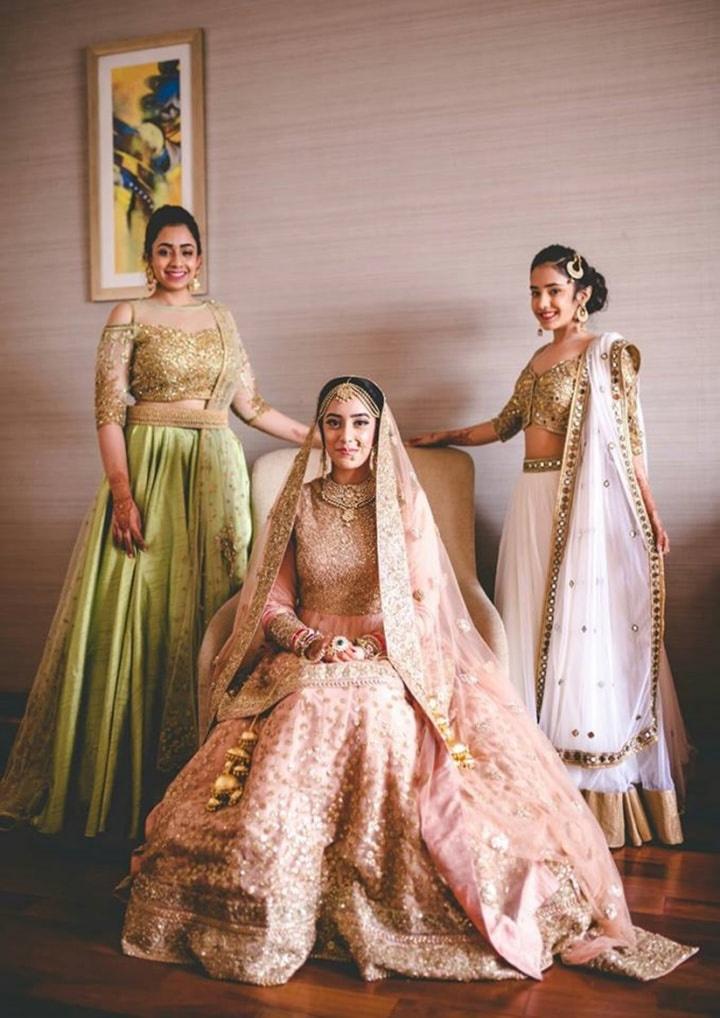 Not everyone has a big bride squad, and if you are one of those, then you could pamper your select few close-ones with a little more extravagance. lehengas in pastel tones with intricate gold work look regal and stunning. If you are planning to wear a pastel shade bridal lehenga too, your bridesmaids will complement your look and give you and your pictures a very serene and royal touch.
Here are a few similar examples: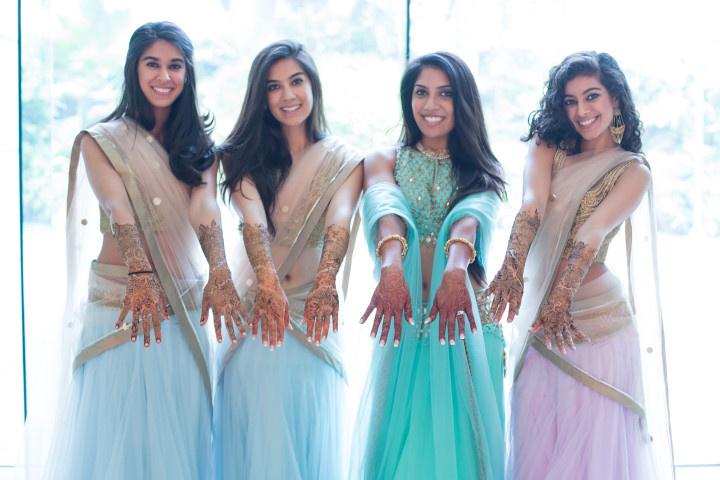 Choose pastel blues with gold notes for your bridesmaids dresses and see them all shine through.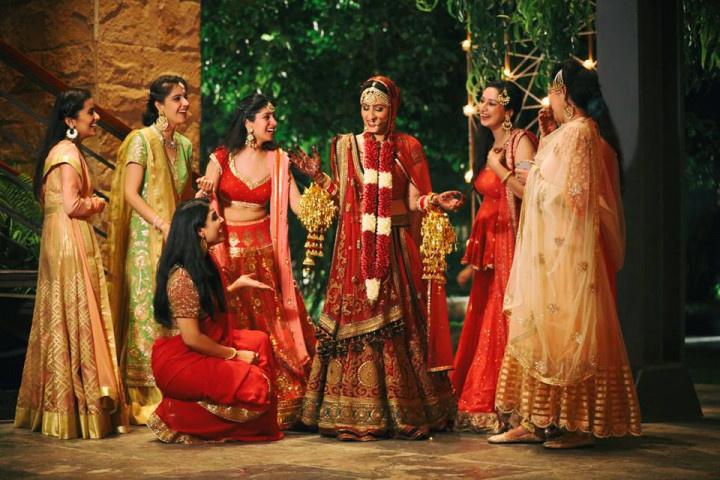 You may also chose the gold tones as the common element for all of your bridesmaids dresses and share you own outfit colours with them. They could seek their inspiration with this information.
6. Begin with the Bachelorette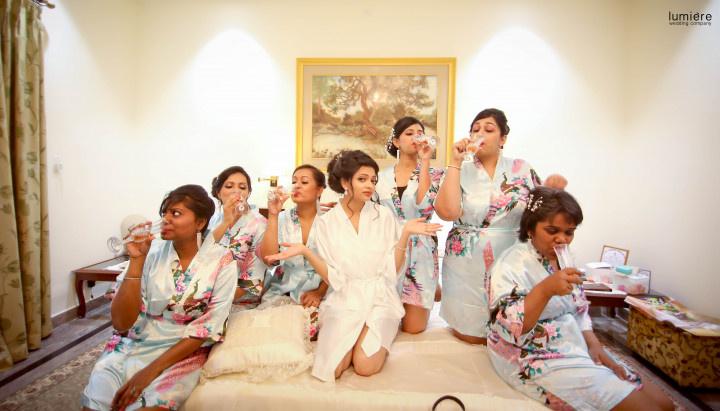 You don't have to wait for the wedding day to make your bridesmaids feel and look great. Try going for coordinated dresses for a pre-wedding or bachelorette party photo shoot, which is a great idea for making lifelong memories of fun and excitement.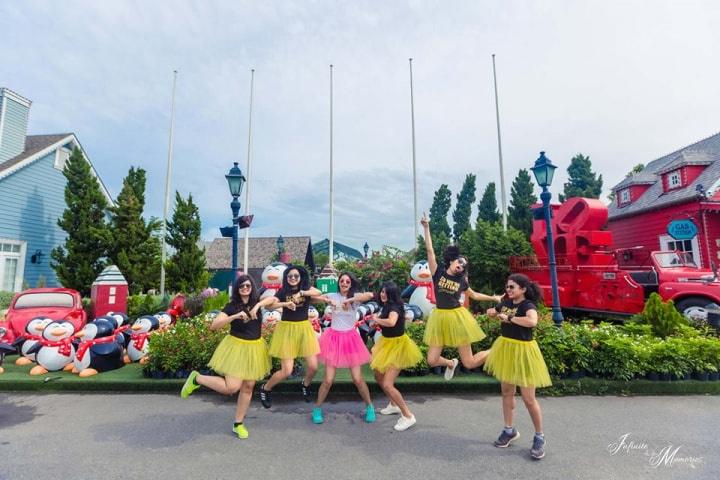 Bridesmaids dresses have become a popular wedding tradition among those who want to personalise their special day and frame beautiful picturesque memories. It's all about letting your girlfriends know how special they are and they can look equally beautiful on your D-day. Ready to choose your bridesmaids' dresses?
Tell us in the comments below how you are planning to pamper your 'Team Bride'?.