20 + Trendy Half & Half Mehndi Designs for Millennials
Whether you are the OTT bride or one who likes to keep things minimal, we have put together half and half mehndi design ideas for a stunning, out-of-the-box look!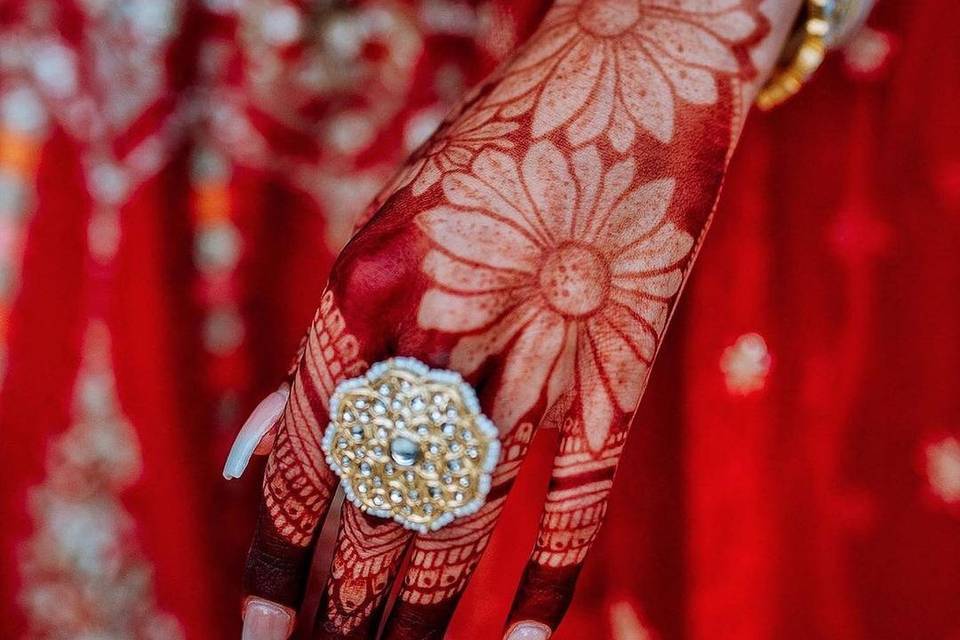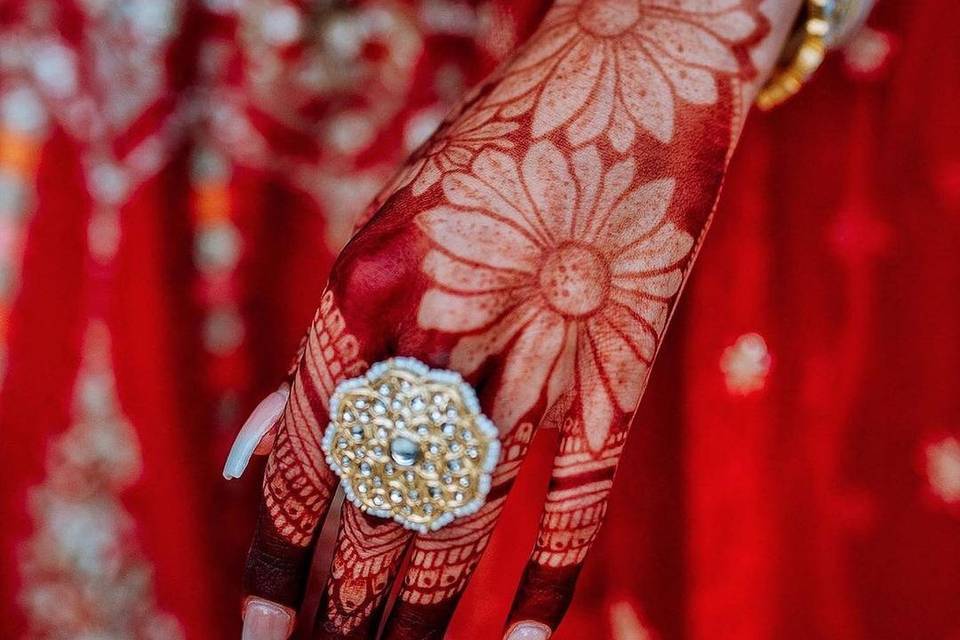 Image Courtesy: Pinterest
Pinterest henna designs for bridal mehndi will be respected for their individualism and uniqueness, as we respect their choices. While some brides choose to keep the mehndi minimal, it is just a better idea to not have a limit and paint your wedding story on your hands, no matter how much space it takes. With options ranging from dedicating an entire storyboard to your better half to choosing portraits of the two of you, bridal mehndi designs are no longer limited to the groom's initials hidden inside elaborate designs.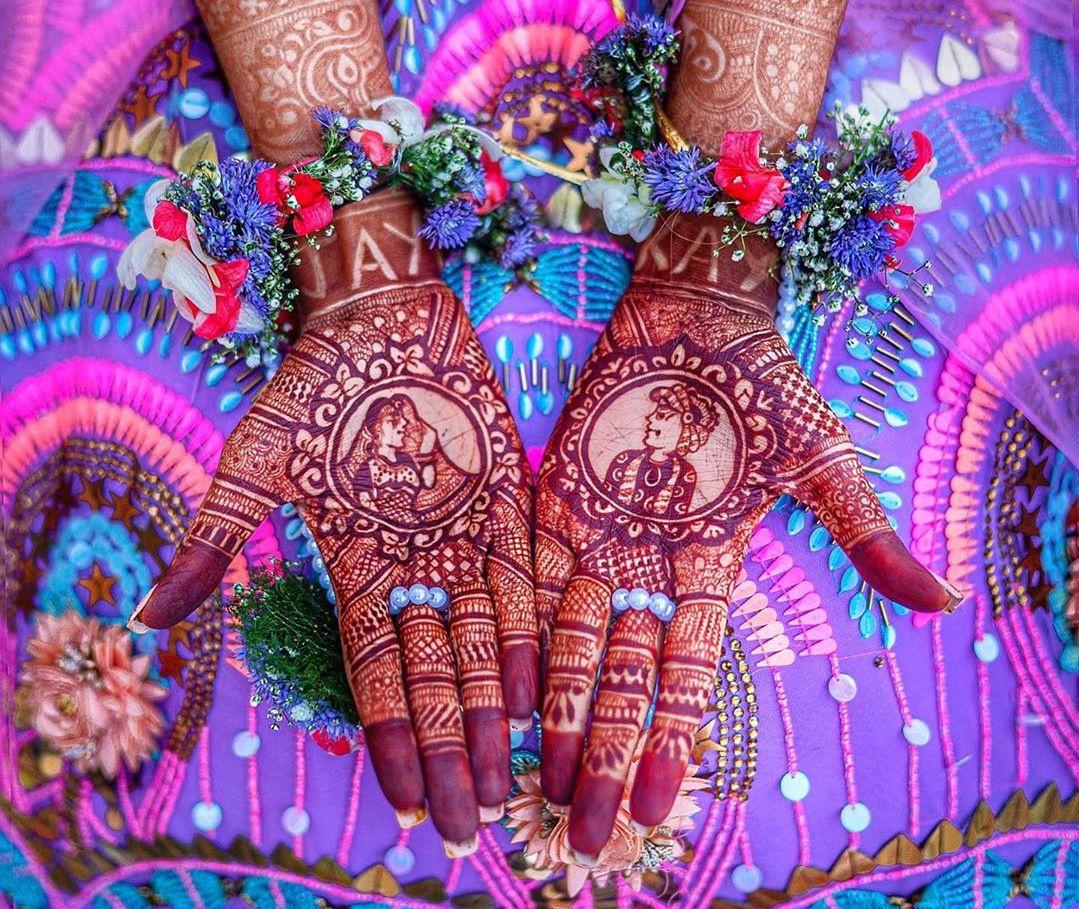 Image Courtesy: Made In Heaven Studios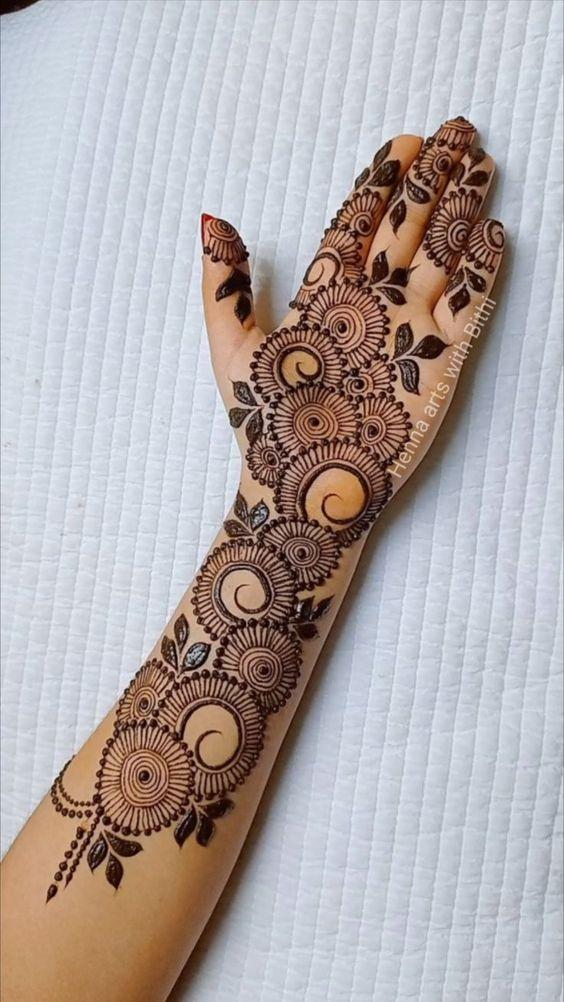 Image Credits - Henna Arts with Bithi
The modern-day bride sure has a plethora of options to choose from. Wondering how to go about it? Here's a list of 20+ half and half mehndi design options to ease you into picking a personalized henna style for your D-day!

Trending Festive Half and Half Mehndi Design

Image Credits - Henna_Lounge
A half and half mehndi with intricate leaf motifs look beautiful on the brides and bridesmaids, especially on the pre-wedding functions. functions. like engagement and Roka ceremony where minimalism will go well than anything else. Furthermore, half and half mehndi designs look stunning on the bride/groom's siblings, as with the minimal design they can handle other tasks of the wedding preparation effortlessly.
Nature Inspired Modern Half and Half Mehndi Design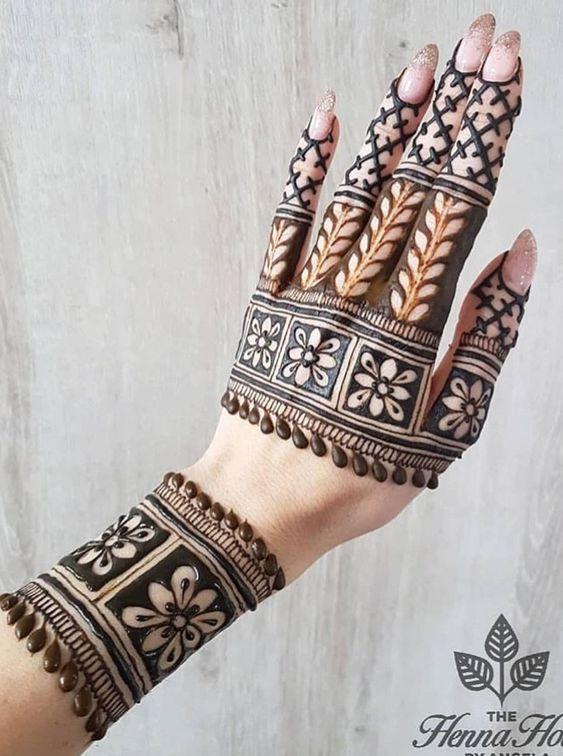 Image Credits - Pinterest
Bridals and bridesmaids look beautiful in half-and-half mehndi with intricate leaf patterns during pre-wedding functions. In ceremonies involving engagements and Rokas, half and half mehndi design work better than most other approaches. Moreover, half-and-half mehndi designs look fabulous on the bride/groom's sisters, as they can take care of other details of the wedding preparation efficiently thanks to the less complicated design.
Floral Half & Half Design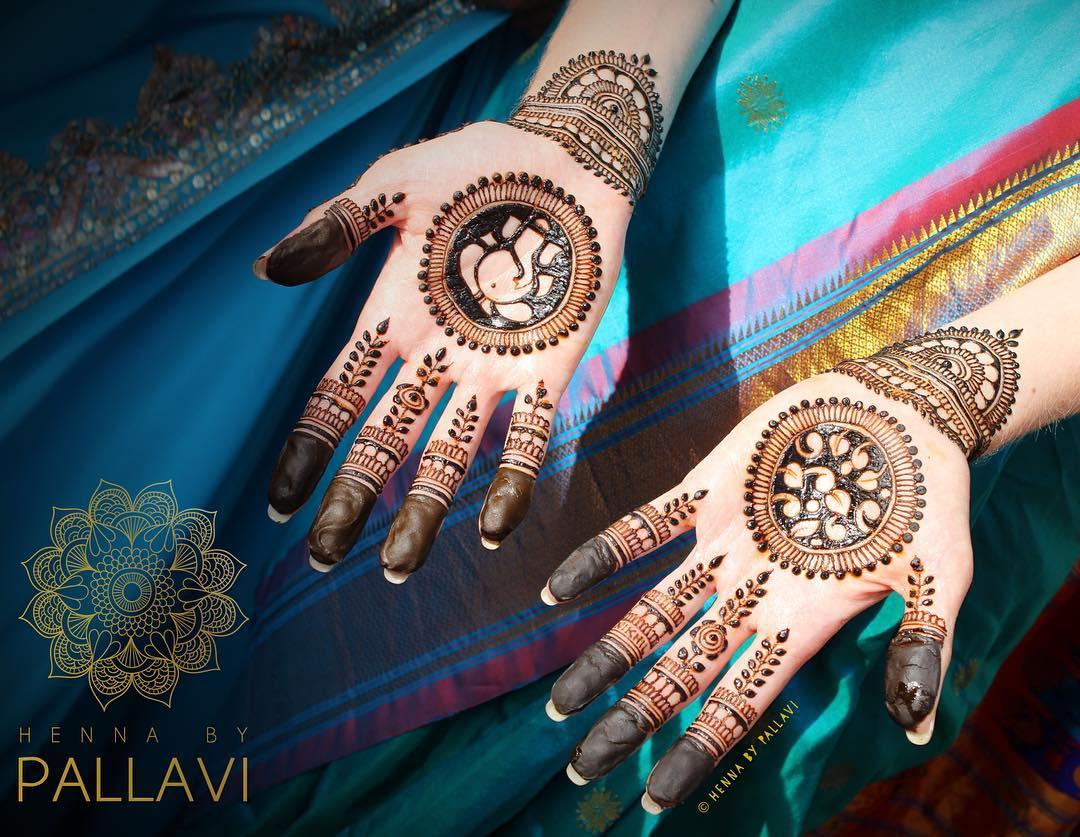 Image Credits - Henna By Pallavi
We are sure that you must have bookmarked these half and half mehndi designs filled with roses. These mehndi designs for fingers are for the brides who are looking to adorn Indo-western outfits on special days. Aren't these Mehandi designs easy and simple and beautiful?
Also Read - Rose Mehndi Design: Romantic Modern Rose Flower Mehndi Design Pics
Half Mehndi Design with Mughal style portraits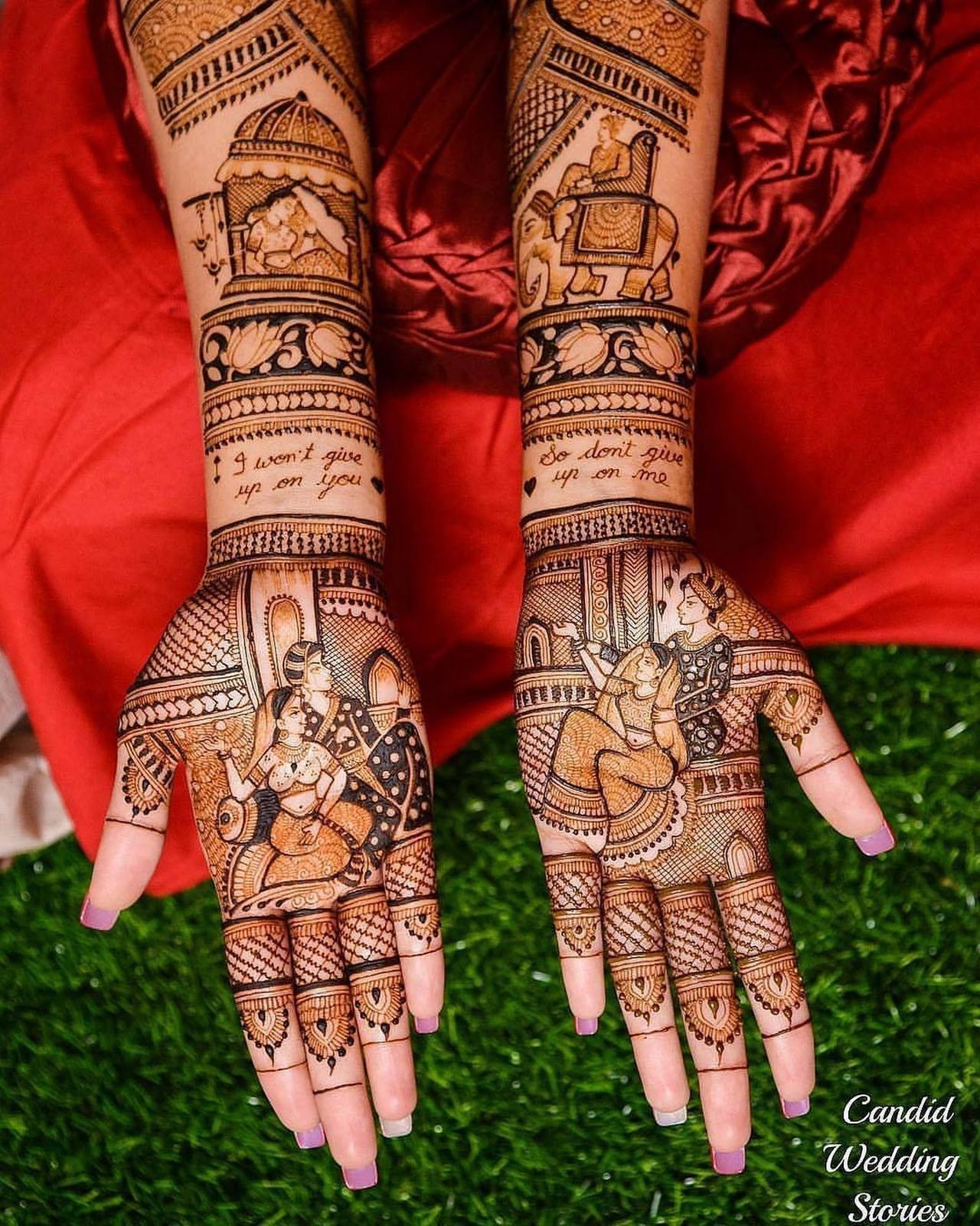 Get this breathtaking portrait style henna with stunning Mughal and architectural half and half mehndi designs. We love how the bride has a message dedicated to her better half. The lotus motifs and a doli with the groom on an elephant are what make this design top our list. We love this half and half mehndi design with impeccable attention to detail. This mehndi artist's flawless work has surely won our hearts.
Divine Half & Half Mehndi Design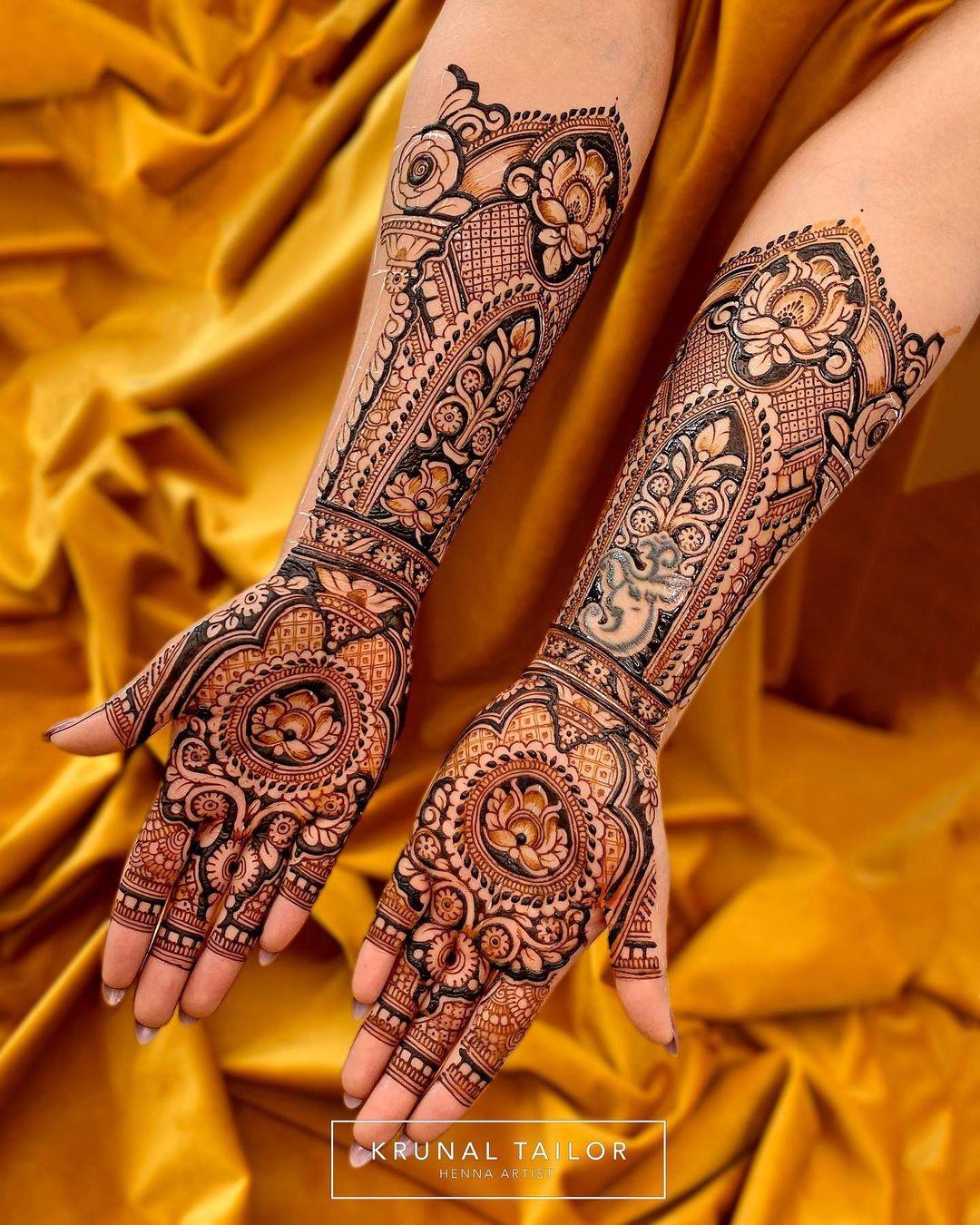 Image Credits - Krunal Tailor
This half and half bridal mehndi design for front hands here are inspired by the ethos of a royal and divine realm. Especially the way the artist depicts the Ganesha and king adorned with florals and intricate motifs.
Arabic Clustered Half and Half Mehndi Design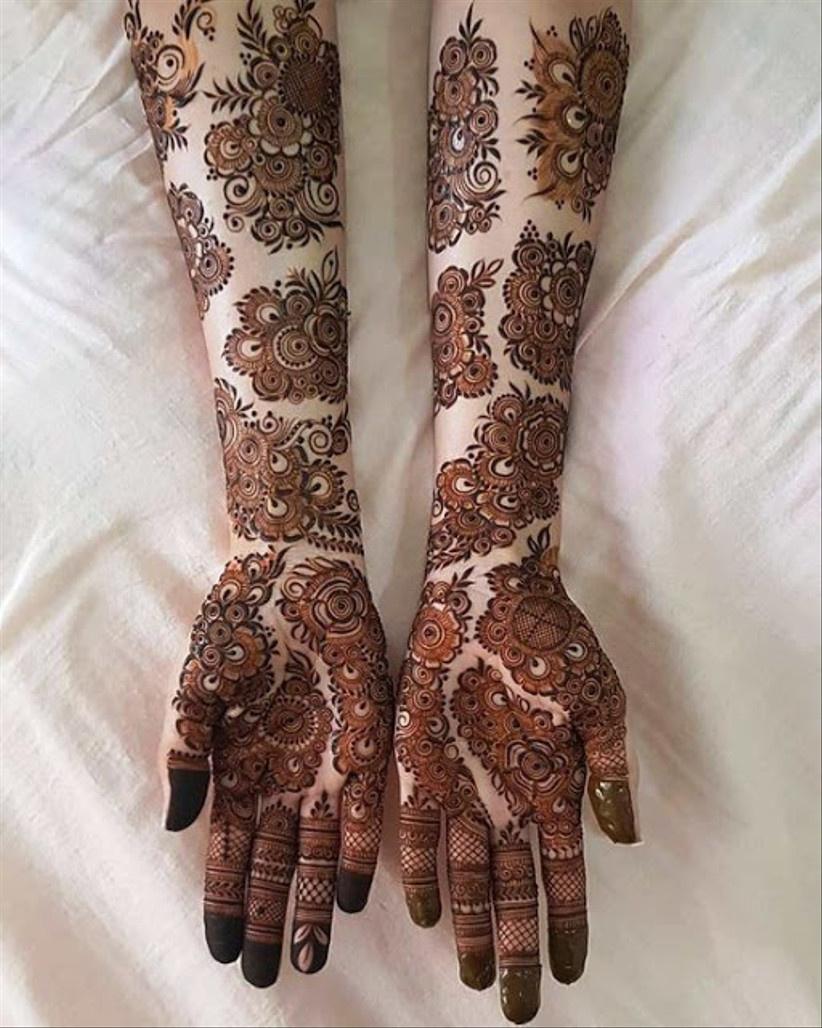 Image Courtesy: Pinterest
The clustered flowers and dark tips is making this mehndi design a mesmerizing piece of the story. This half and half design work equally well on the back of the hand and can be the go-to design for the henna mehndi designs for the bride's sisters and friends.
Also Read - Arabic Mehndi Designs: 105+ Simple & Easy Arabic Design
Nature Inspired Half and Half Mehndi Designs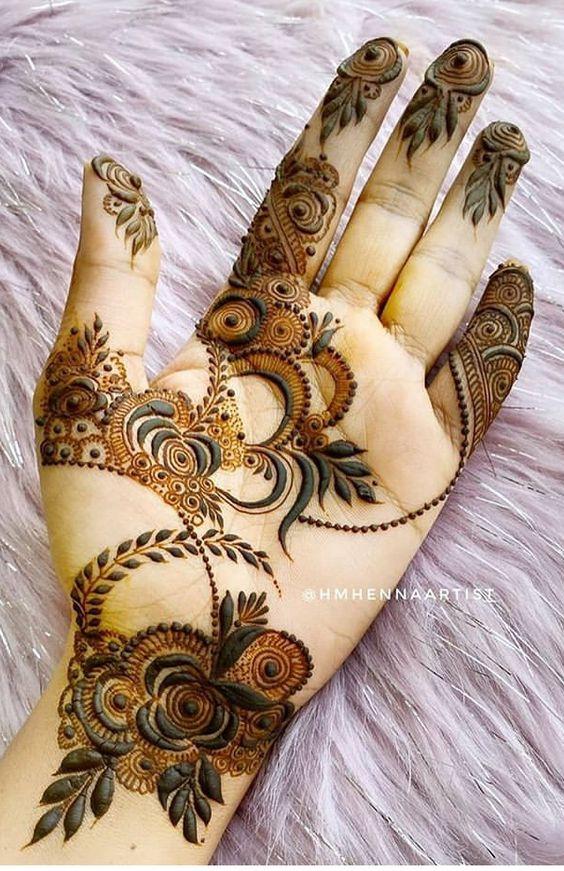 The best part about half and half mehndi design is, you can paint a story and get it immortalized through your mehndi day pictures. Mehndi artists can usually accommodate a lot of good designs flawlessly.
Half Mehndi Design

with Hashtags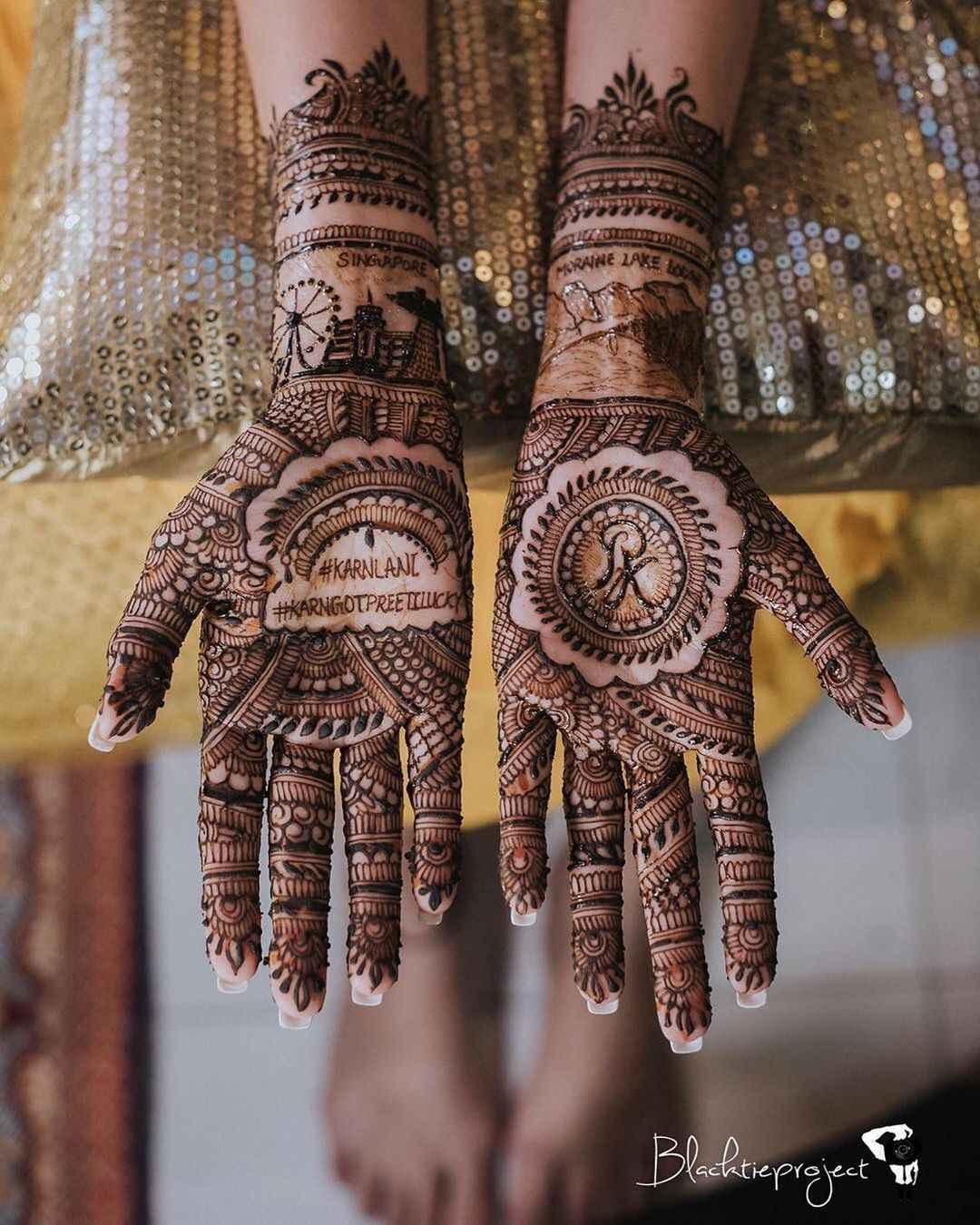 Image Courtesy: Black Tie Project
Take a hint from this mehndi design which is an ode to the long-distance relationship of the couple. From their wedding hashtag to their initials, the design covers it all.
Round Easy H
alf Mehndi Design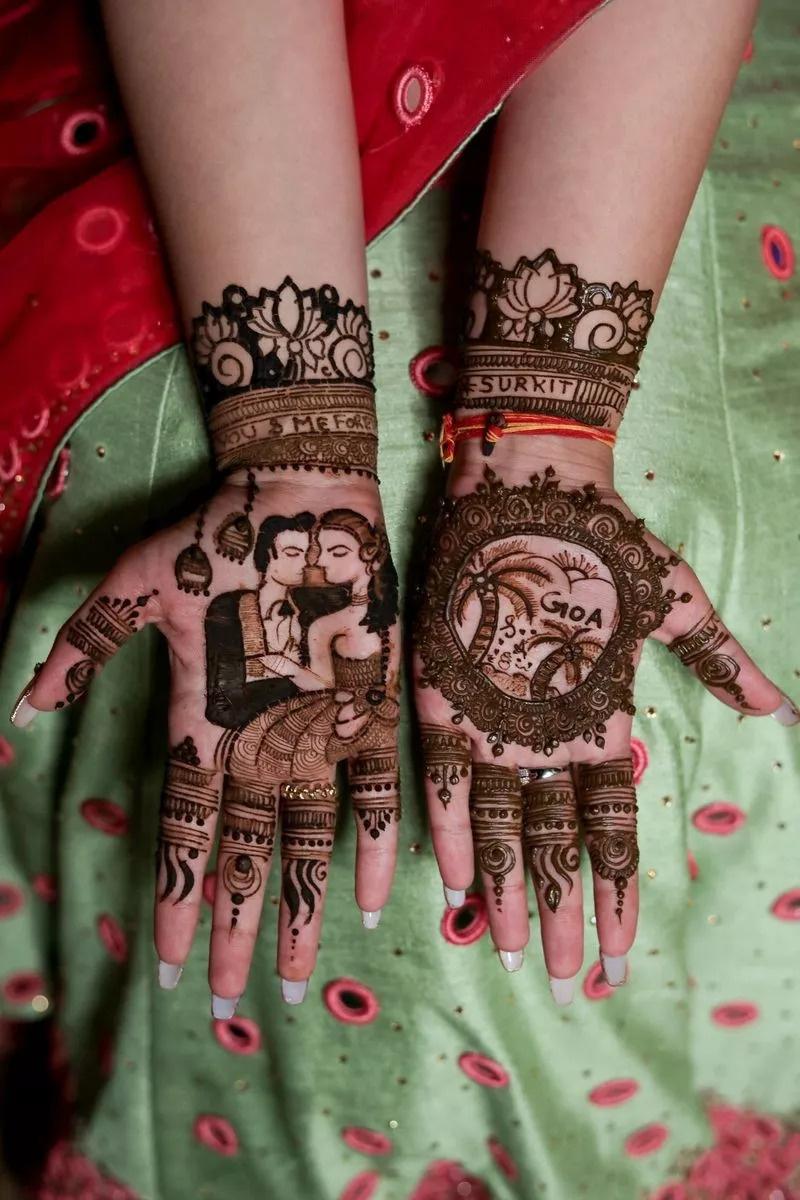 If you are a bride who doesn't want an elaborate design, this henna design might just be what you are looking for. The pious lotus motifs with the groom's name written on one wrist followed by the duo's portraits on one palm and their wedding love story on the other, the Henna is all sorts of pretty! We love the bold lines and circular designs around the huge floral mandala.
Read More - Round Mehndi Designs: 26+ Easy Circle Shape Mehandi Design for Brides & Bridesmaids
Simple Half Mehndi Design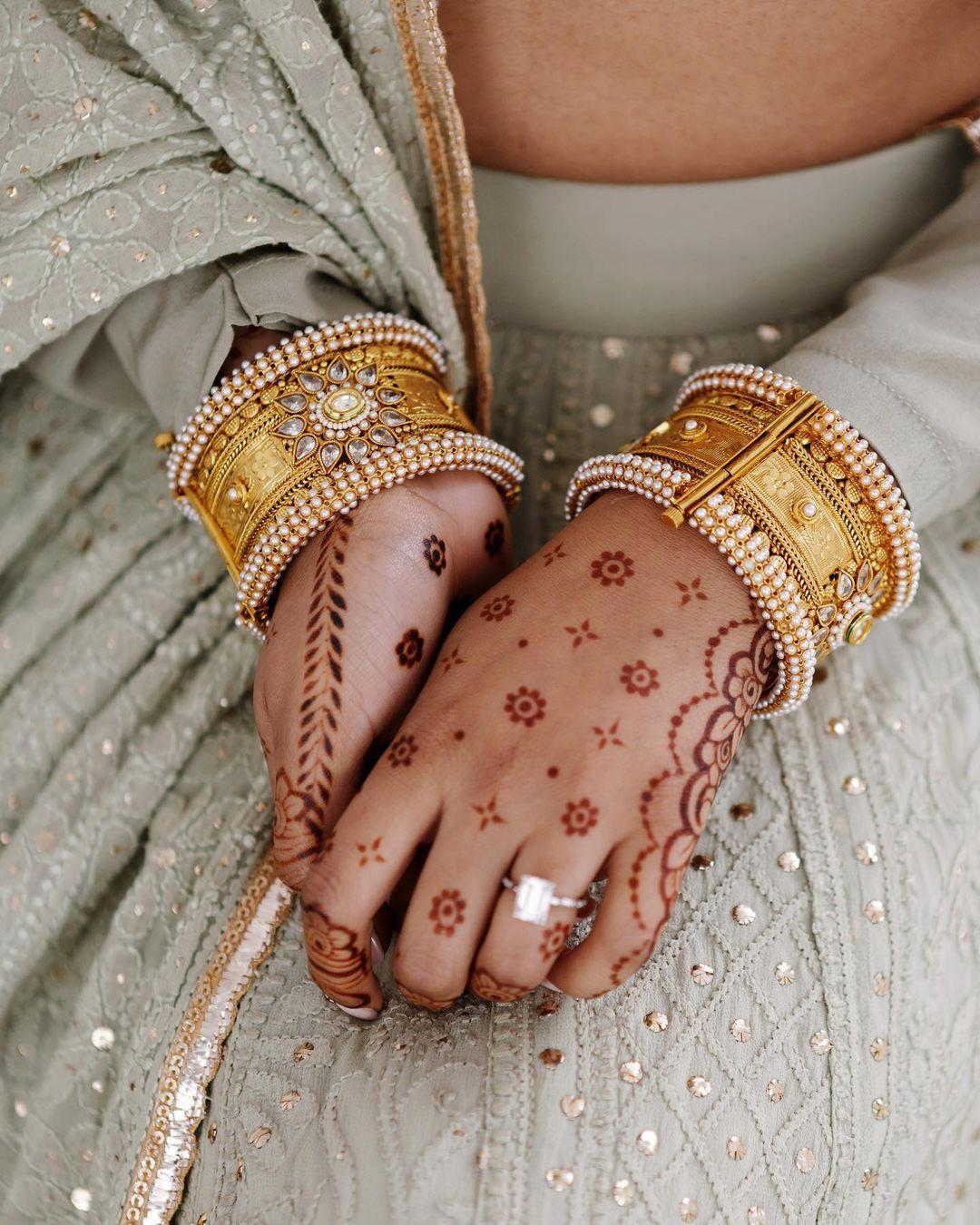 Image Credits - Henna by Divya
This hand mehndi rendition or simple half and half mehndi design look uber chic on the bridesmaid troop. You can try this simple new simple finger mehndi design at the pre-wedding ceremonies.
Read More - 105+ Simple Mehndi Design Photos Ideas for Brides To Be
Asymmetrical half and Half mehndi design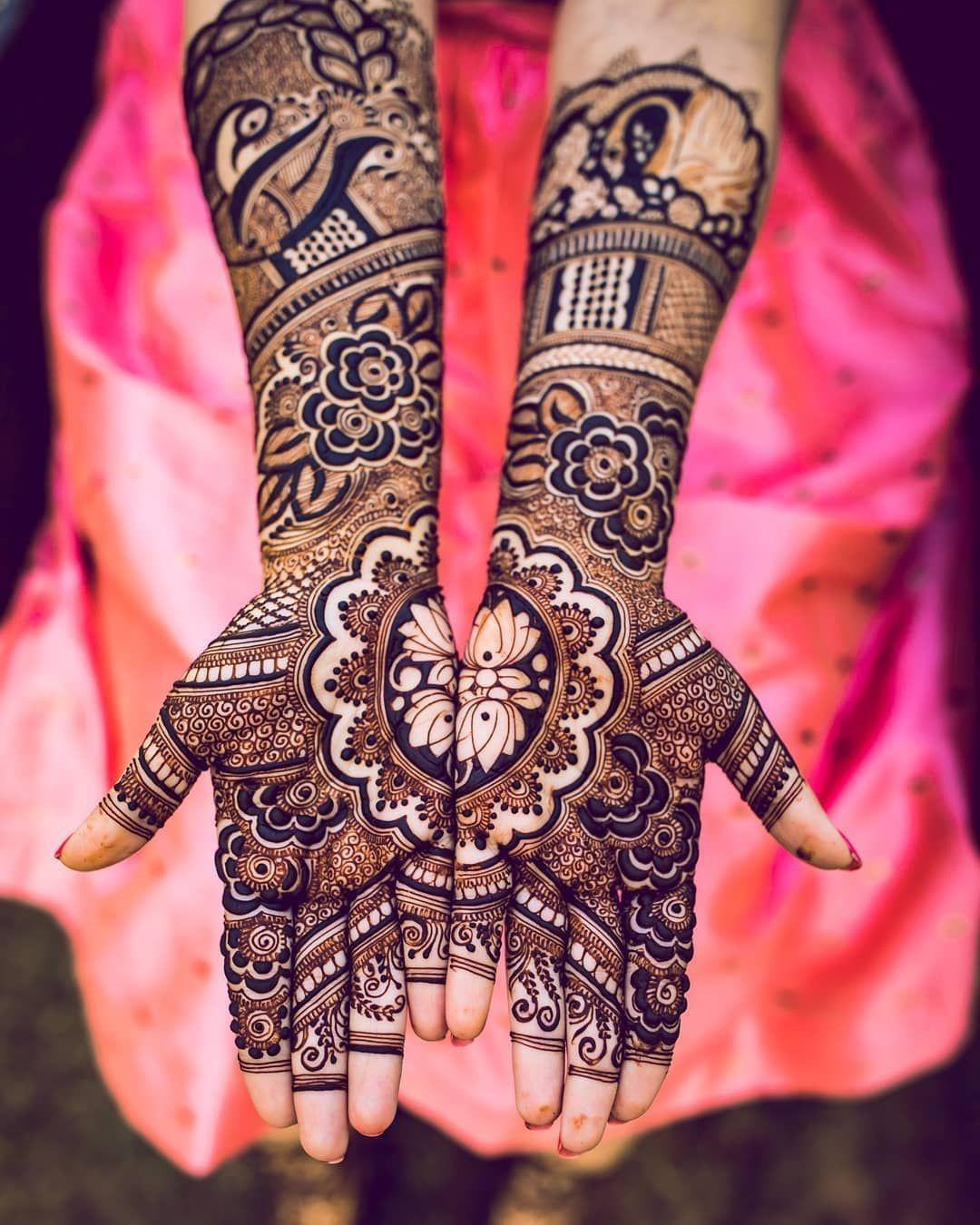 Go for this Pakistani style half and half mehndi design with bold strokes that leave a super dark stain upon drying. This design is all about semicircles on each hand with lotus motifs on each hand, simpler lines, and circular floral patterns. The design reaches the elbows and has more nature-based elements like flowers and leaves, peacocks, and thick-lined flowers reaching the fingers. The details on this mehndi are so soothing to look at. Don't you agree?
Minimalist Symmetrical Design with Floral Elements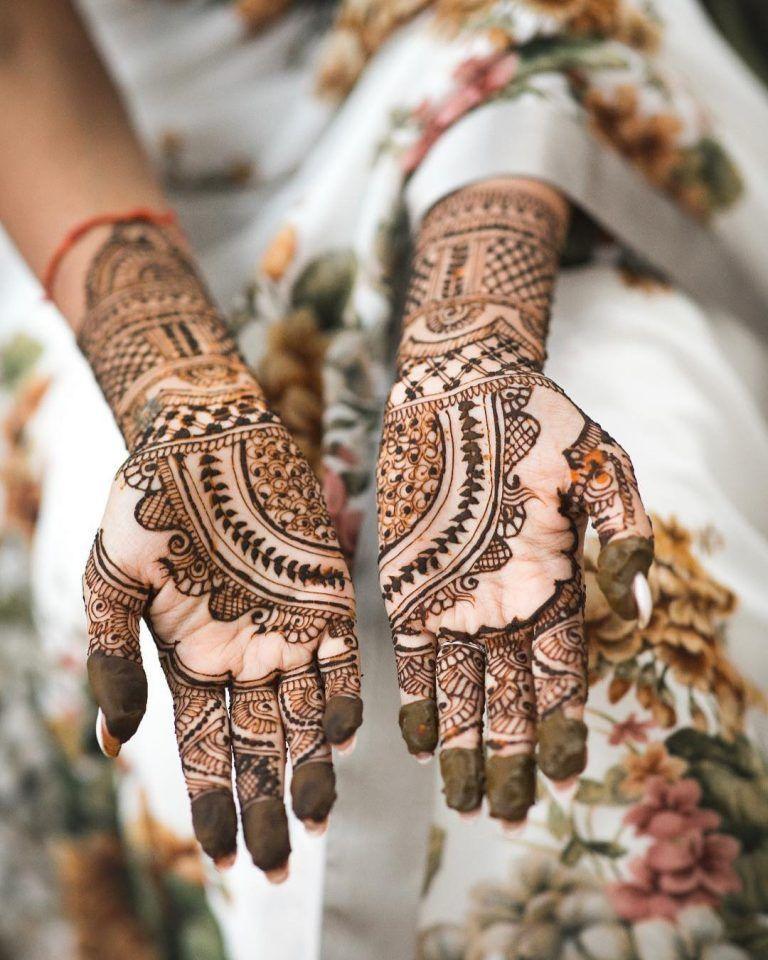 Image Courtesy: Zohaib Ali Photography
We love how this bride chose a very simple, fuss-free look for her destination wedding. Easy circular designs with a leaf trail, domes, and criss-cross jaal with flowers on top make this simple mehndi design effortlessly appealing. The henna further extends to the wrists with more criss-cross patterns and circular floral patterns to balance the look! If you don't prefer an OTT Bridal Henna, this can be your pick.
Mehndi Design Half with Bride-Groom Portraits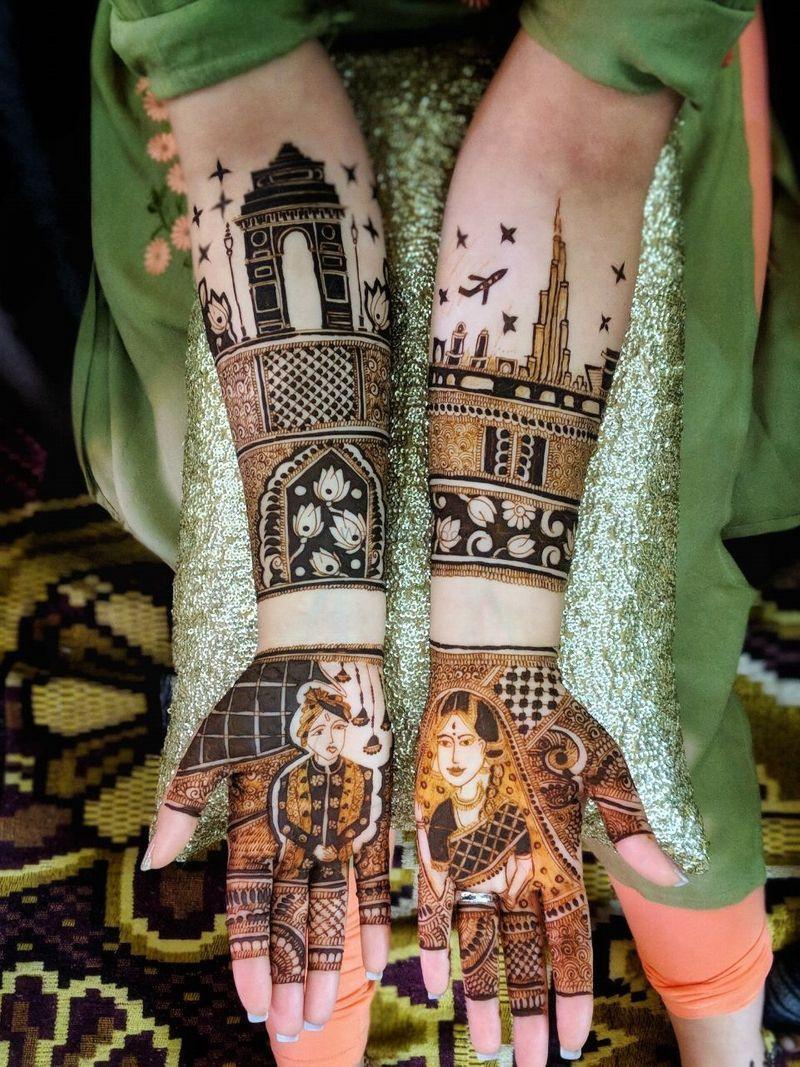 The desi-videsi love story of the bride and groom is brought together with this henna design. From lotus-lined jharokhas, a horizontal lotus band, meticulous criss-cross patterns, and quite realistic portraits of the bride and the groom on either hand, this design is almost like a storyboard.
Lotus Half and Half Mehndi Design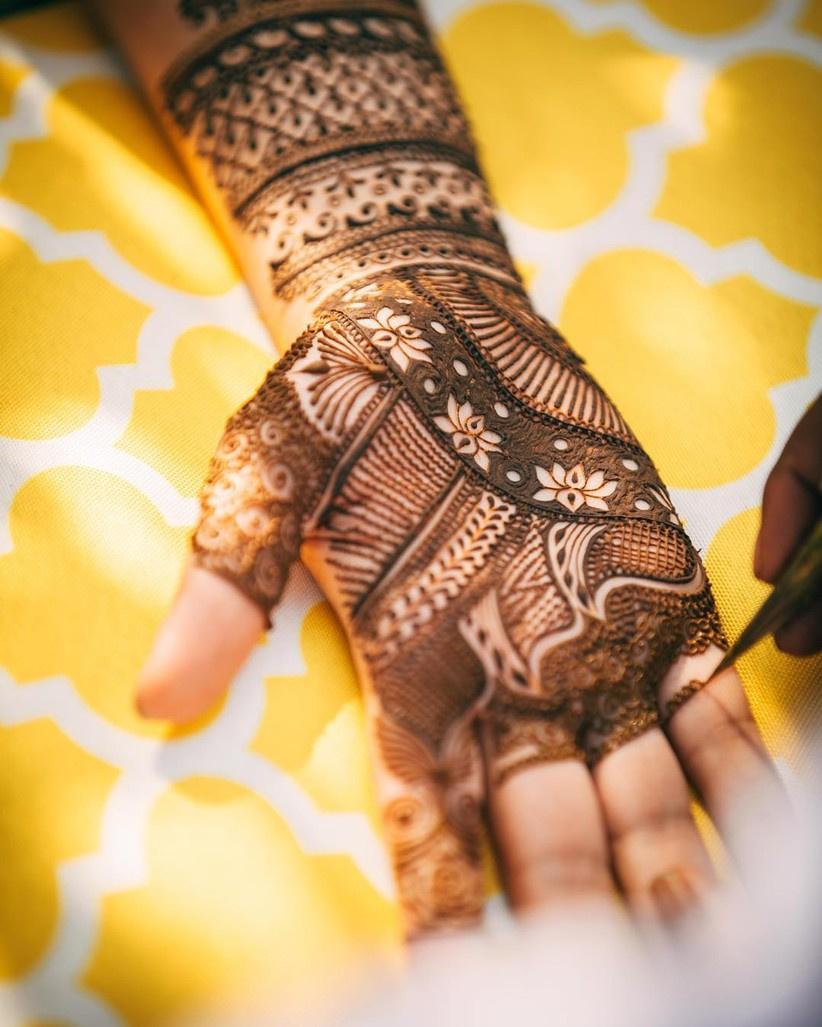 There are a lot of women who do not like the look of full hand mehndi designs that fill their hands. This beautiful simple full hand mehndi design is the perfect option for those women. It looks sophisticated since the design has gaps between the different patterns.
Creative Back Side Half & Half Mehndi Design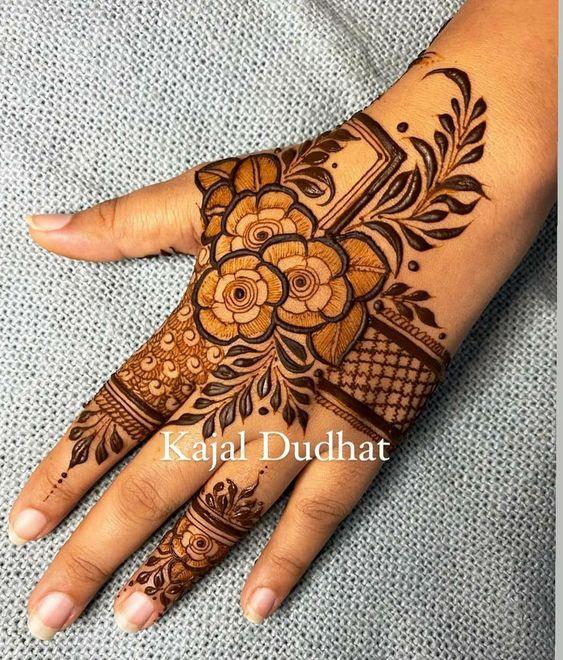 Image Credits - Kajal Dudhat
We love the use of negative space and the details on the bride and groom outfits. If you don't want to replicate a style exactly like the one in the picture, pick out elements you like the best and go ask your mehndi artist to add them to your style of henna.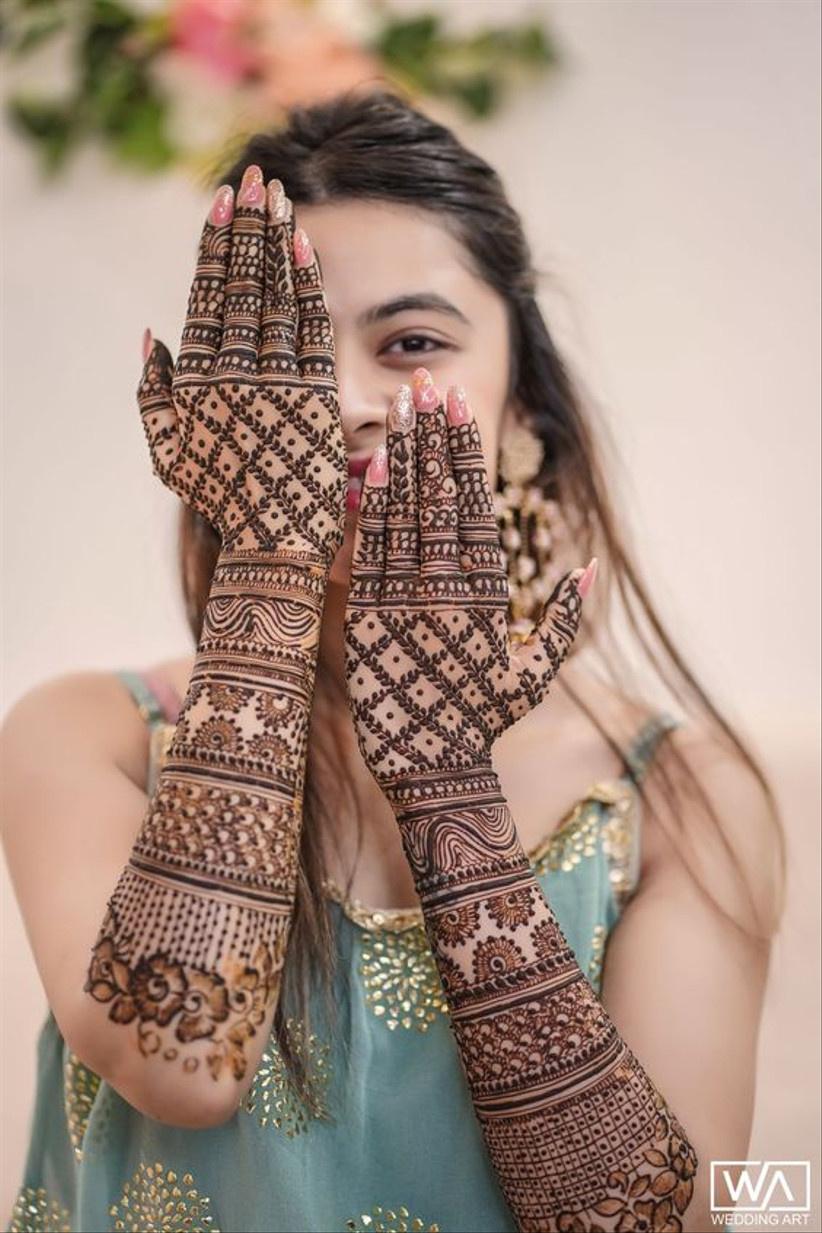 Image Credits -Wedding Art
We love these half and half mehndi designs, which not only look appealing to the eye but also paint a realistic picture of how your love story began. Since mehndi is an important element for every bride, use the day to celebrate your love story by embossing something close to your heart. Whether you choose to go with your wedding theme-inspired henna or one which is personalized to the tiniest details, your unique style will leave the guests inspired.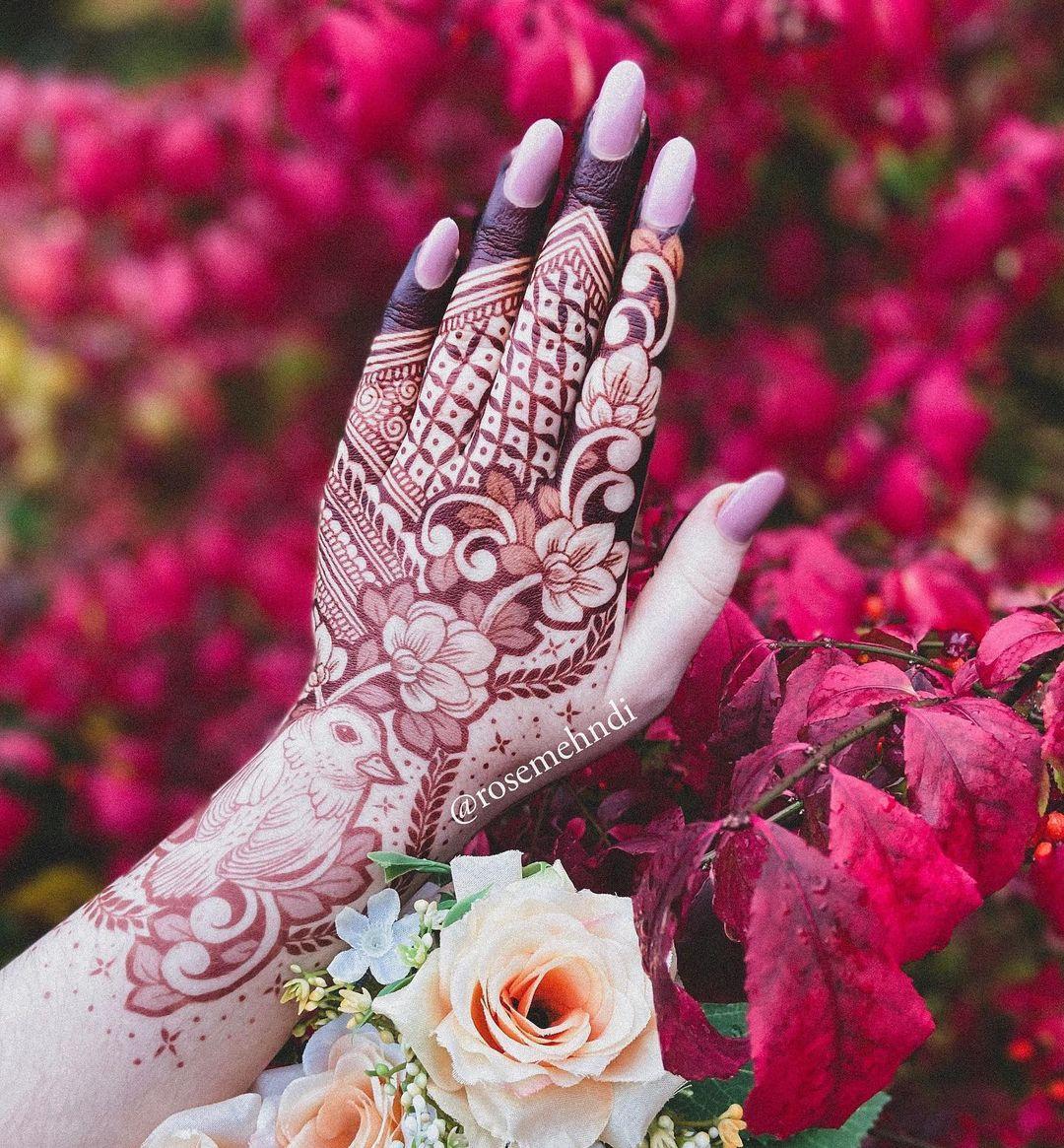 Image Credits - Rose Mehndi
With words by Charu Rawat
Which half and half mehndi design will you pick for yourself? Let us know in the comments below!
Read More -
Mehndi Design | Proposal Lines | Simple Finger Mehndi Design | Arabic Mehndi Design | Propose Day Quotes for Boyfriend | Wedding Anniversary Wishes for Sister | Change Aadhar Card Name after Marriage | Tamil Wedding Calendar | Simple Mehndi Design | Pre Wedding Quotes | Engagement Anniversary Wishes | Funny Wedding Wishes for Bestfriend | Blouse Design | Rangoli Design | First Night Tips for Bride | Wedding Anniversary Wishes