Looking for the Best Henna Designs? Scroll Through Our List!
Henna is the most traditional part of weddings throughout India. Let us go through the best henna designs for your hands and feet!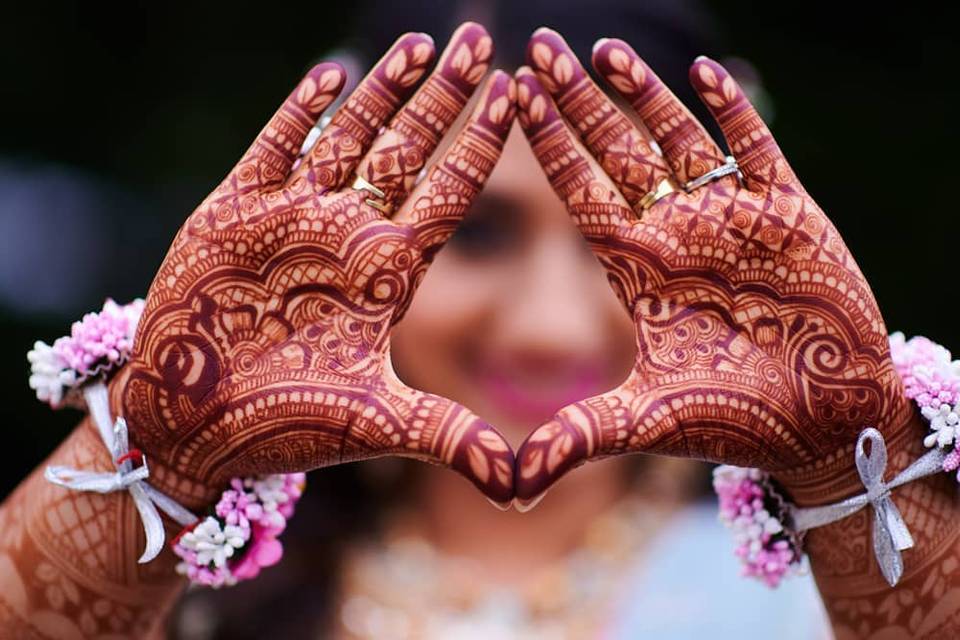 The trend of henna first came into the light in Egypt and was later brought to India, and other countries. Traditionally, Egyptian women painted their nails with henna, and also applied henna tattoos on their chest and limbs. With a flourishing trade route established all over the world, henna designs became mainstream in other countries too.
Now, henna is an integral part of bridal fashion. Contemporary brides can choose from a host of designs like Raja Ranis, floral patterns, vines, peacocks, elephants, and more. Additionally, women have expanded their repository of design ideas to include Arabic, Pakistani designs, Moroccan, and Indo-western in their definitions of the best henna designs.
With no Indian wedding being complete with the Mehndi function, it's time for you to also have a look at the different designs that you can possibly sport!
1. The Peacocks and Checkers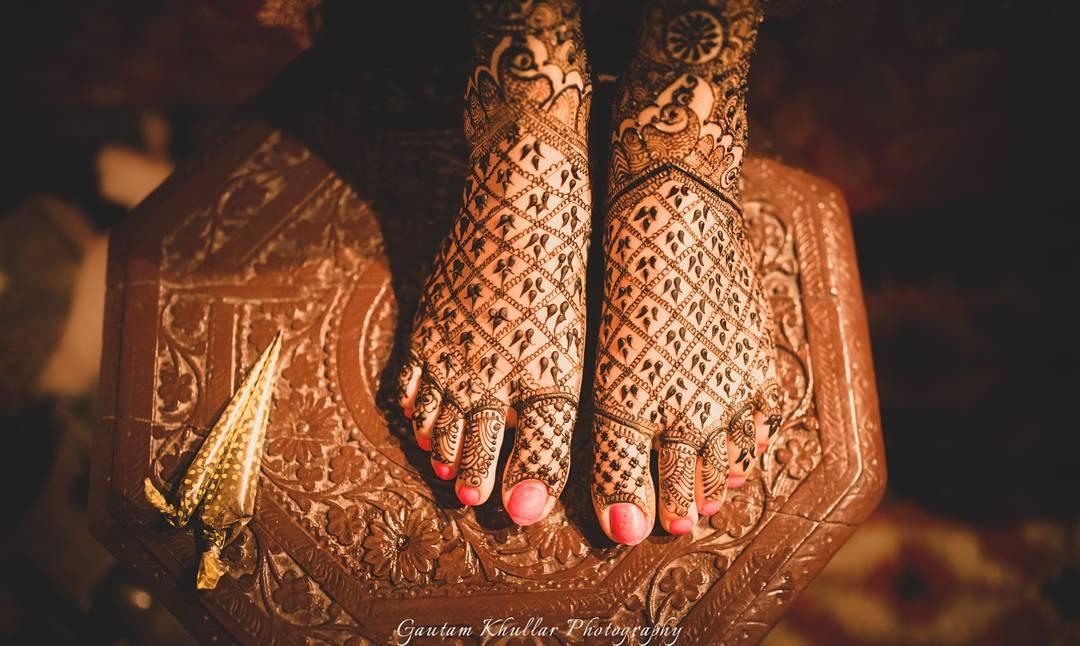 As shown in the picture above, this mehndi on the bride's feet looks stunning. The checks, Peacocks and water drops fill up her feet beautifully. The peacocks on the front of the ankle offer a regal feel, while the checks make the design feel more intricate and busy. This is a lovely, yet simple design for brides and we bet you won't stop staring at your feet if you get the same.
2. The Great Indian Design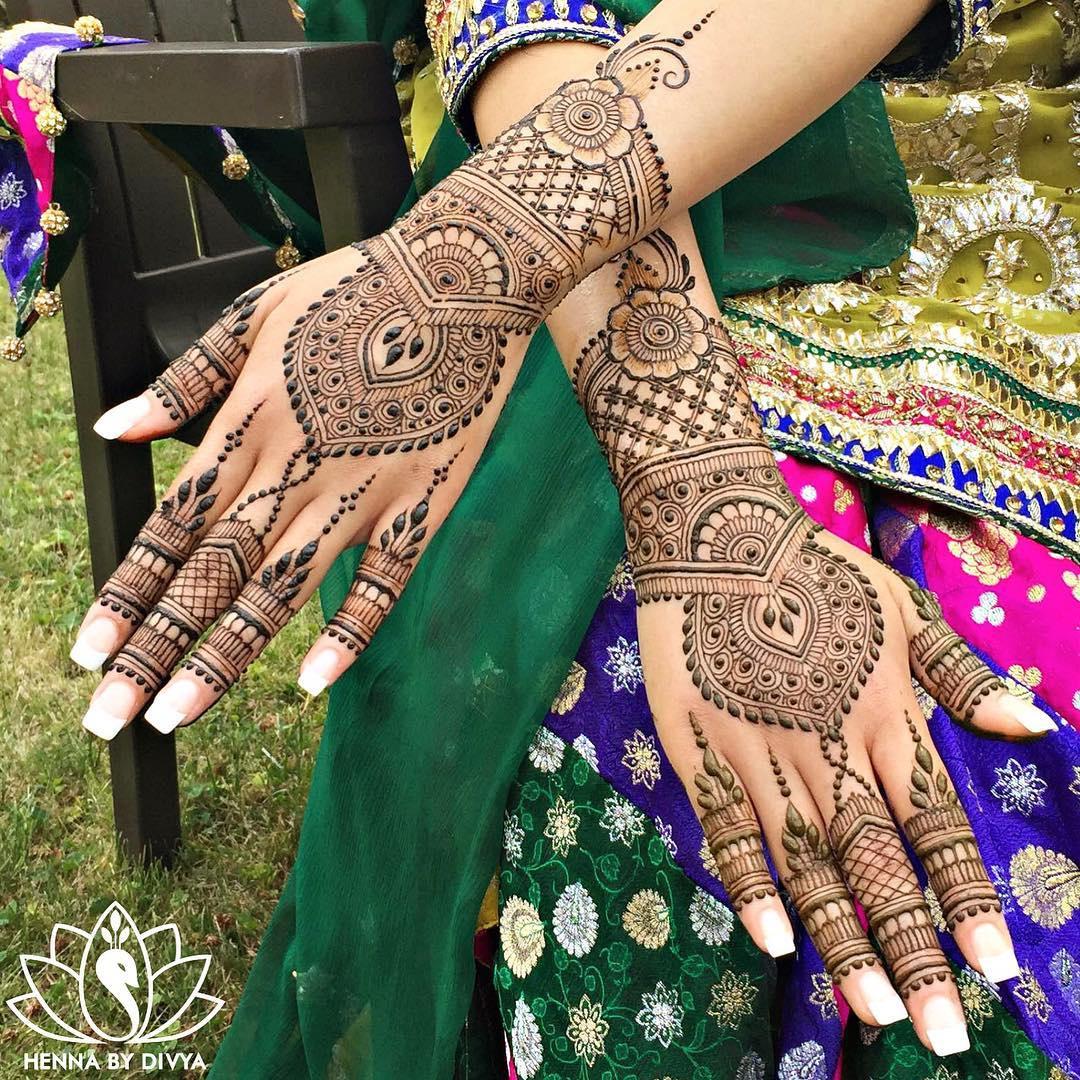 Image Courtesy: Henna by Divya
If you are the bride's sister or best friend, this is the ideal design for you. With intricately coiled circles and straight lines put together, this design has slight Arabic feels to it. We love how that one single flower on the top of the design grabs all the attention. This picture above definitely needs to be added to your list of the best henna designs.
3. The Contemporary Floral Bail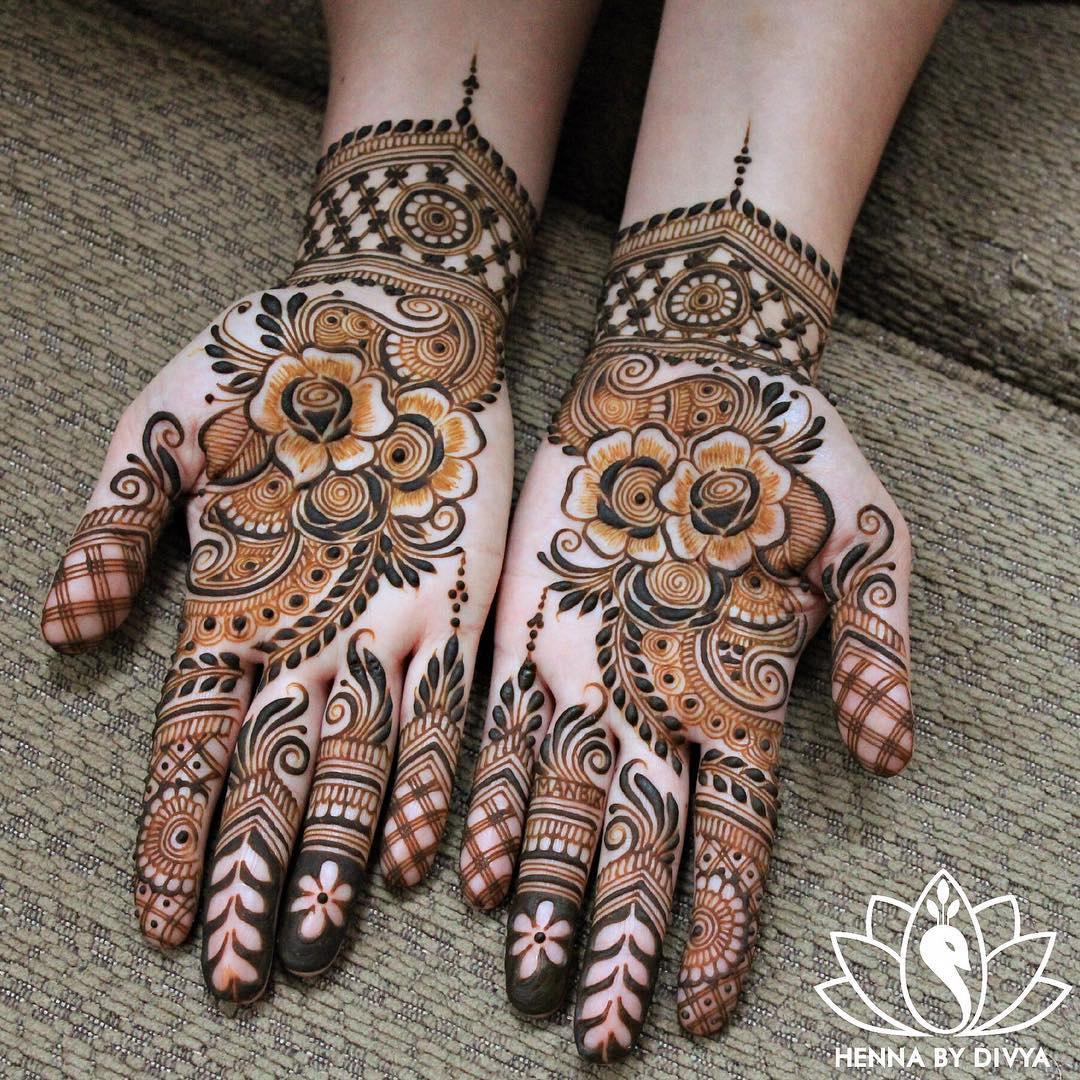 Image Courtesy: Henna by Divya
The best henna designs are those that have a floral touch. Adding different flower motifs to the mehndi can result in some stunning designs. This indo-western henna style has a blend of flowers designed in such a way that combines the diagonal style of bail, and the intricacy of a full hand design.
With spaces left in the middle, this design also offers enough breathing room, which allows the onlooker to truly appreciate the beautiful picture as a whole. If you want something out of the box, then this is it.!
4. The Symmetrical Bridal Mehndi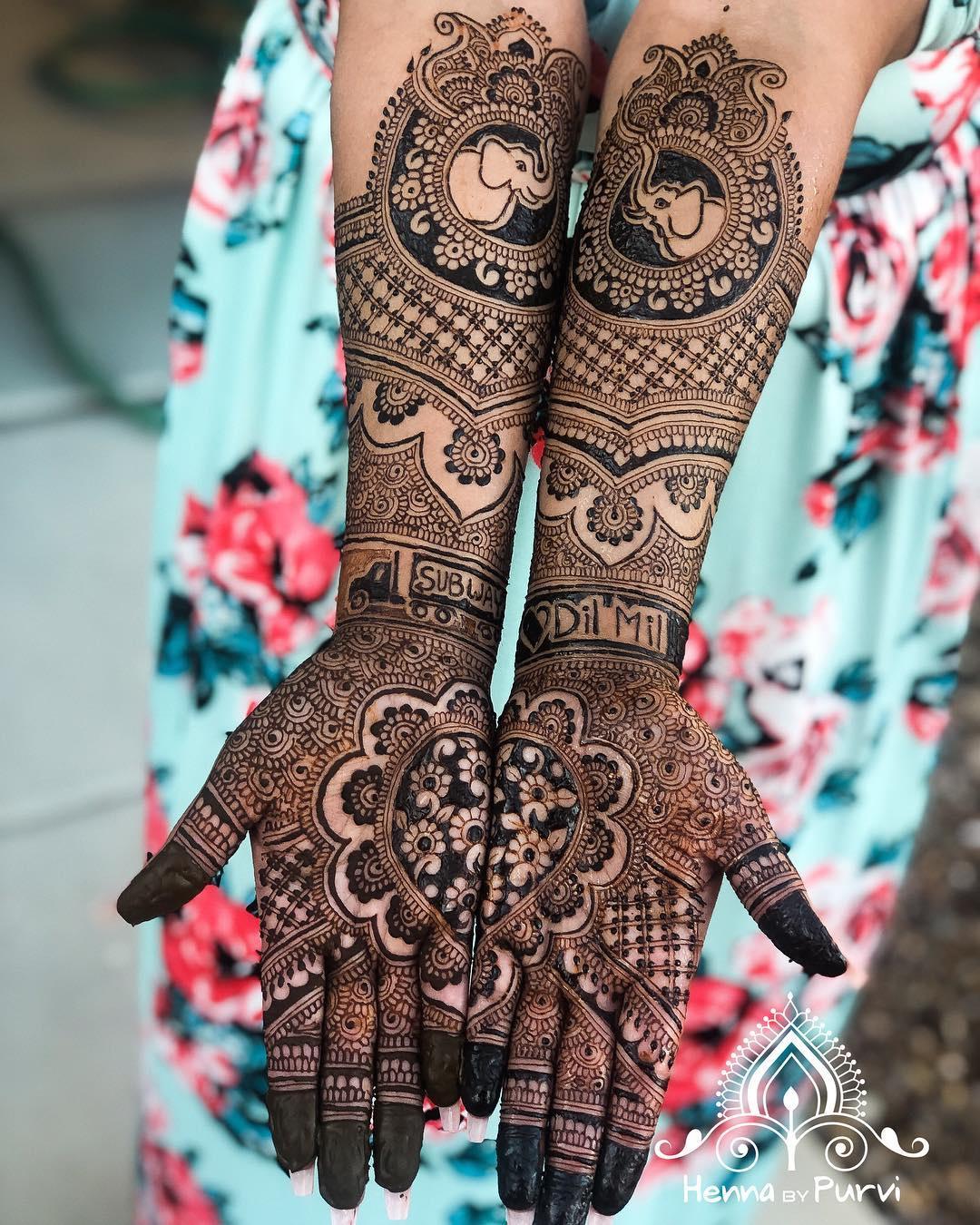 Image Courtesy: Henna by Purvi
When we talk about the best henna designs, symmetry has to feature in the list! This mehndi has identical designs on both the hands. What really works in this design is how intricate it is, because that highlights the symmetry even further. We're totally digging the elephant motifs on the inner arm as they really tie in the whole design together beautifully!
5. The Jaali Design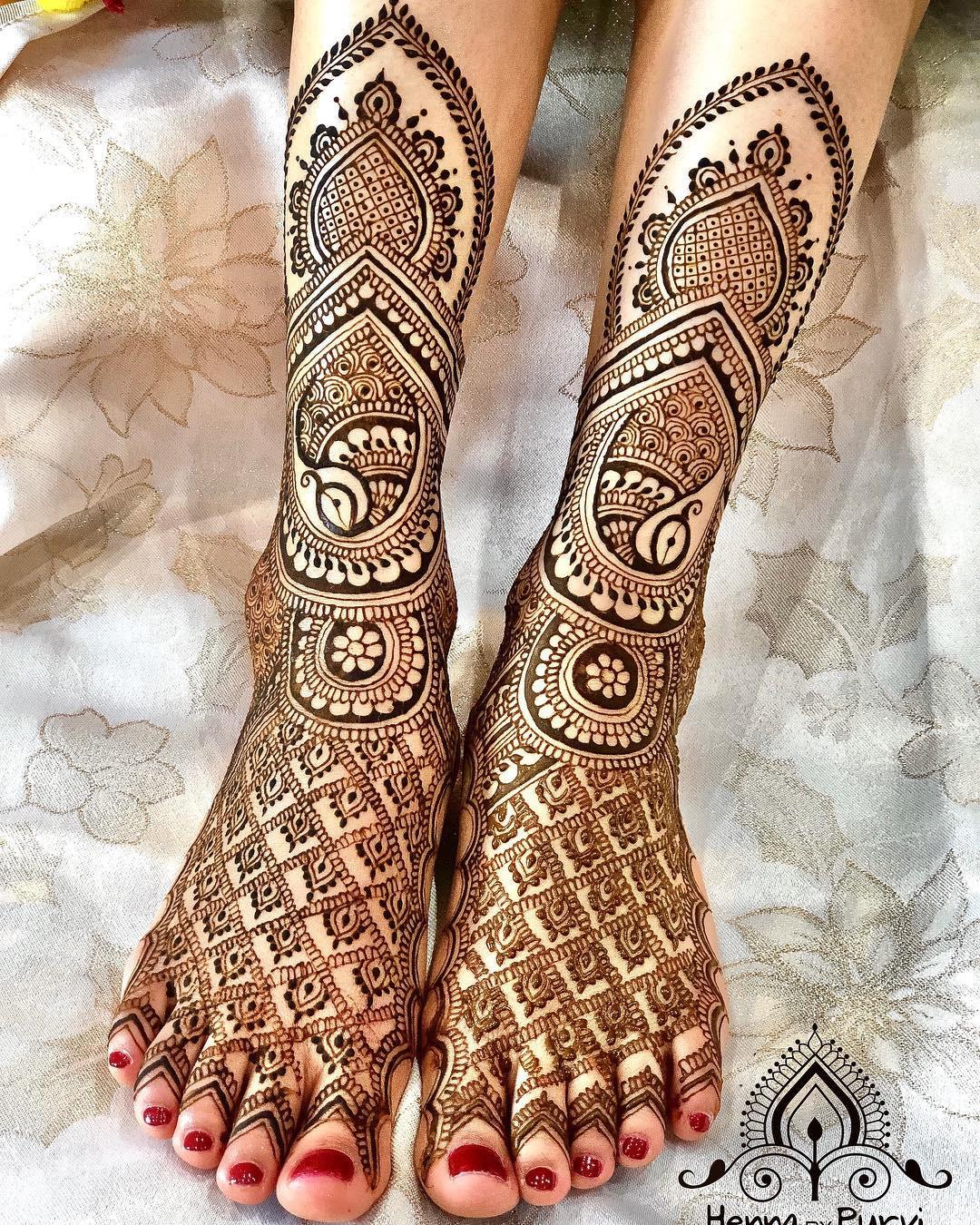 Image Courtesy: Henna by Purvi
This Mughal era inspired mehndi design has to be one of the best henna designs we've seen. The intricacy of this design is absolutely gorgeous, and there's just something about it that gives you hardcore regal vibes. The abundance of jaali designs along with Polki motifs makes this a great contender for the best henna designs ever!
6. The Intricate Designs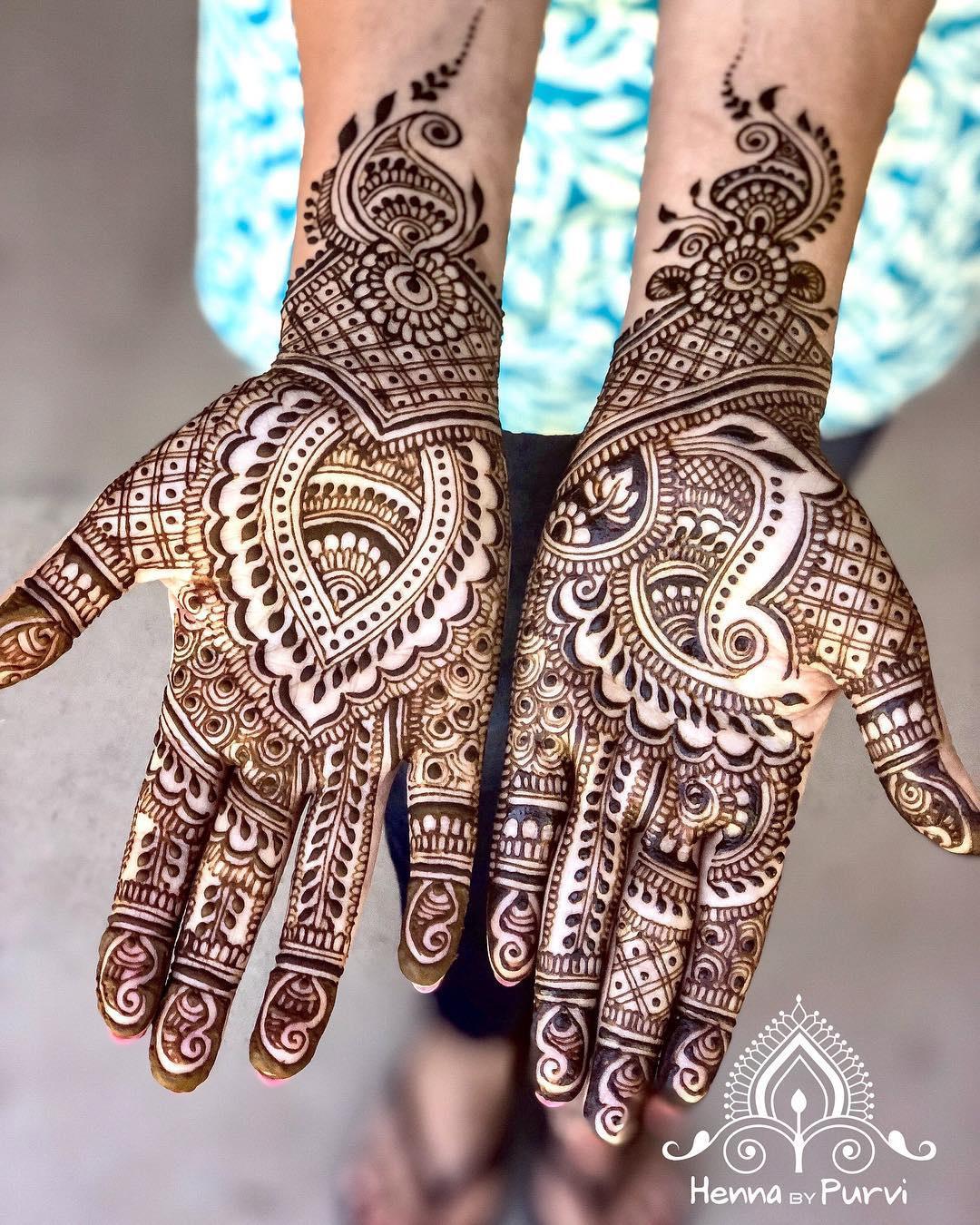 Image Courtesy: Henna by Purvi
The best henna designs do not have to something that's true to one particular style. A mix of designs can be put together to create something new and fancy. This design has almost all patterns that one generally sees in mehndi. It is ideal for an engagement party or any other traditional celebration.
If brides choose this henna design, they can go for fuller tips and get the initials of their husband written somewhere on their palms. While you get his initials written, get them in such a way that they are scattered because it can be fun for him to find his name letters.
7. Fancy Grouped Dots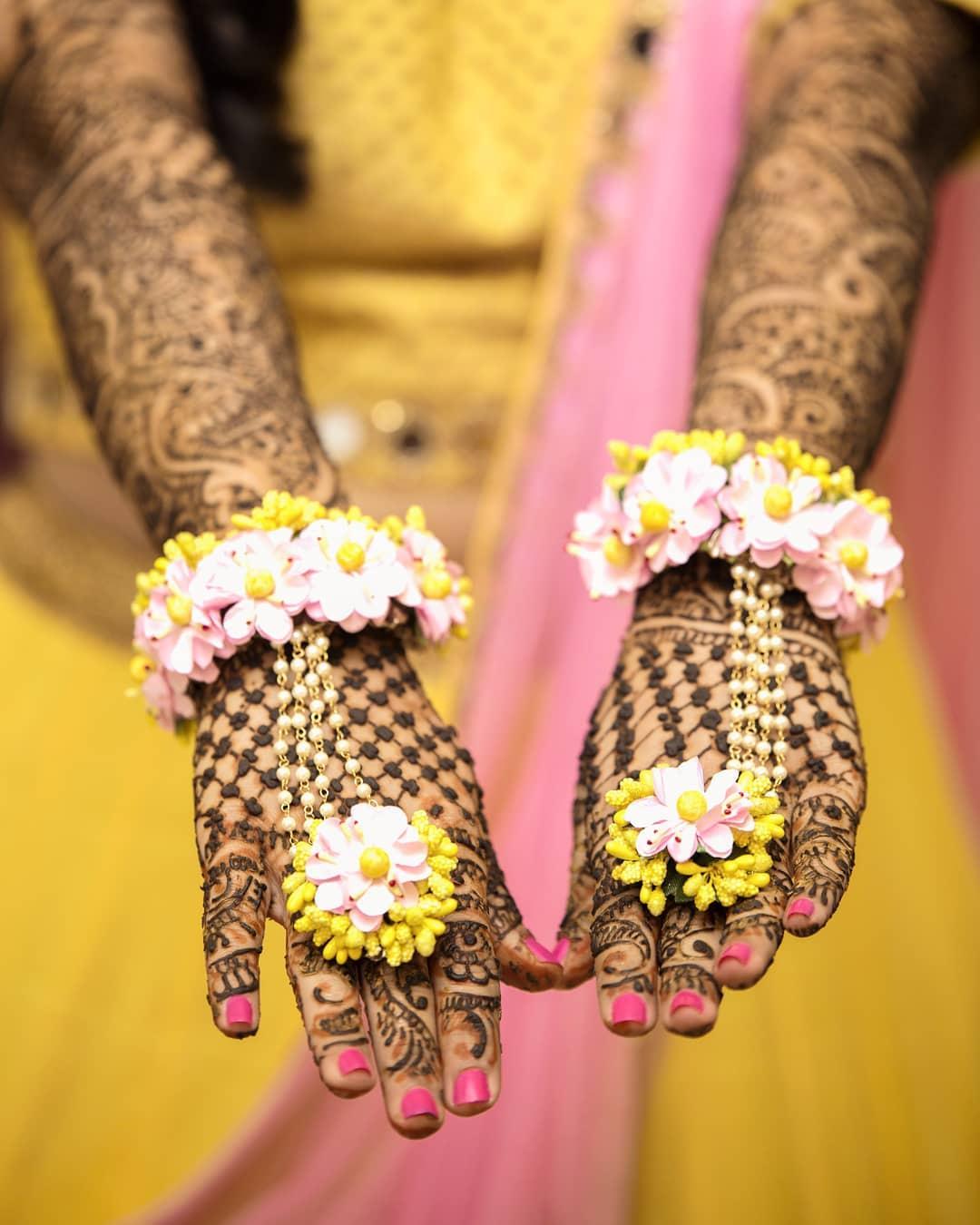 This henna design has four simple dots clustered and put together to create a funky pattern. This is perfect for the bride herself. Do not forget to wear Haath Phool(flower accessories) to add more charm to your look. This design looks really pretty and if you just consider the patterns on the back-hand, we feel that even the bride's sister can pull this one off!
8. Band-style and Roses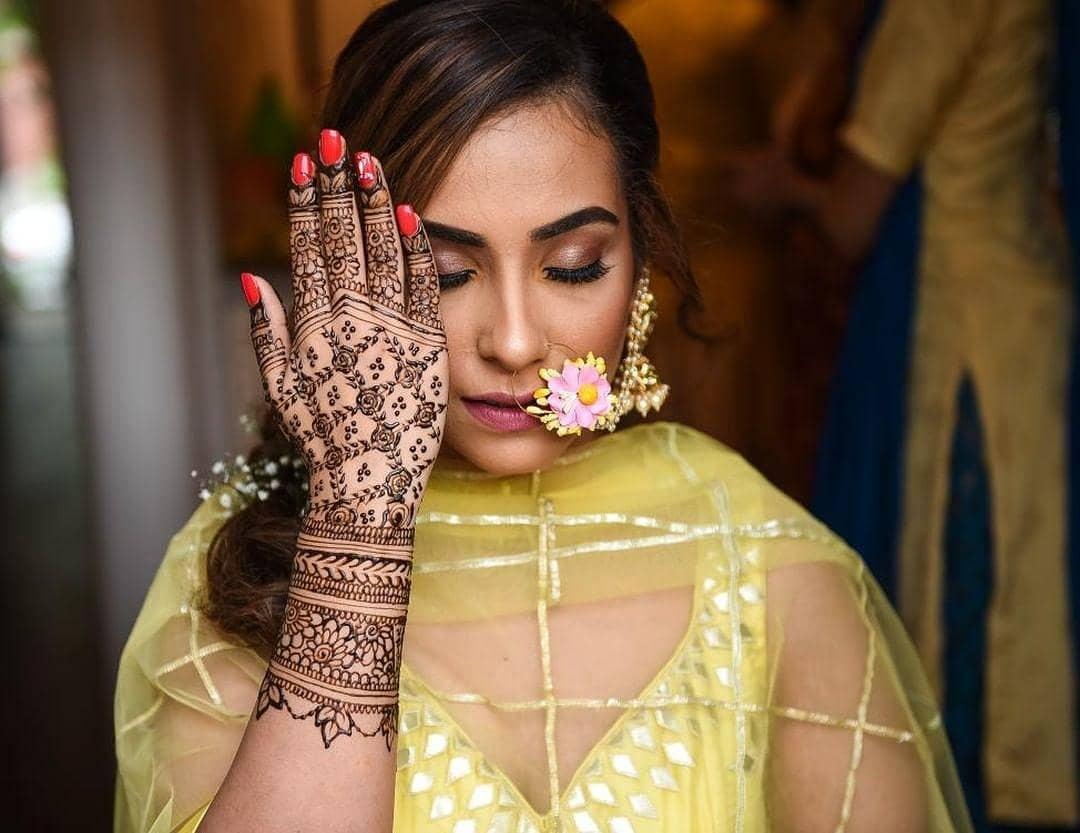 The backside of the hand is filled in such a way that the roses have been created to form a Jaali design. We'd say that this one falls under the category of Arabic mehndi designs as it is much simpler than the ones we've been looking at so far. The roses connected together to form jaalis is a clever design element while the bands along the wrist help highlight them even further. This is definitely one of the best henna designs for brides.
How many of the best henna designs you've seen so far have inspired you? Get yourself a Mehndi artist booked and get such lovely designs made. In addition, you do not always need to be the bride to pull off heavy henna designs - you can do it for fun too!
Check out these Mehndi artists near you!